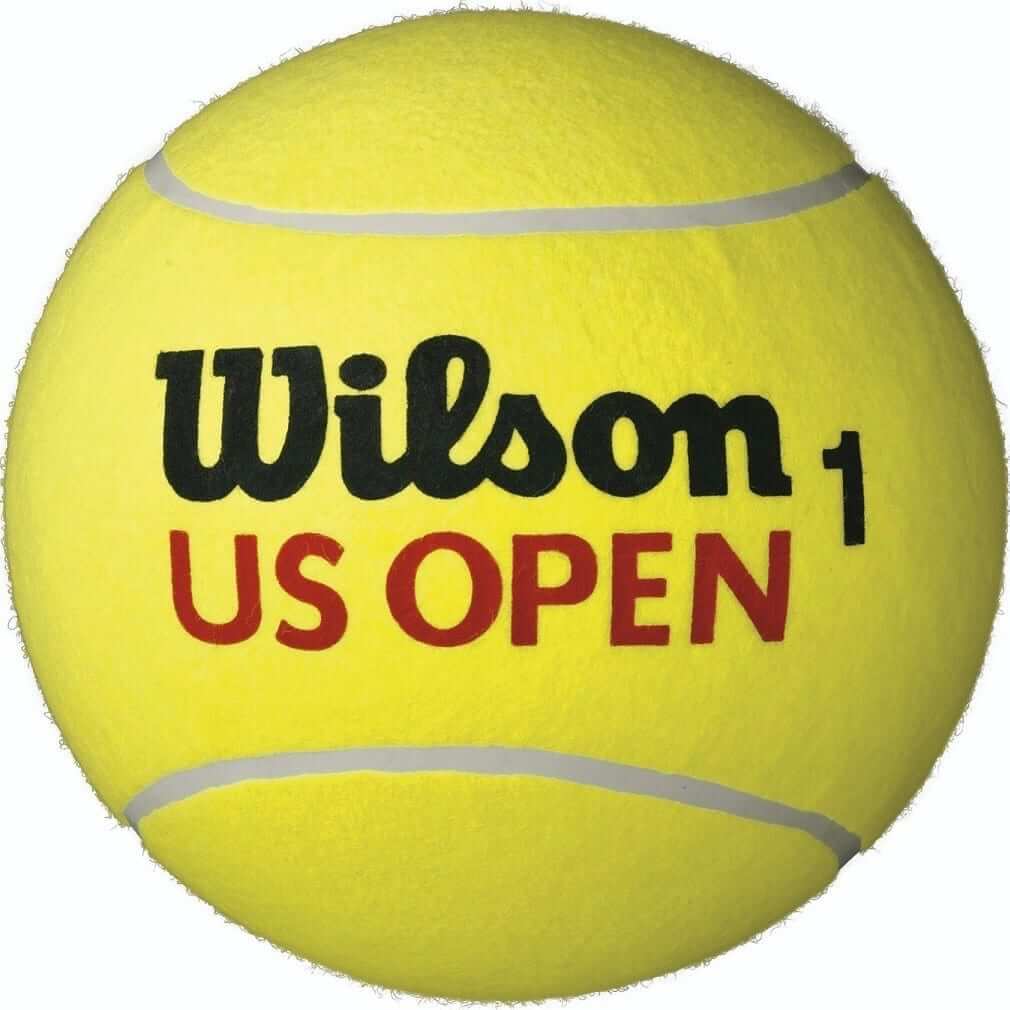 [Editor's Note: Today we have a guest entry from Judy Adams, who's going to discuss some of the finer points of this year's U.S. Open tennis tourney. Enjoy. — PL]
By Judy Adams
If you've been watching the U.S. Open, which wraps up this weekend, you may have noticed that many of the players have been wearing matching outfits that are coordinated from their headbands to their shoelaces, as if they're wearing uniforms. But these "uniforms" don't designate a team affiliation or even a country. Rather, the players dressed are alike to represent their clothing outfitters. The matching outfits communicate the message that the players are on Team Nike, or Team Adidas, and so on.
Major tennis suppliers Nike, Adidas, and Lotto were the first to adopt the team-branded look, but now smaller outfitters like Asics, Lacoste, and Fila have gotten on the bandwagon. Watch any tournament and you'll see a wide range of players in matching attire, from top 10 to up-and-comers and even juniors. The rare exceptions are the truly elite players — Roger Federer and Rafael Nadal on the men's tour and Serena Williams and Maria Sharapova on the women's (all Nike clients) — who have their own signature looks.
I initially noticed the uniforms at last year's U.S. Open, when I kept getting Americans Jack Sock and Ryan Harrison confused because both were dressed in Nike neon green shirts, white shorts, green socks and orange shoelaces [for all photos, click to enlarge]: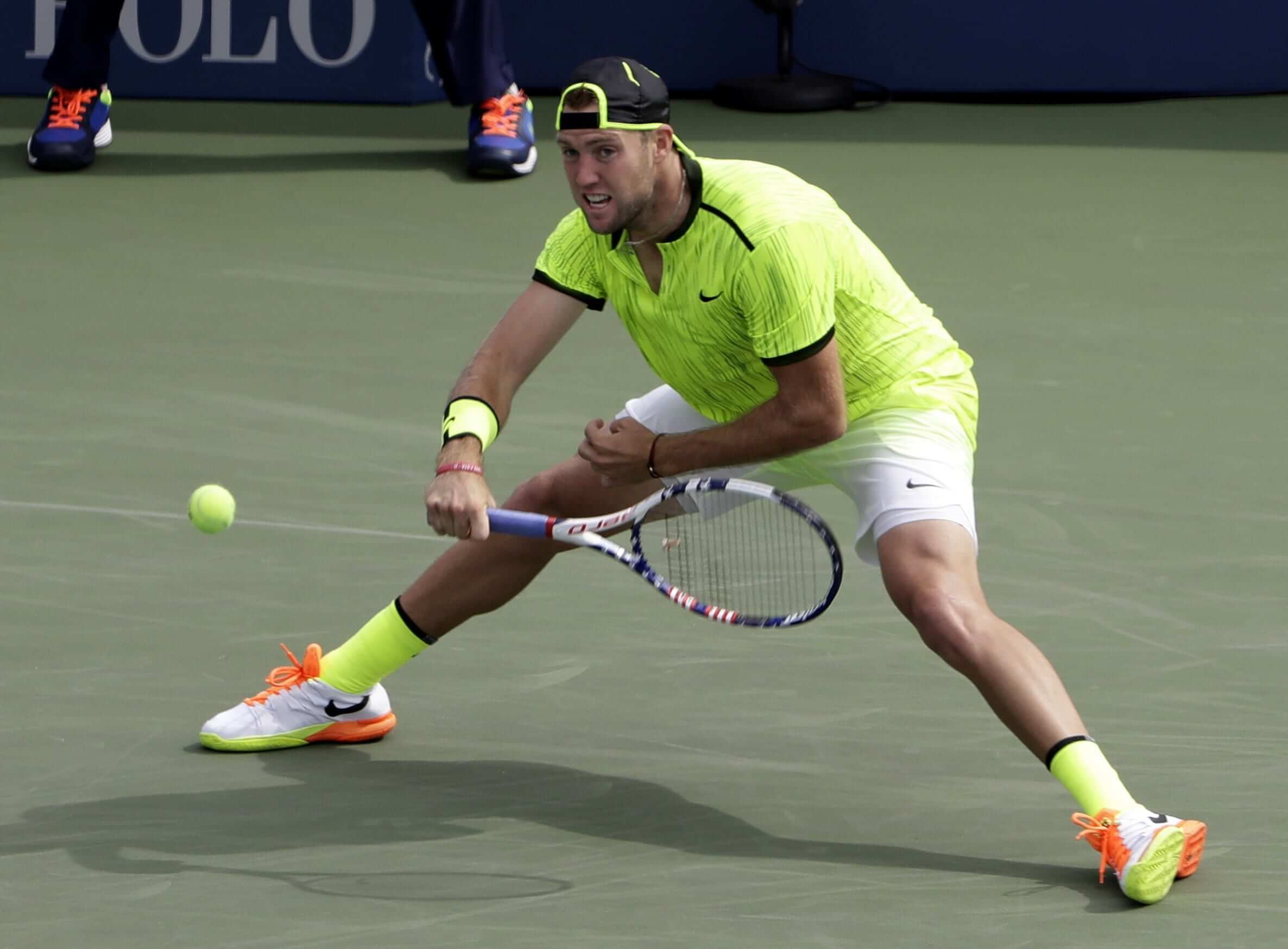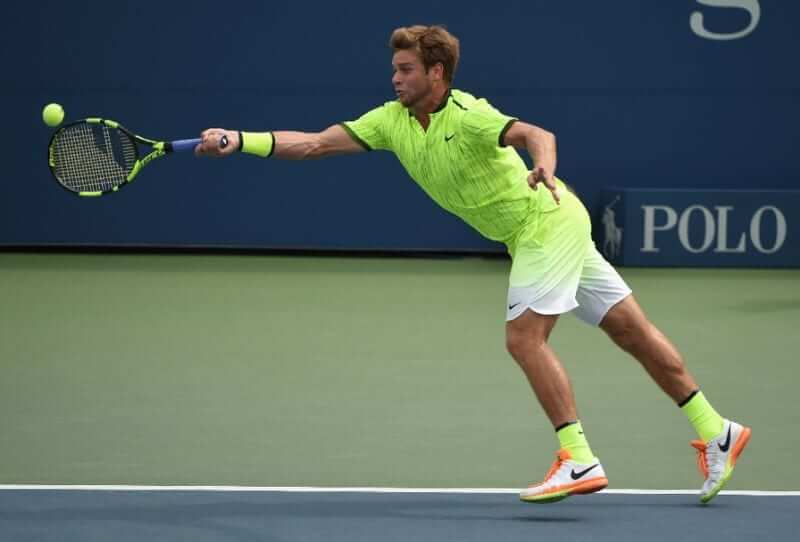 But the first newsworthy occurrence of players wearing the same outfit may have happened earlier that summer at Wimbledon, where Nike outfitted its female players in a "baby doll" dress that was more reminiscent of lingerie than competitive attire. After a number of players came up with creative modifications to keep the dress from flying up and exposing their midriffs in the middle of a rally — one went so far as to use a headband as a belt — Nike was forced to modify the dress to make it more competition-friendly.
The matching outfits can lead to surreal visual pairings. At this year's Australian Open, for example, hometown favorite Daria Gavrilova stepped on the court in exactly the same outfit as her opponent, Timea Bacsinszky, with the only difference being that one wore a headband while the other wore a visor:
Embed from Getty Images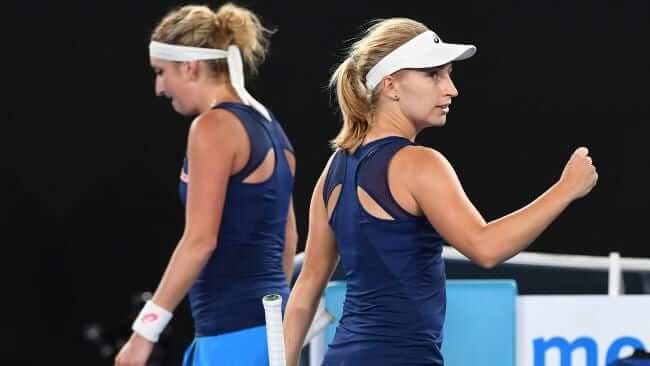 Since then, the clothing suppliers with the biggest rosters have come up with alternate outfits, sparing their players from that awkward moment of showing up to the dance in the same dress as their frenemy. Several companies now have what I like to refer to as "home" and "away" kits.
The one place where you might think you'd find players dressed as a team is on the doubles court. But players negotiate their clothing deals individually, not as doubles teams, so doubles partners don't match unless they happen to have the same clothing outfitter. It's more likely that a player will match one of his opponents across the net rather than the teammate beside him.
Here's a look at the uniforms from major clothing suppliers that have been worn in this year's U.S. Open:
Nike: The primary shirt is called the Fall Advantage NYC Henley, paired with the Fall Ace NYC Short. The "home" kit, with colors described as "Armory Blue with Pure Platinum," is seen here on quarterfinalist Andrey Rublev, and has also been worn by Juan Martin Del Potro, Borna Coric, Denis Shapavalov, Nick Kyrgios, and several others:
There's also a women's version, as shown here on Elina Svitolina:
The "away" comes in "Black with Hot Punch" and was worn by Americans Frances Tiafoe, Sock, and Jared Donaldson: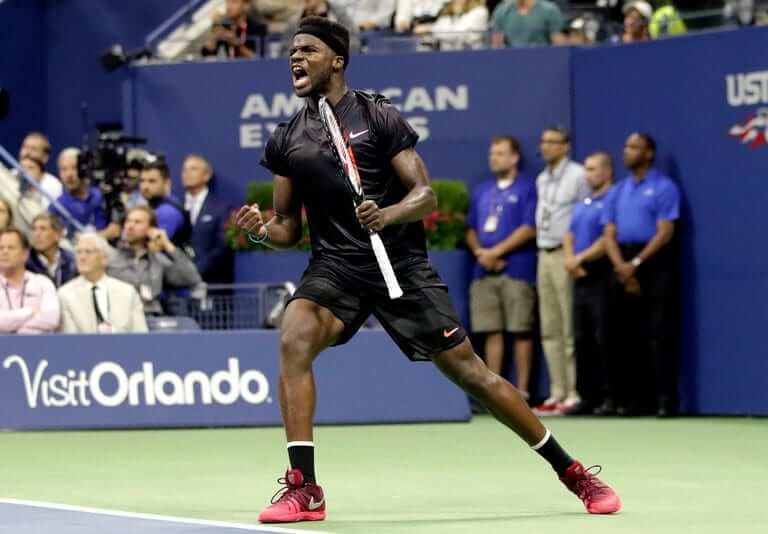 And here's the black version for women, as worn by Madison Keys:
Adidas: The German supplier has gone all out with designs by Pharrell Williams in bold primary colors. It's a unique look — but maybe a bit less unique when multiple players are wearing it (in this case Naomi Osaka, Simona Halep, and Jelena Ostapenko):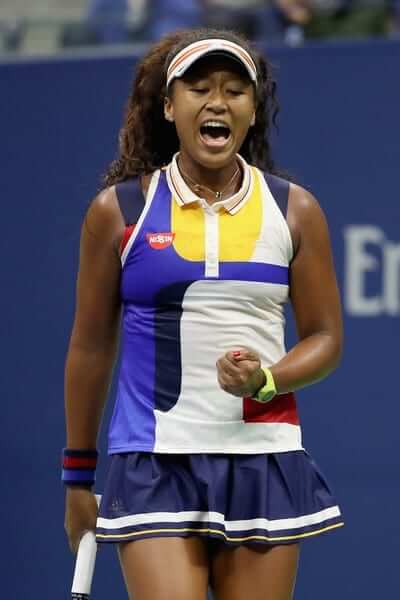 Perhaps the most popular uniform of the tournament has been Adidas's Pharrell NYC Crew, seen on Dominic Thiem, Lucas Pouille, Mischa Zverev, and many more: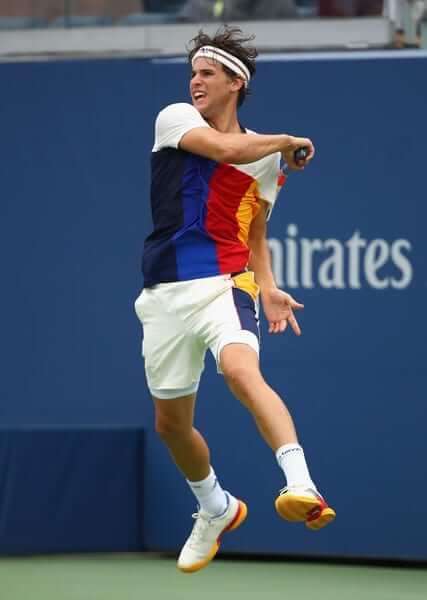 Lotto: The teal/green zippered henley and black shorts combo was worn by surprise semifinalist Kevin Anderson, as well as by John Millman and others:
My reaction to the coordinated kits this year is the same reaction that I initially had last year: It's confusing and gimmicky, especially early in the tournament when the number of players wearing the same outfit can reach double digits. It feels like the marketing tail is wagging the on-court dog. It makes me appreciate players like Stan Wawrinka, whose sartorial choices are bold, if not necessarily successful. At the same time, I'm happy that clothing companies are taking their tennis lines seriously enough to align with high-profile designers like Pharrell Williams and Stella McCartney, who also designed for Adidas this summer. And I have to admit, I really like those wide red, blue, and yellow stripes.
• • • • •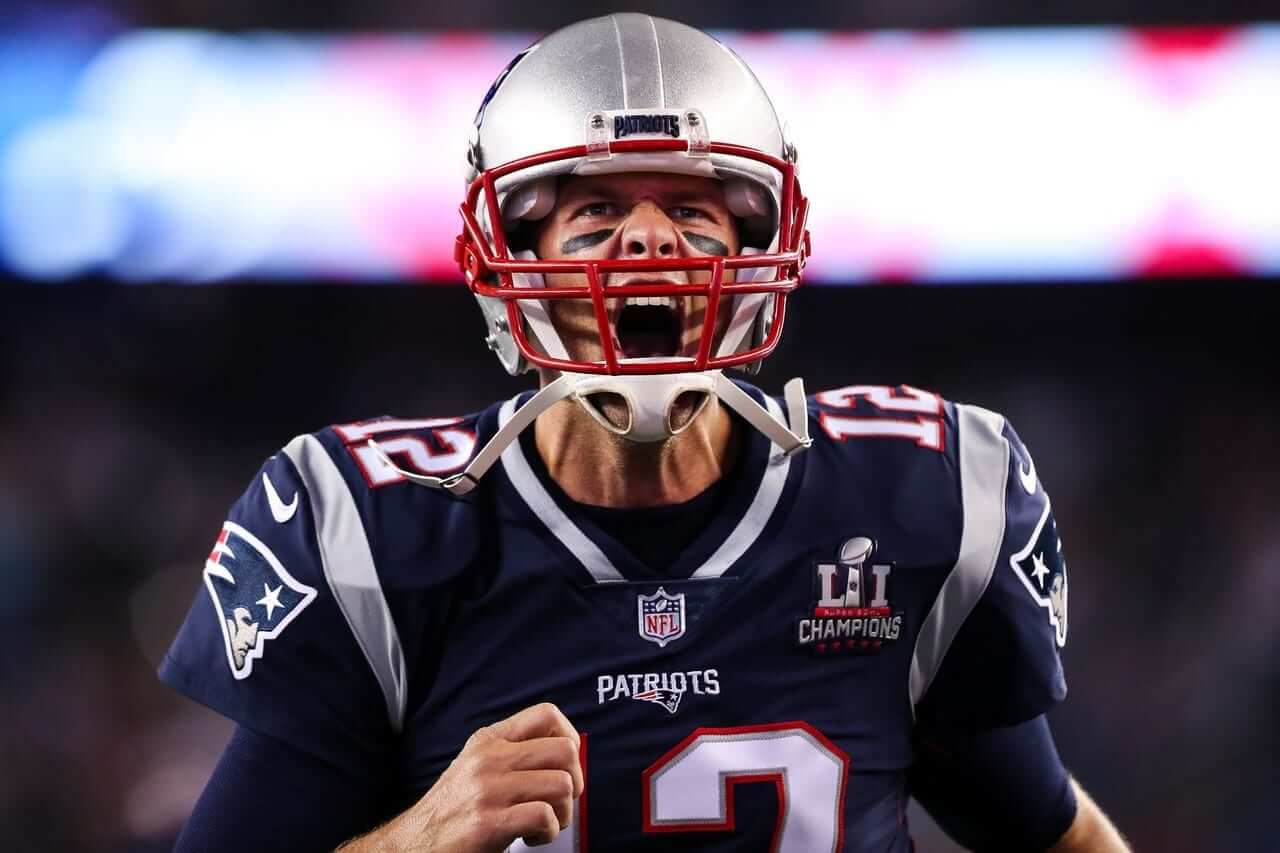 Click to enlarge
Friday Morning Uni Watch: As expected, the Patriots wore a championship patch for last night's NFL season opener against the Chiefs. They wore similar season-opening patches following their three previous Super Bowl wins (but did not wear one following their first championship in Super Bowl XXXVI). Although no announcement has been made, it's a safe bet that this patch, like the others, will be one and done, not a season-long thing.
Only one other NFL team has ever worn this type of patch: the Saints, in 2010.
Other notes from last night's Pats/Chiefs game:
• Pats wideout Danny Amendola wore a jersey from last year, with the full collar striping:
Embed from Getty Images
Very odd, especially given that he had worn one of the new jerseys during the preseason.
• The Chiefs are still one of the two NFL holdout teams that insist on going with plain white nose bumpers. (The other: Washington.) While we're at it: They also have blank neck bumpers.
• The Pats unveiled their latest championship banner.
• Chiefs cornerback Marcus Peters sat during the national anthem and wore a social justice message on the soles of his cleats:
Chiefs' Marcus Peters sits for the National Anthem and is promoting activism on his cleats. pic.twitter.com/dW9uRTZasK

— Sporting News (@sportingnews) September 8, 2017
• • • • •
The Ticker
By Paul

'Skins Watch: The principal of a Maryland high school has banned a Native American headdress that had been worn by the leader of the student section during sports events (from Nelson Warwick). … A seven-year-old indigenous girl from Calgary has refused to play for her hockey team because the team's uniform features a Blackhawks-style jersey crest (from Marc-Louis Paprzyca).

Baseball News: The Royals will have a 50th-season patch on their jerseys and caps next year. Disappointing that they didn't wait until their 50th anniversary, which would be 2019. … New 10th-season logo for the Bowling Green Hot Rods (from Nicole Lynn Perry). … Fast work by the Yankees, who were playing a rainout-makeup game on the road yesterday but still managed to add a black armband for former player and GM Gene Michael mere hours after his death was announced. They'll wear it for the balance of this season. … Looks like Cleveland P Corey Kluber is the latest MLBer to have his jersey sewn shut. As you may recall, this is also done by two Dodgers (good spot by Dan Swan).

NFL News: The Raiders will wear black in Tennessee this Sunday, which means the Titans will be wearing white at home (from James Brooks). … Similarly, the Steelers will wear black in Cleveland, which means the Browns will be wearing white at home. … Speaking of the Steelers: Now that the regular season is upon us, their front helmet numbers have returned. "Also, water is wet," says Brian Cox. … "I had heard that for a brief period of time after the AAFC/NFL merger that the new league would be called the National American Football League (NAFL)," says Marc Viquez. "Here's a mention of that name in the first paragraph of a 1950 newspaper article." … Some uni number changes for the Titans (from Eric Wright). … I feel like we may have seen this before, but just in case: Here are some shots of Broncos return man Rick Upchurch playing with a blank helmet during a 1975 game. … 49ers and Bengals players wore knockoff-style jerseys for a 1990 episode of Family Feud. … A detective in the current Manhunt: Unabomber mini-series is shown wearing an Eagles jacket. "Unabomber or Uni-bomber?" says Yancy Yeater. … Speaking of the Iggles, team owner Jeff Lurie wants to bring back kelly green throwbacks but can't because of the one-shell rule. Lurie says he'll try to get the rule changed, but he already tried that a few months ago and it went nowhere. A simple solution, of course, would be to go with kelly full-time, instead of as a throwback (thanks, Phil). … Here's something I haven't seen before: Bluetooth NFL helmets. Although those are for the Cowboys, I assume other teams are available. … A new stadium set to open in the UK next year features a retractable field that would conceivably allow the venue to host soccer and NFL games on the same day (from Ted Arnold. … Never seen this before: Pro Bowl Scouting Cards, from a 1973 Fleer set (from Ray Hund).

College Football News: Here are this week's uni combos for WVU, Duke, TCU, UNLV, and UNC. … Oregon will be wearing those anti-cancer uniforms this weekend. More on that here and here. … In the wake of the recent Charlottesville violence, Virginia added a "#HoosTogether" patch last week. Now Indiana, which is playing against UVA this weekend, has announced that it will add a "#HoosTogether" helmet decal (from Jamie Rathjen). … Here's a very detailed look at the Frank Kush throwbacks that Arizona State will be wearing this weekend. … New LeBron James cleats for Ohio State (from Jason Hillyer).

Hockey News: The Penguins' practice jerseys have a new number font. … New center ice logo for the Senators (from Mike Styczen and Moe Khan). … The Predators' Twitter feed has been using jersey numbers to count down the days to the season opener. Since Viktor Arvidsson changed his uni number, they had to get creative with his entry (from our own Alex Hider). … Speaking of the Preds, here's a look at their new practice jerseys. … And while we're at it, new practice togs for the Ducks. … The Lightning will have their 25th-anniversary logo at center ice this season. … A little birdie took a photo of the Vegas Golden Knights' inaugural red line design, which features the team's helmet motif, along with sunbursts. Feels too busy. … Grateful Dead jerseys on tap this February for the Kalamazoo Wings. … One commentator's opinion: The renaming of the Maple Leafs' arena shows how boring naming rights have become (from Ted Arnold). … I love this: Some NHL players were asked to draw their own team's logo (from Mike Chamernik, who's moved on to bigger and better things but is still keeping in touch).

NBA News: The new box cover of NBA 2K18 shows Kyrie Irving in a Photoshopped Celtics uniform, featuring a smaller GE ad patch than the one in real life (from @L_A_B_10). … The Clippers are adding pricey courtside seating along the scorer's table. … New court design for the Cavs (from KC Kless).

College Hoops News: New court for DePaul. Additional photos and info here (from Brian Flood). … New uniforms for Montana (from @SodaPopinskiCU). … New court for Wichita State (from @PhillyPartTwo).

Soccer News: Cross-listed from the NFL section: Tottenham's new stadium, set to open next year, features a retractable field that would conceivably allow the venue to host soccer and NFL games on the same day (from Ted Arnold).

Grab Bag: Georgetown's new deal with Nike includes factory labor monitoring (from Scott Trembly).
• • • • •
To all our readers in Florida, and also to those who have friends and family there, my thoughts are with you today. Take care, be safe, and here's hoping the storm veers out to sea.