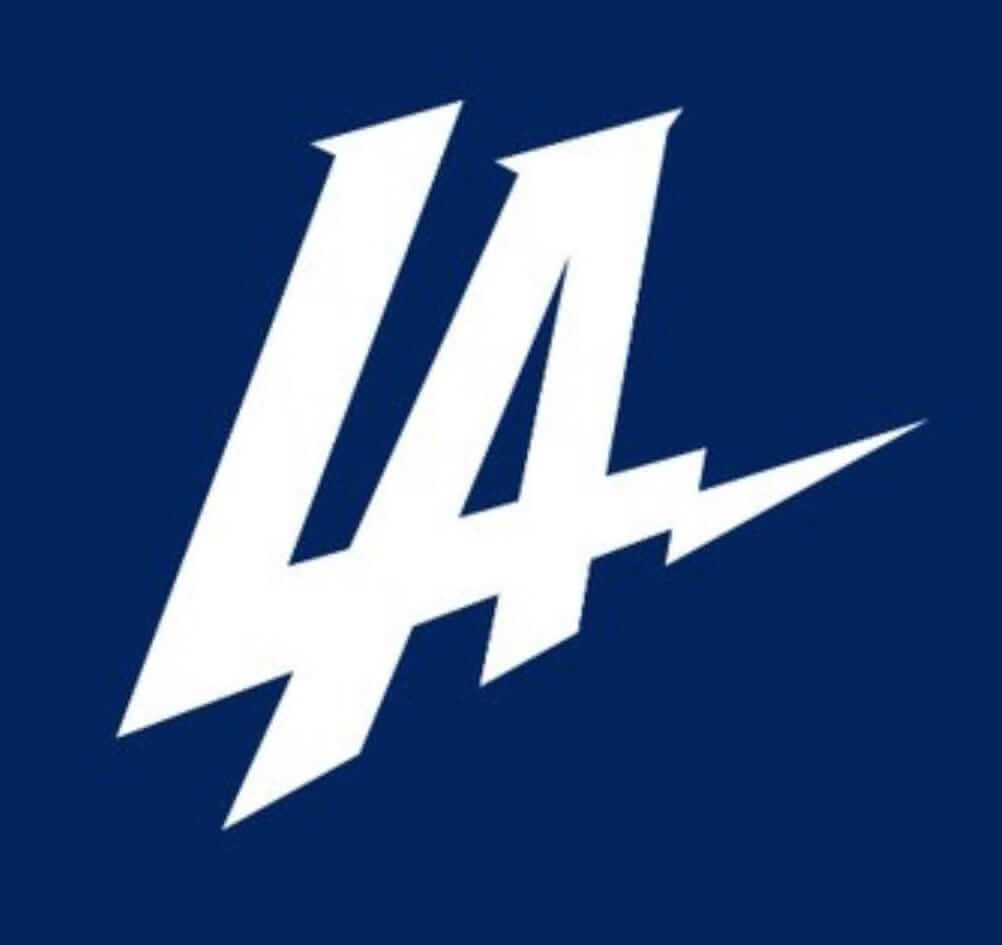 In case you missed it amidst all the weekend hubbub, the Chargers' much-maligned "LA" logo is official dead, done, kaput. That news was broken on Saturday by NBC's Pro Football Talk, where Chargers exec A.G. Spanos raised the white flag:
The logo that was revealed on Thursday was meant to help launch our brand into the market and supplement "" not replace "" our official team marks. Clearly, we miscalculated how the logo would be received, and we've taken it out of the rotation.
I've heard a few people compare this episode to the 49ers' infamous one-day six-day helmet fiasco from 1991, but I'd say that's a case of apples vs. oranges. The Niners' helmet was really going to be, you know, the Niners' helmet, while this logo was never going to be anything except a Twitter avatar and a promotional mark. As I explained last Friday, it was never going to appear on-field. So all the fuss over it was largely moot.
But the Chargers have nobody but themselves to blame for that fuss, because they put the logo out there without explaining what it was for. If Spanos had used that language about the logo being intended to "supplement, not replace" the team's existing visual portfolio when the new logo was introduced, a lot of the ensuing ridicule could have been avoided.
As I mentioned on Friday, I don't think the logo was that bad (although it would've looked a lot better if rendered in a more Chargers-y color scheme). The real issue here wasn't a design problem; it was a communications problem.
Speaking of which: I often roll my eyes when teams stage elaborate media events or issue hype-laden press releases for fairly routine developments. That's all part of what I perceive to be a culture of micro-management and marketing nonsense that's gotten way out of hand. But the Chargers' logo debacle makes it clear why teams often err on the side of too much information. The alternative — too little information — can have disastrous results.
I'd like to think there's a happy medium between those two approaches. But I think it's a pretty safe bet which approach the Chargers will take the next time they update their visual program.
•  •  •  •  •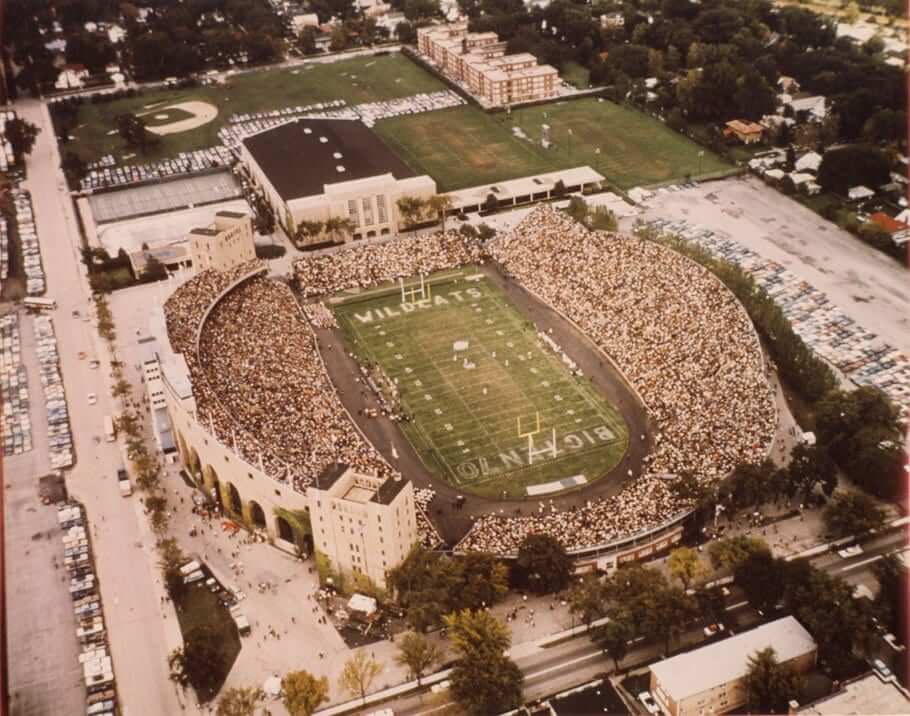 End zones, continued: Last week's Friday Flashback about home teams acknowledging the visiting team in one end zone led reader Bob Gassel to submit the 1970 photo of Northwestern's Dyche Stadium shown above. See how there are two sets of goalposts in each end zone? I'll let Bob explain:
This photo was taken when the Bears and Eagles played there on September 27, 1970. The game couldn't be played at Wrigley Field [which was the Bears' home venue at the time] because of a conflict with the Cubs. NFL goalposts were still located on the goal line in those days, not the back line, so the extra set of goalposts was added for this game.

Another hint it isn't a college game is that the stadium is full. Northwestern rarely filled the place back then (and now).

Footnote: When the Bears had to move from Wrigley after the 1970 season, Dyche Stadium was their first choice for a new home. But Evanston was dry at the time, and the team wouldn't have been able to sell beer at the games, so they went to Soldier Field instead.
•  •  •  •  •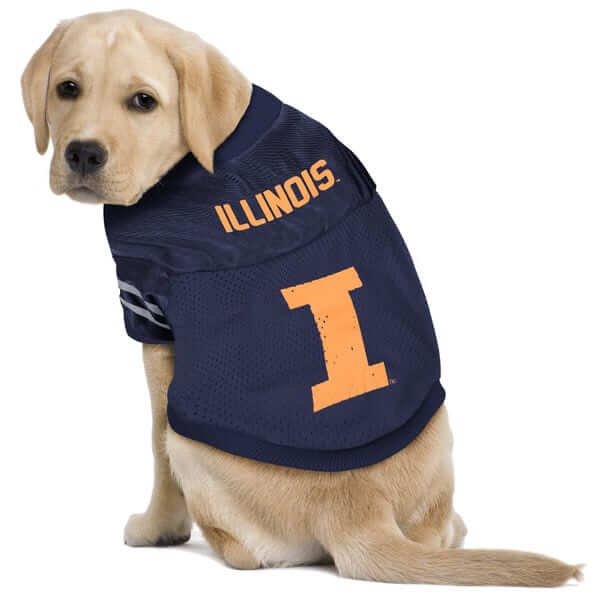 And the Puppy Bowl's coming, too: In case you missed it yesterday, Phil had a post on pets wearing sports uniforms. He's planning a follow-up post and wants to feature photos of your uni-clad pets. If you have a photo for him, use this link to send it his way. Thanks.
Raffle reminder: I'm currently raffling off a $100 discount code for use at IceJerseys. Full details here.
Design contest reminder: I'm currently accepting entries for a "Redesign the Chargers" contest. Full details here.
• • • • •
The Ticker
By Alex Hider

Baseball News:  The Diamondbacks announced yesterday that their black snakeskin gradient cap will now be their "primary" cap this season. It also looks like they're mothballing the black and red cap without the gradient. … Whoops: Andrew Greenblatt's  father bought a Giants cap with a sublimated American League logo. He's not alone, either. Dawson  found a Pirates cap with an AL logo.  …  With the news  that Ringling Bros. is ending its circus after more than 100 years, check out this photo of the  Barnum and Bailey Circus baseball team from 1912 (from  BSmile). … Tom Cruise must read Uni Watch (from  Matt). … You can hear former Mets broadcaster Lindsey Nelson commenting on the Padres' 1972 uniforms in this radio broadcast from a '72 game. "But he gives out some incorrect information," says Ferdinand Cesarano. "He says that the Padres had gone back to brown caps from caps that were 'all gold.' There was no all-gold cap, but only the brown cap and the original version of the Taco Bell cap."

Football News:  In Paul's most recent  Flashback Friday column about visiting team logos painted on NFL fields, he mentioned a 1971 Dolphins/Chiefs playoff game. Turns  out that the hashmarks on the field were painted in Chiefs red and Dolphins aqua (from Mark Guttag). … Speaking of field design, the "Divisional Playoffs" logo that usually appears at the 25-yard line for was missing from the Cowboys' field yesterday (from @espitt). … Whoops: This NC State shirt was printed in UNC colors (from  James Gilbert). … Step aside, Bucs and Cornhuskers. The Oregon Medical Department football team owns the skull and crossbones. That's from  Andrew John, who spotted that awesome photo at the Oregon Health & Science University.

Hockey News:  The Maple Leafs recently acquired Curtis  McElhinney from Columbus. In his first game with his new team on Saturday, he wore a mask with both Leafs and Jackets logos. If you look closely at the first shot, you can see the CBJ  logo under the white paint. (from  Will Leslie).

Pro Basketball News:   The Grizzlies wore their black Martin Luther King Jr.-themed alternates at home last night, creating a black vs. red game against the Bulls (from Zachary Loesl). … Also from Zachary: The Raptors wore black at home, with the Knicks wearing their white throwbacks on the road, and the Hawks wore their red alternates at home, with the Bucks wearing their white home unis on the road. … The Dandening Rangers of the Australian Women's National Basketball League wore special uniforms commemorating 25 years in the league. They contain the names of every player to play for the team.

College Hoops News: Iowa players honored former player  Kenny Arnold on their shooting shirts before last night's game at Northwestern. Arnold lives in Chicago and was recently diagnosed with a brain tumor (from Josh Segal). …  Manny Powell for DII Clarion University had a backwards number on his shooting shirt on Saturday (from  Jim Roddy).

Grab Bag: Here's the ball that teams in the United Soccer League will play with this season (from  Josh Hinton). …  Federal officials are covering up the signage on portable toilets  brought in advance of Inauguration Day, due to laws restricting advertising on the National Mall. The slogan they're covering up? Don's Johns (from Adam Brodsky). … SportsLogos.net put together a good graphic showing how franchises changed their logos — or, in some cases, didn't change their logos — when they moved to a new city. … New logo for the Australian Open tennis tournament.
•  •  •  •  •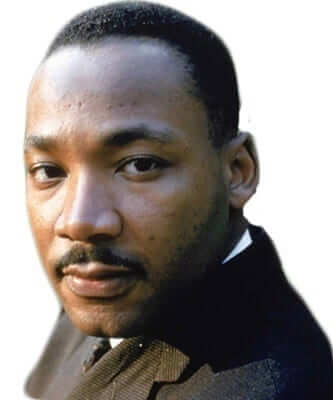 Today is Martin Luther King Jr. Day, when we honor history's greatest American. And as I like to point out each year on this holiday, perhaps the most amazing thing about King is that he accomplished so much in such a short amount of time. He was only 39 when he was assassinated in 1968. Think how different — how much better — this world might be if he had lived another 20, 30, or 40 years. What a waste.
As you may recall, the Grizzlies have an MLK-themed alternate uniform this season. Unfortunately, they're not among the 18 NBA teams that are playing today. Disappointing.