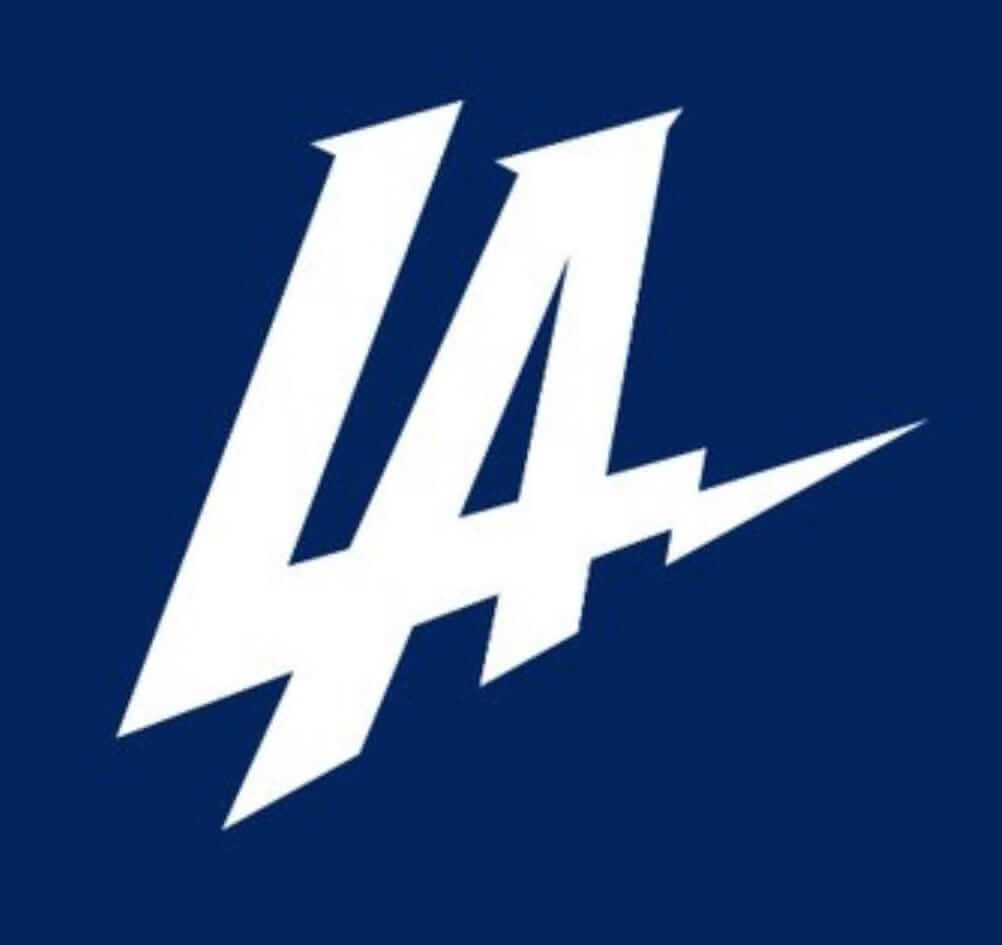 Well, that was a bit of a mess.
As you're probably aware by now, the Chargers are moving to Los Angeles. As you may also be aware, they unveiled a new logo yesterday, which is shown at right. Regardless of what you think of its aesthetic merits (we'll get to that in a minute), the unveiling left a lot to be desired from a communications perspective. After the team's move to L.A. became official, the logo simply appeared on social media with no explanation or context, giving people the mistaken impression that it will be the team's new primary mark (it's not). Many people therfore made the logical leap of assuming that new uniforms are also on the way (they're not). There was also a wave of bogus info circulating, suggesting that the logo was illegitimate (it's not). All of which can make for a rather hectic day if your job happens to be, say, writing about logos and uniforms.
Here's the deal:
Is this a real Chargers logo?
It's real in the sense that it was created for the team, it's being used on the team's Twitter page and on other official Chargers web pages, and it will be used in other marketing capacities (billboards, stadium signage, etc.). But that's all, at least for now.
Will this logo replace the arched lightning bolt as the team's primary logo?
No.
Will this logo be worn on the uniform in 2017, even as a patch?
ӬӬNo.
Could this logo end up on the uniform at some point later down the road?
ӬӬIn theory, yes. In practice, I am not aware of any plans for that to happen.
So what's the point of this logo?
It symbolizes the team's relocation to Los Angeles and will be used strictly for marketing purposes, not for on-field use.
Why didn't they just say that when they first revealed the logo?
Good question. Would have made more sense to do it that way (and would also have made my Thursday sooooo much easier).
I heard that the NFL hasn't approved the logo yet.
Yes, I've heard that too. That initially seemed ridiculous, because the NFL's own Twitter account posted the logo around the same time the Chargers did. But that NFL tweet was later taken down. Still, the fact remains: The Chargers are using this logo on their own web pages — that seems pretty "approved" to me. Maybe it isn't approved for on-field use, but that's a moot point because they're not planning to wear it on-field, at least for now, and couldn't do so even if they wanted to, because NFL redesigns can't happen that quickly.
Look, it's just a promotional logo. There'd be no reason for anyone to make a big fuss over it, or even for me to create this FAQ explainer, except that people mistakenly got the impression that it it's going to be the team's new primary mark, which it isn't.
Don't you think they probably intended this to be their new primary logo, but then they saw how much everyone on Twitter hated it so they changed their minds about getting a makeover and decided to call this a "promotional logo" just to save face?
No, that's not how these things work.
So will the Chargers have new uniforms this fall?
No. For starters, I'm not at all certain that team ownership wants new uniforms. Moreover, as we've covered many times here at Uni Watch (and as everyone should have learned when the Rams moved back to L.A. last year), it usually takes two years to execute a team makeover, mainly because of supply chain logistics involving retail merch. If the Chargers want a new look, they'll have to wait until 2018 or, more likely, 2019.
Are you going to wait that long before running a "Let's Redesign the Chargers" contest?
"¨"¨No — the contest is already up and running. Deadline is next Thursday. Full details here.
What do you think of the logo?
I wouldn't say it's history's most inspired piece of graphic design, but I don't think it's as bad as many other people apparently do. It's simple, direct, and gets the point across, although it's obviously too Dodgers-derivative. But one more time, it's just a promotional logo tied to the team's move, so it's hard to get too worked up about it one way or the other.
Or at least that's my take. But a lot of people did get worked up about the logo yesterday (again, because they misunderstood how it's going to be used). Some just poked gentle fun at it, but others were a bit more aggressive (and apparently set a record for the fastest turnaround from logo unveiling to T-shirt parody):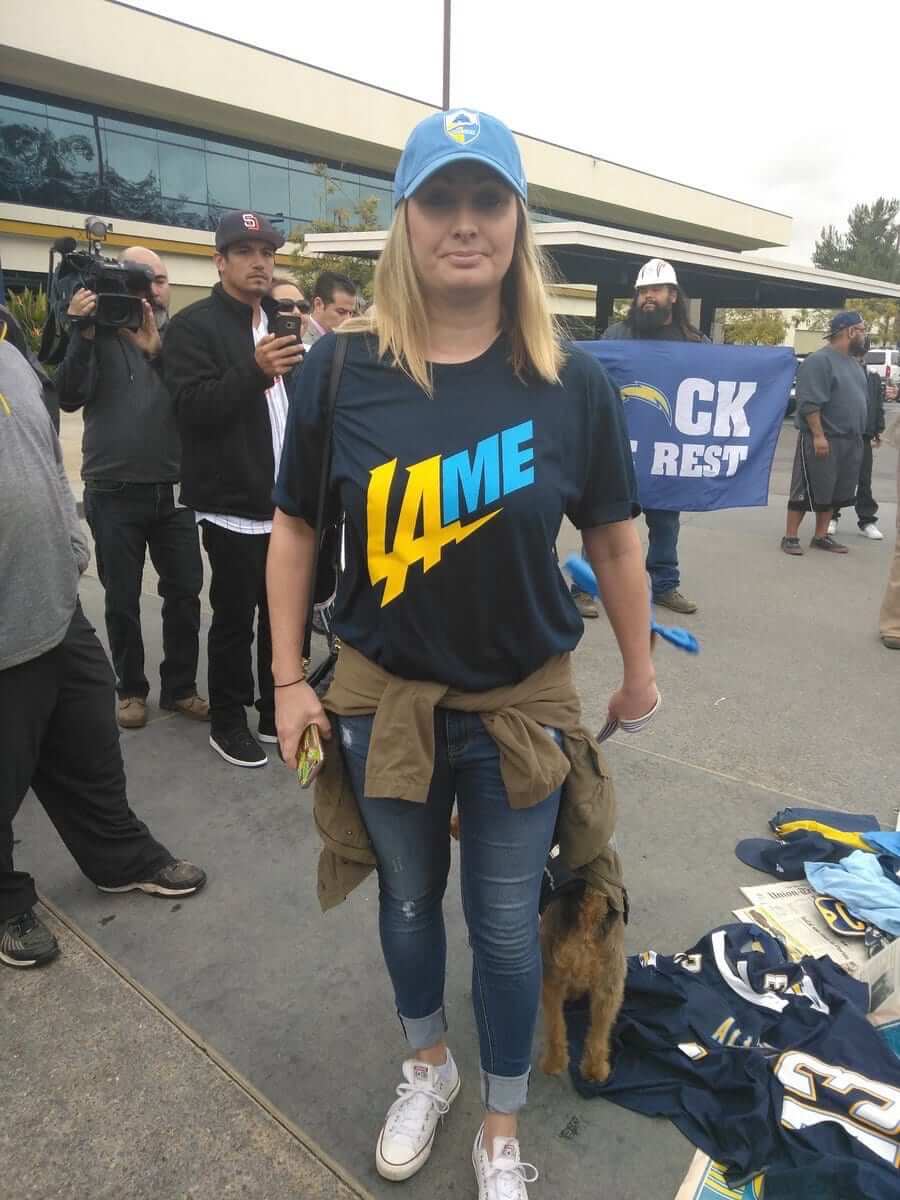 There's a lot more where that came from — this logo really seemed to inspire people. Phil will have more thorough coverage of that phenomenon tomorrow, so you'll want to check back here for that.
•  •  •  •  •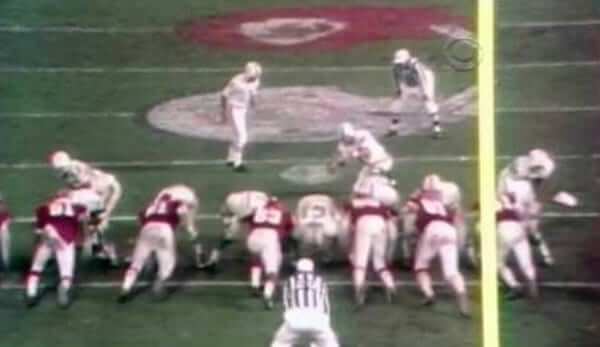 Friday Flashback: Earlier this week I asked what you folks thought about NFL home teams acknowledging the road team on their fields (as the Chiefs did while hosting the Dolphins in the famous "Longest Game Ever Played" in 1971, shown above). That's the topic of my latest Friday Flashback column on ESPN, which has lots of additional examples, including some from college football. Check it out here.
After I raised that topic earlier this week, I received a really interesting note from reader Mike Nachreiner, as follows:
While working for the St. Paul Saints minor league baseball team in the late 2000s, I was able to do a lot of fun things. The Saints were playing in a very outdated stadium and we did what we could to make it more like every other ballpark in professional baseball. We'd never had a Saints logo painted on the field and it always bugged me. So during the playoffs, I made a stencil of our logo and got approval to paint it in front of the home dugout.

Having the logo in front of only one dugout looked asymmetrical, so I was going to paint the logo in front of the visitors' dugout too. But then I got the bright idea that I should use the logo of the opposing team, the Gary RailCats, instead. It was an easy logo and I didn't need a stencil. I talked with the groundskeeper and she thought it was a good idea.

It ended up looking great but as I was finishing Gary's logo, the Saints players came walking over and started yelling at me. Nearly every player told me that I had ruined our home field advantage. The GM asked me to paint over the RailCats logo with the Saints stencil an hour before the game. It ended up looking pretty terrible. The Saints ended up losing that game, which was the deciding game in the playoffs. I spent all winter feeling bad about it. I felt vindicated while reading Uni Watch and finding out that it was more prevalent in the past.
•  •  •  •  •
NEW! IceJerseys raffle: Our friends at IceJerseys are generously offering a $100 discount credit to a lucky Uni Watch reader.
To enter, send an email to the raffle address by next Wednesday, Jan. 18, 7pm Eastern. I'll announce the winner the following day.
•  •  •  •  •
Click to enlarge
"Collect 'em all" update: For those of you who submitted proof of having purchased all six Uni Watch T-Shirt Club designs in 2016, an embroidered patch like the one shown above will soon be sent your way. I don't have the patches in my hands yet, but I should have them either tomorrow or Monday, and they'll mail out promptly once I get them. My thanks to everyone who participated in the Club last year, whether your bought all the shirts, or only one, or even if you just offered feedback and enjoyed watching how things developed. It's been a fun project.
Some of you have asked if the Club will continue in 2017, and the short answer is that I'm not sure. The longer answer is that I'd like to do a few more shirts this year (perhaps with the great Larry Torrez, who designed my Twitter avatar), although I leaning against doing a month or even bi-monthly schedule. Maybe we'll just do three or four tees this year without the Club imprimatur — no sleeve patch, no jock tag, no "Collect 'em all" incentive, just some nice designs. I'd also like to move beyond T-shirts and do a Uni Watch baseball cap (crazy that we've never done that before, right?) and maybe even a Uni Watch seam ripper (for when you want to remove that New Era logo creep from your MLB cap). More on all of that soon.
•  •  •  •  •
The Ticker
By Paul

'Skins Watch: The school district in Belding, Michigan, whose school board voted unanimously last month to stop calling its teams the Redskins, is now accepting ideas and artwork for a replacement identity.

Baseball News: This is pretty awesome: When there's a hockey game played at Fenway Park, the Red Sox staffers play their own game, in Bosox hockey uniforms! So cool (big thanks to Keith Thibault). … See the Gear, a Twitter and Instagram project that shows photos of baseball gear, is partnering with D1baseball.com, a site that focuses on college ball (from Joel Mathwig).

NFL News: Cowboys RB wore an orange wristband all season to support a fan with cancer (from Phil). … Also from Phil: Here's a great visual history of pro football in Los Angeles. … Here's a rare sight: the Raiders wearing white at home, albeit for a preseason game.

College Football News: With coach PJ Fleck moving from Western Michigan to Minnesota, Minnesota is looking to buy Fleck's signature "Row the Boat" trademark (thanks, Alex).

Hockey News: New uniforms and logos for the ECHL All-Star Game (from John M). … Pretty wild "Video Game Night" jerseys for the ECHL's Greenville Swamp Rabbits (thanks, Phil). … I put this item in the baseball section, but it belongs here too: When there's a hockey game played at Fenway Park, the Red Sox staffers play their own game, in Bosox hockey uniforms! So cool (big thanks to Keith Thibault). … The Lightning will add a commemorative patch tonight for Martin St. Louis's number retirement. As you can see from that shot, it appears that they'll also be wearing white at home (from Joe Delach). … Cross-sport move by the Missouri Mavericks, who'll be wearing Kansas City Monarchs-themed jerseys on Feb. 18 (thanks, Phil). … Longtime reader/commenter Rob S. made some simple adjustments to the NHL All-Star jerseys, and his versions are a major improvement over the real thing.

NBA News: Here's a ranking of the best uniforms ever for each NBA team (thanks, Phil). … With the Nuggets playing in London yesterday, Danilo Gallinari broke out the Union Jack socks (from @so_it_gohs).

College and High School Hoops News: Throwbacks in the works for Providence (from Dan Herr). … Syracuse-area high school teams will be wearing throwbacks this weekend (from Rick DiRubbo). … SMU and Cincinnati went color vs. color last night. … Speaking of Cincy, they'll have 1991-92 throwbacks on Feb. 4 (from The Fish). … Wisconsin's court — not the arena, but the court — will be called the Ab Nicholas Court starting next season (from @jmjf89). … Key passage from this article about a high school game in New Hampshire: "Thornton took a pass seconds into the second half, then stopped in front of his bench and held the ball aloft, calling for a stop in play. He'd realized he'd been given a smaller girls' ball to start the half. 'I knew that when I palmed it,' he said, exchanging the small ball for the larger alternative" (from Tris Wykes).

Soccer News: New shirt deal for the Nigerian team Rivers United. … Here's a visual history of MLS match balls. It's so weird how soccer balls change all the time while the balls in other sports stay essentially unchanged (from Josh Hinton).

Grab Bag: CSN Mid-Atlantic, which provides coverage of DC-area sports, is going with a casual Friday on-air look. A station exec says athletes feel more comfortable when appearing with people who aren't dressed quite so formally (from Tommy Turner). … Former NASCAR driver Jeff Gordon famously drove a No. 24 car. Here's the story of how he almost drove No. 46 (from Steve Laga). … President Obama's daughters, Sasha and Malia, love to wear chokers. … Here's a good project that documents the designs of NYC plastic bodega bags (from Vin Barone).
• • • • •
Click to enlarge

What Paul did last night: When I was eight or nine years old, I was poking around in my big brother's apartment (he would have been 23 or 24, and the year would have been 1972 or '73) and stumbled across a comic book that was unlike anything I'd seen before. I was used to comic books featuring superheroes and full-color pages, but this one had a fairly graphic cover illustration showing a guy taking a leak, and the interior pages were all in black-and-white. I didn't really understand what the story was about, but I could tell it was "dirty." My brother, who'd been doing something in the other room, came in and said, "Whoa, whoa, that's not for you!" and grabbed the comic book away from me.
"¨I didn't realize it at the time, but that was my introduction to the great underground cartoonist Robert Crumb. He would go on to influence a generation of cartoonists, illustrators, animators, and graphic novelists, and I would go on to become one of his many devoted fans.
Crumb now frequently makes comics with his wife, Aline Kominsky-Crumb, a great cartoonist in her own right. Last night the Tugboat Captain and I went to check out the opening of a really great gallery show of their collaborative work.
At first glance, the two Crumbs are a yin-yang pair. He's neurotic, skinny, and intensely insecure, while she's bold, physically robust, loud, and in your face. But the more of their work you see, the more you realize that those personas are both poses or even caricatures, and that they have more in common than they initially let on (and that, like many couples, they know how fortunate they are to have found each other, because it's hard to imagine anyone else putting up with either one of them). In particular, they both have competing impulses toward exhibitionism and shame, which creates the tension that drives much of their storytelling.
Amidst all the penises, nipples, asses, and other salacious bits, the show features quite a few comics that are fairly straightforward love letters from the two Crumbs to each other. The one shown above — a cover design for the Jewish culture magazine Heeb — is one example, and here's another (click to enlarge):
I love that strip — the story of two misfit weirdos who fell for each other and somehow managed to meld their mutual eccentricities. Awwwwww.
(If you want to see more artwork from the gallery show, there are some additional pics here. Depending on how uptight and/or comics-clueless your workplace is, a few of them are probably NSFW, so be careful.)