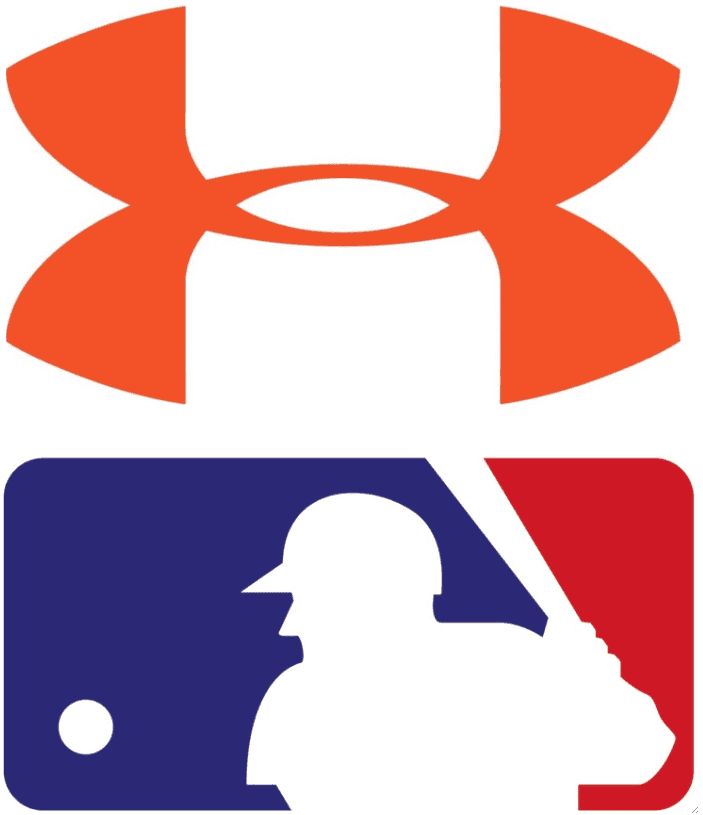 MLB made it official yesterday: They confirmed that Under Armour will be taking over from Majestic as the game's official uniform outfitter in 2020 — a development that had first been reported, but not officially acknowledged, about six weeks ago.
But yesterday's announcement came with a new wrinkle: While the Majestic logo has appeared on MLB sleeves, the Under Armour logo will be appearing on the upper-right chest area.
This is, of course, extremely disappointing. Just as the addition of the New Era logo to MLB caps collapsed the wall between major and minor league caps, and also between on-field and retail caps, the chest placement of the Under Armour mark will erase the boundary between professional and college jerseys, the latter of which often have the marker's mark on the chest. It's the latest step in what seems like an inexorable spread of branding and advertising on sports uniforms.
Baseball isn't the only college sport that features chest-positioned maker's marks — you can see the same thing in college football, college hockey, college basketball, and so on. Chest-based logo creep is also common in lots of international sports, like soccer, rugby, and cricket, along with Japanese baseball and many others. But just as the Big Four pro leagues here in North America have resisted the use of uniform advertising, they've also kept manufacturer logos off of their chests. That will change next October, when NBA uniforms begin carrying the Nike logo on the chest (along with uni ad patches, of course). With MLB moving to a chest mark in 2020, you have to wonder how long it'll be before the NFL and NHL move their maker's marks to a front-facing location. All of this feels like a move toward a more international model of uniform design.
So how will it look? We can get a hint by looking at Under Armour's college and high school uniforms. Here's a good example (click to enlarge):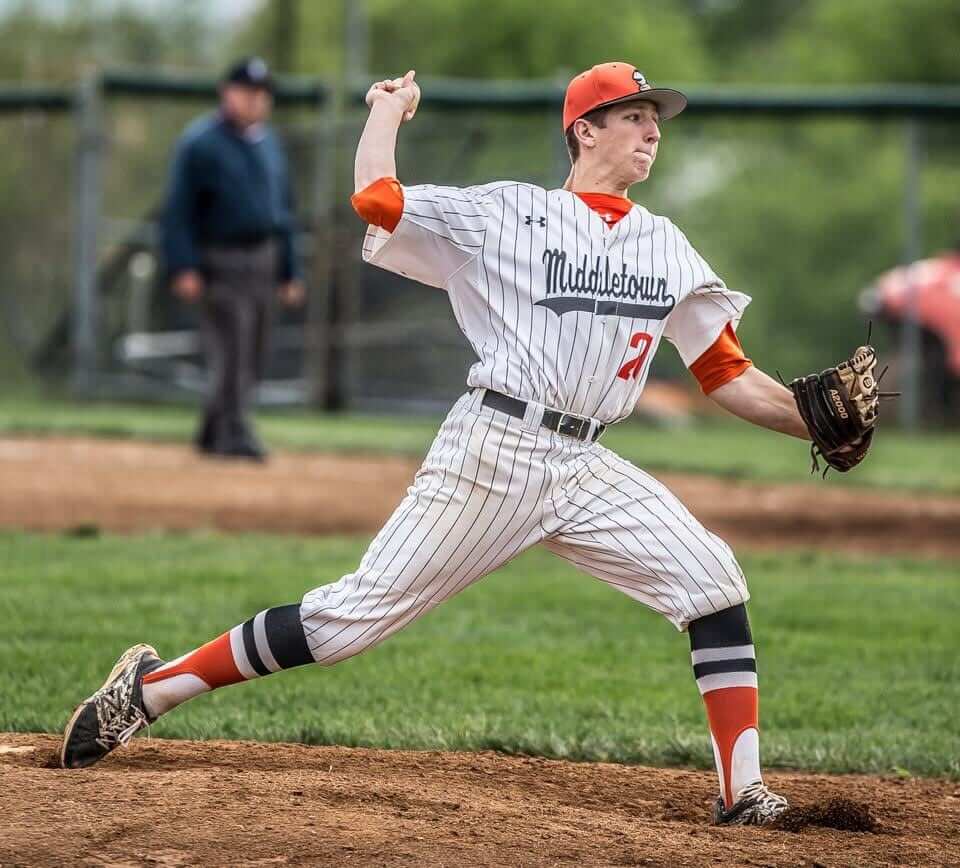 But it's one thing to see a chest logo on the jersey of a team you've never heard of. It's another to see it on a jersey design you've been staring at for years. And thanks to the magic of digital imaging, it's easy to get a sense of what that will look like: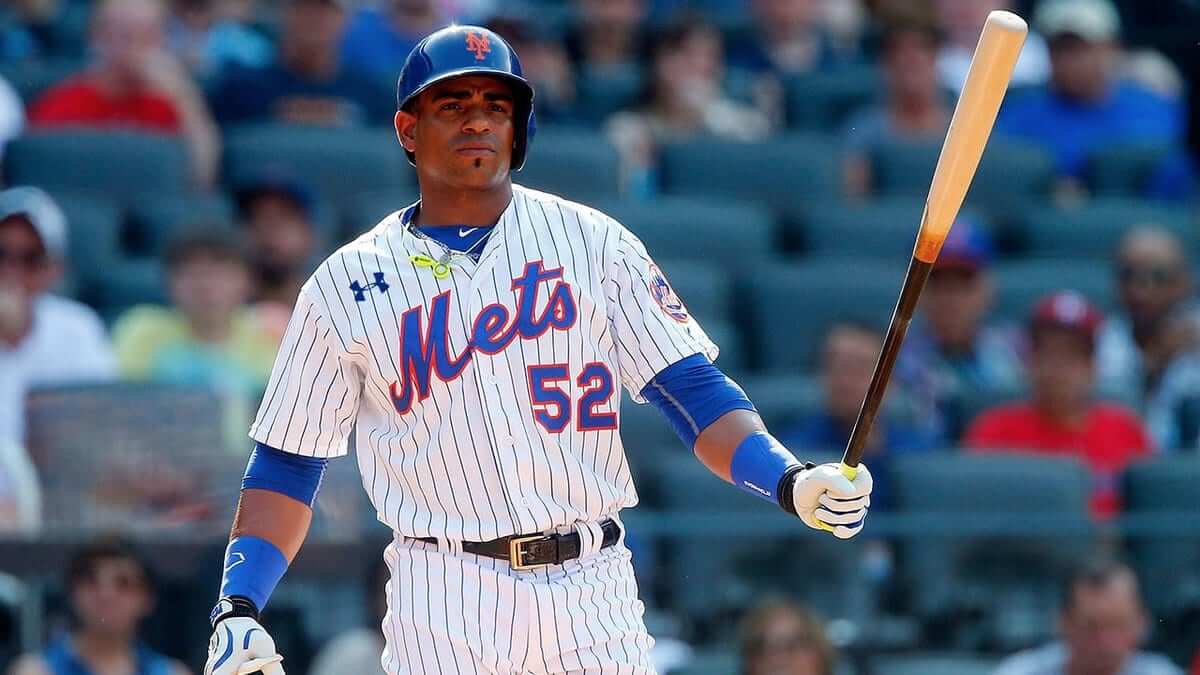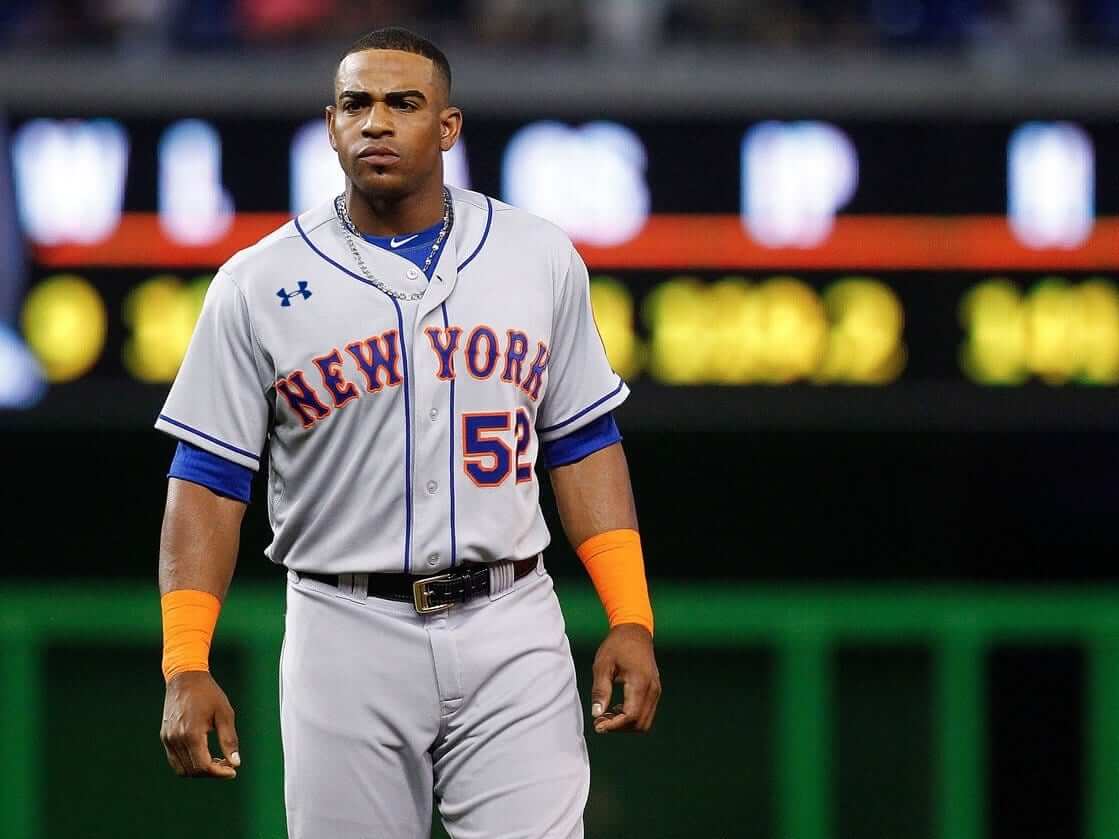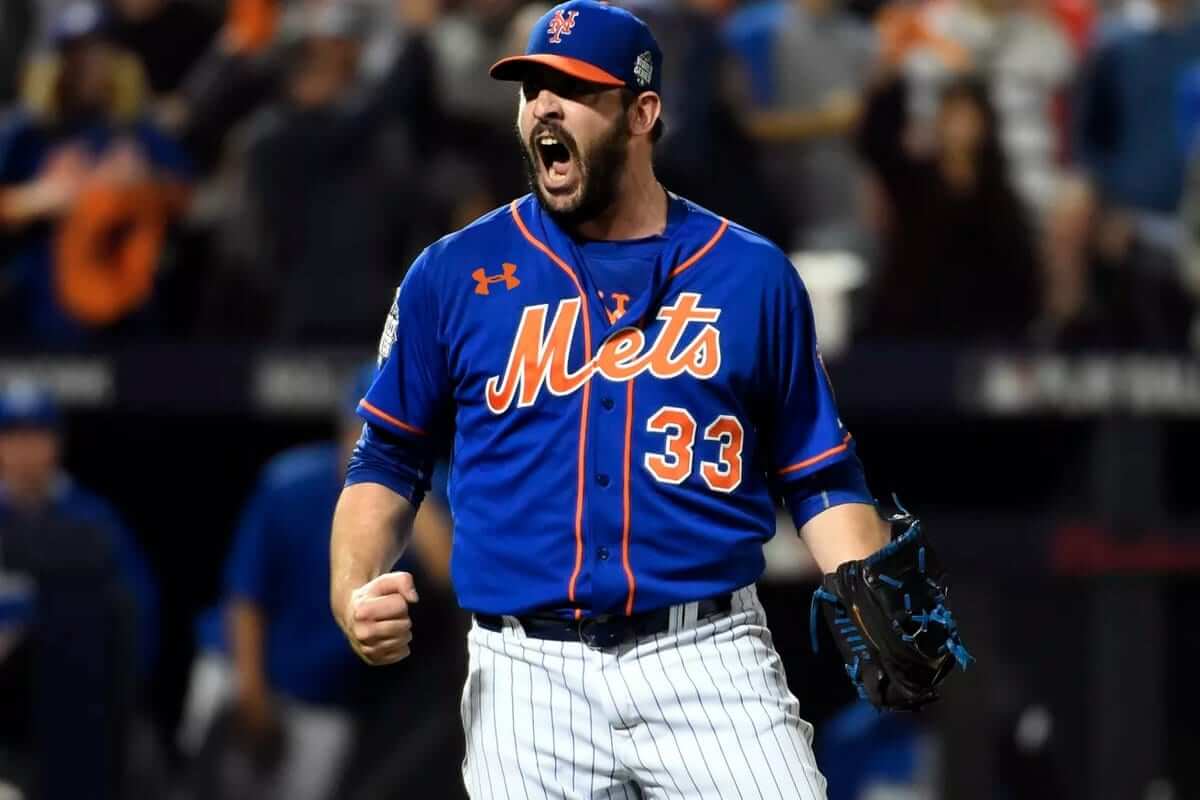 And we already have a good sense of what the Giants will look like, because Under Armour already outfits the Yomiuri Giants, who have the same color scheme and a similar jersey design: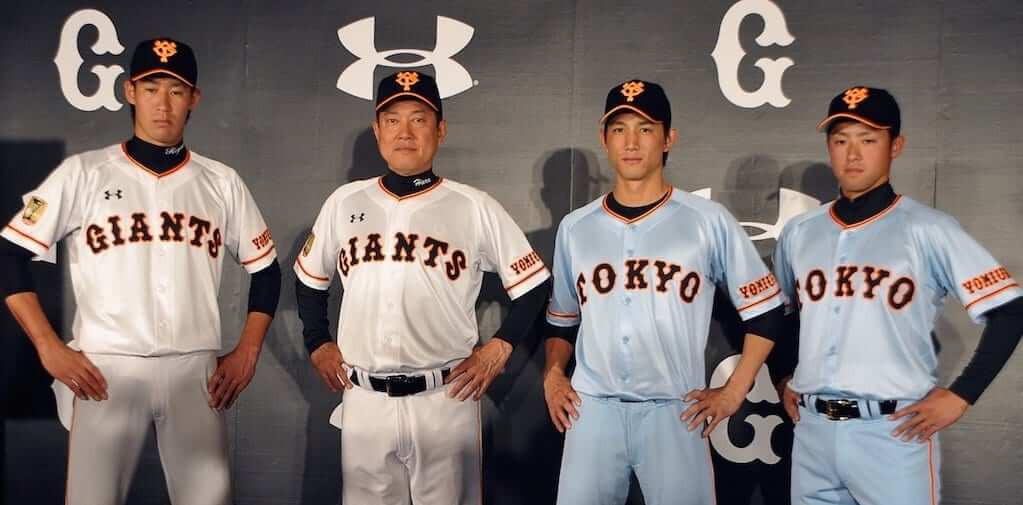 Of course, all of this is still four seasons away. And will we get used to it, just as we've gotten used to all the other little things that have chipped away at the integrity of uniforms? Yes, we will — but it's beginning to feel like death from a thousand cuts (to the uniform as well as to my psyche). And if you don't think the move to a chest mark is a big deal, check out this Bloomberg News story, which says the chest placement doubled the value of the deal for MLB. Think about that — Under Armour was willing to pay twice as much to move the logo from the sleeve to the chest. That's how unavoidable the Under Armour mark is going to be.
That story also includes the following quote from Under Armour founder Kevin Plank: "Think of a Yankees fan who is standing in front of a shoe wall deciding what they want to buy. They will think about the fact that there is an Under Armour logo on the front of their jersey."
And there you have it: The point of Under Armour's deal with MLB is to sell sneakers. That isn't really a big revelation — you probably already realized it, at least on an intuitive level — but it's really something to see it spelled out so plainly, right?
By coincidence, the day before this news broke I was reading a really good article about the encroachment of advertising into everywhere from national parks to report cards and permission slips and even church sermons (which all comes across as another example of a system that has succeeded too well). The guy who wrote that piece, Tim Wu, has a new book called The Attention Merchants, which is about the history of advertising's various attempts to worm its way into our brains (like, say, by putting a logo on a baseball jersey in order to sell sneakers). I haven't read it yet, but there are reviews here, here, and here, and there's an interview with Wu here.
Wu's thesis is that we need to be more selective about what we pay attention to, and that we shouldn't give away our attention so easily, because that's when advertisers get to manipulate us. But how can we avoid that in a realm like sports, where advertising is everywhere, from TV commercials to stadium naming rights? I'll have more to say about that — and will be presenting you with a small defense mechanism — in a few days. And what about all the advertising on this here website? I'll have more to say about that shortly as well.
Meanwhile, let's enjoy the look of the next three MLB seasons. Well, except for the caps.
———
One footnote to all of this: Ever since news of the Under Armour deal first surfaced in October, officials in Pennsylvania have been very concerned about preserving the 600 job at Majestic's factory there, and they're now lobbying to have Under Armour either acquire that facility or use it as a subcontractor. Lots of good info here.
(My thanks to @Braves_Leo, @GetterOne, Doug Rowan, @Whittness, and Phil for the MLB jersey mock-ups.)
•  •  •  •  •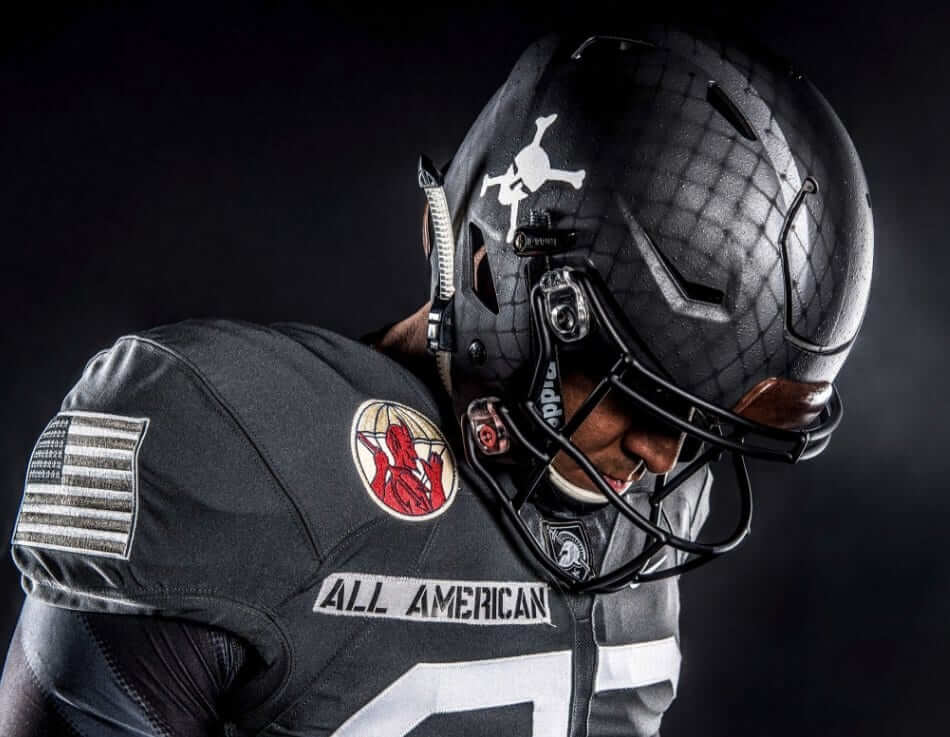 Click to enlarge
Parachutes not included: Army unveiled its uniform for this weekend's Army/Navy game, and it's a doozy. It's based on the uniforms of Fort Bragg's 82nd Airborne Division, with a difficult number font, patches that identify individual regiments and battalions within the division and a helmet design mimics the netting worn by soldiers of the era. There's additional info here, and here are some additional pics (click to enlarge) and a promotional video: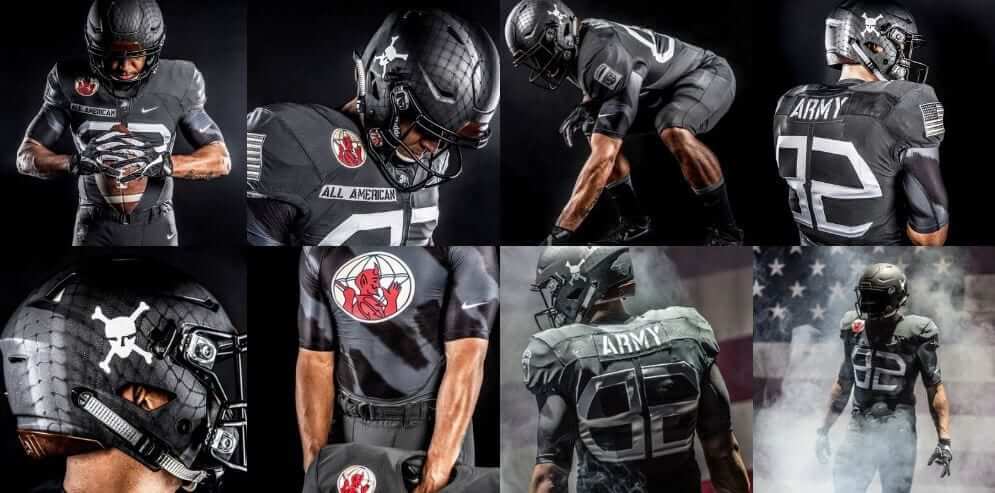 Interestingly, as you can see, the flag patch (which has 48 stars, don'tcha know) is facing the "right" way — which is actually the wrong way, according to proper flag protocol. Phil will have more to say about that, and about the rest of this uniform, and also about the upcoming Navy uniform, on Saturday, so you'll want to check back here for that.
•  •  •  •  •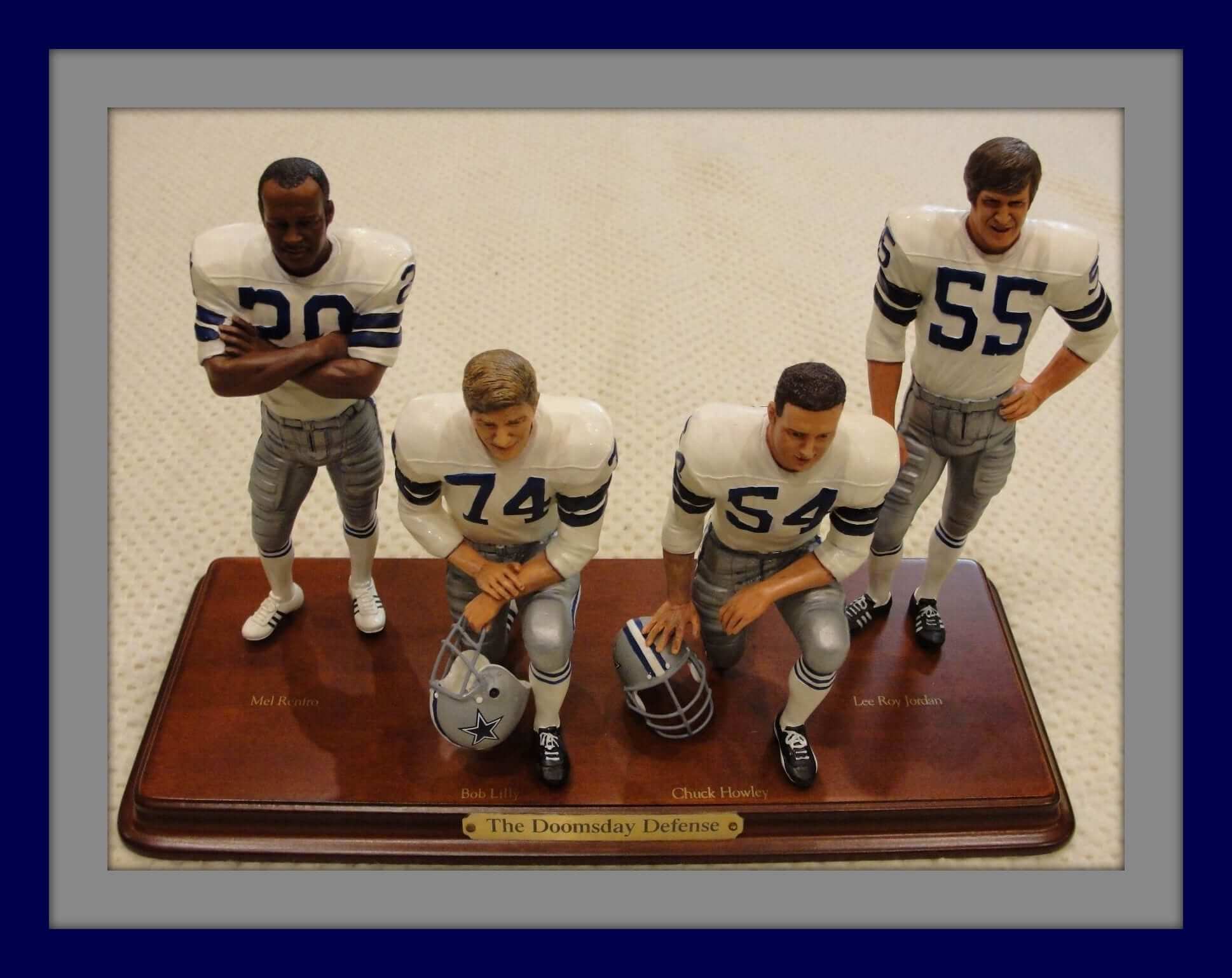 Click to enlarge
Collector's Corner
By Brinke Guthrie
The Dallas Cowboys look like the team to beat in this year's Super Bowl derby. This "Doomsday Defense set" from the Danbury Mint reminds us that they were pretty good back in the 1960s and '70s, too. Look at the detailing here! Mel Renfro, Bob Lilly, Chuck Howley, and Lee Roy Jordan were mainstays in Big D for years. How 'bout dem Cowboys!
Now for the rest of this week's picks:
•  This 1970s Cleveland Barons NHL Puck Bank is still in the package!
•  This New York Islanders tee from the 1970s uses the team font in the lettering. Note the "Y" in "My Game."
•  Coca-Cola was the sponsor for this 1970-71 season poster of Yvon Cournoyer of the Montreal Canadiens.
•  From reader Mike Powers, check out this vintage 1940s hockey jersey (or sweater, whatever you like). "BR Flyers" on the front, and "Colmers Park" on the back.
•  Here's a set of 1970s PRO! gameday magazines. Check out the cover art on that first one. It's Clobberin' Time!
•  Remember way back when these "SuperStripe" caps were all the rage? This Cowboys cap looks like it's never been worn.
• Great artwork on these 1970s NFL curtains!
• Even better is this 1970s NFL belt. Never seen this one before!
•  How 'bout a pair of official New Orleans Saints wristbands from the 1970s, still in the package. Extra absorbent, too!
• Still in the 1970s, but this time featuring the Chicago Cubs: Look at this retro art for this window decal!
•  And from reader Will Scheibler, three CFL items: an Ottawa Rough Riders satin jacket, a 1974 Edmonton Eskimos Dave Syme Quarterback Buck, and a rug from the office of the Baltimore CFL Colts.
• • • • •
T-Shirt Club reminder: In case you missed it last week, the Uni Watch T-Shirt Club's final design of 2016 is now available for ordering. The design is a mash-up of uniform elements from all of our previous 2016 shirts (click to enlarge):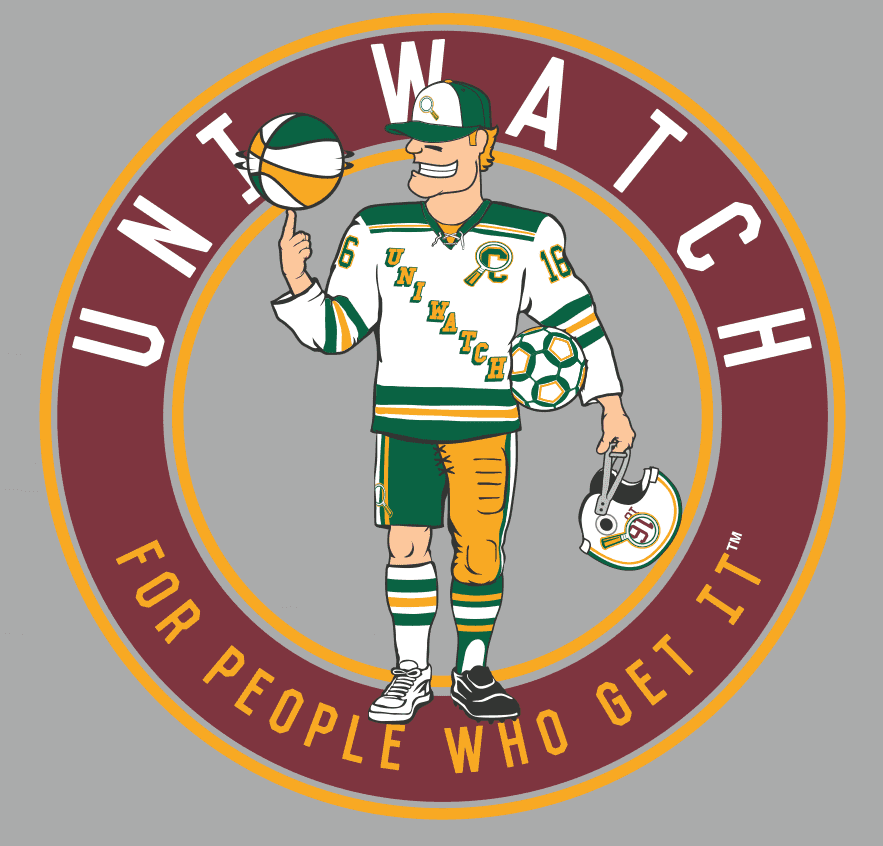 The only new element is the baseball cap (which didn't appear on our baseball-themed shirt because the player was wearing a batting helmet). It's comes in four color options — our usual grey, black, green, plus a new "military green" (that's what the manufacturer calls it, although I'd just call it light olive) — and is also available with either short or long sleeves.
The shirt will be available through this Friday. The shirts are due to ship right after Christmas, so they should arrive in time for you to wear them on New Year's Eve. (I had hoped to have them delivered in time for Christmas, but it just wasn't possible to get things finalized in time for that. Sorry.)
If you've ordered all five of this year's previous shirts and also get this one, you'll be eligible for our year-end "Collect 'Em All" prize, which will be a patch based on the jock tag design used on this year's shirts. To qualify, please send me proof that you've bought all six shirts. The proof can either be (a) a photo showing all the shirts or (b) screen shots of the "Thank you for your order" emails you received from Teespring and Represent.
Once again, the new shirt can be ordered here. Thanks for your consideration.
• • • • •
On a personal note: One of my all-time favorite roadside attractions is Roadside America, a completely amazing and thoroughly charming miniature village in Shartlesville, Pa. If you've ever been there, you know how awesome it is.
Roadside America now needs our help. The roof is leaking, threatening the village display, and a new roof will cost at least $80,000. If Roadside America has given you pleasure over the years, as it has for me — or if you just care about preserving America's vanishing culture of quirky roadside attractions — please consider donating to their repair fund. Thanks.
•  •  •  •  •
The Ticker
By Mike Chamernik

Baseball News: The Dodgers held a press conference with Rich Hill yesterday after the pitcher re-signed with the team. He was given a cap without a New Era logo and a blank Dodgers jersey. Again, he re-signed with them, so he could've just worn a game jersey, or even a retail jersey, that already exists (from David Feigenbaum). … R.A. Dickey's high school baseball team at Montgomery Bell in Nashville used the Brewers ball-in-glove logo (from David Arnott). … A few things are wrong with this Derek Jeter jersey-shirt (from Jack Connell).

NFL News: The NFL changed course and will allow the Titans and Browns, who had byes last Sunday, to wear customized cleats for Week 14. There had initially been reports that the custom cleats would not be allowed, but the league backtracked late in the day yesterday (from Brinke). … A sign in the Georgia Dome has former Falcons QB Steve Bartkowski's name spelled incorrectly. As Jake Jahimiak points out, the sign includes a photo of Bartkowski holding a jersey with his name spelled properly. … Not only is the XFL's website still online, but there's a page with logo and uniform style guides for each team! Tremendous stuff (from Joe Gemma). … Remember how someone once compared the Buffalo Sabres' "buffaslug" logo to Donald Trump's hair? There's a new seafood eatery in Kurdistan called Trump Fish, and it uses an illustration of Trump with his hair represented by the Chargers' lightning bolt logo.

College Football News: Penn State will wear blue for the Rose Bowl. Also, "I'm convinced that Saturday night's Big Ten Championship in Indy was the first time that Penn State has worn blue jerseys for an indoor game," says William Yurasko. "They wore white for five indoor bowl games ('75, '79, and '83 Sugar and the '99 and '07 Alamo) along with away games at Syracuse, Minnesota, and Indiana (at the Hoosier Dome)." … Old Dominion will wear these white helmets for the Bahamas Bowl. That's quite the logo (from @norfolkology).

Hockey News: Dunkin Donuts will become the official coffee, donut, and breakfast sandwich of the NHL. It's an odd choice, because Tim Hortons is not only synonymous with Canada, but it was actually founded by an NHL Hall of Fame player.

NBA News: Chesapeake Energy, the company that has the naming rights for the Thunder's arena, may have a new logo (from Justin Cliburn). … Here's a short video clip that explains why Kelly Oubre Jr. of the Wizards likes his shorts fairly tight.

College Hoops News: Last night, Providence wore jerseys with "Us. We. Together. Family. Friars." stitched into the inner collar (from @joeymisdemeanor). … You may remember Grinnell College as the D-3 school that produced a bunch of record scoring performances a few years ago through a gimmicky offensive strategy. The team also wears some bad two-tone shorts that look particularly awful with a folded waistband (from Jesse Gavin).

Soccer News: West Ham's kit man talked about equipment requests, building relationships, and cleaning players' boots (from @the_boot_room). … DHL was named the new sponsor/advertiser of Pumas, a Mexican club (from Ed Å»elaski).

Grab Bag: In case you missed it during the Thanksgiving weekend, Paul wrote about the death of longtime Uni Watch contributor Terry Proctor back on Nov. 25. Here's a more formal obituary from The Rochester Democrat & Chronicle (from Steve Lega). … American Airlines introduced new uniforms for its workers in September, but the flight attendants union is calling for a recall. It suspects that the uniforms have triggered headaches, rashes, hives, burning skin and eye irritation for more than 1,000 flight attendants (from John Gogarty). … The stock markets have soared since the election, with the Dow Jones Industrial Average recently rising above 19,000 for the first time. Some traders are wearing "Dow 19,000" baseball caps to commemorate the milestone. They are inspired by the "Dow 10,000" hats that were popular in 1999 (from Jason Hillyer).