When I was about 12 years old, I was poking around one of the bookshelves in our house and found a paperback called The Naked Ape. The book, which examines humans as a species and compares them to other animals, had been an instant best-seller upon its publication in 1967 and was enormously influential, but I didn't know or care about any of that. All I knew was that it had the word "Naked" in the title, which of course I found titillating. After pulling it off the shelf, I discovered that it had a fairly detailed chapter on sex, which I read and re-read rather obsessively over the next few years.
The sex chapter ended with the following paragraph:
Thanks to medical science, surgery and hygiene, we have reached an incredible peak of breeding success. We have practiced death control and now we must balance it with birth control. It looks very much as though, during the next century or so, we are going to have to change our sexual ways at last. But if we do, it will not be because they failed, but because they succeeded too well.
For whatever reason, that last line — the bit about something succeeding too well — stuck with me. I've thought about it many times over the years, and I think it applies to many of the problems we now face. Here are two simple examples:
• Humans, like most animals, are hardwired to eat when they're hungry, to stop eating when they're full, and to eat mostly what's nutritious for them. So why do we have so much obesity and junk/fast food consumption? Well, lots of reasons, but a big one is that our hardwiring has been overwhelmed by the huge amounts of inexpensive processed foods — many of them engineered with crazy (and crazy-delicious) levels of salt, fat, and sugar — that the food industry has created. Our ability to produce and sell these items has evolved much faster than our bodies' and brains' ability to adapt to them. Our food system is definitely broken, but it's not because it has failed. It's because it has succeeded too well.
• Study after study shows that Americans dislike negative political ads, and with good reason — I think we all intuitively recognize that such ads are unpleasant, contribute to a toxic public discourse, and appeal more to cheap emotion than to reason. But the negative ads keep coming. Why? Because study after study also shows that they work. People respond to them, even though they dislike them. A classic case of a system that we all know is broken, but it's not because it has failed. It's because it has succeeded too well.
I could go on: the depletion of our oceans' fisheries, anthropogenic climate change, the rise of drug-resistant superbugs, the endless race-to-the-bottom spread of reality TV, the spread of Walmart and other chains at the expense of mom-and-pops, the commodification of more or less everything — all examples of systems that are broken because they've succeeded too well. Indeed, one could easily apply "It has succeeded too well" to capitalism as a whole.
I hereby submit that the uniform-industrial complex is another example of a system that is broken because it has succeeded too well. Even if you like a lot of the newfangled alternate uniforms, special-occasion caps, and all the other stuff being cranked out these days, I think most of us would agree that there are too many designs (especially at the college level, obviously), and that they're usually being created for the wrong reasons (to spur merch sales, to help Uniform Manufacturer A keep up with Uniform Manufacturer B, to make sure School A has the exact same portfolio of BFBS/GFGS/camo/etc. designs that School B has, and so on). I feel like there's a widespread feeling of cynicism about all of this, even among fans who love buying merch and seeing new designs.
And yet the new designs keep coming, despite the cynicism. Why? Because we can't look away, because we get caught up in the corporate theater even as we roll our eyes at it, and because some of us can't stop buying. Or because, at the most basic level, we love uniforms, and the uni-industrial complex both feeds and exploits that love with more and more designs, and we continue to respond, even if we're sometimes holding our collective nose. Remember the junk food example I mentioned earlier? I think many of the new designs we see are like the uni equivalent of junk food. We know they're not good for us, or for the uni-verse, but we can't stop eating them.
I think most of us recognize that this system is broken. But that's not because it has failed. It's because it has succeeded too well.
I sometimes think about my own role in all this. Uni Watch didn't create the uni-industrial complex, of course (and if I hadn't created Uni Watch, someone else probably would have created something very much like it), but it has definitely contributed to a more uni-aware climate that's made it easier for the complex to flourish. One of my big goals when I created Uni Watch was for more people to take uniforms more seriously. Be careful what you wish for, eh? It's a bit like creating a monster and then watching it run amok in all sorts of unpredictable and depressing ways. Maybe Uni Watch itself is an example of something that has succeeded too well.
What do you think about all this? Discuss.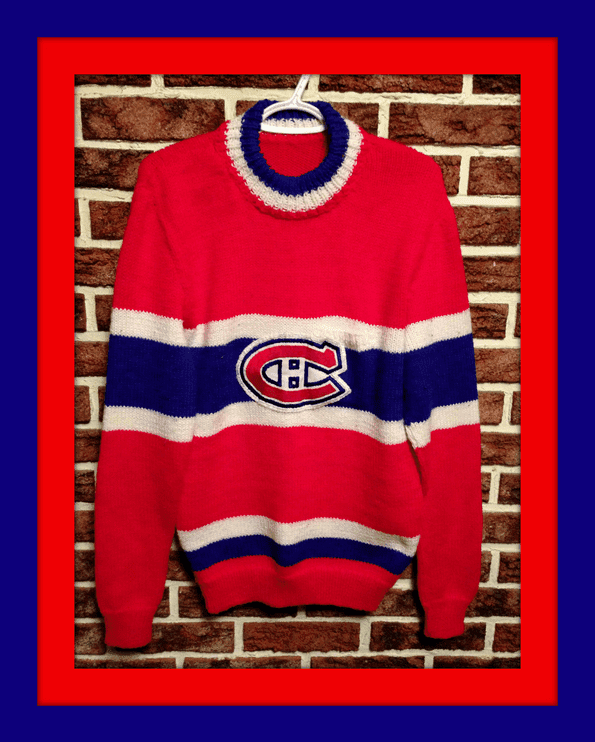 •  •  •  •  •
Collector's Corner
By Brinke Guthrie
Some people like to argue about whether a hockey "jersey" should actually be called a "sweater," but there's no argument here: It's a great-looking Montreal Canadiens handmade crew-neck sweater! They did a great job with that one.
Now on to the rest of the week's vintage finds:
• Here's a terrific-looking classic 49ers jacket, evoking memories of Joe Cool.
• Speaking of jackets, this Miami Dolphins zip-front DeLong pullover is in great shape. Other Dolphins items: a jacket by Champion with the Dolphins logo on the rear hemline, and a pullover by Reebok. (Those are tremendous quality — I had a Cowboys version.)
• Here's a rather strange-looking 1960s button for "Bob 'Four Speed' Orr."
• Wow, a 1970s Caps N Bats NL West set by MiniSport, still factory-sealed.
• Take a look at this rather quaint (by today's standards) Packers visor from the 1950s-1960s.
• Here's a Tug McGraw-inspired "Yes We Can" Phillies T-shirt from the 1970s.
• We've got another T-shirt from The City of Brotherly Love, but this time it's a vintage 76ers T made by Champion (I think — it says "Champion Blue Bar," whatever that is).
• Interesting-looking 1960s Dallas Cowboys bobblehead. And this Falcons bobble is in perfect shape.
• Here's a 1960s Chase & Sanborn coffee mug featuring a black Saints helmet. The same seller also has Dallas, Philadelphia and Washington NFL mugs available
• Check the artwork on this corkboard sign for the "19th Annual East-West All-Star Pro-Bowl Game."
• Here's a set of 1970's NFL helmet stickers. Not sure what these were originally intended for.
• Looks like they forgot the red on this early-1970s Texas Rangers pennant.
•  And from reader David Firestone: You know how players at college all-star games, like the East-West Shrine Game, often trade helmet decals with each other? Check out this helmet that started out as a Northwestern bucket and then picked up a lot of other decals along the way.
Follow Brinke on Twitter: @brinkeguthrie
• • • • •
Click to enlarge
Ah, that's better: My orthopedist cut the cast off of my broken left arm yesterday (see above), An X-ray showed that the healing is proceeding apace, although there's plenty more still to go. For now, my elbow's range of motion is limited — I can't fully flex or fully extend it — and it's also going to be a few weeks before I can lift anything heavy or put much leverage on it. Still, it's great to be liberated from the cast, and everything from showering to sleeping is so much easier without it.
I celebrated my return to southpaw status by letting my arm perform one of its most essential functions (photo by the Tugboat Captain, click to enlarge):
• • • • •
The Ticker
By Mike Chamernik

Baseball News: Kansas City's Boulevard Brewing Co. released Crown Town Ale to celebrate the Royals' championship (from Andrew Cosentino). … WWE is sending the Royals a championship belt. … Looks like a fan pulled the trigger too soon on a Mets 2015 World Champs tattoo (from Phil). … A couple degrees of separation here, but Bob Wilmot's neighbor's daughter and her friends went as the Rockford Peaches for Halloween. "¦ Check it out: a 1930s shot of Stan the Man in a basketball uni (from Ed Bauza).

NFL News: Yellow receiver gloves aren't the best idea. … Maybe this was just a weird camera angle or something, but a MNF preview graphic showed a white Panthers helmet (from Alex Ridoré). … Redskins RB Chris Thompson will now wear a longer back pad after landing hard on an unprotected area during a game a few weeks ago (from Tommy Turner).

College & High School Football News: Miami unveiled its Military Appreciation Day uniforms that the Hurricanes will wear this Saturday. Included are Kevlar cleats, embroidered stripes and camo undershirts. … Happy 30th birthday to Iowa's "ANF" (America Needs Farmers) helmet decal. … Looks like Toledo might be revealing new gold jerseys today (from Patrick Thomas). … North Dakota State will have an alternate matte green helmet for the Saturday's Harvest Bowl. … An Auburn student manager proposed to his girlfriend using those large picture play cards college teams use on game day (from Tris Wykes). … Florida appears to be teasing some kind of alternate for this weekend's homecoming game (from Ran Isaacs). "¦ A board member at Iowa's Senior High School opposes the team's GFGS unis. She says that the school wastes money on uniforms that don't even represent school colors (from Jesse Gavin).

Hockey News: The Canadiens will reveal their Winter Classic jerseys on Friday. "Based on intentionally poorly framed pictures, looks like a white crewneck with a red collar, and the French LNH shield (normally an exclusive for Habs' home jerseys) slapped in between the main crest and the top of the neck," says Mike Engle. "Also, I'm doubting whether there's a hanger effect message."

NBA News: Here's how the Timberwolves' Flip Saunders memorial patch looks on a jersey. … NESN ranked the ugliest uniforms to debut this year (from Phil). … Lammert Wijnsma has created personal logo concepts for several young NBA players. He recently made one for Lakers rookie D'Angelo Russell. … In the WNBA, the Tulsa Shock will become the Dallas Wings next year. "¦ Bucks co-owner Marc Lasry, attended last night's Bucks/Nets game at the Barclays Center but while wearing a jacket with the Bucks' old logo and lettering. That's Lasry sitting next to former President Bill Clinton (from Bob Johnson).

College Hoops News: A couple notes from Mark Chiarucci: St. Mary's has new uniforms and is now an Under Armour program. The Gaels previously wore these unis uniforms. And, San Francisco will wear these late 1960s-early 1970s throwbacks. The Dons normally wear this. "¦ The UConn women's team went GFGS yesterday.

Grab Bag: Is this the new logo for DC United? (From John Muir). … A couple of changes are possible coming to curling. Curlers dislike the "directional fabric" on the outside of new brooms because the fabric lessens the sport's skill and athleticism. Also, a curler's freak face-first fall last week has led to a call for protective headgear (from David Cline and Phil). … Here's what the men's volleyball teams in the Japanese V.League will wear this season (from Jeremy Brahm). … The cross country team at Cascade High School in Iowa still wears T-shirts, instead of more form-fitting tank tops. Must not be an issue, because it won the Class 2A title this weekend (from Jesse Gavin). … In a diabolical money grab, Under Armour now sells Star Wars merchandise (from Andrew Cosentino). … New jerseys for the women's lacrosse team at Rollins College (from @DaveDoop).