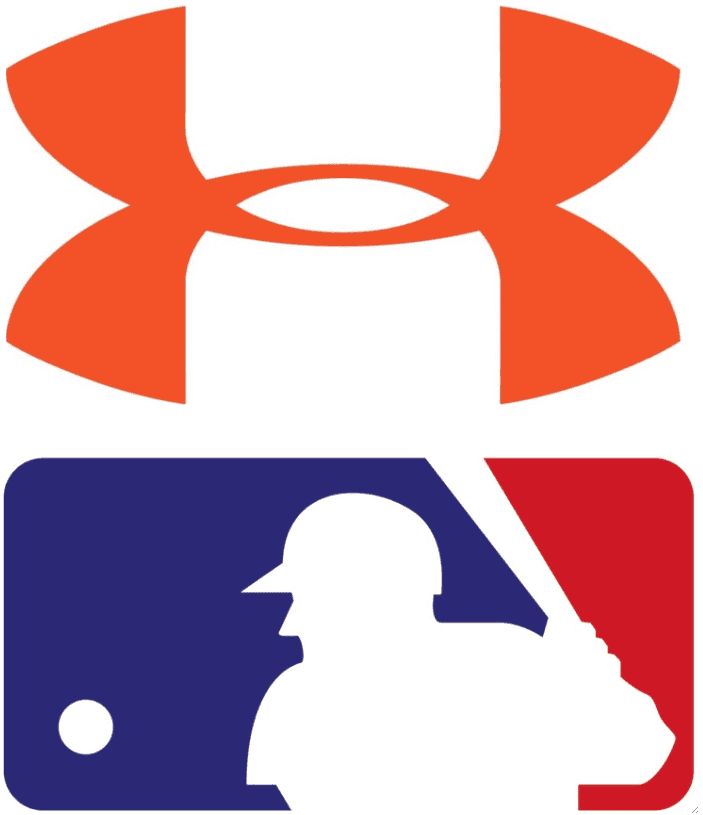 Big baseball news yesterday, as word began circulating that Under Armour will take over from Majestic as MLB's official outfitter in 2020, with Fanatics serving as MLB's favored retailer. The news was first reported by Sports Business Daily and was soon confirmed by my ESPN colleague Darren Rovell. I strongly suggest that you read both of those pieces before proceeding further.
Now let's shift into FAQ mode:
So will MLB uniforms be made by Under Armour starting next year?
No.
The year after that?
No.
The year after that?
No.
The year after THAT?Ӭ
Yes. Majestic will still have three more seasons — 2017, 2018, and 2019 — before Under Armour takes over. I'm pretty sure that's the longest gap we've ever had between the news of a league-wide deal and the deal's effective date.
Why did they announce it so far in advance?
They didn't. As of now, neither MLB nor Under Armour has said anything about the deal. But SportsBizDaily broke the news — a huge scoop on their part. The weird thing is that MLB announced that it was extending its deal with Majestic through 2019 just a year and a half ago. So Majestic will now spend most of that contract term as a lame duck.
Are these types of deals always arranged so far in advance, even if we don't know about them?
Good question. The Nike/NBA deal was announced more than two years prior to its effective date, and the Adidas/NHL deal was almost exactly two years prior.
Did you know this deal was in the works?
I've heard rumors and whispers about Under Armour wanting to get the MLB deal for many years now. But I didn't know anything about this specific deal.
Under Armour's college baseball uniforms have the UA logo on the chest. Will that happen with their MLB jerseys too?
College baseball jerseys all have the maker's mark on the chest — it's an NCAA thing, not an Under Armour thing. While it's possible that the maker's mark on MLB jerseys could shift from the sleeve to the chest, there's no reason to think that's imminent. Think of football: The maker's marks on college jerseys are all on the chest, but in the NFL they're on the sleeve. I expect a similar arrangement will be used for MLB jerseys.
I do think it's worth mentioning, however, that the Majestic logo is extremely compact and has always been very small on MLB jerseys (and pants, for that matter). I suspect that the Under Armour logo will have a larger footprint.
Will the Yankees wear the Under Armour logo?
Good question. Too soon to say. They've basically enjoyed most-favored-nation status with Majestic, but it's not clear whether Under Armour will be willing to carve out that same exception for them.
Will New Era keep making MLB caps in 2020?
Yes. That deal is unaffected by yesterday's news.
Will Nike keep making MLB undershirts in 2020?
No. Under Armour will apparently take over that license. (I say "apparently" because it's not explicitly stated in any of the coverage I've seen, and I haven't been able to confirm it one way or the other. The one thing that's clear is that Nike will be out in 2020. It's possible — but in my view unlikely — that a third party could end up with the undershirt license. I'll try to find out more.)
Will Stance keep making MLB socks in 2020?
Good question. Socks are not mentioned in any of the coverage I've seen so far, and my Stance contact was traveling yesterday, so I couldn't get confirmation from him. But I'll say this: I don't think MLB announced its first-ever official sock partner this year just so they could then give the sock deal to Under Armour. I'm fairly certain MLB hosiery will remain with Stance.
Who will make dugout jackets and sweatshirts starting in 2020?
Not 100% positive, but I'm reasonably certain it will be Under Armour.
Who will make the umpires' uniforms starting in 2020?
Not 100% positive, but I'm reasonably certain it will be Under Armour.
How does Fanatics play into this deal?
The nuances and specifics of the Fanatics part of this story are, frankly, somewhat confusing to me, but the gist is that they're trying to create a more vertically integrated retailing system. From a Uni Watch perspective — i.e., a perspective that's cares about retail jerseys only to the extent that they affect what we see on the field — this means the MLB uni-verse will be more retail-driven than ever.
So does this mean Under Armour or Fanatics will create crazy new uniform designs for MLB teams?
That's ultimately up to the teams. Remember how everyone thought Nike would radically alter the look of the NFL? That hasn't happened, at least not with most of the league, because the teams are the clients and the client always calls the shots. If an MLB team approaches Under Armour and says, "Give us a makeover," then that's what they'll get. And if they say, "No, we're good," then they'll stick with what they have. Simple.
Didn't you write something about Under Armour's baseball fabric a few years back?
Yes. Back in 2010 I wrote an ESPN piece about an Under Armour faux-flannel fabric that nicely mimics the textured look of real flannels. Here's another example. Personally, I'd love it if something like that came to MLB.
If an MLB team was considering a redesign, will they wait until Under Armour takes over?
Not necessarily. Let's look at some comparable examples from other leagues: In 2011, which was the last year of Reebok's NFL deal, the Bills got a full-scale makeover; this year, which is the last year of Adidas's NBA deal, the Jazz and Kings have gotten makeovers; this is also the last year of Reebok's NHL deal, and the Panthers have gotten a makeover. So teams don't necessarily put their plans on hold just because a new outfitter is waiting in the wings.
What happens to Majestic after 2019?
Another good question. MLB represents the bulk of Majestic's business. They have no history or credibility making uniforms for any other sport, so they can't just pivot over to football or basketball. And they're not a lifestyle brand, so it's not like they have a sneaker business or a series of mega-stores to fall back on. Even if they salvage something like, say, an MiLB-wide deal (just speaking hypothetically there — I have no knowledge of any such deal being in the works), it'd be a huge step down for them.
On balance, do you think this deal with be good or bad for MLB uniforms?
Too soon to say. The Fanatics aspect is almost certainly a negative, because, as noted above, it will make things even more retail-driven than they already are. But there's no reason Under Armour can't produce good uniforms. Lots of their college designs are perfectly fine, and I hope we get to see that faux-flannel fabric. As always, it comes back to the teams — they're the ones who'll make the final call.
•  •  •  •  •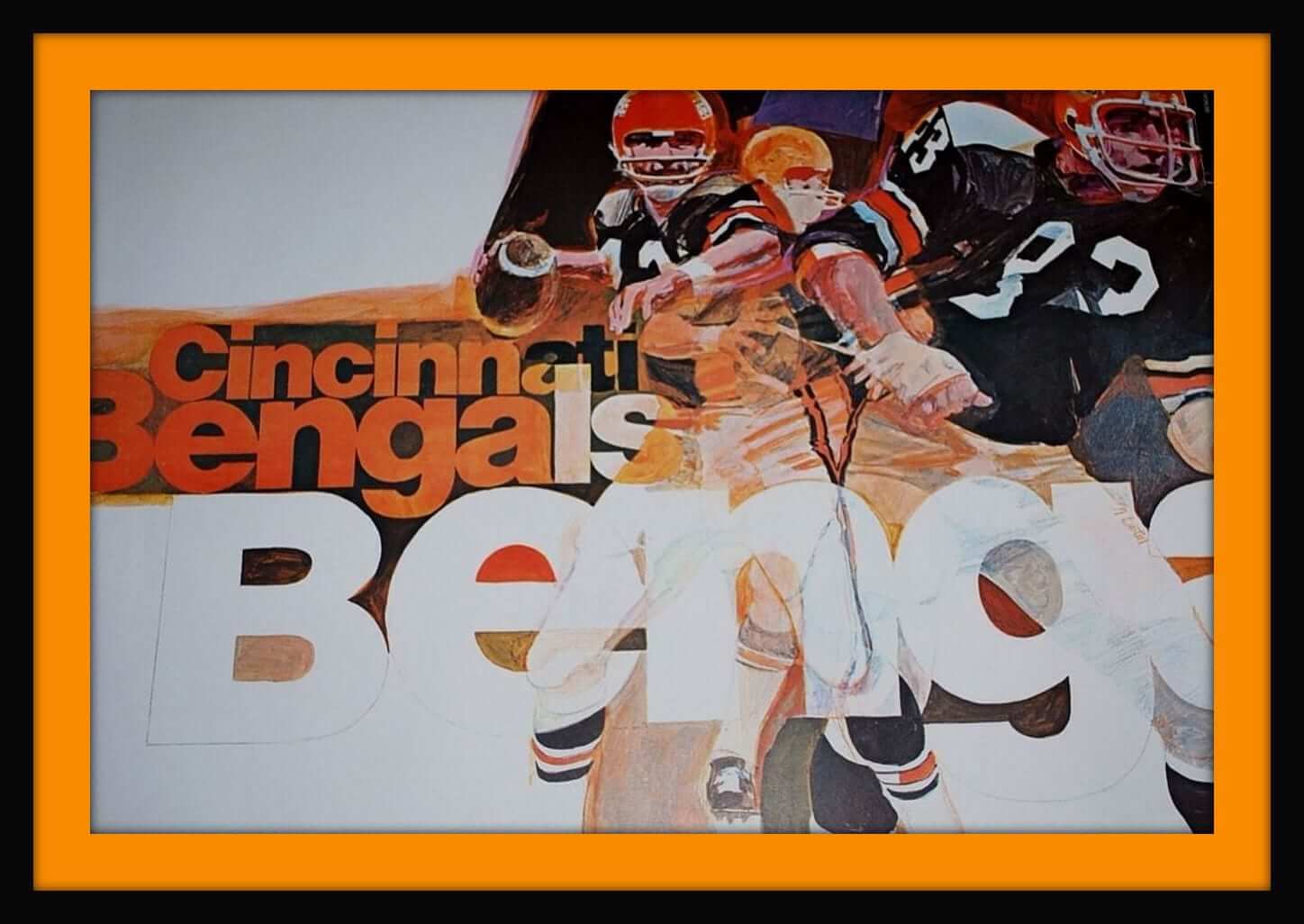 Click to enlarge
Collector's Corner
By Brinke Guthrie
What you see above is a 1972 Cincinnati Bengals poster by the legendary artist George Bartell. It's currently available on eBay — pretty nice, right?
But I've also seen another version of this poster, showing the players wearing bengal-striped helmets. The thing is, the Bengals didn't yet have striped helmets in 1972 — they started wearing them in 1981. Pro Football Journal has a story about the headwear discrepancy here, with the blog author theorizing that perhaps the team was thinking about helmet stripes for the 1972 season but didn't go that way. And Paul points out that the striped version looks a lot like the helmet Paul Brown was holding in this famous photo.
Now for the rest of this week's picks:
•  Some more Bartel art from the same season can be found in this Houston Oilers poster.
• Does "Jason" know his vintage Kansas City Royals ceramic baseball bank is listed for sale on eBay?
•  I've done Collector's Corner for a few years now, so there aren't too many NFL items I haven't already seen. But this is a new one to me: an album to collect all your NFL Sunbeam NFL stickers in. Looks to be from 1975. Here's what the stickers look like, with those classic NFL graphics (I had the Bengals one on a light switch plate!). It appears they did the ill-fated WFL too.
•  Take a look at this! Here's a set of 22 MLB cardboard team logo signs from the 1970s. I had quite a few of these.
•  Reader Will Scheibler sent over a few hockey items for this week. First, a Munro tabletop hockey game, starring Bobby Hull and Stan Mikita. Next, a 1964 Maple Leafs coloring book. And finally, some Leafs vintage "Little NHL" gloves.
•  This 1969 book of NFL action photography from Honeywell surely has some good shots in it.
•  As you know, here at Collector's Corner we love just about anything DeLong has ever made for the NFL and MLB. So you know we like this great L.A. Rams quilted parka. Love how the "LA" is inset on the first two letters of "Rams" on the back.
•  The Rams also appear — in the classic old blue/white color scheme — on the cover of this 1967 "This Is NFL Football" booklet.
•  Here's a set of four different Miami Dolphins mugs/cups, each with a different facemask depiction.
•  This vintage sticker of Charlie-O. the donkey (former mascot of the K.C. and Oakland A's) is in great shape.
•  •  •  •  •
The Ticker
By Mike Chamernik

Baseball News: Indians 1B Mike Napoli wore American flag socks yesterday (from Eric Brunnell). … An Ontario judge dismissed an application to ban the Indians' team name and logo during ALCS. … Here's the story of how the Dodgers' interlocking LA logo was designed in 1957 (from Todd Radom). … I love this "Salvy Splash" Royals pumpkin, in honor of catcher Salvador Perez's postgame Gatorade showers. … Here's a good colorized photo of the 1917 White Sox (from Will Scheibler). … Frank Kaminsky, a White Sox fan from the Chicago area, wore a Steve Bartman Cubs jersey to the United Center for last night's Hornets/Bulls preseason game. … Cleveland has worn the Wahoo cap throughout the postseason, including last night, but skipper Terry Francona switched to a block-C cap for his postgame presser last night. … A new cartoon takes some mild liberties with several MLB uniforms. Interestingly, all of the players are depicted going at least somewhat high-cuffed (from @TweedsTweets). … Cleveland starter Trevor Bauer took 10 stitches in his pinkie a few days ago after an accident with a drone. The stitches opened up during the 1st inning last night, leading to a lot of blood on his uniform and shoes.

Pro Football News: The Jets wore a No. 90 memorial helmet decal last night to honor defensive end Dennis Byrd, who died on Saturday. Byrd, who was paralyzed during a game in 1992, had his number retired by the Jets in 2012. … The Packers have tweaked their Color Rush pants since the unveiling. They now mirror the team's Lombardi-era unis. Green Bay will wear the uniform against Chicago on Thursday (from @TheDapperPacker). … The Dallas Cowboys now own the trademark to the phrase "How 'Bout Them Cowboys" and can use it on merchandise. The phrase goes back to 1992 and is attributed to coach Jimmy Johnson. … Broncos kicker Brandon McManus uses a sander to get his cleats ready on gameday. … Washington QB Kirk Cousins wore a burgundy blazer with an "HTTR" pocket square after Sunday's win over the Eagles (from Tommy Turner). … Raiders owner Mark Davis wears outdated team apparel. His jackets are made by Reebok, not Nike. Davis has always been a pretty peculiar dude (from Dave Keitel and Rudy Gutierrez). … Brad Eenhuis spotted a bunch of blank New Orleans VooDoo jerseys at a Goodwill in Iowa. The team played in the Arena League from 2004 to 2008. … On a related note, this week the AFL saw Orlando, Portland, and the LA Kiss all fold, and Jacksonville and Arizona depart for the Indoor Football league. Only four Arena League teams remain.

College Football News: Georgia punter Rodrigo Blankenship nearly lost his glasses while making a tackle this past weekend (from Dave Murphy). … Louisiana Tech is wearing a decal for RB Jaqwis Dancy, who's battling Hodgkin's lymphoma (from @bulldogsnbraves, via Phil).

Hockey News: The Red Wings aren't wearing their Farewell to the Joe patches (from PJ Kuzdal). … The Devils' new graphic designer Anthony Zych created his first gameday poster for the team. He'll make one for each home game this season. Paul profiled Zych last year when he was with the Blue Jackets. … The WHL's Moose Jaw Warriors changed their glove color and pants stripes (from Wade Heidt). … Here's a very, very cool infographic showing which NHL teams use which colors (from Aaron Husul).

Basketball News: Rajon Rondo wore pink shoes last night. … Michael Carter-Williams, who was just traded to Chicago, was slated to wear No. 1 with the Bulls, but changed course and will now wear No. 7. He didn't want to drum up any controversy, since former Bull Derrick Rose wore the number through last year. MCW wore No. 1 in college and during his early NBA days with Philadelphia. … In addition to the championship banner, the Cavs will hang a banner with the names of all the season ticket holders from last year. … The logo for the Auburn basketball charity golf tournament roasts noted alum Charles Barkley. The Chuckster is famous for the hitch in his swing. … The Thunder might roll out an emoji of a new logo (from Sam Scovill). … The Blazers play ping pong on a really neat court-themed table. … New uniform for Arkansas State basketball (from Chris Buttgen). … New collar style for Northwestern (from Matthew Sampson).

Grab Bag: Bruno Mars performed on Saturday Night Live this past weekend, and his backup singers wore old jerseys. The guy in the middle wore a Todd Hundley Mets T-shirt jersey (from Douglas Ford and Chris Flinn).