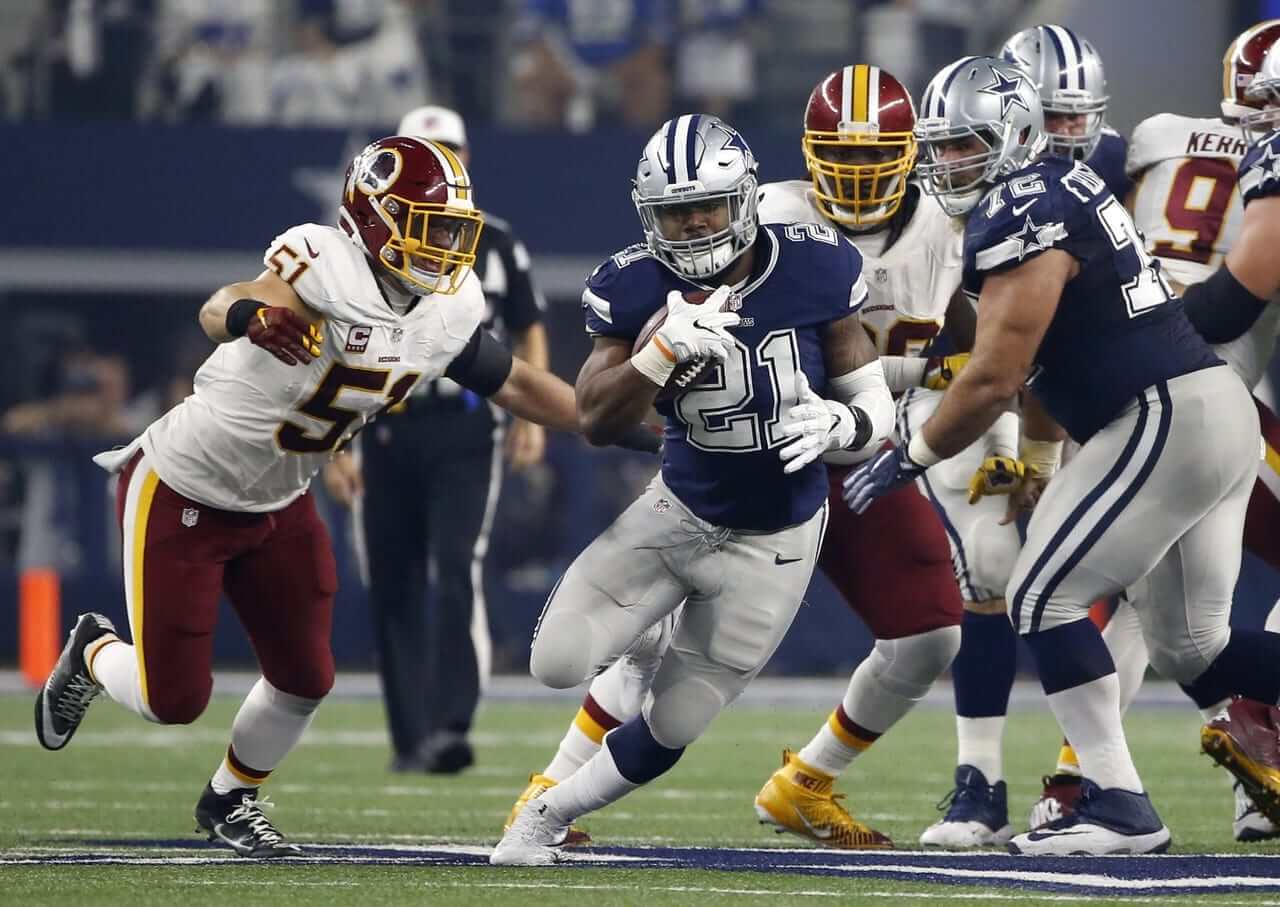 Click to enlarge
Rare sight yesterday in Dallas, as the Cowboys wore blue at home against Washington. This has become something of a Turkey Day tradition for the Cowboys: They also wore the blue jerseys on Thanksgiving in 2014 and 2013, plus they've also worn blue Thanksgiving throwbacks at various points over the years.
•  •  •  •  •
Terry Proctor, 1947-2016: Got some sad news on Wednesday, as word came down that longtime Uni Watch reader and sporting goods maven Terry Proctor had passed away. I knew he'd had some heart trouble in the past but hadn't realized he'd recently taken a turn for the worse. His loss is a huge blow to the uni-verse, as he had a vast knowledge of old-school uniforms that simply cannot be replaced.
Terry discovered Uni Watch and began sending me all sorts of contributions back in 2008. In 2009 I ran an interview with him, and he also provided a good primer on uniform fabrics, among many other contributions.
Terry was retired but had spent many years working at Ruby's Sporting Goods in Rochester, where he helped outfit the area's many minor league, high school, college, and recreational teams. Nothing made him happier than talking about his days at Ruby's, and he could usually remember exactly which color, fabric, and uniform style a given team had worn in a given year. A few years back I came across a small batch of old Ruby's labels and sent some of them to Terry. He really liked that.
Terry loved it when I wrote about old sporting goods catalogs. At one point I wrote about a late-1960s Russell Athletic catalog that I had scored on eBay, and Terry wrote to tell me that he remembered filling orders from a copy of that same catalog. He said he was crying as he was writing the email and asked if I would consider giving the catalog to him, which I happily did. I hope it gave him some pleasure.
Terry had some quirks that made him, well, Terry. When referring to colors, he always capitalized them. When referring to Ruby's, he always spelled out the full name — Ruby's Sporting Goods. He could also be crotchety, which I never minded. He'd earned the right.
I never met Terry in person, which I regret. He knew more about uniforms than I ever will, and I'm sorry I won't get to learn from him anymore. Thanks for sharing your knowledge and friendship, Terry. RIP.
•  •  •  •  •
The Ticker
By Paul

'Skins Watch: The American Sociological Association has sent a letter to MLB commish Rob Manfred, telling him that it's time for Chief Wahoo to get the heave-ho (thanks, Phil). … A Canadian man wants the town of Mississauga to cut funding for five local hockey teams with Native-inspired names and mascots (from Ted Arnold). … Pretty odd that an Icelandic restaurant in Berlin would have a Chief Wahoo sign out front . "I inquired inside and the staff said it was an 'art' piece purchased by the owner of the restaurant company," says Matt Wolfram. "So then I checked with the restaurant's ownership, and they said it was done by an artist name Cyprien Gaillard. Wahoo is apparently a common motif for him." … California's last school to use the name "Redskins" for its sports teams will change the name on Jan. 1.

Baseball News: New uniforms for the Lynchburg Hillcats (thanks, Phil). … 1953 throwbacks for the Yomiuri Giants. … An addition to our list of MLB All-Stars wearing the wrong helmet: In 1980, Yankees pitcher Tommy John wore a Tigers helmet (from Ferdinand Cesarano). … The Pirates' 2017 promo schedule includes a Bob Walk "bobblechair" giveaway (from @milkchug5).

NFL News: The Colts sent team-branded potholders for their season ticket holders to use on Thanksgiving. The Jags did something similar (thanks, Phil). … The Titans are adding a "W.E.S." memorial decal for the victims of the recent Woodmere Elementary School bus accident in Chattanooga (from Ernad Selimagić). … A kid at yesterday's Lions/Vikings game had a typo on her cheek (from Jason Hillyer).

College and High School Football News: New gold-trimmed helmets today for Baylor. … UCF players will wear their home area codes on their nose bumpers tomorrow. Florida outline added to the helmet logo, too (from @TheKMill). … Weber State and Chatanooga will wear memorial ribbon decals for the victims of the recent Chatanooga school bus crash (from Brett Hein). … Here's the best Thanksgiving NOB of the day.

Hockey News: Big news out of L.A., where L.A. Times sports columnist Helene Elliott is reporting that the Kings will wear Burger King throwbacks on Jan. 14 (from GKG_77). … Wait, an update on that Kings item, from reader/commenter Brian Rowland: "Per LA Kings Insider Jon Rosen, the Kings will only wear the Burger King throwbacks during warmups on January 14th, after which they will be auctioned off." … The Wild wore pregame jerseys on Wednesday to benefit a wildlife conservation group. … Albany River Rats throwbacks on Saturday for the Albany Devils (from Jason Lewis).

Basketball News: The Spurs and Hornets went black vs. teal on Wednesday night (from Mike Engle). … Auburn and Purdue went color vs. color two nights ago (from Jeff Demerly).

Soccer News: Asheville City FC has introduced a replica jersey that's designed to function as a season ticket (from The Boot Room). … The logo for the four Euro2020 games taking place in Dublin (from Charlie Kranz).

Grab Bag: A bill that would allow high school students who are also serving in the military to wear their military uniforms to their graduation cememonies is moving through the New Jersey state legislature. … Interesting article about outgoing first lady Michelle Obama's clothing.