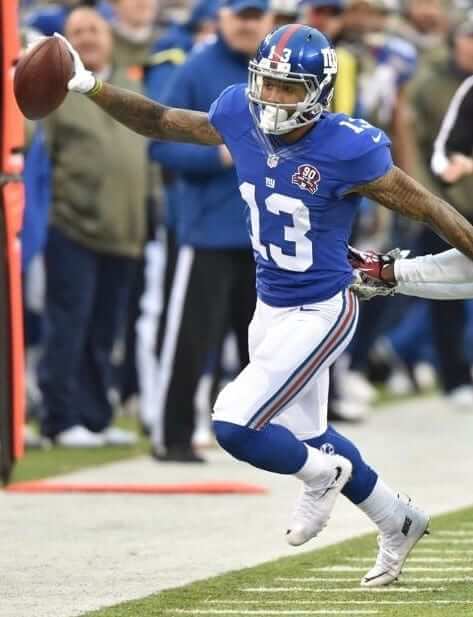 Big news out of the Meadowlands yesterday, as the Giants announced that they're redesignating their white alternate pants as their home pants. They'll now wear the white design for all regular season home games. The grey pants, which had enjoyed primary status both at home and on the road, will now be worn for regular season road games and during the preseason.
This means the G-Men will primarily be pairing white pants with blue jerseys and grey pants with white jerseys. But what happens when they're forced to wear blue on the road (such as when they play their annual intra-division game in Dallas)? They'll stick to the newly established pants protocol, meaning they'll pair the blue jerseys with grey pants in those instances.
As a Giants fan, I heartily approve of this move. I've long been a fan of the white pants. The grey ones have always looked too dirty and blah for my tastes. Also, take at a look at these two photos (click to enlarge):
As you can see, the striping on the white pants is more blue-dominant, so it makes sense to wear that with the blue jerseys. Similarly, the striping on the grey pants is more red-dominant, so it makes sense to wear that with the red-trimmed white jerseys. As noted above, this striping-suitability model will break down when the team is forced to wear blue on the road, but whatever — I still count all of this as progress. (Of course, it would make even more sense if the Giants' road jerseys were trimmed in blue instead of red, but that's another story.)
Now that the white pants have graduated from alternate status, can they be improved? Yup: Get rid of that grey interstriping and just make the pants red, white, and blue. There's no grey anywhere else on the Jints' uniforms, so why have it on the pant stripes?
In addition, there's also a report that the Giants are changing from black shoes to white. I'm a bit more agnostic about that change, but we'll see.
In another positive development, the Giants have also announced their full uniform schedule. Only a handful of NFL teams do this, and I can't recall any team doing it so early in the summer. Kudos to the Giants for sharing this info, and shame on any NFL teams that don't do likewise. There's really no excuse not to.
•  •  •  •  •
Click to enlarge
Derby doings: Back in May it was announced MLB's new official sock supplier, Stance, had created new sock designs for the Home Run Derby and All-Star Game, but MLB said players would not be required to go high-cuffed in order to show off the new hose. They apparently changed their mind about that, because every player at last night's Home Run Derby (including Giancarlo Stanton and Carlos Gonzalez, shown above) went high-cuffed.
I'm very conflicted about this. On the one hand, I'm pleased to see MLB mandating some sock exposure; on the other hand, I'm not happy that they're only doing it as part of a corporate partnership. It remains to be seen if they'll impose a high-cuffery standard for tonight's All-Star Game.
Also of note from the Derby: In previous years, players wore their regular team pants, so you got a mix of mix of white, grey, pinstriped, and so on. But last night everyone wore white pants with reddish-orange trim and a reddish-orange belt, creating a more consistent, integrated look: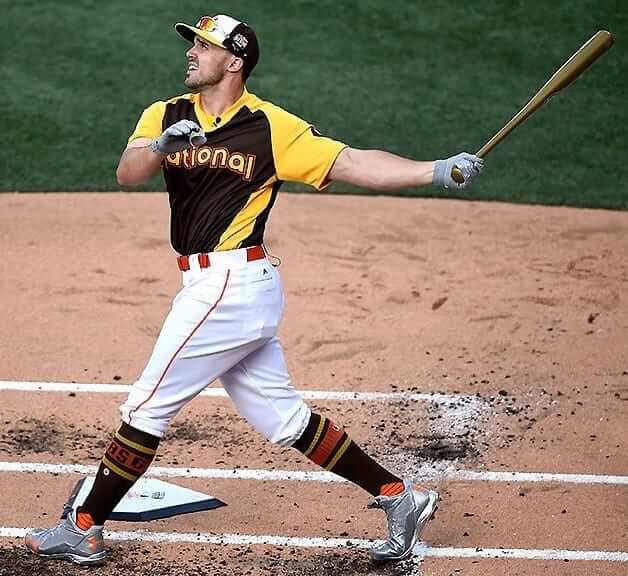 As I've said from the start, I'm a fan of this year's Derby attire. Love that old Padres Taco Bell look. The net result is more of a costume than a uniform, but it's a good costume, a fun costume. As a Mets fan, though, I did feel a little bad for Terry Collins, who at 67 deserves to wear something a bit more dignified (definitely click to enlarge this one — it's a very sharp photo):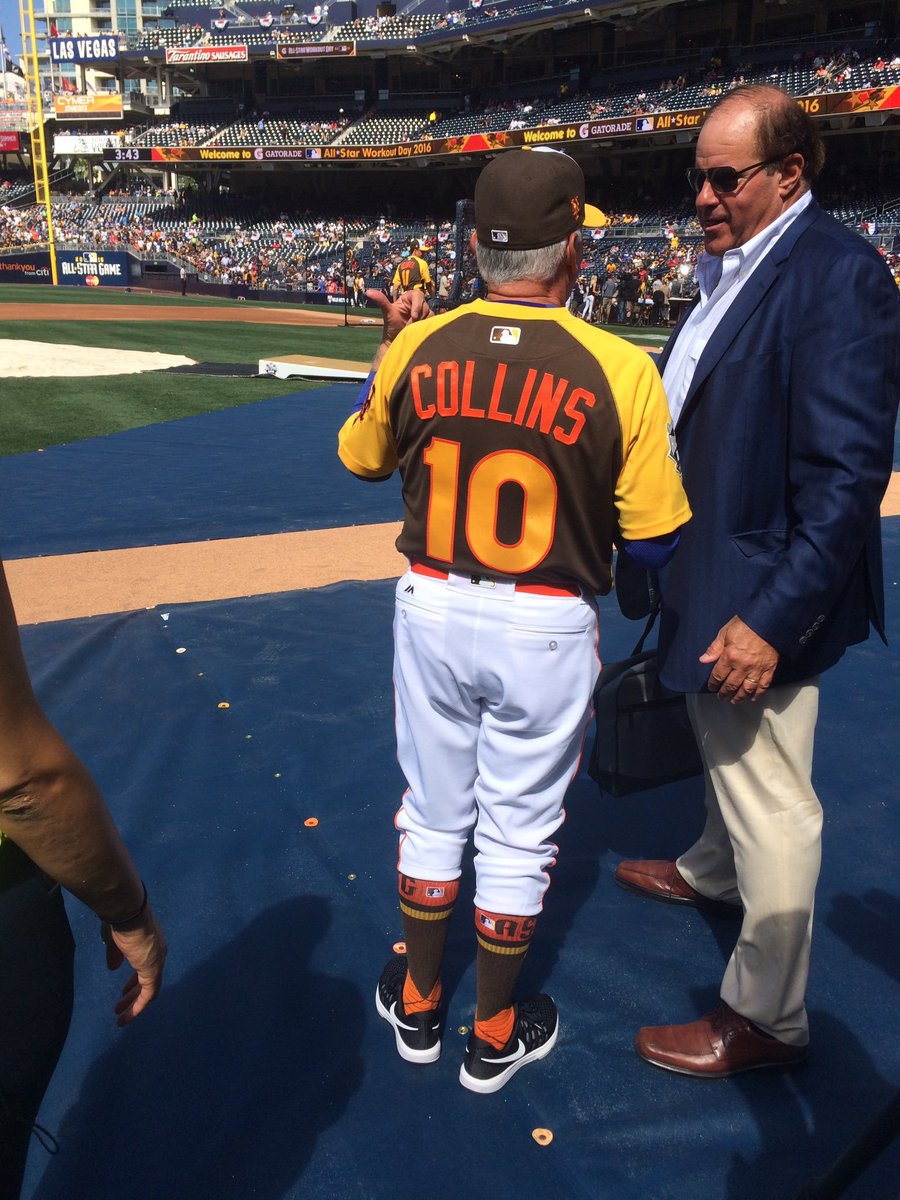 That shot also shows how absurd MLB's logo creep has become, as Collins is wearing five visible iterations of the silhouetted batter. Enough!
(My thanks to Mike Chamernik and pcostello9 for their contributions to this section.)
•  •  •  •  •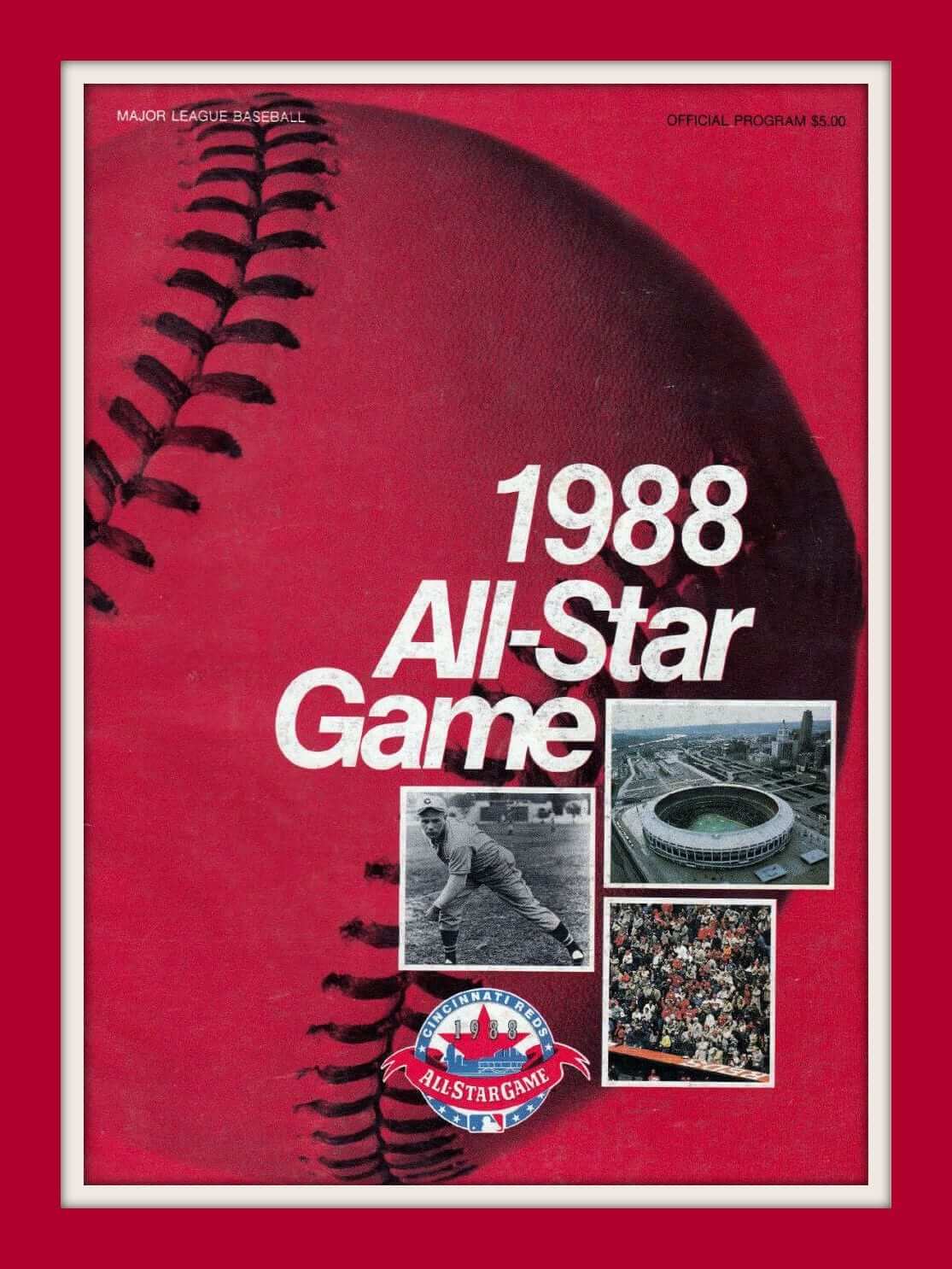 Click to enlarge
Collector's Corner
By Brinke Guthrie
Tonight is the night for the big All-Star bash in San Diego. Hard to believe it's been nine years since the one here in San Francisco, and even harder to believe it's been 28 years since this one in Cincinnati. I worked for a Cincy radio station at the time, and we flew our hot air balloon right above the stadium, which happened to be restricted airspace because VIce President Bush was there. I looked down, 1,200 feet below, why it's home plate! Then we heard a loud whirring noise that got progressively louder, and the Fuji Blimp was just underneath us. So that's why it's all white below us.
Speaking of the All-Star Game: For all you kids out there, back in the day you voted for the players by punching out holes in a ballot like this one and then either deposited it in a box at the stadium or mailed it in. [I did a Uni Watch post on that long-ago era of All-Star ballot design last year. "" PL]
Good times, good memories. Now on to the rest of the week's picks:
•  Speaking of San Diego, here's a 1970s Padres ice cream mini-helmet in one color scheme they haven't tried — black and old gold, like the Saints. How would that look? No one else in the league does it, after all.
•  This 1970s LP is called "The Two Sides of Bobby Orr." The album features insightful commentary from the Bruins great.
•  Nice 1970s retro Phillies milk mug right here!
•  Nice graphics on this set of 1960s NHL "Rah Rahs" buttons.
•  Seen plenty of helmet banks like this one over the years, but this is the first one ever for the Buffalo Bills. First one for the (Baltimore) Colts, too.
•  Here's a T-shirt for former Cardinals/Cowboys star Jackie Smith, called "Jackie's Place." Maybe he had his own bar? By the way, Jackie, I remember where I was when you dropped that TD pass in the 1979 Super Bowl — a first-floor dorm at Miami University. The other guys weren't Dallas fans and they enjoyed this a lot.
•  Nice retro graphics on this 1970s NFL Cowboys lamp.
•  Somehow, I think this vintage Miami Dolphins pennant slipped past the NFL Properties licensing guys.
•  This isn't the first puzzling 1970s Braves sticker I've found on eBay. It has a goofy ball on it, and says "Braves Baseball Is More…" More what?
•  This fellow put a lot of work into a DIY set of mini gumball NFL helmets, complete with goalpost.
•  And from reader David Firestone, a full set of 26 1970s Riddell helmet plaques!
•  •  •  •  •
Raffle results, and today's new raffle: The winner of the A's cap is Kevin McElwee. Congrats to him, and thanks to all who entered.
Our next '47 cap up for raffle is this Phillies pillbox snapback:
To enter, send an email with your name and shipping address to this address (not to the usual Uni Watch email address, please) by 8pm Eastern TODAY. One entry per person. I'll announce the winner tomorrow, and I'll also announce tomorrow's raffle cap, and then we'll keep repeating that process for each remaining weekday this month. If you win one of the raffles, please be nice enough to step aside and stop entering the remaining ones. Thanks.
•  •  •  •  •
StripeRite reminder: In case you missed it yesterday, I've partnered with Scott Turner and American Trench to produce a new line of crew socks with great stripe patterns down toward the ankle, where everyone will be able to see them: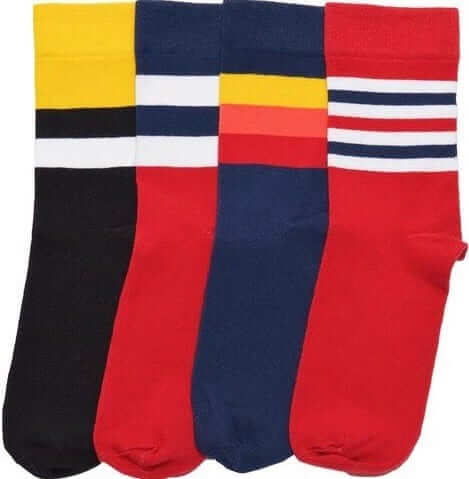 The socks are available here, and there's lots of additional info here.
• • • • •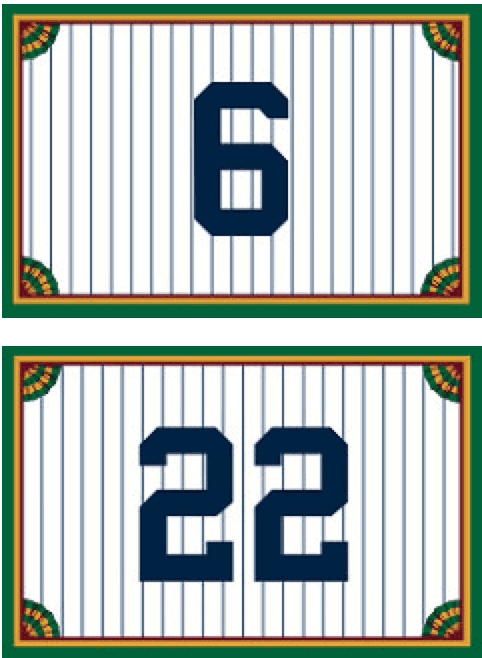 Membership update: It's always amusing when two new membership enrollees ask for the same design motif. That was the case recently with new members Jake Stetson and Hugo Boutin, who both asked for Yankees-themed cards (both shown at right).
I just mailed out a batch of new cards yesterday. And for reasons not worth explaining, I'll be sending another batch to the printer on Wednesday. So if you sign up now, you'll get your card with almost no waiting time.
As always, you can sign up for your own custom-designed membership card here, you can see all the cards we've designed so far here, and you can see how we produce the cards here.
• • • • •
The Ticker
By Mike Chamernik

Baseball News:
Majestic has been successful with outfitting fans and players for the All-Star festivities (from Phil). … You can give a yea or nay to every Home Run Derby jersey over the last 15 years (from Phil). … Madison Bumgarner has a charity partnership with Carhartt where the company donates $500 for every strikeout. The pitcher received this jacket for raising more than $73,000 so far this season. … Oh geez, we missed this: The Rockies wore camo on Sunday for Military Appreciation Day. Here's another look (from eddiemart2398). … Flashy new haircut for Bryce Harper (from Andrew Cosentino). … Angels infielder Yunel Escobar was ejected Sunday for drawing in the infield dirt. He was passive-agressively bemoaning a check-swing call. … David Ortiz leads the list of the top-selling baseball jerseys this season (from Andrew Cosentino). … The Salt Lake City Bees wore Utah Jazz-themed uniforms this weekend. Although baseball isn't associated with jazz like basketball frequently is, the unis look sharp (from Kurt Adison). … The Vermont Lake Monsters will wear 1996 throwbacks on Saturday. … The Omaha Stormchasers will wear hunting camo jerseys Saturday. … Ryan Harrington reports that Hanley Ramirez moved his foot guard up around his shin on Friday after fouling off a pitch that hit him. He has done this before. … Kenn Tomasch says the Dizzy Dean biopic The Pride of St. Louis shows the 1934 Cardinals wearing this cap. According to Okkonen, he Cardinals did wear a cap similar to that, but it was in 1940, and only on the road.

NFL News: In the prolonged wake of Deflategate, NFL refs will now inspect all 24 game balls before kickoff. … Arthur Savokinas spotted this great Eagles bus-van at an old car lot in Old Forge, PA. Here's a look at the front.

College Football News: Virginia Tech continues the renovations to its football facilities (from Andrew Cosentino). … USC revealed this year's jerseys. Speaking of the Trojans, their aesthetic tradition isn't as complex as you might think (from Denis Costello and Phil). … New white uniforms for Brown (from Jimmy Black). … Here's a ranking of Big Ten uniforms (from Chris Flinn).

Hockey News: The AHL St. John's IceCaps are moving to Laval, a suburb of Montreal, and the Canadiens are letting fans name the team. Only Quebec residents can enter, though, and bilingual French/English name submissions are highly encouraged. … The Islanders revealed the jersey numbers for their three free agents this offseason: Andrew Ladd, Jason Chimera and P.A. Parenteau (from John Muir). … It appears that the Panthers have a new Reebok practice jersey template. They used to have this pattern (from @houndogg). … The KHL's Chinese expansion team unveiled jerseys featuring a sublimated Great Wall design (from Hnattyville Gazette).

NBA News: Tim Duncan retired yesterday. He played 19 seasons for the Spurs, and aside from a few small tweaks like crew neck and V-neck collars, the uniforms stayed the same the entire time (from @HolyCalamity). … Check it out: Chicago Bulls stirrups! The 1966-67 Bulls posed for a team photo wearing socks that are very similar to what is pictured (that was the Bulls' inaugural season). Also, the Bulls wore these oddly-patterned socks during that season, too. … It had previously been reported that the players from the WNBA's Minnesota Lynx wore pregame T-Shirts on Saturday to call for change in the wake of the recent shootings in Baton Rouge, St. Paul, and Dallas. Now comes word that four Minneapolis police officers who were working as security at that game walked off the job in response to those T-shirts, and the head of the local police union says others may follow. At least one other WNBA team has worn similar T-shirts: the New York Liberty, whose players wore pregame shirts that said "#BlackLivesMatter" and "#Dallas5" on Sunday.

Grab Bag: St. Bonaventure updated its logo. … The goalpost pads at last Sunday's Canberra Raiders-North Queensland Cowboys Australian rugby match were shaped like milk cartons (from Jim Gregg). … This Detroit sports logo mashup jersey is truly awful. … A Munich photographer is documenting German nine-pin bowling alleys before they vanish entirely (from @univers47). … A variety of animals, from dogs to llamas, have interrupted the Tour de France (from Mary Bakija). … Here's a good pronunciation guide for Ikea products (from Brinke). … A private equity firm acquired Mitchell & Ness from Adidas. No big changes are expected as of yet (from Tommy Turner). … Adidas is suing Skechers over a similar shoe design. Both produced running shoes with angled "blades" on the soles (from Michael Ehrlich). … New logo for WWE Smackdown? … U.S. Sailing has unveiled its sail designs for the Rio Olympics (from Chris Viel).