If you've ever bought striped stirrups or striped athletic socks (as many of you did back when Comrade Robert Marshall ran his Uni Watch Stirrups Club), you know there's a problem: You want to show your stripes, literally and figuratively, but the stripes are up around your calf, so nobody can see them unless you hike up your pants.
About a year ago, our own Scott M.X. Turner — the guy who designs all the Uni Watch membership cards — came up with a great idea to solve that problem: What if there were socks with the stripe patterns down by the ankle? That way the stripes would be visible as you walked, when you crossed your legs, when you put your feet up on your desk, and so on.
It was an ingeniously simple concept, but I don't know anything about making socks. Fortunately, however, I do know Jacob Hurwitz, who runs American Trench and has been advertising cool socks on our website for about two years now. So I contacted Jacob and described Scott's idea to him. He immediately Got Itâ"¢, so the three of us — Scott, Jacob, and myself — began collaborating on this project.
It turns out that creating a line of socks takes longer than you might think. But after countless back-and-forths, sourcing yarns from various mills, looking at several rounds of samples, and so on, we're finally ready to announce the launch of StripeRite crew socks. Take a look: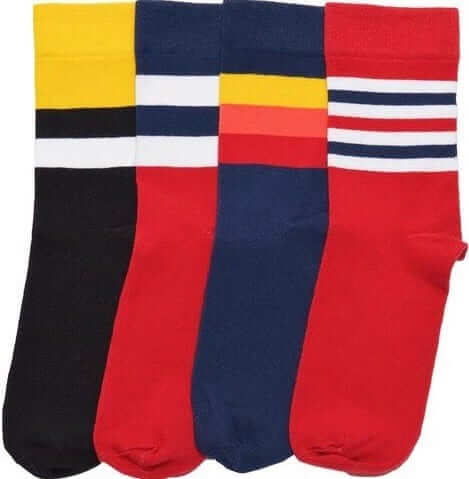 Pretty cool, right? They're available for ordering here, and that page also has plenty of photos showing the socks being worn by models.
A few notes:
• The prices are $16.50 per pair, or all four designs for $52.50. I realize that may sound like a lot — frankly, it sounds like a lot to me — but please keep three things in mind: (a) those prices include shipping; (b) the socks are knit from high-quality Supima cotton and made in the USA; and (c) we're doing small quantities — just 60 pairs per color (and three of those pairs are already spoken for by Scott, Jacob, and myself). If we sell through everything, we'll more or less break even. If we turn any profit, we're donating it to the Jackie Robinson Foundation. (So why are we bothering to do it at all? Because it's a fun creative project!)
• The socks are currently in production and will be ready to ship in July 25, but you can go ahead and order now. Did I mention that we only have small quantities?
I think that's it. Again, you can order the socks here.
• • • • •
Raffle results, and a NEW daily raffle: The winner of the Wilson All-Star glove raffle is Eric Partell. Thanks to all who entered.
Meanwhile: There are 15 weekdays, counting today, before the start of my annual August break from the site (don't worry, Phil will continue to provide daily content, just like in past Augusts). I'm going to raffle off a new cap for each of those 15 days, beginning today with this A's pillbox snapback:
Yes, I know the A's never wore pillboxes in real life, but whatever. Like all of the caps I'll be raffling off in July, this one comes from our friends at '47 (I'm told they're no longer using "Brand" as part of their name, which is fine with me), so big thanks to them.
These will all be one-day raffles. If you want to enter to win this A's cap, send an email with your name and shipping address to this address (not to the usual Uni Watch email address, please) by 8pm Eastern TODAY. One entry per person. I'll announce the winner tomorrow, and I'll also announce tomorrow's raffle cap, and then we'll keep repeating that process for each remaining weekday this month. If you win one of the raffles, please be nice enough to step aside and stop entering the remaining ones.
One caveat: Caps are annoying things to ship, because they're bulky and don't lie flat. I don't have 15 proper-sized boxes lying around, and I'm a little wary of just popping a cap in a polybag, because it might get crushed in transit. So it may take me a little while to find the right shipping materials for the caps. Thanks in advance for your patience. And if anyone has a trick or special vessel for shipping caps, I'm all ears. Never mind, I've found a solution. Thanks to everyone who chimed in.
• • • • •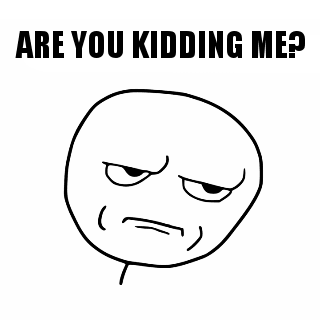 Can't make this shit up: Almost exactly two years ago I told you the story of an extremely rude and unprofessional editor from a design website — I called her Jane Doe — who met with me to discuss a new project and then inexplicably stonewalled me (or "ghosted," as the kids now say) for the next several months. At the time, I said I'd probably never hear from her again, and that turned out to be the case.
I'd forgotten about the whole episode until last Thursday morning, when I received an email from a writer working for Jane's website. He said he was doing a story about the things that designers and design-minded people like to collect, and he'd been told that I might be a good fit.
I asked how he got my name, and he said, "[Jane Doe] seemed to think you'd be a great addition to this, and since she's my boss, I'm going to trust her judgment!"
You don't say.
First I double-checked my email archives to make sure that I wasn't somehow mixing up Jane Doe with someone else. Nope, it was definitely the same person who had been so incredibly rude and unprofessional toward me two years ago — and who now thought I'd be "a great addition" to this story that was going to run on her website.
Had she simply forgotten about our previous encounter? Did she think there was a statute of limitations on rudeness? Did she simply think I'd be grateful or flattered to appear in this story despite her previous behavior?
I couldn't answer those questions myself, so I sent her the following note:
Hi, [Jane] "¦

Paul Lukas here. Back in 2014 we met for drinks and discussed having me write for you on a regular basis. It seemed to go extremely well, or at least that was my impression "" we discussed story length and frequency, byline style, payment, etc. When we parted, I thought to myself, "This is going to be a fun new gig."

Then, for reasons I've never understood, you didn't respond to any of my follow-up emails or phone messages. It was both disappointing and, frankly, bizarre.

Now [one of your writers] wants to talk to me about my collecting habits. I asked how he got my name, and he said you suggested me.

I guess it's nice to know that you remember me and would like to have me included in [the writer]'s story. But I'd still like to hear an explanation for what happened two years ago. How did we go from "Sure, let's have you write for me!" to the silent treatment? Was it something I said or did?

I'm hoping for a better outcome this time.

Cheers,
Paul
I'm sure you won't be surprised to hear that there's been no response.
I see no reason to protect Jane's identity any longer. Her real name is Suzanne LaBarre, and she edits the website Co.Design, which is an arm of Fast Company magazine. They do some good work (we occasionally link to them in the Grab Bag section of the Ticker), but Suzanne clearly has some very peculiar ideas regarding communication and personal interactions. If you're a design journalist, I don't recommend working with her.
Meanwhile, I've declined the writer's invitation to participate in his story about collecting, and I've told him why.
• • • • •
The Ticker
By Alex Hider

Baseball News: Lots of tasty brown, orange and yellow cleats during Futures Game yesterday (from Megan Brown and Stros Bros). … Speaking of the Futures Game, the matte gold and brown batting helmets were completely ruined by cheesy decals and an ad (thanks to those who shared). … Michael points out that the "U" in team USA's jersey didn't have a tail, while the "U" logo the team used did. … A Rangers fan shaved Eduard Nunez's name and number into his back hair (from Chris Flinn). … Avisail Garcia of the White Sox wore a black batting helmet with the team's beach blanket throwbacks yesterday, instead of the throwback helmet (from Jordan Hofeditz). … And you thought the Dodgers' old satin jerseys were shiny (from Bill Oram). … New Balance sent the Cubs' Ben Zobrist a care package ahead of the All-Star Game (from Christopher Overholt). … The Lakewood BlueClaws wore feline-themed jerseys on "Caturday" afternoon (from George Falkowski). … Good piece on the evolution of MLB colors since 1962 (from Phil).

Basketball News: Early indications are that first overall pick Ben Simmons is a waistband-roller. It doesn't appear he rolled in college when he was at LSU, so maybe his new shorts were just too long (from Hit the Glass). Check that: Turns out NBA Summer League shorts are reversible. … Here's the court logo for Nike's Peach Jam, a tournament for high school basketball players in Augusta, Georgia. (from StripeCenter Design).

Soccer News: Antoine Griezmann of France proudly wears Spongebob boxers during games (from Yellow Away Kit). … ESPN had a nice shot of the Euro trophy being engraved after Portugal won the championship yesterday (from Dustin Semore).

Grab Bag: There's an awesome vintage 49ers beach towel for sale on eBay right now (from Craig Bates). …Check out the Howard Payne University football team in 1927 "" looks like one of the players is in concussion protocol (from Ryan Sprayberry). … A religious freedom group wants an Air Force regiment to ditch its "Crusaders" nickname and logo. They say the nickname adds to religious propaganda for Islamic terrorist groups. … Athletic companies that aren't Nike can't use the word "Olympics" when tweeting about the athletes they sponsor. Douchebags (from Tim Cross).
•  •  •  •  •
Photo by the Tugboat Captain; click to enlarge

What Paul did last night yesterday: The Tugboat Captain and I spent Saturday at a friend's house in Kingston, a town in the Hudson Valley. On our way home yesterday, we stopped in the town of Cornwall to go kayaking in the Hudson River.
We were part of a group that was kayaking over to Bannerman Island, which once housed a huge cache of military-surplus munitions and now holds the crumbling ruins of Scottish-style castle (further info here and here). I'd been on the island before — I took a walking tour of it in 2012 — but kayaking around it was amazing. The weather was perfect, two and a half hours in the water was just the right amount of time, and I didn't have to listen to Daniel Murphy hitting yet another home run against the Mets (all photos by the Captain; click to enlarge):
And then, on the way home from kayaking, there was this: