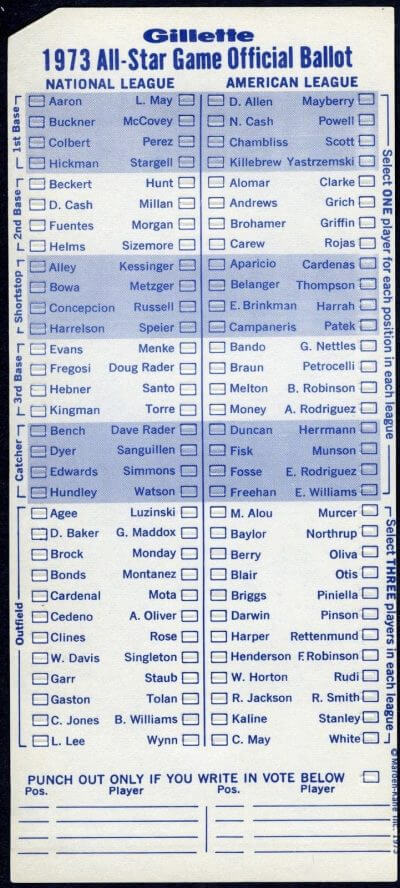 So here's some news that quietly emerged on Tuesday (although I didn't hear about it until yesterday, when reader Alan Tompas brought it to my attention): MLB has announced that it will no longer use paper ballots for All-Star Game voting. It makes sense: More than 80% of last year's ballots were cast online, which seems like a more efficient system. Also, I'm pretty sure interest in the All-Star Game skews toward a younger demographic (I certainly care less about the game now than I did when I was younger, and I stopped voting seven or eight years ago), which again makes an all-online system more sensible.
Still, it feels like a bit of a loss, or at least the end of an era. I'm sure many of you reading this have spent time poring over an All-Star Game ballot at a ballpark, maybe comparing notes with your buddies or family members. I guess people will still be able to do that on their phones, but somehow it doesn't feel the same.
This topic also brings up the issue of ballot design, which is no trifling matter. The "butterfly" ballot design in Palm Beach County, Florida, for example, likely changed the course of world history by inadvertently tipping the 2000 Presidential election to George W. Bush. Obviously, the stakes are a bit lower with an All-Star Game ballot, but the designs are still worth examining.
Let's start with some quick background: Fans were first allowed to vote for the ASG from 1947 through 1957. The vote was then taken away from fans due to ballot box stuffing by Reds partisans (commish Ford Frick had to step in and remove two Cincy players from the National League lineup), but fan voting was restored in 1970 and has remained in place since then.
Here's the ballot for that first year of restored fan voting — 1970:
A little clunky, no? Could definitely have benefited from some streamlining. Also, they misspelled Mets outfielder Tommie Agee's name (it's "Tommie," not "Tommy") — major demerits for that. Interesting that they had the foresight to include a write-in section, and fans definitely used it, because Rico Carty was selected via that method. Finally, that notation in the lower-right corner reads, " © Marden-Kane Inc., 1970." I was curious, so I Googled Marden-Kane and learned that they're a promotion marketing firm. So they were apparently hired by MLB to administer and promote the balloting.
By the following year, 1971, the ballot had been simplified:
As you can see, first names were removed (no chance to misspell Tommie Agee this time), so the names didn't have to be staggered like they were before. Also, the write-in section was no longer broken down by the eight non-pitching positions — it simply had five spots.
A year after that, in 1972, some corporate douchebaggery crept onto the ballot, as the logo of the game's corporate sponsor, Gillette, appeared at the top of the design. The space it took up resulted in the elimination of another write-in spot:
I first voted in 1973. The ballot was essentially the same as in '72, except that the Gillette logo had been centered at the top (click to enlarge):
When I think of an ASG ballot, this is still what comes to mind. I remember being fascinated by the write-in section, which would obviously have to be examined by a human being instead of just being fed into a punch-card reader. Who had the job of checking and tabulating the write-in votes, I wondered.
This basic design was retained for more than a decade, although there were some minor changes along the way: In 1977 the punch-out boxes were changed from blank to solid, and Marden-Kane's name stopped appearing on the ballot; in 1979 the boxes changed again, to contrast with the background color, and the number of write-in slots was reduced to three; and so on. But the basic format of the ballot didn't change again until 1986:
I didn't like this design. The league names were too small and inconspicuous, and the whole thing felt too compressed. (On the plus side, however, no more corporate logo creep — Gillette's sponsorship had ended and MLB hadn't yet found a replacement company.)
The '86 design turned out to be short-lived, as did the lack of a sponsor, as a new format was unveiled for 1987:
Lots of changes here, the most significant of which is that the punch boxes were no longer boxes — they'd been changed to little baseballs. I remember thinking that they looked a bit too cartoon-ish.
Two further changes were made in 1988:
As you can see, each player's first initial was added and, more significantly, team affiliations were included for the first time. This format was used for several years, until 1993, when the format changed again:
A wider ballot, and no more seams on the baseballs — just plain punch circles. But this was just a transitional design, a placeholder. The real change came in 1994 (click to enlarge):
After years of trying to cram more and more information into less and less space, they finally went to a two-column format. Much better. This basic format, with some minor tinkering, was used up through last year. Unfortunately, I couldn't find a scan of last year's ballot, but here's the one from 2013 (click to enlarge):
So that's apparently the final stop on the ASG ballot design train, at least in terms of paper ballots. You can see all of the ballots from 1970 through 2013 — including the backs of the designs, not just the fronts — here.
•  •  •  •  •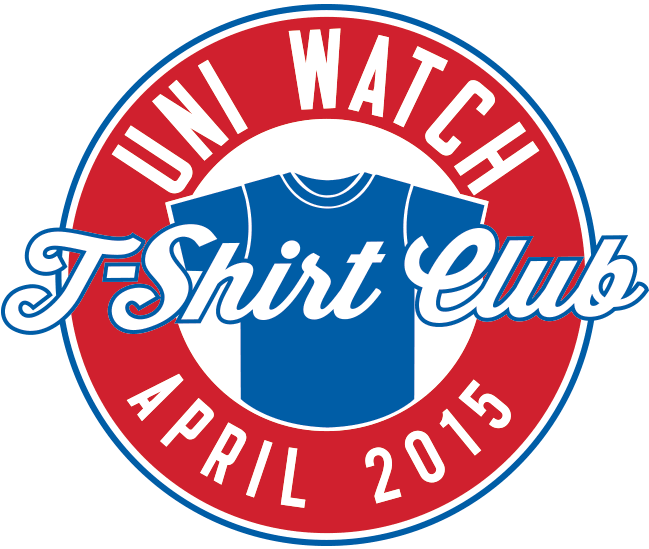 T-Shirt Club reminder: The Uni Watch T-Shirt Club design for April, inspired by Jackie Robinson Day, is now available in home white and road grey versions, with all of my profits being donated to the Jackie Robinson Foundation. Full details here, or just go straight to the ordering page.
This design in on pace to be our biggest seller so far — very cool. Thanks, people!
• • • • •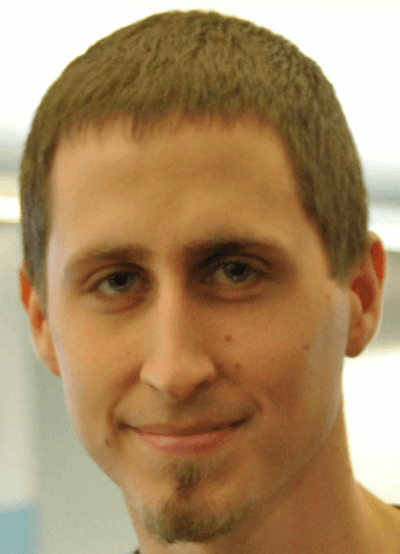 Mike's Question of the Week
By Mike Chamernik
Today is one of the best days of the year! The opening weekend of March Madness is always awesome: non-stop basketball, four days filled with upsets, buzzer-beaters, and memorable performances. For fans it also means filling out brackets, watching several games at once, and having an excuse to skip work, meet up with friends, and tip a few back before noon.
What are you doing for the NCAA Tournament this year? What's your favorite memory of the tournament from years past? Have you ever attended any games? Did you attend a school that made the Big Dance, when you were either a student or an alum? If so, what was the experience like? Do you have any uni-related memories from the tournament? I remember when Long Beach State had its moment in 2012 — I really liked their jerseys.
As always, post your responses in today's comments.
• • • • •
Uni Watch News Ticker
By Mike Chamernik

Baseball News: Our own Phil Hecken spent some time discussing uniforms as a guest on yesterday's edition of the Sully Baseball Daily Podcast. "¦ Interesting uniform tidbit from this article on the 1990 Cincinnati Reds: "Rob Dibble wore No. 49 for his career. Except for one game, that is. The Padres manager complained that Dibble's jersey "" which had been tailored to give the pitcher more shoulder room "" was a distraction to the San Diego hitters. Dibble changed into pitching coach Stan Williams' No. 35 uniform, and submitted 2-1/3 innings of shutout work" (thanks, Joe Owen). … The Double-A New Britain Rock Cats are moving to Hartford new year and will be known as the Yard Goats. … The long, wet winter in the Northeast has made it difficult for groundskeepers to get MLB fields ready for Opening Day (from David Goodfriend). … Viterbo University, a small NAIA school in La Crosse, Wisconsin, has some great stirrups (from Ben Sturomski). … Auburn has great stirrups, too (from Chris Wright). … Star Little League hurler Mo'ne Davis is launching a line of sneakers for charity (from Brinke). … New sleeve patch for the Class-A Stockton Ports, who are celebrating 10 years at their ballpark (from Richard Paloma). … A poster website ranked the best NCAA baseball schedule posters. … The Lakewood BlueClaws will wear Boy Scout uniform jerseys in June. … The Mets have a bigger and better Jumbotron. … The Cubs and Dodgers played blue vs. blue yesterday. … Former Reds outfielder and current Reds roving instructor Eric Davis is wearing a retro "Say no to drugs" wristband during spring training. … Greg Mays sends along some great 1950s home movie footage of Nebraska American Legion baseball (with some high school track at the end). … The San Diego Padres nearly moved to Washington before the 1974 season. We've seen pictures of the proposed uniforms in the Ticker before, but Robert Walker scanned two very clear photos of pitcher Dave Freisleben. "¦ Lots of beards in Mets camp, in part because the team has relaxed its facial hair rules for minor leaguers. "¦ Buried within this article about the Rays is the following: "Watch for the Rays (sunshine) 'burst' graphic that appears on player hats and shirts to gain an even higher profile. 'It's kind of our Nike swoosh,' says Brian Richeson, Rays vice president of sales and service. Also watch for more 'Carolina blue' on Rays uniforms rather than the darker cobalt blue so commonly used by some other teams" (from Chris Ahsley).

NFL News: The NFL is considering allowing linebackers to wear jersey numbers in the 40s, in addition to the standard 50s and 90s (from Phil). … "Looks like Greg Hardy has a Dallas Cowboys-esque tie down connecting his jersey to his shoulder pads," says Mike Engle. "I'm assuming that's what I'm seeing with the crimped and askew NFL logo at the point of the collar."

Hockey News: Canucks goalie Eddie Lack held a pads design contest over social media and fellow Vancouver netminder Ryan Miller created a design for him that incorporated tacos and images of Lack's parents (from Joe Magee).

Soccer News: Manchester United's 2015-16 kits have been leaked (from Phil). … The Colorado Rapids have a new jersey sponsor (from Phil). "¦ "Robert Schlienz played top-level soccer in Germany in the late 1940s and '50s after having his left forearm amputated after a car accident," writes Graham Clayton. "He folded up the bottom half of his long sleeve and pinned to the top half to stop it flapping while playing." "¦ New kit for the Netherlands.

College Hoops News: Really interesting article about the whistle being used by NCAA tournament referees. The sound of the whistle itself will stop the clock in the tourney. … "I stumbled upon this post from a local clothing store talking about a 'modified logo and lettering for March' for Butler," says Derrick Brown. "It looks as if Butler has dropped the Butler name below the circular logo in place of just the bulldog head with a white, then blue outline. I did a little digging and found no mention or statement from the university or athletic department itself." … B&O Railroad sponsored a women's basketball team several decades ago. Intriguing! I spent some time and looked them up. From several accounts, they had talented guards who could shoot and dribble, matching up well with all the women's teams of the day. Their frontcourt, though, was unimposing. Especially in an era where "the pivot" was so crucial because of the narrower key, the B&O Railroad team was doomed by their Short Line.

Grab Bag: In addition to cash, trophies and medals, race-winning cyclists are also awarded items like sausage, tridents and swords (from Sean Clancy). … Here's a site that tracks rugby shirts (from Jacob Allaman). … Men's shoes have certainly evolved over the last 500 years (from Tommy Turner). … New uniforms for the British Royal Navy (from Jonathan Bean). "¦ The graphic designer who created many 1990s team logos, including the Jaguars' primary logo, the Rangers' "Lady Liberty" logo, and the Nets' "Saturn"-style logo, has passed away.