Photo taken Sunday at Sachuest Point National Wildlife Refuge; click to enlarge
As most of you know by now, my favorite state is Wisconsin, but there are plenty of other states competing for second place. One of them is Rhode Island, which is gorgeous, has a surprisingly eccentric food scene (a subject I once wrote about for The New York Times), and is situated not too far from Uni Watch HQ. So when the Tugboat Captain and I recently found ourselves in desperate need of a weekend getaway, Rhode Island was the perfect solution.
We arrived in Providence at 6pm on Friday and headed back home about 48 hours later. In between, we drove about 200 miles around the Ocean State. Due to southern Rhode Island's unusual geography and a few other factors, we had to double back over a few stretches that we had already driven on, so our route didn't end up as a neat circle or anything like that, but this should give you an idea of areas we were exploring (click to enlarge):
Here's a rundown of some of what we did, some of what we saw, and a lot of what we ate and drank. Most of the photos were taken by me, although a few are from the Captain (you can assume most of the better ones are hers), one is from my friend Vicky, and two were poached from the internet. Almost all of them can be clicked to enlarge.
Friday, May 13: On our way up Providence, we stopped in New Haven, Conn., to get pizza at Frank Pepe, which may or may not be, as one writer has claimed, "the best pizza in America," but it's certainly in the upper echelon. Frank's signature specialty is a clam pie, but we figured we'd be eating plenty of seafood in Rhode Island, so we went for pepperoni and bacon instead, and holy shit was it good:
We had some leftover slices, and they made the car smell really good as we proceeded eastward. Soon we hit the Rhode Island state line, which brings up a peeve of mine. As you may know, Rhode Island recently had a bit of a kerfuffle over the state's crummy new tourism slogan. It just so happens that I have the perfect slogan for them — one that I've been wanting them to use for years now. When Roger Williams founded Rhode Island on the principle of religious tolerance in 1663, his endeavor was known as "the lively experiment." How awesome would that be as a slogan? Imagine crossing the state line and seeing a welcome sign that said, "Welcome to Rhode Island: The Lively Experiment." Perfect!
Unfortunately, the welcome sign we saw when we crossed the state line looked like this:
Pfeh.
We eventually reached the house of my friend Vicky, who had offered to put us up for the night. I've known Vicky from the zine and indie-rock world for nearly 30 years (the second cat I ever owned was one of her cat's kittens), but this was the first time I'd been to her house in Providence, so it was also the first time I'd met her wonderful dog, Lola, and her even more wonderful cat, Giacomo (who was a bit of a lively experiment himself):
Vicky had booked us a lane at BreakTime Bowl, a new-ish duckpin bowling facility with live pinsetters, located in an old mill. Although the accompanying bar and some other amenities are new, the lanes themselves are original — they were built for the mill workers.
It had been about three and a half years since I had bowled ducks (that was with you, Robert Marshall!), so it was great to get back in the swing. And man, what a gorgeous space:
The only downer was our pinboy, who danced on the lane, stood in the gutters, stuck his foot out in front of oncoming balls and then removed it at the last second, lost track of which ball Vicky was on and therefore reset her pins prematurely, and generally behaved like a complete ass. I've bowled with live pinboys many times (and I've also been a pinboy), but this time I did something I'd never done before: I didn't leave a tip.
After bowling, Vicky brought us to a speakeasy-ish bar hidden behind a lingerie shop (just as weird as it sounds), where we had a few cocktails. And then it was time to hit one of my favorite Ocean State spots: Olneyville New York System, the definitive source for Rhode Island hot wieners (always say "hot wieners" in Rhode Island, never "hot dogs"). I had mine with a glass of coffee milk, the official state drink.
That was a full day and a fuller night. So we went back to Vicky's and crashed.
Saturday, May 14: After breakfast at a local diner, we headed south, stopping at a few yard sales along the way. One of the sales had an item that caught my eye — one of those motorized shoe buffer/polisher thingies:
I have no reason to own such an item. I wear sneakers almost every day, plus it seems like one of those executive toys that I'd never want any part of. But for some reason I was entranced by the buffer — the bright colors, the streamlined shape, the absurdity of it all, plus I thought it might garner interesting reactions from the cats. I kept circling back to it. The seller saw me eyeing it at one point and said, "It's nice, right? Still works, too." So I asked him to plug it in, at which point we discovered that it didn't work. I found myself feeling oddly crestfallen over this development, and I guess my disappointment must have shown, because the seller said, "You still want it? Just take it. No charge." I insisted that he take a dollar, because I didn't want to take something for free. So we put it in the back of the car and now I'm the owner of a very attractive but non-functioning shoe buffer. (I'll probably end up putting it out on the curb in a day or three, but for now I'm still enjoying the weirdness value of having it in the house.)
It was a cool blustery day, but we wanted to stroll by the water, so we headed to Warwick City Park, which has a nice little beach. At one point during our walk I saw a teeny-tiny dead crab — so small, so beautiful. I took this photo, using my sneaker for scale (the crab is just to the left of my toe), not realizing there was a piece of an even smaller crab a few inches away:
A few minutes later we saw live crabs — lots of them. It was a huge colony of fiddler crabs, darting in and out of their holes. Mesmerizing! The Captain got a little footage of this fella:
A little farther down the road, we came across an excellent regionalism that I had only recently become aware of: Dry cleaning businesses in Rhode Island are sometimes called cleansers instead of cleaners. Vicky, who told us about this phenomenon a few weeks ago when we were planning this trip, said cleansers used to be common but are now vanishing as shops update their signage, so we were happy to come across this one in Warwick:
The cleanser was near a VFW hall that was open to the public, so we stopped in for a drink. This shot captures the place nicely, from the brightly colored bendy straws to the amazing, amazing face on the guy in the green shirt:
Across the street from the VFW hall was some sort of facility (maybe a fire department — I no longer remember), and in that facility's parking lot was a big moose statue on a dolly, which was sort of irresistible. Whatever it's used for, I hope I get invited to it, or manage to attend it, or whatever:
Next up was the town of East Greenwich, home of the Greenwich Hotel and its super-spectacular sign:
I'd been to the Greenwich before, I believe in 2012. There's an amazing bar inside, almost as gorgeous as the sign, but it turned out that they don't open until 7pm, so we couldn't stop in for a drink. We did use the restrooms in the hotel lobby, however, one of which offered a nice bonus amenity:
The rest of the afternoon was a mix of driving, snacking on the leftover pizza, meeting a bunny on a leash (sorry, no photo), and one prominent disappointment (we wanted to visit the Point Judith Lighthouse but didn't realize it had become a Coast Guard station and was off-limits to the public — dang).
We definitely wanted seafood for dinner, and I knew just the place for it: George's of Galilee, where we sat at a second-floor bar overlooking a marina and shared a classic Rhode Island meal of locally caught mussels, clamcakes (essentially fritters, sort of like hush puppies but with clams), stuffies (a mix of ground quahog clams, sausage, breading, and spices spooned into clam shells and baked), and Narragansett beer:
All in all, a very good day. We ended up crashing at a motel in Charlestown.
Sunday, May 15: We had gone to bed very early (like, 9:30pm-ish), so we woke up early and headed straight to Charlestown Beach, where we enjoyed a brisk, blustery walk under a very beautiful sky:
I wanted to have breakfast at a place in Little Compton, which was more than an hour away, so we set off on a really nice drive that took us across several bridges with great views of the ocean. Along the way, shortly outside of Little Compton, we came across a herd of dairy cows. The weird thing was that the cows' field was near the shoreline, so sea was visible in the background, with a few boats tooling by. It felt like a really odd collision of agricultural and nautical cultures, with one of Rhode Island's ubiquitous stone walls tossed in for Colonial bonus points. It reminded me of some of the scenes I'd come across when I traveled in Scotland in 2010:
Soon after that we reached our destination: Commons Lunch, home of some of Rhode Island's best johnnycakes, which are unleavened cornmeal pancakes — super-thin but still toothsome:
After breakfast we took a stroll in the beautiful cemetery behind the United Congregational Church, where some of the headstones date back to the 1700s (or maybe earlier — many of them were too worn down to read):
I was particularly intrigued by this pair of stones, each showing a hand pointing up toward Heaven (there's an explanation of the symbolism here). The thing that really struck me was how the hand on the woman's stone is more feminine-looking:
The hands on those stones are left hands, but a few yards away was another stone with a right hand:
I really like wildlife preserves (at least when they're not being occupied by armed seditionists), so our next stop was Sachuest Point National Wildlife Refuge, where we went on a 1.5-mile oceanside walking trail. It had become a seriously windy day, and it was pretty raw down by the water — felt more like mid-March than mid-May — but some of the views were jaw-droppers:
We snuck in one more meal before heading home, this time at Two Little Fish in Westerly, a seafood shack with a bunch of endearingly googly-eyed fish signs on its exterior:
It had gotten seriously cold and windy by this point (we had tried going for another beach walk, which was pretty unpleasant), so we warmed up with some very good chowder and another order of clamcakes, washed down with a local brew:
After that we headed back to NYC, but the weekend still had one little treat for us. Toward the end of our trip home, as we were driving through the Bronx, we saw a rainbow. But not just any rainbow — we were able to see both ends of it:
Although we weren't able to capture it in a photo, we could see the entire 180-degree arc! I had only seen that once before, during a 1997 road trip in Iowa (where it's so flat that seeing both ends of a rainbow is probably commonplace). A perfect capper to a really great weekend.
Thanks, as always, for indulging me with these travelogues. We'll get back to regular Uni Watch content tomorrow.
• • • • •
For all Pitt photos, click to enlarge
Actual uniform news, how about that: The good news is that Pitt officially restored the script logo to its athletics program last night. The bad news, as shown above, is that the the football uniforms have a ridiculous number font. Here's a rear view: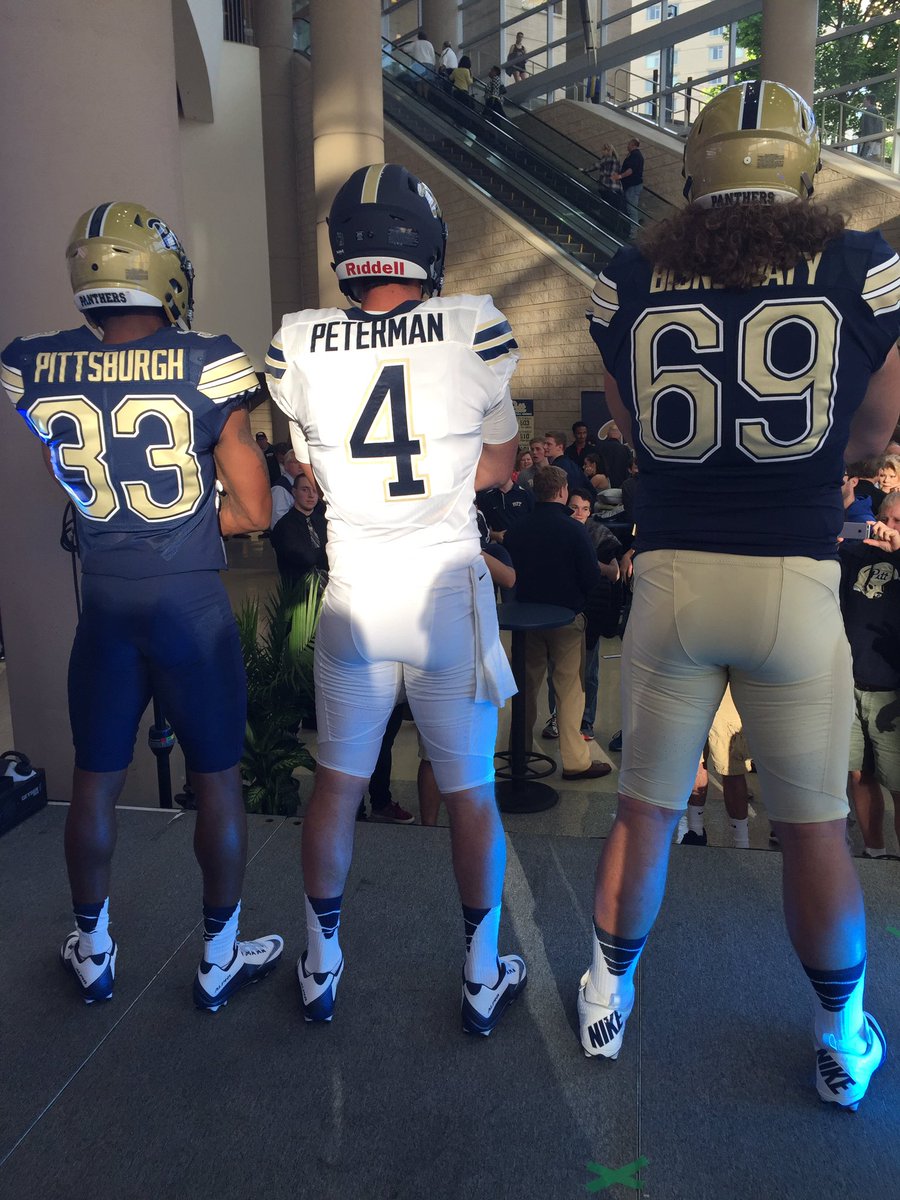 As you can see, the numerals are block on the outer contours but curved on the inner contours. As usual, in classic Nike fashion, there's a "story" behind the font. And as usual, the story doesn't matter, because the design looks awful, and that's what matters. As soon as I saw it, I immediately thought of nuts — the hardware kind — so let's call this font Totally Nuts.
Here's a good look at the script on the new blue alternate helmet:
And here's a peek at the new men's and women's basketball uniforms:
You can see all of the school's new uniforms here.
• • • • •
Membership update: As usual, we got a slew of orders on Purple Amnesty Day, but not all of them were for purple-inclusive designs. One of the most interesting requests we got was from Alex Sinclair, who wanted the us to do the hood livery of the 1971 Porsche 917K in Martini Racing colors. As you can see at right, membership card designer Scott Turner did a tremendous job in executing that design.
We also got plenty of purple orders, some of which have been added to the membership card gallery. If you placed an order and don't see it there yet, don't worry — we'll get to it shortly.
As always, you can order your own custom-designed membership card (but not with any purple, at least until next year's Purp Walk) here, you can see all the cards we've designed so far here, and you can see how we produce the cards here.
• • • • •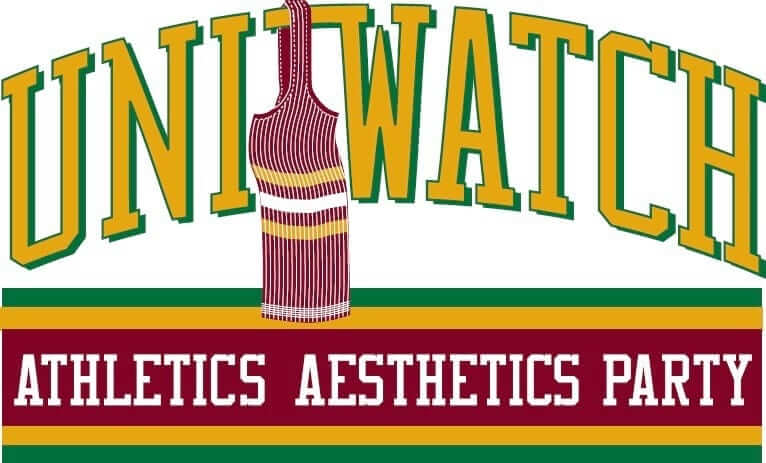 Party reminder: Remember, Uni Watch party next Wednesday, May 25, 7pm, at the Fourth Avenue Pub in Brooklyn, with special guest Chris Creamer of SportsLogos.net. Hope to see lots of you there.
And while we're at it: The following night — Thursday, May 26, 7pm — I'll be a featured guest at this live "Talk Show" event, where the host will be interviewing me on the finer points of what it's like to be a uniform reporter. It's free — you should come.
• • • • •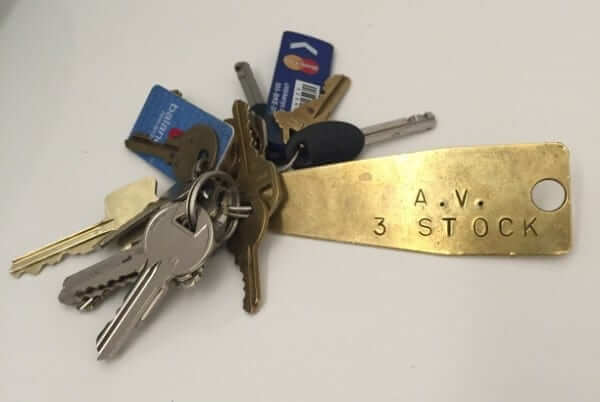 KRC update: The latest installment of Key Ring Chronicles, about a big brass tab salvaged from an old German factory, is up. Check it out here.
Incidentally, I'm always in the market for for new Key Ring Chronicles submissions. If you have a special item on your key ring with a good story behind it, please consider sending that story (ideally limited to 300ish words), along with a photo (ideally showing your entire key ring with everything on it and nothing bleeding out of the frame, like in the photo shown above), here. Thanks.
• • • • •
The Ticker
By Paul

Baseball News: Here's what various concession items cost at Shea Stadium in 1967. Yeah, things cost a lot less back then, go figure, but the more interesting thing, at least to me, is that they sold egg salad sandwiches, soup, and cigars. No word on how much Phil's favorite ballpark item, bacon on a stick, cost back then (from Jason Mott). … A school team in Waynedale, Ohio, wears uniforms based on the Padres' 1978 design (from Jeff Moulden). … Braves OF Mallex Smith's home and road NOBs have very different letter spacing. … Latest Cleveland player to wear stirrups: Rajai Davis. … The Brooklyn Cyclones will become the Coney Island Franks for one game this summer (thanks, Phil). … 1990s Nickelodeon Night jerseys upcoming for the Frederick Keys (from Justin Wages). … Speaking of the Keys, they'll be giving away an "Iron Manny" bobblehead this Saturday (from Andrew Cosentino). … The hoodie that Tigers skipper Brad Ausmus left on the field after a tantrum the other day is being auctioned off for charity (from Chris Flinn). … Look closely and you can see that Red Sox P David Price has two dates printed on the webbing of his glove. Anyone know what those are about? (From @MetsTilDeath.) … Iron Man uni this Saturday for the Indianapolis Indians. … Here's a story on that guy who's the world's greatest batting stance imitator (from Mary Bakija).

NFL News: Here's a shot of former Oilers QB Lynn Dickey wearing a preseason-only Oilers jersey. I was wondering if the Gridiron Uniform Database guys had included that on their site, but of course they had. … Check out this old Bengals shot of QB Kenny Anderson and RB Pete Johnson with mismatched facemask colors (thanks, Phil).

College Football News: Arizona State sure has a lot of helmet options. … Back in February I did an entry about players who wore No. 100 in 1969 to mark college football's centennial. One of those players played for Louisville, but we didn't have his name — until now (good find by Kelley Dicky). … Looks like Louisiana Tech may have leaked their new road jersey. Here's last year's, for comparison.

Hockey News: Yesterday's post about NHL prototypes prompted several people to mention that there had once been a Sharks prototype with a zippered collar, which was nixed because the zipper was deemed to be a safety hazard. Mike Styczen has now come up with photos of this — look here, here, and here. … Here's a gallery of NHL dressing rooms (thanks, Mike). … Lightning C Steven Stamkos and soccer player Kaká did a jersey swap last night, and the Lightning even included Kaká's accent on his NOB. … The International Ice Hockey Federation has been holding some internal elections for various positions, with the order of the candidates' speeches indicated by numbered pucks (from John Muir). … The Federal League has a new team, and it's a mouthful: the St. Clair Shores Fighting Saints. If your city name is three words, shouldn't you maybe think about sticking to a one-word team name? (From Justin Walden.). … Here's an odd place for a patch. That's the London Knights celebrating their OHL championship last week (from Marc Viquez).

NBA News: A Warriors game features a lot of arena entertainment in addition to the game itself. … Speaking of NBA arenas, here's a slideshow of notable images at the Cavs' arena. I love how the introductory text says, "You go straight through the metal detector to the concessions to your seat," as if the metal detector were part of the fun. I didn't click through all 44 slideshow images, but I'm guessing they didn't include a photo of the security pat-down (from Jason Hillyer). … Here's the 76ers' douchebaggery du jour. Can they keep coming up with a new way to inappropriately and prematurely display their jersey advertisement every single day? (From F.K. Yaaj.) … Anyone know the story behind the lapel pin being worn by Warriors coach Steve Kerr last night?

Soccer News: Unusual look for the ref in yesterday's Europa League final. … That same game featured two teams outfitted by New Balance — an uncommon match-up. … The Portland Timbers have unveiled the first official MLS team emoji app (from my old zine pal Gail O'Hara). … The Greencock Morton kit that fans were very unhappy about has now been withdrawn (from George Chilvers). … Manchester United and Crystal Palace fans have been told that they can't wear team jerseys, pins, scarves, or other team merch if they're sitting in certain corporate club areas at Wembley (from DK).

Grab Bag: Workers in lower Manhattan are having a Post-it design war. … Here's an Indian cricket player wearing No. 777. … The staff at Guantánamo Bay prison complex in Cuba have all sorts of intramural sports teams, many of them with very amusing names. … New logo for the next Star Trek series. … Here's what many of the top tennis players will be wearing at the French Open (thanks, Phil).