There's this woman on Twitter named Jen. Her handle is @NHLhistorygirl, so her tweets are mostly about NHL history. Lots of "On this date in 1983…" and things of that ilk.
Yesterday, though, Jen's historical musings had a sub-theme: She did a series of nearly 20 posts featuring NHL prototypes, logos that were proposed but never used, and other "What might have been" designs. Unfortunately, she didn't link all of the tweets together with a hashtag, which means there's no one-stop-shopping way to link to all of them. So instead I'll just embed all of them — take it away, Jen:
This was the original #NJDevils logo presented to the public. pic.twitter.com/RJC1XpqCGC

— Jen (@NHLhistorygirl) May 17, 2016
#Flyers, you really dodged a bullet with the proposed teal jersey. (source: @icethetics https://t.co/zS0ROlHwFv) pic.twitter.com/5vo2uNSOC9

— Jen (@NHLhistorygirl) May 17, 2016
The first #stlblues jersey presented to public, never made it to the ice. (source Bruce Bennett/Getty Images) pic.twitter.com/lmWwRIhIkT

— Jen (@NHLhistorygirl) May 17, 2016
And then there were these proposed 1990s #stlblues jerseys. source: @UniWatch pic.twitter.com/lJBdRCR1BD

— Jen (@NHLhistorygirl) May 17, 2016
The rejected gold #DallasStars jersey pic.twitter.com/a0Yq3eJu3A

— Jen (@NHLhistorygirl) May 17, 2016
These were supposed to be the #Nordiques new jerseys but relocation intervened pic.twitter.com/2M3tkuj3Fs

— Jen (@NHLhistorygirl) May 17, 2016
These were the proposed #Pens alternates for 94-95. Source: https://t.co/7aF773TcSj pic.twitter.com/jZsZYydf51

— Jen (@NHLhistorygirl) May 17, 2016
Probable 1967 #LAKings jersey prototype from former trainer's collection. pic.twitter.com/5KRUW1gCs8

— Jen (@NHLhistorygirl) May 17, 2016
#Caps prototype from ca 2005 (source: @icethetics https://t.co/1lmKf21UF2) pic.twitter.com/c29FQSmQSZ

— Jen (@NHLhistorygirl) May 17, 2016
Some rejected #Canucks jerseys (source: @icethetics https://t.co/1lmKf21UF2) pic.twitter.com/kDY9Mv1zak

— Jen (@NHLhistorygirl) May 17, 2016
What could have been in the early days, #CBJ (source: https://t.co/8BgoJ1eA37) pic.twitter.com/x6RXkrycbh

— Jen (@NHLhistorygirl) May 17, 2016
The original #Sabres jersey presented to the public. pic.twitter.com/bg0lThKTDr

— Jen (@NHLhistorygirl) May 17, 2016
When the #Avs were nearly named the Rocky Mountain Extreme. (source: https://t.co/45LEkrFUwy) pic.twitter.com/JfouCtrxiz

— Jen (@NHLhistorygirl) May 17, 2016
Sample designs for the #Coyotes 2008 3rd jerseys. source: @icethetics pic.twitter.com/SLHcASWEgR

— Jen (@NHLhistorygirl) May 17, 2016
The original #FlaPanthers uniforms had claws painted on the gloves. pic.twitter.com/W8l78yH7P4

— Jen (@NHLhistorygirl) May 17, 2016
A rejected #Canes 3rd jersey submission from guy who designed original CBJ Stinger. Source: https://t.co/AorcGzei5o pic.twitter.com/jQPArPwpKJ

— Jen (@NHLhistorygirl) May 17, 2016
Some various #NHLDucks logo designs developed for franchise rebranding in 2005 (source: https://t.co/43bRLpWDxM) pic.twitter.com/ENzvprHEDI

— Jen (@NHLhistorygirl) May 17, 2016
What appears to be a #NorthStars prototype in the background. pic.twitter.com/TQQRekNPHb

— Jen (@NHLhistorygirl) May 17, 2016
The #MNWild did a mockup of "what if" they had chosen one of the other top 6 names. https://t.co/s3KH8cABnm

— Jen (@NHLhistorygirl) May 17, 2016
Good stuff, right? You've probably seen many of these, or maybe even all of them, but it's nice to see them all in one place.
I can think of a few prototypes Jen missed, however. For example:
•  No discussion of NHL prototypes is complete without a mention of the Blues' notorious "trumpet design" from 1996, which was supposedly nixed at the last minute by coach Mike Keenan:
•  And here's another Blues prototype, which surfaced on Twitter just two weeks ago:
Mock up jersey for the St Louis Blues in the 1970's that was made by @rjliebeco . R. J. Liebe has a great history. pic.twitter.com/QvF8yEpA0s

— STL Blues History (@STLBlueshistory) May 5, 2016
• In the late 1980s, the Nordiques considered adding colored belly stripes to their jerseys, with the fleur de lis moving higher to accommodate the stripes. Here's how that would have looked:
•  When Ottawa fans were lobbying for a new franchise in the late 1980s and early '90s, this Senators design was seen at press conferences: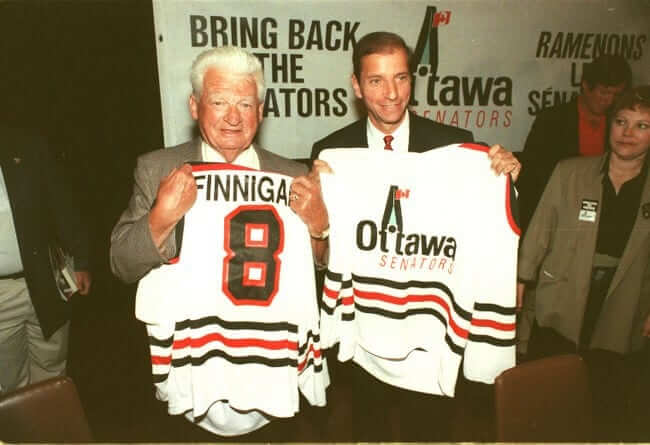 •  And my notes indicate that the Caps also had a new design in the works in 2000 but then changed their minds. Unfortunately, the link to that design, which I bookmarked nearly a decade ago, is now dead, and I have no memory of what it looked like (pretty sure it's not the one Jen showed above). Anyone know more?
Update: Reader Ted Starkey has provided the missing Caps prototype: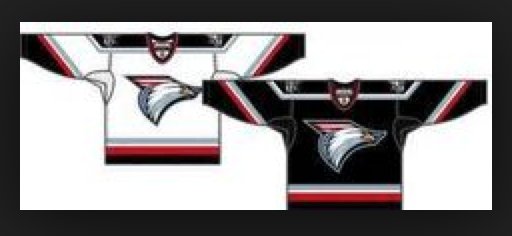 Are there still more NHL prototypes floating around out there? Yeah, probably. Feel free to post anything I missed in today's comments.
•  •  •  •  •
The Ticker
By Paul

Baseball News: Mets 3B David Wright's signature orange undershirt appears to be MIA this season. … The Padres are having a UCLA/USC rivalry promotion and are giving away caps in those schools' colors (from Jason Ricles). … Rare sight: Mickey Mantle wearing No. 6! … Nicole Haase was at a museum in Rockford, Ill., that includes some exhibits on the the Rockford Peaches. "They had this piece of memorabilia that's something I'd die to have and knew you'd love," she says. "A child used to go to the games and get the jacket autographed by the players, and then her mom would embroider over the autographs in order to preserve them. It's so fantastically homemade and awesome, I'm tempted to do the same with the alumnae of the league who I run into." … Very nice new stirrups for Marshall (from Brett Eversole). … Reprinted from last night's comments: The Double-A Binghamton Mets are apparently planning a name change. The six finalists are not very inspiring (from Jeremiah McElwain). … "I saw this trailer for a new Fox show about the first female MLB player," says Steven Hom. They get points for having accurate MLB uniforms, including the All-Star patch for the Padres." … Astros OF Colby Rasmus wore hunter's camouflage undersleeves last night. … A nine-year-old Wichita kid named Kaiser Carlile was killed after being hit in the head by a bat during a youth tournament last summer. Wichita State honored him yesterday by wearing his initials on their caps and jerseys. Further info here. … The Omaha Storm Chasers are accepting fan-submitted designs for jerseys that will be auctioned off to raise funds for the cancer-stricken son of one of the team's pitchers (thanks, Phil). … Cross-dressing alert: Red Sox SS Xander Bogearts wore an FC Barcelona jersey — with FIOB! — during pregame warm-ups yesterday (Phil again).


Pro and College Football News: Buried within this article about former Eagles lineman Jon Runyan becoming the NFL's Vice President of Policy and Rules Administration is the following: "Runyan also will oversee the NFL's inspection of uniforms and protective equipment — you know, those often ridiculous fines for wearing socks too low, among other NFL nitpicks." … For a 1977 Packers/Bears game in Green Bay, the Packers had a blank Bears helmet — or maybe just a general dark helmet — painted in the end zone (from Bill Kellick). … Pitt will unveil its rebranded redesigned uniform tonight. Here's a preview.

Hockey News: Reprinted from yesterday's comments: A print shop in Pittsburgh has come up with a good response to the Lightning's bogus policy of banning opposition apparel in certain parts of their arena (from Mike V.). … Speaking of the Lightning, one of their fans was caught on camera stealing another fan's custom chair (from Mike Edgerley).

Basketball News: LeBron James's new deal with Nike may be worth an awful lot of money (thanks, Brinke). … It's one of those laws of media that we have to see several articles about NBA playoff giveaway T-shirts this time of year. … The 76ers' douchebaggery du jour: With the Sixers having secured the No. 1 pick in this summer's draft, they've created a mock-up showing the top pick — whoever it turns out to be — holding a Sixers jersey with the StubHub advertisement. Keep in mind that the ad patch won't debut until 2017, which means the top pick won't be wearing it until his second season. Or to put it another way, the mock-up is inaccurate. It'll be interesting to see if they have the top pick pose with an ad-clad jersey at the actual draft (from Scott Palmer). … Whoa, check out this old Marshall Field company team uni — spectacular! (Nice find by Griffin Smith.)

Soccer News: A seventh-tier Norwegian team — yes, there's such a thing as a seventh-tier Norwegian soccer team — may have the world's worst groundskeeper (from John Muir). … New sleeve badges for the Premier League. Here's how they've evolved over the years (from Terry Mark and Phil, respectively). … Here's how that new badge looks on a jersey (thanks, Phil). … Arsenal's new kits may have leaked (from Perry Sailor). … New badges and number font for the EFL (from Andrew Cairns). … Remember how Chelsea recently terminated their contract with Adidas? They've now inked a new deal with Nike (from Chris Cruz). … Greenock Morton fans don't like the team's new kit (from Gerry Muir).

Grab Bag: Check it out: Even the Empire State Building was observing Purple Amnesty Day yesterday! (Big thanks to Diego Bauzá and Rebecca Birmingham). … Mind-blowingly awesome and indescribably satisfying: unprocessed food cut into perfect cubes (from Ted Anthony). … A Philadelphia Police surveillance van carried a Google Maps logo without authorization. … New logo for DC Comics. Here's a look at their logo evolution over the years (from Mark Coale and JC Crawford, respectively). … Wait, more DC logos here. … "For the NCAA Albuquerque Regional Men's Golf Championships, we have a manually operated scoreboard — and by manually, I mean me," says Frank Mercogliano. Here's a look at the number placards. … Love love LOVE these vintage specimen cups. Great designs! (Big thanks to Nicholas Roznovsky.) … "Kyle Busch is running a 1992 throwback to Dale Jarrett for the throwback race at Darlington," reports David Firestone. "What's interesting to note is the 25th-anniversary logo on the hood. It doesn't appear on any other cars in Joe Gibbs's stable. The 1991-2016 date range is technically accurate since the team was founded in 1991, but they didn't actually field a car in a race until the 1992 Daytona 500." … The South African rugby team Stormers will wear pink this Saturday. … Here's a roundup of some of the Olympic and Paralympic uniforms that have been released so far. … If you hate the new Instagram logo, here's how to get the old one back.