Click to enlarge
Up until now, I was aware of only one college football player who wore a triple-digit number. That would be West Virginia punter/kicker Chuck Kinder (shown above), who wore No. 100 in 1963. That was the year that all WVU players wore "100" on their helmets to commemorate the state's centennial, but only Kinder had permission to wear the number on his jersey.
But it turns out at least two other college gridders have worn No. 100. You can see one of them in these photos of a Louisville/Memphis State game from 1969 (the team in white is Louisville):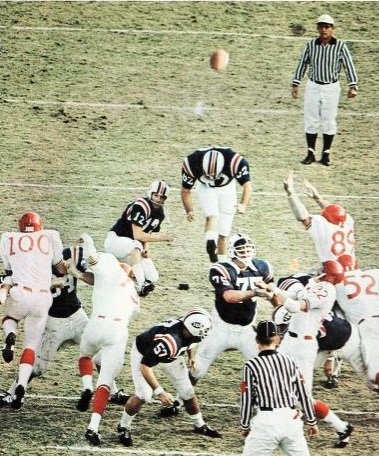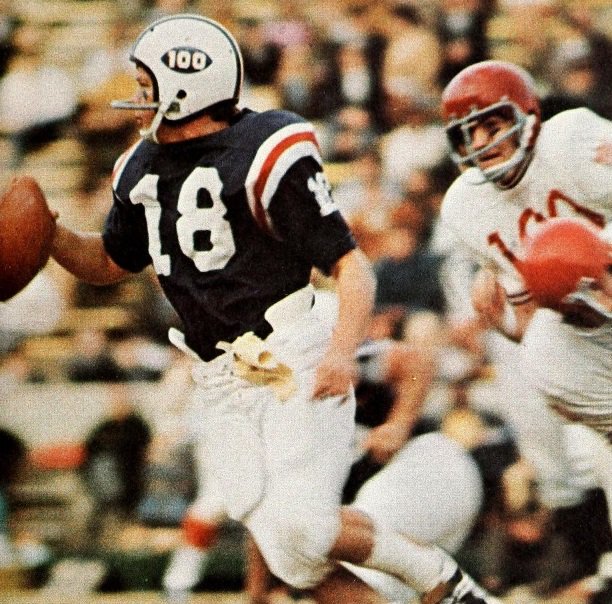 Those photos were posted on Twitter earlier this week by Jeb Hill, who says he found them in an old Memphis State yearbook. As you can see, there's a Louisville player wearing No. 100. By odd coincidence, Memphis State was wearing "100" on their helmets — that was the college football centennial logo, which many teams wore in 1969. Was the Louisville player's number also a reference to the centennial, and who was the player? I posed those questions to Louisville media relations department but haven't yet heard back — stay tuned.
After those Louisville images began circulating, Lloyd Davis directed me to a book about Kansas football called Tales from the Jayhawks Gridiron (which happens to viewable online). It includes the following passage: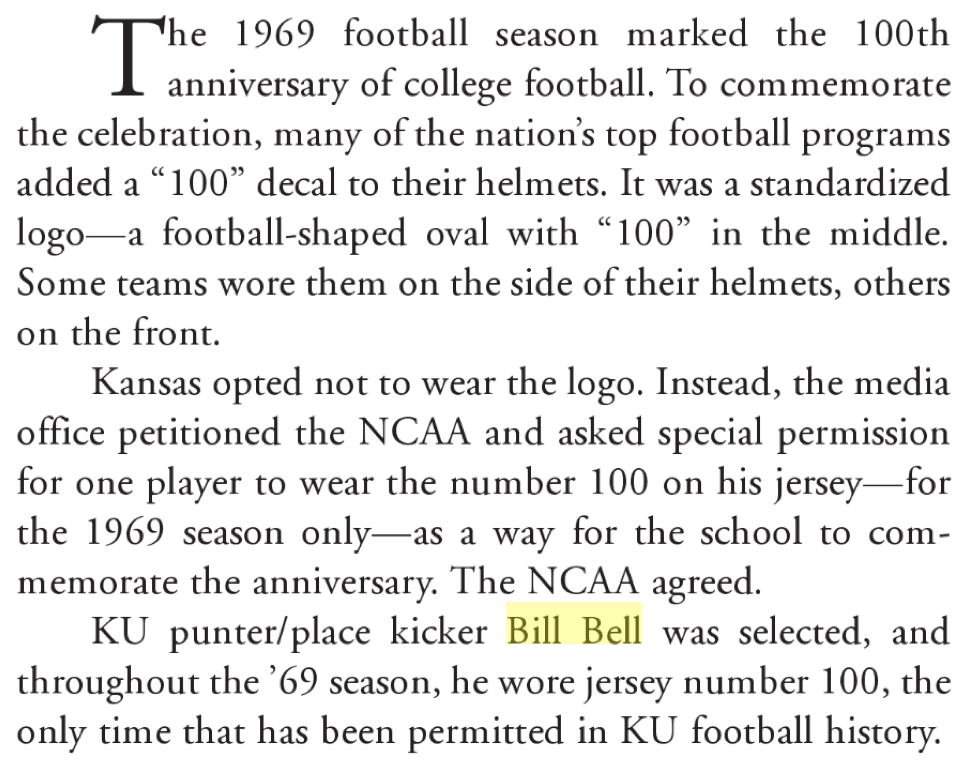 And then there's a photo of Bell (love the square-toed kicking shoe):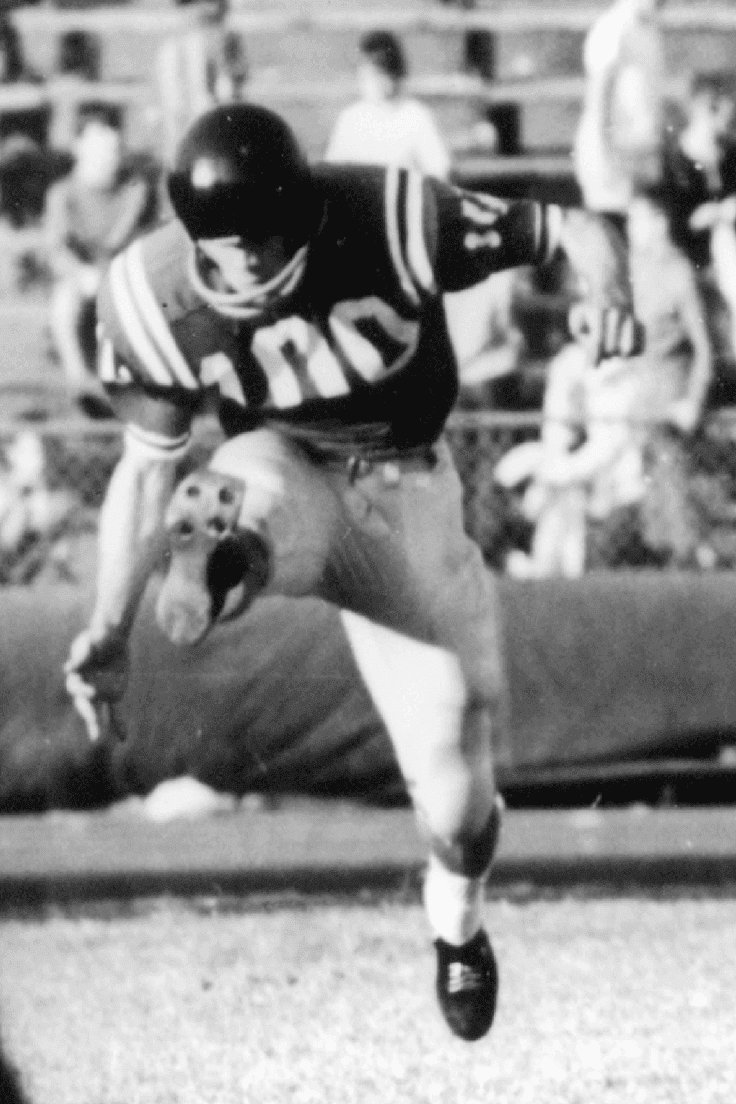 So in Bell's case, we know he wore No. 100 as an alternative to the entire team wearing the centennial helmet logo. It seems likely that the same was true of the Louisville player.
I wonder how many other schools went this route. Anyone know more?
(Big thanks to Jeb Hill and Lloyd Davis for the Louisville and Kansas shots.)
•  •  •  •  •
The Ticker
By Mike Chamernik

Baseball News: Here's a good look at the embossed league logos on the Spring Training hats (from Phil). … New Spring Training logo for the Mets. … Clark Ruhland created some Virginia Tech redesigns using all 30 MLB teams as templates (from Andrew Cosentino). … A few schools debuted new Nike uniforms (from Phil). … A six-minute comedy about Billy Ripken's famous "Fuck Face" baseball card will debut next month at a film festival in San Jose (from Andrew Cosentino). … A site has compiled the Pantone colors for all of the MLB teams (from S Preston). … Mets closer Jeurys Familia is working with bachata musician Zacarías Ferreíra to create his own entrance music. "¦ New purple tequila sunrise uniforms for Northwestern (from Matt Simpson). "¦ New "SB Strong" uniforms for the Inland Empire 66ers. The term refers to a hashtag that arose in the wake of last December's San Bernadino mass shooting (from Kristopher Sharpe).

NFL News: This photo gallery shows how Tiffany & Co. makes a Lombardi Trophy. The laces and stitches are done by hand in what looks to be a painstaking process (from Kary Klismet). … Jim Brown turned 80 yesterday and a part of the Browns' celebration for him was a birthday logo (from Jason Hillyer). … Ali Rahmoun, a 3D artist, has built a Photoshop program where users can customize football uniforms. To demonstrate, he made a Uni Watch uniform. Pretty slick!

College Football News: Northern Illinois will play a game at US Cellular Field, home of the White Sox, this year. Here's how the field will be laid out. … Notre Dame's head equipment manager was interviewed on a Fighting Irish podcast. He discussed the school's partnership with Under Armour and how he gets the helmets to shine (from Shaun Sullivan).

Hockey News: CCM might have used the inaccurate stars for Blackhawks goalie Corey Crawford's Stadium Series pads. The stars, which are based off of the Chicago flag, are supposed to have six points (from Dan Erbach). … Backup goalie Niklas Treutle practiced with the Coyotes for first time yesterday after a recent call-up. Here's his mask (from Dave Vest). … Gotta love this NHL 93-themed goalie mask (from Jamie Uthe).

NBA News: The Kings will play on a retro alternate court six times through the end of the season (from Phil). … A neat interactive page shows all the jerseys Kobe Bryant has worn over his career. … The Jazz's D-League team will wear uniforms featuring Barack Obama, Maya Angelou, and Frederick Douglass for Black History Month (from Phil). … The Nets have a large swoosh hanging at their practice facility. The NBA's deal with Nike doesn't begin until 2017 (from Jared Peterson).

College Hoops News: North Dakota State is wearing memorial patches for an officer that was killed in duty last week. … Houston Baptist is also wearing memorial patches, with these in honor of one of the best players in school history (from Phil). … Two interesting items in this 1973 edition of the Pittsburgh Press: Notre Dame wore shamrock jerseys and Saint Louis wore jerseys with "St. Louis" on the front, which is normally a big no-no for the school (from Jerry Wolper). … Under Armour defended its NCAA basketballs, which were recently criticized by players for their inconsistent feel (from Phil). … UConn women wore unis with pink accents last night. The school will auction off the uniforms to benefit the "Play4Kay" breast cancer charity (from Phil). "¦ UNC projected an argyle pattern onto its arena exterior prior to last night's game against Duke (from James Gilbert).

Soccer News: The Seattle Sounders unveiled new uniforms (from Tim Dunn). … The Houston Dynamo have a new alternate kit. More details here. The club unveiled the uniform through a graffiti artist. It's a little reminiscent of how the Milwaukee Bucks speed-painted their new logo last spring. … Derry City will reveal its new kit through a treasure hunt (from Alan Evans). … Referees in the Champions League wear police-style epaulets (from Chris Carrillo). … When Leeds United faced Standard Liege in 1968, both teams showed up wearing white, so Leeds went back in and changed (from @the_boot_room).

Grab Bag: Nike has terminated its endorsement deal with Manny Pacquaio after the boxer recently said gay people are "worse than animals." "¦ A new breathable fabric is infused with living bacteria (from Phil). … Two-handed bowlers are becoming more of a mainstay in the PBA (from Jason Hillyer). … Nordstrom is selling some oddly-colored jogging pants (from Steve Dodell). … Two items from David Firestone: The helmet designs of drivers in the Sprint Cup Series and a look at NASCAR autos through the years. … New logo for New York's Metropolitan Museum of Art.