Photo by Skye Design Studios; click to enlarge
The catchers shown above play for the independent Atlantic League. As you can see, their masks, chest protectors, and shin guards feature team-themed designs (from left: Lancaster Barnstormers; Somerset Patriots; Southern Maryland Blue Crabs; Sugar Land Skeeters; New Britain Bees; York Revolution; Long Island Ducks; and Bridgeport Bluefish). It's part of a new initiative by the Atlantic League and Rawlings to make catchers' gear the next frontier of baseball graphics and design. Although it's limited to the Atlantic League for now, they think it will spread all the way to the majors.
I was given an exclusive on this one. Full details in this ESPN piece, which went up yesterday afternoon.
The ESPN piece is a little light on the photos, but here's a slideshow with lots of additional images (if you can't see the slideshow below, click here):
Interestingly, it was about 10 months ago that reader Taj Tedro sent in a Photoshop mock-up of a Cardinals catcher wearing team-themed gear, which I linked to in the Ticker. Looks like Taj was ahead of the curve.
•  •  •  •  •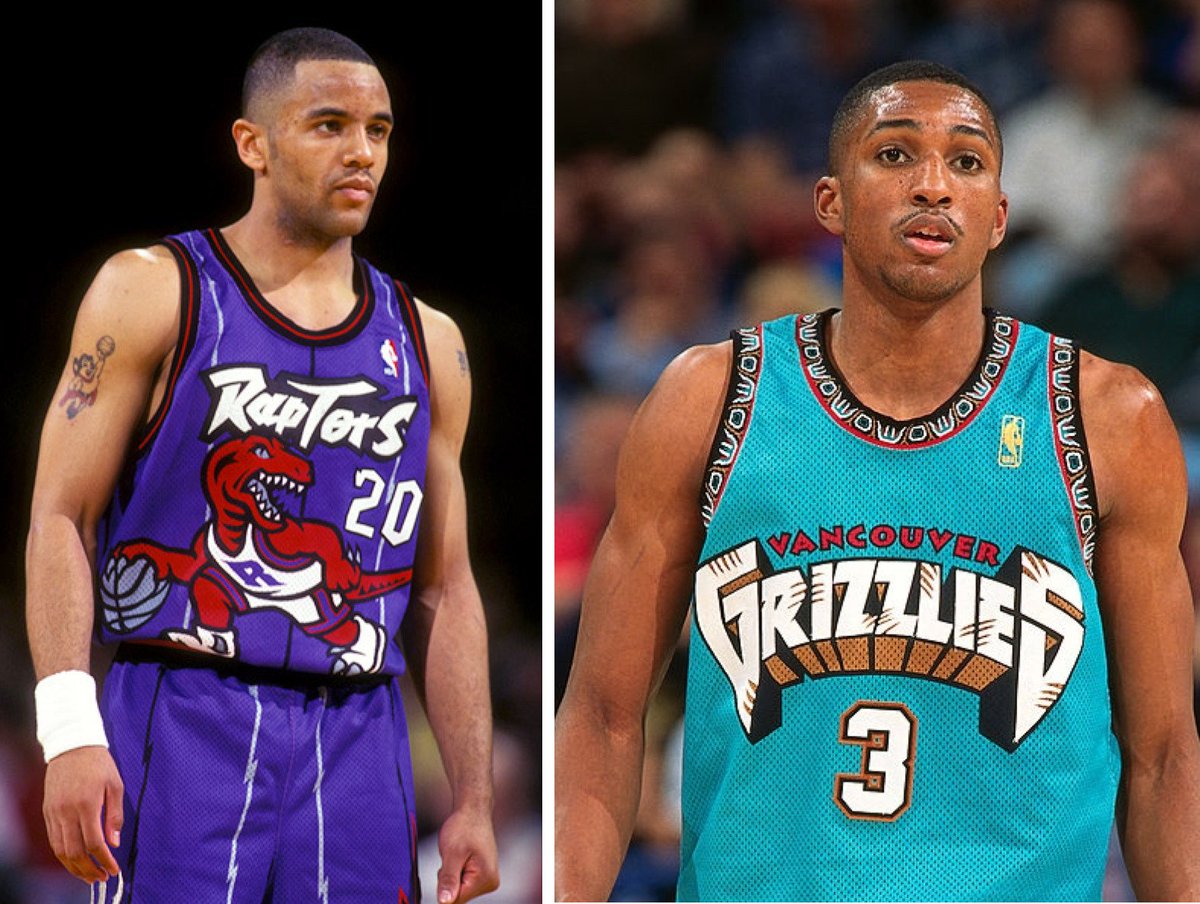 Click to enlarge
Friday Flashback: With purple and teal both back in the news lately, my weekly Friday Flashback column takes a look at how those two hues became the signature uniform colors of the 1990s (as exemplified by the Raptors and Grizzlies, shown above). Check it out here.
•  •  •  •  •
Click to enlarge
NFL Draft notes: Man, they really botched the kerning on Cardinals first-rounder Robert Nkemdiche's NOB, eh? As several readers pointed out, we should probably just be happy that they spelled it correctly.
Other notes from last night's festivities: The Falcons' promo video for first-rounder Keanu Neal shows him wearing a new Falcons jersey design and a red helmet. Hmmmm. "¦ Anyone know why the Bucs presented first-rounder Vernon Hargreaves with a white jersey, instead of their red jersey? "¦ First overall pick Jared Goff already has a keen grasp of today's douchebag-driven sports scene. He spent much of the night on Twitter, where he sold out to one corporate advertiser after another. Gross.
•  •  •  •  •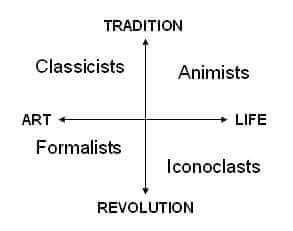 Traditionally speaking: Yesterday's post about "sounding old" vs. "sounding young" led several readers to post comments in which they described themselves as "traditionalists."
These readers may have been using "traditionalist" accurately "" I don't know the readers personally, so I can't be sure "" but the term is often misused.
Some people, for example, try to hang the "traditionalist" tag on me. But I am not a traditionalist; I am a classicist.
What's the difference? This:
•  A traditionalist, as the term implies, wants things to stay the same simply because of tradition. The idea is to keep things the way they are because that's the way they've been and therefore that's the way they should remain. Stability is self-validating.
•  A classicist sees no reason for change as long as something is working. The classics are classics for a reason. Ain't broke? Then no need to fix it. But if something is broken, or if it can be improved, then the classicist is usually fine with making changes.
Do traditionalists' and classicists' positions and opinions align? Often, yes (especially in the uni-verse, where most of the proposed changes have nothing to do with fixing or improving but are just change for change's sake). But not always. And more importantly, their motivations for arriving at those positions frequently don't align, because they're working from two different sets of underlying values and premises.
Of course, classicism has its own limitations, which always makes me think of this John Cale song, "The Trouble with Classicists":
•  •  •  •  •
Photo taken Tuesday night; click to enlarge
Turn it up to 11: Tomorrow is a big day here at Uni Watch HQ, as Uni Watch mascots Tucker (foreground) and Caitlin will be turning 11 years old. There will be toys, treats, and catnip aplenty. But thanks to a certain someone's travel schedule, the kitties already got a head start on the festivities:
I'm happy to report that T&C are healthy, happy, and still plenty frisky. They make my life better every single day, and I can't even begin to express how much I love them. Happy birthday, buddies!
•  •  •  •  •
The Ticker
By Paul

'Skins Watch: There's been more legal maneuvering regarding the 'Skins trademark issue. The team has asked the Supreme Court to review the case. Further info and a good analysis of the situation here (from Ryan Goldstein).

Baseball News: Mets OF Yoenis Cespedes's neon compression sleeve is now being honored with a giveaway. "¦ Now that personalized bat knob decals are kosher again, Chisox 3B Todd Frazier got himself a set (from Greg Sharp). "¦ Blue Jays-style throwbacks on tap for the Buffalo Bisons (from Joseph Pitirri). "¦ Tyler Maun notes that the World Baseball Classic caps have grey underbrims. "They also feel more like the old-school wool, which (I think) means they're made by New Era in China instead of the Buffalo manufacturing facility." "¦ Not sure if it was a missing letter or a buttoning problem, but Brewers P Sam Freeman had some jersey insignia issues yesterday. "¦ French heritage promotion for the New Hampshire Fisher Cats. "Instead of doing some sort of 'Le Fisher Cats' jersey, they're hosting a Poutine Fest prior to the game and serving poutine during the game," explains Brendon Browne. "I thought this was a more interesting way of doing a heritage night than wearing yet another themed jersey." "¦ Wilson is holding a design contest for the glove that will be used in the Legends and Celebrity Softball Game during the All-Star break. "¦ Thieves stole a 14-foot-high mannequin of a Royals player from a billboard (thanks, Mike). "¦ What's worse than a pink jersey? a pink plaid jersey. That's the Orix Buffaloes from last night. Wow.

NFL News: We all know Eli Manning was originally drafted by the Chargers, who then dealt his rights to the Giants. But why was he wearing a Cardinals lapel pin? (From Ronald Sayers.) "¦ Packers CEO Mark Murphy says the team's new Color Rash design will be revealed soon and will totally suck and won't please traditionalists (from Jeff Ash). "¦ Here's a list of the most popular booze among fans of each NFL team. "The article is hilariously illustrated with photos of fans mostly drinking beers other than the ones that market research indicates is their favorite," notes R. Scott Rogers. (And no, the most popular liquor among Washington fans is not "firewater," surprisingly enough.) "¦ The NFL has settled a lawsuit that had claimed that the league's exclusive apparel license with Reebok was a violation of antitrust law (from Chris Bisbee). "¦ New gold unis for Kansas Wesleyan (from James Westling).

Hockey News: If a uniform violates a league's uni rules (not enough contrast, personal message written on the jersey, socks not worn properly, etc.), people will sometimes mistakenly refer to it as being "illegal." But that's not right, because something can't be illegal unless it's literally against the law. But it turns out that the Czech Republic's jersey design for the World Cup is literally illegal under Czech law and must be changed (from Larry Lifrieri). "¦ The Red Wings' new arena will be named after a "pizza" chain. Here's how the center ice will look.

NBA News: Here are some new details on the Kings' upcoming uniform set. "¦ Judging by a tweet from 76ers CEO Scott O'Neil, the team may be getting some newfangled unis when Nike takes over the league's uniform contract in 2017 (from Michael Preston). "¦ Here's a baseball field in Oklahoma, of all places, that's been mowed into a pattern of the Trail Blazers' logo. "¦ You've probably heard about the death of former Spirits of St. Louis owner Ozzie Silna, who struck a ridiculously lucrative deal with the NBA 40 years ago. But this obituary includes a neat uni-related detail: "He spent his career in a variety of embroidery, textile and photo-processing businesses. One of his companies, Action Embroidery, makes insignia for the military in Ontario, Calif. He was active in the company until two months ago" (from Adam Herbst). "¦ Steph Curry is now a brand of heroin (thanks, Mike). "¦ Also from Mike: Thunder players, led by Enes Kanter, enjoy Turkish food during road trips. Kanter is Muslim and observes Halal dietary laws. "¦ Celtics G Isiah Thomas must have been wearing a Nike base layer under his jersey last night.

College Hoops News: We already knew that North Carolina's new anti-LGBT law might lead the NBA to pull next season's All-Star Game from Charlotte. Now it turns out that it might also cost the state some NCAA tournament games. "¦ New centennial logo for Marquette. "¦ Cool thrift store find by Eric Schmid, who scored this gold Boston College prototype set. It has Starter tags, which dates it to the mid-'90s, because that's when Starter outfitted BC. "I can't find any evidence of BC basketball wearing gold jerseys in the '90s," says Eric. "In fact, the earliest I've ever found them in gold is the 2006-07 season with Reebok. With that, and seeing how these tags match the early-'90s Starter jock tag design, I think Starter rendered this for BC as a new uni possibility for the 1994-95 season."

Soccer News: At least one observer thinks Boca Juniors' new jersey is perfect. "¦ Here's the story of how Real Salt Lake got their name and colors (from Landry Heaton). "¦ Villareal has one of the weirdest number fonts I've ever seen (from @g847m).

Grab Bag: When I try to wrap my head about a big, abstract topic that starts with uniforms but extends into a larger rumination about culture, society, and so on — like yesterday's entry about "sounding old" — that's known in the media biz as a "think piece." I've now added a "Think Pieces" category tag to the site and have applied that categorization to a bunch of our earlier think pieces, so now you can find them all in one place. I was just working from memory, trying to recall as many of the previous think pieces as I could (the sponsorship vs. advertising piece, the "What does it mean to be a critic?" piece, etc.), but I'm sure I missed a bunch. If you can remember any that aren't included in the current batch, let me know and I'll add the category tag as needed. "¦ Did you know there's a library at Harvard that protects the world's rarest colors? It's true! Fascinating stuff (big thanks to James Poisso). "¦ New logo for Guinness — the beer (from Charlie Kranz). "¦ The new logos for the 2020 Tokyo Olympics may have a secret message (from Chris Bisbee). "¦ Mitchell & Ness is now the official outfitter of an Australian basketball league (from Richard Meloy). Came across this last night and it's too good not to share:
I will never stop running pic.twitter.com/2XHRWkw3Mt

— Susie Cagle (@susie_c) October 8, 2015