As we recently discussed, uniform rankings rarely bring out the best in anyone. So when my Sweet 16 uni rankings appeared on ESPN last month, I got lots outraged reactions (on Twitter, via email, in the comments, etc.). Annoying, but it comes with the territory.
A bunch of those reactions, though, had a common theme that I want to discuss today. That theme was best captured by reader Richard Barney, who sent me the following email, with the subject line "Get Off My Lawn":
First, a disclaimer: I'm 51 and no young whippersnapper.

However, after reading your column in ESPN about the best uniforms of the Sweet 16, I realized that … someone needed to point out to you that you're sounding REAL OLD. As in, you seem likely to drop "wooden nickels" or "sockdollager" into your blogs, no doubt typed up on your Smith-Corona typewriter. Besides UNC's uniforms, I felt that your list was almost 100% upside down. As that youngster Bob Dylan once wrote: "The times, they are a changin'."

My advice to you is to either rename your blog to something like "An old guy rants on and on about the good old days" or get out of the house, jump into your Buick Roadmaster, and see the world a bit.
I confess that I was unfamiliar with the term "sockdollager" and had to look it up. But the rest of Richard's critique was easy enough to follow.
I turned 52 in March. Is that old? I don't know. What I do know is that I don't consider myself to be old. I'm told all the time (most recently by my new doctor) that I look way younger than I am, to which I usually reply, "Well, it helps to be really immature." More seriously, though, I've said for years that I'm proud to be an adult but have no interest in being a grown-up. I've never had or wanted kids, I've never had or wanted a mortgage, I haven't worked in an office in 20 years and am pretty sure I'll never do so again, I spend almost every day wearing jeans, sneakers, and T-shirts and listening to rock and roll, and so on. Has all of that contributed to my looking youthful (or at least youthful-ish)? I suspect it hasn't hurt. I also feel youthful — my body feels more or less the same as it did when I was 35.
But of course Richard Barney — the guy who wrote that email — wasn't talking about my looks or my life. He was talking about my writing, my opinions, my aesthetic. Now, I don't happen to agree with his assessment, but let's say, for the sake of argument, that he's right. Let's say my writing makes me sound every bit of 52 years old. In fact, let's go further and say I come across as 62, or even older.
Here's a question: What's so bad about that, and why should it bother me?
Why exactly is it considered such a bad thing, a wrong thing, to sound like you're in your 50s or 60s? Why did Richard say, "someone needed to point [that] out to you," and why did he feel he needed to be that someone? If I had sounded like someone who was 35, or 30, or 25, would he also have felt the need to point that out? If not, why not? Why is it that "sounding old" is considered to be a negative, while "sounding young" (or at least not sounding old) is considered to be just fine?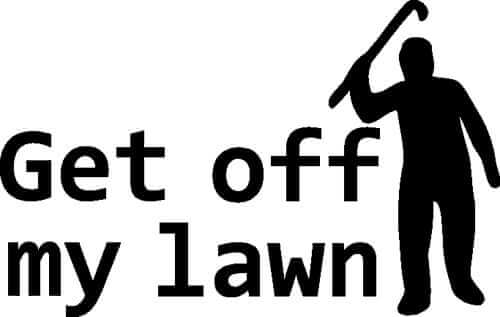 I'm not suggesting that "sounding old" (a nebulous term at best) is a great thing, or that we should celebrate it or give it privileged status. I'm just asking why we denigrate it and give it lower status. We even have that term that Richard used in the subject line of his email, "Get off my lawn," which has basically become code for devaluing and marginalizing old people. Some people even use that term when referring to themselves, which I find inexplicable. Yes, I know, it's a way of laughing at yourself, ha-ha. But it's also a way of marginalizing yourself and your opinions, and — more importantly — a way of buying into the larger cultural default that older people and their points of view are not to be taken seriously.
I was already thinking about all of this when I recently had a discussion with a guy who works for one of the Big Four pro leagues. The guy was talking about various people's tastes in uniforms — including my tastes — and at one point he said, "Let's face it, if we come up with a design and a bunch of white sportswriters in their 50s don't like it but my 13-year-old kid loves it, we're probably on the right track."
I didn't say anything, but why exactly does pleasing a 13-year-old instead of a 50something-year-old constitute "the right track"? Again, I'm not saying the 50something-year-old's point of view should necessarily be valued more highly than the 13-year-old's (although I can think of several arguments to support that position), but why should it be valued less?
Here's the deal: When I write about uniforms, I'm not trying to tailor my opinions to any generational profile or appeal to any demographic group. I'm simply articulating what I think, as honestly as possible. Some folks may agree and others may not, and maybe those two camps will cleave along generational lines. If so, that's interesting, but I don't see it as problematic.
Let's go a bit deeper: Let's say, again for the sake of argument, that my opinions on uniforms are really out of step with those of younger readers, and that these younger readers will stop reading my work as a result. I'm sure that would widely be viewed as a problem — like,"Oh-oh, he's losing the younger audience." But now let's turn that scenario on its head: Let's say I had the tastes and aesthetic of a 25-year-old (whatever that means) and was therefore having trouble attracting readers in their 50s and 60s — would anyone view that as problematic? If not, why not?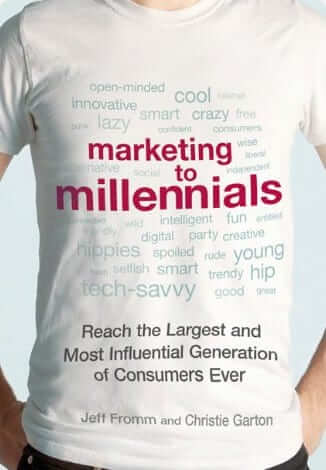 A lot of this, of course, comes down to marketing, advertising, and merchandising. People in their 20s and 30s buy a lot stuff (including jerseys, caps, etc.), so they're considered more valuable in the media world. Older people aren't a particularly sought-after demographic because they don't buy as many things (or at least not the same kind of mass-marketed products with high profit margins), so it's easier to dismiss them — both in the marketing world and, by extension, in much of the rest of our culture.
Here's another example of that: In yesterday's Ticker, I wrote, "The D-backs are letting their social media followers vote on which uni the team will wear this Friday. I guess fans who don't follow the team on social media don't matter." Reader/commenter Tom (who didn't give his last name) objected to my critique, sarcastically saying, "I guess there's no sense in doing something a little inclusive." But here's the thing: Letting social media followers determine your uniform isn't "inclusive." It actually excludes a big part of the fan base, because research shows that social media users skew disproportionately young. You want to be inclusive? Announce during your game broadcasts that fans can vote for their preferred uniform via text messages, because cell phone ownership is much more universal than social media usage.
I may be a bit more sensitive to this issue because I grew up with older parents. My mother and father were 40 when I was born, and that was in 1964, when having a kid at 40 was pretty rare. I was always very aware that my parents were older than my friends' parents, and my friends were aware of it too. My parents dressed a bit differently, they furnished our home differently, and they had different cultural reference points. Sometimes this made them seem more interesting, and I was proud of that. At other times, I'm now ashamed to say, I was embarrassed by it, because I thought they were, you know, not as cool as my friends' parents, who were younger.
As time went on and my parents entered their 60s and 70s, I watched as the world started giving them little signals that they didn't matter as much as they once did. The magazines they'd subscribed to for years were running articles about things they didn't care about or understand; Hollywood was putting out movies they couldn't relate to; TV had begun to seem almost like an alien world (not just the shows but the commercials). I realize this is part of growing old — the world tends to get faster while we get slower. But it also reflects the way our cultural and marketing apparatuses tend to privilege youth above all else. And because I'd always been keenly aware of having older parents, I was also aware of how they felt like the world was leaving them behind. My mom just turned 92, and to this day I still feel badly for her when I see some sort of pop-cultural story on the cover of The New York Times Magazine, because I know it'll make her feel clueless and worthless. That sucks.
All of which is a very long-winded way of saying I don't see why sounding old (whatever that means) is any worse than sounding young (whatever that means). It might matter from a marketer's standpoint, but marketing shouldn't be driving what our society does or doesn't value. From where I sit, good design is still good design and bad design is still bad design. I put forth my own point of view on those issues because it's the only point of view I have. If that point of view "sounds old" (whatever that means), so be it.
One final thought: My Sweet 16 rankings also prompted a note from someone who told me, "Writing about uniforms? For real? Grow up already." I'll get right on that.
•  •  •  •  •
Annals of questionable journalism, Vol. 713: In 2003 a guy named Matt Cerrone created a blog about the Mets — MetsBlog. He worked hard, built an audience, kinda got in on the ground floor of team blogging, blah-blah-blah. I've never met him, but we've emailed a few times. Seems like a good guy.
MetsBlog now appears on the website of the Mets' cable TV network, SNY. Cerrone still produces much of the content. In a move that's disappointing but not all that surprising, MetsBlog is now "Presented by Citi," with the Citi logo appearing in the upper-left corner of the page template. Okay, so that's about what you'd expect in a situation like this. But here's what you might not expect: Many of the blog's individual entries are "presented by" additional corporate sponsors advertisers, which are identified — get this — in the individual entries' headlines (click to enlarge):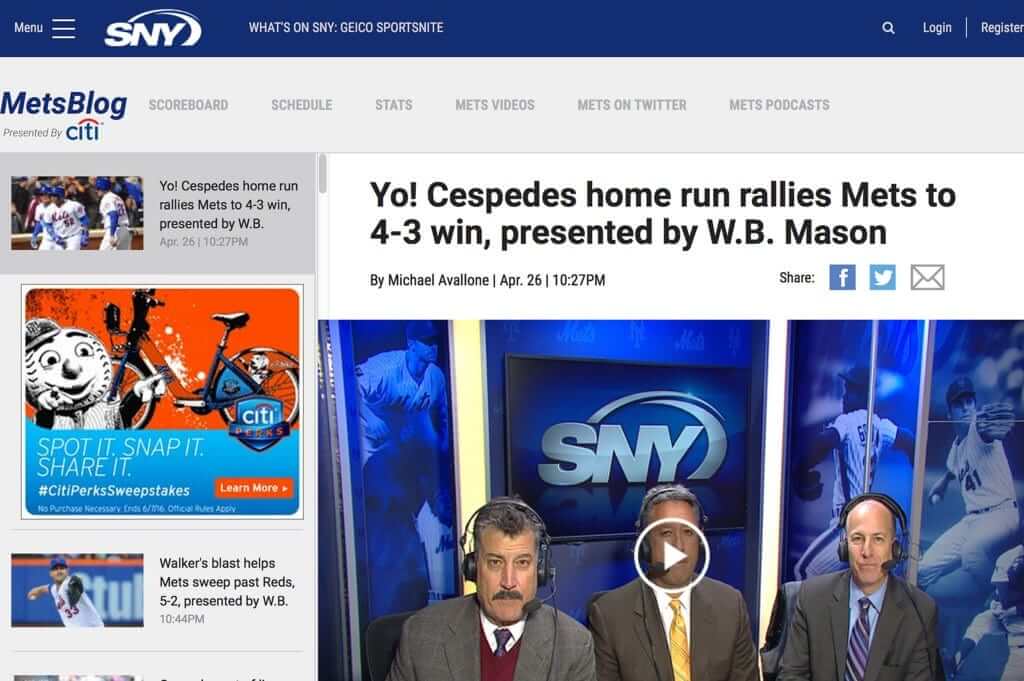 I have never seen that before in any print or online media outlet. And there are a lot of different corporate "presenters" in the MetsBlog headlines, as you can see here, here, here, and here.
I don't mean this as an attack on MetsBlog (which I have read and enjoyed many times over the years) or on Cerrone (who, as I already stated, seems like a decent fella). I'm just astonished at the sight of corporate advertisers integrated into story headlines. Wow.
• • • • •
KRC update: The latest installment of Key Ring Chronicles is now available. It's a really good one, about a brass ring from a carousel. Check it out here.
• • • • •
The Ticker
By Mike Chamernik

Baseball News: To honor the city's bygone minor league team, the Columbus Clippers change their name and logo to the Jets on Wednesdays. They also wear throwbacks. Founded in 1955, the Jets were an A's and Pirates affiliate that played ball in Columbus through the 1970 season, when they moved to Charleston, W.V. They are now the Scranton/Wilkes-Barre Railriders. The Clippers were founded in 1977. … The D-Backs wore their new red helmets for the first time last night (from Phil). … Check it out: a reverse Breathing Either! That's Chris Davis of the O's, who trimmed his collar but left the Nike logo (from @BarstoolRDT). … Josh Donaldson and Russell Martin stood on their tip-toes for the Blue Jays' team photo. … An independent team, the San Rafael Pacifics, will not wash its uniforms after home games attended by 500 fans or more. The move is to spread water conservation awareness in drought-stricken California. … Hanshin Tigers C Fumihito Haraguchi got promoted from No. 124 to 94, but he couldn't get his new uniform in time, so he had to borrow a coach's No. 82. Unless you can read Japanese, just take Jeremy Brahm's word for it. … Where do you think you're going, Cracker Jack? The snack company is ditching toy prizes and replacing them with a code that users can scan to play baseball games on their phones. … Mets P Noah Syndergaard walked the streets of New York dressed as Thor, his nicknamesake. … Three teams will play in a 19th century base ball tournament at the New Jersey State History Fair on May 14. Here's what the game looked like last year. … Extended netting really came up clutch at last night's Phillies/Nats game. … Nats P Oliver Perez meticulously shredded a paper cup with his teeth. … Louisville Slugger has once again produced pink bats for Mother's Day cancer awareness (from James Gilbert). … The Tacoma Rainiers will wear Star Wars jerseys on Wednesday, May 4. That's Star Wars Day, of course "" "May the 4th be with you" (from Alex Carson). "¦ You know the game Operation? The Chattanooga Lookouts wore Operation-themed jerseys last night (from David Clemons). "¦ The Asheville Tourists will become the Beer City Tourists for one game in June (from Jake Patterson). … For the second consecutive time, the Mets did not wear their blue alternate jerseys even though Matt Harvey was pitching. Harvey has a history of preferring the blue jerseys, but maybe that's changing.

NFL News: A few readers sent this in: Here's a deep dive into how the Quarterback Club and quarterback jersey sales nearly destroyed the players' union in the 1990s. … Someone has an Odell Beckham-themed lacrosse helmet. That comes from this page (from Jared Buccola). … Former Bills CB (and current NFL analyst) Bucky Brooks once went FNOB. … Michael Barasch has a new project: What if every NFL team had a marching band? … The NFL Draft begins tonight in Chicago. Riddell took the SpeedFlex helmets of some of the higher-picking teams and matched them with a Chicago landmark based on their team name, logo, or helmet design. For instance, the Rams were paired with the Billy Goat Tavern, the Cowboys with Big Star, and the Dolphins with the Shedd Aquarium. Very neat! "¦ Here's a great 1964 photo of the Jets' equipment manager applying logo decals to the team's helmets. Looks like he's wearing a pretty cool cap, too! (From Larry Bodnovich.)

College & High School Football News: Washington has a few "appearance tips" for women trying out for the cheerleading team (including a suggestion to wear "girl about town lipstick," whatever that means). The tips sparked a backlash and were rescinded after the university determined that they were "inconsistent with the values of the UW spirit program and department of athletics" (from Adam Walter). … Despite the rumors, Georgia Tech is not becoming an Under Armour school. The Yellow Jackets have a deal with Russell Athletic through 2018 (from Michael Rich). … Elon, though, has signed a deal with Under Armour. The Phoenix were formerly with Nike (from Tim Kraus). … The Navy football team visited the White House yesterday and gave President Obama one of the battleship helmets from last year's Army/Navy game. … The McCluer North Stars, a high school team in Missouri, have the NHL's North Stars' logo on their helmets (from Brett Stillman).

Hockey News: Did you know the Blackhawks first used a goal horn in the 1973 Stanley Cup Final because team owner Bill Wirtz liked the sound of his yacht's horn? Or that when the Islanders wore their fisherman uniforms in the mid-1990s, they used a foghorn to signal scores? That all comes from this great piece on the history of the goal horn (from John Muir).

Basketball News: Both the Hornets and Heat wore alternate uniforms last night. The Hornets were in their sleeved black Buzz City unis and the Heat wore their "Legacy" set. … Rapper Iggy Azalea saved her boyfriend, Lakers G Nick Young, from getting "Born Reble" tattooed across his back. Then again, "Born Reble" could've passed as a subtle rebellion (or reble-ion?) against society's spelling standards. That definitely would've been the basis of a basketblogger's thought piece. … We saw this a little while back, but in case you missed it: The man who created the Bulls logo never received royalties from his work (from Patrick O'Neill). … A 1940s high school team was filled with players who wore double numbers.

Soccer News: An Xfinity ad in ESPN Deportes magazine shows a soccer fan wearing a jersey with a repurposed old U.S. Soccer shield (from Paul Lee). "¦ The New York Red Bulls wore MetroStars throwbacks during pregame warm-ups, with the Nike maker's mark obscured by tape (from James Ryan).

Grab Bag: Here's the story on how SB Nation homogenized all the logos of the blogs in its network (from Ricky Schumaker). … Researchers have developed artificial intelligence that can colorize black-and-white photos (from Matt Bradford). … Nike founder Phil Knight sat down for an interview with CBS News and discussed the company's history, including its use of sweatshops. His memoir, titled Shoe Dog, came out this week (from Keith Stokes). … Team USA revealed what athletes will wear for the Olympic Closing Ceremony. Also, here are the Olympic uniforms for Sweden (from Phil). … There's more info on Olympic uniform unveilings, from a fashion perspective, here (from Tommy Turner). "¦ Team Canada launched the "Ice In Our Veins" campaign for the Olympics (from Ted Arnold). … A Kent State alum was reunited with his old letterman's jacket (from Mary Lynn Delfino). … A Fargo graphics firm, Custom Graphics Inc., declined to create a rainbow logo for a local Lutheran church. The kicker? The firm's own logo features rainbow colors. … Toronto is getting a new rugby league team, the Toronto Wolfpack (from Will Leslie). "¦ Elena Elms reports that North Carolina's athletics department is holding a yard sale on May 14. Shoes, jerseys, equipment and other apparel from all of UNC's sports teams will be for sale. A yard sale is cool, but I'd much prefer a bake sale, ideally with Elena's cookies.