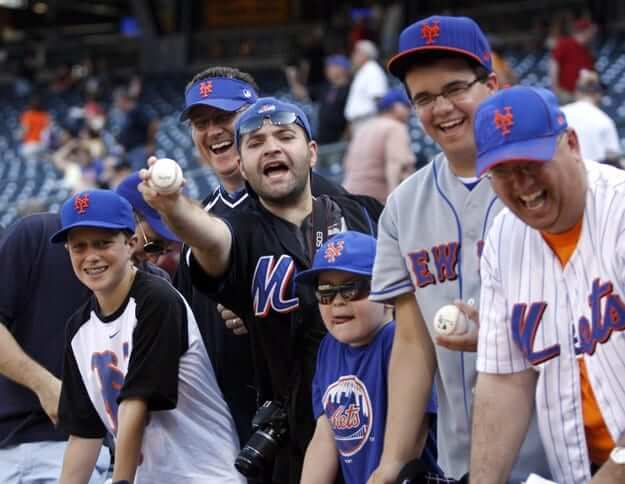 The Grab Bag section of last Saturday's Ticker included a link to this Sports Illustrated article about the history of jersey retailing. The article, by Tim Layden (who says he mail-ordered a replica jersey by responding to an ad in The Sporting News way back in 1971!), is really, really good — well-researched, entertainingly written, informative, the works. I'm pretty sure every single Uni Watch reader will enjoy it, and I strongly recommend it to all of you.
A key thread running through the article is the implicit question of why fans like to wear jerseys in the first place. Toward the end of the piece, Layden addresses this question directly and comes up with a bit of an answer:
Why do we wear jerseys to watch others play games in jerseys? There's a complex answer, first validated in a 1976 Arizona State study, performed by Robert Cialdini and five colleagues, that coined the acronym B.I.R.G. (Basking in Reflected Glory) by establishing that college students showed a greater tendency to wear school apparel (and use the pronoun "we") after ASU's football team had won than after it had lost. This concept goes further. "People have a need to belong and we want others to know that we belong," says Dan Wann, a Murray State professor of psychology who has studied fan behavior. "But we also have the need for distinction, so you personalize your Royals jersey."
That bit toward the end, about wanting to belong and wanting others to know we belong, hit me hard. I relate to it, and you probably do too. It seems like a very human impulse — not just for sports, but for all sorts of things. Once you see it spelled out, it seems intuitively obvious, right?
I realize many of you — perhaps most of you — buy and wear retail jerseys. As I'm sure most of you know by now, I've never cared about them myself (my interest in uniforms has always been centered on what the players wear, not what's for sale). Moreover, as you've probably heard me say on multiple occasions, I think the phenomenon of jersey retailing has been bad for the uni-verse because it drives a lot of bad design, and I derisively refer to retail jerseys as "overpriced polyester shirts."
And yet: We want to belong, and we want others to know we belong. I get that. I also relate to the urge to collect things, the urge to have things that seem "official," and several other aspects of retail jerseys.
So here's a little story I'm not sure I've ever told before here on the site: When I was about nine years old, I had a pale-yellow sweatshirt with maroon lettering on the front that said "Tight End," along with the number 87. Those were roughly 'Skins-ish colors, so I looked in my NFL Action '72 album and learned that, sure enough, the 'Skins had a tight end who wore No. 87, named Jerry Smith. I asked my mom if she could sew "J. Smith" on the back of the jersey (I thought "Smith," without the initial, was too plain), and she did it. I wasn't a 'Skins fan, but I was proud to wear my "J. Smith" sweatshirt while playing touch football in my front yard. It felt official, and wearing it made me feel official.
I wanted to belong, and I wanted my friends to know I belonged.
———
My biggest gripes regarding jersey retailing are with the teams, leagues, and manufacturers. But what about the fans who buy this stuff, including Uni Watch readers? I've never explicitly said, "Anyone who buys overpriced polyester shirts is a sucker" or "Anyone who buys retail jerseys is contributing to bad design," but some of you who buy and wear jerseys have told me you feel you're implicitly being criticized, mocked, or even attacked when I weigh in against jersey retailing.
That's a fair assessment, and it paints an ugly picture that I'm not comfortable with. Uni Watch readers shouldn't have to feel criticized just because they do something that millions of other sports fans do. They shouldn't feel mocked for wanting to belong, and for wanting others to know they belong.
So I've decided to dial back my critiques of jersey retailing. I'm not going to start buying retail jerseys myself, but I'm going to stop giving shit to those who do. I'm not going to completely abandon the term "overpriced polyester shirts," but I'm going to cut back on its use. There are still lots of things about jersey retailing that trouble me (I wish jersey retailing didn't drive bad design the way it does; I wish a team could release a new jersey without people immediately feeling the need to say, "I'll definitely be buying that" or, even worse, "It's not so great, but I'll probably buy it anyway"; I wish fans who wear jerseys to games would stop calling out non-jersey-wearers for being "bad fans" or "not supporting the team"), but I'm going to try to stop harping on them.
Remember when I wrote a few months back about the uni-verse being messed up because it has succeeded too well? That strikes me as a perfect fit for what's happened to jersey retailing. It grew from something charming and small-scale (like Tim Layden ordering a jersey from an ad in the back of The Sporting News) into something massive and corporate, and along the way it went from "I want to belong" to "You must belong." Or at least that's how it seems to me.
Still, I know I'm an outlier here. If you enjoy buying jerseys — because you want to belong and want others to know you belong, or for any other reason — go for it. Obviously, you don't need my permission or encouragement, but I promise not to give you any flak either.
And however you feel about retail jerseys, definitely spend some time with that Sports Illustrated article — essential reading.
One footnote to all of this: As I was working on this piece, longtime reader Kenn Tomasch sent me a photo of this ad, which appeared in a 1978 issue of Baseball Digest:

Much like the ads and vendors mentioned in the Sports Illustrated article, this appears to be an early jersey retailer. The business name at the bottom is "CSN Gift Center," which Kenn explains as follows:
"CSN Gift Center" is ubiquitous in ads appearing in all the various sports "Digest" magazines. The publishing company was based in Evanston [and still is "" PL], so the "gift center" appears to have been a subsidiary that handled fulfillment of merchandise orders from all of their magazines. No matter what you ordered, shirts, caps, posters, wallets, etc., they all (except for outside advertisers like APBA or Strat-O-Matic) were funneled through that address.
Interesting — and another piece of the puzzle for those seeking to document the history of jersey retailing.
•  •  •  •  •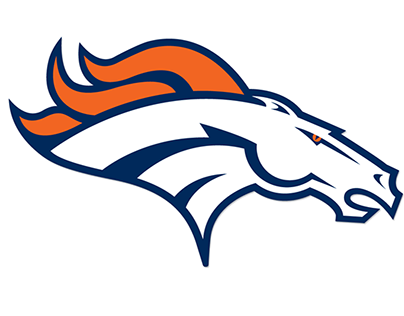 And speaking of retail jerseys"¦: Two days ago I mentioned that Denver Mayor Michael Hancock was wearing a Reebok jersey at the Broncos' victory rally the other day. That prompted the following very thorough report from reader Kary Klismet:
It's interesting to see that Mayor Hancock wore a Reebok jersey the Broncos victory rally yesterday, because it's not the only Broncos jersey he owns. He previously wore a Nike jersey with his name on the back to a send-off rally for the Broncos when they made it to the Super Bowl two years ago:

Colorado Gov. John Hickenlooper, who preceded Hancock as Denver Mayor, also wore an old Reebok Broncos jersey to this week's victory rally. It had "Gov. Hick" as the NOB and the number 10 (the year of his election to the governor's office). It appears to be the same jersey he wore two years ago when he accompanied Mayor Hancock on stage for the Broncos' Super Bowl XLVII departure rally.

Hickenlooper, like Hancock, has multiple Broncos jerseys. For last Sunday's Super Bowl, he wore an orange Reebok jersey with his full last name on the back. This appears to be the same jersey he's sending to North Carolina Gov. Pat McCrory to wear to make good on a Super Bowl bet between them.

Mayor Hancock also made a bet on the game's outcome with his Charlotte counterpart, Mayor Jennifer Roberts. The loser of the bet was required to wear a replica of the victorious quarterback's jersey and post a photo of it on Twitter. Mayor Roberts followed through on the bet Tuesday afternoon.

During the parade and rally, several of the players wore orange Nike replica jerseys with their own numbers and a nameplate on the back that said, "Be a champion in the community." These jerseys might have been old stock from the team store, because they had the old "neck roll" collar style that the Broncos haven't worn since the conclusion of the 2012 season.

While the players wore orange jerseys for the parade and rally, mascot Miles stuck with his white jersey from Sunday's Super Bowl, complete with the Chromaflex game patch.

Several of the landmarks in Denver also displayed their Broncos pride. The City and County building, Union Station, and the Republic Plaza Building were all lit up to celebrate the team's championship.
Excellent stuff — thanks, Kary.
• • • • •
ESPN reminder: In case you missed it yesterday, the results of my Rams-redesign contest are available now on ESPN — enjoy.
Meanwhile, in a related item, remember my post from a few days ago about the Rams-redesign contest that ran in The Valley News in 1972? It turns out that the same contest, with the same template and prizes, ran in the NFL's Pro! magazine at the time (click to enlarge):
That scan was sent in by reader Joseph Samaniego (who used it to create this design). It confirms something I'd heard from another reader, Craig Markus, he told me a few weeks ago that he remembered seeing a Pro! contest while growing up in L.A. in the early 1970s.
• • • • •
T-Shirt Club reminder: In case you missed it yesterday, the first Uni Watch T-Shirt Club design of 2016 is now available for ordering (and in response to your requests, we've now added a long-sleeved version). Here's the design (for all of these, you can click to enlarge):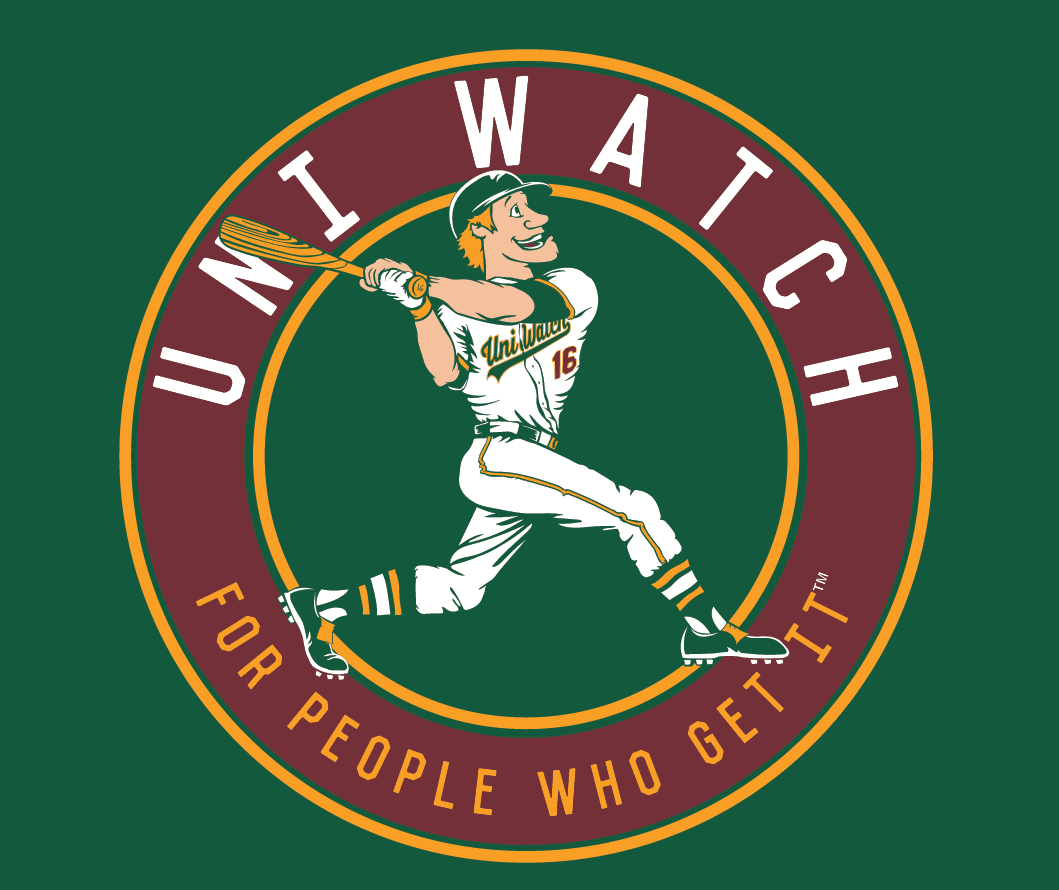 Here's how it looks on a shirt:
And here's a closer look at the jock tag graphic, which will be appearing on all six of our shirts this year:

The Uni Watch ballplayer shown on the shirt is intended to evoke a time when sports graphics and mascots were built around fun, not ferocity. And as you can see, our ballplayer really Gets Itâ"¢ when it comes to wearing his uniform. Allow me to point out some of the details:
• He's wearing a flapless batting helmet. (I wanted to have him also wearing his cap under his helmet, but that turned out to be too subtle a detail to render.)
• He's wearing only one batting glove, on his bottom hand — an old-school style that was popular in the late '60s and early '70s (and is still used today by Hunter Pence).
• He's written his uniform number, 16, on the bottom of his bat knob. No newfangled knob decal for him!
• His jersey is modeled after our 2015 "Home" T-shirt.
• His high-cuffery, blousing, and stirrups are all picture-perfect.
• His spikes feature that old-school flap over the laces.
The shirt is available here. For further info on how the T-Shirt Club will work this year, click here. Thanks for your consideration, and thanks also to everyone who got us off to a good start by ordering the shirt yesterday — much appreciated!
• • • • •
The Ticker
By Paul

Baseball News: New jerseys for Tennessee (from Jason Yellin). "¦ Bourbon-themed jerseys — yes, you read that right — for the Bowling Green Hot Rods (from Eric Leach). "¦ Here's a new one (at least to me): There are now MLB team-branded barbecue grills. "¦ New uniforms for Arizona State. "¦ Reprinted from last night's comments: The Blue Jays still have artificial turf, but they're getting an all-dirt infield (from Mike Styczen). "¦ This is pretty awesome: Astros P Lance McCullers has a tequila sunrise-themed PlayStation controller. "¦ New cream jersey for UVA (from Rob Datoc). "¦ New Zealand and South Africa played a World Baseball Classic qualifier yesterday, and the jersey colors were black vs. dark green (from @realstevecarp). "¦ According to this article, the Tigers will still wear their traditional home and road game uniforms for a few spring training games, although they'll go with the new navy spring training jersey for most of their Grapefruit League games (from Jeffrey Sak).

College Football News: Tennessee QB signee Jarrett Gaurantano announced via Twitter that he'll be wearing No. 2 when he suits up for the Vols.

Hockey News: This is pretty awesome: The Carolina Hurricanes went curling (thanks, Phil). "¦ Missouri Mavericks going pink in the rink this Saturday. "¦ The Coyotes are offering a youth jersey exchange program — bring in an adult jersey from any NHL team, get a free Coyotes youth jersey. "¦ No photo, but commenter Oakville Endive posted this on the site last night: "Watching the Senators/Red Wings game tonight, longtime Leaf Dion Phaneuf's first game with the Sens. They showed a close-up of his gloves and talked about how Ottawa's trainers had painted the blue part black. On close-up, you could still see traces of blue." "¦ The Pensacola Ice Flyers — that's a hockey team — will wear jerseys honoring the Pensacola Blue Wahoos (that's a baseball team) on Saturday.

NBA News: Here's a clever way to spell out "NBA All-Star Weekend 2016" (thanks, Mike). "¦ The Pistons retired Chauncey Billups's number last night. The gentle vertical arching on the banner's NOB lettering matches the format of the team's other retired numbers, even though it's a style that, to my knowledge, the Pistons have never worn. "¦ Andre Iguodala of the Warriors was missing his little championship collar tab last night.

College and High School Hoops News: New sneakers for Miami (from Adam Apatoff). "¦ New navy uni for UConn. Dan Madigan says it'll be worn next Thursday, Feb. 18. "¦ Whoa, check out the uniforms for this Canadian high school team. "¦ Should the play-in games for the NCAA tourney be called the "First Round," or should that term be reserved for the first slate of round-of-64 games? The NCAA has clarified the proper terminology. "¦ Wisconsin once again wore their red Black History Month throwbacks at home last night. "¦ Not sure if we already had this, but just in case: UTEP resurrected their school's former name by wearing 1966 Texas Western throwbacks last weekend. According to this story, the throwbacks marked "the 50th anniversary of the landmark 1966 NCAA title game when Texas Western upset perennial powerhouse Kentucky, 72-66. Texas Western became the first school to start five African-American players in the NCAA championship game, a significance made more visually apparent by Kentucky's all-white lineup." … Texas Tech F Matt Temple is wearing protective eyewear after being poked in the eye (from Pete Broussard).

Soccer News: St. Pauli will be wearing jerseys that say "No football for fascists" for tomorrow's Holocaust Remembrance Day match against Leipzig (from Phil). "¦ New change kit for the Columbus Crew, and the early reviews are not good. "¦ Stoke City will wear solid white for this weekend's game against Bournemouth (from Jon Gausewitz). "¦ New secondary kit for New York City FC (thanks, Phil). "¦ I think we're a few days late with this one: New secondary jersey for Sporting KC (from Ryan Burchett). "¦ Here's a critique of the 2016 MLS uniforms (from Tim Cross). "¦ New clash jerseys for the Czech Republic, Austria, and Slovakia.

Grab Bag: Here's something you don't see anymore: New Jersey Generals QB Brian Sipe hyperventilating into a paper bag (from Bill Kellick). "¦ Cricket Australia has unveiled a new version of the pink ball that will be used for day/night Test Matches in the 2016-17 season. "It features black stitching on the seam to make it easier for players to see," says Graham Clayton. "¦ Whoa, look at this great Natty Boh patch! (Big thanks to Brad Eenhuis.) "¦ Good story on clever political campaign buttons throughout the years (thanks, Brinke). "¦ Here's a short video on the redesign of the CBS Sports logo (from Greg Franklin). "¦ Yesterday was Ash Wednesday, and GOP Presidential candidate Jeb Bush had ash on his forehead. I can't recall seeing a presidential candidate doing that before. "¦ There's a design competition to create a new logo for the 2019 Island Games in Gibraltar. "¦ New athletics logo for Knox College. "¦ A South African potato chip manufacturer will have to change its logo because it looks too much like another company's mark.