As most of you are probably aware, I recently put out a call for entries for an ESPN contest to redesign the Rams. We'll have the results tomorrow.
But reader Randy Parkes remembers another Rams-redesign contest — from more than 40 years ago!
"The Rams had a contest in September of 1972," he writes. "I was 16 at the time, and a die-hard Rams fan. I was also art-oriented, so when saw the contest in The Valley News, I drew a design. I never submitted it, but for some reason I saved it."
Here's Randy's design (click to enlarge):
Interesting, right? A few thoughts about this:
• The Rams did indeed get a redesign in 1973 — that's the year they went from blue/white to blue/yellow. But the contest entry text says, "Rams colors are royal blue, white, and gold," so they had apparently already decided to reintroduce yellow/gold (which had previously been a team color before being excised in 1964).
• 1973 is also when the Rams introduced the horns on the sleeves and shoulders. It's not clear to what extent, if any, this move reflected one of the contest submissions.
• I love that the contest prize included a choice of a full uniform (well, almost full — no socks) or four season tickets. Whoever the winner was, I hope he or she chose the uniform!
As for Randy's design, he was ahead of his time, at least in terms of side panels, eh?
I'll be off the grid for most of today (it's the Tugboat Captain's birthday, so I'm going to help her celebrate), but here's the rest of today's content — see you all back here tomorrow.
• • • • •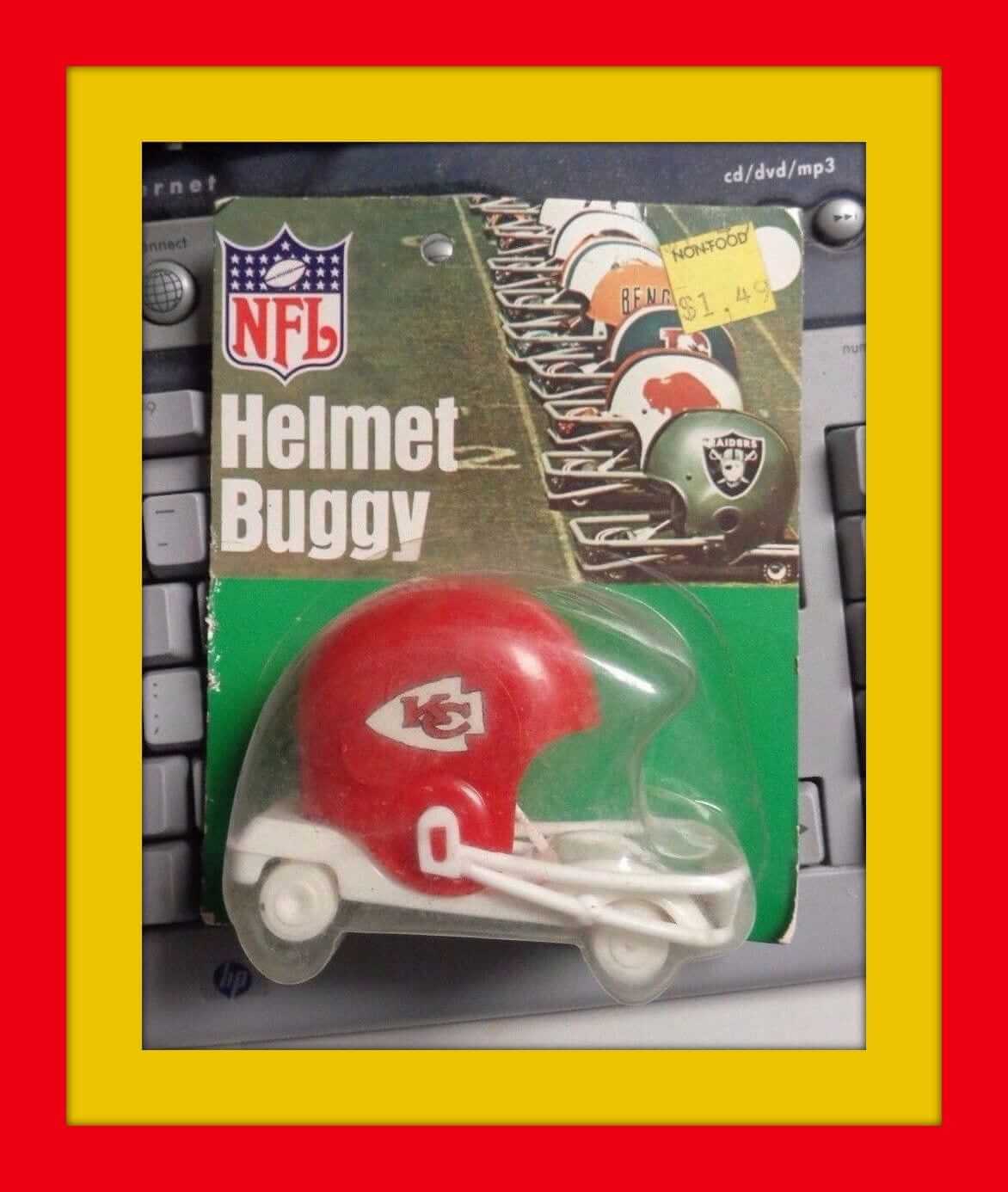 Click to enlarge
Collector's Corner
By Brinke Guthrie
Okay, we're done with pro football for another season. But that doesn't mean we can't feature it on Collector's Corner, no sir. And as I've said before, no eBay category has as much great vintage stuff as the NFL. So let's begin with this very nice-looking Kansas City Chiefs Helmet Buggy. MOC, or Mint On Card, as they say in eBay-speak.
Here are the rest of this week's picks:
• Created forty Super Bowls ago, this Steelers pennant now looks rather quaint.
• Reggie Jackson plays in Puma. Note the super-cool shades, turtleneck, and sport coat combo. For years I wondered what "Beconta" was — as far as I can tell, it was Puma's U.S. distributor.
• Here's a great set of 1970s NFL single-bar helmet stickers.
• Some more helmet stickers for you, and this is one of my favorite helmet representations, from the 1981 "NFL SuperPro Club." (Also loved this helmet look from 1971 — over to you, Pat.)
• Here's a Philadelphia Eagles helmet from the 1970s, made by Rawlings in the classic-looking kelly green and silver.
• Take a look at this 1970s Chicago Black Hawks varsity jacket. We all know DeLong, but what is "Gunzo"? (Update: It's a hockey shop in Chicago. Thanks to the commenters who filled us in.)
• Check out the artwork on this 1960s Chicago Bears decal!
• Nice cover art on this 1968 Bengals/Broncos game program.
• Want a set of a dozen 1970s cardboard batting helmets from the American League? Got 'em right here. And after all these years, many of those designs are still in use.
• For a good part of the 1970s, the Reds had a player poster day, and they'd give these away. Rose, Bench, Gary Nolan, Bobby Tolan, all the guys, and I had 'em all. Here's Tom Terrific at Riverfront. Here's one of Riverfront Stadium I've never seen before — not sure this one was a giveaway.
Follow Brinke on Twitter: @brinkeguthrie
• • • • •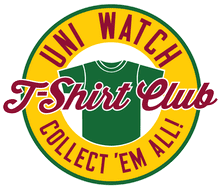 T-Shirt Club update: I'm finally ready to show you the first Uni Watch T-Shirt Club design of 2016. But before I do that, let me remind you how things are going to work this year:
1. We plan to offer six shirts. They'll be spaced out fairly evenly throughout the year, although we won't necessarily stick to a rigid bi-monthly schedule.
2. Each shirt will feature an illustration devoted to a given sport. We'll start with baseball, and the sequence after that will be hockey, basketball, football, soccer, and a mystery design for the final shirt of the year. (Spoiler alert: No, the mystery design will not be curling.)
3. Unlike last year, these shirts will not have a design on the back — only on the front. Also, there will be no sleeve patch this year. Instead, there will be a jock tag graphic near the lower-left hemline.
4. Just like last year, each shirt will be a limited edition that will only be available for a week.
5. There will once again be a prize for people who collect all of the shirts for the calendar year. The prize will probably be another patch, and it will probably be designed to look like the jock tag graphic. (Hmmm, if you collected all of last year's shirts and collect all of this year's shirts, you'll be on your way to collecting all of the "Collect 'em all" prize patches — a meta-collection!)
Okay, those are the basics. Here's our first design for 2016, which will launch later this week (for all of these, you can click to enlarge):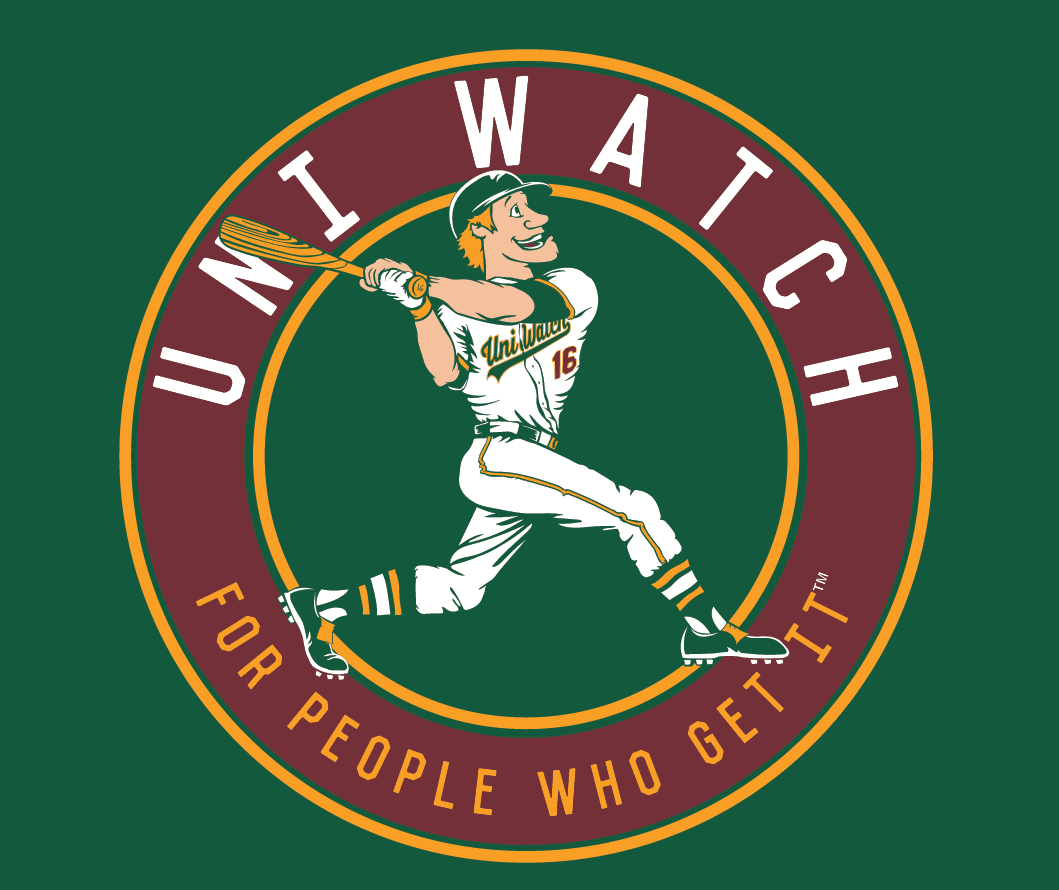 Here's how it'll look on a shirt:
You can see the jock tag toward the bottom of the shirt. Here's a closer look at it:

As you can see, our Uni Watch ballplayer really Gets Itâ"¢ when it comes to wearing his uniform. Allow me to point out some of the details:
• He's wearing a flapless batting helmet. (I wanted to have him also wearing his cap under his helmet, but that turned out to be too subtle a detail to render.)
• He's wearing only one batting glove, on his bottom hand — an old-school style that was popular in the late '60s and early '70s (and is still used today by Hunter Pence).
• He's written his uniform number, 16, on the bottom of his bat knob. No newfangled knob decal for him!
• His jersey is modeled after our 2015 "Home" T-shirt.
• His high-cuffery, blousing, and stirrups are all picture-perfect.
• His spikes feature that old-school flap over the laces.
(You may be wondering why our ballplayer's stirrup design doesn't match the maroon stirrup hanging from the top of each Uni Watch entry. We tried that, but there was no way to make it work unless we made the rest of the uniform more maroon-centric, which I didn't want to do.)
Pretty good, right? Major props to my Teespring compadre Bryan Molloy, who came up with the concept and then put up with all of my endless requests for revisions. We'll launch it very soon — possibly tomorrow.
The next shirt will feature a hockey player. It might include the same player-in-the-circle format, or it might not. We haven't decided yet. The shirt itself will not be the same color as this one — it might be grey, or something else, but definitely not green. We want some variety.
• • • • •
The Ticker
By Mike Chamernik

Baseball News: A 104-year-old Minnesota man still has a Babe Ruth home run ball. He got the ball as an 11-year-old in 1922 during one of Ruth's barnstorming trips. … The Orioles are unpacking their equipment for Spring Training (from Andrew Cosentino).

NFL News: The Broncos had a few uniform issues at the Super Bowl. Aqib Talib was missing his nose bumper logo and Malik Jackson was missing his Super Bowl logo patch. The adjusta-strap on the back of Peyton Manning's postgame victory cap had "Champions" upside-down (from William Linton and Omar Jalife). … Also, Broncos punter Britton Colquitt wore soccer cleats (from an unnamed reader). … The Panthers set up a locker for Stephen Curry at the Super Bowl. The Warriors star banged the team's ceremonial drum before the game. … Kevin Durant was a photographer at Sunday's game and he snapped some decent photos. … The NFL will return to Roman numerals next year for Super Bowl LI. … Reader Jeremy works at a place that has a sponsorship affiliation with the next Super Bowl, and he received this pin yesterday. … Mike Clary found two vintage pennants: A Rams one with a bizarre logo and a Dolphins one that seems to have a mahi-mahi depicted on it. … A guy in Charlotte was selling "Panthers Super Bowl Champions" pennants for $1 at the team's welcome-back gathering (from James Gilbert).

Hockey News: The Devils will wear Martin Brodeur patches on their warm-up jerseys tonight, when the team will retire his number and dedicate his statue. … Hurricanes goalie Eddie Lack has some excellent new pads (from John Muir). … The AHL's Utica Comets will wear throwbacks later this month. … The USHL's Green Bay Gamblers, a junior hockey team, will change its name to the Green Bay Cheese for its March 5 game. No photos, but a press conference is being held this afternoon (from Brian Kerhin). … The SPHL's Peoria Rivermen will wear St. Louis Cardinals-themed jerseys on Friday. Peoria, an Illinois city, is halfway between St. Louis and Chicago (from Alex Dewitt). … "A bit of a blowout game between the Islanders and Oilers on Sunday night," says Wade Heidt. "It led to a couple of fights. Got me thinking that when the gloves get dropped in this match-up, must be hard for the refs to figure out which gloves belong to which team." … The Flint Firebirds wore Flint Tropics-themed uniforms last night. … The Kings' 50th-anniversary logo may have leaked.

NBA News: On Sunday, the Celtics wore shooting shirts in honor of Chuck Cooper, the first black player drafted by an NBA team. Fans received commemorative buttons. "Weird that it was in gray, although that's what the Celtics wore for that game," says Brian Mazmanian. "Also, button was the size of a quarter. Kind of chintzy." … Here's another story on the Bucks' redesign (from Brinke).

Grab Bag: Virginia Tech football is auctioning off a bunch of metallic orange, tri-color and black helmets (from Andrew Cosentino). … New logo for Knox College. … David Firestone interviewed NHRA funny car driver Jack Beckman about his racing uniforms. Also from David, NHRA Funny Car driver Robert Hight and NHRA Top Fuel driver Brittany Force have new uniforms this year. … Vin Diesel revealed the logo for xXx: Return of Xander Cage, the newest addition to the action film series. I saw second installment, xXx: State of the Union starring Ice Cube, in theaters for my first date back in the day. How's about that for a date movie, eh?