Lately I've been putting my houseplants in vintage tin cans, so I've spent a bit of time looking at tin can listings on eBay, which is fun because I really enjoy seeing the old can designs — even the ones I'm not interested in purchasing. One listing I recently came across was for the can shown above. Obviously, it's a fun package design. But as I examined the details, what really struck me about it is that the titular spokescharacter, Mr. Muscle, is depicted with hairy legs and, especially, a hairy chest:
We've sometimes talked about athletes' hair, but I don't think we've ever talked about body hair. It strikes me as an unusual but very legitimate corner of athletics aesthetics — one that has shifted over the years. At one time, chest hair like Mr. Muscle's was essentially visual shorthand for a certain kind of he-man, macho-style masculinity. Nowadays, though, that's no longer the case. Or to put it another way, if you were creating a muscleman spokescharacter for a package design today, there's no way you'd give him a hairy chest like Mr. Muscle's.
It's interesting to see how this has shifted in the sports world. The most obvious place to look is boxing, since the athletes don't wear shirts. Back in the 1950s, for example, Rocky Marciano — still the only heavyweight boxing champion to retire undefeated — had a hairy chest:
Ditto for Jake "Raging Bull" LaMotta (also, note that LaMotta and opponent Laurent Dauthuille were both wearing light trunks in this bout — highly unusual):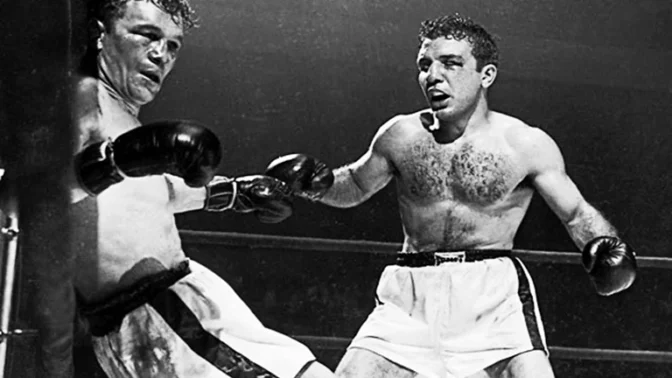 That hairy-chested look was common in those days. By contrast, today's boxers almost always have clean, hairless torsos. Off the top of my head, I can think of only three high-level boxers from the modern era who had significant body hair. The first is heavyweight contender Gerry Cooney, whose last bout was in 1990:
The second is heavyweight Donovan "Razor" Ruddock, who had a bunch of high-profile fights in the 1990s:
And the third is the Russian giant Nikolai Valuev, who twice held the WBA heavyweight title between 2005 and 2009:
Update: Reader/commenter Ian M. points out that I neglected to include current heavyweight champ Tyson Fury, who is plenty hairy:
I'm sure there are other examples, but I think most people would agree that boxers these days tend not to be hairy. Of course, that's not because human beings are no longer hairy — it's almost certainly because boxers now shave and/or wax their torsos. Take Tommy Morrison, for example: Early in his career he had some chest hair, but he soon did away with that:
How did that happen? Newsday boxing columnist Wallace Matthews wrote in 1993 that it was because Morrison liked to "shave every hair off his body." I'm sure he wasn't the only one.
Matthews meant that comment as a dig against Morrison, but I wouldn't criticize anyone for their grooming habits. It's just fashion — at one point, hairy masculinity was in, and now people prefer a clean, gleaming look.
Why is that? A few factors come to mind:
Modern training and nutrition methods (and, let's face it, steroids) have led to a lot more muscle definition, and people like showing off those big pecs and six-packs. Think about it: Bodybuilders have always preferred to show off their sculpted physiques by going hairless. Even back in the Marciano/LaMotta days, when chest hair was still equated with machismo, celebrity musclemen like Charles Atlas and Jack LaLanne nonetheless went hairless. But bodybuilders were pretty much the only ones who were seriously jacked up in those days — the common wisdom at the time was that athletes shouldn't be too heavily muscled because they'd become "muscle-bound." Modern flexibility training eventually changed all that — nowadays, any athlete can look like a bodybuilder. And they don't want any hair blocking the view of how ripped they are.
Upper-body tattoos are much more common nowadays, and people don't want hair obscuring the ink.
Maybe it's just part of a broader cultural trend. If you watch pornography, you know that body hair is practically extinct.
I'm sure we could go a lot farther down this rabbit hole. I don't follow the MMA/UFC scene, for example — are those fighters also hairless? Similarly, I don't follow pro wrestling — has boxing's transition from hairy to denuded chests been mirrored in the wrestling ranks?
All that because of a cartoon character on an old tin can. I realize this is a different kind of Uni Watch topic, but it's still athletics aesthetics! Thanks for hearing me out, and let's try to keep the comments from getting too silly. Thanks!