Good morning! With Tom Brady apparently retiring yesterday (just like last year — it really is Groundhog Day!), I want to take a bit of time today to look at some uni-related facts and figures from his 23-season NFL career. Let's go one uni element at a time, beginning with…
Helmets
Brady wore four helmet designs in his career (although two of them were very similar throwbacks). His retirement, assuming he sticks to it this time, means he will not get to wear the Bucco Bruce helmet that Tampa Bay plans to revive next season.
Also of note: Brady was the last NFL player to wear Riddell's VSR-4 helmet model, until the league banned it in 2019.
Jerseys
By my count, Brady wore 10 different jersey designs during his career (admit it, you'd forgotten about the Pats' awful grey/silver alternate). Again, two of them were throwbacks that were very similar to each other.
Nitpickers might point out that the Pats changed their home and road chest logo in 2015, so you could say that Brady actually wore two additional jerseys, but I chose not to count that as a true design change. I fully acknowledge that that's a subjective notion — your mileage may vary and all that.
Pants
As far as I can tell, Brady has worn eight different pants designs. That's two fewer than the number of jerseys because (a) the Pats wore the same pants with their white and grey jerseys, and they also wore the same pants with both of their 2009 throwback jerseys.
Update: As several people have pointed out, I neglected to include the white pants that Brady wore for one game in 2017 (so the pants total is nine, not eight):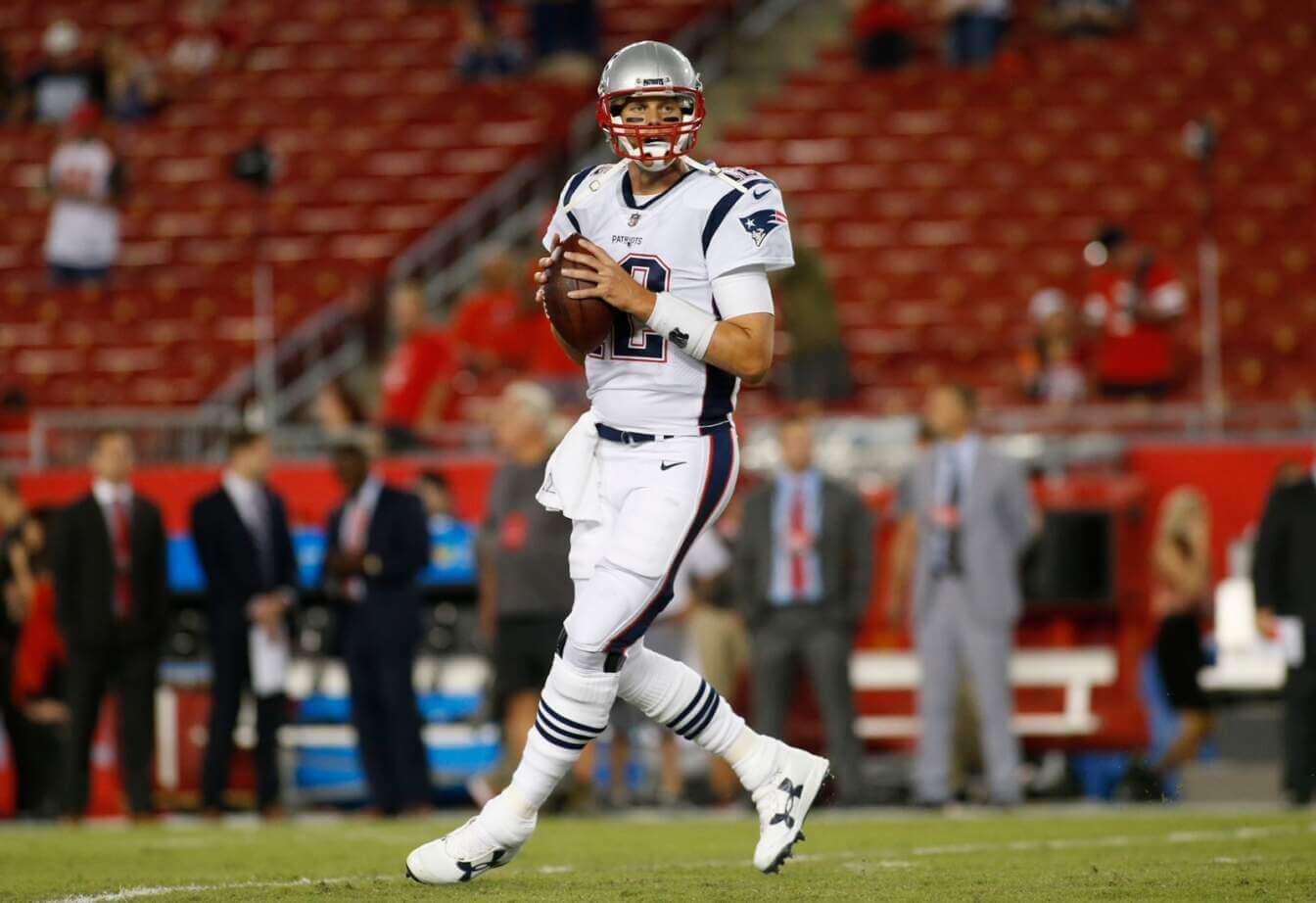 Socks
As we've discussed in other contexts, NFL socks have become a shitshow, so I'm not going to attempt to count all of Brady's sock stylings. Instead, I'm just going to note that his left-leg brace really distended the stripes on his road socks during the latter part of his time with the Patriots. But distended or not, he always wore his stripes at mid-calf, the way they're supposed to be worn. Good for him (and for us).
That photo also shows the red shoes and spatting that he favored late in his New England tenure.
Patches
Uni Watch's own Anthony Emerson figured out a few years ago that Brady almost certainly holds the NFL record for wearing the most patches in a career (and that was before he jumped to the Bucs and began wearing captaincy patches, which he never wore with the Pats). So add that to the many records he holds.
Pockets
I'm not sure exactly when this started, but at some point Brady became really obsessed with having access to pockets, regardless of the game conditions. In the 2021 photo shown above, he has pockets sewn into his jersey and he's wearing a strap-on pouch — and that's for an indoor game in Atlanta! That pocket/pounch combo has been fairly common for him in recent years.
Additional Notes
Finally, I want to say that while I realize a lot of people dislike Brady for various reasons, it's hard to argue with him from an aesthetic standpoint. As I wrote in 2019:
[W]hatever else you might think of Tom Brady, he looks like a quarterback. His posture, his body proportions, the way he stands tall in the pocket — there's a physical charisma to him. He looks like the dictionary definition of the word "quarterback," straight out of central casting.
I've always thought that about him, and that's why I'm a little sad to see him go. Thanks for looking good out there, Tom.