Good morning! Hope everyone had a good weekend, as I did (well, except for that 49ers debacle, but they had a fun run this season so I can't complain).
So this year's Supe will be the Andy Bowl. The NFC is the home team, so the Eagles will have first uni choice and will almost certainly go with green over white. KC will have to wear white jerseys and will presumably go with the red pants, resulting in the very attractive uni matchup shown above. These same two teams gave us that same uni matchup fairly recently — Oct. 3, 2021. Here are some photos and video highlights from that game, so you can get a sense of how the big game will probably look.
(I suppose it's possible that KC could opt for white over white, instead of wearing the red pants, but they wore the white/white combo only twice this season, both against old AFL rivals —  Nov. 20 against the Chargers and Jan. 7 against the Raiders — so I think it's unlikely that they'll go that route for the Supe.)
I want to talk for a minute about KC's socks, because this is arguably the worst-hosieried team in Super Bowl history. I counted them having at least 11 different lower-leg styles on the field last night, and I'm pretty sure there were a couple more that I couldn't find photos of:
Put all of those sock stylings on the field at once and you end up with something like this absurd pregame photo:
I can't believe I'm saying this, because there's no bigger fan of striped socks than me, but the few teams that still have striped hose (mainly KC and the Bears) now routinely make such a mess of it that it might be time for the league to ban striped socks. Sigh.
By contrast, the Bengals were the very picture of hosiery consistency: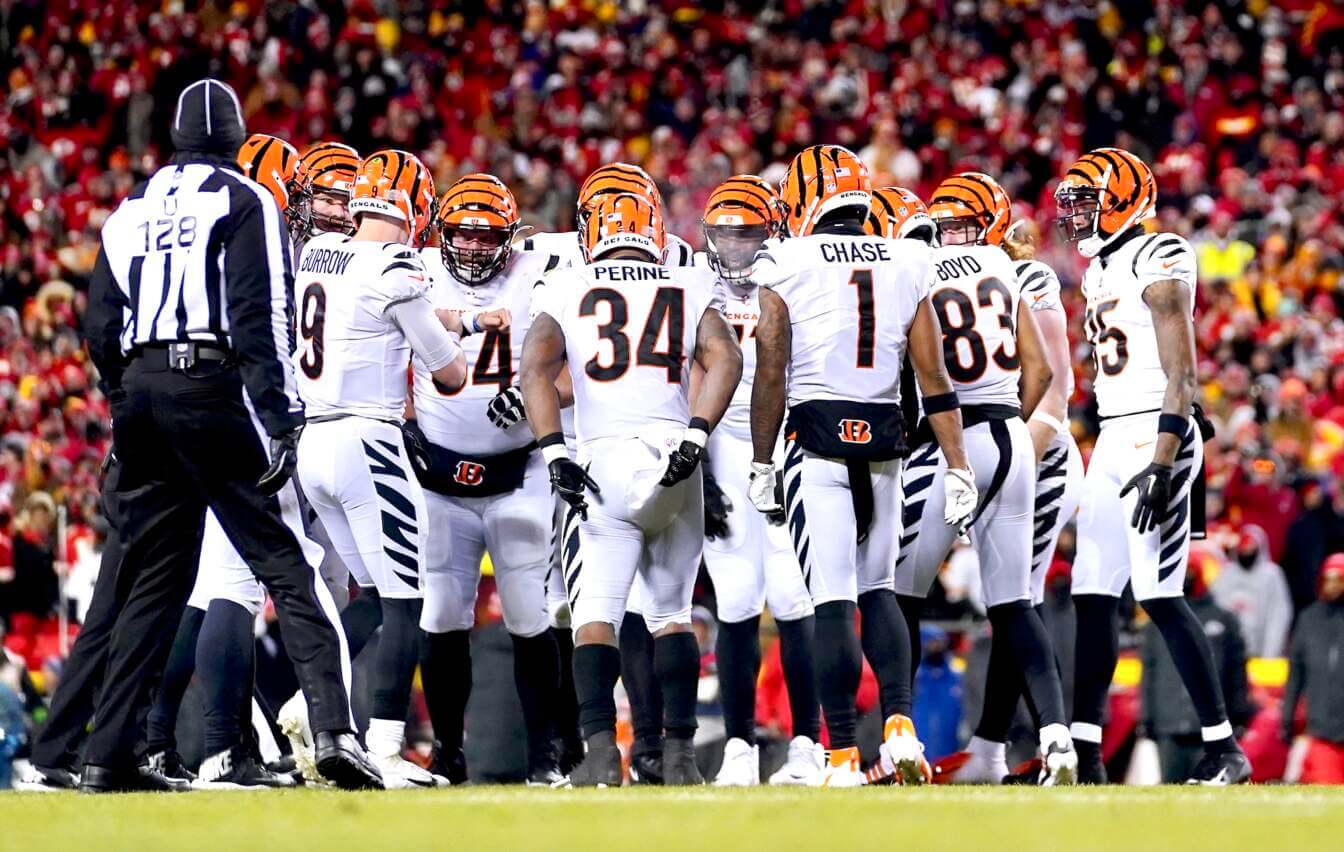 So I guess you could say that the game outcome was a miscarriage of sartorial (or at least hosiery) justice.
One other note from that game: KC quarterback Patrick Mahomes had a captaincy patch on his sideline cape! Don't think I've seen that before:
Over in the NFC, the good news is that the Eagles all wore white socks, so at least they were consistent. The bad news is that they did that while wearing white pants, creating the dreaded leotard effect:
REDDICK TUFF@Haason7Reddick | #FlyEaglesFly pic.twitter.com/lVBtrlrvUk

— Philadelphia Eagles (@Eagles) January 29, 2023
They'll presumably stick with that look two Sundays from now. Not my favorite, but whaddaya gonna do.
I'll have more to say about the Andy Bowl uni matchup as we get closer to the big game.
(Big thanks to Doug Keklak for the Mahomes cape shot.)