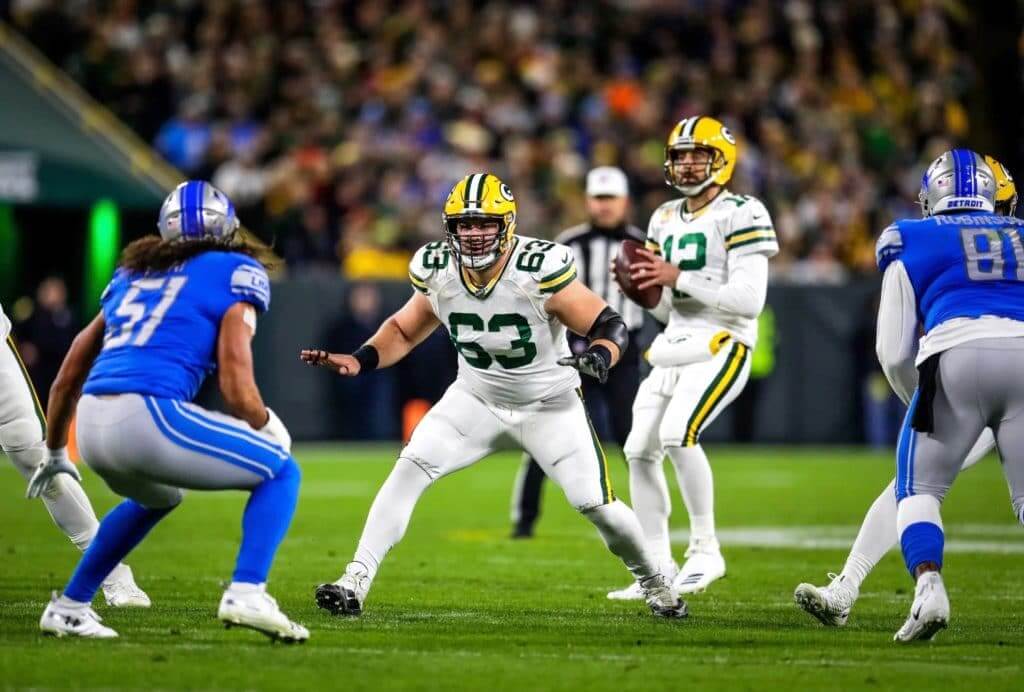 For all photos, click to enlarge
The Packers wore their Color Rash mono-whites last night. That made them the fourth NFL team to wear white jerseys, pants, and socks in Week Six (the others were the Eagles, Jets, and Saints). An additional team, the Jaguars, wore white pants with white socks: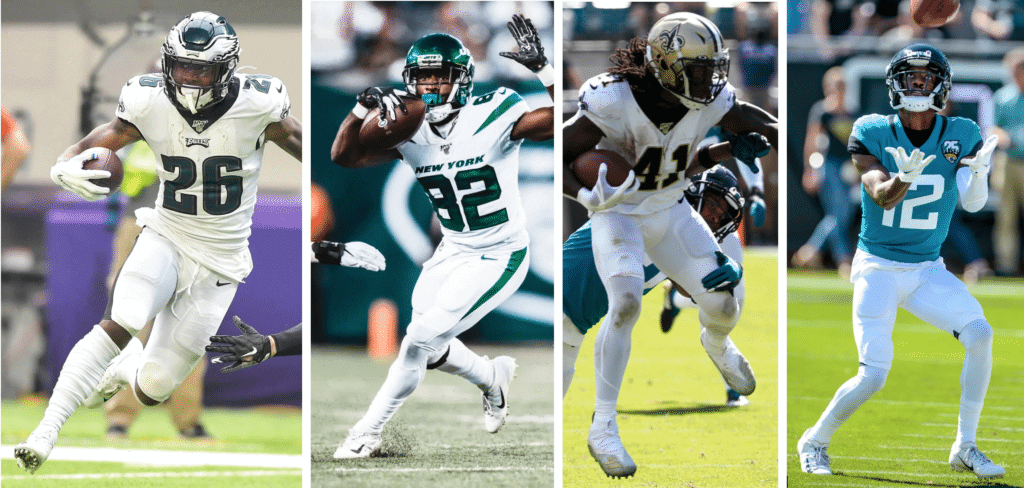 There's nothing new about NFL teams pairing white jerseys with white pants, of course. The new wrinkle here is the use of white socks. For many decades up until this season, NFL socks were required to be white from the shoe to mid-shin, and then either team-colored or team-patterned from mid-shin to the point where the sock met the pant cuff. But this year, the league changed the rule to allow for solid-colored socks (or "stockings," as the league has always preferred to say). Not every team wearing white pants is going with solid-white hose — the Ravens, for example, wore white pants on Sunday but paired them with traditional black-topped hose — but many teams, including the Packers last night and those other four clubs on Sunday, are using white socks to take their mono-white look to another level.
I think this trend raises two important questions. First, what do we think of white pants with solid-white socks?
I've spent a good chunk of my career inveighing against the dreaded leotard effect. (I'm pretty sure I'm the one who came up with that term, in fact.) But I have to say, a white leotard/unitard doesn't bother me nearly as much as, say, a red leotard or a navy leotard. Part of it, I think, is that a solid-white uniform doesn't strike me so much as a superhero costume like a solid-colored uni does. I mean, how many superheroes wear all-white? I'm sure there are some, but I'm also pretty sure they're in the minority.
To be clear, I'd much rather see white pants paired with contrasting socks. Personally, though — I realize many of you may feel differently — I don't mind the lack of contrast nearly as much when it's white on white. (Also, so far NFL teams haven't started referring to their mono-white uniforms as "icy whites" or "stormtrooper," or any of the other cringe-inducing terms that college teams tend to use. So there's that.)
The second question I'd like to explore is this: What led to this trend of socks matching the pants (whether in white or any other color)? As I see it, there are several factors. One at a time:
1. Most players don't wear traditional socks anymore. The sock rules have always been based on the premise of a one-piece over-the-calf sock that's white toward the bottom and colored or striped/patterned on top. But more and more players have been wearing some combination of socks, tights, leg warmers, white athletic tape, and more. Take, for example, this photo of two 49ers players: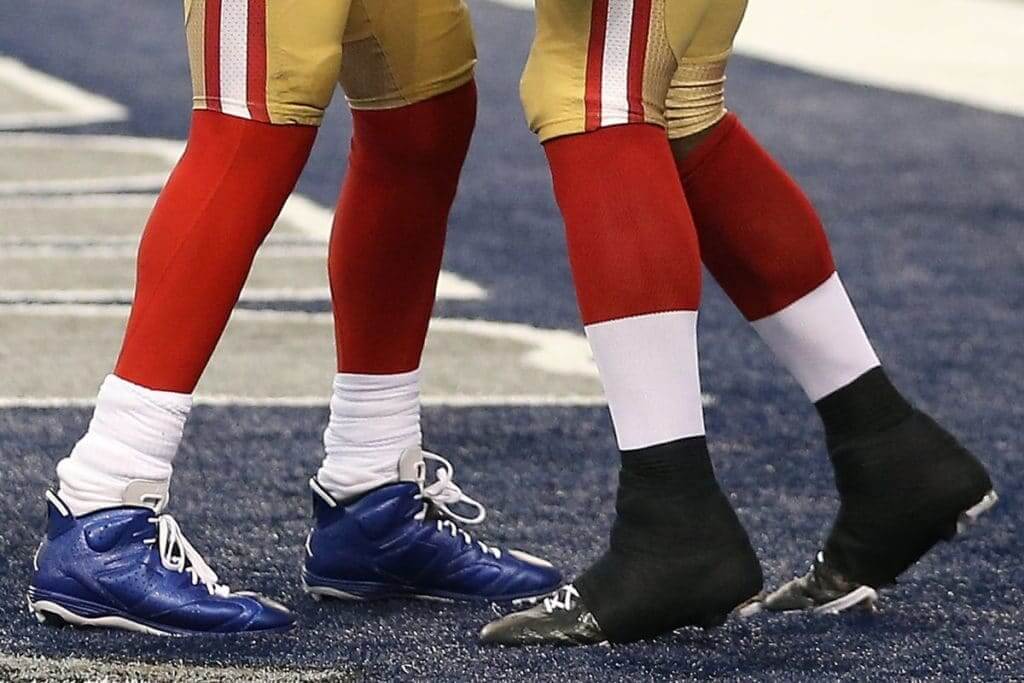 From a distance, it might look like they're both wearing one-piece socks that are white on the bottom and colored on top. But as you can see, that description only applies to the player on the right. The guy on the left is wearing bunched-up white socks over red leggings. If you look again at this week's mono-white players, you can see that some of them are simply wearing white leggings with low white socks.
Why do players do this? I think it has more to do with function than style. For starters, many athletes like the compression feel of tights and leggings (we see more and more of that in the NBA). And while socks can droop down or sag, you don't have to worry about that with leggings, so leggings are lower-maintenance. Now that the NFL has changed the rules to allow solid-colored hosiery, that really opens to the door to leggings, of whatever color.
2. Many players don't wear traditional pants, either. The old sock rules were based on the notion of the player wearing pants that were essentially like knickers — coming down a little below the knee — with the socks providing contrast to the pants. But as we've been seeing for years now — and again, you can see it in a lot of those photos I showed you earlier from Sunday's action — more and more players are wearing their pants well above the knee. That means their socks have to extend above the knee as well. And while contrasting socks look great when they meet the pant cuff just over the calf, they look ridiculous when they extend above the knee. So the dreaded leotard look actually makes more sense if you're going with super-short pants.
3. The Rash has spread. The use of solid-colored socks that match the color of the pants (white or otherwise) began with the Color Rash program in 2015. I'm sure that helped prime the pump for what we're now seeing.
4. Players love sox-ual expression. The most "look at me" uni element is probably shoes. But socks are a close second, with players adding stripes, wearing stripes low instead of high, wearing non-team colors, and so on.
The combined effect of all this is that the old sock rules had become outdated, which helps explain why they changed the rules this season. The bigger question, given the basic truism that form follows function, is whether the basic pant/sock format itself has outlived its usefulness and needs to be replaced. For example, should NFL players be allowed to go bare-legged, like college players? Is it time for long pants that basically combine the pant and sock? Something else?
I'm not saying I want any of those things to happen (I like the traditional pant-with-contrasting-sock format). But it seems increasingly clear that the old format doesn't meet the needs of today's players. Perhaps something new is called for.
One final note about last night's game: according to the Lions' PR staff, last night was the first time ever — ever! — that the Lions wore blue at Lambeau Field.
• • • • •
• • • • •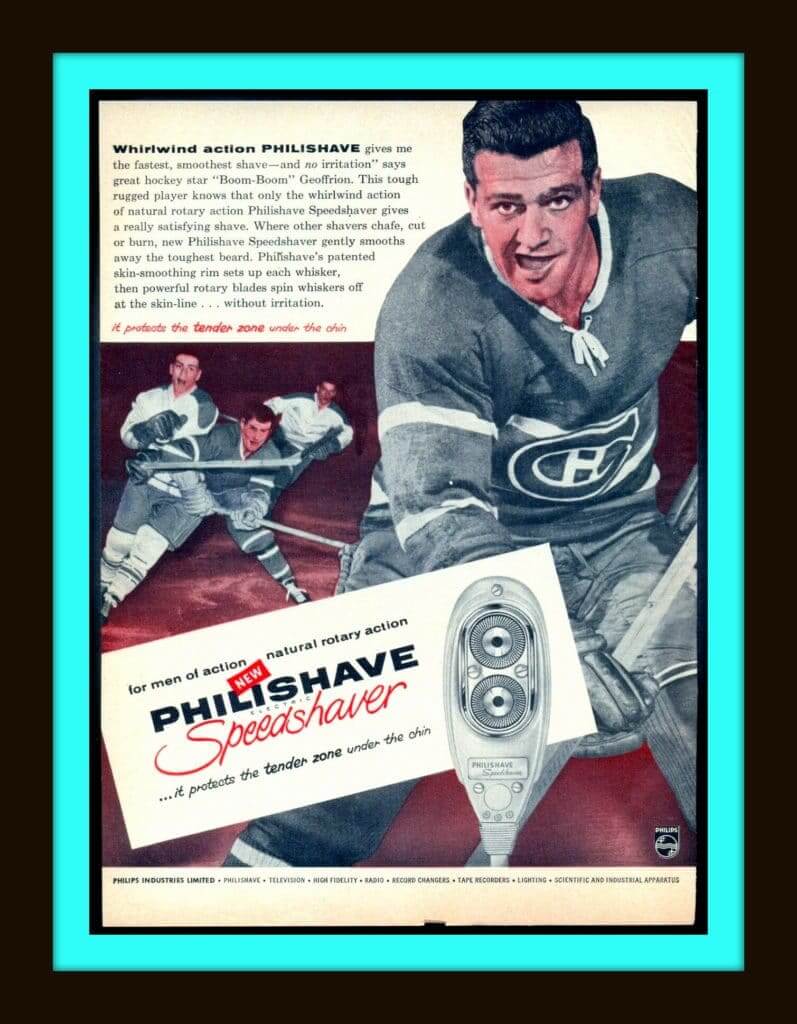 Click to enlarge
Collector's Corner
By Brinke Guthrie
Follow @brinkeguthrie    
Starting off this week with this 1960s ad for the New Philishave Electric Speedshaver. (For men of action.) Hockey star "Boom Boom" Geoffrion of the Montreal Canadiens says it "gives me the fastest, smoothest shave…with no irritation."  Well, if BB says so, that's good enough for me! Except for the fact I was not quite at shaving age when this ad was printed.
Now for the rest of this week's picks:
• This is an "Official (kids) Baseball Jacket" for the St. Louis Cardinals, made back in the 1950s by a company called Richline.
• A classic 1970s Sears NFL Shop item here: this Dallas Cowboys bulletin board with a set of 24 helmet pushpins. I swear I never saw these, not once. Here's the  original 1975 Sears ad, when the cost was $4.66. The eBay seller wants considerably more than that!   
• These binoculars from Tasco are called "NFL Team Sports Glass." If I saw that product name, I'd think it was one of these beverage glasses.  
• Speaking of glasses: This pair of 1970s Philadelphia Phillies glasses include a illustration of the then-new Veterans Stadium.
• Take a look at this 1960s New York Yankees poster. Terrific artwork, to be sure, but the blue used is more suited for the crosstown rival Mets, not the Yanks' midnight navy.
• Here's a 1970s Minnesota Vikings "Gift Bank" helmet. The helmet looks to be in perfect shape and comes in the original box. An officially licensed product, this one was from Pro Sports Marketing of Concord, Cal. Judging from the zip code on the box, their offices were just a few blocks from where I am now sitting.
• Another one for the Vikes: Never seen this before — a 1970s Vikings nightgown, in bright yellow with white sleeve stripes, and a helmet logo on the chest with accompanying "Vikings" text in their classic font. 
• Unique-looking "ram's horn" treatment on this 1970s L.A. Rams ski cap.
• We've got another Rams item here: This figure is called "Paint-A Li'l Pro ." You get paint (non-toxic), decals, brushes, and instructions. Bet you can't paint just one!
• Nice throwback artwork on this late-1960s/early-1970s Miami Dolphins poster.
Got an item to include on Collector's Corner? Send any submissions to uniwatchcollectorscorner@gmail.com.
• • • • •
• • • • •
Click to enlarge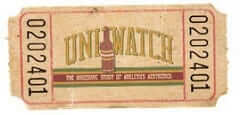 LAST CALL for the NHL/Carhartt raffle: In case you missed it yesterday, we're raffling off NHL/Carhartt hats to three lucky readers. To enter, send an email with your shipping address and your choice of any hat from this page (be sure to keep scrolling down to see all of the options — the page will keep filling as you keep scrolling) to the raffle address by 8pm Eastern today. I'll announce the winner tomorrow.
• • • • •
• • • • •
Very cool membership update: Reader Jay Mazzone has no relation to the hook-handed Jay Mazzone who famously served as a batboy for the Orioles back in the 1960s (you can learn more about that Jay Mazzone here), but he decided he wanted his membership card to be based on his namesake's batboy jersey. It's one of the best card requests we've ever had — love it!
Jay's card is one of several that have been added to the membership card gallery. Lots more designs will be added soon, as we've had a nice spike in enrollments since the latest unpleasantness.
Ordering a membership card is a good way to support Uni Watch (which, frankly, could use your support these days). And remember, a Uni Watch membership card entitles you to a 15% discount on any of the merchandise in our Teespring shop and our Naming Wrongs shop. (If you're an existing member and would like to have the discount code, email me and I'll hook you up.) As always, you can sign up for your own custom-designed card here, you can see all the cards we've designed so far here (more than 2,300 of them!), and you can see how we produce the cards here.
• • • • •
• • • • •
The Ticker
By Alex Hider

Baseball News: The Arizona Fall League held its annual Fall Stars Game on Saturday. Greg Franklin notes that players usually wear the uniform of their MLB team along with their Fall League cap. But this year, the teams wore red- and sand-colored jerseys.

NFL News: Reader Mike Driscoll was served this Instagram ad for a Vikings jersey hoodie. But he notes that the numbers on the sweatshirt aren't "nesting" like they are on the Vikes' on-field jerseys. "The mistake in the ad is an improvement over the real-life object it is referencing," Mike says. … From Sunday: Pope Francis used the hashtag #Saints in a tweet, bringing up a New Orleans Saints logo. No wonder the Saints wore all-white later that day (from Aaron Pinto).

College Football News: NCAA D-III school Linfield College went BFBS on Saturday — the first time they've ever worn an alternate jersey (from Travis McGuire). … The ACC Tracker has been updated through week 7. … The proposed tweak to Auburn's "AU" logo isn't happening after all (from many readers).

Hockey News: The Sens wore their alts — previously their Centennial uniforms — for the first time this season yesterday (from Nick Gratton). … North Dakota's new Adidas sweaters look a bit different than last year's set (from Ryan Qualley). … Couple of junior hockey notes from Wade Heidt: The OHL's Hamilton Bulldogs wore crossover jerseys honoring the local Canadian football team, the Tiger-Cats, on Saturday, and the Battlefords North Stars of the SJHL unveiled new third jerseys over the weekend. … @DRustyCabbage spotted a Maple Leafs/Caps logo mashup. … The Devils had a Kids Day promotion yesterday. During pregame intros, the scoreboard featured kid-drawn pictures of the players (from our own Anthony Emerson). … The Blue Jackets put a photo of each player above the player's locker nameplate (from Jerry Wolper).

College Hoops News: We have our first look at what St. Mary's will be wearing this upcoming season (from @MJ_GoGaels). … The Wisconsin-River Falls women's team got their team-issued shoes yesterday, which include player initials on the tongue and jersey number on the back (from @Starkman55). … New uniforms for Colorado State (from Benjamin Brune).

Soccer News: Cristiano Ronaldo has scored 370 goals while wearing a white jersey — nearly 200 more than while wearing any other jersey color (from Orson McFeathers). … New shirt advertiser for Hajduk Split's second team (from Ed Zelaski).
• • • • •
Signal flare: Attention reader Raymond Bergman — I received your membership payment yesterday (thank you!) but didn't receive a follow-up note with the details of what you want for your card. When you get a chance, let me know. Thanks! — Paul