[Editor's Note: Over the past two months, I've featured a bunch of NFL sideline photos taken by reader Jonathan Safron, who has seats near the visitors' bench at Bears games. Today he tells us more about his great sports photography. Enjoy! — Paul]
By Jonathan Safron
I've been going to Bears games for as long as I can remember. We've had the seats in our family since the move from Wrigley Field to Soldier Field in 1971. That's us in the photo shown above — I'm the one on the right.
Our seats in the "old stadium" (i.e., Soldier Field before the renovation) were high up in the south end zone, and I remember folks bringing in binoculars to the game. My grandfather would take things a step further by bringing a tiny 2-inch portable TV set (which came in particularly handy during the Fog Bowl, because the fog completely obscured the playing field).
Over the years, however, our seat location has improved. We now sit close enough to the visitors' sideline that there is always something interesting to see — and to photograph. My Canon EOS Rebel T3i does an amazing job of capturing the sideline details, even with the normal zoom lens. This year, I've been using a telephoto lens (which, of course, complies with all stadium and league regulations for length).
I took sports photos for my high school paper and loved the thrill of preserving the big moments to look at later, and to share with others. With NFL action, the thrill is even bigger. Zooming in on the quarterback under center, I get a kick out of trying to reproduce shots that companies like Topps and Panini would use for collectible card images.
I've used some of those shots for little creative projects. Purely for my own enjoyment, for example, I've created a Justin Fields collage in Photoshop, utilizing all the different uni/helmet combinations the team has worn at home this season: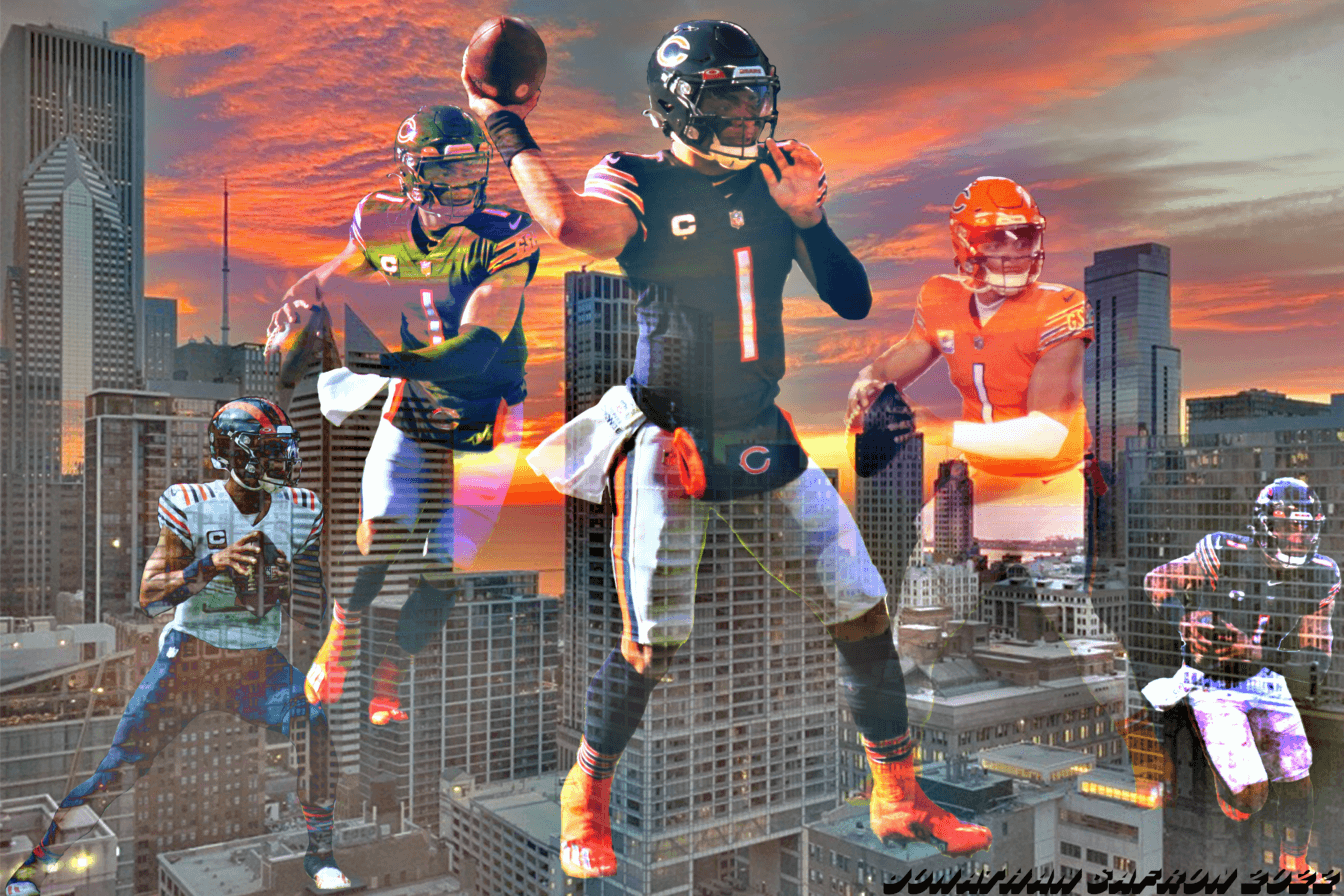 Back when linebacker Roquan Smith was on the team, I would get some great shots just following him around the field — he would inevitably find the ball on every play:
We get a rotating set of people sitting near us, and I've had mixed experiences with them regarding my photography. One Cardinals fan last year loved that I had a camera with me and asked me to send him my photos after the game. This year, in the same seats, an Eagles fan asked me what the score of the 0-0 game was, apparently thinking I was somehow not engaged with the action. I wonder, though, would he have asked someone using binoculars the same question? The telephoto lens apparently makes people think I'm with the press — or that I'm a space cadet.
At this point you may be thinking, why does this guy take a (relatively) expensive camera to each game when it's prohibited to sell any of the images? (Being an attorney, I read the fine print on the tickets!) For starters, it allows me to see tangible evidence of the progress in my photography skills. Looking back through this season's images, for example, I see that I've gotten a couple of shots where I recorded both the throw and the catch on the same play:
I used to think it was impossible to transmit the feeling of being as close to the action as we are fortunate enough to be, but when my friends and family members see my action shots, they say they feel like they were there themselves, which is tremendously satisfying for me.
But maybe it's not a coincidence that in this three-win season, I've focused more and more on the other teams' gear on the sideline than anything else. In years past, I thought of the sideline as either a place to get good close-ups of the other team's stars or a place where a bunch of tall stuff and/or people got in the way of my action shots. But getting immersed in Uni Watch — especially Paul's interviews with A's equipment manager Steve Vucinich and Trail Blazers broadcaster Travis Demers — has made me realize that sporting events have much more granular levels of detail than immediately meets the eye. So when my girlfriend (someone who totally Gets It™ and even seam-ripped the side logos off of two caps for me) mentioned at a game this year that it looked like there were some funny labels on the Commanders' gear, I zoomed in with the telephoto and spotted nail clippers, gas pills and Purell.  Looking through my archives, I saw that the Texans had a similar setup.  That was all it took for the sideline gear chronicles to become a "thing." Now I look for interesting sideline gear at every game, no matter the temperature.
I've been happy to submit my findings to Paul, and it has been amazing to see the Uni Watch comm-uni-ty's response. And now even the battle-hardened guys sitting next to me will point out, "Hey that trunk just opened up and there's a bunch of helmets — take a photo!" It's not the same as taking a great action shot, but it's still an integral part of the game.
———
Paul here. Great stuff, Jonathan — thanks so much for sharing your story with us, and keep those sideline pics coming!