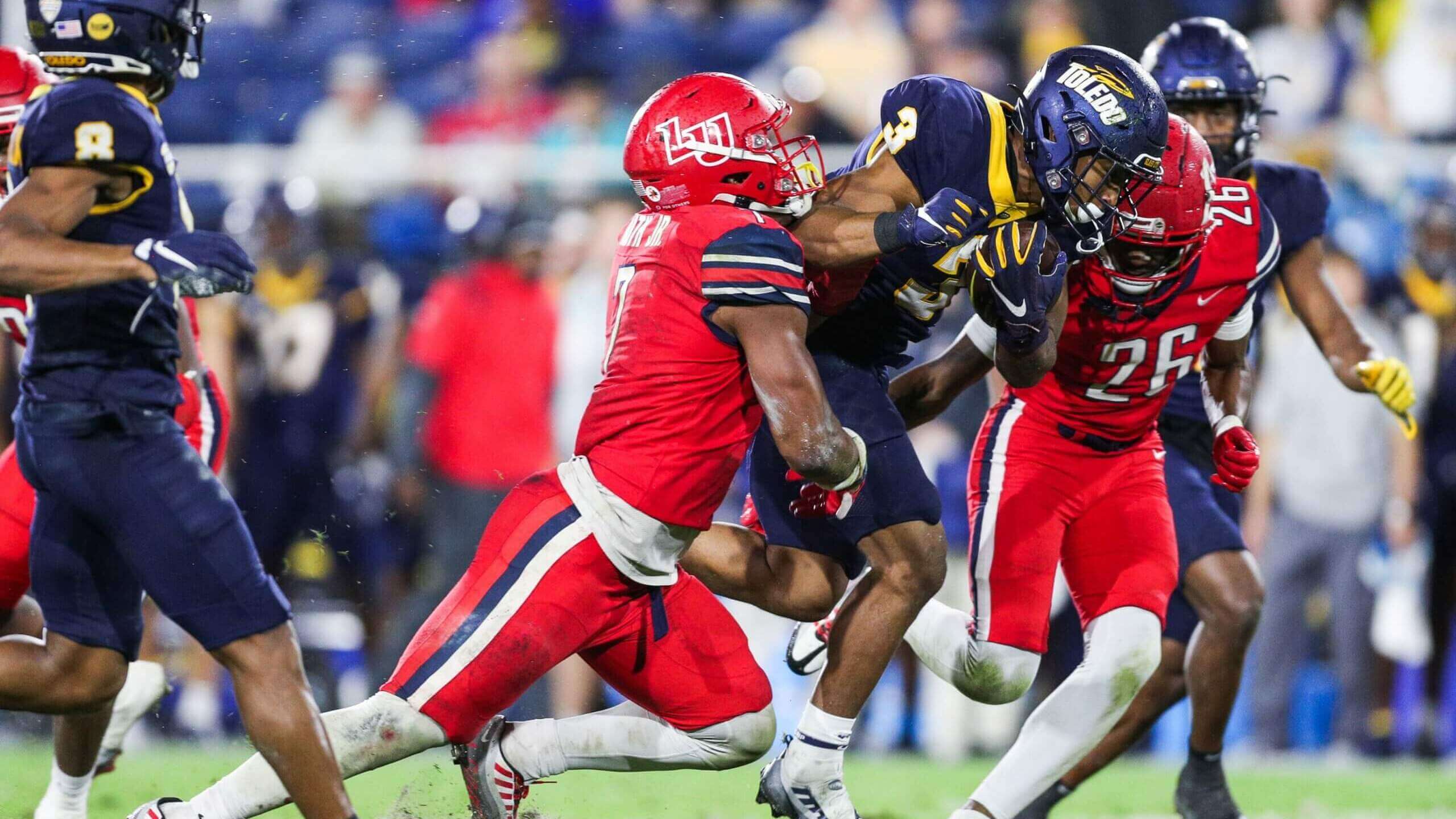 Good Saturday Morning, Uni Watchers, and welcome to Part II of your Sunday Morning Uni Bowl Watch. On the ultimate day of 2022, Terry will catch us up on most of the Bowl games played so far this "post" season (with Christmas Eve and Christmas Day falling on Saturday/Sunday last week, the entire SMUW crew had the holiday off). So we've got a special SMUW Bowl Edition featuring TJ today and then tomorrow the whole SMUW Crew will be back, with the remaining Bowl unis covered, plus a special Five and One as well as Power 5 and Duck Tracking.
Now then.
We've got a lot to get to today since there were a LOT of Bowls played since the last time we had SMBW. One of those games, shown in today's splash, was one of several color-vs-color game, this time in the form of Liberty vs. Toledo, who decided to make it a "Color Rush" sort of game, going mono-blue vs. mono-red. Once again, I will scream at the clouds and remind you there are good color-vs-color games, and then there was the Boca Raton Bowl. And it wasn't just bad color-vs-color: both sets of unis leave something to be desired too. From Toledo's otherwise stripeless unis with giant toilet seat cover collars to Liberty's striping issues (no stripes on the helmets, modified Northwestern striping on the sleeve caps, and fat two-color stripes on the pants), it just wasn't a good looking game. I appreciate the effort of trying to go color-vs-color, but this was one we could have done without.
And with that, I'll turn the rest of the main article over to TJ with your…
• • • • •
Sunday Morning Bowl Watch, Part II
by Terry Duroncelet, Jr.
From Monday, December 19th, 2022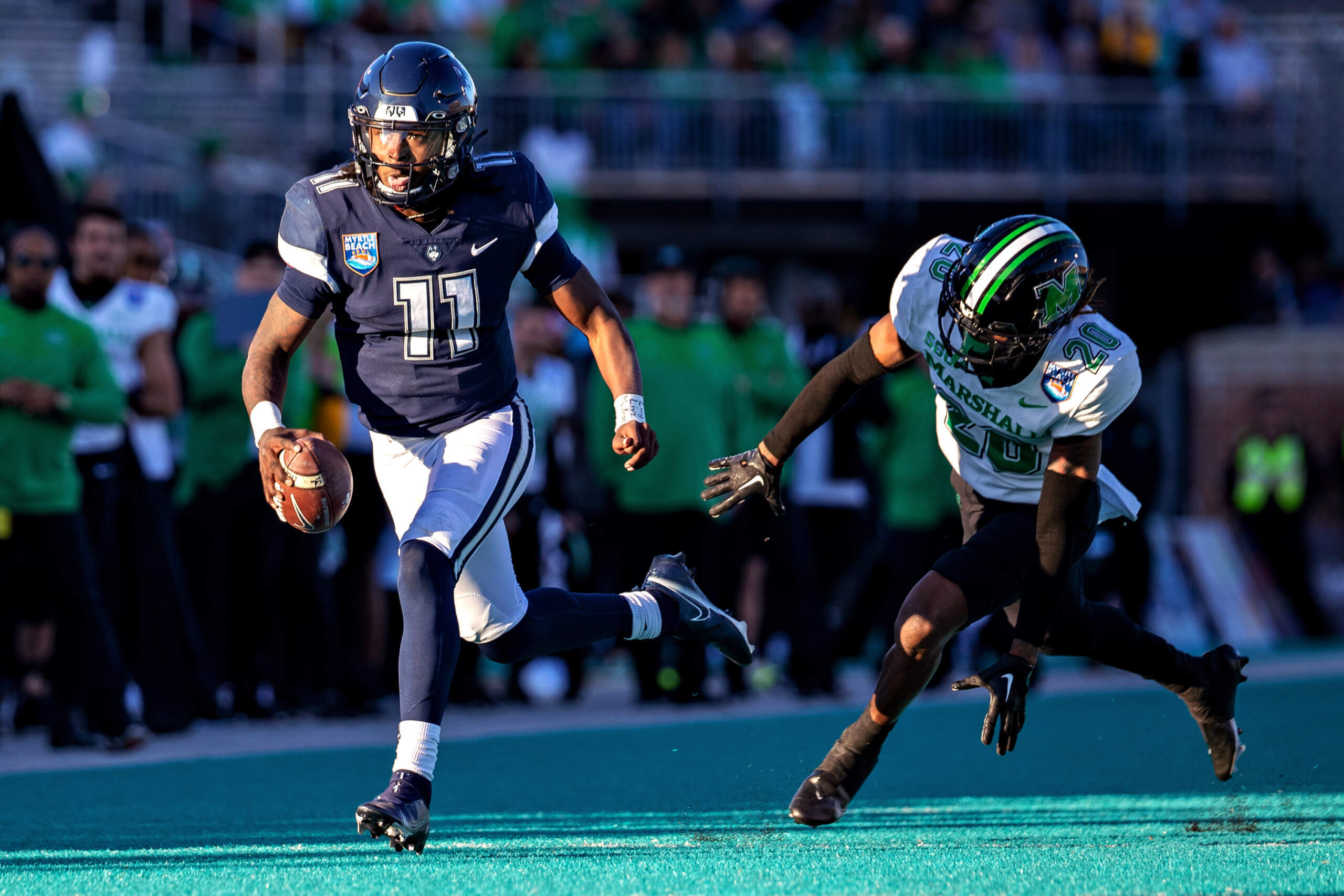 Simple, but not effective. This game featured the University of Connecticut Huskies in navy helmets and jerseys with white pants, and the Thundering Herd of Marshall University in white jerseys with… UNFORTUNATELY, black helmets and pants. Blech.
From Tuesday, December 20th, 2022
|San José State vs Eastern Michigan|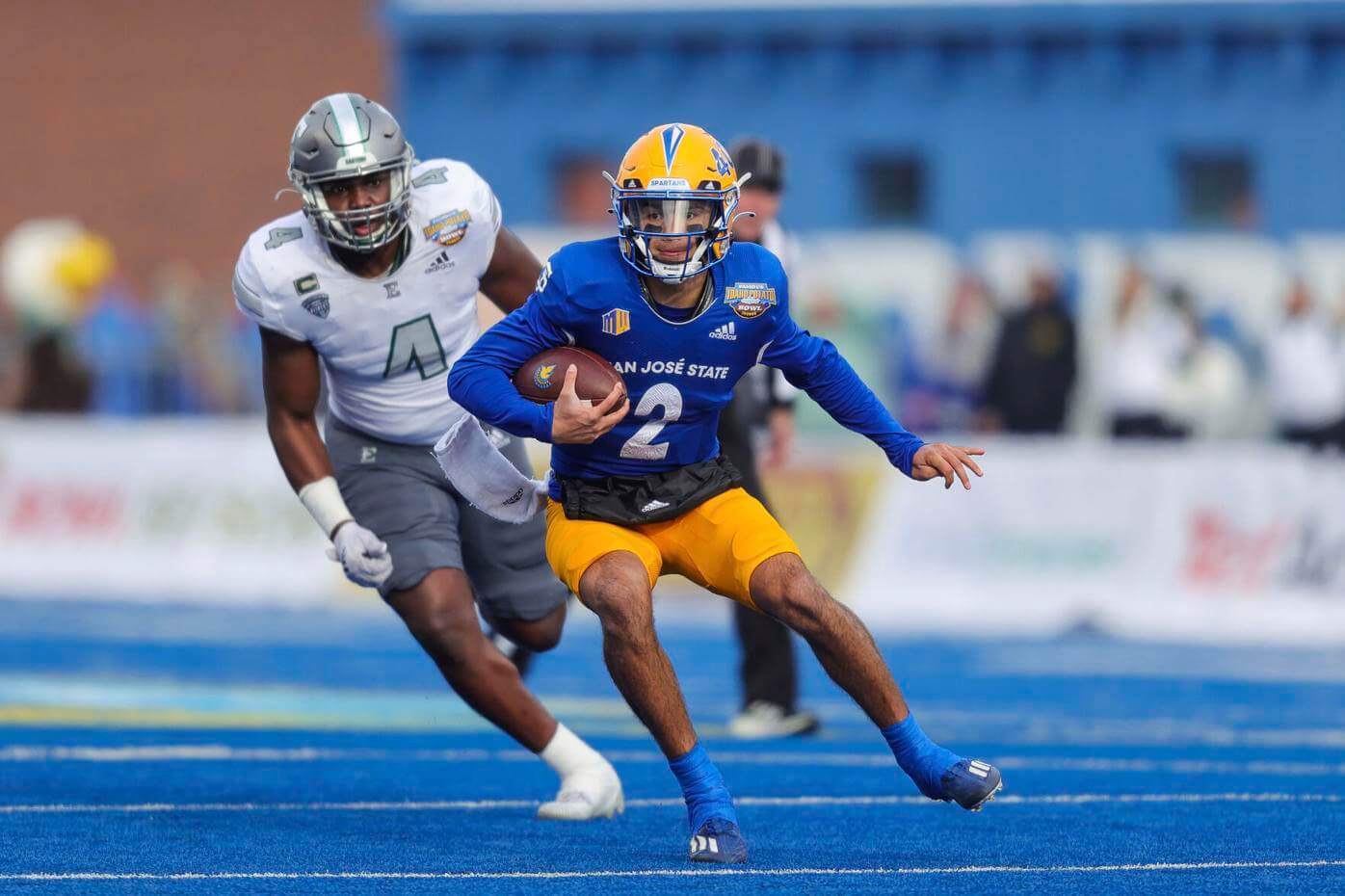 EMU constantly plays "The Floor is Lava", but their lava is a green field. Here, we have the Guardians of the Grey Field, the Eastern Michigan University Eagles in grey/white/grey, and the San José State University Spartans in gold/blue/gold. A snazzy-looking game!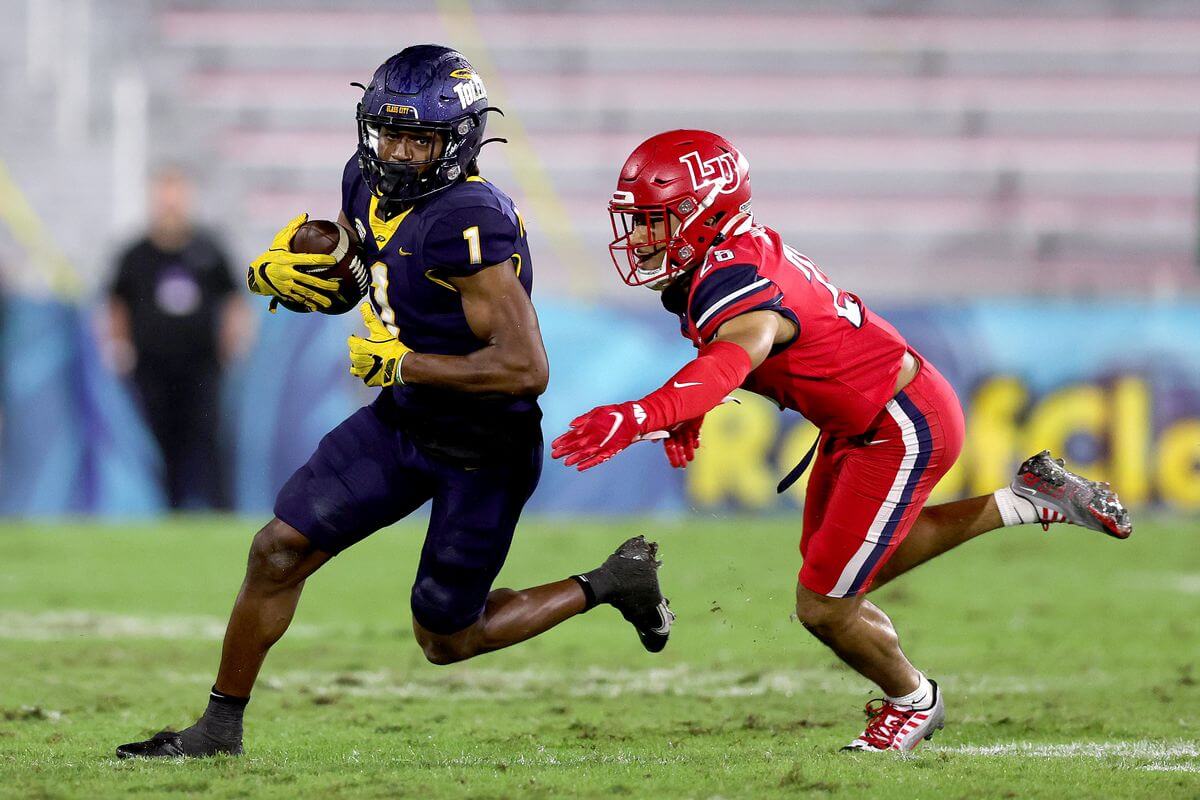 Color-vs-color! Here, we have the Liberty University Flames in full-red, and The University of Toledo Rockets in full-navy. More of this, PLEASE.
From Wednesday, December 21st
|South Alabama vs Western Kentucky|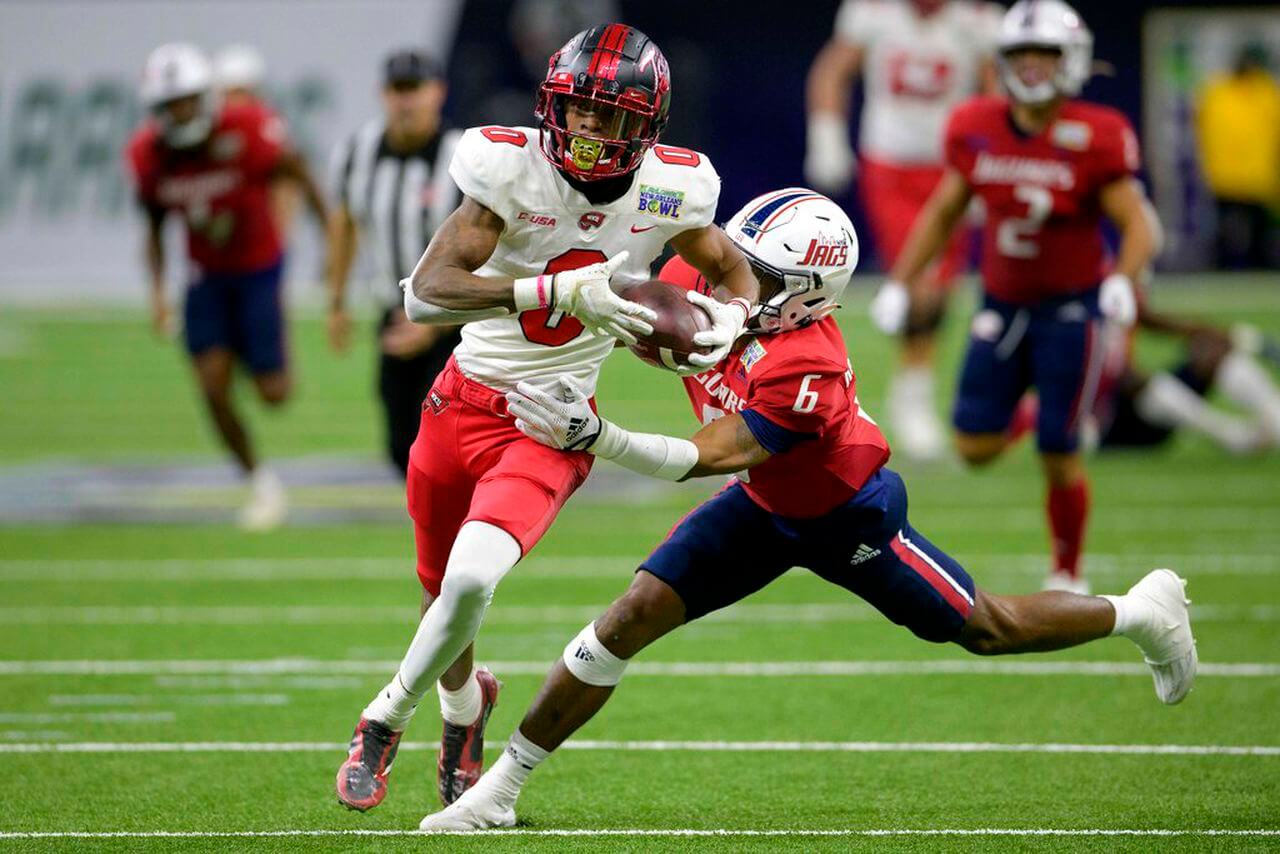 For damn-near identical color schemes, this turned out to be decent. NOLA hosted the University of South Alabama Jaguars, who wore white helmets, red jerseys, and navy pants, and the Western Kentucky University Hilltoppers, who wore black helmets, white jerseys, and red pants. Also weird seeing two schools in this game that are neither Louisiana, Southern Miss, or App State.
From Thursday, December 22nd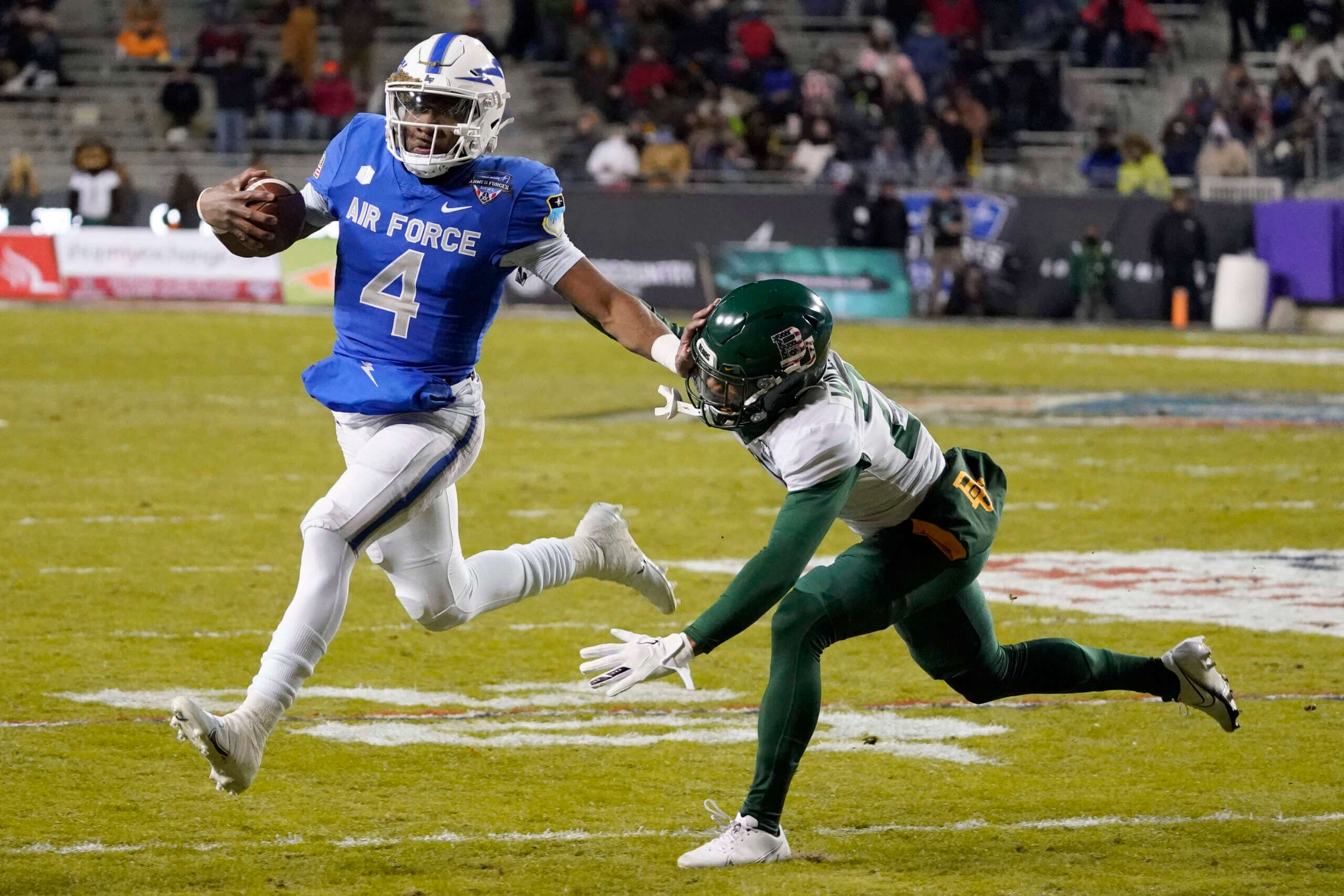 Baylor would like to Everclear this showing. Speaking of which, the Baylor University Bears wore green/white/green, while the Falcons of the United States Air Force Academy wore white/blue/white.
From Friday, December 23rd, 2022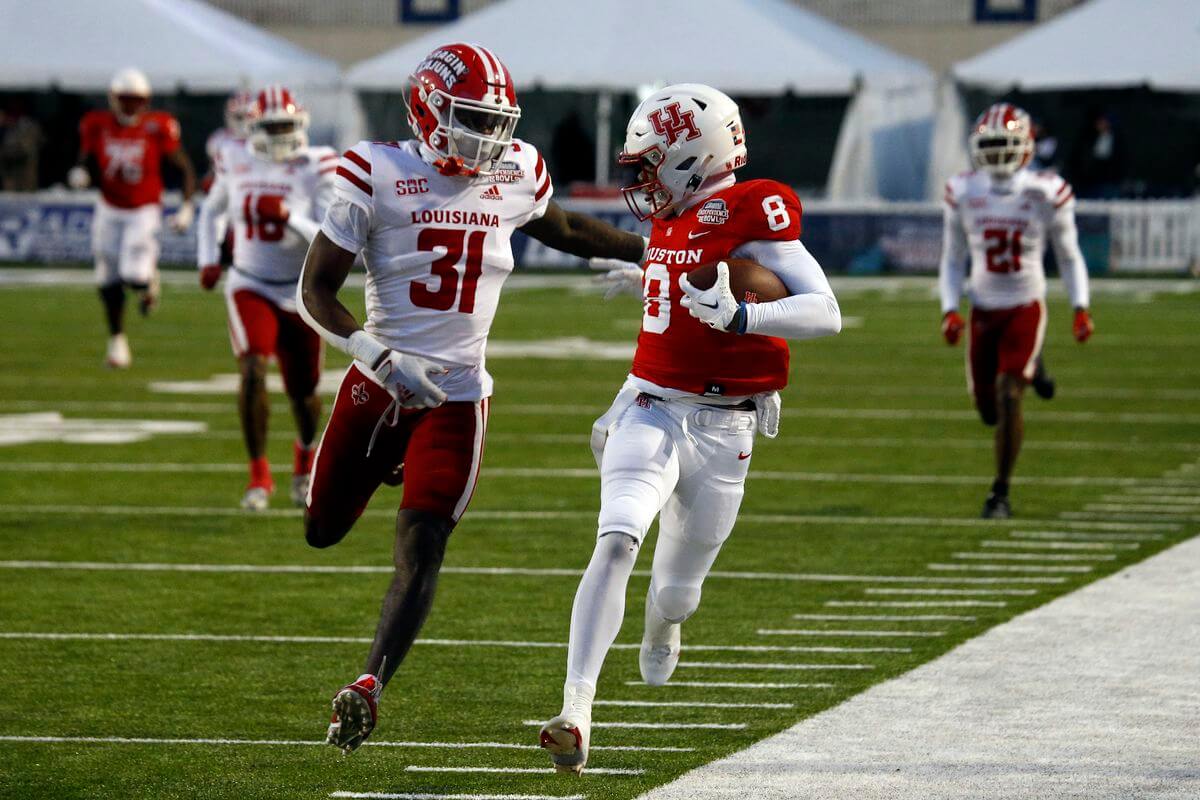 Real Harley Quinn Hours with this red/white alternating split. We have the University of Houston Cougars, who wore white/red/white, and the University of Louisiana at Lafayette Ragin' Cajuns in LITERALLY THE INVERTED LOOK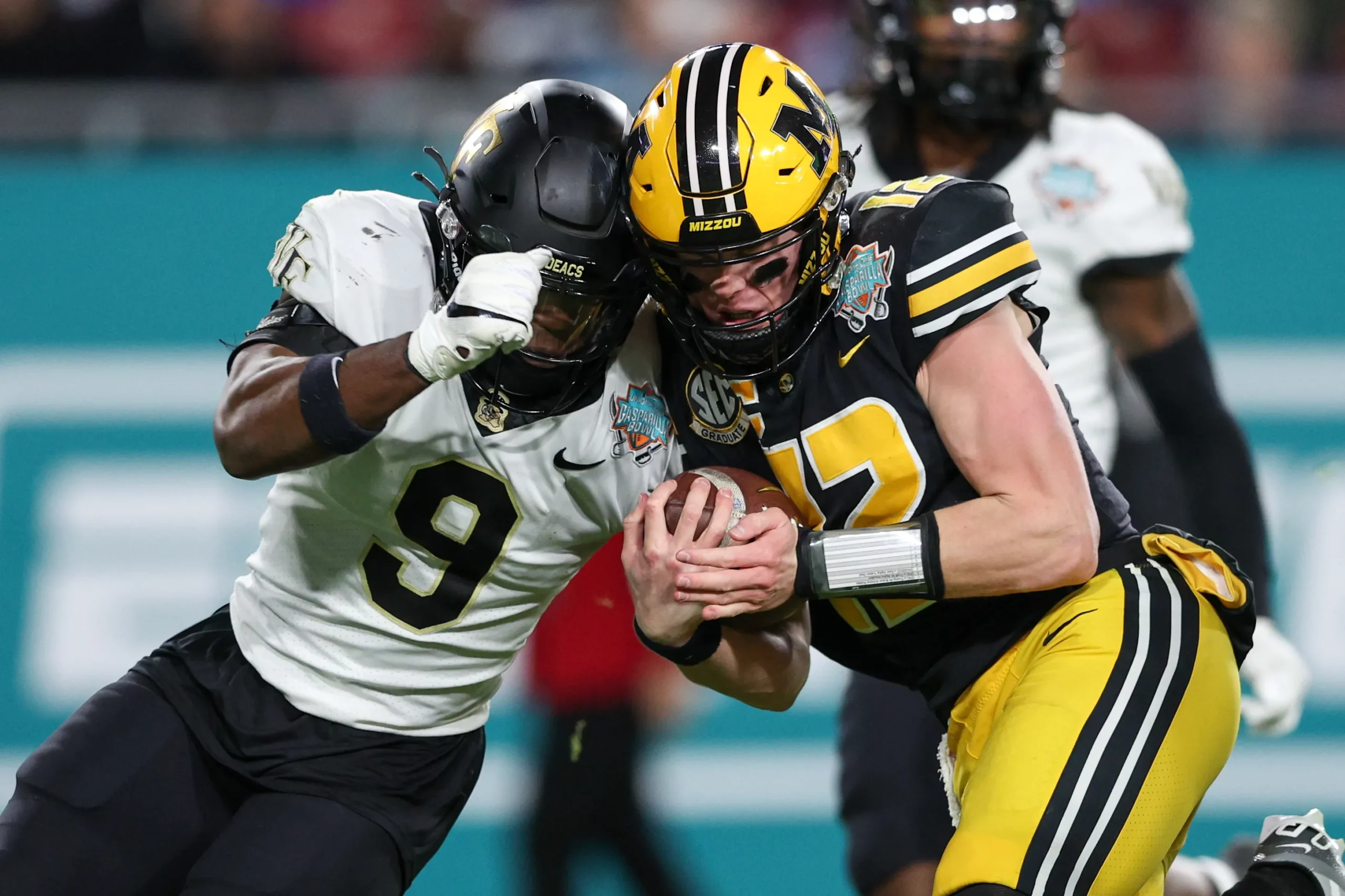 Black and gold comes in many forms. We have the Wake Forest University Demon Deacons in black/white/black, and the University of Missouri Tigers in gold/black/gold.
From Saturday, December 24th
|San Diego State vs Middle Tennessee|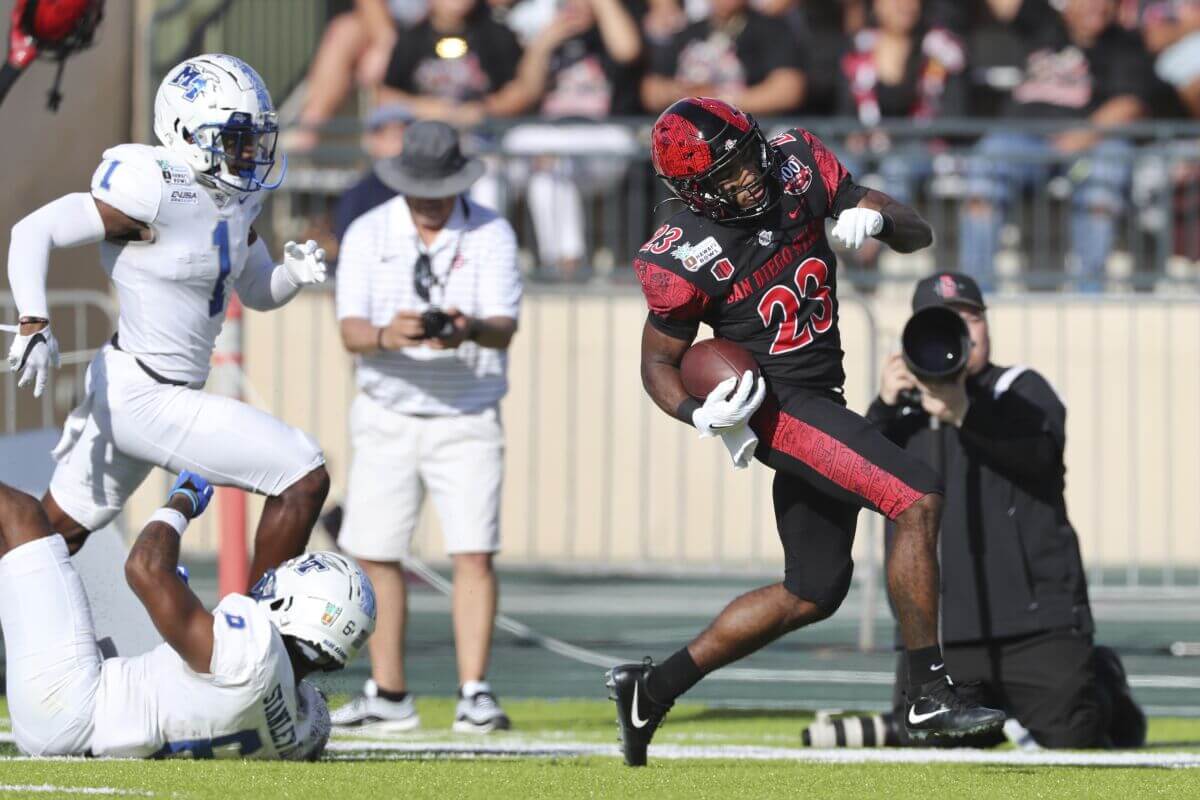 Festively-colored. The San Diego State University Aztecs wore their usual red/black/black combo, while the Middle Tennessee State University Blue Raiders wore all-white.
From Monday, December 26th, 2022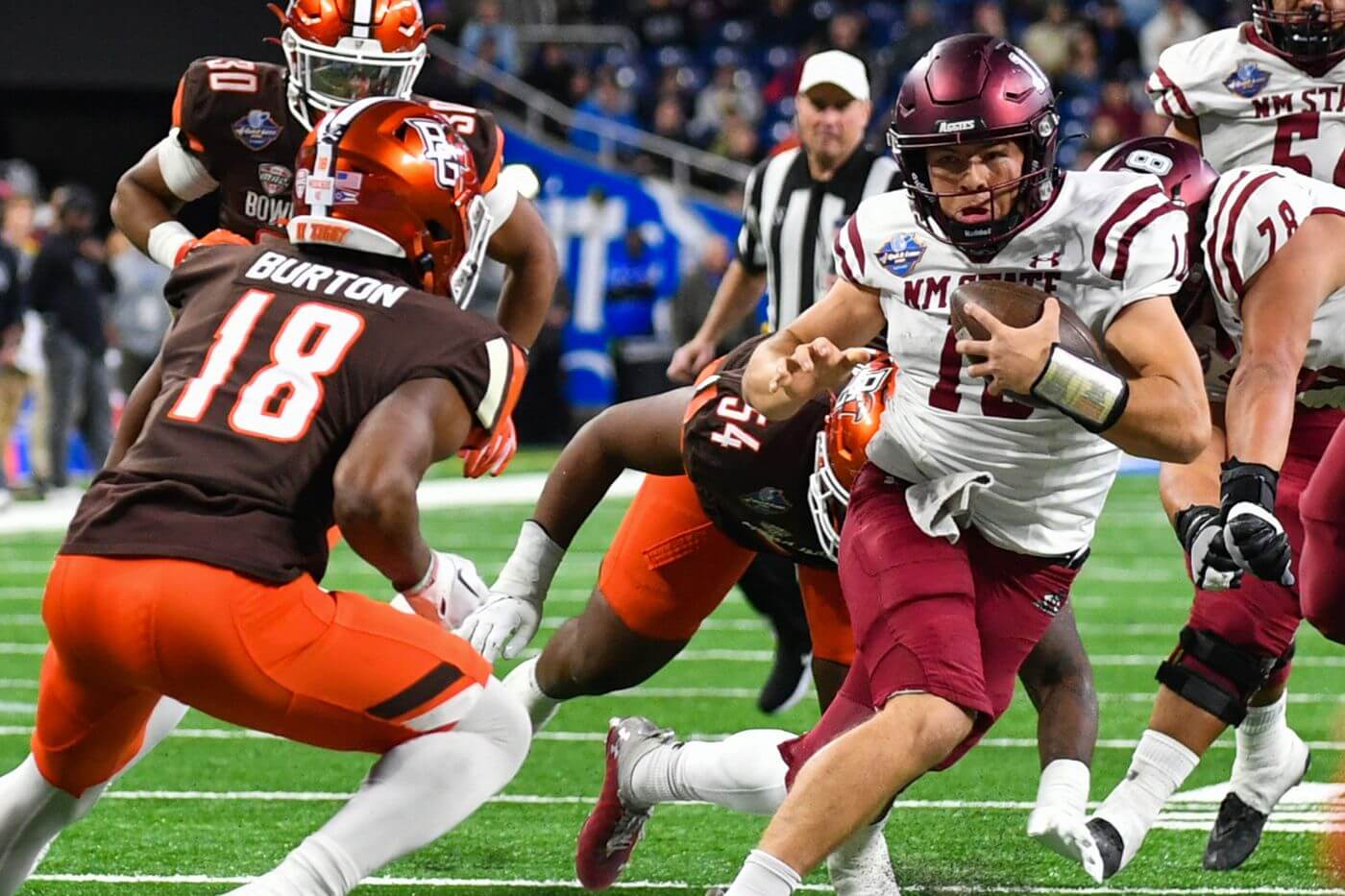 The Bowling Green State University Falcons wore orange/brown/orange (I'm aware that that's not a game pic), while the New Mexico State University Aggies wore crimson/white/crimson.
From Tuesday, December 27th, 2022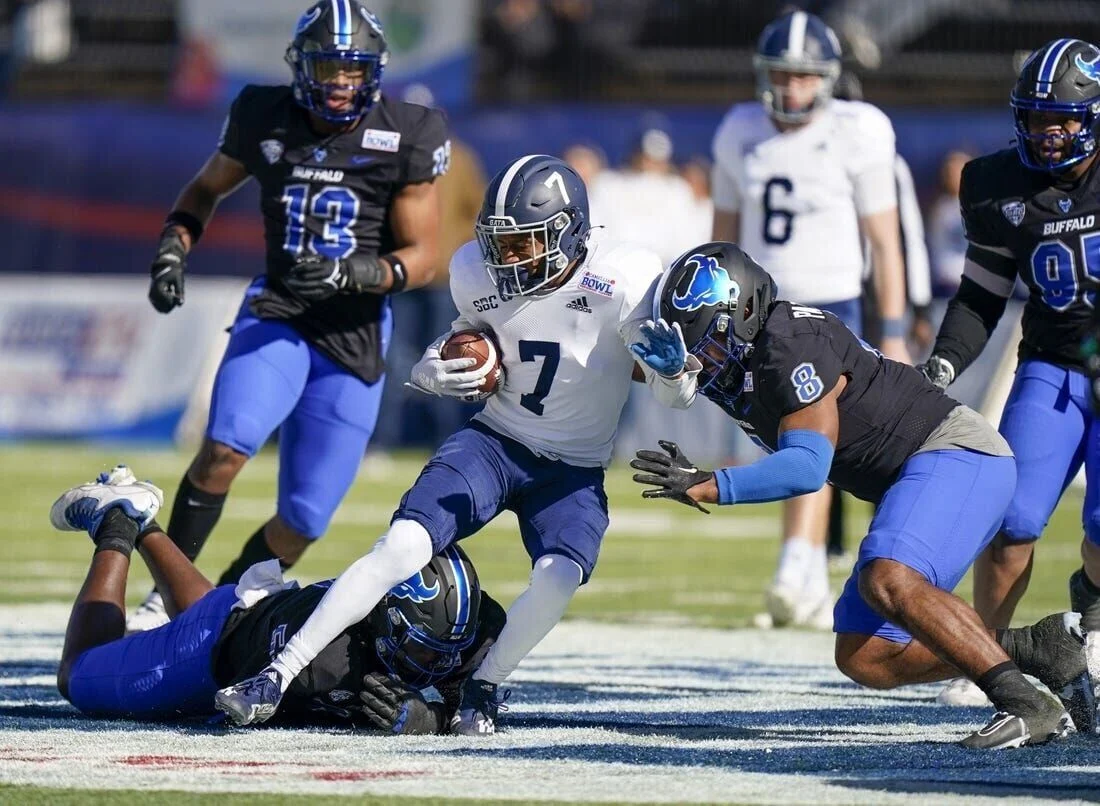 Let it be known: I will never let Buffalo live this down. We have the State University of New York at Buffalo Bulls in black/black/blue, and the Georgia Southern University Eagles in navy/white/navy.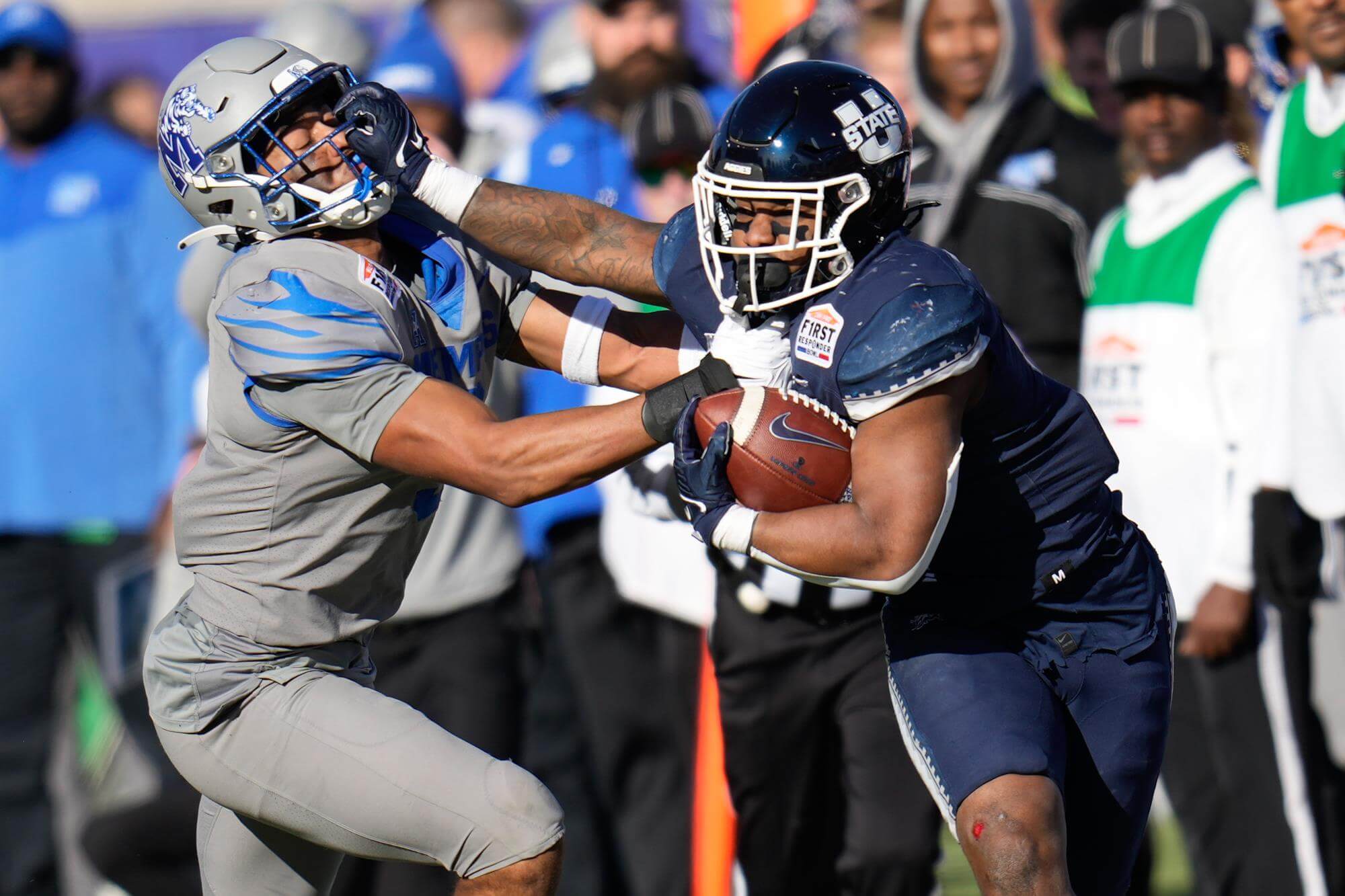 Not quite the color-vs-color that I go for, but I'll take it, I guess. Here, we have the Utah State University Aggies in full-navy, and the University of Memphis Tigers in full-grey.
|East Carolina vs Coastal Carolina|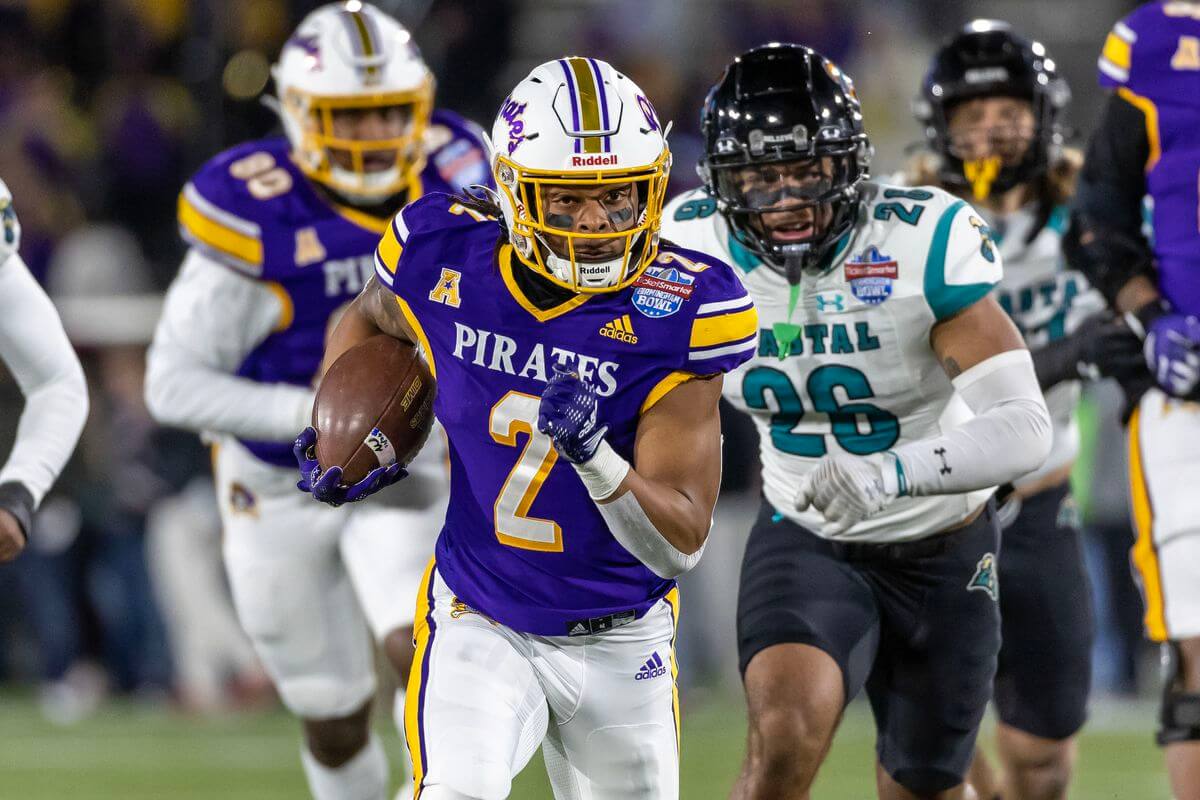 More Tuesday action, we have the East Carolina University Pirates in the retro purps, and the Coastal Carolina University Chanticleers (that name never gets old) in black/white/black.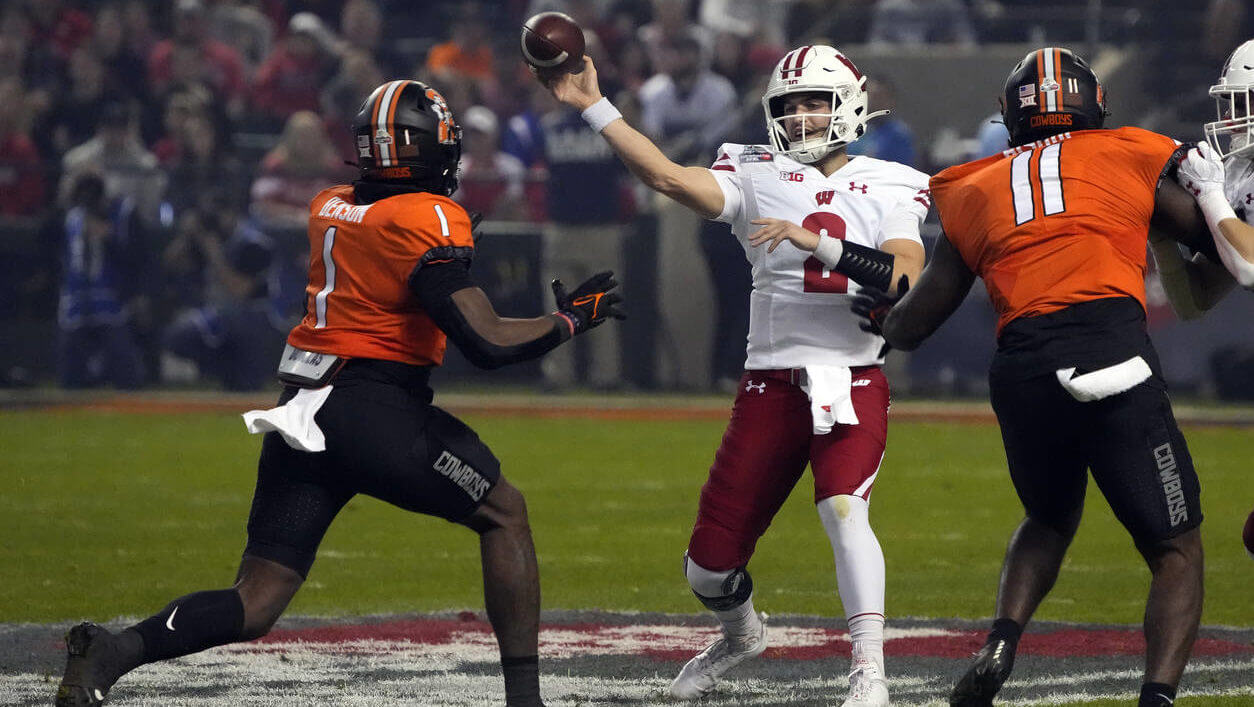 Hands-down the best-looking matchup from Tuesday. We have the University of Wisconsin–Madison Badgers in white/white/red, and the Oklahoma State University–Stillwater Cowboys in black/orange/black. Two consistently well-dressed programs is a great way to round off Tuesday's marathon.
From Wednesday, December 28th, 2022
|UNC vs Oregon|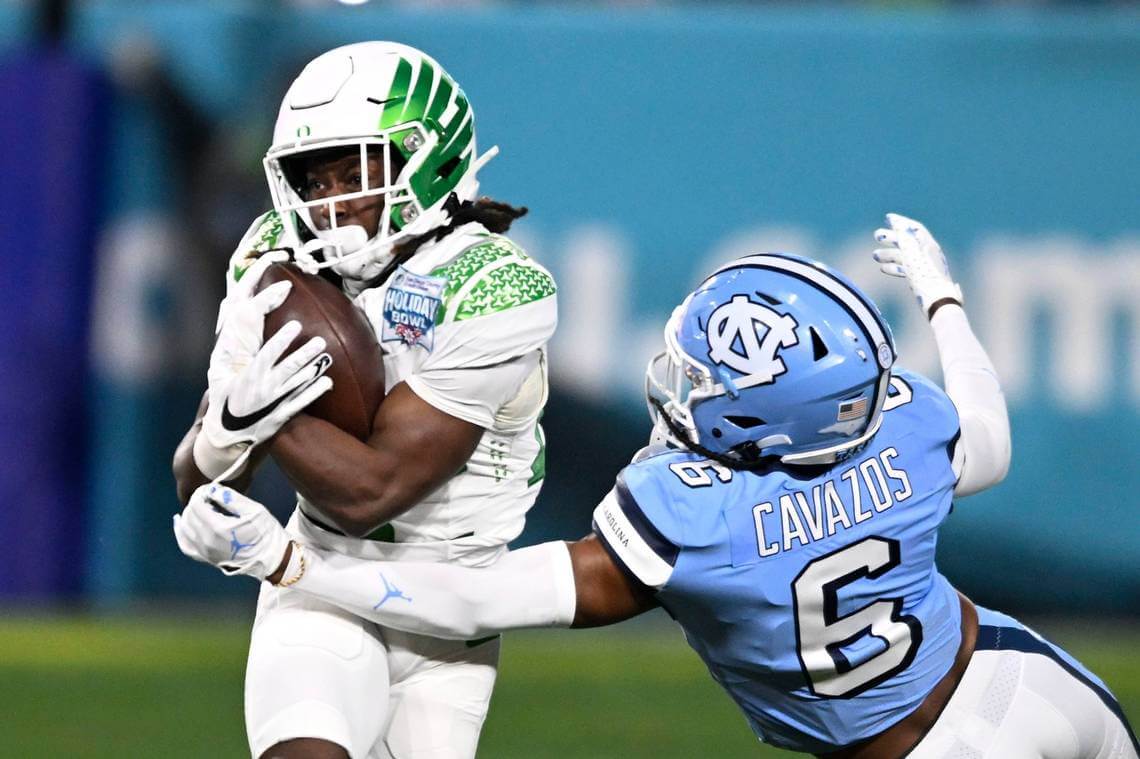 The Ducks of the University of Oregon wore all-white, while the Tar Heels of the University of North Carolina at Chapel Hill wore their SWEET throwbacks.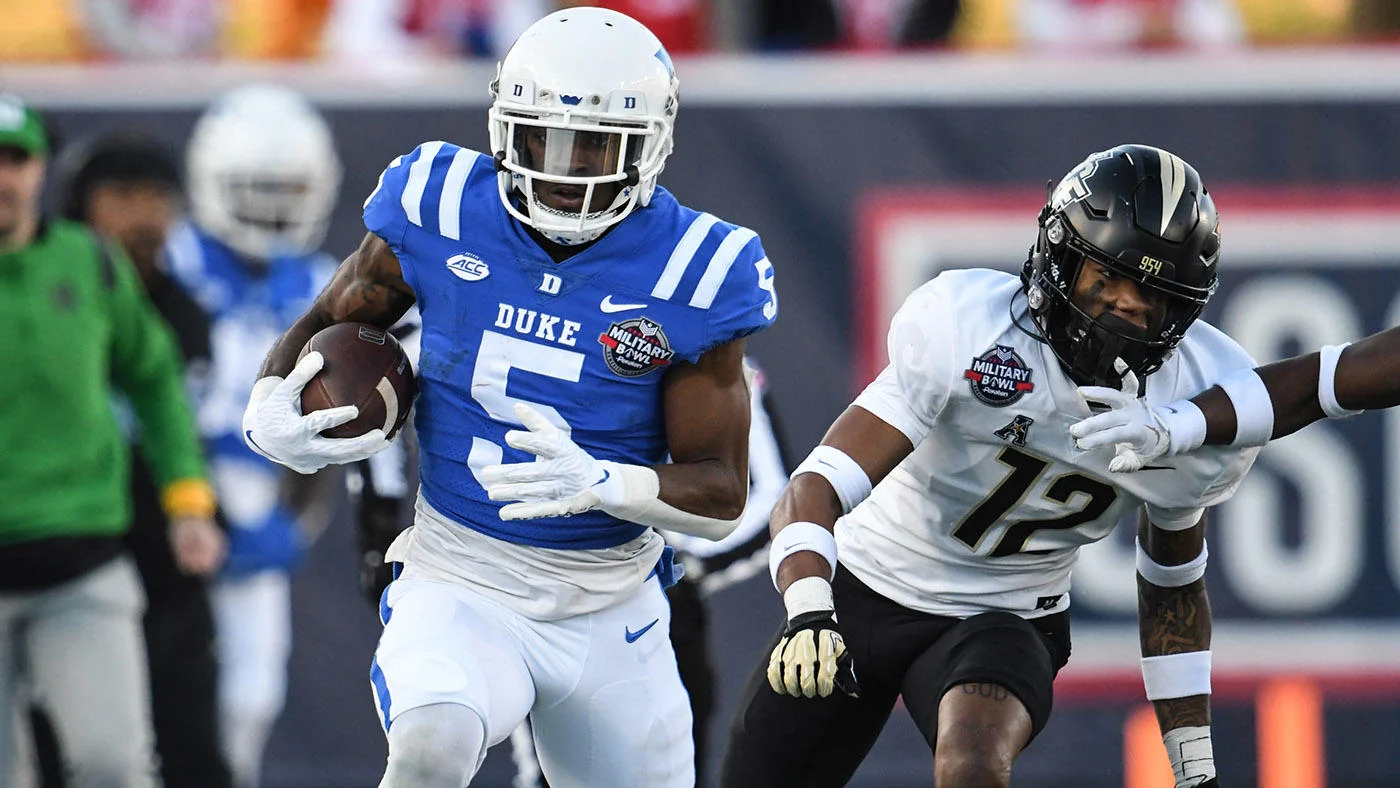 The University of Central Florida Knights wore black/white/black against the Duke University Blue Devils, who thankfully DIDN'T go BFBS.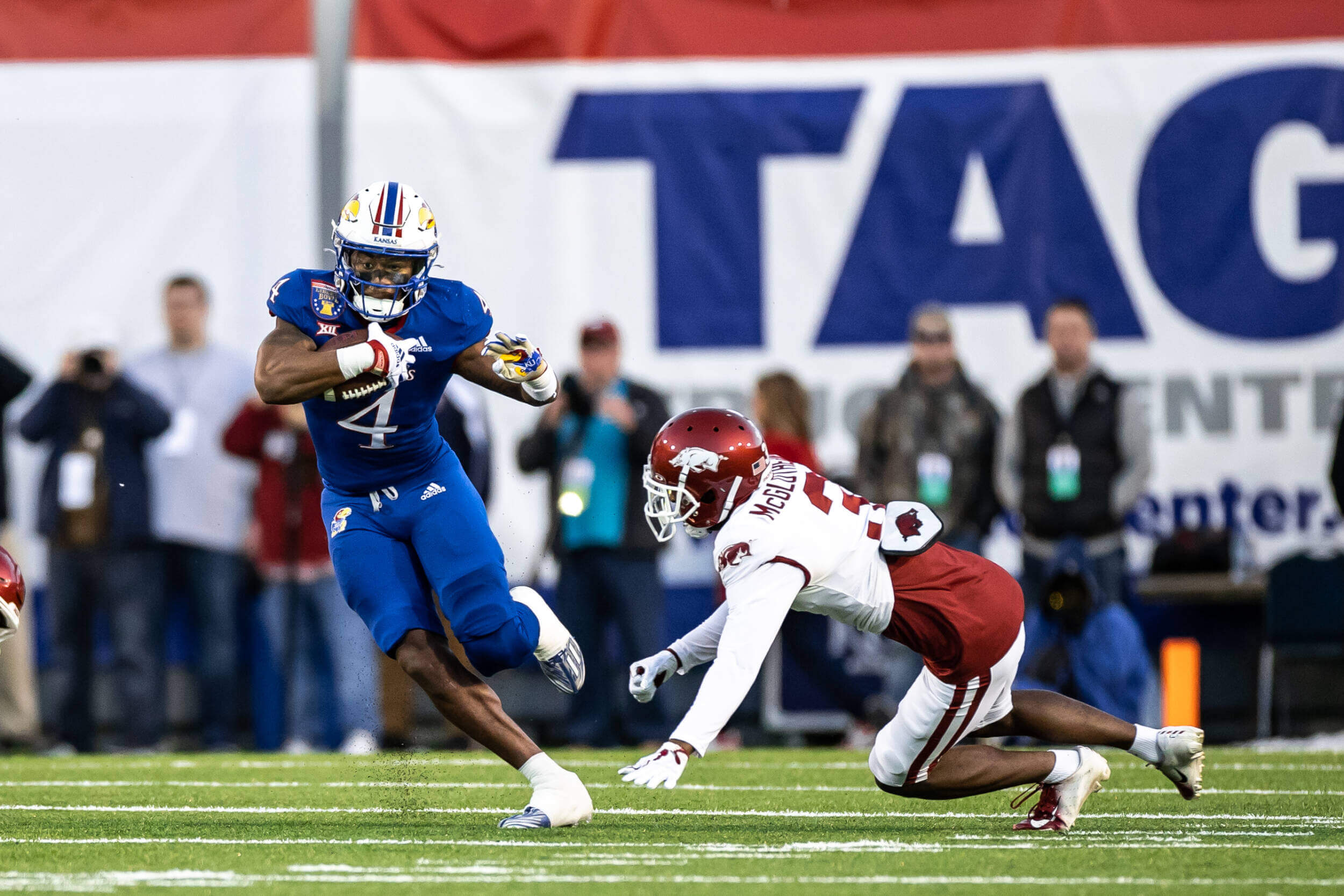 There's a landlocked joke in here somewhere. We have the University of Kansas Jayhawks– okay, I have to mention this. Whoever decided to bring to life the 'KU' logo and all of its variants, but not have the name officially read as 'Kansas University' is a godless creature and I WILL FIGHT YOU. Not really, but it does throw me for a loop every time. Anywho, Kansas wore white/blue/blue, while the University of Arkansas Razorbacks wore cardinal/white/white. Kansas also wore a memorial decal for former Jawkawk and NFL QB John Hadl, who passed away on November 30th.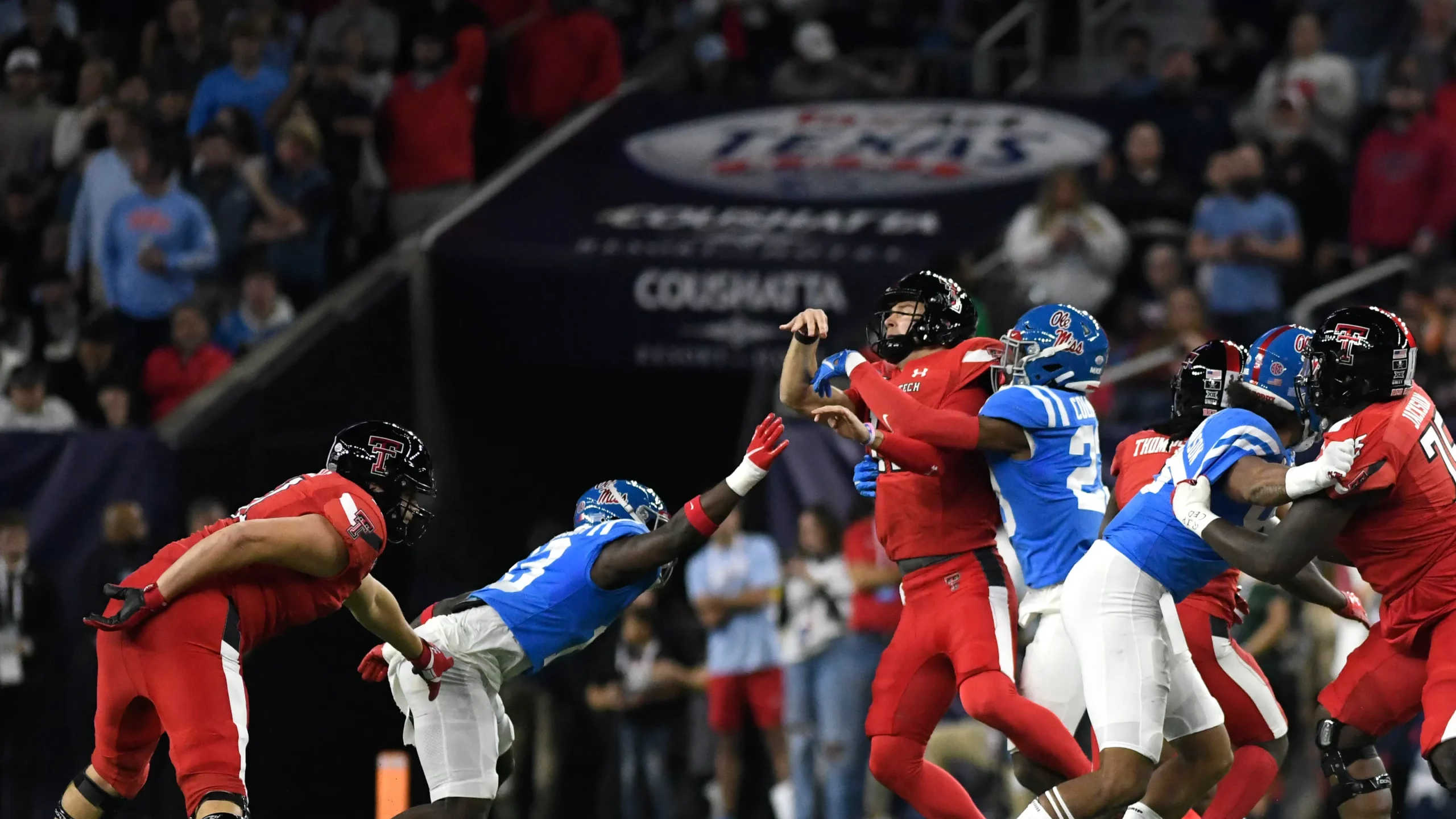 Now THAT'S a nice color-vs-color matchup. Real quick, I've neglected up until this point to mention the endless plethora of teams honoring coach Mike Leach, who in-particular was the HC for Texas Tech from 2000-2009. There's simply too many to cover, but please know that I do see them. Having said that, of course the Red Raiders are gonna have a tribute of their own. Other than that, we were treated to the Texas Tech University Red Raiders in black/red/red, and the University of Mississippi Rebels in light blue helmets and jerseys with white pants.
• • • • •
Thanks, TJ! We'll see you again tomorrow with the rest of the Bowl games, including the big ones played today (which are your BCS Semi Final pairings of Georgia/Ohio State and Michigan/TCU).