Good Sunday Morning, Uni Watchers, and welcome to your first Sunday Morning Bowl Watch, which is SMUW lead writer Terry Duroncelet's annual rundown of all the Bowl uniforms, and any other interesting uni-related tid-bits from those games. The 2022-23 Bowl Season kicked off Friday with two games, followed by another seven yesterday, so TJ will get you up to date on those first nine games.
Since next weekend is Christmas Eve and Christmas Day, the SMUW Crew has off, but I'll be back Saturday to announce the winner's of the 2022 Vilkmas Raffle.
The Vilkmas Raffle? Yes, it's back again (Jim Vilk has been doing this for UW readers since 2015!), and that will run as a separate post later this morning (it will go live at 9:00 am ET). Because it's a busy holiday week, the deadline for raffle entries will be this Tuesday at noon, so be sure to check that out if ya wanna win some of Jimmer's useless crap gently used merchandise!
After TJ finishes today's wrap-up and we have the Holiday weekend break, the whole SMUW crew will return the following weekend and pick up with all the uni machinations of the bowls, including tracking and Jimmer's Five and One.
As the Festival of Lights begins this evening, I want to wish all who celebrate a Happy Hanukkah. Chag Sameach! And if you're traveling and/or won't be able to read next weekend, I wish everyone who celebrates a Merry Christmas. But hopefully you'll all enter Jim's raffle and will check in on Christmas Eve.
OK. Onto the Bowl Watch!
TJ will have much more to say about the game in which today's splash photo was taken, but it was obviously a color versus color game featuring the Oregon State Beavers (in mono-black) versus the Florida Gators (in orange/blue/blue). I've said it before and I'll say it again: There are good color vs. color games and then there are bad color vs. color games. Yesterday's Las Vegas Bowl between Oregon State and Florida definitely falls into the latter category. Had either team just worn orange jerseys (a mutual school color), the game would have been much more visually appealing. But royal and black are both pretty dark colors, and the resulting matchup was just a muddled mess of dark colors. I'm fine with the concept of going color vs. color, but as we've seen with the NFL's ill fated "Color Rush" program as well as the current NBA uniform combinations, and Christmas Day games, color vs. color doesn't always work well (and sometimes it doesn't work at all). USC/UCLA works because the colors complement each other. Black and blue…don't.
And with that, here's Terry with your …
• • • • •
Sunday Morning Bowl Watch (Part I)
by Terry Duroncelet, Jr.
Hello everyone, and welcome to the 2022 Bowl Season! I'll be frank: work is bedlam for me ATM, and simply put, I am not only tired, but I was falling asleep while making this column because I've been putting in so much time at work. As such, this is going to be hyper-quick, and honestly, not what I would prefer from myself in an SMUW post, and especially at around this time during the bowl games. But! Provided that I can catch up on sleep, the next post WILL be higher energy and better detail,. promise. With that being said… LET'S GO BOWLING.
From Friday, December 16th, 2022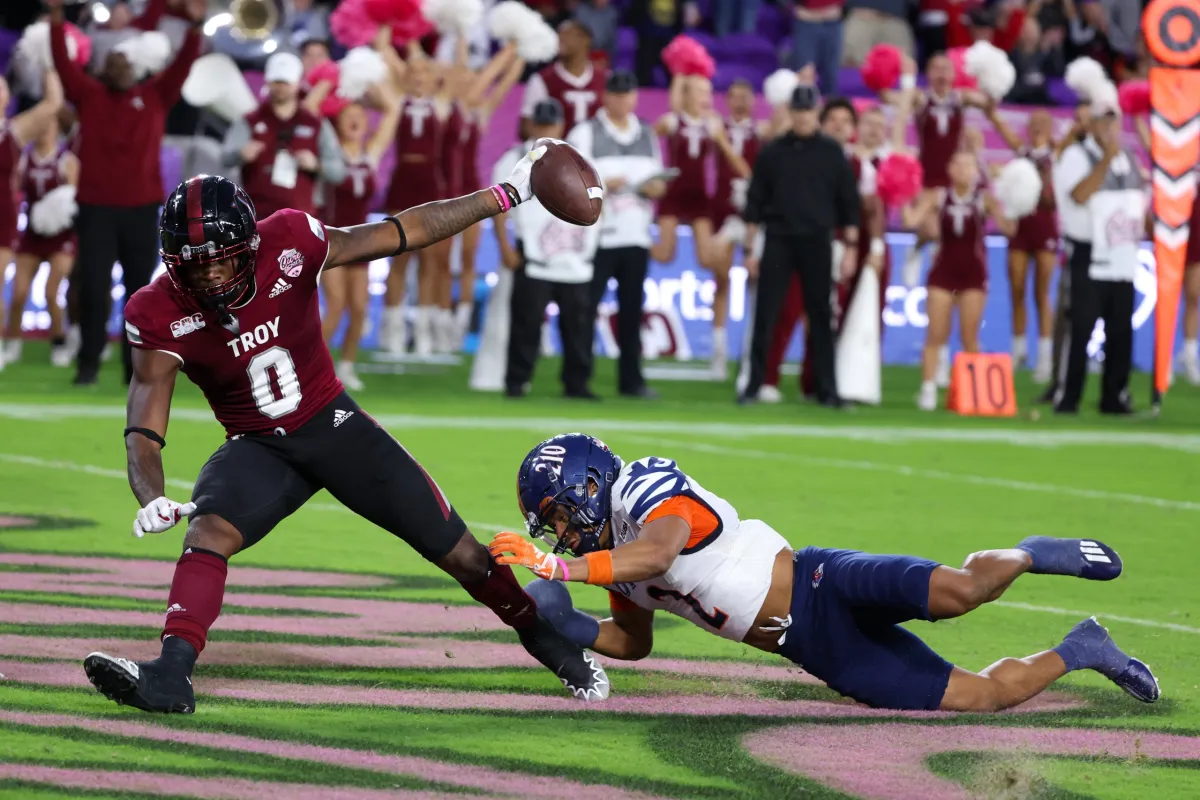 We begin this year proper with the Troy University Trojans in– y'know what, Imma let Troy speak for themselves this time. They faced off against the University of Texas at San Antonio Roadrunners, who wore navy helmets and pants with white jerseys.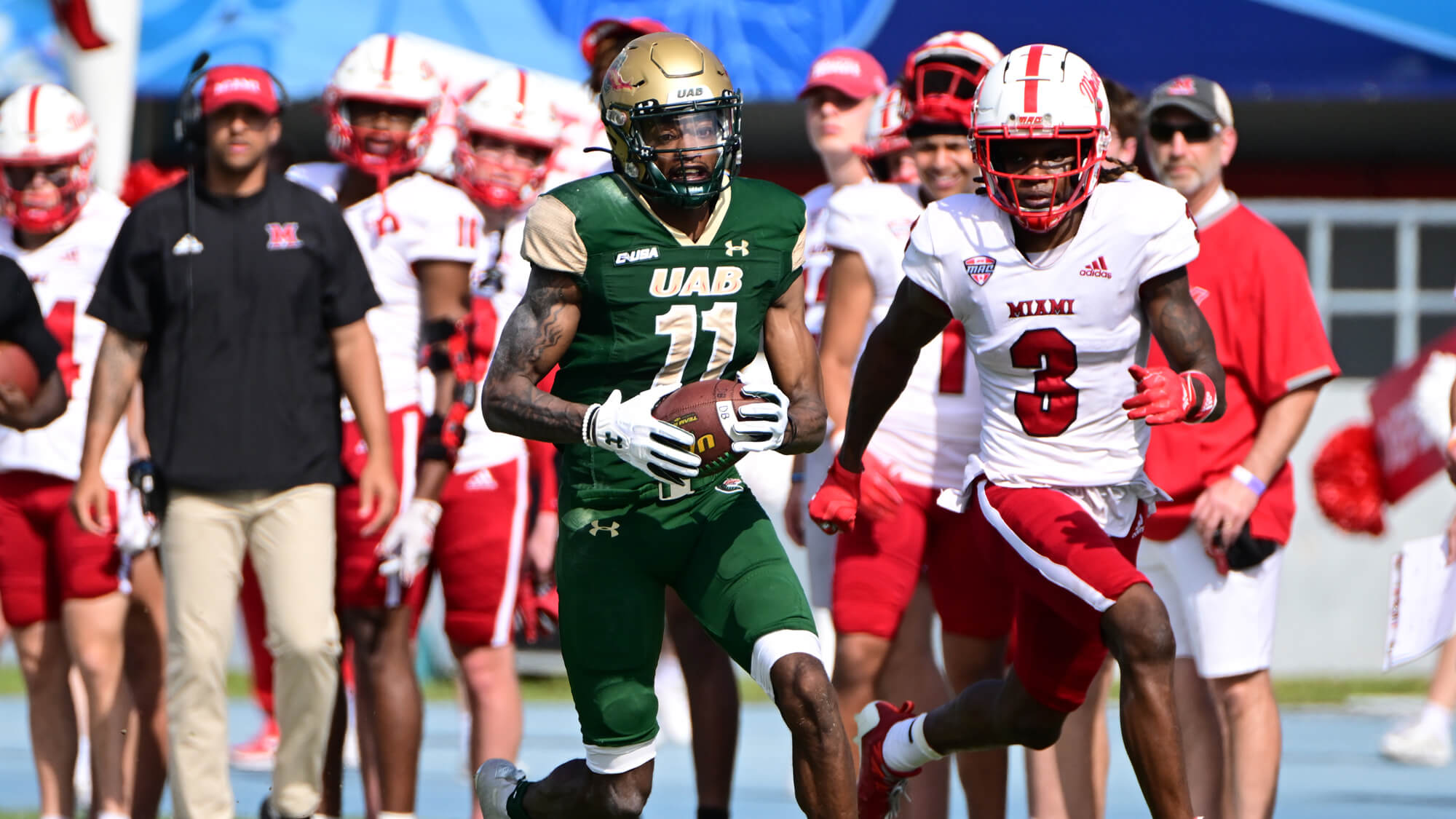 I had trouble finding pics of this game for some reason, but as you can see in the splash, our next game features the Blazers of The University of Alabama at Birmingham, who wore gold helmets, and green jerseys and pants. On the other side of the ball are the RedHawks of Miami University (not to be confused with the University of Miami), white helmets and jerseys, with red pants.
From Saturday, December 17th, 2022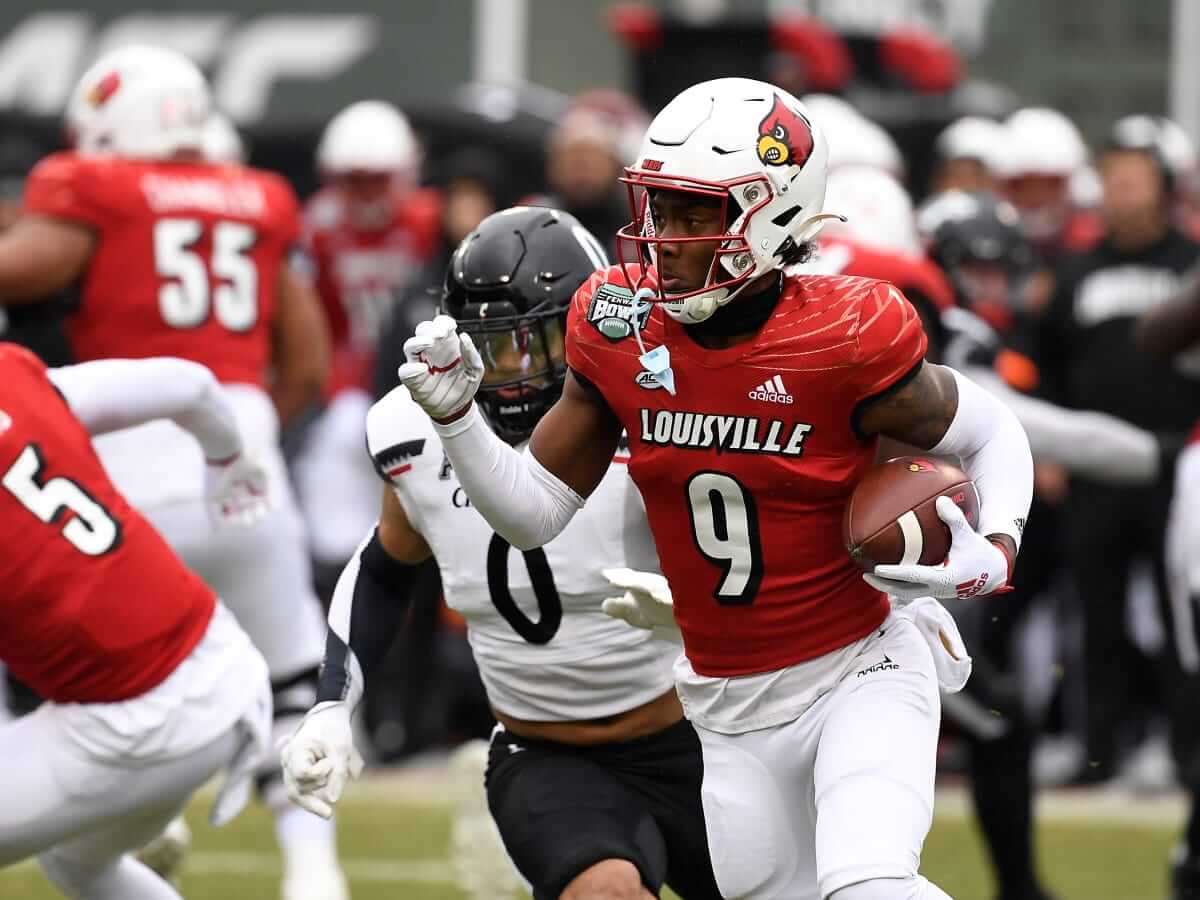 Saturday's slew of seven scrum begins the same way the regular season began: with an old Big East pairing between two teams with remarkably-similar school colors. We have the University of Louisville Cardinals, with white helmets and pants with red jerseys, and the University of Cincinnati Bearcats in black helmets, white jerseys, and black pants. The field was truly something neat. Speaking of conference migration, Cincy is about to embark on this journey once again, as they make the move to the Big XII in 2023.
Color-vs-color! Cool matchup between the orange/blue/blue-clad University of Florida Gators, and the full all-black of the Oregon State University Beavers.
|Fresno State vs Washington State|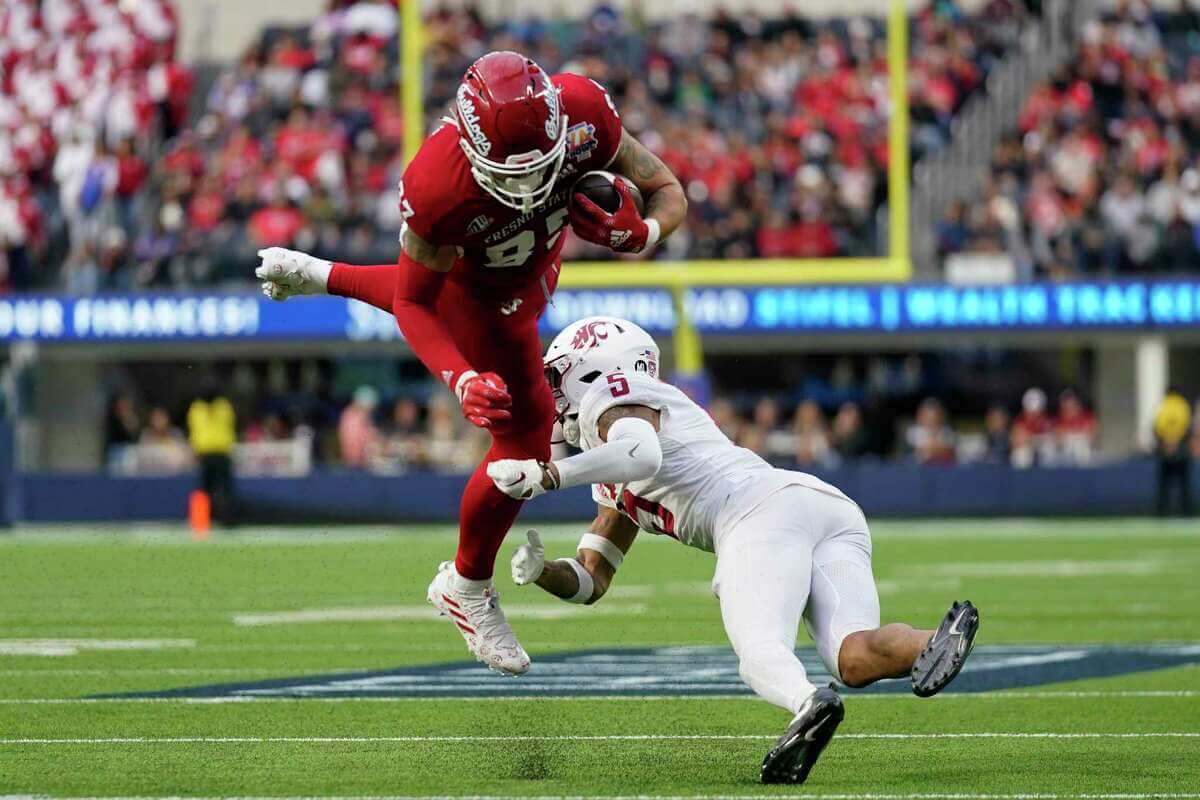 Here, we have the Bulldogs of California State University, Fresno in all-red (that's), and the Washington State University Cougars in all-white.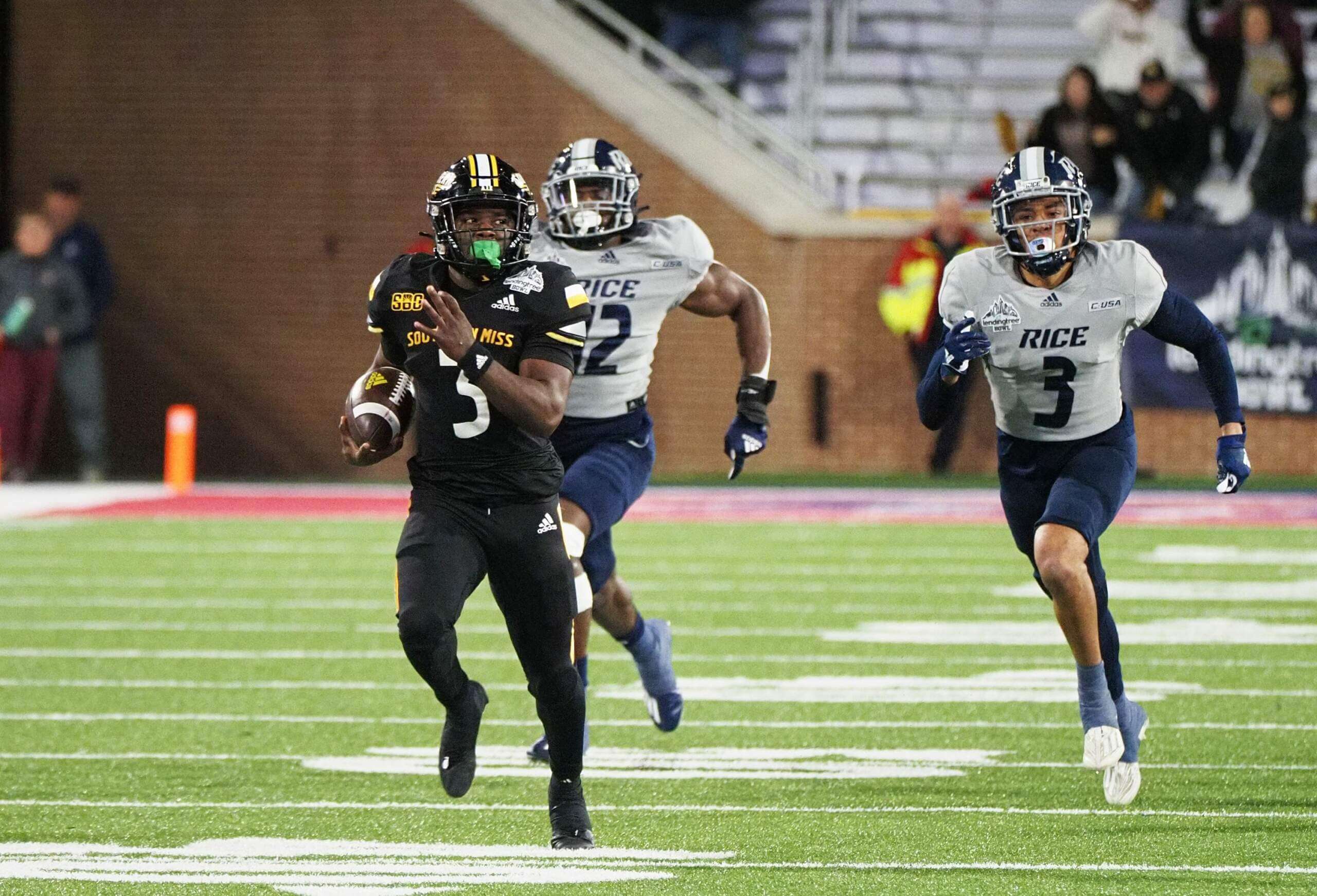 Technically color-vs-color, but… more dated-looking. Here, we have The University of Southern Mississippi Golden Eagles in all-black, but the opposing William Marsh Rice University Owls wore navy/grey/navy.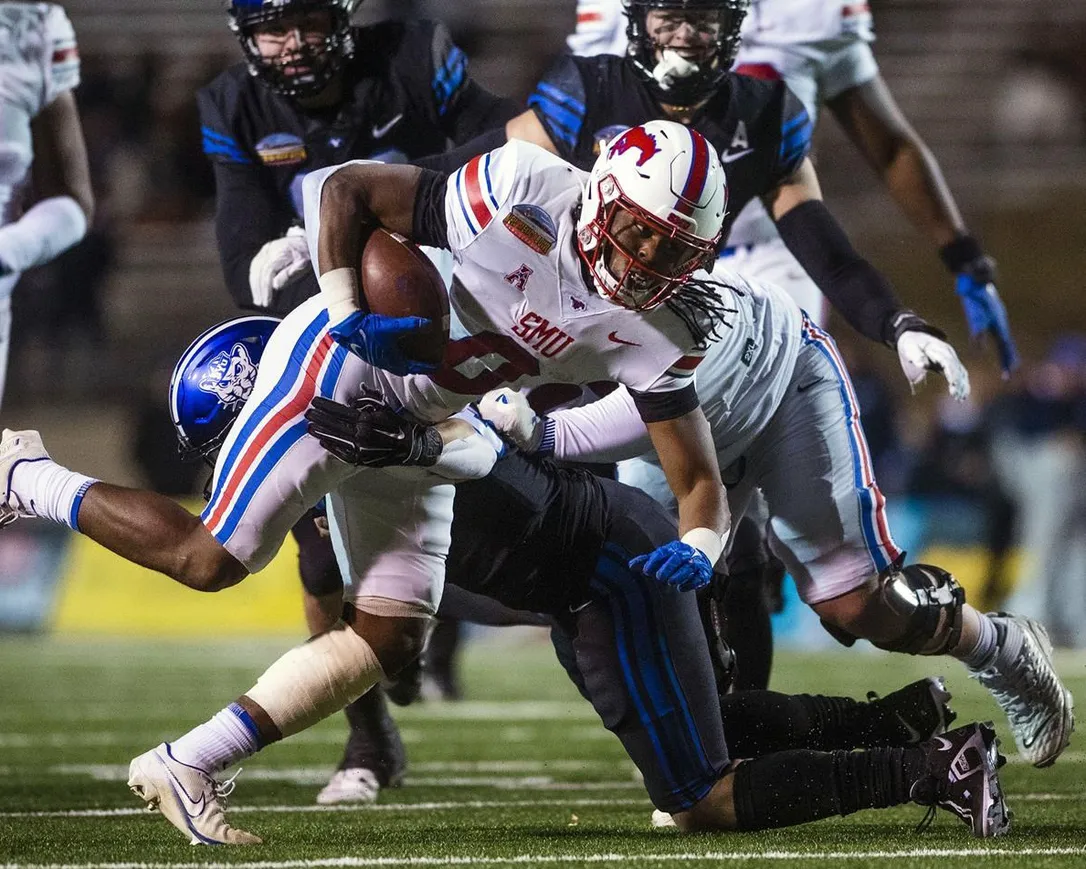 New lids for Brigham Young University and their Cougars squad, to go with an all-black ensemble. Opponents Southern Methodist University and their Mustangs kept it simple with all-white uniforms.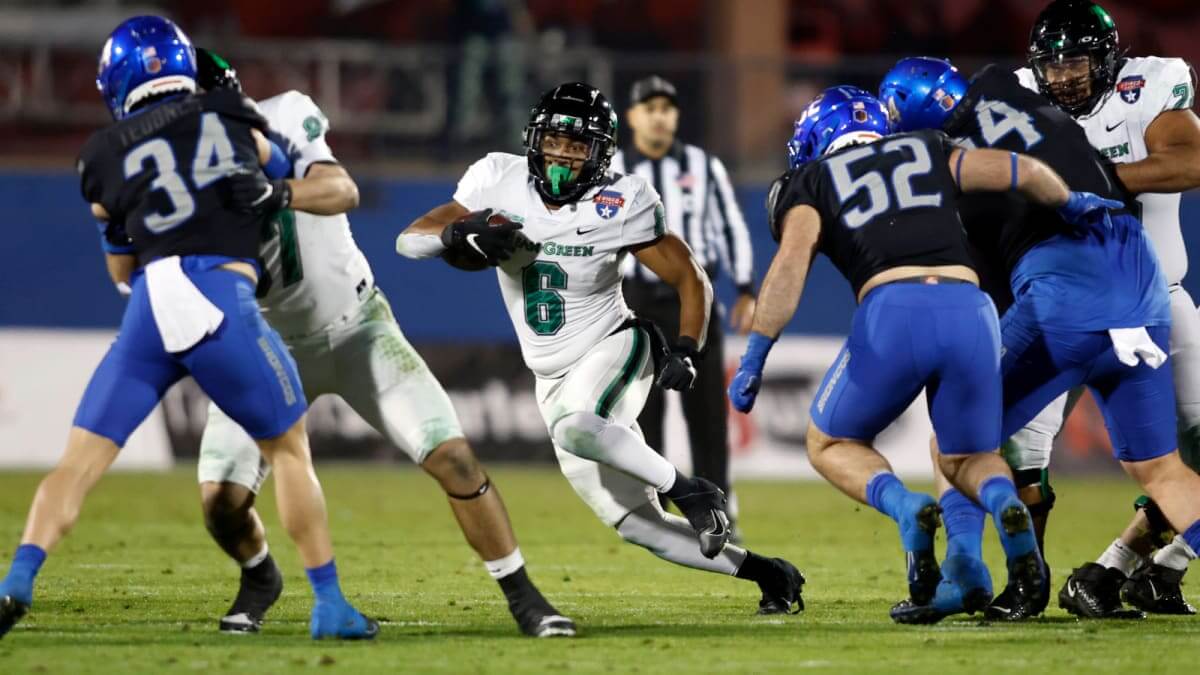 And lastly, we have the Boise State University Broncos, and the University of North Texas Mean Green. Boise State wore a (gross) blue/black/blue look, while North Texas wore black/white/white.
• • • • •
Thanks, Terry. Super job as always. There was also the
Celebration Bowl
featuring
Jackson State vs. NC Central
. That was
Coach Prime's
final HBCU game before moving onto Colorado next season. We'll catch you and the full SMUW crew back here in two weeks!