[Editor's Note: In the wake of the death of Queen Elizabeth II yesterday afternoon, our own Anthony Emerson has done an outstanding job compiling the UK sports world's reaction to her passing. — PL]
The death of Queen Elizabeth II, who served for 70 years as the monarch of the United Kingdom and 14 other nations, rippled through the British sports world yesterday (including at at Old Trafford, shown above, where Manchester United players observed a minute of silence prior to their Europa League match against Real Sociedad). Here's a look at how some of those ripples played out.
Premier League
Other UK Soccer Leagues
Memorials outside of England were seemingly more muted. Few Welsh and Scottish clubs went so far as to change their social media avatars, though most tweeted messages of sympathy. Three of the four Welsh clubs that play in the English league system — Cardiff City, Swansea City, and Wrexham AFC — did not change their social media avatars, though Swansea City did tweet a black version of their logo on a dark-grey background. Newport County, the fourth club, changed their social media avatar to a grey-scale version of their crest.
Defending Scottish champions Celtic FC, a club with deep ties to both Irish and Scottish nationalism as well as left-wing and republican political movements, only acknowledged the Queen's passing with a one-sentence statement on the club's website. They did not make any aesthetic changes on social media, nor did they post a link to the statement. Rangers — Celtic's crosstown rivals and a club traditionally associated with Scottish unionism and British patriotism — changed their social media avatar to a black-and-white version of the team's logo and changed their header image to a photograph of all the flags flying at half-staff at Ibrox Stadium. The club also made multiple statements on Twitter, with one depicting a portrait of the Queen hung in Ibrox Stadium and another announcing the lowering of the Union Flag to half-staff at the stadium.
Aberdeen FC, another Scottish Premiership side, did not change their social media avatars but did tweet a statement of condolence with a black-and-white club crest attached. The news of the Queen's death broke during Heart of Midlothian's Europa Conference League match against İstanbul Başakşehir, with a minute's silence being observed before the second-half kickoff. Players and officials came out of the dressing room wearing black armbands.
In Northern Ireland, most clubs released statements and changed their social media avatars to black-and-white. One exception was Cliftonville FC, a club closely associated with Irish nationalists. Their only acknowledgement was a brief tweet saying that the league had postponed the club's Friday-night match due to the Queen's passing.
Other Sports
Rugby Union: In England, Premiership Rugby sides varied in terms of aesthetic responses to the Queen's passing. Harlequins depicted their Harlequin logo as a white silhouette on a black background, rather than simply a black-and-white version of their primary logo. Other clubs went the black-and-white route, but some didn't change at all — among them Exeter Chiefs, Sale Sharks, London Irish and Saracens.
Rugby League: Most teams in the Super League, the second most popular rugby code in Britain, did the black-and-white avatar thing. The two exceptions were the French teams Toulouse Olympique and Dragons Catalans, the only two teams based outside of England.
Formula 1: Most Formula 1 teams have bases in the UK's "motorsport valley," even if they're registered outside of the UK. For example, Alpine, an indisputably French team owned by Renault, has its primary factory in Enstone, England. Naturally, British influence is everywhere in F1, and every team released a statement mourning the Queen's passing. Only McLaren and Aston Martin changed their social media avatars, though Williams posted a rather touching tribute showing a framed photo of the Queen knighting team founder Sir Frank Williams.
Outside of Sports
BBC presenters wore black suits and ties after rumors of the Queen's health began circling at around noon UK time. Following the announcement of the Queen's death, the UK's major political parties changed their social media avatars to black-and-white. However, nationalist parties such as the Scottish National Party, Sinn Féin, the Social Democratic and Labour Party, and the Scottish Greens retained their usual logos. One exception was the Welsh nationalist party Plaid Cymru, which, similar to other entities, adopted a black-and-white logo. Keir Starmer, the leader of the UK's Labour Party, tweeted a statement and changed his social media icon to black. Other organizations, from universities to fast food restaurants, similarly removed color from their logos.
Outside the UK
In Canada, the Vancouver Canadiens — a High-A minor league baseball team affiliated with the Blue Jays — put maple leafs and the queen's silhouette behind the catcher's box: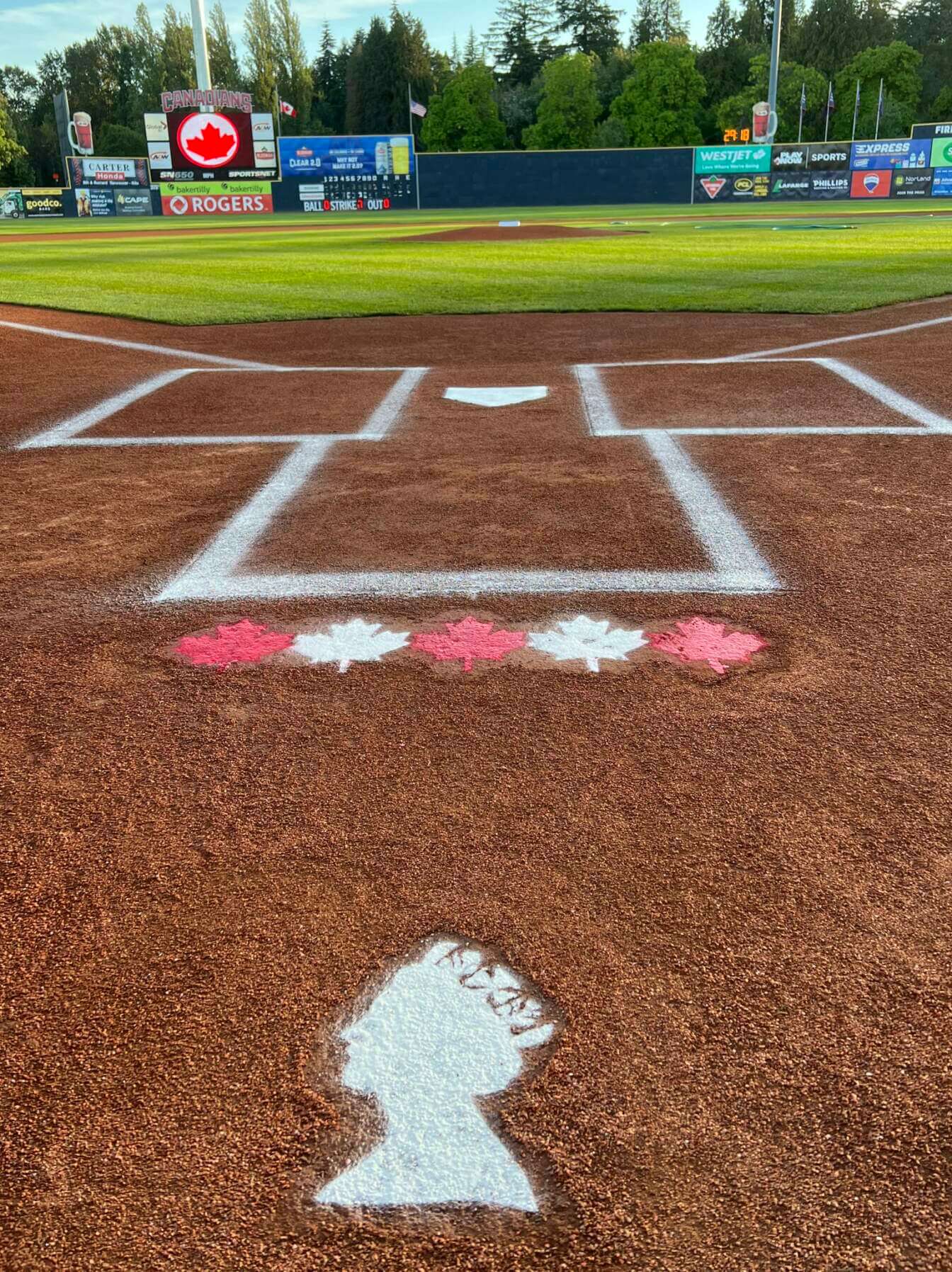 Other Canadian and Commonwealth teams presumably had memorials of their own. If you know of any, feel free to share them in today's comments.