Orioles phenom Gunnar Henderson has had a very uni-centric first week in the big leagues. First he swung out of his helmet while hitting a home run in his first game. Moreover, ever since he was called up to the O's, people have been contacting me to ask about the back of his jersey. It appears that they positioned his number a bit too low, creating too much of a gap between the number and the NOB. (We mentioned it in last Thursday's Ticker.)
As you can see above, they finally fixed that last night. Looks like the NOB is unchanged, while the number has been moved up a bit.
But here's the thing: Prior to last night, all of Henderson's jerseys had the big number/NOB gap — not just the home jersey. Check out his road and alternate jerseys (yes, the Orioles have managed to wear four different jerseys in Henderson's first six days on the roster):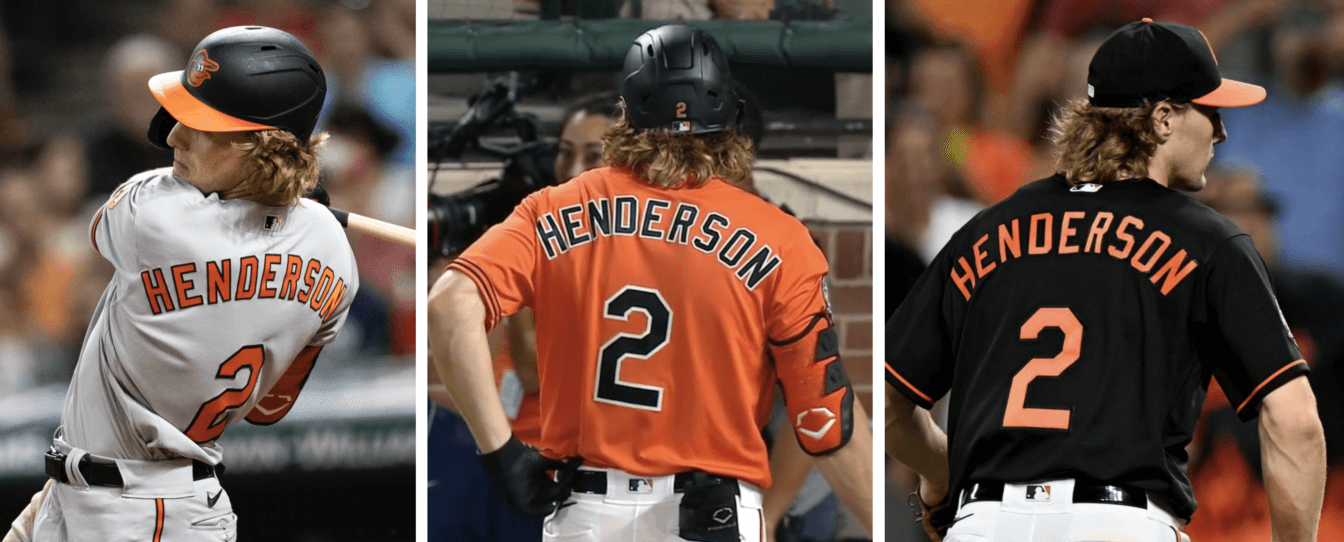 That's pretty bizarre. It looks like when Henderson was called up to the bigs on Sept. 1, the Orioles' stitcher — or a staffer at the Fanatics factory — went to great pains to letter up all four of his jerseys exactly the same (wrong) way. Whoever that person was, they get points for consistency but not for aesthetics.
Now that they've fixed the home jersey, it'll be interesting to see if they've made corresponding fixes to the other three. For that matter, did they actually fix the home jersey, or did they just pull it from circulation (maybe to be auctioned off later..?) and replace it with a corrected version? I'll see if I can find out — stay tuned.
(My thanks to everyone who pointed out weird spacing on Henderson's jerseys, and doubleplusthanks to Justin Hillman for letting me know about last night's jersey fix.)