Good afternoon.
The Milwaukee Bucks joined the Washington Wizards today in unveiling a "Classic" (throwback) edition uniform for the 2022-23 season.
Like the Wiz, the Bucks are throwing it back to the 1990s by retuning to the purple and green uniform that was first introduced in the early 90s.
Here's a look at the full uniform:
The team also released a hype video which shows additional views of the uniform.
Classic never goes out of style. pic.twitter.com/UHH4J2U4QC

— Milwaukee Bucks (@Bucks) August 11, 2022
The NBA/Bucks describe the uniform thusly:
Honoring the dawn of the franchise's Big 3 era, the Bucks' "Light It Up" Classic Edition uniform is a replica of the team's road uniforms that were worn between 1993 and 2002 and became synonymous with Ray Allen, Sam Cassell and Glenn Robinson. In addition to the purple base color, the uniforms also feature the team's logo from that era on the shorts and the silver "BUCKS" wordmark across the chest with green and white trim around the whole uniform.
Additional closeups here: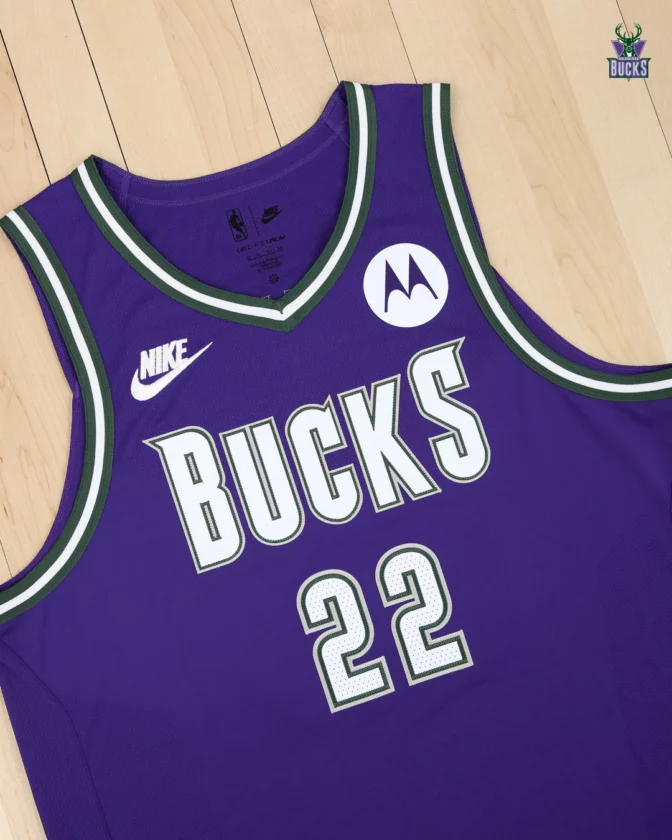 Outside of ten games in 2013 when the Bucks donned their green deer-head throwbacks, they will be wearing Purple and Green for the first time since they changed their color scheme in 2006.
Like the Wizards new "Classic" throwback, I wasn't a big fan of these uniforms when they were first introduced…but like the Wiz, I'm sure there are many who grew up with them and remember them fondly. What do you guys think?