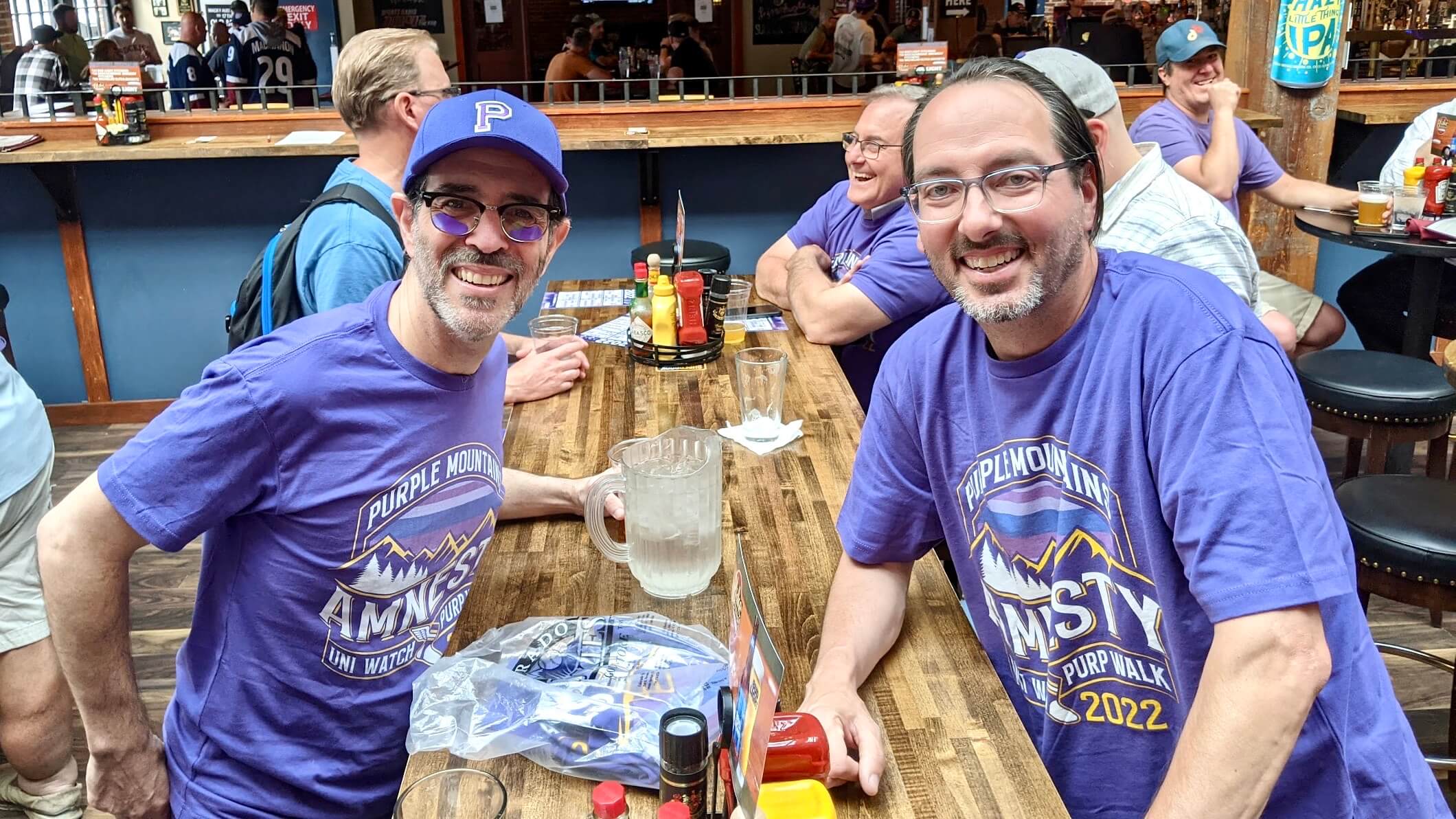 For all photos, click to enlarge
Good morning! I'm back in Brooklyn after spending most of last week in Colorado, and I've finally found enough time to put together a report on last Tuesday's Purple Amnesty Day activities.
The short version: It was a total blast. We've had lots of Uni Watch parties over the years, but very few of them have been tied to an event or occasion like this one was, and that really seemed to make a difference. There was a big turnout and an even more festive spirit than usual, nicely captured in the photo above of yours truly with reader John Costigan IV (photo taken by Kary Klismet).
Here are some of the other notables who turned out:
• Here's Greg Lamm, who came all the way from Roswell, N.M., to celebrate Purp Walk (his shirt refers to something that ran on Adult Swim):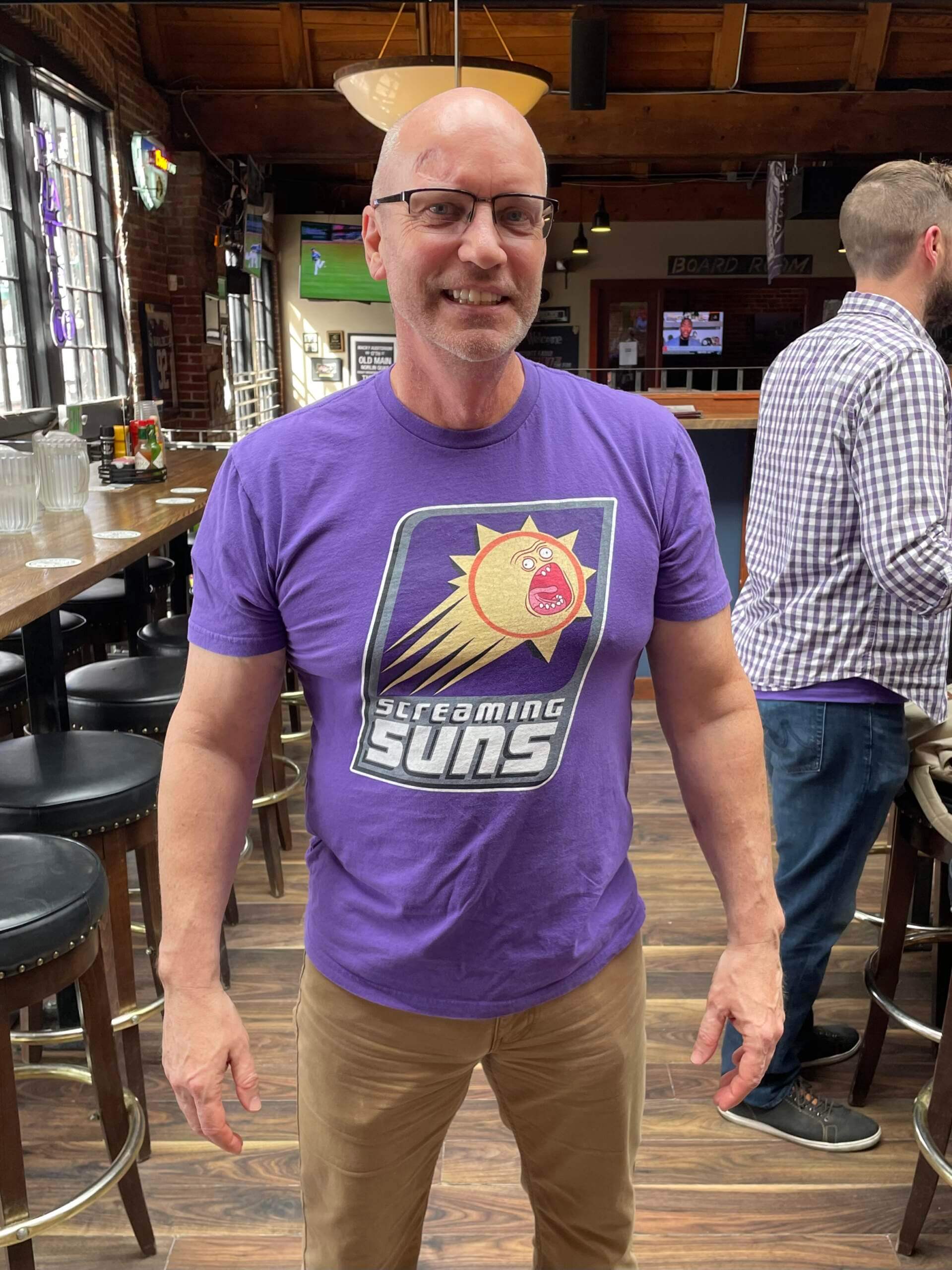 • Incredibly, Greg wasn't the only party attendee who came in from New Mexico. Will Pike actually flew in from Albuquerque and flew back out the same night (all while wearing Rob Ullman's excellent Uni Watch T-shirt from 2017):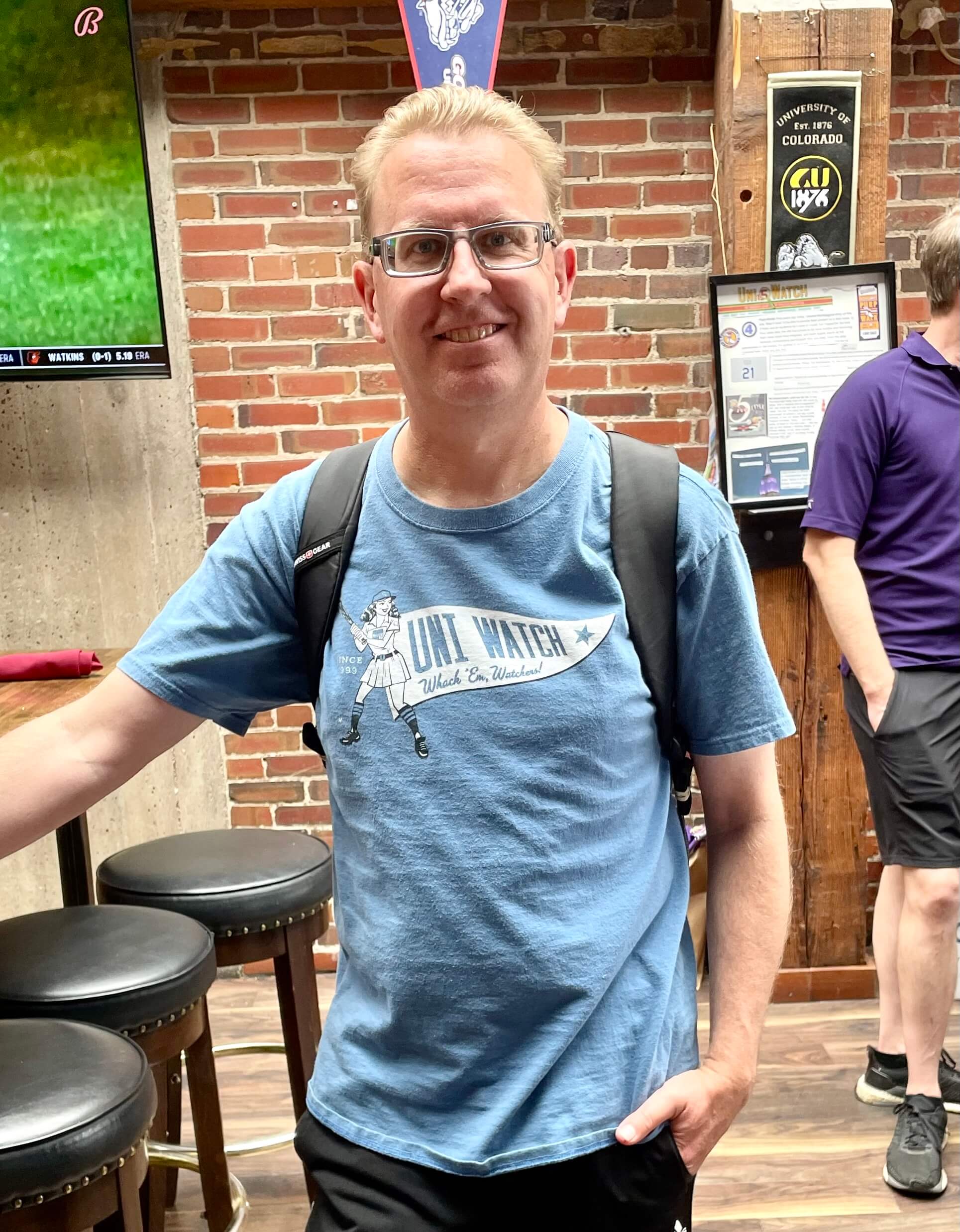 • Another long-distance attendee was the great Rev. Nørb, a major purple partisan who came in from Green Bay: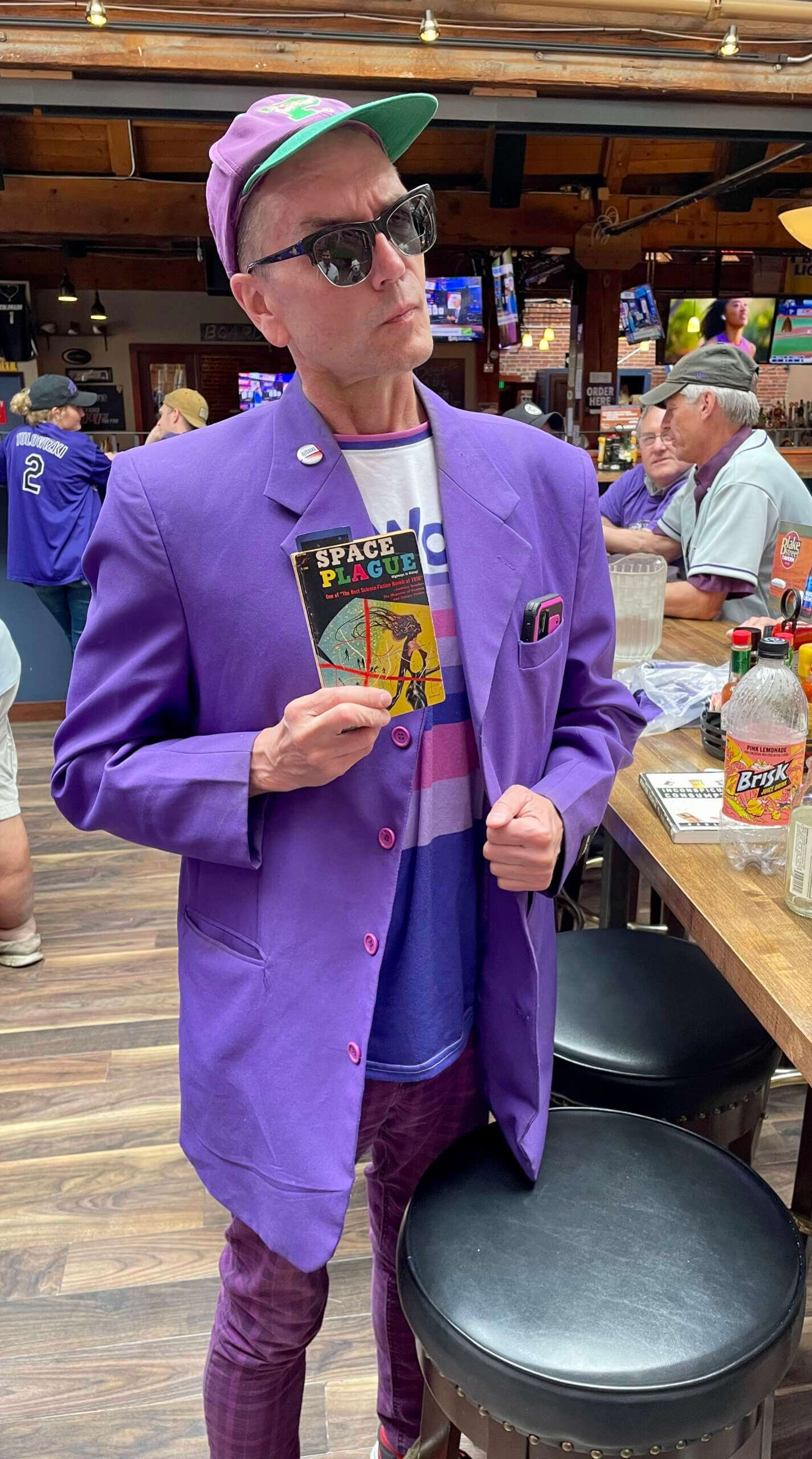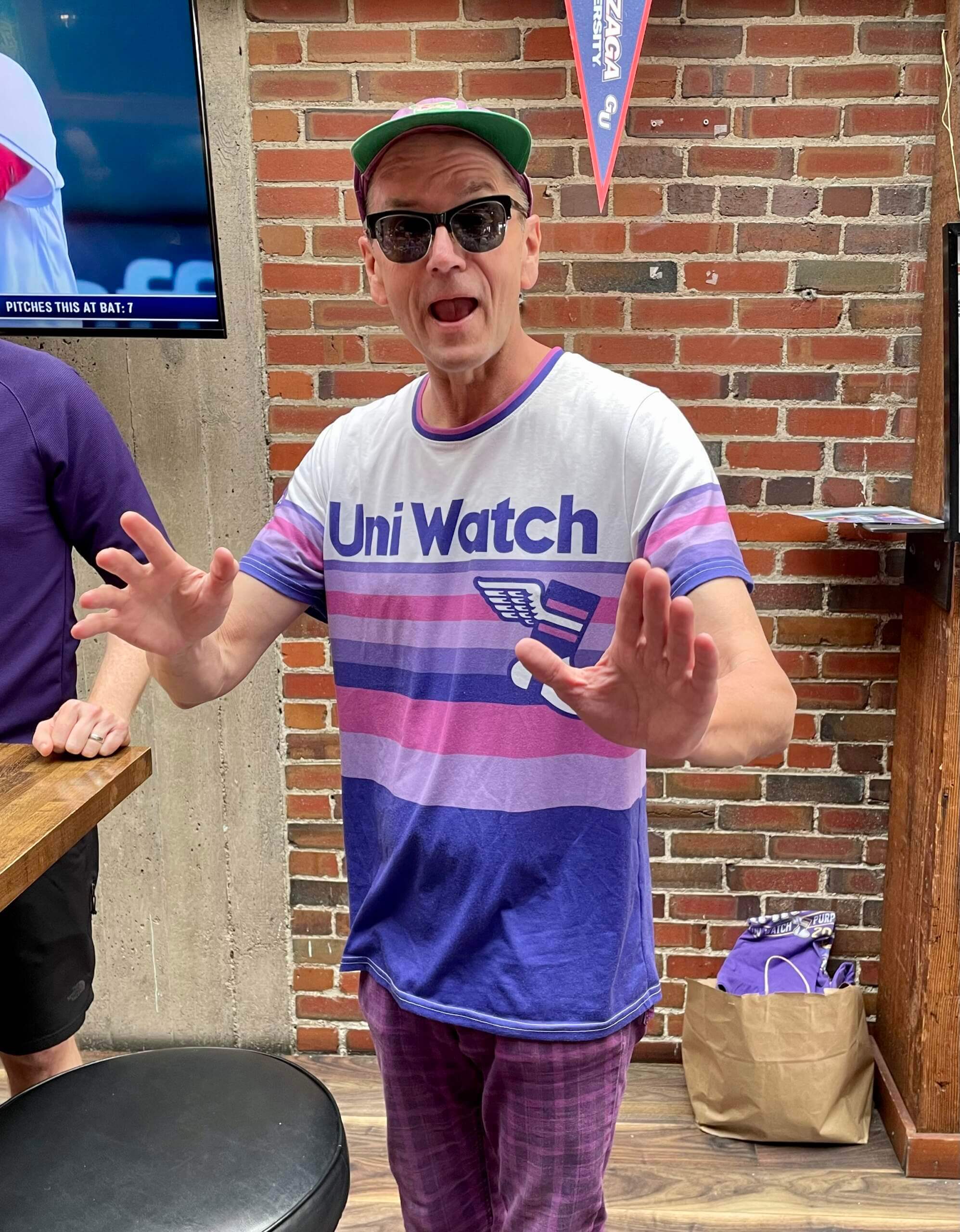 • It was great to finally meet Ticker contributor extraordinaire Kary Klismet in person. He was also very helpful with photos and logistics (and also made friends with the Rockies' costumed mascot, Dinger):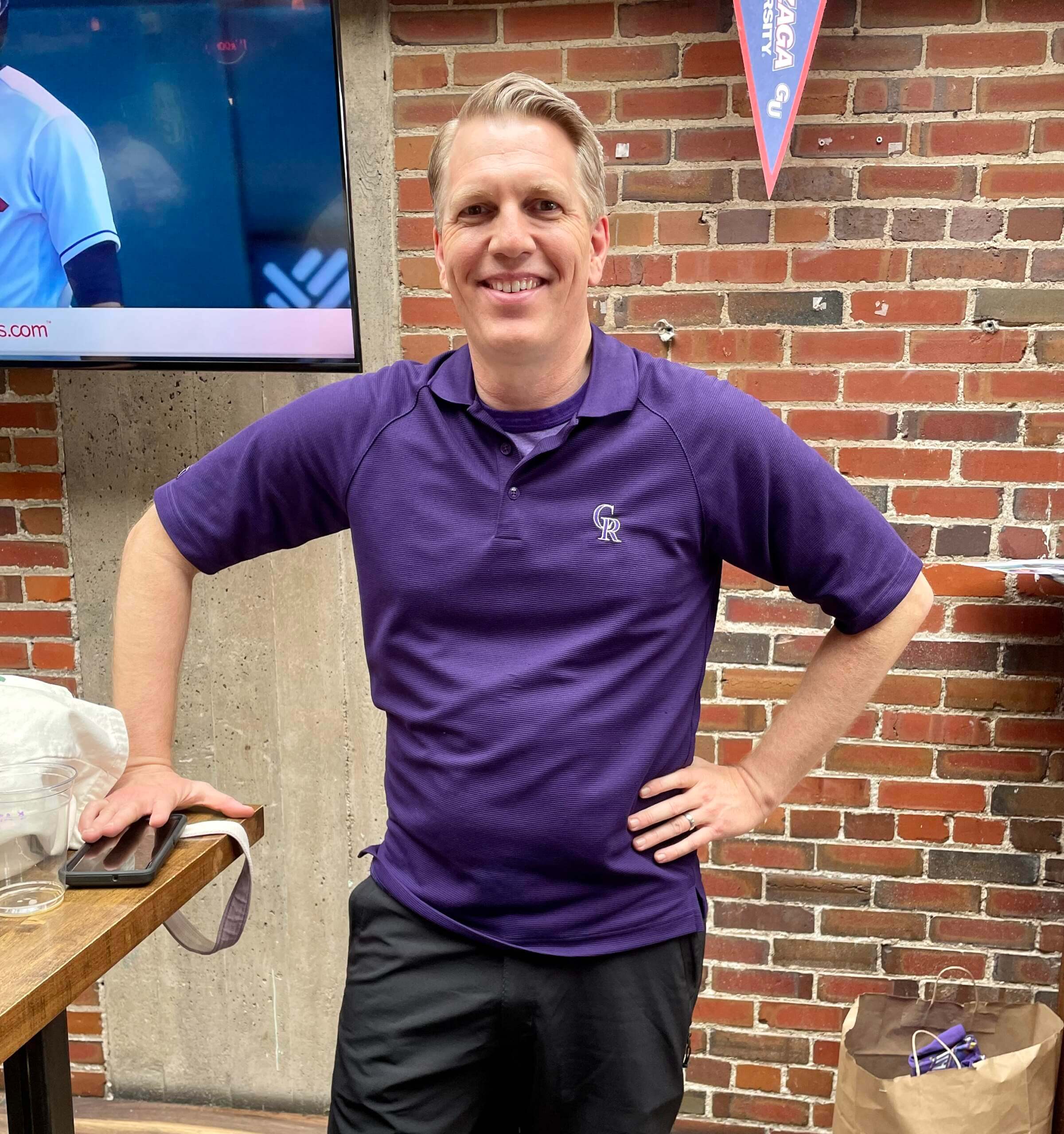 • One of my favorite Uni Watch readers is Marty Hick, who I first wrote about way back in 2007. Marty lives in St. Louis, so he couldn't make it to the party, but he sent his brother Steve Hick, who was every bit as awesome as Marty:
• Douglas Dinsmoor was the first person to arrive at the party, and he was dressed in purple literally from head to toe: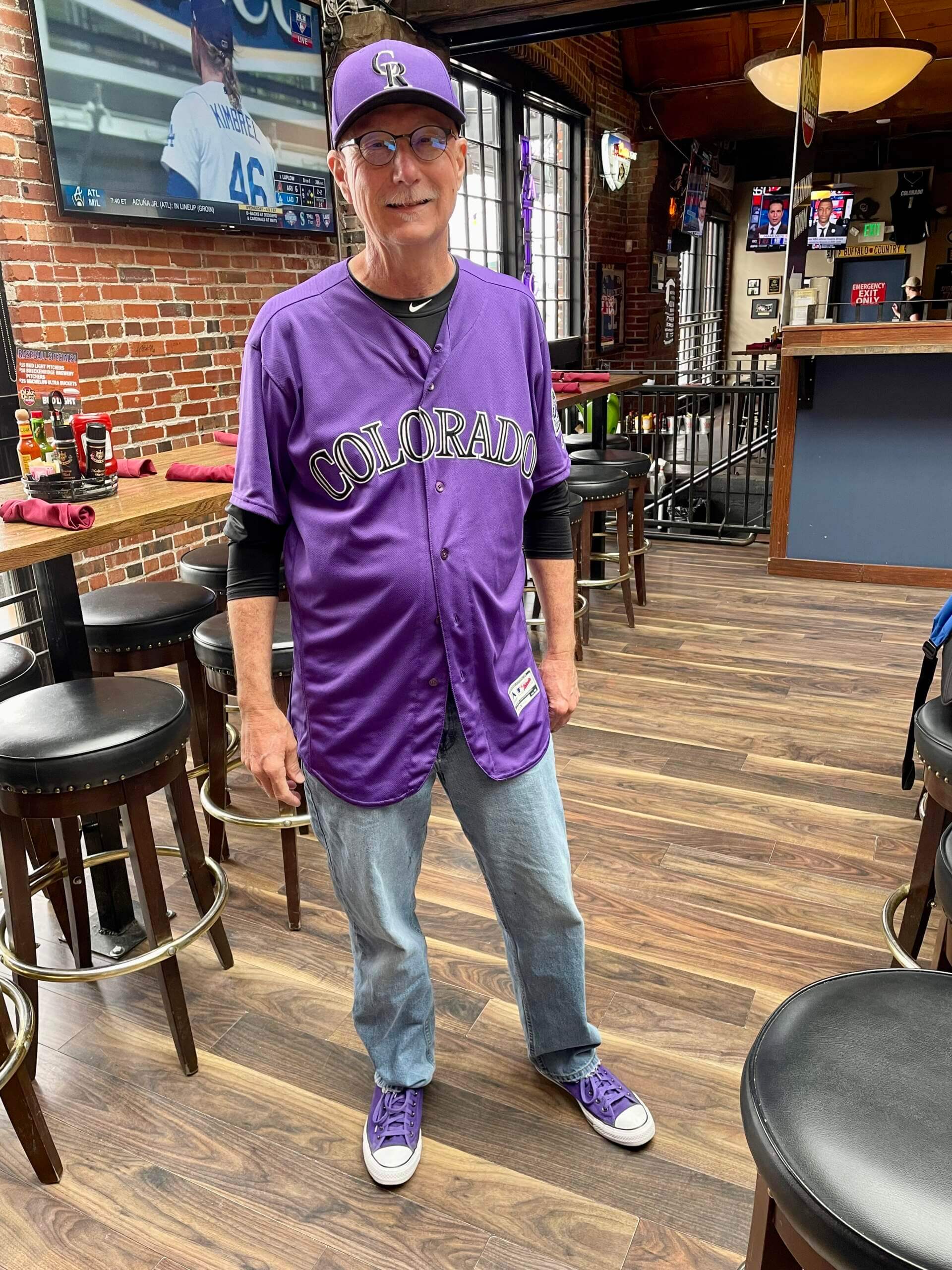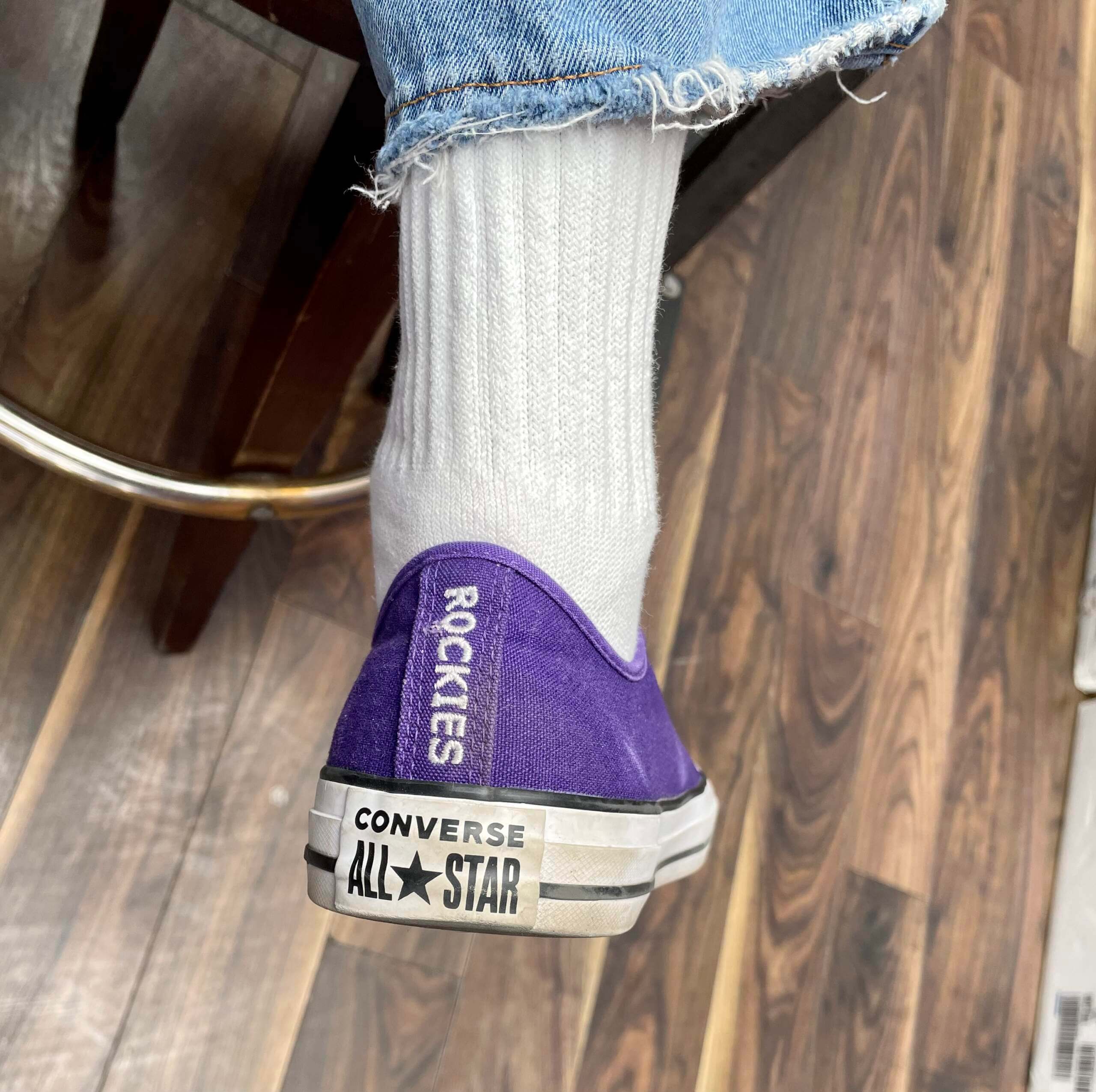 About those sneakers: Douglas said he ordered them direct from Converse — they have a web interface that lets you choose a message to be embroidered on the back of the sneaker. But they don't allow trademarked names, so Douglas ordered RQCKIES and seam-ripped the little stub off the Q! How great is that?
• My buddy Tim Adams, who I've known for over 30 years, was another long-distance attendee. He came in from Durham, N.C., and spent the next few days with me in northern Colorado. We first bonded over indie-rock, so he wore his favorite Uni Watch shirt: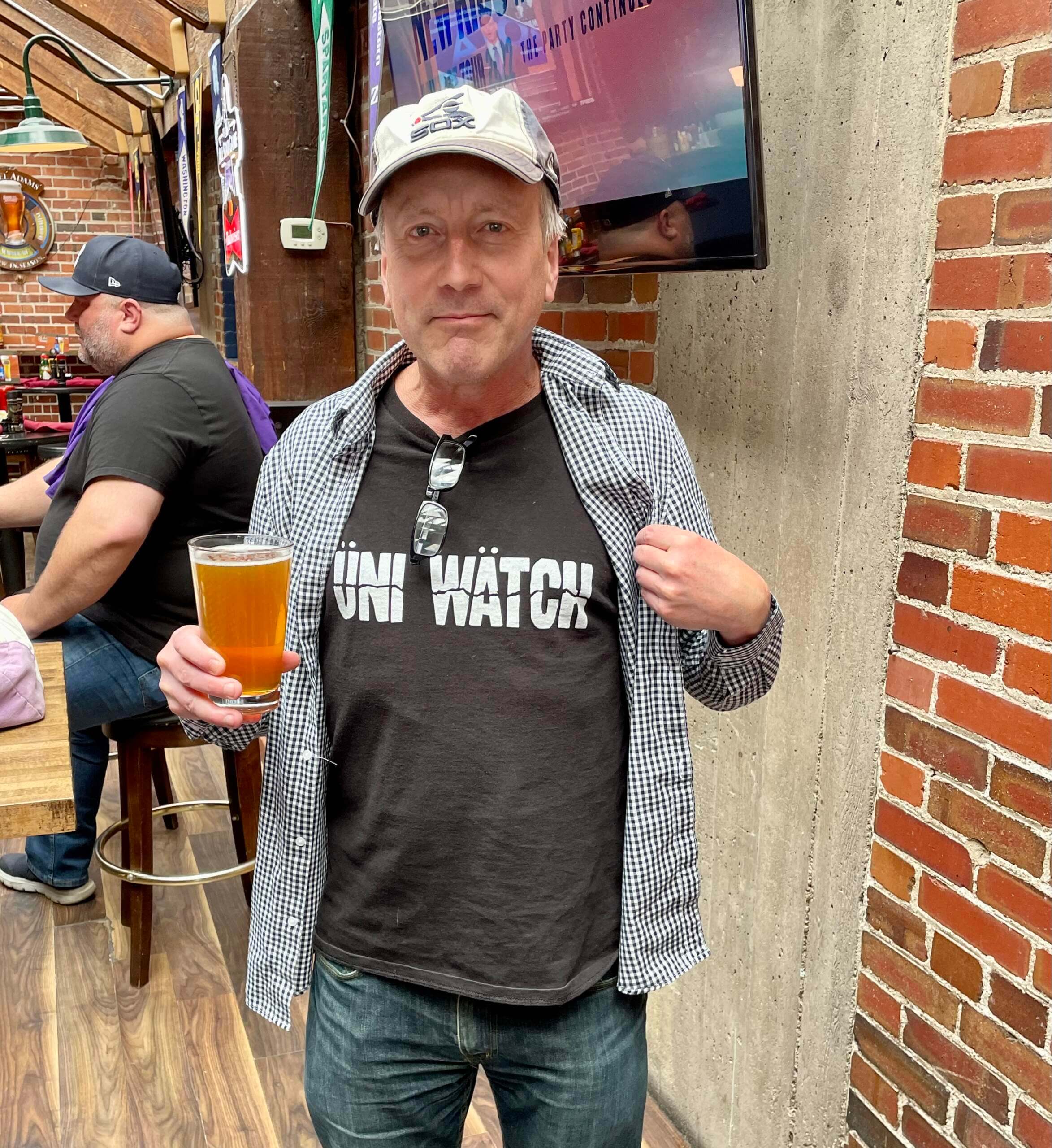 • The whole idea for Purple Amnesty Day, and also the idea for turning this year's installment into a live event in Denver, came from Tim Cox, who's pretty much the nicest guy ever. He outdid everyone by wearing a purple-accented wristwatch: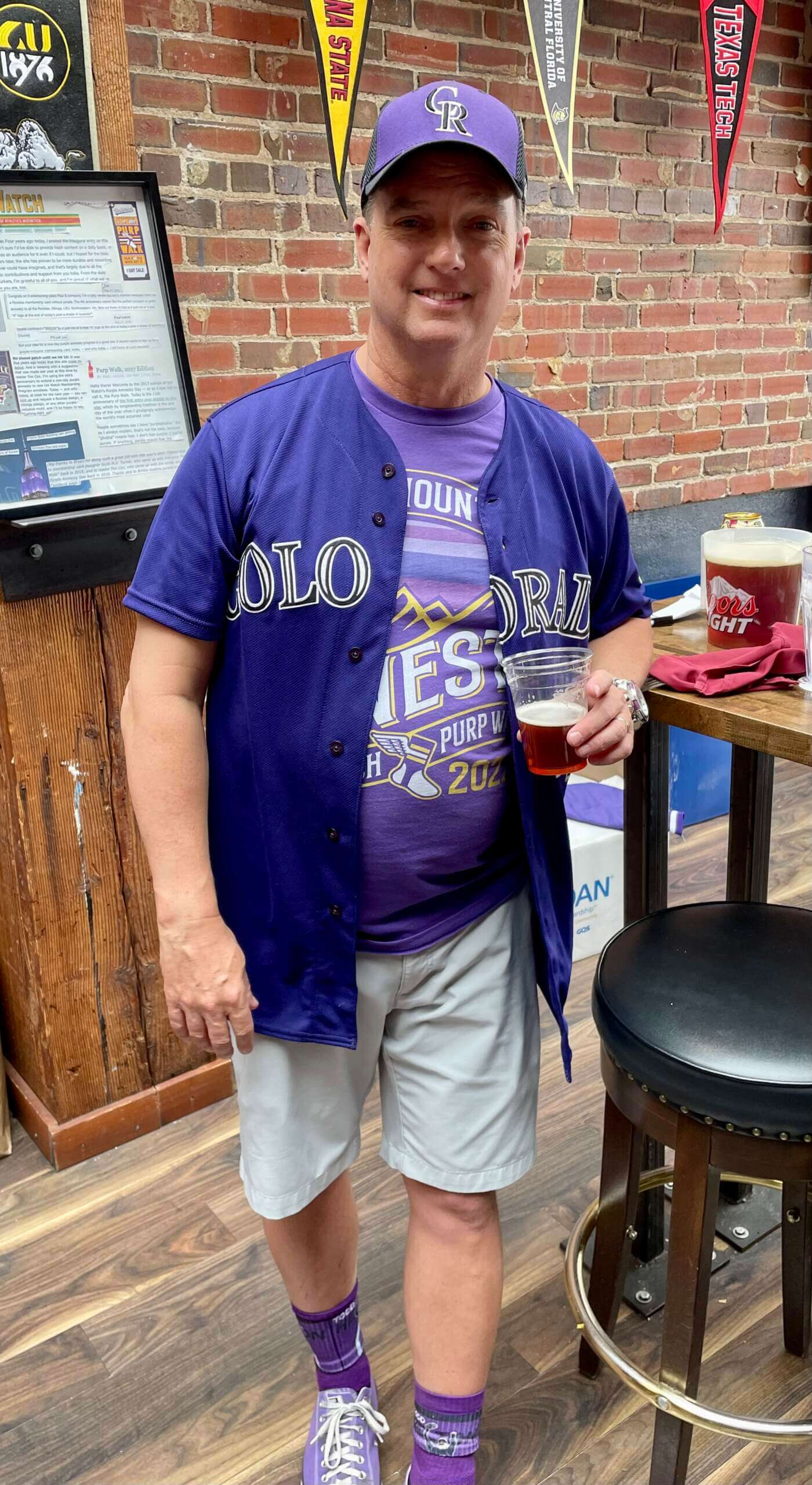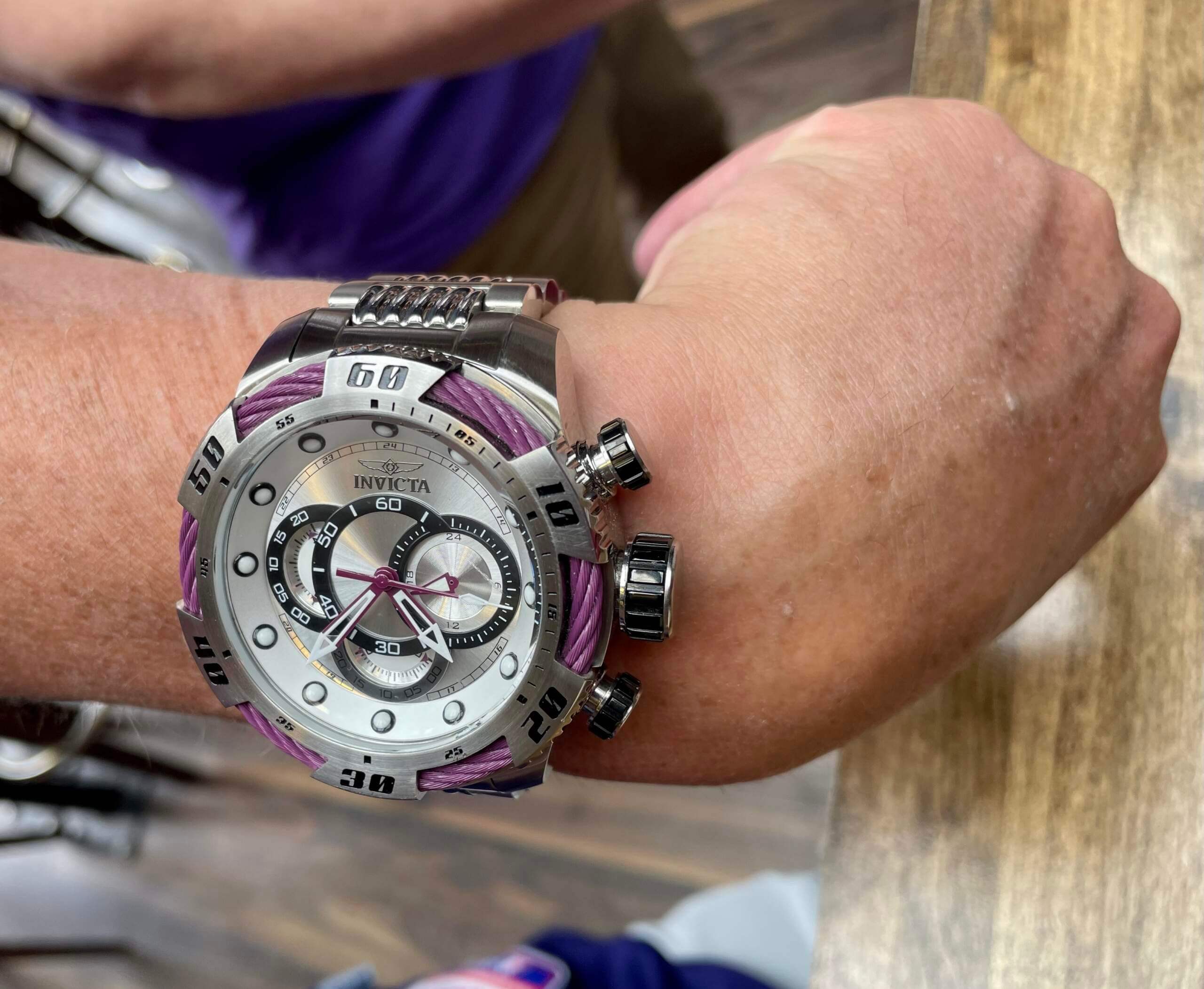 • Tim's wife, Joy Cox, got purple hair extensions for several of the women in attendance. Here she is (on the left) with her friend Patti Theil: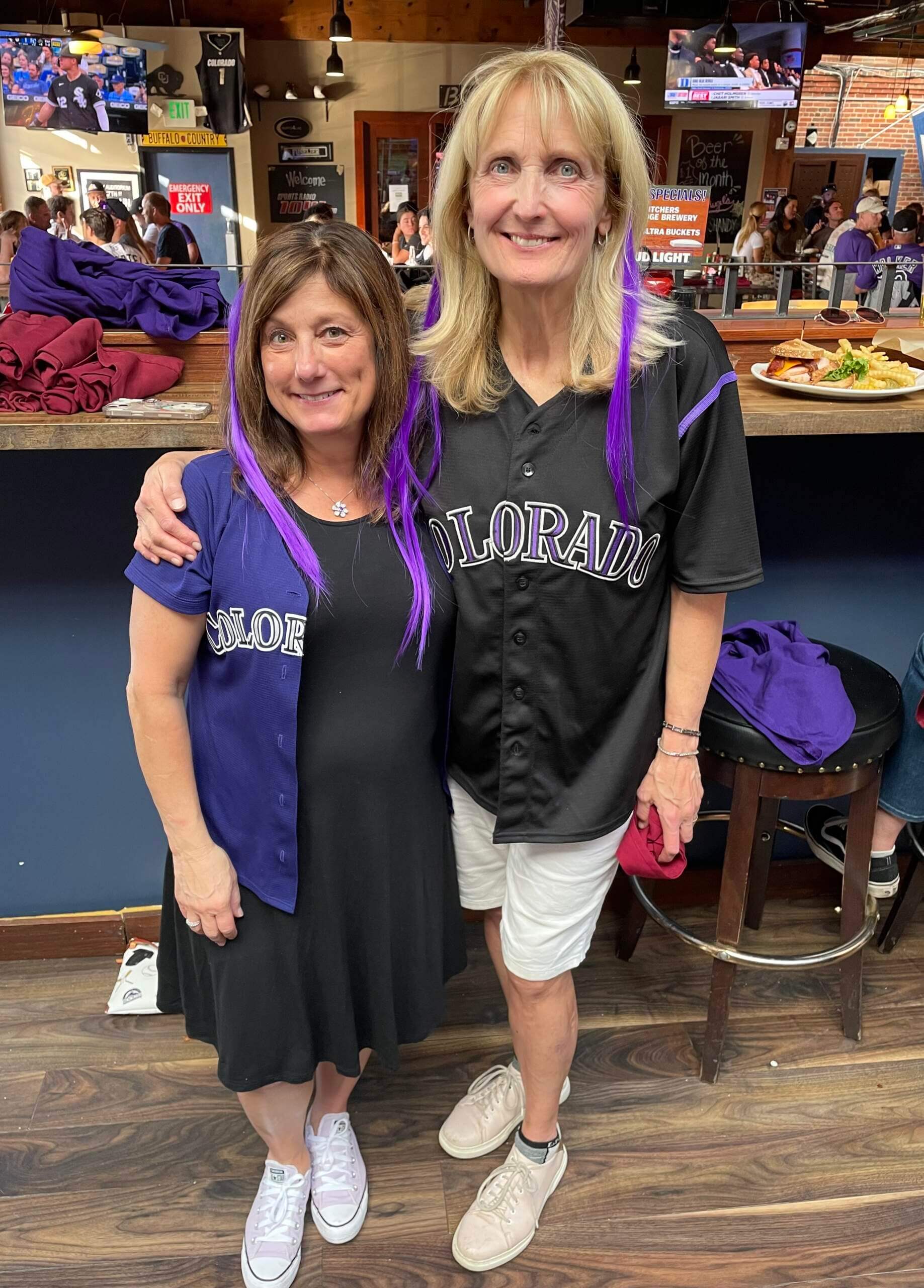 • Back in 2015, designer Bryan Molloy was the one who suggested that we do a 24-hour Purp Walk merch offering each year. Since then, we've collaborated on a bunch of purple T-shirts, caps, buttons, stickers, and related projects, and have also become good friends. Bry lives in Rhode Island but was attending to some family issues out in L.A. the weekend before Purp Walk, so he adjusted his itinerary to stop on Denver on his way back home. I somehow failed to get a stand-alone photo of him, but you can see him in the middle of this next shot: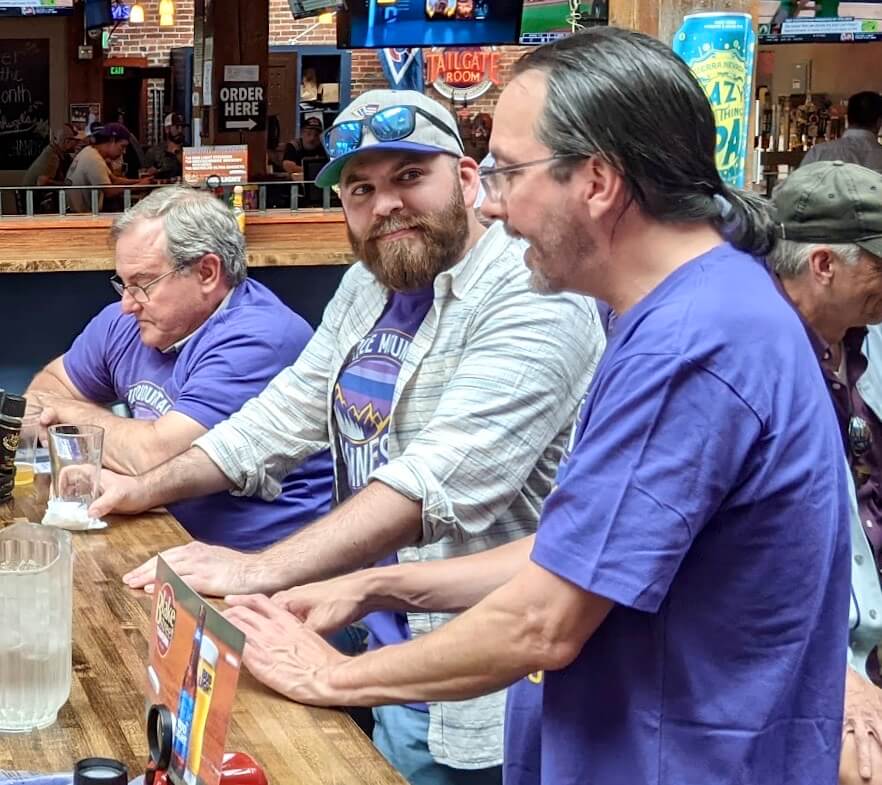 • There were lots of other people in attendance. I tried to get everyone to list their names and attire on a sign-up sheet, so I'd know who was who, but I may have inadvertently mis-identified some people and/or misspelled some names. (If so, let me know and I'll make it right.)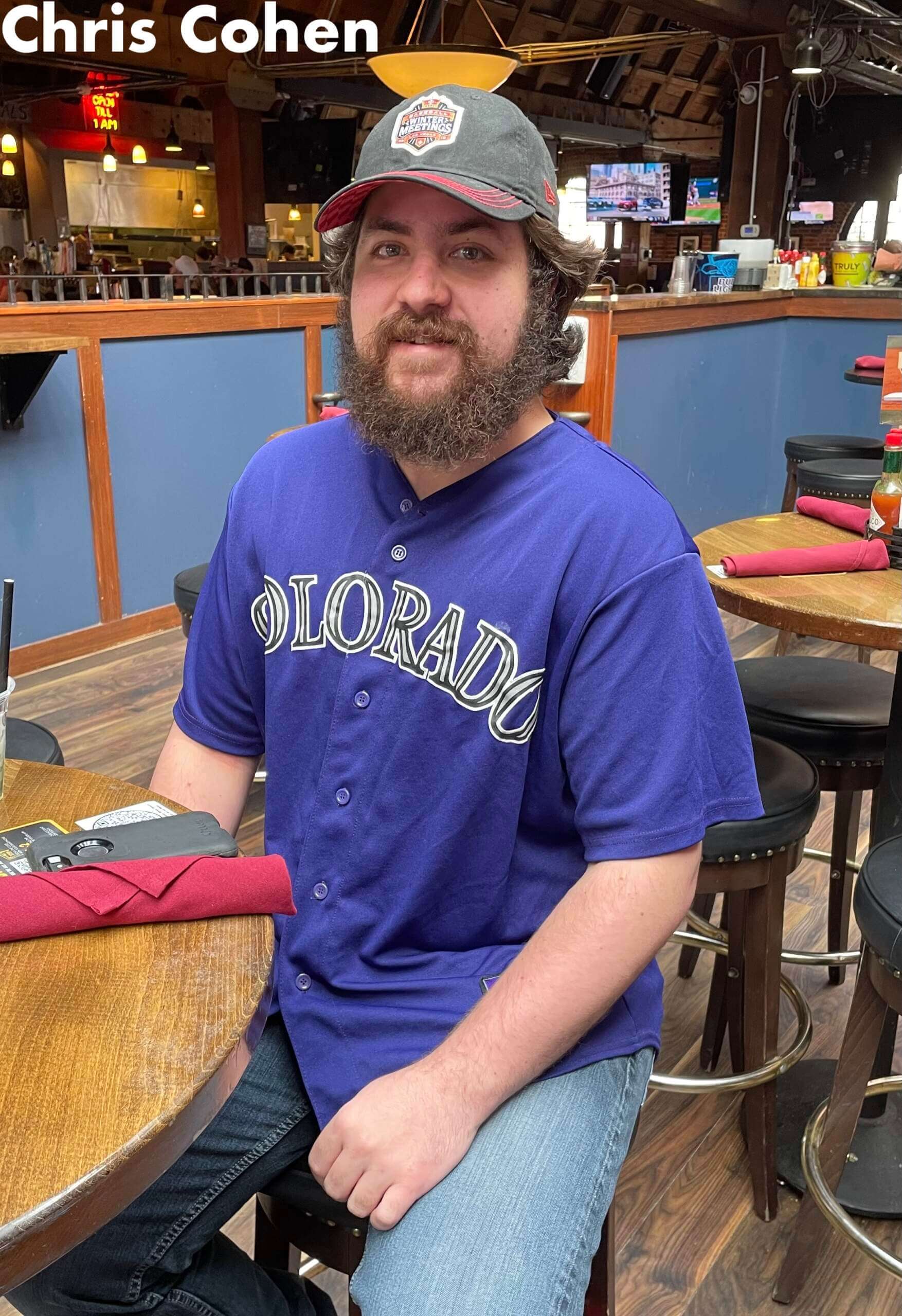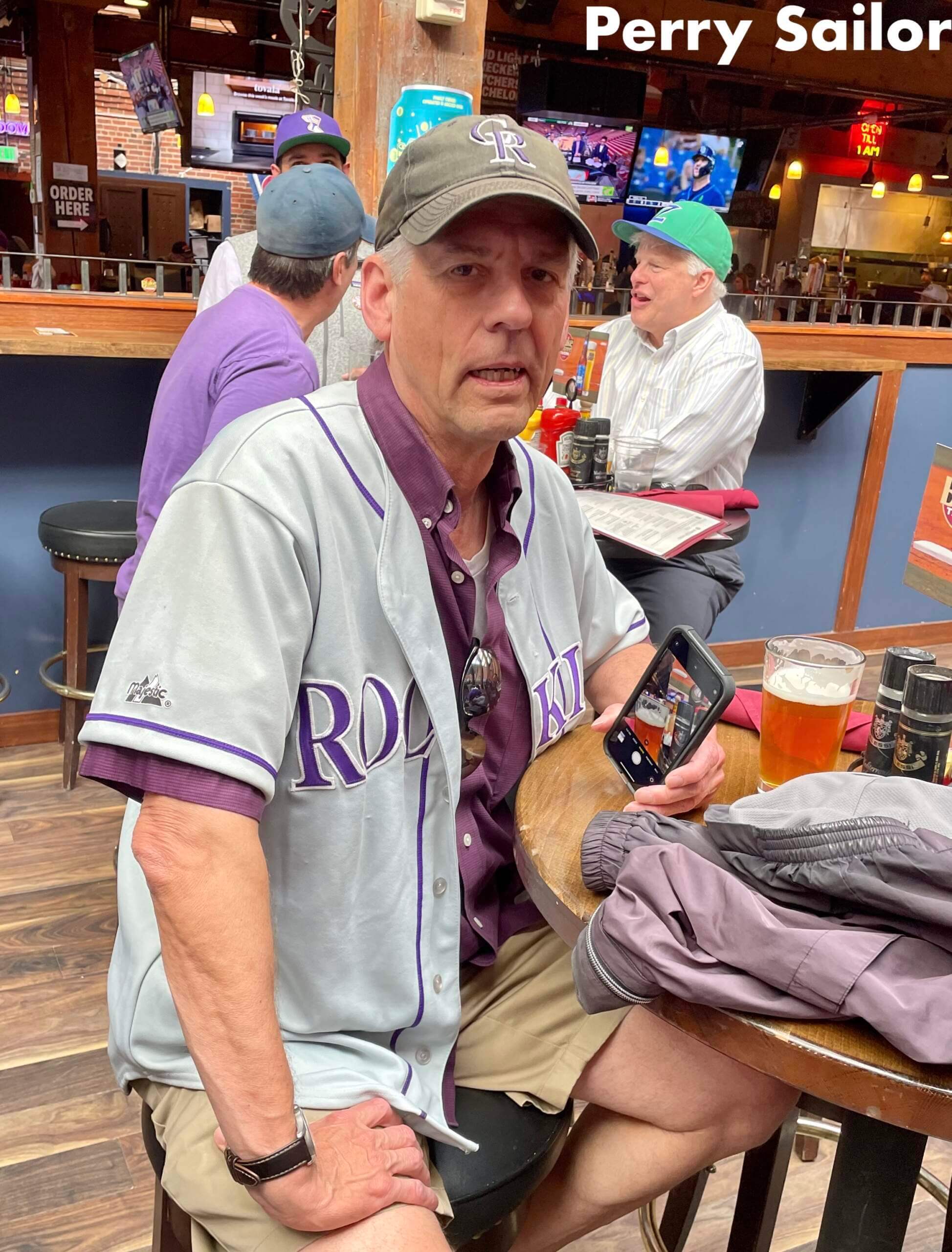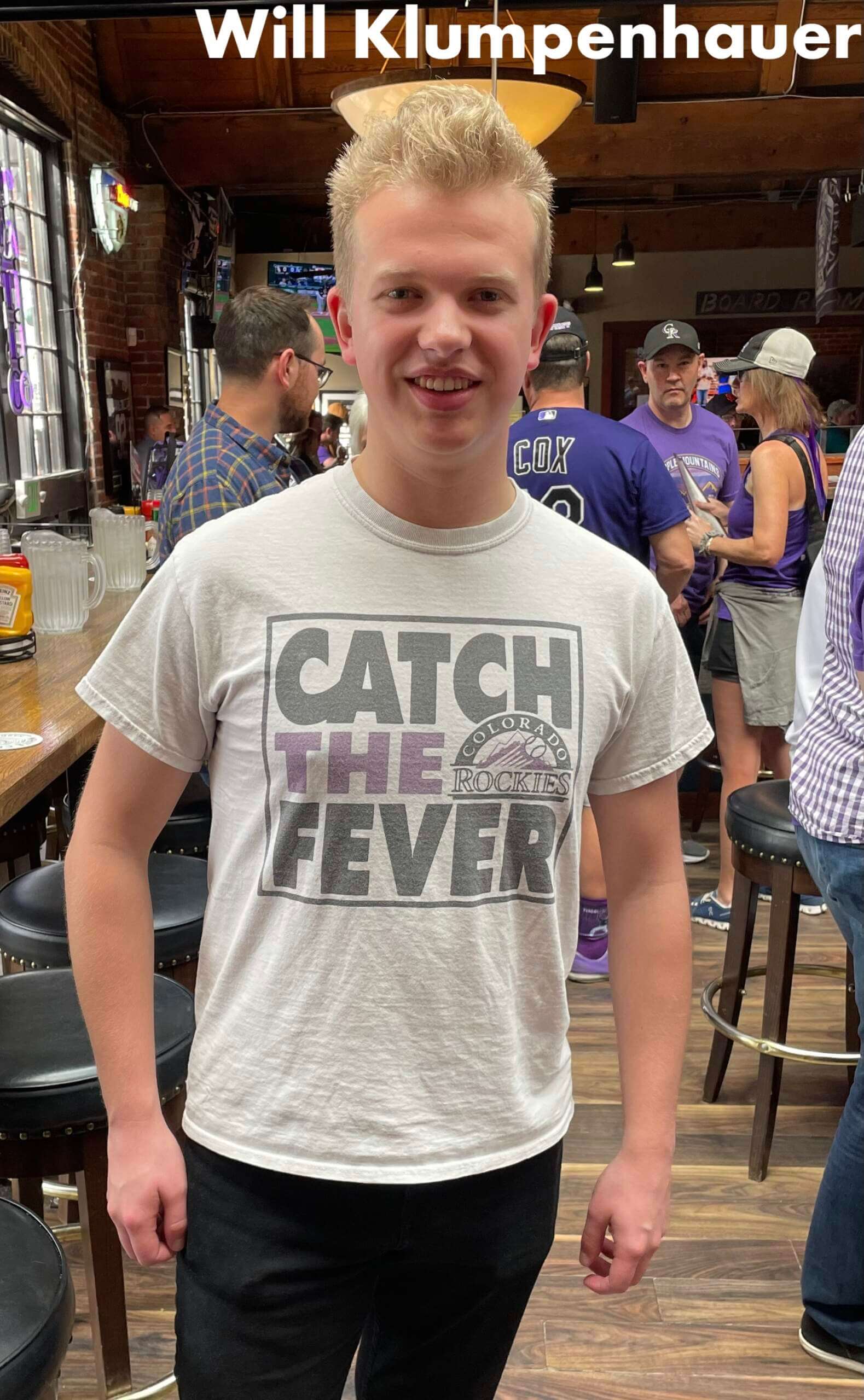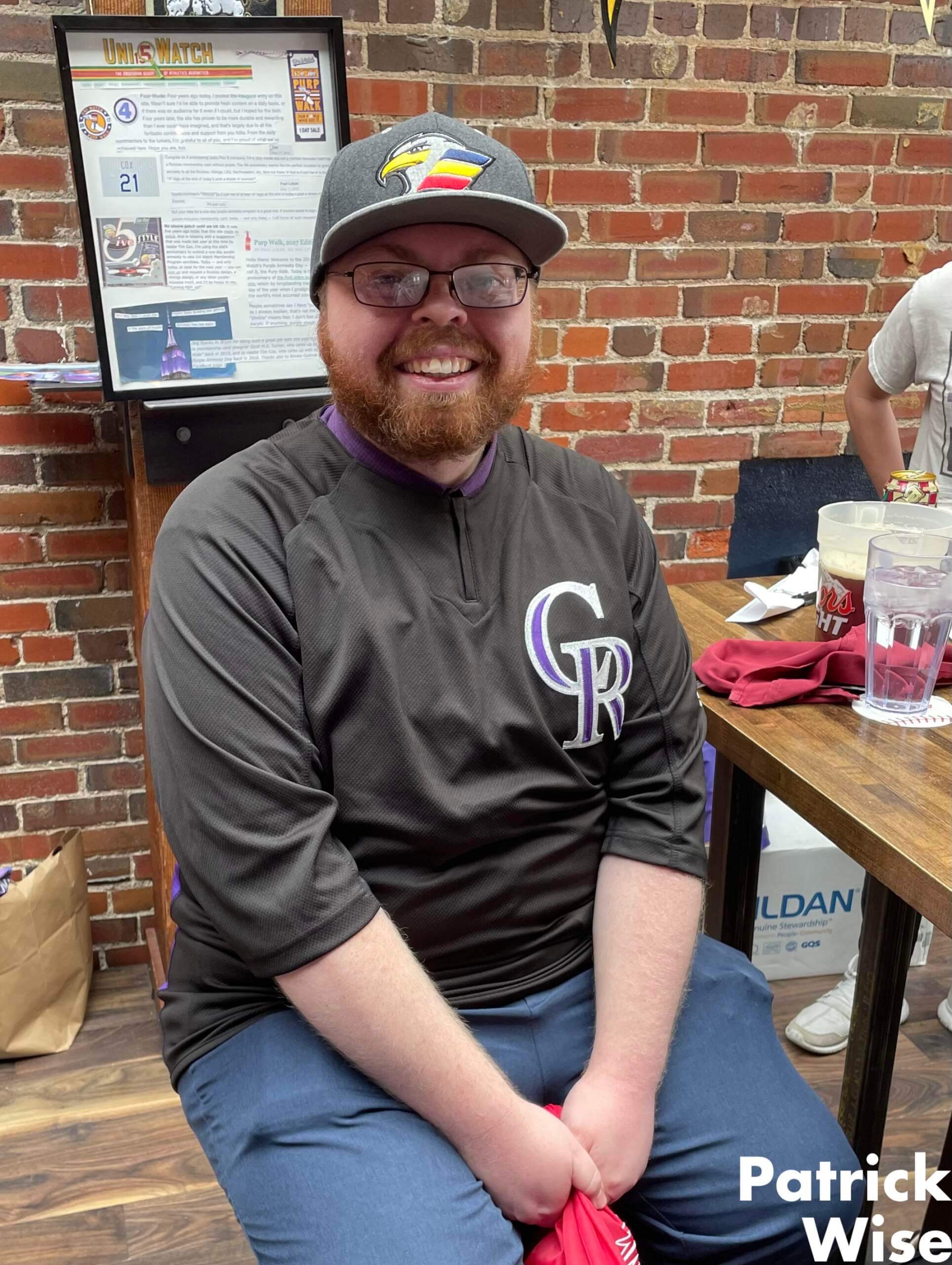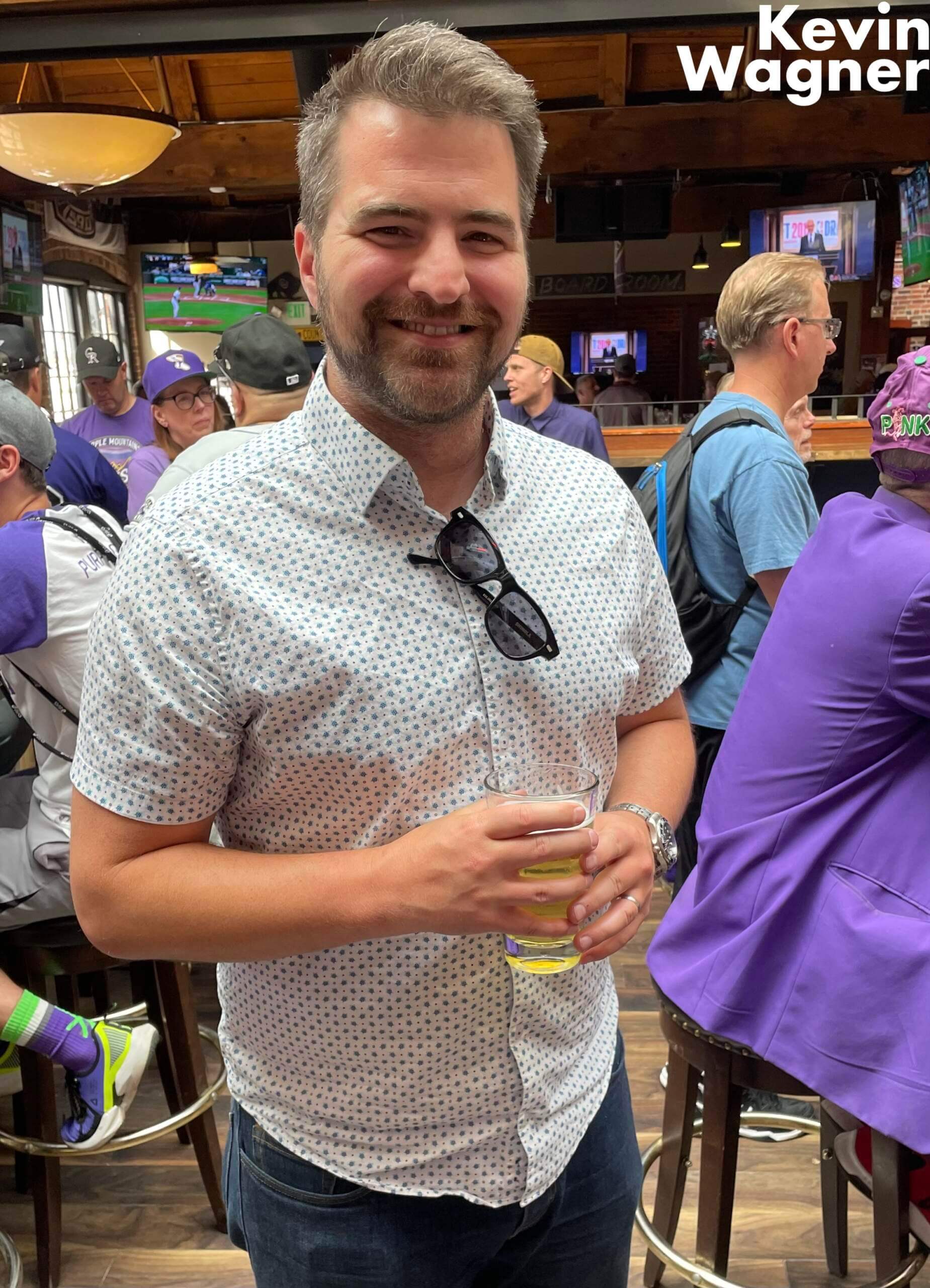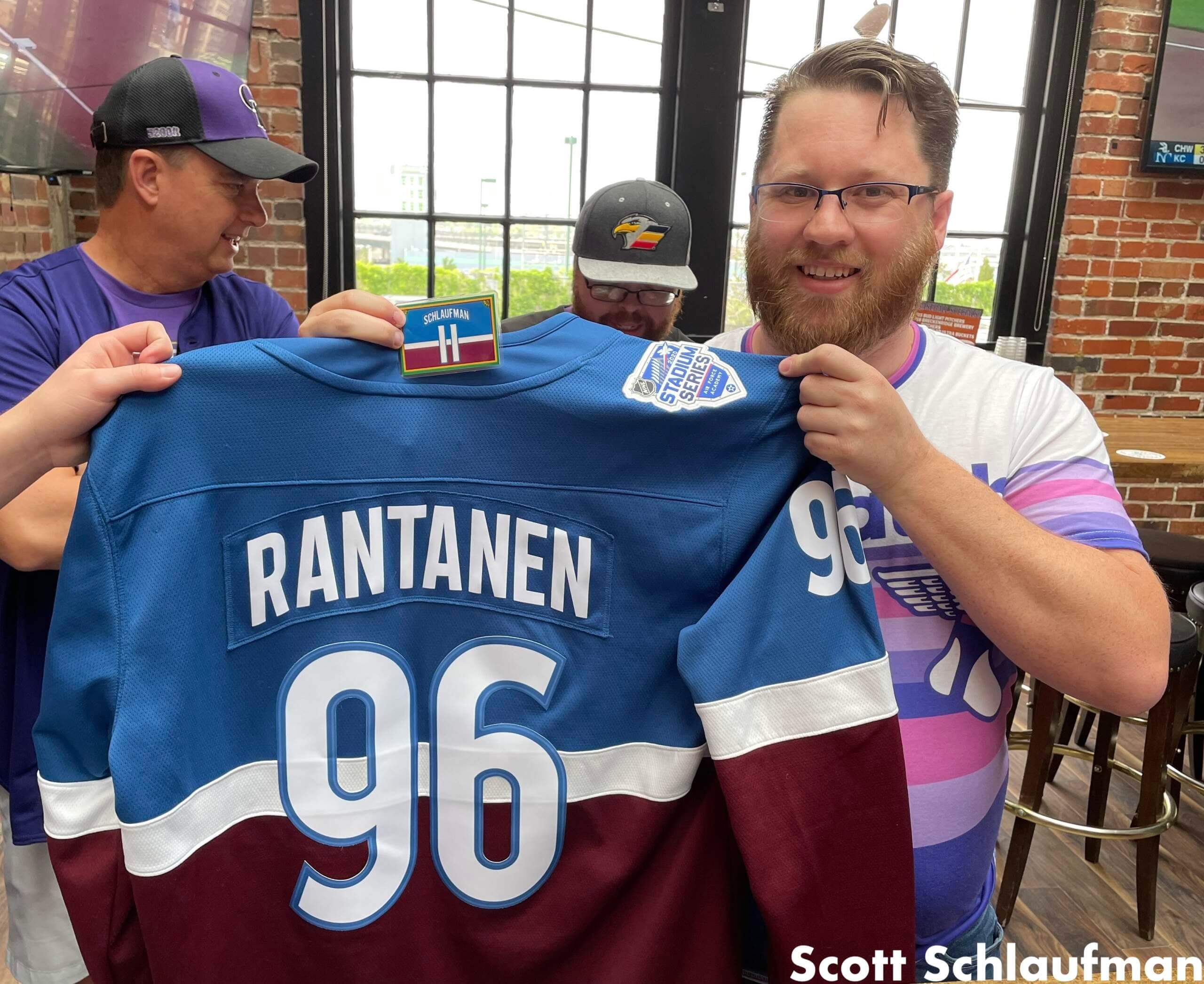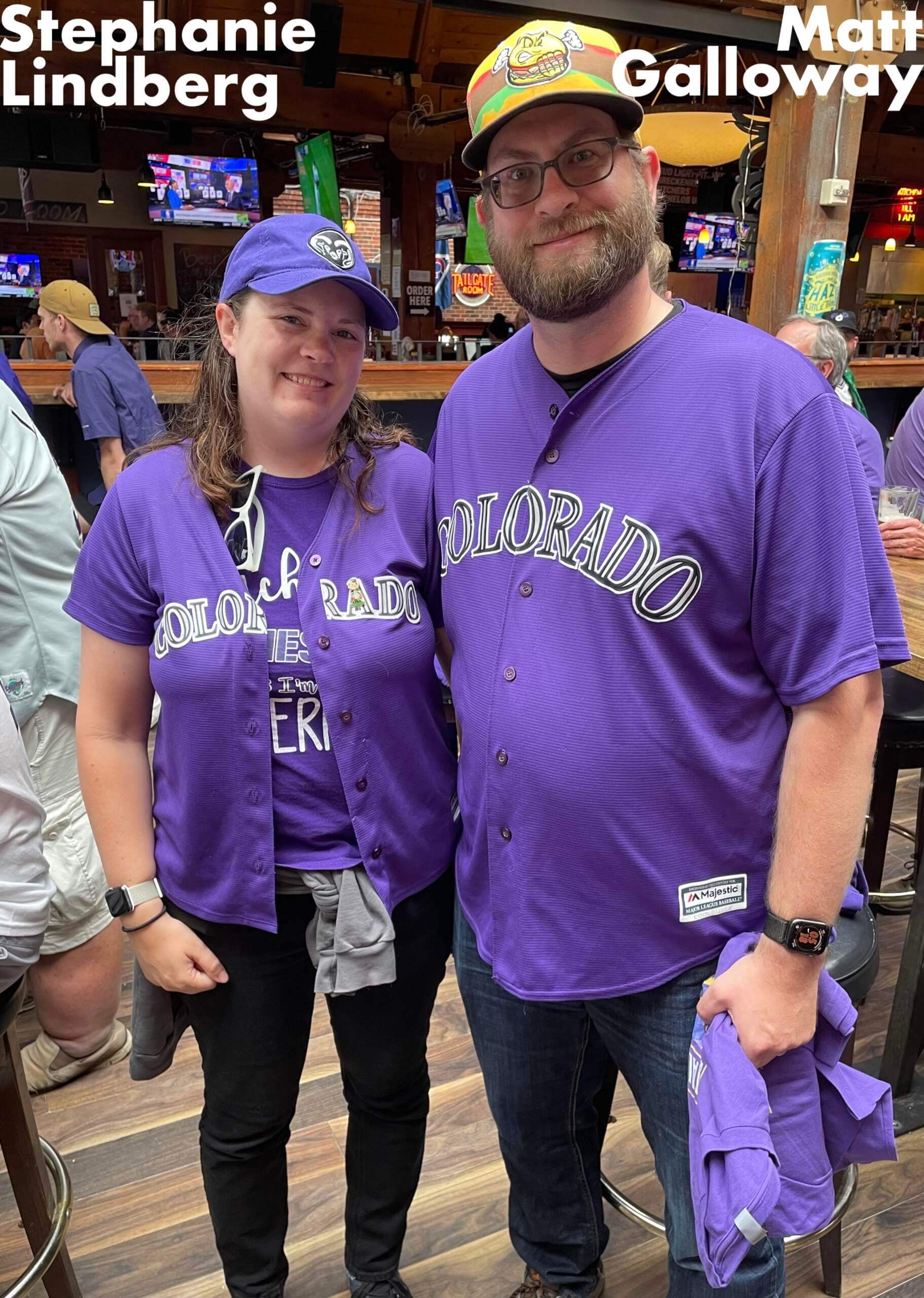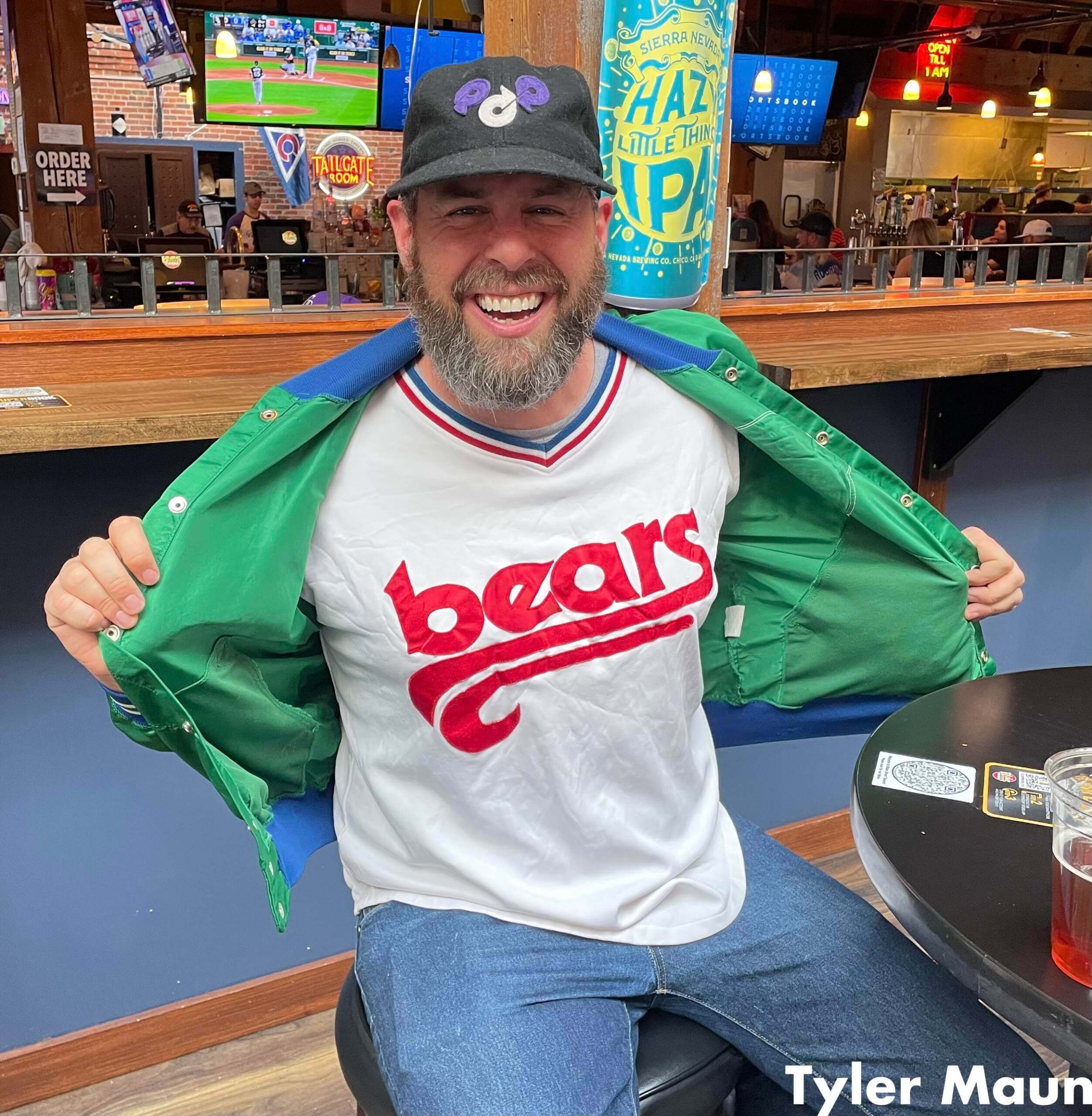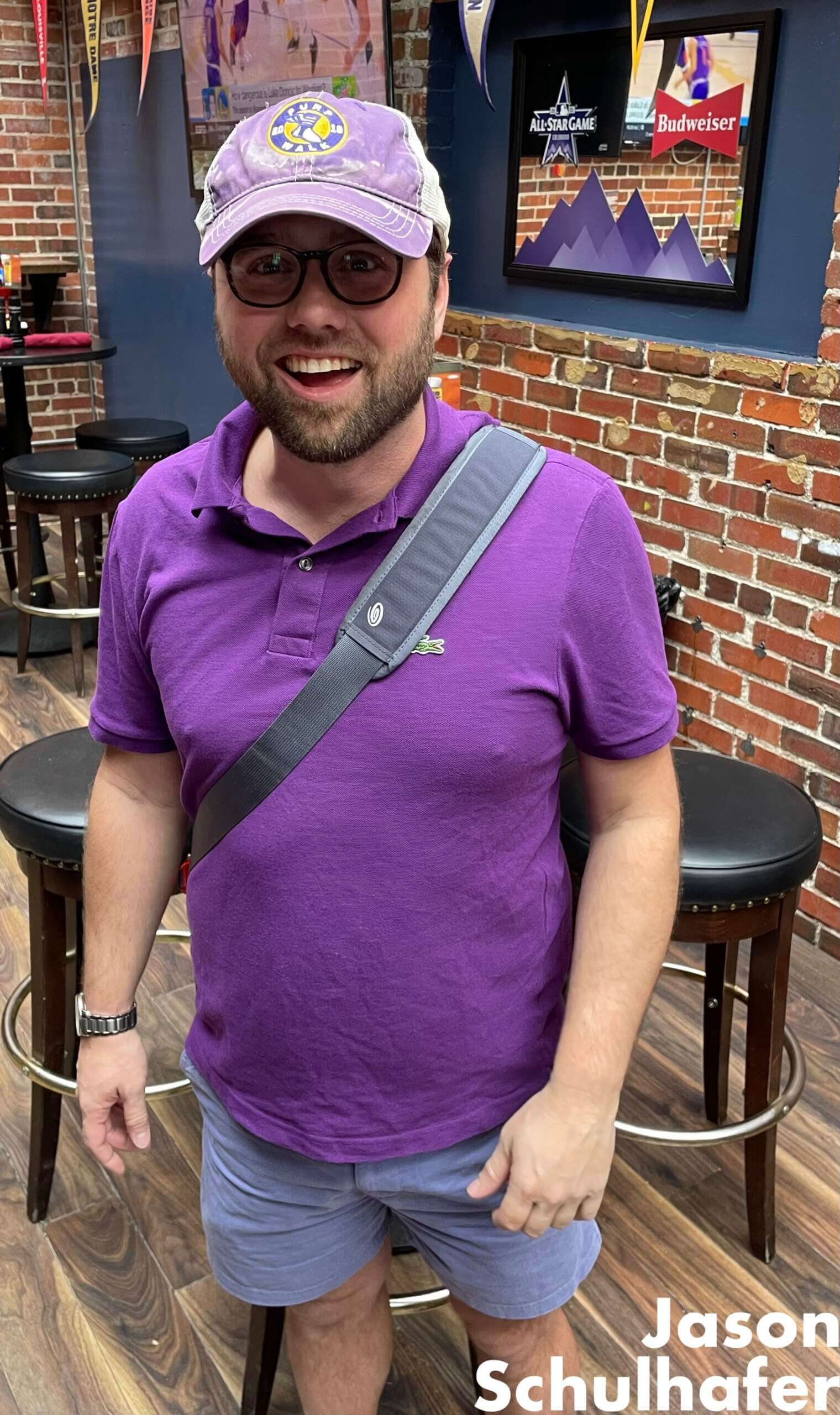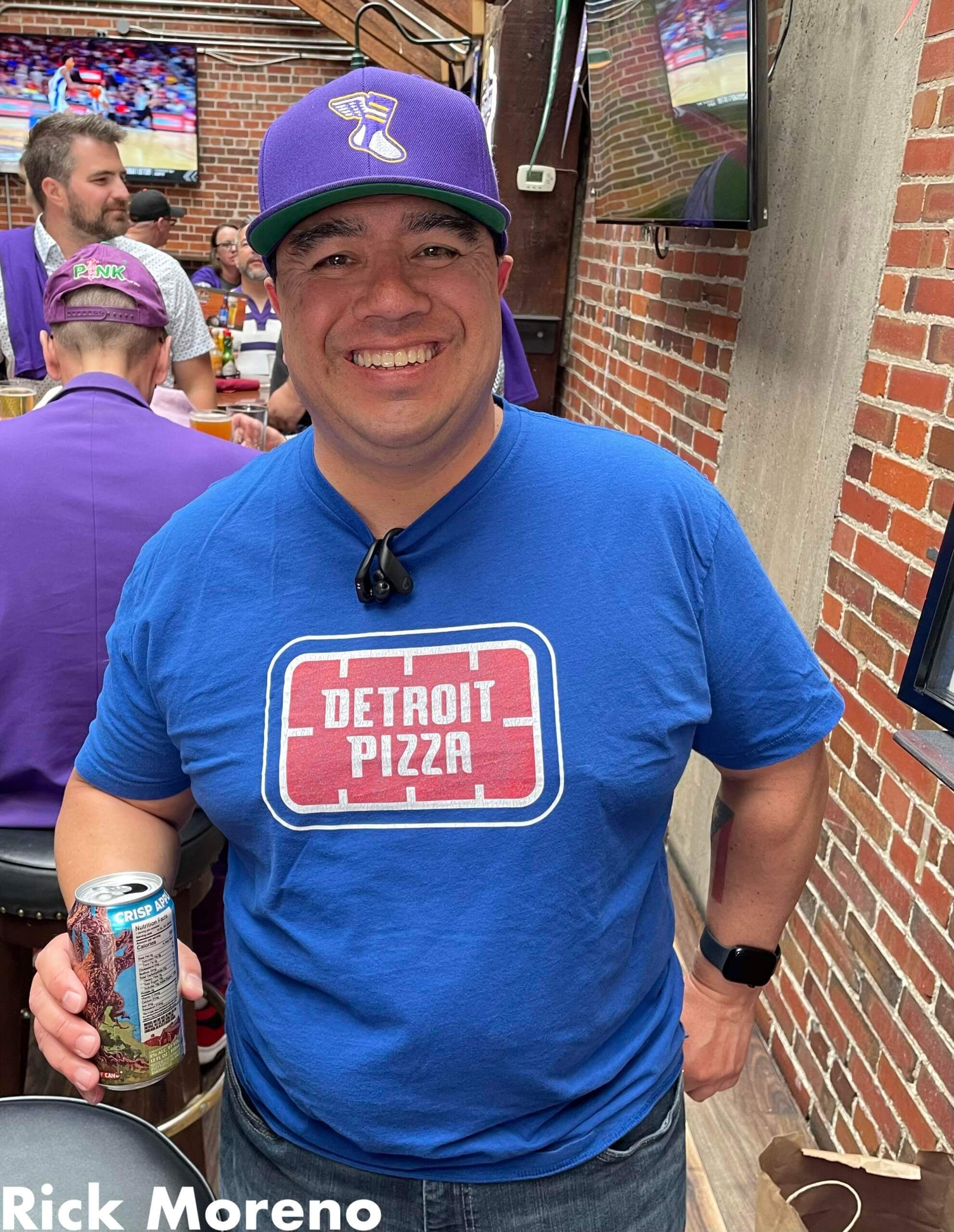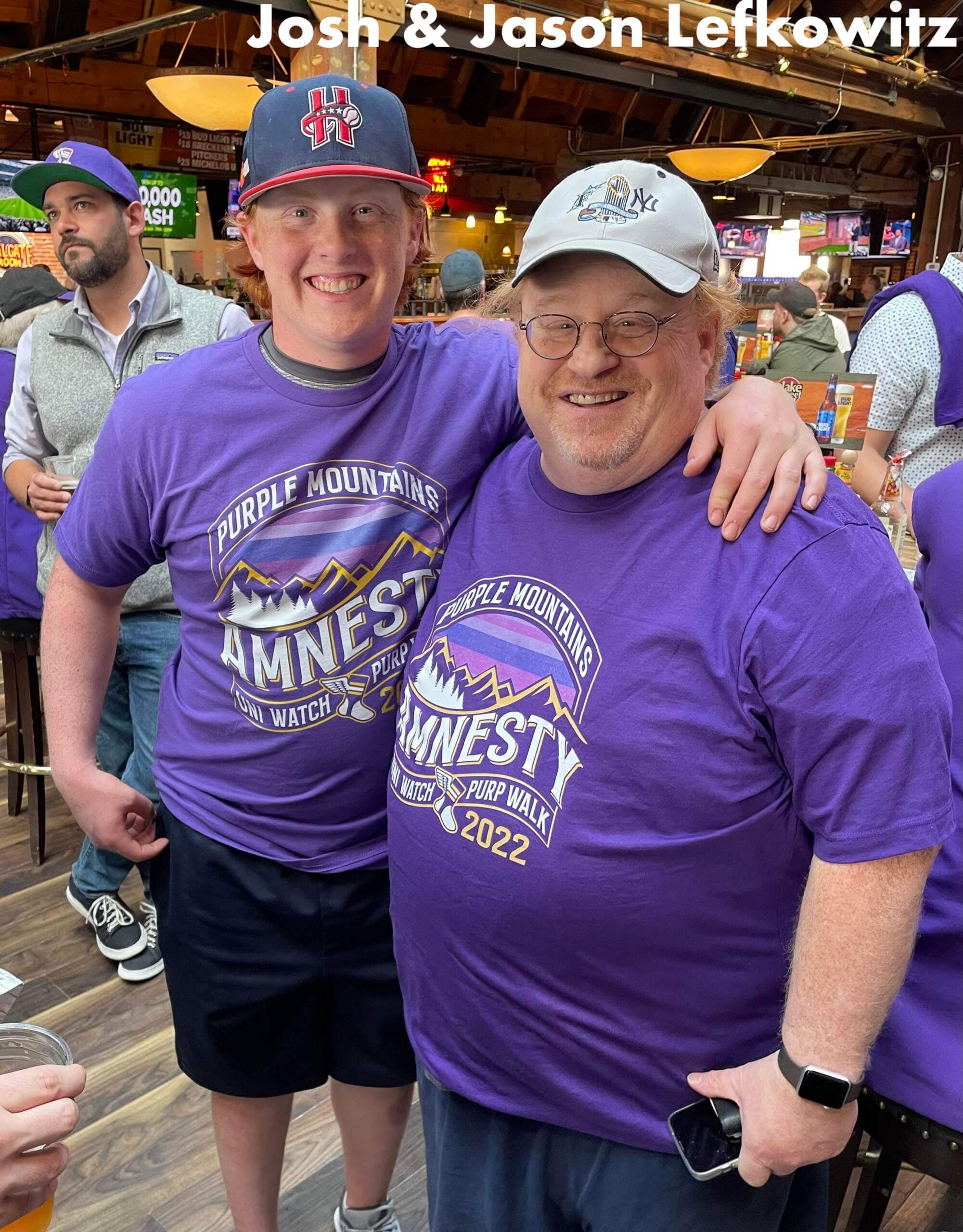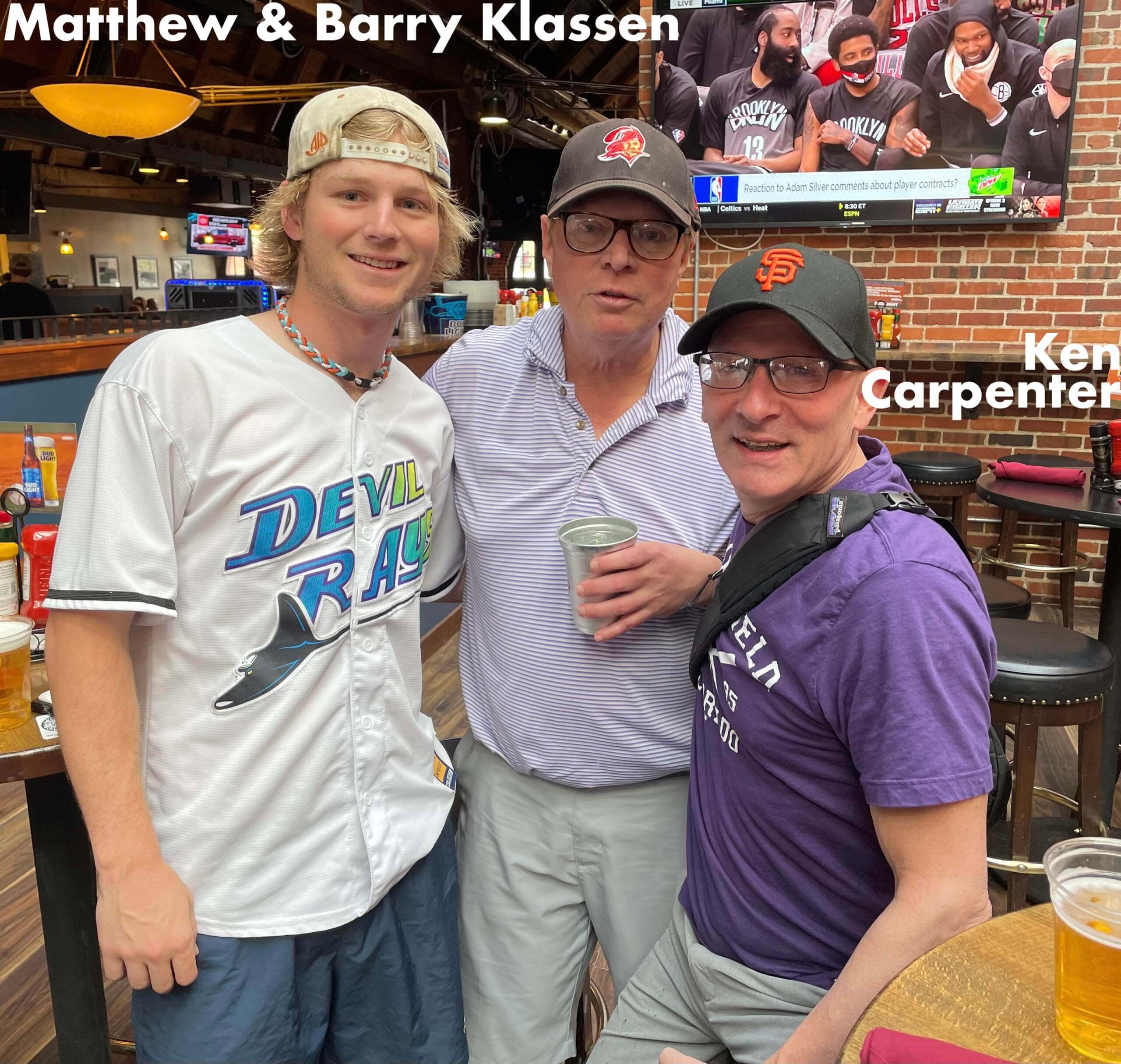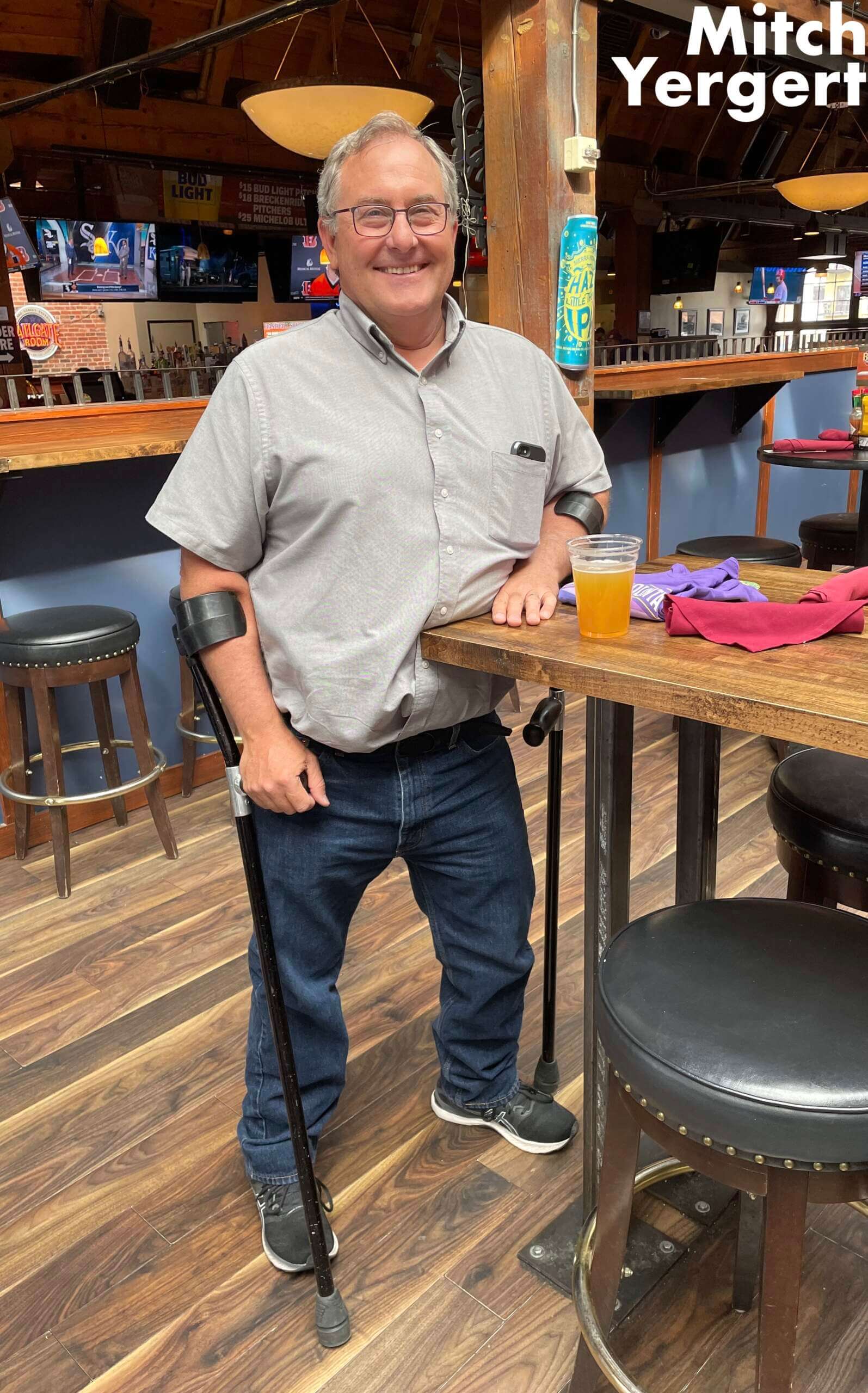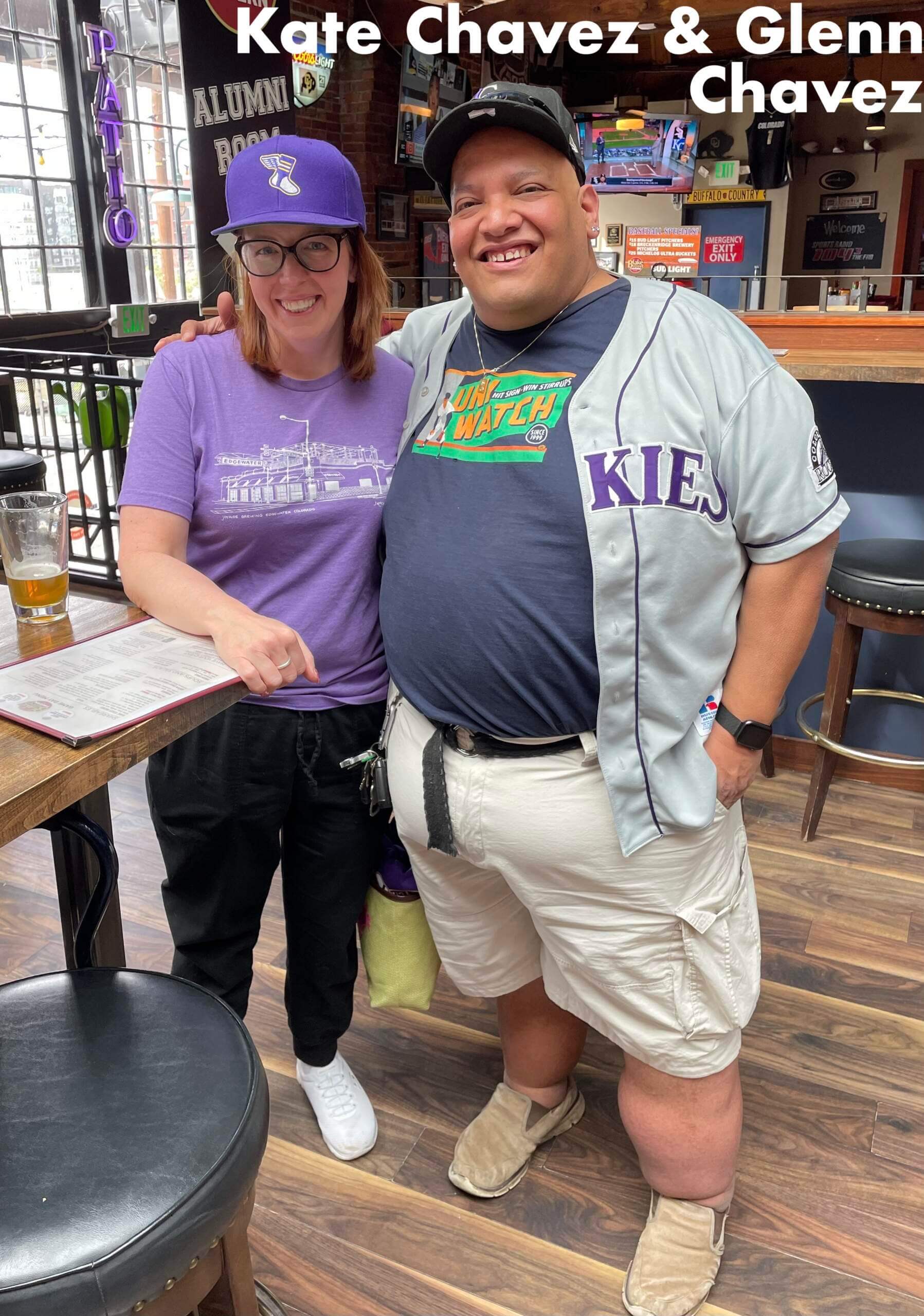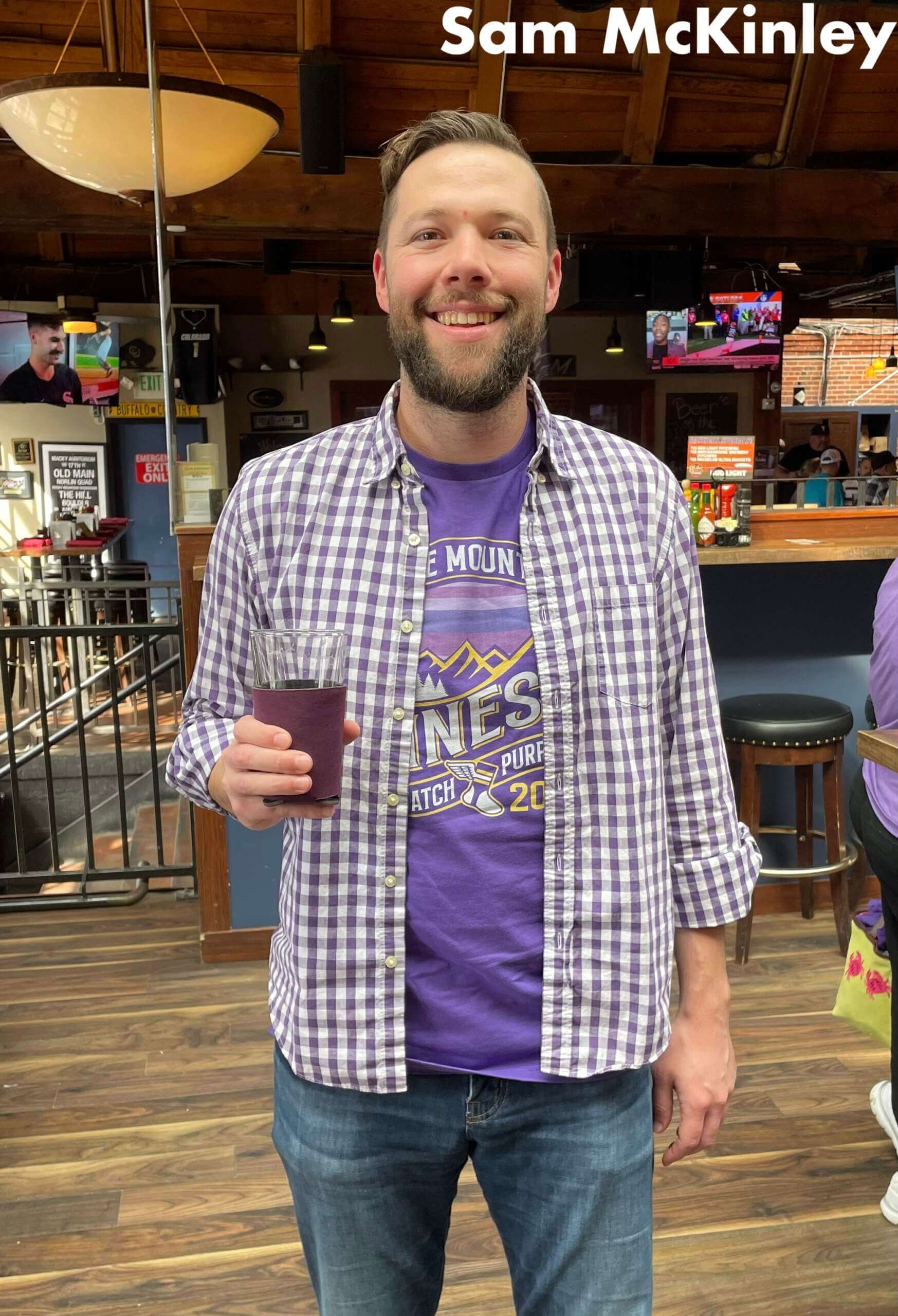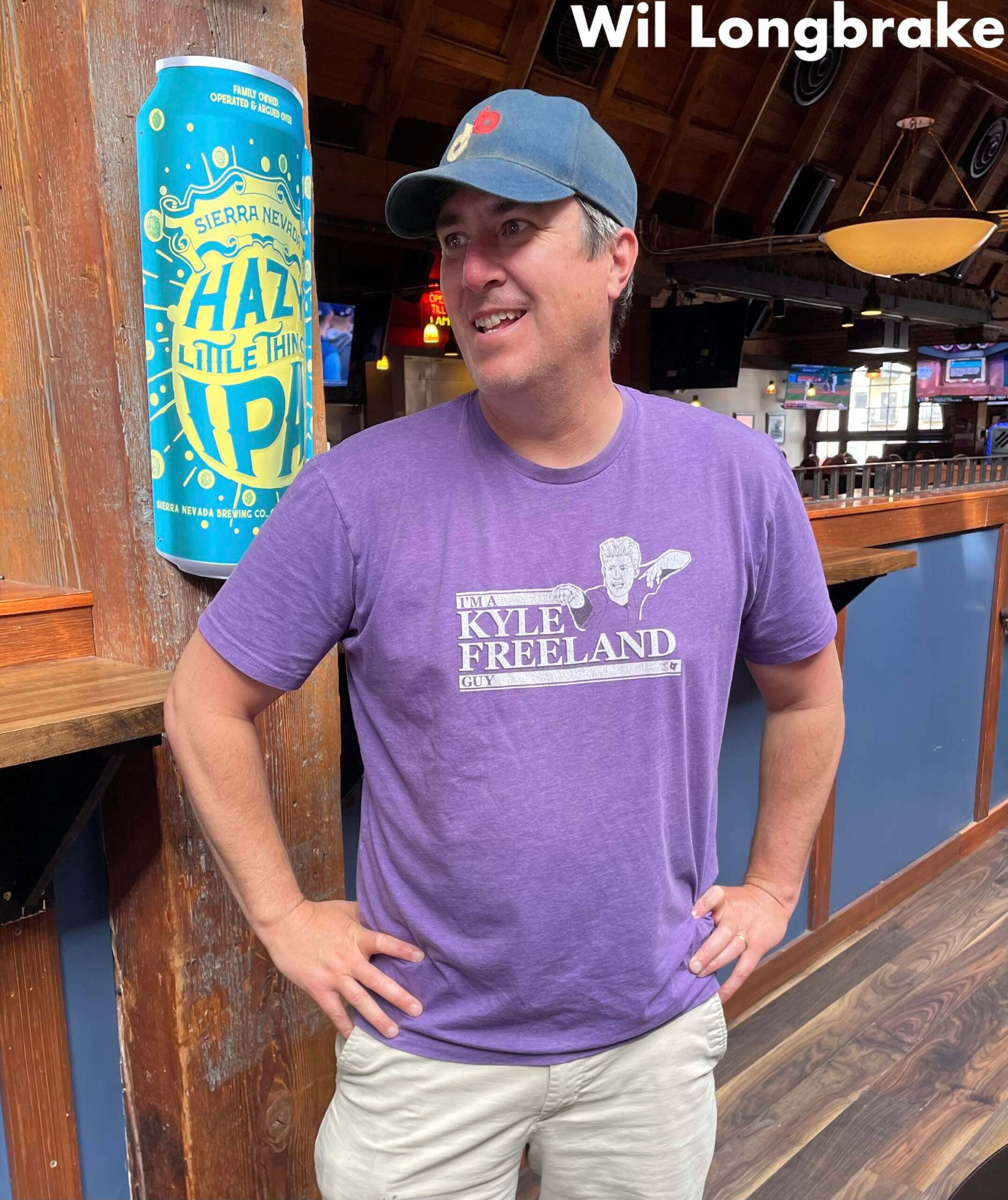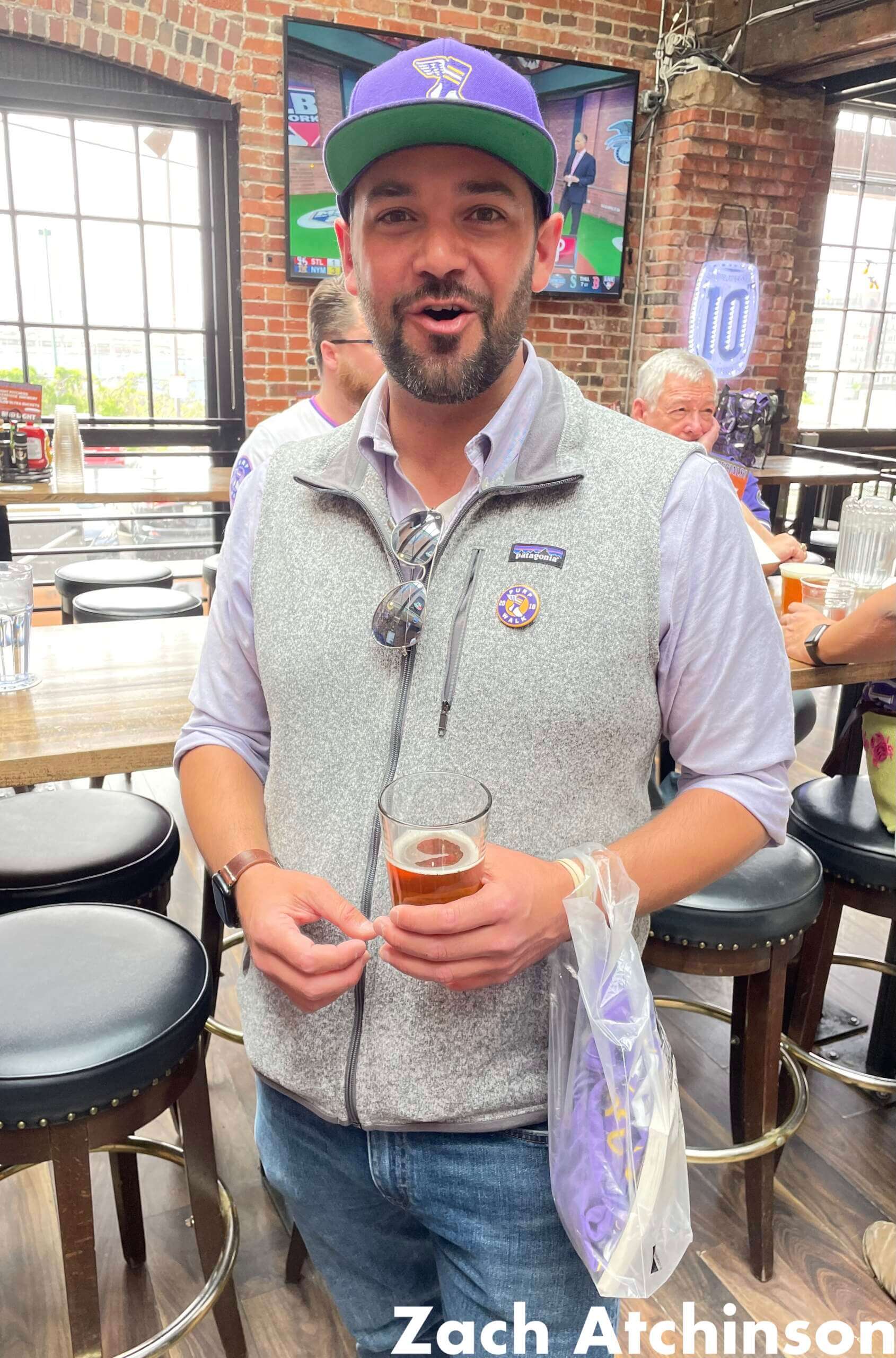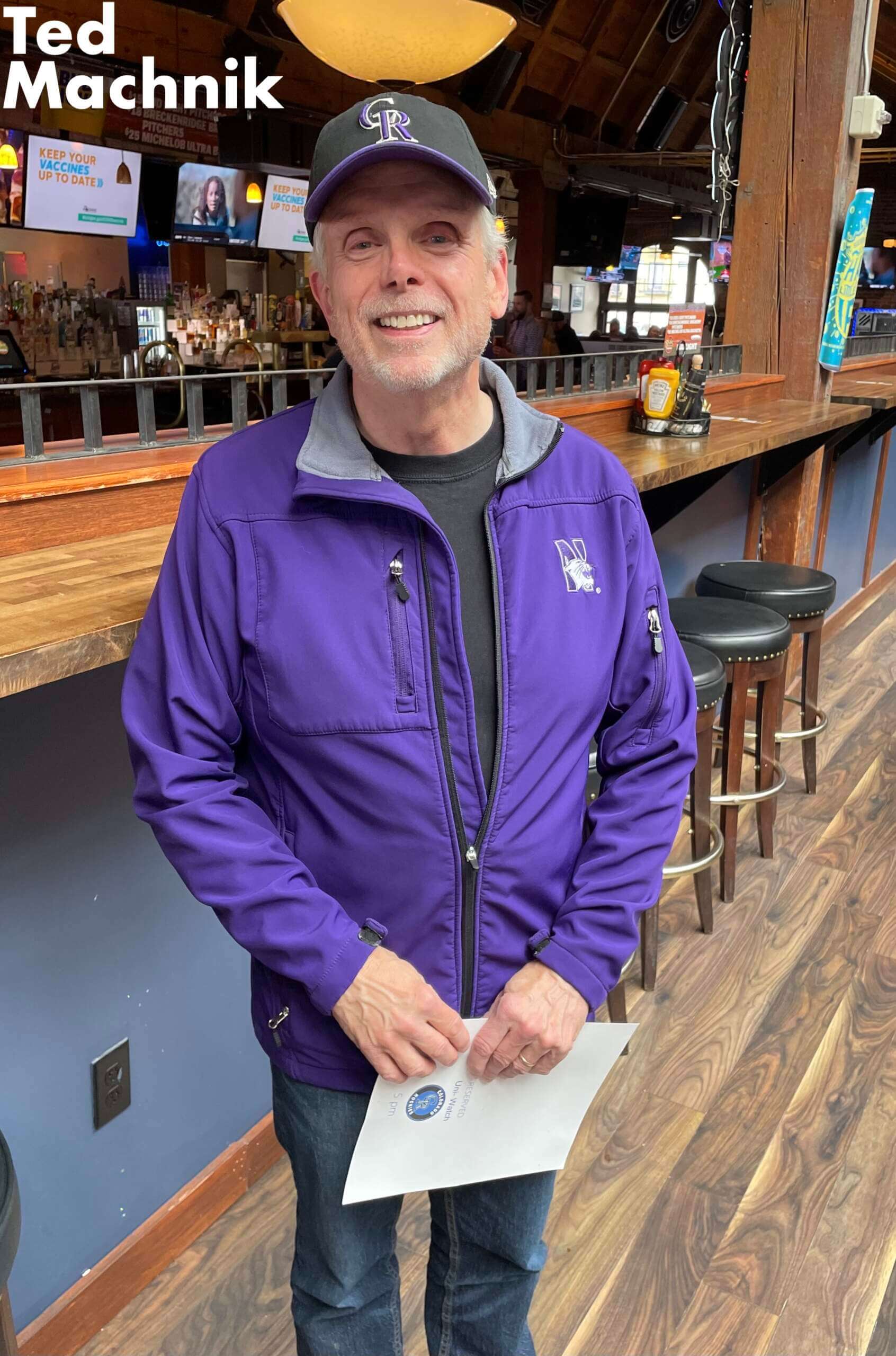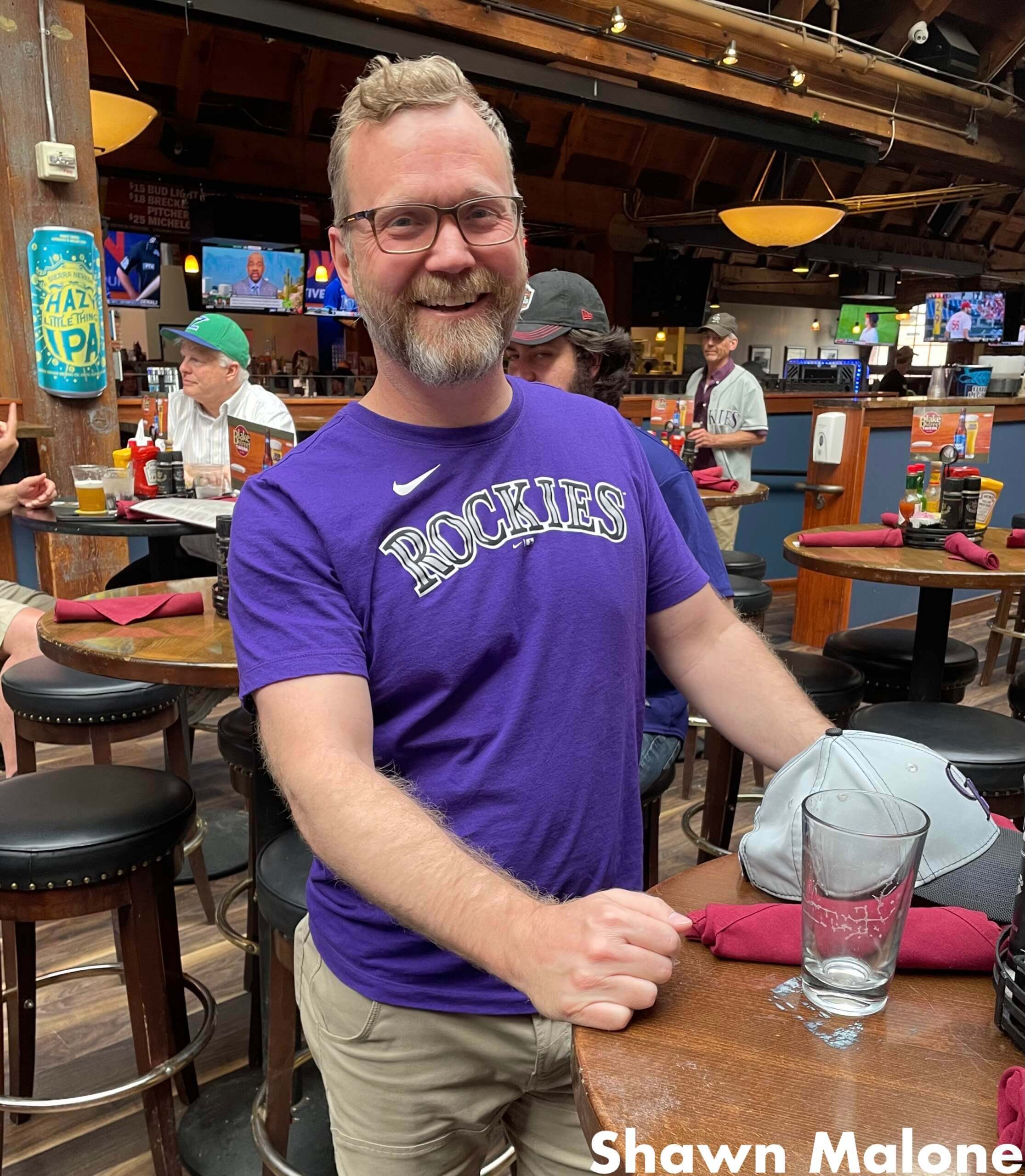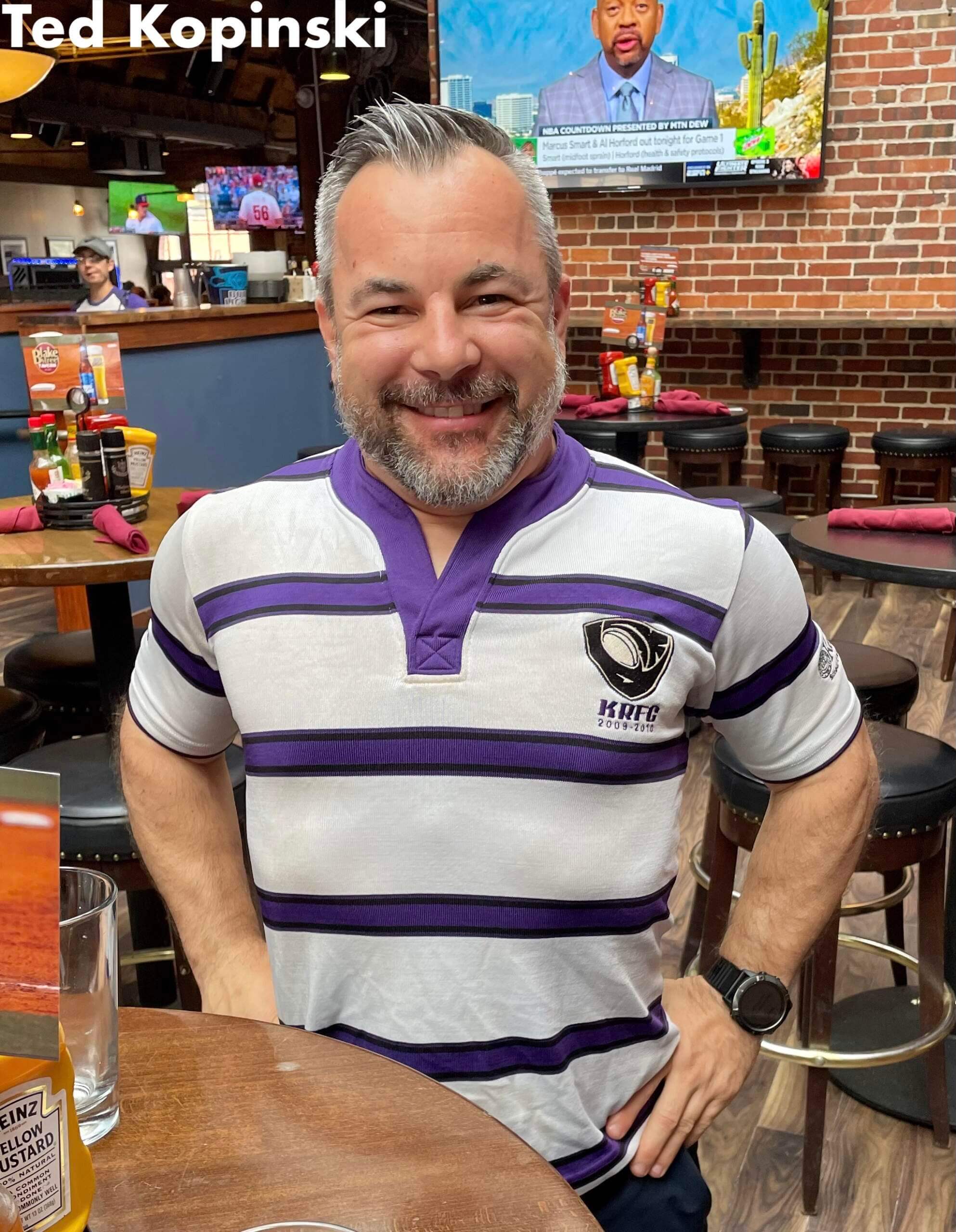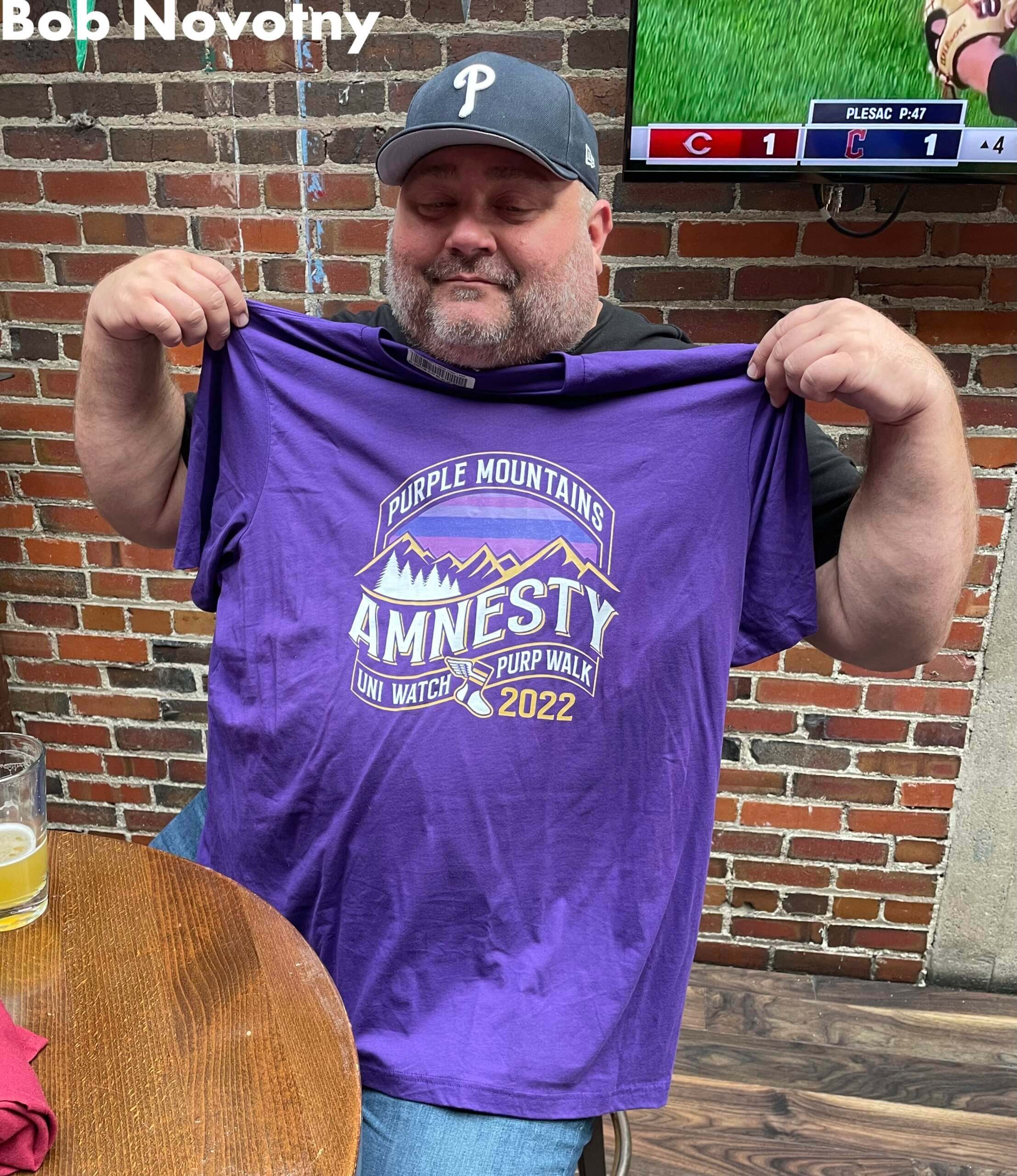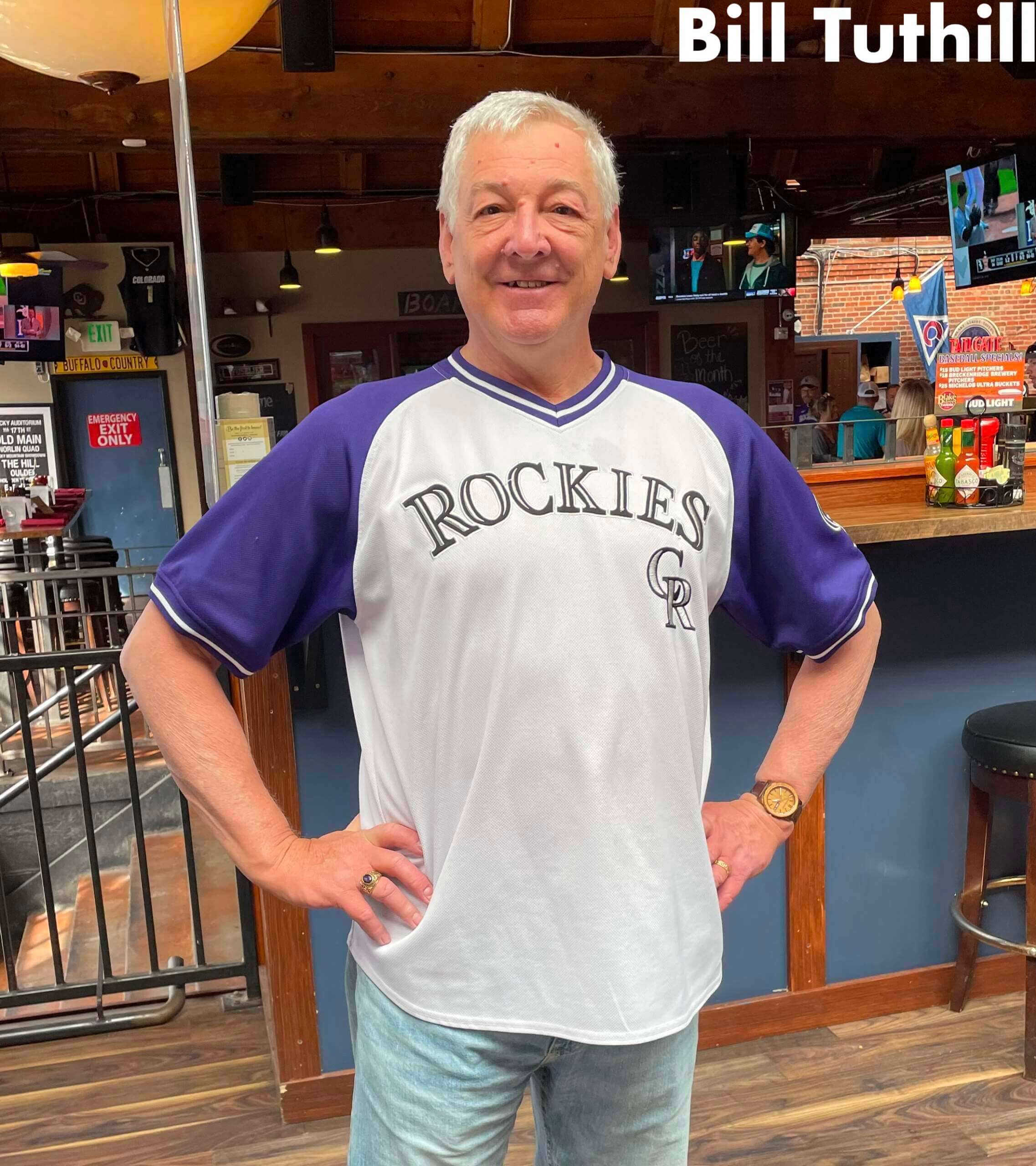 ———
As for me, I wore more purple than I've ever worn before in my life. Granted, that's not saying much, but still, I think you'd have to admit that I really leaned into the spirit of the occasion: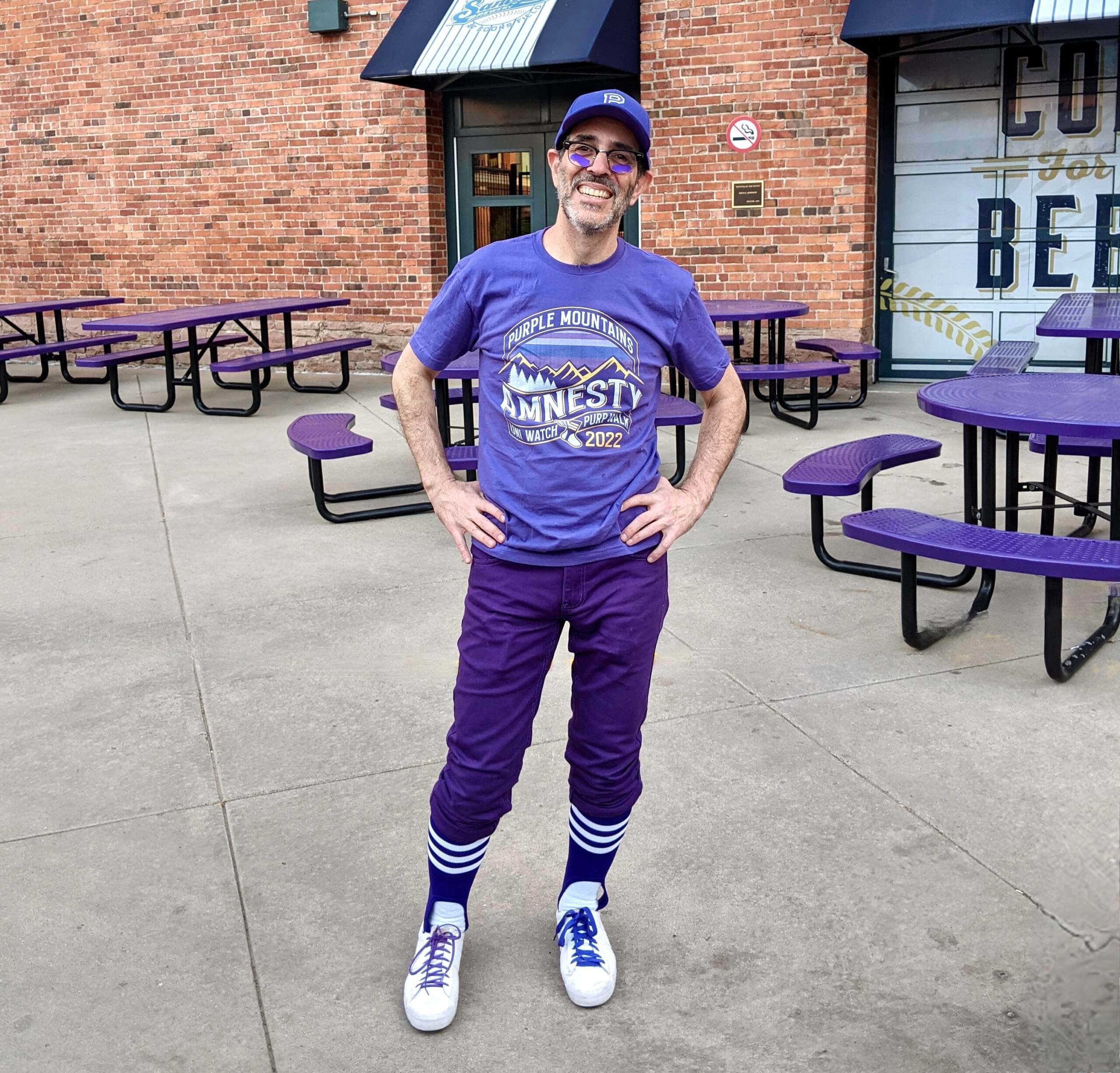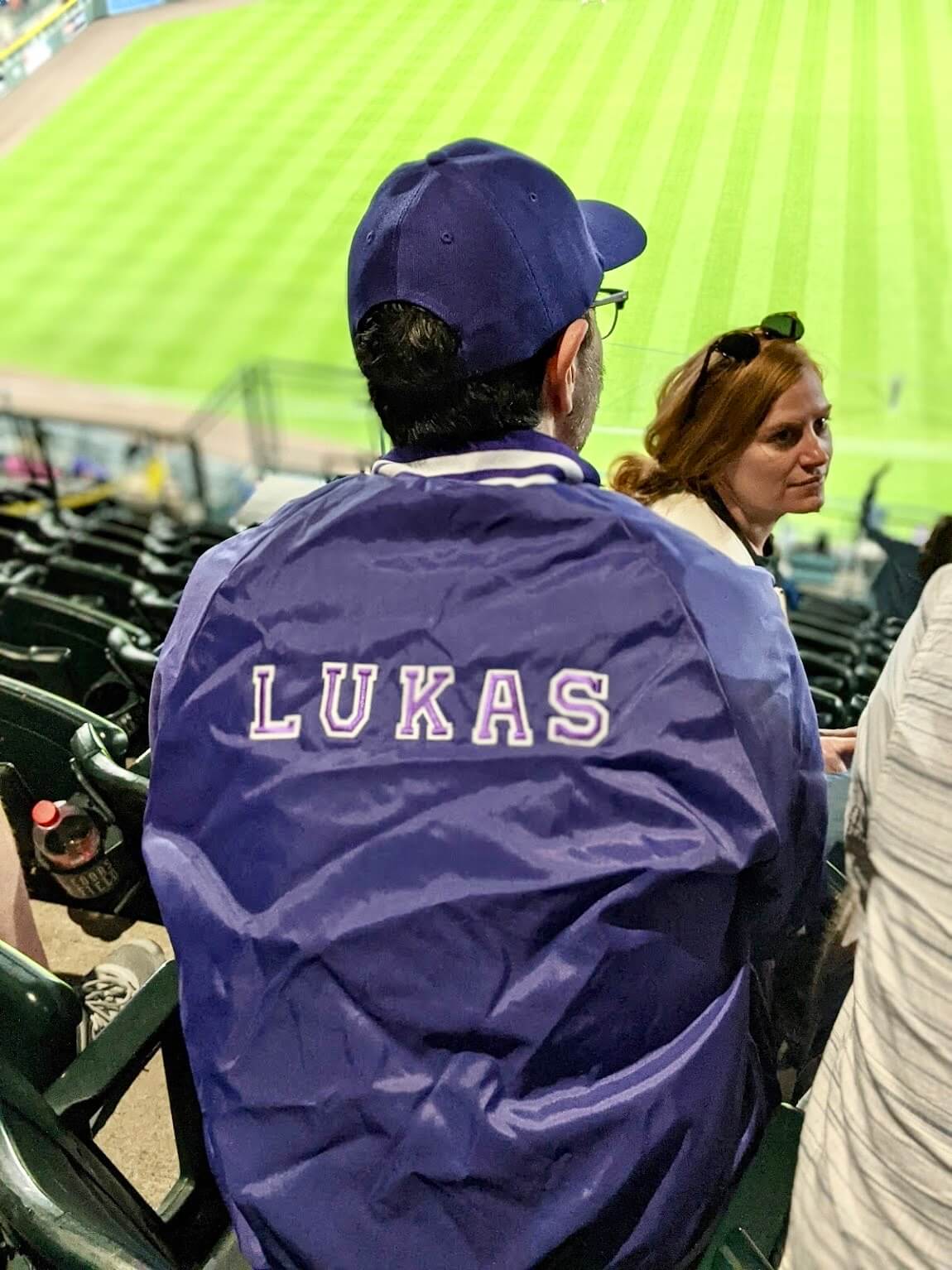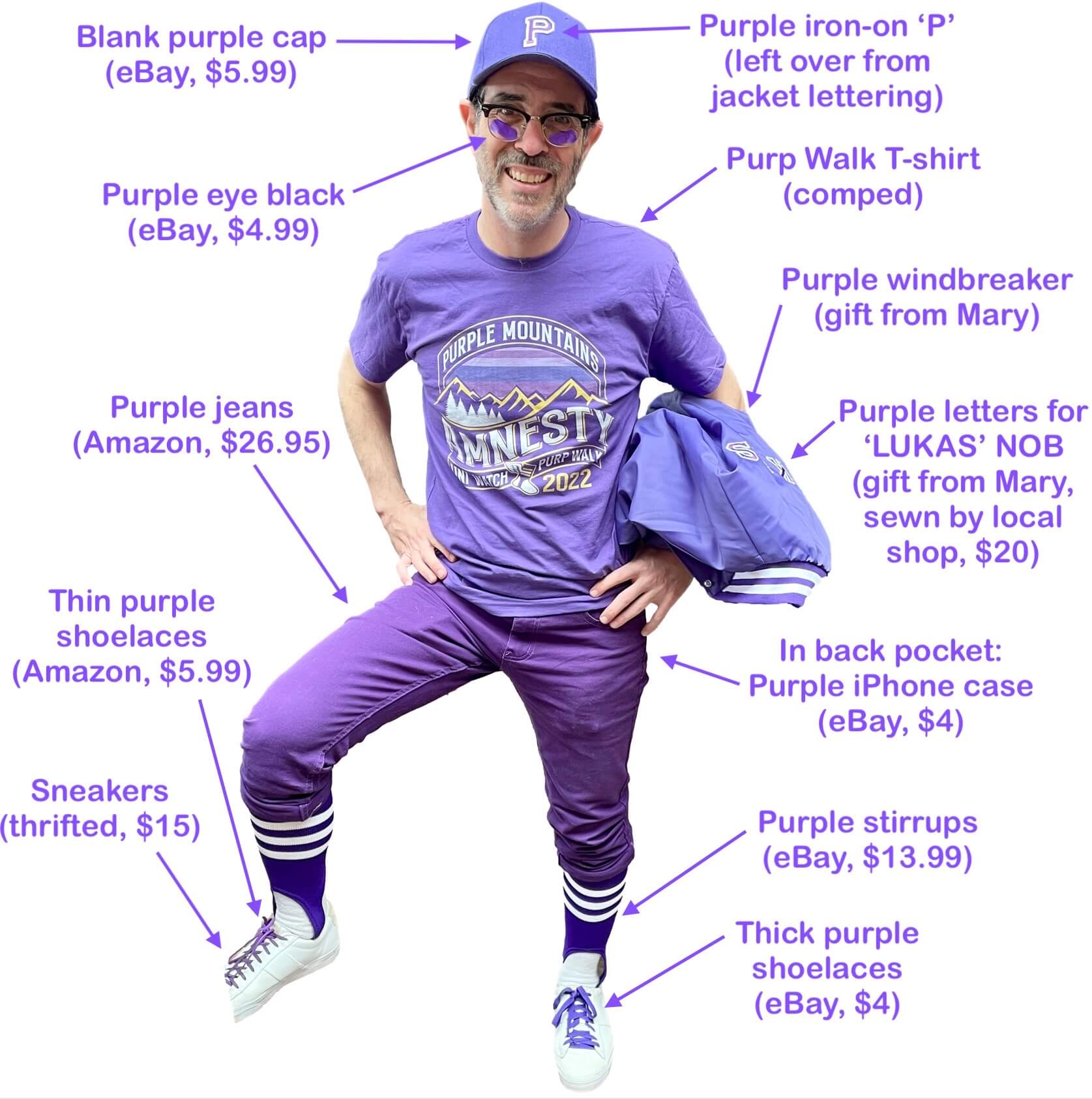 After a few hours of socializing, we decamped for the ballpark, where we sat in the purple row of seats (although you can't really see that the seats are purple once everybody's sitting in them; photos by Tyler Maun):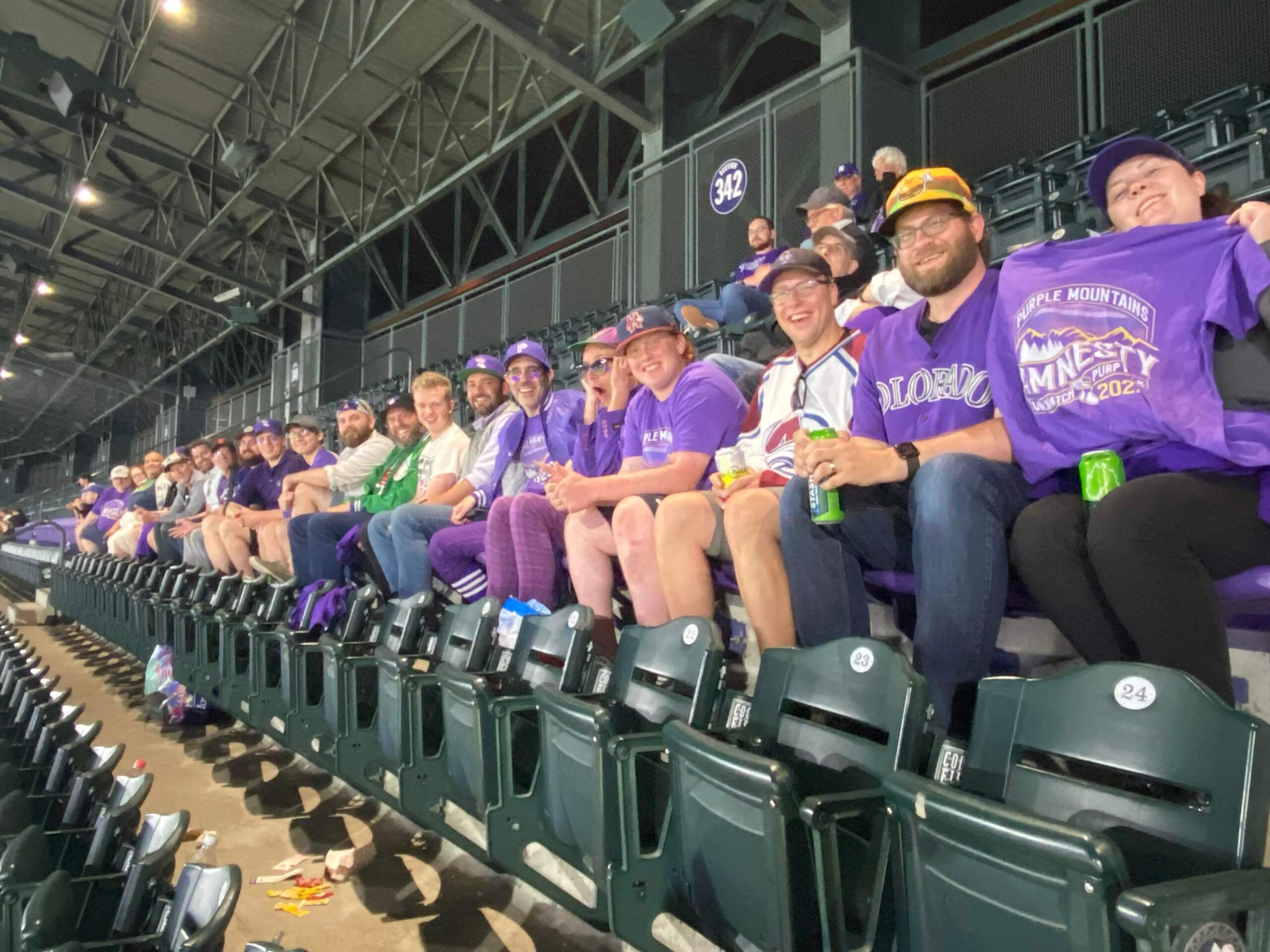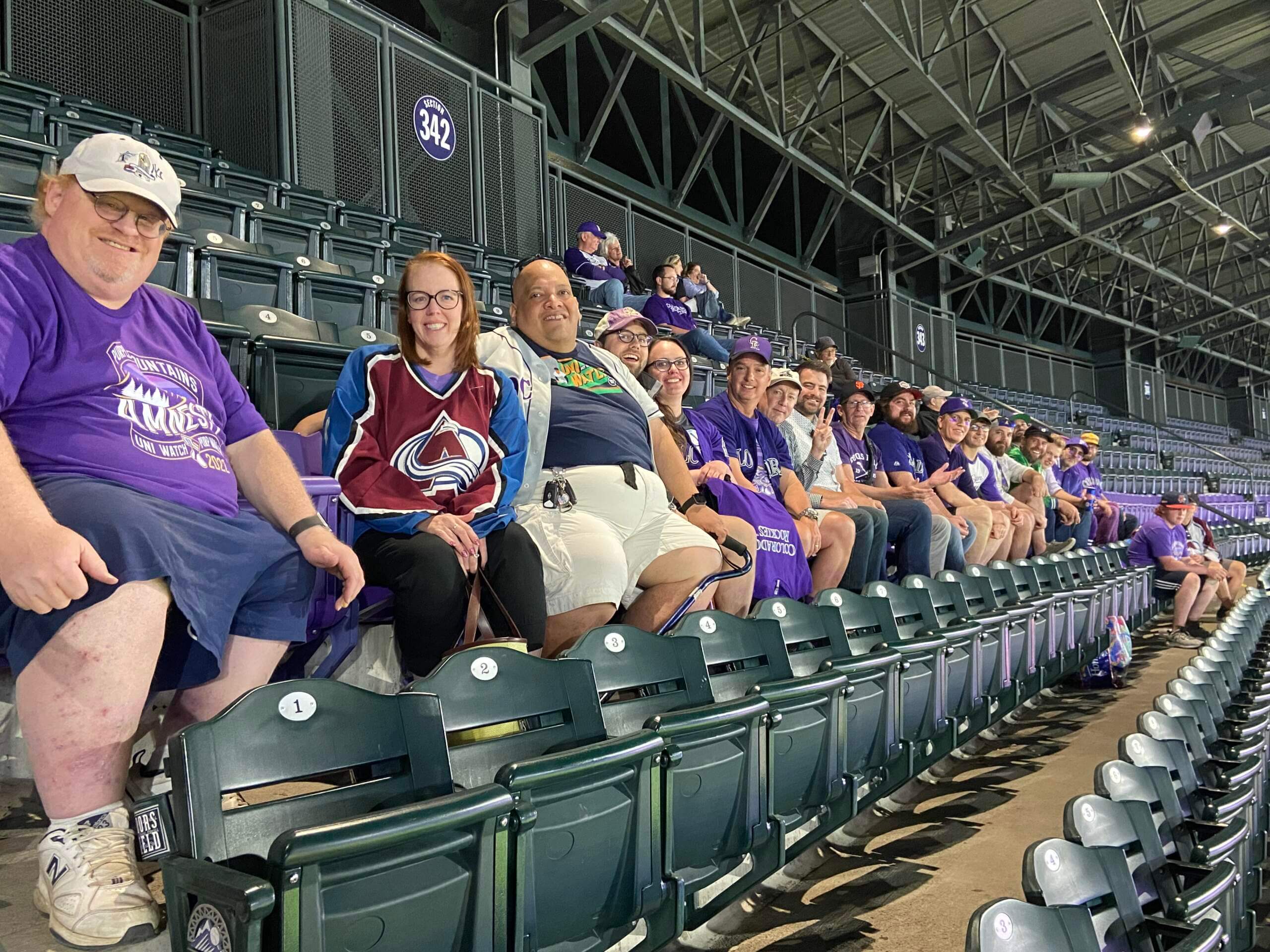 We also got a mid-game visit from the Rockies' costumed mascot, Dinger. I already ran this photo last Wednesday, but it's good enough to repeat: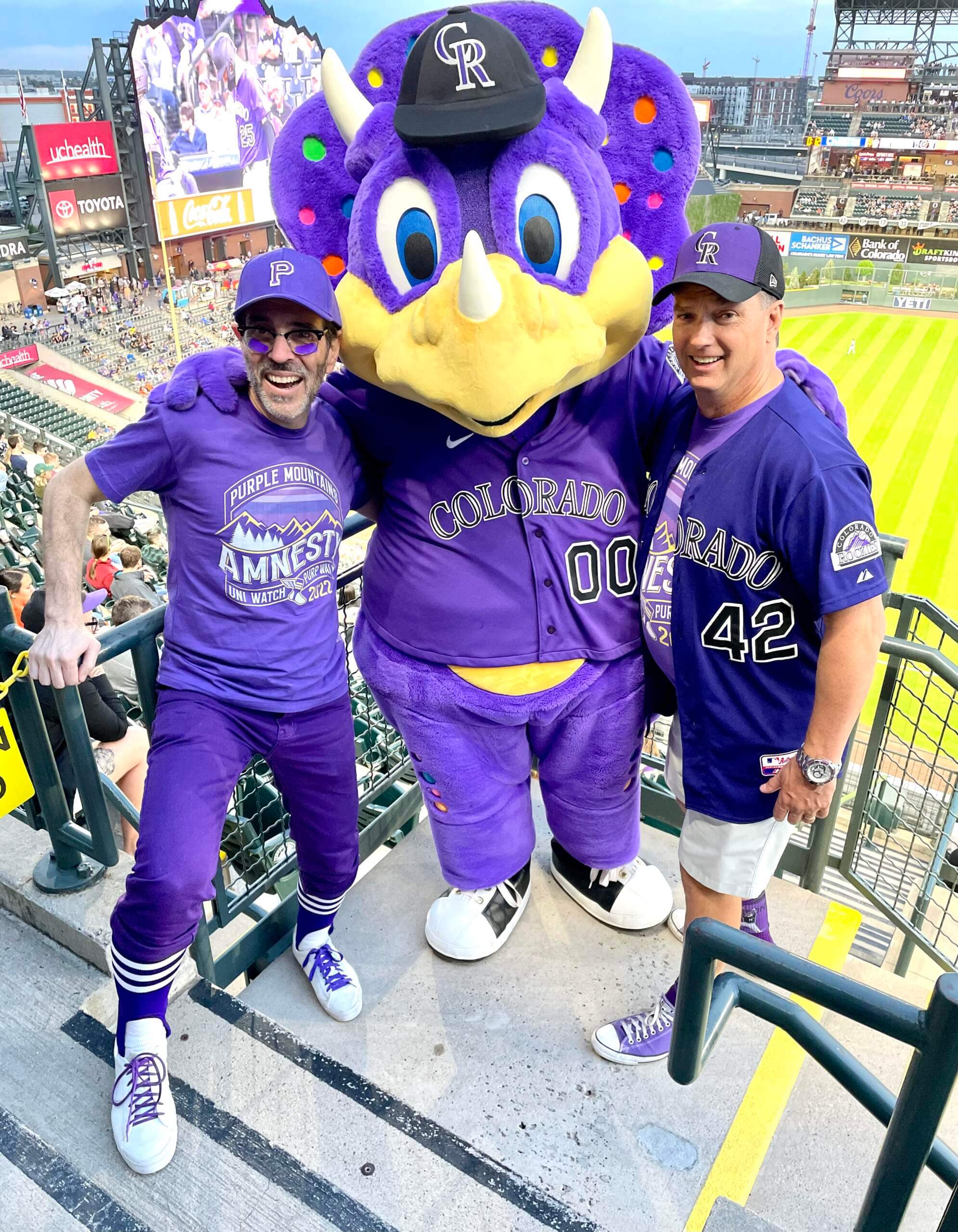 Dinger's visit was coordinated by Rockies entertainment director Brady O'Neill, who also supplied us with some Rockies T-shirts to give away at the party. Naturally, he wore purple at the ballpark, but I'm pretty sure that comes with his job: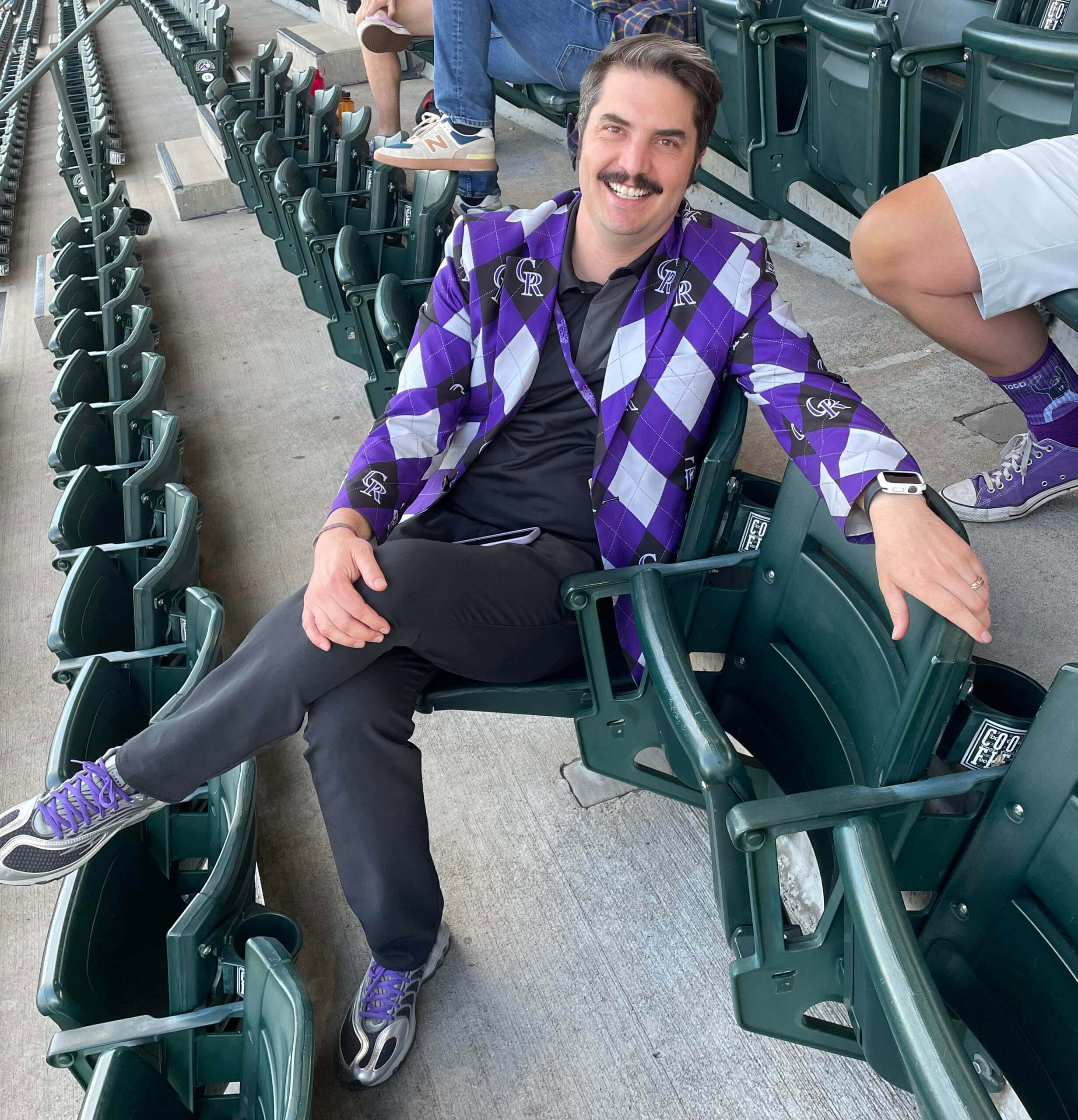 While we were at the game, someone produced an official MLB baseball (I'm not sure if it was a foul ball from batting practice that someone found under their seat or what), which everyone signed in purple. The ball was then presented to me as a memento of the evening's activities: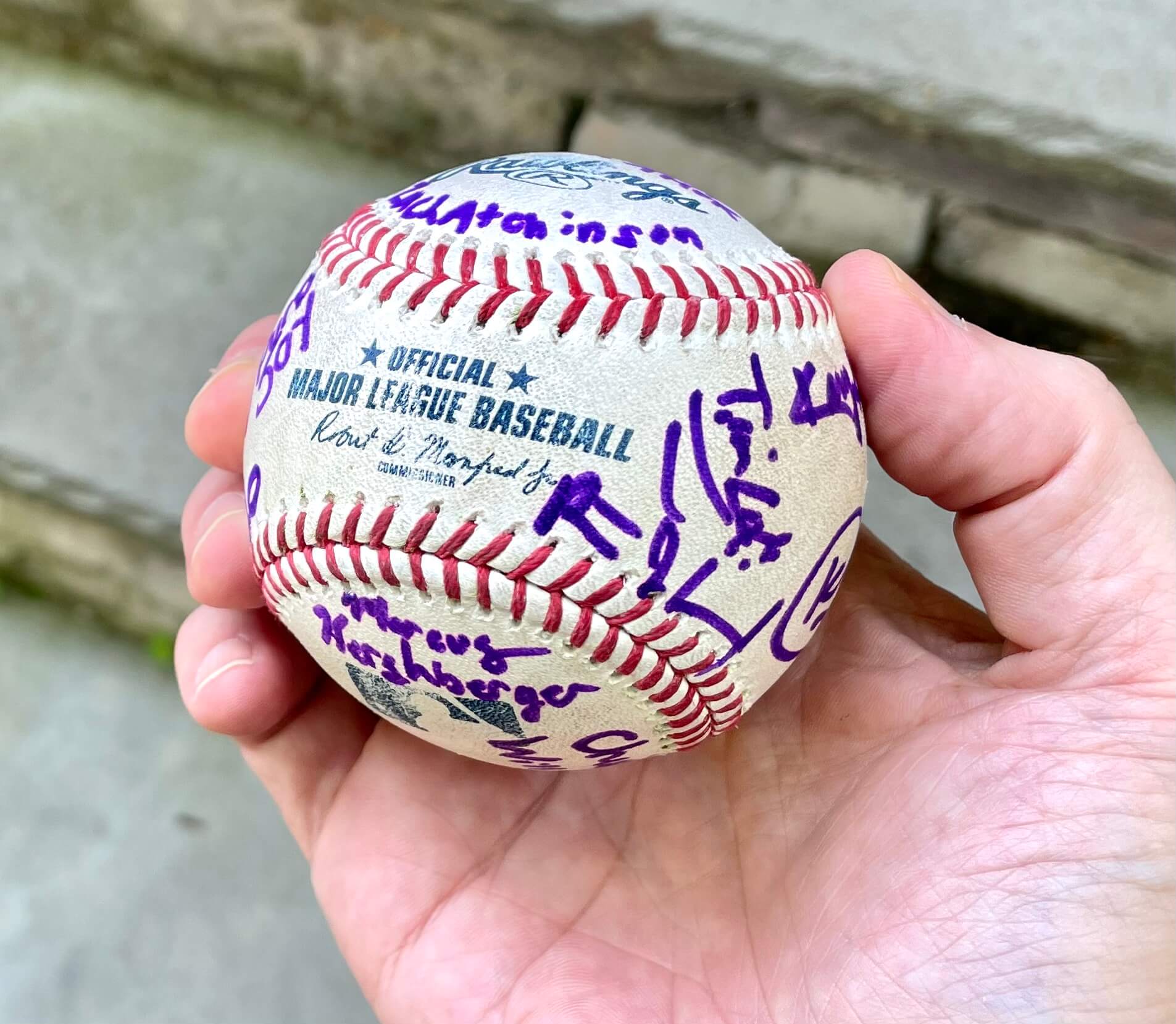 ———
In case you couldn't tell, it was a really fun time. Big thanks to everyone who came out, and doubleplusthanks to Kary Klismet for taking photos and generally being helpful.
My biggest thanks, though, goes to Tim Cox, without whom none of this would have happened. Thanks for all your friendship and support, Tim — it's all very, very special.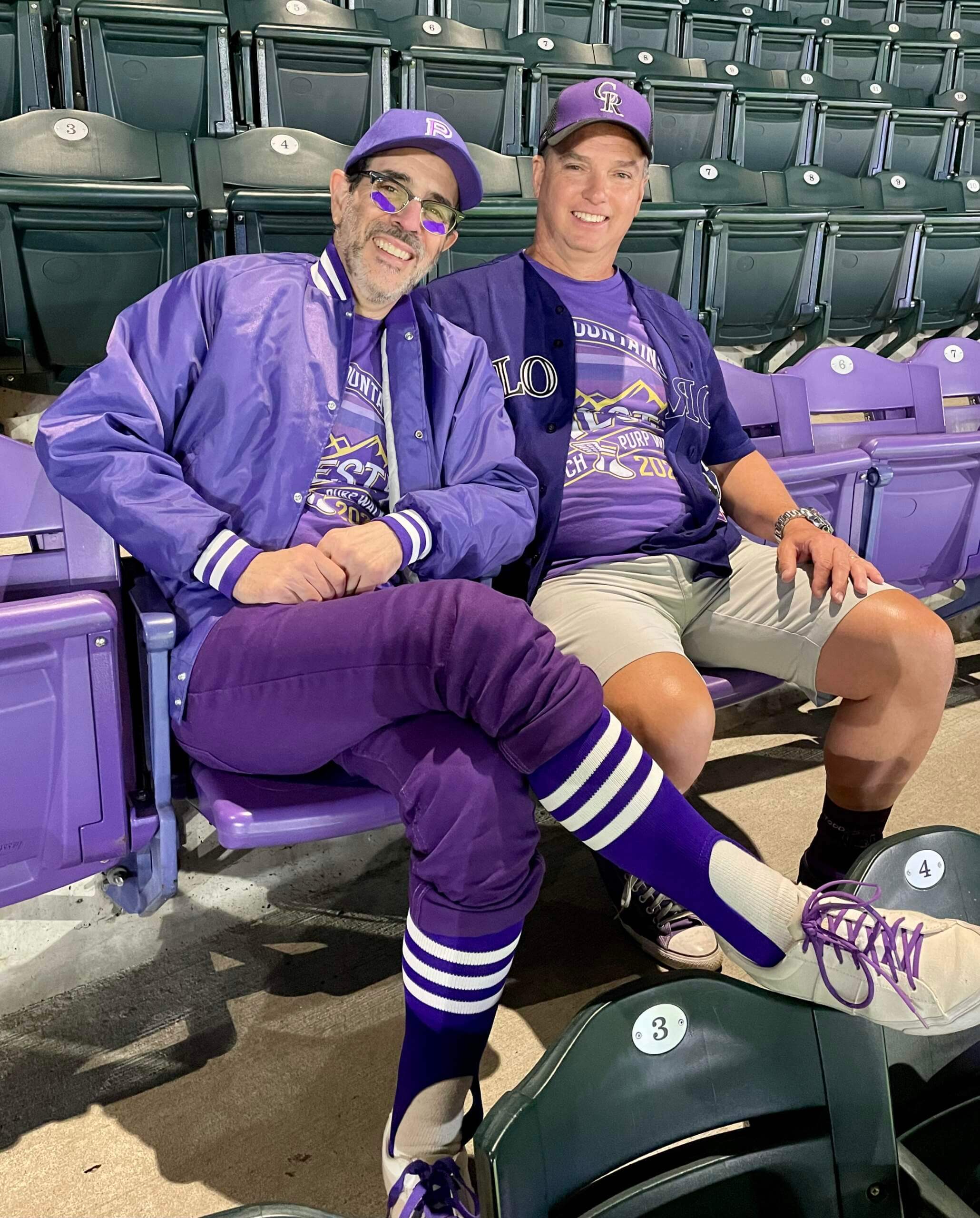 • • • • •
• • • • •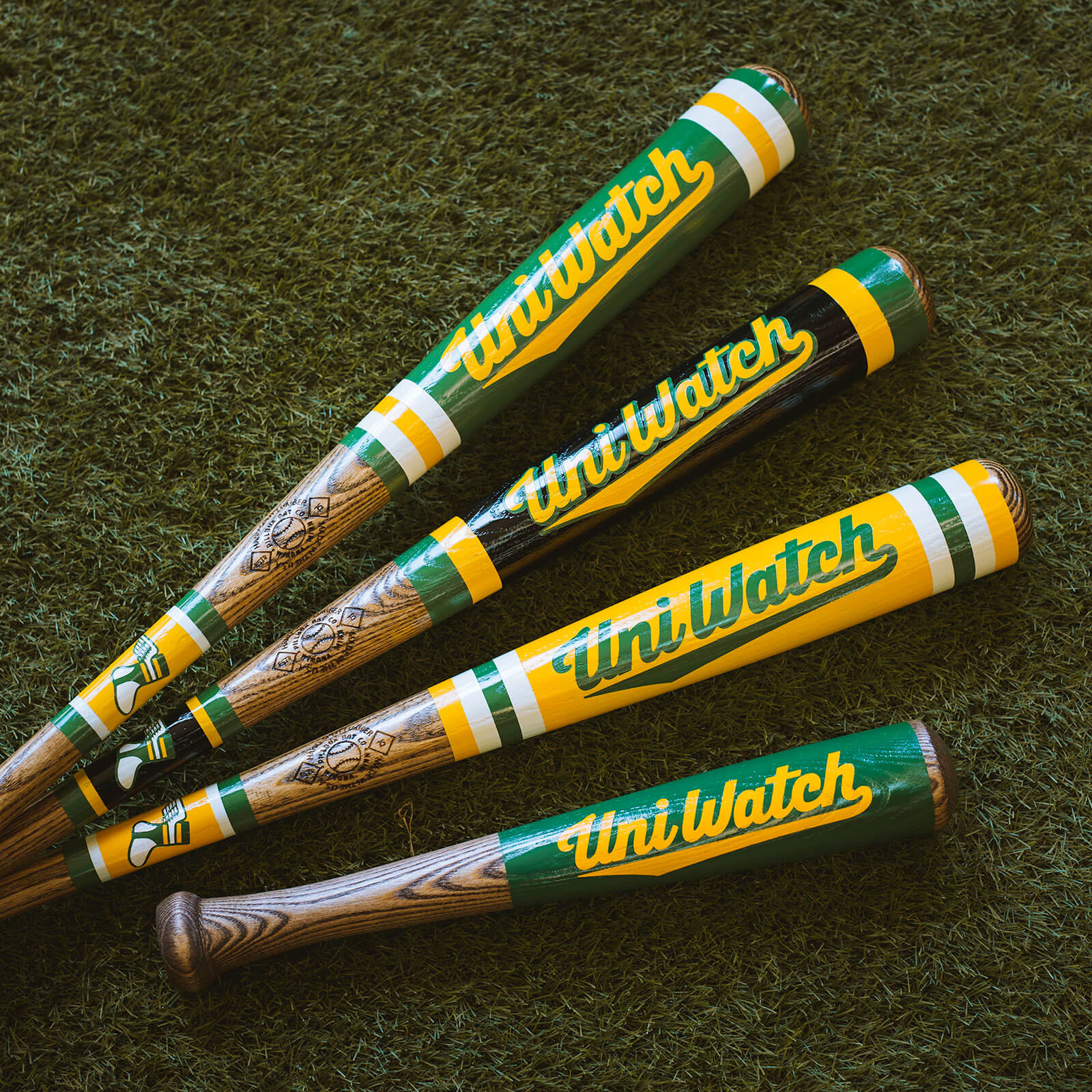 LAST CALL for Father's Day bats: If you want one of our Uni Watch bats in time for Father's Day, you must get your order in today. The bats are available here, so move fast if you want that special gift for dad.
• • • • •
• • • • •
The Ticker
By Jamie Rathjen

Baseball and Softball News: The Marlins skipped the camouflage caps when wearing their City Connect uniforms on Saturday (from Mike Nessen). … The Royals wore City Connect pants with their powder blue jerseys yesterday (from David Lesky). … MLB's rosin bags are all made by one guy in San Francisco (from @scurryn and Mike Chamernik). … Reader Kaylee Salm checks in from the NCAA softball tournament, where, if you're not aware, high-cuffery is the norm. There are lots of stirrup styles on display, but the most common seems to be "ones that are the same color as the sanitary socks but with a color accenting around the edges," Kaylee says. … The Single-A Myrtle Beach Pelicans wore white jerseys on the road yesterday because both they and the Columbia Fireflies wore their Copa de la Diversión jerseys (from Randall J. Sanders). … A surprising number of MLB players are very particular about wearing cologne on the field.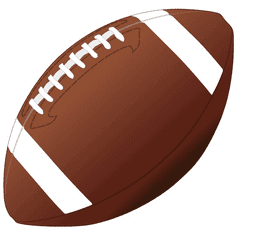 Football News: New Chiefs WR Skyy Moore will wear No. 24, and as Andrew Cosentino points out, he wore the number in college but even there wide receivers with numbers in the 20s are uncommon. … Inspired by this 2016 entry where Paul points out how old '50s and '60s football players seemed to look, reader Taylor Warntjes sends us a Flintstones anecdote where Fred and Barney, attempting to pass as college students, tell a police officer they're on the football team when they're told they look too old. "It would seem there was at least some level of societal awareness in 1963 that football players appeared older than they were," Taylor says.

Hockey News: Stats you didn't know you needed: here is a breakdown of this season's leading NHL point scorers by which color stick tape they use, as well as the top 10 for both black and white tape (from Ted Taylor). … Reader Will Schiebler sent us these pictures of the AHL's Lowell Lock Monsters' inaugural season jersey from 1998-99, which had the first and last letter of the NOB larger than the other letters and apparently at some point had multicolored NOBs/nameplates. … A character in the ice hockey manga Supinamarada! wore an Avalanche jersey that does not quite appear to match any of their jerseys, being closest to the team's first maroon design (from Johnny Garfield).

Basketball News: A team in Japan's men's B.League, Shimane Susanoo Magic, is owned by Bandai Namco and not only uses Pac-Man as a mascot, he's also on their jerseys (from Jeremy Brahm).

Soccer News: From the Premier League final day: Manchester City and Manchester United both wore memorial patches for the 5th anniversary of the bombing of the city's arena after an Ariana Grande concert. The bee is a symbol of the city. … Leicester City's warm-up shirts commemorated the 40th and apparent last edition of an end-of-season tradition where club ambassador/former midfielder Alan Birchenall runs around the pitch for charity. … Meanwhile, only Arsenal wore one of next season's shirts for the first time, as the Premier League allows on the final day. … A draft U.K. government white paper proposes to ban gambling shirt ads in the Premier League, but as the advocacy group quoted in the article points out, there's not much point if the ads are still allowed in other leagues and in other formats, such as on adboards. … The NWSL's North Carolina Courage have a new below-the-numbers ad. … Elsewhere in the NWSL, OL Reign wore a patch for the 50th anniversary of Title IX yesterday. The team also has a commemorative captain's armband this month for Asian American/Native Hawaiian/Pacific Islander Heritage Month. … Scottish club Aberdeen's men's team have a new front ad. … I noticed during Saturday's women's UEFA Champions League final that Olympique Lyonnais striker Eugénie Le Sommer's NOB at club level changed to "Le Sommer.D," which seems like a reference to her married name, and from looking at pictures happened at some point between late August and October 2020. Last year she briefly played in the NWSL for OL Reign and the NOB was more conventional, but now that she's back at Lyon the longer version is back. A third version with no period has also appeared on Le Sommer's France shirt.

Grab Bag: Australia's Super Netball's New South Wales Swifts revealed this year's Indigenous design. The league's First Nations round — renamed from the "Indigenous round" to be more inclusive — starts next weekend and includes a special ball design. … New uniforms for the Six Nations Chiefs, a team in Ontario's top men's indoor lacrosse league, Major Series Lacrosse, based near Canada's most populous First Nation, Six Nations of the Grand River (from Wade Heidt). … If you're not aware, championship hats and T-shirts for some of the NCAA's so-called "Olympic sports" are generic and lack any team branding, as with this example from Virginia's men's tennis yesterday. Wahoowa! (from Colt Smith). … The Chicago Tribune has a new 175th-anniversary logo (from Griffin Smith). … Two police items from Timmy Donahue: Montgomery County, Md., wants to make its police uniforms less intimidating, and Arlington, Texas's police department is allowing tattoos and facial hair. … Also from Timmy: A street in Fort Hamilton, which is NYC's only active military base, will no longer be named after a Confederate general.