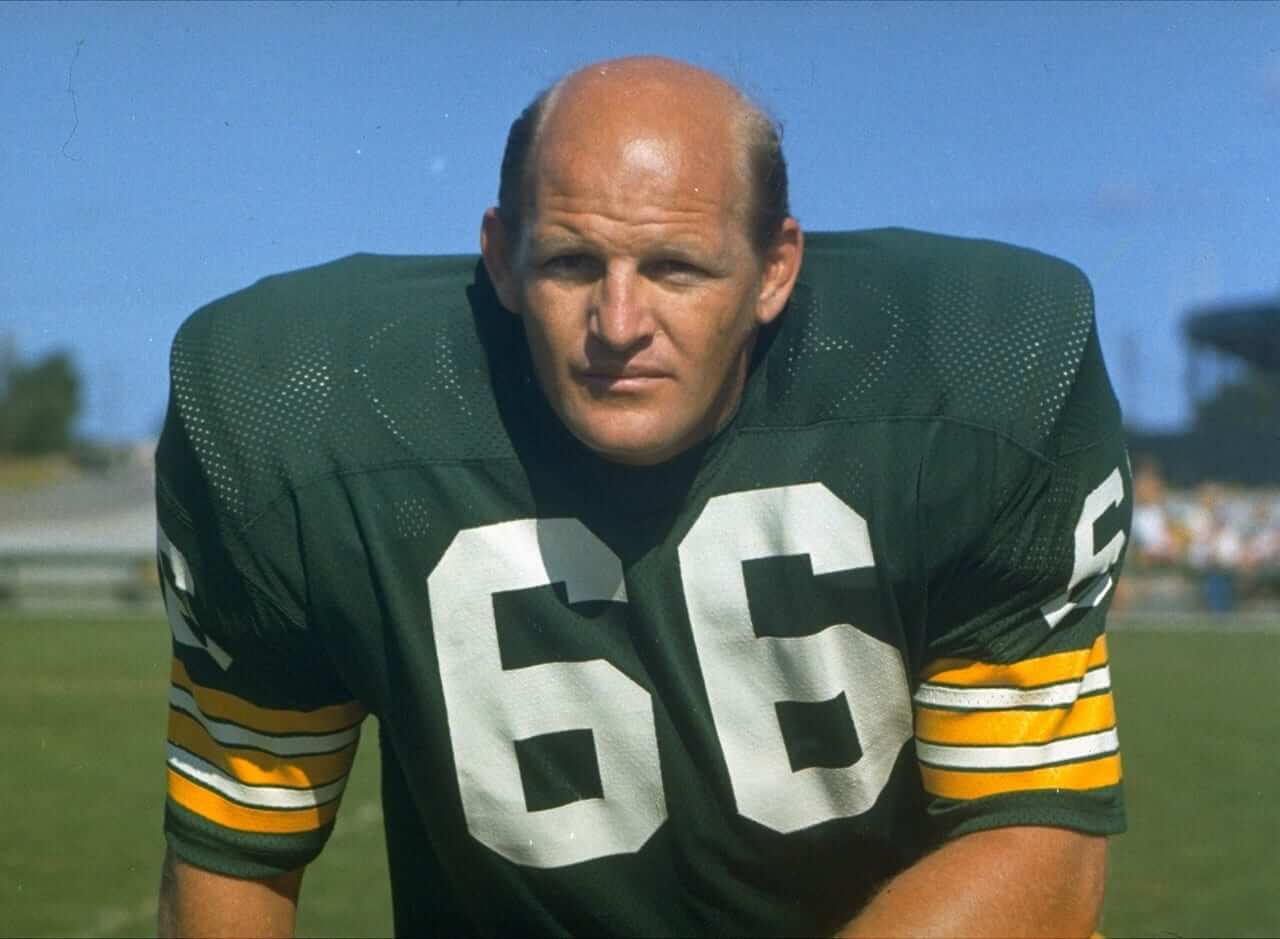 Click to enlarge
Here's a shot of former Packers great Ray Nitschke. I'm not sure of the photo's date, but the mesh jersey suggests that it was taken late in his career. For the sake of argument, let's assume it was taken during his final season — 1972.
If that was the case, then Nitschke was 35 years old when the shot was taken.
He looks older, right? Part of it, obviously, is that he was bald, but I think there was more to it than that. He just looked old. And it's not like he suddenly aged at the end of his career. If you can believe the caption on this Getty Images photo (an admittedly big "if" — dates in Getty captions are sometimes wrong), this next shot was taken in 1965, when Nitschke was only 28:
I bring this up because I've always thought that football players of the 1950s and '60s looked older. They were all in their 20s and 30s, just like today's players, but many of them looked middle-aged, like somebody's dad. Obviously, they didn't have the advantages of modern training, modern nutrition, an ultra-wealthy lifestyle (many of the early guys had to work regular jobs in the off-season), and all the other things today's players have access to. Also, many of them smoked cigarettes. Still, even accounting for all of that, the difference in their faces is striking.
Take, for example, former quarterback Y.A. Tittle. Like Nitschke, he was bald, but you don't have to see that in order to see how old his face looked. Check out this shot from 1964, shortly before his 38th birthday:
Even more striking is the famous Sports Illustrated cover shot of Tittle wearing the "kitchen sink" helmet. That was taken in December of 1954, when he was only 28. But look at this face — does it look like the face of a 28-year-old to you?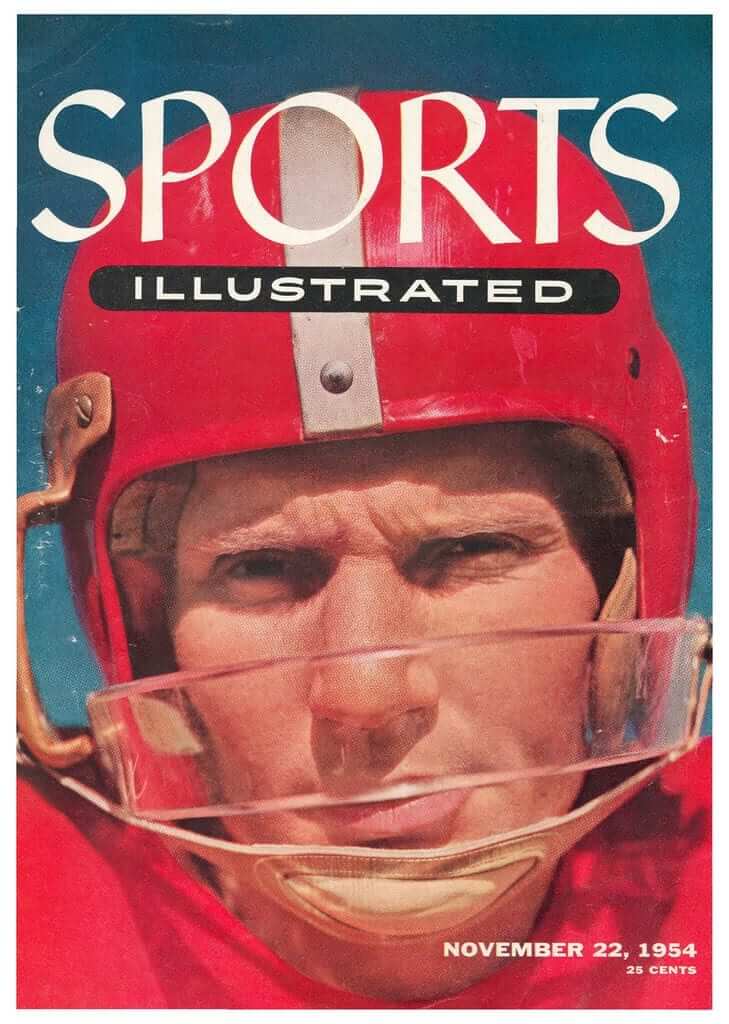 I could stack the deck by showing photos of Tittle with his bald pate exposed (he looks really old in those shots), but there's no need. Instead, check out this shot of him when he was in college at LSU and still had hair:
Does that look like a 20-year-old, or like an office worker in his mid-40s?
And if you think Tittle looked old, check out this shot of him sitting alongside fellow Giants quarterback Charlie Conerly. The photo is undated, but Conerly actually played up to the age of 40 (very unusual in those days), so let's assume that's how old he was when this shot was taken. I'd say he looks significantly older than that:
When I showed that photo to the Tugboat Captain, she said, "My god, what was his off-season job — coal miner?"
And there are more examples. One of my favorite football books is a 1960 volume called The Pros (highly recommended — Uni Watch's highest rating!), which I spent hours poring over when I was growing up. It's full of photos showing players with their helmets off, and most of them look like middle-aged suburban dads to me. Here are a few examples (click to enlarge; and no, the first two photos do not show the same guy):
These guys all look like — I don't know how else to put this — grown-ups. By contrast, most of today's players look like boys, at least to me. One reason for that may be that youth culture barely existed in 1960, when The Pros was published. Rock and roll, as pioneered by Chuck Berry and Elvis, was still very new and viewed by many as just a fad, and nobody in America had yet heard of the Beatles. The general way of thinking back then was that you transitioned from boy to man, with nothing in between (a frame of mind that was no doubt reinforced by the military draft, which was in effect from 1940 through 1973). Today, by comparison, early adulthood often tends to be an extended adolescence fueled by various aspects of pop culture. That may explain why the early players looked and felt like grown-ups, while today's players often seem more like boys with toys.
•  •  •  •  •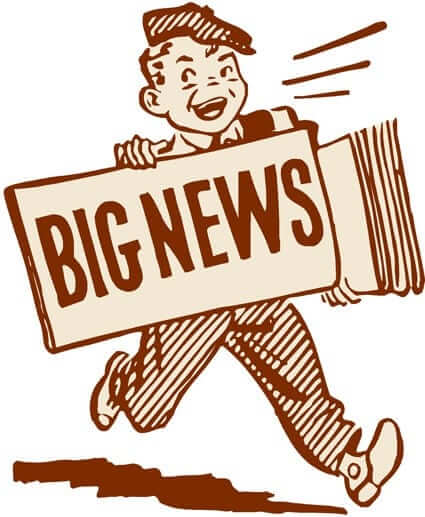 Queens Baseball Convention: The 2017 Queens Baseball Convention — essentially a Mets fan-fest convened by Mets Police blogger Shannon Shark — will be taking place on Saturday, Jan. 28, 11:30am to 6pm, at Katch in Astoria, Queens. I will once again be chairing a panel on uniforms, which will run from 2-3pm. Other panelists will include uniform designer/historian Todd Radom, Mets stitcher Russ Gompers, Mets uniform number savant Jon Springer, Mets jersey collector extraordinaire Nick Disalvo, and of course our own Phil Hecken. There will be plenty of other Mets-centric activities, including autograph sessions with Tim Teufel and Bobby Valentine. For tickets and further info, look here.
Meanwhile, a few other bits of news:
• In case you missed it earlier this month, reader Patrick Nance and I have teamed up to create a browser extension that automatically changes corporate-named stadiums, arenas, and college football bowl games to their pre-corporate names. We've gotten a lot of feedback and suggestions from you, and that feedback has been incorporated into the latest version of the extension, which is now available for Chrome and Firefox. Enjoy.
• In case you missed it on Christmas Day, here are the winners of the annual year-end raffle. All but four of the items have shipped out, and I should have those four stragglers in the mail by the end of tomorrow, so all you winners should watch your mailboxes.
• • • • •
The Ticker
By Mike Chamernik

Baseball News: Mike Trout grew up in New Jersey and cheers for Philadelphia sports teams. This week he bought new shoes for every Eagles player that wears Nike (from Brinke). … A Hardball Times writer renamed (almost) every MLB team, based on location characteristics. … Check it out: A retro Padres luchador mask (from @ChrisRichardsPD).

Pro Football News: Back in 1963, Bob Dee of the Patriots had pretty large NOB lettering (from Mark Murdock). … A funeral home made a personalized Steelers NOB for a lifelong fan who passed away (from Brian Cox). … The guy who designed the logo for the Arena League's New York Dragons is a full-time Star Wars artist (from @LouiseBrooksFC). … This 1965 CFL coin board is really neat (from @TySpace). … NFL Network photoshopped Tony Romo into a few uniforms of the teams he could possibly play for next year (from Phil). … Check out this old photo of Seattle QB Jim Zorn: Seahawks vs. Seahawks! An intrasquad scrimmage, perhaps? They usually wear practice jerseys for scrimmages nowadays (from Gene Sanny).

College Football News: Colorado will wear a memorial decal for Rashaan Salaam in tonight's Alamo Bowl. Salaam, who died in early December, won the Heisman Trophy for the Buffaloes in 1994. More info here (from Phil). … West Virginia QB Skyler Howard usually wears a clear visor, but David Cline reports that he removed it during yesterday's bowl game against Miami due to humidity. He had to keep wiping it off early in the game. … Between the ACC patch, TV numbers, and massive bowl game logo, Miami's jerseys were quite busy last night. "I haven't watched any bowl games this year, but I don't remember ever seeing a patch that high up," says Diego Yanez. … LSU's police escort for the Citrus Bowl in Orlando had LSU-style helmets (from Samuel Eastman). … Here's a good slideshow that shows the evolution of Western Michigan's uniforms (from Jeremy Edom). … Virginia Tech players and coaches discussed the importance of No. 25, which is given to a different special teams player every week (from Andrew Cosentino). … Indiana's Richard Lagow wears No. 21, an uncommon number for a QB, to honor his sister. Katherine Lagow wore 21 while playing soccer at LSU (from Andrew Smith). … An Indiana player had a helmet decal glitch last night. Some of his teammates had their bowl game jersey patches coming loose or falling off completely. … Here's what Virginia Tech will be wearing today in the Queen City Bowl (from Andrew Cosentino).

Hockey News: The Penguins wore white at home last night (from Yancy Yeater). … Also from Yancy: The Senators have a logo for Daniel Alfredsson's jersey retirement ceremony. Retraite means "retirement" in French … Marc-Louis Paprzyca ranked the Blackhawks' five Winter Classic uniforms. Also, Corey Crawford's mask for this season's Winter Classic has been revealed. … A graphic designer mocked up a few Golden Knights license plates. If I were a Nevada resident, I'd choose this one. … The Cleveland Monsters will wear Indians-themed jerseys in January. … USA and Slovakia's jerseys mirror each other (from John Keleman). … The Flames wear Alberta's flag on their shoulders, so their AHL affiliate, the Stockton Heat, have California's flag as a patch on their jerseys (from Alexander Kinkopf). … Interesting idea over on Hockey Reddit: When Avs fans do the wave, they should start at the top of the arena and move downwards, simulating an avalanche. … On a related note, the Avs wore black helmets during their first few games of their first season in Colorado in 1995-96 (from Moe Kahn). … Penguins equipment manager Dana Heinze keeps an old can of Penguins-branded paint in his office and adds a paintbrush decal to it each time the team wins (from Harry Michelson). … Heinze also keeps a "graveyard" of goalie mask cages that have been taken out of service after being bent or dented. He annotates each one with the names of the players who wore it and ruined it.

NBA News: The Rockets will retire Yao Ming's No. 11 in February. The center will be the sixth Rocket to have his number retired. … Fox Sports ranked every team's best logo. For fun, the site named each team's worst logo, too.

College Hoops News: Tulane and UCF went color-vs.-color last night (from @MrCatsPatrick). … A Kentucky high school team wears Indiana-style candy stripe warmup pants (from Phil).

Grab Bag: The New York City police department will now allow religious Sikhs on the force to wear beards and turbans while in uniform, as long as the turbans are blue. … Jordan Brand is releasing the Air Jordan 1s as a golf cleat (from Phil).