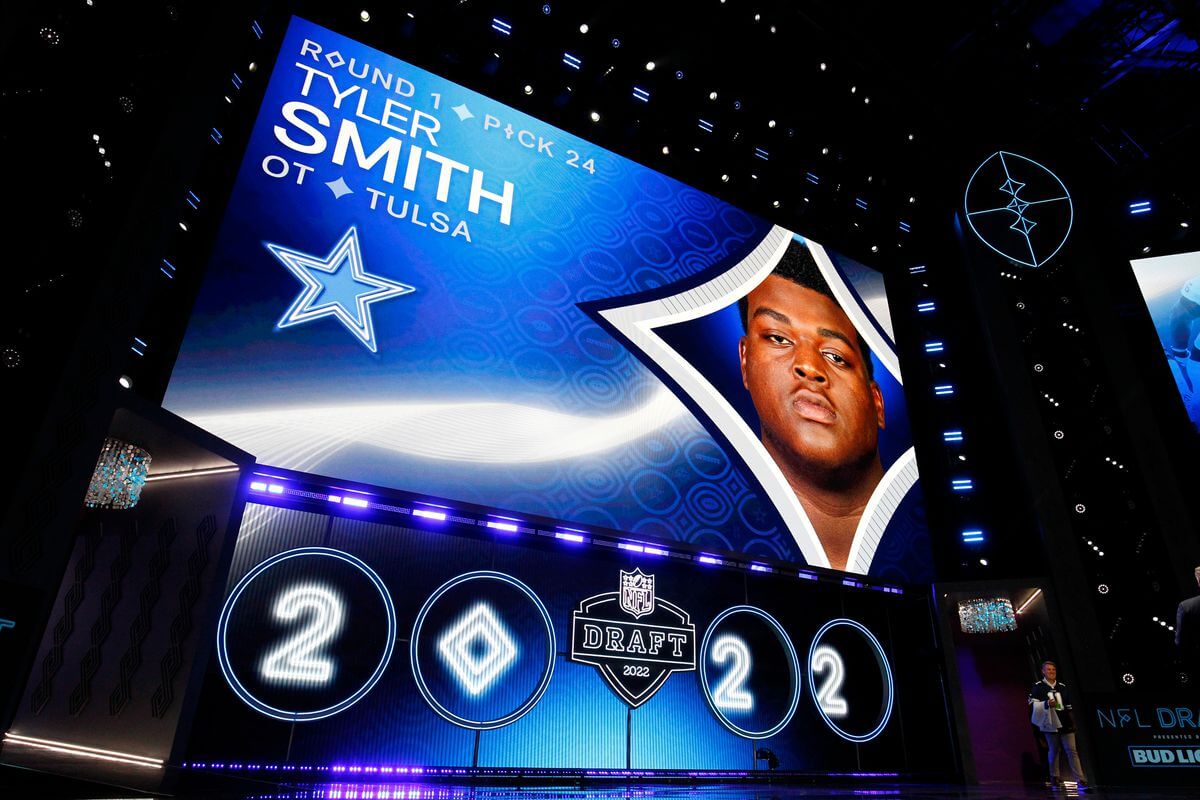 Click to enlarge
This has been a surprisingly uni-uneventful week for the NFL. Usually we see lots of unveilings and news in the days leading up to the draft, but this year we just had the 49ers' tweaks. Yesterday afternoon Phil asked me if I thought there would be any uni news at the draft itself (I said no), and I could almost feel how hungry he was for some sort of NFL uni morsel.
As it turns out, there was a fun uni-related development at the draft last night, but not in the traditional sense. It came when the Cowboys drafted Tulsa offensive lineman Tyler Smith with the 24th pick. Why is that uni-notable? Because the Cowboys already have have a starting offensive lineman named Tyron Smith, setting up a possible double-FNOB situation on the team's offensive line.
I'm trying to think of the last time we had NFL players with FNOB — seems like it's been a while. (Anyone..?) And I'm pretty sure having two of them on the same offensive line would be unprecedented.
And wait, it gets better! Look at the third letter of each Smith's name: TyLer and TyRon. They really need to play Tyler at left tackle and Tyron at right tackle. Unfortunately, that's apparently not the plan for now, but it's still early days — a lot can happen between now and the start of the season.
Other notes from the draft:
• Looks like they used compressed lettering for Giants draft pick Kayvon Thibodeaux's NOB: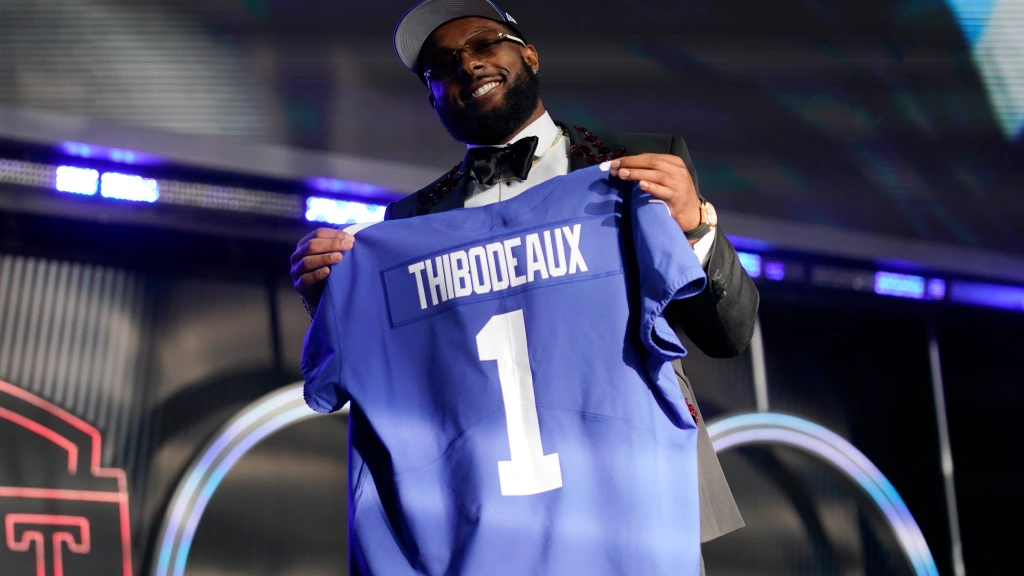 • I was surprised to see commish Roger Goodell going without a necktie:
Aside from 2020, when he famously hosted the draft from his basement due to the pandemic, I think this may be the first time Goodell has gone open-collared.
• Although I didn't see this myself and couldn't find a screen shot of it anywhere, I'm told that ESPN inexplicably had a graphic showing a Steelers helmet with a grey facemask.
• Ice Cube got the crowd worked up while wearing a Raiders jersey:
• Here's the annual mandatory story about how they letter up the onstage jeseys so quickly.
• Here's a short but informative article about the caps that the draftees wear onstage. Interesting note: After the player leaves the stage, his cap "is taken away so it can be chopped up and its pieces used in collector's edition football cards."
(Thanks to Phil for the cap article.)
• • • • •
• • • • •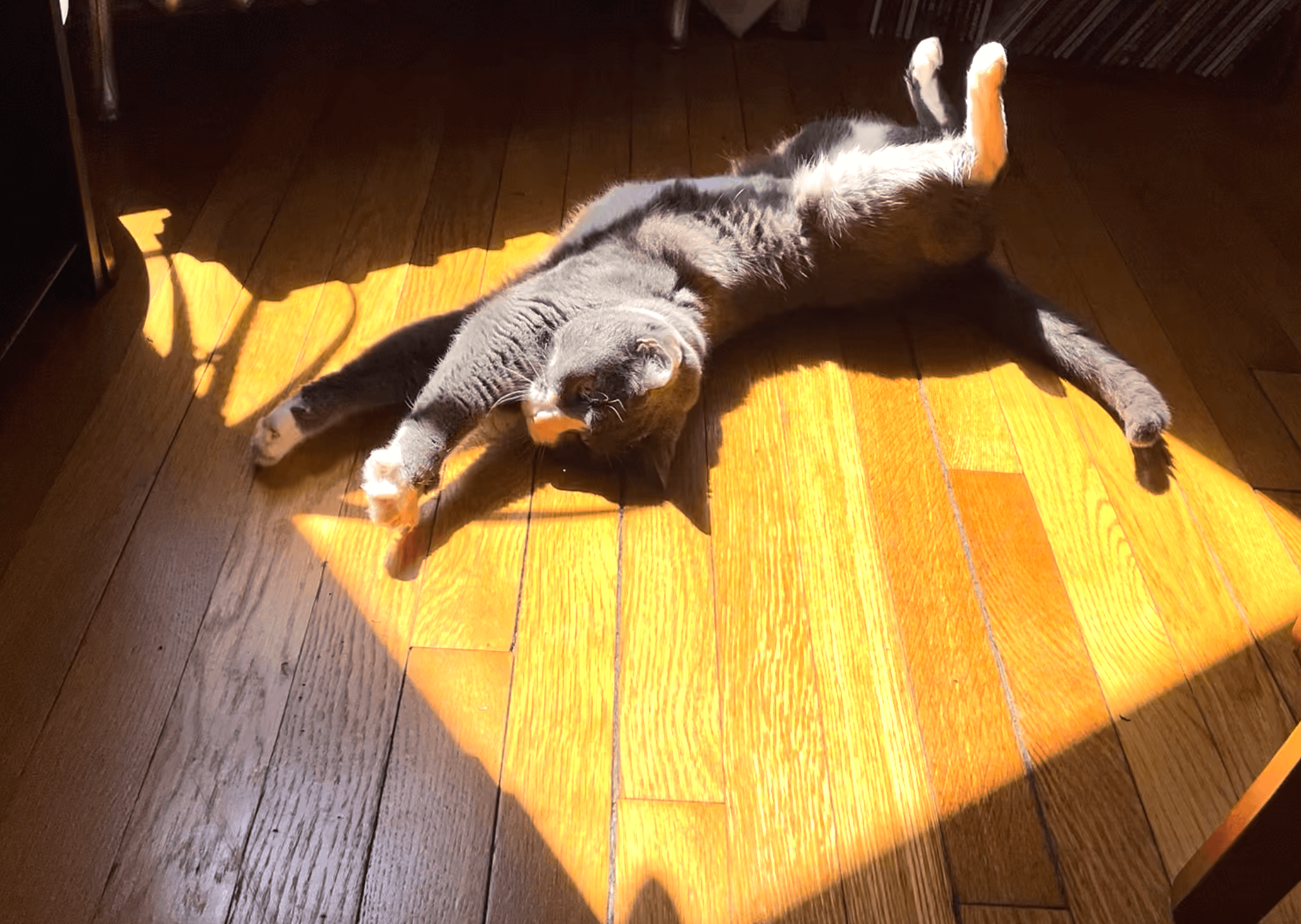 Click to enlarge
Birthday girl: Uni Watch girl mascot Caitlin turns 17 (!) tomorrow. Despite her advanced age and a recent bout of pancreatitis, she's still pretty frisky and endlessly kitten-ish. The photo above, which I took yesterday afternoon, captures her goofball spirit nicely.
Caitlin loooooves laying down in the sun. Here's a short video, also from yesterday, showing her asleep in the sun while the wind blows the branches outside our window:
I know she won't live forever, even though her youthful character sometimes makes it seem that way. I feel so lucky to have had her in my life for so long — happy almost-birthday, cutie!
• • • • •
• • • • •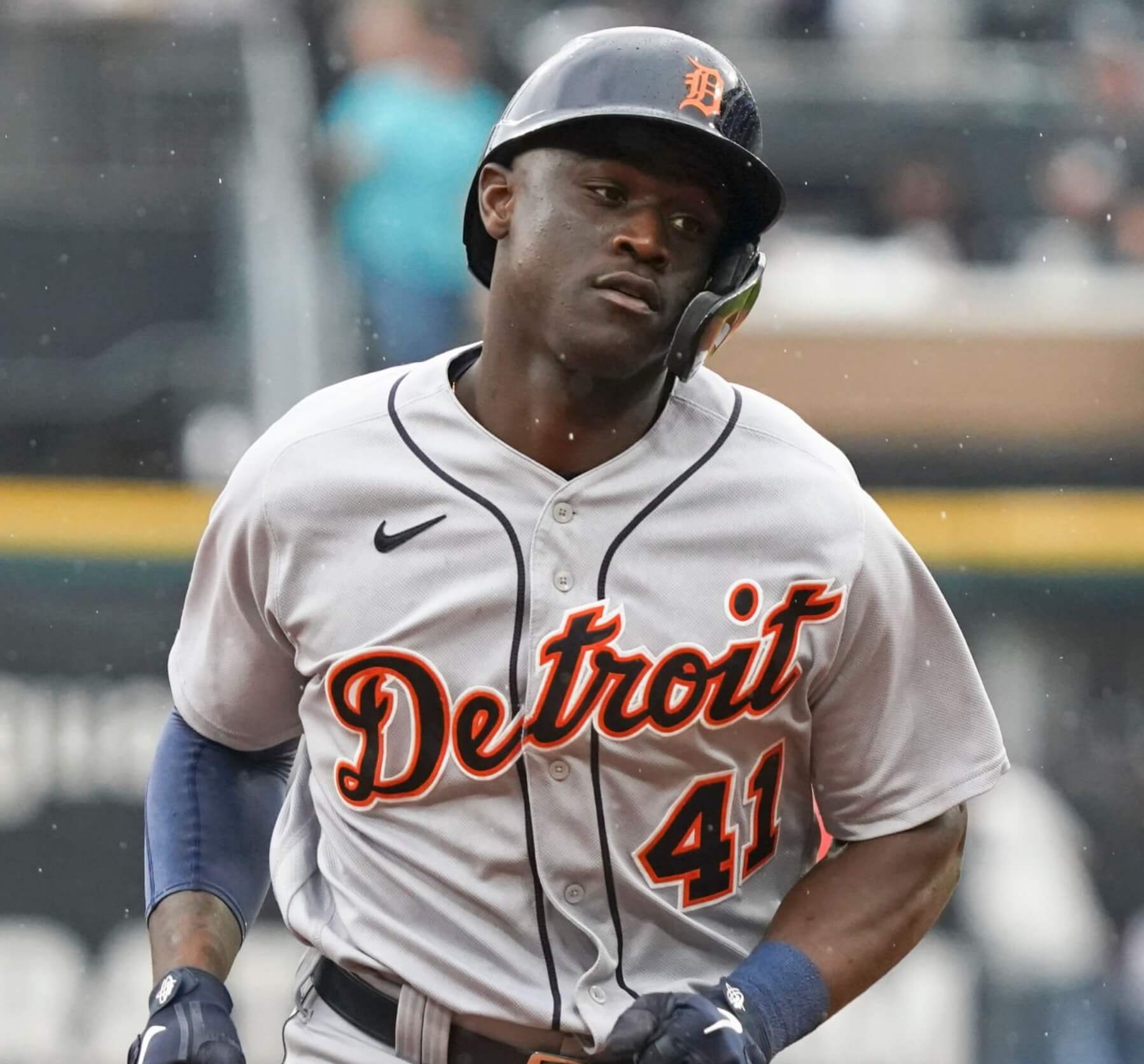 Power Rankings reminder: In case you missed it, my latest Bulletin article is a worst-to-first Uni Watch Power Rankings assessment of MLB road uniforms. My premium subscribers can check it out here. If you haven't yet subscribed, you can do that here (you'll need a Facebook account in order to pay). Don't have or want a Facebook account? Email me for workaround info. Thanks!
• • • • •
• • • • •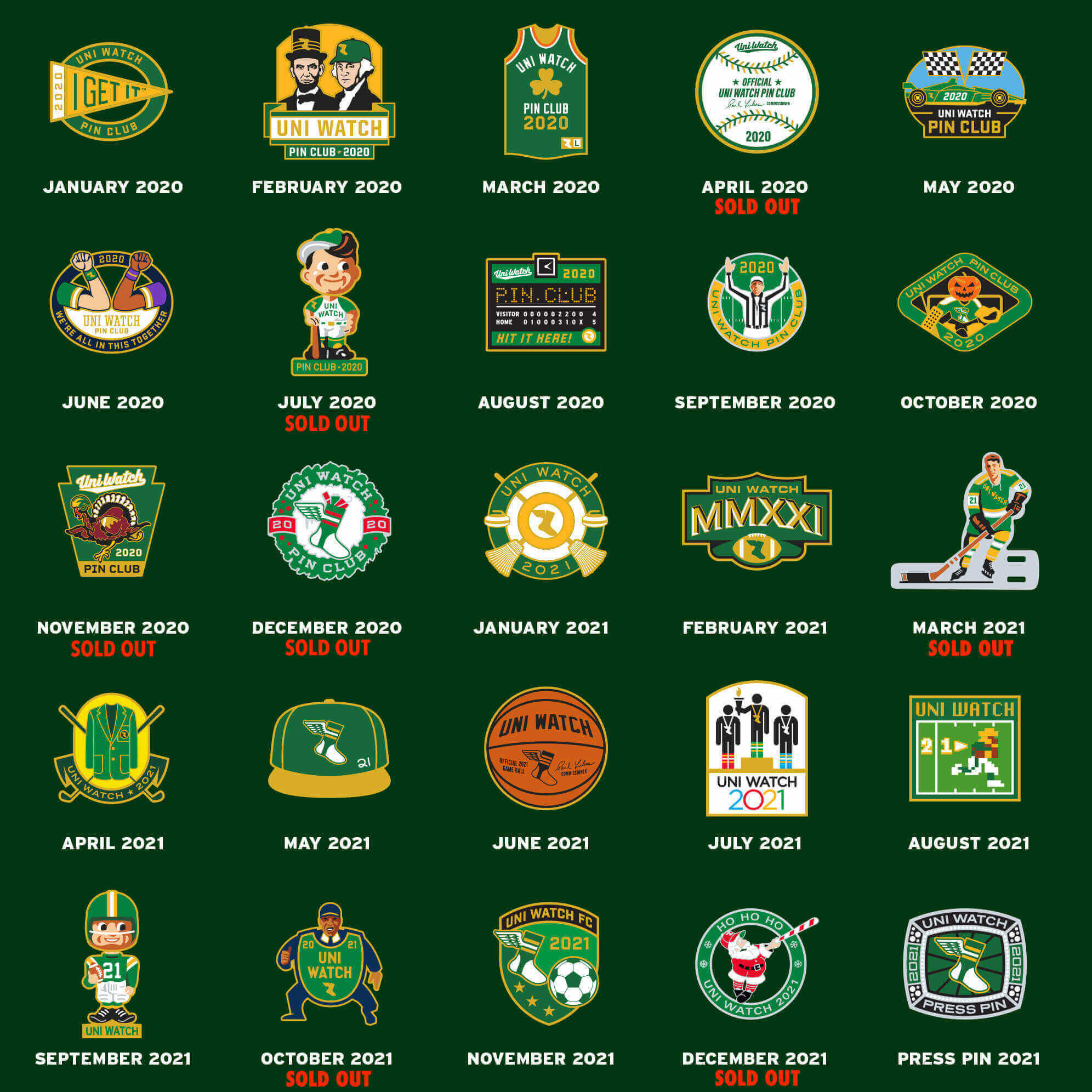 Click to enlarge
ITEM! Pin sale update: Thanks for the big response to this week's pin discounts. The November 2020 and December 2020 pins have now sold out, and I'm also down to the last three of November 2021, so snap 'em up while you can.
• • • • •
• • • • •
Uni Watch News Ticker
By Anthony Emerson

Baseball News: The Rangers will wear 1970s throwbacks tomorrow evening (from Mike Chamernik). … It appears the Mariners have a kerning issue on OF Julio Rodríguez's blue alternate jersey. Check out how close the "G" and "U" are, and how far away the "E" is. Might just be jersey wrinkles, but it doesn't appear so at first glance (from Tim Dunn). … New logo for the independent Frontier League (from Kary Klismet). … The Twins' ballpark hosted a high school game yesterday following the Twins' day game. The Anoka High team wore a very nice uniform set with the school's old team name, Maroons. "The name was changed to Tornados after a tornado destroyed much of downtown Anoka in 1939, although the school colors are still maroon and white," explains Jimmy Lonetti.

Pro Football News: Apparently the CFL doesn't have as stringent uni rules as the NFL, because the Winnipeg Blue Bombers' new alternate uni features a large "W" on the front, where the number would normally be, with the number relegated to the front left shoulder (from Adam Peleshaty).

Hockey News: New alternate jersey for the AHL's San Jose Barracuda (from Wade Heidt). … The Blues are the latest NHL team to announce a jersey advertiser (from multiple readers).

Basketball News: If you've always wanted to make a pancake shaped like an NBA player's jersey, now you can do that (from @kcequipmentfar1). … The LA Sparks have a new jersey advertiser (thanks, Phil). … Reader Glenn Riley has designed the uniforms for the Shining Star AAU program for over 20 years, and this year's uni theme is 1980s Apple computers. More looks here. … New unis in the pipeline for Purdue men. Note that the uni pictured in the article is just fan speculation and not what the final design will look like (from Kary Klismet).

Soccer News: New away kits for Brazilian side Flamengo (from Kary Klismet). … The USL W League is holding a vote on the league's best crest (thanks, Jamie). … I absolutely adore this new alternate kit from Racing Louisville of the NWSL (from Michael Kinney). … During Wednesday night's Late Late Show with James Corden, Corden (a West Ham fan) made an audience member in a Manchester United jersey cover it up with a show T-shirt. Knowing what we know about late night TV, I'm 95% certain that this was cooked up in the writer's room and that audience member is a plant (from Max Weintraub).

Ukraine News: The Russian government has installed a sculpture in St. Petersburg depicting the logos of companies that have pulled out of the country following the invasion of Ukraine. The logos spell out "zamestim" which translates to "we will replace them" (from @bucky1382). … A costume shop in Newport, Ky., is soliciting donations of old uniforms and military-style clothing to send to fighters in Ukraine (from Kary Klismet).

Grab Bag: New athletics logos for Gardner-Webb. … The Delhi Capitals of the Indian Premier League wore alternate uniforms in yesterday's T20 cricket match against the Kolkata Knight Riders (from Kary Klismet). … Disney has revealed the new Haunted Mansion franchise logo ahead of the rebooted movie to come out next year (from John Cerone). … Here are this weekend's IndyCar liveries (from Tim Dunn). … A handful of old Chicago neon signs are going up for auction today (from multiple readers).
• • • • •
Comm-uni-ty assistance: Reader Dan Pepper is in the market for some of the sold-out Uni Watch pins: April 2020 (signed baseball), July 2020 (baseball bobble), March 2021 (table hockey player), Oct. 2021 (umpire), and Dec. 2021 (swinging Santa). If anyone has extras that they'd be willing to sell or trade with him, give him a shout. Thanks.
That'll do it for this week. Stay well, enjoy Phil's weekend content, have a happy May Day, and I'll see you back here on Monday. Peace. — Paul