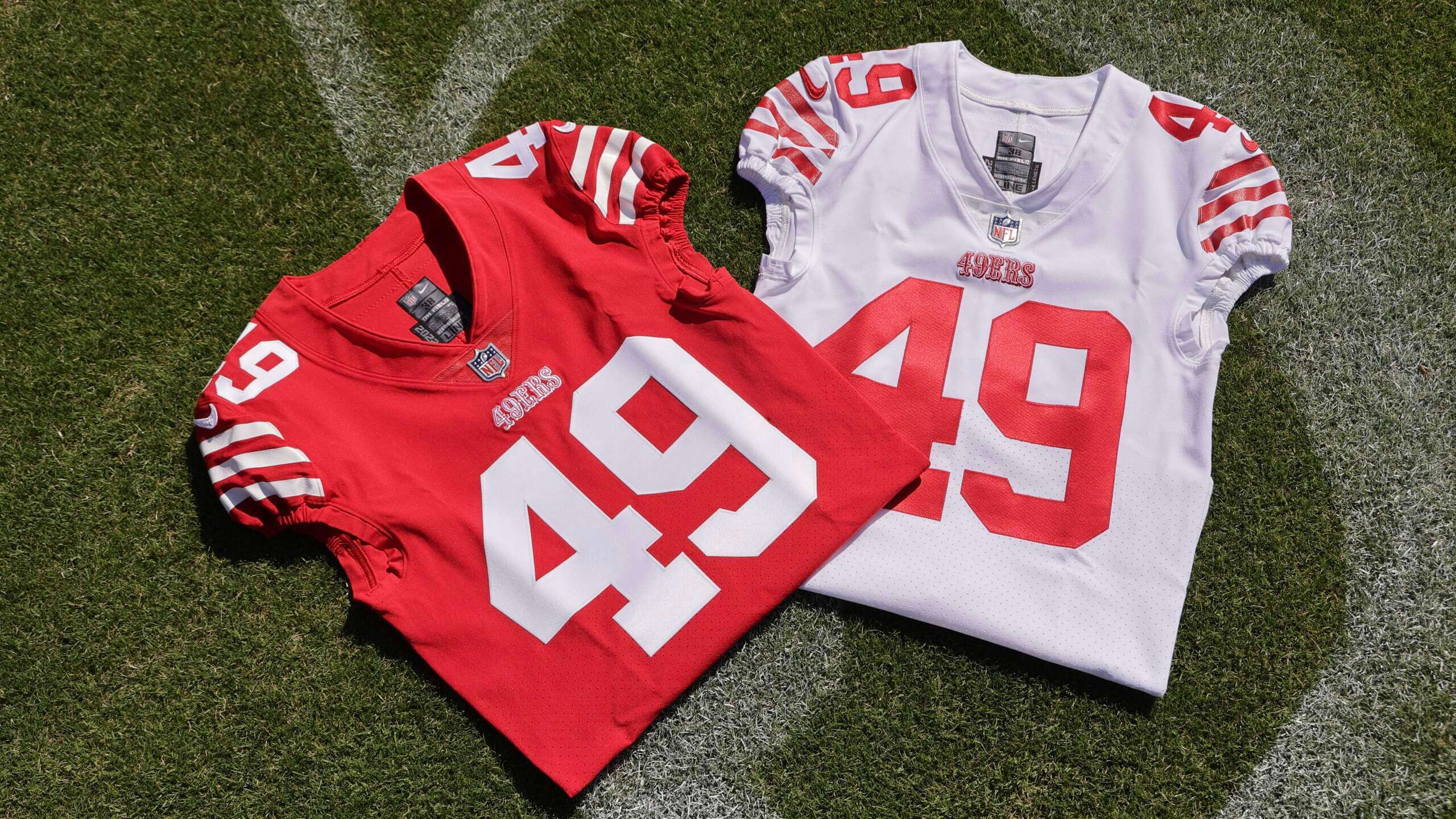 Click to enlarge
With the NFL draft set to commence this Thursday night, the 49ers yesterday announced a few tweaks to their uniforms. First, as you can see above, they've restored the third stripe to their sleeves and are also using their "Saloon font" logo as their chest mark.
They'd already been using three stripes on their throwbacks, so there was no reason not to do so on the primaries. An obvious upgrade — the only question is what took them so long: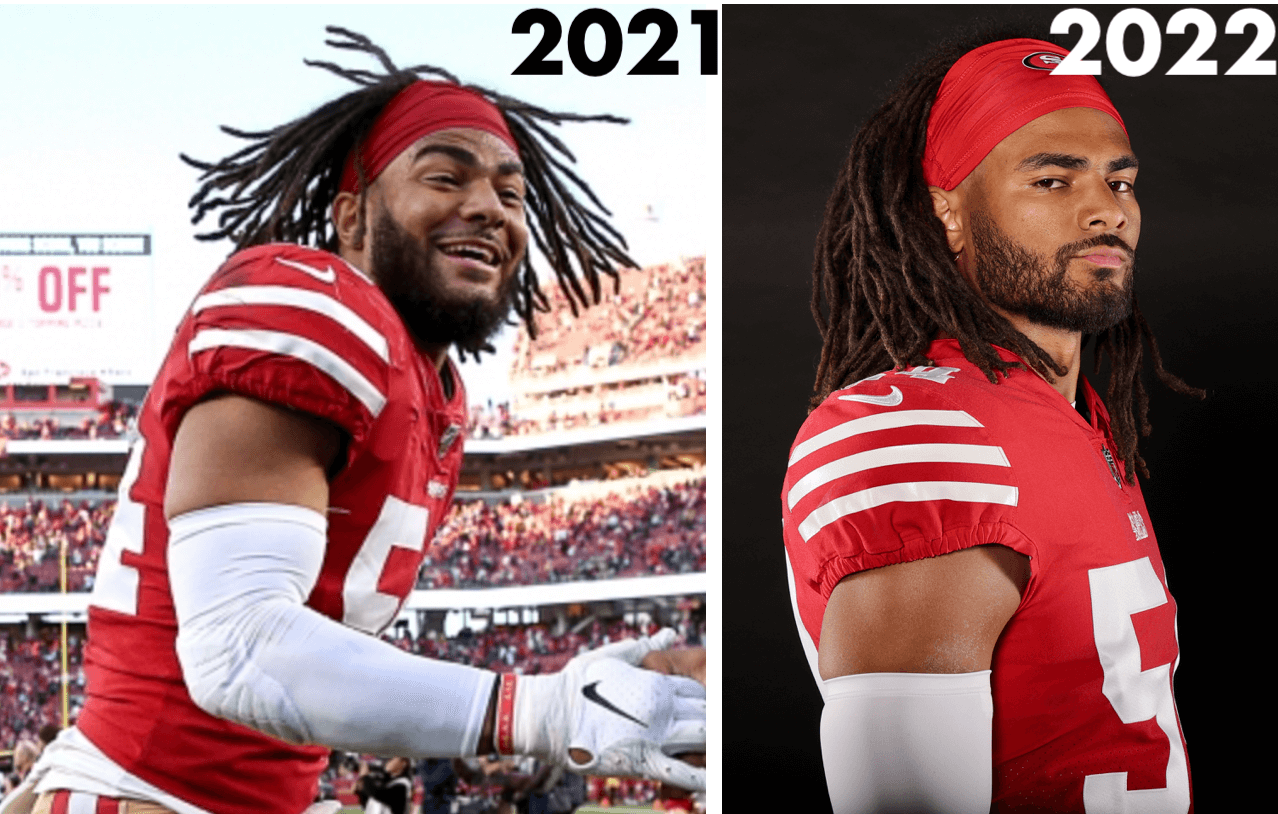 There's a good recap of the evolution of the team's sleeve striping in this thread.
The new wordmark replaces the one that's been in use since 2009, when the Niners went back to their current design motif: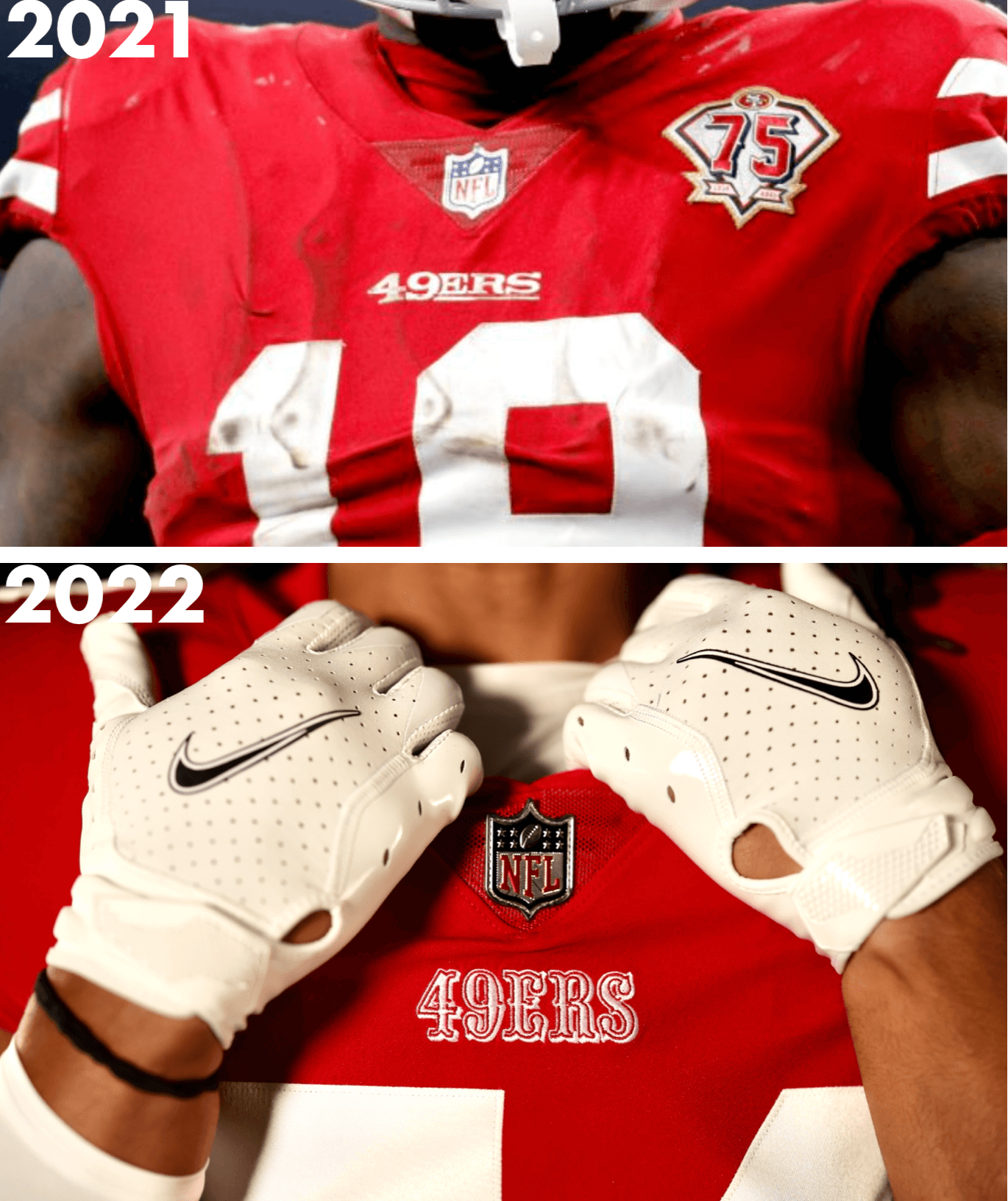 I'm slightly less enthusiastic about this change, especially on the red jersey. I like the Saloon font, but I don't think it looks so great in white — I prefer it in red and/or gold. Speaking of which, it will now appear in red on the team's neck bumper: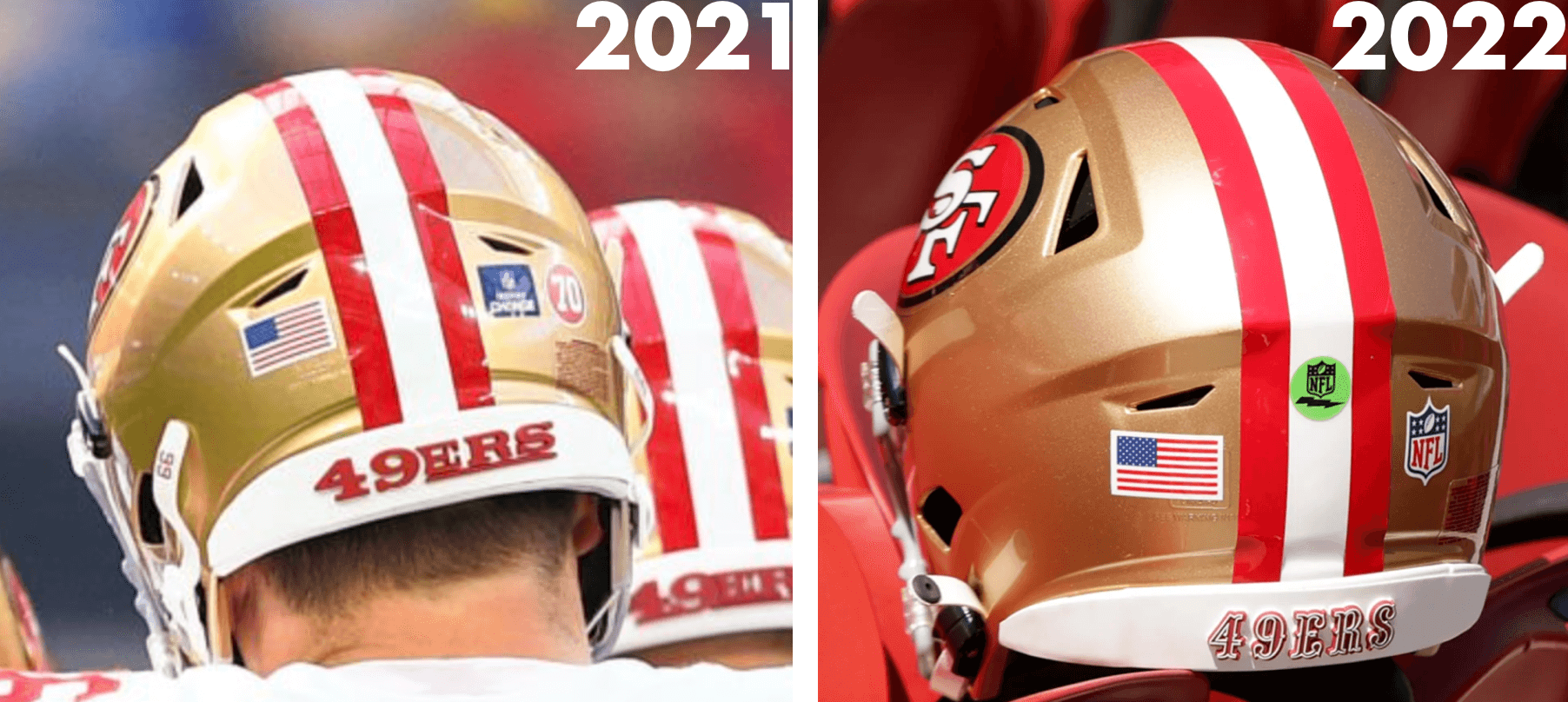 Meanwhile, now that the one-shell rule has been lifted, there's also a chance that the Niners could go with a red helmet for their throwbacks this season, which would be historically accurate. Team exec Alex Chang mentioned that possibility last summer, although he didn't commit to it. We'll have to wait and see.
I'm not sure if any other NFL teams are planning uni changes for this season (I didn't know these Niners tweaks were coming until a few days ago, when a team employee tipped me off), but if so, we'll presumably see those changes announced in the next day or two, so they can have the proper jerseys on hand for the draft.
• • • • •
• • • • •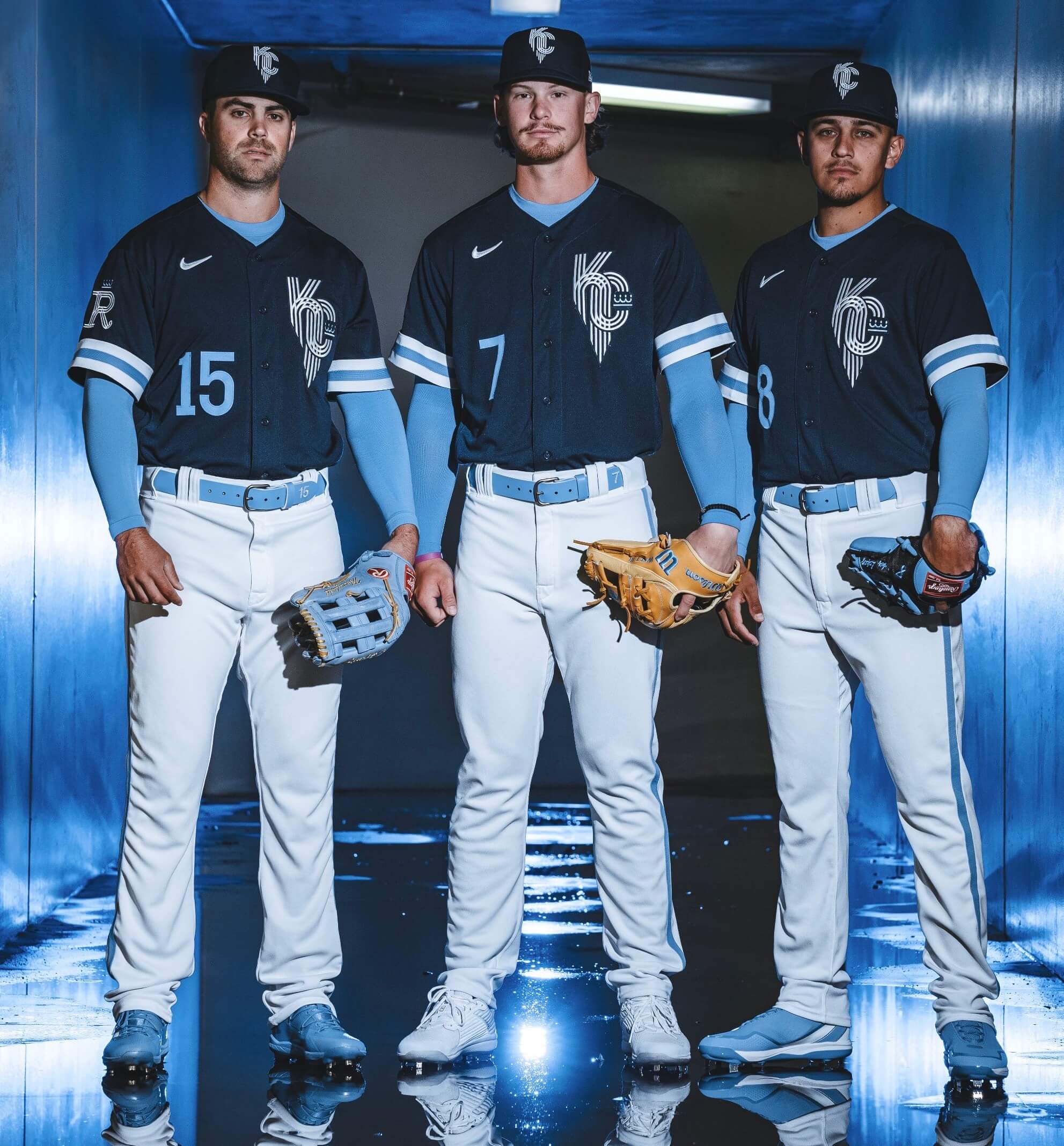 Click to enlarge
CC in KC: The Royals finally released their City Connect "City of Fountains" alternates yesterday, confirming earlier leaks. As we discussed last week, the cap and jersey logos are based on Kansas City's flag: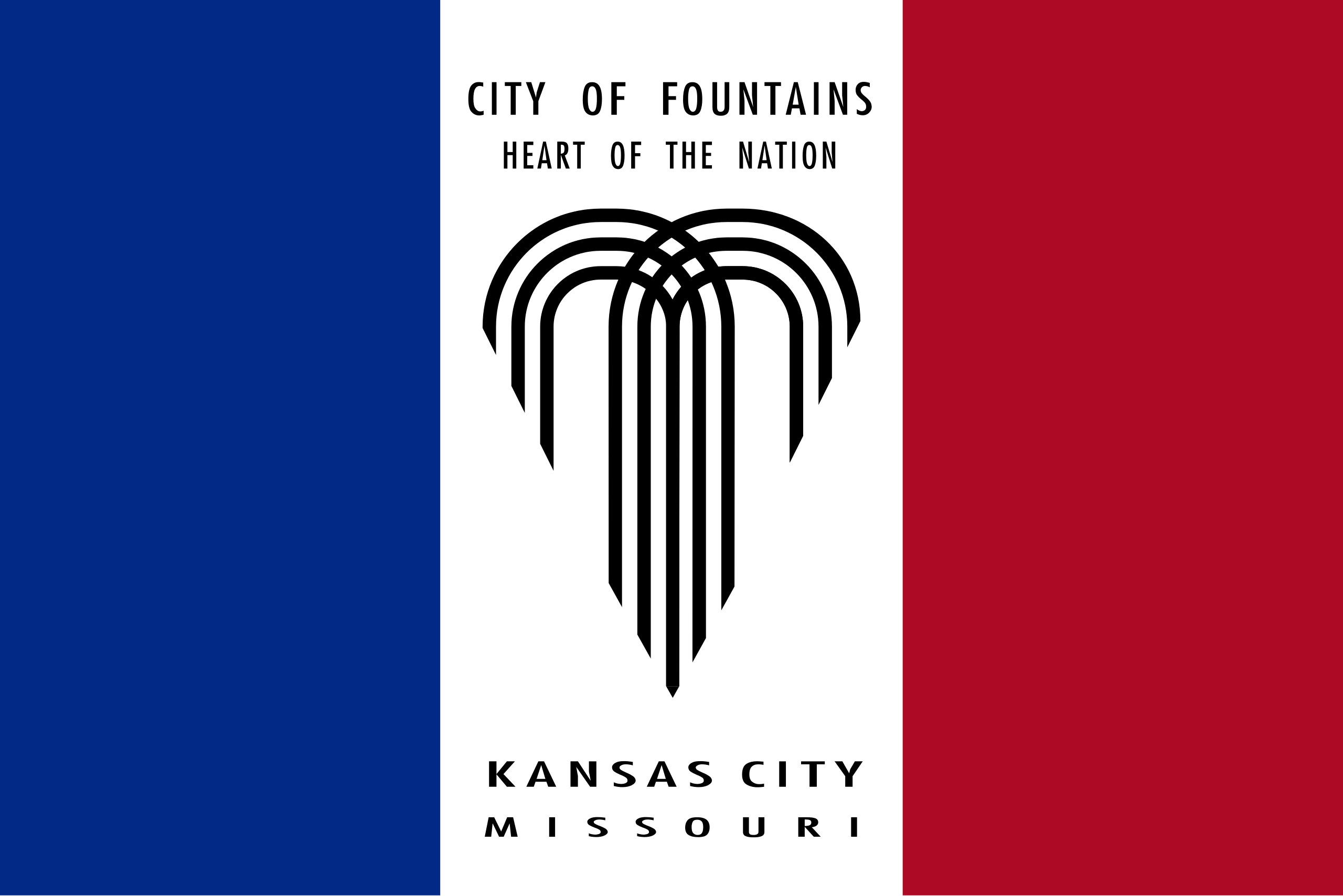 Here's a closer look at the sleeve patch, along with the rear view: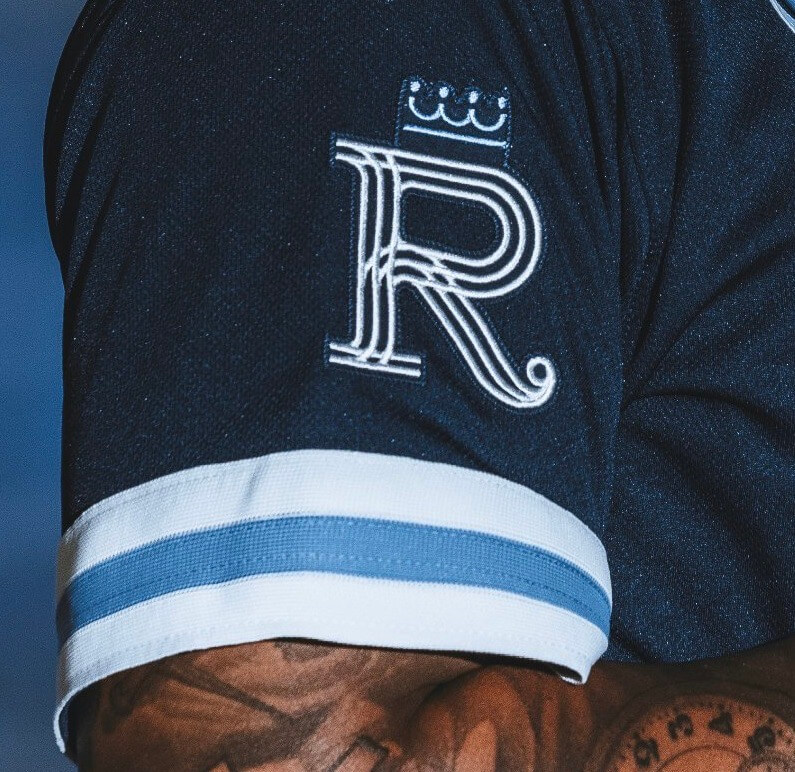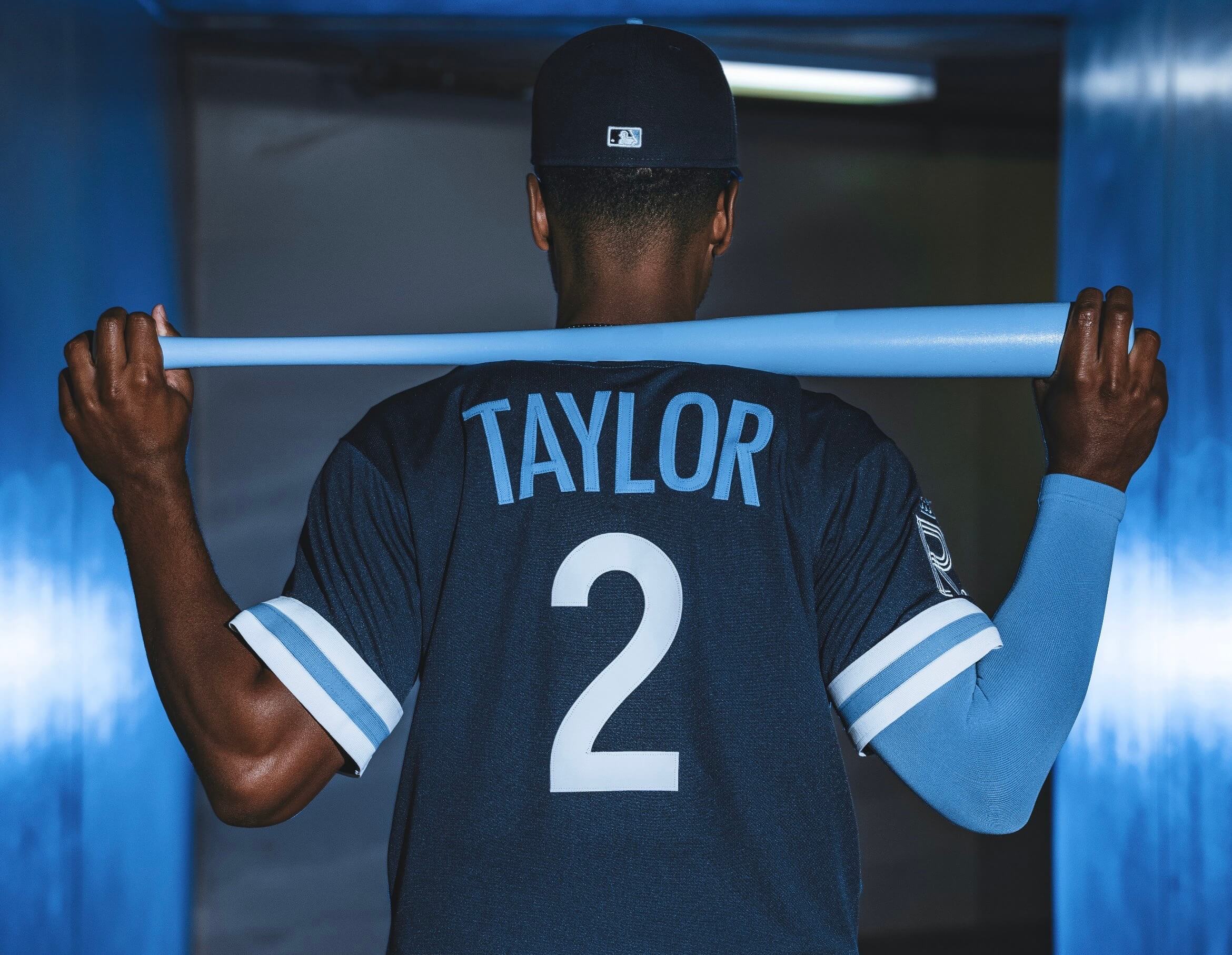 Some thoughts:
• I really like the cap and would love to see a royal version of it (instead of navy) to be worn with the rest of the team's uniforms.
• I also like the sleeve logo.
• I'm not nuts about the mix of blue shades. For me, powder blue looks much chalkier and less pleasing when worn against navy, so the jersey numbers, NOB lettering, and even the belts don't work so well for me. (I feel the same way about the Blue Jays' navy/powder alternate cap). I'd rather see white — or at least some white outlining — for the chest number and NOB.
• The trim on the sleeve cuffs looks too thick.
• Pants piping also seems a bit thick.
Overall: One of the better CC designs. Fun municipal concept, good logos, mostly cringe-free. I'm not nuts about the colors, but that's just me — I have a hunch others may feel differently. The uniform will make its on-field debut this Saturday, April 30.
The next team unveiling a CC design will be the Rockies. Their CC uni is set to debut on-field on June 4, so the unveiling will presumably be a week or so prior to that.
• • • • •
• • • • •








For each row, click to enlarge
The usual slop: MLB's Ma's Day caps were unveiled yesterday. I don't have much to say about them except (a) they look awful and (b) they'll look a little less awful for teams wearing their road greys that day, since the grey caps will coordinate a bit better.
Mother's Day is early this year — May 8. The caps will be worn only on that date, not for the full weekend. To my knowledge, nothing is planned for the jerseys except for the usual pink ribbon.
• • • • •
• • • • •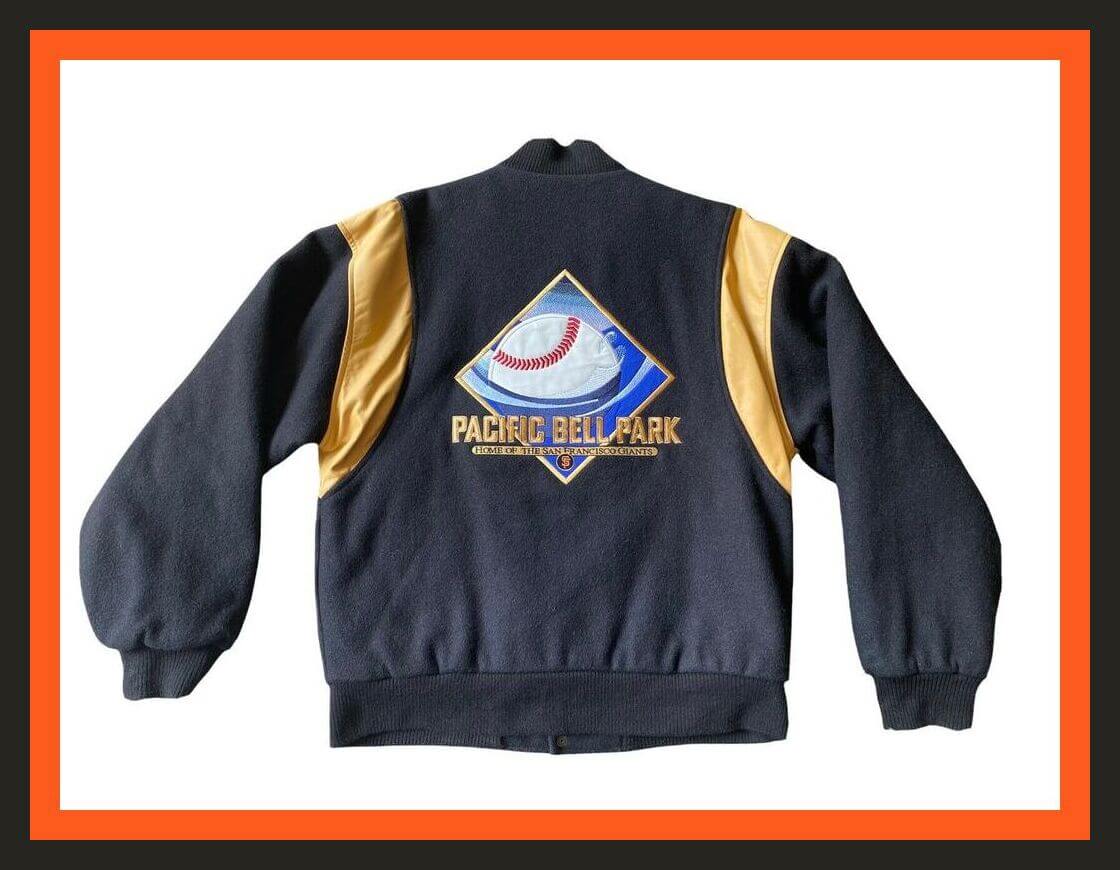 Click to enlarge
Collector's Corner
By Brinke Guthrie
Follow @brinkeguthrie    
We all know I love a good varsity-style jacket, and here's one from circa 2000, for the then-new home of the San Francisco Giants, Pacific Bell Park. I had this jacket! Great detailing, too — all wool, that patch on the back is all embroidered leather, the sleeve inserts are leather, and there's an embroidered PBP logo on the front. (Got a deal on it, too — stopped by the park after work and it was on sale at a great price. Otherwise, it was prohibitively expensive. ) Here I am wearing mine with my wife at a Giants game, in 2002. 
Here's one more for that ballpark: a promo snowglobe sponsored by the ill-fated Enron energy company. 
Now for the rest of this week's picks:
• Back in 1971, there was this series of excellent MLB stamp albums. Each edition was called "Today's 1971…" and then the team name. (Paul wrote about them two years ago.) I had one for the Reds — I'd remove the stamps and line then up on a table in their positions. Here we have one for the Detroit Tigers. Just 39 cents! (Also: See the pose of the baserunner and the catcher in the cover illustration? I stole those for this 1972 drawing I did of the Texas Rangers, who had just moved to the Dallas area. Amazing — it's been 50-plus years!)
• This five-page Look magazine article about Chargers receiver Lance Alworth starts out with some classic writing of the 1960s era: "Charger Goes Groovy: San Diego's Wide Open Receiver Plays His Own Swinging Game." Sample quote from his coach, the legendary Sid Gillman, who was apparently disdainful of long-haired athletes of the time: "I object when you can't tell the male from the female, and I hate beads." Hmmm — I think he meant beards.
• Be the coolest kid on your Pittsburgh block with this 1977 Steelers BMX bike from Sears.
• Terrific box cover art on this 1973 Munro Pro League "Hot Shot Hockey" game. It also says "PRO-LEAGUE HOCKEY" on the side in that great block-shadow font you used to see.
• And speaking of block shadows, that's Hugh McElhanney of the 49ers wearing one on the cover of the book The Golden Age of Pro Football: A Remembrance of Pro Football in the 1950s, by the great writer Mickey Herskowitz.
• You too can look like an NHL goalie, with this set of eight mid-1990s punch-out cardboard goaltender masks, sponsored by Kraft foods.
• You probably know that the great Lou Brock lent his name to the stylish Brocca Brella, but did you know he also endorsed Brocca Pop? It was his "favorite red pop!" (These two cans come without the soda, sorry.)
• Celtics fans, you'll want this record album, Havilcek Stole the Ball, packed with "Exciting Highlights of Celtic Championship Playoffs, 1956-1957 and 1965-1966." By the way, that Johnny Most 1965 Eastern Divison Finals call is noted here as being the "most famous radio call in basketball history."
• This 1970s carry bag is white with green and just says "New York," along with photos of current Jets players.
• Here's a Kent brand football helmet that has been "modified" to "look like Green Bay." I'll give it an A for effort.
• • • • •
• • • • •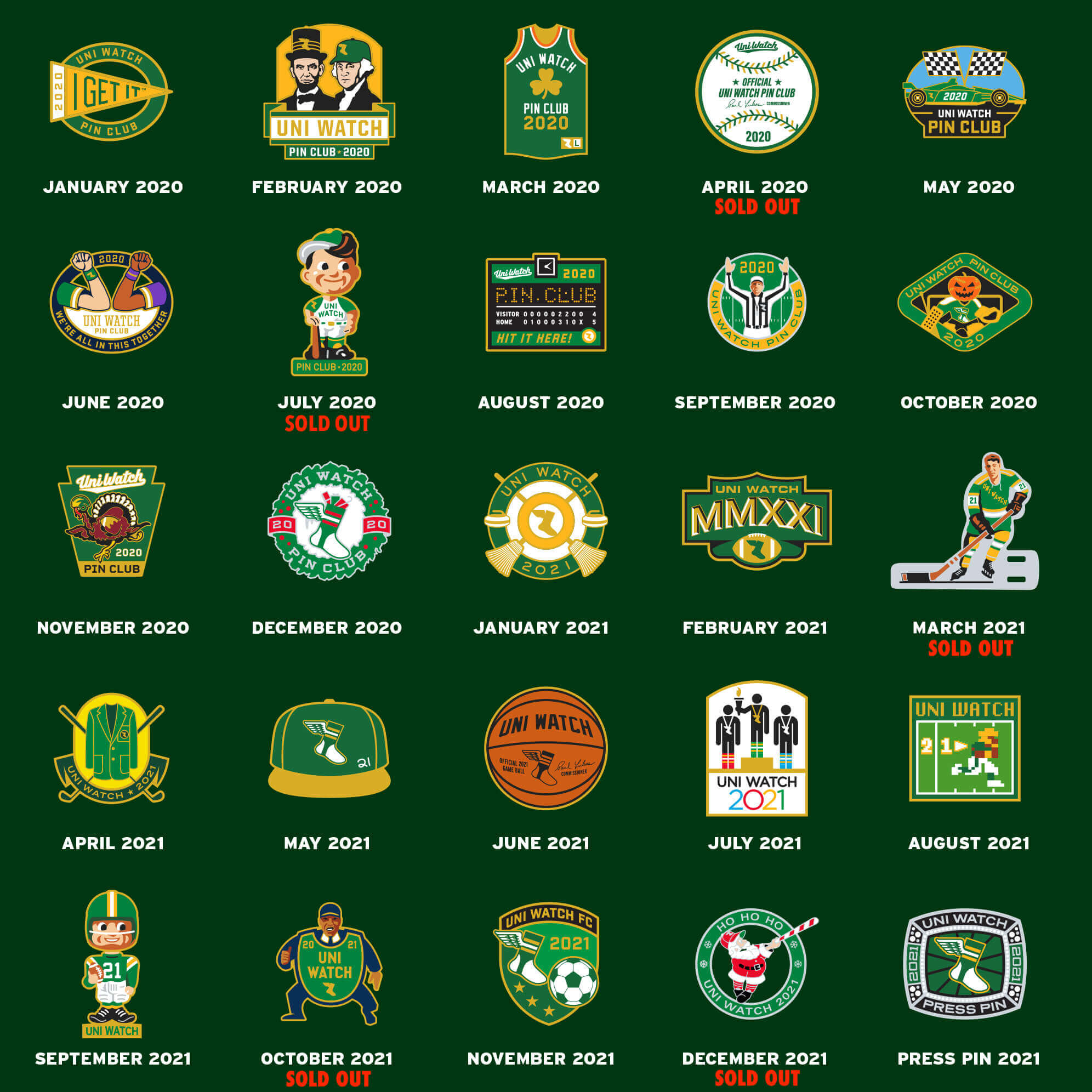 Click to enlarge
ITEM! Pin sale: I'm trying to clear out my remaining supply of Uni Watch pins. With that in mind, I'm running a sale for the rest of this week as follows:
• One pin for $9 for $6
• Any two for $16 for $11
• Any three for $21 for $15
• Any five for $30 for $20
• Any 10 for $30
If you want more than 10, email me and I'll give you a price.
Full ordering details here.
• • • • •
• • • • •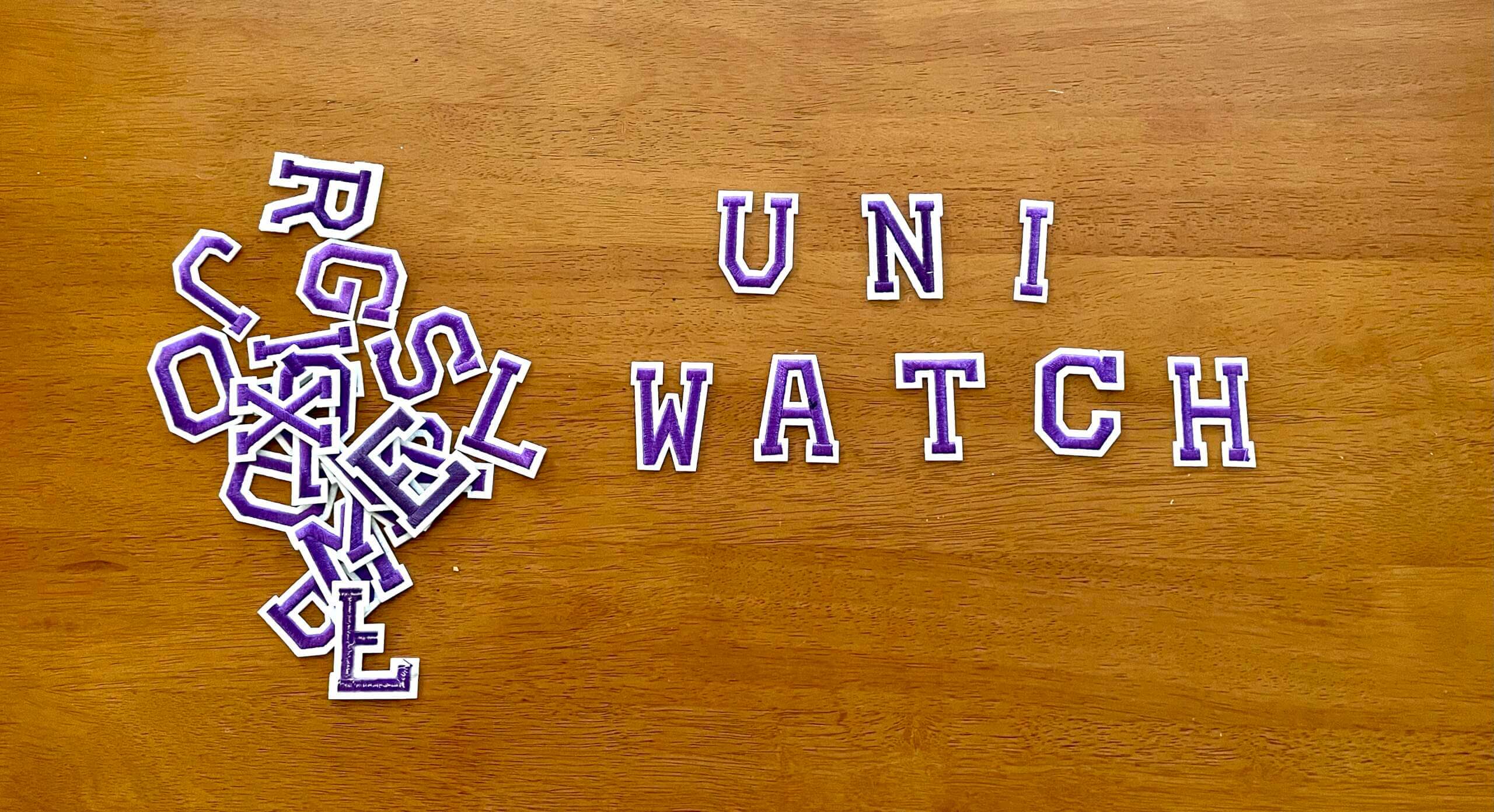 Click to enlarge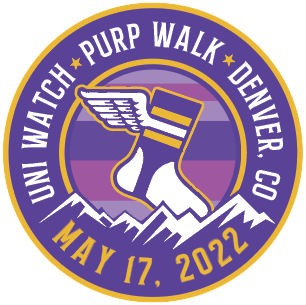 Purp Walk update/reminder: Plans continue to shape up nicely for this year's Purple Amnesty Day (which which is three weeks from today!). Remember, if you plan to attend the Purp Walk party in Denver on May 17 and want to receive a T-shirt with the bonus logo on the back, you must pre-order your shirt by this Thursday, April 28.
If you have no idea what any of this is referring to, you can get the full scoop on Purp Walk 2022 here.
• • • • •
• • • • •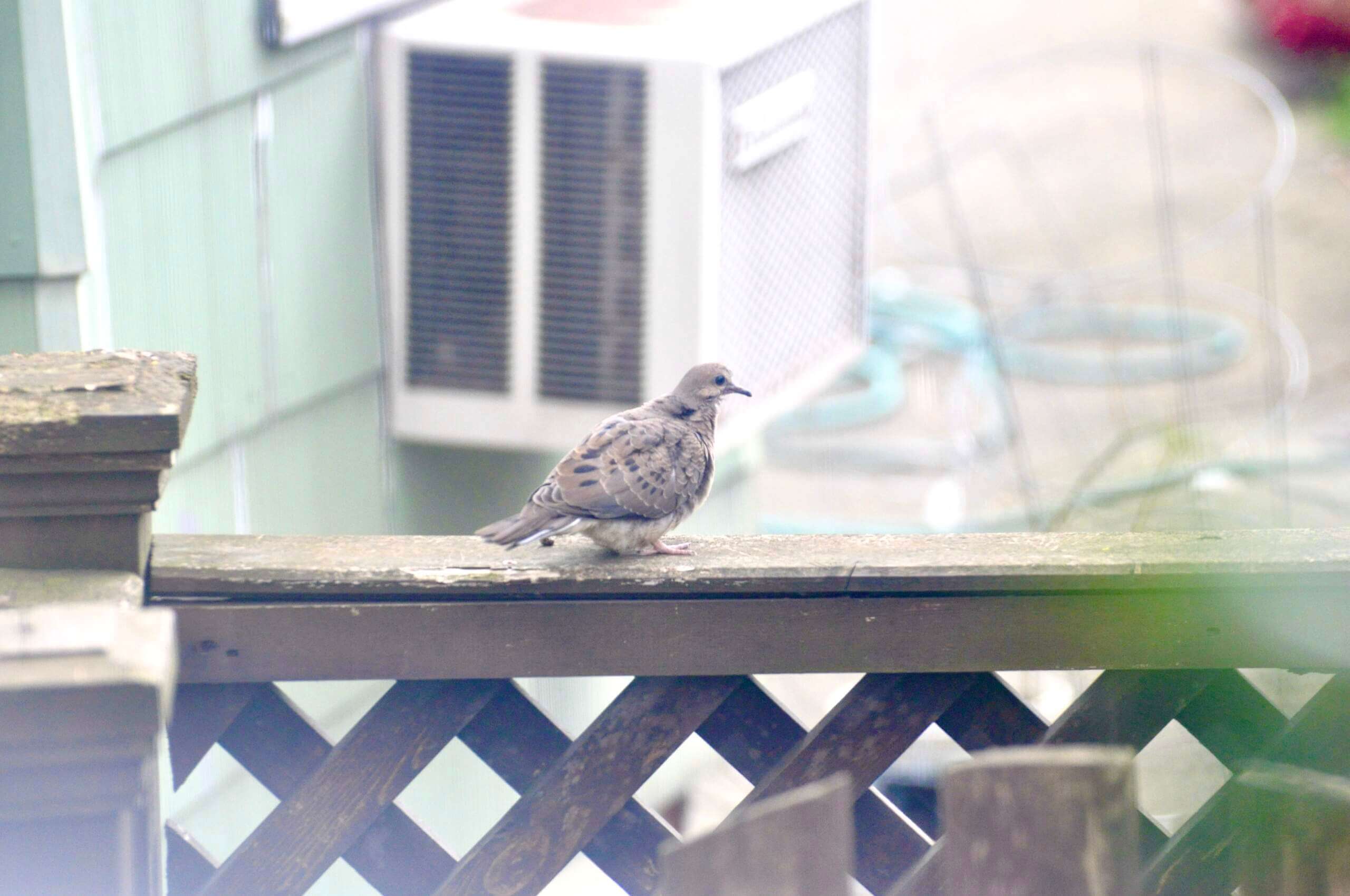 Click to enlarge
Surprise dove update: Turns out that the dove saga isn't over yet! Yesterday we spotted one of the two fledglings perched on a fence in our backyard. Mary managed to get these pics: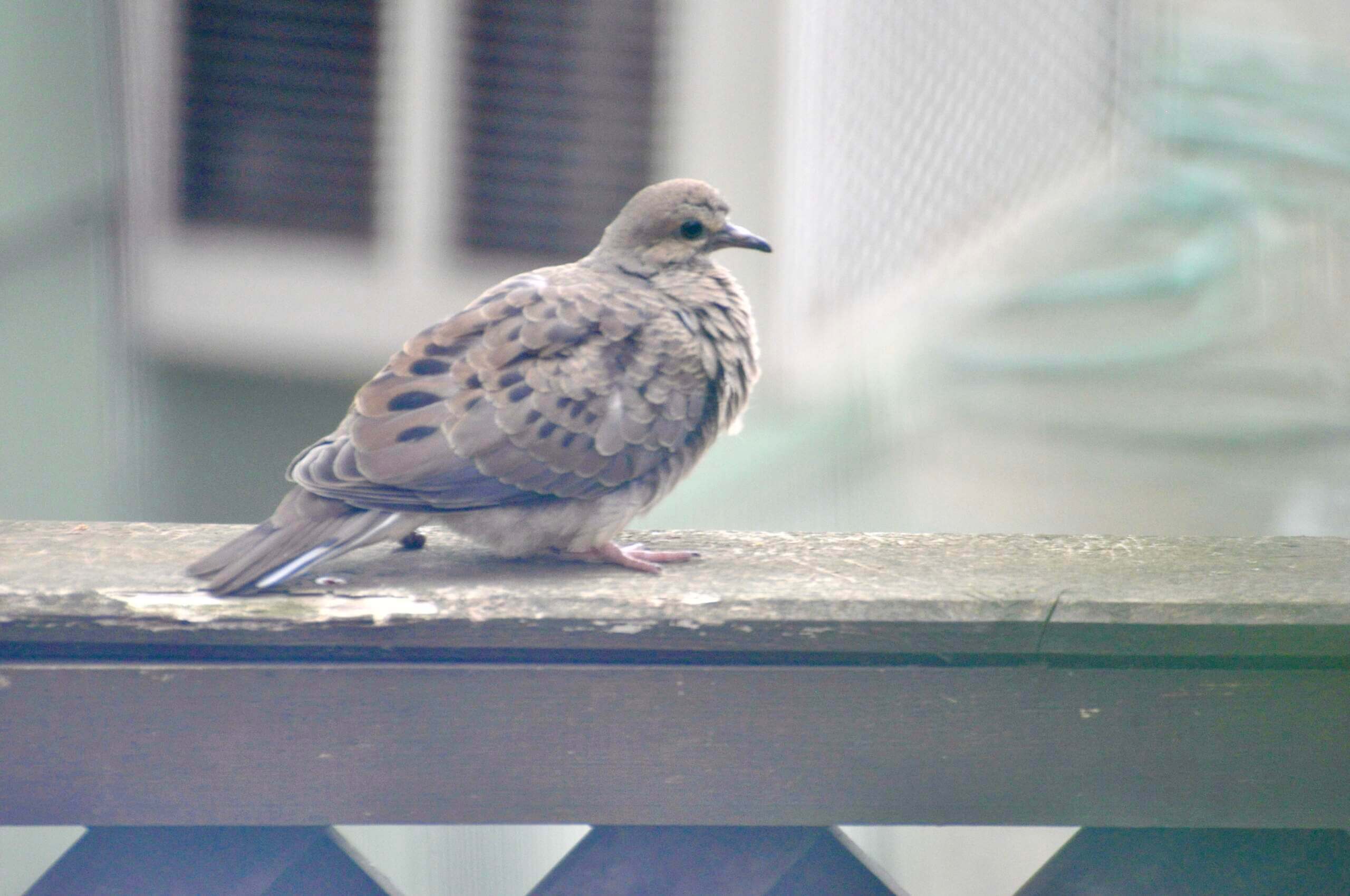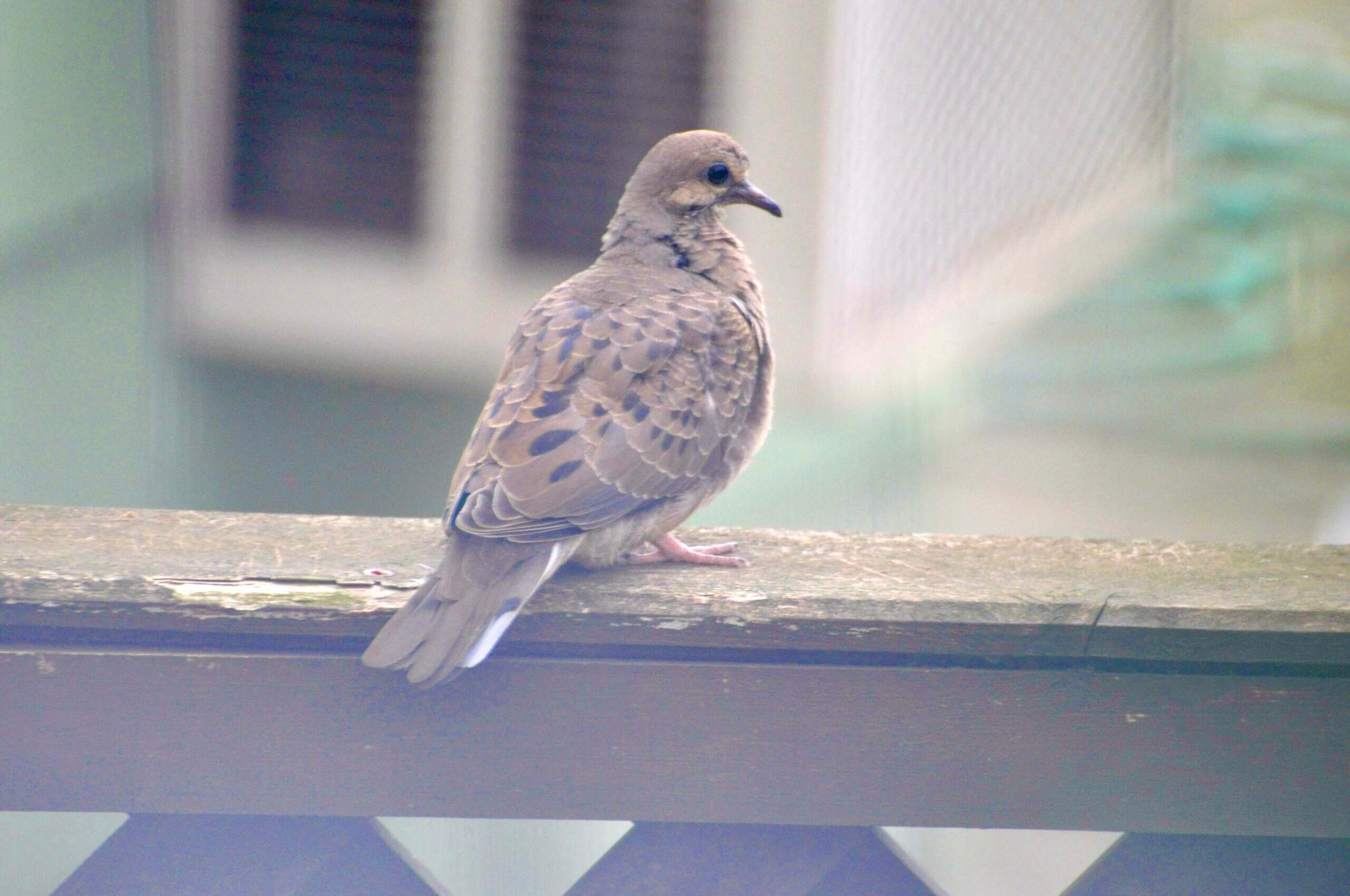 We're usually not supposed to go into our backyard (we have the porch, the landlords, who live upstairs, have the yard), but I figured this was a special occasion, so I snuck back there and shot a bit of video until the fledgling flew away to a nearby utility wire:
So exciting to see it in flight! Feels like a nice bit of closure.
We've taken down the feeder for a few weeks because we don't want the adults settling in for another brood. Had to be done, but we do feel bad about the fledgling coming back to its old neighborhood only to discover that the house where it grew up no longer exists. That's life, kid.
• • • • •
• • • • •
The Ticker
By Alex Hider

Baseball News: Mariners OF Jesse Winker wore stirrups with four stripes on Sunday, while SS JP Crawford wore stirrups with just three stripes (from David Butler). … Reader Jim Gumm notes that back in the sansabelt era, the Orioles' pants striping was inconsistent — sometimes black-white-orange and sometimes orange-white-black pants striping. … Matthew Blinco has a friend who picked up a T-shirt at an Atlanta record store with a Reds-inspired logo. … Trevor Williams has a Guardians pennant that he says appears to be rendered in dark grey and orange instead of red and blue. "Have seen some baseball cards that had orange instead of red due to ink issues. Production error or unused colors?" Trevor asks. … Here's an early-season breakdown on the Red Sox's record by uniform (from @ASFreed). … The Altoona Curve, the Pirates' Double-A affiliate, will wear "Mountain City" jerseys every Thursday as a callback to the club of that name that briefly played in the Major League Union Association in 1884 (from Robert Brashear). … The Sugar Land Space Cowboys, the Astros' Triple-A affiliate, will give away pink replica jerseys for Mother's Day on May 8 (from Ignacio Salazar). … New mascot for the Regina Red Sox of the collegiate summer Western Canadian Baseball League (from Wade Heidt).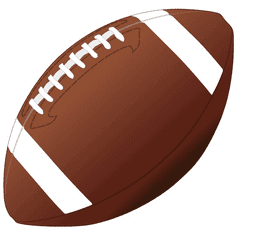 Football News: A Lions blog is asking fans what they would change about the team's uniforms. No fair saying, "The players wearing them" (from Phil). … Some new uni number assignments for the Broncos . … The next two items are from Kary Klismet: Pikeville High School in Kentucky has unveiled its 2021 state championship rings. … Nebraska's Memorial Stadium has new turf.

Hockey News: The Canucks will wear their black Flying Skate unis tonight (from Wade Heidt). … Twitter has a new emoji for tweets tagged with #StanleyCup (from @tommy_cubillas). … For some reason, the Predators refer to their season ticket holders as "citizens" (from Shawn Hairston). … Here's more on the lawsuit that alleges Adidas used false advertising practices by marketing some of their retail jerseys as "authentic" (from Phil).

Soccer News: The Washington Spirit of the NWSL have unveiled their 2021 championship ring design after posting a teaser over the weekend. The team also announced plans to unveil a championship banner at their home stadium during an upcoming game (from our own Jamie Rathjen). … The next three items are from Kary Klismet: New away shirts for Shanghai Shenhua FC of the Chinese Super League. … New third kits for Hungarian side Ferencváros. … New 100th-anniversary jerseys for AC Trento of Italy's Serie C. … Chicago Fire FC are giving away replica basketball jerseys at their match on Saturday (from Seth Foster).

Grab Bag: I think this made the Ticker a few months ago, but in case it got overlooked: After the Space Force unveiled its uniforms late last year, the branch promised to better tailor guardians' pants (from Jon Vieira). … F1 racing team Williams has tweaked their cars' liveries this season to replace some blue paint with carbon fiber in a bid to make the car a bit lighter (from Brad Dooley). … New test cricket uniforms for England (from James Welham).