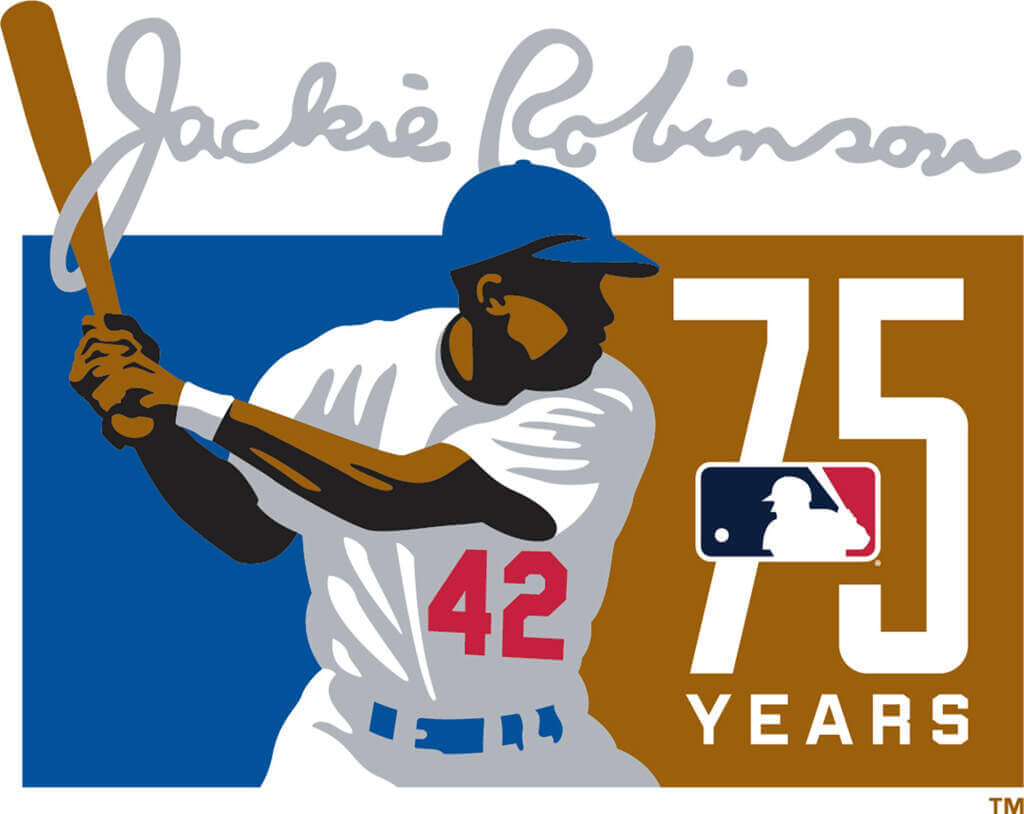 By Phil Hecken
Follow @PhilHecken

A good Saturday morning to you, Uni Watchers. I hope you all had a pleasant week.
As you're all no doubt aware, yesterday marked the 75th Anniversary of one Jack Roosevelt Robinson playing his first game for the Brooklyn Dodgers, becoming the first Black athlete in the modern era to break baseball's Color Barrier. MLB retired Robinson's iconic number 42 leaguewide 25 years ago yesterday (I was at that game), and in the 25 years since, Bud Selig's best decision ever has become an even bigger celebration than it was a two and a half decades ago. If you need any refresher on JRR Day, here is a good reminder.
Uni-wise, this day has gone from no one (save for players who were grandfathered in) wearing 42, to a few players per team donning the number, to everyone wearing the number for "Jackie Robinson Day" (the day is celebrated league-wide on April 15th, but teams rained out or not playing that day designate when they will wear them, usually the next scheduled day). For all those seasons when everyone wore 42, teams did so in their regular uniform font. However, for 2022 (and beyond?), all teams wore #42 only on the back of their uniform, and in the "Dodgers" block font worn by Jackie Robinson originally.
Even before any games were played, we wondered aloud how this would look on teams who say, don't wear any blue on their uniform, or who wear pinstripes? And how do the hated rival Giants feel about wearing Dodger Blue? I was expecting the worst, especially given the video game leaks Paul wrote about earlier this month. I have to say I was pleasantly surprised. More importantly: every home team wore white and every road team wore gray (as God intended).
For a team like the Phillies, who normally wear a uni number on their left sleeve, the lack on one on JRR day was noticeable…but not terrible.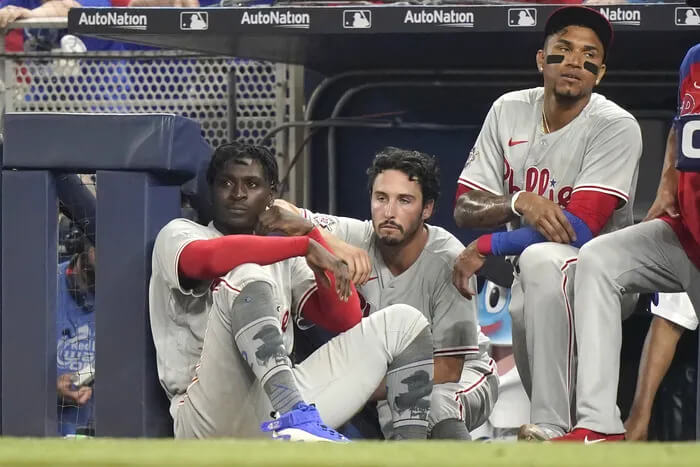 For a team like the Mets, who wear uni number on the front of their jersey, the missing digits were more disconcerting.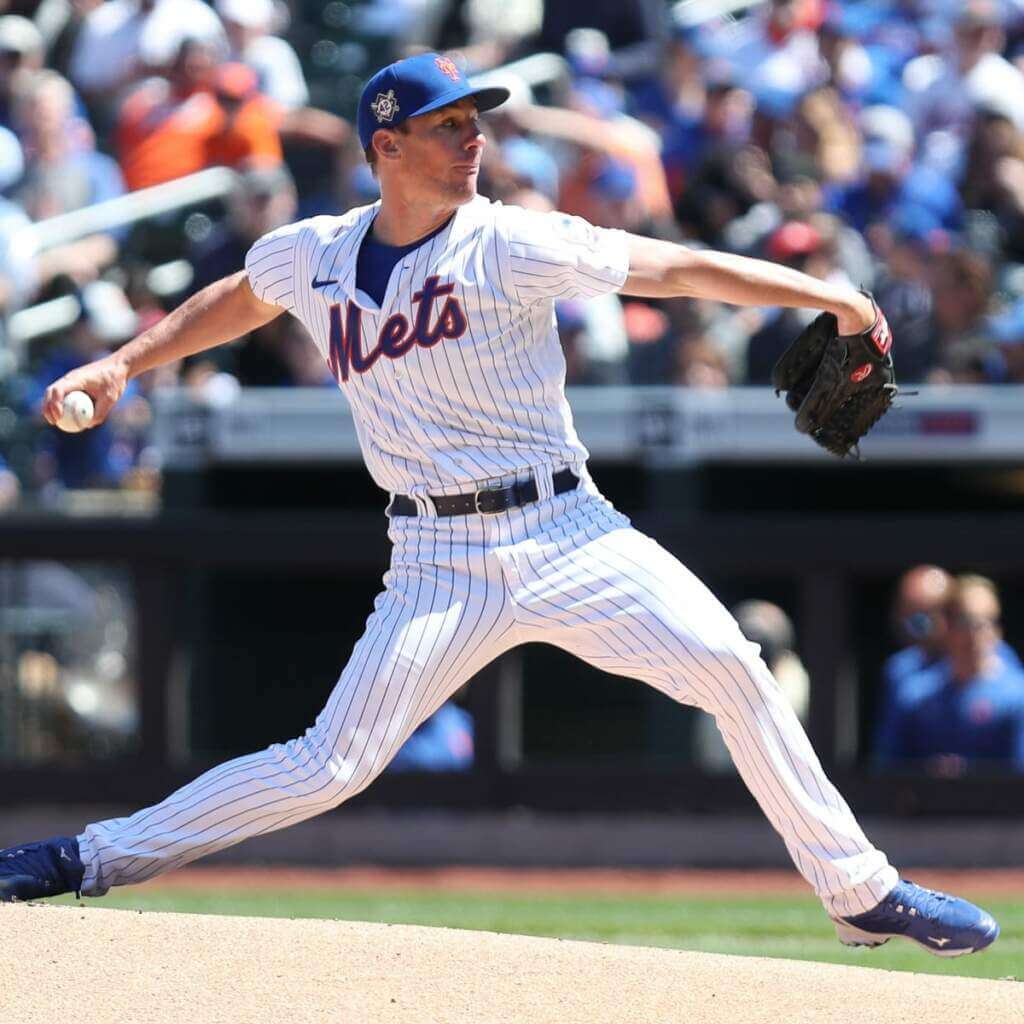 Still, especially because all games were white/gray affairs, all teams looked fine from the front, and you wouldn't have known it was a special occasion at all.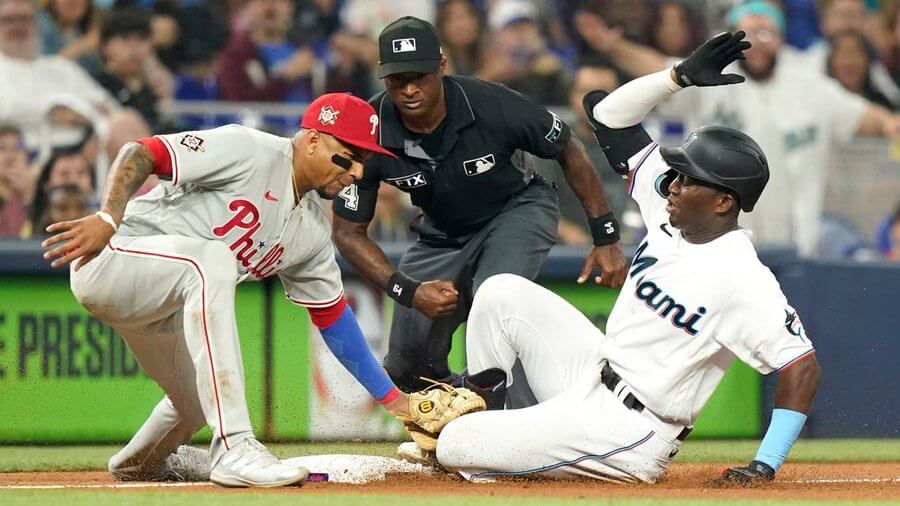 Now, being somewhat of a Jackie Robinson uni-buff, there is a slight discrepancy — but not a dealbreaker (at least for me). You see, MLB was celebrating the 75th Anniversary of Jackie breaking the color barrier — but the "42" number font all teams wore yesterday wasn't worn during 1947 (Jackie's rookie season). Back then, the team wore a modified McAuliffe font, so if MLB were "throwing back" to the 1947 unis, then they would have looked like this: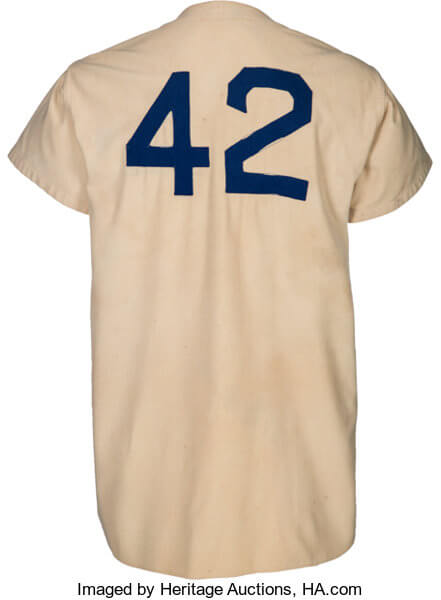 The Dodgers wouldn't switch to that block font until 1949.
They wouldn't add the red front numbers (as depicted in the official logo shown at the top of this post) until the 1951 World Series 1952, as shown below on Jackie: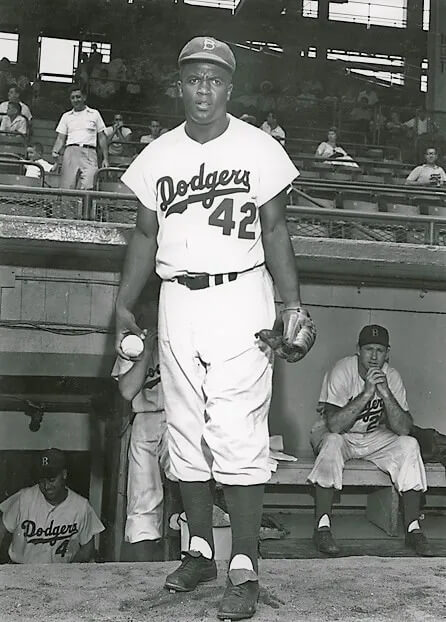 While I'd have preferred they had stuck to the 1947 uni, I prefer the block font they used (a font used by several teams who have JRR remembrances). It might have been interesting if MLB had given teams (especially those who wear front uni numbers) the red "42." But alas, all jersey fronts were "clean."
As per protocol, all teams wore special Jackie Robinson cap and shoulder patches, but these were not rendered in "Dodger Blue," but instead in the team's regular font and color scheme (I'm sure merchandizing was hard a work here). So in actuality, caps and shoulder patches matched teams' normal looks (below are the Cardinals, Pirates, and Blue Jays, in success: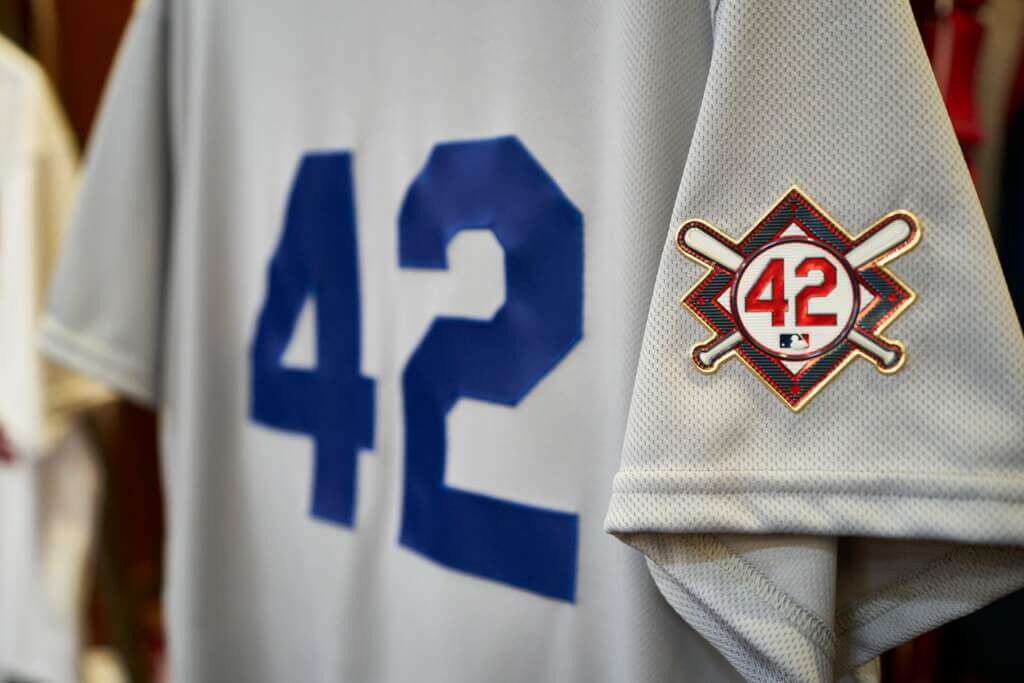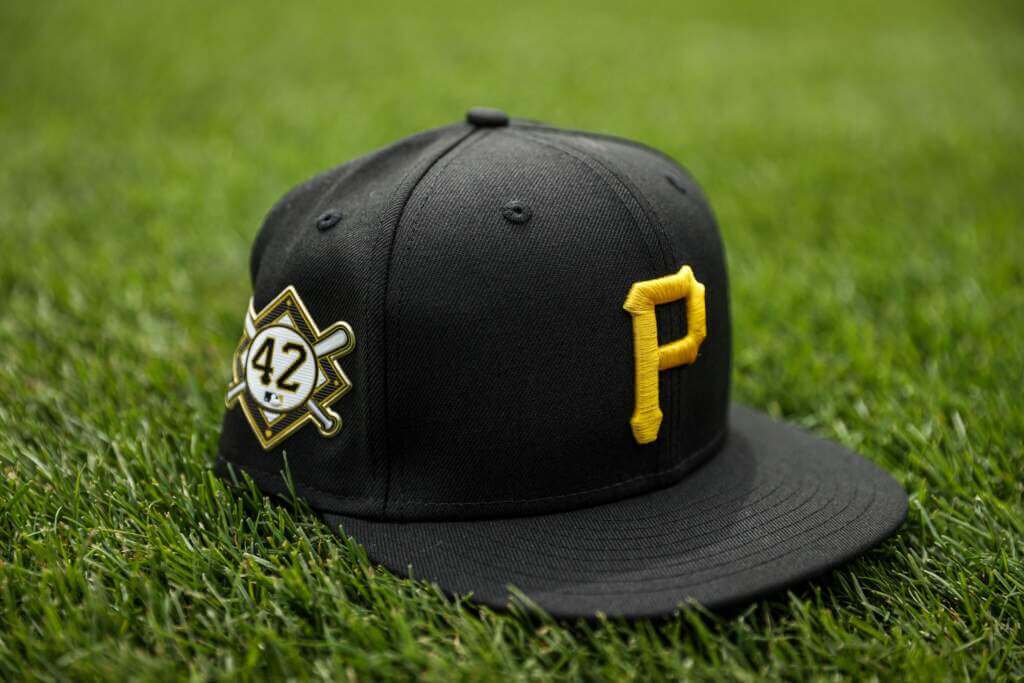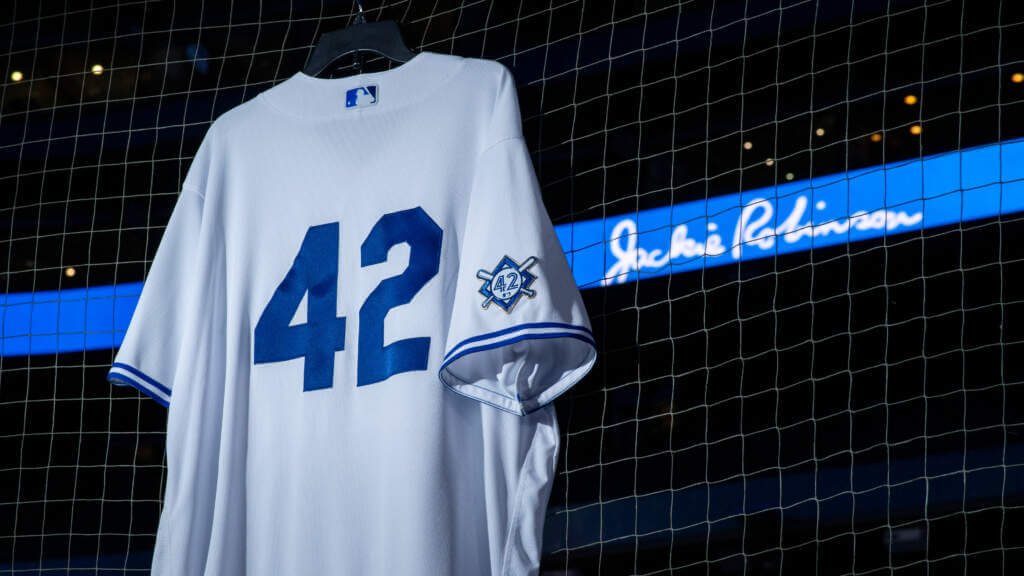 Seeing the classic "42" on teams with pinstripes was also a bit of a head trip. For teams with blue (and particularly royal blue) as a dominate color, the effect was a bit muted (seen here for the Mets):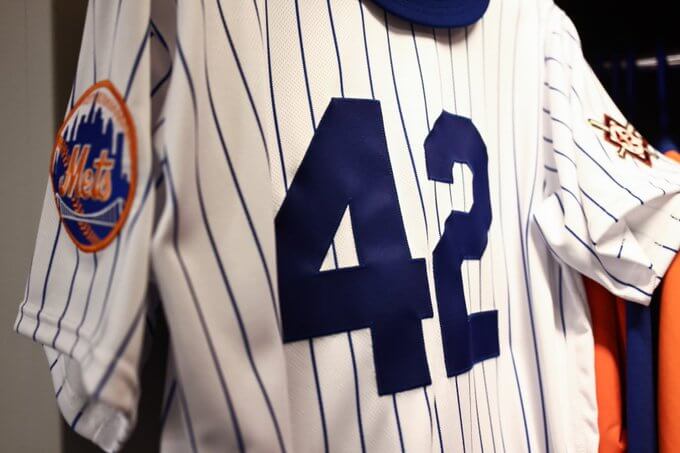 For teams like the White Sox, whose uniforms contain no blue, it was a bit more startling.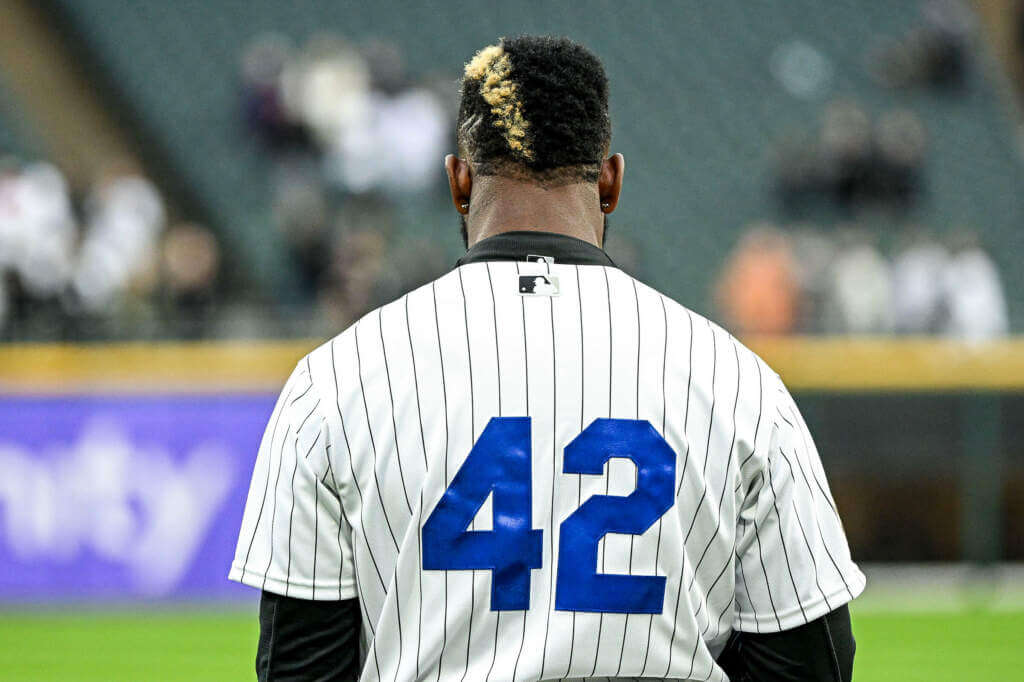 The good news is that from any kind of distance, the unis looked unusual, but otherwise fine (see here on the Padres):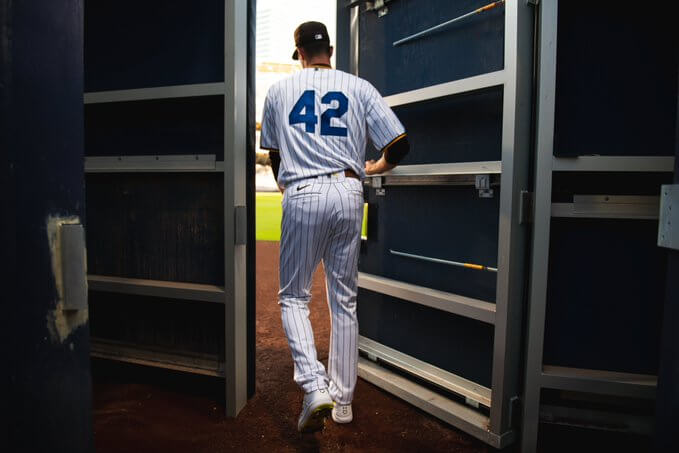 Up close of course…that's another story: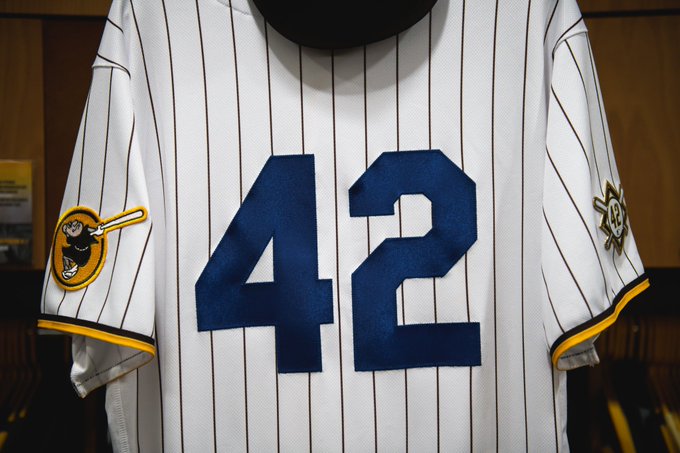 It was an interesting look on teams who wear either navy, or otherwise have blue and another color in their uniforms, like the Nationals:
Or the Red Sox: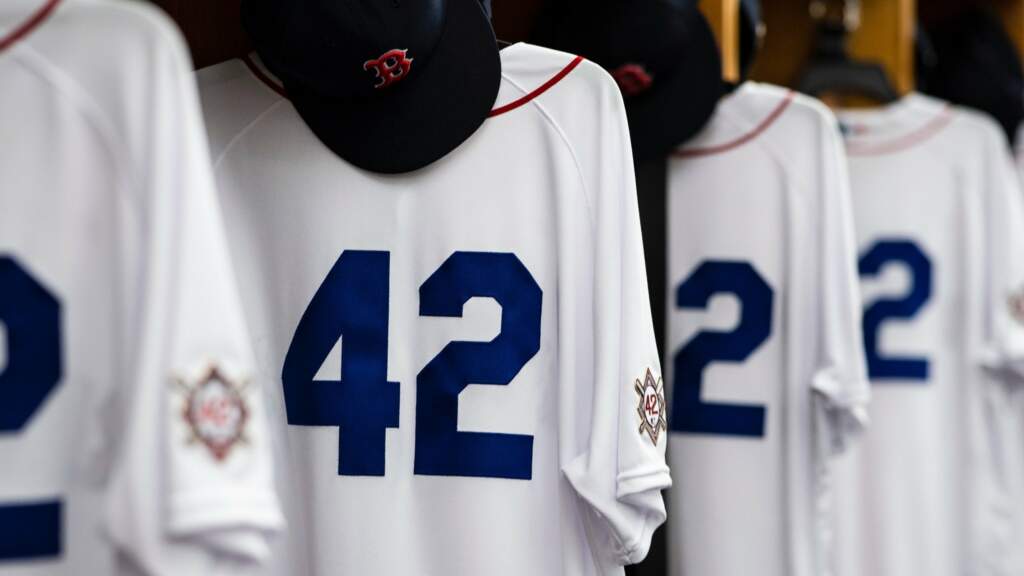 Speaking of the Red Sox, ex-slugger Mo Vaughn was honored, and he came out wearing his own 42 (which he wore with the team), but it was rendered in the usual Red Sox font and color. A fun little instance of a former teammate wearing the same number as all his teammates, but in a different style.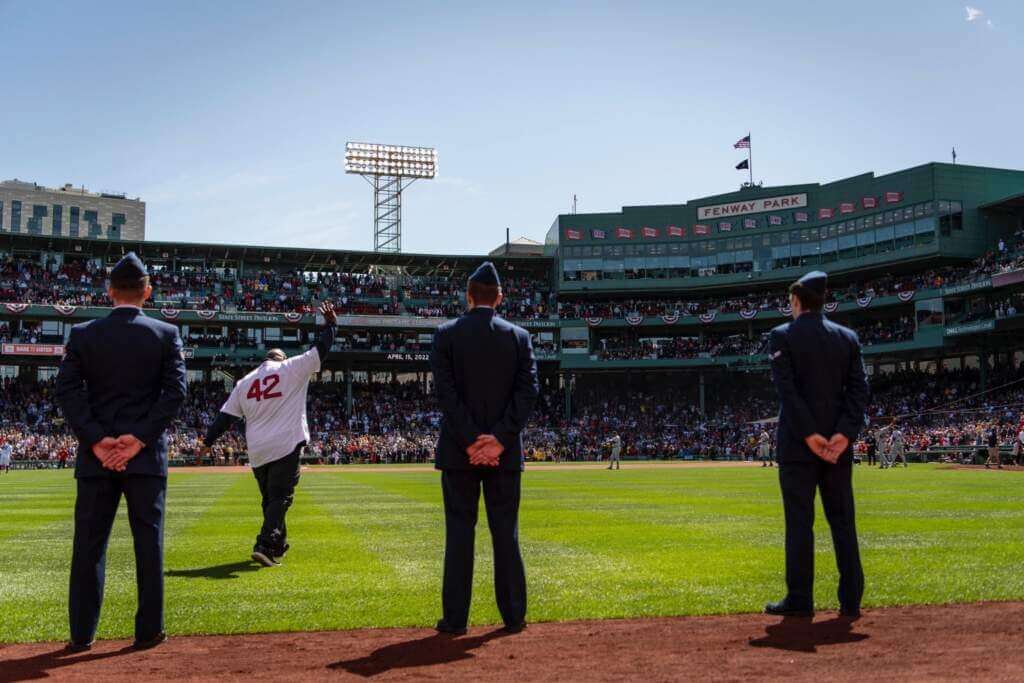 Teams who have royal blue (or blue) as their predominate color looked fine…good even (below: Royals, Mariners, and Rays).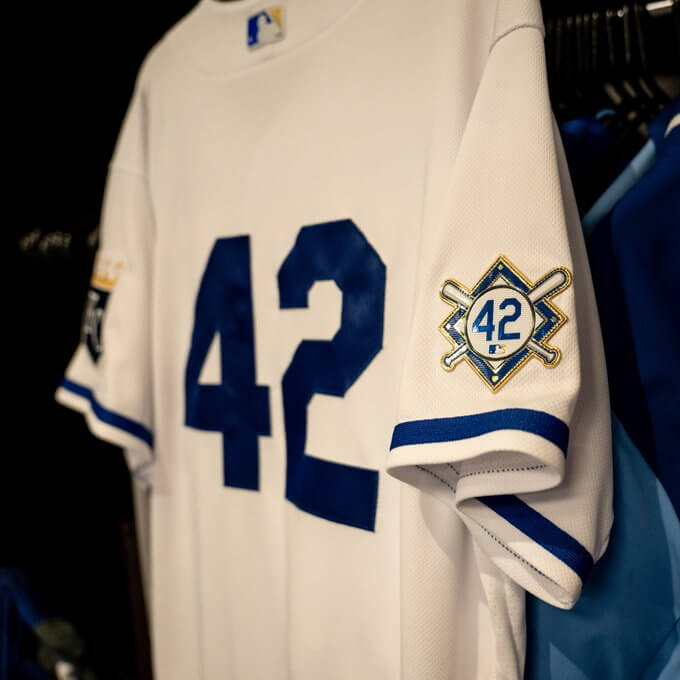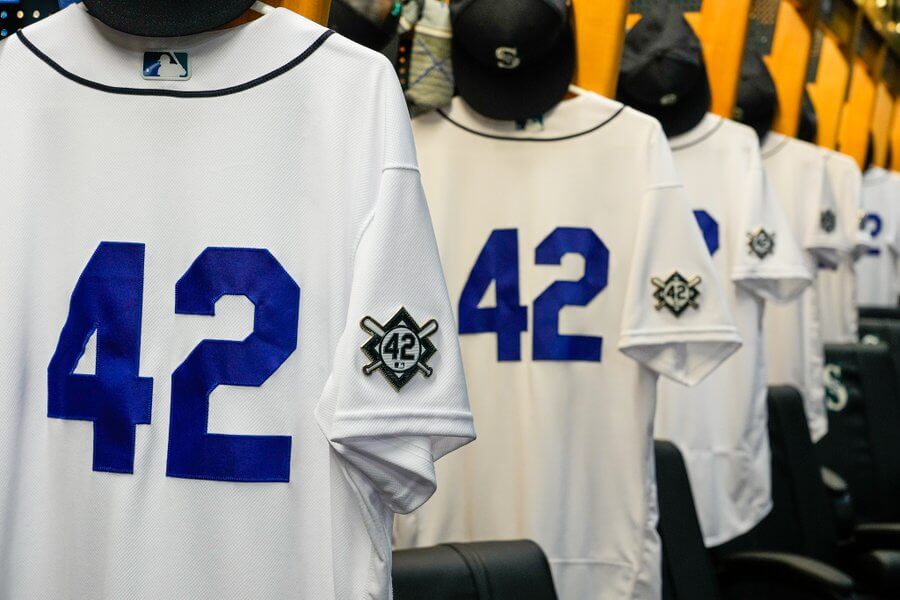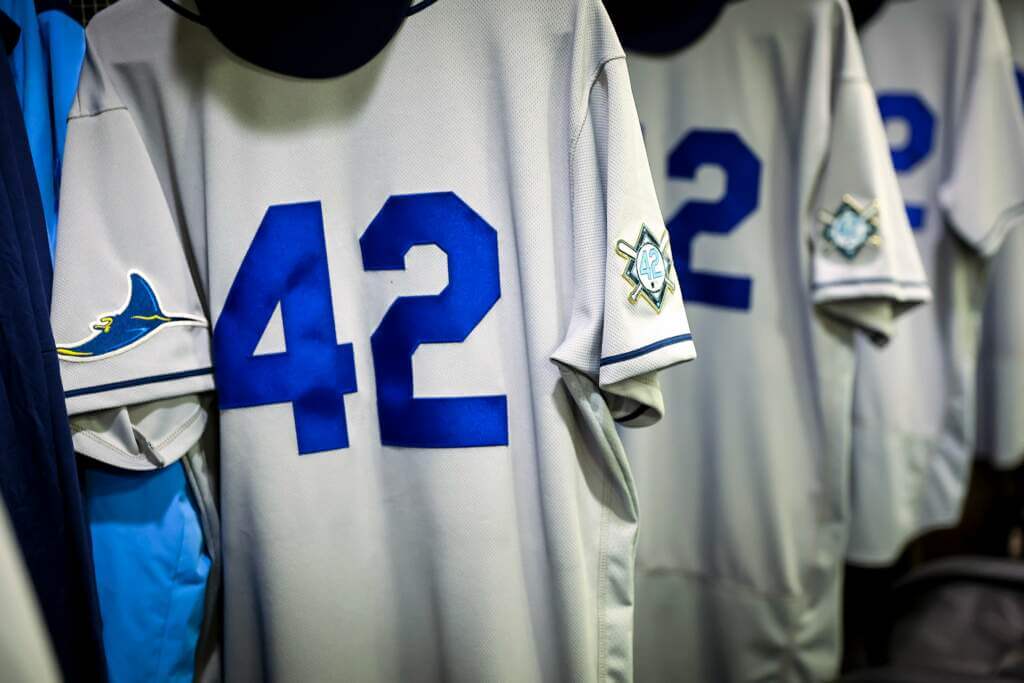 And of course, the Dodgers looked…the same: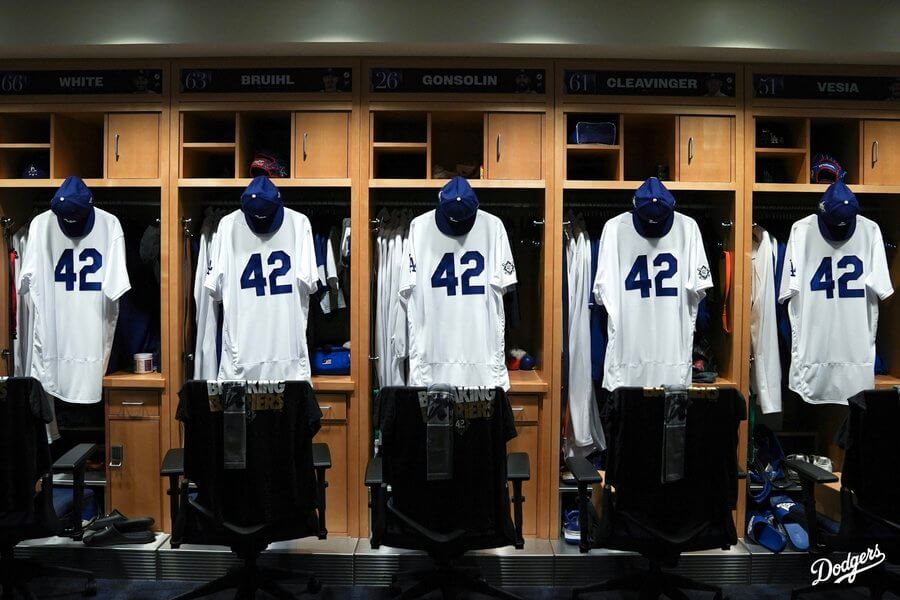 And for some teams, like the Cubs, the difference between the "42" and their current uni (just block instead of rounded and without outline) looked pretty good: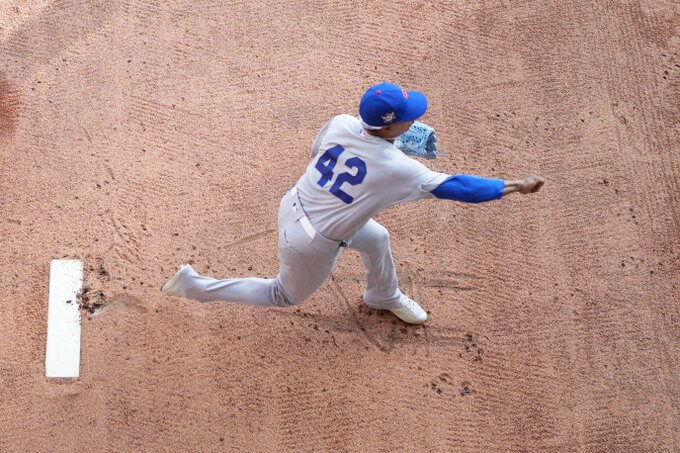 And for the newly-named Cleveland Guardians, JRR day provided us with our first on-field look at the home white uniform:
Home whites for the first time. 😍#ForTheLand pic.twitter.com/UvnFsqWZGW

— Cleveland Guardians (@CleGuardians) April 15, 2022
You can really see the influence of the beloved maligned "caveman" font from their history in that "Guardians" wordmark.
Of course, the Dodger Blue 42 looked most out of place on non-blue teams, although its effect was muted by the lack of NOB and use of color-coordinated JRR patches: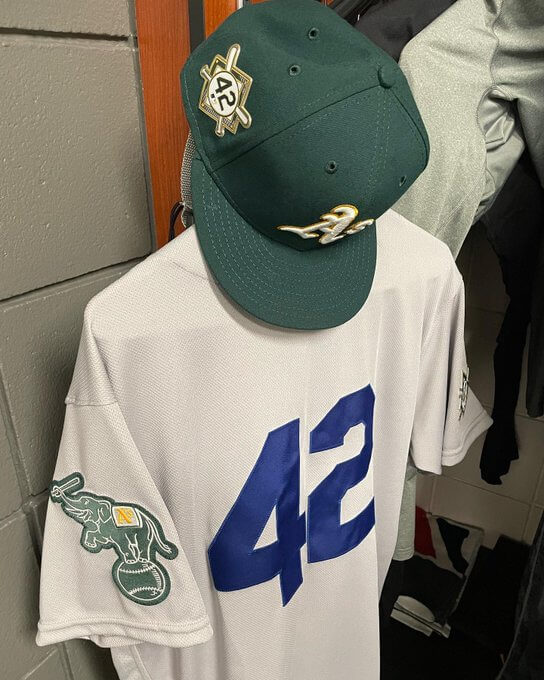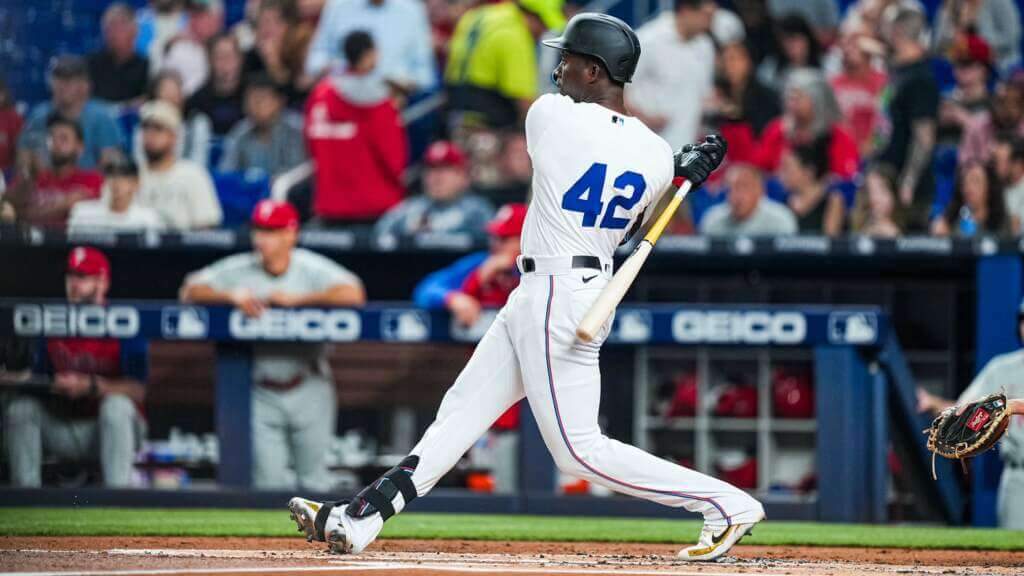 I didn't get to see the mound treatment for a few teams, but the Mariners for sure had "42" prominently displayed on the back of the hump (sadly, most teams that I saw elected to keep their normal "ads" that face towards the centerfield camera).
Thank you, 4️⃣2️⃣ #Jackie42 pic.twitter.com/w8ijqHNGQN

— Seattle Mariners (@Mariners) April 16, 2022
There were of course the usual assortment of shoe tributes…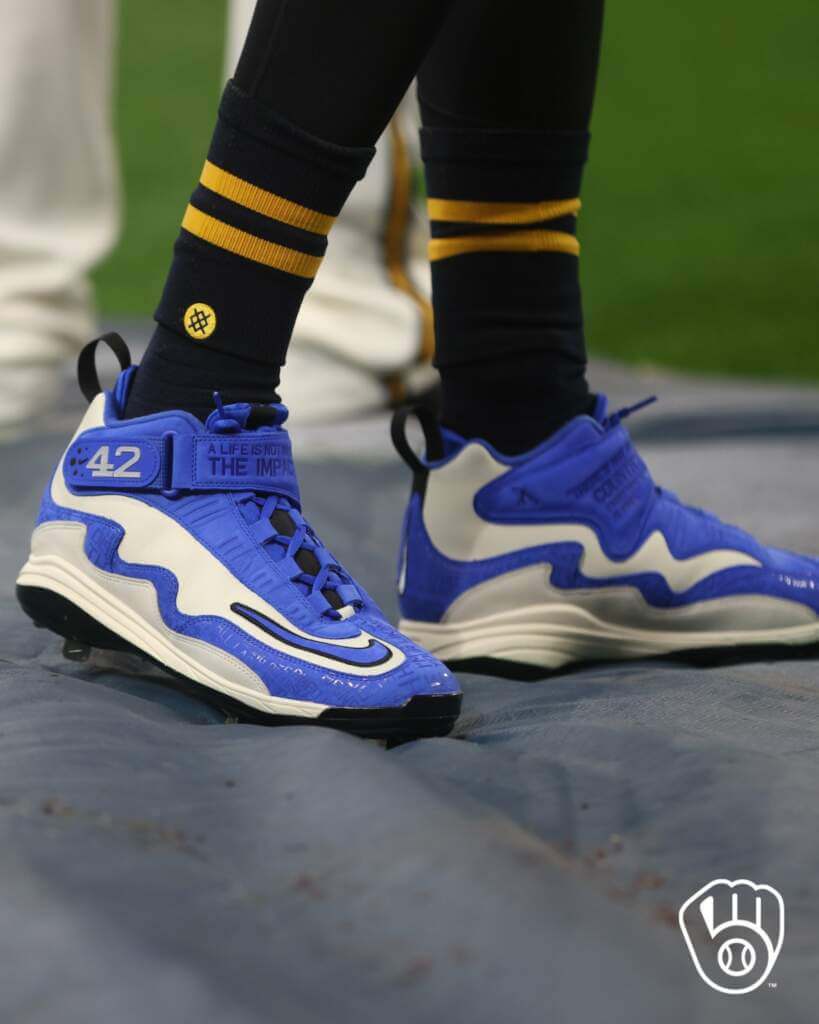 …while several Guardians paid tribute to both Robinson and Larry Doby, the first Black player in the American league (who played for Cleveland), and who debuted a few months after Robinson (and faced more than his own share of racism and discrimination):
Myles Straw and a few other @CleGuardians are paying tribute to both Larry Doby and Jackie Robinson with custom cleats tonight.#ForTheLand | #Jackie42 | @DreKnott pic.twitter.com/V0scpJWjsM

— Bally Sports Cleveland (@BallySportsCLE) April 16, 2022
Players who normally go high cuffed seemed to alternate between regular team-color socks (as seen above) and special Stance JRR socks, which were rendered in gray. It looked much better on teams wearing their road unis than their homes: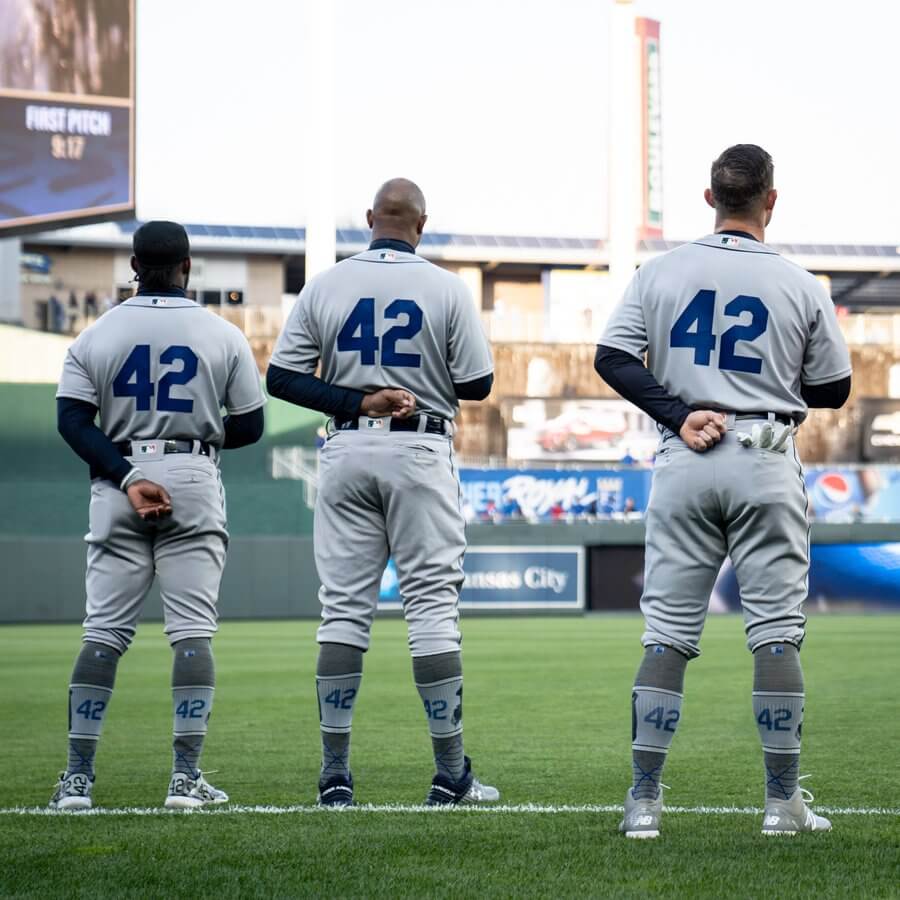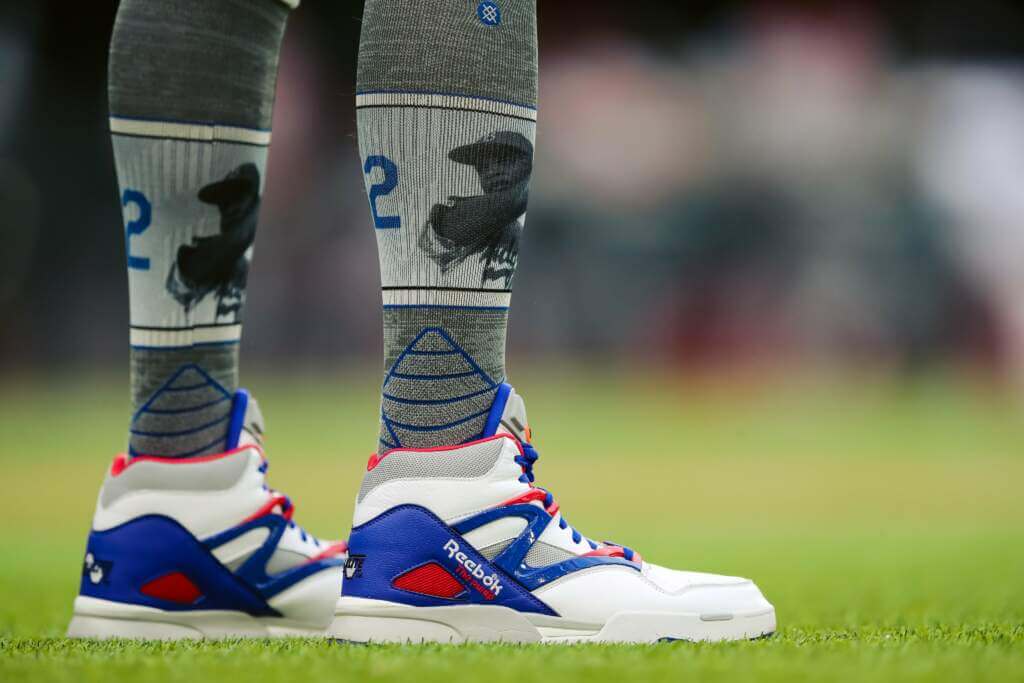 In New York City, 42nd Street (get it?) was temporarily renamed "Jackie Robinson Way":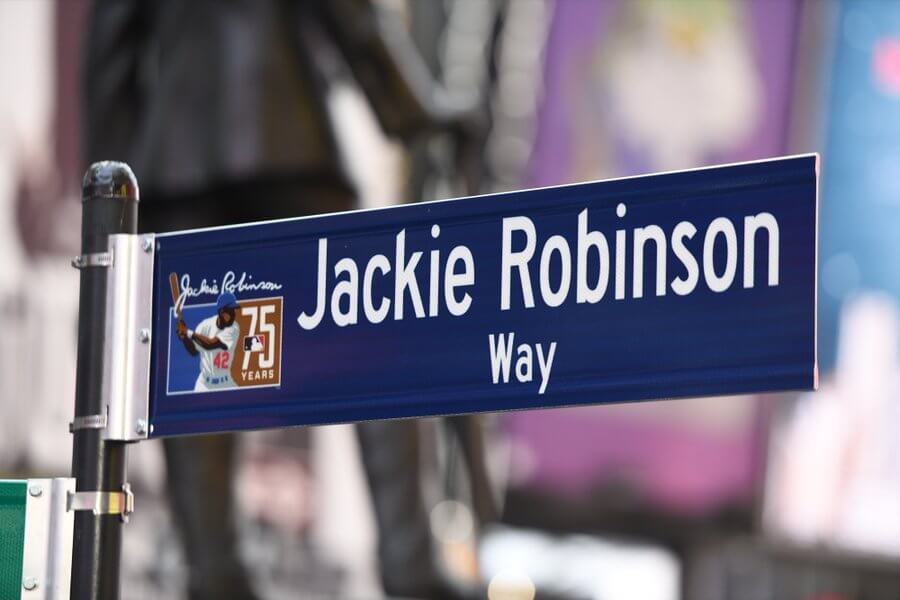 42nd Street has been temporarily renamed Jackie Robinson Way to honor the 75th anniversary of Jackie's arrival to the majors. #Jackie42 pic.twitter.com/akRLzTDAAY

— Cut4 (@Cut4) April 15, 2022
There were of course tributes at most every ball park and in pre-game ceremonies. And of course there were the usual "everyone is wearing 42" line up cards and special bases: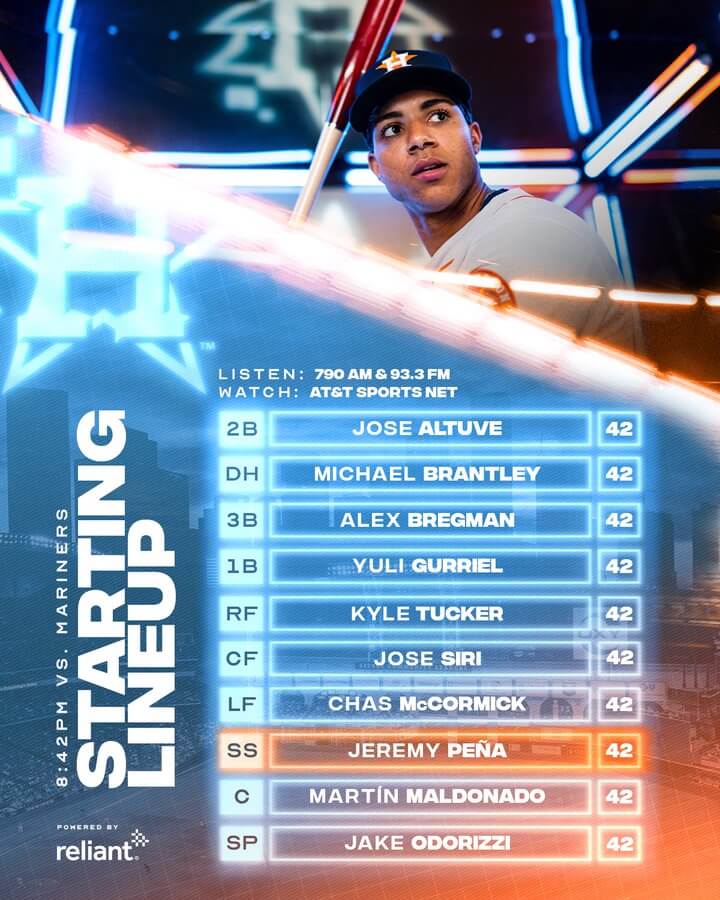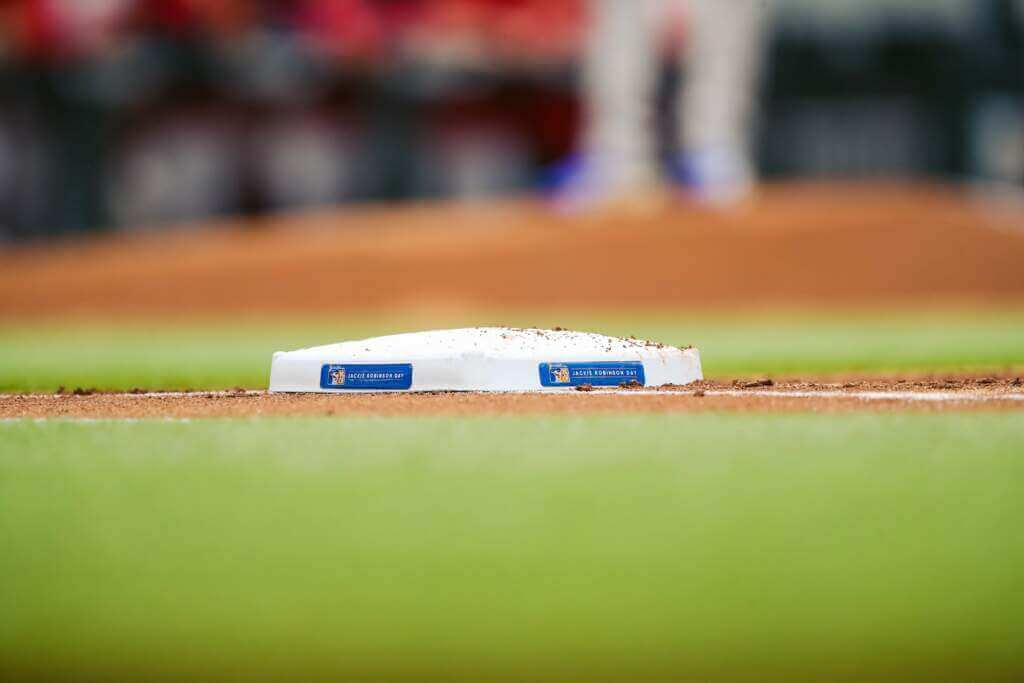 Umpires also wore a small JRR patch on their right sleeve (sorry, couldn't find a decent photo), but they still looked terrible since they were still wearing their cryptocurrency ad patches as well (sigh).
All in all, I was very pleasantly surprised at how well the Dodger Blue 42 #OBs worked out. I'm not sure I want to see this for the 76th Anniversary (and I'm not sure if this is a one-year only thing, or if that decision hasn't been made yet), but it turned out very well. JRR day is probably my favorite uni day in baseball, and I'm glad it continues to this day. It was especially refreshing to watch white unis vs. gray unis across the board as well. Sure the announcers (still) bemoan the difficulties in identifying players, but it's a small price to pay for honoring Robinson and keeping his bravery and historic achievement in the public sphere.
Hope you guys enjoyed yesterday's unis as much as I did!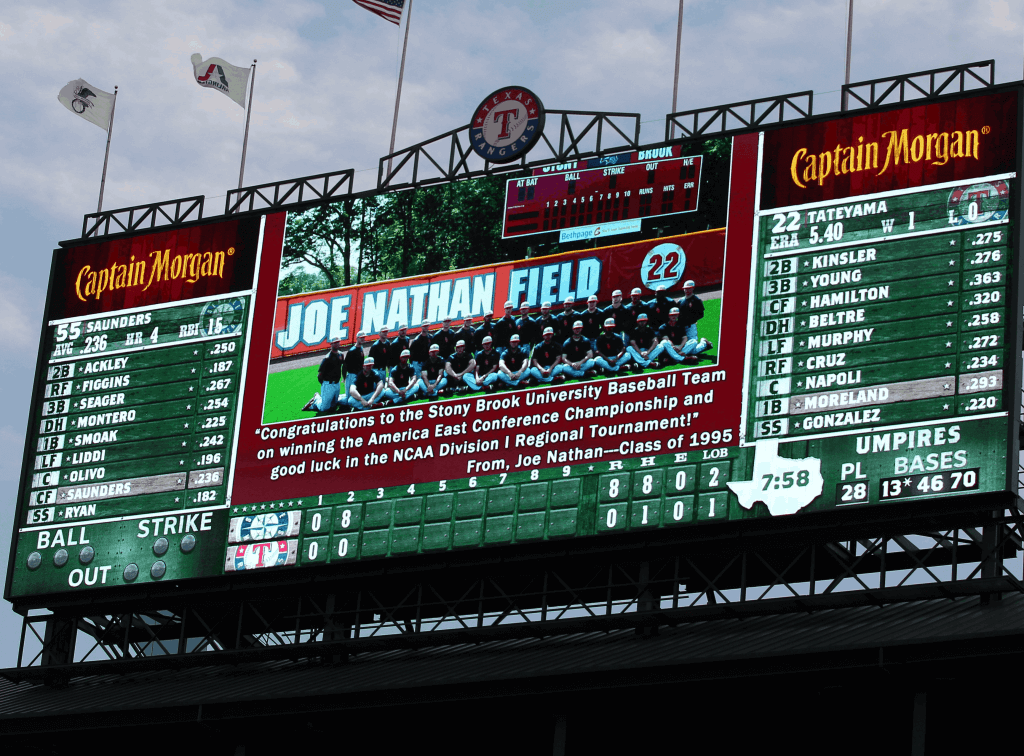 Guess The Game…
from the scoreboard
Today's scoreboard comes from Clarke Kiner.
The premise of the game (GTGFTS) is simple: I'll post a scoreboard and you guys simply identify the game depicted. In the past, I don't know if I've ever completely stumped you (some are easier than others).
Here's the Scoreboard. In the comments below, try to identify the game (date & location, as well as final score). If anything noteworthy occurred during the game, please add that in (and if you were AT the game, well bonus points for you!):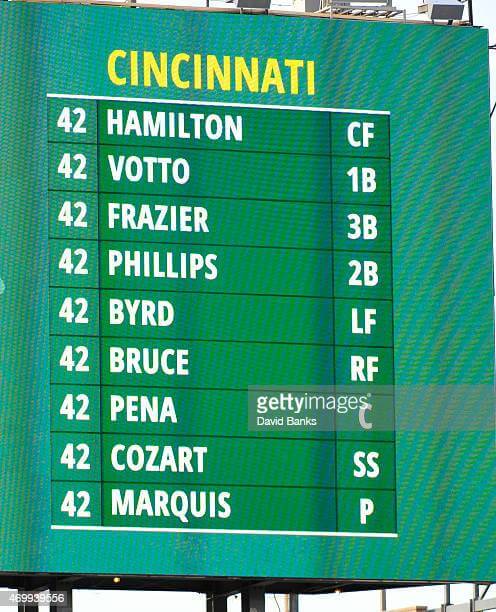 Please continue sending these in! You're welcome to send me any scoreboard photos (with answers please), and I'll keep running them.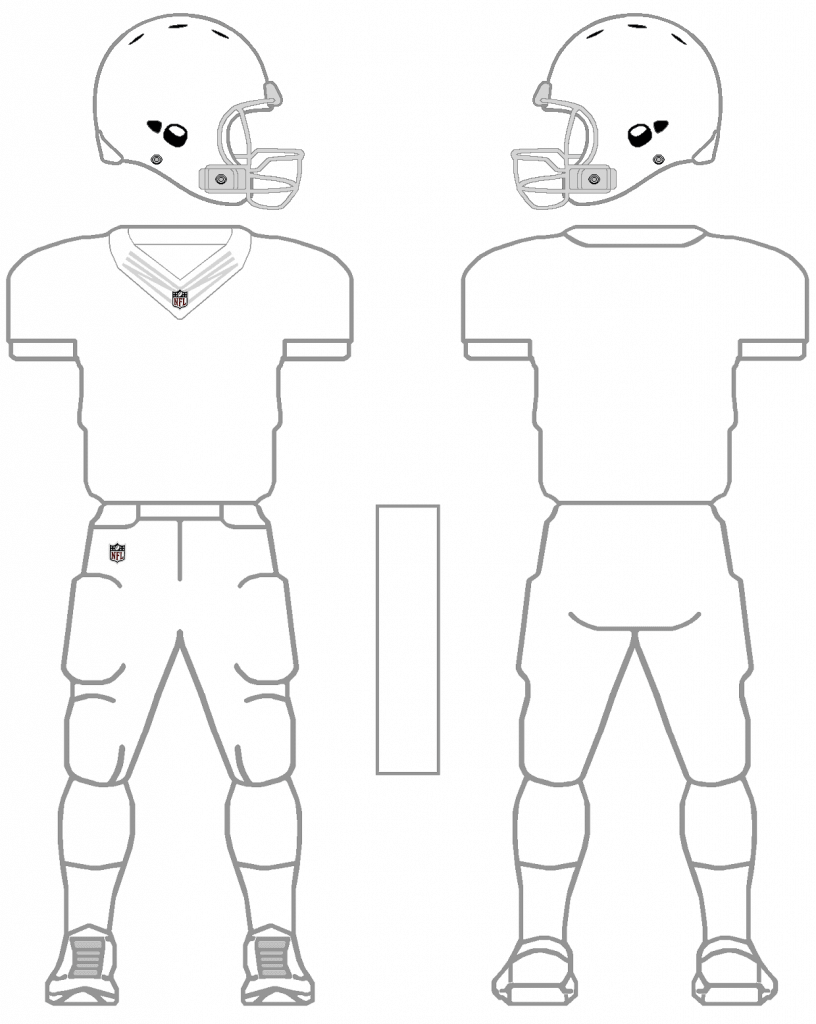 Uni Concepts & Tweaks
Time for more Uni Tweaks from the UW readership.
I hope you guys like this feature and will want to continue to submit your concepts and tweaks to me. If you do, Shoot me an E-mail (Phil (dot) Hecken (at) gmail (dot) com).
• • • • •
Today's concepts come from John J. Woods:
Phil,

Friday in the ticker: Greenville (MI) solution to its identity is to take Georgia Tech's yellowjacket logo.

Here are two logos I did Friday afternoon before work.

The first one started with the same logo for head, body and stinger. I pulled, tweaked and added to it and there it is. A yellowjacket and the letter G

Second is the letter G with a stinger.

Doesn't the school have an art department? Teachers and students who can try to create something? Why do so many schools use the same college/pro logos or even clip art when they can create something unique for their school?

John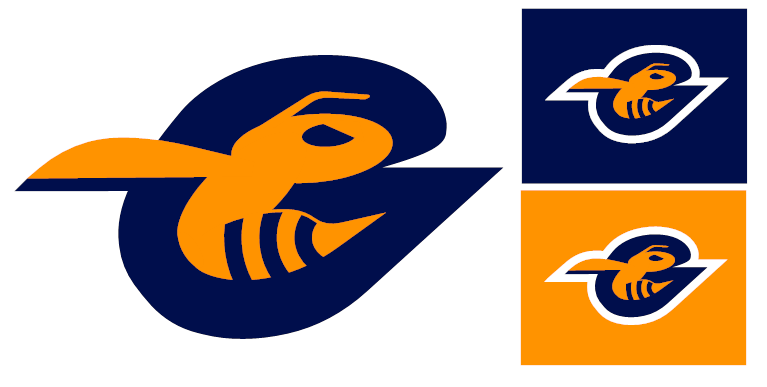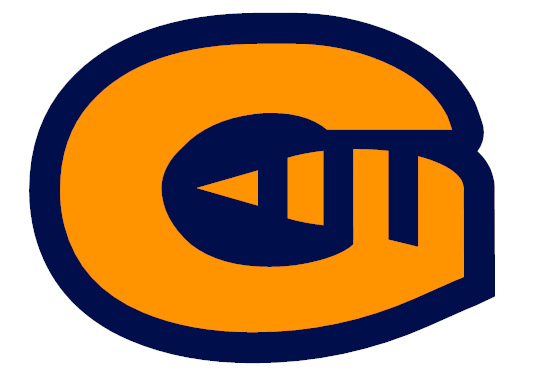 • • • • •
OK readers (and concepters). If you have some tweaks or concepts, shoot 'em my way with a brief description of your creation and I'll run 'em here.


The "BEST OF" Kreindler's Korner
Hey guys & gals. You've enjoyed Kreindler's Korner for several years now, mostly on the weekends, on Uni Watch, and we're still doing the "Best of" until Graig can re-devote his efforts to new writeups for paintings you haven't seen. Hopefully that will be soon!
Here's today's offering:
• • •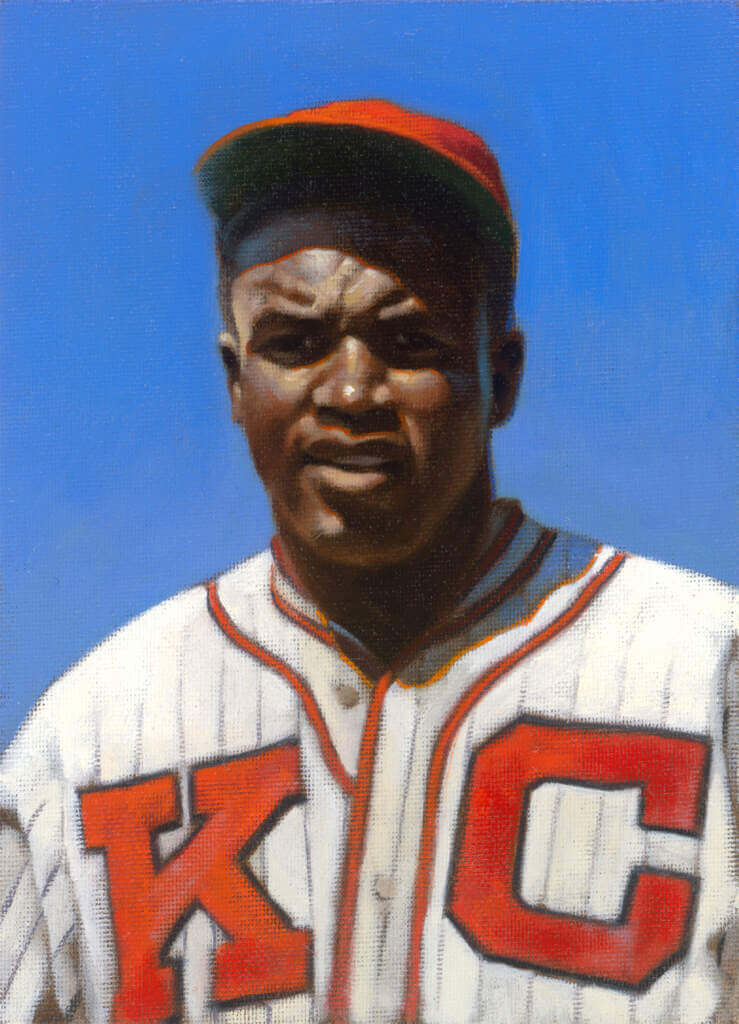 Title: "Jackie Robinson, 1945" (color study)
Subject: Jackie Robinson, 1945
Medium: Oil on linen mounted to board
Size: 5" x 7"

Jackie Robinson spent only five months with the Kansas City Monarchs in 1945. He had joined a squad that had come off of a sub-par year in '44, going only 35 and 51 for fifth place in the league.

Robinson was signed at the recommendation of pitcher Hilton Smith, who had seen Jackie play at Fort Hood. Monarchs owner J.L. Wilkinson supposedly sent him a contract sight unseen, what with his team being decimated by WWII – Buck O'Neil, Hank Thompson, Ted Strong and Willard Brown were all still in the service.

The '45 edition sported Jackie at shortstop primarily, and at a salary of $400 a month, he made his debut with the club on May 6, 1945, going 1-4 with an RBI double in a 6-2 victory over the Chicago American Giants.

By the end of the season, Jackie was leading the team with a .345 average, complete with ten doubles, four triples and five home runs. He was even selected for the East-West All-Star Game. During that season, he had also began trying out for various Major League clubs, including that infamous workout with the Boston Red Sox. It was in August at Comiskey Park in Chicago that Jackie was approached by scout Clyde Sukeforth on behalf of Branch Rickey and the Brooklyn Dodgers. By the time Robinson had met Rickey in his office on Montague Street in Brooklyn on August 28, baseball would finally become the national game.

Here Jackie is pictured in his '45 Monarchs home jersey. This is one of 200+ such paintings of mine that were on display at the Negro Leagues Baseball Museum in the spring of 2020.
• • •
Thanks, Graig! You can (and should!) follow Graig on Twitter.


The Ticker
By Anthony Emerson


Baseball News: Brewers C Omar Narváez went above and beyond for Jackie Day, wearing a blue chest protector with a large "42" on it. Inside the "42" are images of Jackie and his signature (from multiple readers). … Also posted in the hockey section: hockey referee Jordan Samuels-Thomas, who made his NHL debut on Tuesday, wears No. 42 in honor of Jackie Robinson. Samuels-Thomas is the third Black official in NHL history (from Brandon Weir). …  MLB has released a video recounting the history behind retiring Jackie Robinson's No. 42 across all Major League teams and all players wearing his number on Jackie Robinson Day (from Kary Klismet). … The Guardians also used Jackie Day to honor Larry Doby, who broke the AL's color barrier three months after Jackie. Doby's No. 14 was painted along the third base line (from Mike Menner). … As had been previously announced, the Red Sox were without their Jerry Remy memorial patches for Fenway Opening Day yesterday. … Yankees IF DJ LeMahieu, who wears No. 26, had the "2" decal fall of his helmet during last night's game against the Orioles (from Jorge Cruz). … Ichiro threw out the first pitch at the Mariners' home opener last night, in full 2001 uniform! (from Justin Rocke).

Pro Football News: A federal judge has declined to block the new USFL from using names and logos that potentially infringe upon marks used by the original USFL (thanks, Brinke).


College/High School Football News: Ohio State will celebrate the 100th anniversary of Ohio Stadium this year with a special logo (from Kary Klismet). … During today's spring game, UCF players will wear QR codes on their backs in lieu of numbers. When activated, they will link to a bio of the player (from multiple readers). … New Mardi Gras-inspired helmets for South Alabama (from Thomas Gleaton).

Hockey News: The Islanders have added a Mike Bossy memorial patch, placed somewhat awkwardly beneath their Clark Gillies memorial patch (from multiple readers). … Cross-posted from the baseball section: referee Jordan Samuels-Thomas, who made his NHL debut on Tuesday, wears No. 42 in honor of Jackie Robinson. Samuels-Thomas is the third Black official in NHL history (from Brandon Weir).

NBA News: Hornets PG LaMelo Ball will look to switch his uni number from 2 to 1 for next season (from Nicklaus Wallmeyer).


Soccer News: The USL W League's Green Bay Glory have new shirts (thanks, Jamie). … The following are all from Kary Klismet: Liverpool have updated the Hillsborough Disaster memorial on the back of their shirts from "96" to "97" following the death of another victim of the tragedy, Andrew Devine. Devine died last summer after more than three decades in a semi-vegetative state from injuries sustained during the disaster. … New away kits for Union Omaha of USL League One. … New third kits for FC Tokyo. … Very nice new fourth kits for Juventus designed by Brazilian street artist Eduardo Kobra.

Ukraine News: English club Wycombe Wanderers' are wearing a yellow and dark blue quartered shirt (instead of light blue and dark blue) today that is to be auctioned off for charity (thanks, Jamie).


Grab Bag: Here's an article about how campus police are altering uniforms and police vehicles to soften their image in the wake of the George Floyd protests (from multiple readers). … An LA Times columnist thinks that naming rights have gone too far (from Timmy Donahue). … Here's a graphic depicting a cross-section of the components of Bristol's dirt track (from @TexasTrevor). … The Carrier Dome will have a new, corporate name (from multiple readers). … Here's a great piece about national racing colors, and why Red Bull Racing races in a dark blue car.


And finally… that's it for today. Everyone have a good Saturday and I'll see you back here tomorrow, for a short(er) Easter post. Till then,
Peace,
PH