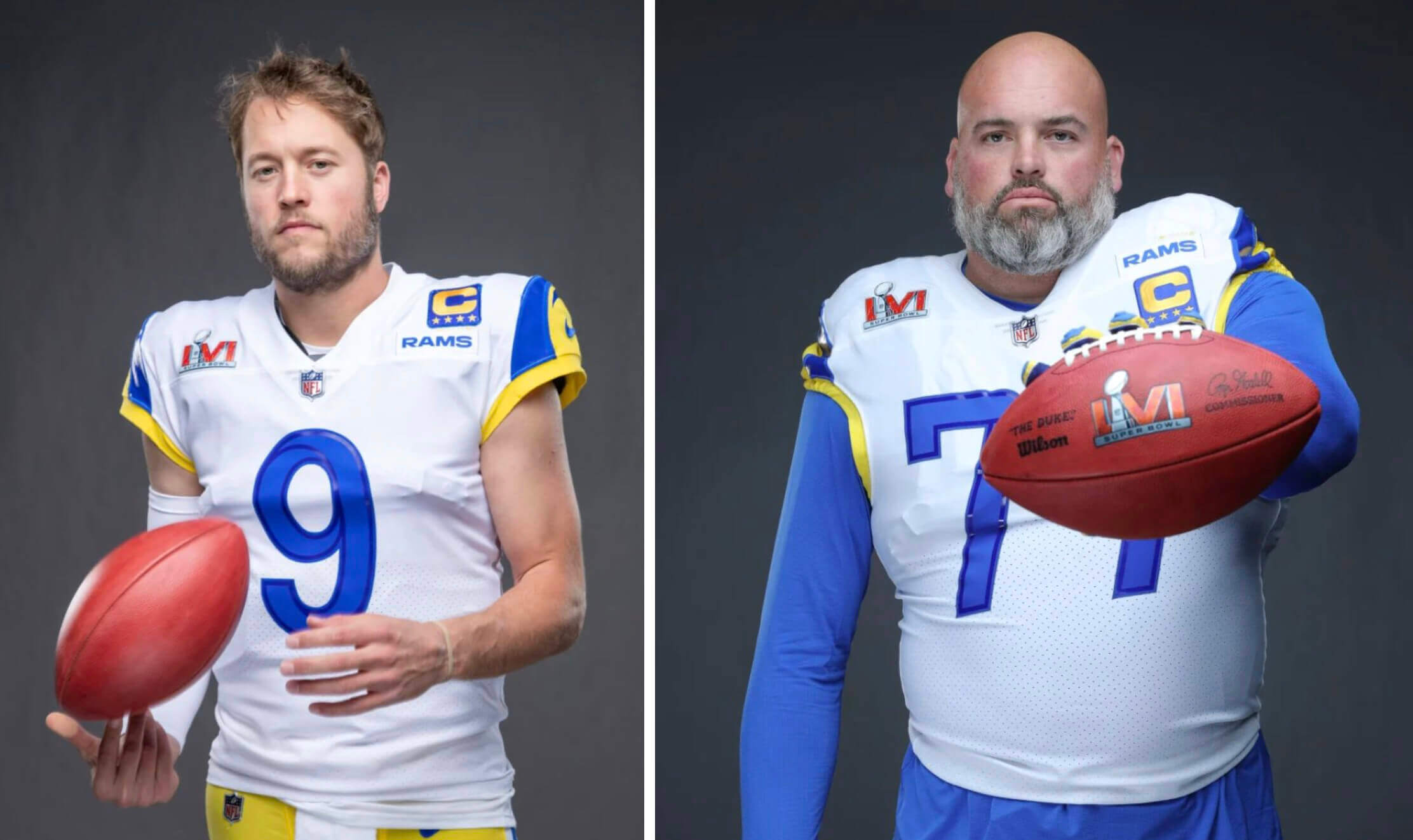 Click to enlarge
The run-up to the Super Bowl is often a lot of hype with relatively little substance. But if you're a uniform fan, the Supe provided some some tasty morsels yesterday.
Let's start with this: As noted in my Super Bowl Preview, the Rams' captains will be wearing their "C" patches above the "Hi, My Name Is Rams" patch this Sunday (above left). But a promo photo posted on the team's website shows offensive lineman Andrew Whitworth wearing the "C" below the team patch. An irksome inconsistency!
But wait, it gets better: Last night Whitworth was named as this season's winner of the Walter Payton Man of the Year Award. If he keeps playing beyond this Sunday (he's currently 40 years old, so this could be his last hurrah), he'll get to wear the Payton patch on his jersey chest for the rest of his career, just as past Payton winners Russell Wilson, Calais Campbell, and J.J. Watt do.
But the bigger question, of course, is whether Whitworth will wear the Payton patch this Sunday in the Super Bowl. That issue has never come up before, because Payton winners didn't start wearing the patch until 2017, and none of the award winners since then have played for a team that was about to appear in the big game. So we're in uncharted territory here.
As soon as Whitworth was named as the Payton winner last night, I sent emails to an NFL rep and a Rams rep. No response yet. Now, realistically, they're both going to be busy with a lot of other stuff right about now, so I don't really expect to hear back from them (and even if they wanted to help me out, they might not know yet about Whitworth's patch), but we'll see — stay tuned.
If Whitworth does end up wearing the Payton logo, it would likely set a record for the most pieces of flair on an NFL jersey:
• Payton patch
• Super Bowl patch
• Captaincy patch
• "Rams" patch
That's what I'm rooting for, just because it would be so bizarre-looking.
Update: Several outlets are reporting that Whitworth may indeed get to wear the Payton patch on Sunday, because it may be his last game.
Meanwhile, as you probably know, the NFL always puts together some sort of exhibit to go along with the Super Bowl, and this year it included a uni-clad mannequin for each team. Here's a glimpse (click to enlarge):
It's not so surprising that Washington's mannequin wore a WFT uni instead of a Commies uni (the exhibit was probably put together before last Wednesday's unveiling), but take a closer look at those pants — the team never actually wore those!
WFT's actual burgundy pants look like this: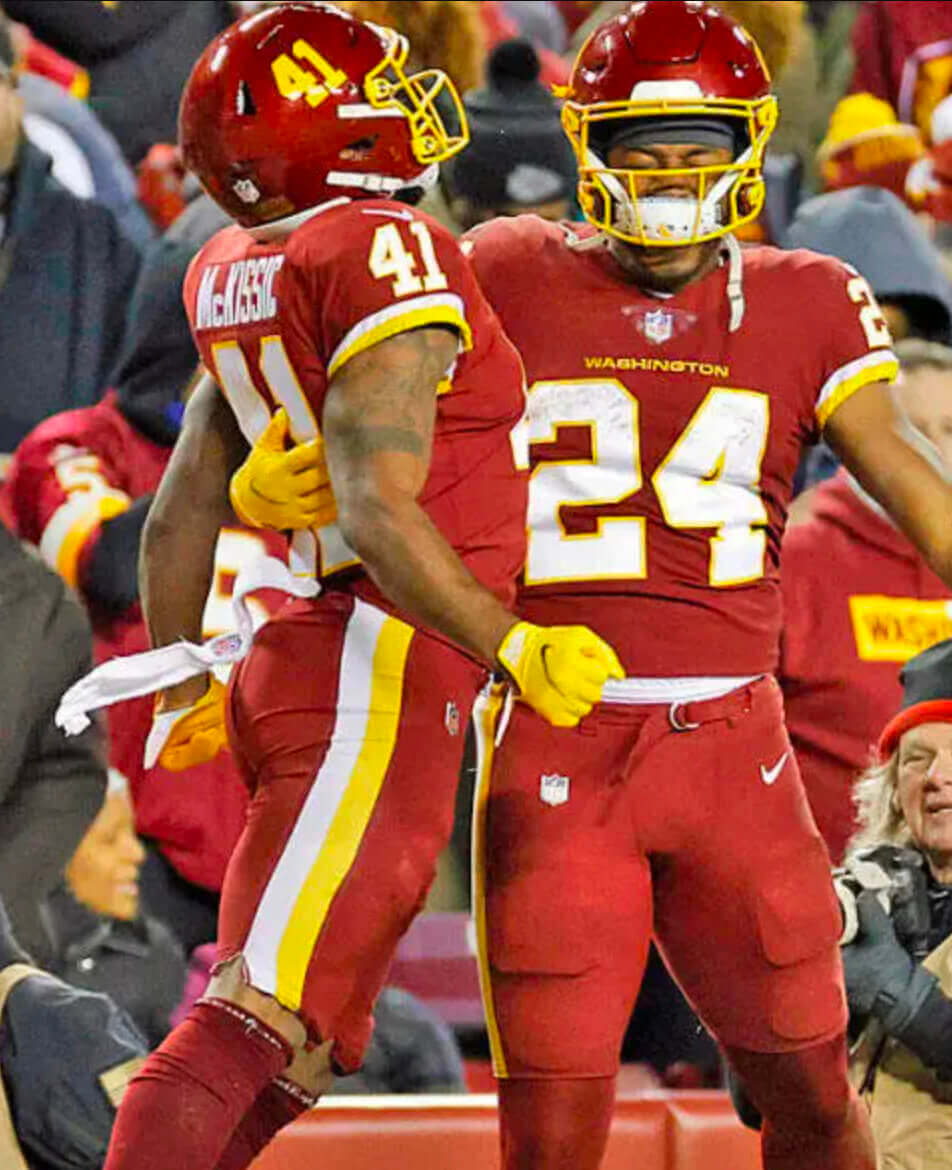 The pants on the mannequin have a completely different stripe pattern. Looks like it's based on the Giants' grey pants. (At first I thought it was based on the old 'Skins helmet striping, but the helmet stripes were white-yellow-white, while the mannequin's pants are yellow-white-yellow.)
Pretty weird, right? I guess this was some sort of prototype design that never made it onto the field. But how did it end up on a mannequin at the Super Bowl? Of course, they could have avoided all this intrigue if they'd just put white or yellow pants on the mannequin instead of going with the stupid mono look.
Anyway: Not a bad day for NFL uni news!
(My thanks to Mance Fine for bringing Whitworth's "C" positioning to my attention, and to Brian Simpkins and @DCSportsNut202 for spotting the WFT pants.)
• • • • •
• • • • •

Click to enlarge
And speaking of the Super Bowl: In case you missed it on Wednesday, the Uni Watch Super Bowl Preview is now available for your enjoyment, and I don't mind saying that this year's edition is a doozy, jam-packed with deep-cut fun facts about the Rams' and Bengals' uniforms, including the annual knowledge-drop by Super Bowl scholar Jay Braiman — perfect for impressing and/or annoying your friends while watching the big game on Sunday.
My premium subscribers can read the article here. If you haven't yet subscribed, you can do that here (you'll need a Facebook account in order to pay). If you want more info on what you'll get for your money, you can find that here. And if the Facebook requirement is a dealbreaker, email me and I'll keep you in the loop about developments regarding non-Facebook payment options and possible workarounds. Thanks!
• • • • •
• • • • •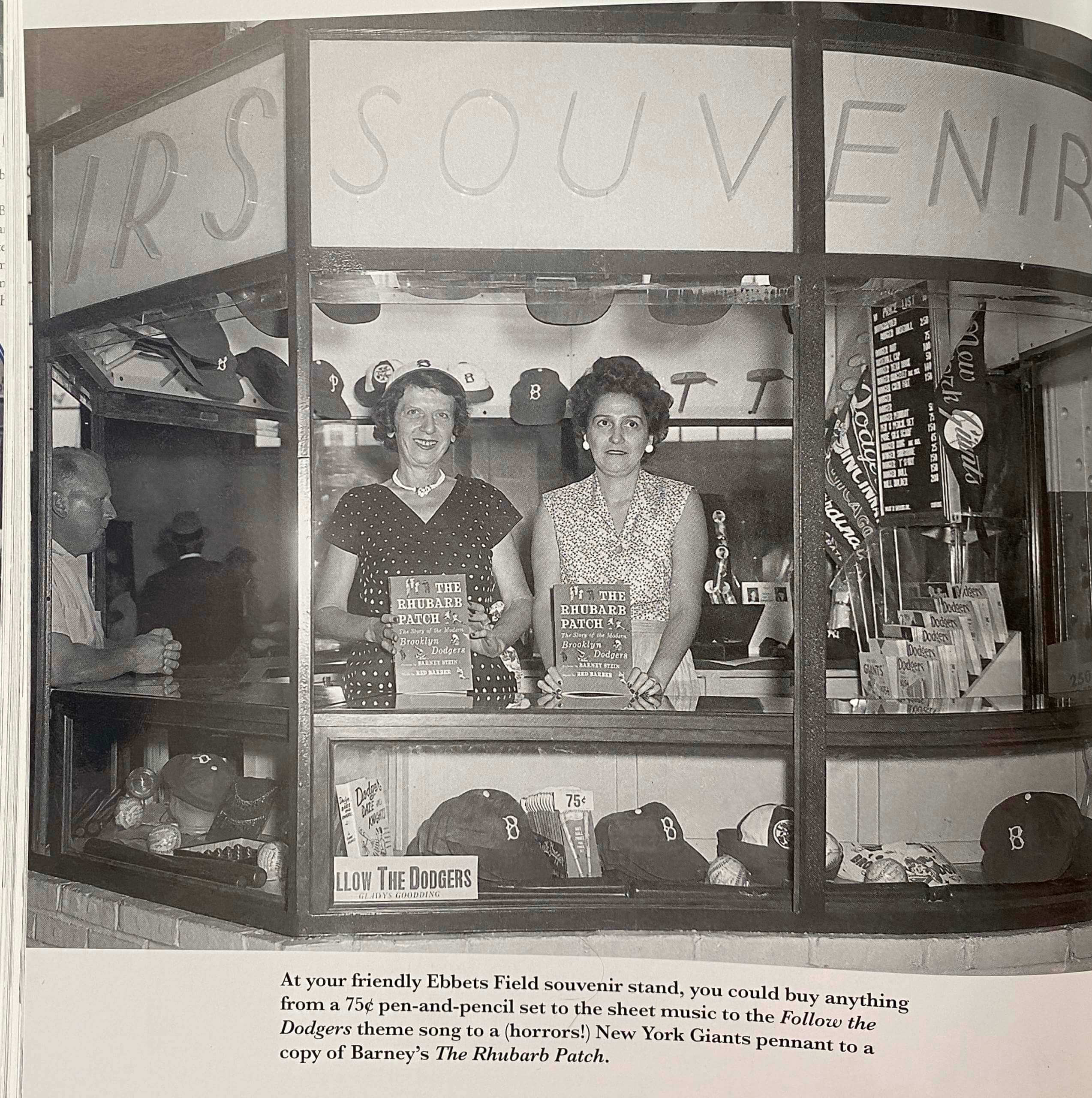 Click to enlarge
Early merch: In yesterday's post about the Milwaukee Braves, I showed a photo of fans who appeared to be wearing Braves caps at a ballgame. I wrote, "This crowd shot caught my eye because it appears to show several fans wearing Braves caps. Were retail caps available in 1954? That would be news to me."
That prompted two great responses. The first was from Jordan Weiss, who sent me the photo shown above (from the book Through a Blue Lens, a collection of photos by Dodgers photographer Barney Stein). As you can see, they had plenty of Dodgers caps for sale — and a Phillies cap to boot! The price listing on the pegboard indicates that they were selling the caps for the princely sum of one dollar. I had no idea!
In addition, reader Darren Jones posted the following comment to yesterday's post:
From the website MLBCollectors.com:

American Needle and Novelty Company (ANNCO) — Founded in 1918 as an importer of sewing needles, American Needle evolved into a major headwear manufacturing company. In 1946, the company approached the Chicago Cubs with the idea of selling fans souvenir caps like the ones the players wore on the field. The Cubs agreed to the proposal, with the team's ownership, noting, "Who would want to buy the hats that the players are wearing?" The first run of Cubs hats sold out in one day and a second lot sold even faster. Soon the company was supplying souvenir melton felt caps with metal eyelets and sewn-on-patch-logos to fans of all MLB teams.
Who knew? Not me! Frankly, I have no recollection of retail caps being available when I was growing up, but maybe I'm misremembering. Anyway, thanks to Jordan and Darren for setting me straight!
• • • • •
• • • • •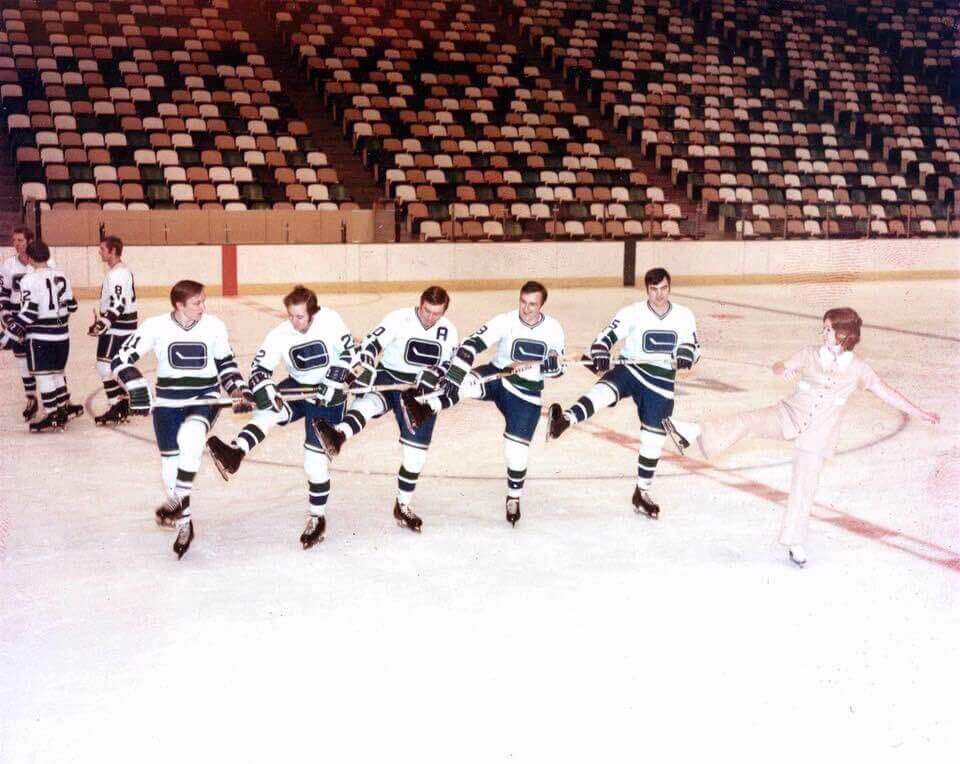 Click to enlarge
Too good (and weird) for the Ticker: This Canucks photo, which appears to be from the early 1970s, is even weirder than it initially appears. First, the Canucks are wearing their home uniforms (their first season was 1970-71, which is also when the NHL switched to wearing white at home), but that's not their home arena. It's the Met Center in Minnesota, as you can tell from the multi-colored seats and the glimpse of the North Stars' logo at on the ice. Why would the Canucks have brought their home whites to Minnesota?
But the bigger question, of course, is why they're making like the Rockettes. Maybe the Ice Capades was in town and the players were having fun with one of the skaters? Weird!
(big thanks to Alan Tompas for this one.)
• • • • •
• • • • •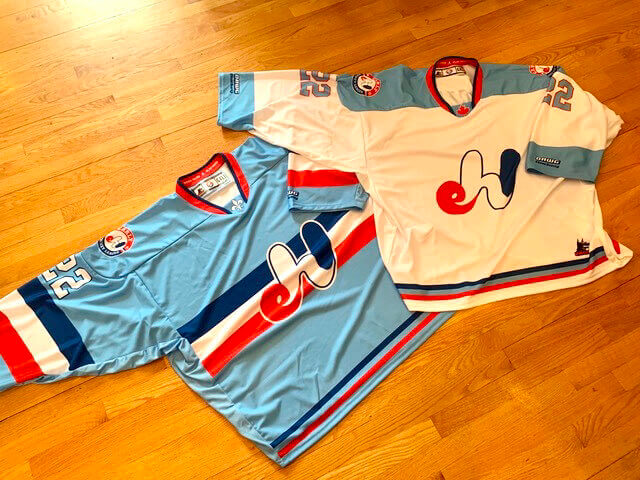 Sacre bleu: Got a note yesterday from longtime Uni Watch reader/pal Ron Roza, as follows:
For many years I've been playing in a hockey league up in Montreal. It's called the Early Hockey League, because we play at 7:30am every Saturday. I designed an EHL logo many years ago, inspired by the Expos.

Last year the league decided we needed to update our uniforms, so I come up with a new look. The idea was to incorporate the Expos' baby blue and the Canadiens' uniforms as a template. The Socks were designed to work with either jersey.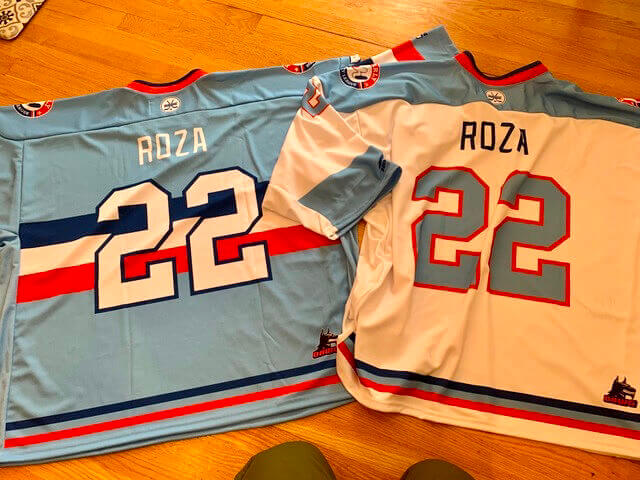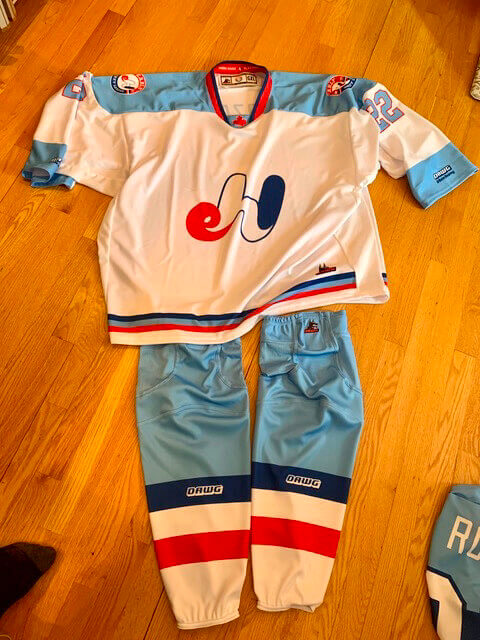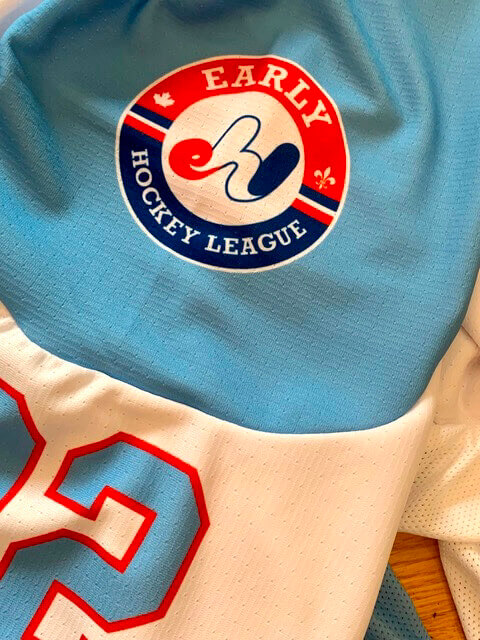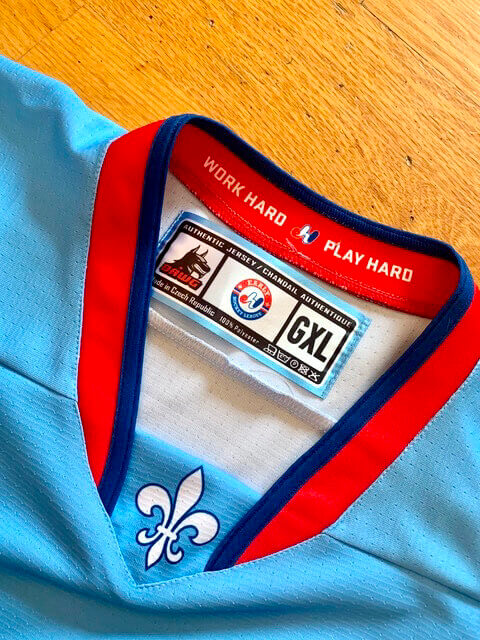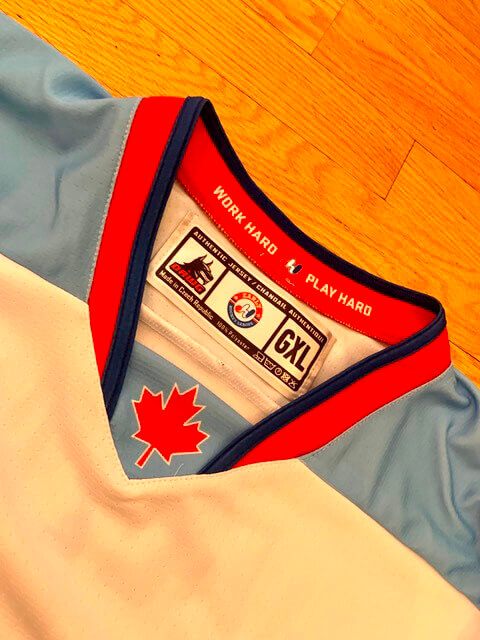 Pretty cool, right? In addition, Ron created stickers for the players to put on their helmets and water bottles, and he used the old Expos number font: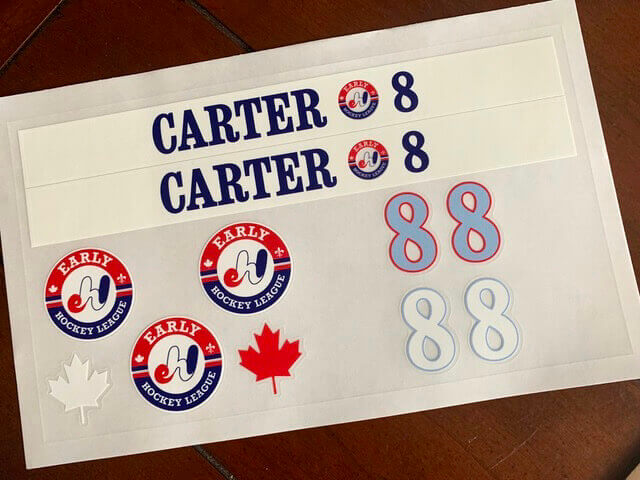 "And yes," says Ron, "someone in the league actually wears 'CARTER 8' on his jersey!"
• • • • •
• • • • •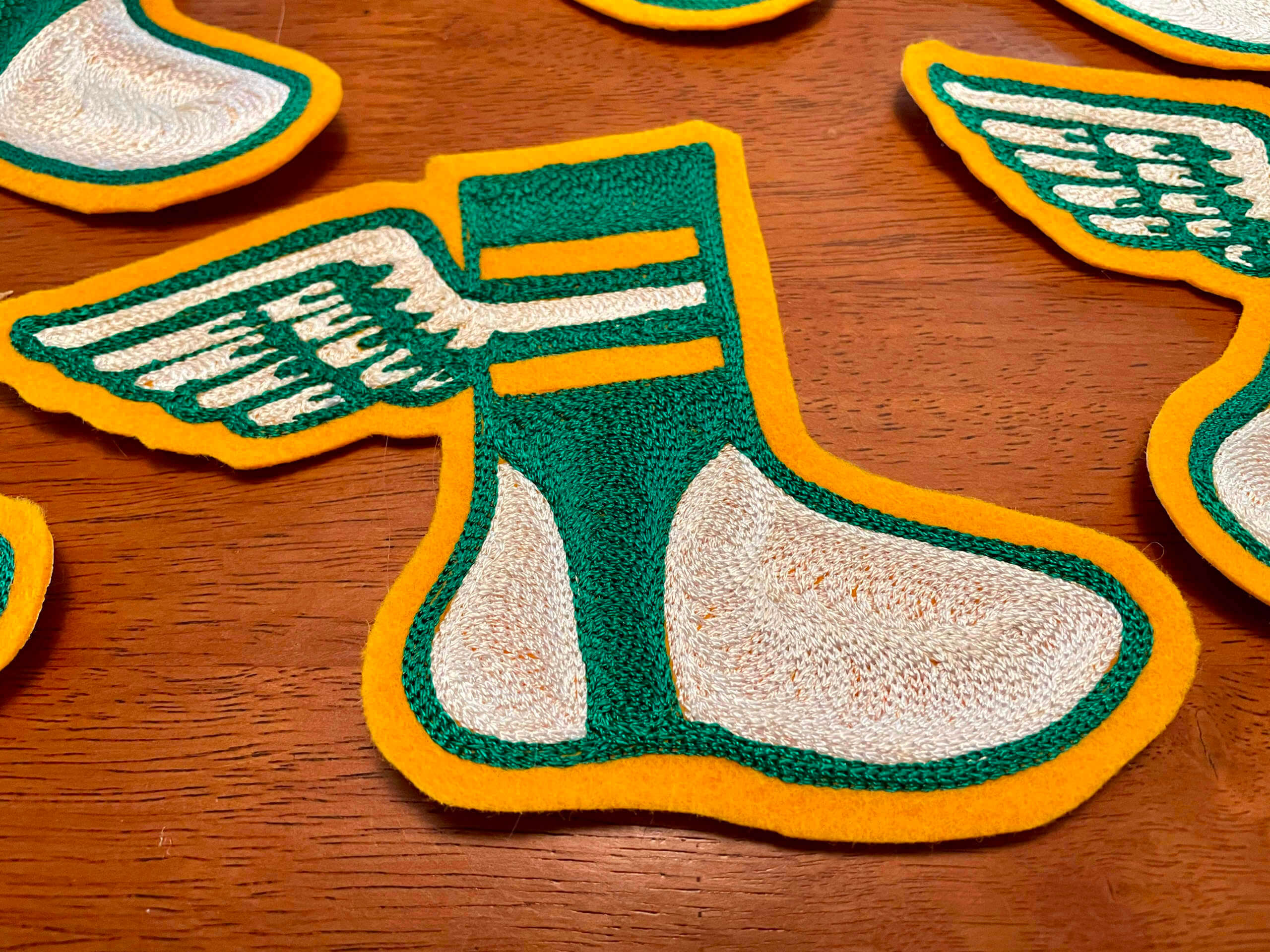 Click to enlarge
Patch reminder: In case you missed it on Thursday, Uni Watch chain-stitched patches are back in stock. As always, they feature spectacular texture and are perfect for putting on a jacket, on a sweater, or just on display. I'm already down to just four of these remaining, so move fast if you want one.
• • • • •
• • • • •
The Ticker
By Anthony Emerson

Baseball News: The St. Paul Saints, Triple-A affiliates of the Twins, have a rather unique 30th-season logo (from Mike Menner). … A blog has ranked the five "most incredible" baseball fields in the world (from Wade Heidt). … When Louisiana-Lafayette was known as the University of Southwestern Louisiana, its baseball team wore Cardinals-style caps (from @FittedsFlannels). … Oh man, check out Arkansas's unis from 1958. That lettering, that razorback, gorgeous. Don't understand what the "C" cap was for, though (from @charliehog). … A new line of Negro Leagues bobbleheads is launching today. Additional info here.

NFL News: Get this: The Super Bowl could take place in London four years from now. … Speaking of the NFL's international push, the league will start playing one regular season game per year in Germany next season. … The longstanding Broncos- and uni-centric site Endzone Sports Charities, co-founded by Patrick Scroggin and longtime Uni Watch pal/mensch Tom Jacobsen, has received a full makeover. If you care about Broncos uniforms, or NFL unis in general, it's an essential bookmark. … The San Diego Union Tribune has a fascinating article about 1972 NFL Rookie of the Year Willie Buchanon, who'll be the league's top uniform regulation enforcer at the Super Bowl (from Russ Havens). … The Pro Football Hall of Fame has a series of videos about the design history of Super Bowl rings (from Kary Klismet). … NFL commish Roger Goodell says one of his top priorities is getting a new stadium for the Bills.

Hockey News: The Coyotes will play at least the next three seasons at Arizona State's arena, which seats only 5,000. … Would you go skating with the first steel ice skates, from the 19th century? Yikes (from Brandon Weir). … An Indigenous artist's Blackhawks logo redesign from a few years ago is now being used by a Chicago-area towing company (from Kenneth Traisman). … My goodness, check out this apparatus Jets player Mats Lindh wore to protect his broken jaw in 1976 (from Mike Styczen). … Brutal high school game in Minnesota, as Duluth East and Duluth Denfeld went black vs. camo (thanks, Phil).

NBA News: James Harden, who was traded to the 76ers yesterday, has worn No. 13 for his entire career. But he can't wear No. 13 in Philly because it's retired for Wilt Chamberlain, although not all media outlets knew that when yesterday's trade was announced. It turns out that he'll wear No. 1. … ESPN Photoshopped Harden and Ben Simmons into their new unis for this graphic, but for some reason didn't bother with Seth Curry (from Micah Burk).

College/High School Hoops News: South Dakota State women went pink for breast cancer awareness last night (from Steve White). … Boston College and NC State women also went pink last night in Chestnut Hill (from Gabe Cornwall). … It must be Pinkuary, because George Washington women are also going pink (from Matt Eliot).

Soccer News: New jersey advertiser for Sporting Kansas City (from multiple readers). … Manchester United have a new training kit advertiser, which of course necessitated a whole new training kit design to be released. … Paris Saint-Germain has unveiled a very clean new fourth kit design, inspired by the Chicago Bulls as PSG has an agreement with Jordan Brand (from multiple readers). … The ball design for the 2022 Copa Libertadores has been unveiled (from Kary Klismet).

Grab Bag: The Aston Martin Formula One team has unveiled its livery for the 2022 season (from Kary Klismet). … The USS Kitty Hawk had an upside-down second "k" on her fantail for her entire service career (from L.J. Sparvero).
• • • • •
And that'll do it for this week. Stay safe, enjoy Phil's weekend content, and of course enjoy the game on Sunday. We're gonna make some lamb chili — chili for Cincinnati and lamb because rams are sheep, so we'll have both teams represented. See you back here on Monday. Peace. — Paul