I recently stumbled upon something really fun on Amazon Prime: two hours of Milwaukee Braves promotional footage from 1953, '54, and '55 — the team's first three seasons after moving to Milwaukee from Boston. The footage consists of four separate 30-minute promo films: one recapping the 1954 season, in color; another doing the same for 1955, also in color; one for 1953, in black-and-white; and one devoted to the team's 1953 spring training camp, in black-and-white.
You can stream all of this for three bucks, so I recently did that and made screen shots of uni-notable details that stood out to me. Before I show you those screen shots, though, two quick caveats:
1. I did my best to make the screen shots look as good as possible (cropping, enhancing, etc.), but this is old newsreel-style film footage that was digitized, so the image quality isn't always ideal. For all of the screen shots, you can click to enlarge, but the larger versions often look worse — more diffuse, less crisp, etc.
2. As you all know by now, I'm not a fan of the Braves' team name or iconography. Do I wish all this footage were from some other team? Yes. Am I going to let that get in the way of sharing these screen shots? No — it's all part of MLB history. I will say, however, that there are some cringe-y moments, like the narrator referring to County Stadium in Milwaukee as the team's "new teepee," or this sign from the team's spring training rookie camp — yikes:
I don't want to dwell on that — just wanted to acknowledge it.
With those caveats in mind, here are a few dozen screen shots I made, broken down into rough categories. Enjoy!
1953 Spring Training
• 1953 was the Braves' first season in Milwaukee after leaving Boston. But they apparently wore their old Boston "B" caps during 1953 spring training, as you can see in this shot of pitcher Johnny Antonelli (left) and catcher Del Crandall (right) being interviewed: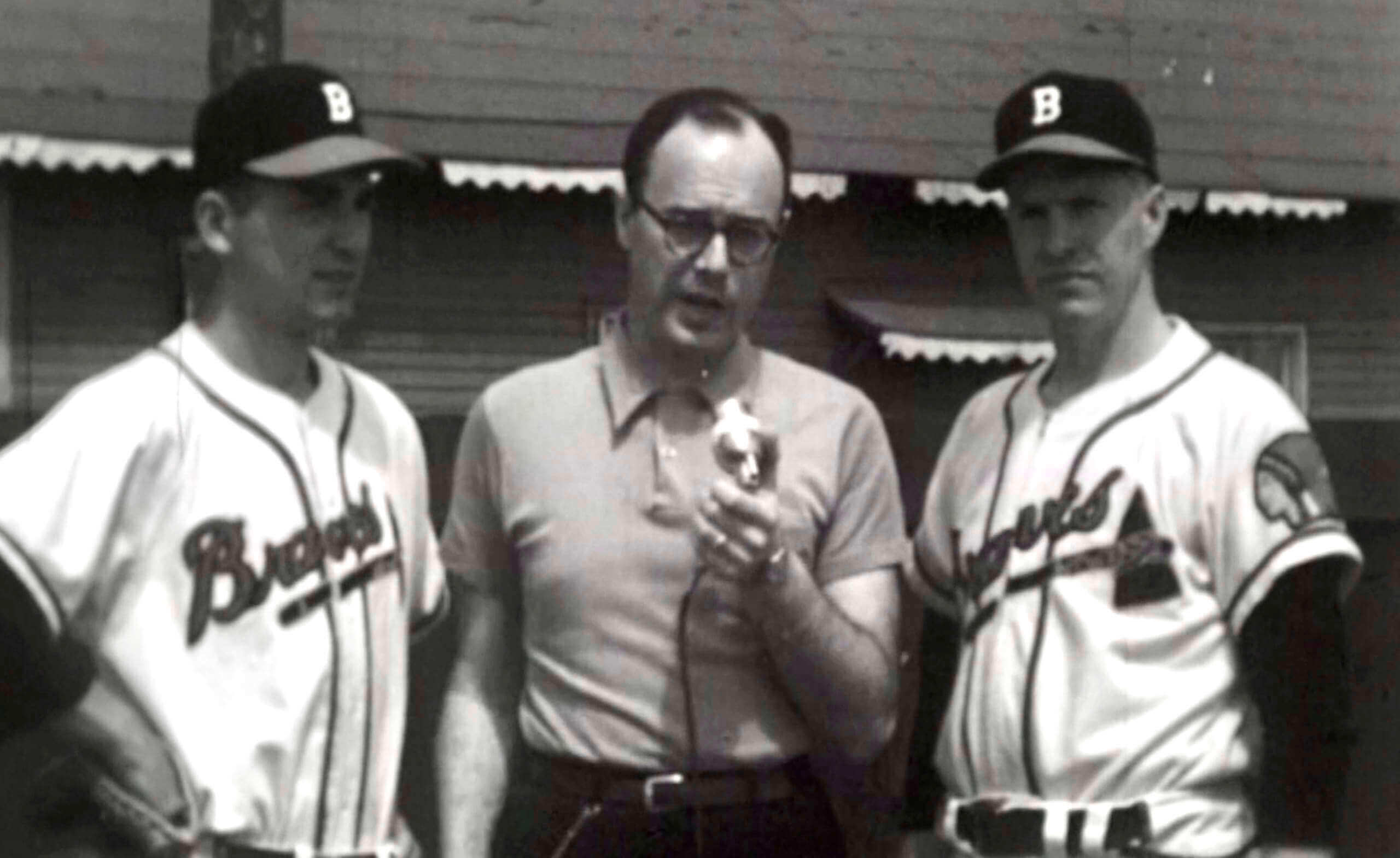 Update: As several people have now notified me, the move from Boston to Milwaukee wasn't finalized until March 18, so that explains why they were still wearing the Boston caps.
• Also, if you look again at that last shot, you can see that Antonelli is wearing a button-front jersey, while Crandall's jersey is zippered. That's a puzzler — according to Dressed to the Nines, the Braves introduced their zippered jerseys in 1946, while they were still in Boston. They kept the same jersey design, including the zipper, when they moved to Milwaukee and didn't switch to buttons until 1963, at which point they also removed the tomahawk from the jersey. In fact, according to Okkonen's database, the team never wore a button-front tomahawk-clad jersey — but several players are wearing them in the 1953 spring training footage. Here, for example, is Warren Spahn: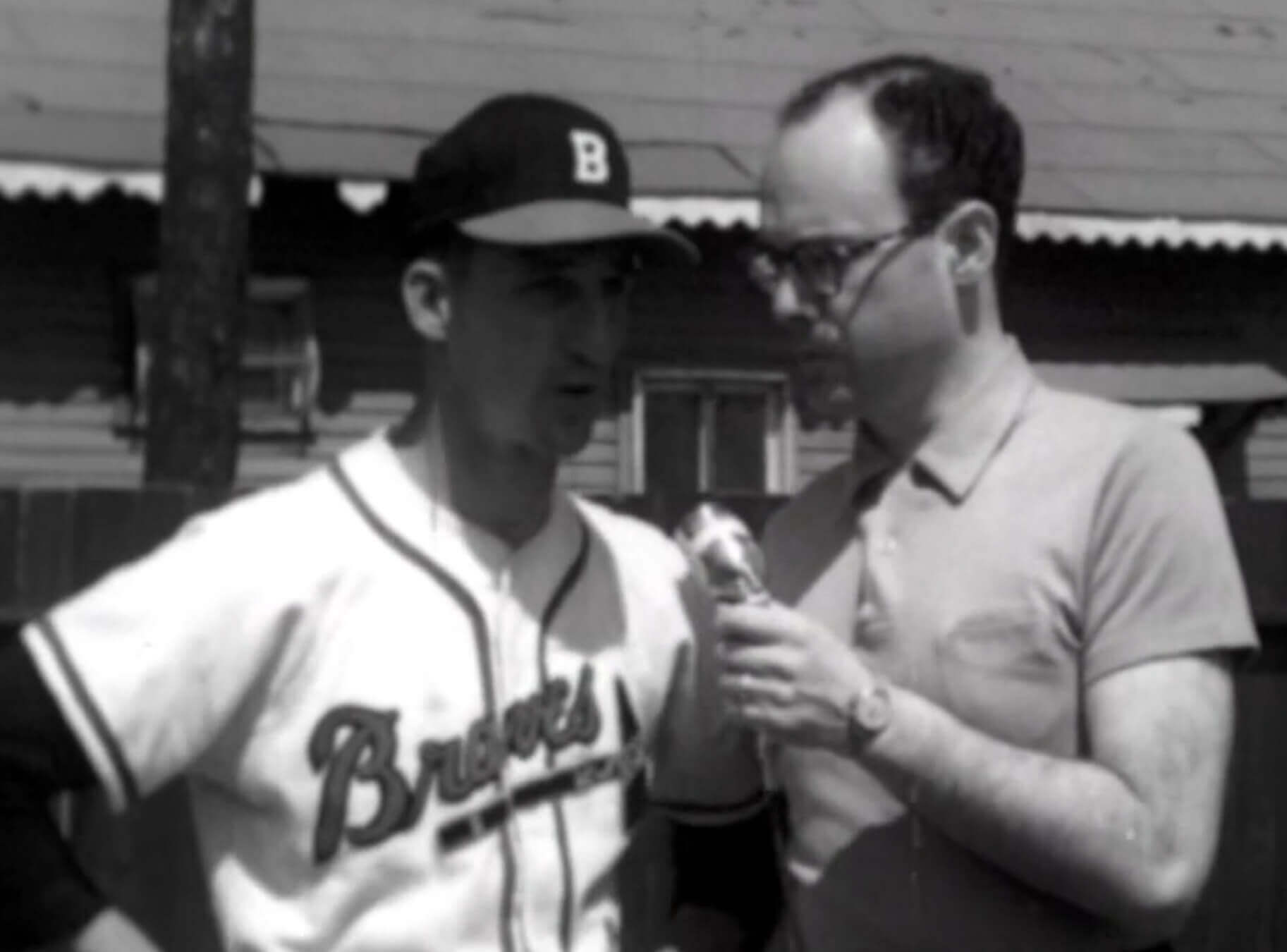 And here are some additional examples I noticed: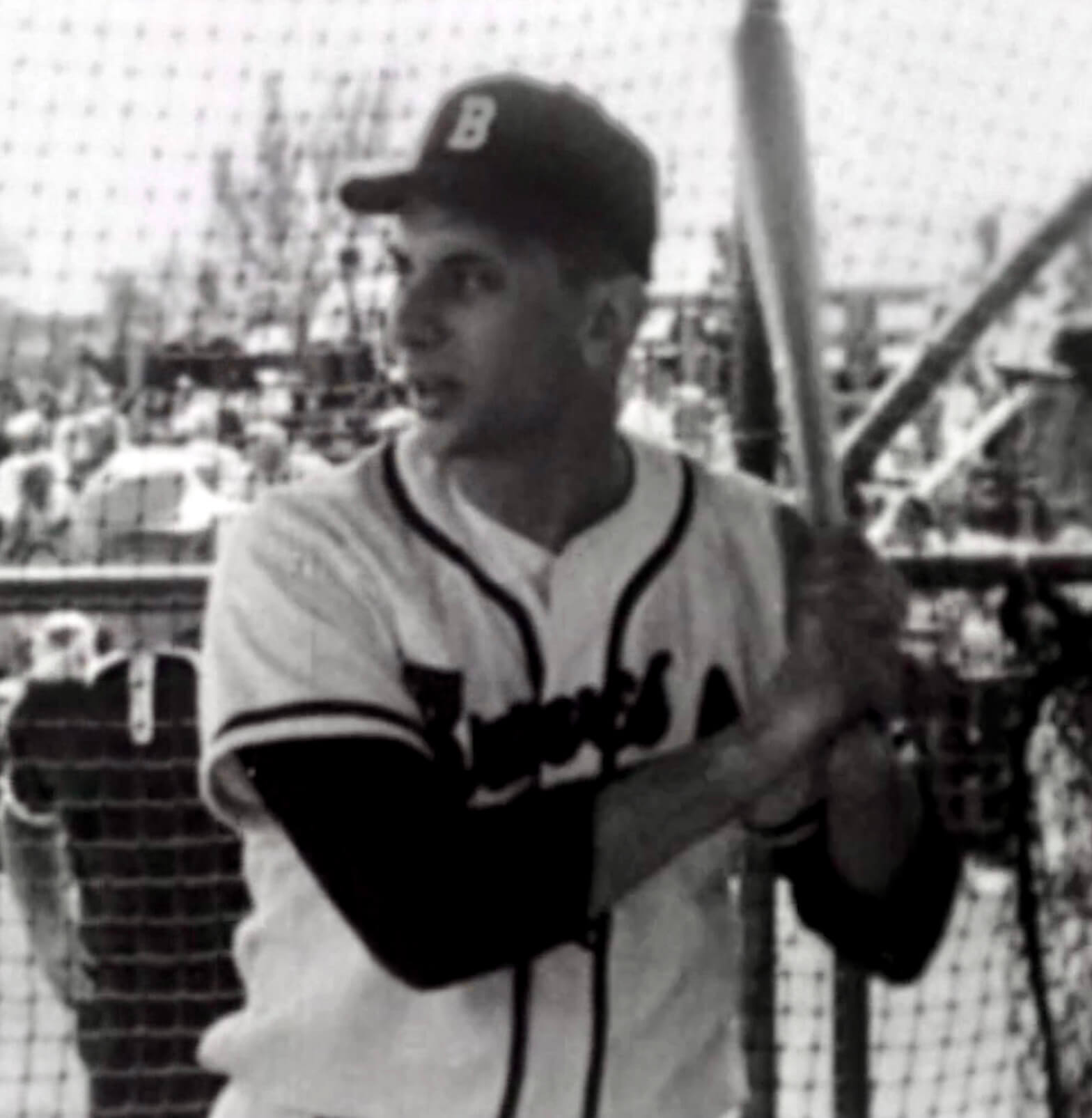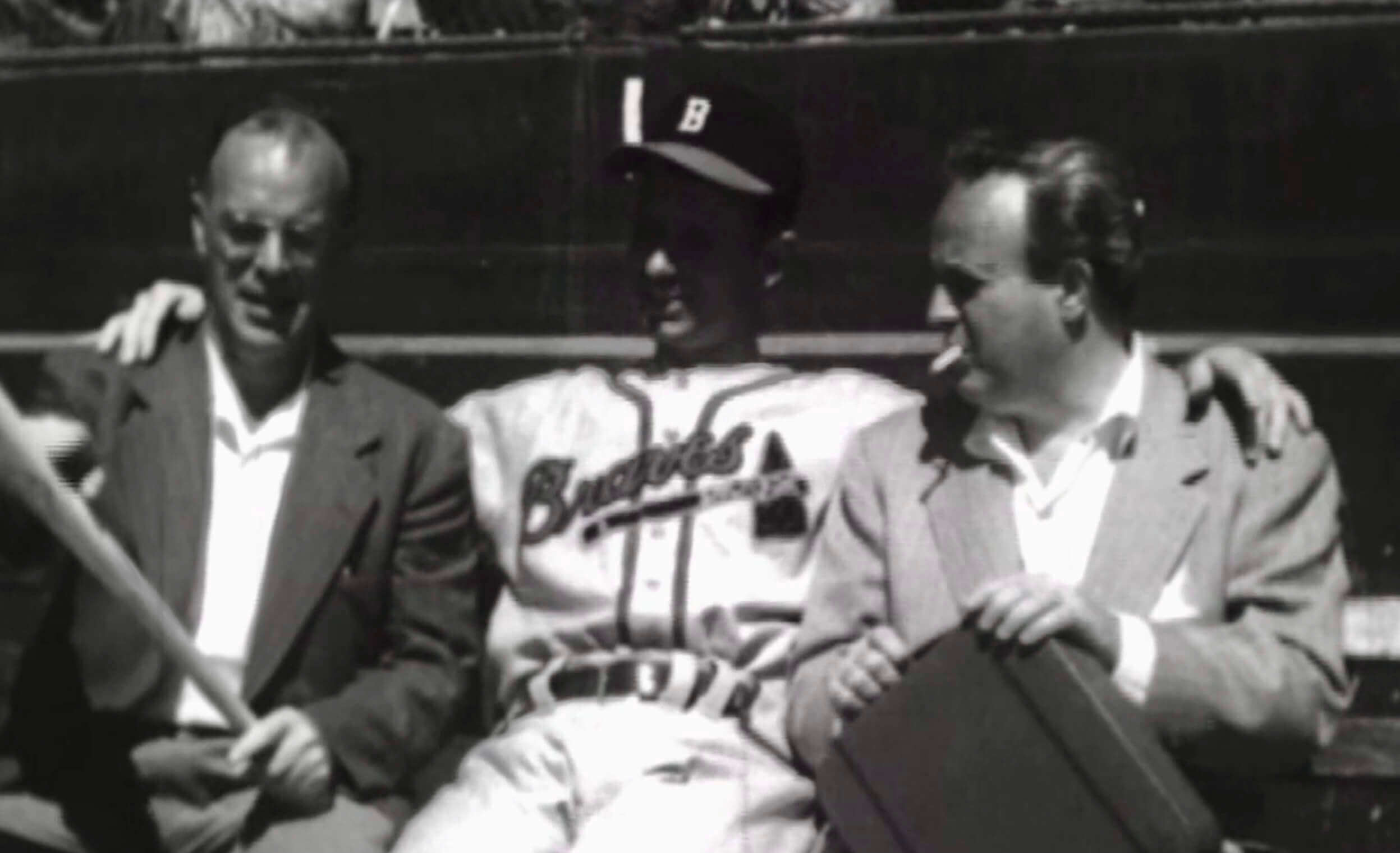 • In this next shot, the player in the center has a zippered jersey but the other two have buttoned jerseys. You can see how the placket piping is much wider on the zippered design (also, note how they all have the same belt loop asymmetry!):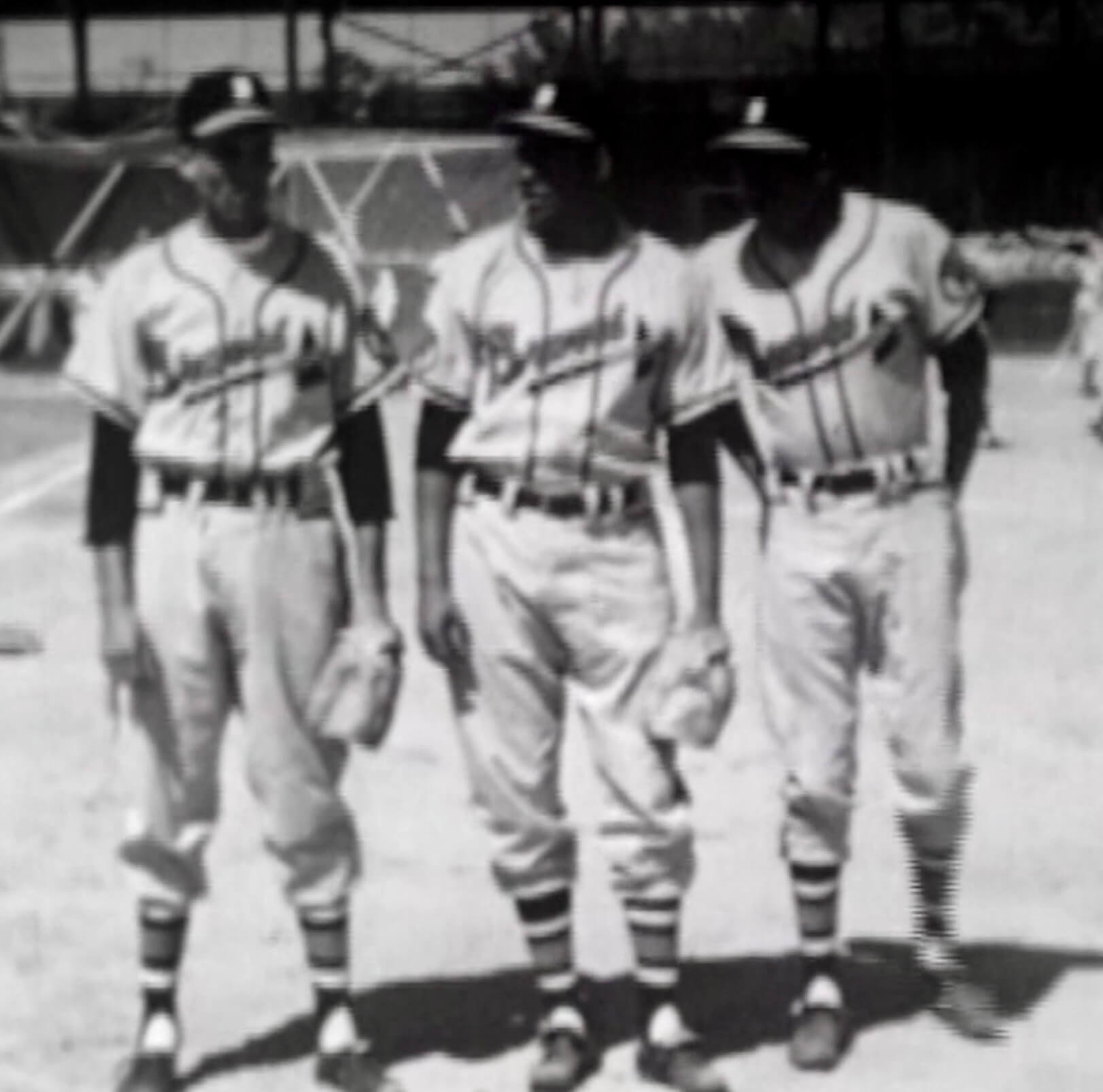 • See if you recognize the interviewer in these next two shots (one with a button-jerseyed player and one with a zipper-jerseyed player):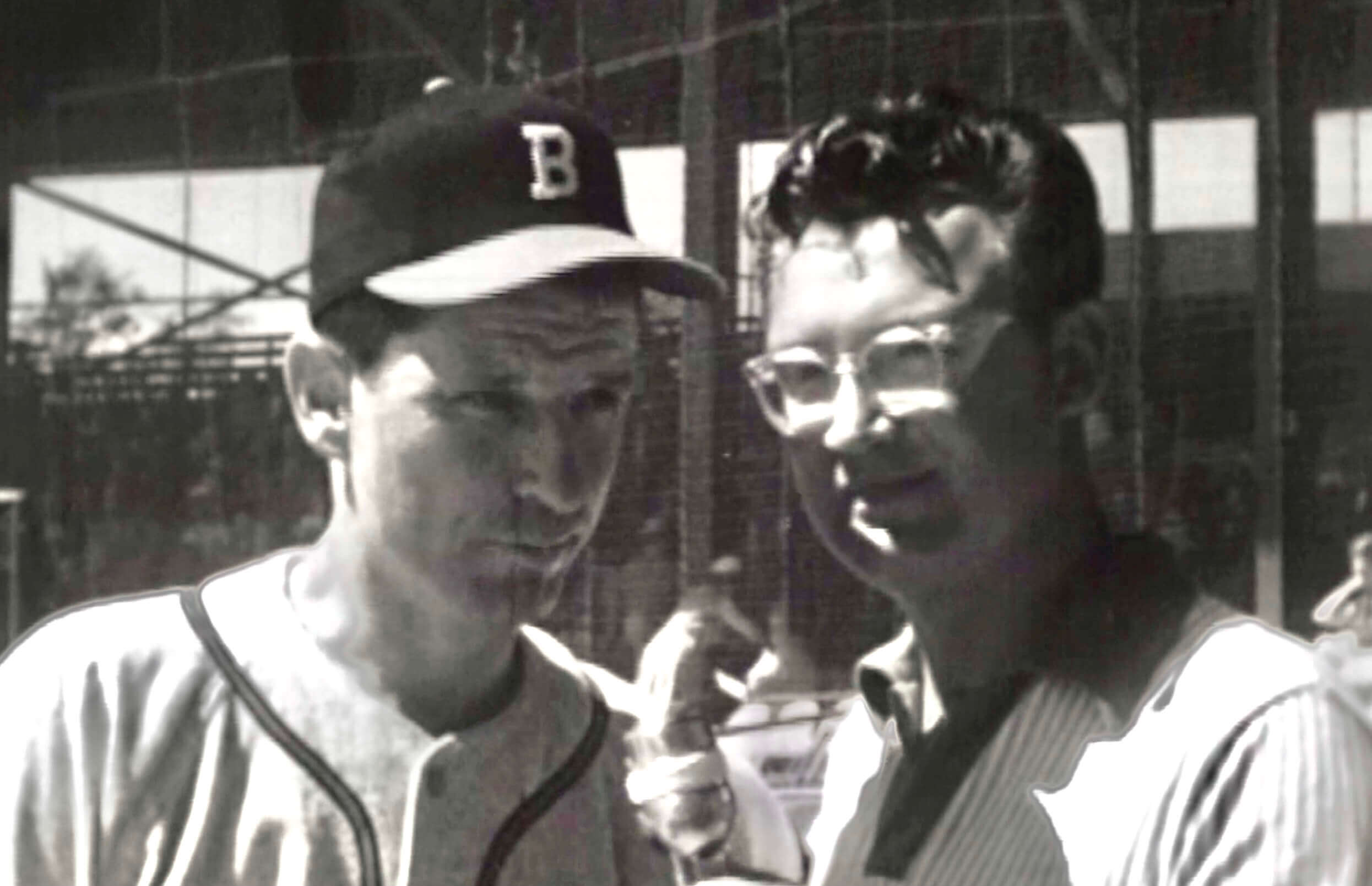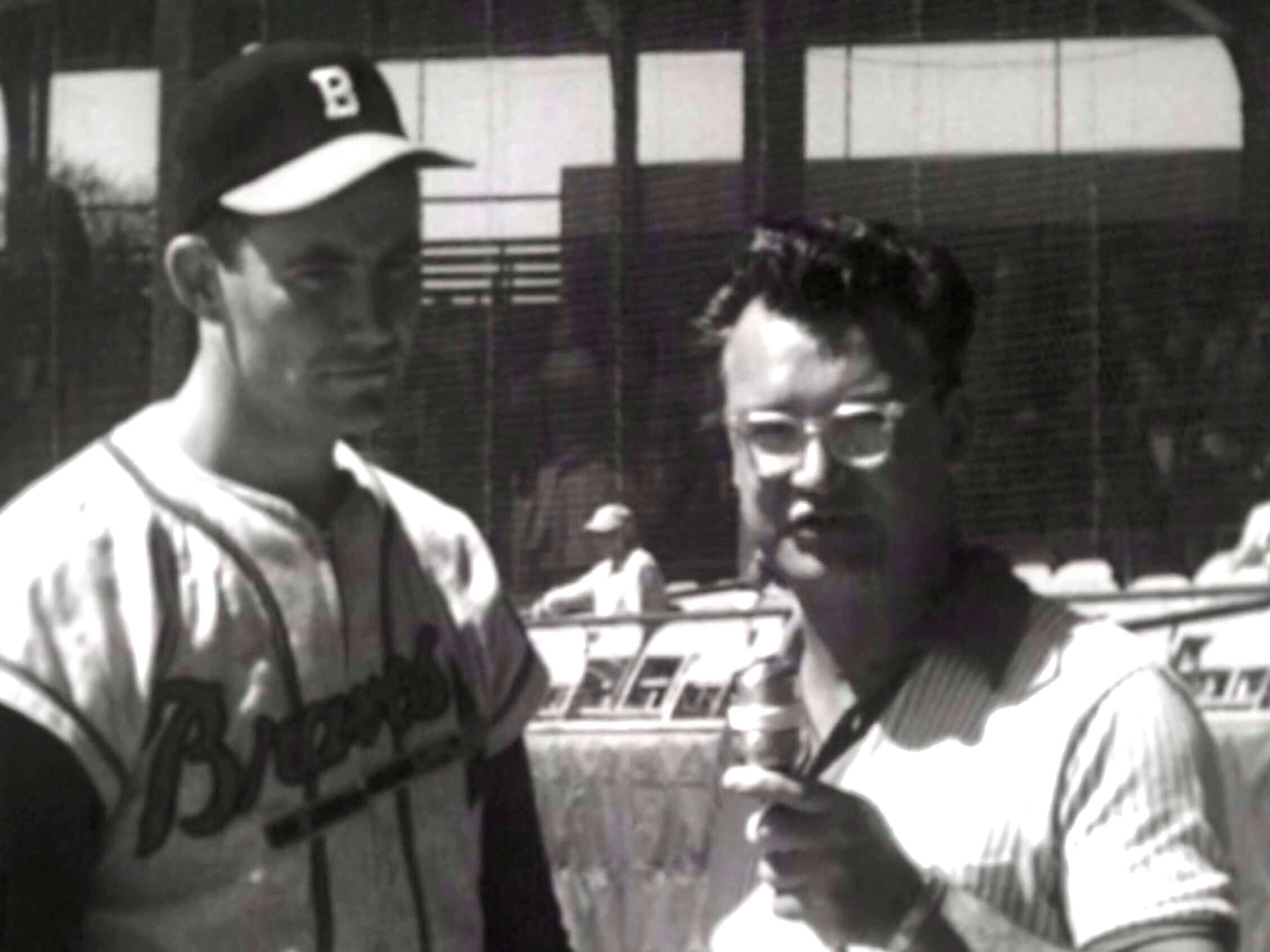 Yup, that's a young Harry Caray! Well, young-ish — he was 39 at the time.
Uni Numbers
• No player in Braves franchise history (including all three cities — Boston, Milwaukee, and Atlanta) has ever worn No. 0, so I was surprised to see that number in this spring training shot: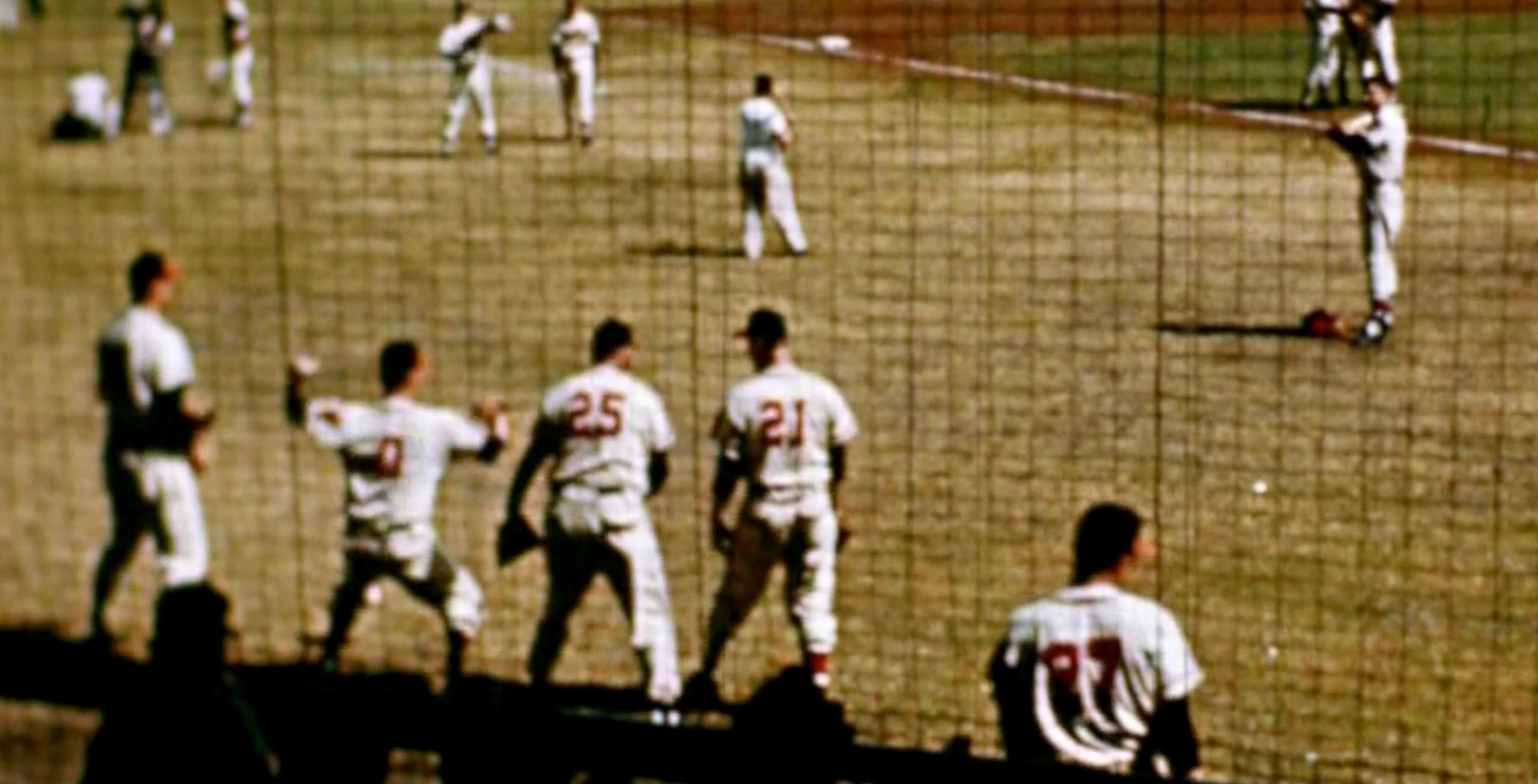 • Who's this wearing No. 5? None other than Henry Aaron, who was a rookie in 1954 and didn't switch to his familiar No. 44 until the following season: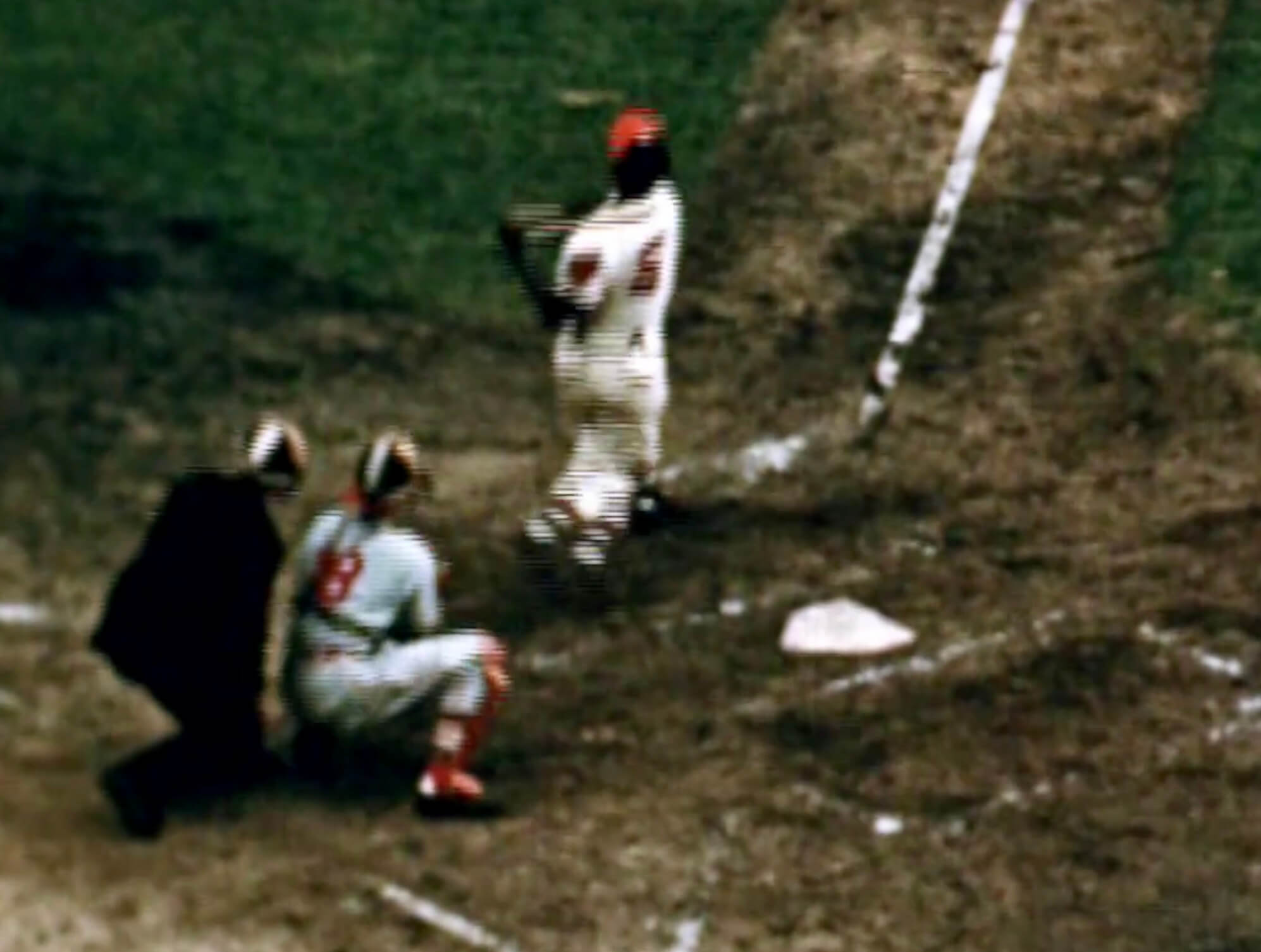 Behind-the-Scenes Team Operations
• Naturally, I loved these shots of Milwaukee's equipment manager setting up uniforms in the players' lockers: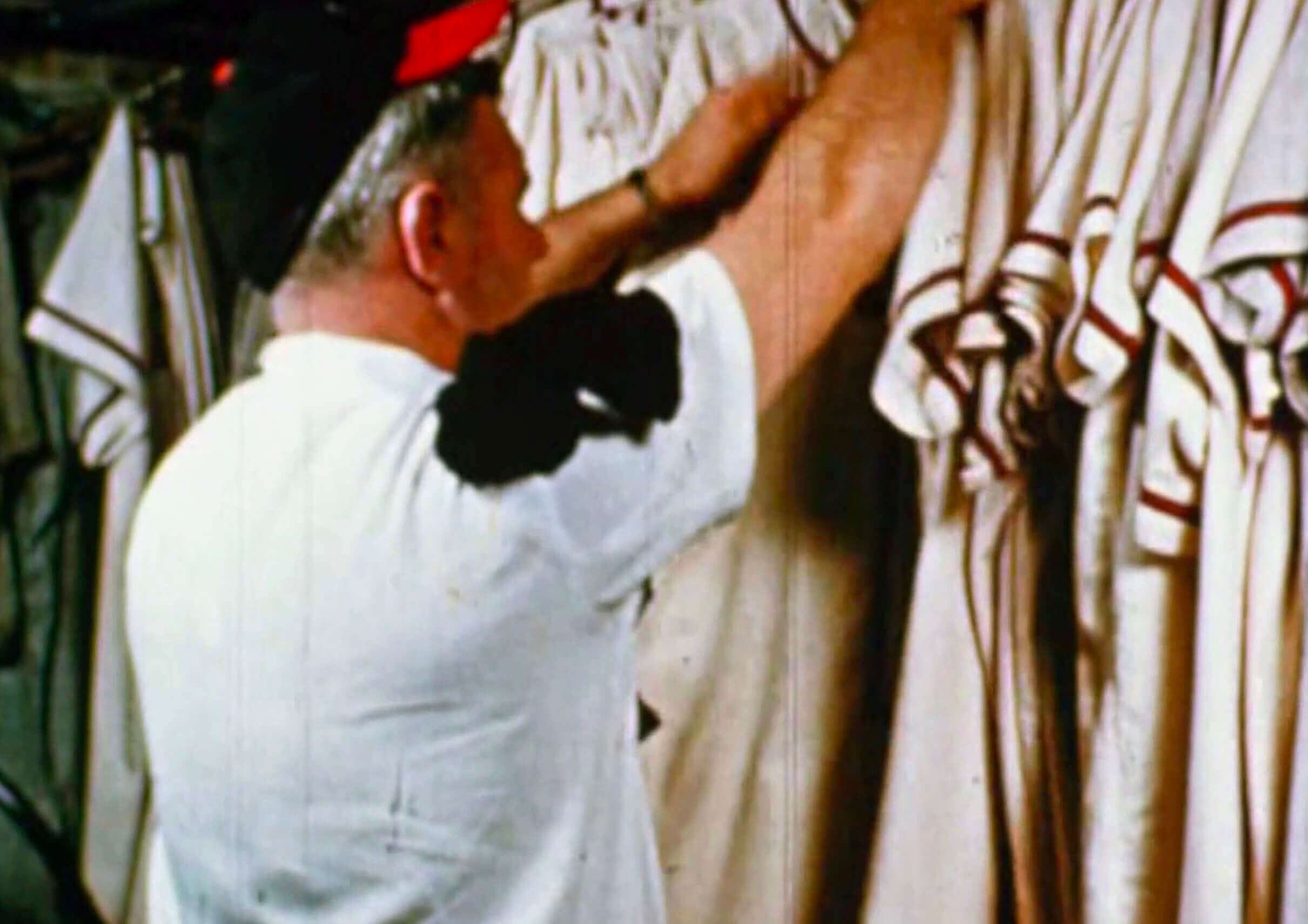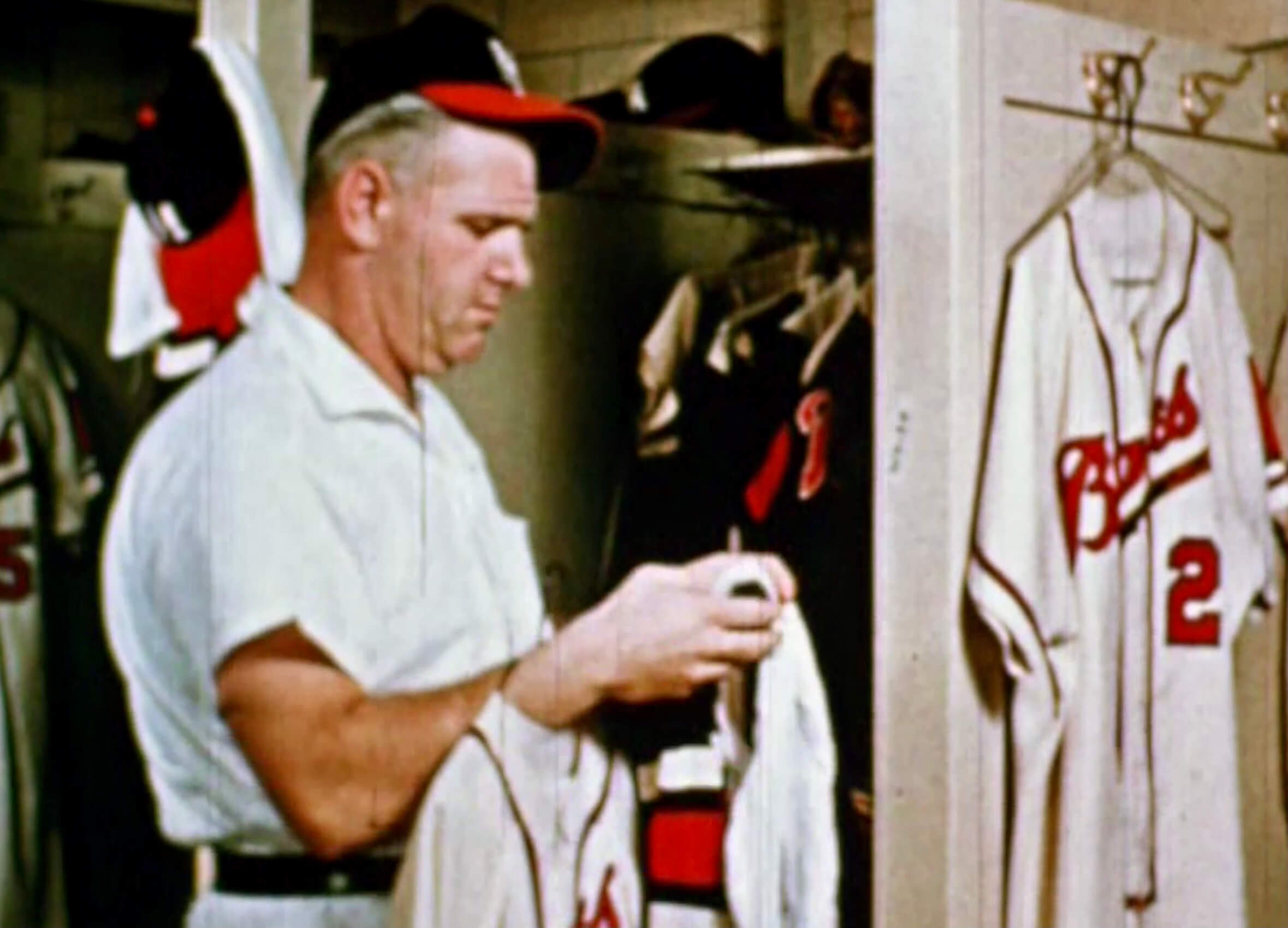 • This shot of an equipment guy loading the Braves' jerseys for a road trip is also good: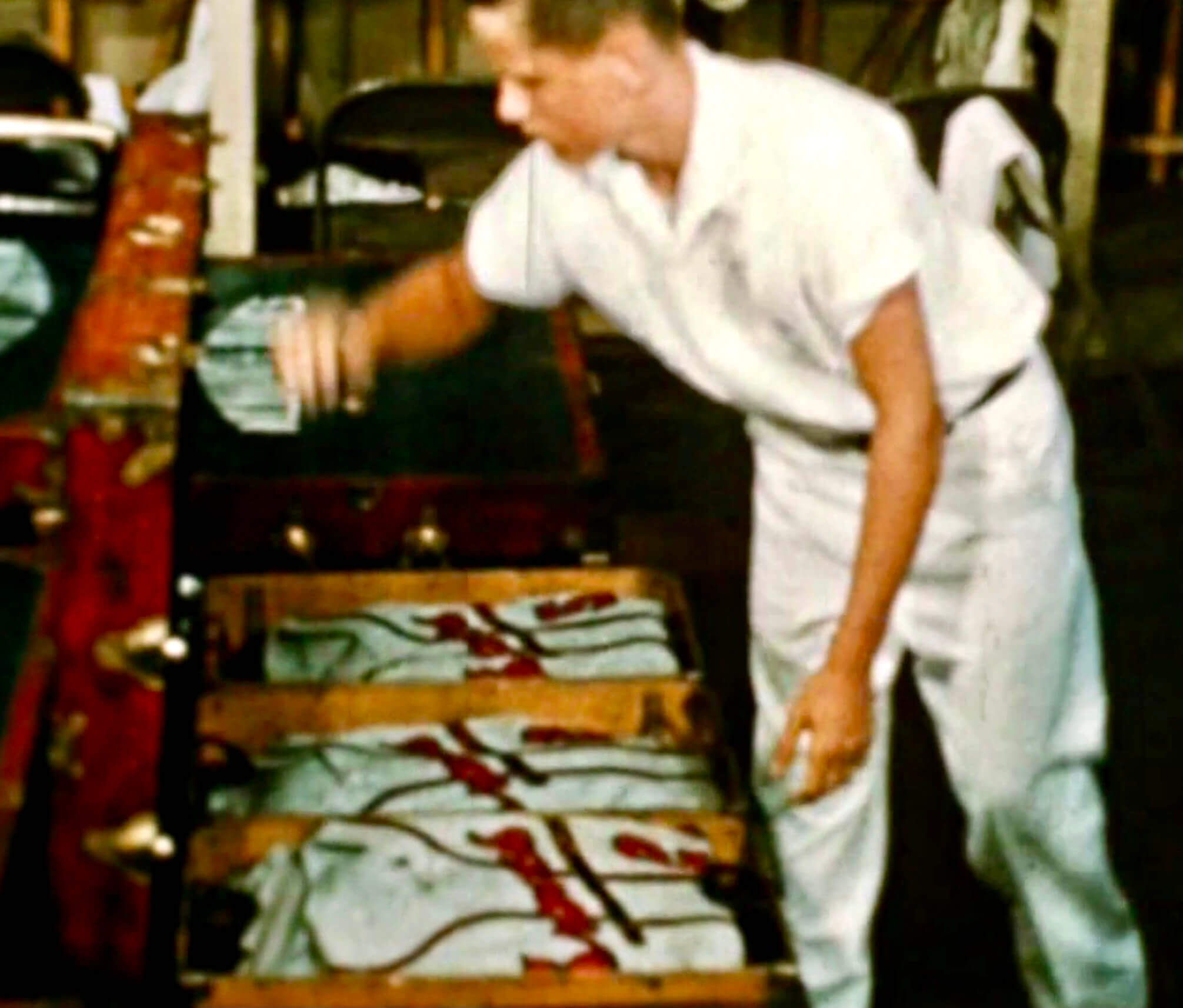 • One of my favorite sequences in the film shows a worker running blank tickets through a printer. Would love to have a machine like this one: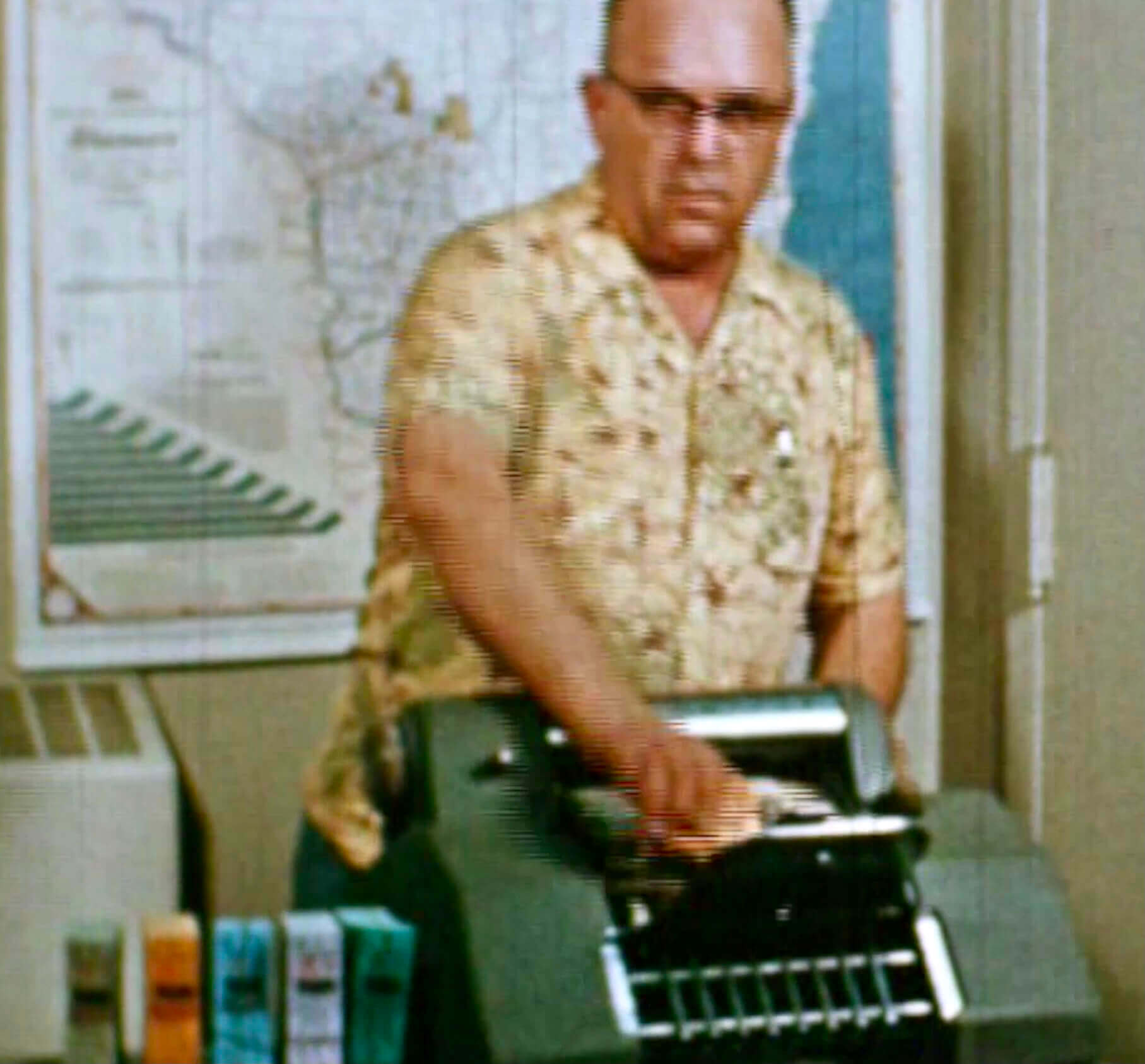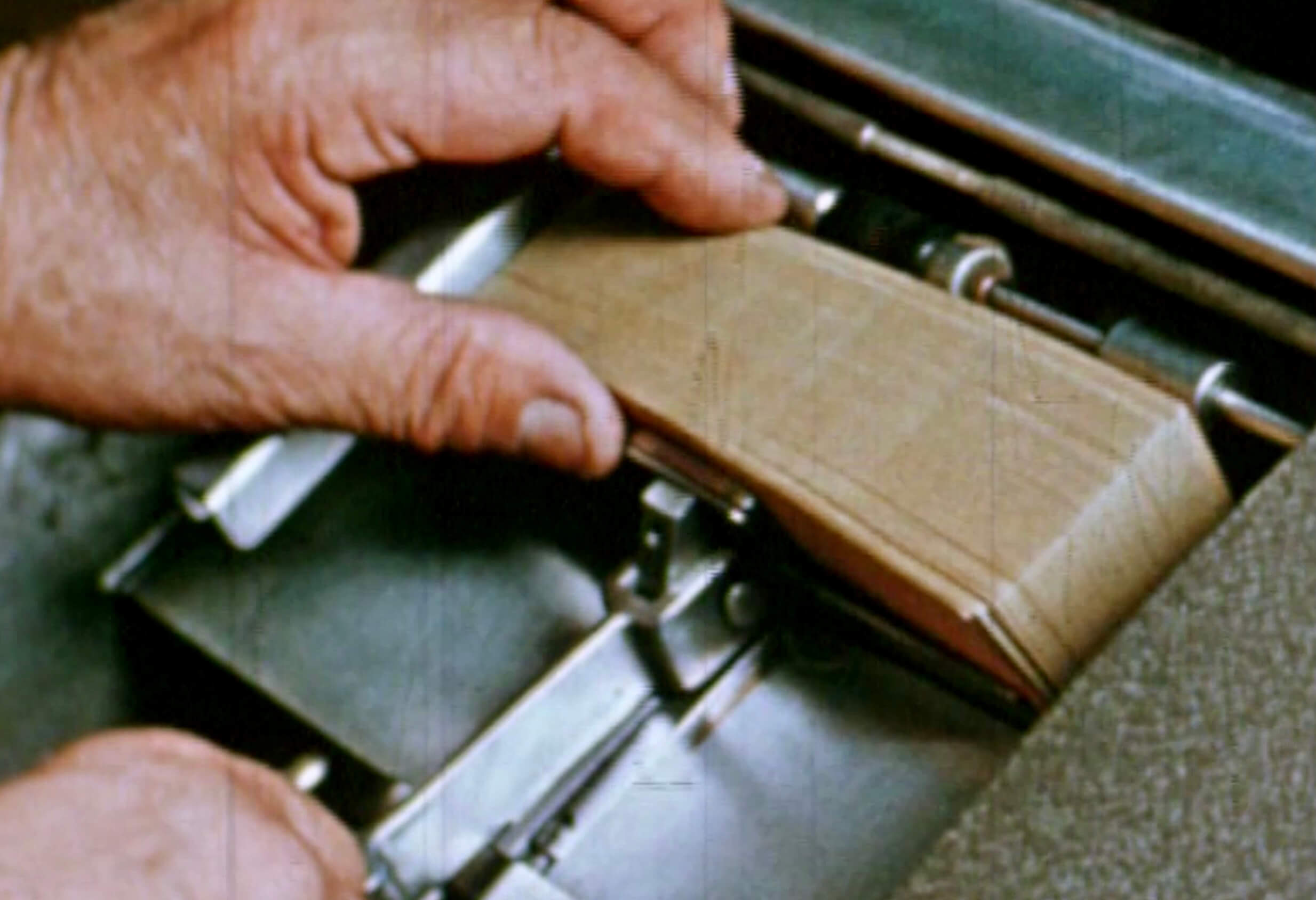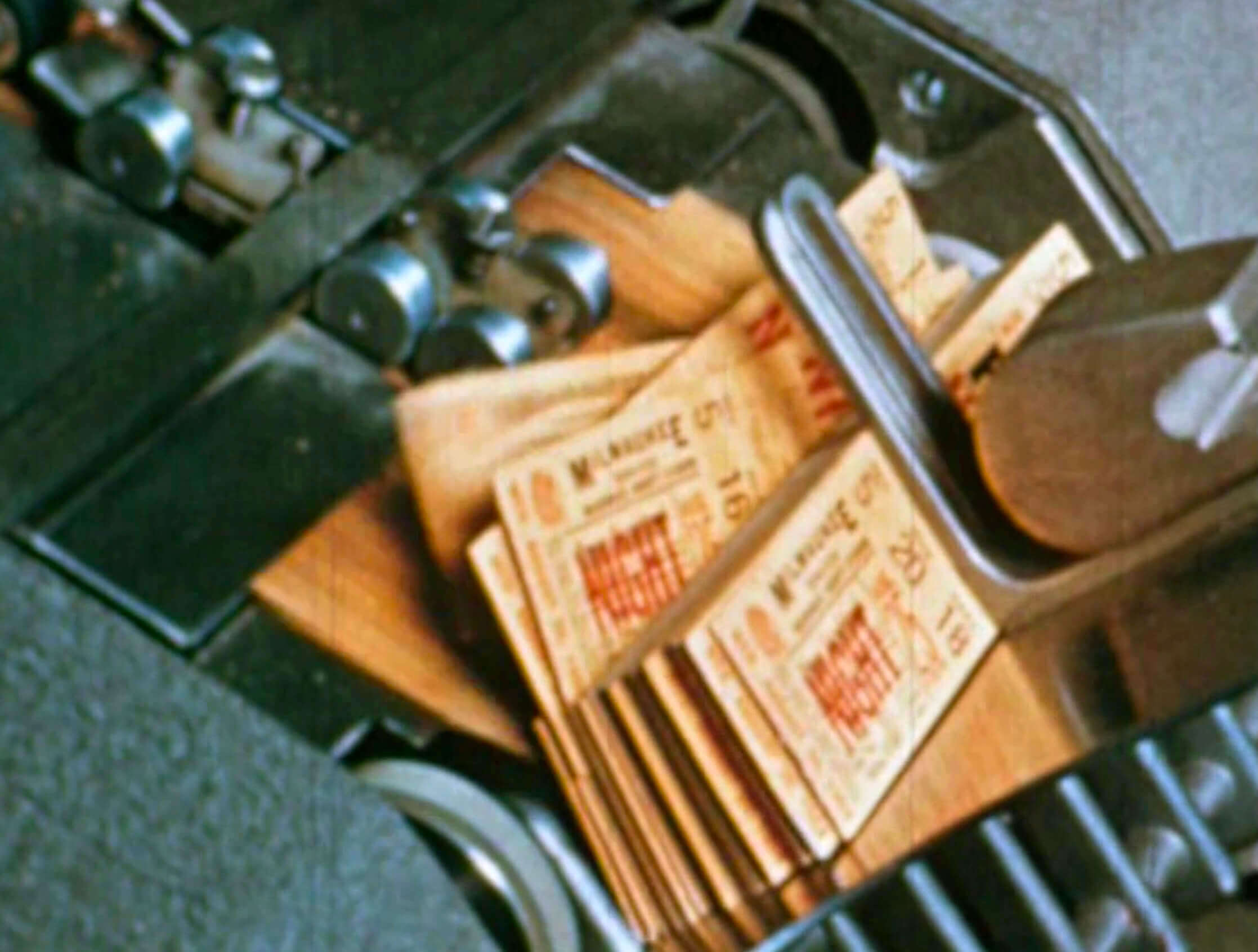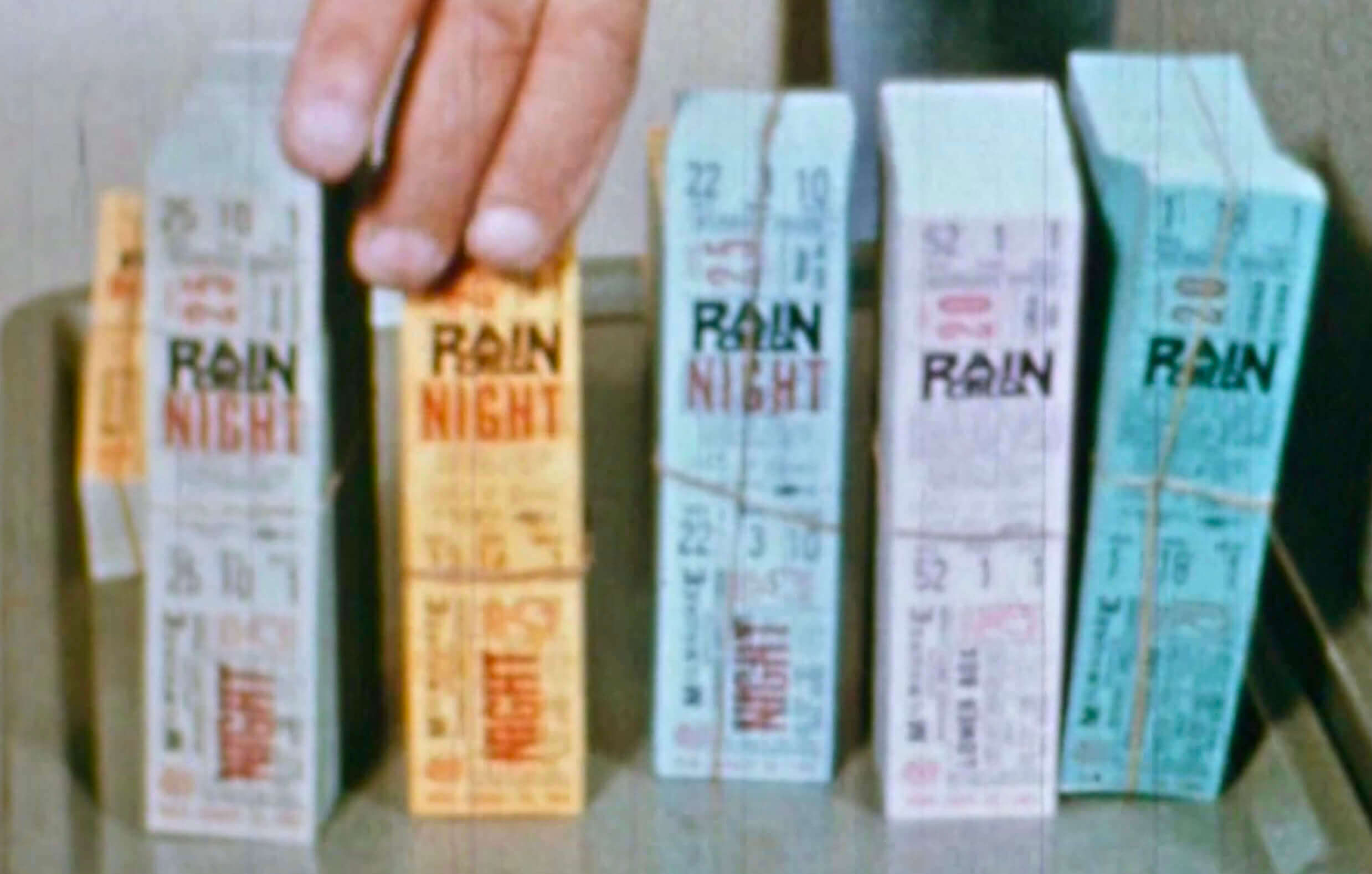 • The team employed a "goodwill ambassador" whose job was to engage with fans while driving around Wisconsin in this car: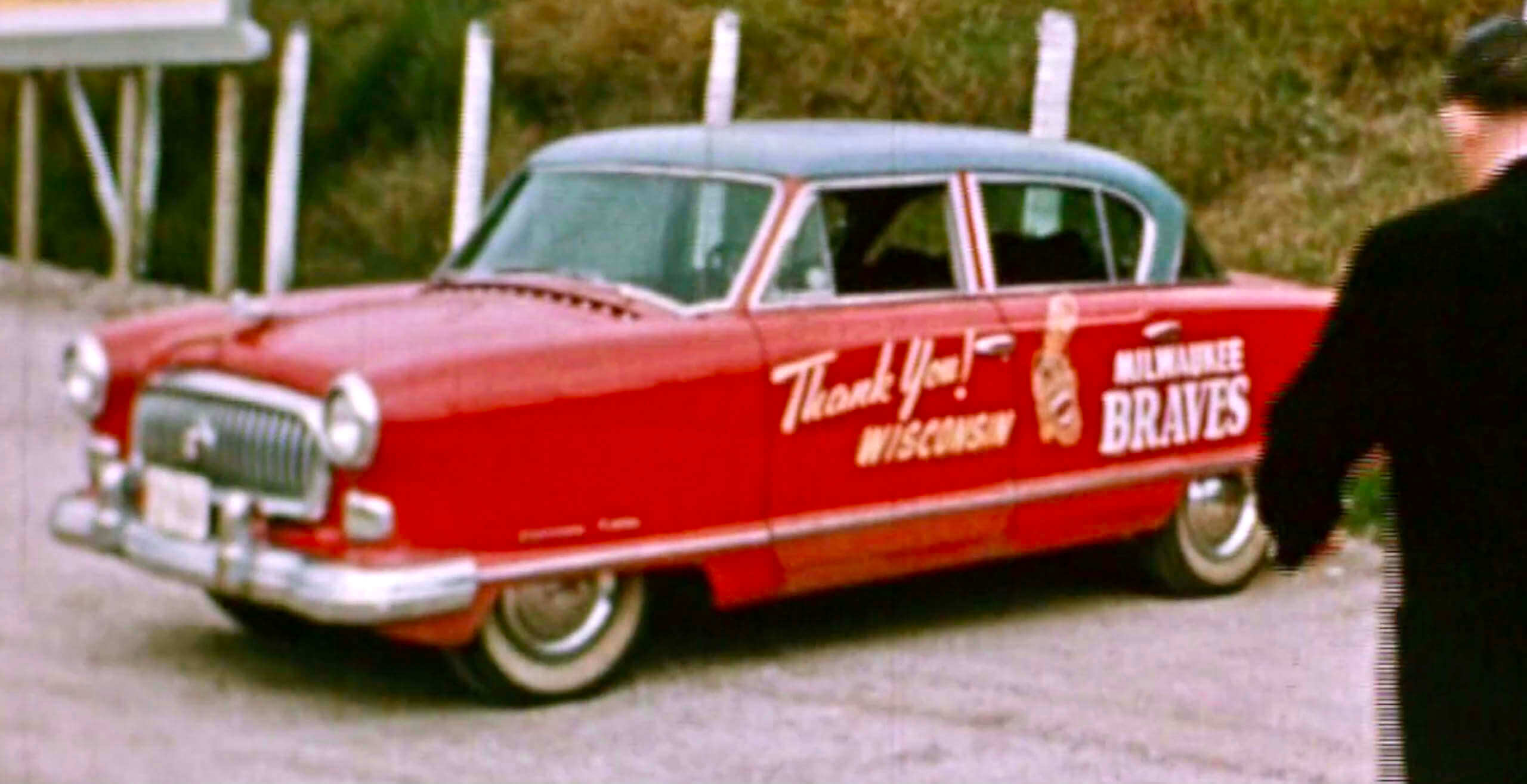 • Here's County Stadium's head usher giving instrux to his corps prior to a big game: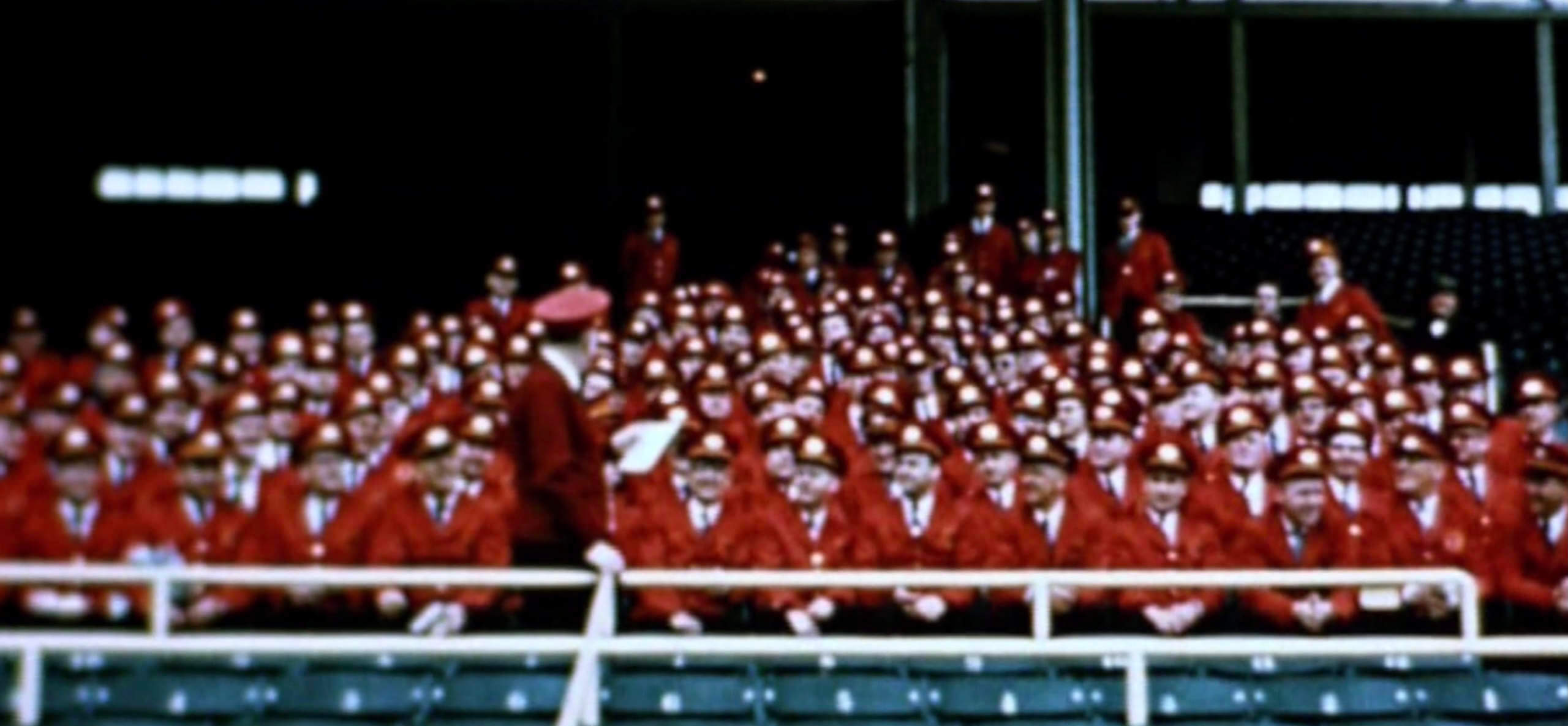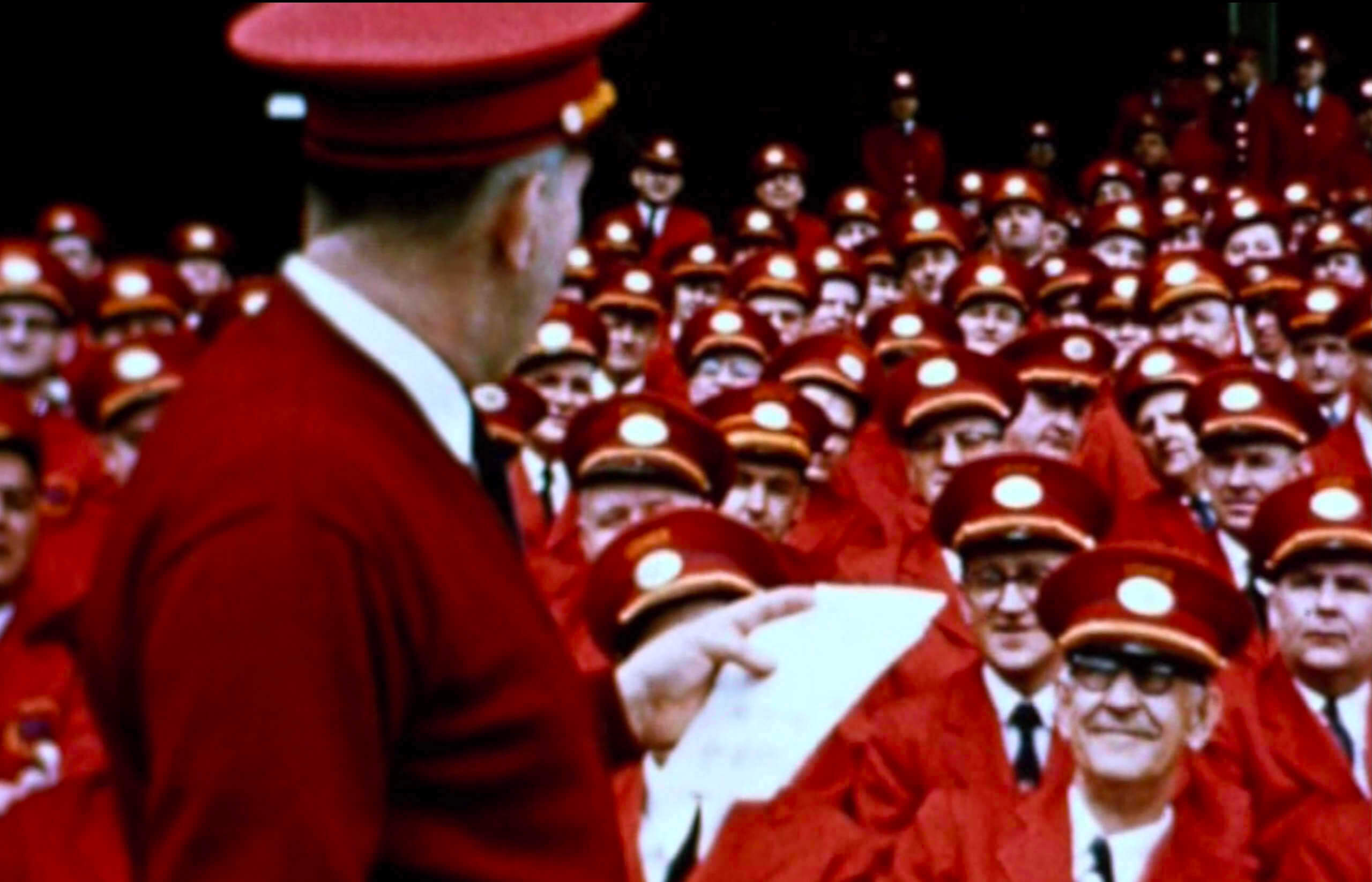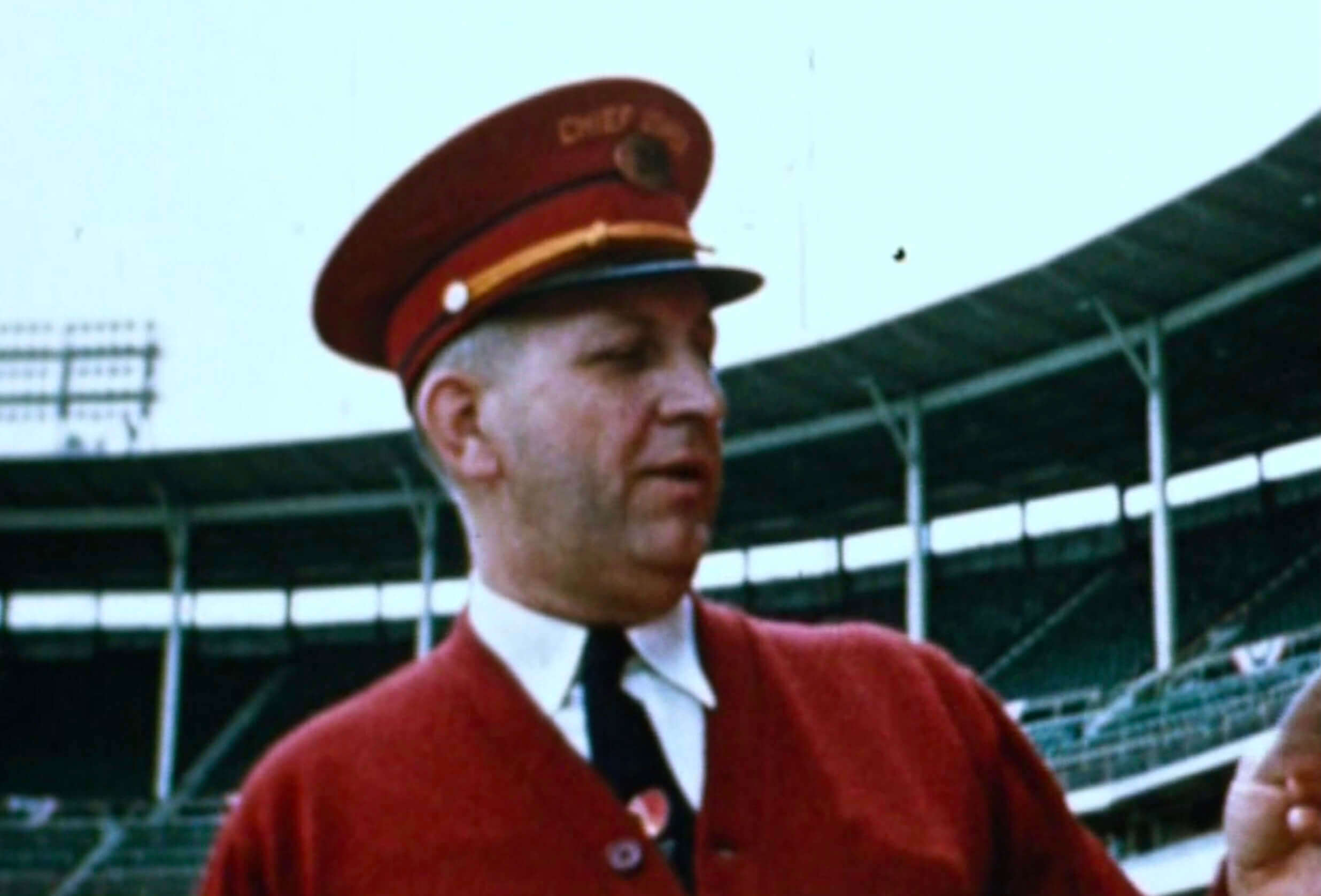 • I love these shots of workers using ice tongs to put big blocks of ice on beer that will be sold at the stadium: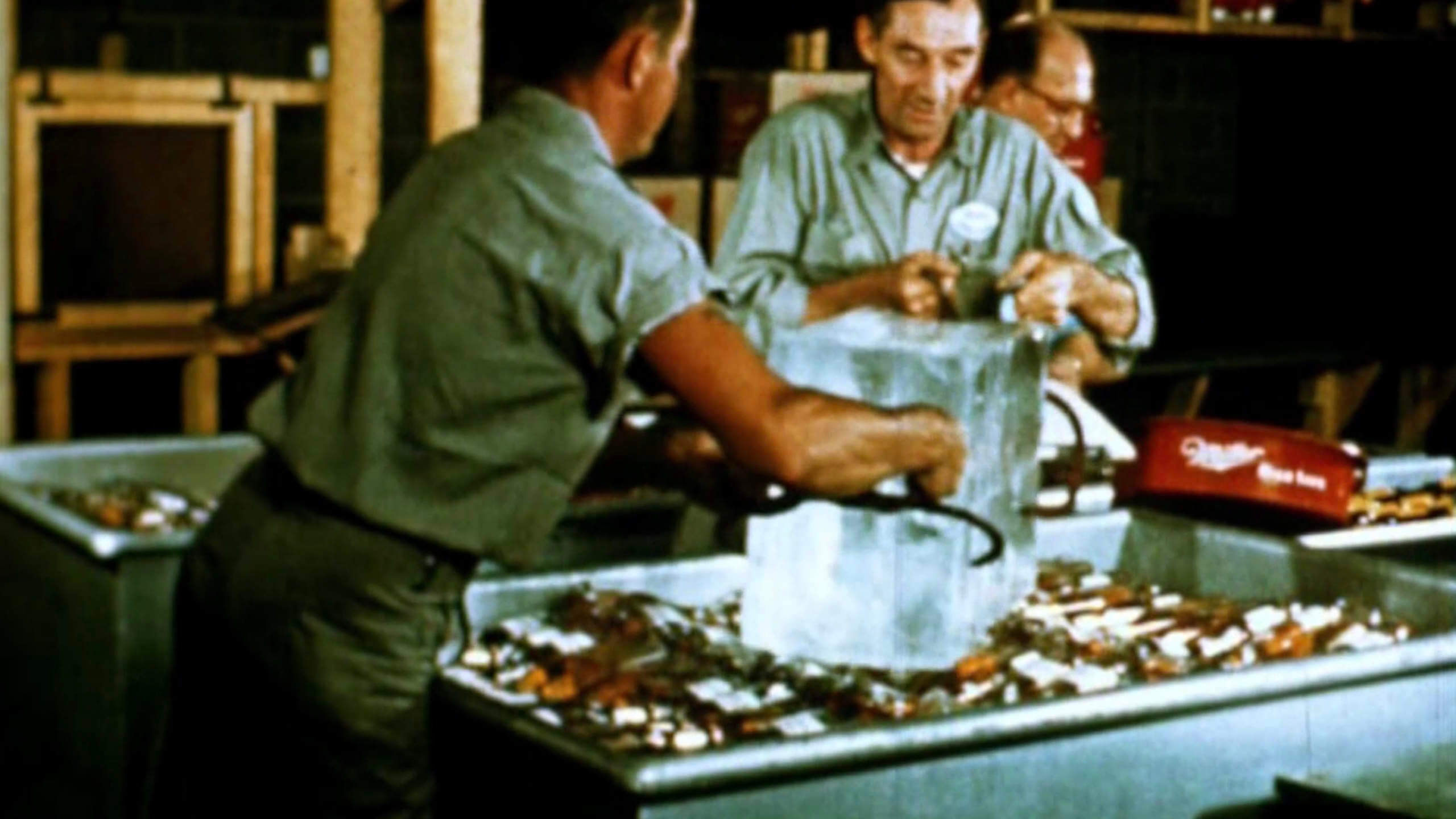 • Check out the uniforms on the County Stadium grounds crew! Love this: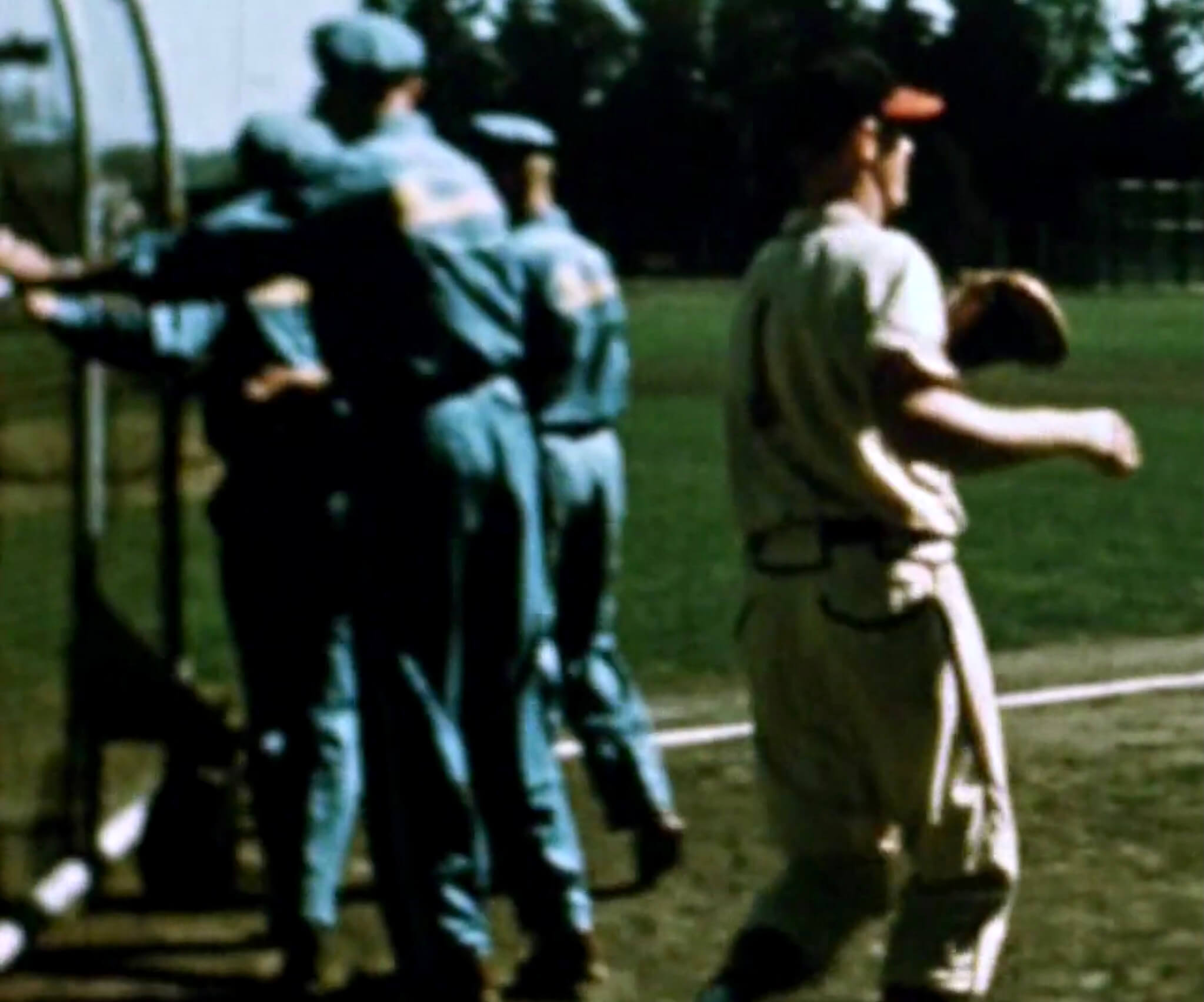 Umpires
• It was interesting to see umps consistently making the "Out!" call simply by raising their fist — not the more familiar punch-out that we're now used to seeing. I wonder when that changed: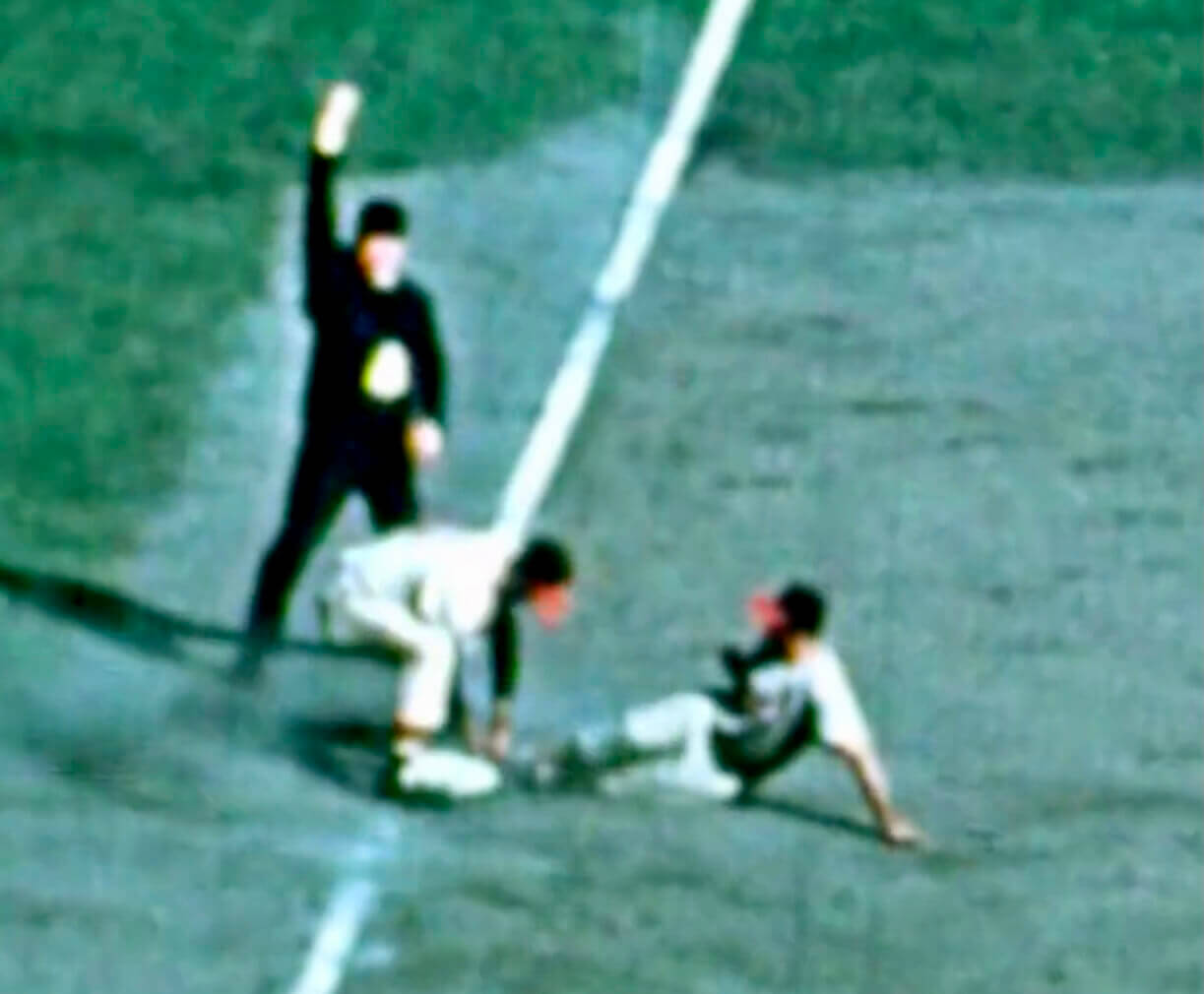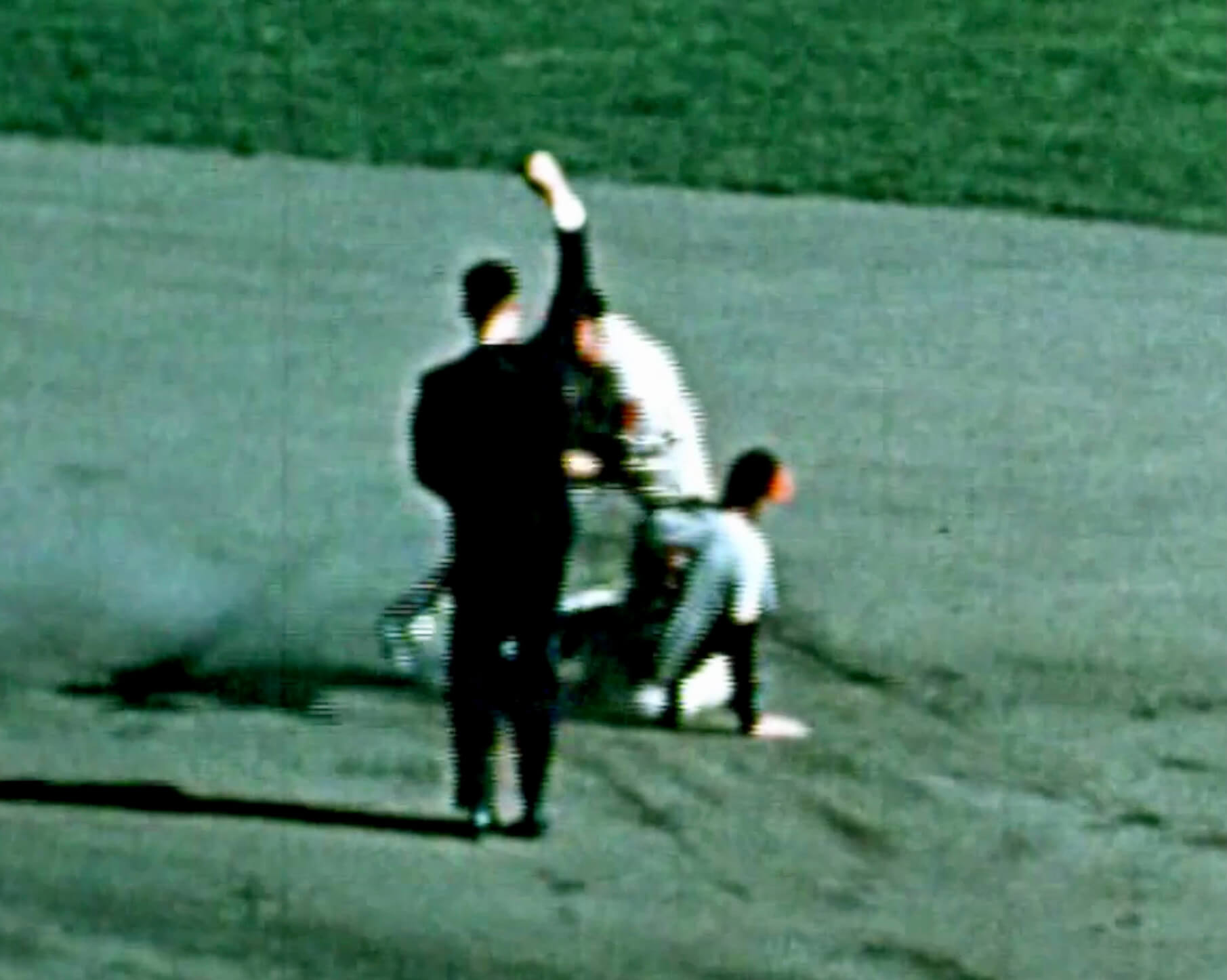 • I noticed that in 1953 — but not the other seasons — the umps weren't wearing their usual navy suits and ties. Instead, they wore dark work shirts that matched their dark pants. The overall visual effect was a bit janitor-y: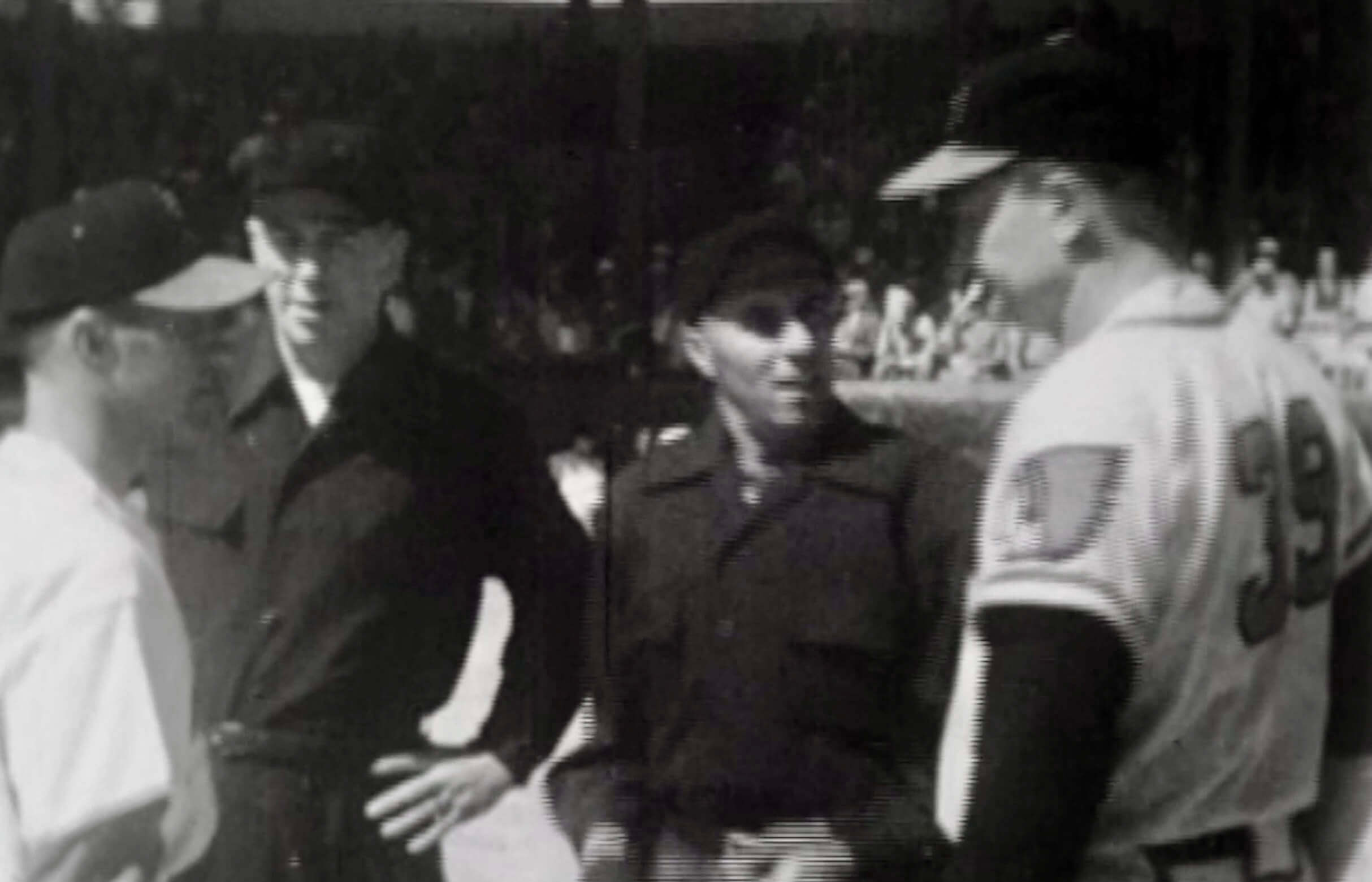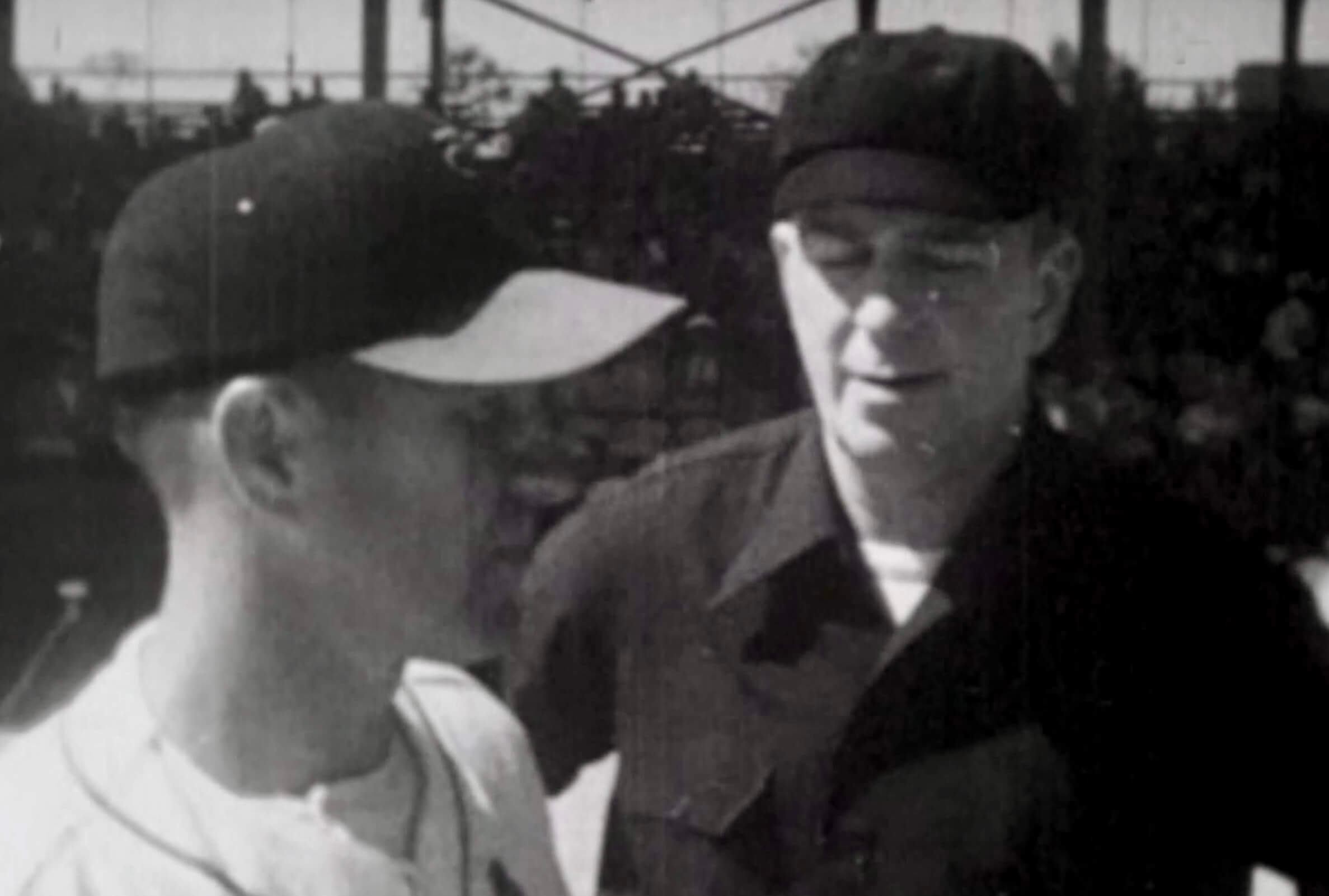 I was intrigued by this, so I looked for better photos from 1953 National League games. Here are some shots that I found: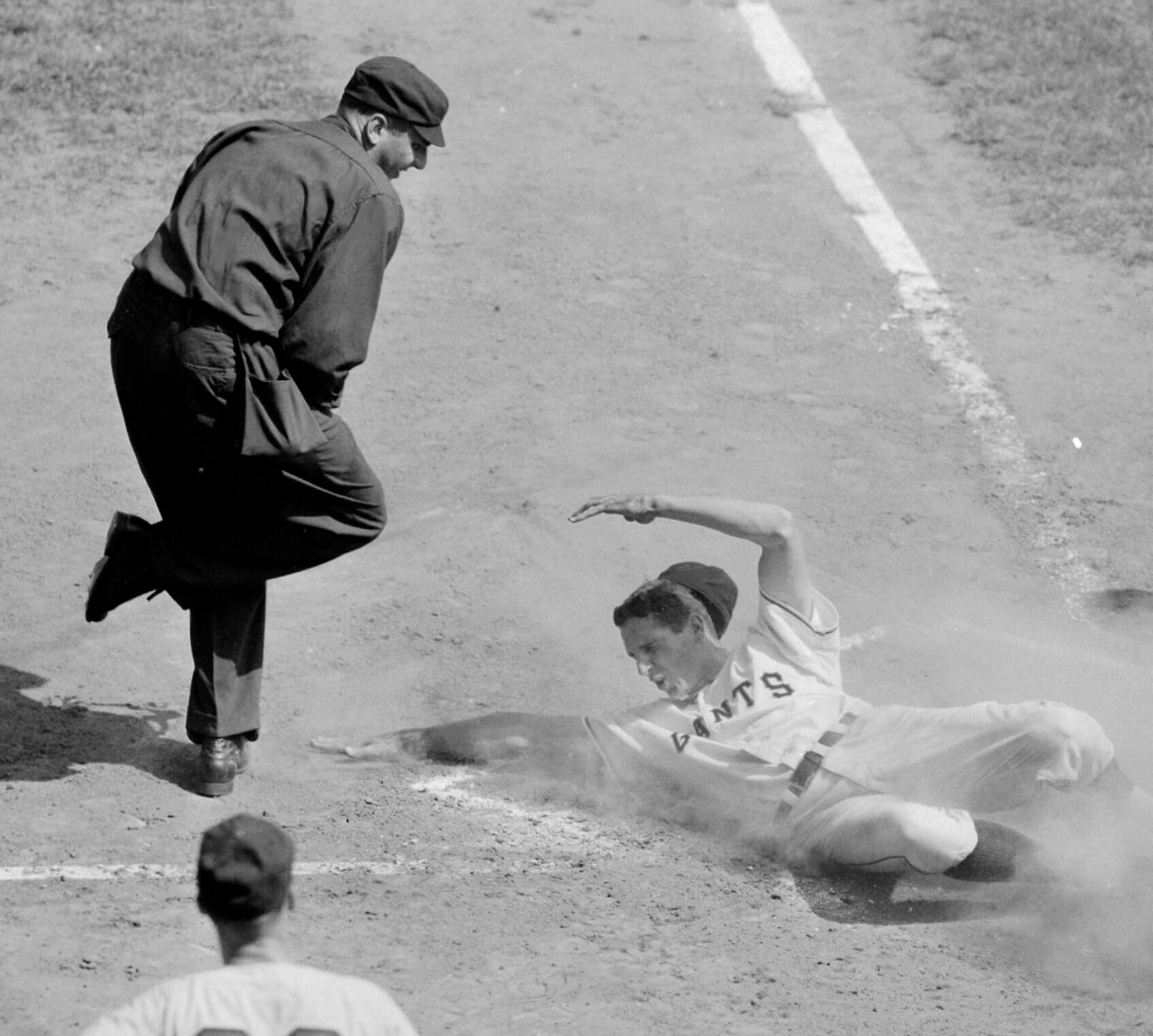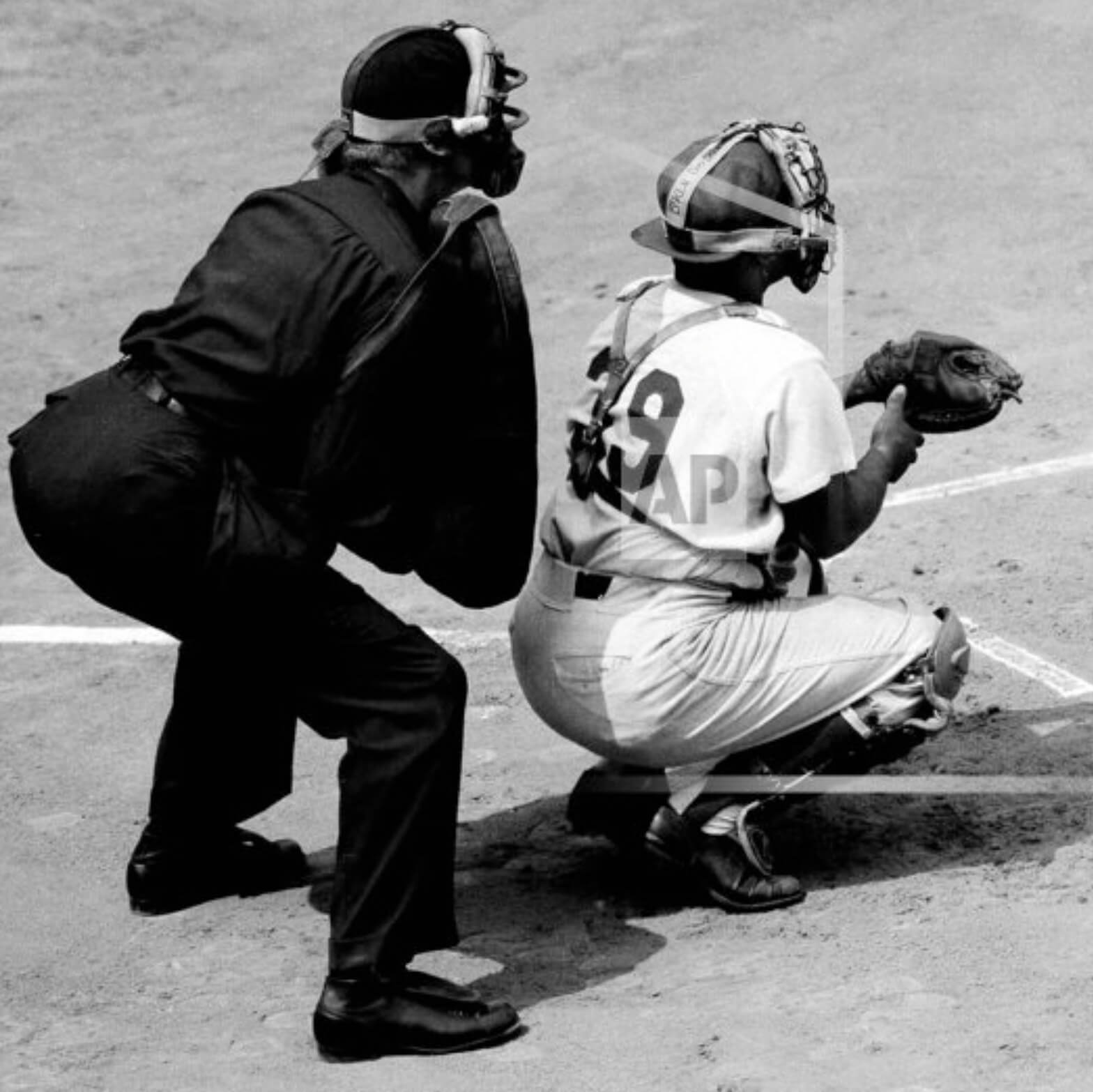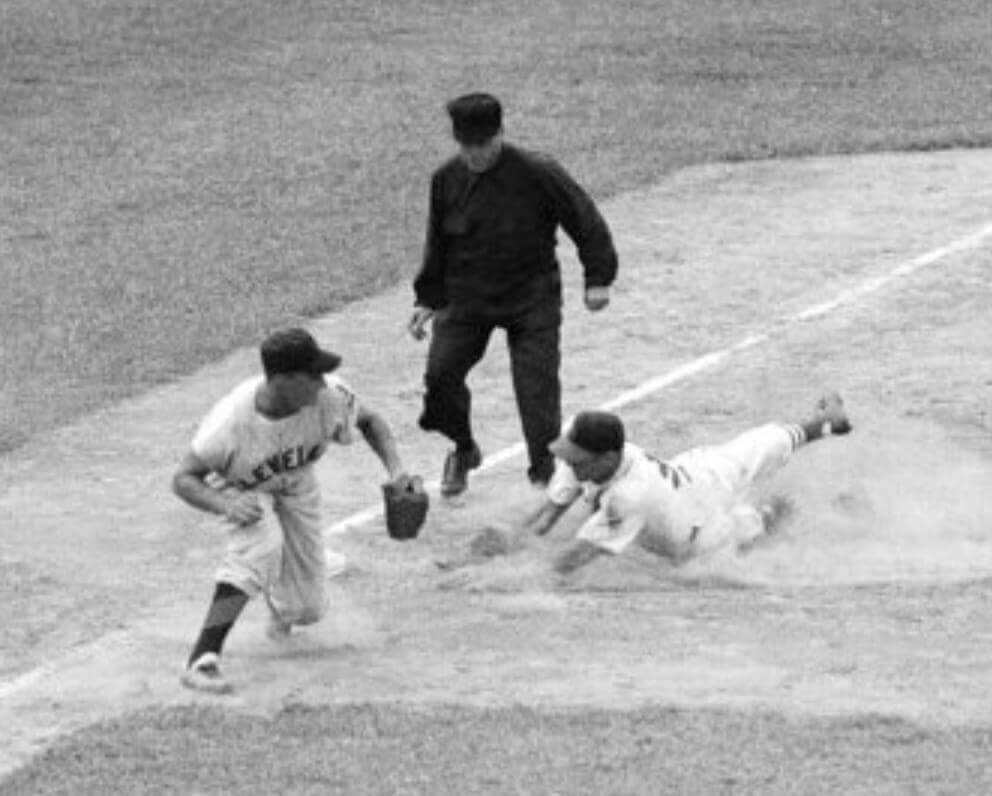 That last photo is from the 1953 All-Star Game, which is why the third baseman is wearing the uni of an American League team, even though the ump is from the National League.
Scoreboards and Stadium Signs
• Here's a look at the County Stadium scoreboard. This is from a September game, so note the little teaser for an upcoming Packers/49ers game (the Packers played three of their six home games in Milwaukee that season):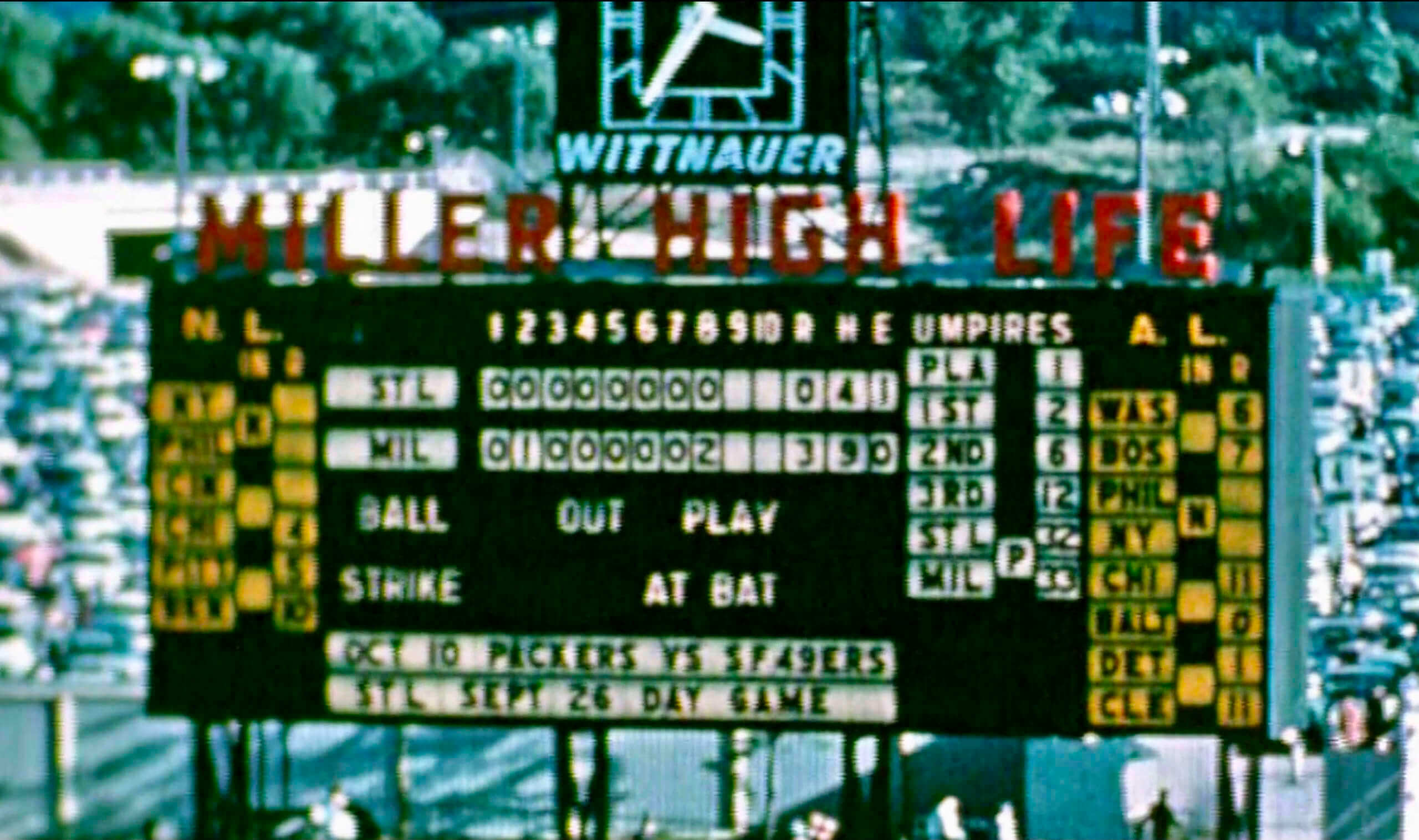 • Speaking of scoreboards, here's a look at the one at Crosley Field in Cincinnati. Note that the home team is referred to as the Redlegs, not the Reds, as this was during the team's lamentable "Red Scare" name change: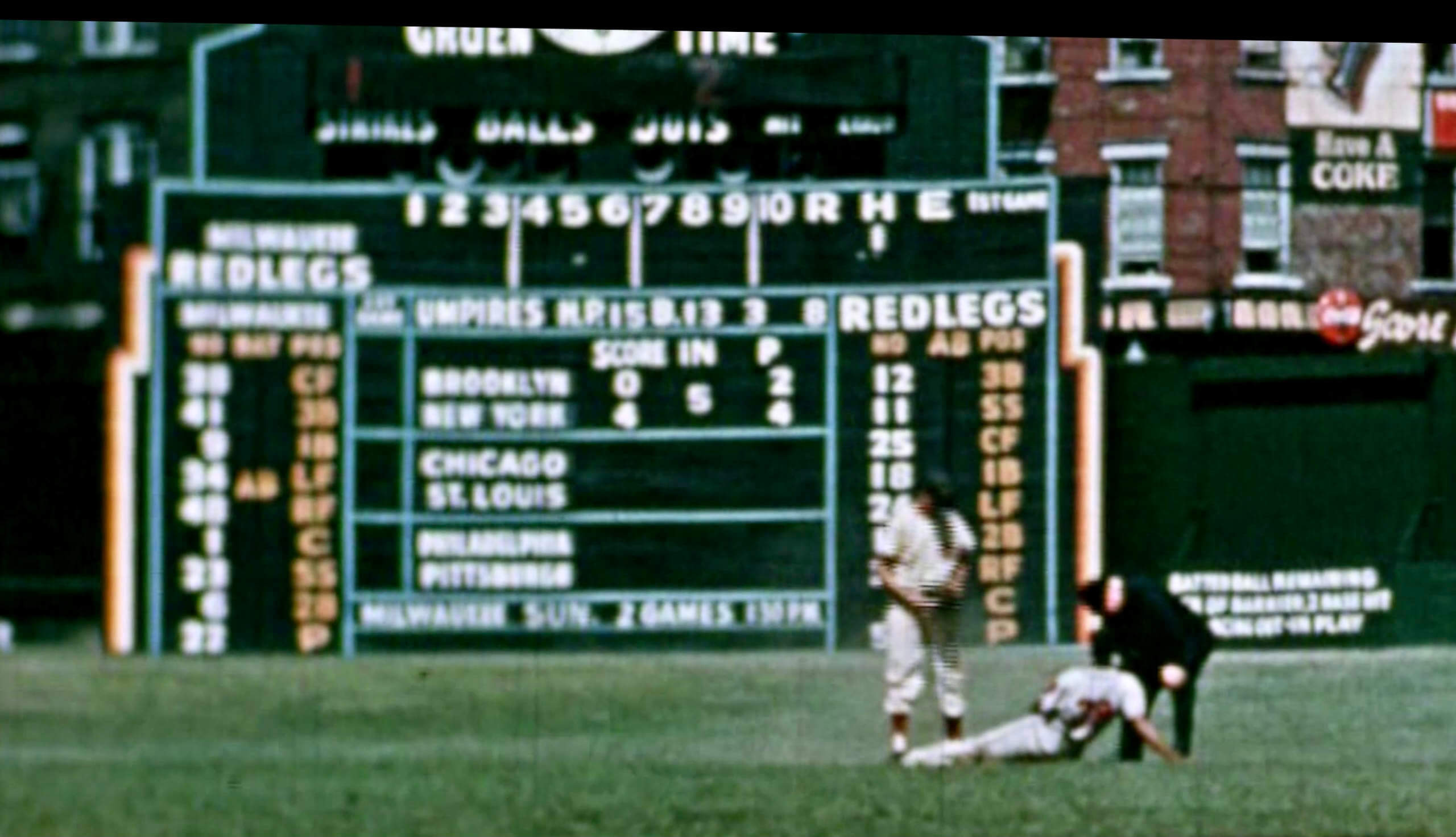 • When the Braves go to St. Looie, there's a great sign outside the Cardinals' ballpark: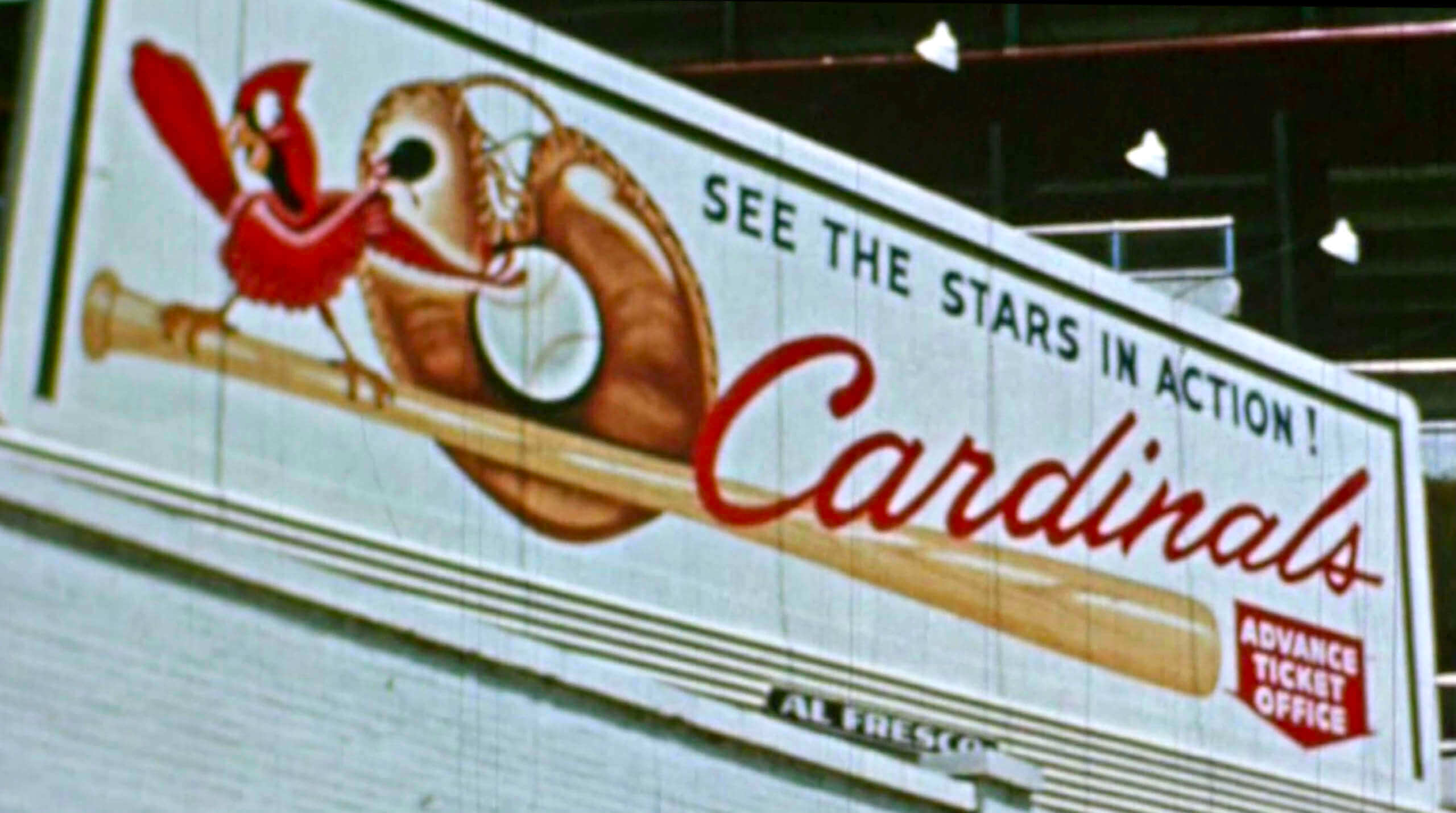 • And when they go to Brooklyn, Ebbets Field has pennants for the home and road teams flying outside the stadium: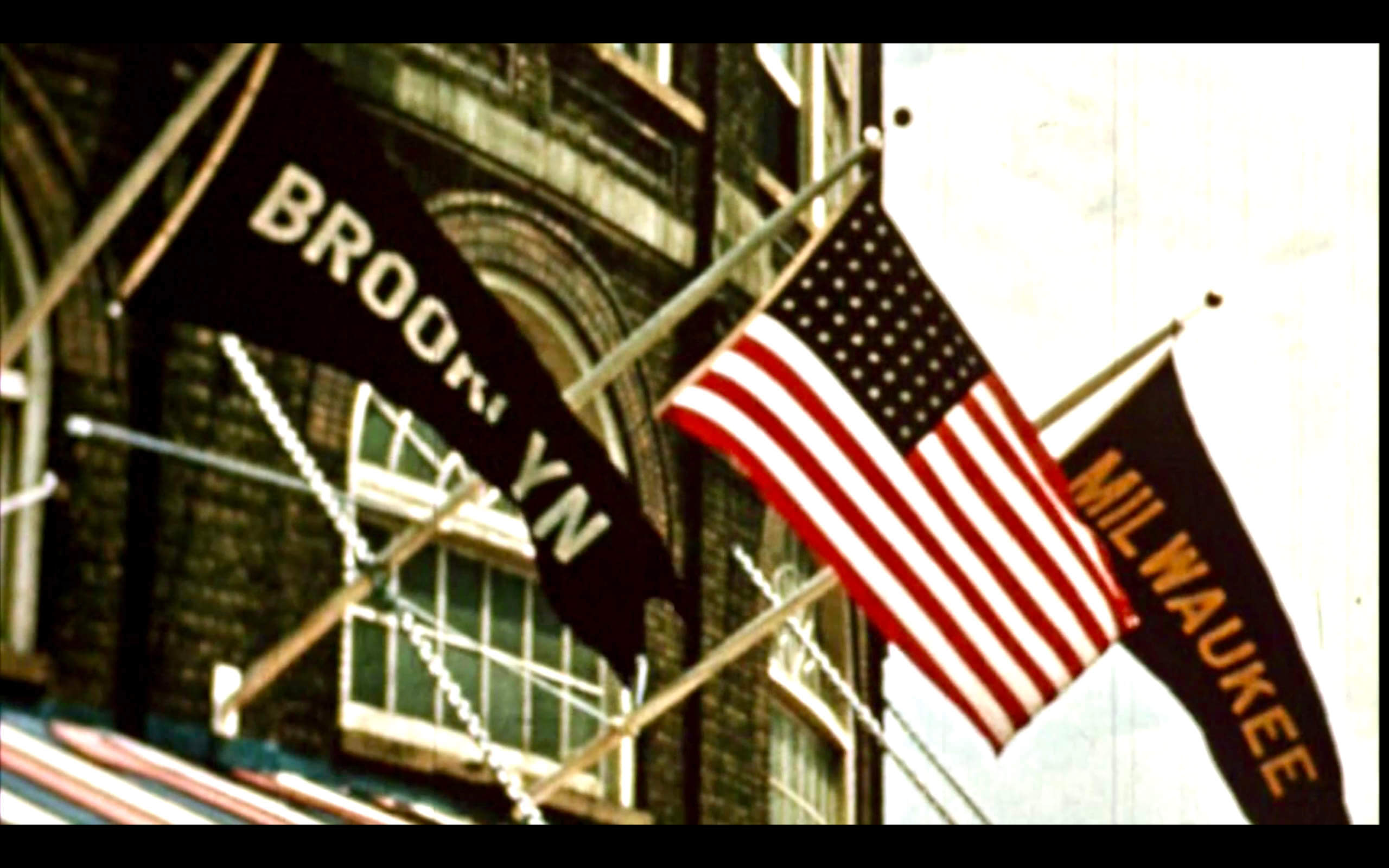 Field Design and Related Issues
• These next three shots are from Ebbets field in Brooklyn. Look at that chalked box between the plate and the dugout — was that supposed to be the on-deck "circle"? Something else? Seems very odd: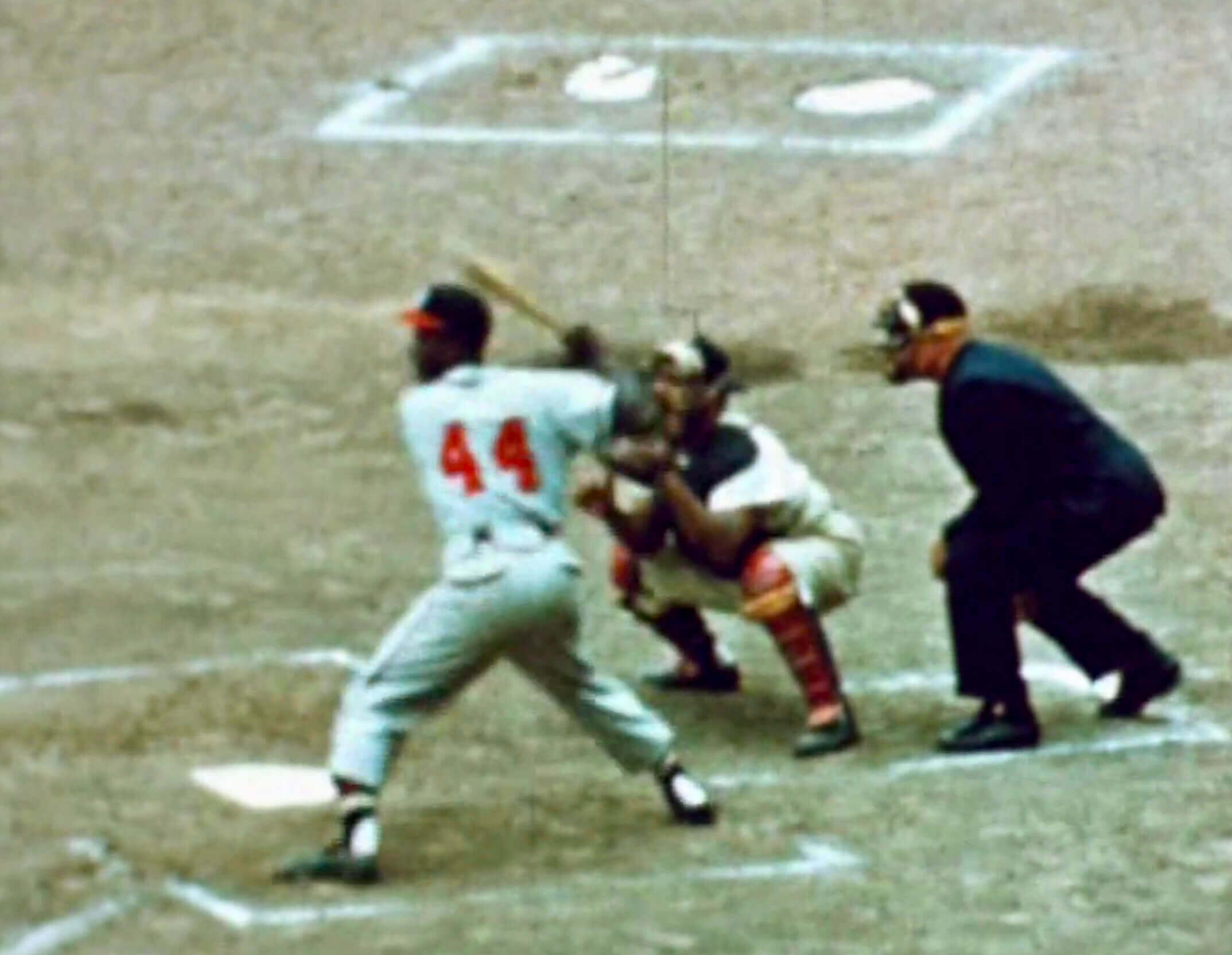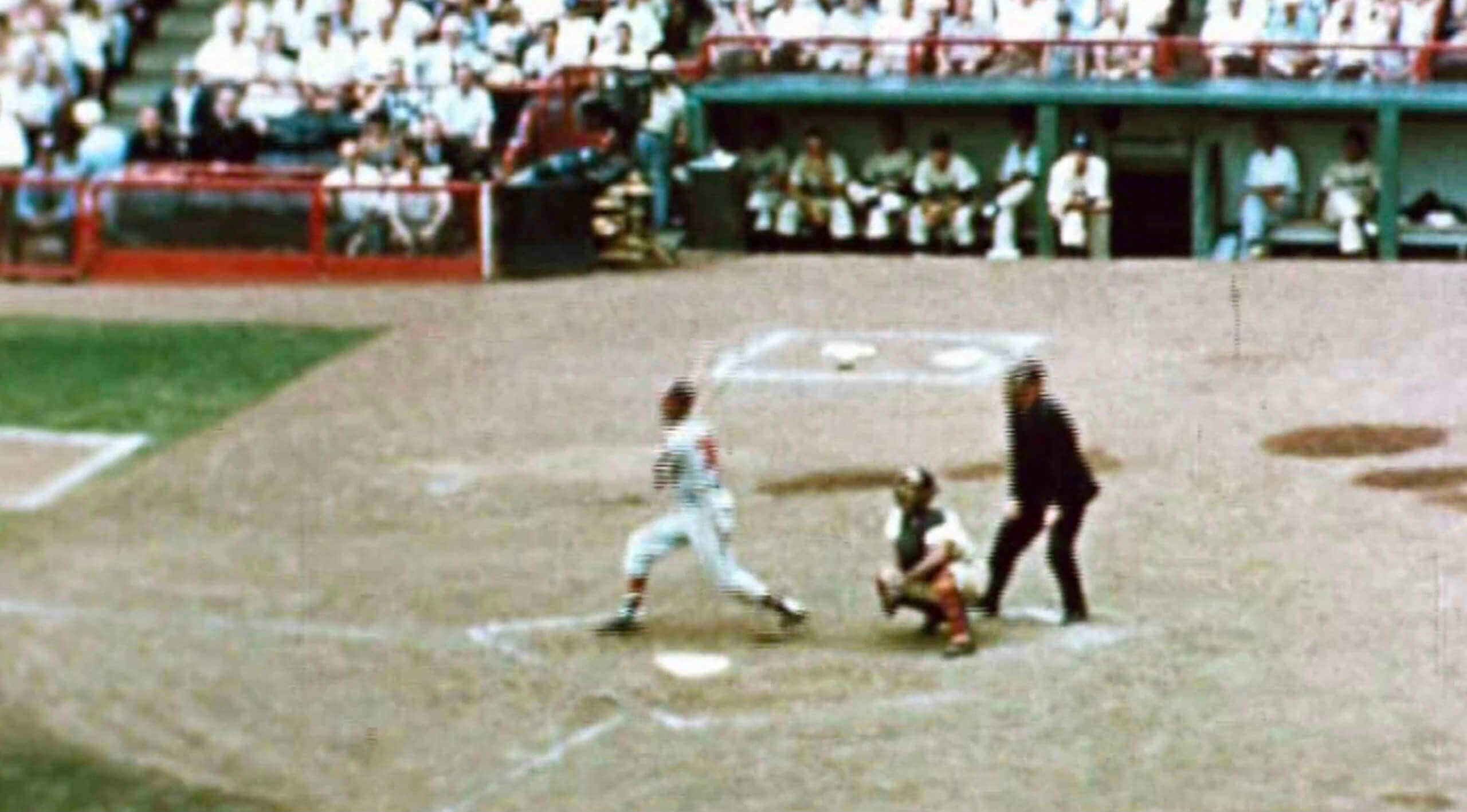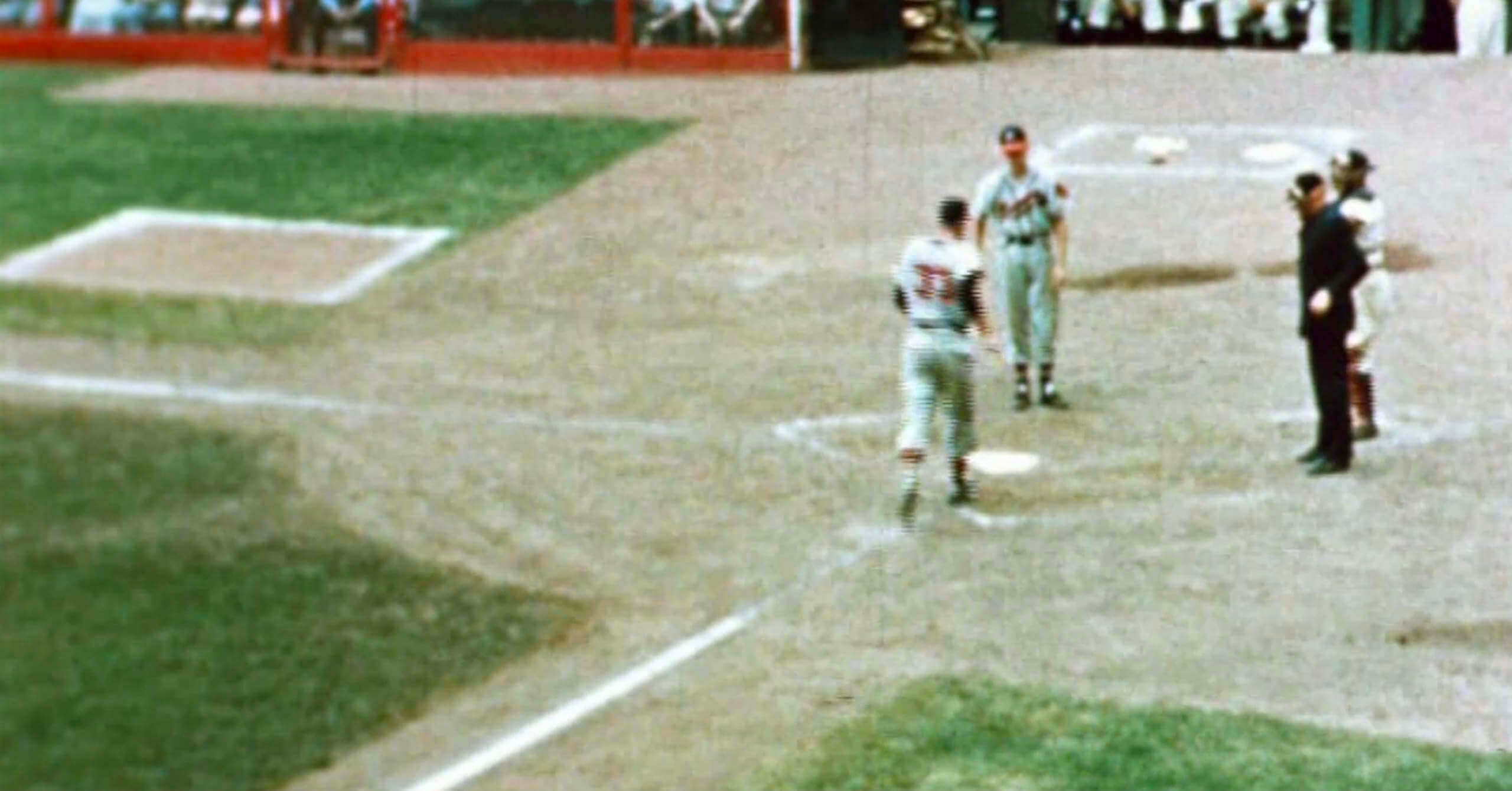 For that matter, what's the box that appears a short way up the first base line? Fungo box, maybe?
• This is strange — check out these shots of Phillies pitcher Robin Roberts at Connie Mack Stadium. The rubber is way toward the back of the mound! Never seen anything like that before: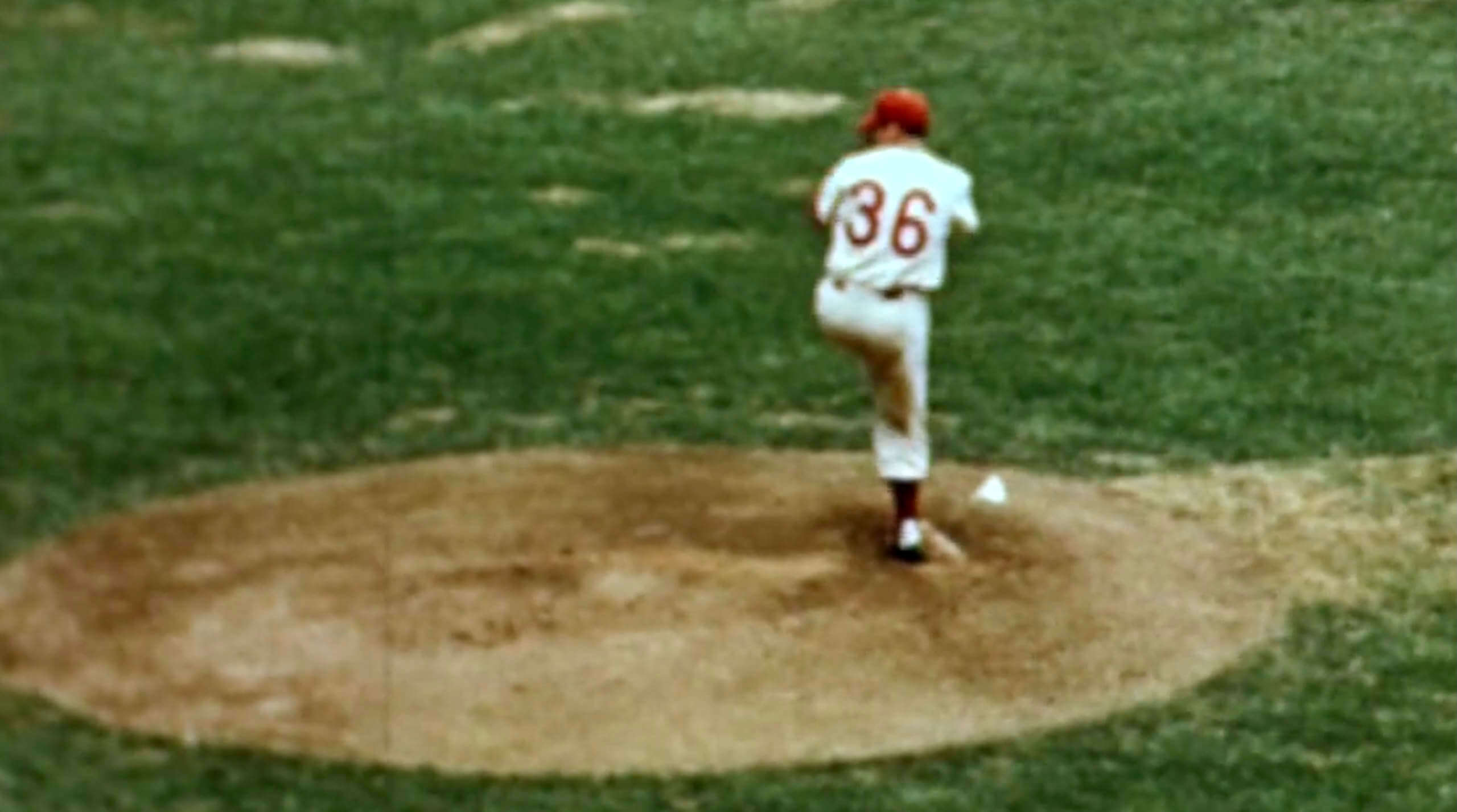 • There's a sequence that shows Milwaukee manager Charlie Grimm getting ejected from a game at Cincinnati's Crosley Field. But instead of retreating to his own dugout and disappearing into the tunnel, he exits the field near Cincinnati's dugout and heads down a ramp adjacent to the dugout: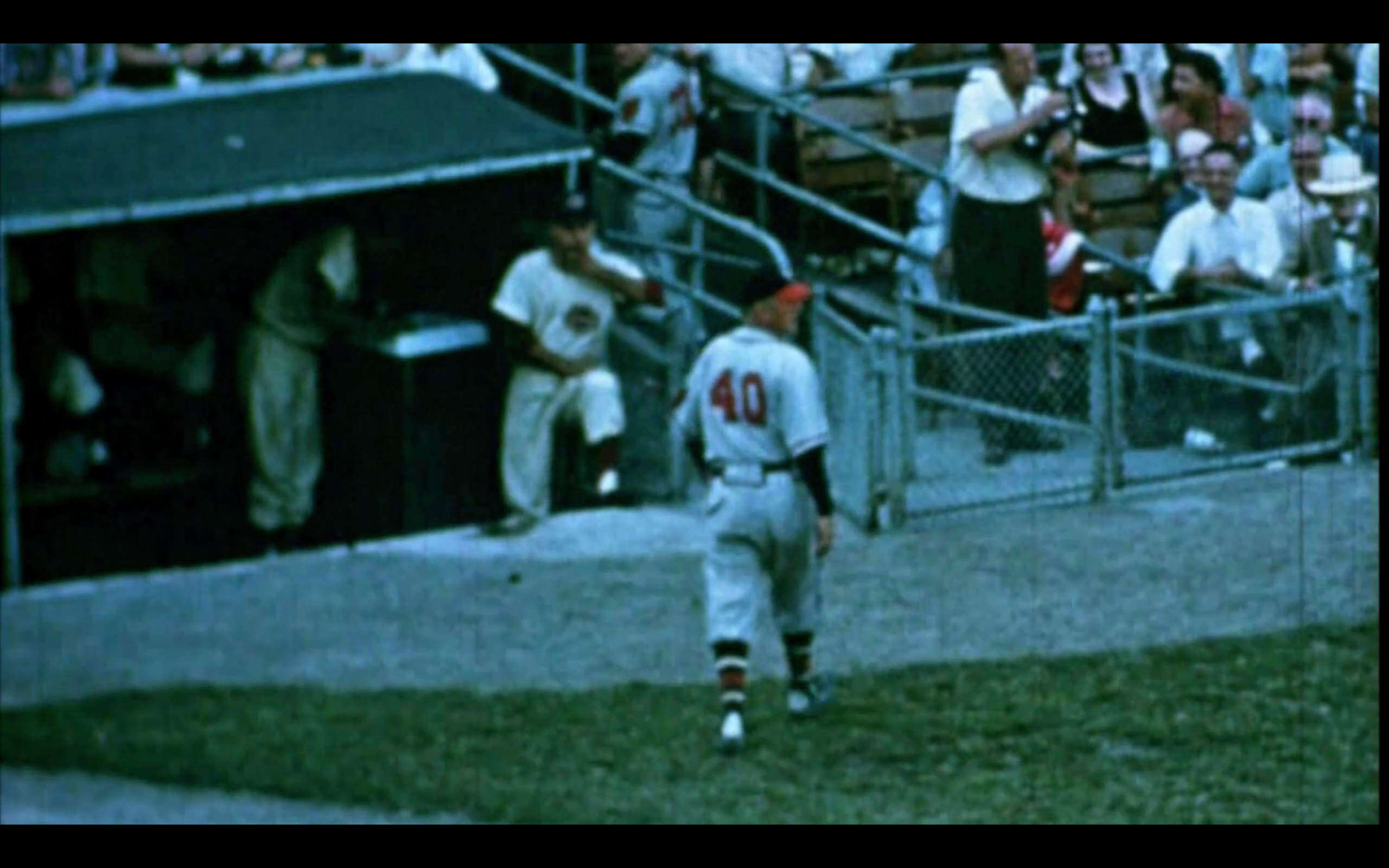 Kids in Uniform
• There are several shots of Braves players tossing a ball around with their kids, all of whom appear in full uniform: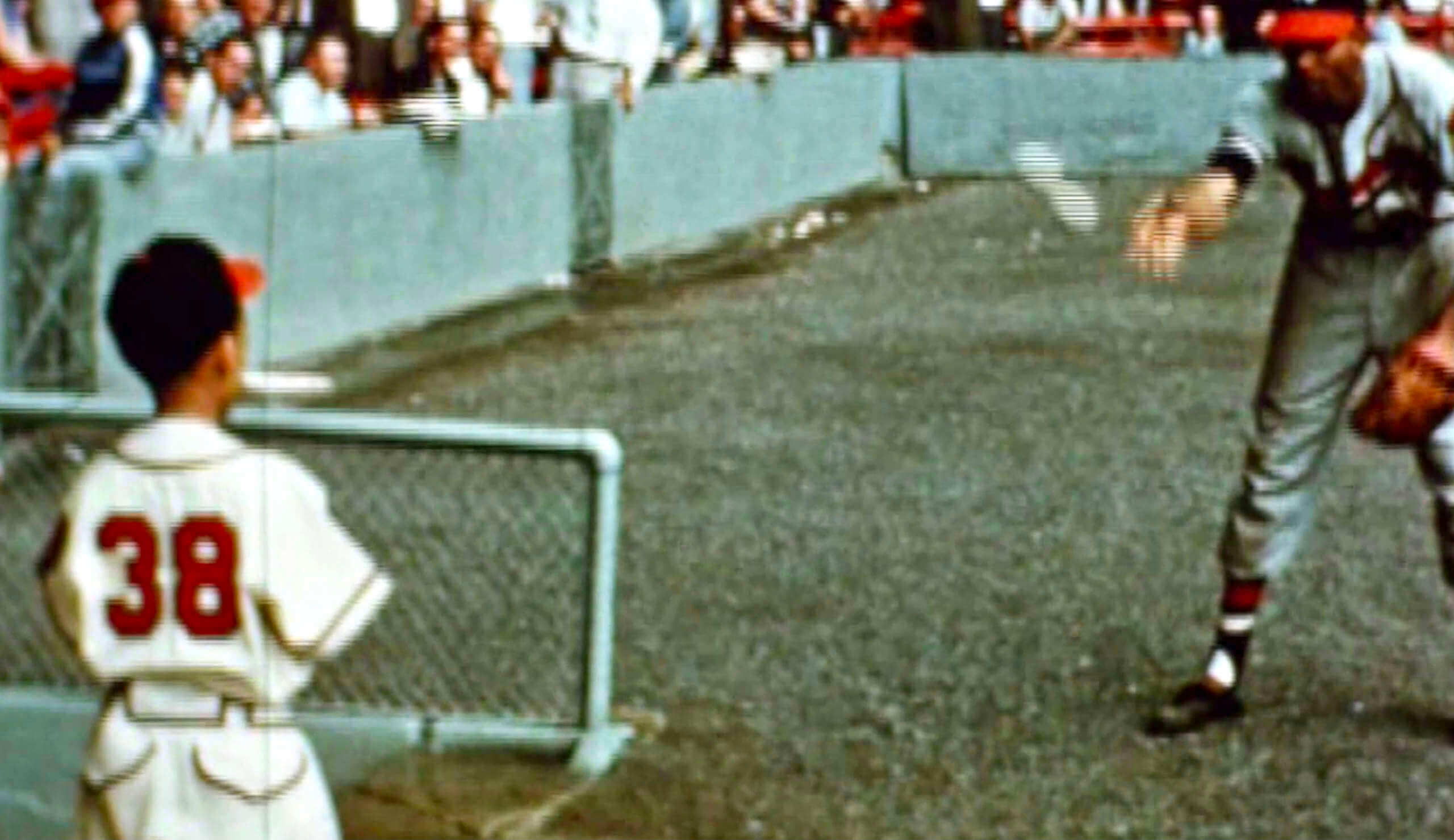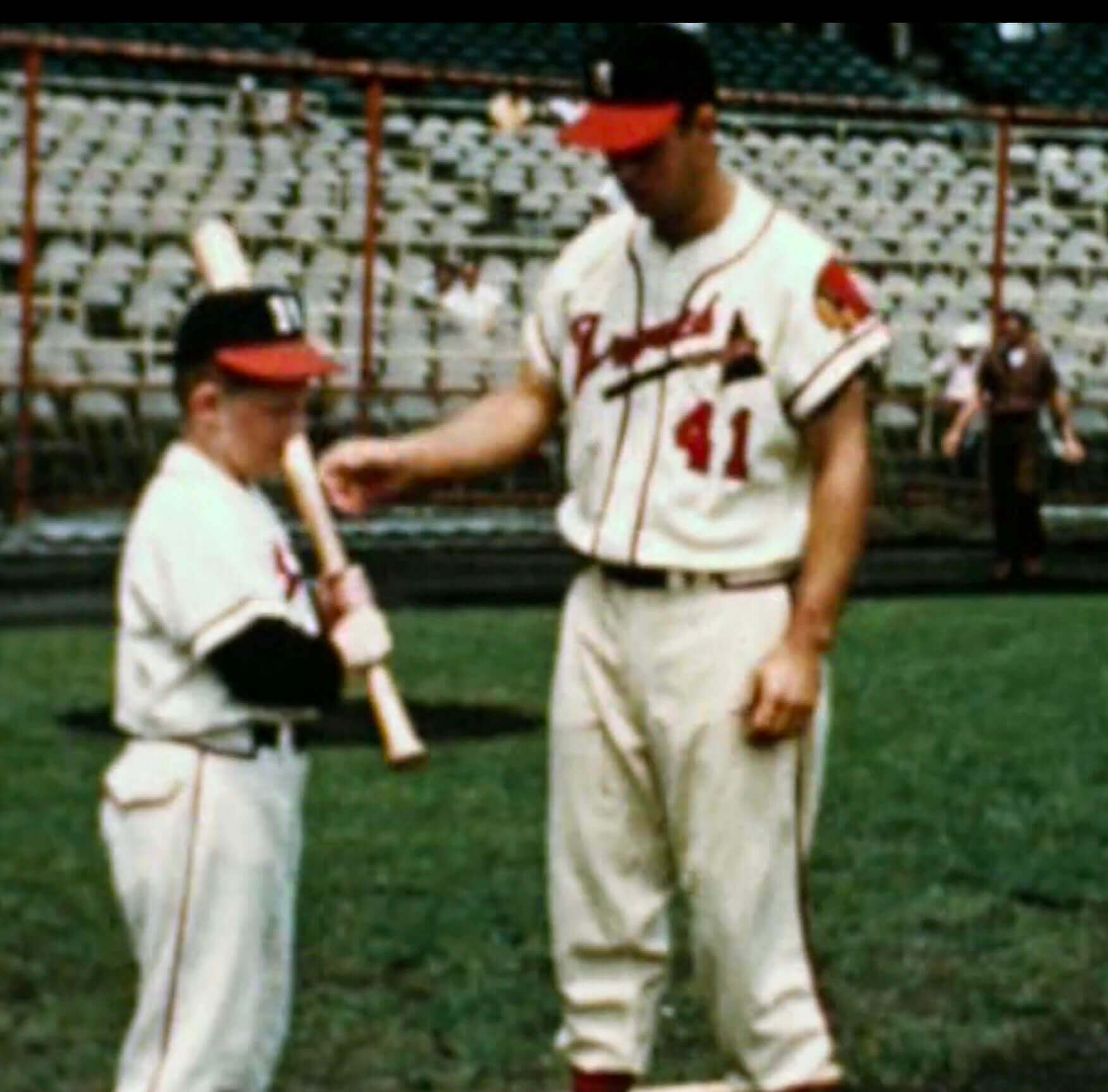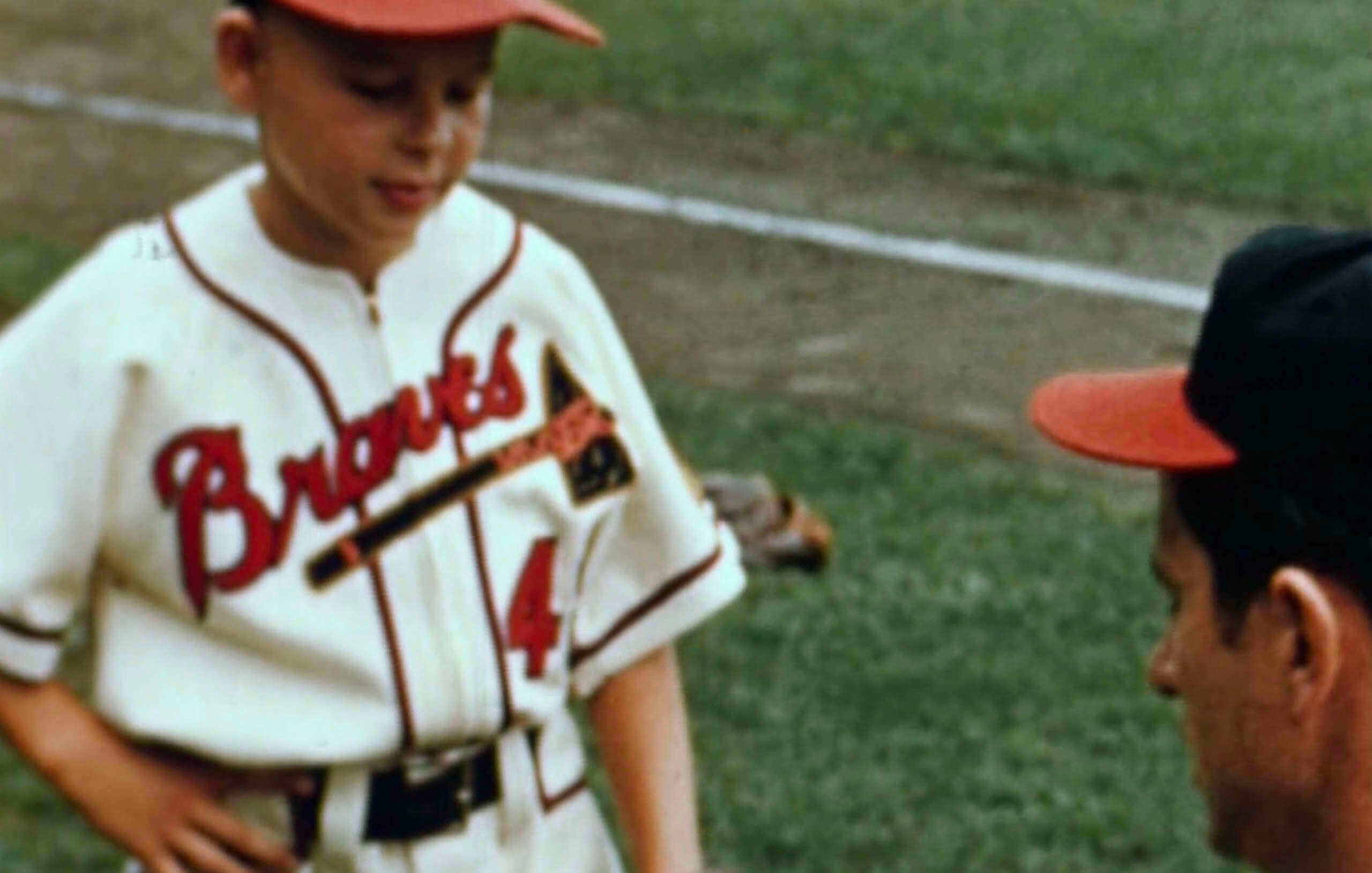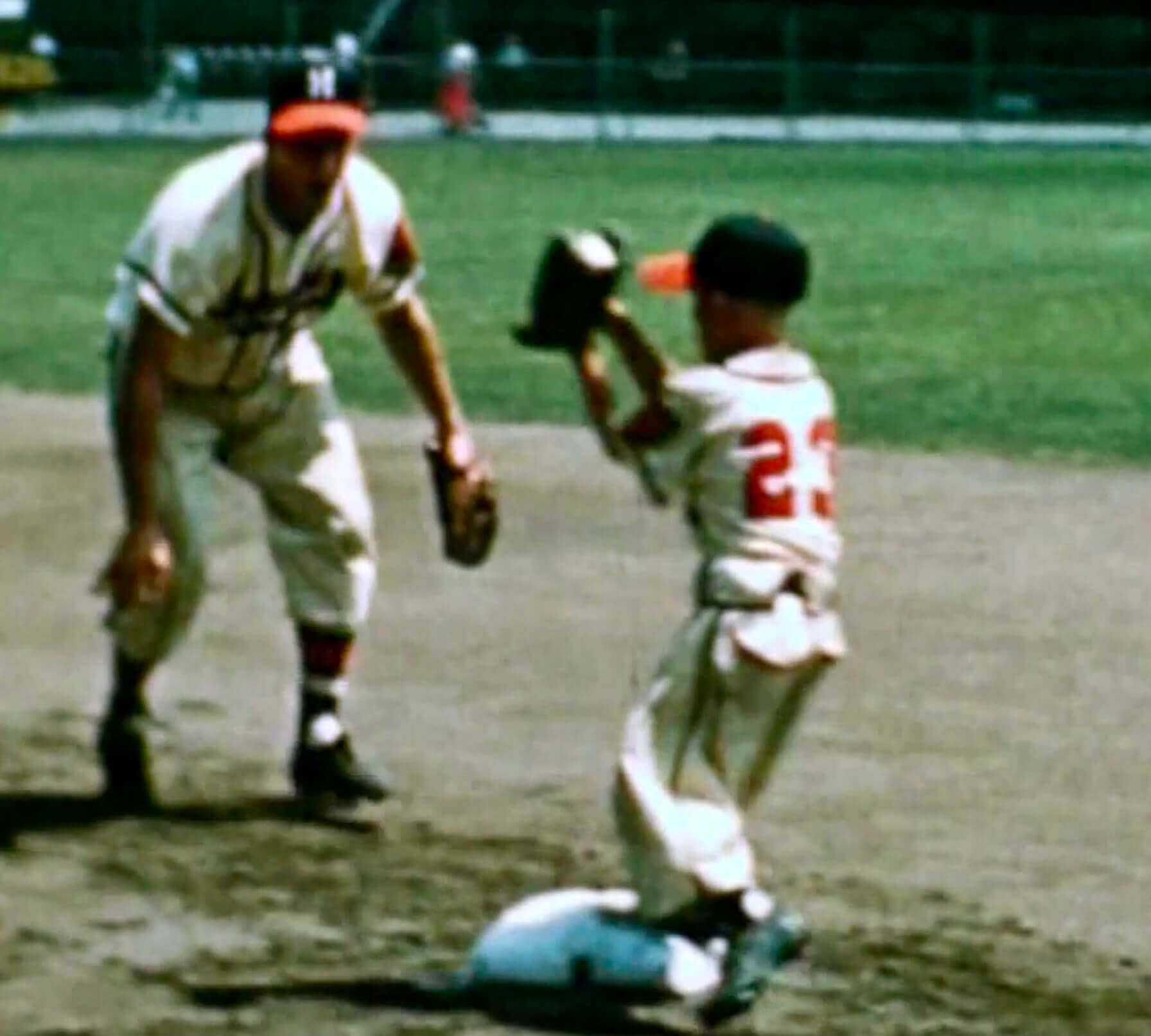 • Speaking of kids, some Little Leaguers visited the Braves during spring training in 1955. Look how tiny their uni numbers were: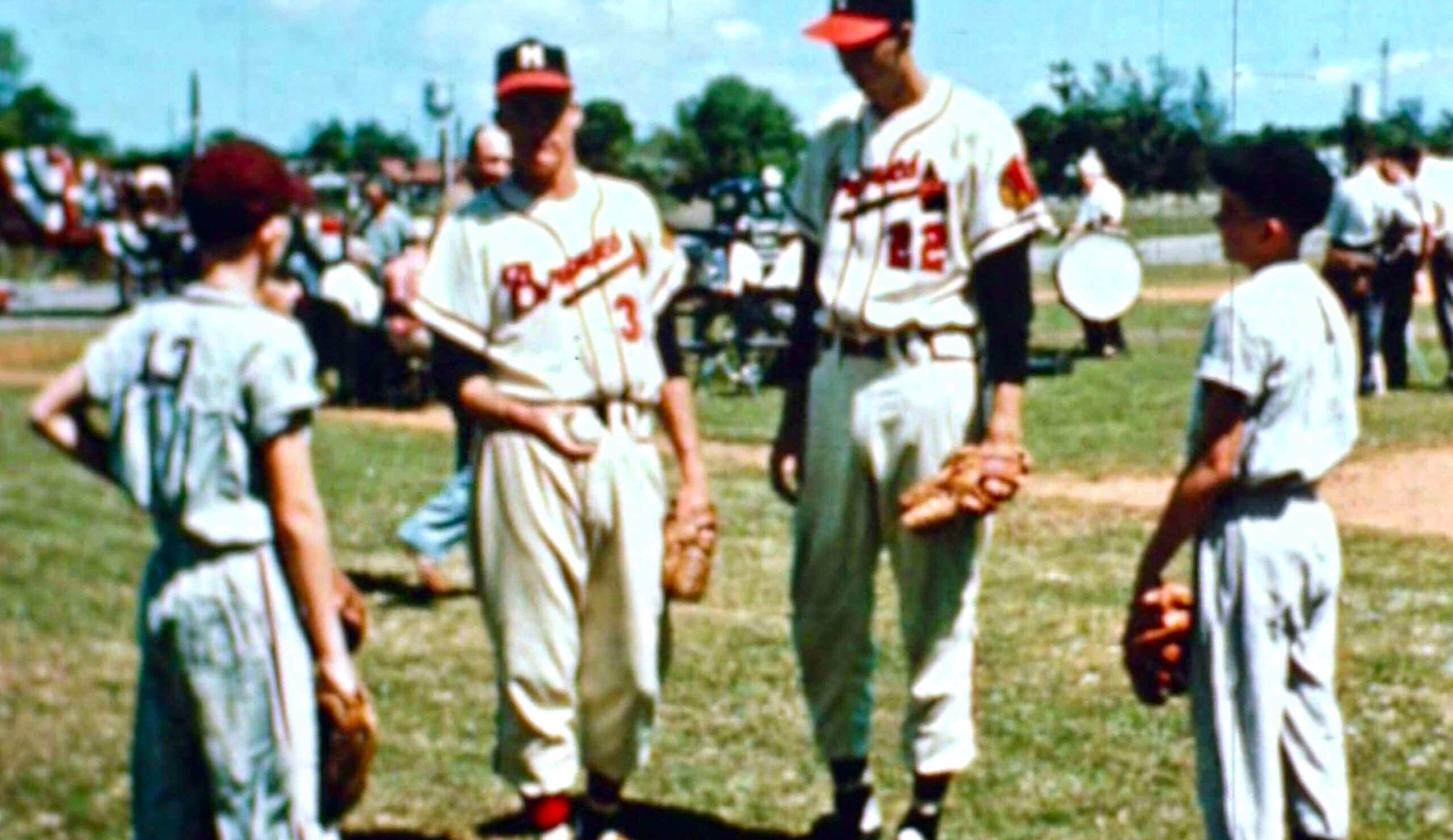 • There are also a few shots of kids wearing their Little League uniforms as they pass through the turnstiles to attend a game in Milwaukee: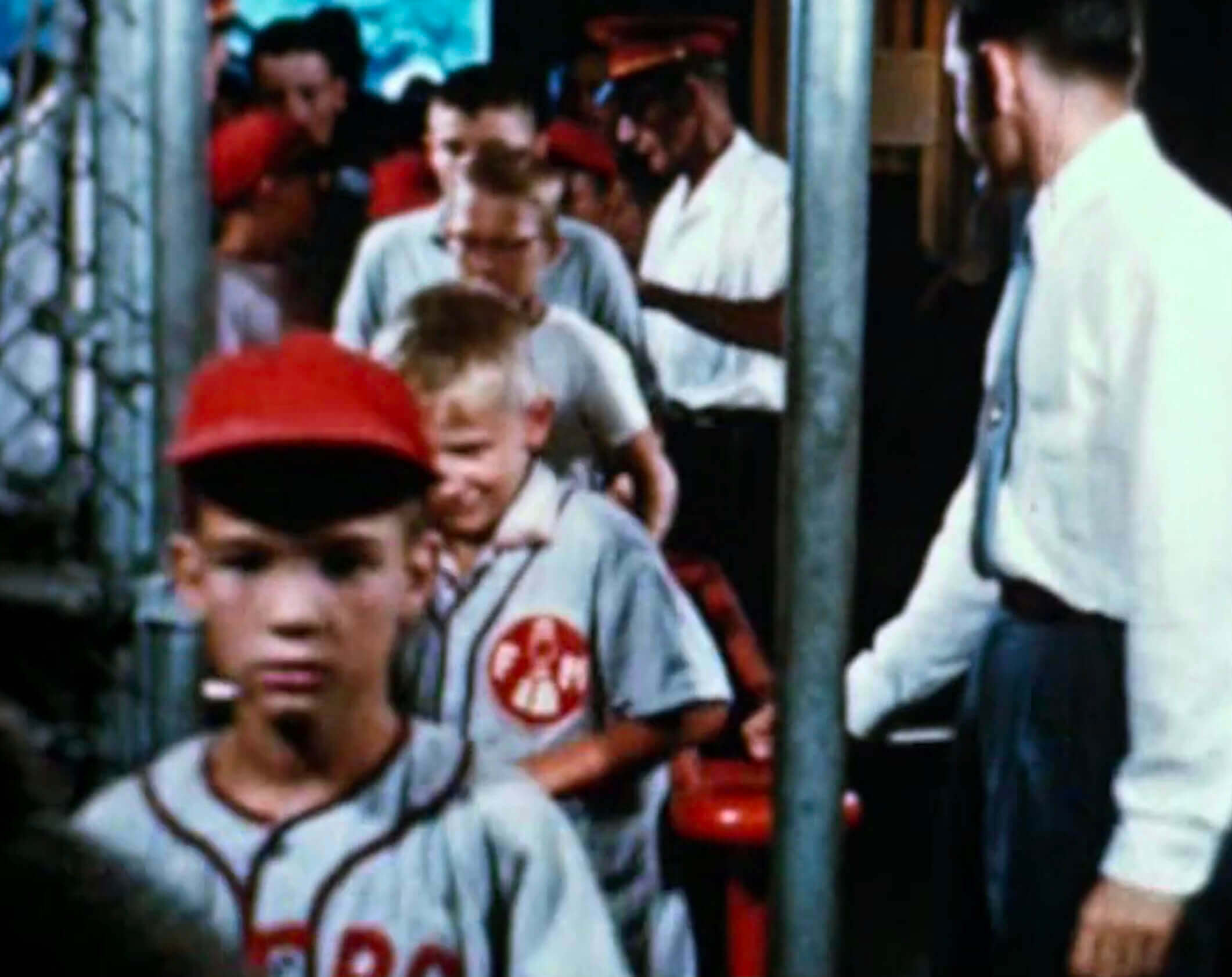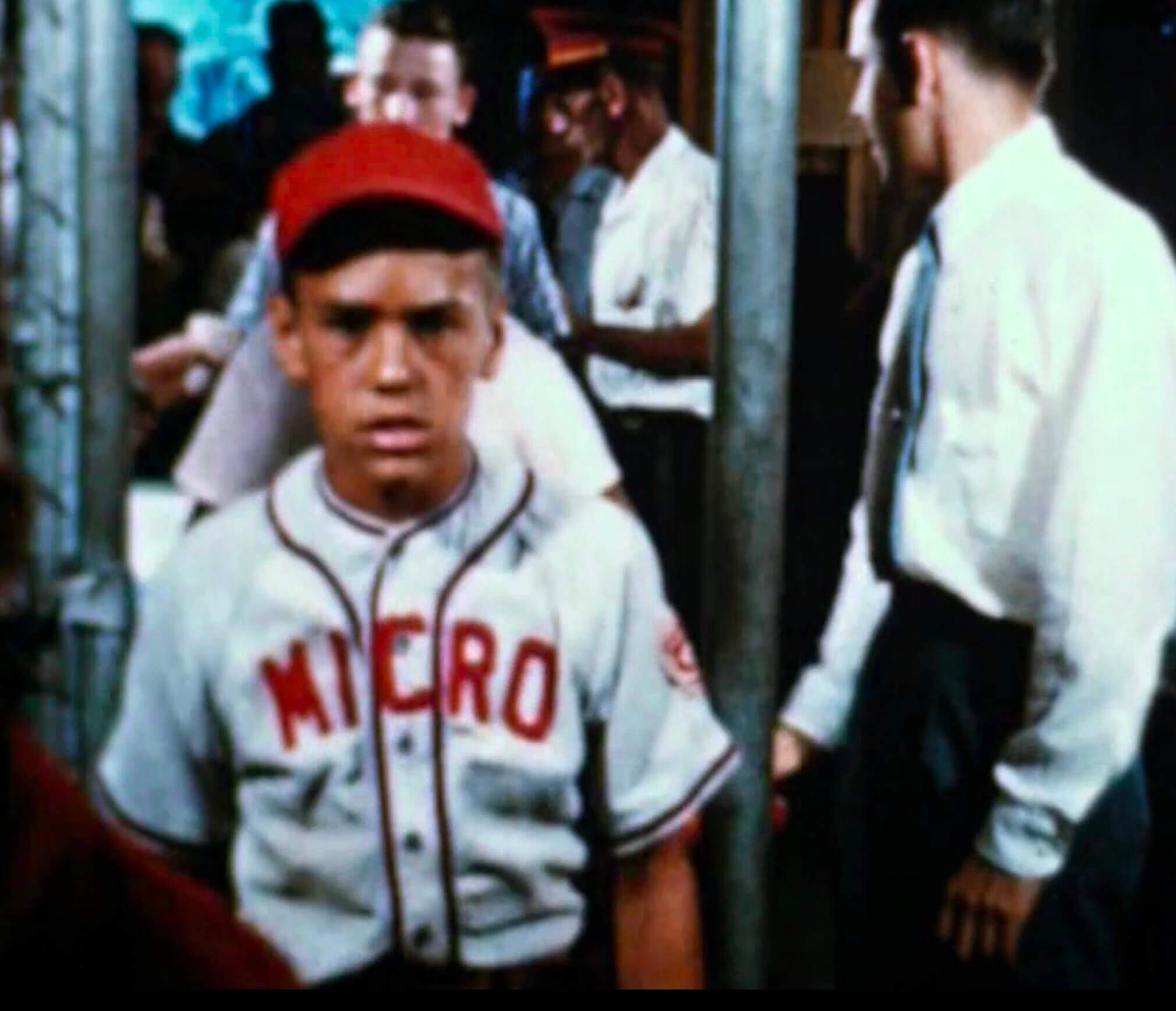 1955 All-Star Game
• Milwaukee hosted the All-Star Game in 1955. Not great image quality, but here are shots of the American and National League squads: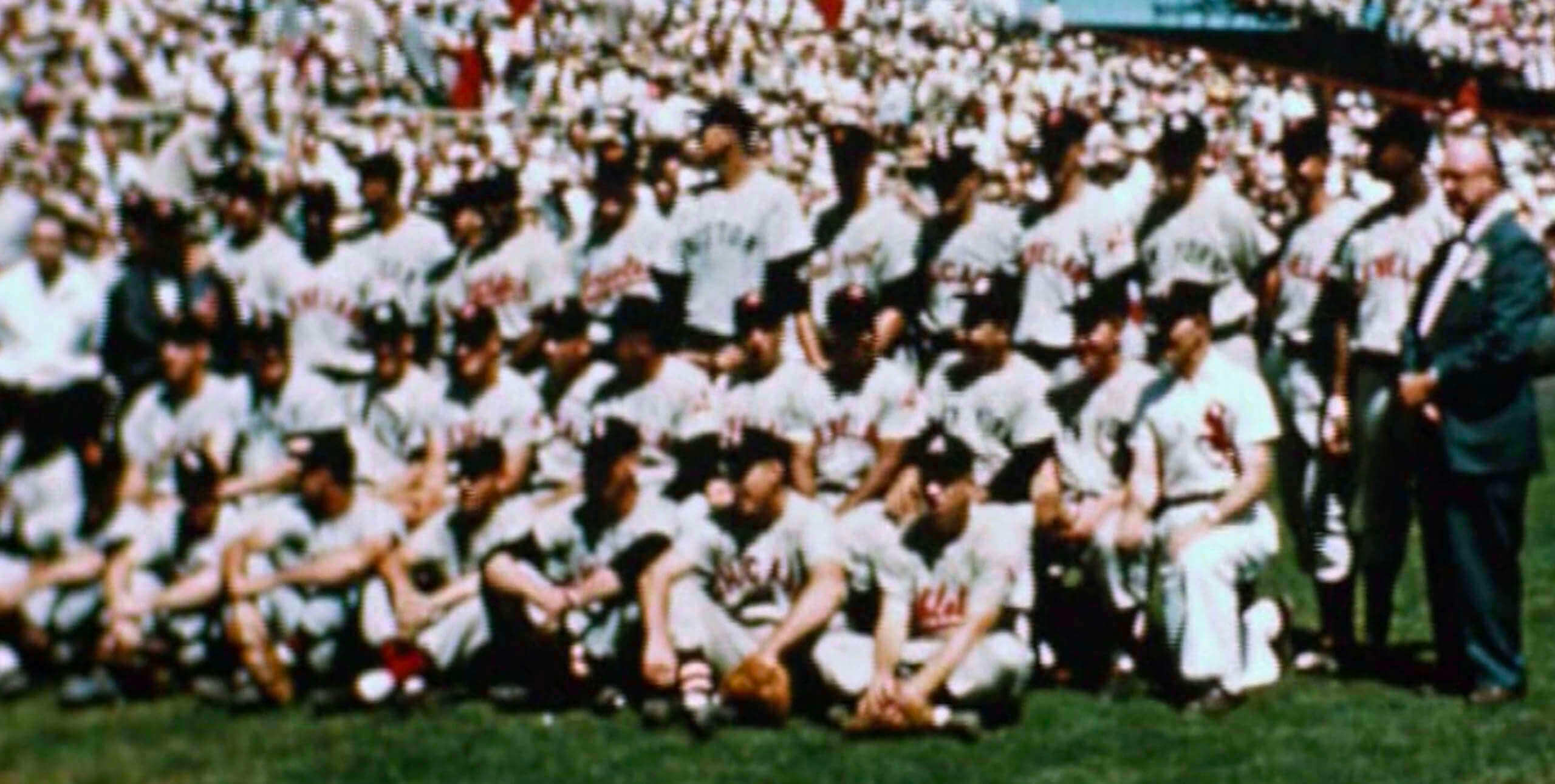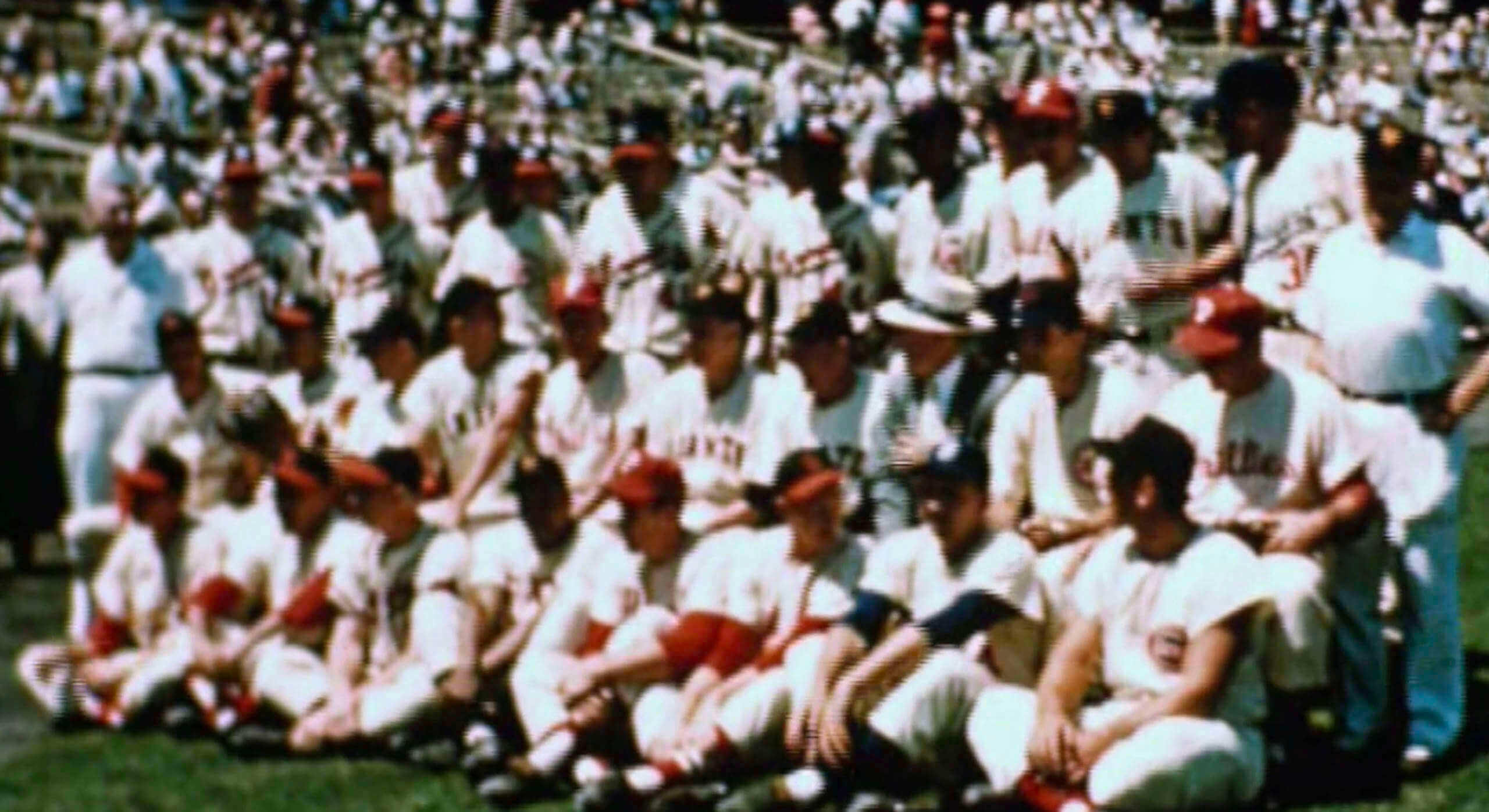 • These next three shots are all from the All-Star Game. In each case, look how close the on-deck batter is to home plate! I'm assuming the other person, next to the on-deck hitter, is the bat boy: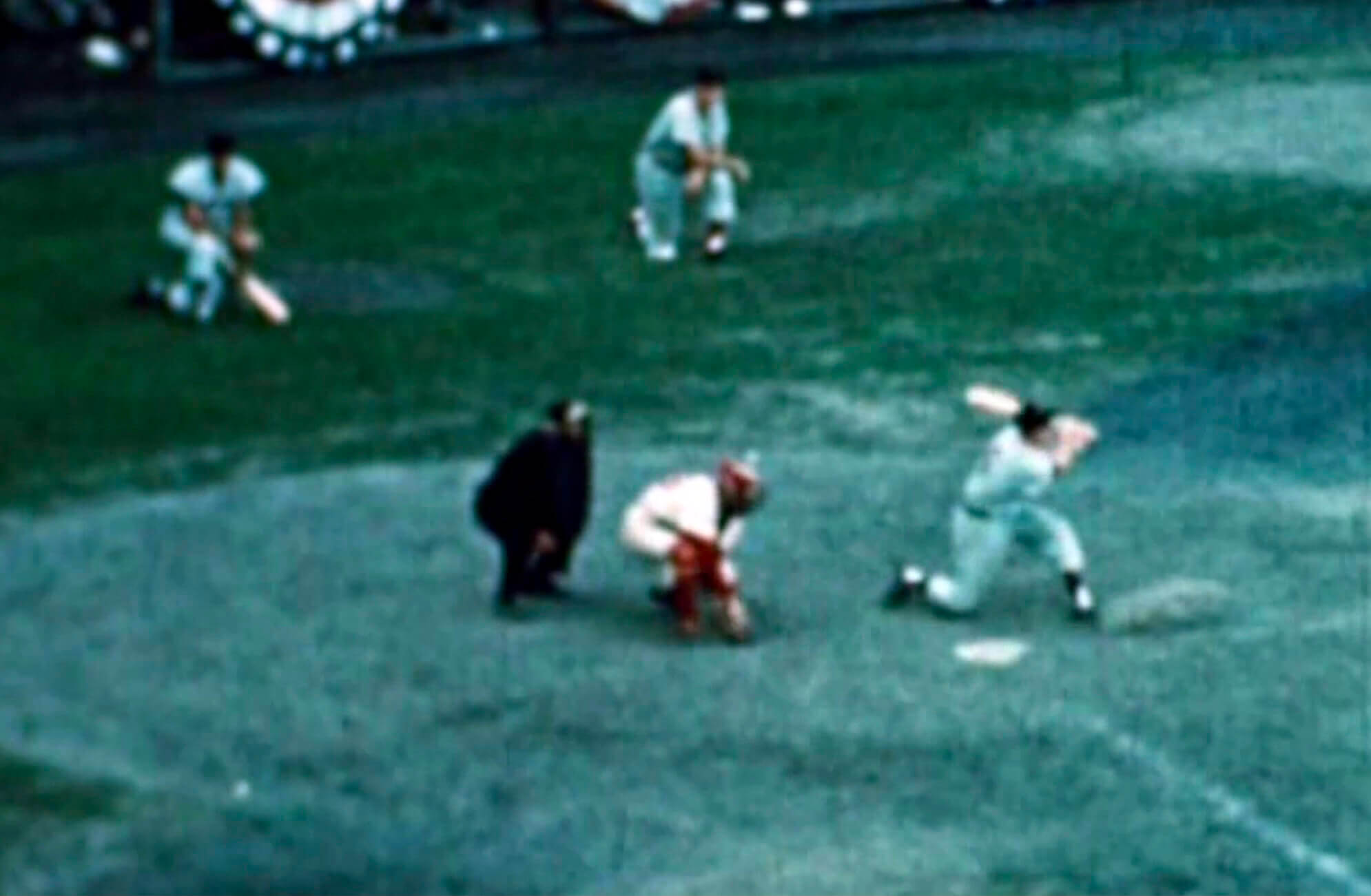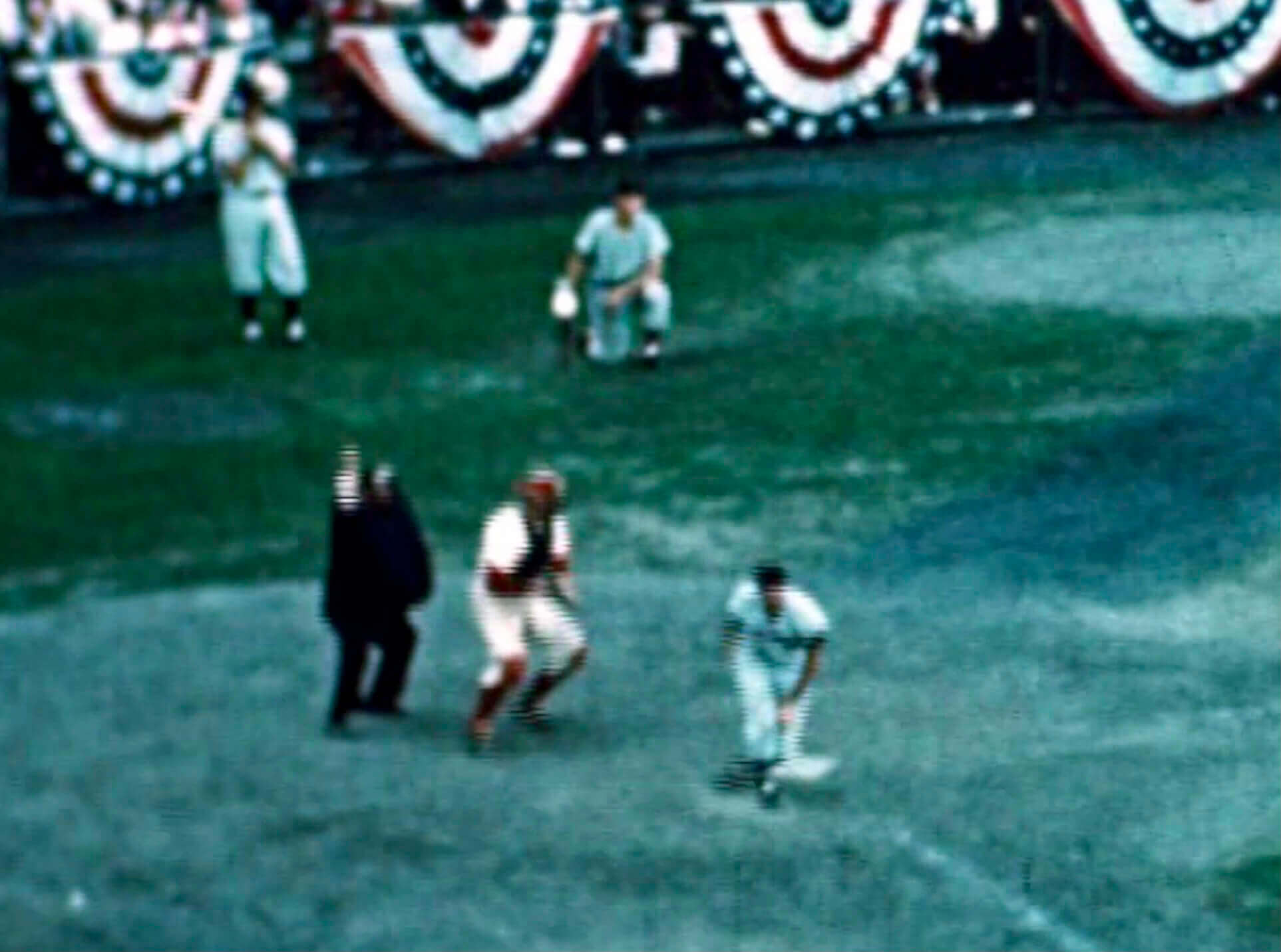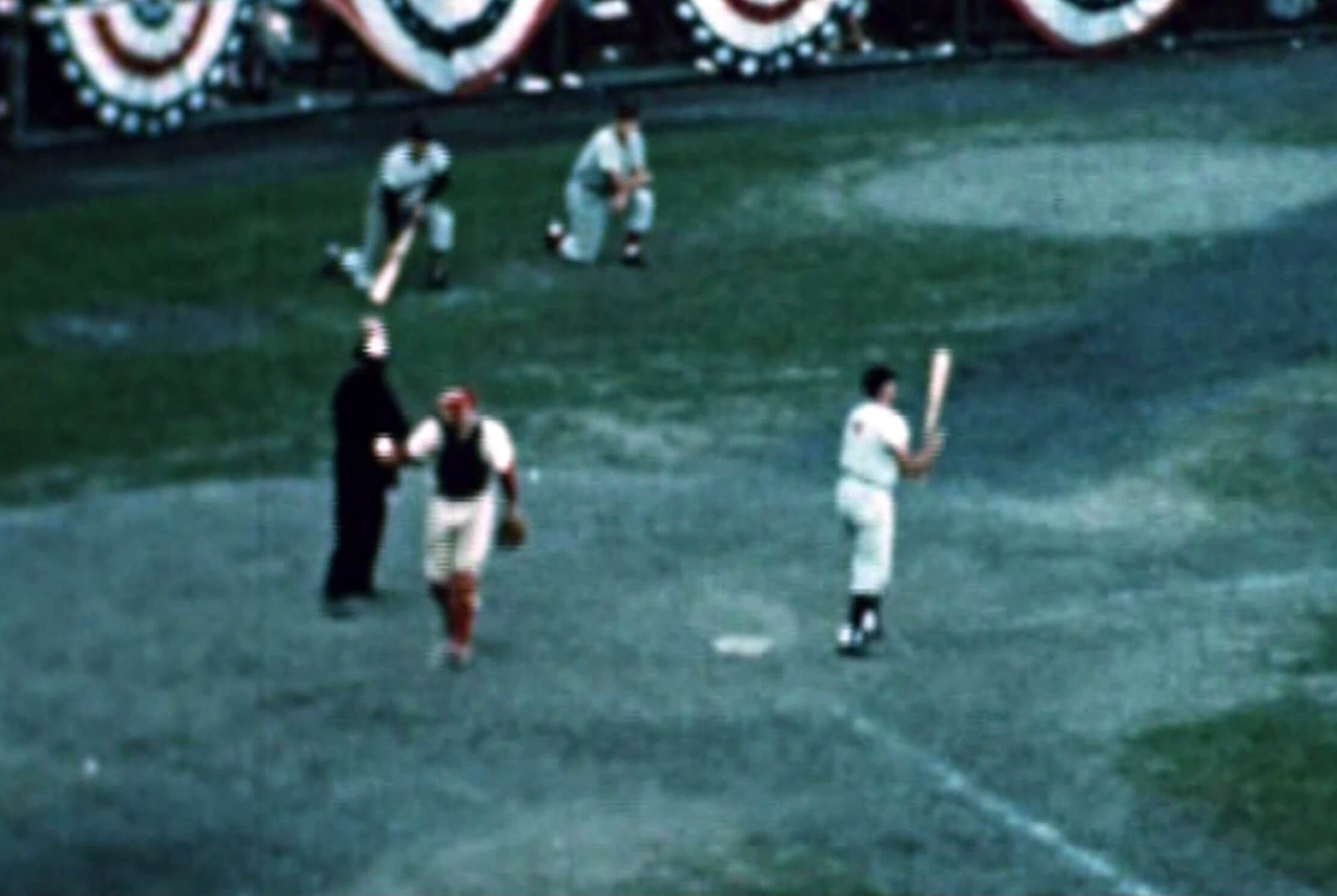 Miscellaneous
• Check out the rear seams on these stirrups: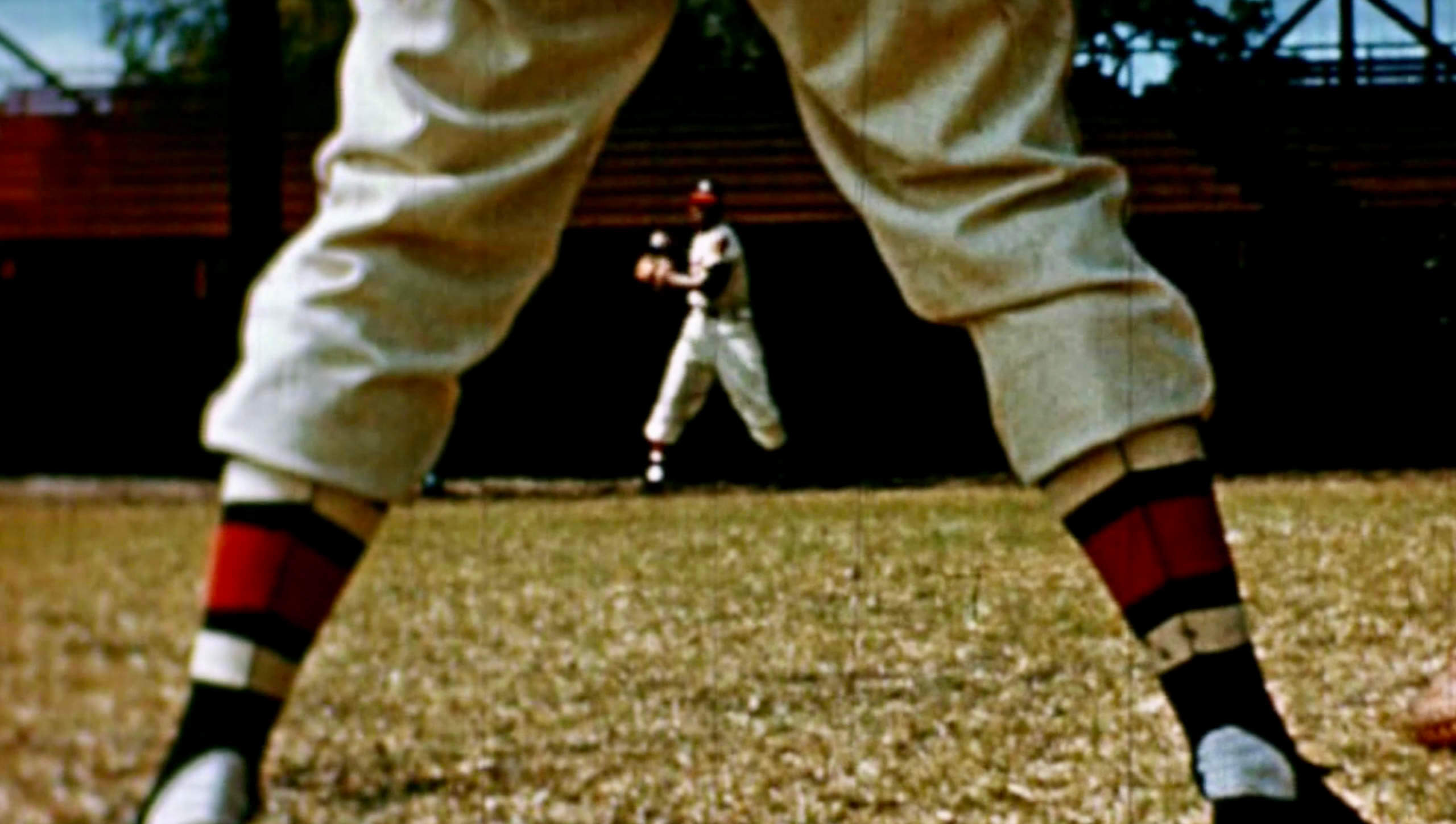 • When a Milwaukee player gets beaned in the noggin, he's taken off on a stretcher — which is carried by his teammates in uniform! Check this out: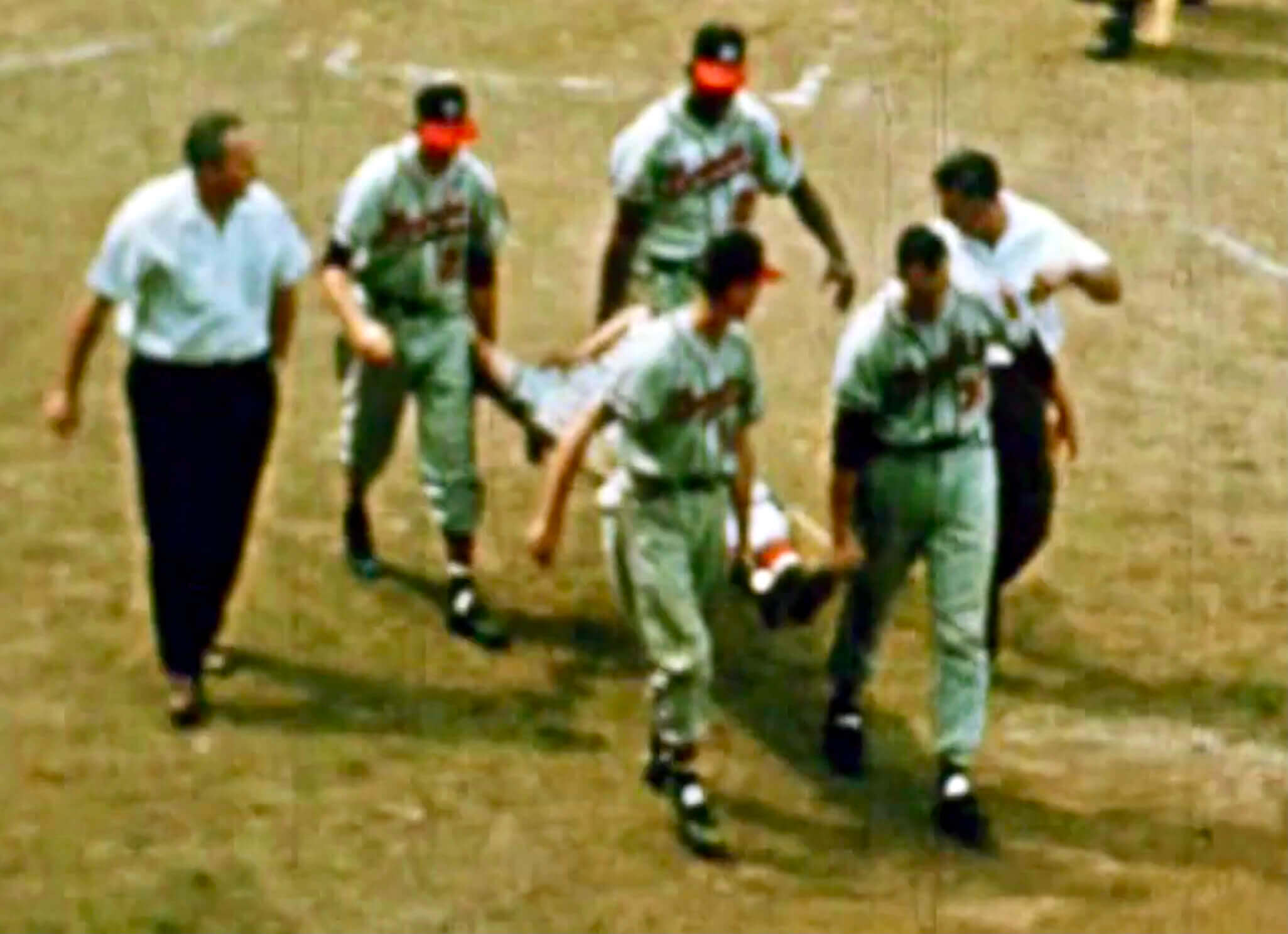 • These next shots appear to show a Braves pitcher warming up at Wrigley Field. But it's not a pitcher — it's outfielder Bobby Thomson (yes, that Bobby Thomson) loosening up before a game. Odd that he chose to do so from the bullpen mound: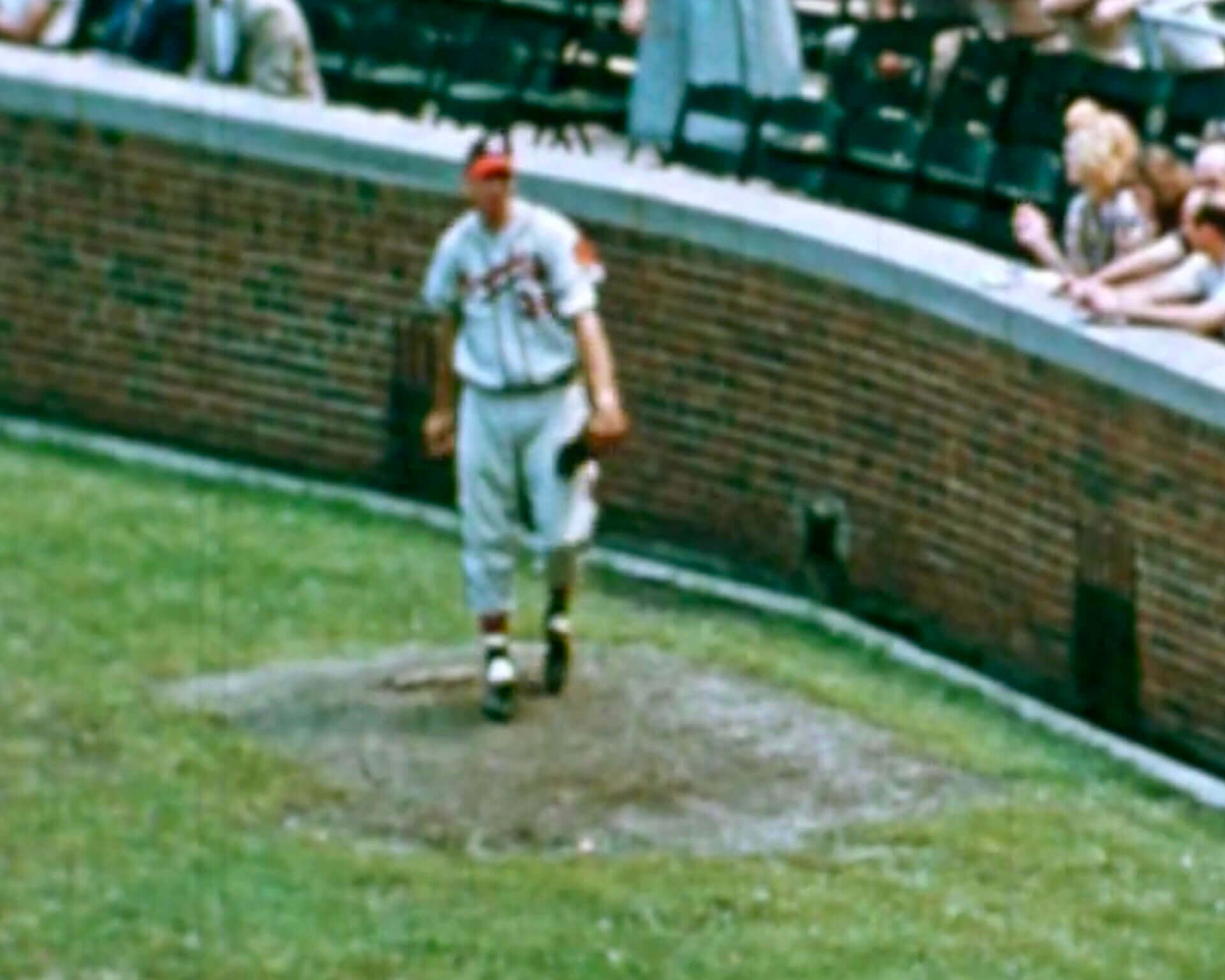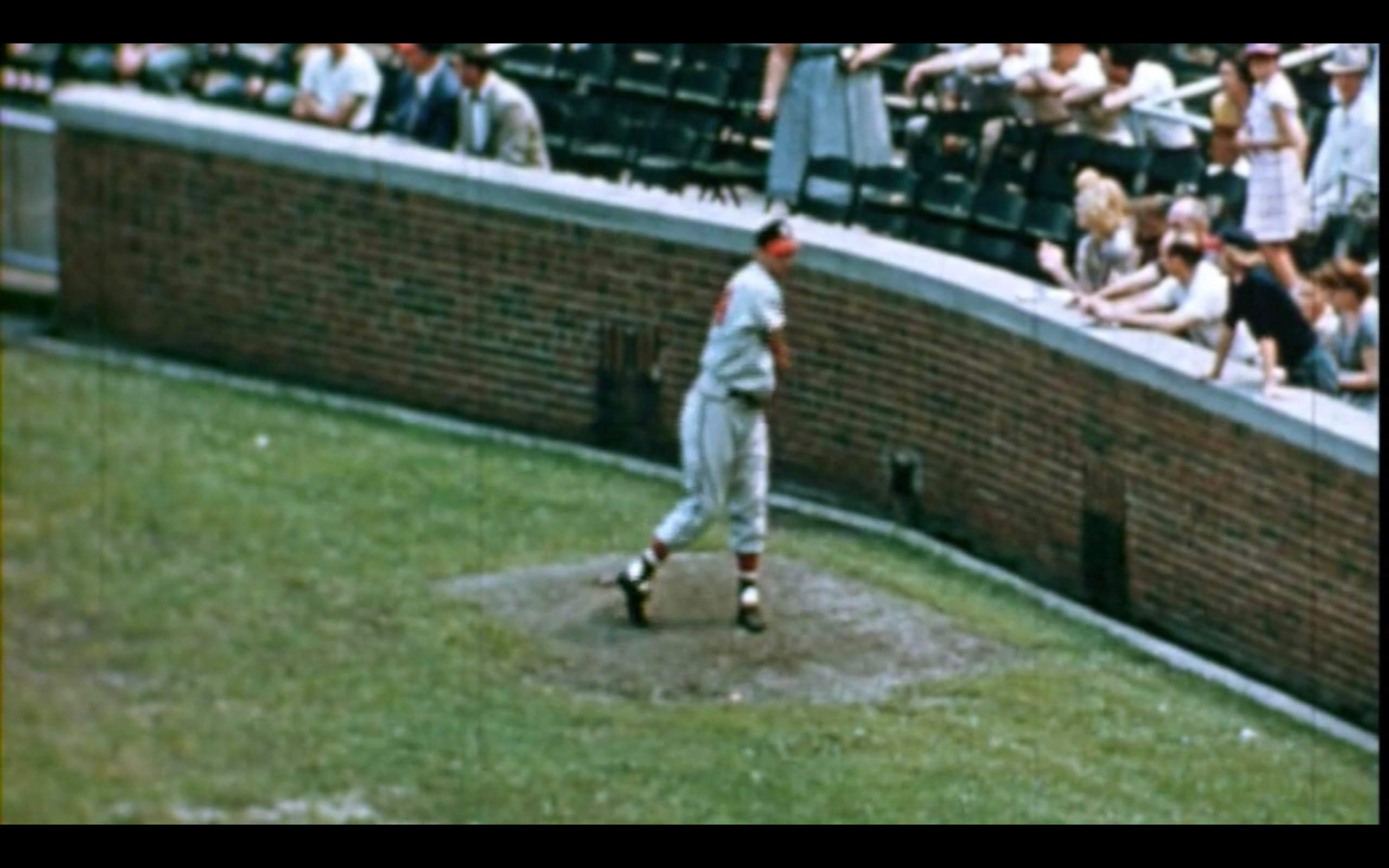 • This crowd shot caught my eye because it appears to show several fans wearing Braves caps. Were retail caps available in 1954? That would be news to me: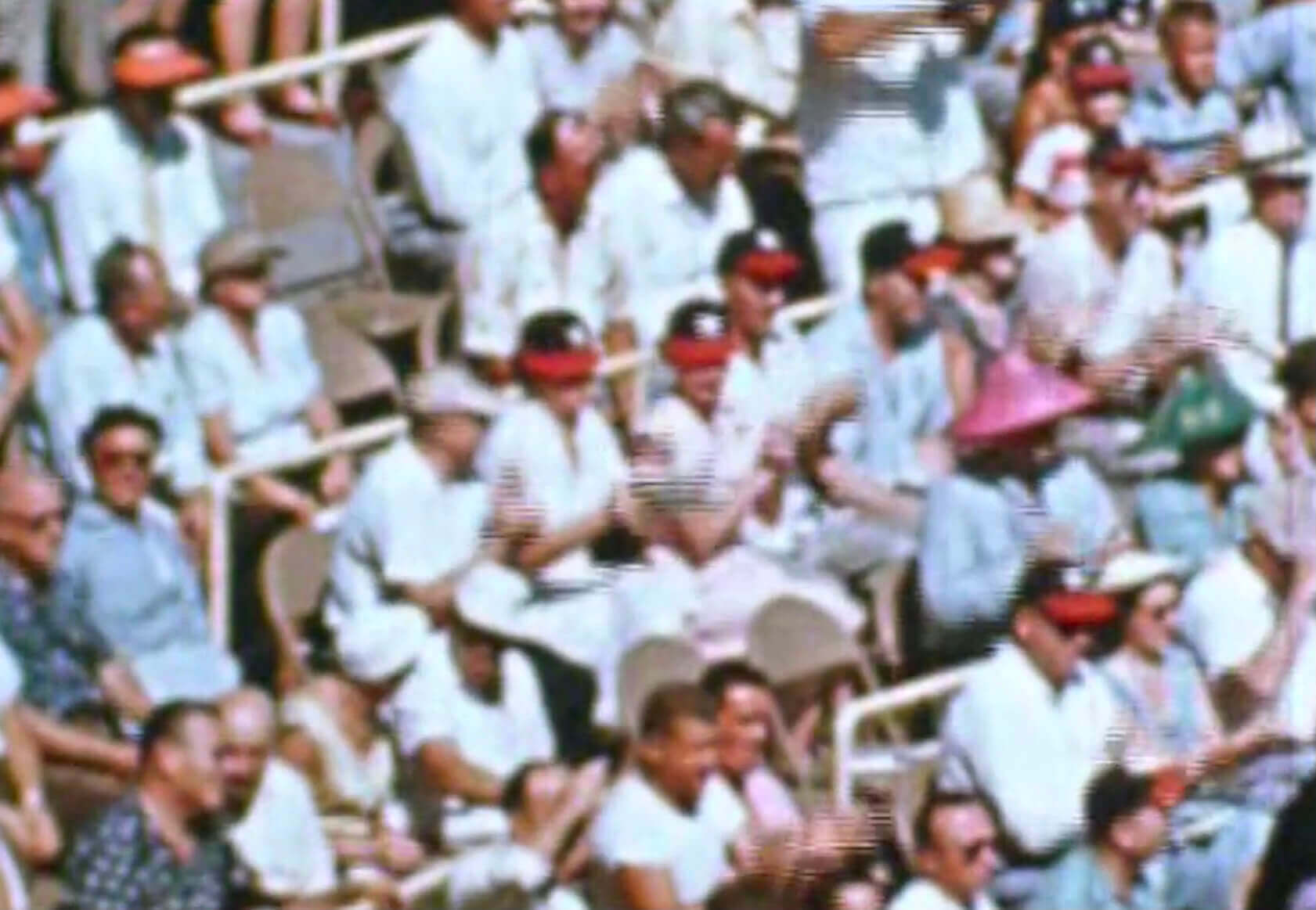 • I was intrigued by this shot of future Hall of Famer Eddie Mathews because it shows him with a tattoo! That's common nowadays, of course, but I wonder how many players were inked in those days: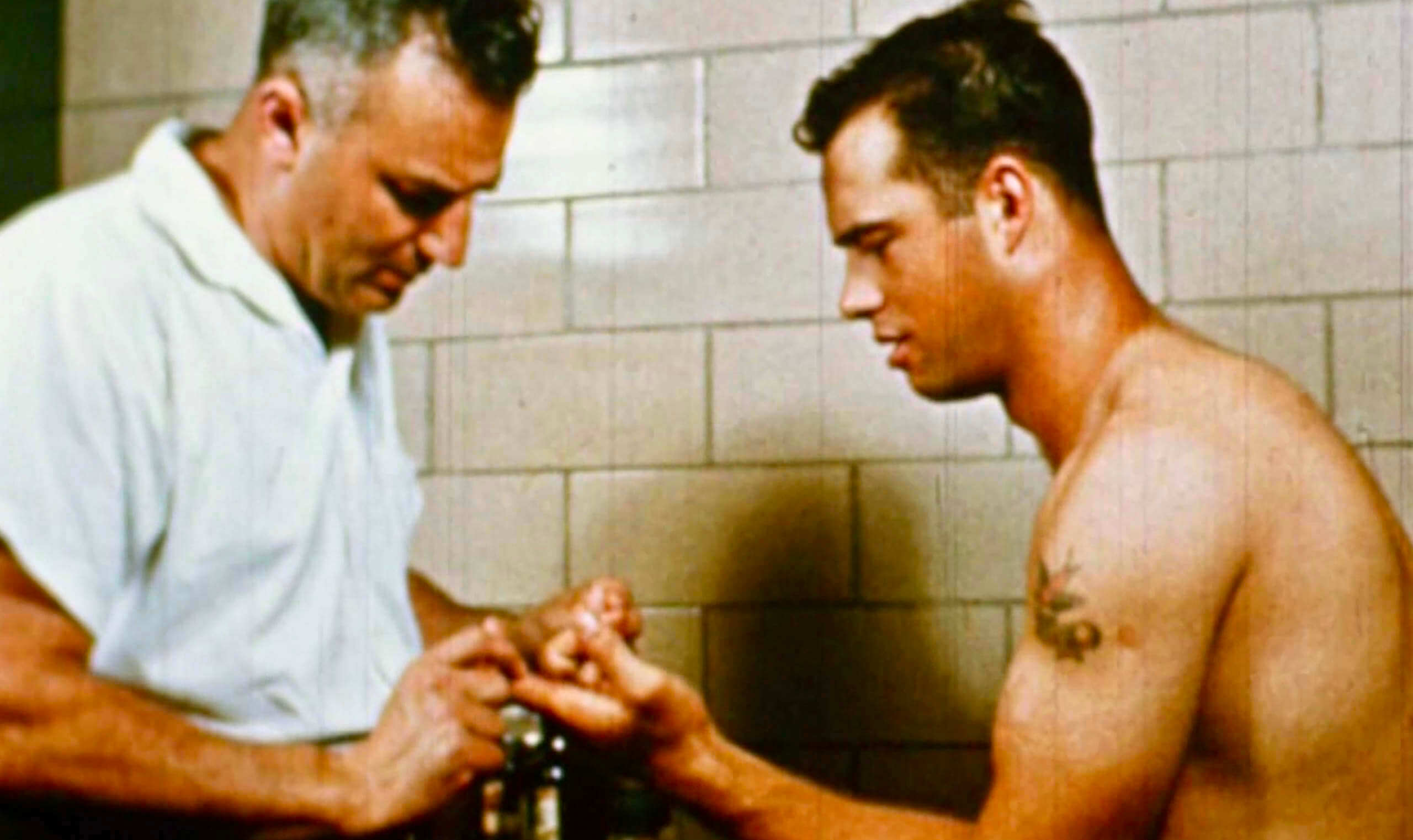 • On Opening Day 1955, Braves team captain Del Crandall handled the pregame meeting with the umps at home plate, going over ground rules and such, while the Red(leg)s sent a coach. And since Crandall was about to start the game behind the plate, he wore his catching gear for the pregame gathering: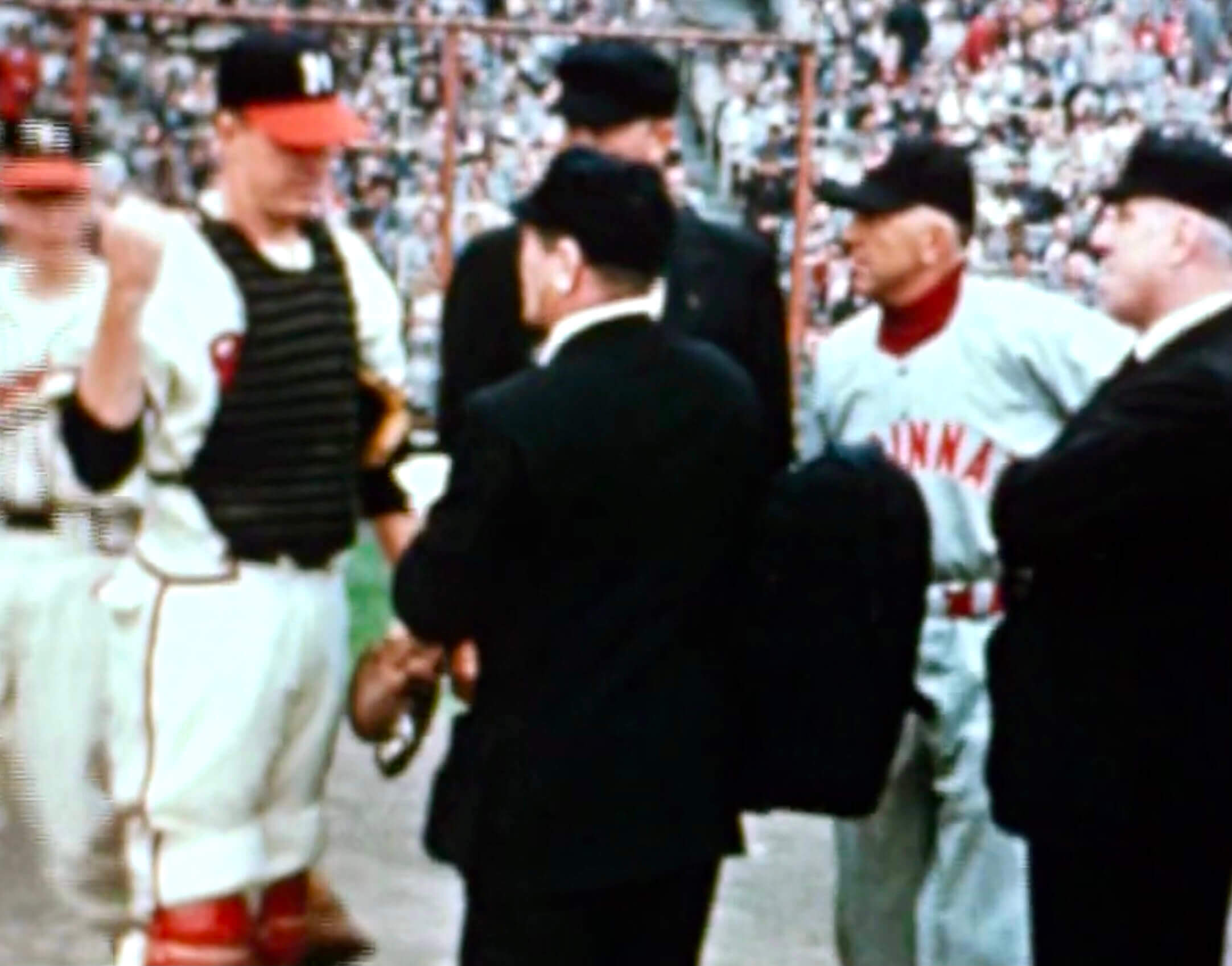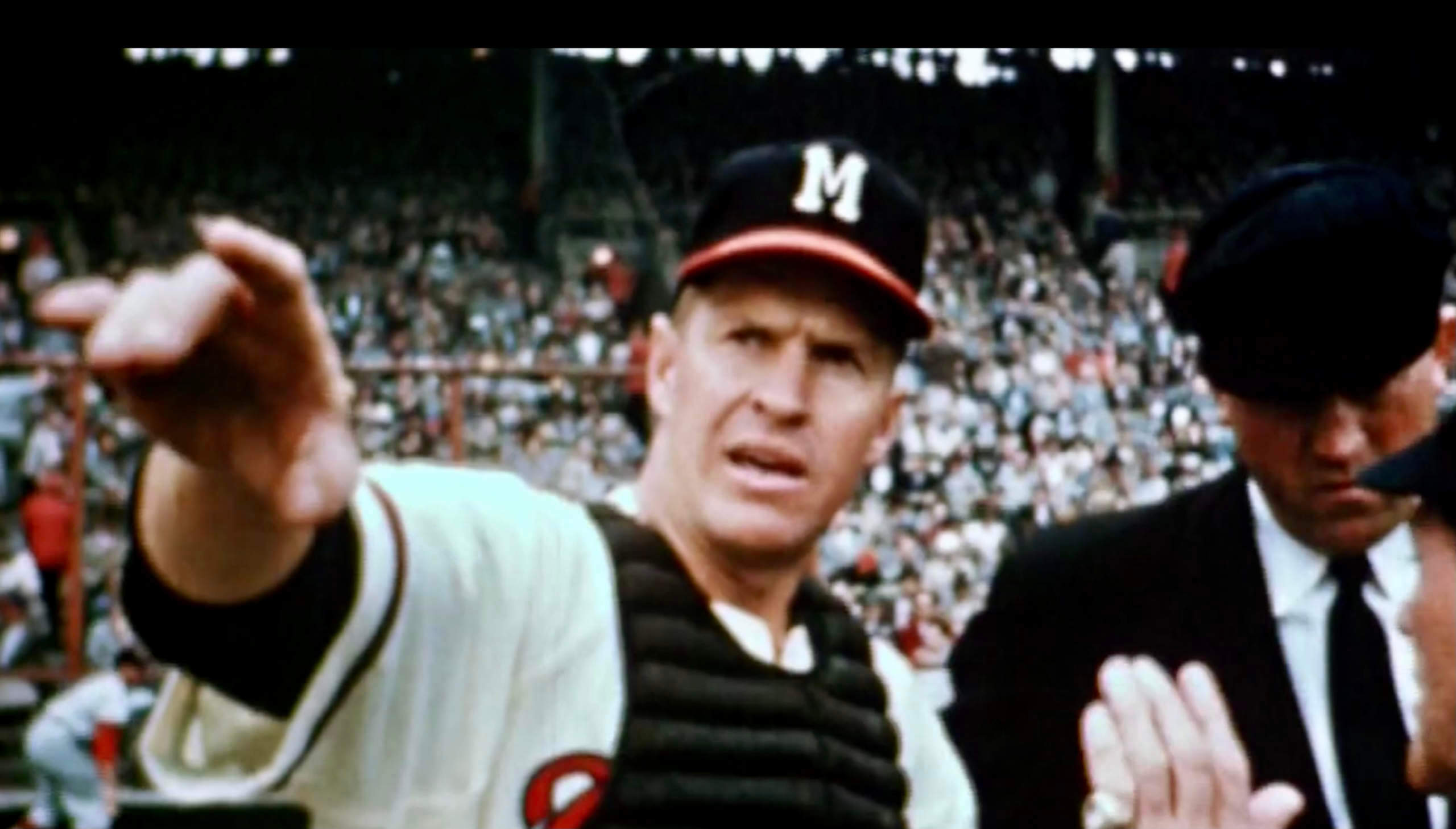 • Speaking of Crandall's tools of ignorance, he had his surname written on one of his shinguards: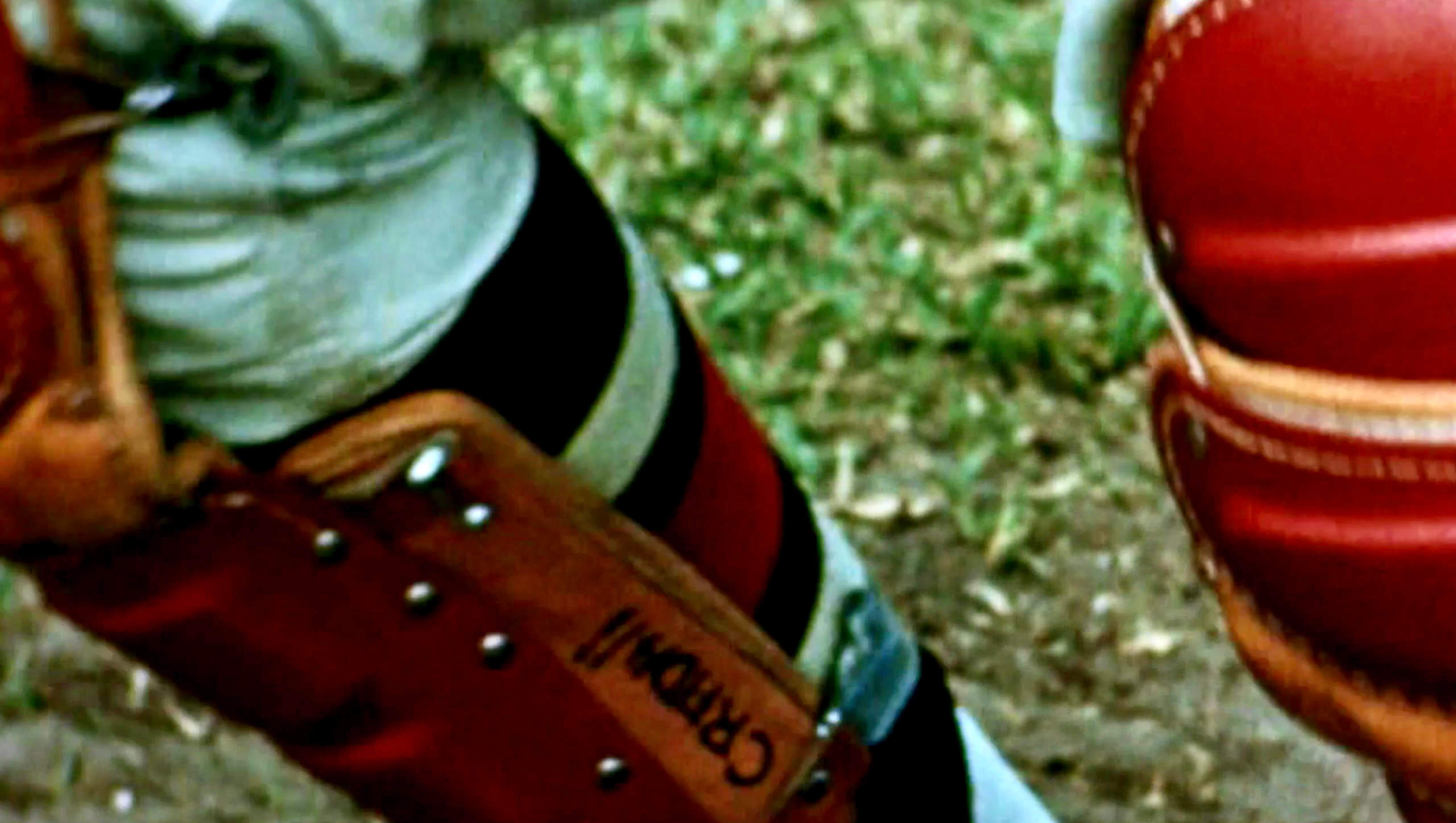 • This cracks me up: While the Braves are on a road trip, the movie says something like, "Meanwhile, back in Milwaukee, fans eagerly follow the action by gathering around radios at local taverns," while showing this amazing shot. Look at that bartender!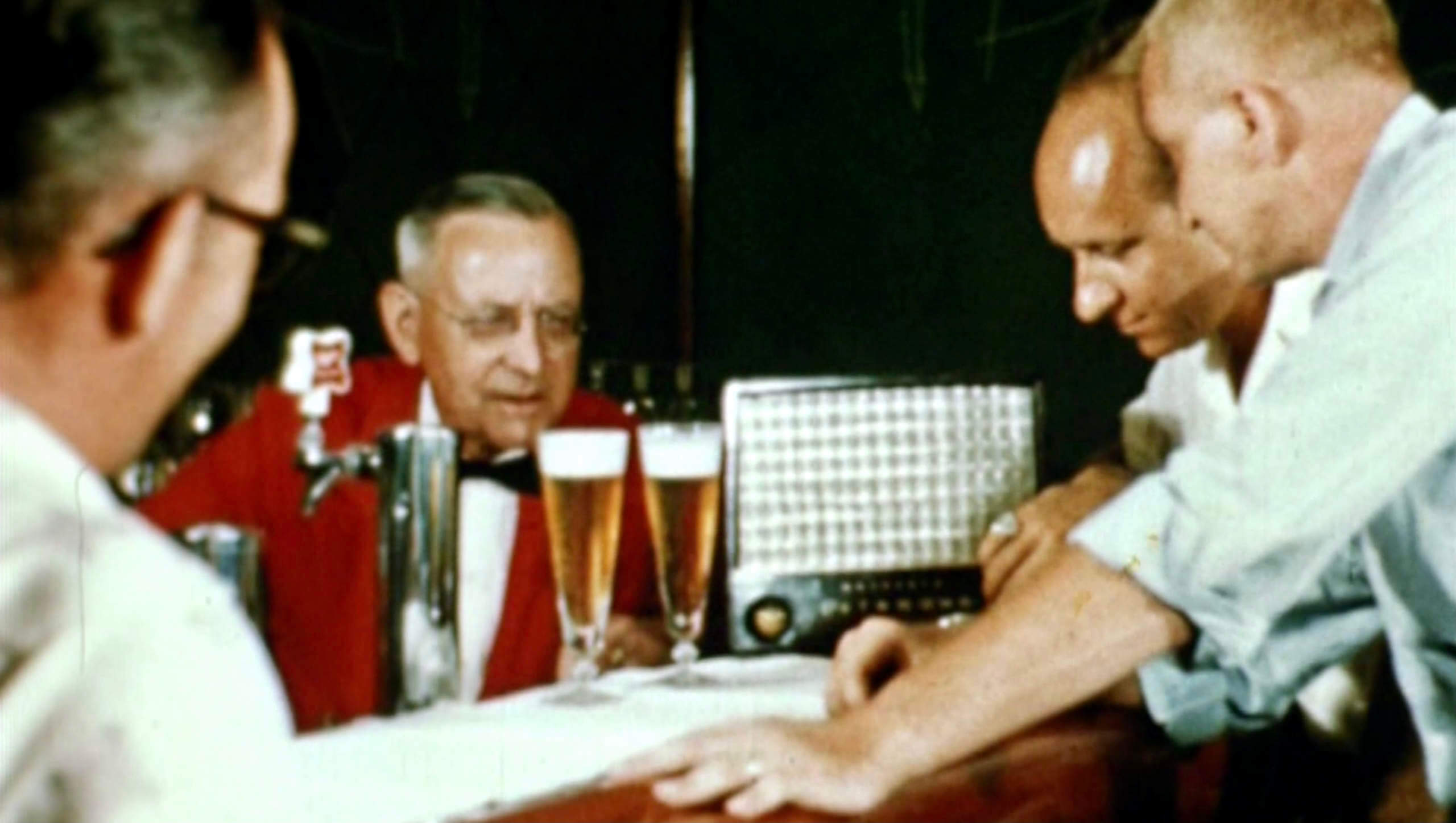 • There's a scene that shows reporters waiting to see the players returning from a road trip. One of the reporters is carrying a young boy — presumably his son — decked out with press passes: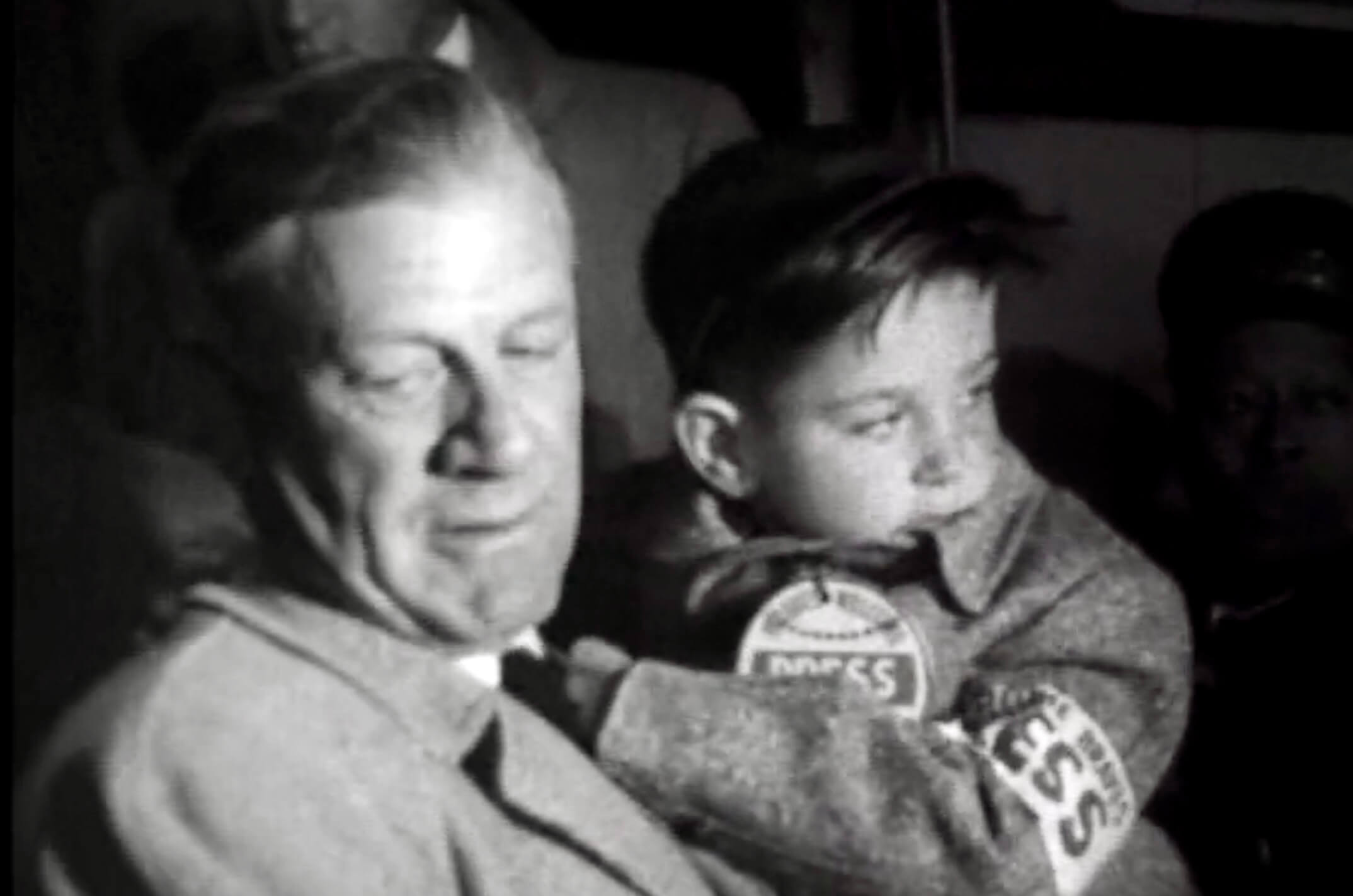 ———
And there go you. Hope you enjoyed these as much as I enjoyed putting them together! If you want to watch the video yourself, it's available here.
• • • • •
• • • • •

Click to enlarge
Super Bowl Preview reminder: In case you missed it on Wednesday, the Uni Watch Super Bowl Preview is now available for your enjoyment, and I don't mind saying that this year's edition is a doozy, jam-packed with deep-cut fun facts about the Rams' and Bengals' uniforms, including the annual knowledge-drop by Super Bowl scholar Jay Braiman — perfect for impressing and/or annoying your friends while watching the big game on Sunday.
My premium subscribers can read the article here. If you haven't yet subscribed, you can do that here (you'll need a Facebook account in order to pay). If you want more info on what you'll get for your money, you can find that here. And if the Facebook requirement is a dealbreaker, email me and I'll keep you in the loop about developments regarding non-Facebook payment options and possible workarounds. Thanks!
• • • • •
• • • • •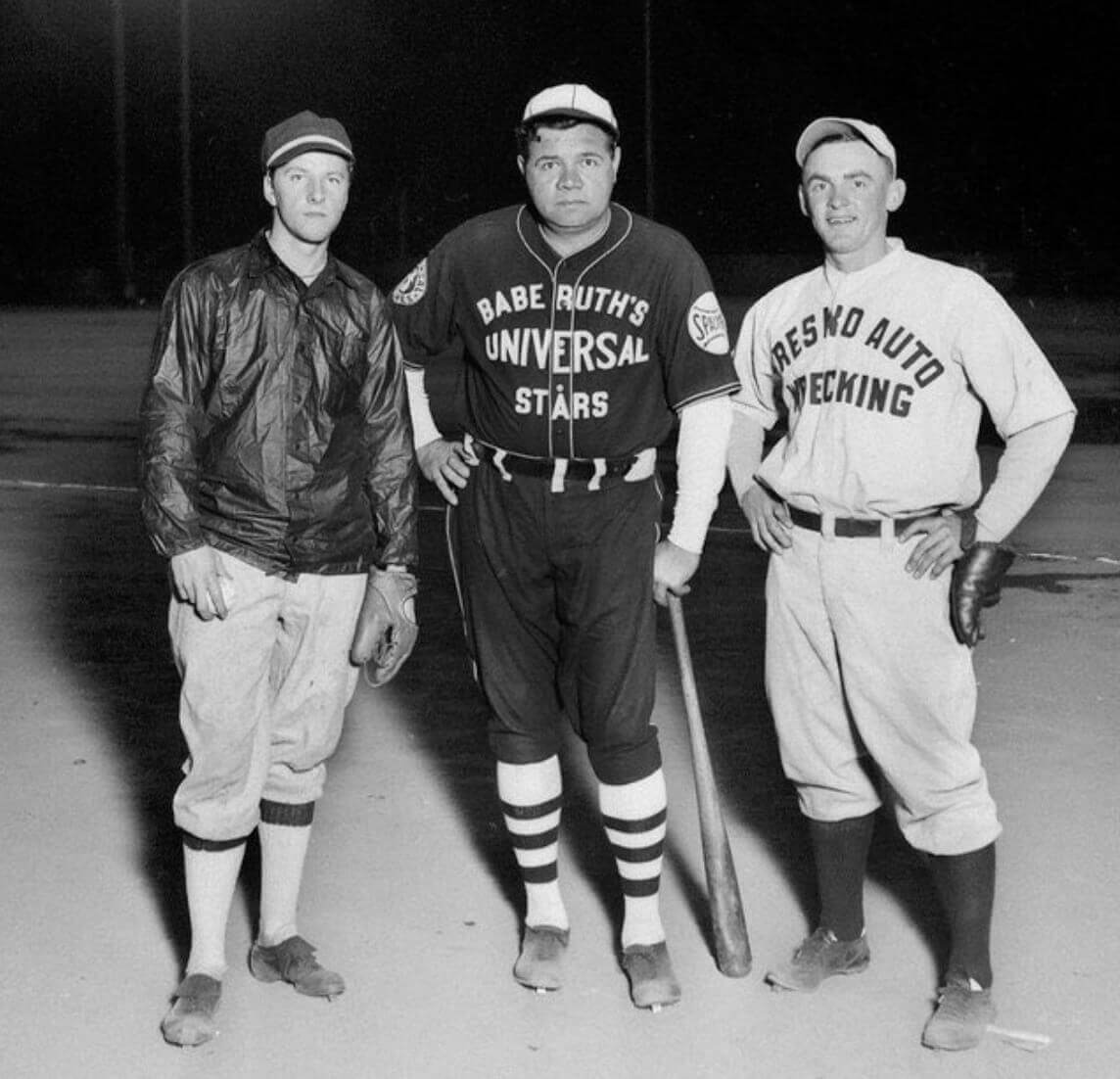 Click to enlarge
Too good for the Ticker: Babe Ruth's birthday was on Sunday, so a lot of photos of him have been floating around lately. I'd seen many of them before, but not this one, which shows the Bambino in one of his barnstorming uniforms. So much to like here — the fish-eye effect on "Universal," the white belt loops, the striped socks, and of course the "Fresno Auto Wrecking" uni. In the words of reader Doug Brei, who sent this one to me, "Nothing more needs to be said."
If you're curious, you can see additional views of the Babe in this uniform here, here, and here. A much more interesting barnstorming uni than the Bustin' Babes design that frequently shows up.
• • • • •
• • • • •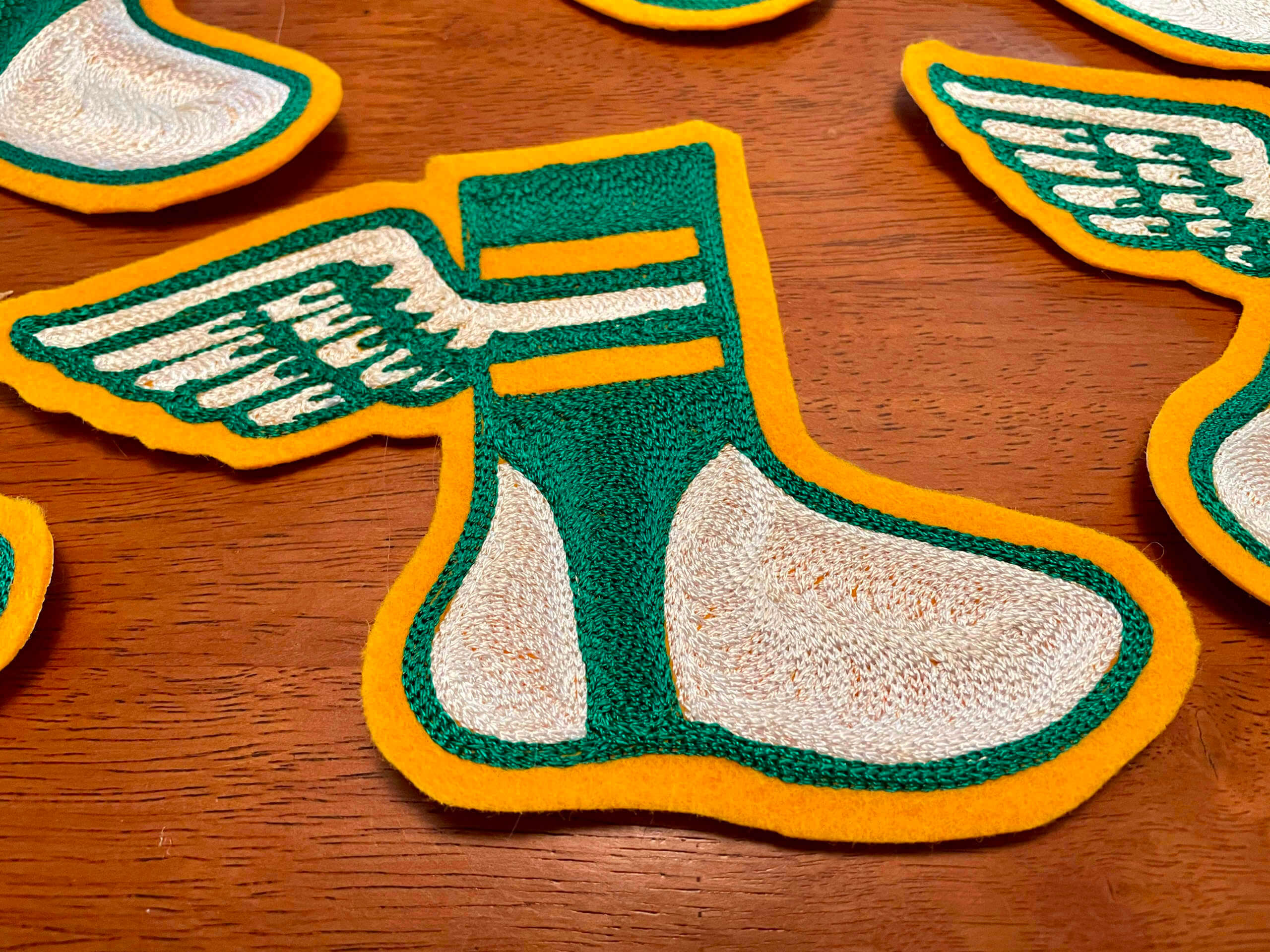 Click to enlarge
Back in stock: I'm happy to report that I received a new batch of Uni Watch chain-stitched patches yesterday from master embroiderer Amy Bengtson. As always, they feature spectacular texture and are perfect for putting on a jacket, on a sweater, or just on display. Here's how to order.
• • • • •
• • • • •
The Ticker
By Alex Hider

Baseball News: ESPN published a new MLB uniform rankings piece that already has plenty of readers upset on social media (thanks to all who shared). … A Redditor has built a model to show what Yankee Stadium would look like with a retractable roof (from Kary Klismet). … All MLB game balls are rubbed down with mud prior to being put into play. Here's more about how the league goes about getting the mud to ensure consistency (from @McGritterson). … There's something briny going on in the Pacific Northwest: The Portland Pickles say the costume for their mascot, Dillon the Pickle, was stolen by a porch pirate after a luggage mishap and a late-night delivery. This all could be a PR stunt, but the local media seems to be having fun with it. … The Double-A Akron RubberDucks will play as the Akron JoJos in July. JoJos are fried potato wedges common to menus at local pizzerias and chicken joints (from David Kerr). … New uniforms for Houston Baptist University.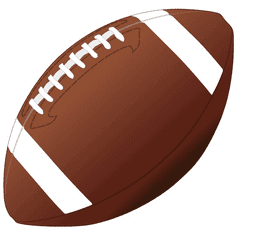 Football News: The Packers sent customized jerseys to three native Wisconsinites who competed in the Winter Olympics (from Phil). … The next three notes are from Brinke: Ever wonder why the NFL uses Roman numerals to count Super Bowls? Here's why. … Inside Edition did a recent segment about how to spot counterfeit Super Bowl merch. … Designer and friend of the site Todd Radom shared his sketches from his work designing the Super Bowl XXXIX logo. … Who doesn't love a good early-1900s uni? This is the 1912 Princeton getup, as modeled by G Joseph Duff (from Dell Michaels). … NBC plans to debut a new scorebug and graphics for the Super Bowl (from Andrew Cosentino).

Hockey News: The Canucks will wear Pride-themed pregame sweaters on March 11 (from Phil). … Back in December, the Devils published this video about the team partnering with a local sneaker company to create custom shoes to match the teams' third jerseys (from Brandon Weir). … Ohio State's band succeeded in their ambitious effort to perform "Script Ohio" on the ice at a recent hockey game (from Kary Klismet).

Basketball News: With the trade deadline approaching, stay up to date with the latest in NBA numerology news on Etienne Catalan's Twitter page. … Tulane men's debuted their 2022 Mardi Gras uniforms last night — on Memphis's blue floor, no less (from @HitTheGlass and @shoelessmuseum). … Iowa men's will be honoring several former players later this month by retiring their jerseys and, in one case, a number (from our own Jamie Rathjen). … Between G Rati Andronikashvili and C Ryan Kalkbrenner, hopefully Creighton isn't paying for NOBs by the letter (from Damon Hirschensohn). … The ESPN app mistakenly ID'd last night's Louisville/Notre Dame men's matchup as an AAC matchup (from Kevin Pedigo). … The media relations team for Arkansas State goes the extra mile: Their notes for the women's basketball team breaks down their record by mascot type (from @bivlo). … Here's a color matchup you don't often see: yellow vs. turquoise, and Florida State men's wore their turquoise N7 alternates at home against Pitt (from James Gilbert).

Soccer News: New away uniforms for Shelbourne FC of the League of Ireland Premier Division (from Kary Klismet). … Thoughts and prayers to whoever was calling yesterday's Scottish Championship match between Arbroath FC and Hamilton, which also featured four players with the surname Hamilton (from Michael Rich). … New 2022 home kits for second-tier Irish club Galway United (from Ed Żelaski). … Also from Ed: Celtic FC has added black memorial armbands to honor former player Davie Cattanach, who died earlier this month. … Japan's top men's soccer league has unveiled Nos. 10 through 4 on its top mascot vote (from Jeremy Brahm). … New kit supplier for Bundesliga club Bayer 04, which will now be outfitted by Castore (Ed Zelaski again). … NYCFC's new sleeve advertiser is a men's toilet paper product (from Matt French).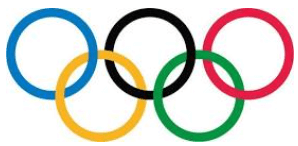 Olympics: Social media users have been criticizing the industrial backdrop for the ski jumping venue in Beijing as a "dystopian hellscape" (from Kary Klismet). … Cross-listed from the NFL section: The Green Bay Packers sent customized jerseys to three native Wisconsinites who competed in the biathlon (from Phil). … SportsLogos.net has an in-depth look at every hockey team's uniforms (from Phil). … Here's a look at the best custom skeleton helmets from the 2022 games (from William F. Yurasko). … An Olympic curler joined a Reddit thread to discuss the customization of his sneakers (from Kevin Murphy).

Grab Bag: Penn State's wrestling team wore white singlets for its "white out" dual meet against Ohio State last Friday (from Kary Klismet). … Also from Kary: Red Bull Racing has unveiled its livery for the upcoming Formula 1 season. … That Red Bull article also notes that Oracle will now be the team's "title sponsor," so the team's official name is now Oracle Red Bull Racing. "Yes, basically this is a software company sponsoring an energy drink company's racing team," says our own Anthony Emerson. … Houston Metro is honoring civil rights icon Rosa Parks by adding memorial seats on some buses and trains (from @wmstrom). … In 2019, the Air Force lifted the ban on pilots decorating their helmets. The decision has paved the way for a cottage industry that caters to pilots' stylistic interests (from Timmy Donahue). … Also from Timmy: Military.com spoke with one of the people involved with developing Space Force's dress uniforms, and she says the military branch plans to address concerns that womens' pants are too baggy. … Here's a site that posts weekly leotard rankings for NCAA gymnastics teams (from @wmstrom).