Click to enlarge
Good morning! Super Bowl Sunday is now just four days away, which means it's time for the Uni Watch Super Bowl Preview. I don't mind saying that this year's edition is a doozy, jam-packed with deep-cut fun facts about the Rams' and Bengals' uniforms, including the annual knowledge-drop by Super Bowl scholar Jay Braiman — perfect for impressing and/or annoying your friends while watching the big game on Sunday.
My premium subscribers can read the article here. If you haven't yet subscribed, you can do that here (you'll need a Facebook account in order to pay). If you want more info on what you'll get for your money, you can find that here. And if the Facebook requirement is a dealbreaker, email me and I'll keep you in the loop about developments regarding non-Facebook payment options and possible workarounds. Thanks!
• • • • •
• • • • •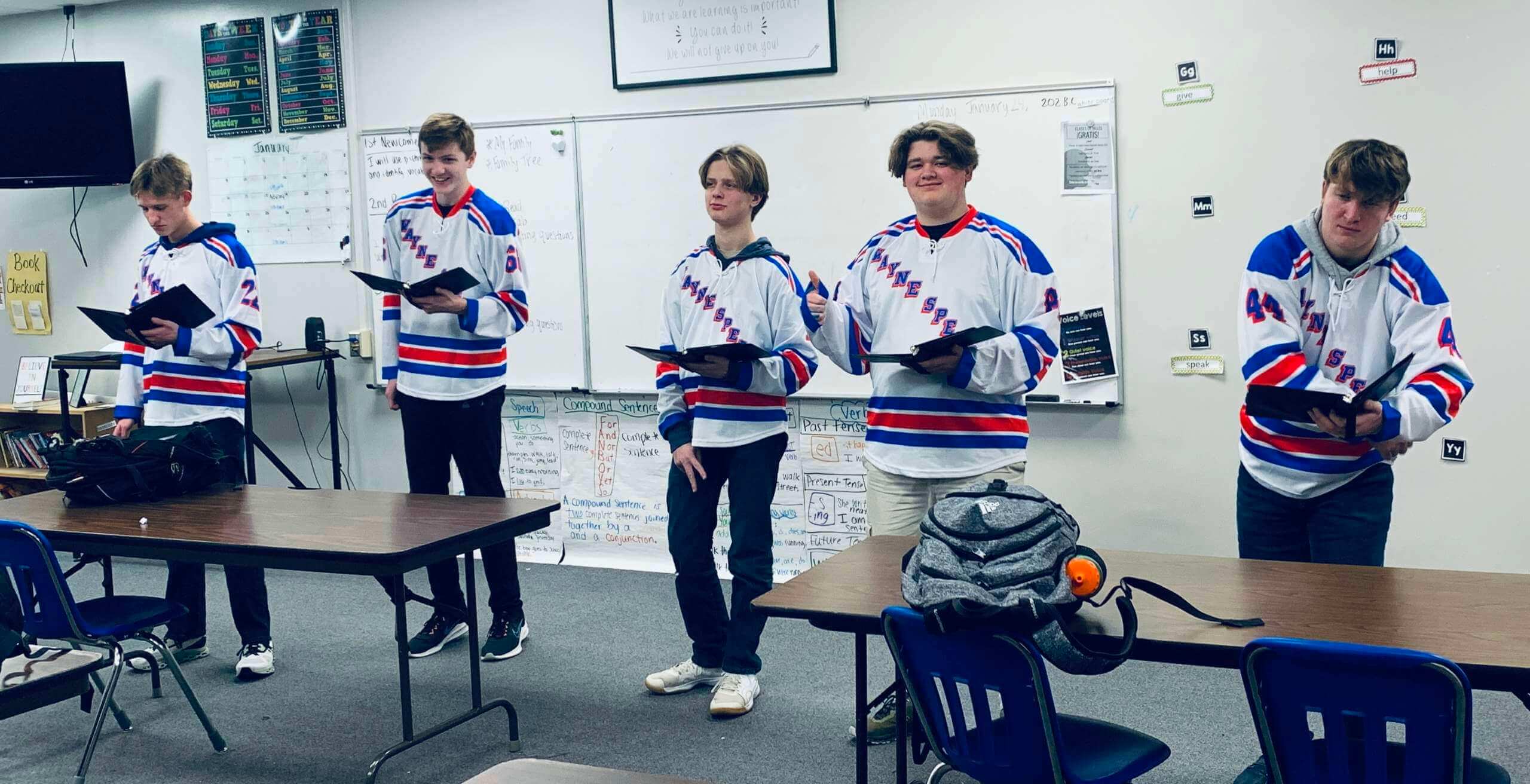 Click to enlarge
Start 'em young: It's hard to see, but the jerseys in the photo above say, "Wayne Speech." The photo was sent to me yesterday by reader Dwaine Spieker, along with the following note:
I'm a high school English teacher and speech coach in Wayne, Neb. It's typical for teams like mine to design a team T-shirt each season, but every year I try to do something unique. Because we compete in the winter and don't have an actual hockey team at our school, I've been wanting to do some kind of hockey jersey for a long time.

For years, my kids didn't seem interested, but I floated the idea again this year, and this group of kids was excited! Thanks to your blog's connection with AdelphWear [which has produced the Uni Watch hockey jerseys we've offered in the past — PL], I contacted Nathan Haas, who designed these hockey jerseys for us.
Very cool! Here are two additional pics, including a rear view: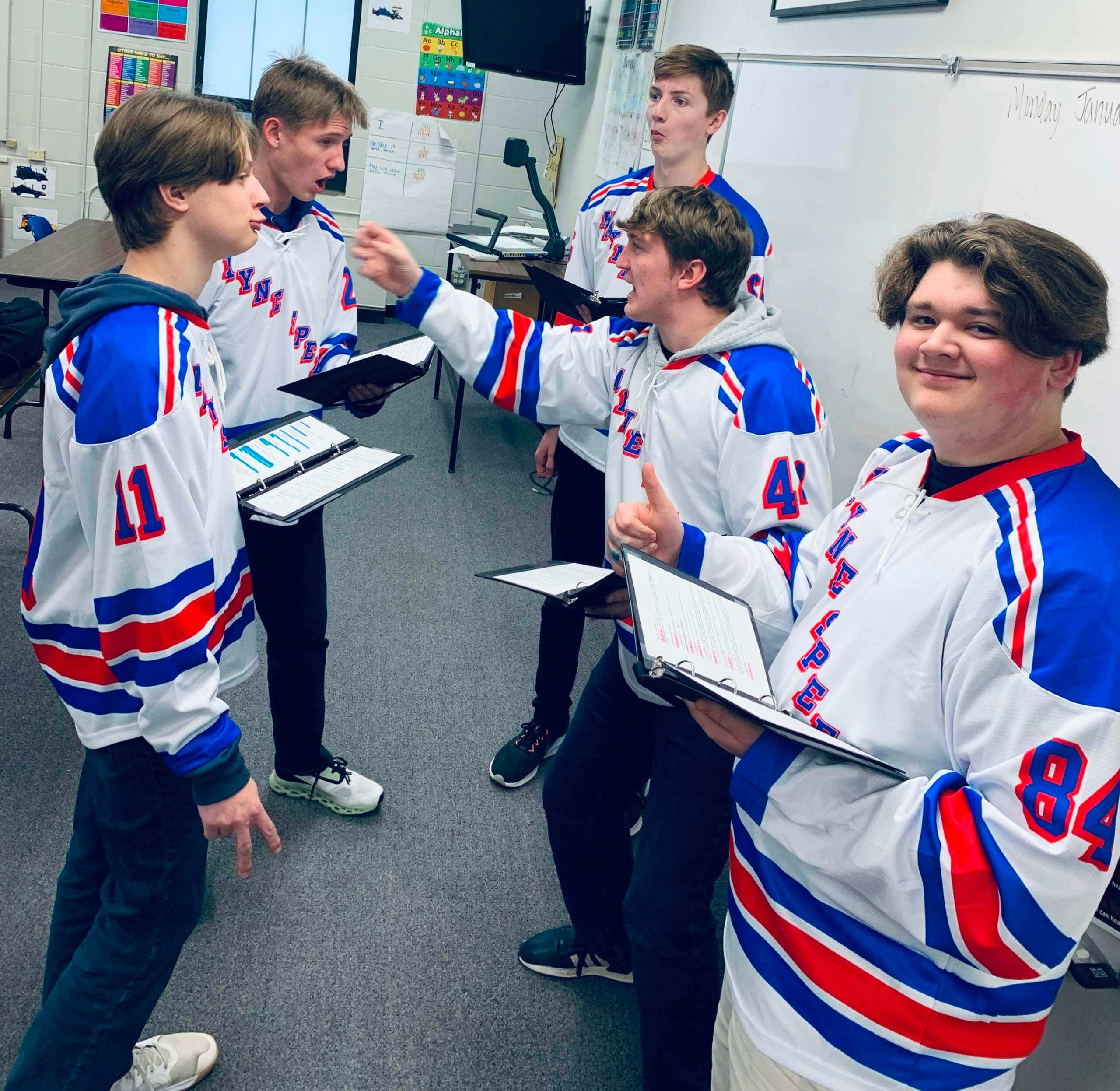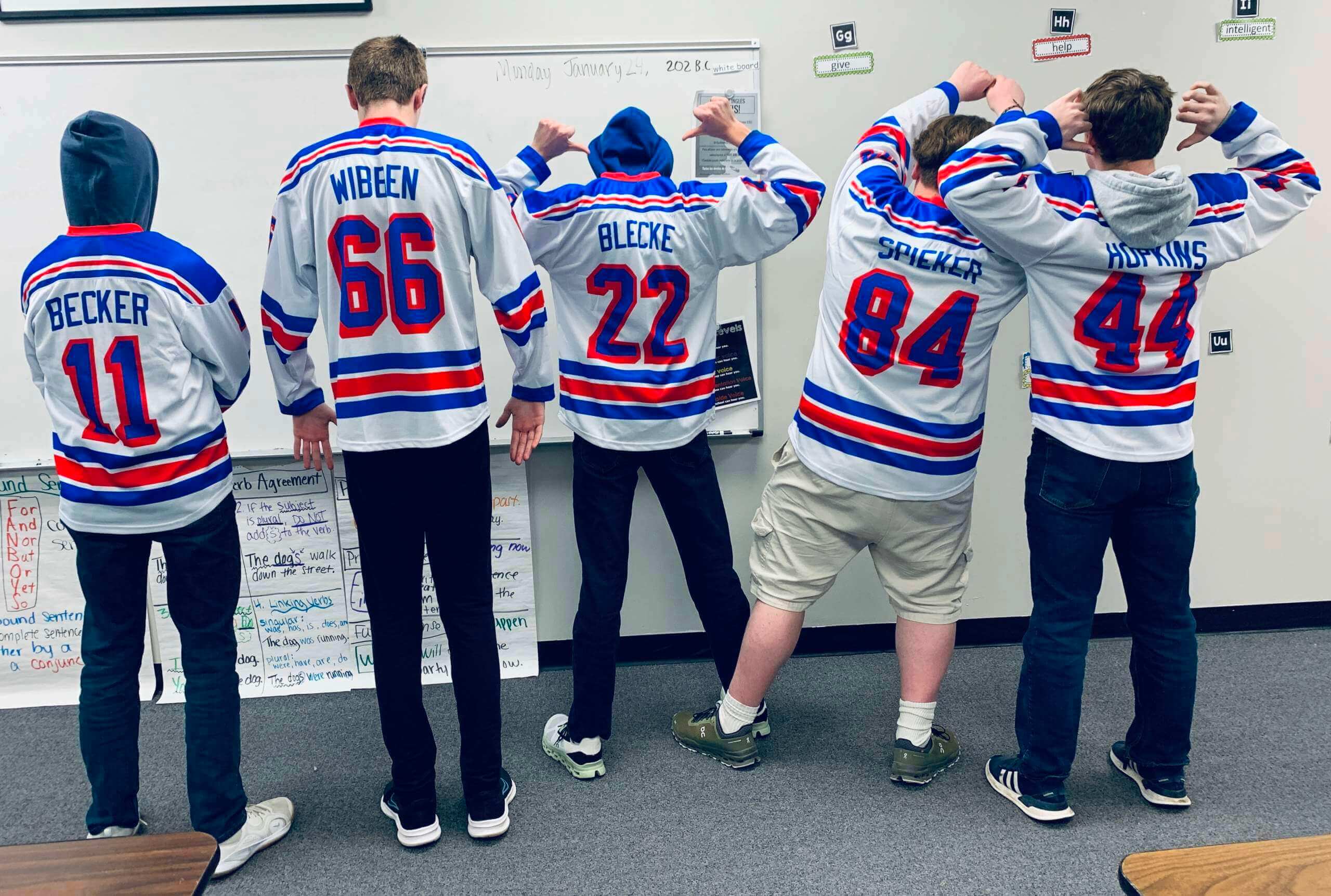 "It's amazing the kind of camaraderie a well-designed uniform can help create!" says Dwaine. "And I'm proud to say that No. 84 is my son and No. 11 is my stepson-to-be." How great is that? Congrats to Dwaine and his team, and I love that he used AdelphWear to produce the jerseys. A real Uni Watch feel-good story!
• • • • •
• • • • •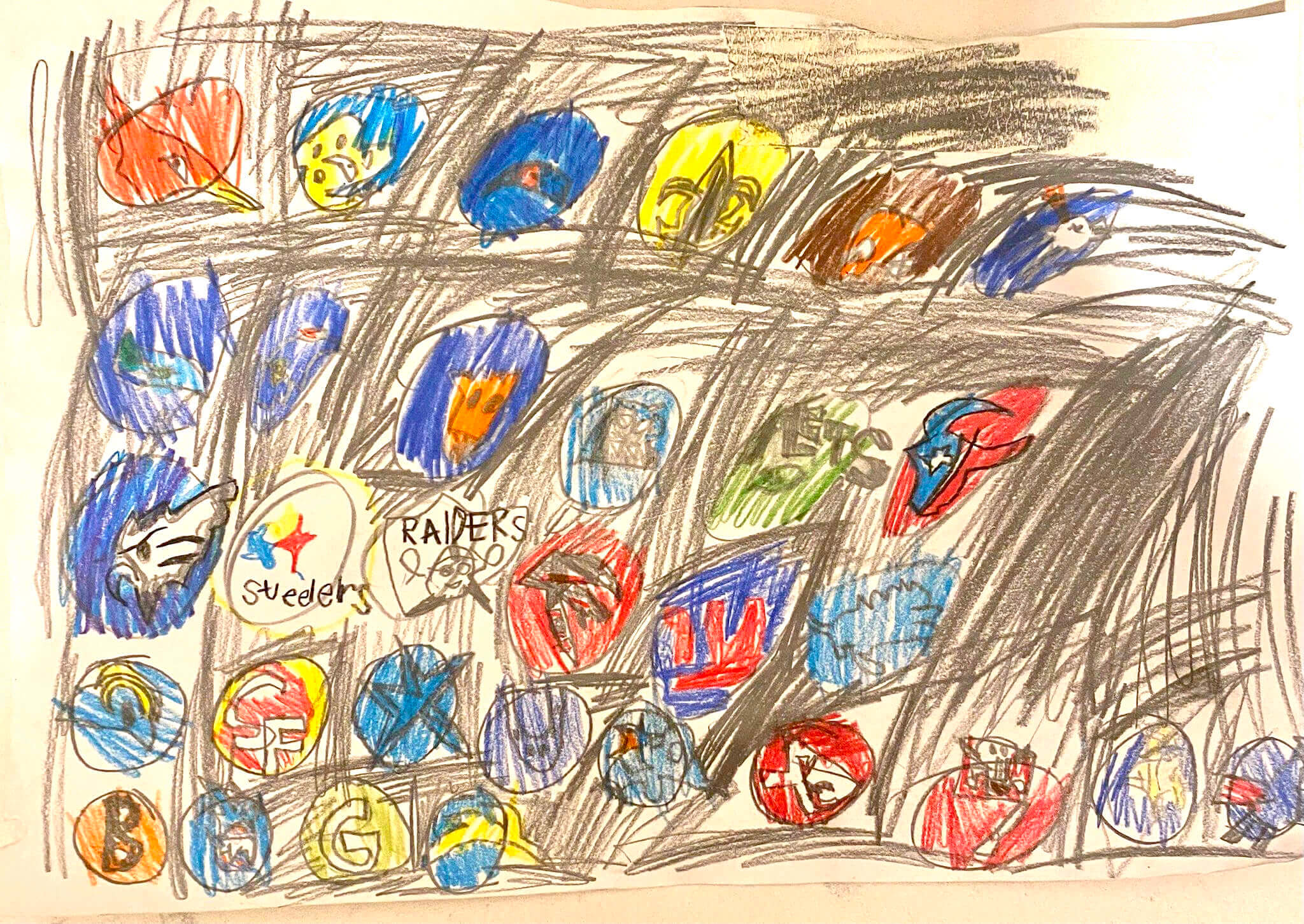 Click to enlarge
Start 'em really young: Twitter-er Grant Hewitt posted this masterpiece yesterday. It was created by his six-year-old nephew, and I love it so much — that kid is gonna grow up to be a great uni-watcher!
Also: It's hard to be sure, but it appears that the Ravens logo is the original one that the team scrapped after a lawsuit. The kid is going deep, I tells ya!
• • • • •
• • • • •
Membership update: Can you guess which uniform served as the basis for Evan Fleming's new membership card? It's the Spurs' current City design — a really fun choice!
Evan's card is part of a new batch that's been added to the membership card gallery. I have a few slots open on the current sheet and I recently reduced the membership price, so what are you waiting for?
Ordering a membership card is a good way to support Uni Watch, and fun to boot. And remember, a Uni Watch membership card entitles you to a 15% discount on any of the merchandise in the Uni Watch, Uni Rock, and Naming Wrongs shops. (If you're an existing member and would like to have the discount code, email me and I'll hook you up.)
As always, you can sign up for your own custom-designed card here, you can see all the cards we've designed so far here (now more than 3,200 of them!), and you can see how we produce the cards here.
• • • • •
• • • • •
The Ticker
By Lloyd Alaban

Baseball News: The Tigers will retire Lou Whitaker's No. 1 in August (from our own Brinke Guthrie). … Also from Brinke: Here's the story of how the Hollywood Stars of the Pacific Coast League wore unis with shorts 26 years before the White Sox did. … The new Atlantic League team in Lexington, Ky., will be called the Wild Health Genomes. Wild Health is a clinic in Lexington (from multiple readers). … The Single-A Hickory Crawdads have a new jersey with a glaring apostrophe catastrophe (from Scott Rogers). … New home whites — or maybe creams, it's hard to be sure — for Princeton (from Trevor Williams). … Today's Google Doodle features Toni Stone, one of three women who played for the Indianapolis Clowns of the Negro American League.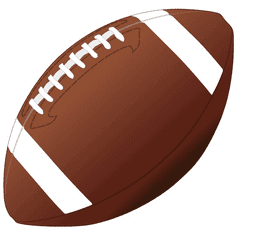 Football News: New logo for Thursday Night Football, which will now stream exclusively on Amazon Prime Video (from multiple readers).



Hockey News: Caps C Nicklas Bäckström's gloves were misdelivered to someone's house in Arlington, Va., so the team traded a bobblehead for them (from Brandon Weir). … The Lightning teased their Stadium Series uniform (from @joeinthehat). … A couple of graphic designers showed viewers on YouTube how to make a hockey sweater on Photoshop (from Stephen Schapansky). … Last weekend's NHL All-Star Game featured the rare sight of Flyers mascot Gritty wearing the team's road whites (from @PhillyPartTwo).

Basketball News: Wisconsin SG Johnny Davis, who wears No. 1, had his jersey ripped toward the end of last night's game against Michigan State, so he finished the game wearing a No. 51/NNOB jersey (from Garrett Van Auken). … NBA numerologist Etienne Catalan has the latest in NBA uni number assignments.

Soccer News: Huddersfield Town's color choice for today's English men's Championship match against Preston North End was influenced by colorblindness considerations. They wore their mint green-colored third kit at the beginning of the season against another white-clad opponent, Derby County, and it caused problems (from our own Jamie Rathjen). … Shelbourne FC's new away shirt features the names of all of the club's season ticket holders (from Ed Zelaski). … The next three items are from Kary Klismet: New kits for the Suwon Samsung Bluewings of South Korea's K League 1. … New kits for C.S. Emelec of Ecuador's Serie A. … New away kits for Paraguayan Primera División side Club Olimpia.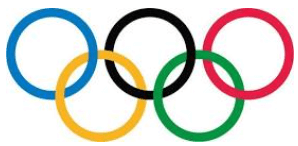 Olympics News: Following up on an item from yesterday, five women ski jumpers were disqualified for wearing uniforms that were too baggy (from multiple readers). … Here are some of the brands that are supplying uniforms for the Olympics (from Kary Klismet).

Grab Bag: Uni Watch reader Gene Biros is involved with Jerseys of Hope, a charity that collects donated sports jerseys and then gives them to hospital patients. On March 12 they're holding a fundraiser event in Cleveland, which seems like it would be a good opportunity for Uni Watch readers to meet up while supporting a good cause. Full details here. … New livery for the Haas F1 Team (from Kary Klismet). … New logo for the University of Rhode Island athletics (from Timothy Finnegan).
• • • • •
Today is the Tugboat Captain's birthday, so I'll be busy trying to make the day special for her. If I don't respond quickly to emails or comments today, that's why. Thanks for understanding. — Paul