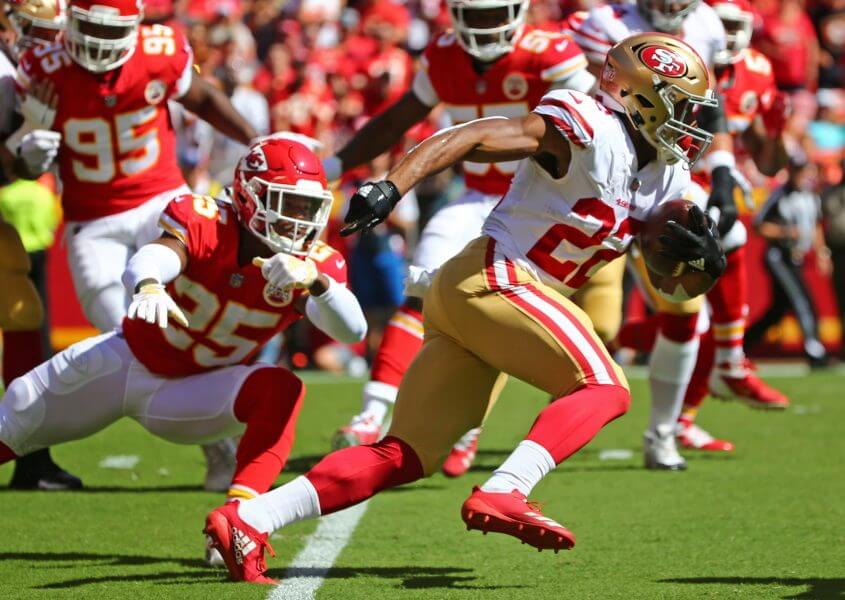 The photo above, from a 2018 game, is a good approximation of how this Sunday's Super Bowl will look (and, I hope, is also a good representation of the outcome). But of course there will be lots of uni-related sub-plots and to consider, and I've broken down a bunch of them in my annual Uni Watch Super Bowl Preview, which is now available over at InsideHook. I don't mind saying that this one is a doozy — enjoy!
Speaking of the Supe, I want to expand upon a point I brought up yesterday. It turns out that since the NFL introduced the voluntary captaincy patch program in 2007, there have been three teams in four Super Bowls that have been forced to move the Supe patch to the right side because of pre-existing team-logo or memorial patches on the left side. Those teams are the Steelers (XLIII and XLV), Patriots (XLVI), and Ravens (XLVII). But unlike the Chiefs this year, none of those other teams faced the quandary of where to put their "C" patches because none of those teams has ever worn the "C"!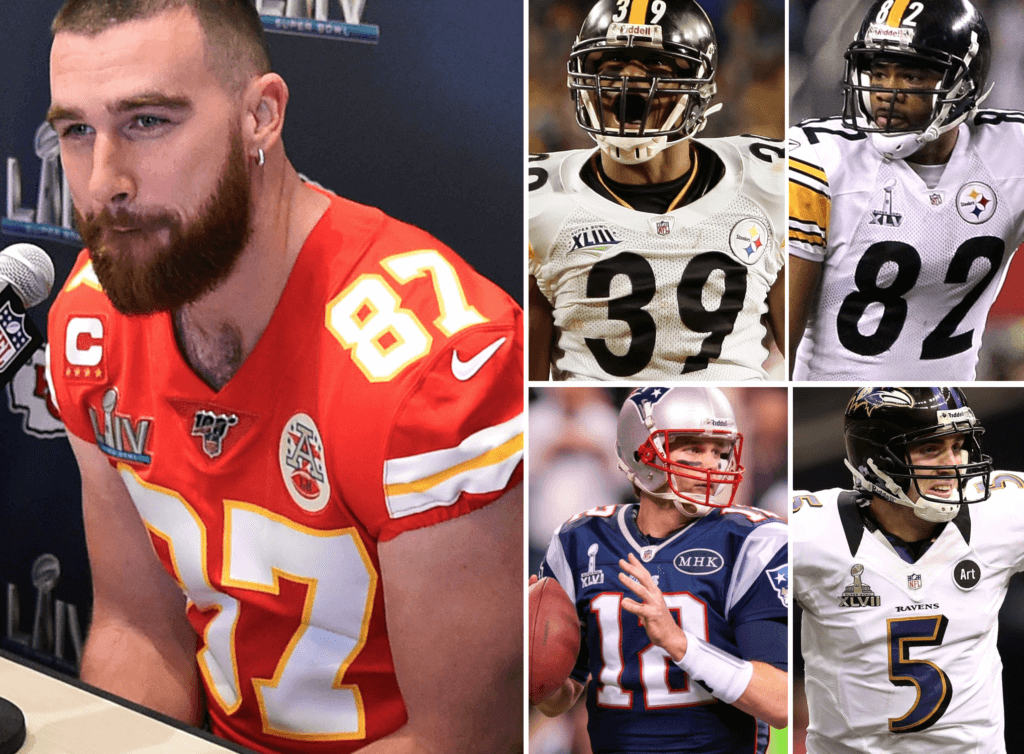 It's a pretty amazing coincidence that the three franchises who've had to move the Supe patch to the opposite side are all teams that choose to go "C"-less. What are the odds?
Meanwhile: If you compare the "C"-clad jerseys to the non-"C" jerseys, it's obvious that the had to lower the Supe patch in order to accommodate the "C," which to my mind is another ding against this arrangement: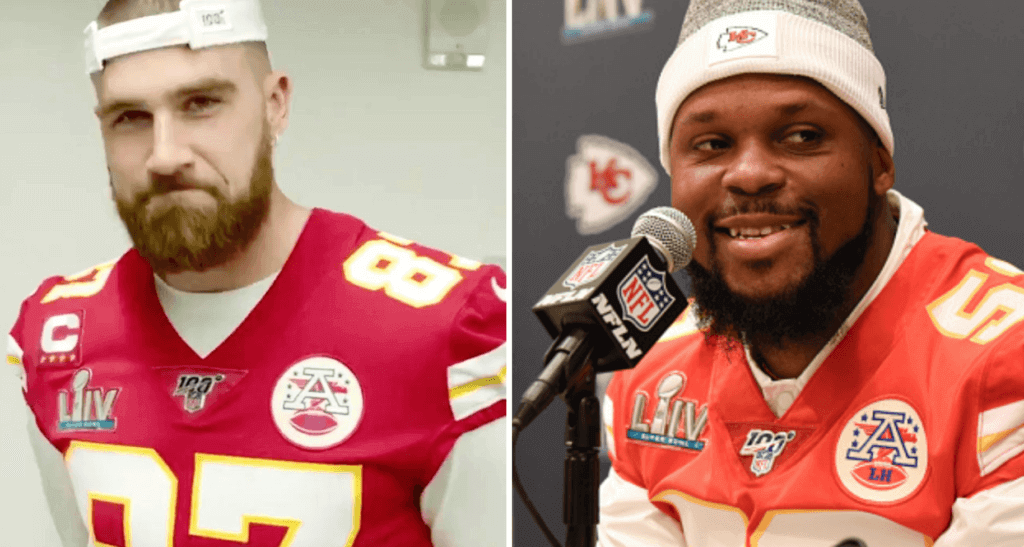 (My thanks to reader/commenter duker for reminding me about the Ravens and their Art Modell memorial patch.)
• • • • •
• • • • •
How 'bout them six decades: This fall will mark the Cowboys' 60th anniversary, and yesterday they unveiled a new logo to mark the occasion (which you can click to enlarge; additional info here). It's not yet clear whether the logo will be worn as part of the team's uniform next season.
The logo is noteworthy on several levels:
• First and foremost, it's so simple! Most anniversary logos these days have lots of elements, shadows, bevels, etc. This one has none of that. It doesn't even have a big "60" to mark the number of years!
• I'd be willing to bet that most NFL fans don't realize (or at least have forgotten) that the Cowboys wore white helmets for their first four seasons. Their current silver helmet is iconic and would have been the obvious thing to use, but instead they've chosen to use the logo as a history lesson. Unexpected and nice.
• Another history lesson: The type is rendered in the team's old number font. It looks particularly good on the "S."
• I'm not nuts about how the bottom of the helmet touches the blue panel. Would've preferred to see a bit of space there, with the helmet floating a bit over the panel.
• How great would it have been if they had acknowledged the team's well-documented color inconsistencies by using multiple shades of blue in this logo? Ah well — you can't have everything.
• • • • •
• • • • •
Kobe tributes, continued: Nice move last night by the Hornets, who wore compression sleeves with Kobe Bryant's uni numbers. While it's obviously an admirable gesture, was there really no other option than to use something with such an obvious maker's mark? If they were just ironing the numbers onto existing sleeve inventory, couldn't they have turned the sleeves inside-out? Do we really want to live in a world where even memorial gestures are corporate-branded?
There were lots of additional uni-related Kobe tributes yesterday. Most of them can be found in tweets that are self-explanatory, so I'll just embed them here without further ado:
— Paul Lukas (@UniWatch) January 28, 2020
To honor the late Kobe Bryant, Maurice Harkless (@moe_harkless) is switching from No. 8 to No. 11 for the #Clippers. #NBA @UniWatch pic.twitter.com/uqFZyujq6v

— Etienne Catalan (@EtienneCatalan) January 29, 2020
Auburn High (@AHSLadyBball and @AHS_MBasketball) joining the many tributes to Kobe and Gigi. @WRBLSports @AHSAuburnTigers #RIPMamba #RIPMambacita pic.twitter.com/GyxB8K5tb2

— Jack Patterson (@JPattersonTV) January 29, 2020
— Paul Lukas (@UniWatch) January 29, 2020
— Philadelphia 76ers (@sixers) January 28, 2020
Per the broadcast, Joel Embiid called Bobby Jones to get permission to wear No. 24 tonight to honor Kobe.

Jones readily said yes.

— Kristen Rodgers (@KristenERodgers) January 29, 2020
— Philadelphia 76ers (@sixers) January 29, 2020
🐍 🐍 🐍 pic.twitter.com/wnKCnUK5nE

— Philadelphia 76ers (@sixers) January 28, 2020
Pacers forward Alize Johnson, who has always worn No. 24 for Kobe, is not changing his number, per source.

"You need that role model coming up and for me, it was God and him," Johnson told @TheAthleticIND.https://t.co/S9NEVAtNhj pic.twitter.com/MDkT9mOyTA

— Scott Agness (@ScottAgness) January 28, 2020
Would Kemba change No. 8 for Kobe?

"I'm considering it but I'm not sure yet. I definitely have tons of respect for Kobe. But everybody mourns a little bit different. For me, I'm thinking I would love to honor him by wearing that number."pic.twitter.com/zrShVuFhzH

— Chris Forsberg (@ChrisForsberg_) January 29, 2020
The #Rutgers 🏀 team is wearing shirts featuring Kobe's face on the front & 8/24 on the back. pic.twitter.com/7Azxvz4nBR

— Richie Schnyderite (@RichieSRivals) January 28, 2020
Tennessee will honor Kobe Bryant tonight by wearing these purple laces. #Vols pic.twitter.com/wct0u4fizq

— Jordan Crammer (@JordanCrammer) January 28, 2020
Kobe Bryant fan @Brayan24RD… pic.twitter.com/G6obGtvLbK

— Darren Rovell (@darrenrovell) January 28, 2020
I love my city & this city of Los Angeles loves Kobe Bryant 💜💛 we continue to honor you!! Bean you're a truly a legend KB 8-24 pic.twitter.com/4uVOm3yBPK

— KOBE forever 🖤🐍 Raquel (@SOULbeautifulme) January 29, 2020
(My thanks to all contributors.)
• • • • •
• • • • •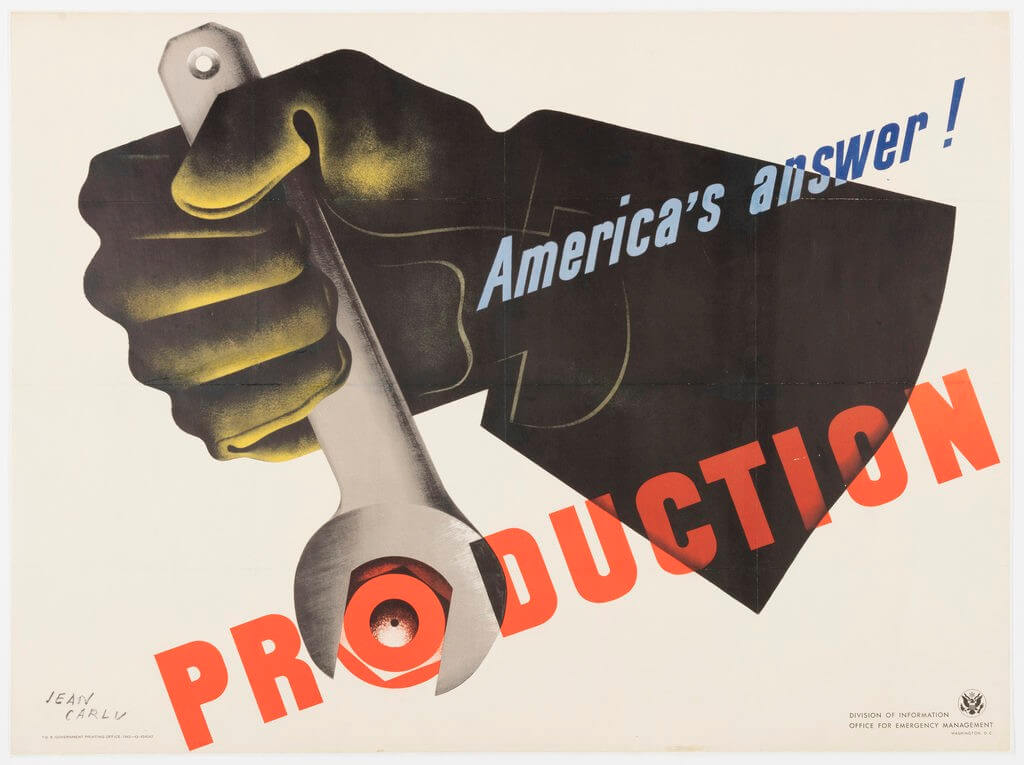 Working Class Wannabes™, continued: My recent New Republic article about the sports world's endless fetishizing of the working class caught the eye of North Dakota State associate professor Justin Walden, who's invited me to be a guest-Skype-speaker next Tuesday for his special communications seminar on defining work. Exciting! (And I'm particularly happy to be speaking to a class whose school wears Uni Watch colors.)
Meanwhile, reader Doug Mooney pointed me toward this video about how the Detroit Pistons had a long-running "work"-based marketing campaign in the 2000s. Every cliché in the book is here: the term "blue-collar," lunch pails, factory whistles ("something probably known to most fans only in old cartoons," notes Doug), and a lot more. At one point they even designed the team's season tickets to look like employee time cards, so fans could "punch in."
It's really something — you can see it here:
• • • • •
• • • • •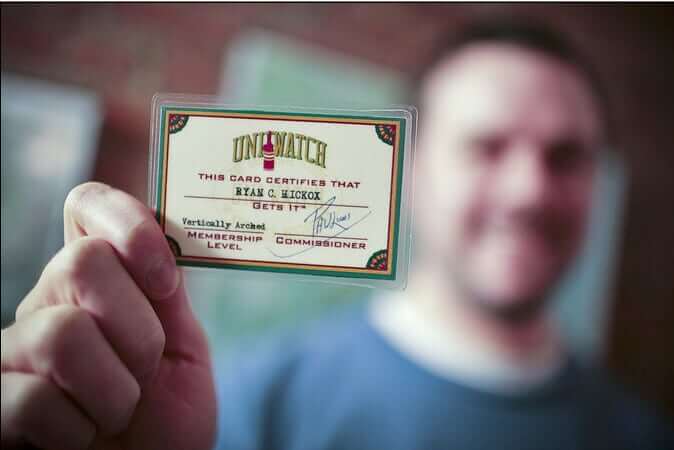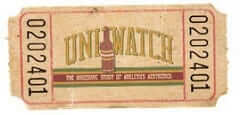 ITEM! Yet another membership raffle: Reader Mike Wissman recently purchased a Uni Watch membership for me to raffle off, so we're going to do that today.
This will be a one day raffle. To enter, send an email to the raffle address by 8pm Eastern tonight. I'll announce the winner tomorrow. Good luck!
• • • • •
• • • • •
Click to enlarge
Hockey jersey reminder: In case you missed it on Tuesday, the first-ever Uni Watch hockey jersey is now available.
Details:
• As you can see above, there are three colors available. Here's how they look on the back:
• We're also offering two different tailoring cuts: a standard Fan Cut and a roomier Game Cut, which should fit over pads for beer leaguers. The ordering page has size charts showing measurements for both cuts.
• You can customize your jersey with your choice of number and NOB.
• You can also choose whether the upper chest will have the winged stirrup, a captain's "C," or just be blank.
• All graphics are sublimated. Elbows are reinforced. Lace-up collar. "For People Who Get It™" printed on inner collar.
• As with all Uni Watch products, there is no visible maker's mark.
• The price is $69.99, with discounts if you buy more than one color. We're taking orders for two weeks, and then the jerseys should be ready to ship on March 10. If you have any other questions, feel free to post them in the comments and I'll do my best to answer. Again, you can order here. Thanks for listening.
• • • • •
• • • • •
The Ticker
By Lloyd Alaban

Baseball News: Here's a thread from BAMA Uni Tracker documenting all the jerseys Alabama will wear this season. … New home unis for Texas State (from Brant Freeman). … The Seibu Lions of Japan's Pacific League unveiled throwbacks celebrating their 70th season. It's hard to tell from the video, but the jerseys feature a blue gradient (from @GraveyardBall). … The back of Oklahoma's batting helmets will now have a huge clutter of 3D graphics (from Sam McKinley).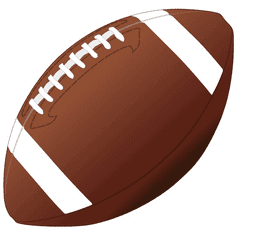 Football News: The Topeka, Kan., Police Department is allowing officers to wear Chiefs hats this week. … The Harry Truman National Historic Site posted this picture of a signed game ball presented to the former president by the Chiefs after they won Super Bowl IV. Truman was from Missouri (from Matthew Algeo). … Reader Keith Winney came across this pristine 1990 special edition NFL catalog in his attic. [That sound you hear in the background is Brinke Guthrie having heart palpitations. — PL] … Blaise D'Sylva finishes up his AFC helmet collection with the AFC West. … The Indoor Football League has a new logo (from Donny Helnore). … Speaking of the IFL, the Oakland Panthers have announced that Phenom will be their uniform supplier. … An interesting Browns helmet is in the background of this photo of new Browns GM Andrew Berry signing his contract. Here's a closeup (from Beau Parsons).

Hockey News: The Jets have unveiled their 10th-anniversary logo (from multiple readers). … WHL teams are holding their own organ donor awareness nights. Here's what the Brandon Wheat Kings will be wearing on February 7 (from Wade Heidt). …  Also from Wade: Here's a day on the job with OHL Kingston Frontenacs equipment manager Chris Cook. … The Maine Mariners, ECHL affiliate of the Rangers, will wear jerseys designed by a local Make-A-Wish child. The proceeds from jersey auctions will benefit the Maine Make-A-Wish Foundation (from our own Anthony Emerson). … New logo for the Newcastle Northstars of the Australian Ice Hockey League (from @j_foreigner). … The University of Georgia's club hockey team is getting a new 5,500-seat arena (which is extremely large for a club team). They draw about 2,000 fans per game at their current venue — a temporary ice sheet placed on top of carpet in a convention center in downtown Athens (from Kary Klismet). … From reader Jonathan Daniel: "A friend of mine is a big autism advocate and is doing cool things in Detroit. He just posted saying he'll be dropping the puck at a high school hockey game in February and showed off this sweater."

NBA News: Celtics PG Kemba Walker wore a hoodie from the 2017 Africa Game during warmups last night. … The Wizards are giving away these Rui Hachimura anime T-shirts for Japanese Heritage Night. The uni has several inaccuracies: wrong number font, dead wrong side panels, etc., but nailed the ad patch (from @averagebro). … The Maine Red Claws, D-League affiliate of the Celtics, will wear puzzle piece-themed uniforms for Autism Awareness Night on Friday (from Timmy Donahue). … Colorado-based Breckenridge Brewery is launching a new beer in partnership with the Nuggets called Mile High City, with packaging and logos inspired by the Nuggets' Statement uniforms (from Kary Klismet).

College/High School Hoops News: Murray State will retire PG Ja Morant's No. 12 this weekend (from Andrew Cosentino and Timmy Donahue). … Virginia G Braxton Key suffered a torn jersey last night, so he was issued a new one with NNOB and No. 42 instead of his usual No. 2 (from multiple readers). … Confusing scorebugs last night for Syracuse/Clemson, Pitt/Duke, and Georgia/Mizzou. … Also from Timmy: Pitt women's will wear pink Breast Cancer Awareness uniforms on Saturday. … DeMatha Catholic High School in Hyatsville, Md., will add patches in honor of former coach Morgan Wooten, who died last week (from Brian Simpkins).

Soccer News: "In memory of Jordan Sinnott, a midfielder who played in the English seventh tier for Matlock Town and passed away recently, teams in the UK have started putting Sinnott's name and No. 25 on one of their shirts and sending them to English Championship team Cardiff City to start a collection. Looks like about 100 teams have done it so far" (from our own Jamie Rathjen).

Grab Bag: The Indianapolis 500 ticket design was released yesterday, and it features driver Simon Pagenaud. More info here (from @jared_law). … Several Iowa wrestlers wear the ANF ("America Needs Farmers") decal on their headgear, which was originally made famous on the helmets of the school's football team (from Kary Klismet). … Also from Kary: A writer has critiqued five logos related to the Trump administration from a design standpoint. … Here's a NYT piece on actor Blair Underwood and his father, a retired Army Colonel, discussing the new Broadway drama Soldier's Play. There's some military uni-related discussion in the article (from Timmy Donahue). … Also from Timmy: Literacy Pros, a Jacksonville, Fla., nonprofit, is recruiting firefighters, police officers, military, doctors, postal carriers, and other uniformed professionals to help inspire students through the power of literacy. … New badges for the Denton Police Department in Texas. … The school board in Brunswick, Maine, decided to go against students' votes and proclaim the dragonfly as the school's mascot, instead of the chickadee, which students chose (from John Horton).
• • • • •
I'm driving out to Long Island today to see my mom, so I won't be paying as much attention to the site as usual. Play nice while I'm away, yes? Yes! — Paul