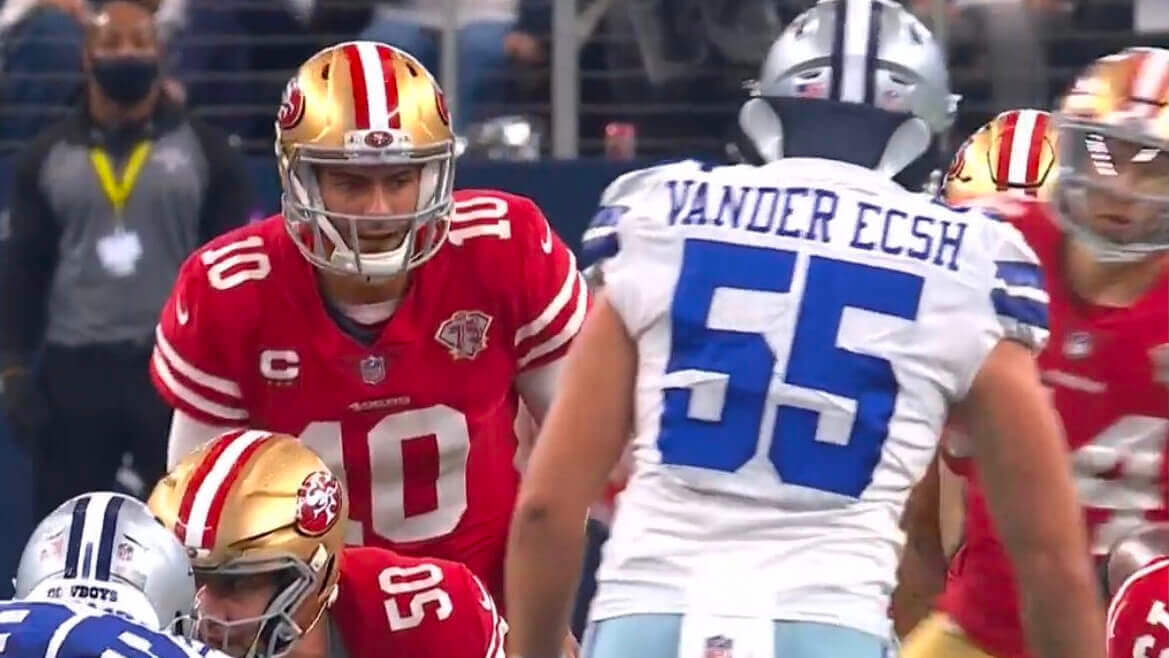 For all photos, click to enlarge
Good morning! How 'bout those 49ers?
That was one sloppy game, with both teams doing their best to give it away. But as a lifelong Cowboys-hating Niners fan, I'll take it! From a Uni Watch perspective, however, the most notable thing about the game was not the result but the fact that Dallas linebacker Leighton Vander Esch's NOB was misspelled (see above) — yet another layer of sloppiness
In that same game, 49ers offensive lineman Laken Tomlinson, who wears No. 75, appeared to have part of his front "5" missing early in the game (although it was fixed later in the first half):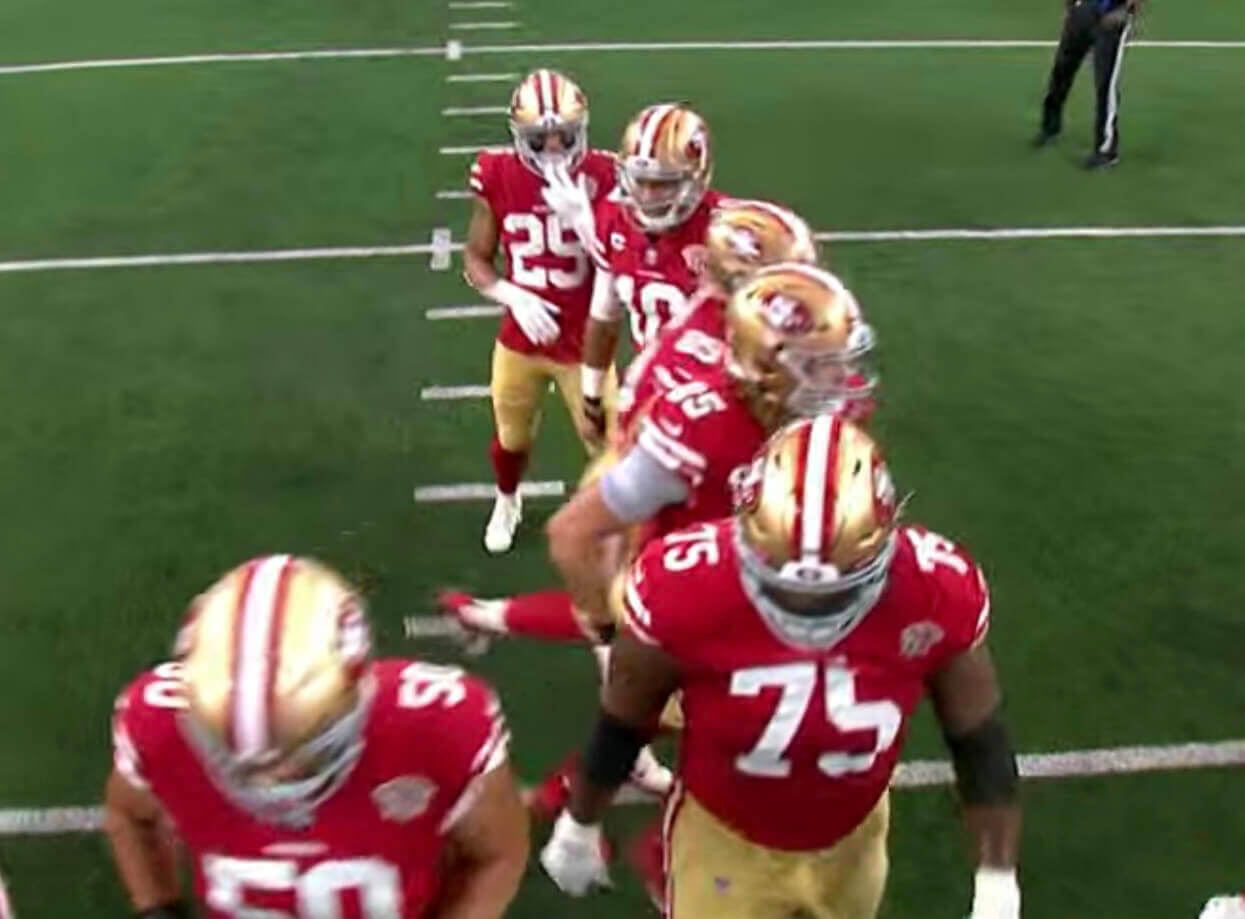 Also from that game, 49ers wideout Deebo Samuel wore cleats painted with an image of himself cradling his baby son, who was born on Dec. 27:
In other news from Wild Card Weekend (including a few notes from Saturday's games that Phil mentioned in yesterday's Ticker, but I'm repeating them here for the people who don't follow the site on weekends):
• Eagles head coach Nick Sirianni, who usually wears the numbers of injured players on his visor, had the numbers on his undervisor yesterday: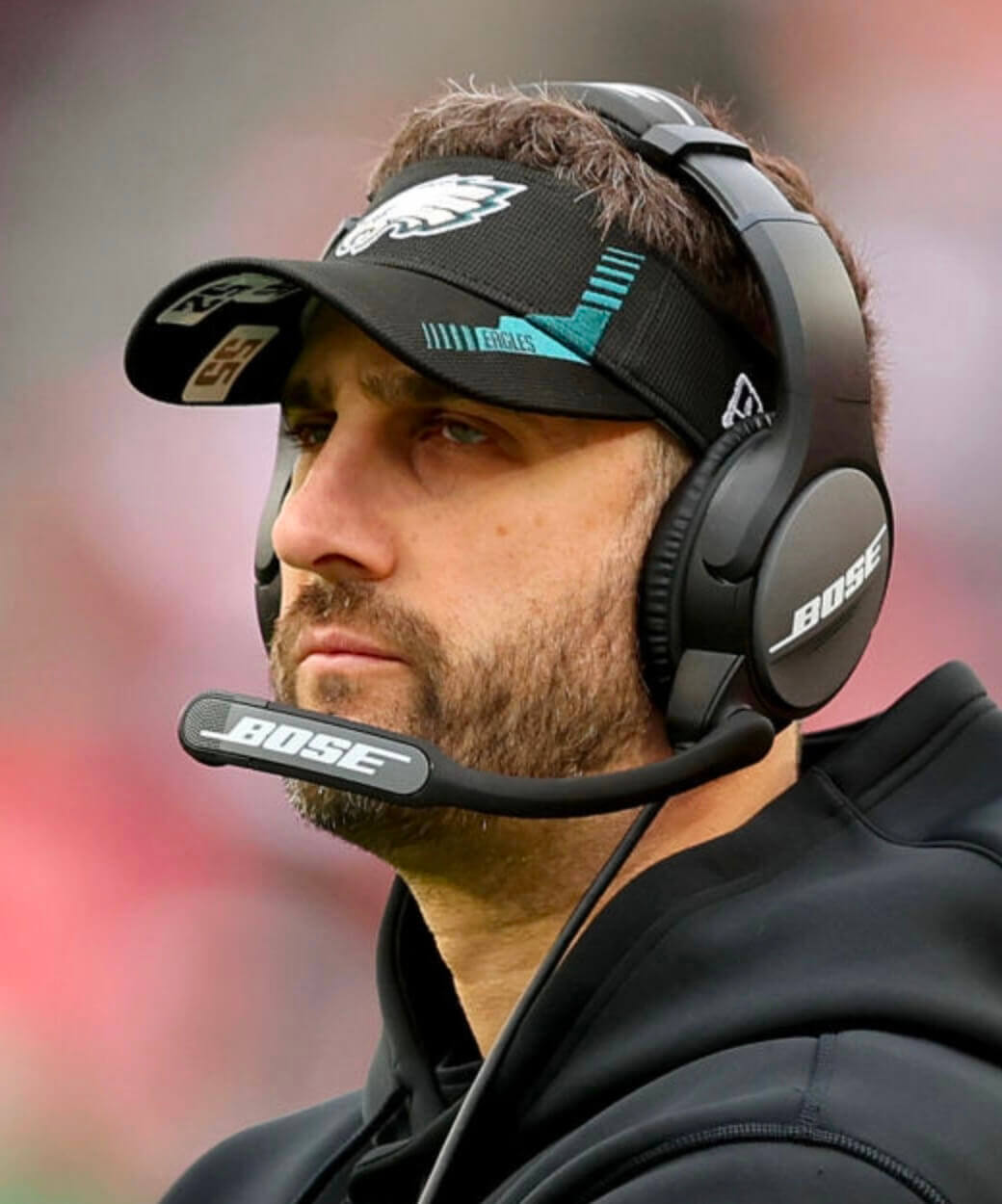 • Two of the teams that played yesterday — the Cowboys and KC — don't wear captaincy patches during the regular season but add them for the playoffs, as you can see in these comparison photos: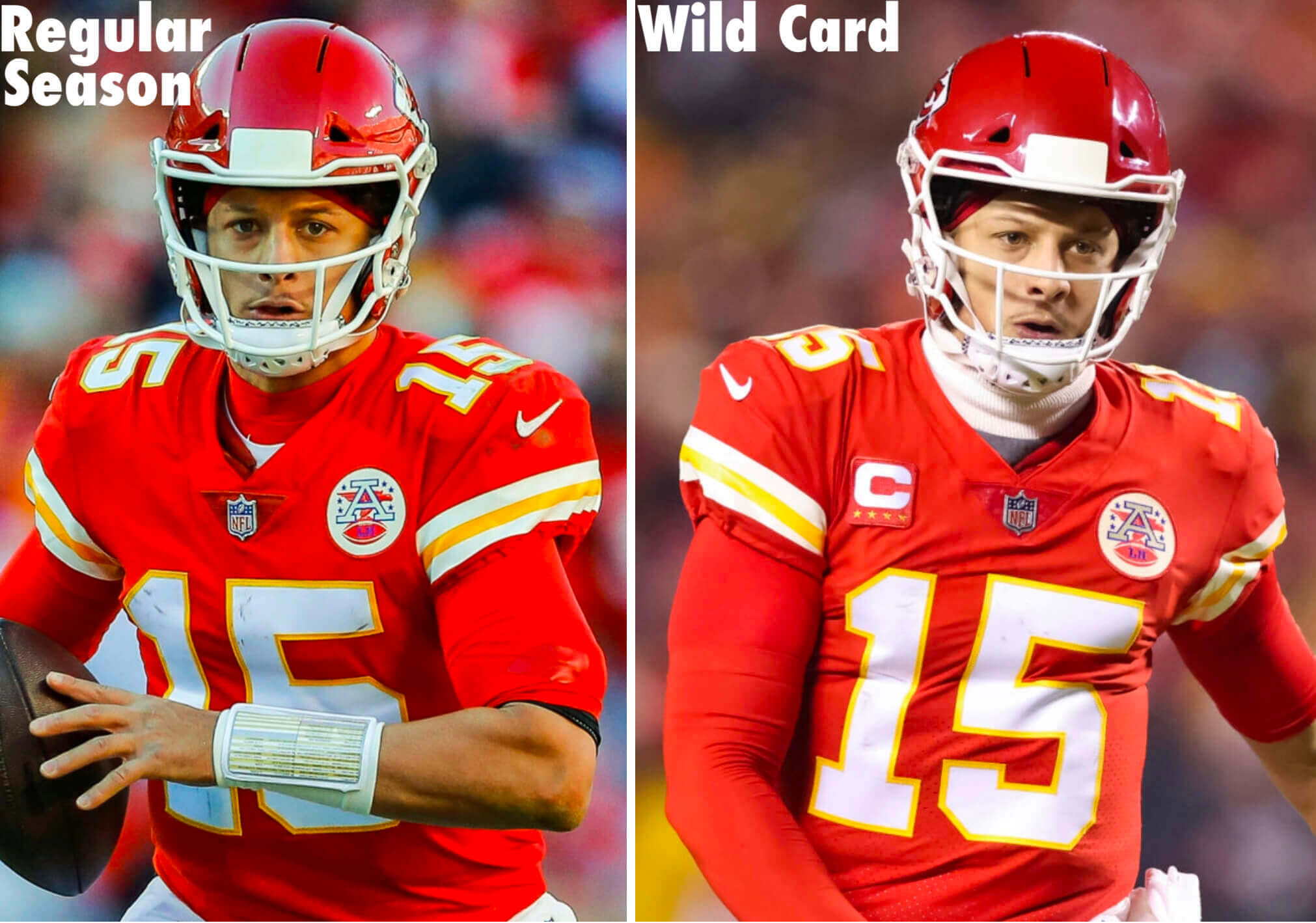 The Packers used to have that same protocol when Mike McCarthy was their coach, but they began wearing captaincy patches during the regular season after McCarthy left. (McCarthy, in turn, brought that protocol with him to Dallas, where he currently coaches.)
• All NFL teams wore "Inspire Change" helmet decals for the final two weeks of the regular season. From what I could see, three teams — the 49ers, Bills, and Steelers — continued wearing those decals in this past weekend, while the other Wild Card teams did not: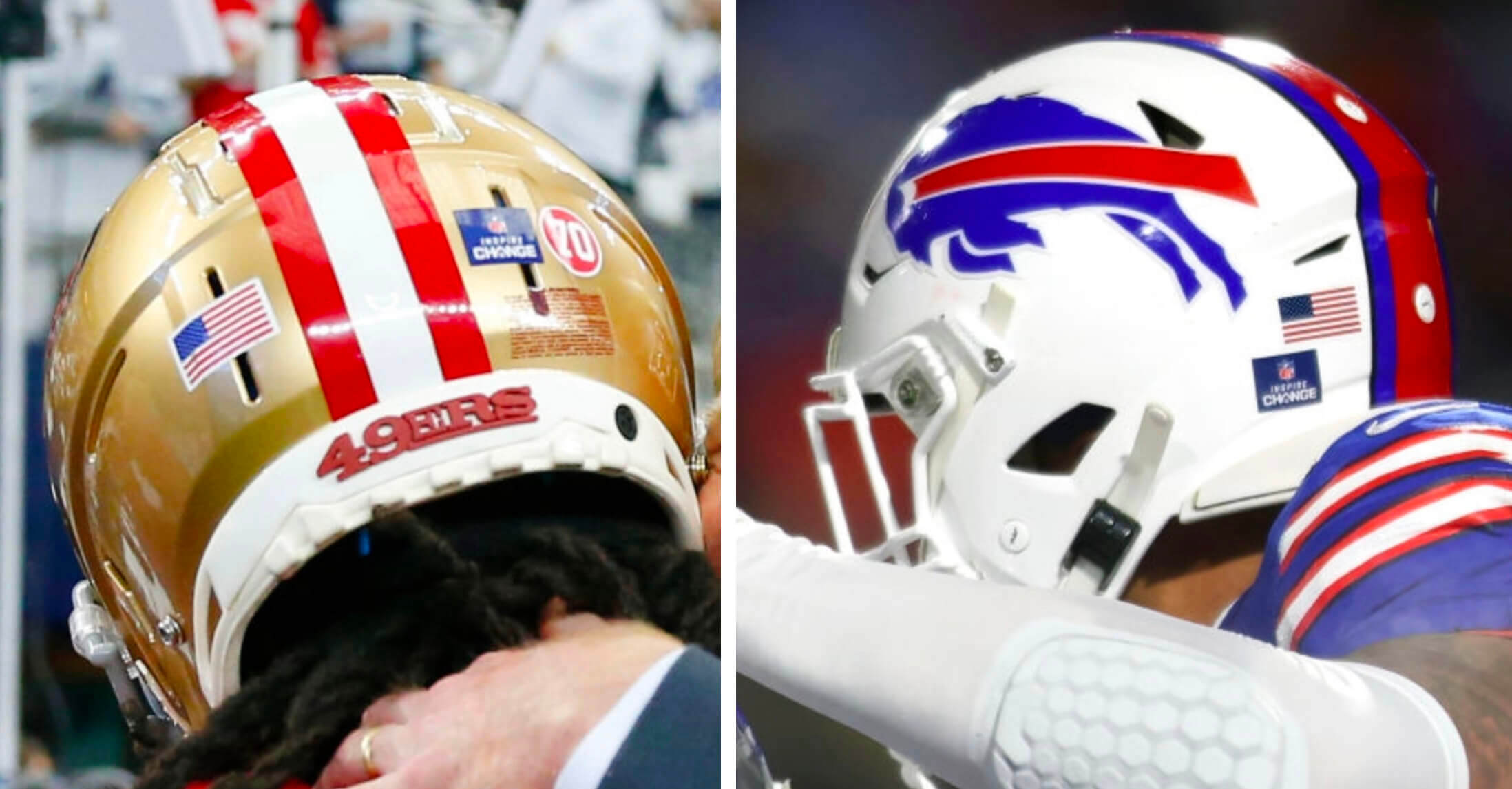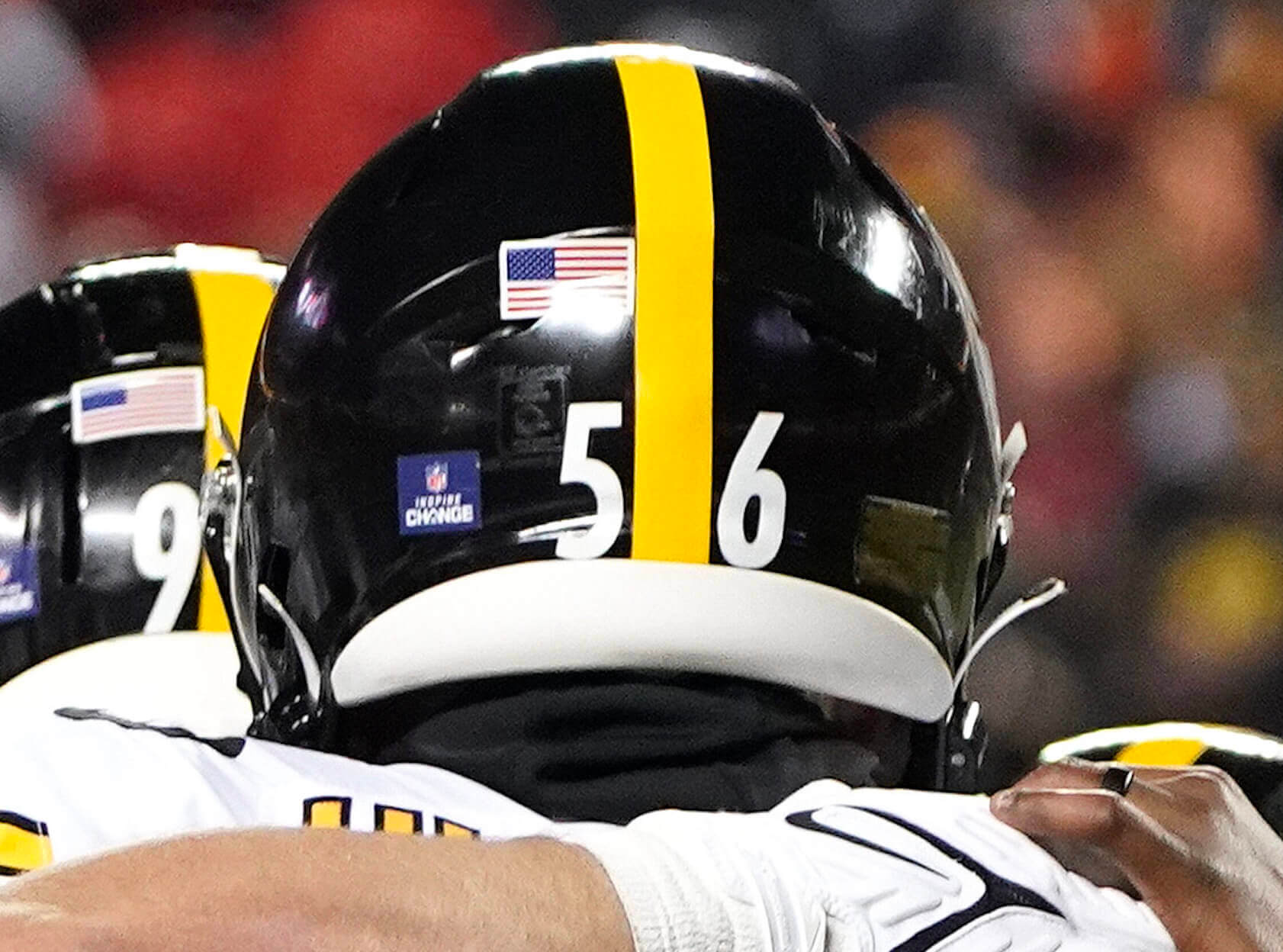 • Bills quarterback Josh Allen wore a sewn-in jersey pocket and a strap-on pouch on Saturday night — sort of the "belt and suspenders" version of hand-warming: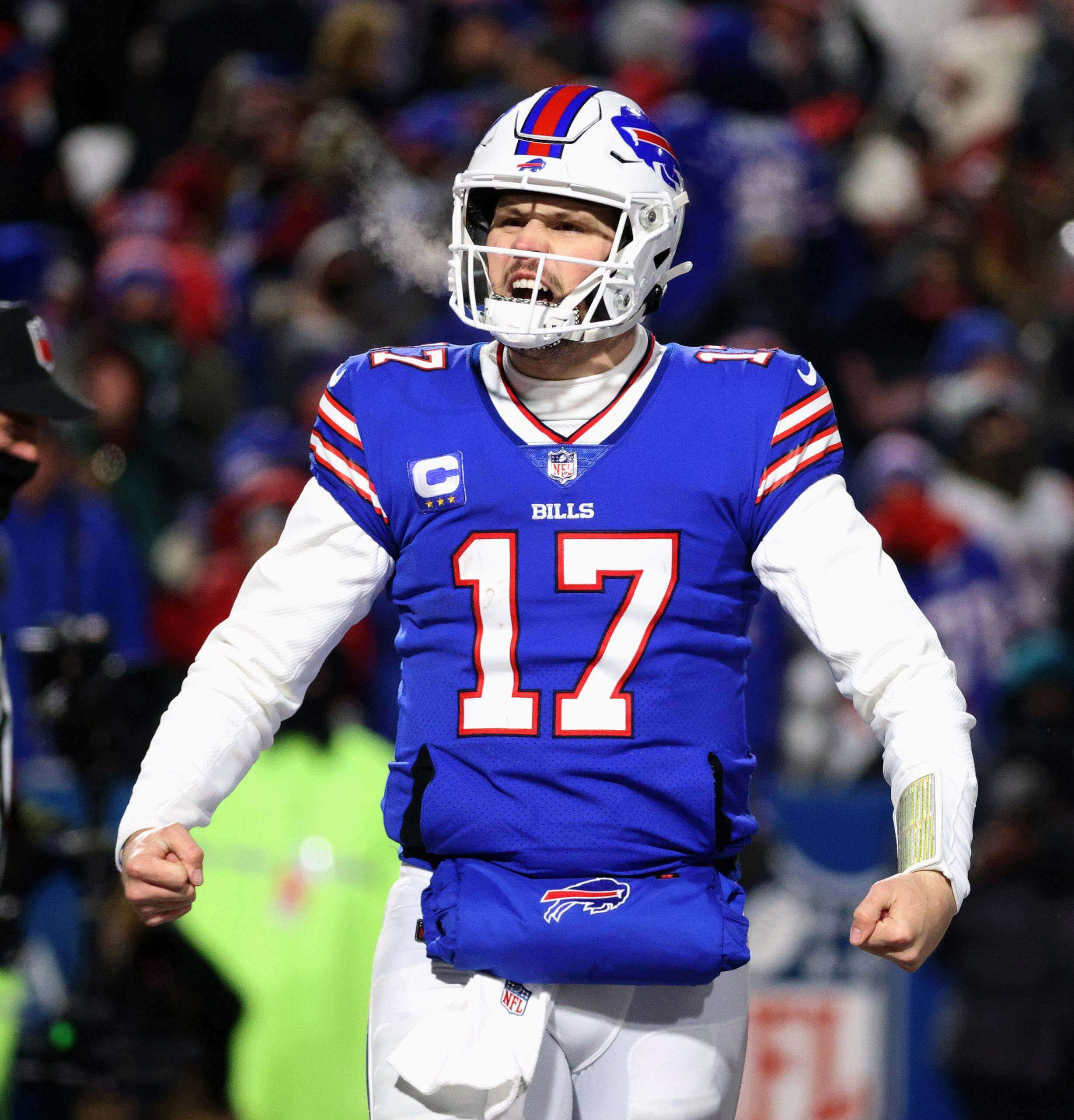 • Pats coach Bill Belichick, who attended high school in Annapolis, Md., wore a Maryland flag-themed Covid mask (and neglected to position it over his nose) during his postgame press conference on Saturday:
• I thought all three of yesterday's games were very easy on the eyes. I mean, look at these uni matchups: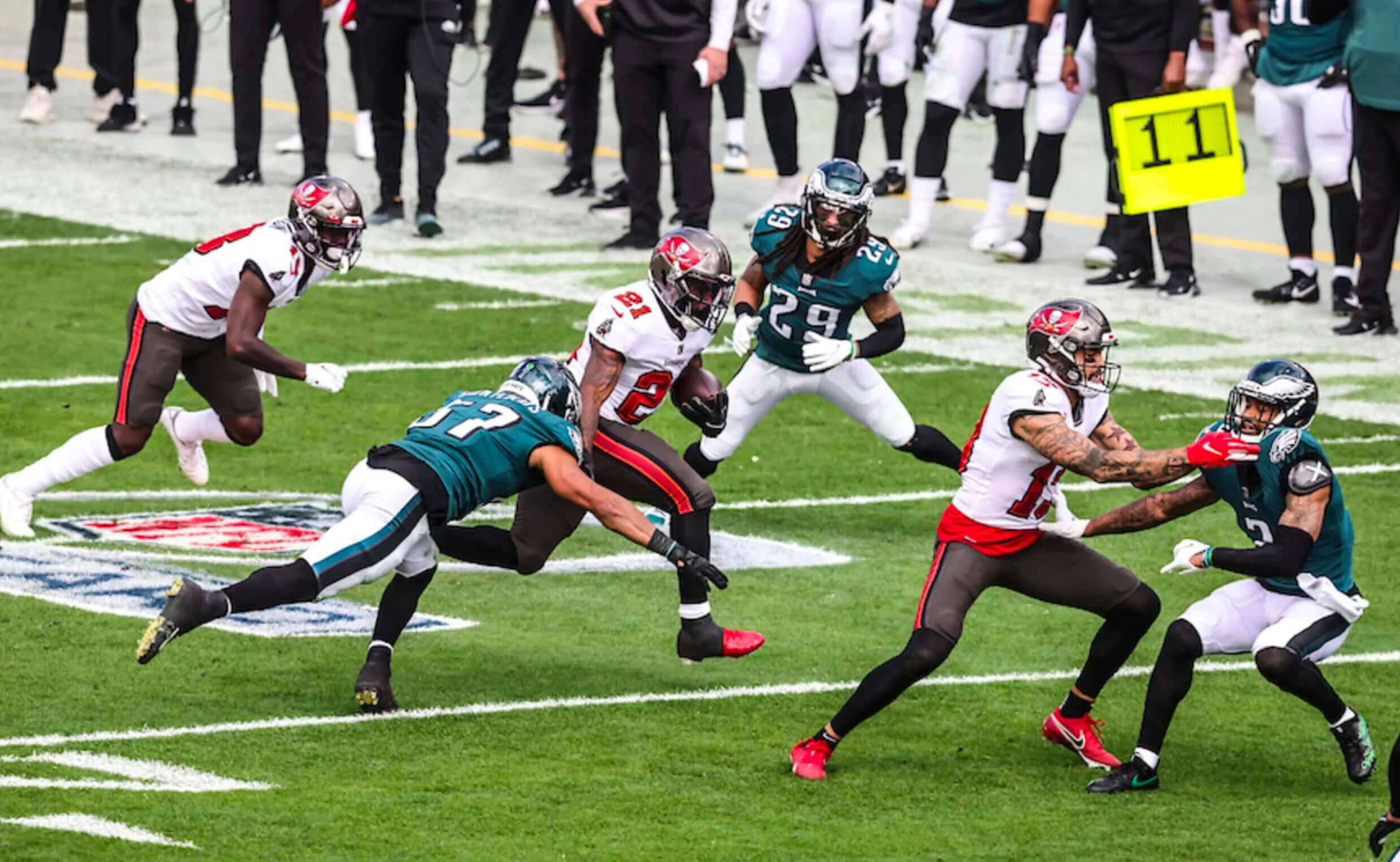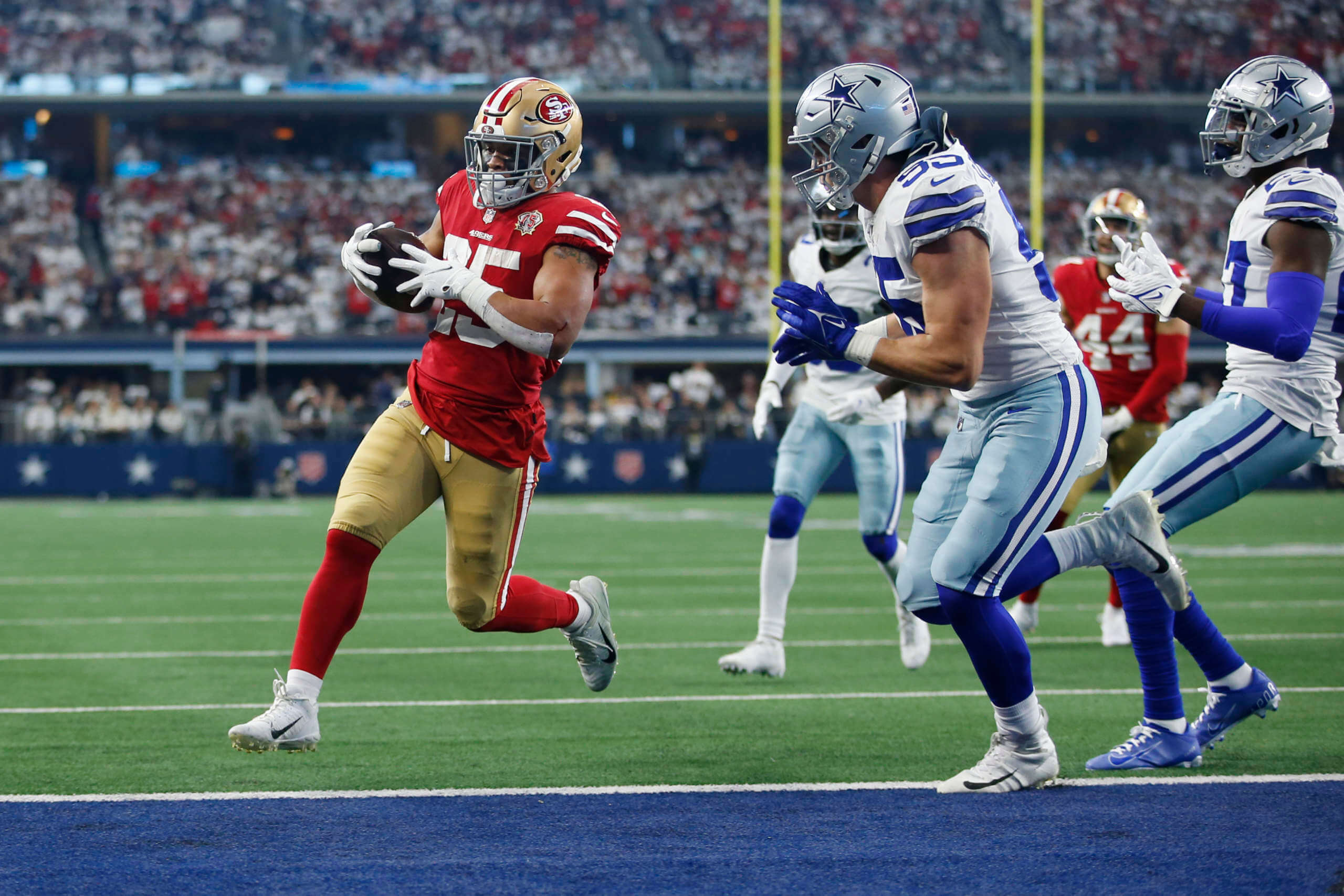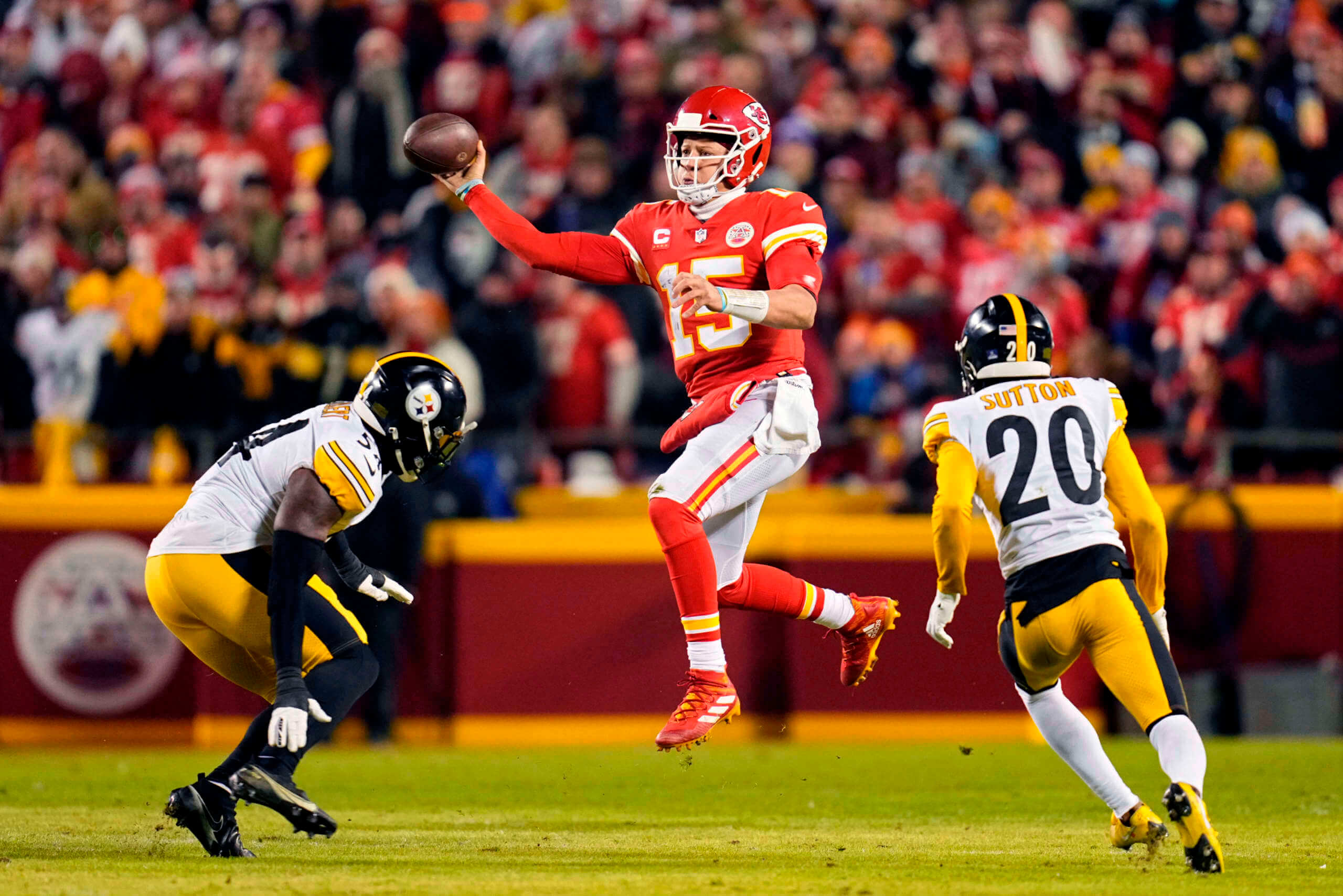 I know a lot of people don't think the Eagles/Bucs game measured up to the other two, mainly because so many folks would rather have seen Kelly vs. Creamsicle. And sure, that would've been a fun matchup too. But Philly and Tampa were both wearing their best uni current uni combos yesterday. Toss in a natural grass field and a sunny day, and you have a very good-looking game, at least for me. I enjoyed watching it even though I don't really care about either team.
Tonight's Cardinals/Rams game will not be so visually pleasing, but whaddaya gonna do.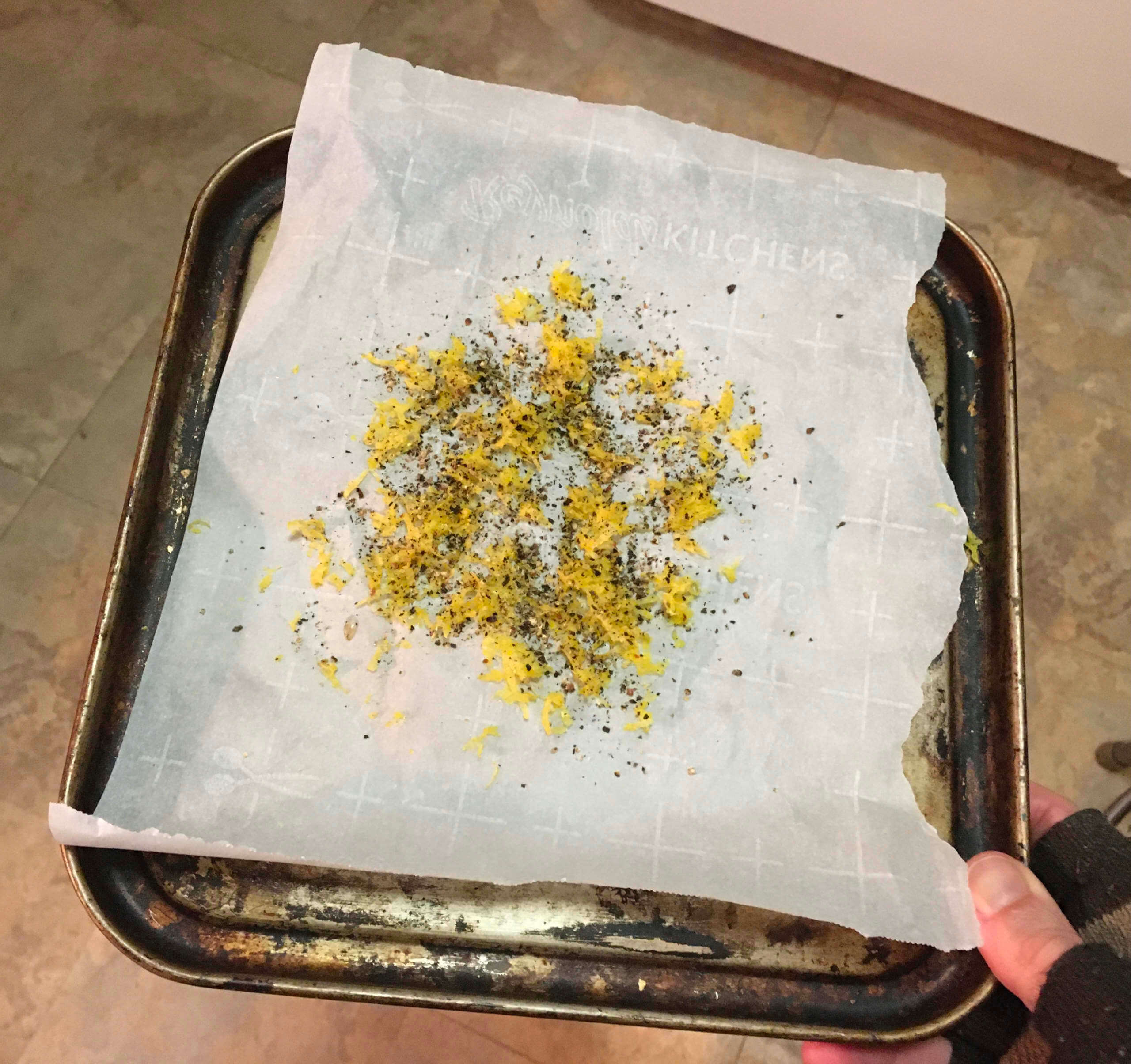 As a food-related aside, I saw an article the other day about lemon-pepper chicken wings, which are apparently a big thing in Atlanta (especially in titty bars, oddly). Frankly, it was hard to imagine how anything could improve on basic Buffalo wings, but the Tugboat Captain and I thought the lemon-pepper thing sounded like a fun little kitchen adventure, so we decided to make wings to go with yesterday's football games.
We made two separate batches — one flavored with standard retail lemon-pepper seasoning, and the other with a homemade lemon-pepper mix that we made from lemon zest, pepper (shown above, click to enlarge), garlic, brown sugar, and salt.
Both versions were fine but unremarkable. Not sorry we did it, but I don't think we'll ever do it again (even though the 49ers won while we were eating). If you like the lemon-pepper thing, more power to you, but we'll stick to Buffalo-style!
(My thanks to all contributors, including Andrew Cosentino, Aaron Pinto, and our own Brinke Guthrie.)
• • • • •
• • • • •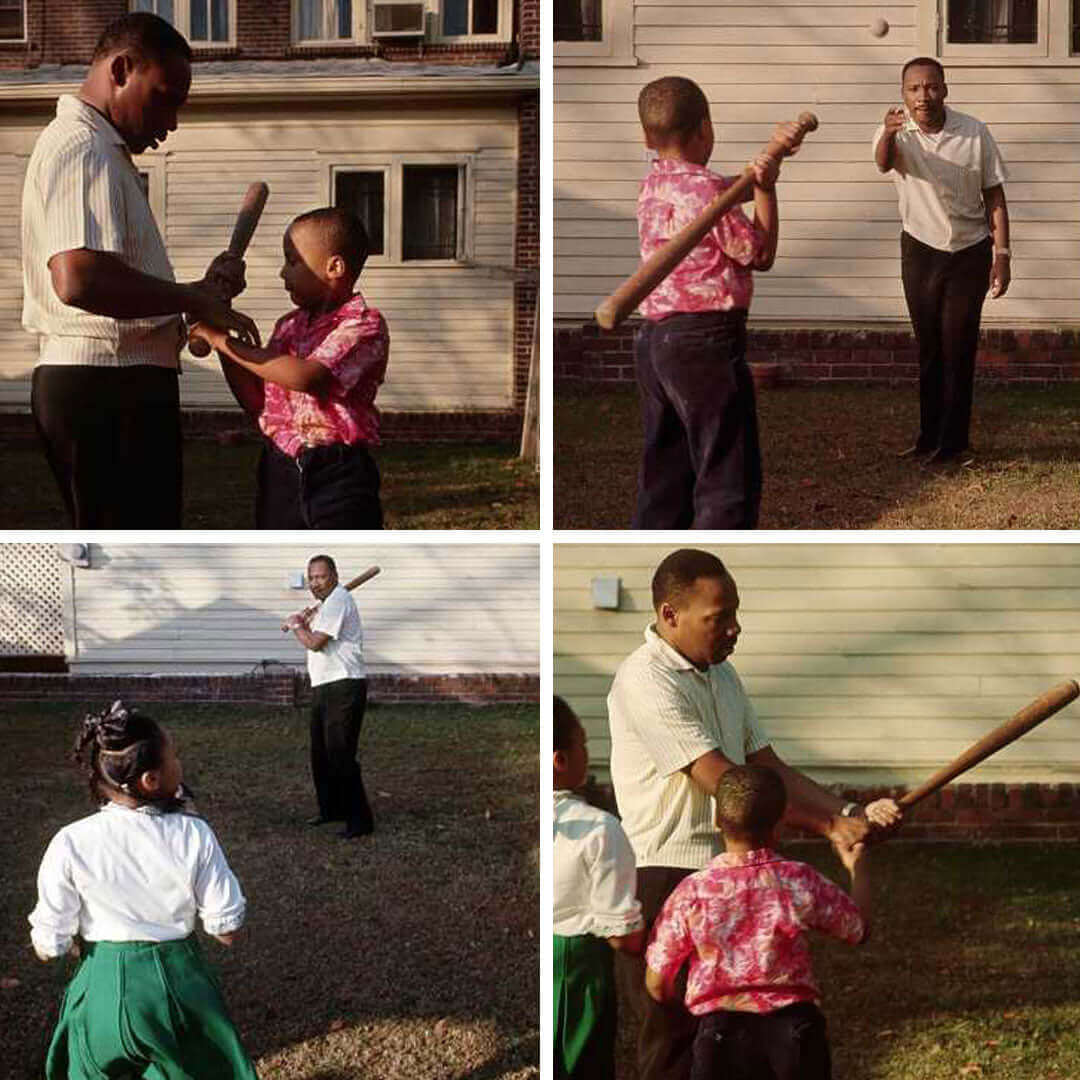 Click to enlarge
He would've been 93 this year: Today is Martin Luther King Jr. Day — the day when we honor history's greatest American. I never get tired of seeing these photos of him playing baseball with his kids.
The uni-verse will acknowledge the holiday in several ways. First, NBA teams will continue to wear the MLK-themed warm-up T-shirts that they've been wearing for the past few days (click to enlarge):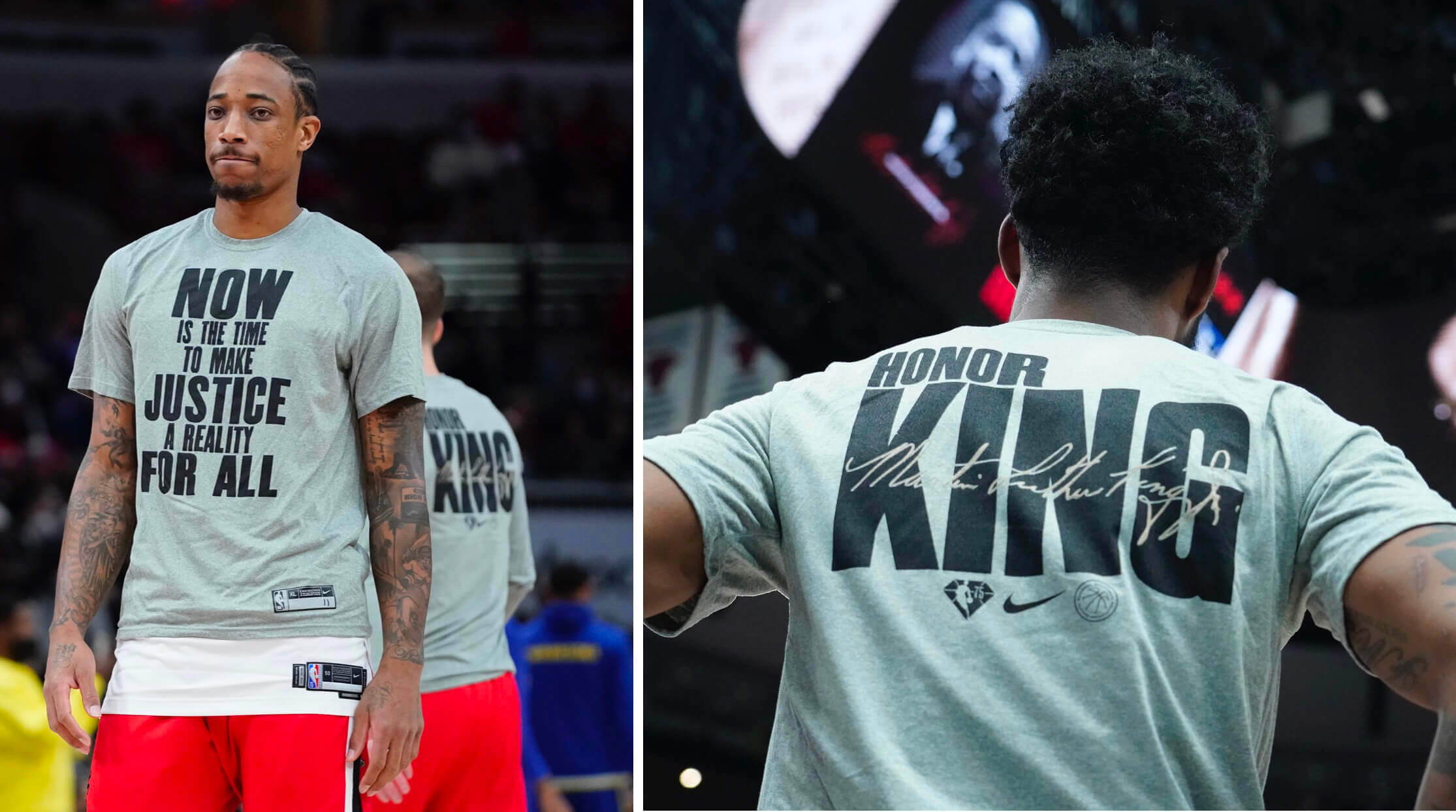 In addition, as Phil mentioned over the weekend, tonight's NFL playoff game between the Cardinals and Rams (the first NFL game ever on MLK Day) will feature both teams wearing "MLK" memorial decals, along with two neck bumper slogans associated with King — "Be Love" and "Stop Hate":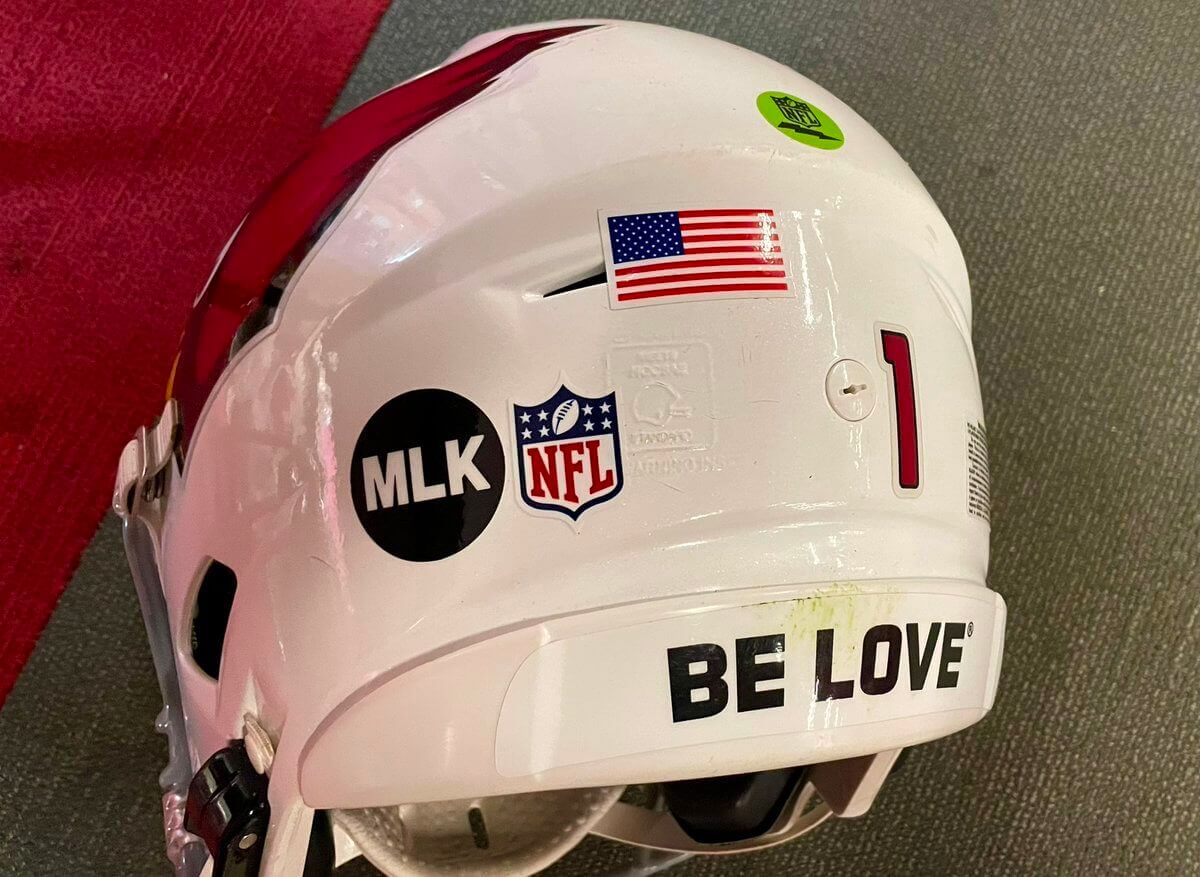 Notice anything weird thing about that photo? If you look closely, the bumper slogan appears to have a circle-R trademark symbol (or at least I think that's what it is). Seriously?
Here's a photo from a Rams practice on Saturday, showing that there's definitely something at the end of the "Be Love" slogan. Again, it looks like a circle-R, but it's hard to be sure: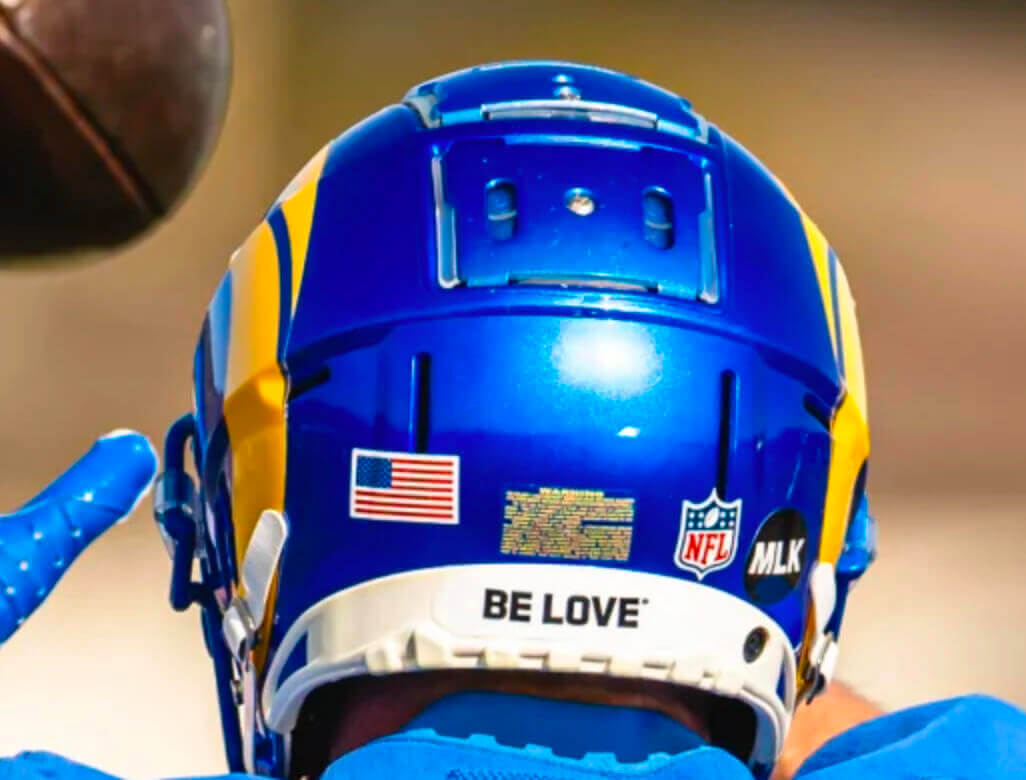 There's no similar symbol after the "Stop Hate" slogan, however: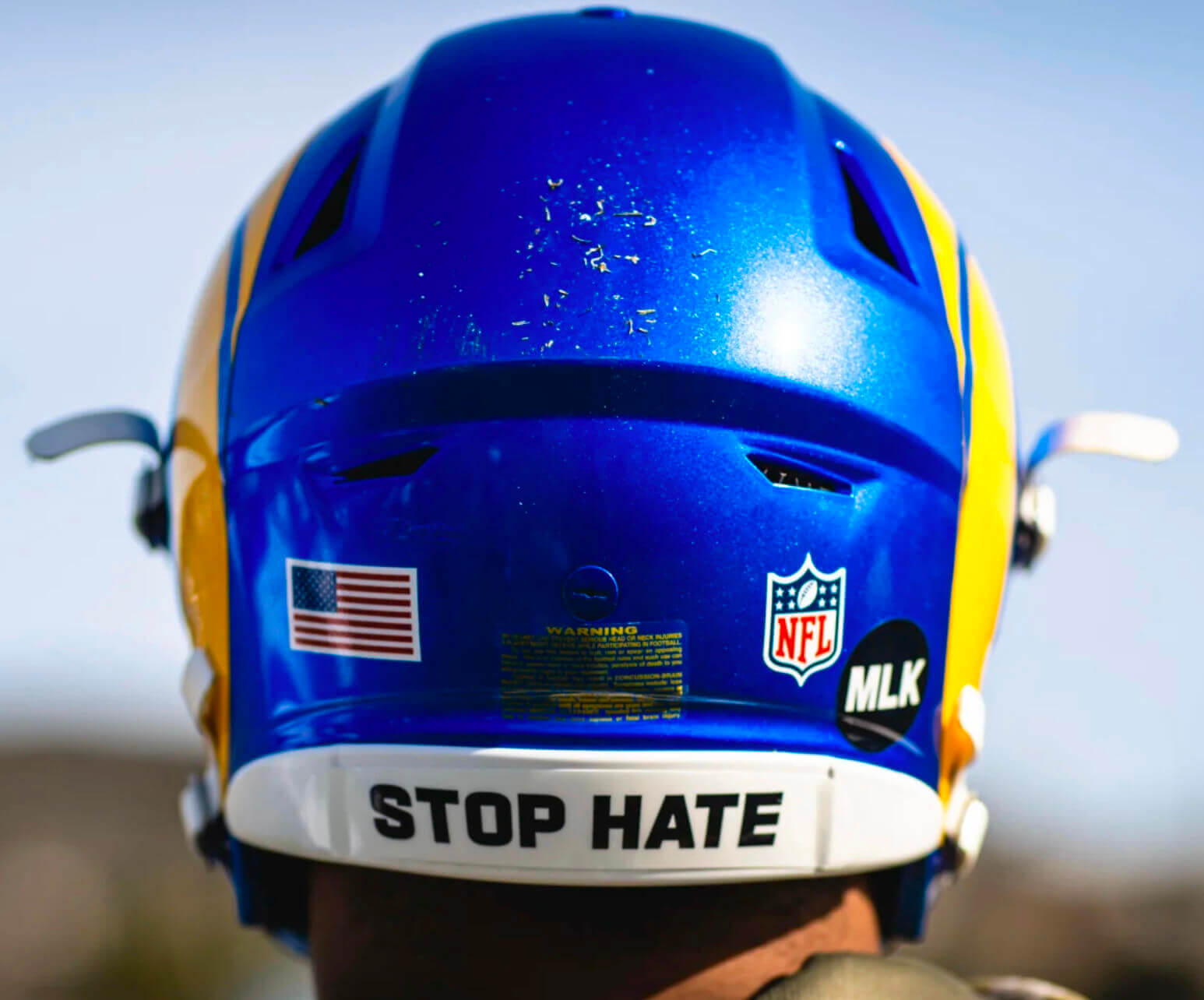 To my knowledge, the NHL does not have any uni-related MLK observances planned, although the Bruins plan to retire Willie O'Ree's No. 22 tomorrow night. In addition to being one day after MLK Day, tomorrow is also the 64th anniversary of O'Ree breaking the NHL's color barrier in 1958.
• • • • •
• • • • •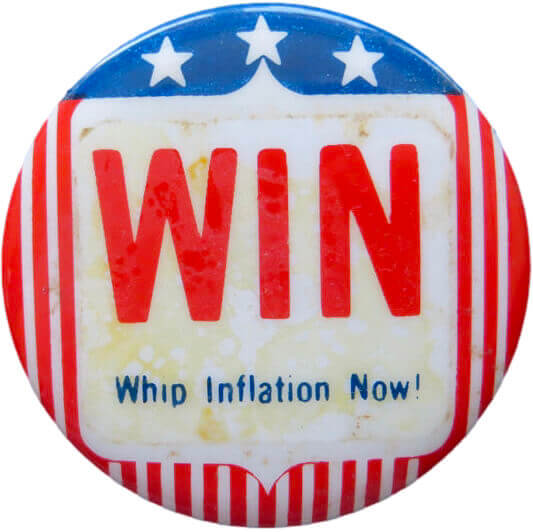 ITEM! Lots of price cuts: Inflation may be going up, but the prices of lots of Uni Watch products are going down! Take a gander at these savings, effective immediately:
• Seam rippers, originally $5, are now $3.
• Koozies, originally $5, are now $3.
• Trading cards, originally $6 and then reduced to $3, are now $2.
• Magnets, originally $3, are now $2.
• Chain-stitched patches, originally $35, are now just $20 (which is way below my $28 cost, so I'll be losing money on them, but I want to get them sold!). are now sold out. If you want to be notified when they're back in stock, shoot me a note.
• Memberships, normally $25, are now $20.
These items all mail out from Uni Watch HQ, so you can save on shipping charges by mixing/matching items. Email me and I can give you a combined shipping charge for the items you're interested in. Thanks!
• • • • •
• • • • •
The Ticker
By Jamie Rathjen

Baseball News: Back in 1995, when there were plans to build a new football stadium on land owned by the Dodgers, Dodgers owner Peter O'Malley gave out coffee mugs emblazoned with a football-themed version of the team's logo (from James Gilbert).

Hockey News: The Hockey News ranked the top five NHL all-star jerseys (thanks, Phil). … The PHF's Connecticut Whale, besides wearing Alzheimer's-awareness jerseys and socks, also wore a pants memorial patch for Teddy Balkind, the Connecticut high school player whose death was the occasion for this New York Times article about neck guards mentioned in Friday's Ticker. … These two items are from Wade Heidt: The OHL's Saginaw Spirit debuted 20th-anniversary jerseys (in white). … The Junior A British Columbia Hockey League's Chilliwack team spontaneously debuted an alternate this weekend. "At times they look brown, but it appears like they are a dark maroon/dark burgundy," Wade says. … Reader Ryan Bower saw somebody in New York wearing a jersey for a very Ancient Egypt-themed probable rec league team, which includes a jersey crest of the god Anubis and hieroglyph NOBs.

Basketball News: Tennessee's women's team supported former coach Pat Summitt's charity, also for Alzheimer's awareness. Players all wore "Summitt" NOBs and purple accents yesterday (from Taylor Crabtree). … The Minnesota/Iowa men's game yesterday was color-vs.-color. … Houston's men's team is wearing throwbacks tomorrow (from Ignacio Salazar).

Soccer News: In Australia, Sydney FC's men's and women's teams wore a new black/very dark purple third kit at home on Saturday. … England's Sheffield United introduced a new women's player, striker Georgia Walters, with a shirt using the men's team's font. On her debut yesterday she then appeared to be missing the team's sleeve and chest patches and shorts number, at least — compared to what it should be — which is not the best uni-related start, but was very fitting for this weekend. … New kits for Japanese men's teams Roasso Kumamoto, Tokyo Verdy, and Vissel Kobe (from Jeremy Brahm). … Also from Jeremy: A club in Georgia's men's fifth tier, Kvareli Duruji, plays games inside a castle or fortress.

Grab Bag: English soccer club Wolverhampton Wanderers' esports team participated in the virtual 24 Hours of Le Mans from their Molineux Stadium this weekend, including before, during, and after their Premier League home game on Saturday. … St. Kilda's AFL Women's team debuted an Indigenous design this weekend, which is another one that doubles as a clash guernsey. … We can add airports to the list of places new players have been introduced and handed a jersey. That's American volleyball player Dana Rettke, who joined Vero Volley Monza in Italy (from Jeremy Brahm).