Click to enlarge
My friend Sonya, who's a Ph.D. fashion historian, recently told me about a museum exhibit on the history of women's sportswear, called Sporting Fashion: Outdoor Girls 1800 to 1960. That web page says the exhibit "is traveling to venues across the United States before debuting in a larger format at the Fashion Institute of Design & Merchandising in 2024," but there's no schedule of where it's supposedly traveling (presumably due to the pandemic) and the FIDM is currently closed (ditto). Fortunately, there's a PDF that shows all of the outfits from the exhibition, and many of them are spectacular (like the 1947 roller derby uniform shown above), so I picked out some of the best and more interesting ones to showcase for today's post.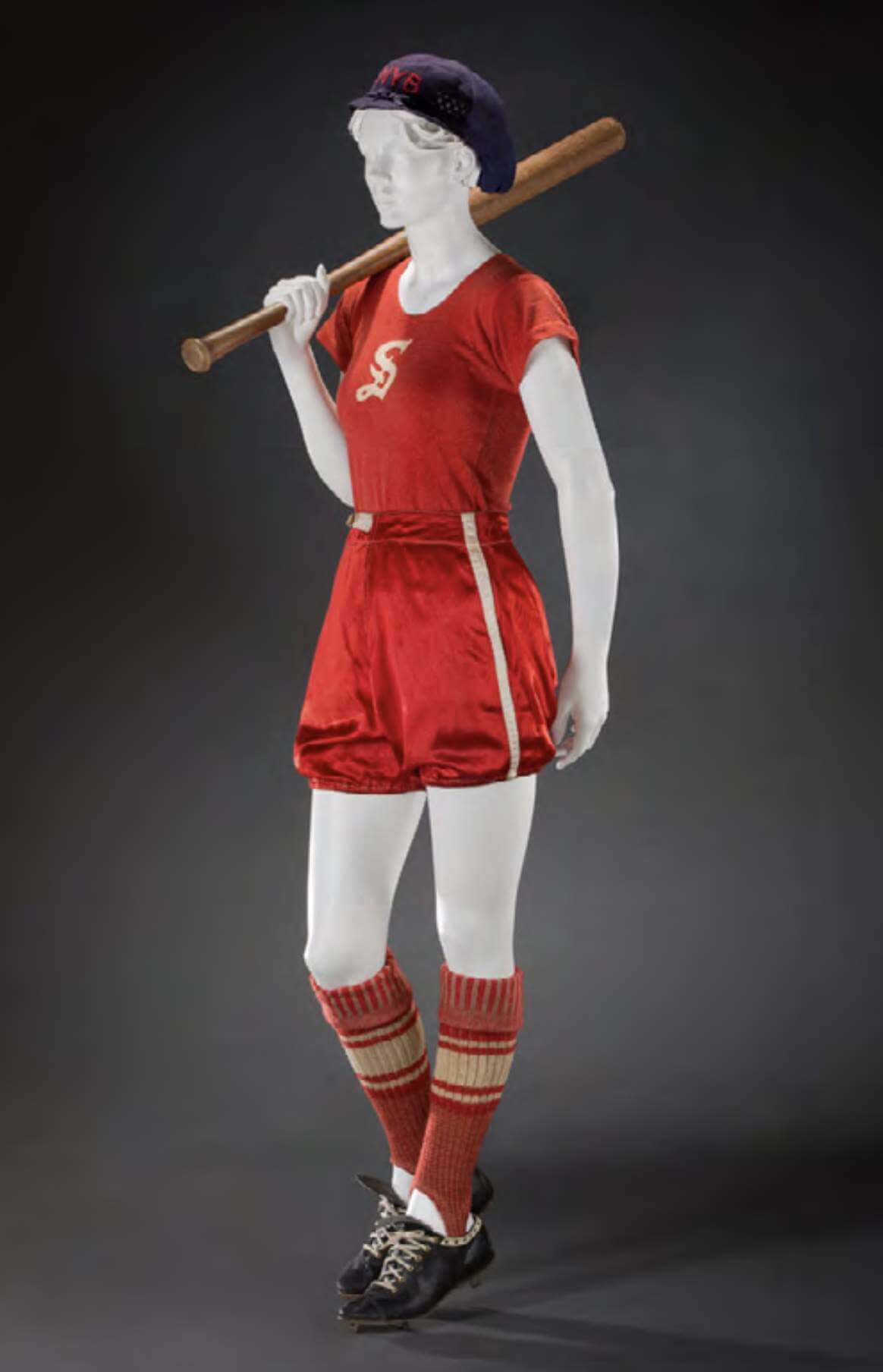 Baseball

We tend to think of women playing softball, not baseball, but the exhibit says this 1935 uniform was for baseball.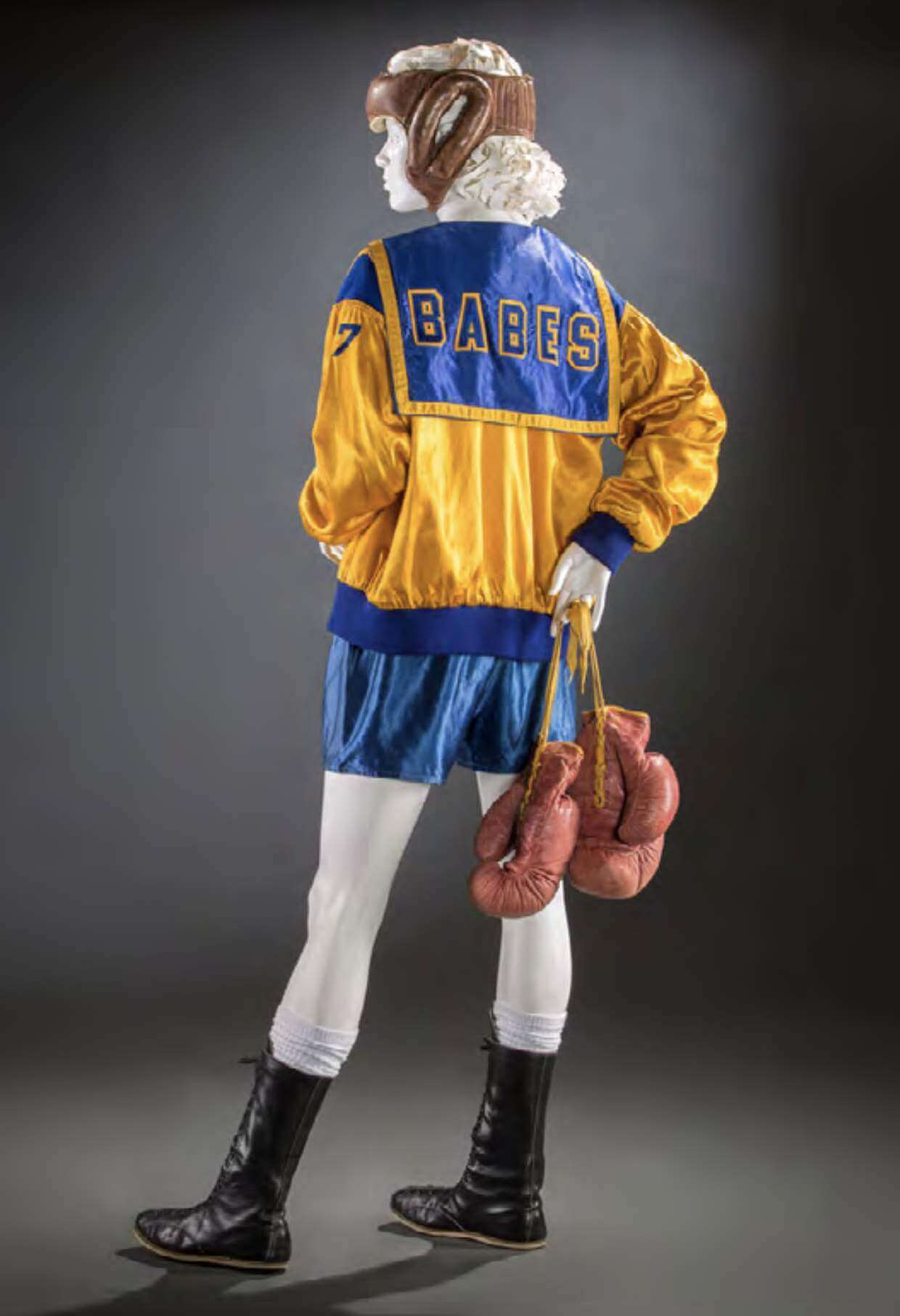 Boxing

I had no idea that women's boxing was a thing as early as the 1940s, but that's when this outfit is from.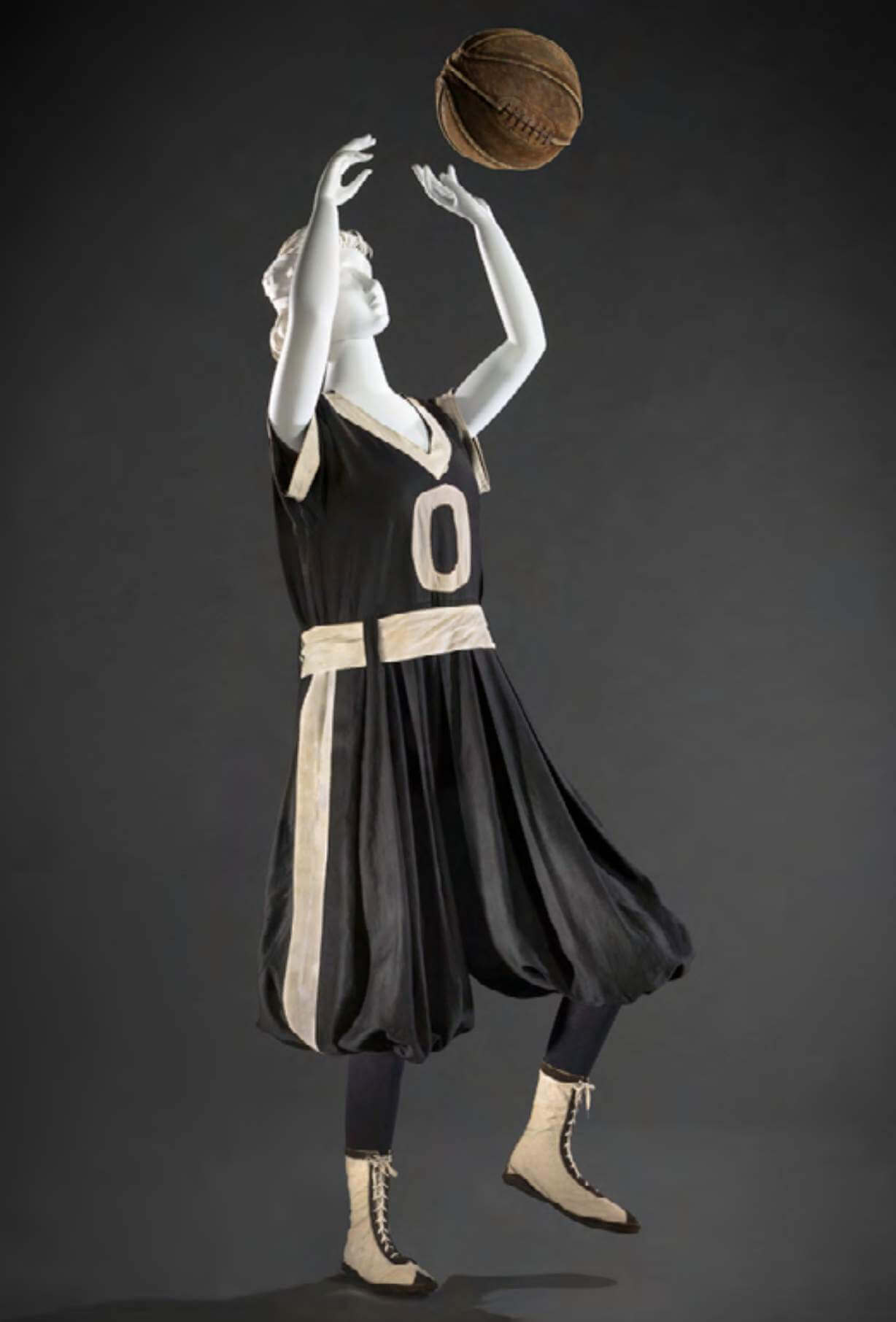 Basketball

This amazing uniform dates back to 1919! Incredible stuff (including the fantastic footwear), although of course it's sad and ridiculous that women of that era were stuck wearing puffy bloomers instead of shorts.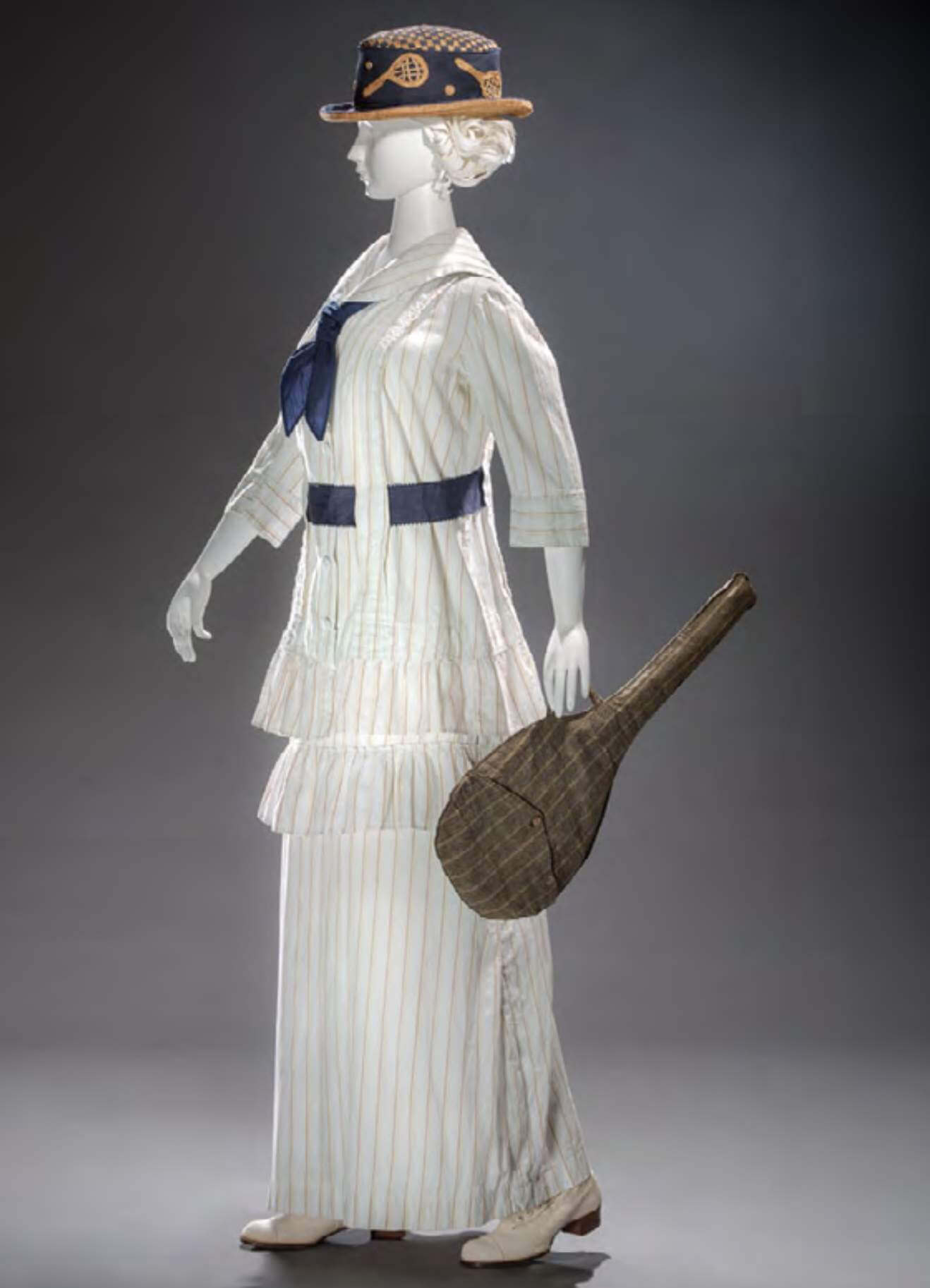 Tennis

The exhibit includes several tennis ensembles. I like the one shown above, which is from 1914, because of the interesting cloth racket case.
There's also this tennis outfit, from the mid-1880s (note the gloves):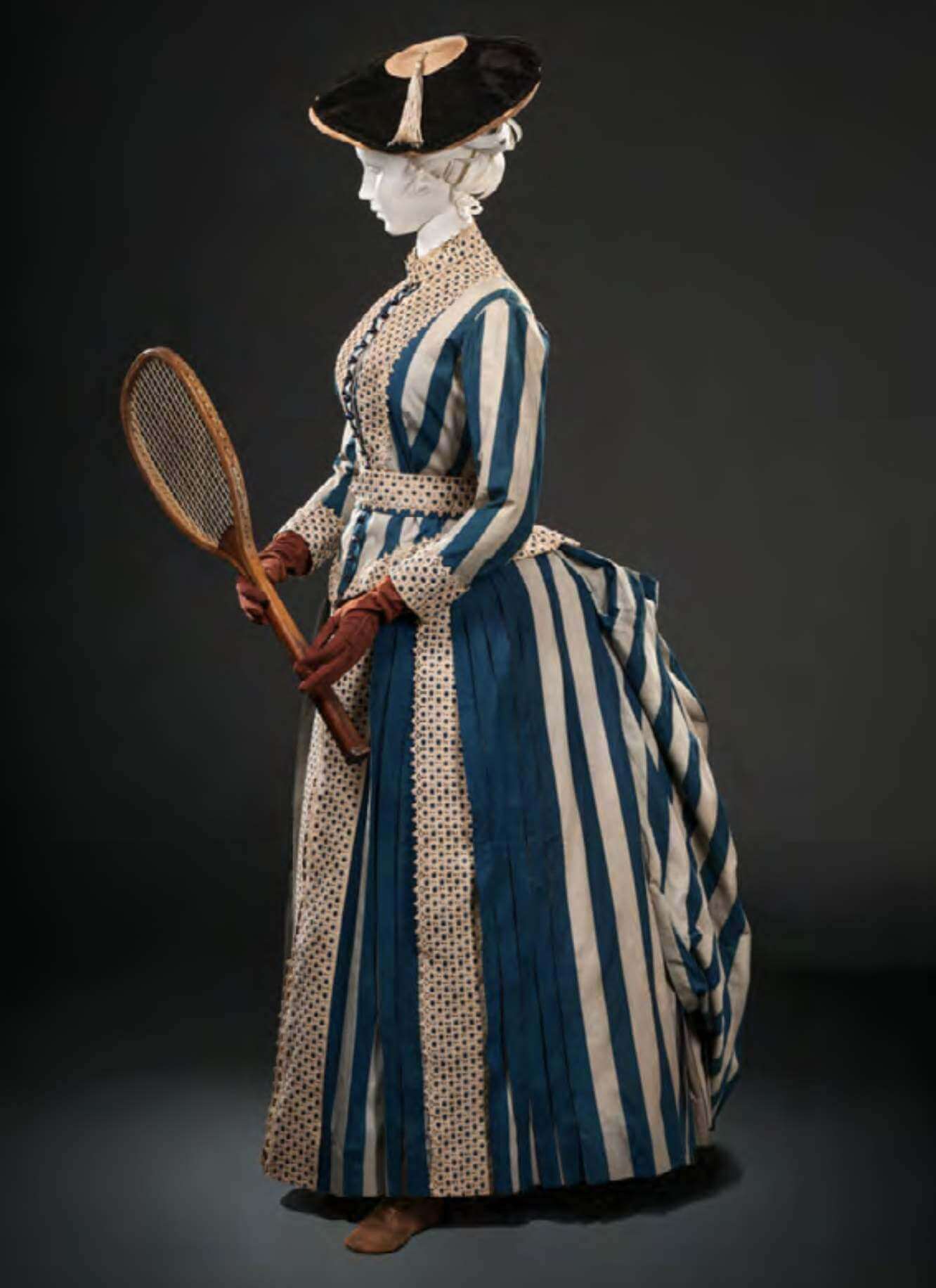 And this one, from the 1920s: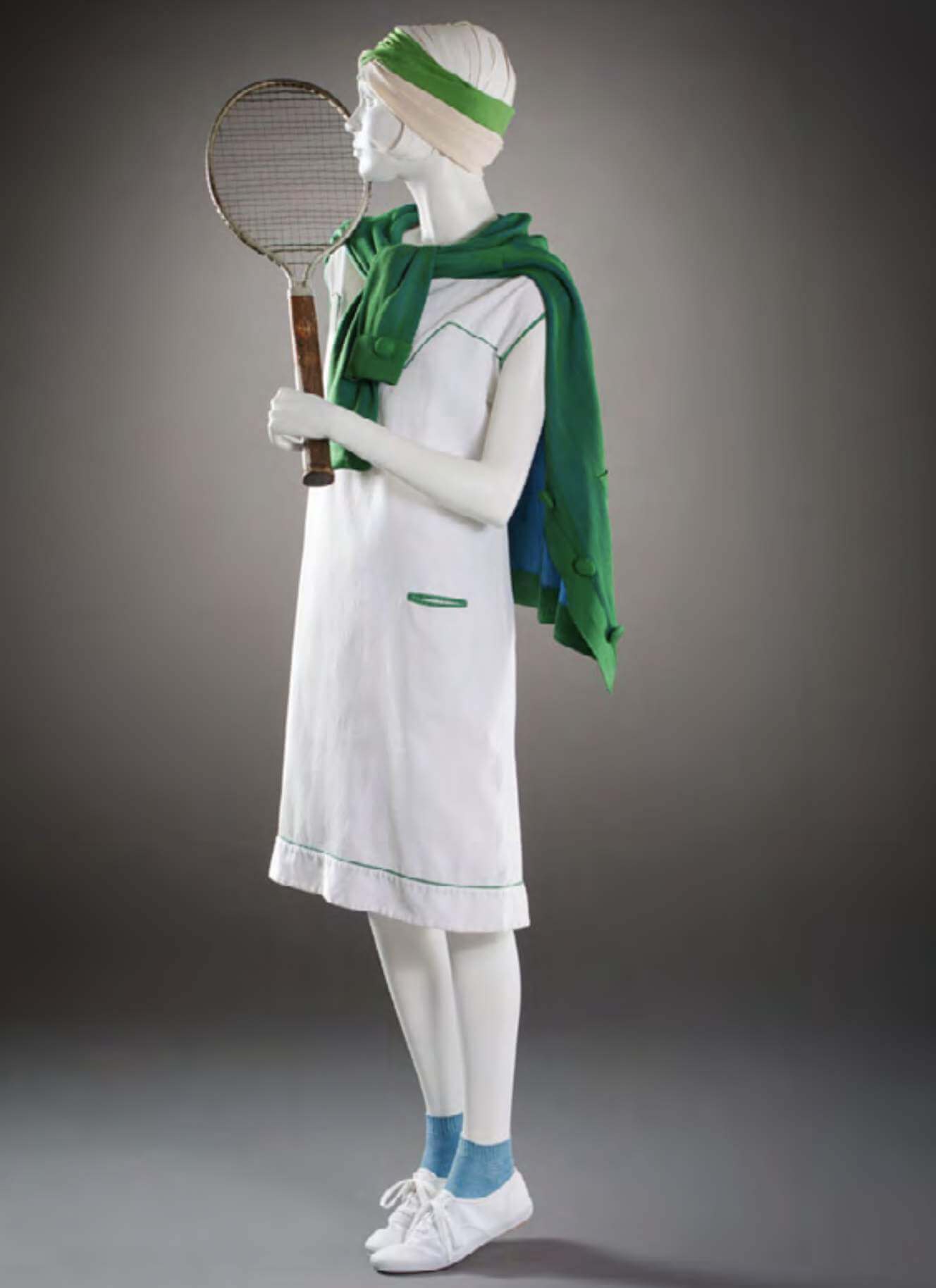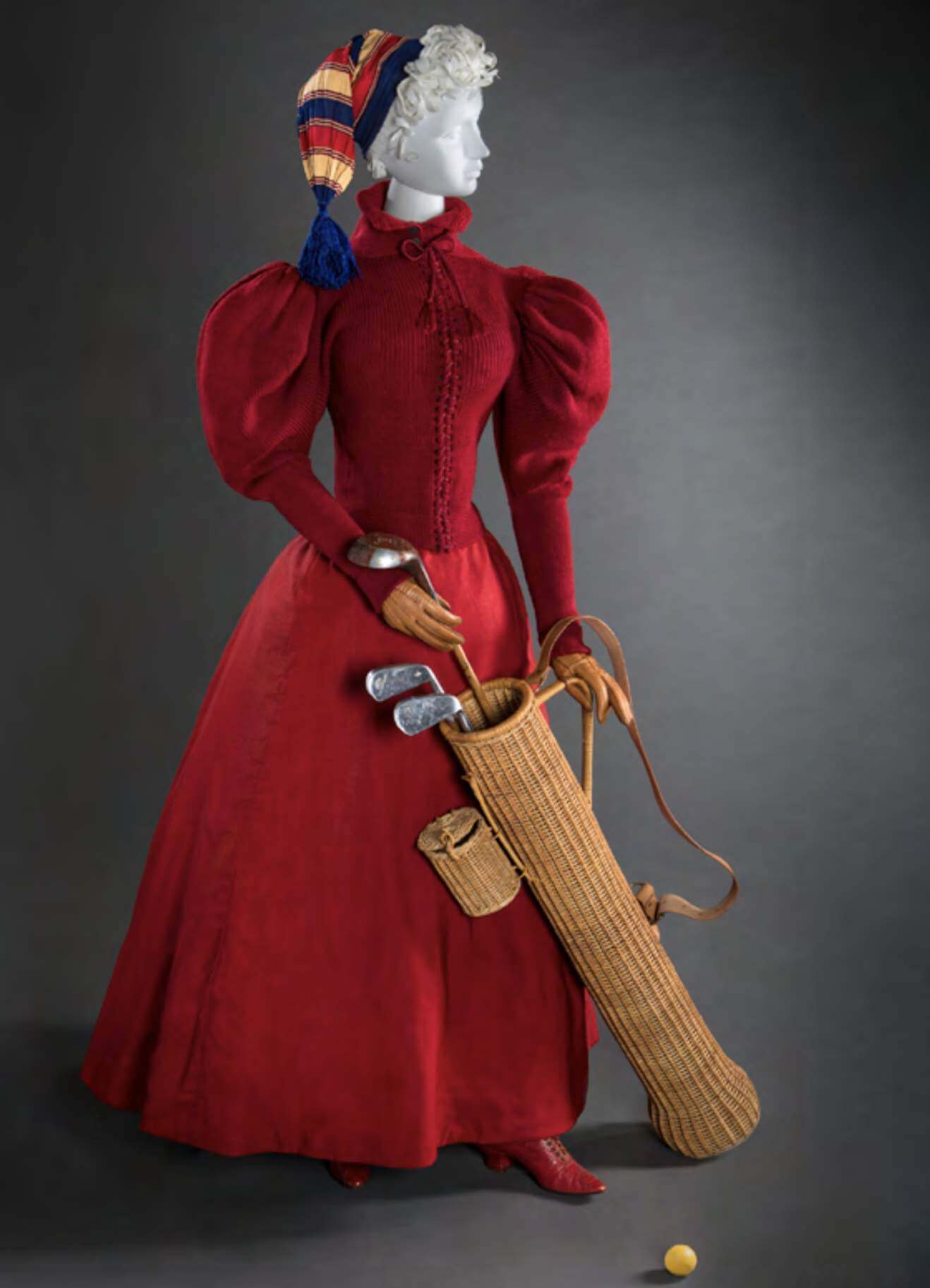 Golf

Oh, man — that wicker club bag! Almost enough to distract me from the weird hat. This is all from the mid-1890s.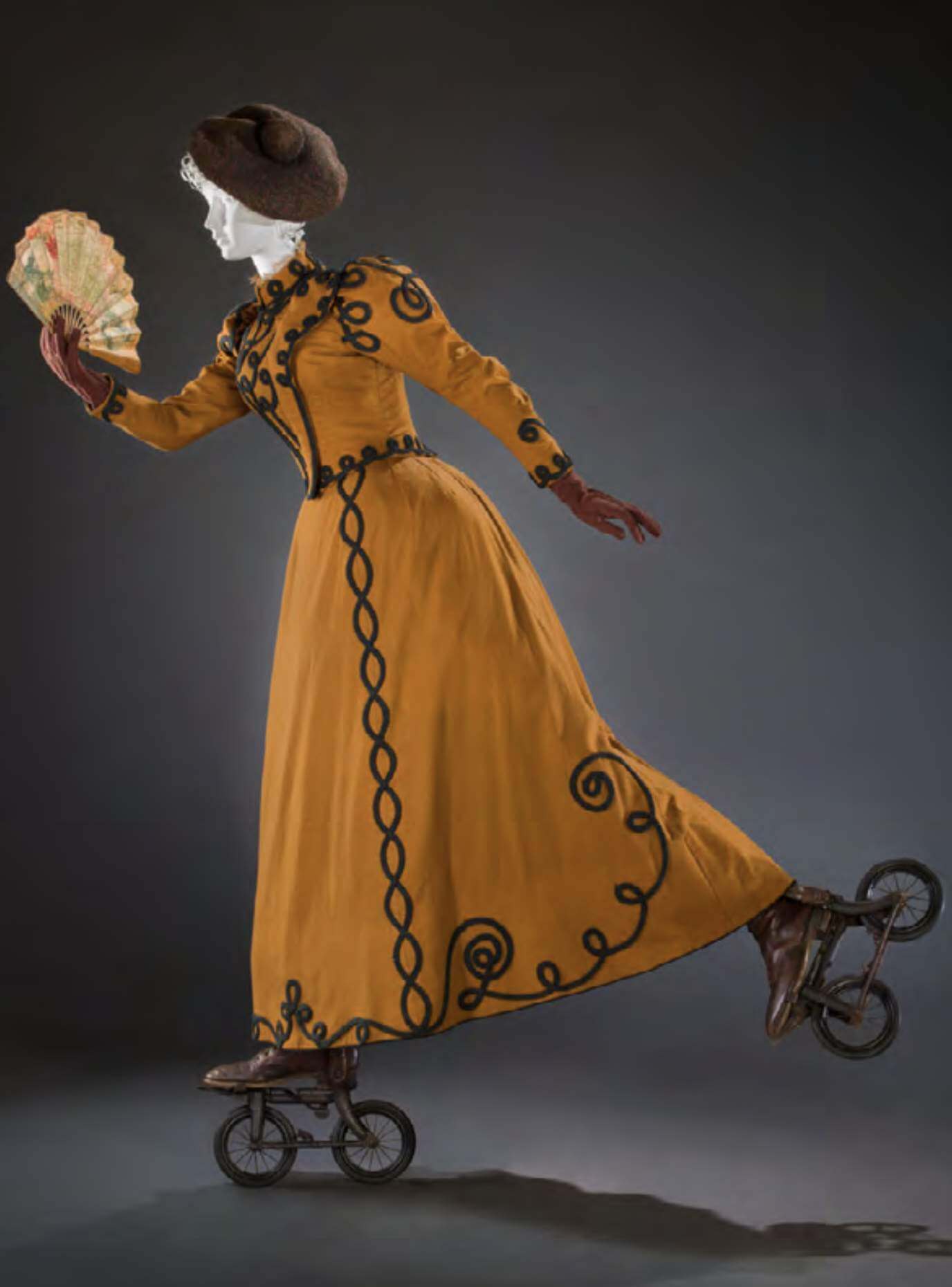 Inline Skating

Did you know that inline skates date all the way back to the 1700s? I sure didn't! These are from the 1890s.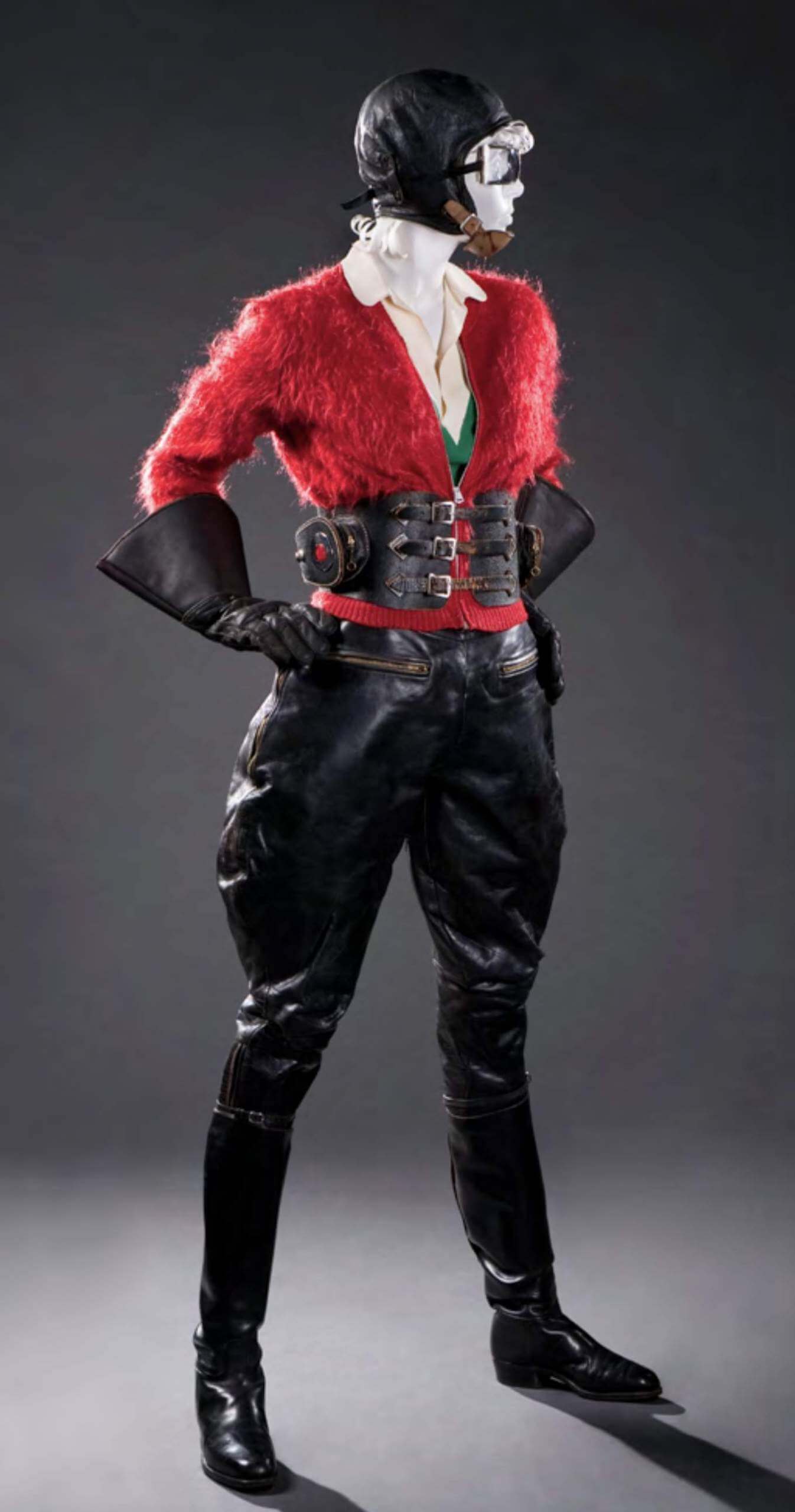 Motorcycling

Damn — this outfit, from the late 1930s, looks like something you might see today at a leather fetish shop.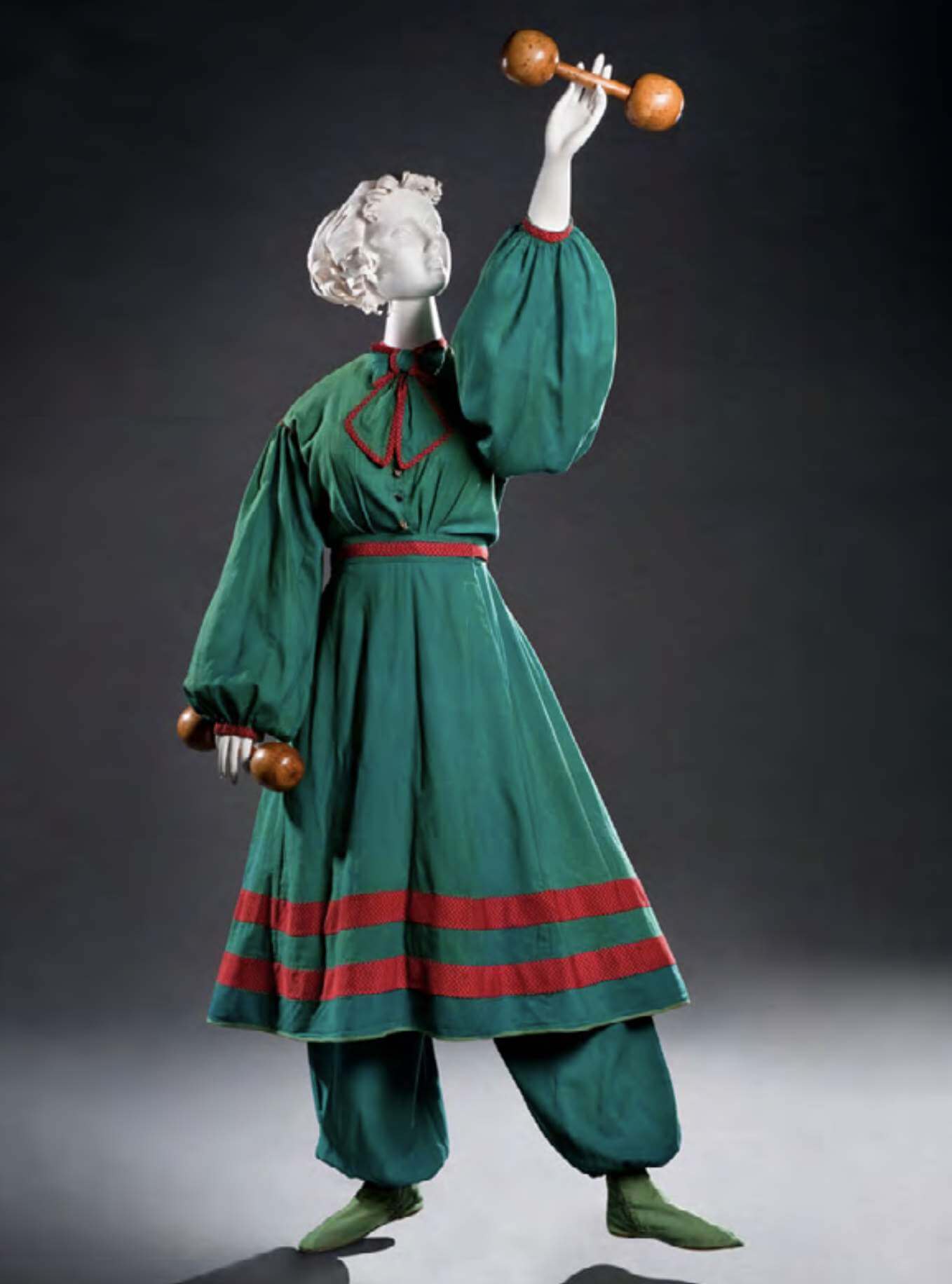 Calisthenics

Holy moly! This one is from the 1860s.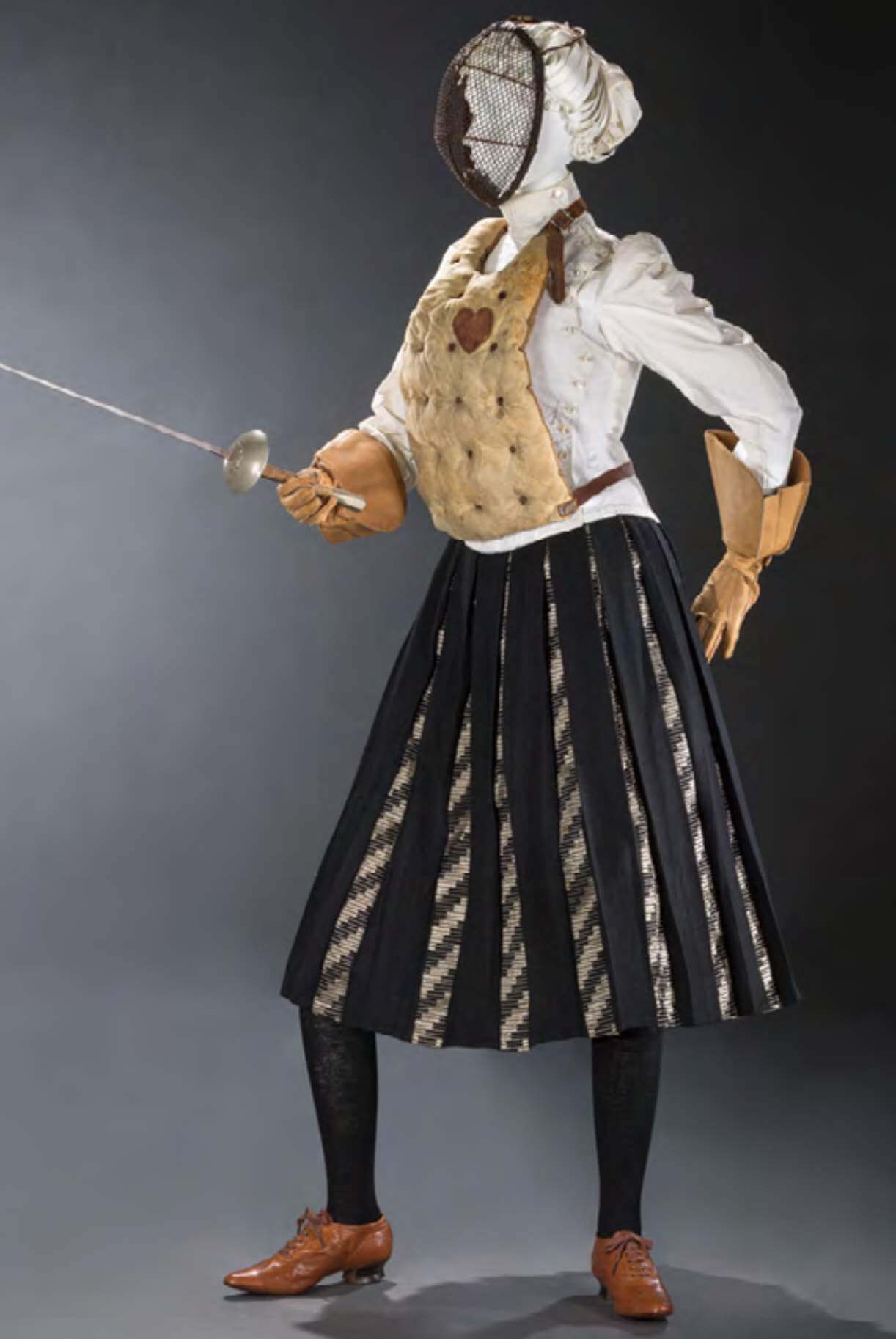 Fencing

This is from the 1890s. I love how the plastron (a word I didn't know until just now) has a little heart graphic.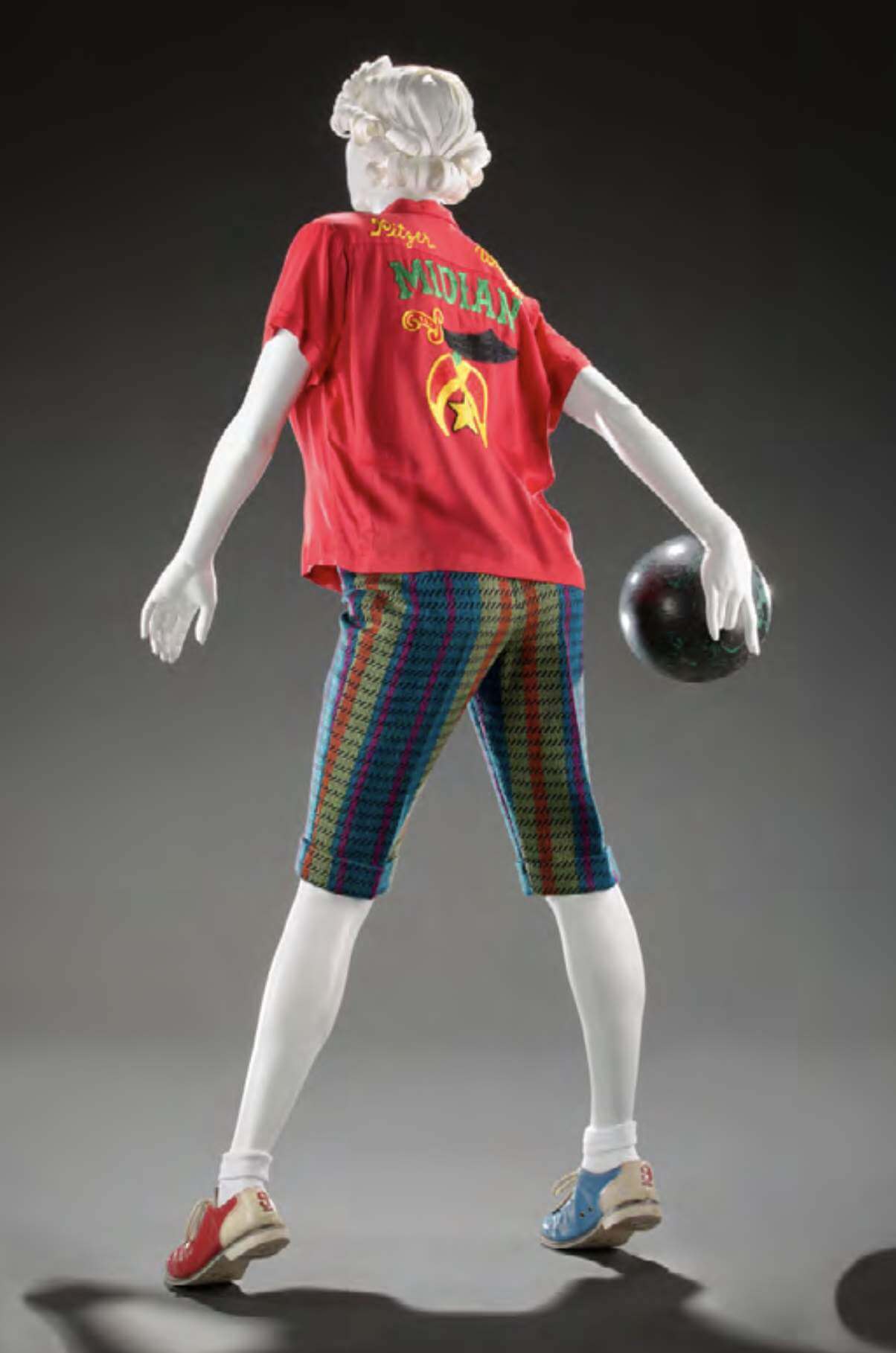 Bowling

I understand why they showed this one from behind, because bowling shirts have cool embroidered designs on the back. But women's bowling shirts tend to have pockets down toward the hemline instead of on the chest (plus, like most women's shirts, they button differently than men's shirts), so I wish they'd shown the front so we could see the pocket.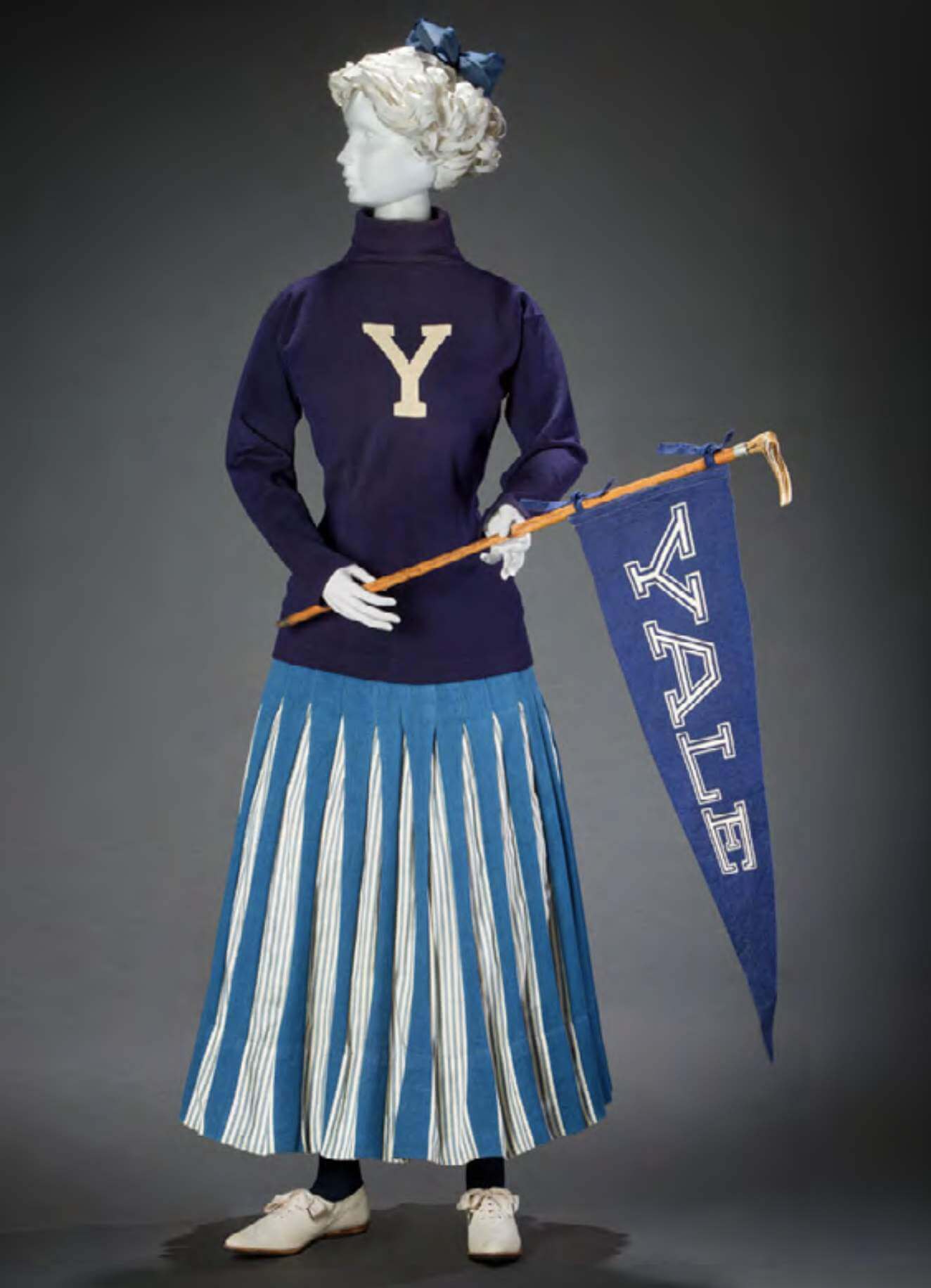 Cheerleading

The outfit shown above is circa 1900. The exhibit also includes one from the 1950s: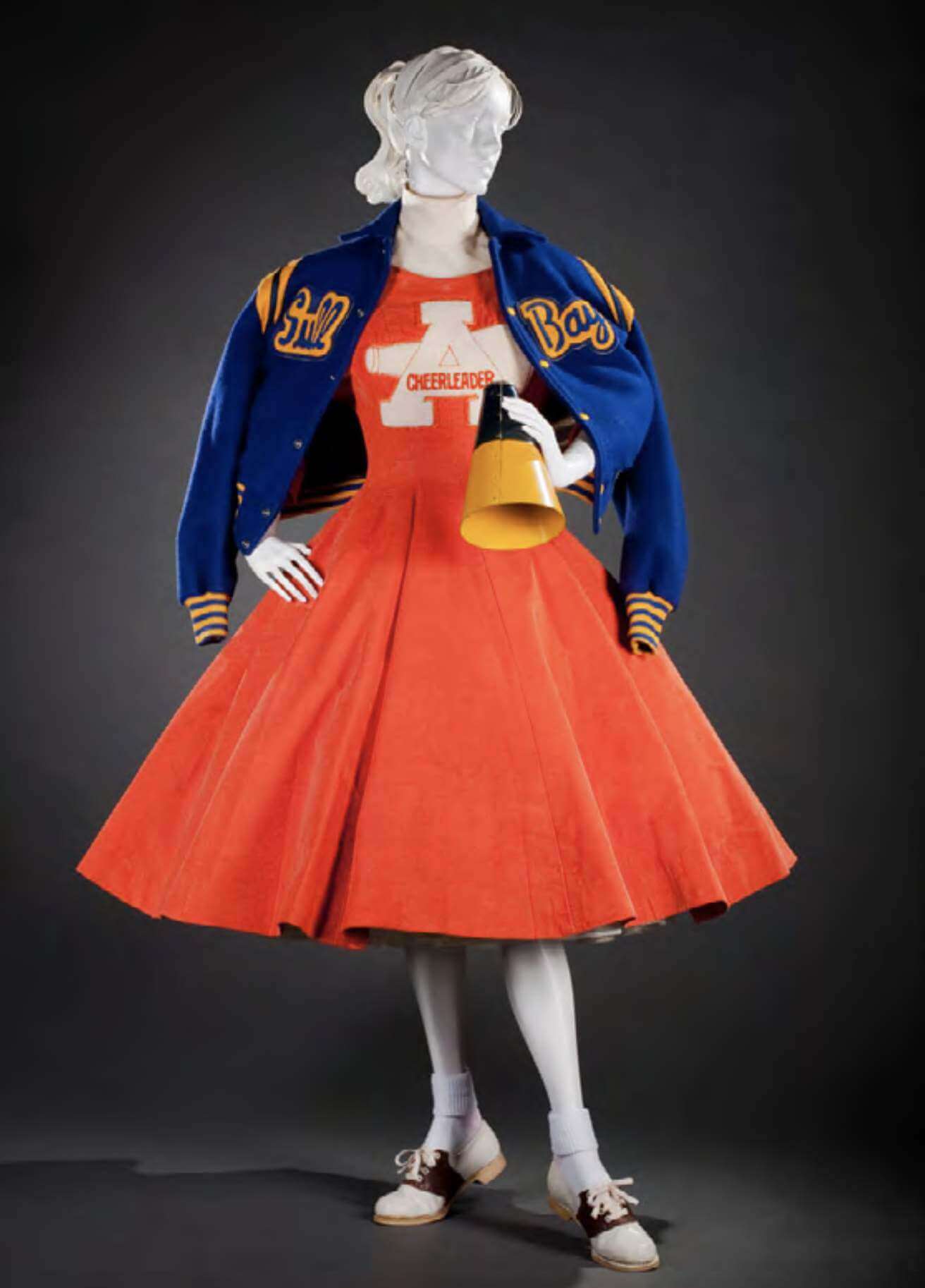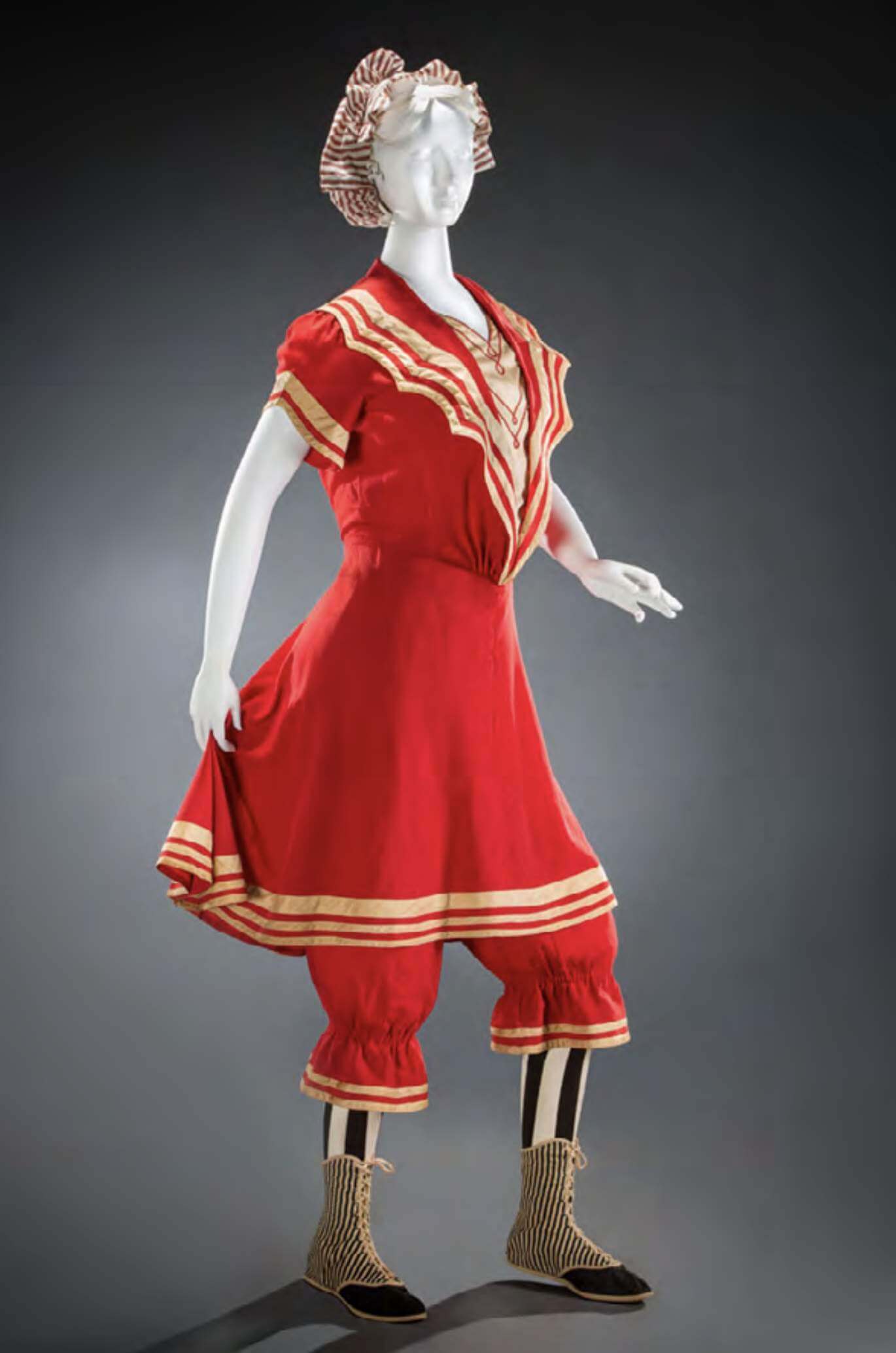 Bathing

The exhibit includes a bunch of vintage women's swimsuits. I chose to show this one, from 1903, because of its amazing variety of stripes.
———
I could go on, but you get the idea. If you want to see more, you can see all of the outfits from the exhibit here.
• • • • •
• • • • •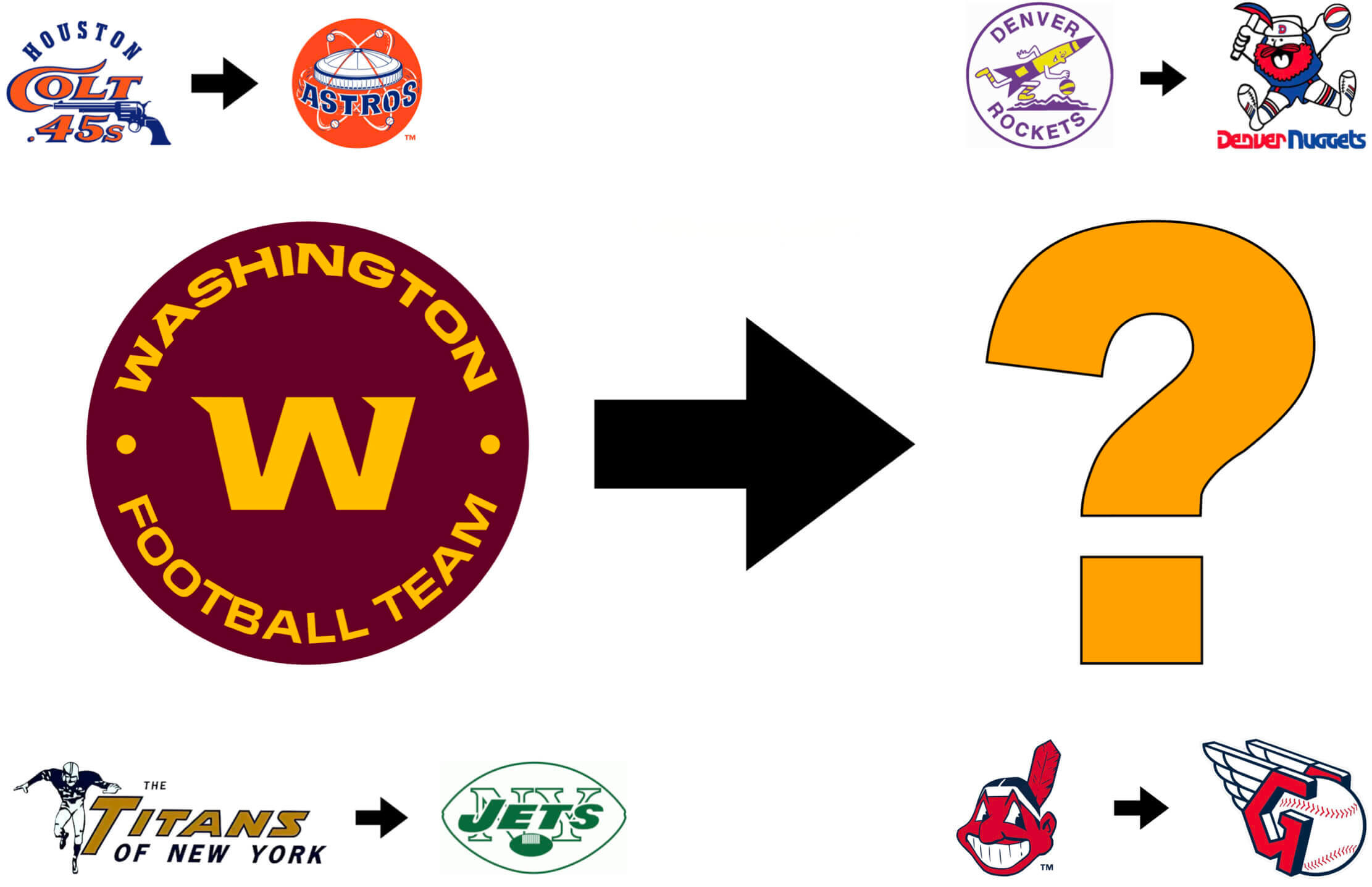 "Grading the Name Changes" reminder: In case you missed it on Thursday: With the Washington Football Team scheduled to announce its new name in a few weeks, I decided to grade the previous pro sports team renamings. It was a fun exercise, and you can check it out now on Bulletin.
As always, you can also subscribe to receive my Bulletin articles via email.
• • • • •
• • • • •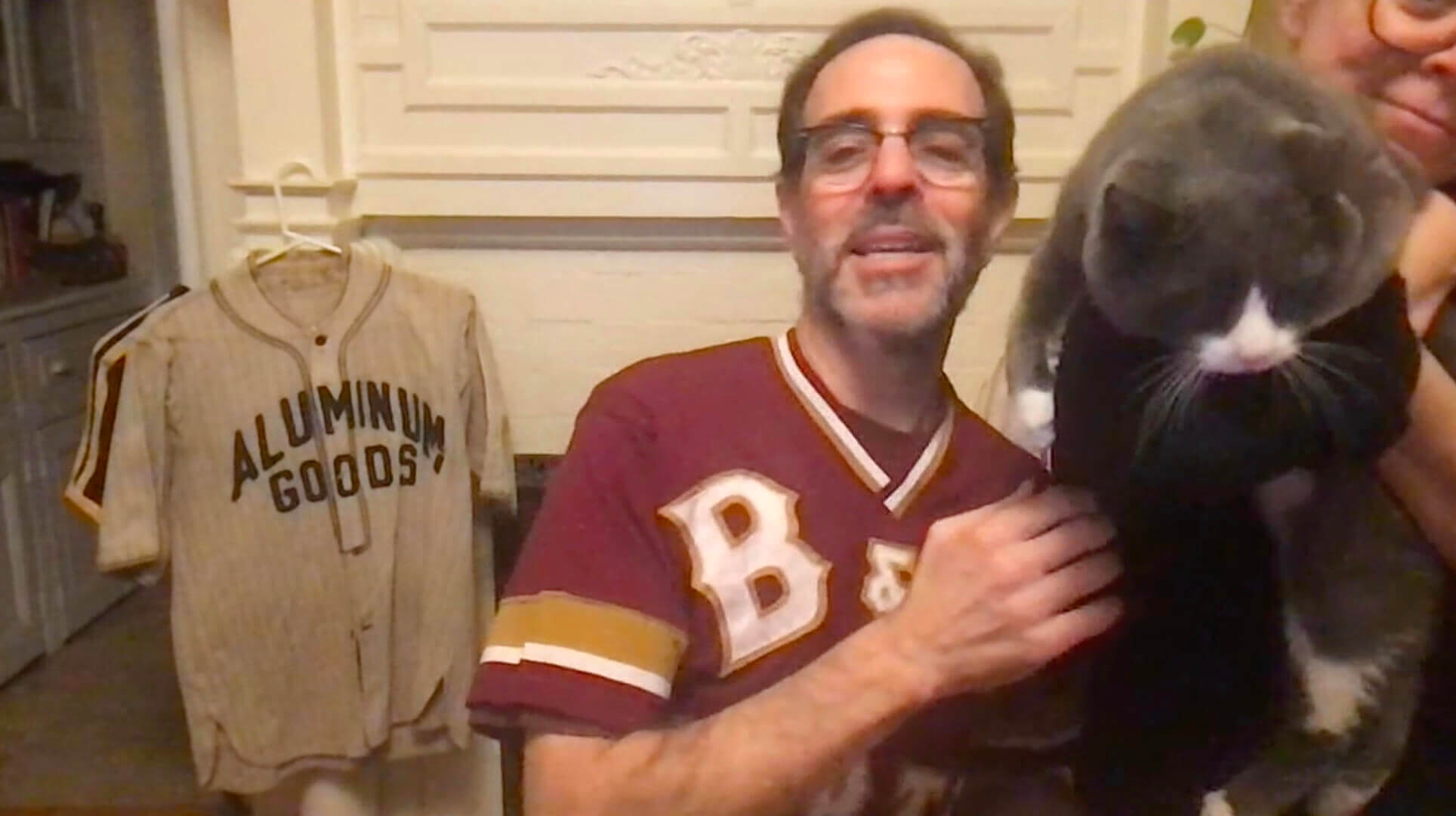 Facebook Live recap: Big thanks to everyone who attended last night's Facebook Live event (which, as you can see above, featured a guest cameo by Uni Watch girl mascot Caitlin). There were a few technical glitches, and it was weird to be just talking into the void, but overall I thought it was fun and worthwhile. I showed off a few of my vintage uniforms and also answered questions posted by people who were watching. If you missed it but want to check it out, here you go:
I'm thinking I may do these on a semi-regular basis — say, every two months or so. This is uncharted territory for me, so please feel free to give feedback on what you liked or didn't like, what worked or didn't work. Thanks.
• • • • •
• • • • •

ITEM! The Classic Cap is back (sort of): Our original Uni Watch Classic Cap sold out last summer (as you may recall, Ebbets Field Flannels no longer has access to the particular shade of green fabric we were using).
But! It turns out that we have six mis-sized caps remaining. They're tagged as 7-3/8, but they measure more like 7-1/8ish. I'm going to sell them for $19.99 plus $7 for shipping, for a total of $26.99. No exchanges, no returns — all sales final!
Since Ebbets no longer has this fabric available, these are the last Classic Caps ever. If you want one, send me $26.99 via Venmo (use @Paul-Lukas-2 as the payee), Zelle (plukas64@gmail.com), or PayPal (newcollegeuni@gmail.com). If you'd rather use Apple Pay or a paper check, contact me and I'll give you the info you need. If you're not in the USA, get in touch and I'll let you know the shipping charge for your country.
After these last six caps are gone, Mark LaFountain will step down from his role as Uni Watch Cap Fulfillment Manager — a role for which he very generously volunteered about three years ago. I'm grateful beyond words for his assistance during that time. Thanks, Mark — you're the best.
Will we have more caps in the future? Maybe — but if so, I'll need someone to fill Mark's very large shoes (because I don't have the space in a small NYC apartment to store tons of caps and boxes). If you think that sounds like you — or to put it another way, if you're interested in tediously boxing up lots of caps as orders come in and then taking them to your local post office, where the clerk will eventually start saying, "What, you again? More boxes going out?" — give me a shout and we can discuss. Thanks.
• • • • •
• • • • •
The Ticker
By Anthony Emerson

Baseball News: This blog ranks the Rangers' current uni sets from worst to best (thanks, Phil). … The Hokkaido Nippon Ham Fighters will reveal new uniforms next Friday (from @bigdaddy45_1969).

NFL News: The Bucs will be wearing white at home for Sunday's Wild Card game against the Eagles (thanks, Phil). Always fun to see former Giants DL Jim Burt's super-wide-spaced NOB lettering. That shot is from the 1985 NFC Wild Card game (from Pat Matullo).

Hockey News: Here are the Czech unis for the upcoming Winter Olympics (from Wade Heidt). … Hurricanes G Jack LaFontaine was still wearing his Minnesota Golden Gophers mask during his first NHL practice. He just signed his entry-level contract on Jan. 9 and had been playing for Minnesota until then (from William I. Wells). … Believe it or not, this year's NHL All-Star unis are actually pretty nice. Yesterday's official release confirms earlier leaks (from multiple readers). … The Premier Hockey Federation's Connecticut Whale have unveiled Alzheimer's Awareness sweaters to be worn this weekend (from our own Jamie Rathjen). … G Nolan Mailer of the WHL's Saskatoon Blades had his mask painted in the style of Chris Osgood's unique mask (from @TeebzHBIC). … The death of a Connecticut high school player after another's player's skate blade cut his neck in an on-ice collision has renewed the debate about neck guards, which are mandatory for amateur players in Canada but not in the States.

College/High School Hoops News: Michigan men's is going BFBS tonight (thanks, Phil).


Soccer News: Arsenal keeper Aaron Ramsdale wore the team's standard away kit, rather than the keeper's kit, during last night's League Cup match against Liverpool (from Johnny Jatt). … New Everton winger Anwar El Ghazi will wear No. 34 in honor of former teammate Abdelhak Nouri, who suffered a cardiac arrhythmia during a friendly match for Ajax in 2017, leaving him with severe brain damage. El Ghazi is the latest of several former Ajax players to wear No. 34 after moving to a new club, a trend I wrote about back in 2020. … Real Salt Lake has hired a marketing agency to find a new stadium naming rights advertiser.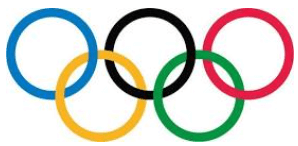 Grab Bag: Cross-posted from the hockey section: Here are the Czech hockey unis for the 2022 Winter Olympics (from Wade Heidt). … Team Germany unveiled some of their unis in Munich yesterday (from @sebastian42195).

Grab Bag: Utah is soliciting the public for new flag designs (from Brice Wallace). … Adelaide released their Indigenous design for their AFL men's and women's teams as well as their South Australia's men's league team (from our own Jamie Rathjen). … Not uni-related but still pretty cool: Here is a 14-inch core sample of the surface of the Indianapolis Motor Speedway, showing 113 years of evolution of the track (from David Firestone). … My hometown of Portland, Maine, has a new logo set. Inexplicably, the "Portland" wordmark is all in lowercase, but the word "City" is capitalized.
• • • • •
And that's a wrap for this week. Enjoy Phil's weekend content and the NFL's Wild Card Weekend (Go Niners!), and I'll see you back here on MLK Day. Peace. — Paul