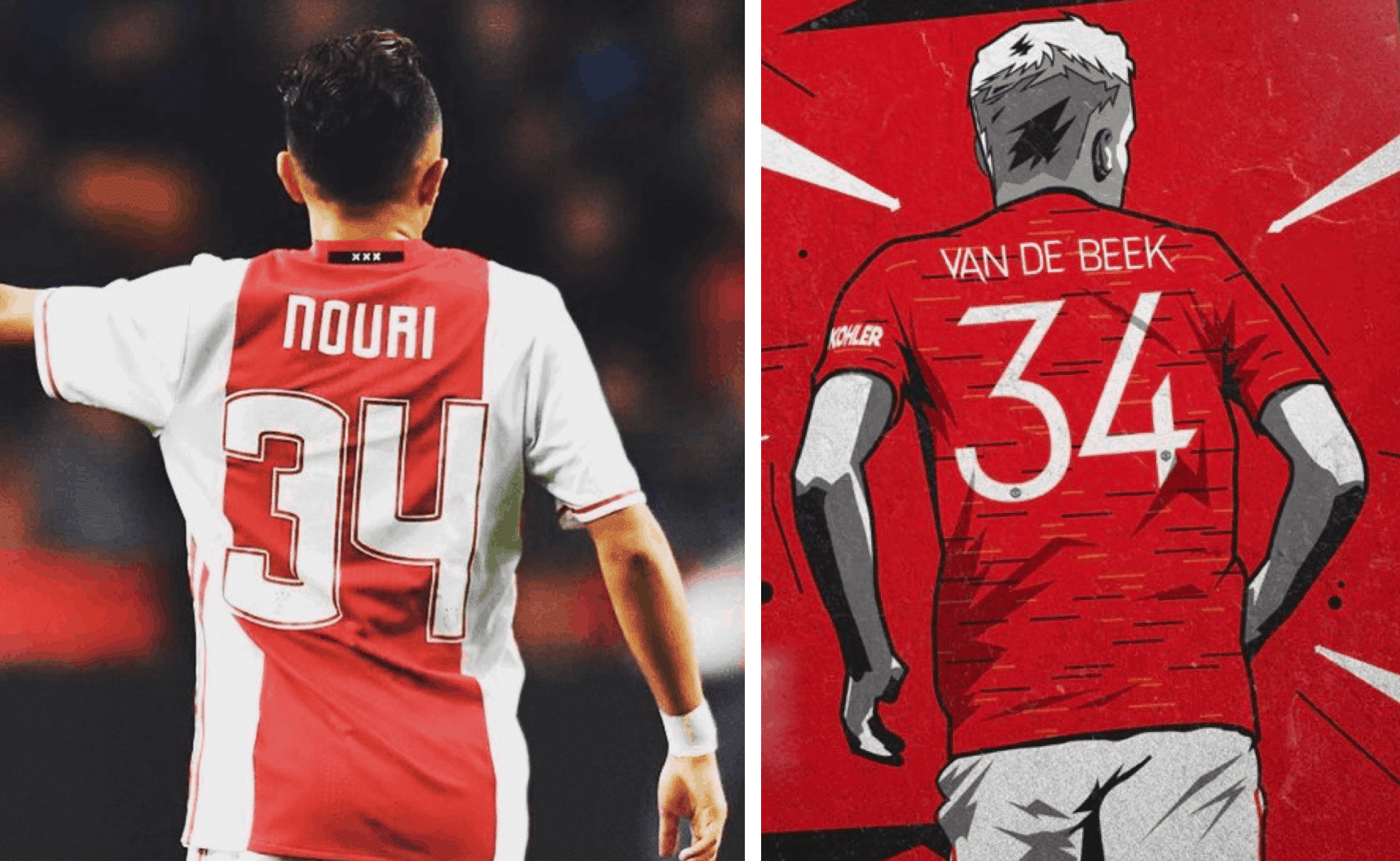 [Editor's Note: Today we have a guest entry from our own Anthony Emerson, who's going to fill us in on a great uni-numerical story from the soccer world. Enjoy. — PL]
By Anthony Emerson
Dutch midfielder Donny van de Beek was transferred yesterday to the Premier League's Manchester United, and it was quickly announced that he'll be wearing No. 34 for his new team.
Thirty-four is is not usually thought of as a "soccer number." That's because soccer players usually try to get uni numbers as close as possible to their position number. Young players recently promoted from the academy levels of pro soccer tend to be assigned higher numbers and then work their way down as they become more prominent members of their team. David Beckham, for example, made his debut for Manchester United wearing No. 24 before switching to No. 10 and then finally to No. 7, which is usually reserved for United's best player.
But No. 34 means a lot to Van de Beek's former team, AFC Ajax, the most decorated club in Dutch soccer. During Ajax's routine preseason warm-up match against German club Werder Bremen on July 8, 2017, 20-year-old midfielder Abdelhak Nouri was struck by cardiac arrhythmia. He collapsed on the field and was left with permanent brain damage. (Ajax would later admit that the medical care he received on the pitch was inadequate.)
Soccer academies in Europe are different from sports academies in the U.S. In many European nations, top clubs sign players when they're preteens, and they advance through the ranks if they have the talent. Players often develop lifelong friendships with each other in these academies. So many of Nouri's Ajax teammates — including Van de Beek — had literally grown up alongside him while progressing through Ajax's famed De Toekomst academy.
No Ajax player has worn No. 34 since Nouri's cardiac event. But Van de Beek is now the sixth De Toekmost graduate to have chosen No. 34 after leaving Ajax for a new club. Here are the other five:
• Justin Kluivert wore No. 34 for one season after leaving Ajax for AS Roma. (He's since adopted No. 99, for his birth year.)
• Joël Veltman will wear No. 34 this season for Brighton & Hove Albion after moving on from Ajax.
• Manchester City's Philippe Sandler has worn 34 since arriving there in 2018.
• Amin Younes has worn No. 34 since moving to Napoli in 2018.
• Terry Lartey Sanniez wears No. 34 for NAC Breda.
(In addition, Kevin Diks was never an Ajax player, but did play with Nouri in the Dutch national team's youth setup, and he wore No. 34 during his loan spell with Aarhus, and Reda Boultam wore it for Italian second tier side Cremonese.)
While Abdelhak Nouri will never play again, his former teammates remain committed to his memory. In an interview after his move to United, Van de Beek said, "[Nouri's] a good friend of mine, and I'm really close with his family and his brother is one of my best friends, and I talk a lot with them. I decided to take his old number on my shirt. I want to get good memories with this number."
———
What a great story! I know nothing about soccer or its uni-numbering protocols, so this has been a real eye-opener for me. Thanks, Anthony!
• • • • •
• • • • •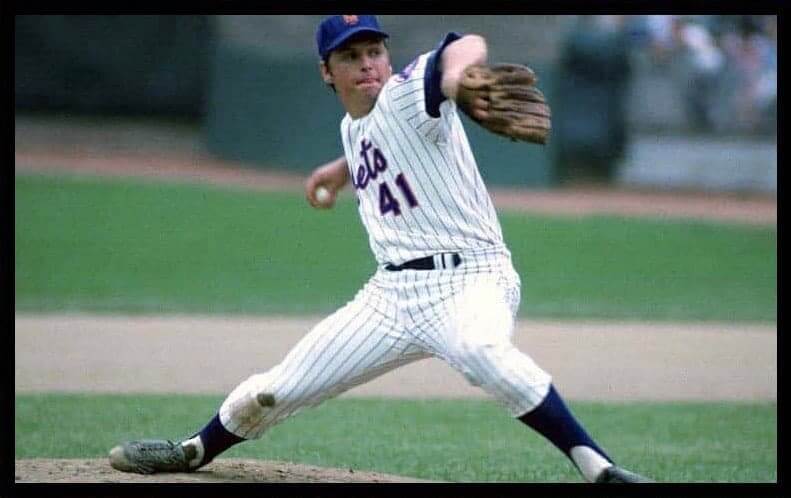 Click to enlarge
The best: Word came down last night that Tom Seaver had died on Monday. As a lifelong Mets fan who grew up rooting for Seaver, I have a lot of complicated thoughts about his passing — too many and too complicated to untangle on such short notice.
But this is Uni Watch, so let's talk about Seaver from a uniform perspective. He had one very specific uni-related quirk: The right knee of his pants was always dirty (see above). That's because he was the classic drop-and-drive pitcher, dropping so low that his knee would scrape against the dirt of the mound. (When I was a kid, I'd try to emulate various pitchers' motions, but I didn't even bother to try Seaver's, because I knew I couldn't get low enough to mimic it properly.) That dirty knee was a constant throughout his career, no matter which team's uniform he was wearing — Mets, Reds, White Sox, or Red Sox.
Seaver was also among the handful of big leaguers who played for the Alaska Goldpanners, a collegiate summer team in Fairbanks. Here are some shots of him from his time there in 1964 (click to enlarge):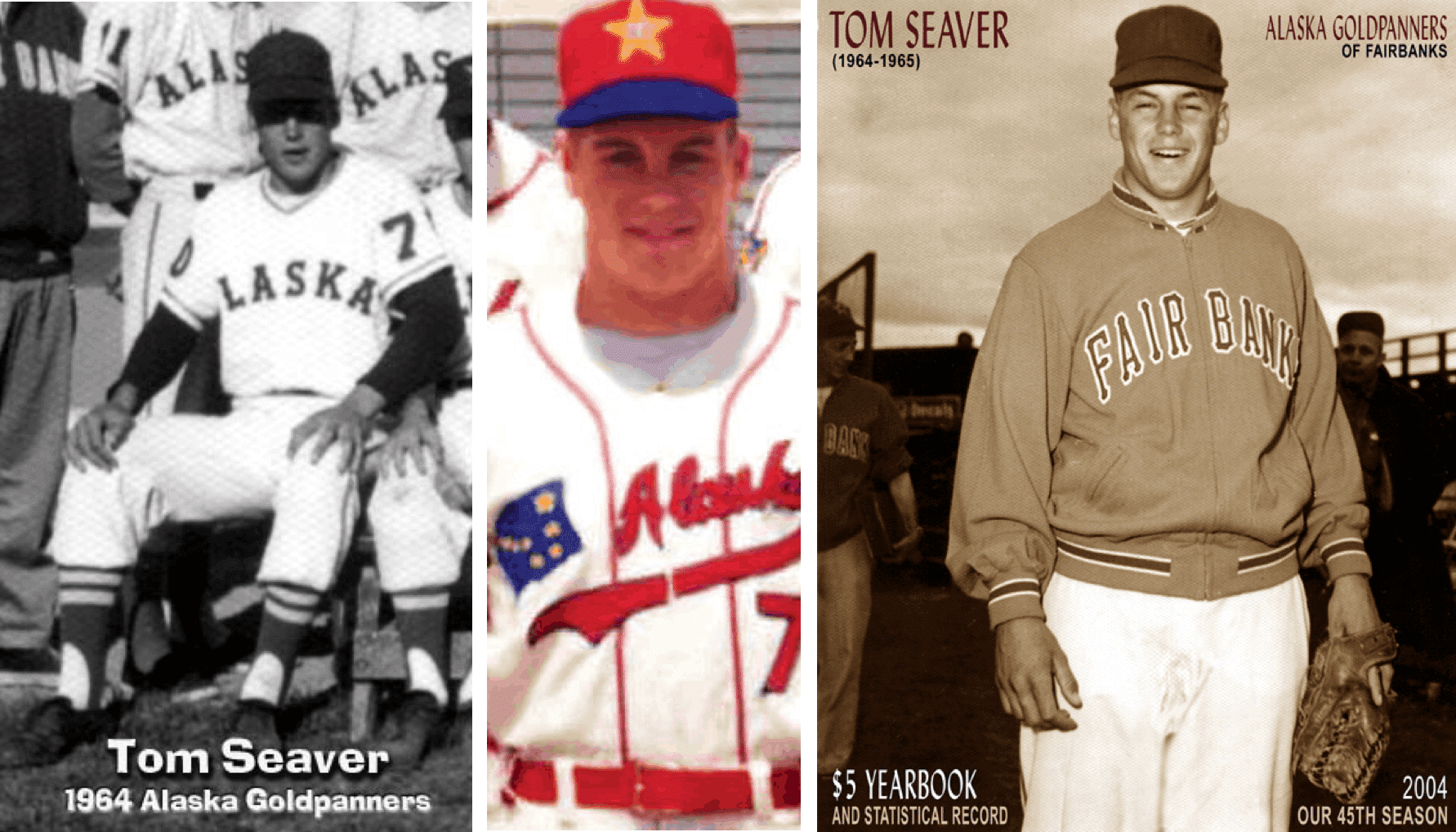 And here are two more shots of Seaver in uniforms that you may not have seen before — one from his time with the Jacksonville Suns (a Mets minor league affiliate) and either a Little League or maybe American Legion uni (click to enlarge):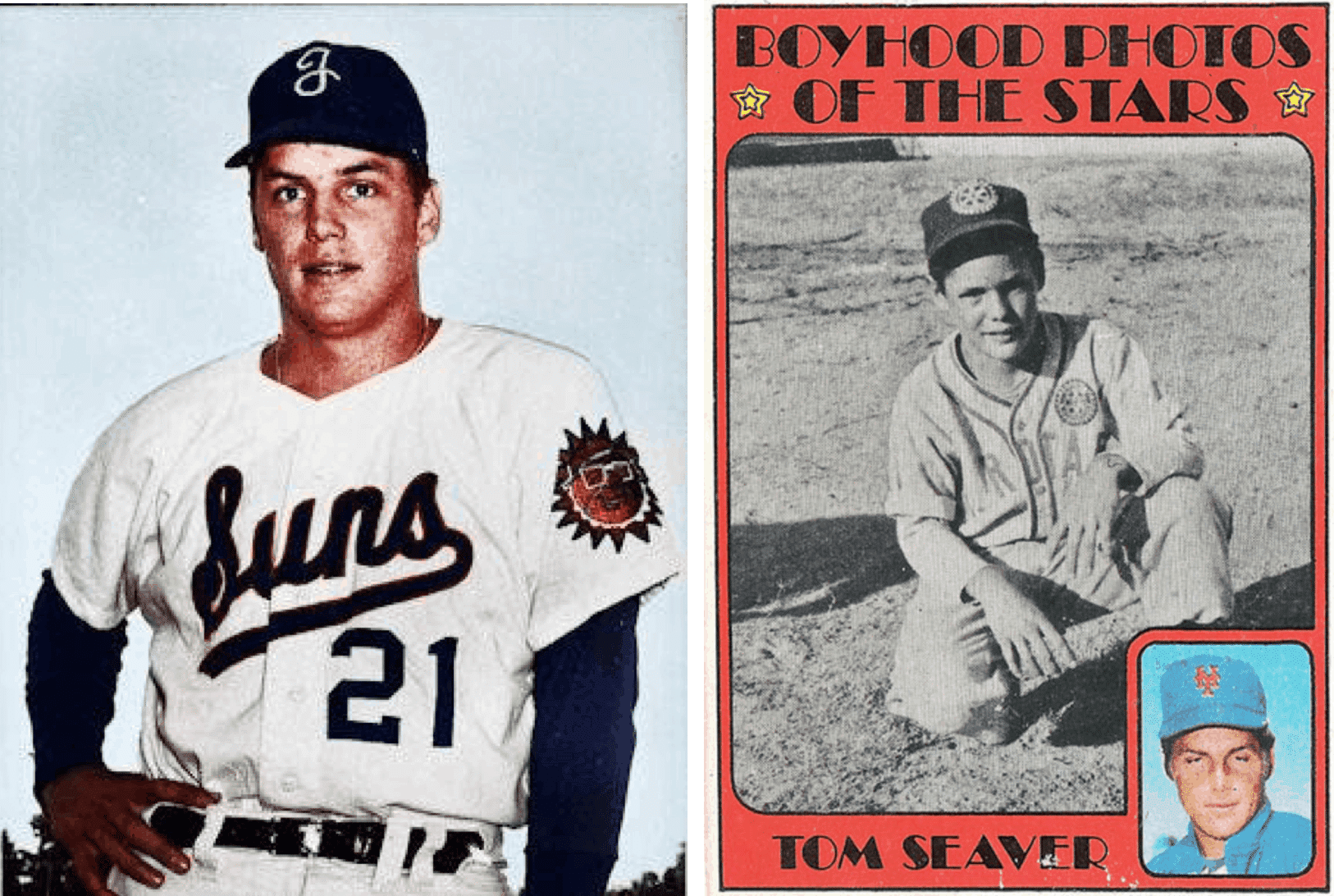 As an athlete, Seaver offered something for everyone. He was an ultra-competitive stud pitcher and former U.S. Marine (couldn't find a good photo of him in that uniform, unfortunately), but also an articulate brainiac who appealed to the geeks. Handsome gent with a trophy wife to boot. His final years were reportedly difficult, as he was afflicted with numerous ailments, including dementia. The obits say he also contracted Covid. A sad final chapter for a very proud man. Before they bury or cremate him, I hope they rub a bit of dirt on the right knee of his pants. Thanks for the memories, Tom. R.I.P.
• • • • •
• • • • •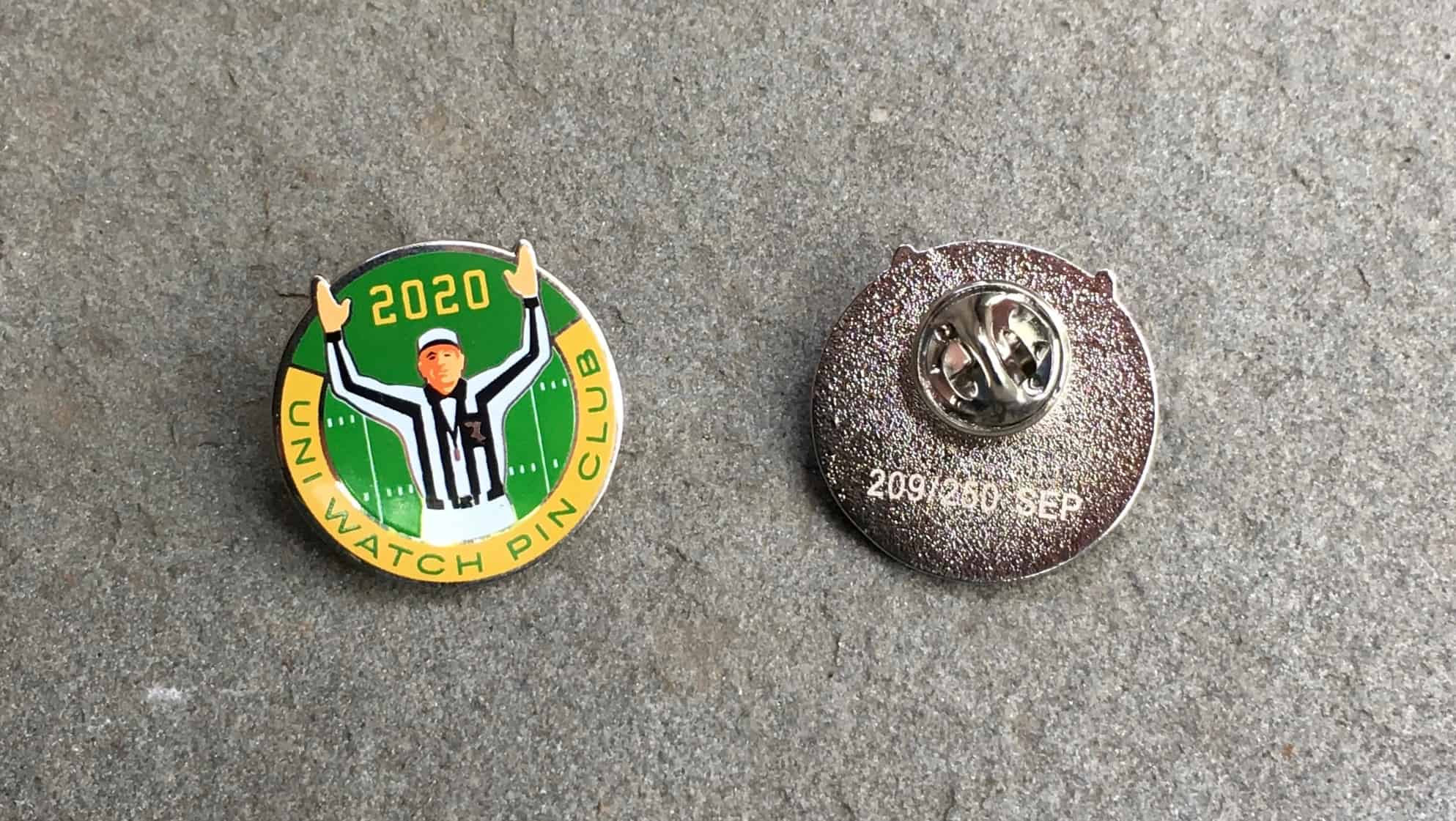 Click to enlarge
Pin Club reminder: In case you missed it on Tuesday, the Uni Watch Pin Club's new design for September, which features a football referee theme, is now available.
Need to get caught up? Here are our January, February, March, May, June, July (bobble!), and August pins. (Sorry, April sold out!)
My thanks, as always, for your consideration.
• • • • •
• • • • •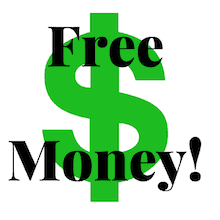 ITEM! Free cash money raffle: Reader Pedro Naranjo has generously donated $30 for a lucky Uni Watch reader to spend on any combination of Uni Watch merchandise, so I'm going to raffle that off today.
This will be a one-day raffle. There are no entry restrictions per se, although Pedro says he would like it the winner to be "someone who's been wanting to make a purchase but couldn't, for whatever reason." To enter, send an email to the raffle address by 8pm Eastern tonight. One entry per person. I'll announce the winner tomorrow. Big thanks to Pedro for sponsoring this one!
Meanwhile, the winner of yesterday's book raffle is Mike Burke, who's won himself a copy of Big Sexy by Bartolo Colón. Congrats to him, and thanks to the folks at the book's publisher, Abrams, for sponsoring that one.
• • • • •
• • • • •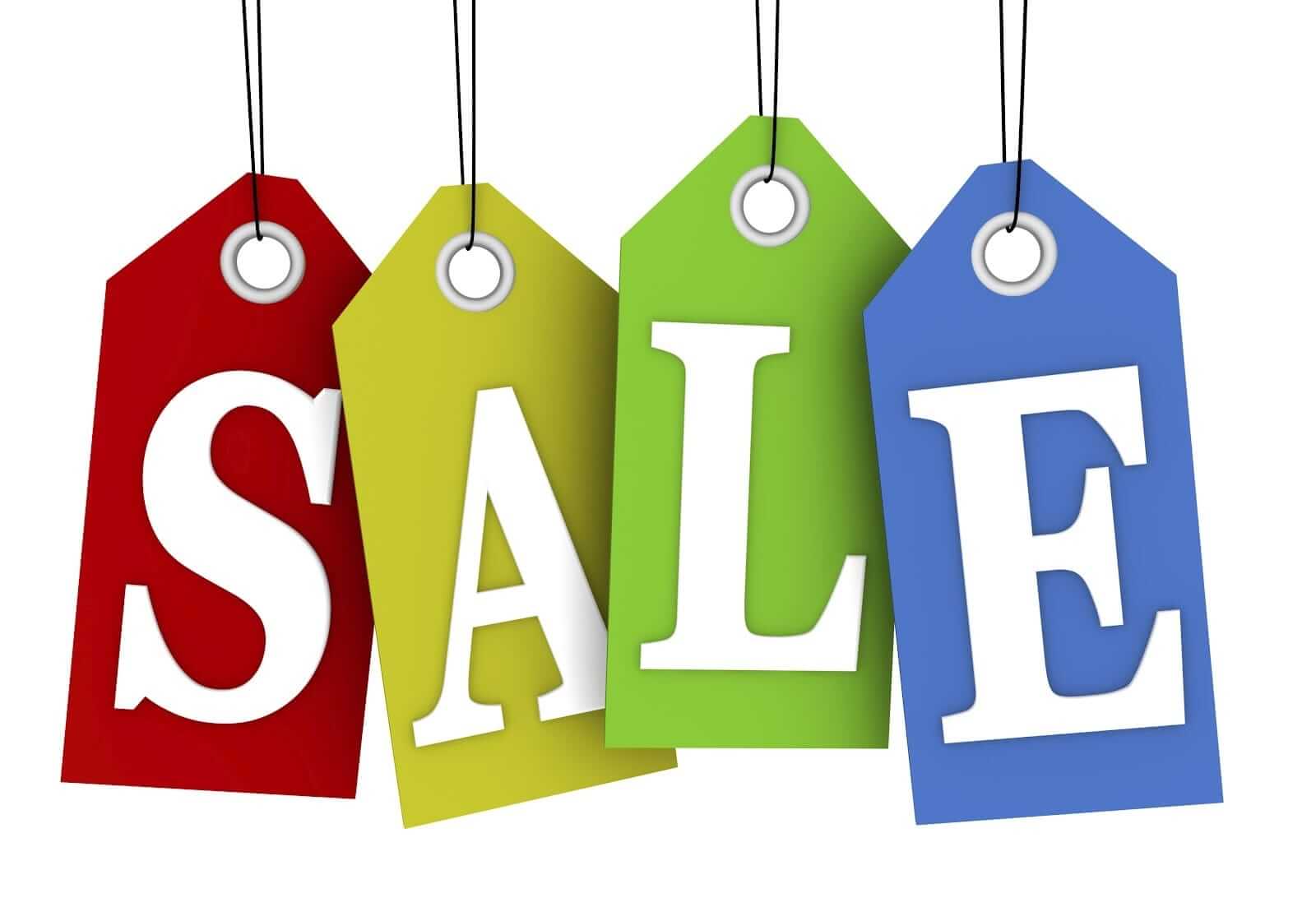 ITEM! More free cash money (sort of): Teespring is running one of its periodic 10%-off sales from now through next Tuesday, which means you can save some cash and Uni Watch will still get its full share of the profits.
This sale applies to everything in the Uni Watch Shop, the Uni Rock Shop, and the Naming Wrongs Shop. To get the 10% discount, use the checkout code LABORDAY.
Again, this sale runs through next Tuesday, Sept. 8. Enjoy!
Update: Teespring has now rolled out another sales promo: From now through midnight Pacific on Friday, save 20% with checkout code 100K. So use that one for now to save 20%, and then the other code is still good through the end of Tuesday to save 10%. (Sorry, you can't use both at once!)
• • • • •
• • • • •
The Ticker
By Paul

Working Class Wannabes™: A player for the Grand Island High School football team in Nebraska says, "We're going to be hard nosed. Blue collar." … A football coach for another Nebraska high school says one of his school's rivals "have always been a program with tough, blue-collar players that will 'line up and come after you.'" … New York Rangers player Brendan Lemieux says, "I love Rangers fans, I love playing for the Blueshirts, I love the blue seats [at Madison Square Garden] and the blue collared fans which is obvious with the way I play" (from @_ynnhoJ).

Baseball News: The Pirates will celebrate Roberto Clemente Day on Sept. 9 by having all uniformed personnel wear No. 21 for their game against the White Sox. I asked a team spokesman if the jerseys would be NNOB like on Jackie Day (he's not sure but will get back to me), and also whether the Sox will be doing anything with their uniforms for the occasion (no, they won't). … Oh man, check out this amazing late-1890s Orioles sweater! … Here's an extensive look at Negro Leagues tributes — past, present, Covid-scuttled, and possibly future — in minor league baseball (from Kary Klismet). … Here's another article about Carl Skanberg, the amazing artist who does scorebook illustrations for every White Sox game (from Mike Chamernik). … Twins 3B Josh Donaldson mistakenly wore the team's gold-trimmed cap last night (from Karl Anderson). … Cleveland OF Delino DeShields Jr. is the latest MLBer to have his jersey sewn shut (from @bshnides).

NFL News: The Lions are the latest team to encourage fans to purchase cutouts of themselves. And if you're looking to spend a cool grand, your cutout can sit next to a Barry Sanders cutout (from @pftsponge and our own Anthony Emerson). … Washington will apparently be using the NFL logo at midfield this season (from Nate Rathjen). … The Cowboys have exploited an NFL rule loophole by wearing blank jerseys — no names or numbers — in training camp, which would normally be a no-no because it makes it difficult to identify players and thus hard to monitor whether teams are complying with practice rules, whether injured players are on the field when they shouldn't be, and so on. The league has now clarified that the Cowboys, and all other teams, must be using numbered practice jerseys by next Monday. … The Panthers are among the few teams we can count on to release their jersey schedule prior to every season. Here's this year's version. … Slab BBQ — a restaurant in Austin, Texas — is selling Oilers-themed caps (from Ignacio Salazar). … Pats coach Bill Belichick appears in a new ad for a restaurant chain, in which he pokes some fun at his own sartorial habits.

College Football News: New classic-looking white uniforms for Arkansas. "These match the style of the home reds they wore last season," says Matt Snyder. … Iowa State, after initially planning to allow 25,000 fans to attend the home opener on Sept. 12, has now decided not to allow fans after all.

Hockey News: New uniforms for Russian team HC Avangard (rare non-soccer contribution from Ed Zelaski). … A Dartmouth goalie has a pretty cool leg pad design (from @OlegKvasha).
.

NBA News: Reprinted from yesterday's comments: For players who are wearing just NOBs, without any social justice statement, the number positioning and spacing has been very inconsistent (from Brian Tracy). … Designer Conrad Burry has created 30 logos encouraging people to vote, each one incorporating an NBA team's logo and using team-themed typography. … Here's a weird one: a 2010 Nuggets/Clippers preseasion game in L.A., but on the Lakers' court. "Lakers played same night as well, so no swapping of court," says Jeremy Brahm. … During the Lakers/Blazers playoff game on Aug. 22, the Blazers at one point played a lineup of Carmelo Anthony, Damian Lillard, Anfernee Simons, Gary Trent Jr., and CJ McCollum, who wear Nos. 00, 0, 1, 2, and 3, combining for the lowest possible sum of uni numbers in a five-man lineup! (From Eric Bangeman.)

College Hoops News: New court design for Virginia. "It's similar to the old one except for the new logos and wordmarks, but apparently they also removed the words 'University of Virginia' that had been above (from the TV perspective) the center court logo," says proud UVa alum Jamie Rathjen. … Central Maine Community College has named its basketball court after longtime head coach Dave Gonyea (from Kary Klismet). … Butler's live bulldog mascot, Butler Blue IV, has a new sweater (from @DBrown_50).

Soccer News: New home and away shirts for Belarus (from Ed Zelaski). … D.C. United and New York Red Bulls wore Black Lives Matter patches and yellow pediatric cancer ribbons last night (thanks, Jamie). … Also from Jamie: After revelations that Real Salt Lake employees have created a misogynistic work environment for female staffers and the company's women's team, the Utah Royals, RSL players wore Royals shirts to show their support when arriving for yesterday's game. … Interesting article about how colorblindness can affect kit clashes, fan perceptions, and more (from Alex Evans). … New shirts for the Faroe Islands (from Conan Smeeth).

Grab Bag: Bizarre uni-related story from Jamie Rathjen: "Australian rules football leagues have a 'best and fairest' award, similar to an MVP award. It's based on voting by the umpires, who vote on the best three players in the match. In the South Australia women's league, the vote count led to a discovery that in the umpires for a game in June accidentally voted for the wrong player because they confused two players who were wearing long sleeves. The voting was corrected and the two players shared the award." … Also from Jamie, and also about Aussie rules football: Fremantle wore a white clash version of their Indigenous guernsey yesterday for Indigenous Literacy Day. … New uniforms for the Italian women's volleyball team Imoco Valley (from Jeremy Brahm). … Here's a piece about rock band AC/DC's longtime art director, who designed their logo and album covers. … The new Mississippi state flag design has been approved by a commission and will be presented to voters this November (from Manzell Blakeley). … New logo and jingle for tech company Intel (from John Cerone). … A Ugandan police officer and his son have been arrested after the son wore his father's police uniform. "It is a crime in Uganda to wear a police uniform if you are not an officer," explains Timmy Donahue. … Also from Timmy: A Turkish company has created anti-bacterial airline crew uniforms. … And yet another from Timmy: New naming-rights deal for Cricket Australia. … In the 1997 sci-fi film Event Horizon, actor Sam Neill requested that the Australian flag on his character's uniform be replaced with the Aboriginal flag, the way he thought it should look in 2047 (from @wahlberglines).