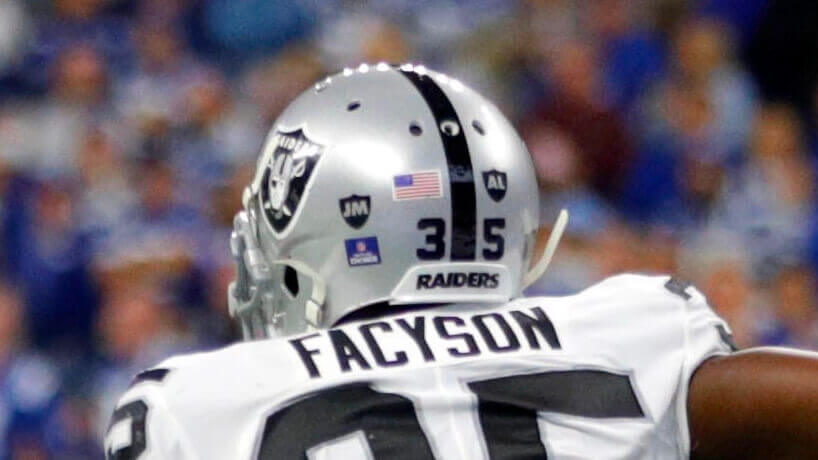 Photo by Robert Scheer/IndyStar, USA Today Network; click to enlarge
Good morning, and happy 2022 from Uni Watch HQ! Hope you all had a good New Year's weekend.
Now then: Yesterday's slate of NFL games featured several tributes to the late John Madden. First and foremost, as you can see above, the Raiders added a "JM" memorial decal on the back of their helmets, in the same design style as the "AL" perma-memorial for Al Davis that they've been wearing since 2011. It's not yet clear, at least to me, whether the Madden decal will also be worn for next week's regular season finale (and for the postseason, if the Raiders advance), or if it was just a one-game thing.
In addition, Raiders wide receiver DeSean Jackson wore Madden-themed shoes: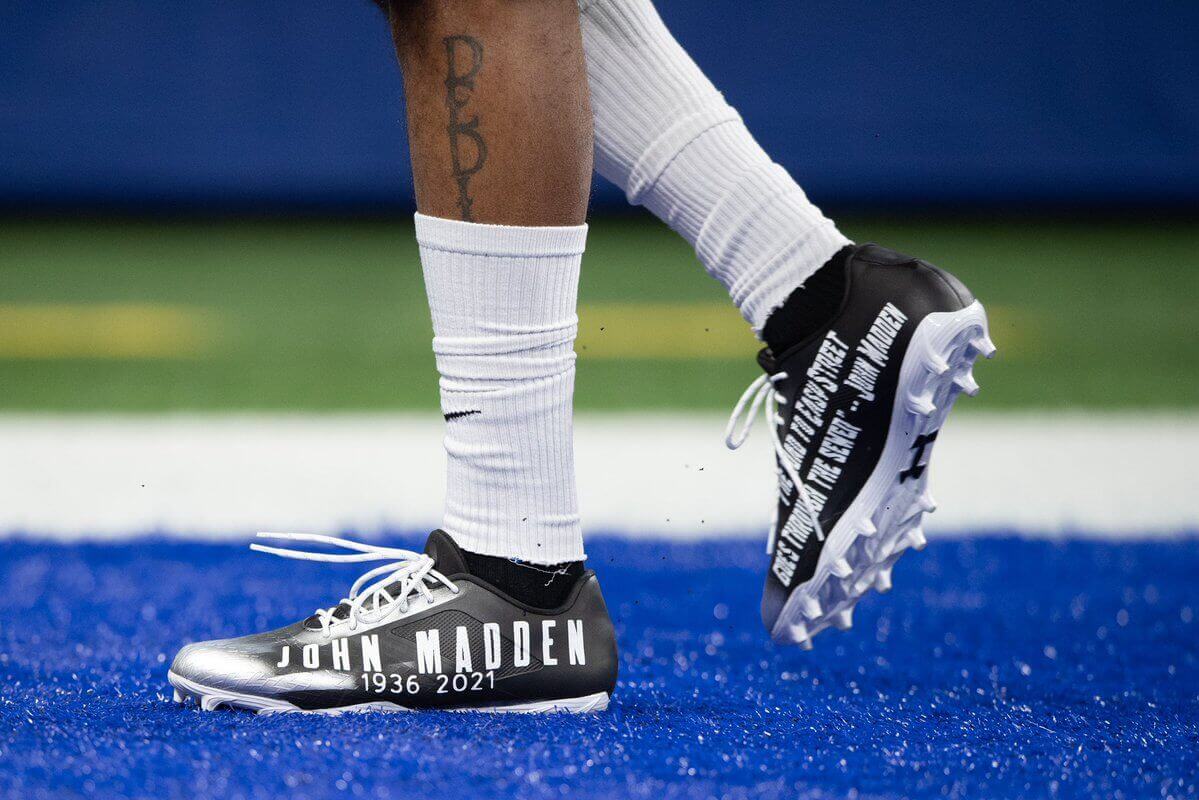 The tributes were not limited to the Raiders. Bills wideout Stefon Diggs had his own Madden-themed footwear: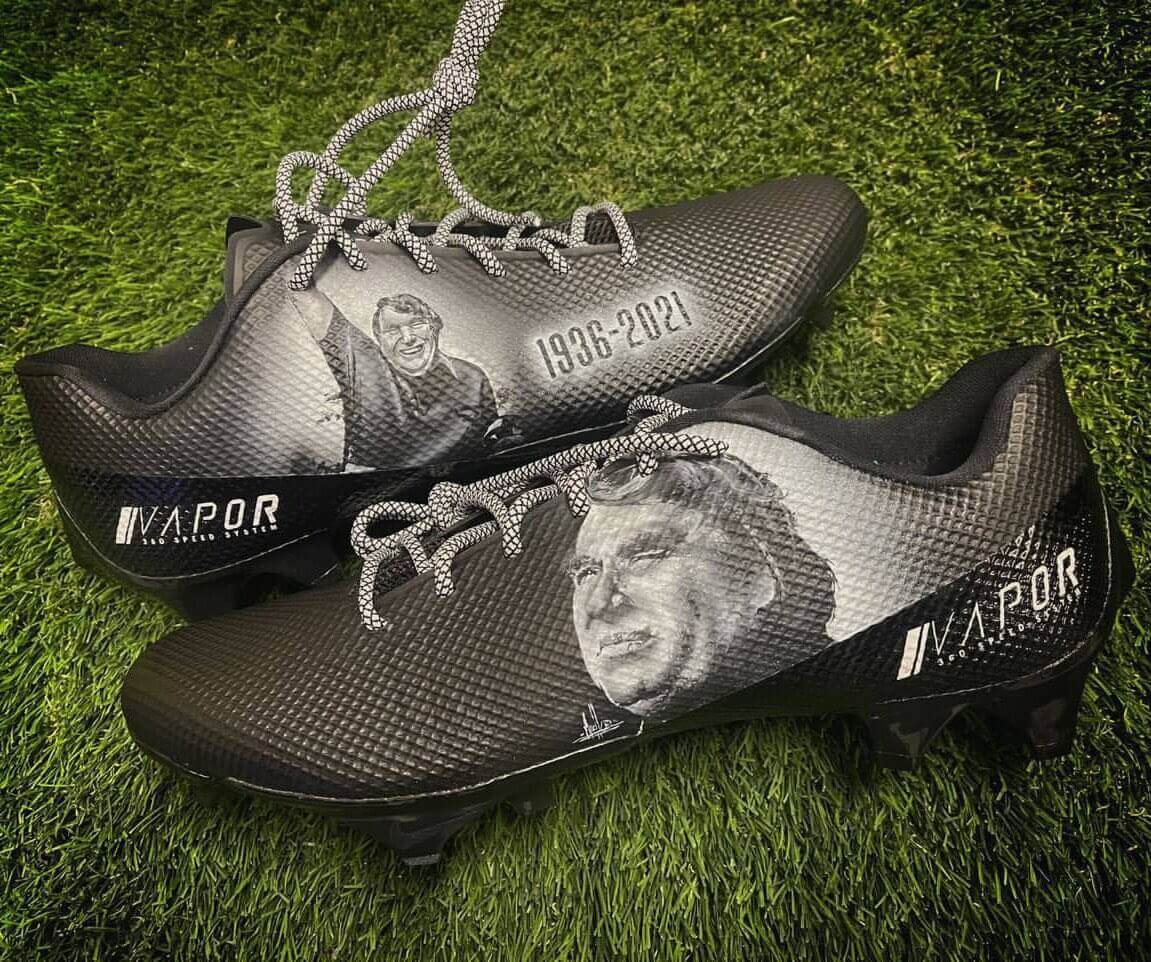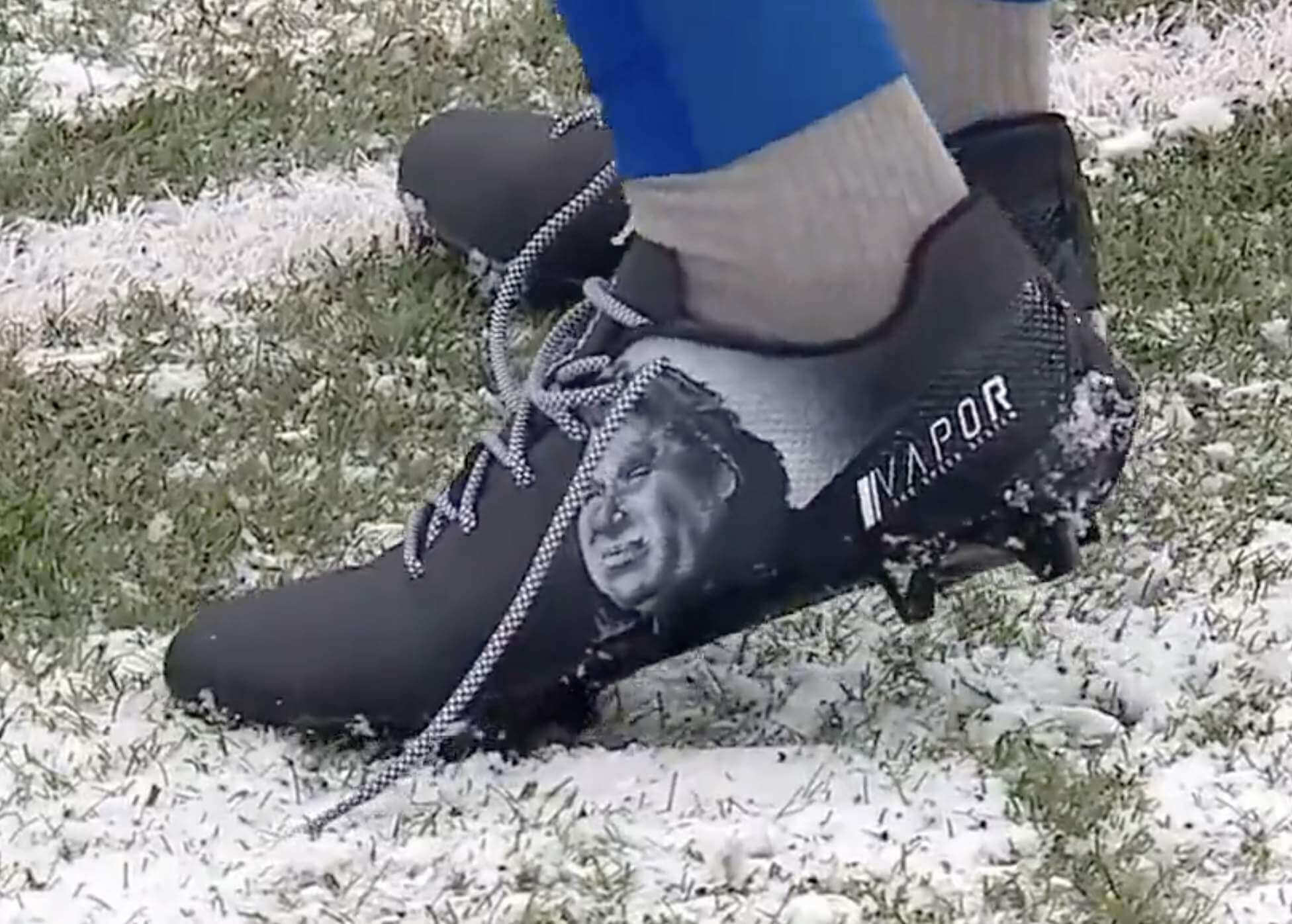 And Cowboys quarterback Dak Prescott wore a Madden T-shirt for pregame activities: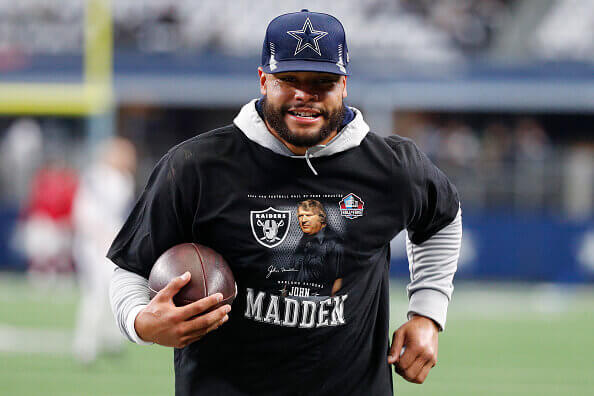 In addition, there was a moment of silence and scoreboard salute prior to each game:
Also, for Fox's games yesterday, the network intermittently put a little Madden graphic in the upper-right corner of the screen: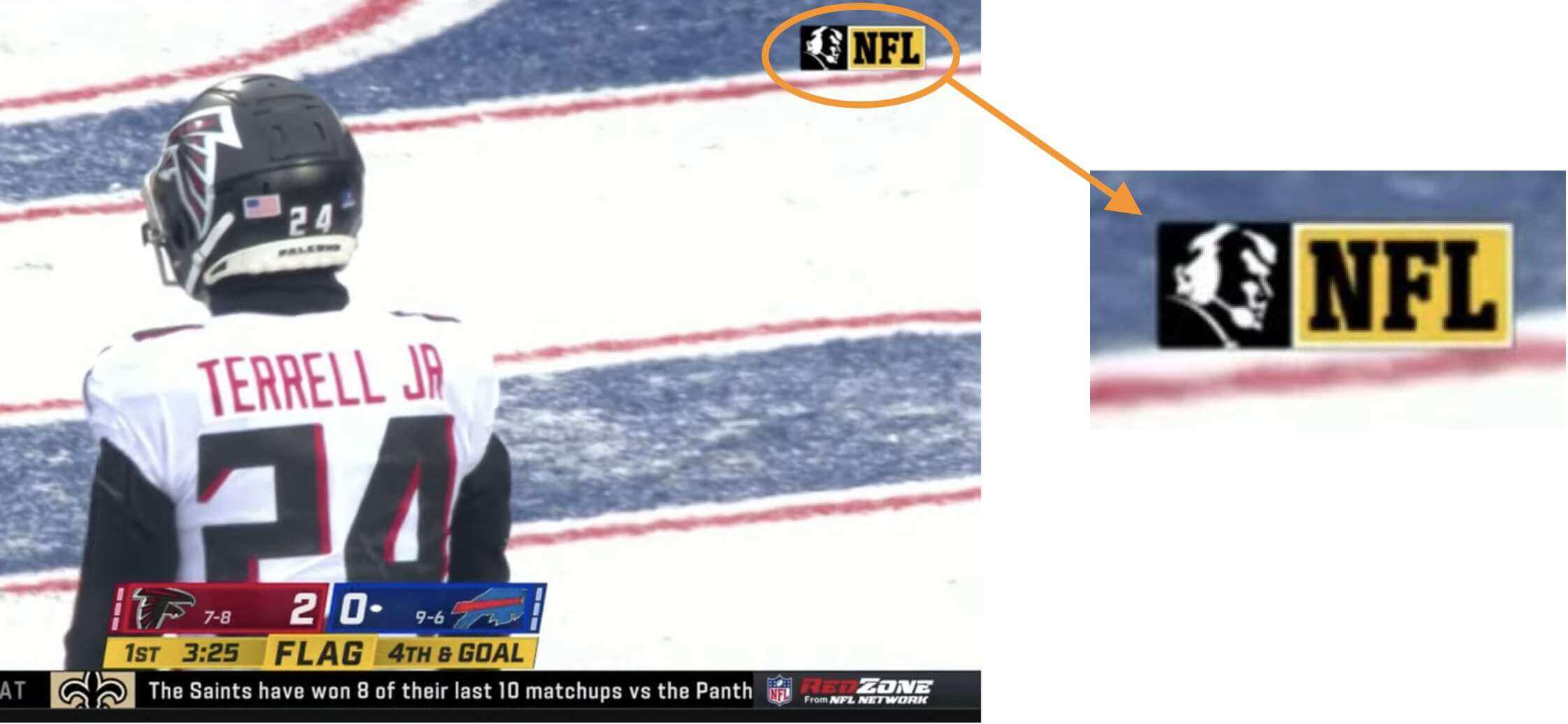 In other news from what turned out to be a very uni-eventful day around the league:
• The Bengals wore their orange alternate jerseys: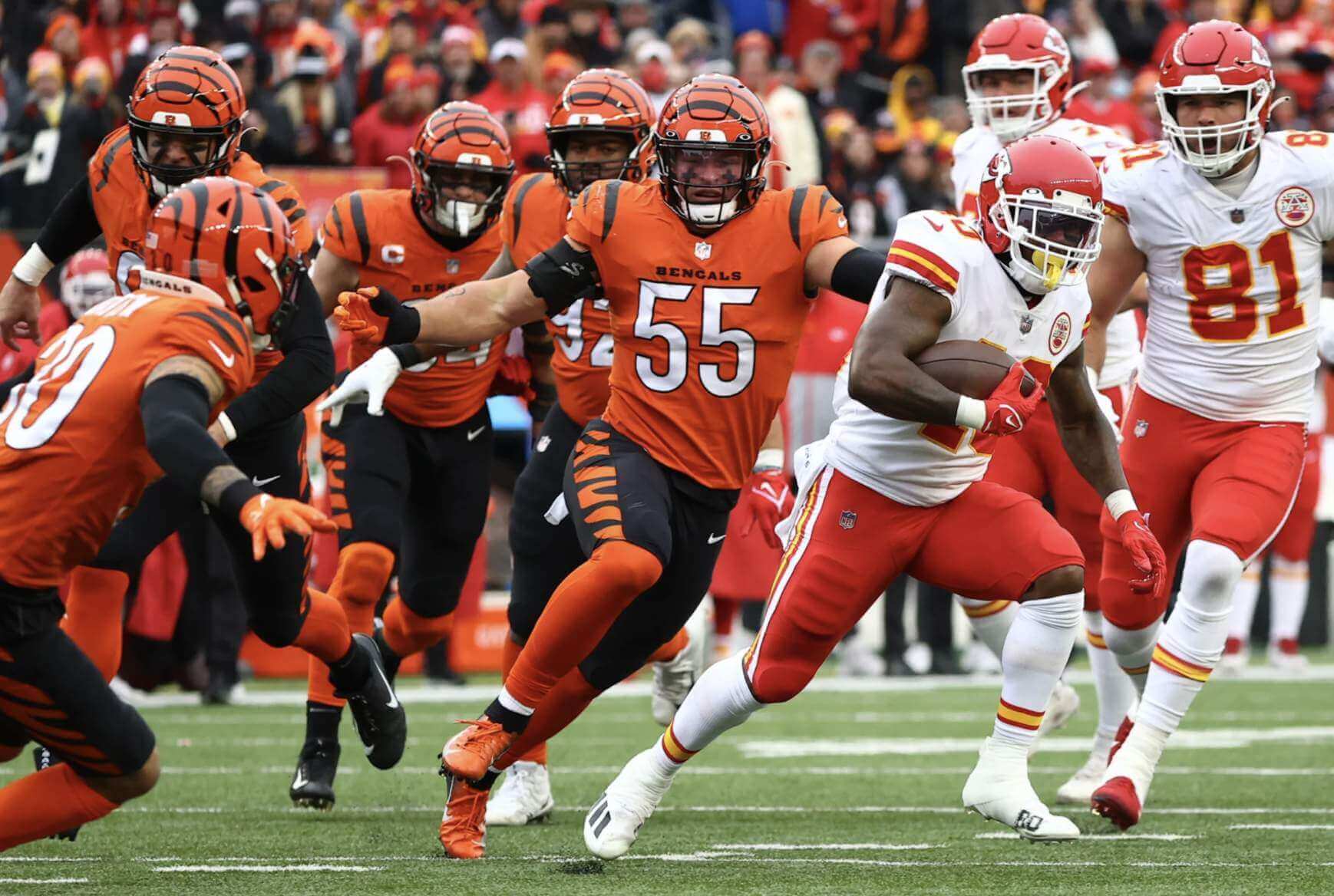 • In that same game, there was a bizarre sequence involving Bengals quarterback Joe Burrow's nameplate. First it was coming loose:
Then the nameplate was stripped clean off of the jersey by KC lineman Chris Jones:
Joe Burrow loses his … last name. pic.twitter.com/jYMpdo3c14

— Joe Person (@josephperson) January 2, 2022
That left Burrow to finish the game while wearing a modern-day NFL rarity — an NNOB jersey: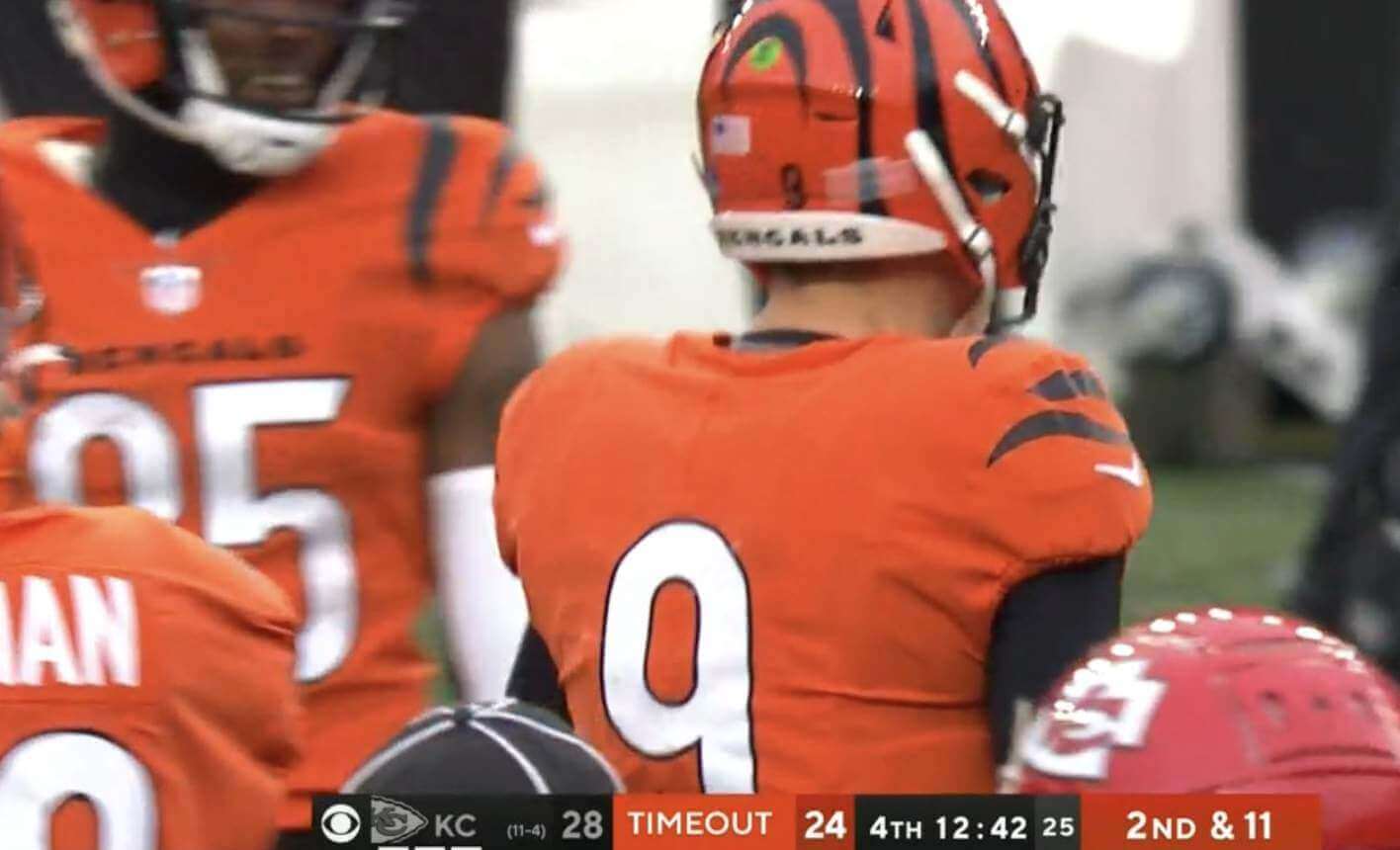 • In yet another Bengals note, wide receiver Ja'marr Chase apparently changed his shoes at halftime:
@UniWatch @PhilHecken I noticed this last week, @Real10jayy__ seems to change his shoes at the half…this is from today's @Bengals game pic.twitter.com/h3x5MkYUh8

— Wilzy (@rwilzb001) January 2, 2022
• In an absolute visual nightmare, the Ravens and Rams went mono-purple vs. mono-dishwater: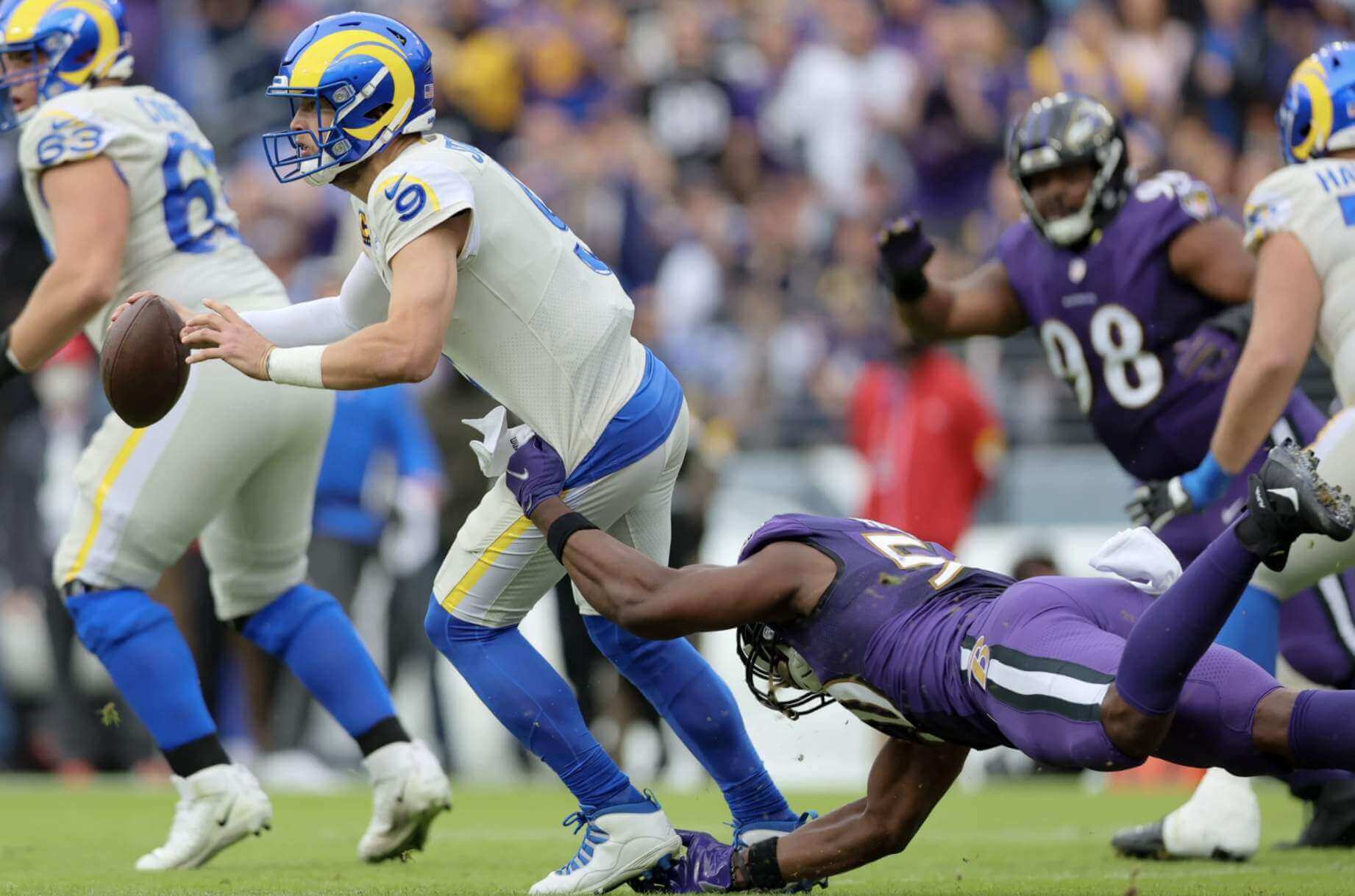 • In that same game, Rams running back Sony Michel had a pretty sizable Band-Aid on his left knee: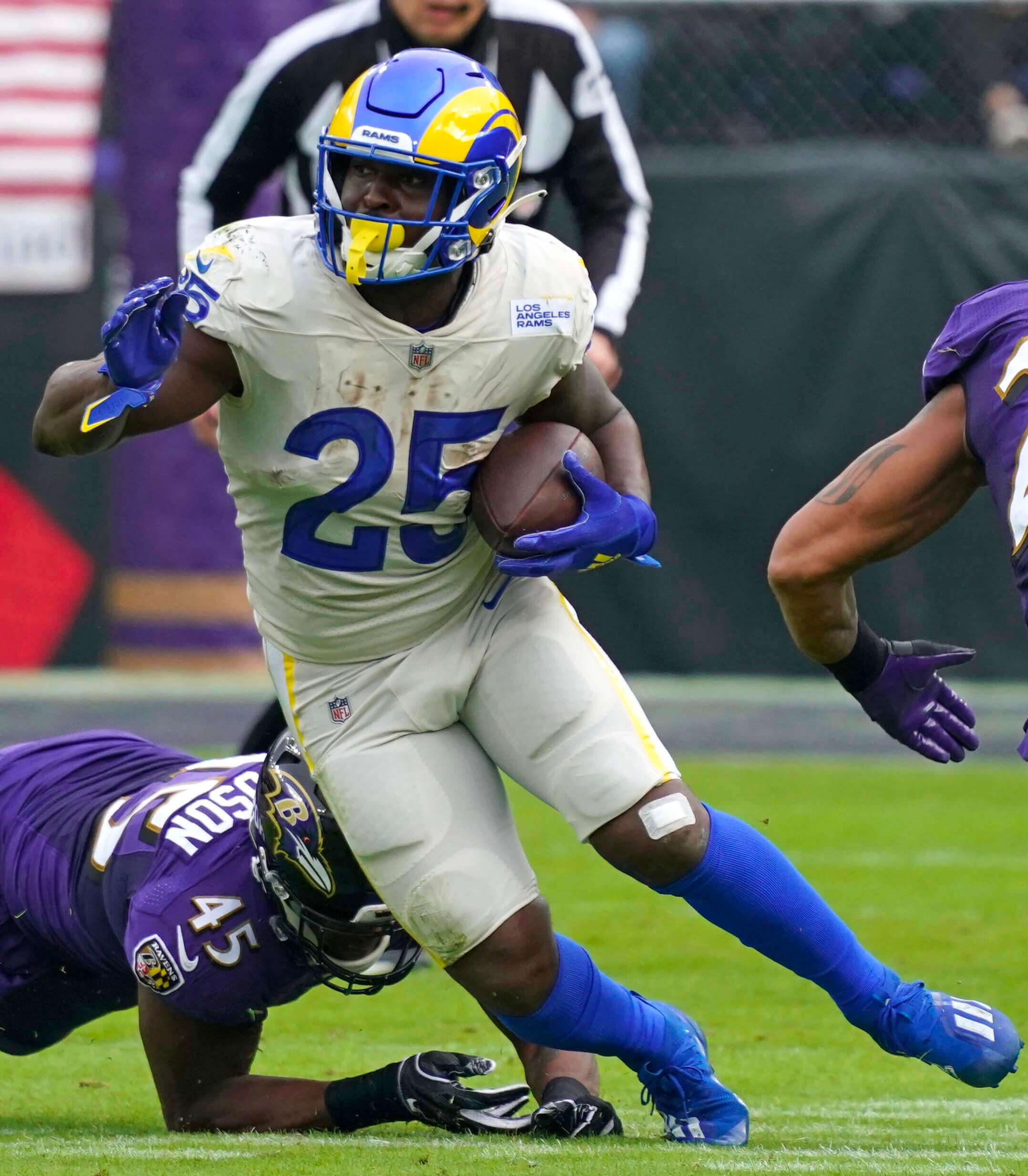 • The Titans wore their light-blue alternate jerseys over navy pants: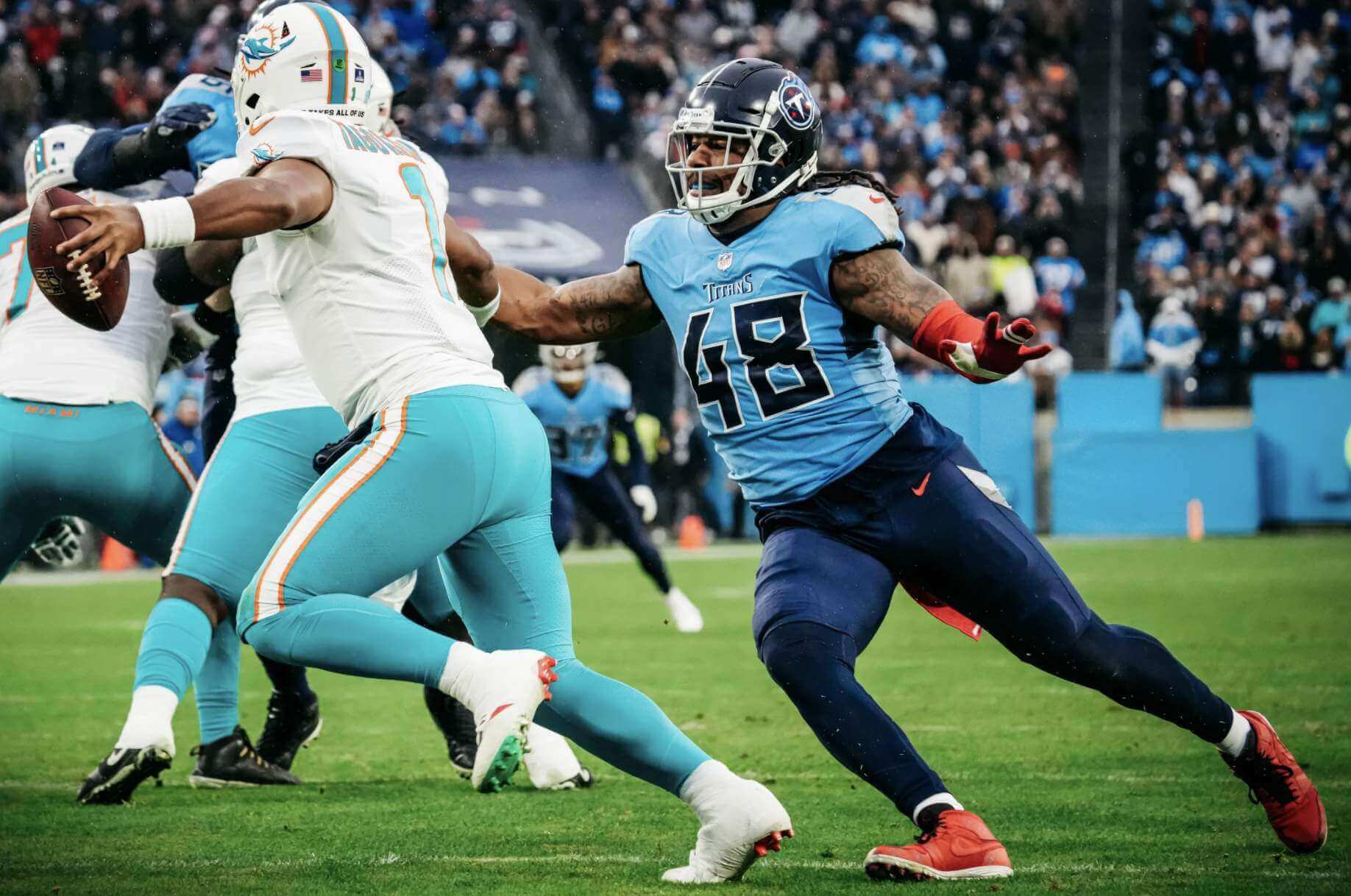 • The Jets went mono-green: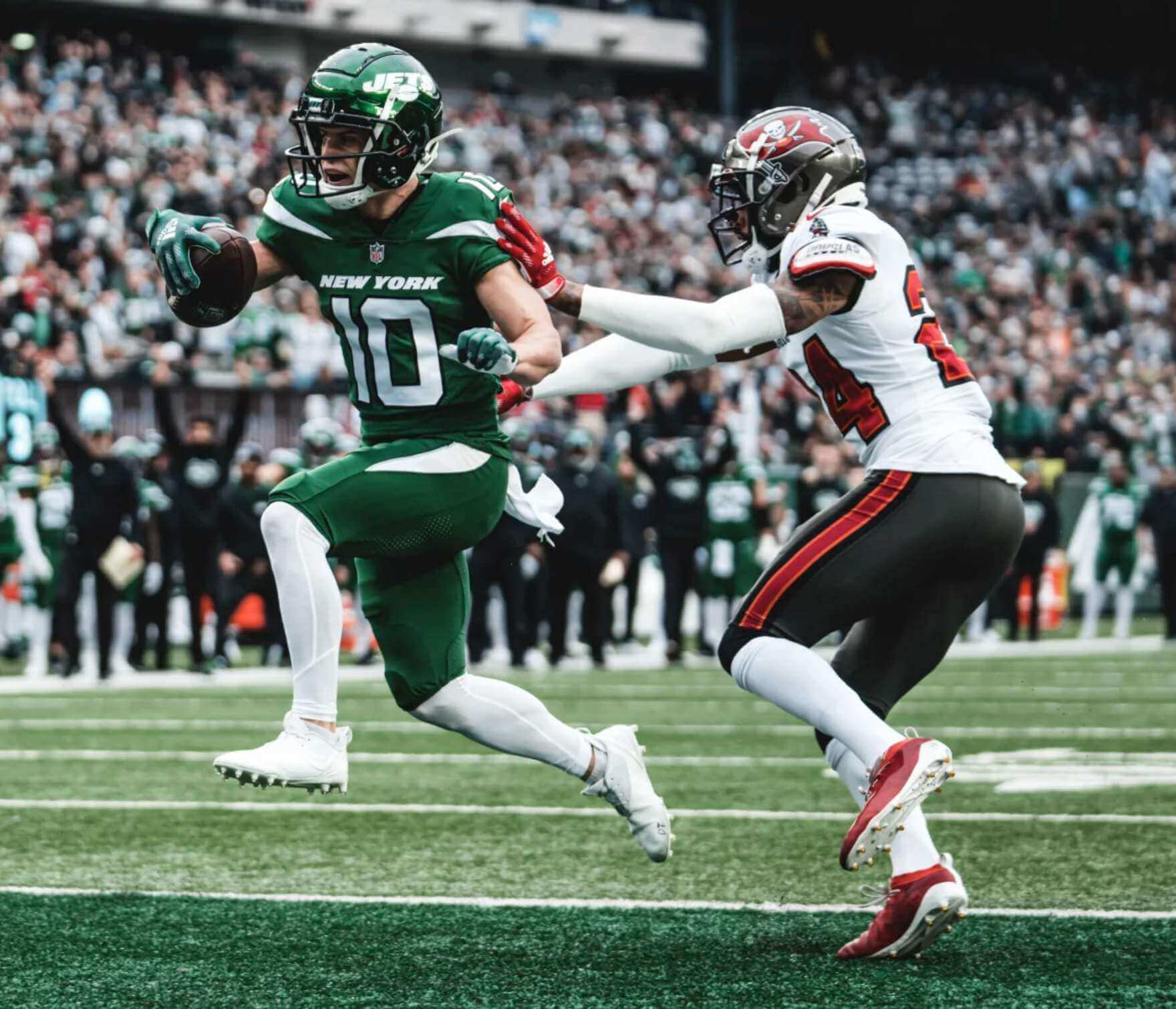 • In the third quarter of that same game, Bucs wideout Antonio Brown removed his jersey, shoulder pads, undershirt, and gloves, tossed the undershirt and gloves into the stands, and left the field. Turns out he's a southpaw:
Video of Antonio Brown leaving the field after taking off his jersey and shirt and throw it into the stands. pic.twitter.com/1hwNYei5Fq

— Field Yates (@FieldYates) January 2, 2022
• For the fifth time in seven games, the Eagles wore their black alternate pants (which at this point I guess can no longer be considered alternate):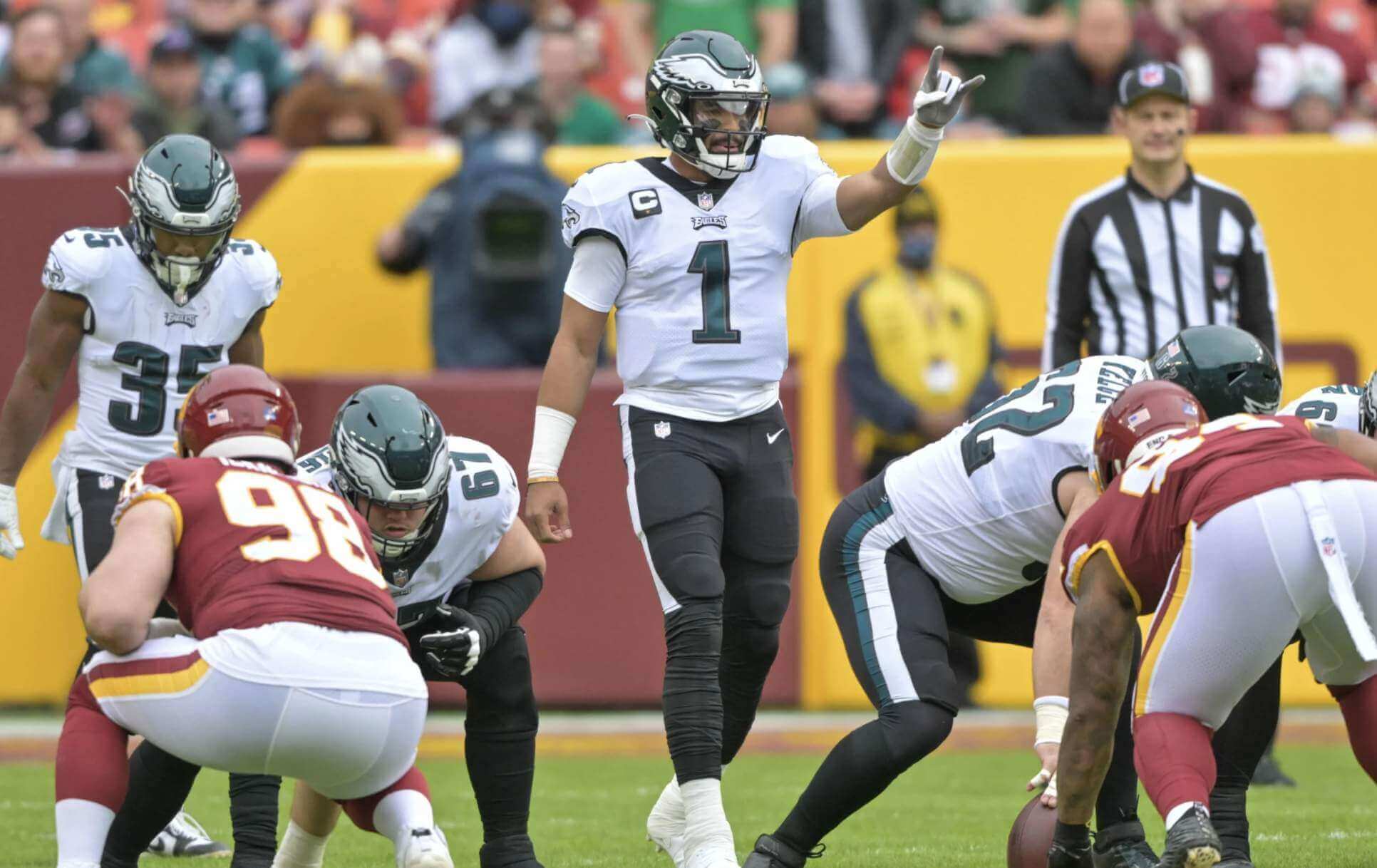 • In that same game, Washington running back Wendell Smallwood took a helmet-to-helmet hit that literally knocked the TV numbers off of his helmet:
Wendell Smallwood got hit so hard his numbers flew off. 😳 pic.twitter.com/LDkzingUwe

— Rudy Gersten (@DCBarno) January 2, 2022
• The Panthers went mono-white, including white socks. According to the Panthers Uniform Tracker, it's the first time in team history that they're worn that uni combo: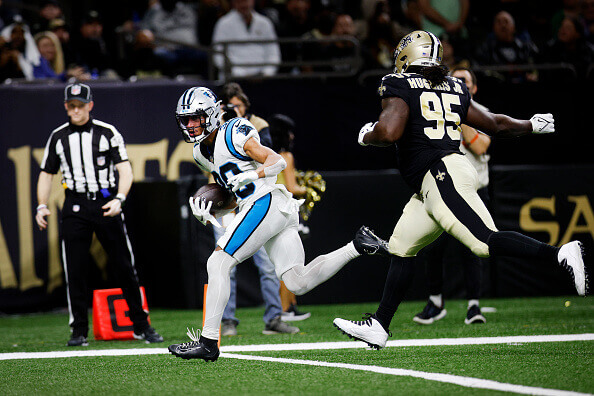 • In that same game, the Saints wore black over gold. Incredibly, according to the Gridiron Uniform Database, that's the first time they've worn that combo at home since 2018 (although they've worn it a few times on the road during that span).
• The Cowboys wore their mono-white alternates: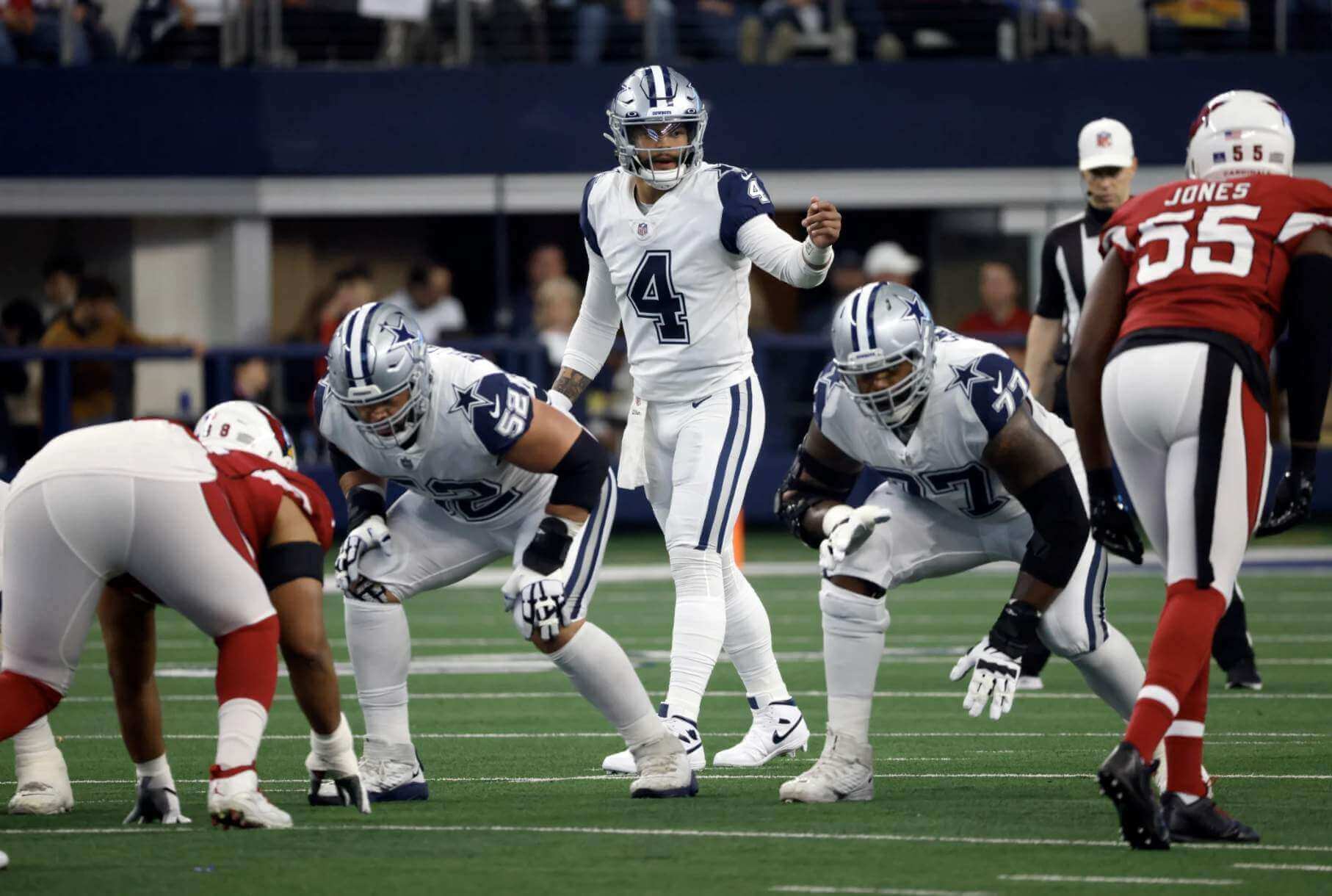 • I always like it when the Chargers wear powder blue over yellow. Such a good look: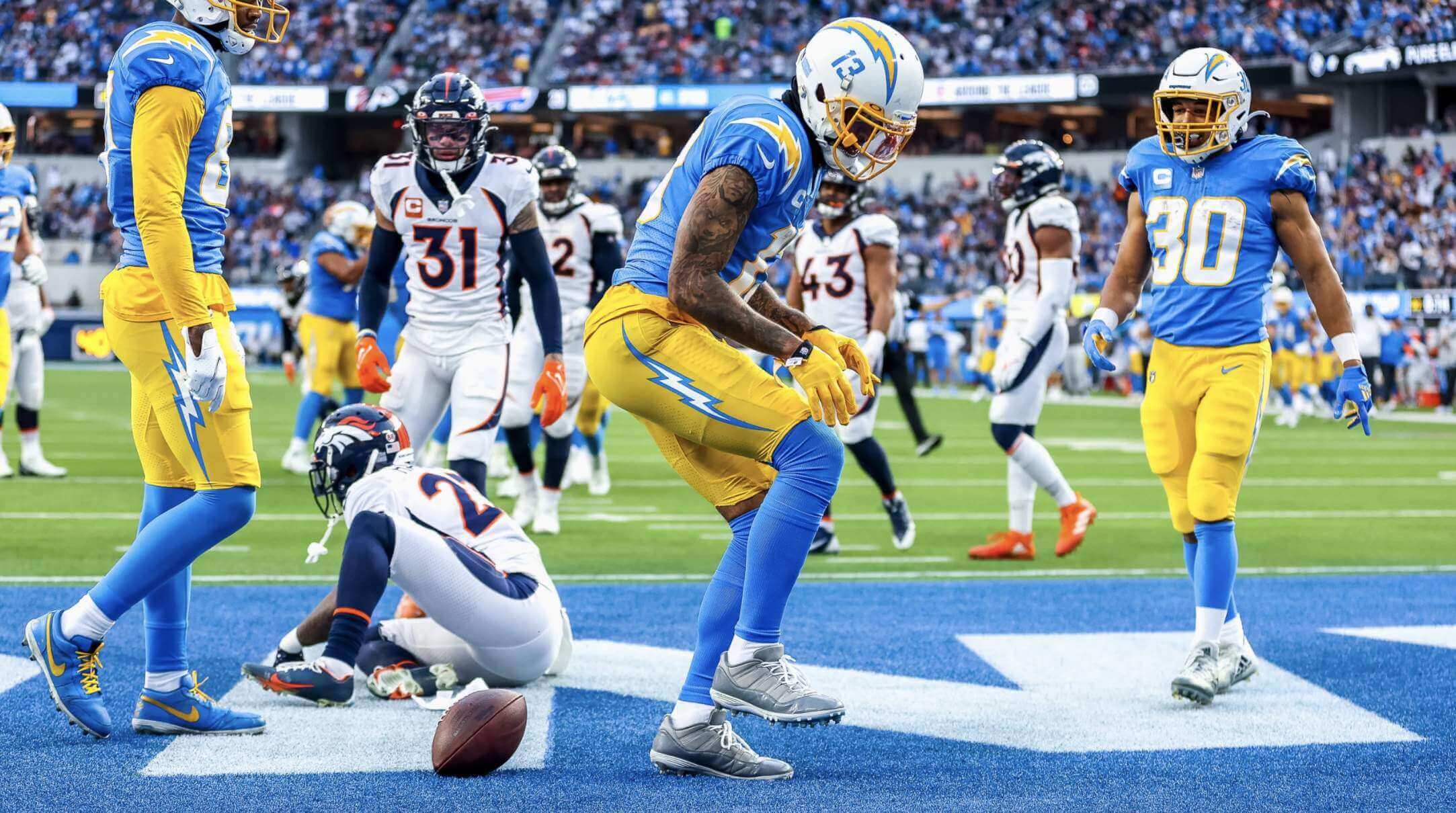 • One of Falcons running back Cordarrelle Patterson's helmet logos got chewed up: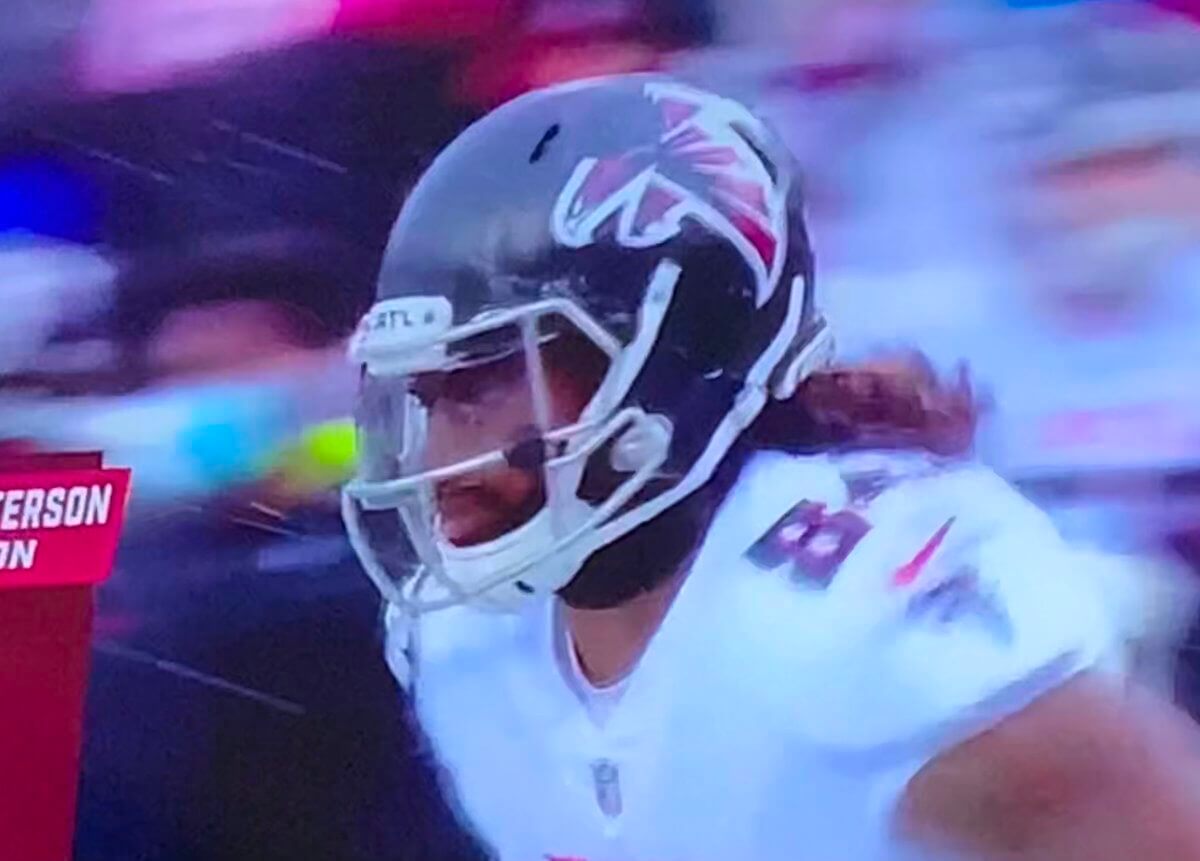 • Patriots quarterback Mac Jones, whose jersey had the wrong number and NOB fonts last week, had a proper jersey this time around: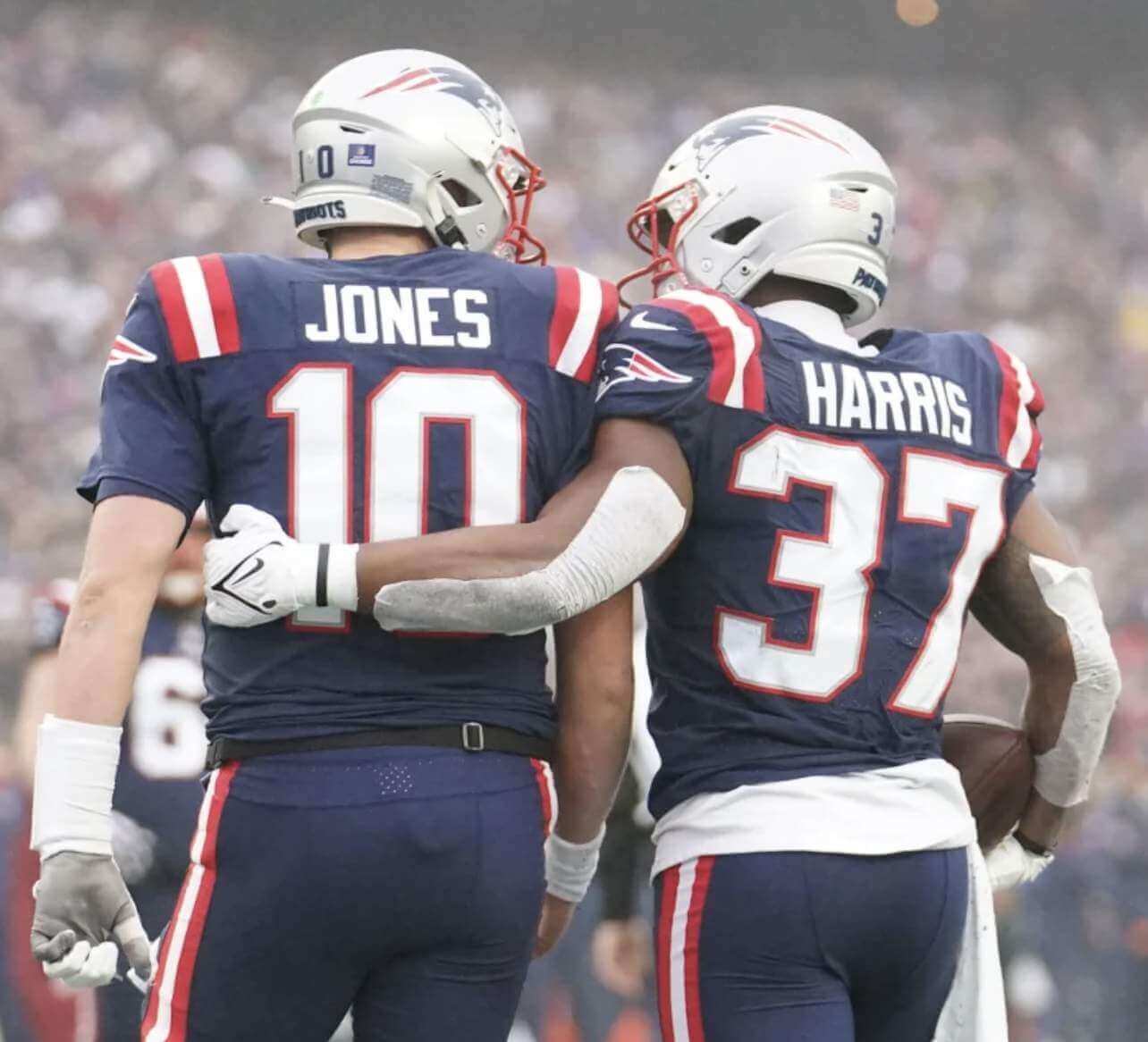 • Giants linebacker Lorenzo Carter arrived at the stadium wearing a New York Rangers hockey jersey:
.@_zocarter gets it. 🔥 pic.twitter.com/RfpKOX3MF5

— New York Rangers (@NYRangers) January 2, 2022
• All teams wore "Inspire Change" helmet decals as part of the league's social justice program, with similar messaging on goalpost padding, sideline hats, and elsewhere on the field. All of this will continue next week as well (additional info here):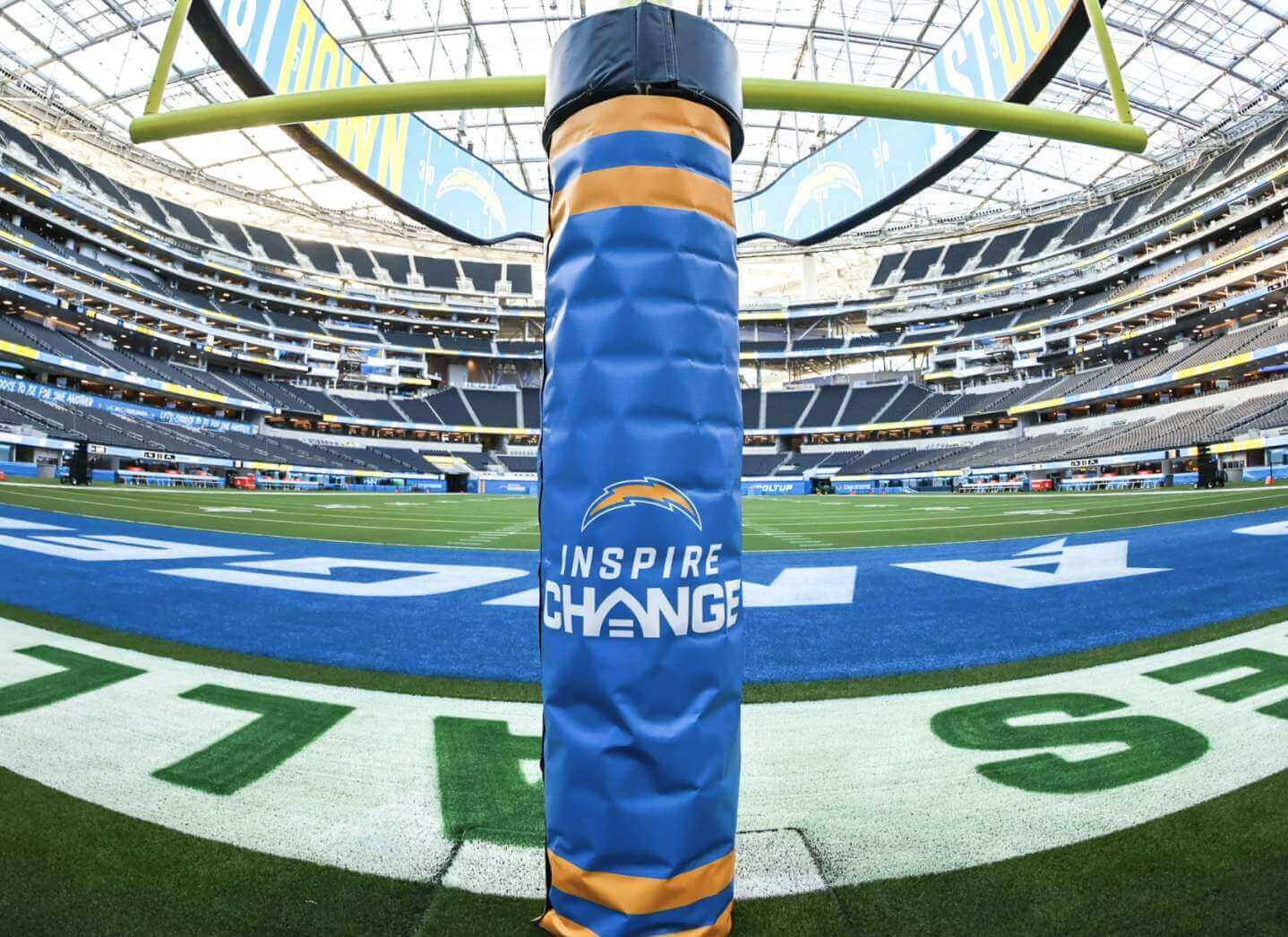 • Here's something I missed: Back on Dec. 7, the NFL announced the 32 nominees for this season's Walter Payton Man of the Year Award. For the the past four weeks, including yesterday, those 32 players have been wearing the Payton logo as a rear-helmet decal (the eventual winner, who'll be named at the season's conclusion, will get to wear the logo as a jersey patch for the rest of his career):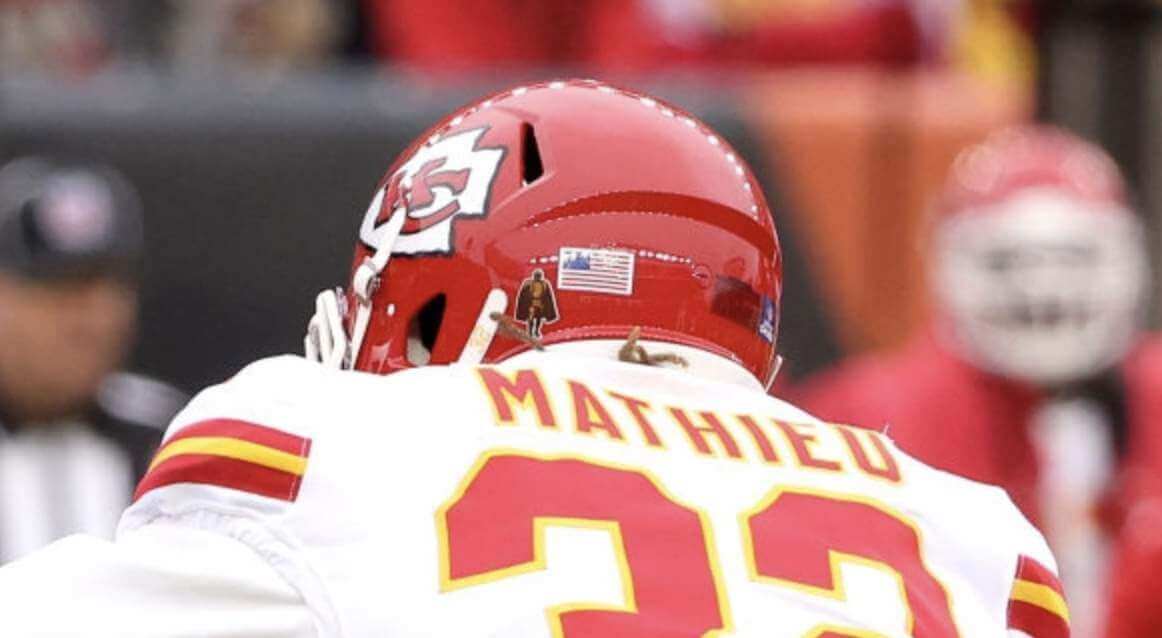 • Only one home team wore white: the aforementioned Cowboys.
———
And that's it for yesterday. As for tonight, Steelers vs. Browns should be a very good-looking game.
(My thanks to all contributors, including Mike Chamernik, Brinke Guthrie, Marcus Hall, K.C. Kless, Alan Kreit, John Muir, Brad Parker, John Turney, Mike Weston, and the bizillion people who told me about Joe Burrow's nameplate.)
• • • • •
• • • • •
Click to enlarge
And speaking of Madden: According to a tweet from a cartoon-centric Twitter account, Madden was slated to appear in the 2018 movie Ralph Breaks the Internet (the sequel to 2012's Wreck-It Ralph), but his sequence didn't make the final cut. The exploratory sketches shown above were done by Jeff Merghart, one of the animators who worked on the film. They're really fun, although reader Jaime Galindo points out that Merghart neglected to include Madden's longtime visual signature: the dangling sideline-access pass.
I love both of the Ralph movies. If they ever do a third one, maybe Madden could be included in that one.
• • • • •
• • • • •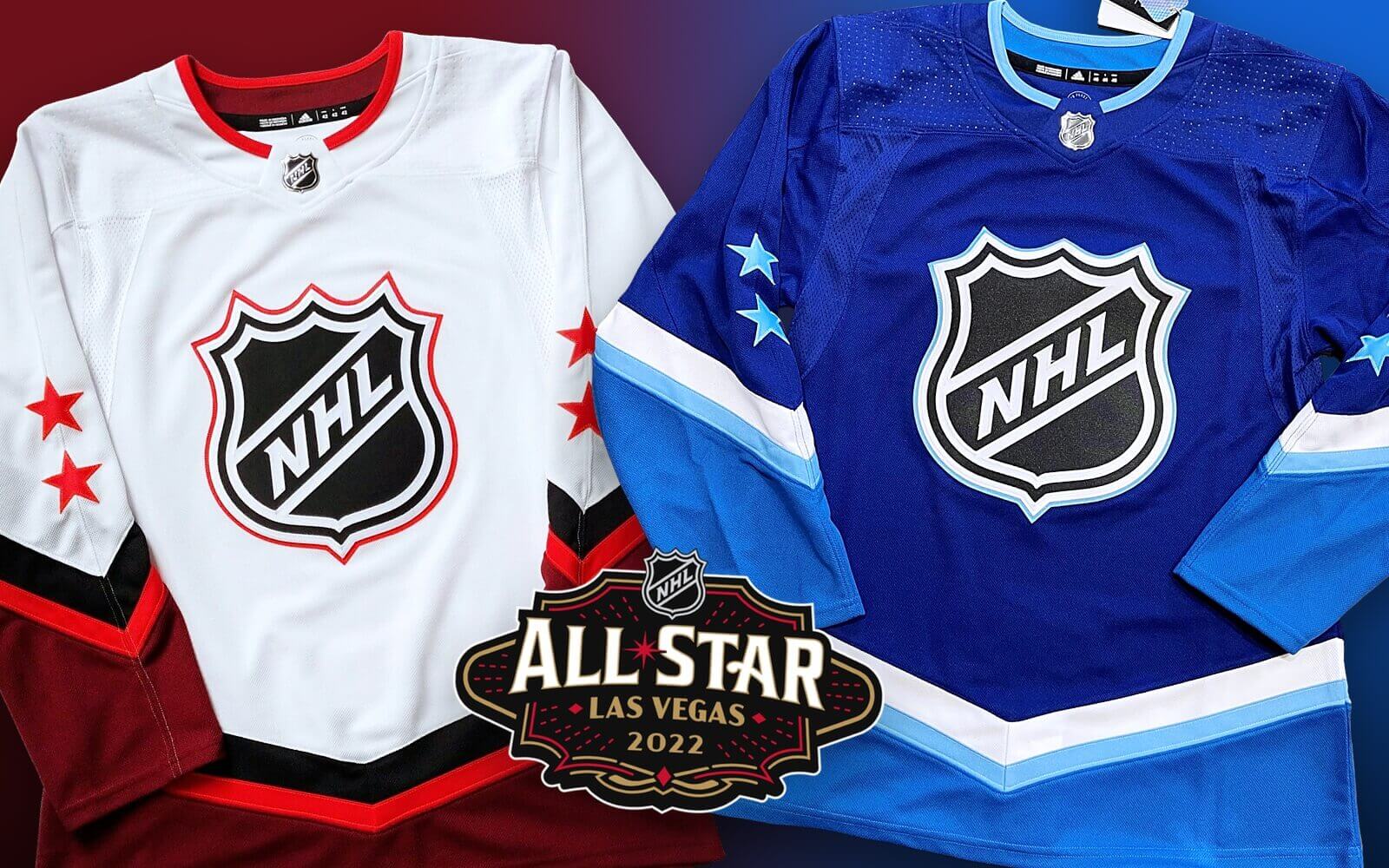 Click to enlarge
Possible NHL All-Star leak: Phil had this in yesterday's Ticker, but in case you missed that, Icethetics is reporting that this year's NHL All-Star Game jerseys may have leaked via a retail catalog. The legitimacy of this leak hasn't yet been confirmed, but Icethetics tends to be a very reputable source. Get the full story here.
• • • • •
• • • • •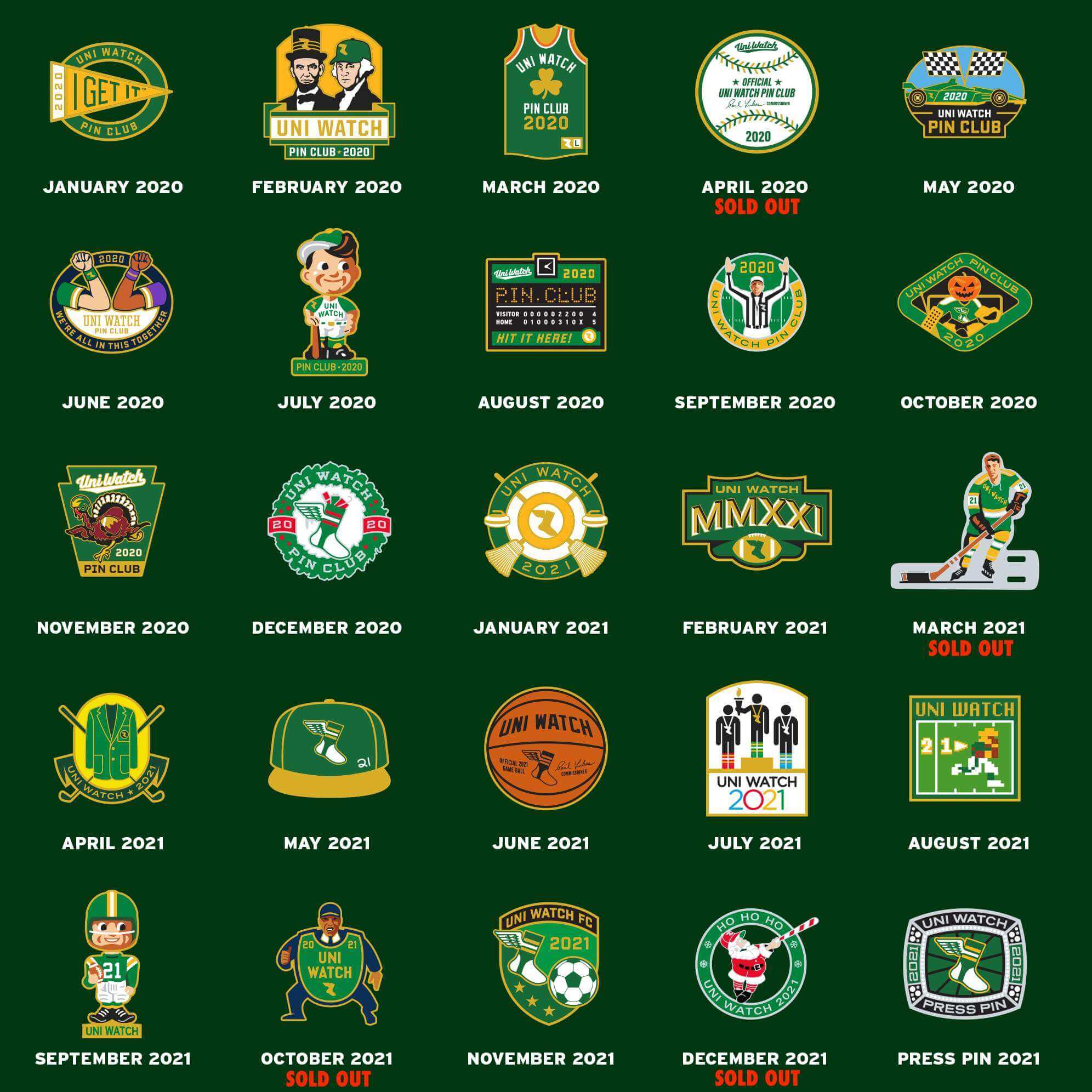 Pin Club update: Today is the first weekday of the month, so I'd normally be announcing our new pin design. But that won't be happening, because Todd Radom and I have decided to shut down the Pin Club.
This has nothing to do with the December pin's shipping snafu — Todd and I had already made the decision a few months ago. We felt that two dozen pin designs were enough and that we'd rather stop now, while the designs were still strong.
More pin news:
• All the remaining Pin Club inventory is being sent back to me from the Teespring warehouse (again, this decision had already been made before the recent shipping issues). Once I get everything sorted, I will sell the pins myself at a discounted price and will offer further discounts for multiple-pin orders. I had always wanted to do this via Teespring (I practically begged them to offer multi-pin bundles), but their retail software didn't allow for it, so now I'll just do it myself. This should all be ready to go either later this week or early next week — stay tuned.
• Although the monthly pin series is ending, Todd and I will still do a Press Pin this October.
• The 2021 bonus/All-Star pins should be ready to mail out by the middle of next week (and possibly sooner — just waiting for them to arrive from the factory).
Meanwhile, I have a new creative collaboration with Todd — and with some other talented designers — that I'll be rolling out this year. More on that soon.
• • • • •
• • • • •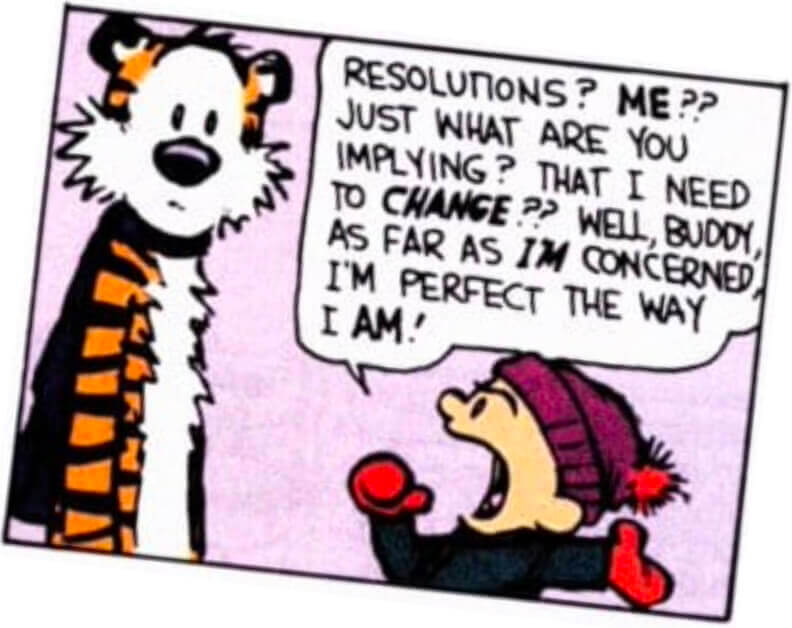 Resolute: I've made only one New Year's resolution in my life. That was in 1999, when I made a resolution to create and sell a column about sports uniform design. I'd gotten the idea several years earlier, but in the intervening time it had become one of those things I talked about doing instead of actually doing. I hated that the idea had been relegated to that mental treadmill, so I figured more drastic action was needed — hence the resolution. A little less than five months later, Uni Watch was born.
Since that resolution turned out so well, you'd think it would have made me a convert, but I've never made another New Year's resolution. I'm not sure why (especially since I frequently make to-do lists, which are sort of mini-resolutions), but for some reason I've never bought into this particular annual ritual.
What about you? I realize some of this stuff may be very personal or private, but if you're willing to share, I'd be interested in hearing what resolutions Uni Watch readers have made for 2022. Feel free to post about that in today's comments. Thanks!
• • • • •
• • • • •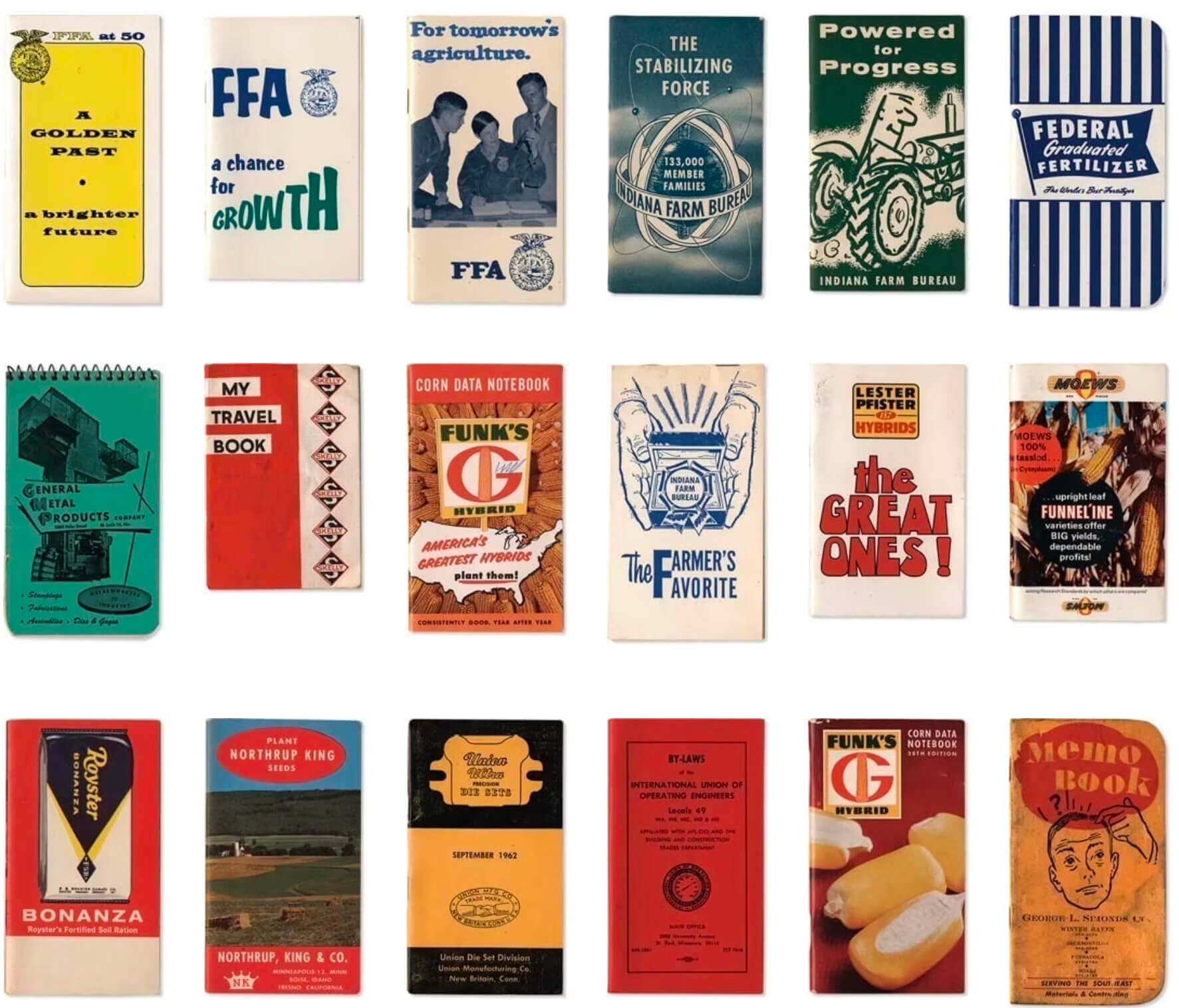 Click to enlarge (it's worth it)
Oh. My. God. These spectacular vintage ag company promotional booklet covers are part of a much larger collection, which you can see here. They're really, really nice pieces of design.
(Super-duper-thanks to Brad Loliger for this one.)
• • • • •
• • • • •
Sorry, no Ticker today, as the Ticker team had the weekend off. The Ticker will return tomorrow.
Meanwhile, please join me in wishing the happiest of birthdays to our own Phil Hecken, who's celebrating another trip around the sun today. Enjoy your special day, buddy!! — Paul