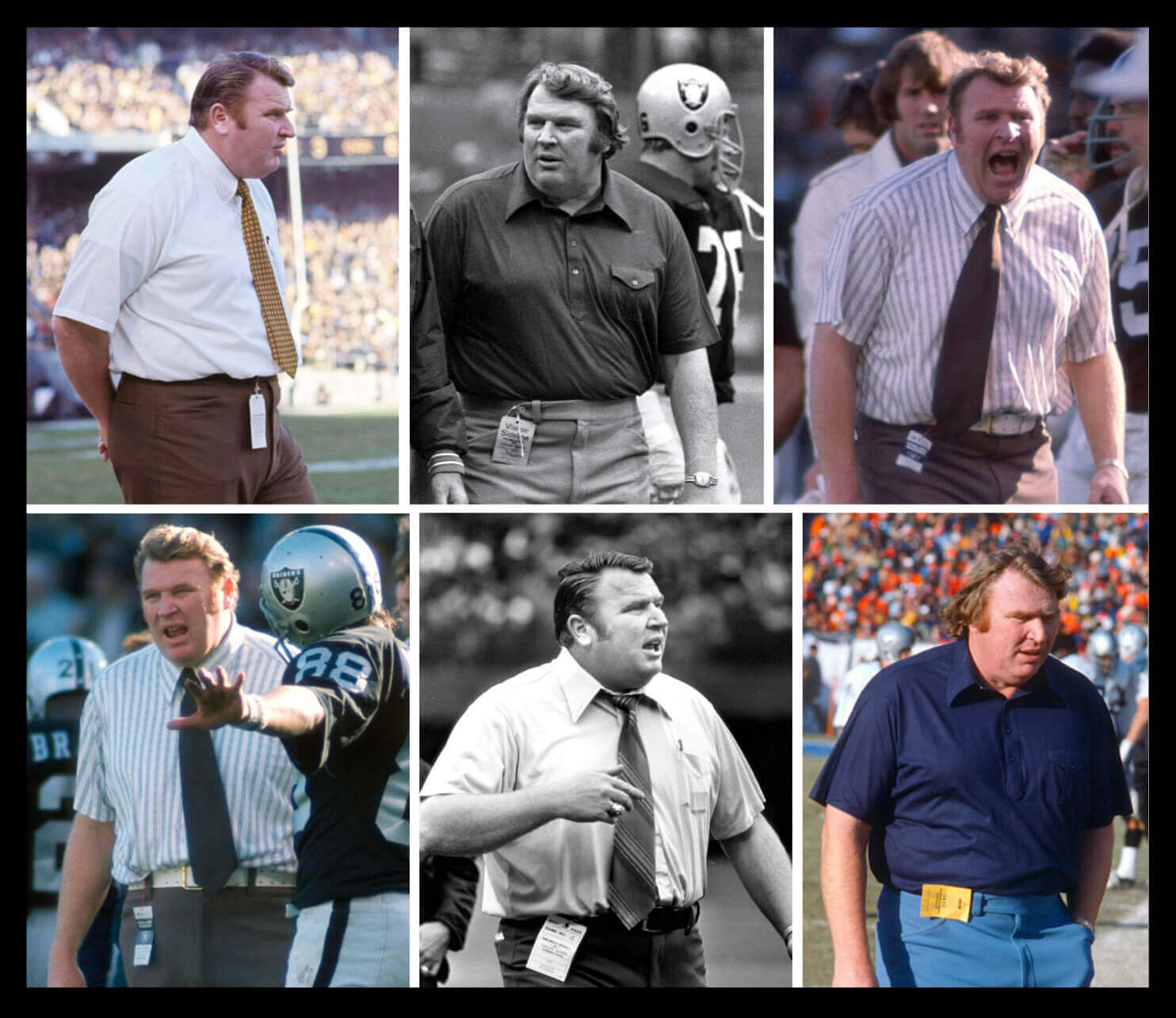 Click to enlarge
John Madden died yesterday at the age of 85. Long before he became famous as a broadcaster, video game namesake, and aerophobe, he spent 10 seasons (1969-1978) as the coach of the Oakland Raiders, during which time he had a very uni-notable quirk: He always wore his sideline-access pass on his belt loop. As a uni-aware kid growing up in the 1970s, I noticed this right away and was mildly fixated on it. No other NFL coach publicly exhibited his pass like Madden did. Something about it seemed very Official, and also very unpretentious, both of which I liked.
For the most part, I liked Madden as a broadcaster too. Unlike so many other former coaches who picked up the microphone, he truly seemed to enjoy broadcasting for its own sake and rarely sounded like he was trying to coach in absentia from the booth. He was able to convey genuine insights without sounding like an insecure control freak, and I learned a lot about the game from listening to him. His chemistry with Pat Summerall seemed genuine and added to his appeal.
Madden also Got It™ about a lot of things. Back in 2015, I wrote a Uni Watch post about how he assigned theoretical football uni numbers to public figures (Marilyn Monroe and Donald Trump were both No. 32) — a really fun concept. I'm fairly sure his taste in uniforms would have aligned fairly closely with mine.
All of that said, Madden also had his weaknesses and blind spots. As his broadcasting career moved on, his vocal tics ("Boom!") increasingly felt forced and veered toward self-parody, especially when he reprised them in endless TV commercials for Ace Hardware, "tough-actin' Tinactin," and others. What once seemed authentic began to feel like shtick.
In addition, while Madden wasn't macho in the traditional sense of the term (he was downright cuddly compared to some of his coaching contemporaries like Tom Landry, George Allen, and Forest Gregg), he nonetheless advocated for a he-man/lunch-bucket conception of football — and of the world — that has not aged well. For years he named his picks to the "All-Madden Team," an honor whose logo was a leatherhead helmet — fun if you care about old-timey football nostalgia, not so much fun if you care about brain injuries. I wonder what players like Jim Otto, who sacrificed their bodies and brains while playing for Madden, would think of showcasing an inferior helmet as a symbol of toughness. (Update: Reader/commenter Chris Hamilton points out that Madden had a good record of advocating for safe coaching methods for kids, and also included concussion-awareness features in his video game. Moreover, as early as 1993, Madden said on the air that a player who had a concussion shouldn't return to the game. I didn't know that, and that's on me. He deserves more credit in this area than I initially gave him. Mea culpa.)
I don't mean to sound overly critical of Madden. I'm just saying that his persona, while undeniably appealing on some levels, was occasionally problematic on others. Nothing unusual or shameful about that — like most of us, he was a complicated character. Unlike most of us, he was also a beloved character, and deservedly so.
(I'm not a video gamer, so I can't say anything knowledgeable about Madden NFL or Madden's relationship with EA Sports. If anyone has any insights about that, feel free to post them in today's comments.)
Finally, it's worth noting that Madden suited up for the Eagles in 1958 (he was a 21st-round draft pick out of Cal Poly):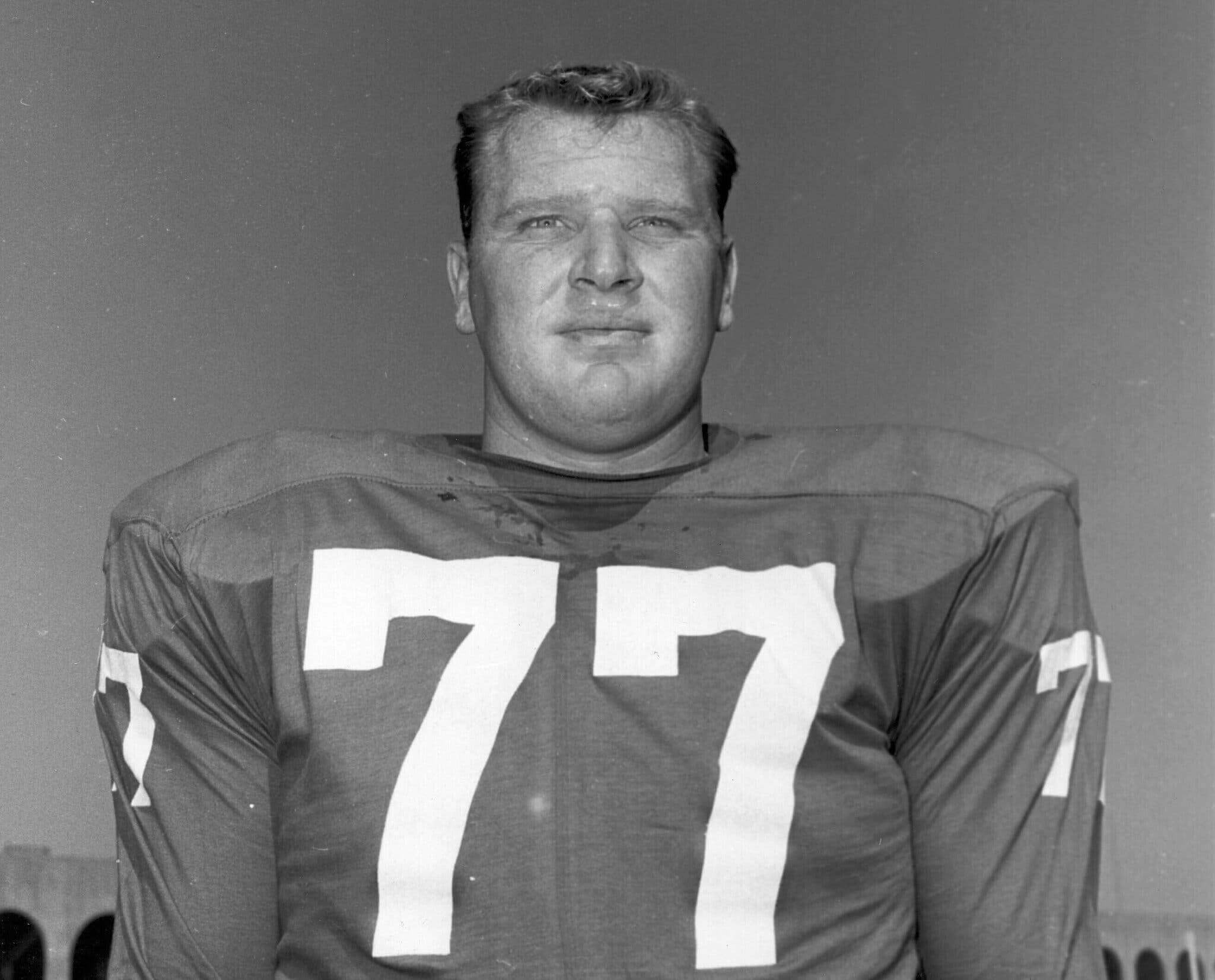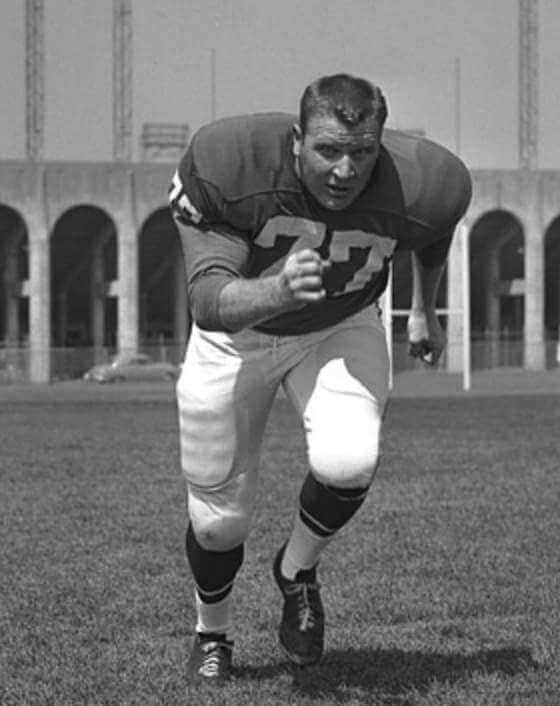 A knee injury in training camp ended his pro career before it could even get started, so those photos are all we have of him in uniform. He'll be missed. R.I.P.
• • • • •
• • • • •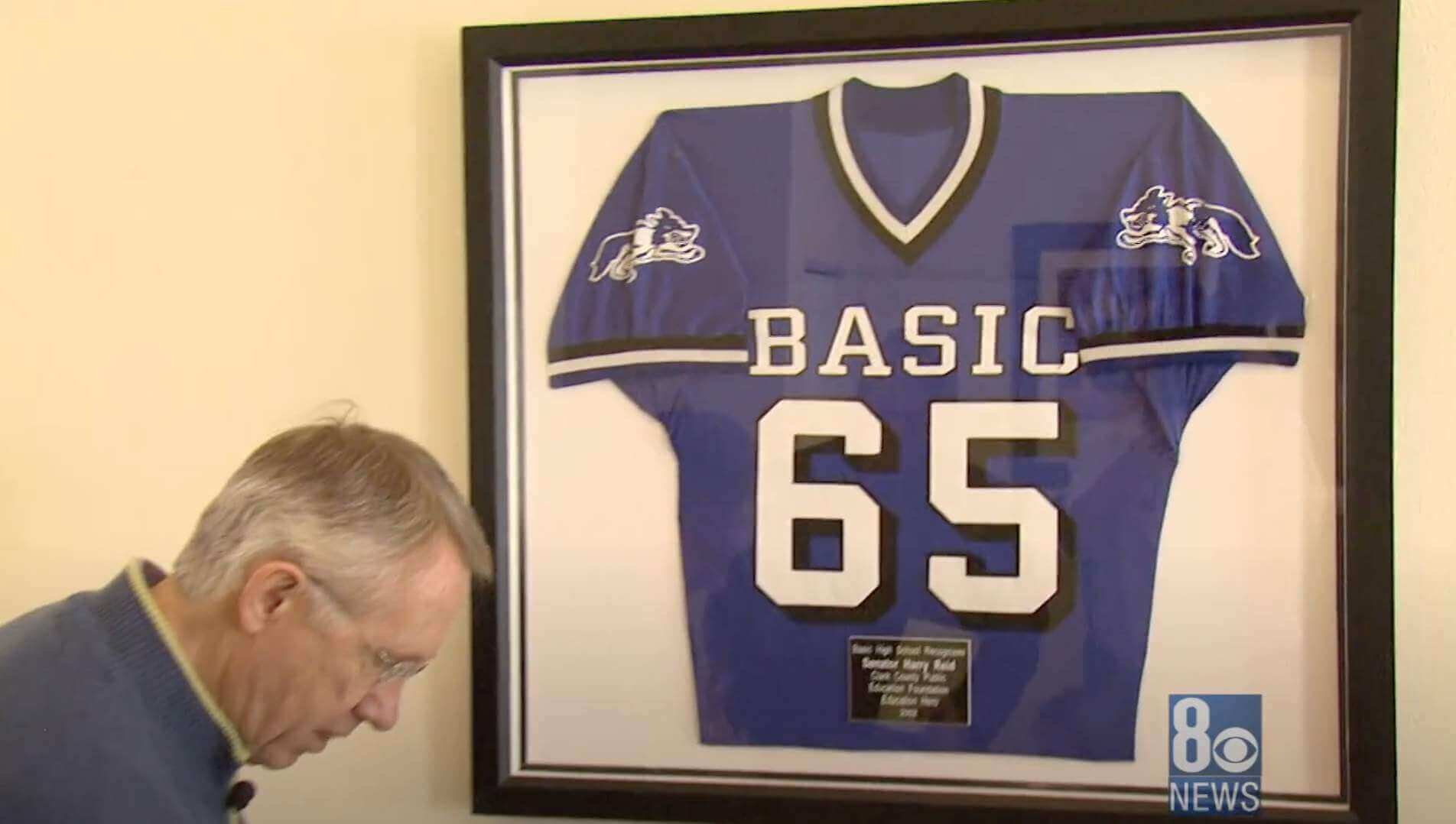 Click to enlarge
Speaking of death notices: Former U.S. Senate majority leader Harry Reid died yesterday as well. He played high school football for Basic High in Henderson, Nev., and was also an amateur boxer: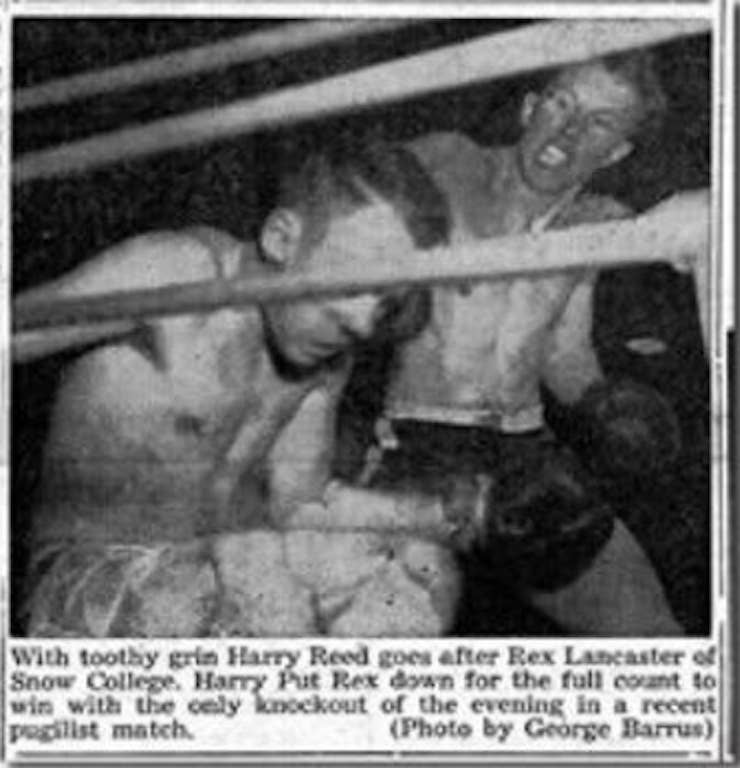 Reid was 82. R.I.P.
• • • • •
• • • • •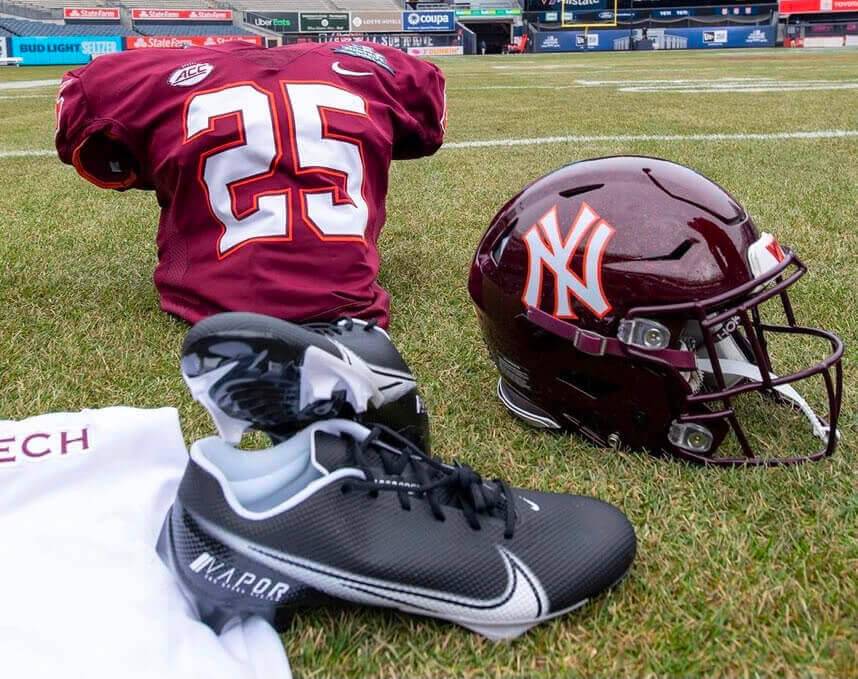 Click to enlarge
But will they go NNOB? Virginia Tech yesterday announced that they'll wear the Yankees' interlocking "NY" logo on one side of their helmet for today's Pinstripe Bowl. (The other side will have the Hokies' standard "VT" insignia.)
Tech's announcement said that the move was made in appreciation of the Yanks' "longstanding relationship with the Hokies, as well as the many gestures of compassion that they have extended to Virginia Tech over the years." The relationship between the school and the Yanks dates back to to the 2007 Virginia Tech mass-shooting massacre, in which 32 people were killed and another 17 were injured. In the aftermath of that senseless tragedy came the following:
`
• In May of 2007, the Yankees donated $1 million to the Hokie Spirit Memorial Fund.
• On the night that the donation was announced, the Yanks wore Tech's "VT" logo on the side of their caps and put a memorial ribbon graphic on the field.
• The following March, the Yanks played an exhibition game against Tech. The Yankees once again wore the "VT" logo on the side of their caps, while Tech wore pinstriped unis with a maroon/orange treatment of the Yankees' "NY" logo on their caps — similar to the helmet treatment they'll be wearing today. (The Yankees themselves wore the Tech caps for pregame activities.)
Two other notes here: First, the "NY" that Tech will be wearing is the Yankees' cap logo, not the jersey or helmet logo.
And second, remember that a version of the Yanks' "NY" also appeared for several seasons on the Knicks' shorts. So some iteration of the Yanks' mark has now appeared on the baseball diamond, on the basketball court, and — as of this afternoon — on the football field.
• • • • •
• • • • •
The Ticker
By Lloyd Alaban

Baseball News: A Milwaukee restaurant has remade the Brewers' Barrelman logo into a bloody Mary swinging a meat stick (from @BallparkHunter).


NFL News: The Bengals are going orange jersey/black pants/orange socks vs. the Chiefs this weekend (from our own Phil Hecken). … Also from Phil: A designer has submitted some modern uni concepts for the USFL. … The Ravens lit their stadium this week to celebrate Kwanzaa (from Marcus Hall). … Here's a look at the WFT's private jet livery (from @VictoryCB).

College Football News: Mono-white for Tennessee for the Music City Bowl tomorrow (from multiple readers). … Mono-white for Utah in the Rose Bowl (from Phil). … Also from Phil: Green/green/white for Michigan State and yellow/white/yellow for Pitt for the Peach Bowl. … Mono-blue for Kentucky for the Citrus Bowl (from @Kentuckyfan859). … Mono-yellow for Arizona State's appearance in the Las Vegas Bowl (from @boobieboyd). … Six Clemson players will wear a master's hood decal on their helmets for today's Cheez-It Bowl (from James Gilbert). … A writer has reimagined CFP playoff team uniforms to appear in blockbuster movies (from Robert Behrens). … Cincinnati DB Coby Bryant, who usually wears No. 7, will wear No. 8 in the Cotton Bowl to honor the late Kobe Bryant (from @BurnerGSmith). … Oregon's uniform for the Alamo Bowl includes an unusual patch placement (from @ThatTallGuyB).

Hockey News: Fans attending the Kings/Wings game in L.A. on Jan. 8 will receive a Kings/Lakers hybrid tank top (from @atgarms).



Basketball News: Here's a really good look at the creative process behind the Thunder's court design (from Michael Kimball). … Cross-listed from the college football section: University of Cincinnati football DB Coby Bryant, who usually wears No. 7, will wear No. 8 in the Cotton Bowl to honor Kobe Bryant (from @BurnerGSmith). … With Covid continuing to cause lots of NBA roster changes, Etienne Catalan has all the latest uni number assignments. … Cross-listed from the hockey section: Fans attending the NHL game between the Detroit Red Wings and L.A. Kings in L.A. on Jan. 8 will receive a Kings/Lakers hybrid tank top (from @atgarms).

Soccer News: Inter Miami, responding to fans' requests, is adding more pink to its kits.


Grab Bag: Blue vs. blue for the Otago Sparks and the Auckland Hearts of New Zealand's Women's Super Smash, a cricket league (from Peter Freudenberger). … Ron Ruelle was staying at a hotel in Estes Park, Colorado, where the pool had these fun depth markers. The little bubbles around the fraction are a particularly nice touch. … New 75th-anniversary logo for Ferrari.