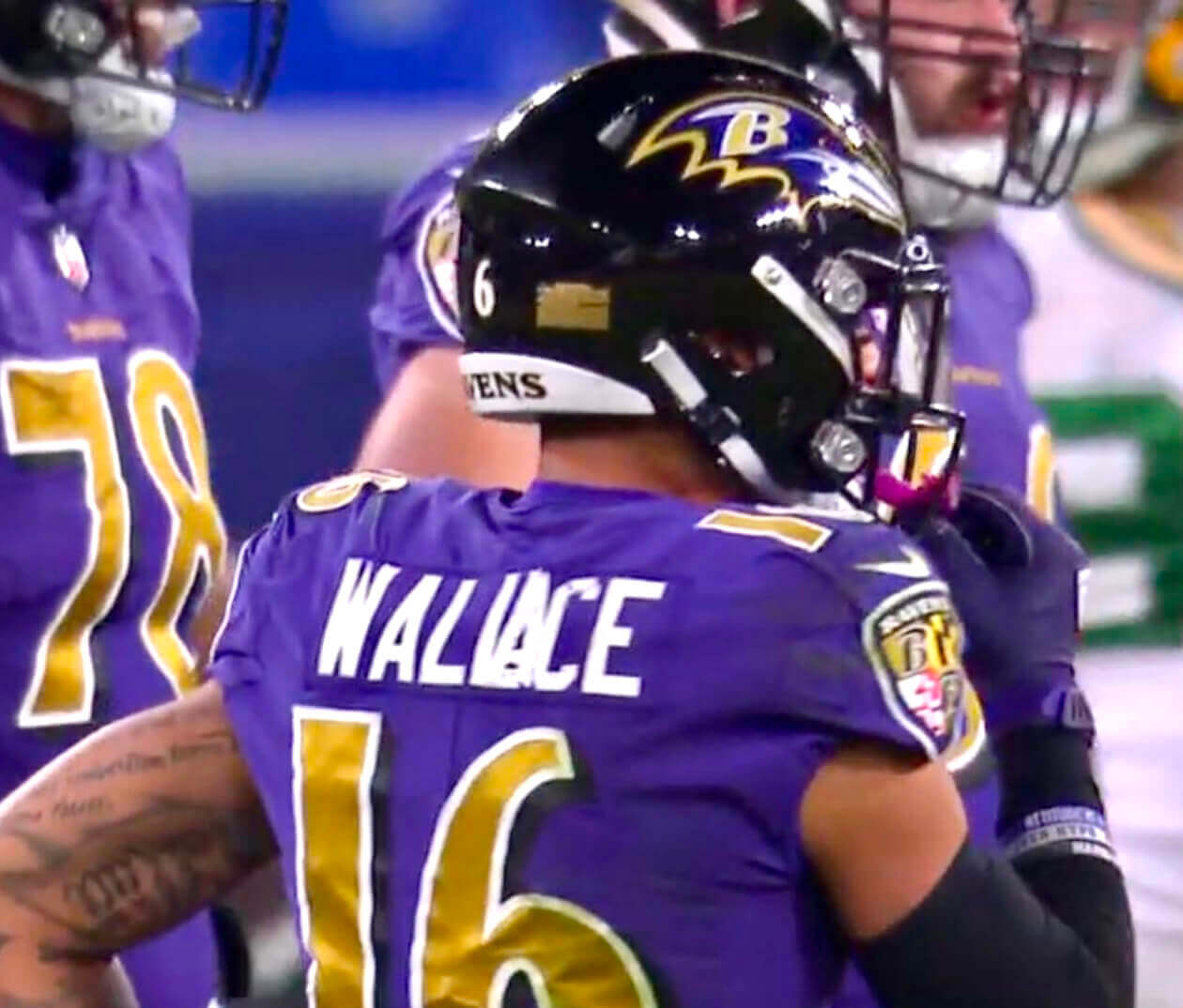 For all photos, click to enlarge
Like they always say, it's not the crime — it's the cover-up. That was the situation yesterday for Ravens wideout Tylan Wallace. He began the day with his NOB misspelled, as you can see in this shot from pregame warm-ups: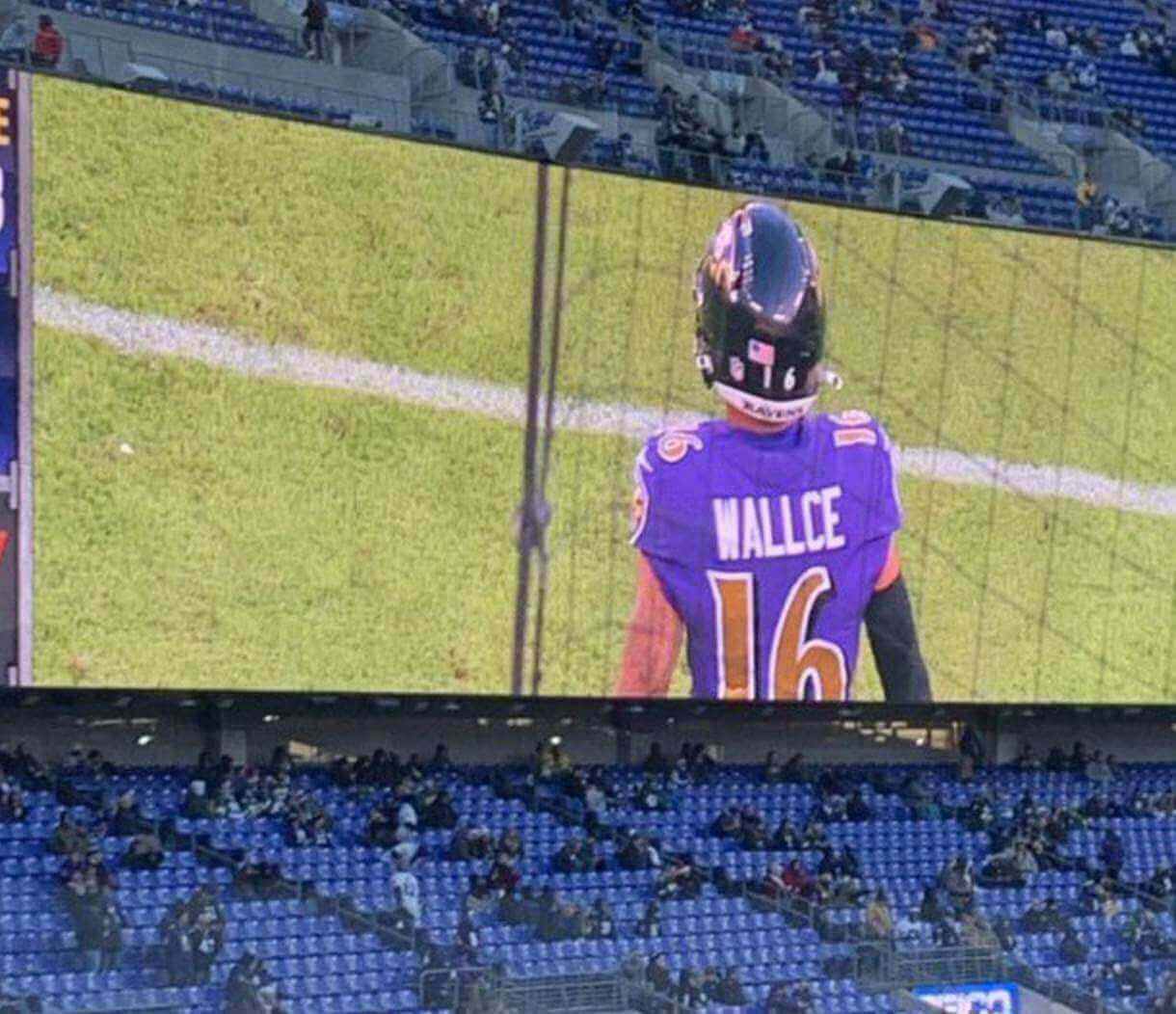 Someone must have noticed, because they "fixed" the typo by adding an emergency "A," which looks like it was probably made from white tape. Here's a closer look: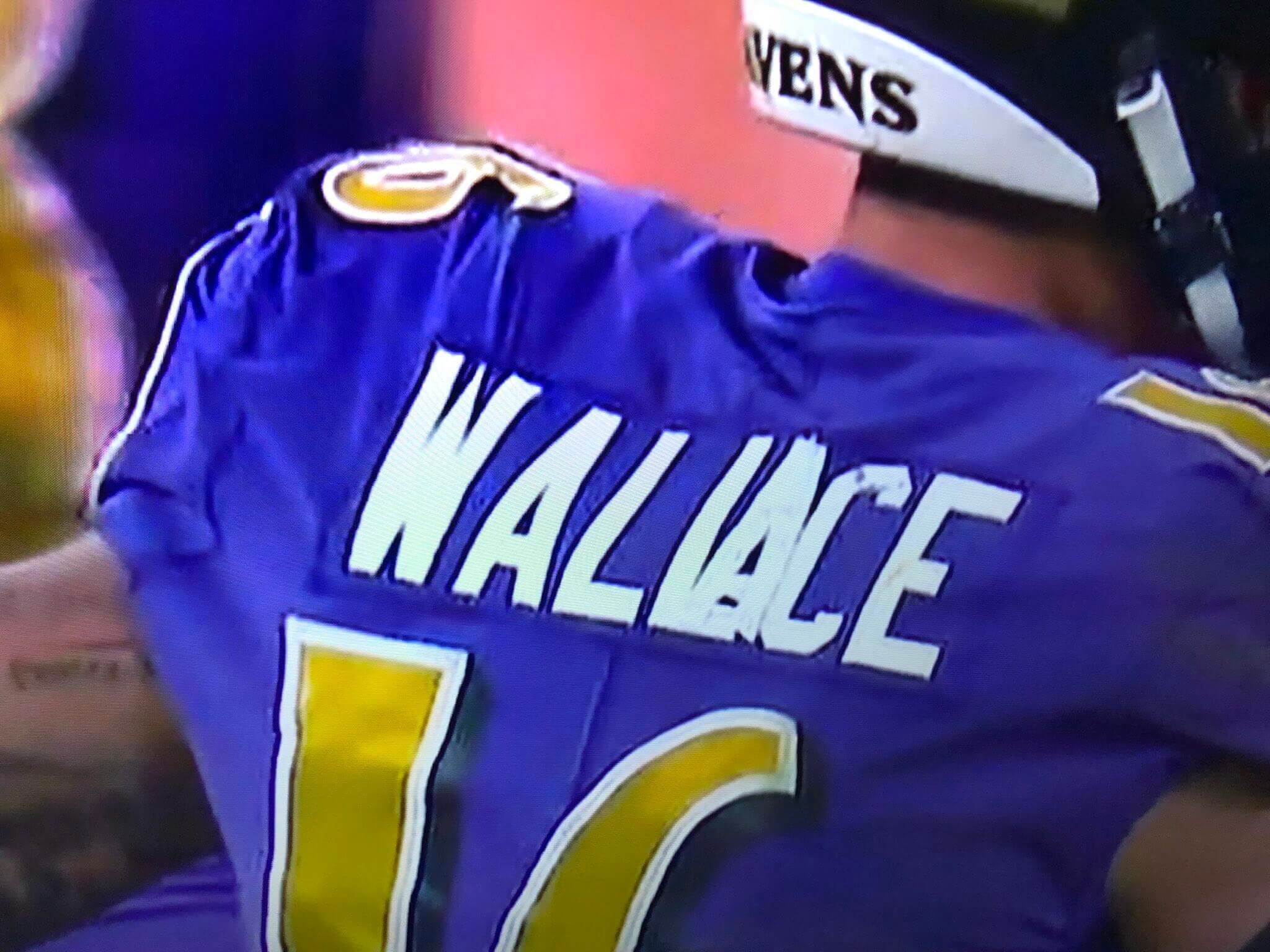 How could this happen? Well, Wallace is a rookie and yesterday was the first time this season that the Ravens wore the gold-numbered jerseys, so that typo-clad jersey probably sat in storage for months without anyone noticing.
In other news from around the league yesterday:
• In that same game, the Ravens went mono-purple: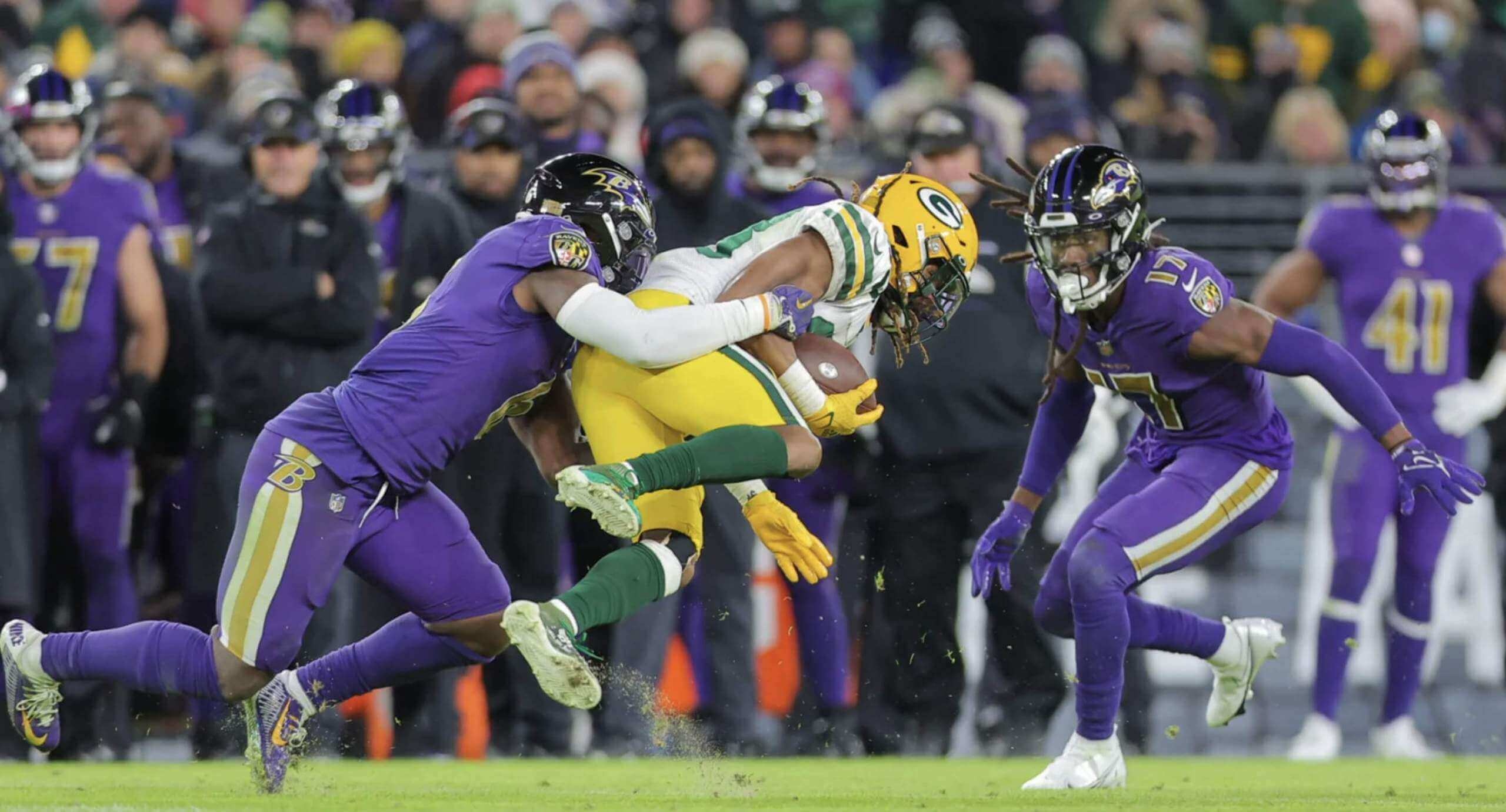 • Two Florida teams — the Dolphins and Jaguars — also went mono, with their respective aqua and teal shades looking like reasonably close cousins: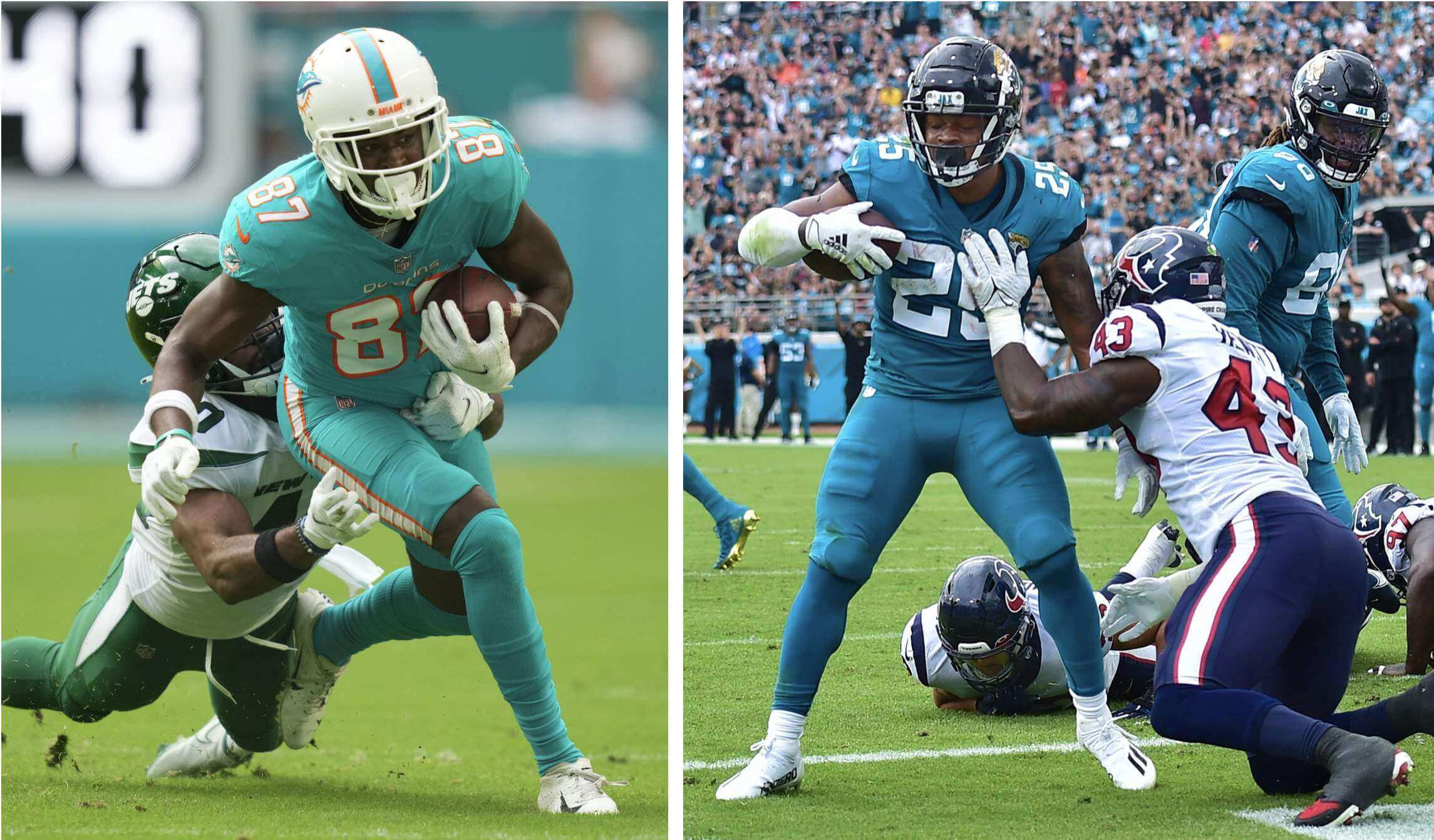 • The mono look is bad enough, but it's even worse when it's done with a team's secondary color. Case in point: The Bills are a blue team with red trim. If they're have to go mono, it should be mono-blue (which is bad), not mono-red (which is worse):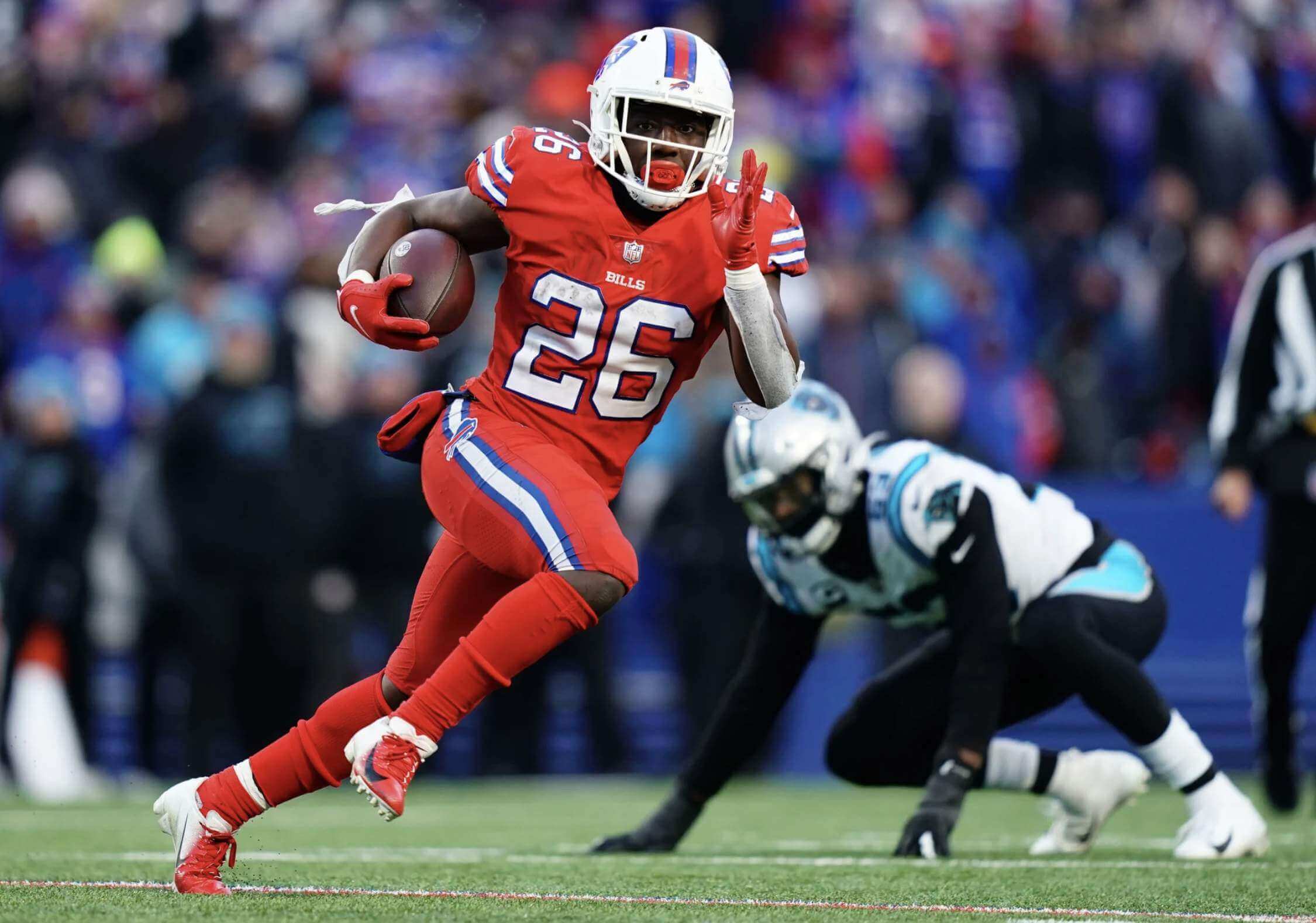 • Also from that Bills/Panthers game: Carolina's neck bumpers usually feature either the team name or a social justice message, but running back Ameer Abdullah's bumper was blank: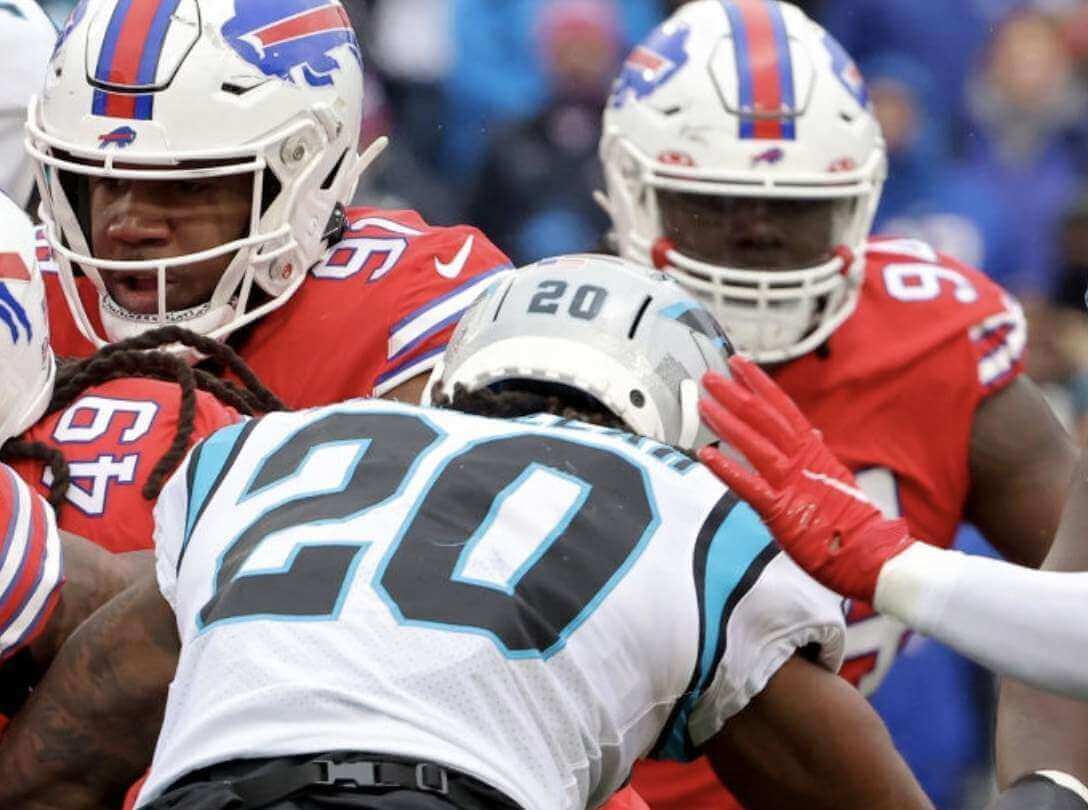 • The 49ers wore their throwbacks: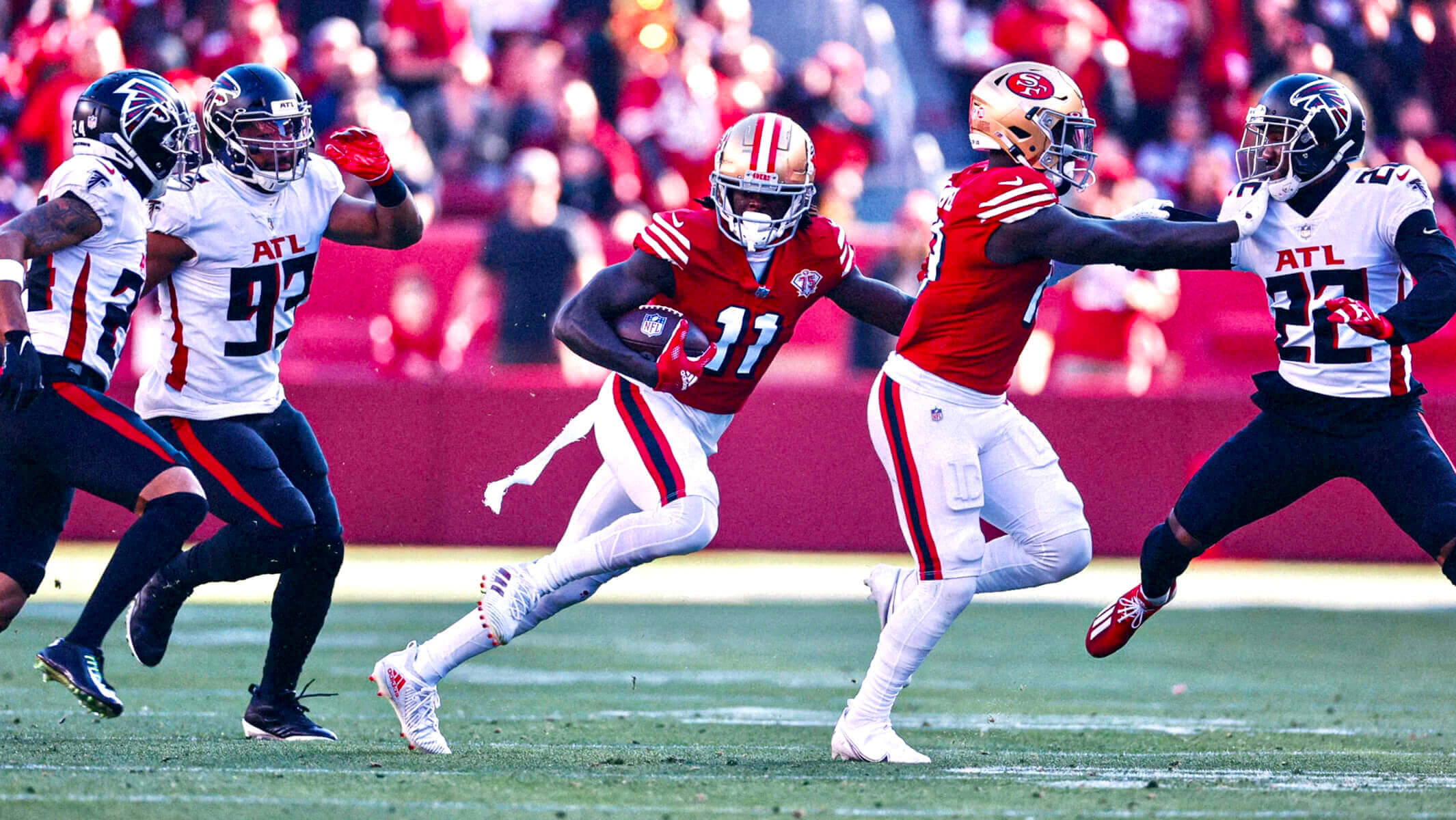 • In that Niners/Falcons game, Atlanta defensive back A.J. Terrell had his mouthguard knocked out during a collision with San Francisco wide receiver Deebo Samuel:
Deebo Samuel just knocked this CB's mouthpiece to San Jose 😳 pic.twitter.com/1hXdcqU4bs

— KNBR (@KNBR) December 19, 2021
• At least three Giants players had trouble with their front helmet numbers. From left to right: defensive back Logan Ryan (No. 23), offensive lineman Matt Skura (No. 67), and wideout Sterling Shepard (No. 3):

• Prior to the Titans/Steelers game in Pittsburgh, where the temperature was below freezing, Tennessee center Ben Jones strolled around the field in shorts and bare feet:
It's 31 degrees in Pittsburgh, with a feels like temperature of 24 degrees.

So of course it's a great day for a barefoot stroll for @Titans center Ben Jones. 🦶 pic.twitter.com/KlRYfBn9C6

— Jim Wyatt (@jwyattsports) December 19, 2021
• Not a single home team wore white (although the Bears will be doing so tonight).
(My thanks to all contributors, including Ryan Hejduk, Neil Vendetti, @TitletownBuilds and our own Brinke Guthrie.)
• • • • •
• • • • •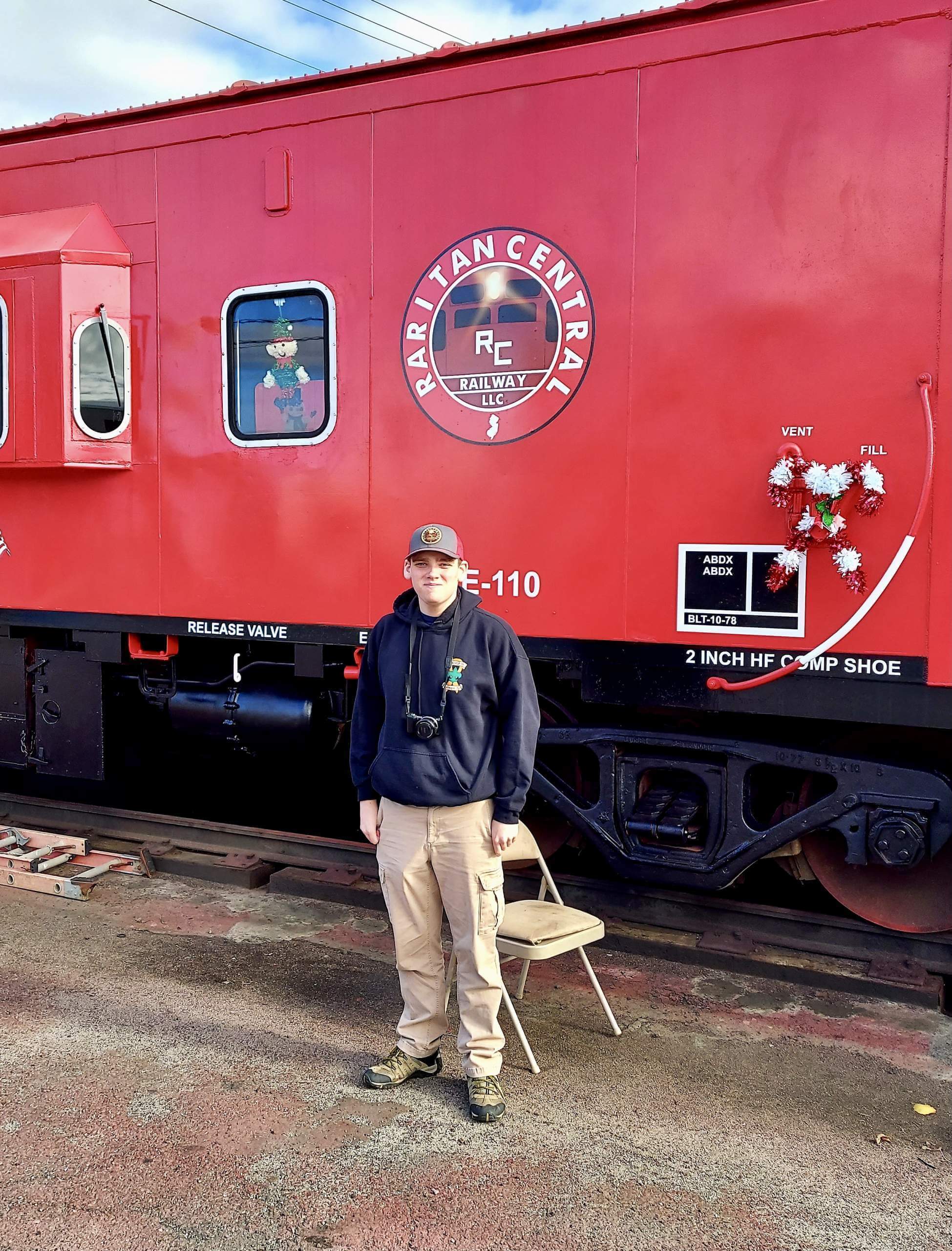 Click to enlarge
Logo-rific: Longtime reader Kevin Clark has previously been featured on Uni Watch for his P.A. work with the New Jersey Devils and Monmouth University football, plus he's done some design work (as you can see if you scroll down in that Devils post). Turns out the design gene runs in the family, as he explains here:
My 16 year old son Sean [shown above] loves trains and volunteers his time helping out Raritan Central Railway in Edison, N.J. He recently created a logo for them, and they liked it so much that they added it to their newly refurbished caboose. Really proud of him.
How great is that? Big congrats to Sean, and to proud papa Kevin.
• • • • •
• • • • •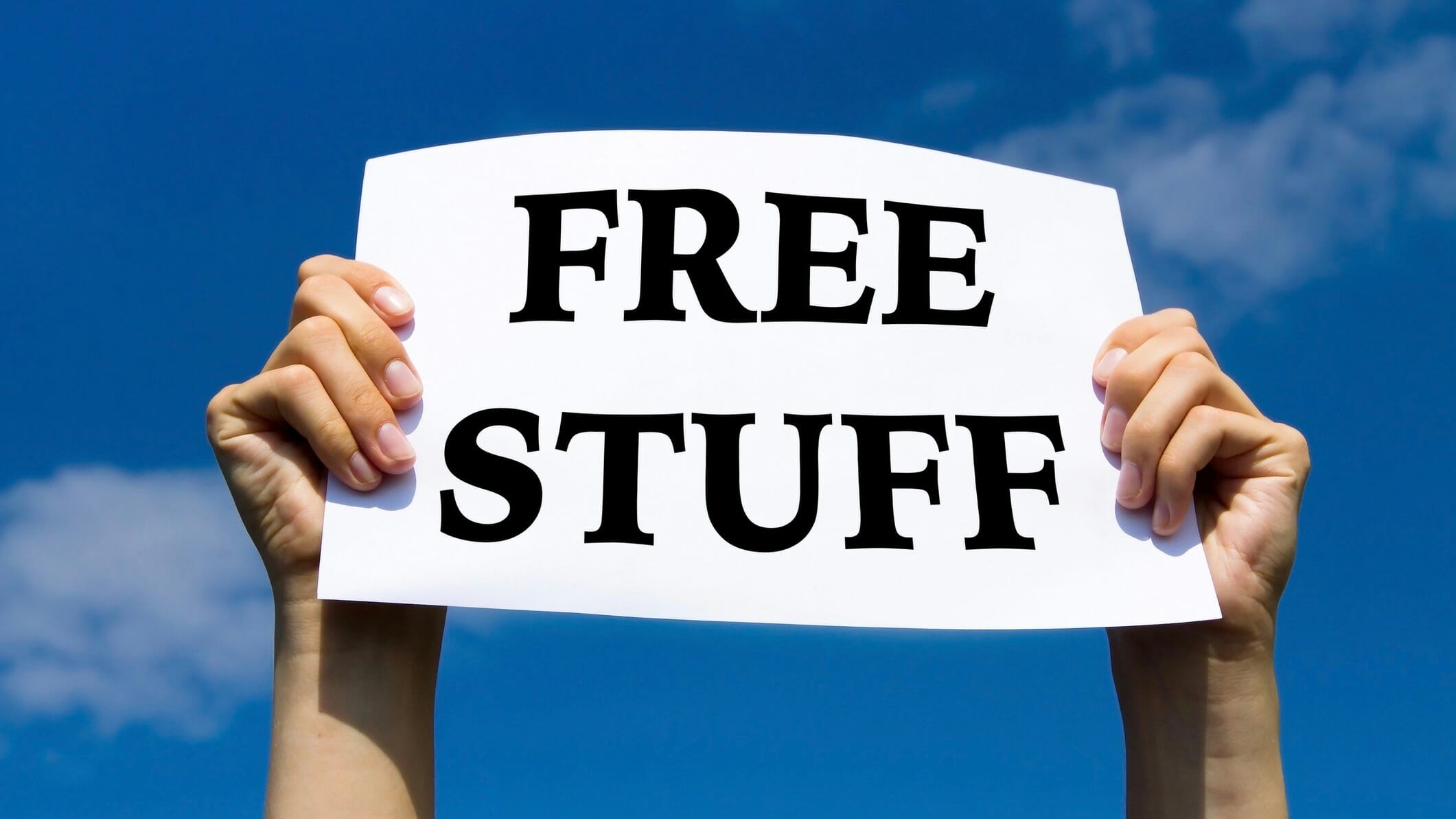 Year-end raffle reminder: In case you missed it last Thursday, Uni Watch's annual year-end raffle, featuring all sorts of cool stuff I'm giving away (including several one-of-a-kind prototypes for Uni Watch products I decided not to put into full production), is now in full swing. Full details here.
• • • • •
• • • • •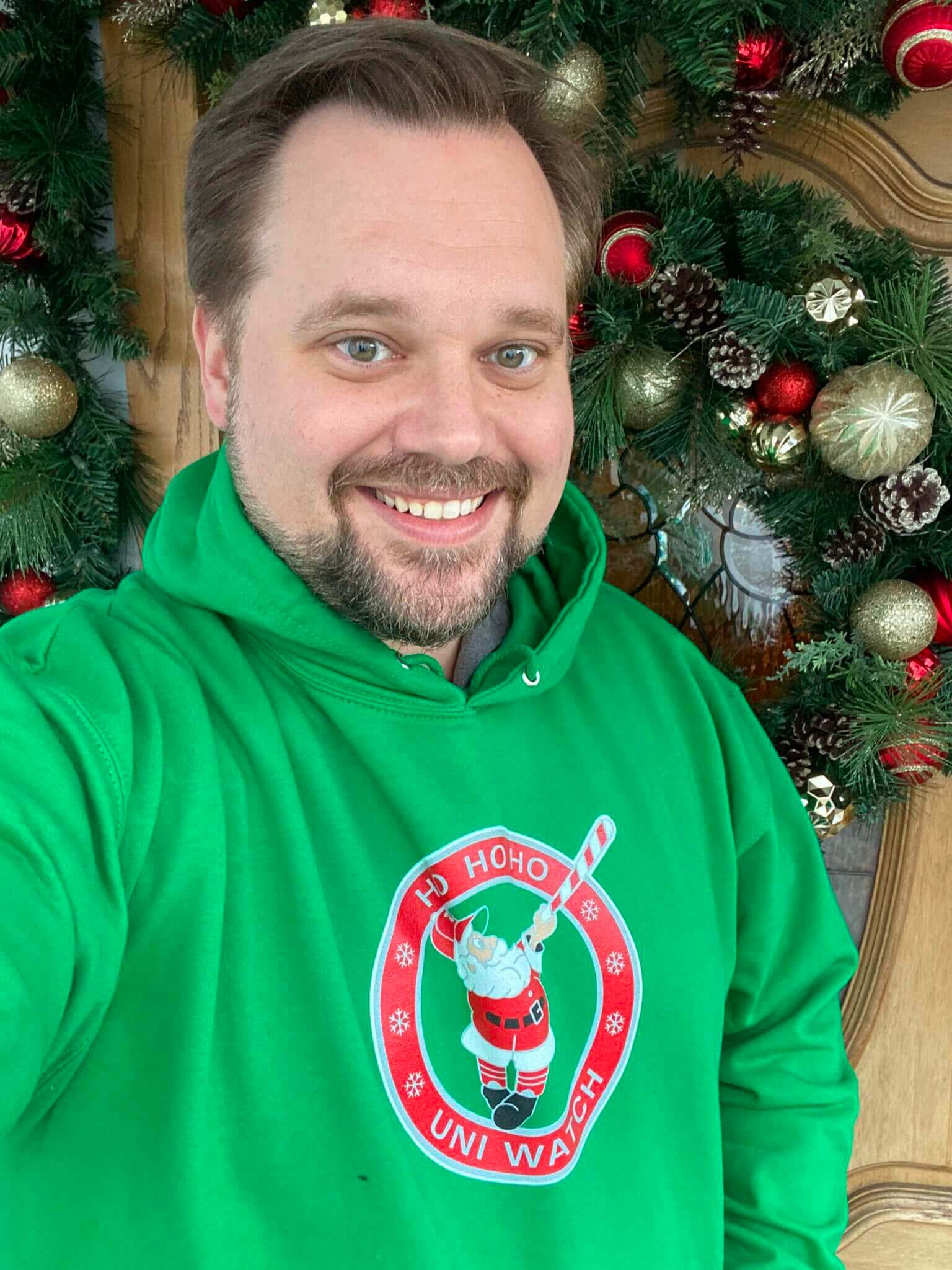 Click to enlarge
In the holiday spirit: Who's that wearing our "Swinging Santa" hoodie? None other than Uni Watch reader Michael Blank. Looking good, Michael!
While we're at it, check out how reader Joe Suarez's "Swinging Santa" pin looks on his holiday gnome: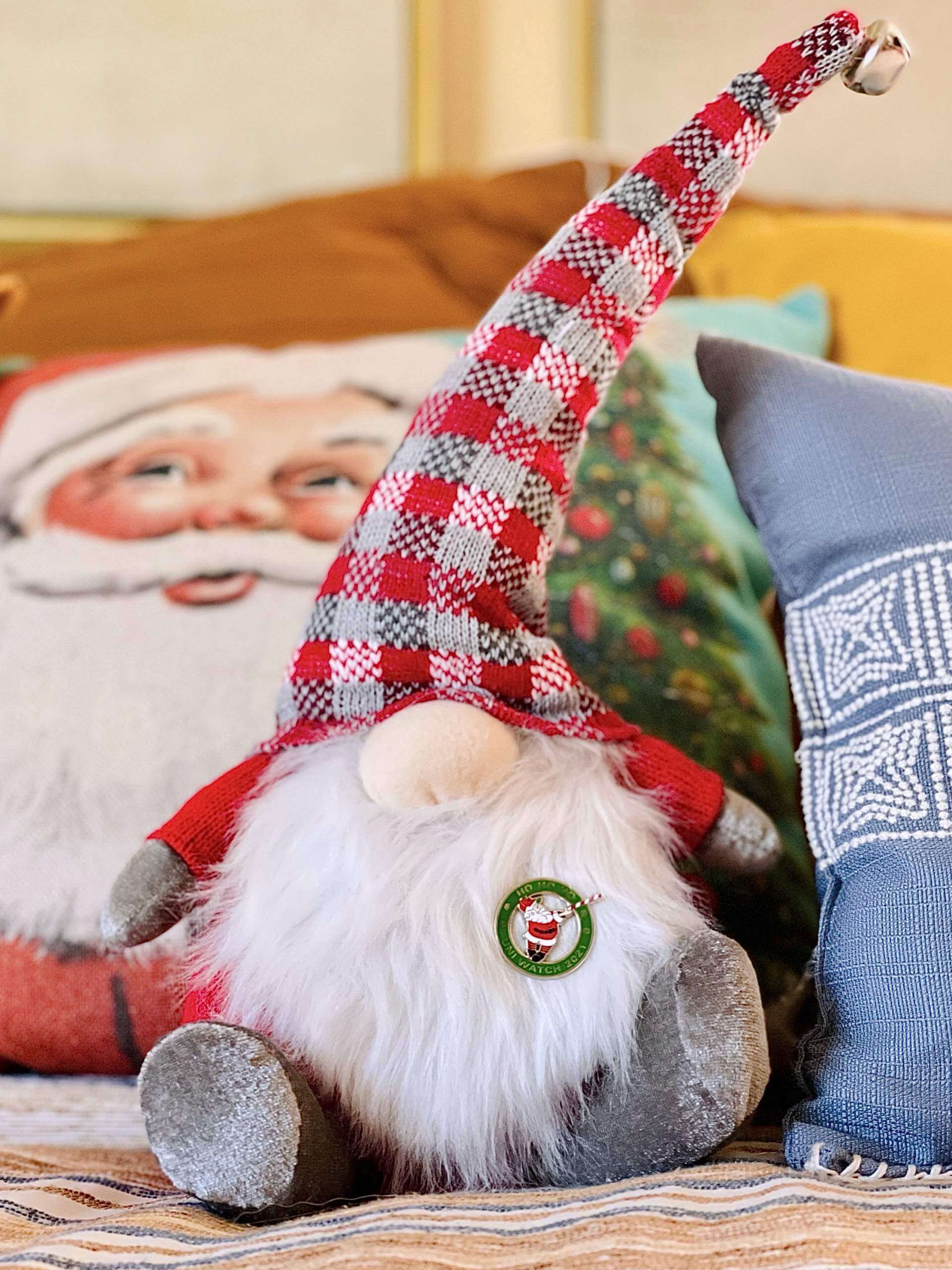 And as long as we're sharing photos of Uni Watch product, Bill Erdek is very happy with his new pint glass: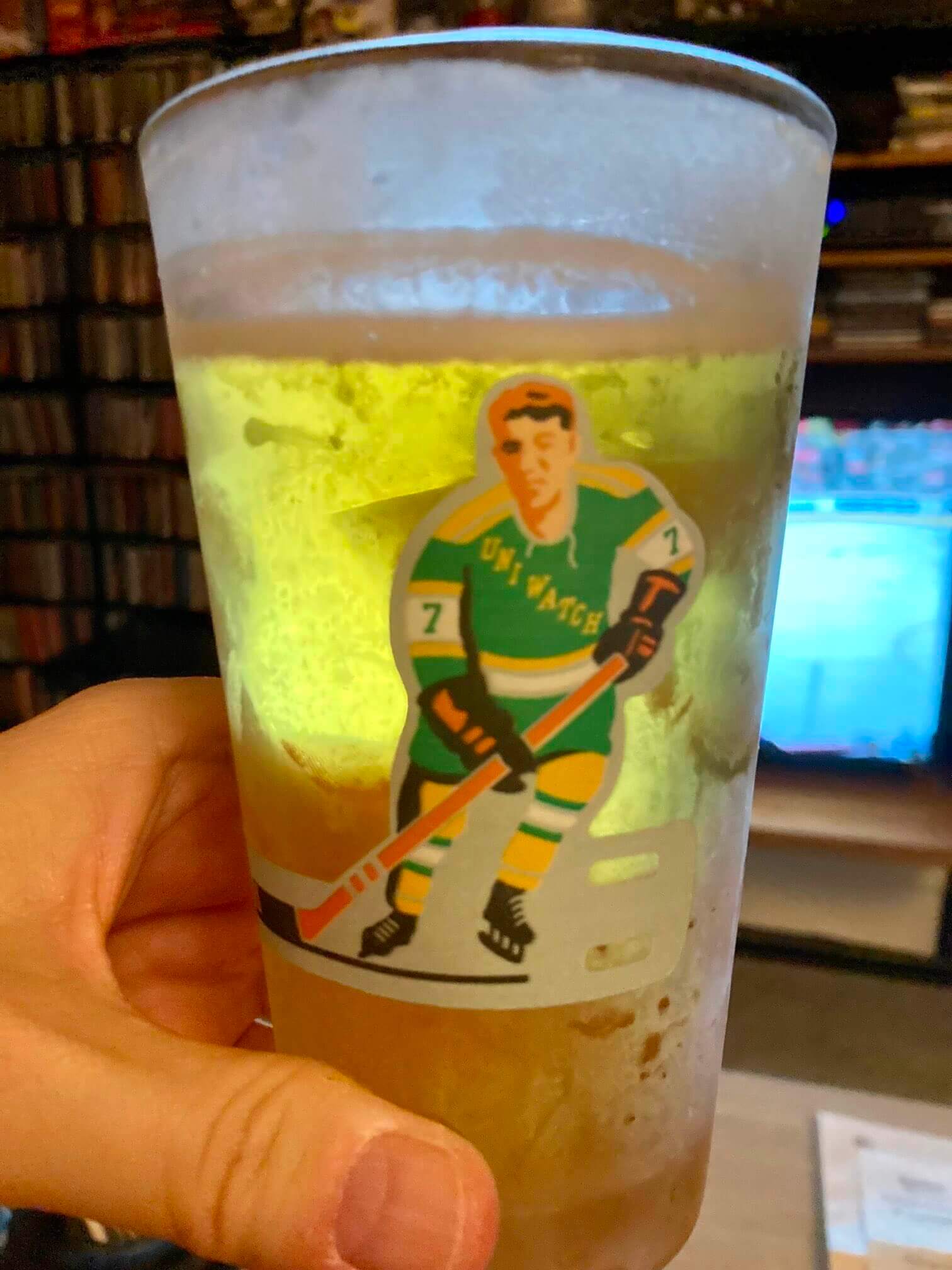 I love seeing stuff like this. Keep those photos coming, people!
• • • • •
• • • • •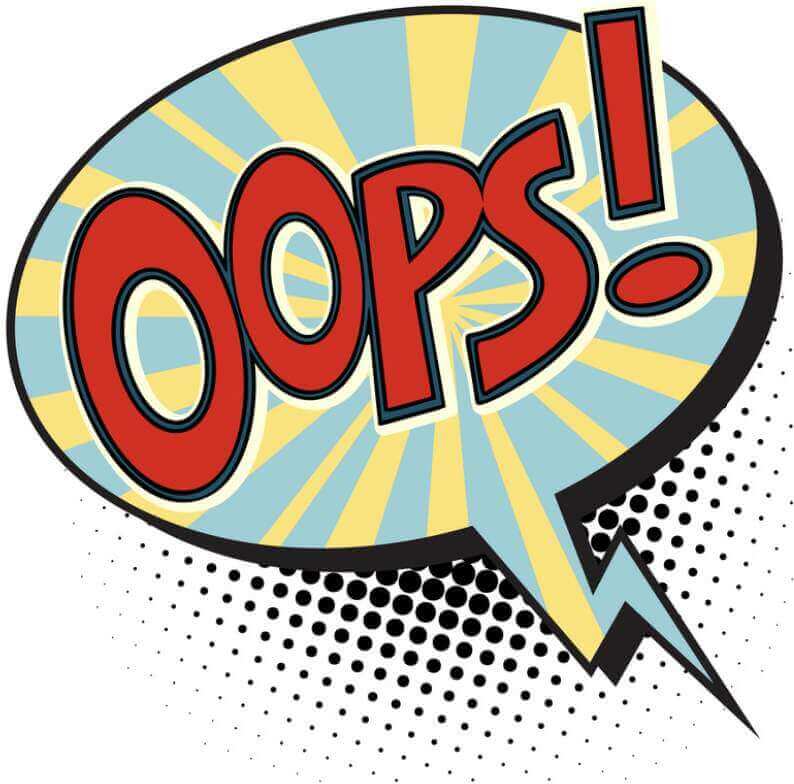 Teespring shipping snafu update/reminder: After a long week of scrambling and coordinating, I'm happy to report that the Great Teespring Shipping Snafu of 2021 is now mostly in the rear-view mirror. The people who received extra pins have now sent (or, in a couple of cases, are about to send) the extras to all the people whose pins were no-shows.
In fact, at the moment we have a few extras left over, which suggests that there may be a few no-shows that are unaccounted for. So if you ordered one of our December "Swinging Santa" pins and either (a) received an empty mailer or (b) haven't received anything at all, please let me know ASAP. Thanks!
As I've mentioned before, this whole episode is an amazing example of how awesome the Uni Watch comm-uni-ty is. Fourteen readers who received extra pins (sometimes as few as one extra, and in one case as many as 11!) have gone to the trouble of sending those extras to people whose orders were no-shows, and the no-show people have been super-patient and understanding about everything. Thanks, people — it's all really special.
• • • • •
• • • • •
The Ticker
By Jamie Rathjen

Baseball News: Former Cleveland C Tom Magrann, who played for the team in 1989, explained how he became the only player in franchise history to wear No. 76 (from Trevor Williams).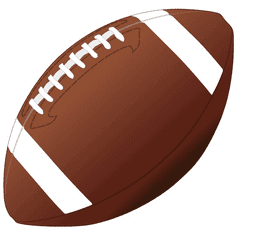 Football News: If you're not aware, the Packers seem to have posted galleries of their equipment staff getting everything ready for most of their games this season (thanks, Phil). … The Division III championship this weekend, between Mary Hardin-Baylor and North Central (Ill.), was color-vs.-color (from Jonathan Cain). … Sure looks like U. of Washington QB Sonny Sixkiller's helmet was sloppily spray-painted in this Sports Illustrated cover photo (from Kurt Rozek).

Hockey News: The Capitals' holiday promotion includes an Alex Ovechkin nesting doll. In that picture the doll is shown with the Caps' 1995-2007 white jersey, which Ovechkin did wear, but it inaccurately includes the captaincy patch, which Ovechkin didn't start wearing until 2010 (from @1995hoo). … The Devils, as part of a Star Wars night last night, made Jedi Order and imperial logos for themselves and the Penguins. The logos were projected on the ice at intermission but you can see them better here (from L.J. Sparvero). … Meanwhile, although it's hard to see, the back number on Penguins D Brian Dumoulin's helmet was apparently upside-down (from @_RF30). … The PHF's Minnesota Whitecaps wore purple Hockey Fights Cancer jerseys on Saturday.

Basketball News: With all the Covid-related roster changes, NBA numerologist Etienne Catalan has been busy with all the new uni number assignments. … Boston College and North Carolina's women's teams played a color-vs.-color game yesterday (from James Gilbert). … "While looking for something else, I came across this Etsy listing for a magnetic basketball shooting board," says Joanna Zweip. … The Suns used their "Valley" court design last night despite not wearing their "Valley" uniforms (from Jim Burch). … The Wall Street Journal has a fascinating (but paywalled) article about how the NBA keeps backup copies of its extensive video archives at a nuclear war-safe bunker in New Jersey.

Soccer News: You may have seen some Uni Watch tweets last week about Italian club Atalanta's annual Christmas shirt for their Serie A game this weekend, which this year was supposed to have the skyline of Atalanta's city of Bergamo but was shown to have Turin's instead. Manufacturers Joma denied that it was wrong and then Atalanta ended up not wearing the shirt at all. … Germany's Werder Bremen also annually wear a Christmas shirt that turns their crest into a Christmas tree. The men's team wore a white version and the women's team a green version. … A match in Australia's women's A-League on Saturday saw Brisbane Roar goalie Georgina Worth wear a blank grey warm-up shirt for the first half to cover for a missing kit and solve several color clashes. … The Czech national teams have a new crest.

Grab Bag: English rugby union club Leicester Tigers were asked to wear their second shirts at home yesterday to avoid a color clash, which is apparently the first such time for them in a competitive game since 1998. … US Quidditch and Major League Quidditch want to change their names, and that of the sport. Besides the name being a trademark, Harry Potter author J.K. Rowling by now has a history of comments that USQ called anti-trans when the sport prides itself on being inclusive (from my brother Nate Rathjen). … Boxer Jake Paul had wristwaches strapped to his trunks on Saturday (from Micah Burk). … Illinois's marching band has new uniforms (from @mrmichael21).