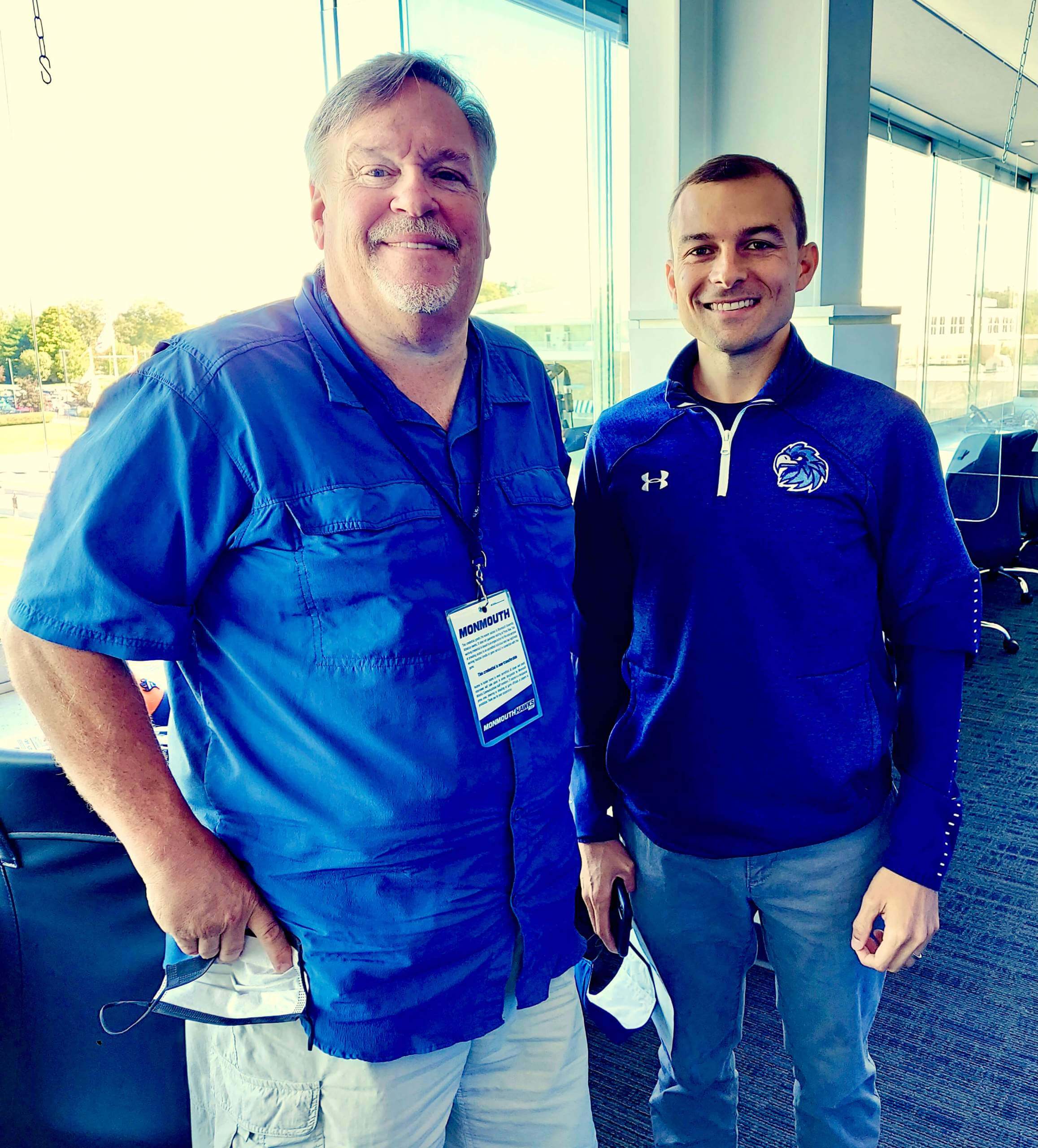 Click to enlarge
The gent on the left is Kevin Clark. If he looks familiar, it might be because I wrote about him two-and-half years ago, when he was the New Jersey Devils' P.A. announcer. He's no longer with the Devils, but he's now handling P.A. duties for football games at Monmouth University, an FCS school (that photo was taken in their stadium). He recently sent me a really interesting note about that:
I was the P.A. announcer at Monmouth for four or five seasons in the 2000s, which I think gives me a unique perspective to comment on the changes that have taken place since then. I didn't realize how much the changes in uniform styles and pace of play were going to affect my announcing. I've done three games, just to make sure I was witnessing real trends and not one-offs.

First, the numbers: Frankly, they are impossible to see — and I use binoculars! With the jersey being skin-tight, the different fonts, and the scrunching up in front, it's a chore to determine that I have the right player. Yes, I've gotten older and my eyes aren't perfect, but it's still tough even with my visual assistance. 

Secondly, the real pain-in-the-butt difference is the way teams are doubling up on numbers! Typically, one player will wear the number on offense, one on defense, so they don't get penalized. But you have guys returning kicks and playing special teams, and sometimes it's a guessing game. College football, please stop doing this!

Lastly — although not uniform-related — pace of play has increased significantly since I was last behind the mic. Everyone runs an up-tempo offense, and trying to announce the ball carrier/receiver, tackler, down, and distance between snaps can be challenging. I wasn't prepared for this my first game back, but now I've learned to pick up my tempo as well. 

For all the changes, I will say this: I love a college football game on a Saturday afternoon. So good to be back!
Interesting! Really love these observations. In case you're wondering, here's what the game looks like from Kevin's vantage point (click to enlarge):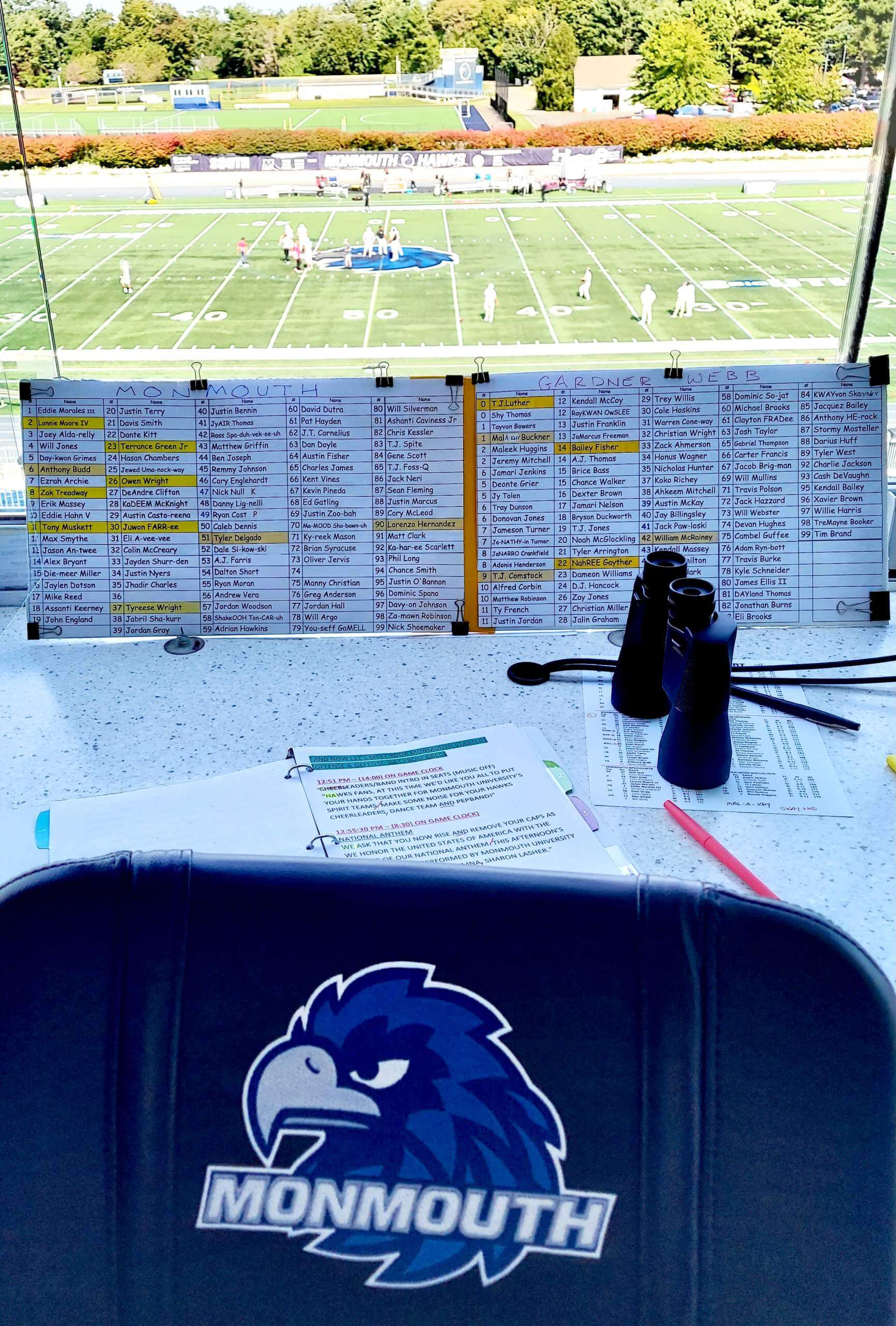 • • • • •
• • • • •
🚨 VAZOU!

Trago aqui as primeiras imagens do novo uniforme City Edition do GOLDEN STATE WARRIORS. #NBA75

Predominantemente preto, ele traz o logotipo tradicional no peito, com um "raio de sol" por trás da ponte.

Vou mostrar algumas referências nos próximos tweets. pic.twitter.com/aUCHgnZYw3

— Camisas da NBA (@camisasdanba) October 19, 2021
Another day, another NBA leak: The latest scoop from Brazilian leakmeister Igor Coelho is the Golden State design shown above. If you click on the tweet and use the translate function, you can scroll through Coelho's analysis of the various design elements.
As an aside: I don't speak Portuguese (I assume most of you don't either), but I have definitely learned from Coelho's tweets that "Vazou!" means "Leak!" I don't know about you, but I think "vazou" is a much more enjoyable word — you can almost feel the implied exclamation point at the end of it. Vazou! Maybe we should just use that from now on.
Meanwhile, as long as we're talking about the NBA, the Bucks raised their championship banner and gave out their championship rings prior to last night's season opener. Here's a look (first photo by Michael McLoone-USA Today Sports; click to enlarge):
2021 Championship Ring.

💍 @JewelersMutual pic.twitter.com/O30OcMaHXq

— Milwaukee Bucks (@Bucks) October 19, 2021
• • • • •
• • • • •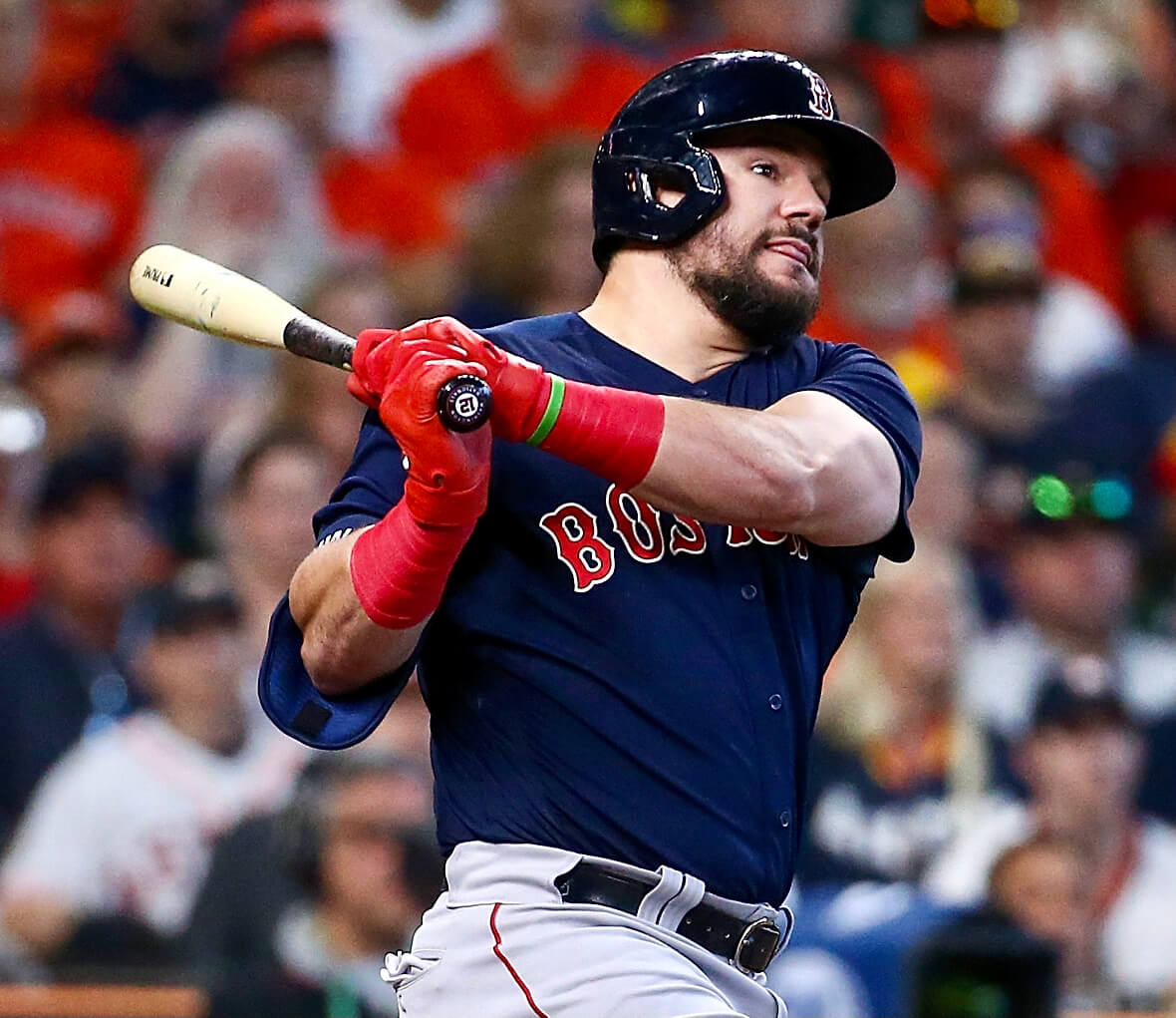 Photo by Troy Taormina-USA Today Sports; click to enlarge
Knob job: Reader Christopher Schuler sent me this photo of Red Sox first baseman Kyle Schwarber, taken during Game Two of the ALCS last Saturday. Note the "12" bat knob decal — odd for a player who wears No. 18, right?
So was Schwarber using a teammate's bat? Nope — the Sox don't currently have a player wearing No. 12.
So let's take a closer look at that decal and flip it upside-down: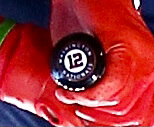 It's a little rough-looking, but you can definitely see that it's a Washington Nationals decal. And sure enough, Schwarber wore No. 12 for the Nats.
Schwarber was traded from the Nats to the Sox back on July 29. Interesting that he was still using his old supply of bats more than two months later.
So that was Game Two. But by Game Three, two nights ago, Schwarber had switched to a different bat — presumably a newer one — with no decal: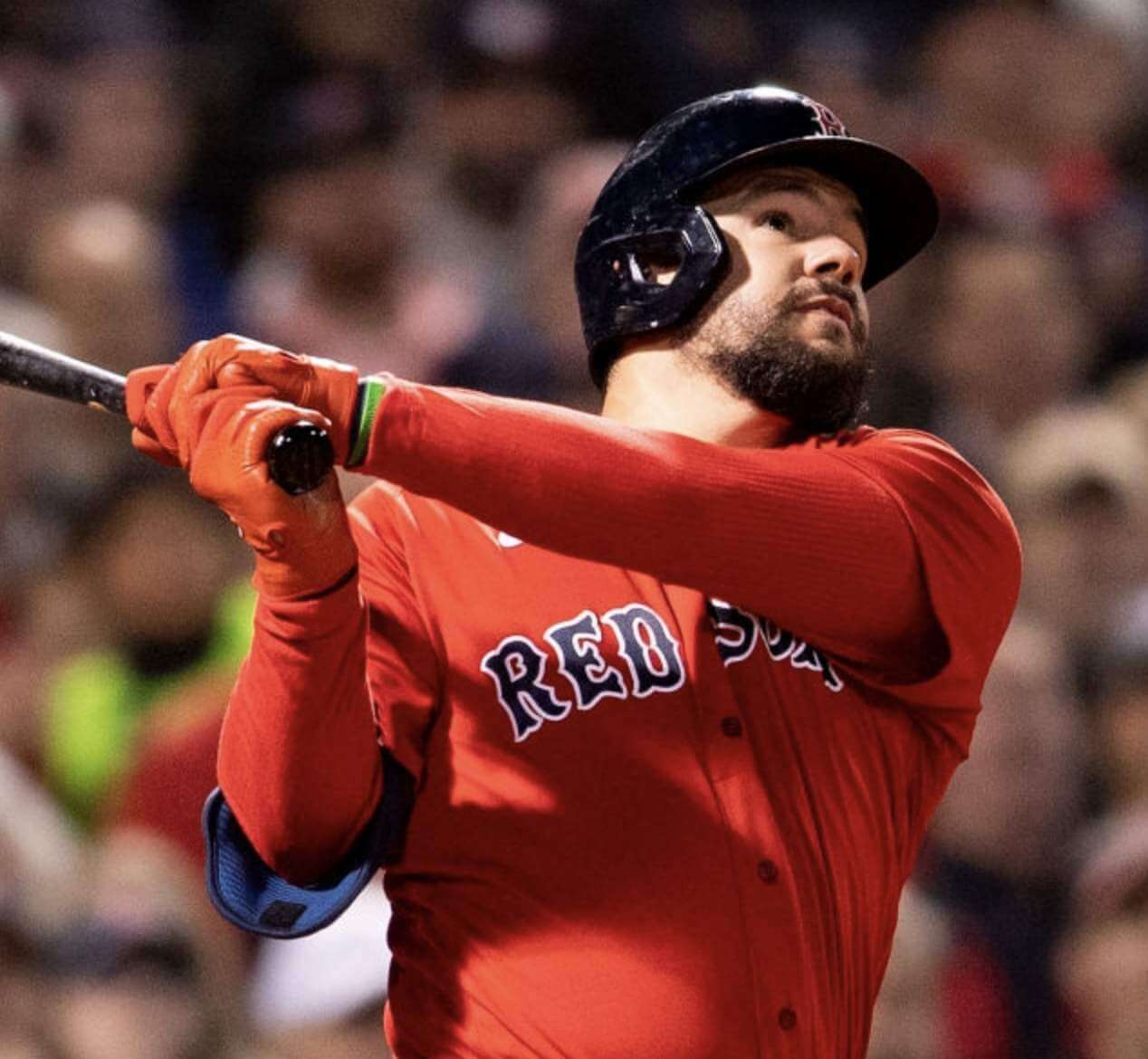 (Big thanks to eagle-eyed Christopher Schuler for spotting this one.)
• • • • •
• • • • •
The Ticker
By Lloyd Alaban

Baseball News: The Red Sox still have a bullpen cart (from Heath Carignan). … A new Twitter account posts a scorecard of each MLB game at the game's conclusion (from Jon Viera).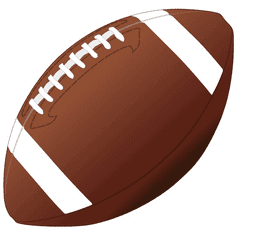 Football News: This could have been the Browns' new logo in 2015 (from John Sabol). … The next few items are from our own Phil Hecken: Orange/white/black for the Bengals this week. … The Lawrenceburg Tigers, a high school in Indiana, wore uniforms donated by the Bengals last week. … UAB will again wear NOBs of patients at a local children's hospital for homecoming. … Ole Miss will honor alum Eli Manning with "Manning" end zones this week. … New personal logo for Cowboys CB Trevon Diggs (from @ThatRodneyGuy).

Hockey News: Kraken G Joey Daccord did not have the team's inaugural patch on his sweater last night (from multiple readers). … New helmet ad for the Blue Jackets (from our own Phil Hecken). … Bally Sports Ohio misspelled the Red Wings' team name last night (from Kevin Pedigo). … New unis for Lions de Trois-Rivières of the ECHL (from Moe Khan).

Basketball News: The 76ers sent a very cool package, featuring a View-Master, to their season ticket subscribers. The package also confirms that the team's new City alternate will have a heavy Spectrum theme (from @CarsonFentz). … New unis for Seton Hall women's (from @Starkman55).

Soccer News: Mexico's World Cup shirts might have leaked (from our own Phil Hecken). … El Clásico — the Barcelona-Real Madrid rivalry — now has a logo and ball. … RB Leipzig's youth team faced PSG's youth team, and RB Leipzig wore different uniform sets than the main club did (from Johnny Jatt). … Some players from the Dutch club FC Emmen have their last names on the front of their shirt underneath the club badge, while others do not (from Anthony Zydzik). … Japan's J-League won the "Good Design" award for its updated name and numbers designs. "The award is aimed at enriching society through design," explains Jeremy Brahm.

Grab Bag: Here are the jerseys of all 16 teams in the cricket T20 World Cup (from our own Phil Hecken). … It's Pinktober for North Carolina's marching band (from James Gilbert). … The Norman (Oklahoma) Police Department is wearing rainbow badges in honor of LGBTQ History Month (from Timmy Donahue). … Also from Timmy: The Overland Park (Kansas) Police Department's new Crisis Action Team will wear toned-down uniforms without the word "Police" on the back. The unit will also have unmarked cars and a therapy dog. … "The sport of netball could be ending the use of skirts in its uniforms. … The Australian Football League keeps track of new and changed player numbers for its teams. It has started its list for the upcoming AFL Women's season, though there are only seven teams so far (from our own Jamie Rathjen).