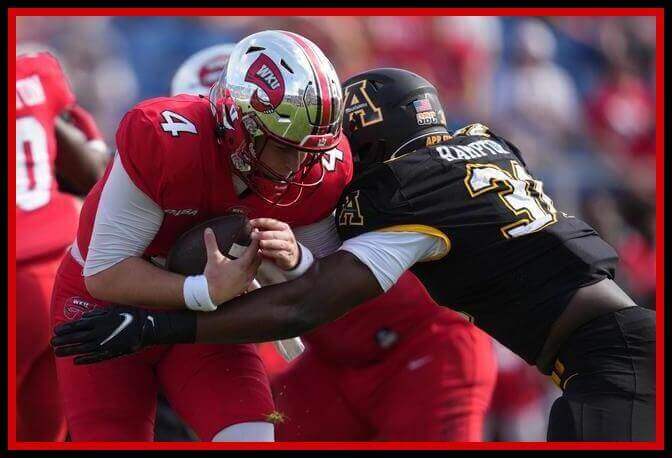 By Phil Hecken, with Terry Duroncelet
Follow @PhilHecken

Good Sunday Morning, Uni Watchers! Hope everyone had a pleasant (and hopefully safe) Saturday.
As you're all likely aware, "Bowl Season" kicked off Friday night (with two games) and continued yesterday with seven more. While no team wore anything too outrageous, we've already had our share of not-so-great-looking uni matchups already. Sure, almost every team involved is a non-Power 5 team, so the best gear is still to come, but still, for many of the kids involved, this is their Super Bowl. Most won't be moving onto the league that "pays for play" (although the college ranks, with their NIL changes, are coming close). You'd think teams would want to wear their "Sunday Best" — or at least a uniform with which most of us are familiar. But, so far, we've gotten a color-vs-color game, more than one BFBS look, and another where both teams wore the same color hats and britches (which isn't necessarily a bad thing, but it makes the matchups less appealing).
The color-vs-color game — seen in today's splash — took place in the "Boca Raton Bowl," between the App State Mountaineers and the WKU Hilltoppers.
And now, to bring us up to speed on the first nine games is the one and only TJ Duroncelet, who brings us the…
• • • • •
Sunday Morning Bowl Watch, Part I
by Terry Duroncelet, Jr.
After a few weeks off (and some depressingly-hot weather here in Louisiana), it's finally time to go bowling. As always, I will be listing each and every team by their full names (which I read off of Wikipedia, so if there are any discrepancies, it's not with ill intention, I promise). Also, my Ducky Legend keyboard of almost 6 years has… how do I put this… taken itself off the Census, so I had to get a new keyboard last Sunday, and as such, I'm still getting used to typing on it, so while I'll try to catch any spelling and grammar gaffes via proofreading, don't be surprised if I fumble my words more often here. Lastly, the incredible Blaise D'Sylva has each game covered so far, so I'll be sure to plug his helmet matchups in each game. With the preliminaries out of the way, let's get to it…
From Friday, December 17th, 2021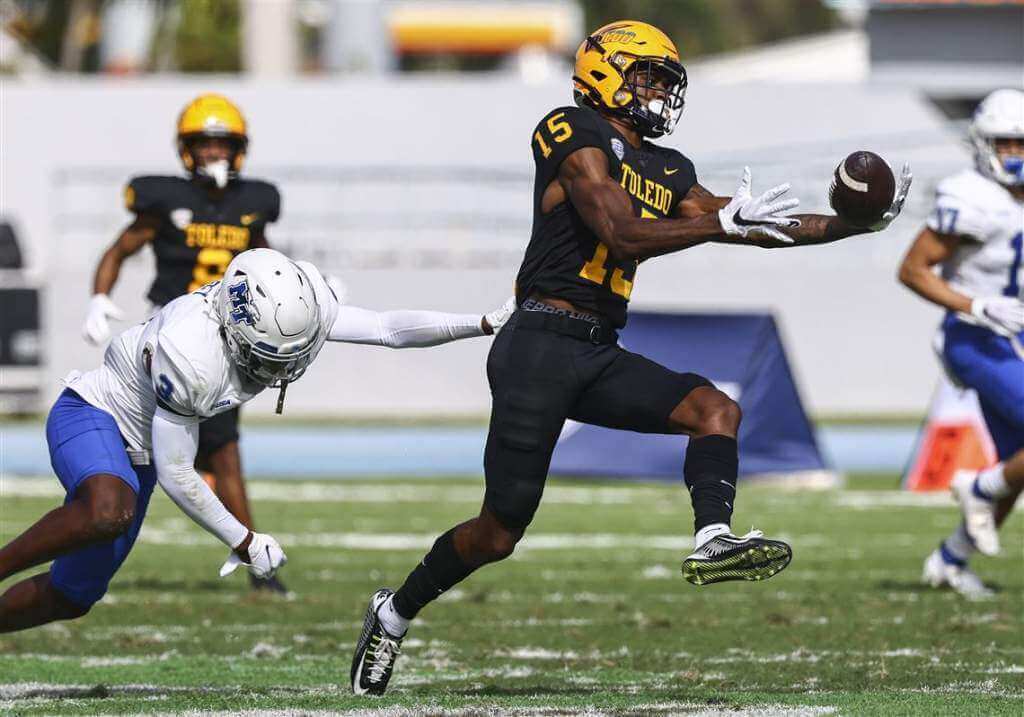 Our first game of the 2021 bowl season is between the Middle Tennessee State University Blue Raiders, who wore white helmets and jerseys with blue pants, and the Rockets of the University of Toledo, who wore yellow helmets, with BFBS jerseys and pants. For two seconds, I thought that Toledo was in mono-navy, but that'd be too hopeful, now wouldn't it? Despite that, this had a surprising amount of contrast. Also present was a neat little Easter egg with Toledo's helmet decals.
__________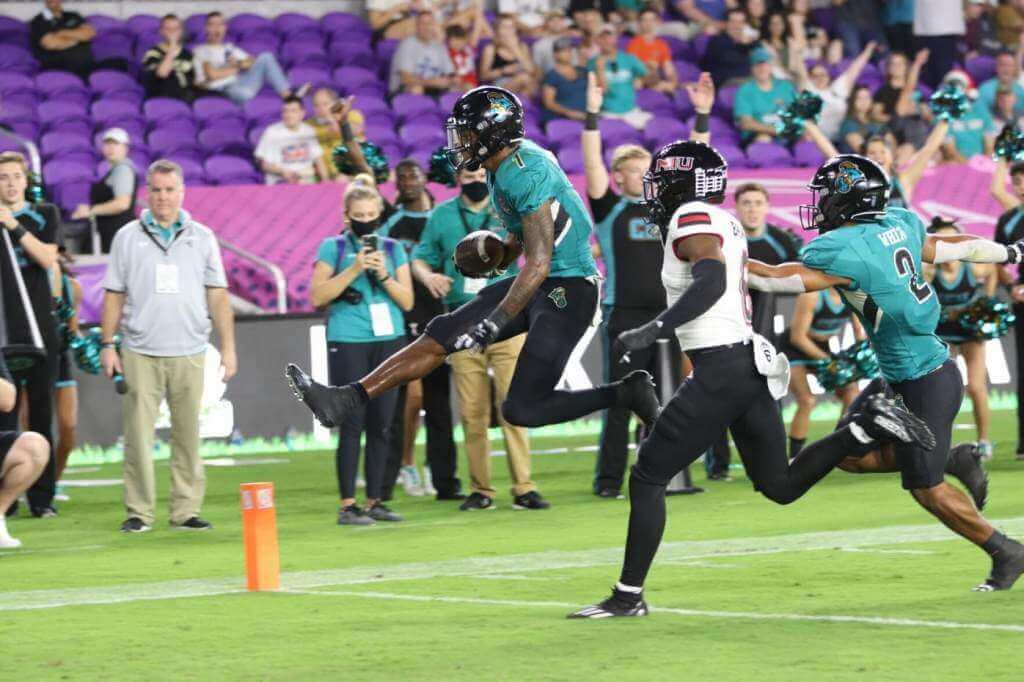 That same day hours later, the Northern Illinois University Huskies wore black helmets, white jerseys, and black pants against –say it with me now– the Coastal Carolina University Chanticleers (man, I love that name), who also wore black helmets and black pants, but with teal jerseys (helmet matchup).
__________
From Saturday, December 18th, 2021
|South Carolina State vs Jackson State|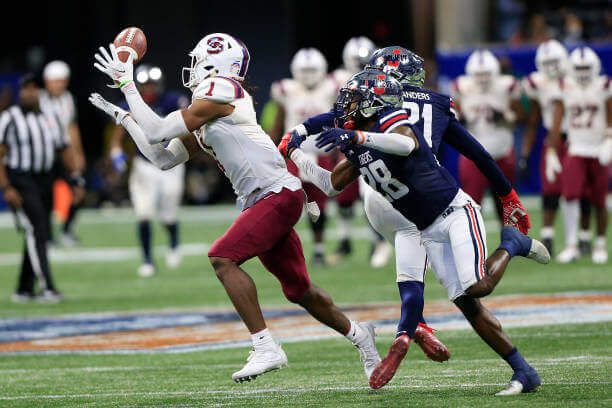 I don't remember if I've ever covered an FCS matchup during the bowl season, but at any rate, the South Carolina State University Bulldogs wore white/white/garnet against Deion Sanders's team, the Jackson State University Tigers, who wore (I think???) blue chrome/navy/white. On the left side of the helmets reads "I BELIEVE".
__________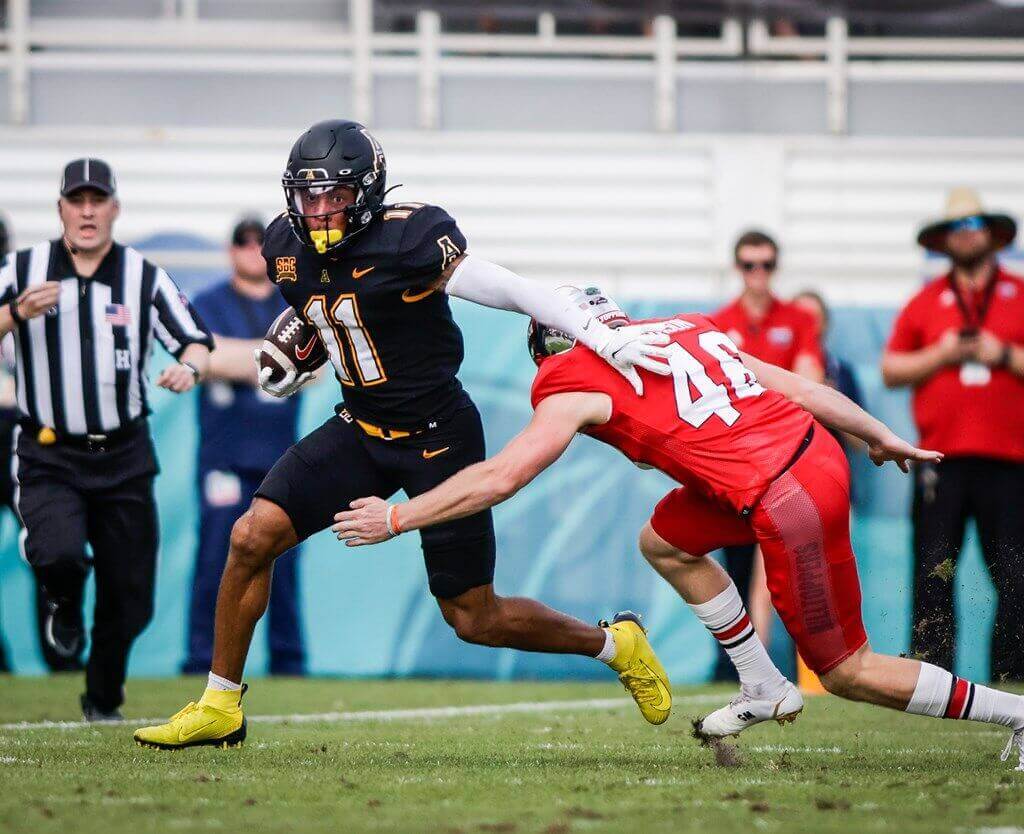 We kick off our (FBS) weekend action in style: a color-vs-color matchup! We have the Western Kentucky University Hilltoppers, who wore red jerseys and pants with chrome helmets (and check out the sock game!), and the Appalachian State University Mountaineers, who wore all-black (helmet matchup).
__________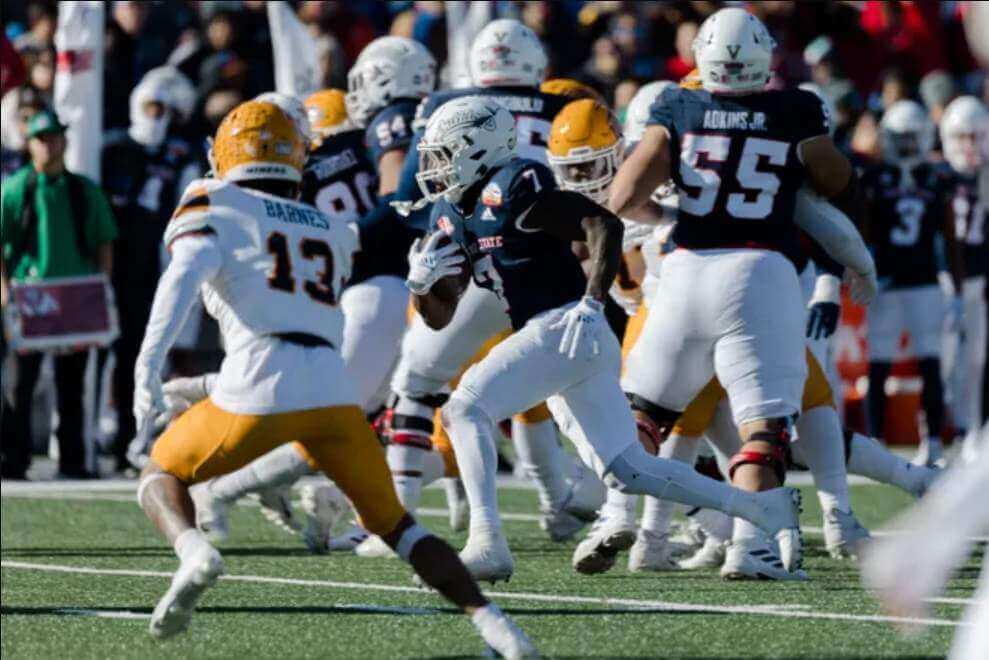 Up next are the Bulldogs of California State University, Fresno, in white helmets and pants with navy jerseys, going up against the University of Texas at El Paso Miners, in white jerseys, and their signature orange helmets and pants. Fresno State did the right thing here by going with navy tops, the shared color spectrum effect would have been BRUTAL if they had elected to wear their usual red jerseys (helmet matchup).
__________
|UAB vs BYU|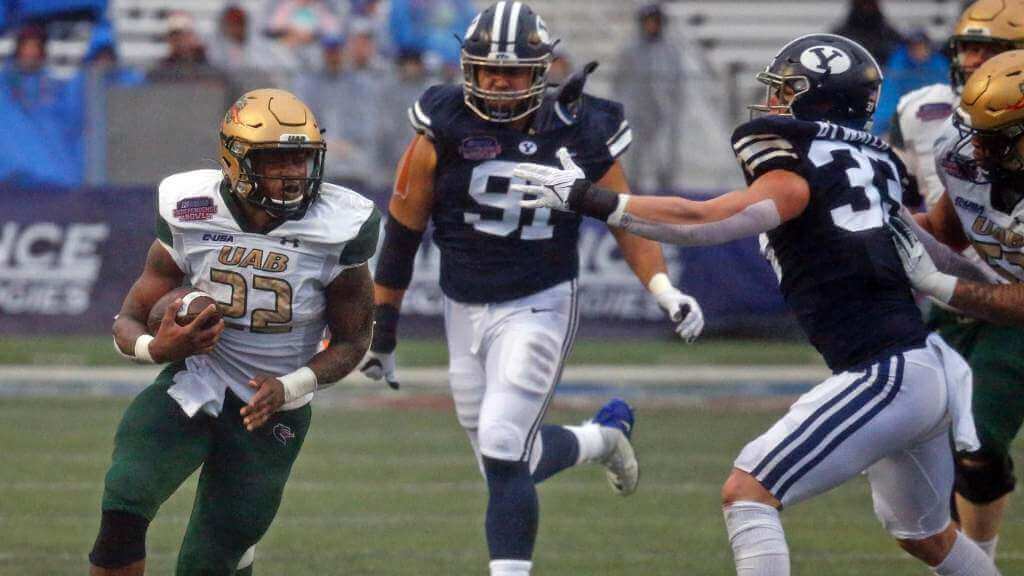 BLAZING* in with an upset over the #13 team in the country is the University of Alabama at Birmingham Blazers, who wore gold helmets, white jerseys, and green pants. The fallen: the Brigham Young University Cougars, who wore navy helmets and jerseys with white pants. Never a dull moment in college football (*I hate this pun more than Satan himself, and it physically anguished me to type it, why am I like this, why do I love suffering, here's the helmet matchup, I guess). As an aside, the Provo Bois weren't the only ones who were green with envy.
__________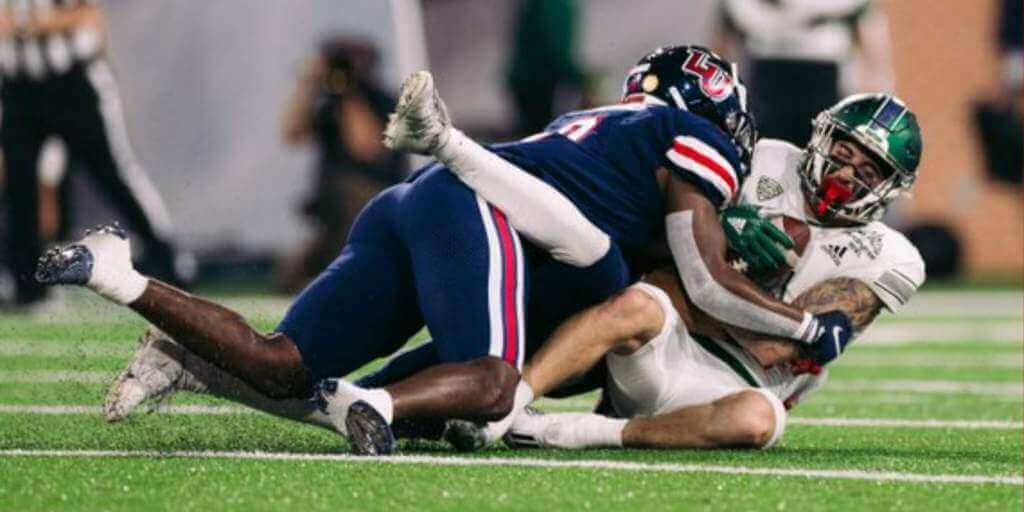 Simple and to the point: the Eastern Michigan University Eagles (green/white/white) faced off against the Liberty University Flames (full-navy). Here's the helmet matchup, with some important info regarding the decals on the back of EMU's helmets.
__________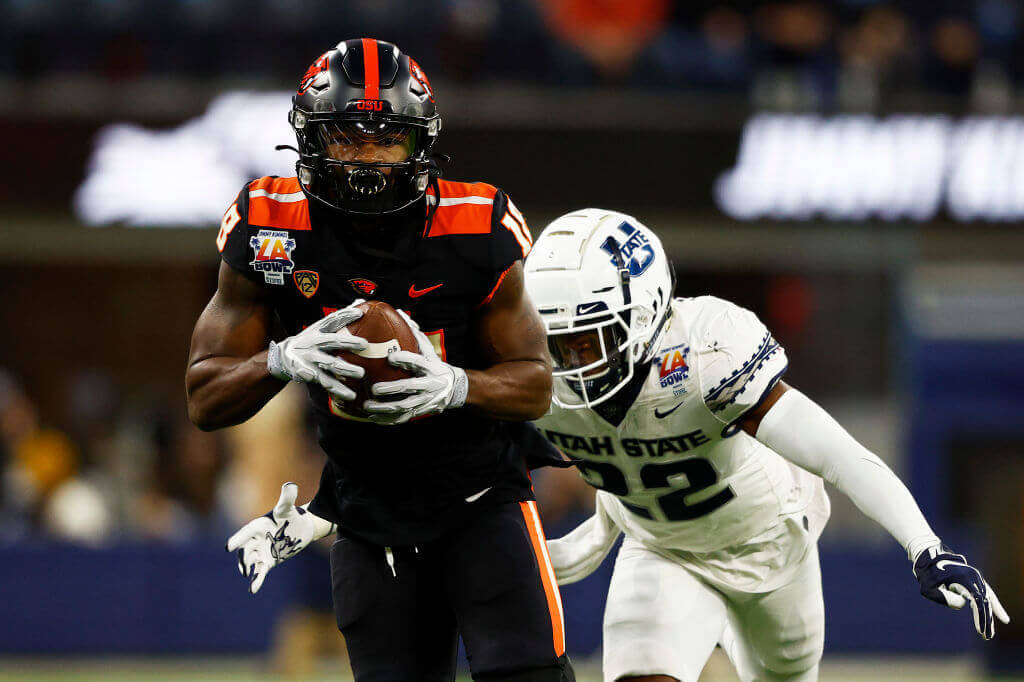 A nice Western showdown in Inglewood, between the all-white Utah State University Aggies, and the all-black Beavers of Oregon State University. I don't talk about them enough, but Utah State seriously has a criminally-underrated uniform (helmet matchup).
__________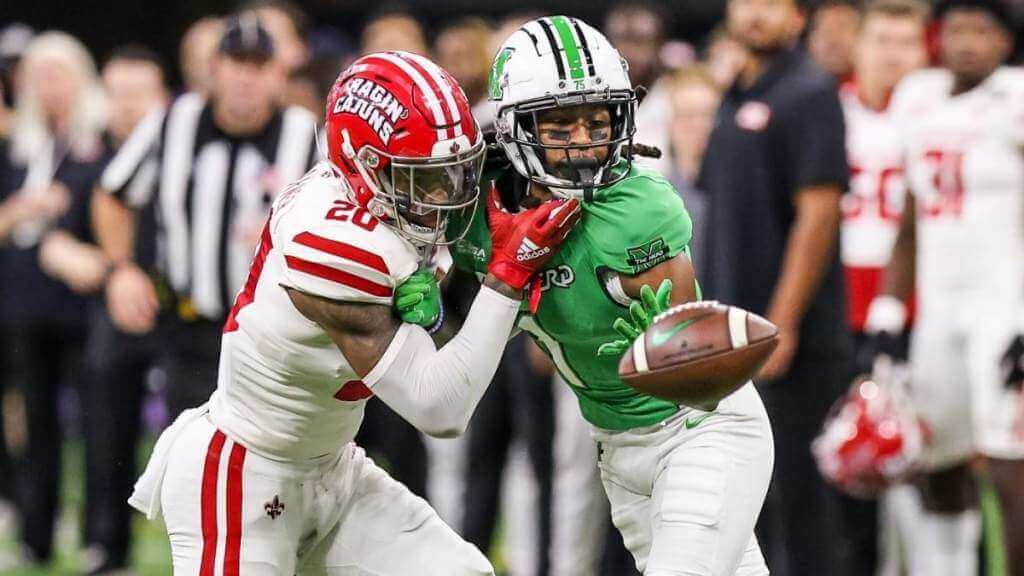 What is this game without some mixture of App State, Southern Miss, or yesterday's team: the University of Louisiana at Lafayette Ragin' Cajuns, who wore red helmets with white jerseys and pants. They played against the Marshall University Thundering Herd, who wore white helmets and pants with green jerseys (helmet matchup).
• • • • •
Thanks, TJ!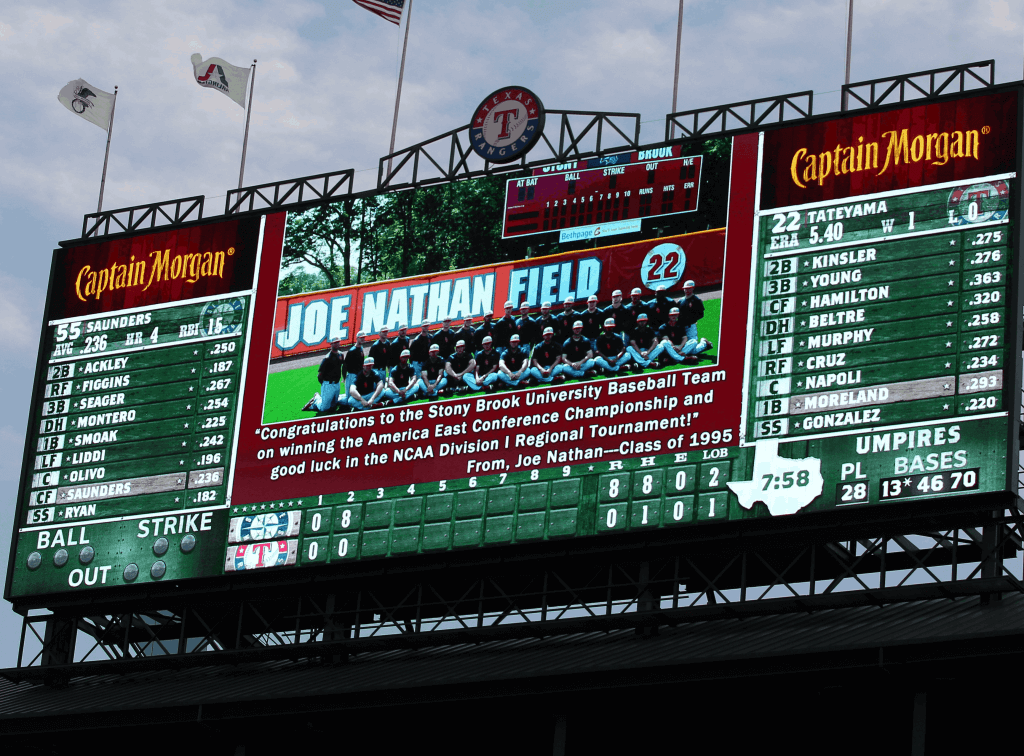 Guess The Game…
from the scoreboard
Today's scoreboard comes from Scott Malkinson.
The premise of the game (GTGFTS) is simple: I'll post a scoreboard and you guys simply identify the game depicted. In the past, I don't know if I've ever completely stumped you (some are easier than others).
Here's the Scoreboard. In the comments below, try to identify the game (date & location, as well as final score). If anything noteworthy occurred during the game, please add that in (and if you were AT the game, well bonus points for you!):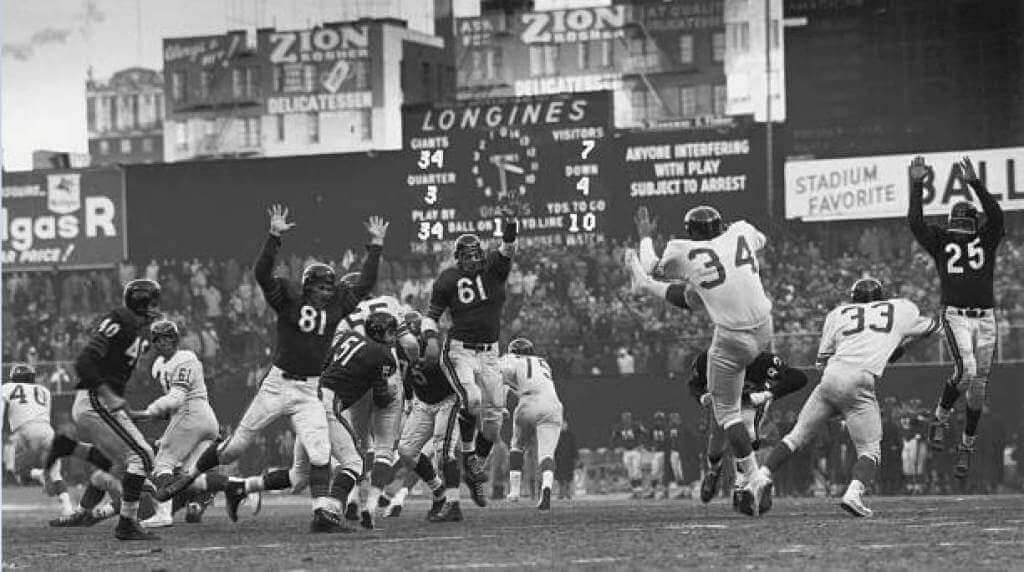 Please continue sending these in! You're welcome to send me any scoreboard photos (with answers please), and I'll keep running them.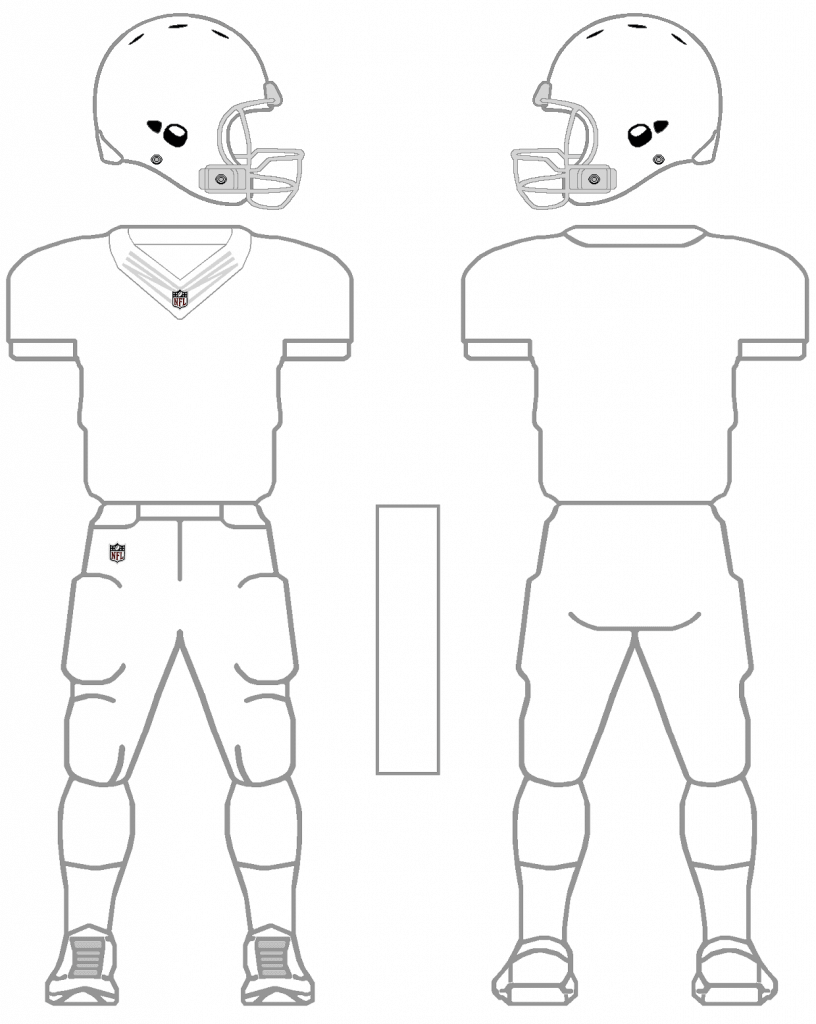 Uni Concepts & Tweaks
Time for more Uni Tweaks from the UW readership.
I hope you guys like this feature and will want to continue to submit your concepts and tweaks to me. If you do, Shoot me an E-mail (Phil (dot) Hecken (at) gmail (dot) com).
• • • • •
Today's concepts come from Victor Manuel Rey:
Hi Phil,

I would like to share with you an A's set inspired by their current online graphics:

Last year, the Athletics released a style guide meant to be applied to their online content: from player pictures to advertising. This guide features quite an unique colour scheme and set of textures which I think could create the most distinctive identity in the whole Majors.

I used the featured gradient and 3D wordmarks as key elements, creating a new piping style for the sleeves using the wavy texture as inspiration.
When it comes to colours, I have gone for the "Vintage White" shade for the home uniform, trying to create a custom grey-ish shade of green for the road design, inspired by the powder blue uniforms from the 70's and the 80's. The alternate jerseys feature the "Vibrant Green" and the "A's Green" colours.

I have also added the sunglasses elephant (with some gradients) as sleeve patch, and a #22 based on the font featured on the project.

I hope you like it!

Cheers,
Víctor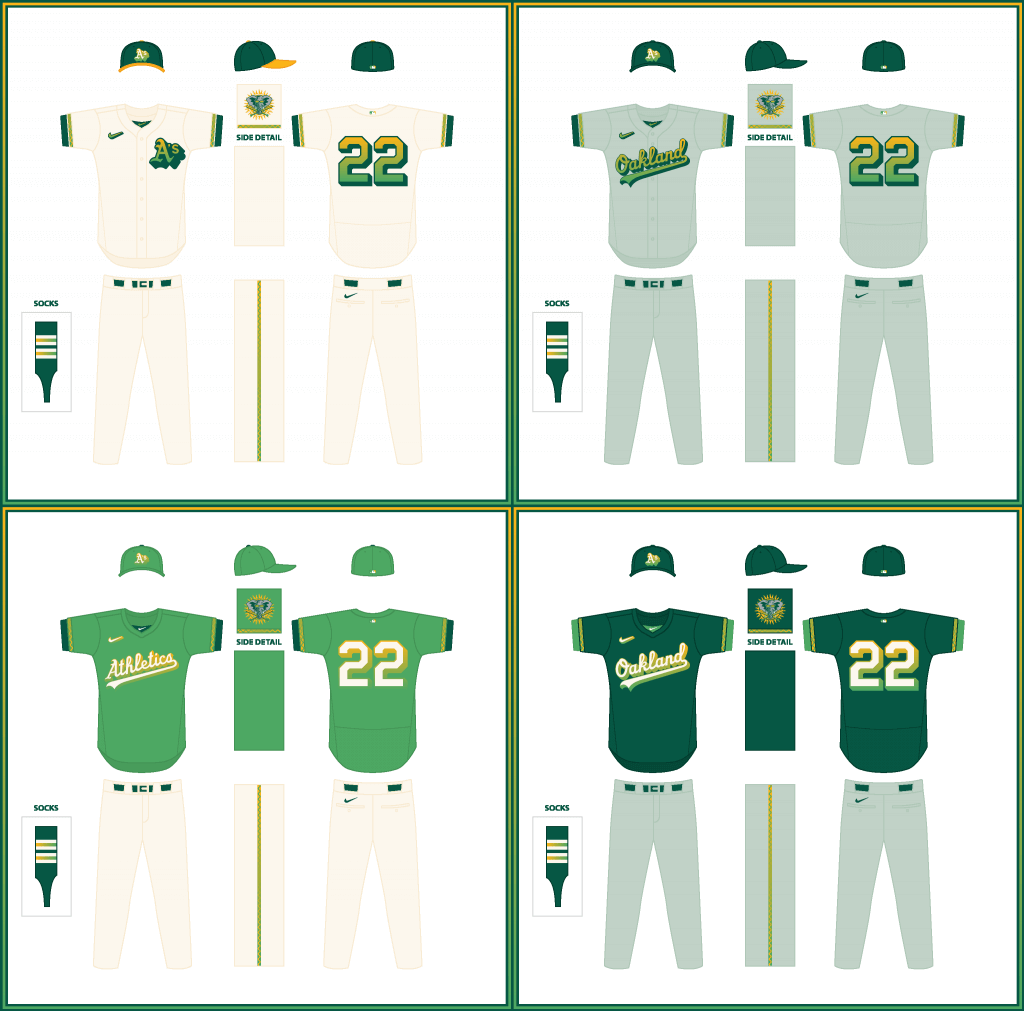 • • • • •
OK readers (and concepters). If you have some tweaks or concepts, shoot 'em my way with a brief description of your creation and I'll run 'em here.


You Know Our Love Jersey Will Not Fade Away…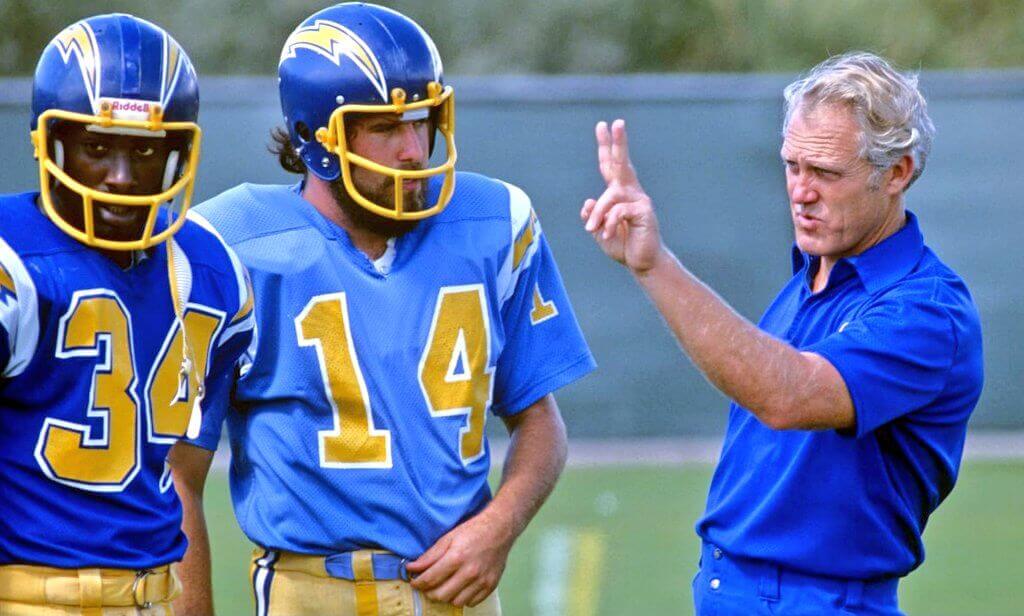 Got the following note from reader/pal Jimmy Corcoran the other day, regarding the photo above:
Phil,

At first glance it looks like Dan Fouts is wearing a jersey that faded after too many washes, but it's not. He is actually wearing a 1973 game jersey; this would have been the jersey he wore in his rookie year. In the summer of 1977, I lived in California with Ron Waller my father's old coach. Ron had been a coach with the Chargers and had played with the Rams in the 50's. We spent the summer going to the Chargers and Rams practices and watching Waller play tennis with his movie star friends.

I was always curious about uniforms, and I got to hang out on the sidelines with the Chargers equipment guys. One of the first things I noticed was they were wearing two different style jerseys at practice. I thought I already knew the answer, but I asked the equipment man anyway, you notice Ricky Young has royal blue trim in his number and Fouts doesn't. I was told the 1973 game jerseys were a one-year style and now they will just use them as practice jerseys until they wear out. This is what most NFL teams did on the 70's, we went to Thousand Oaks and saw the Cowboys also had old game jerseys on.

Take care,

Jimmy
Thanks Jimmy. Pretty cool backstory!


ICYMI: Merry Vilkmas 2021
Hey everyone — in case you missed it yesterday, the one and only Jimmer Vilk is again ridding himself of accumulated junk generously donating some of his gently used ephemera and other items during his annual Vilkmas Raffle.
Please see yesterday's post for a look at and description of the goodies, and for all the details on how to enter. The deadline is this Tuesday at 8:00 pm, so get your entry in as soon as possible.
Thanks (again) to Jim for his tremendous generosity!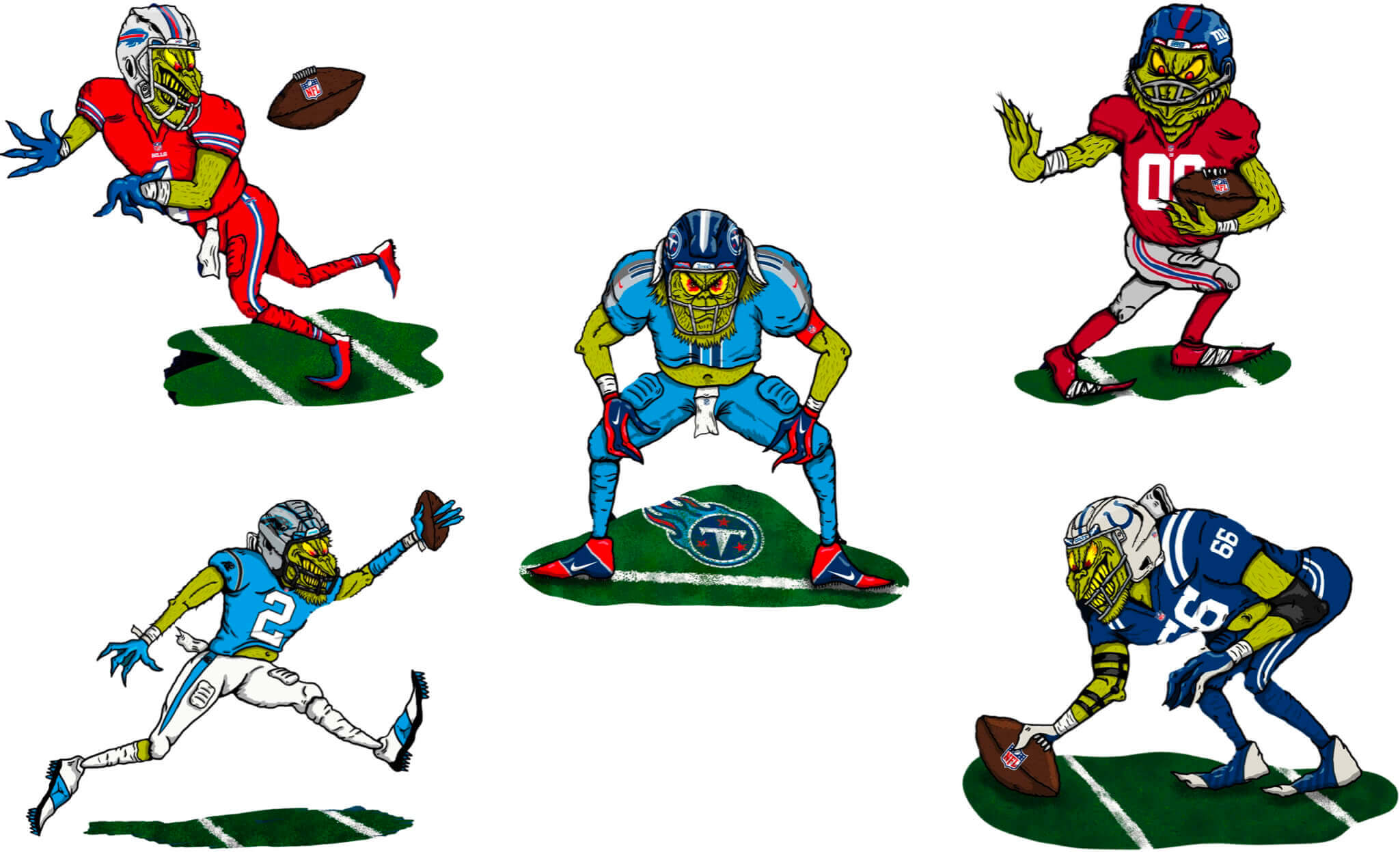 Click to enlarge
And now a few words from Paul: In case you missed it on Friday, my latest Bulletin column is bout my favorite uni-related creative project of recent months, which is a series of illustrations that show Dr. Seuss's Grinch character in various (mostly bad) NFL uni combos. You can read all about it, and see my interview with the guy who's behind it, over on Bulletin. Enjoy!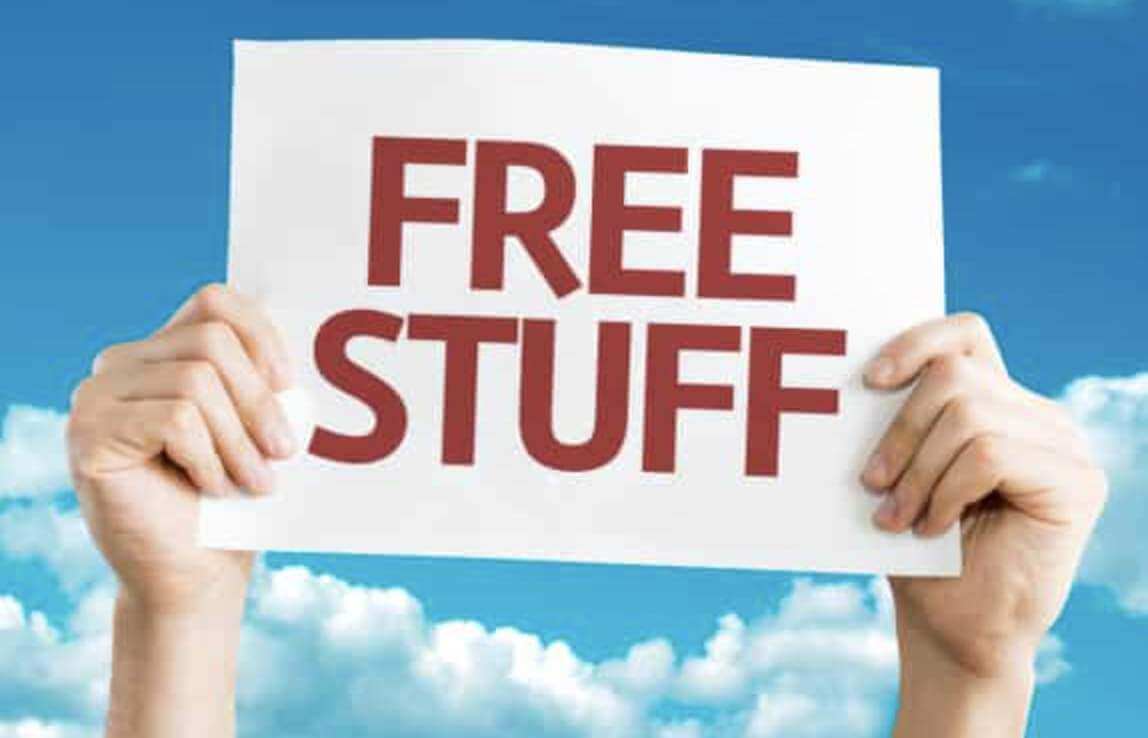 Speaking of things you don't want to miss, our annual year-end raffle, featuring all sorts of cool stuff I'm giving away — including several one-of-a-kind prototypes for Uni Watch products I decided not to put into full production — is now in full swing. Full details here.
Now back to Phil with the rest of today's content!


Uni Watch News Ticker
By Phil

Baseball News: Noah Syndergaard will be the first Los Angeles Angels player to wear No. 34 since Nick Adenhart, who died in a car crash in 2009. Though the team has avoided using the number since his death, Syndergaard received permission from Adenhart's family. … Taking "literally" literally: reader Jason Tierney writes: "Here's a Reddit post of a guy who has drawn players as their namesake." … Feast your eyes on this incredible colorization of Ty Cobb in 1913 (from ManCave Pictures). … Here's another one of those cool progressive timeline graphics, this time of the Marlins WAR leaders (from Greg Harvey).

NFL News: The Buffalo Bills will be breaking out their red Color Rash uniforms vs. the Carolina Panthers today. … Also busting out the Color Rash will be the Baltimore Ravens, who play the Green Bay Packers. … The SF 49ers will be wearing their red throwbacks today (from Brinke). … Wow, check out this awesome game program between the New York Titans and Los Angeles Chargers from 1960 (from Jimmy Parker). … Here's an interesting uni factoid: In their seven all-time meetings vs. the Packers, the Ravens have never worn a color other than black or white (from Ravens Uniform Tracker).

College Football News: There are some absolutely fantastic old photographs and newspaper clippings in this article about Otto Graham, the great QB (and multi-sport player) from Northwestern (from Kenneth Traisman).

Hockey News: The Surrey Eagles wore special uniforms on Friday night for their Teddy Bear Toss Night (from Wade Heidt). … Also from Wade: The BCHL 60th anniversary throwback-inspired uniforms made their debut for the Penticton Vees on Friday night. … Here are nine legendary NHL players from the last decade that look weird in different jerseys. … Here's a screenshot of a fan wearing a nice Wilkes-Barre/Scranton AHL Penguins Christmas jersey at the Pens-Sabres game on Friday night (from LJ Sparvero). … Check out Martin Chromiak's skates for the upcoming World Juniors (from Wade Heidt). He plays for the Kingston Frontenacs. … Here's a bunch of defunct hockey team caps (from Wafflebored). … As God intended (from Robert Baker).

College Hoops News: Seems as though we had a uni-disaster narrowly averted when UK's request to wear blue vs. UNC in black was denied (from James Gilbert). … And one we didnt: Georgetown Hoops wore their traditional gray at home, but TCU opted for anthracite instead of purple creating a matchup of light grey vs dark grey (from Mayor of Realville). … Looks like Duke may be revealing a new uniform soon (from Ian Lee).

Soccer News: A Saudi Arabian soccer player, competing in a "legends" soccer game in Qatar, appeared to scribble out the Israeli flag on his uniform (from River Tucson). … Tomo-San with the last 30 years of the JFA Emperor's cup uniform matchups (winning team on the left, final tomorrow Urawa-Oita). In the early J-League Mizuno had the league contract, but not for the Emperor's Cup, and some teams used other companies (from Jeremy Brahm). … Here's a look at the new Waterford FC 22 Home Kit (via Paul).

Grab Bag: Score bug bug: Reader Ryan Patton writes, "Uniforms and colors make it hard to see here, but with teams not switching sides in Covid era, the score bug and scorers table had teams listed on the 'wrong' side for the entire NCAA volleyball championship match." … Handball is hard (from Jeremy Brahm).


And finally… that's it for today, with a big thanks (again) to TJ for the bowl rundown.
I want to wish everyone who celebrates a Very Merry Christmas. Paul will have the results of the annual UW Raffle next Saturday (Christmas Day) and I'll be back (ever so briefly) next Sunday (Boxing Day) with the names of the winners of the Vilkmas Raffle. I hope everyone has a good (and safe!) week before Christmas.
Catch you next Sunday. Till then…
Peace,
PH