By Phil Hecken, with Jimmer Vilk
Follow @PhilHecken

A Good Saturday Morning Uni Watchers! How are you today?
Although I'm a bit under the weather today, I hope everyone else is doing well and anxiously awaiting the end of 2021. But all is right with the world when we celebrate a little…
♫ It's Beginning To Look A Lot Like Vilkmas…♫
Readers of Uni Watch know that our own Jimmer Vilk is a tremendously generous friend and contributor. Since the beginning of this annual tradition back in 2015, Jim has gifted some of his most prized possessions to our readership (including shipping!). "Vilkmas" is based roughly on Paul's annual reader appreciation raffle, which you can read about below, and once again he returns to bestow his ephemera to some lucky readers. Some years, like 2020, we've actually had more than one Vilkmas (Jim offered up a bunch of his stuff back during the pandemic's first months). If you're not familiar with Vilkmas, it is the most wonderful time of the year. Jim's annual gifting works very much like Paul's raffle (and the deets follow, so be sure to read all the way through). On that note…
Take it away, Mr. Vilk!
• • • • •
Merry Vilkmas 2021
by Jimmer Vilk
This year I'll be spending Christmas in a place where they don't get snow. Despite that I'm not in a humbug mood, so let's get in the holiday spirit and give away some more stuff!
__________
Item #1: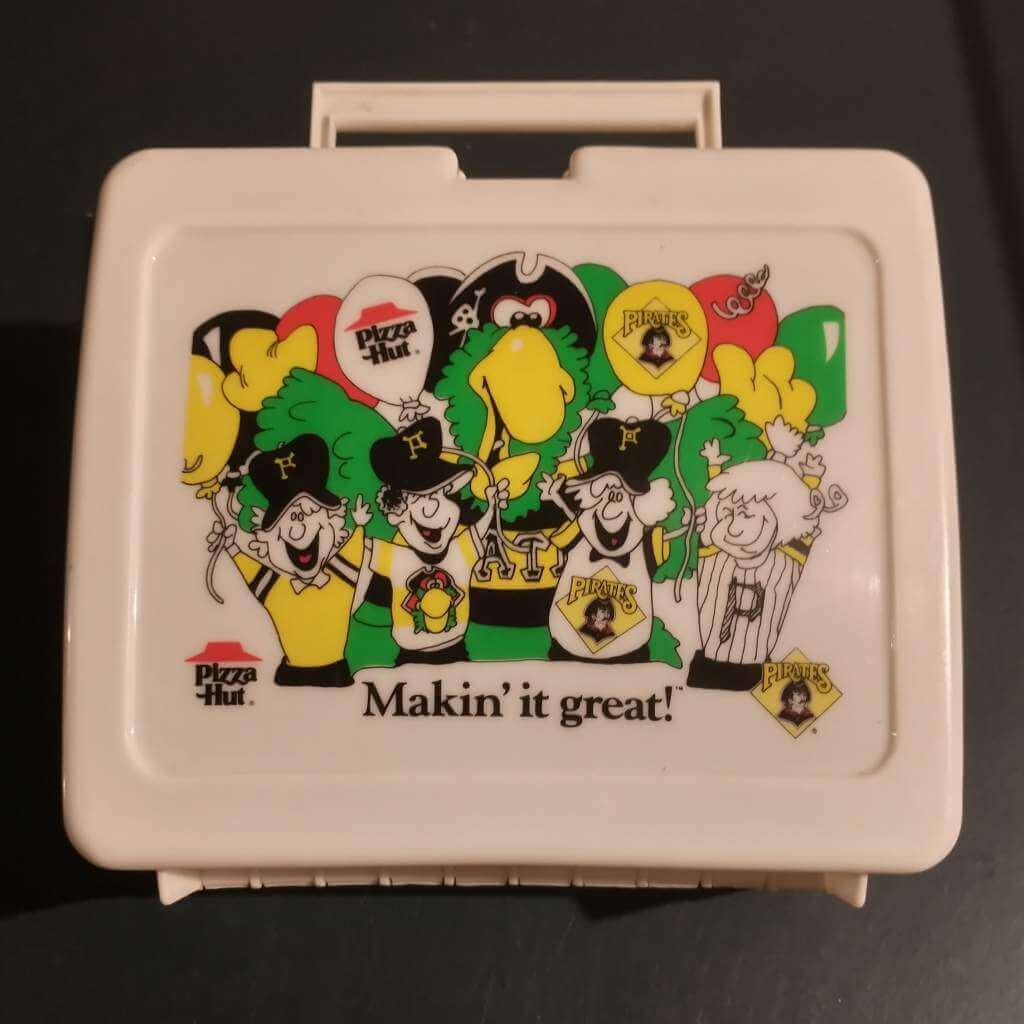 Rest easy, baseball fans…at least you haven't been locked out of Vilkmas. Hopefully this late 80s/early 90s Pirates plastic lunch box will keep the pilot light in your hot stove burning.
__________
Item #2: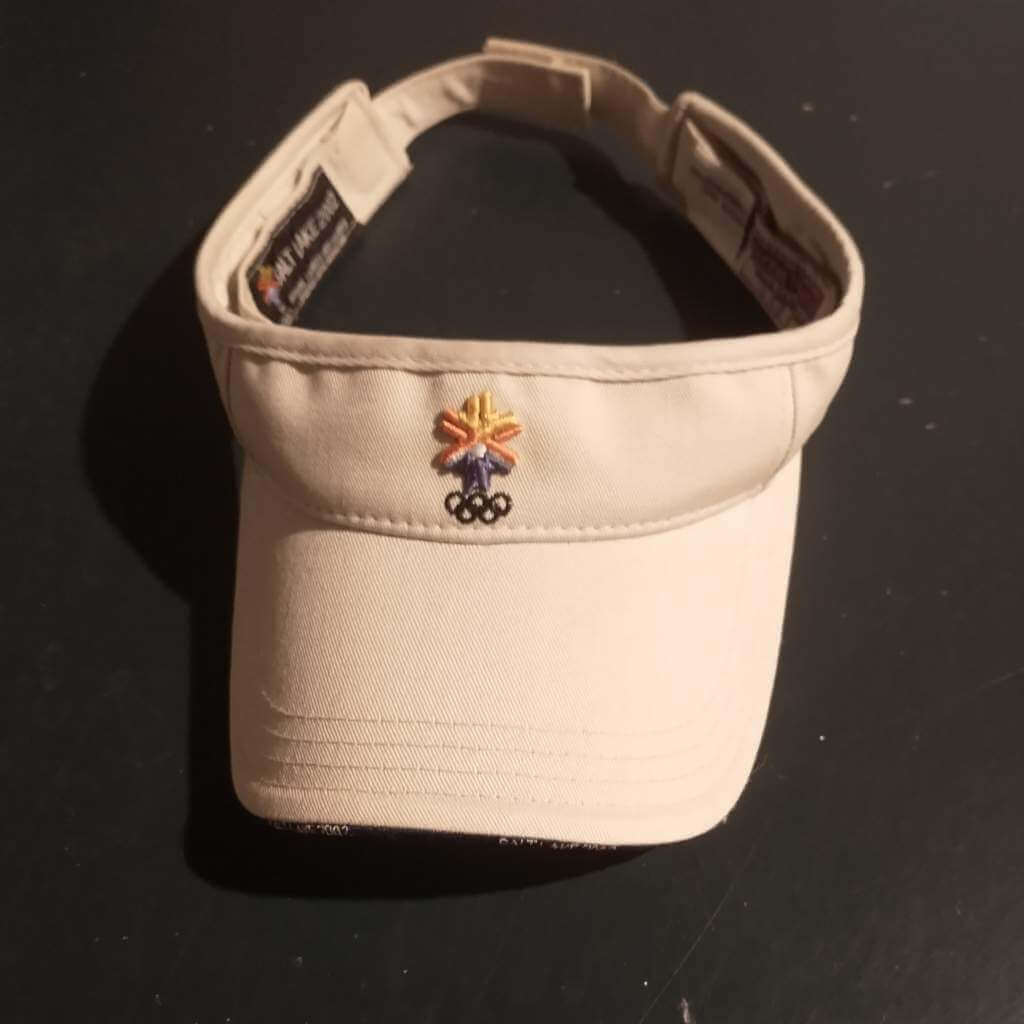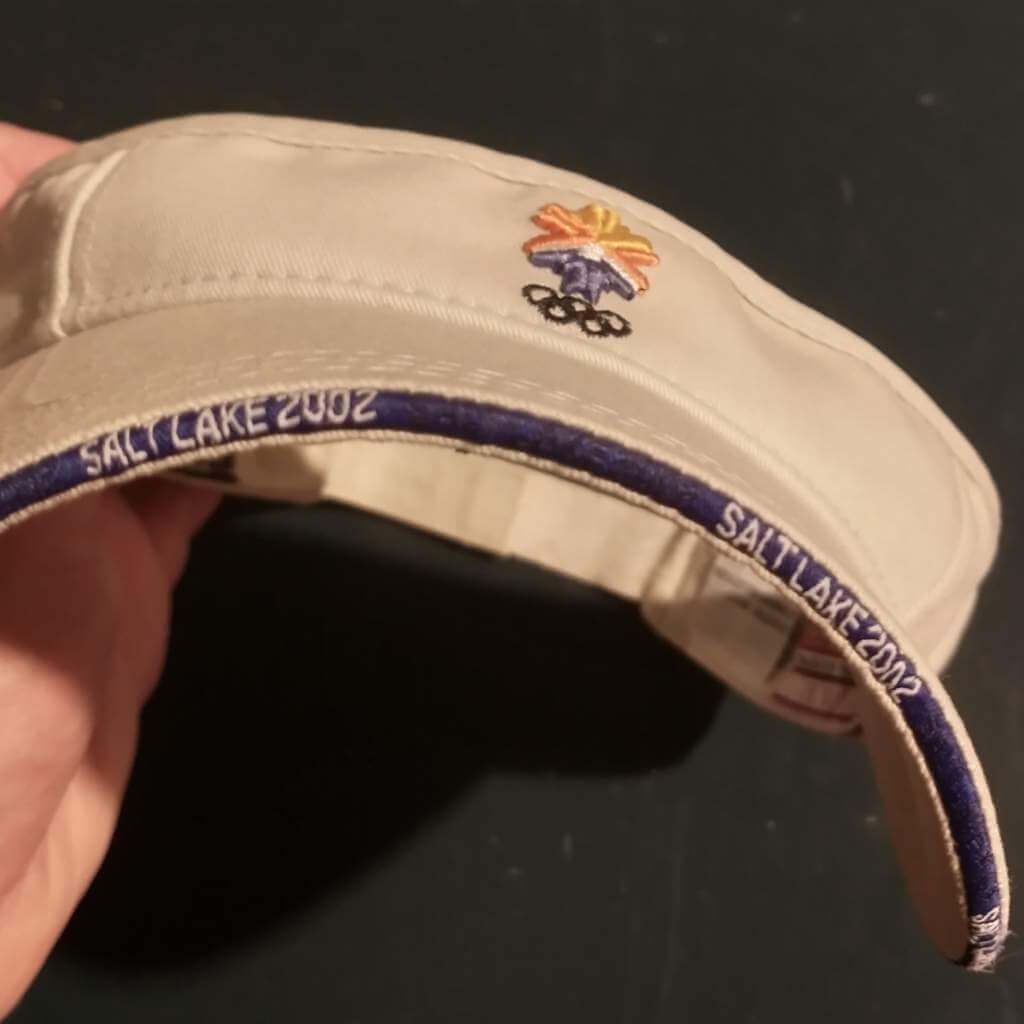 Next, with the Winter Olympics just around the corner, here's a Salt Lake 2002 visor. I really wanted to hang on to this one, but I don't have enough hair to be a visor person anymore.
__________
Item #3: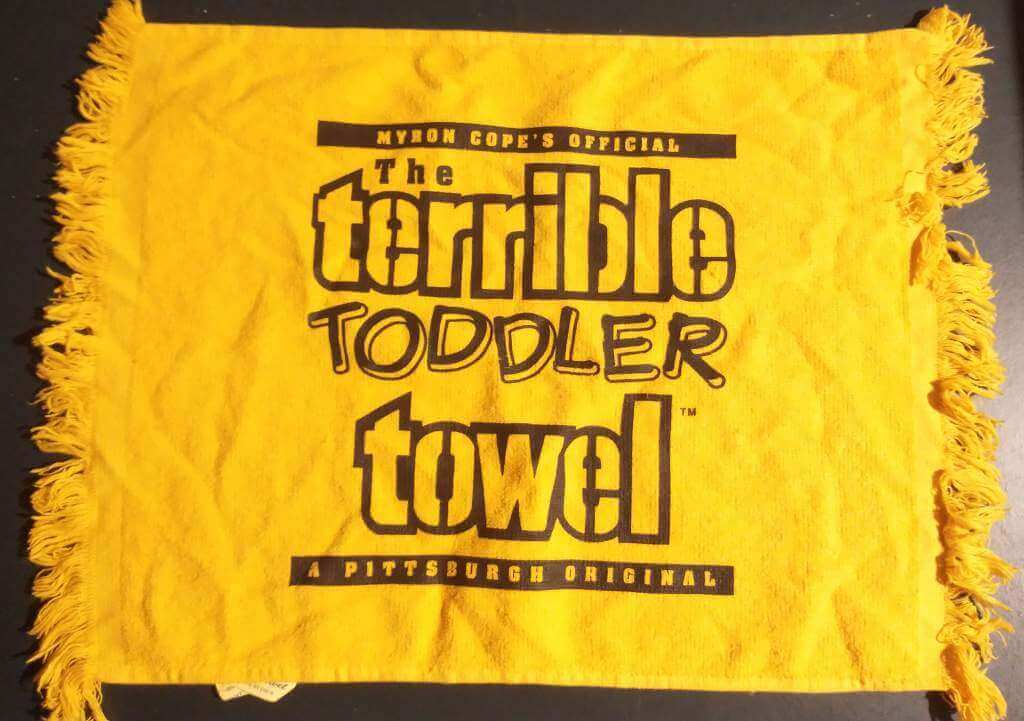 I used to have two regular sized Terrible Towels in the house. Apparently they got together and had this adorable Terrible Toddler Towel, so I'm putting it up for adoption.
__________
Item #4: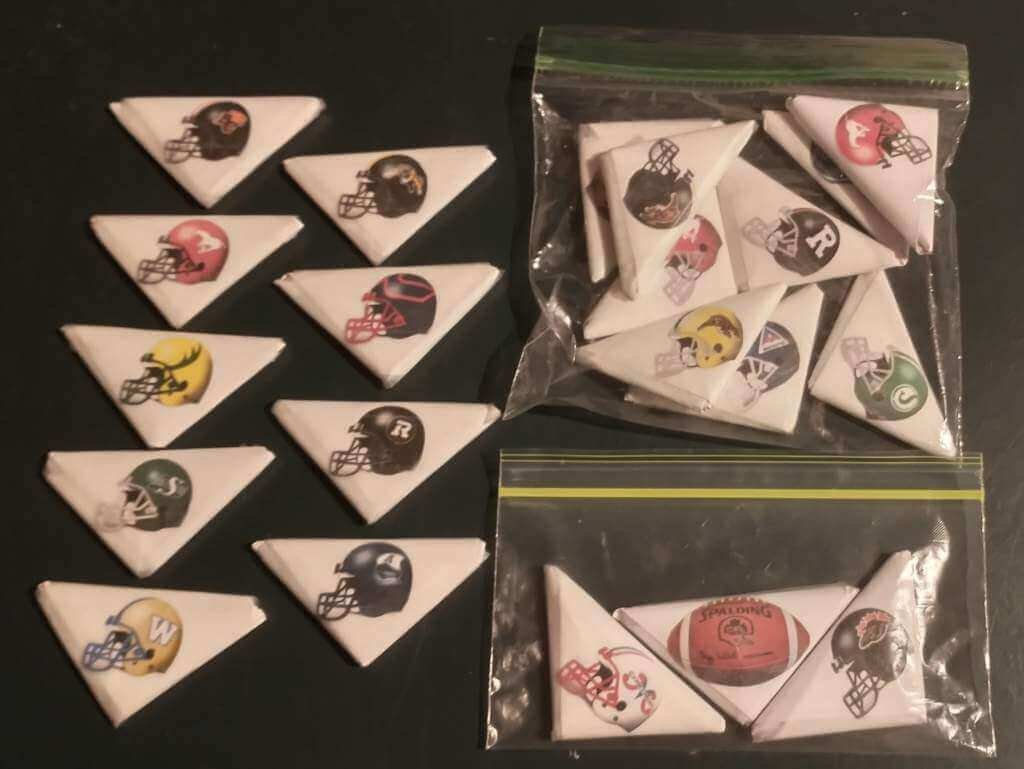 The next one is for my Canadian friends only. In the midst of my recent paper football making binge, I made ones for all the current CFL teams, along with nine Grey Cup matchup balls (various games I liked from the early 70s up to a few years ago), and I threw in the old Concordes, Renegades and a retro CFL ball.
__________
Item #5: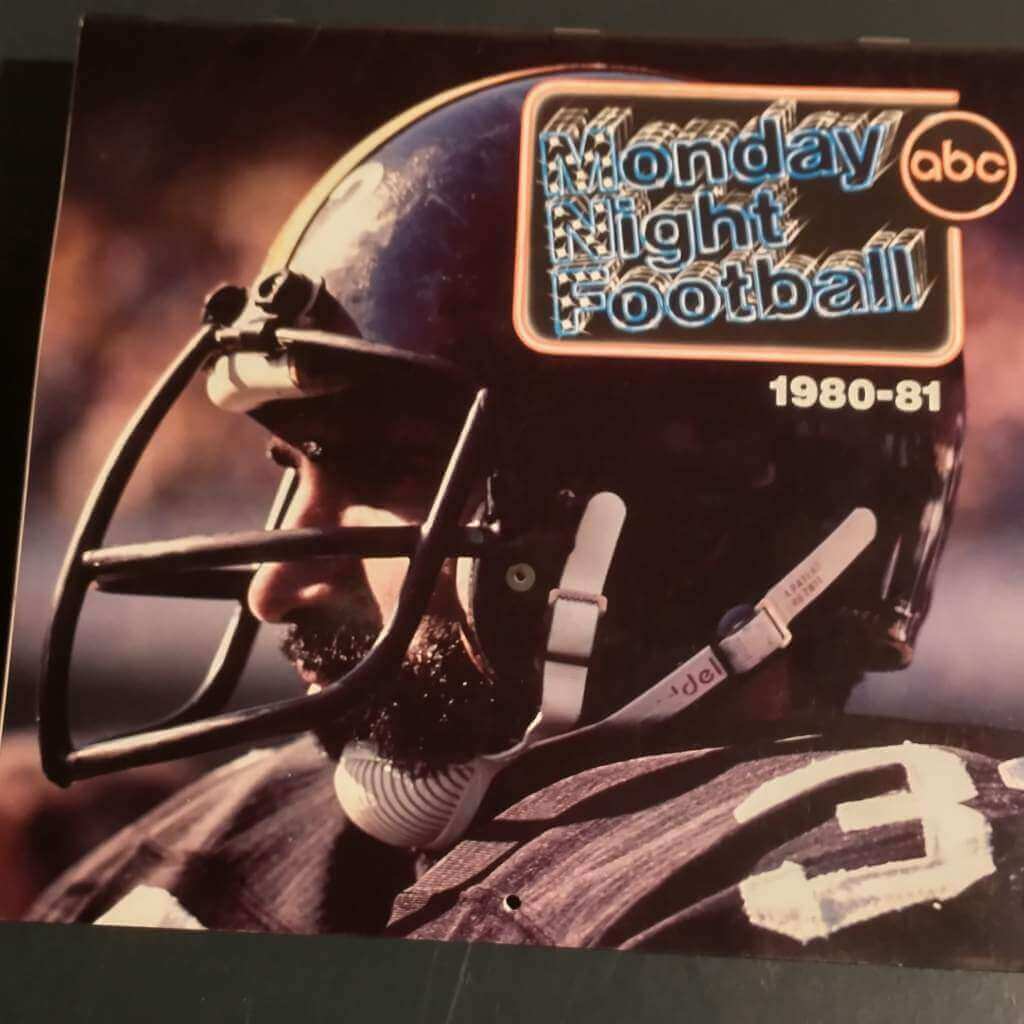 And finally, remember that Monday Night Football calendar I wrote about recently? I decided to keep it intact instead of giving out just certain photos. I'm running out of wall space anyway. Fair warning: it's not in mint condition. The pictures are absolutely fine, but the previous owner wrote the 1981 Milwaukee Brewers schedule in the calendar grids. This must have been done before the strike, because it's not the revised split-season schedule.
__________
Due to my travel plans I won't be sending out the gifts until January… when I hope to find several inches of snow waiting for my return. We'll draw the winners this coming week, though. Good luck, Merry Vilkmas and a Happy Vilking New Year!
• • • • •
Thanks, Jimmer! Your generosity never ceases to amaze.
OK, this is very similar to Paul's once-yearly raffle so here is how you enter:
1) Send an email to Phil.Hecken@gmail.com and put in the SUBJECT "Vilkmas 2020"
2) In the BODY of the email, please indicate (a) your name and shipping address and (b) your top 3 prize choices, in order of preference, by description. If you're only interested in, say, one or two items, then just list your top one or two choices. Jim will do his best to accommodate all the winners' choices.
3) Normally we limit this raffle to readers with USA addresses (since Jimmer foots the shipping costs), but as mentioned in the fourth item, he'd like that to ideally go to a Canadian reader. So, if you live in Canada and would like Item #4, please indicate that (this applies only to the fourth item).
4) One email per person. Entry deadline is this TUESDAY (December 21), 8:00 pm Eastern. The winners will be announced next weekend (on Boxing Day/Kwanzaa).
OK? OK!
And please, everyone please give Jimmer a nice round of thanks in the comments below. Thanks, Jimmer — you're still the best.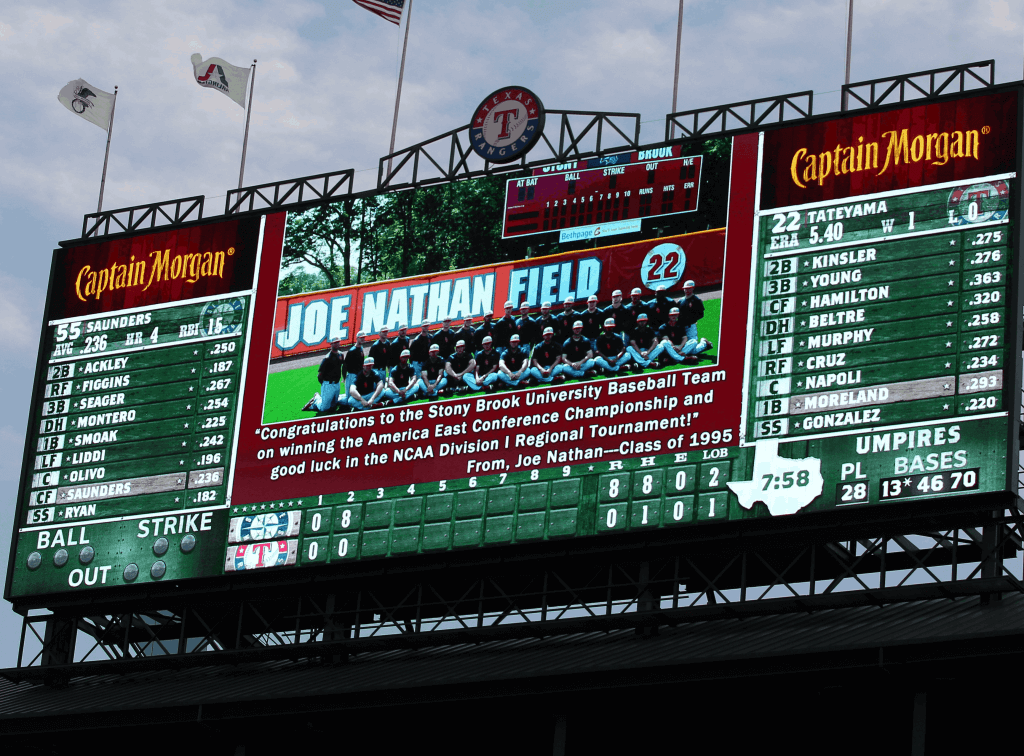 Guess The Game…
from the scoreboard
Today's scoreboard comes from Trent Boyette.
The premise of the game (GTGFTS) is simple: I'll post a scoreboard and you guys simply identify the game depicted. In the past, I don't know if I've ever completely stumped you (some are easier than others).
Here's the Scoreboard. In the comments below, try to identify the game (date & location, as well as final score). If anything noteworthy occurred during the game, please add that in (and if you were AT the game, well bonus points for you!):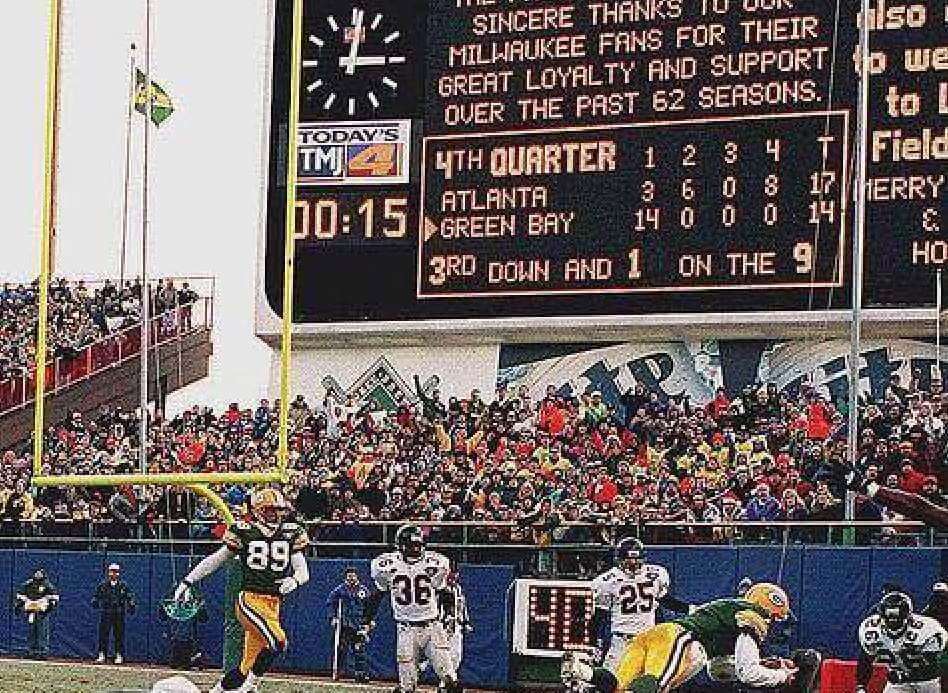 Please continue sending these in! You're welcome to send me any scoreboard photos (with answers please), and I'll keep running them.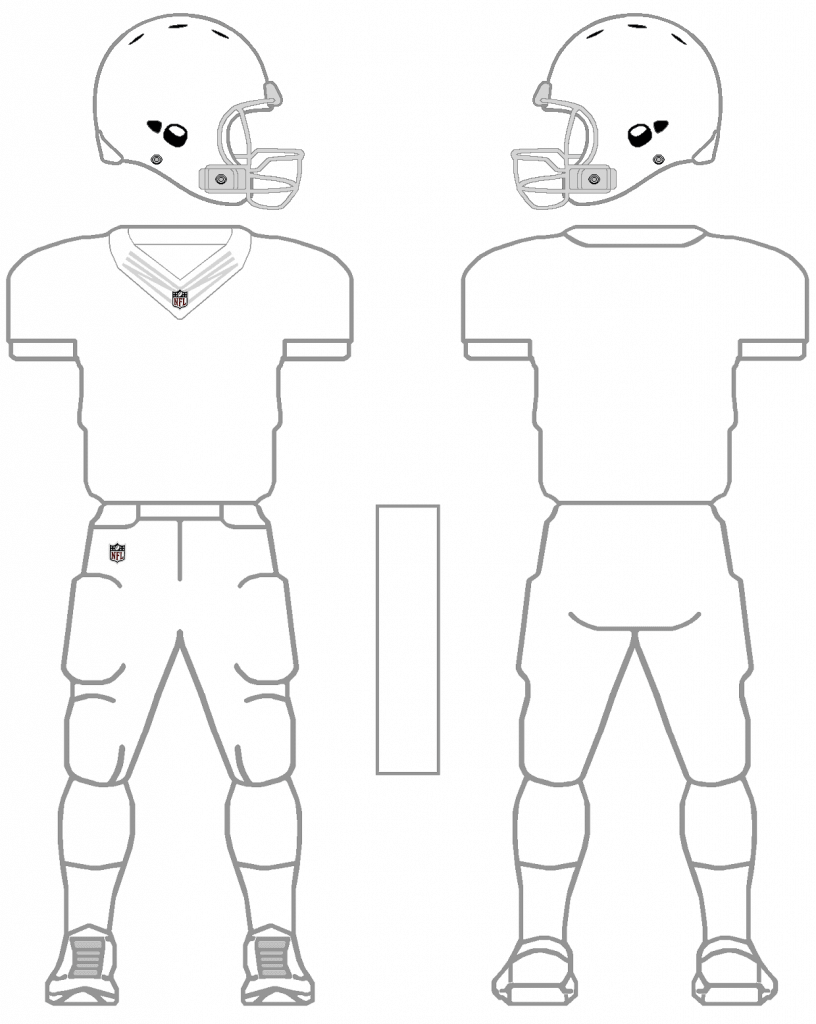 Uni Concepts & Tweaks
Time for more Uni Tweaks from the UW readership.
I hope you guys like this feature and will want to continue to submit your concepts and tweaks to me. If you do, Shoot me an E-mail (Phil (dot) Hecken (at) gmail (dot) com).
• • • • •
Today's concepts come from Ed Westfield Jr.:
It's been a topic since the dawn of this millennium that the New York Football Giants keep missing the mark with their white uniform set. This season was no exception… It makes little sense for a team nicknamed "BIG BLUE" to go on the road in all red & white save for their helmets.

Here's what I suggest…

The Jersey: I would keep the red on white look mostly intact—those colors really pop! I would just add some blue accents to balance it out it, changing (a.) the small 'NY' logo on the chest, (b.) the maker's mark (Nike swoosh) on the sleeves, and (c.) the NOB to blue (very similar to the 2000-2006 white jersey sans blue outlines on the numbers & blue collar)…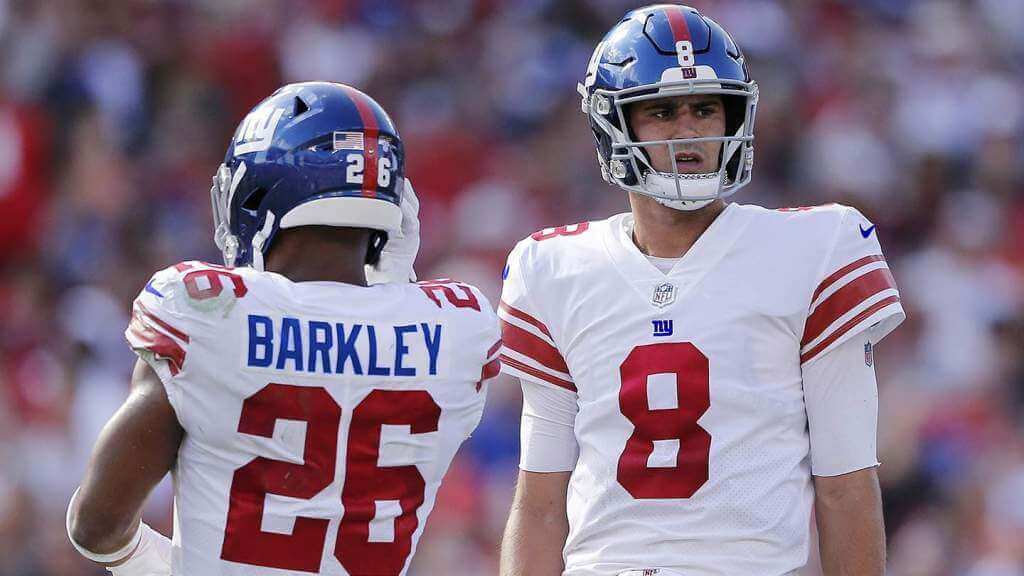 The Pants: Aside from having no blue, the Northwestern-style stripe looks horrible going down the side of a pant leg… I've said it before… BLUE PANTS would go great with the red on white jersey and red socks! A single red stripe to match the helmet design and it's another instant classic… And if blue pants are too "out there" for the G-men, then just go with the Color Rush/1980-1999 white pants. The blue accents on the jersey would make that look work. They could even alternate between the two…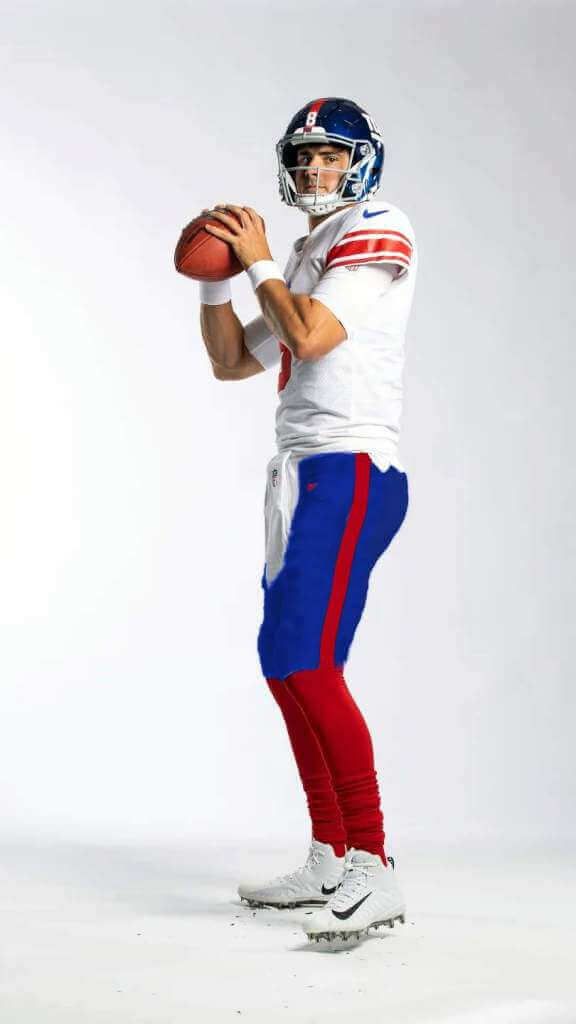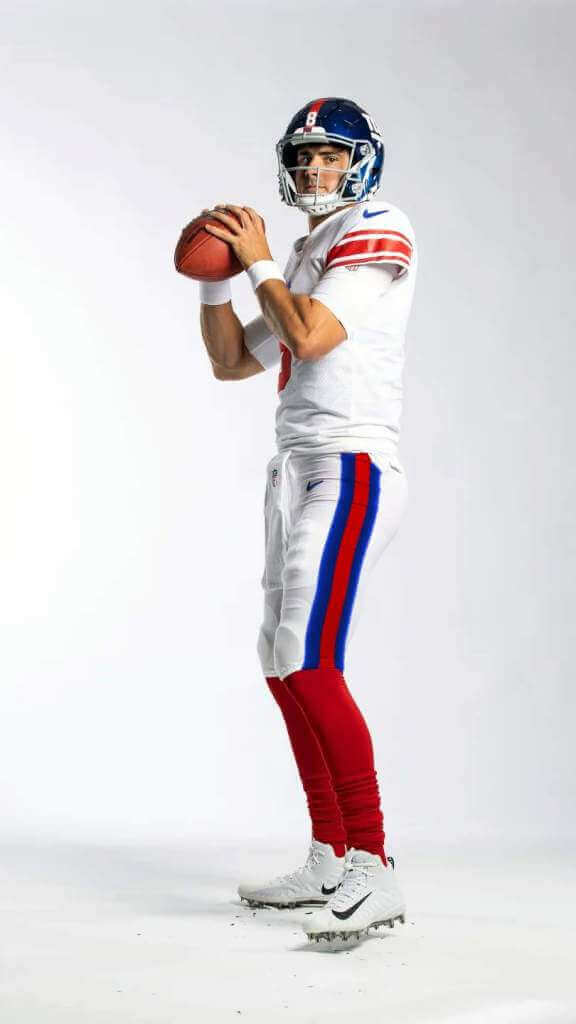 In fact, they should wear the Color Rush/1980-1999 white pants with their blue home jersey as well. No team needs more than one set of white pants.
• • • • •
OK readers (and concepters). If you have some tweaks or concepts, shoot 'em my way with a brief description of your creation and I'll run 'em here.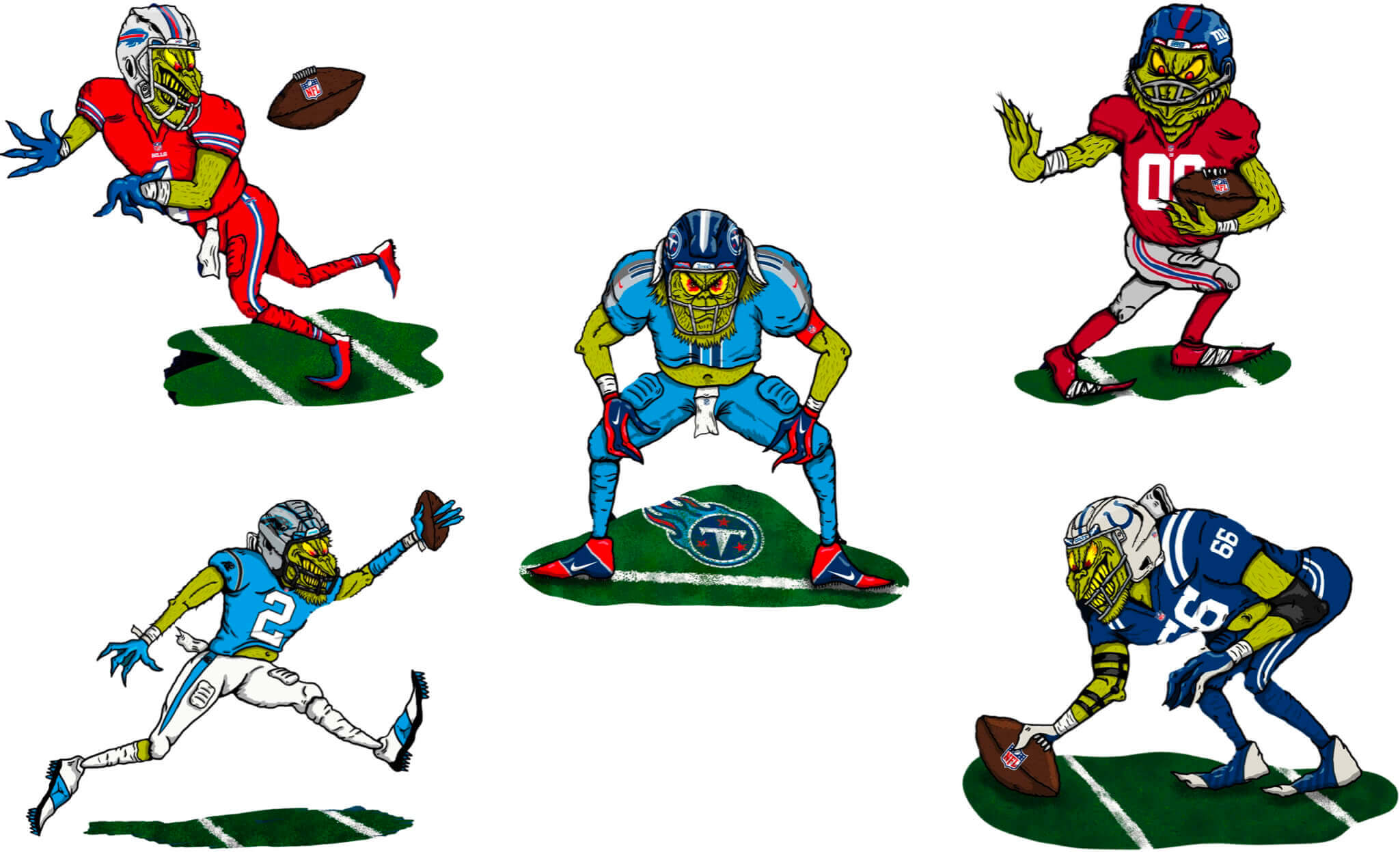 Click to enlarge
And now a few words from Paul: In case you missed it on Friday, my latest Bulletin column is bout my favorite uni-related creative project of recent months, which is a series of illustrations that show Dr. Seuss's Grinch character in various (mostly bad) NFL uni combos. You can read all about it, and see my interview with the guy who's behind it, over on Bulletin. Enjoy!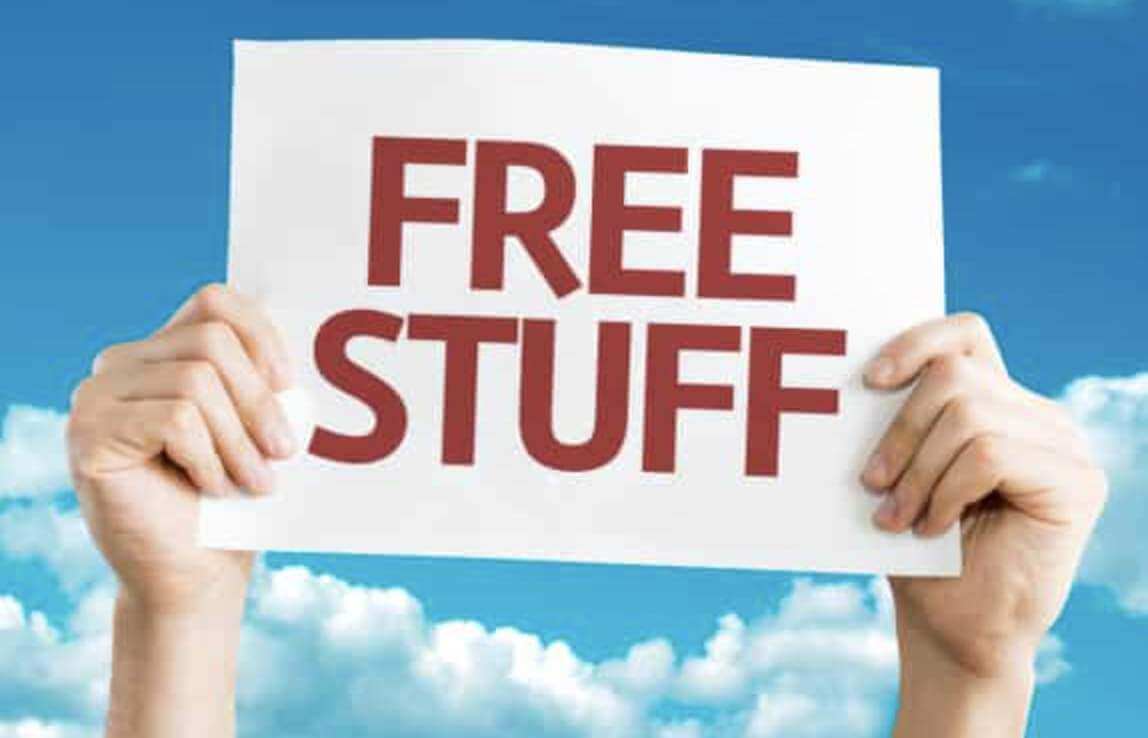 Speaking of things you don't want to miss, our annual year-end raffle, featuring all sorts of cool stuff I'm giving away — including several one-of-a-kind prototypes for Uni Watch products I decided not to put into full production — is now in full swing. Full details here.
Now back to Phil with the rest of today's content!


The Ticker
By Anthony Emerson


NFL News: These officially licensed Patriots action figures feature inverted shoulder stripes — blue-red-blue instead of red-blue-red (from Tim Donovan).


College/High School Football News: It looks like Fresno State will have a new helmet for the New Mexico Bowl (from Jared Buccola). … Toledo added the design of the Bahamian flag to their helmet logos for last night's Bahamas Bowl (from @Wilds_Lee). They also honored Oxford High shooting victim Tate Myre, who visited UT just days before his killing, with a helmet decal (from Chris Buttgen).

Hockey News: Wade Heidt sends along this article about the few remaining goalies who still use wooden sticks in NHL games. … Michael Blake Raymer sends along the jersey for the "ELPS" team in Western New York, an amalgamated hockey team made up of students from Eden High, Lakeshore High, Pioneer High and Springville High. The crest incorporates the colors of all four schools (two schools use green as their primary color). Michael asks for other instances of this happening — I can state that my hometown of Portland, Maine has two high schools (Portland High and my alma mater Deering High) with one joint hockey team between them, with Portland/Deering adopting a primarily blue uniform (Portland's color) with purple accents (Deering's color) at home with a white sweater and navy yokes with a navy-white-purple hem striping on the road. … USA Hockey's National Team Development Program is celebrating its 25th anniversary with late-90s throwbacks and personally, I think they nailed the vibe to perfection (from @bruceleememes). … The Rangers wore warm-up jerseys to promote the Garden of Dreams Foundation last night (from Wade Heidt).

College/High School Hoops News: UNC will go BFBS for their game against Kentucky tonight (from multiple readers). … Kansas is bringing back the "circus font" tonight (from Mauricio Gómez Montoya).


Uni Tweet of the Day
LOVED the Supe I throwback. They need to wear this every road game!
The @Chiefs all white uniforms are 🔥 pic.twitter.com/kXtXqZS1bT

— FOX Sports: NFL (@NFLonFOX) December 17, 2021


And finally… that'll do it for today. Big thanks to the one and only Jim Vilk for once again sharing his generosity with the UW readership. So, you've got Paul's raffle AND Vilkmas almost back to back again this year (not something we planned, it's just how the calendar worked out). Please give Jimmer a big thanks down in the comments below. Good luck in this (and Paul's) raffles!
I'll be back tomorrow with TJ as we get you caught up on the Bowl action so far (there were two games last night and another SEVEN today, starting at 11:00 EST). There's also one NFL game today, Pats/Colts (there were two originally scheduled, but the early game — Raiders/Browns — was moved to Monday due to COVID; two Sunday games were also postponed, and those will be played Tuesday). So if you like football (college or pro), there are a LOT of games to be played heading into Christmas. Till then…
Peace,
PH