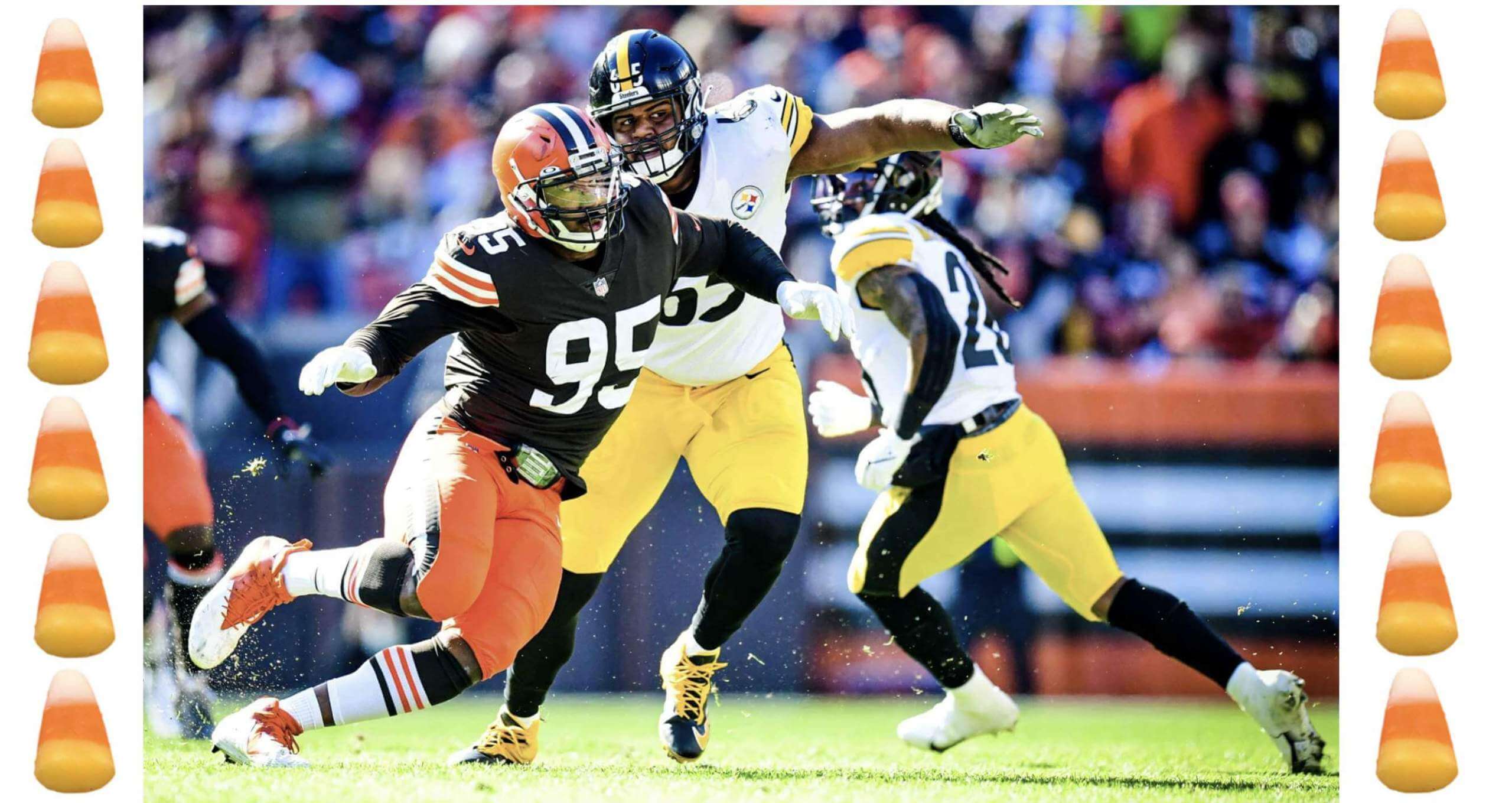 For all photos, click to enlarge
On a gorgeous autumnal day that also happened to be Halloween, what could be better than the Browns and Steelers treating us to the rare spectacle of orange pants vs. yellow pants? Candy corn colors! Here's how it looked in action:
D'Ernest juked out TWO people 😳

📺: #PITvsCLE on CBS
📲: Browns mobile app pic.twitter.com/DF5DrX430e

— Cleveland Browns (@Browns) October 31, 2021
In other news from around the league yesterday:
• The Bills wore their "standing buffalo" throwbacks: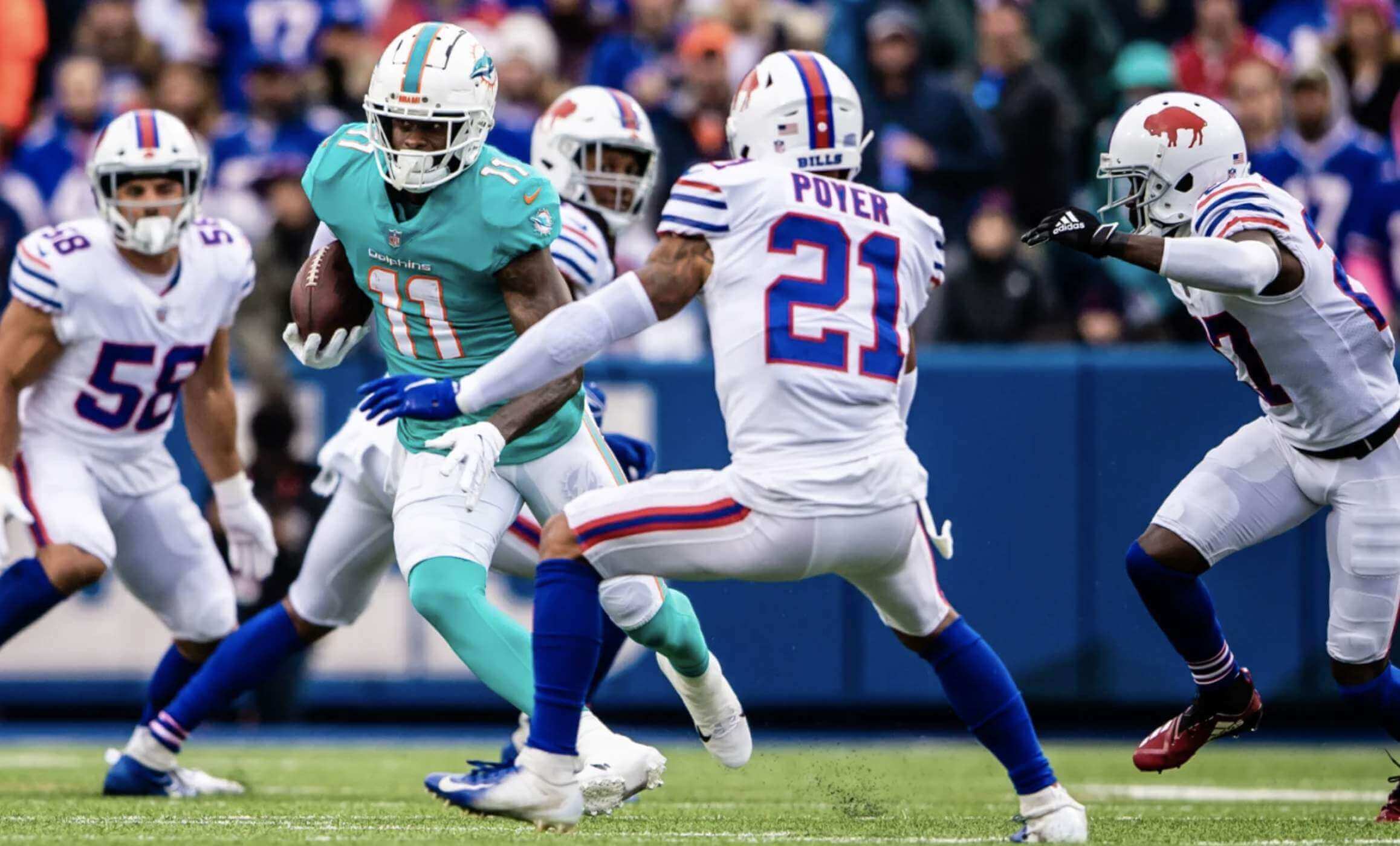 • The Saints wore their mono-white throwbacks: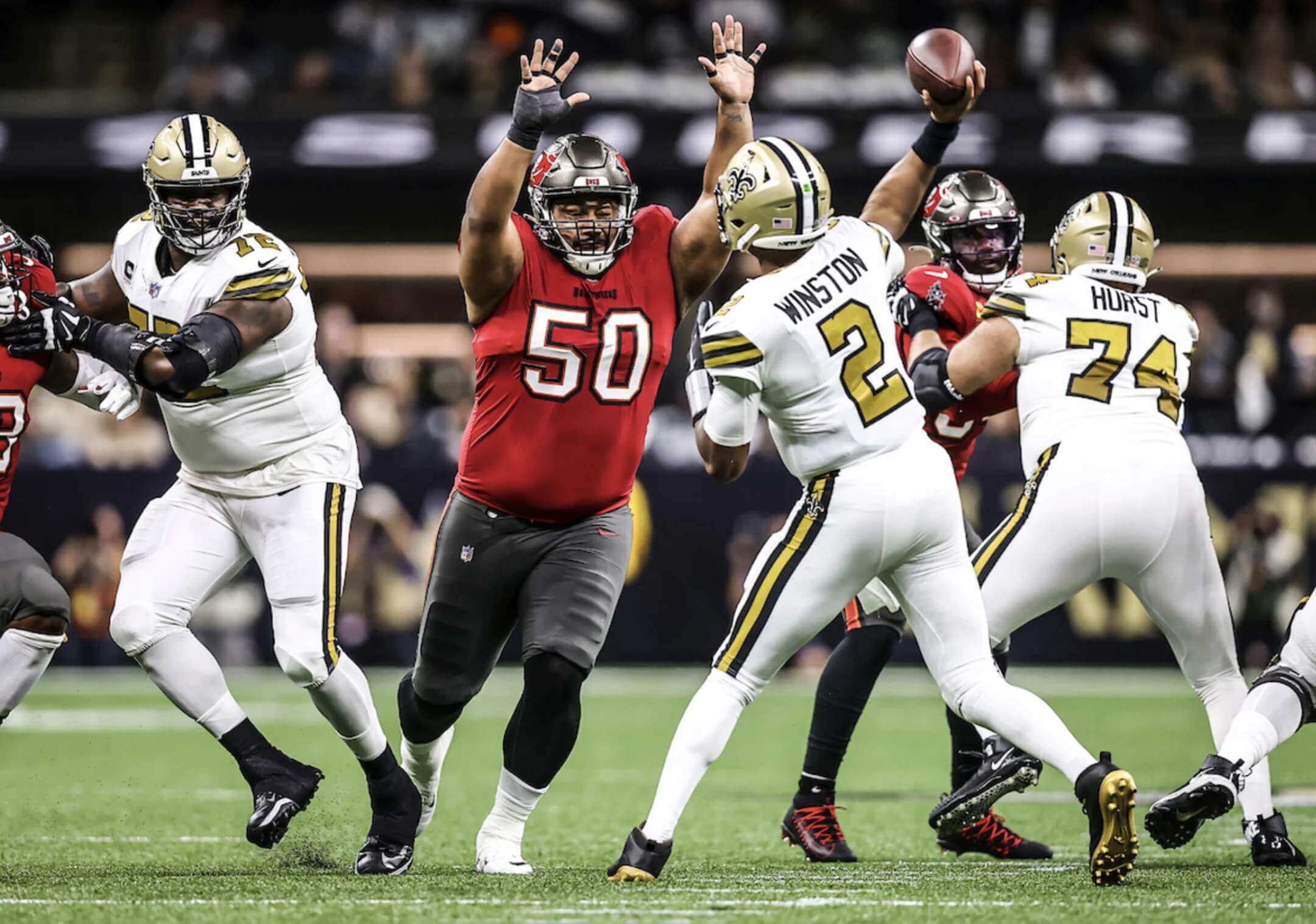 • From that same game: Bucs quarterback Tom Brady often wears a hand-warmer pouch, but yesterday he had pockets sewn into his jersey — even though the game was played indoors (photo by Stephen Lew-USA Today Sports):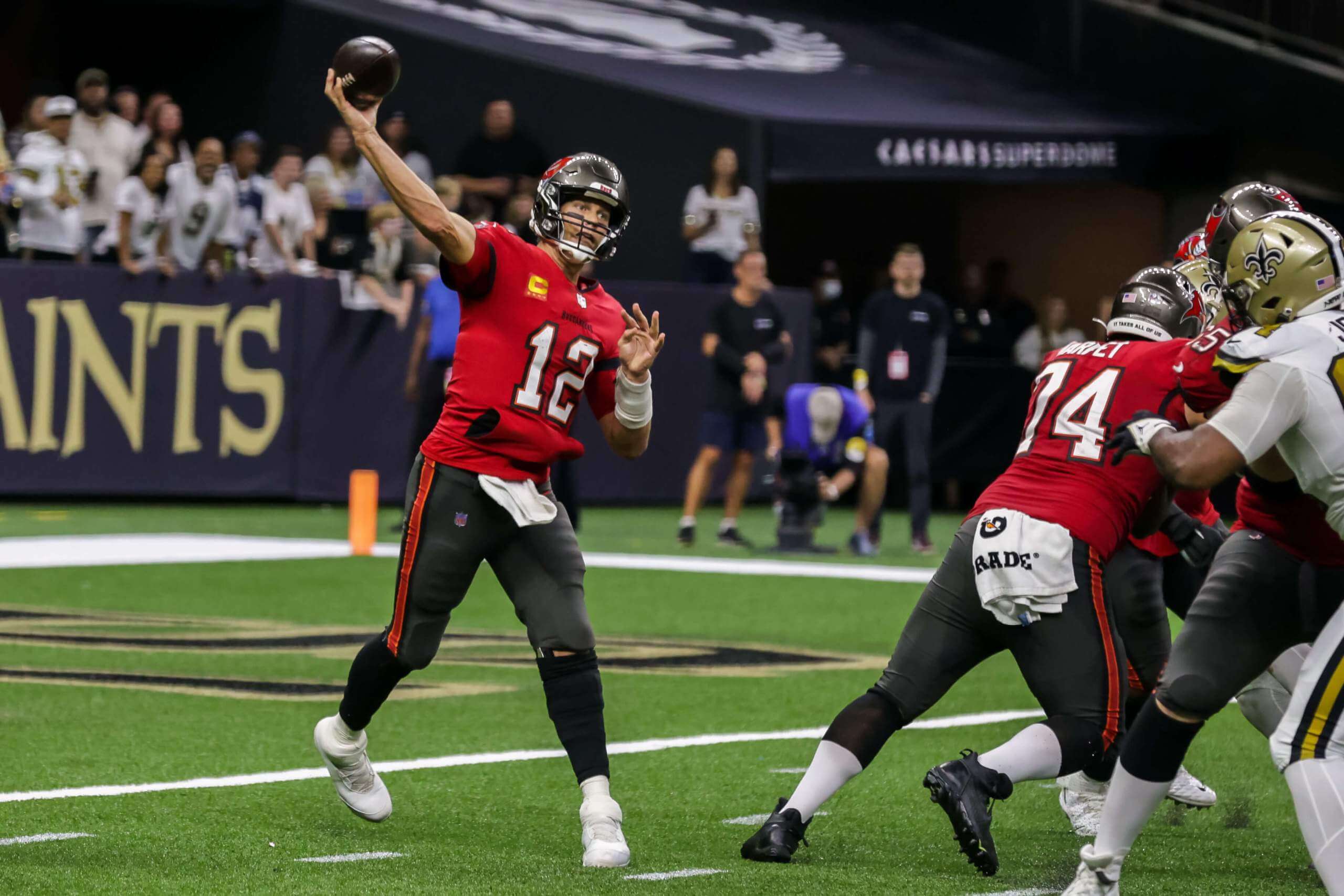 • The Chargers wore their mono-navy alternates: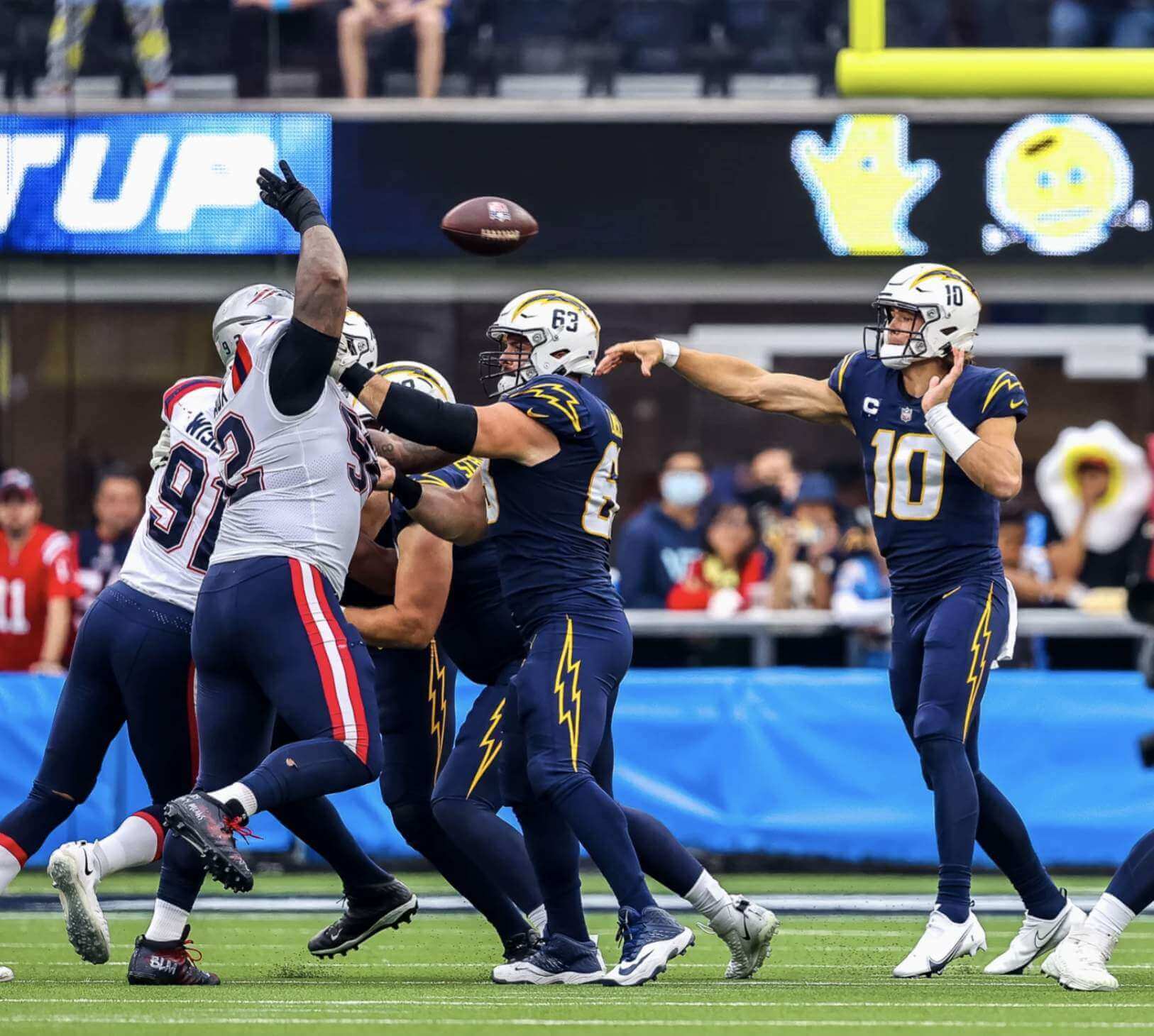 • Really nice-looking game in Chicago, as the Bears hosted the 49ers on natural grass (although, really, shouldn't the Bears have worn their orange alts for Halloween?):
Great throw, great catch. 👌#SFvsCHI | #DaBears pic.twitter.com/wyNF2jvfLf

— Chicago Bears (@ChicagoBears) October 31, 2021
• The Jets wore their mono-BFBS alternates: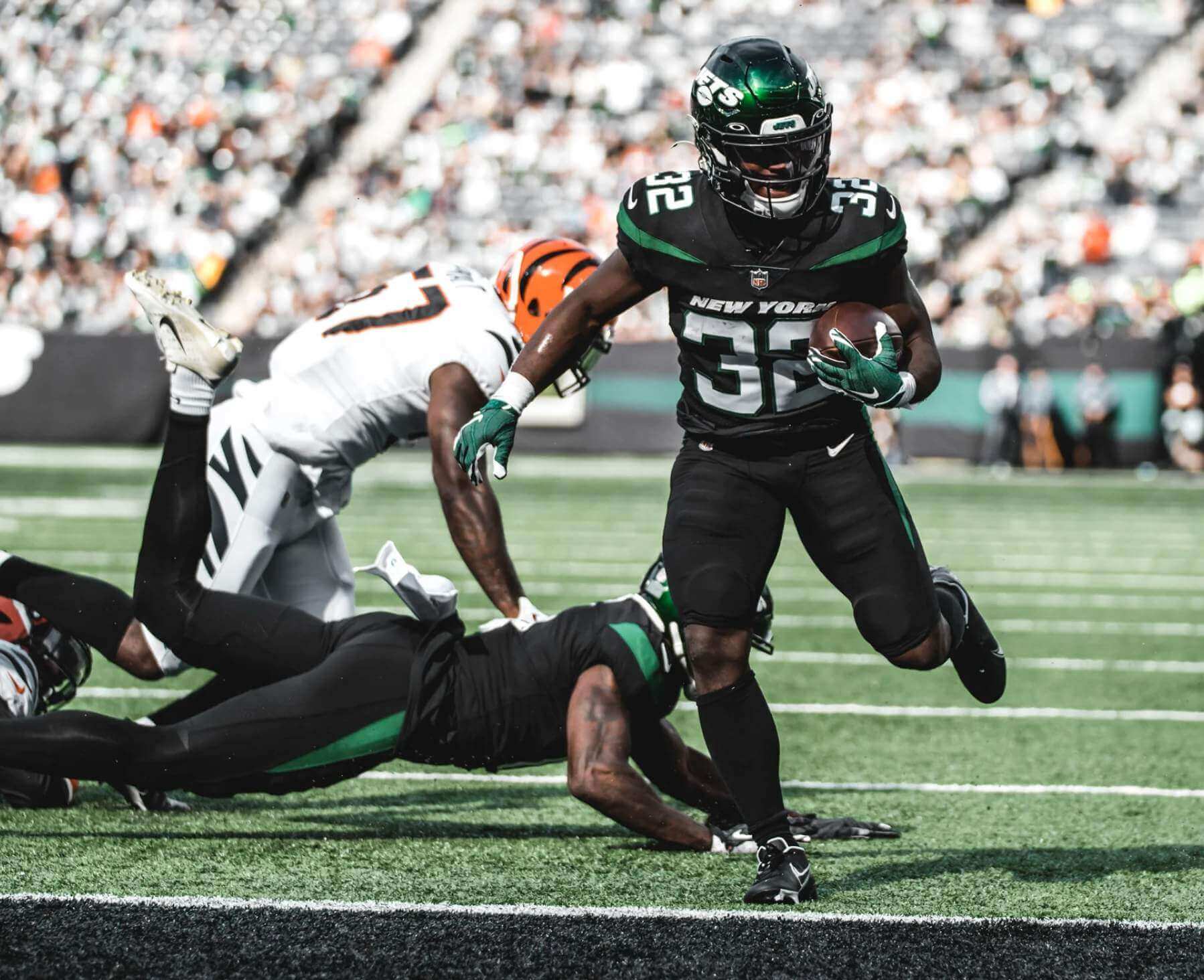 • With the Eagles piling up a huge lead on the Lions, Philly backup quarterback Gardner Minshew got in the game — his first appearance of the season — and fans quickly noticed that he slices open the bottom of his sleeves:
What on earth is this pic.twitter.com/JU5wtWFrZV

— Michael Kist (@MichaelKistNFL) October 31, 2021
This is apparently nothing new for Minshew — he did it when playing for the Jags as well: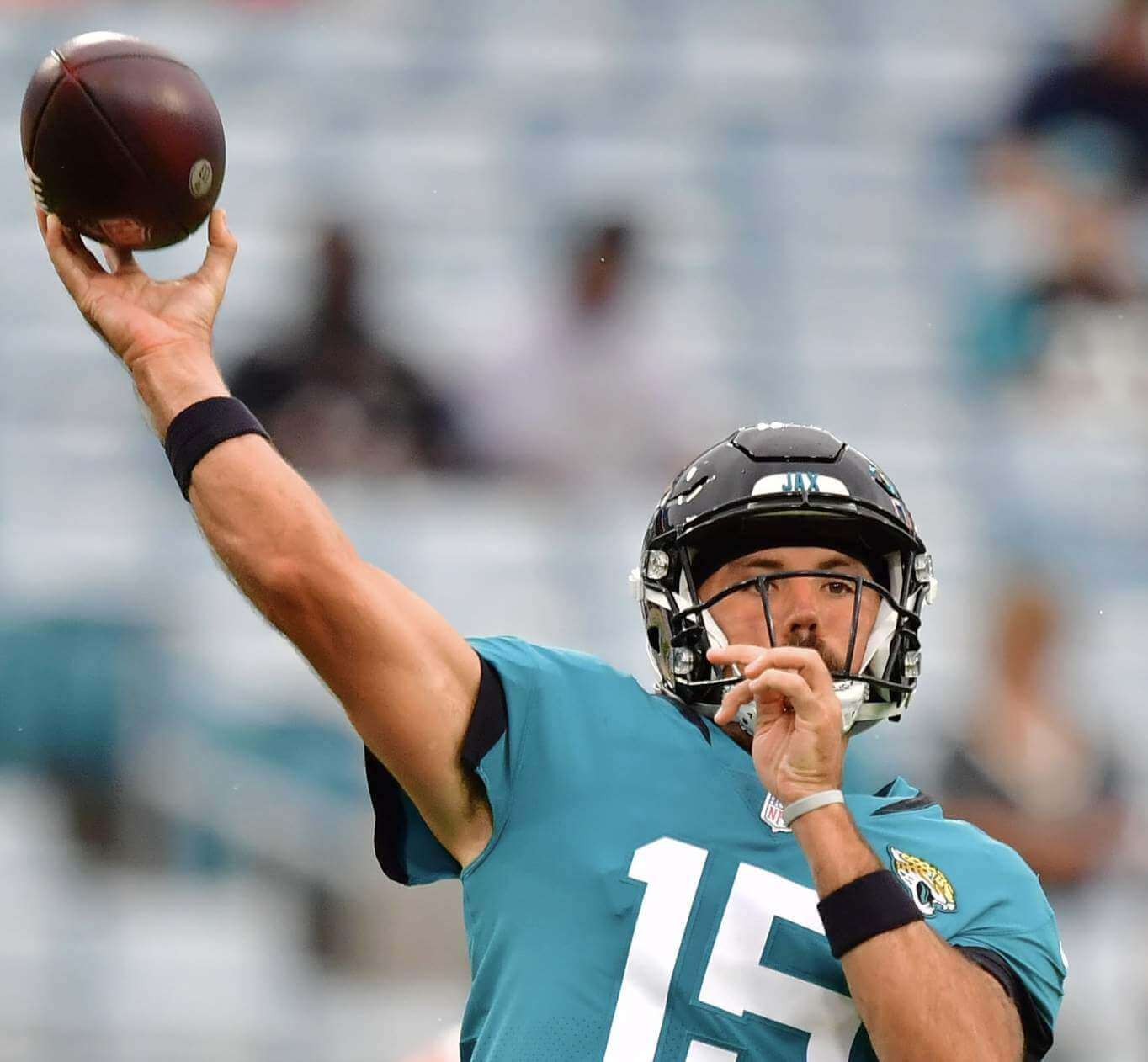 • Washington offensive lineman Wes Schweitzer lost one of his helmet numerals: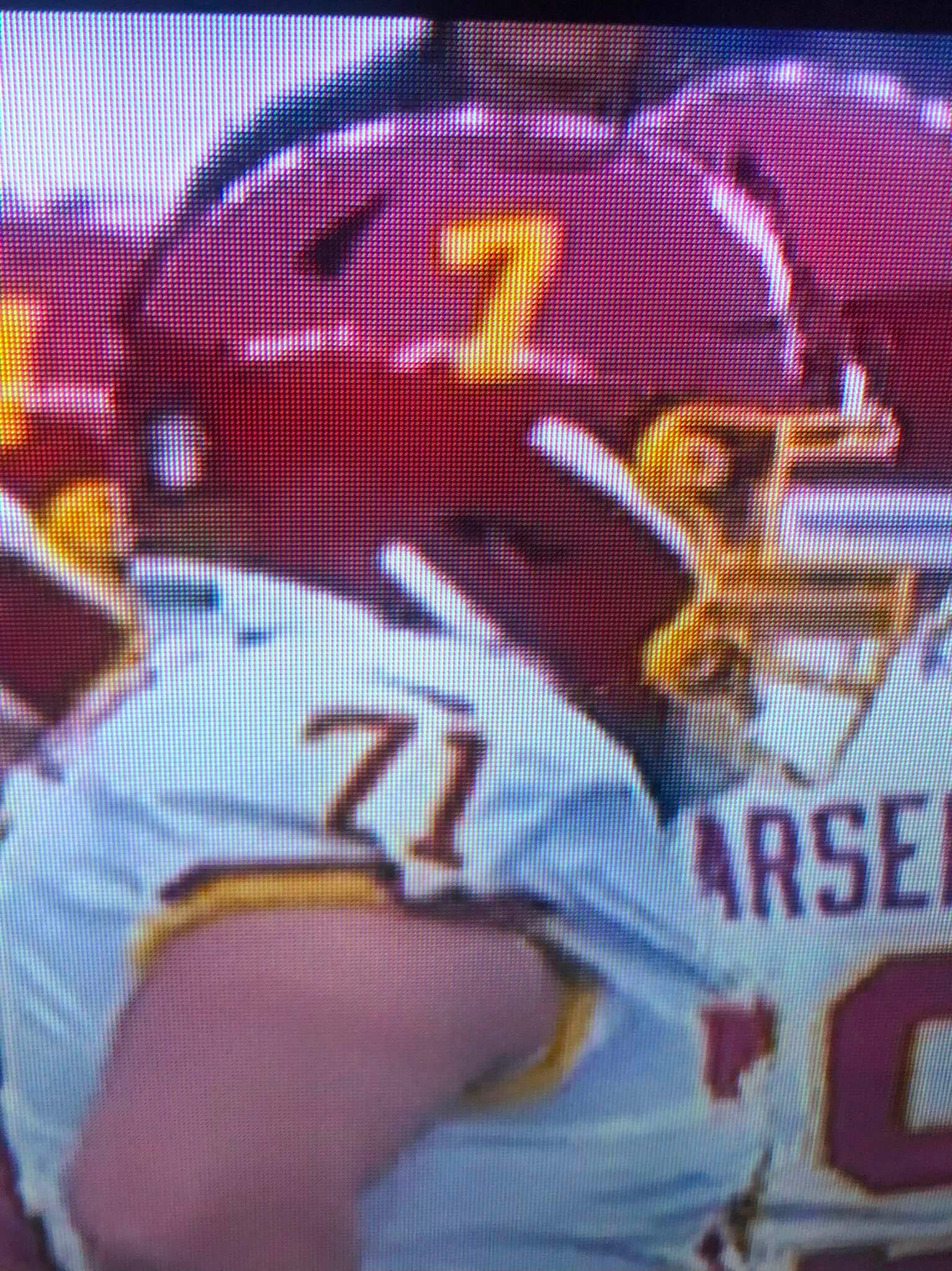 • Browns defensive lineman Myles Garrett dressed up as the "Sack Reaper" prior to yesterday's game:
The Sack Reaper @Flash_Garrett | #Browns pic.twitter.com/joiBCESzxI

— Cleveland Browns (@Browns) October 31, 2021
• Falcons running back Mike Davis and Saints running back Mark Ingram arrived at their respective games dressed in Squid Games-themed costumes. Davis wore a guard's uniform, while Ingram dressed as the Frontman character (you can see more players' pregame costumes and Halloween-themed cleats here):
Mike Davis as a Squid Games guard 👀 #CARvsATL pic.twitter.com/CB2RQVq5bd

— Atlanta Falcons (@AtlantaFalcons) October 31, 2021
Begin the next game 😈 @markingramII | #Saints pic.twitter.com/n9wxEiUBon

— New Orleans Saints (@Saints) October 31, 2021
• Here's something you don't often see — the graphics from the Chargers' field being scrubbed off the turf after the conclusion of their game (photo by Ben Volin):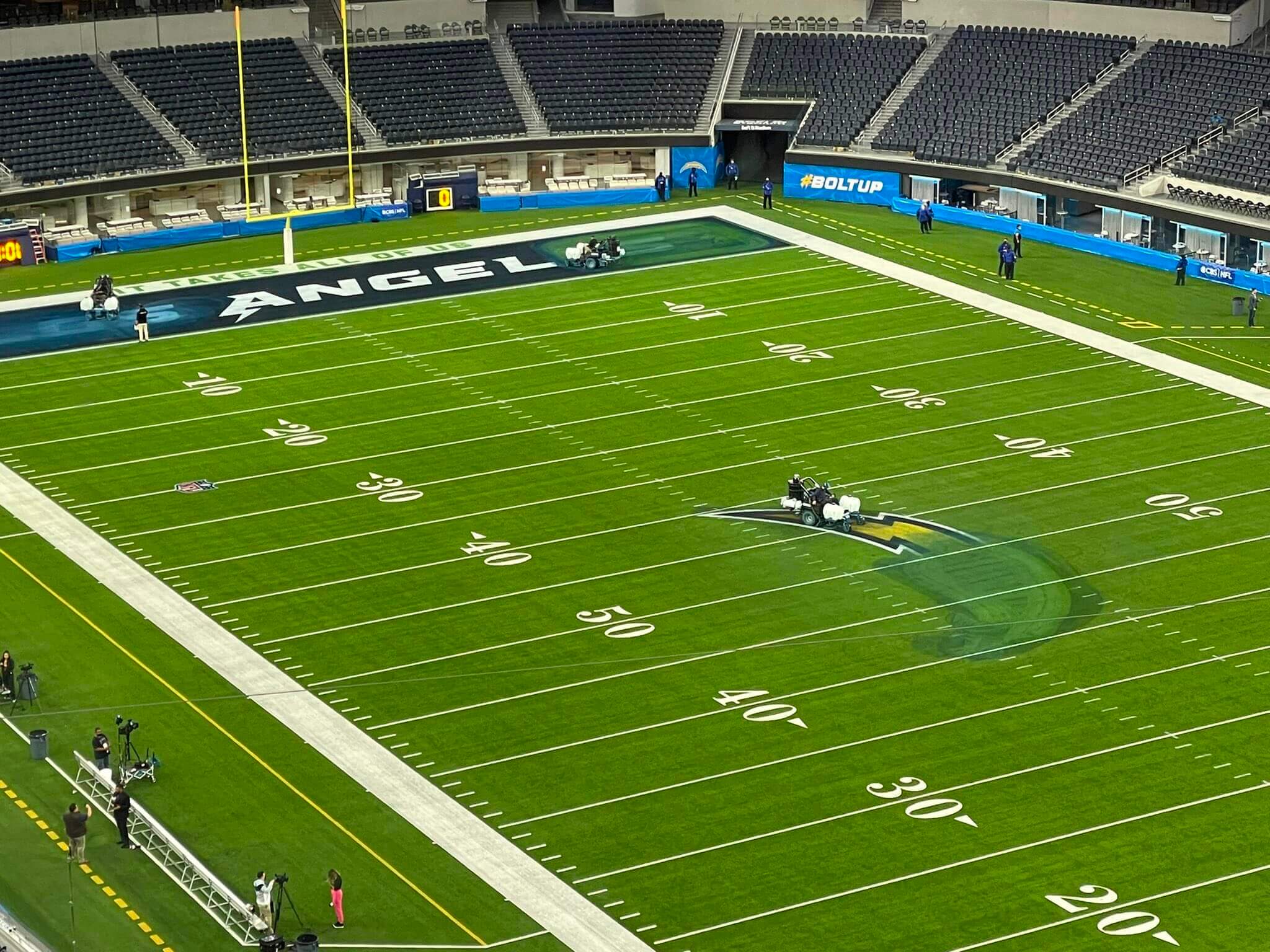 • The aforementioned Bills and Saints were the only home teams that wore white.
(My thanks to all contributors, including Mark Evans, Andres Galdames, Jen Hayden, A.W. Rader, Ted Taylor, Trevor Williams, and @coledrinkswater.)
• • • • •
• • • • •
For all pics in this section, click to enlarge
Spooooky Halloween report: The photo above should give you a sense of the proceedings yesterday on the Uni Watch HQ front porch. As you can see, we made good use of the papier-mâché masks that Mary made, and ditto for the pumpkins we carved a week earlier:
I usually like to take photos of kids whose costumes were uniforms, but there weren't too many of those this year. Here are the ones I saw:
We also saw a very good Super Mario, an impressive-looking slice of pepperoni pizza, and a few other noteworthy costumes. Mostly, though, the costumes were pretty boilerplate, without as much creativity as we've seen in past years. On the plus side, however, we still have a bit of leftover candy.
Also: I'm not sure how much this translates to other locales, but bodega cats are a big deal here in NYC (even though they're illegal). So we knew what we had to do with Mary's cat mask:
• • • • •
• • • • •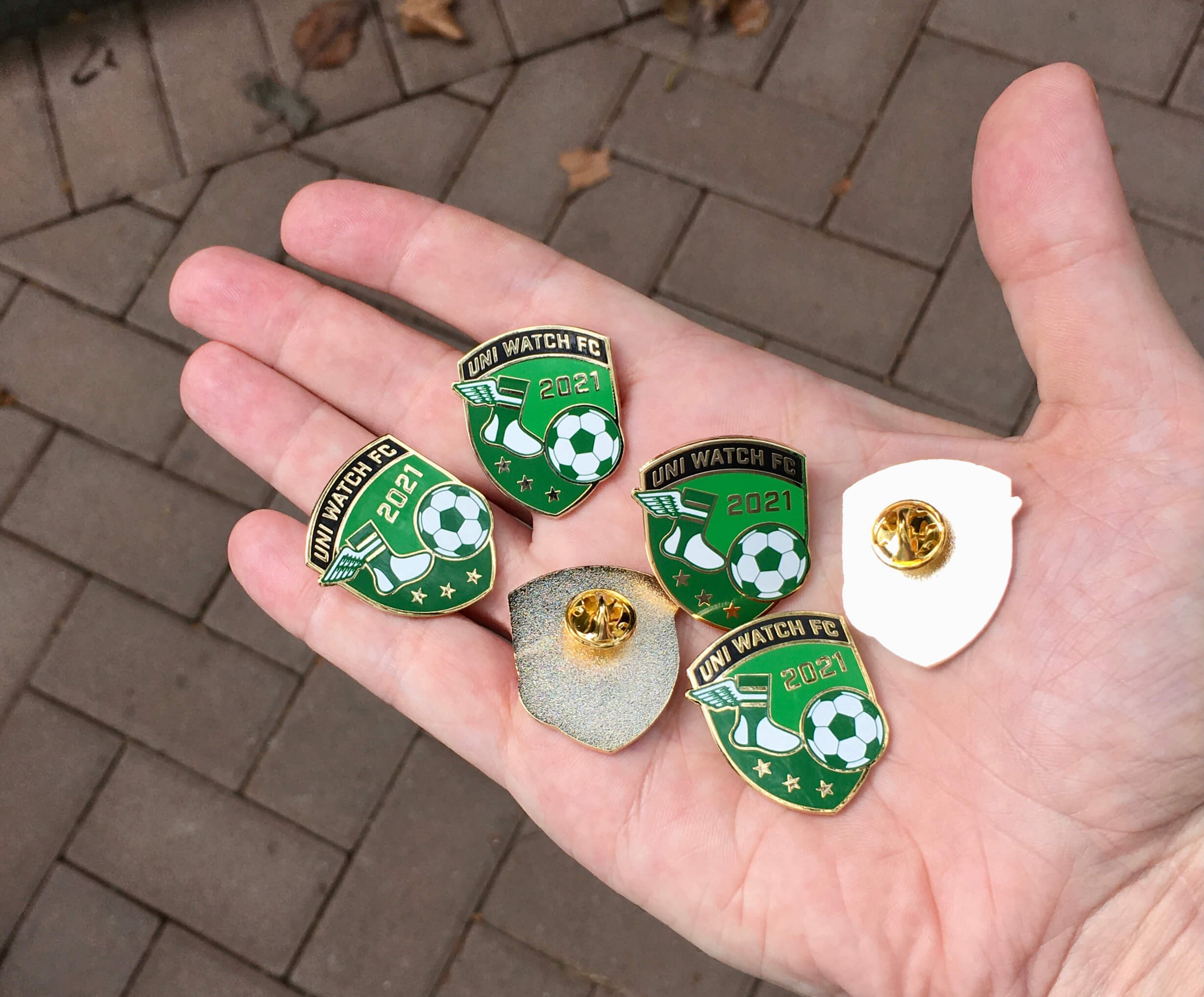 Click to enlarge
ITEM! November Pin Club launch: Today is the first day of November, so it's time for our latest Uni Watch Pin Club design. This time around we're (finally) doing our first-ever soccer-themed pin, with a badge-style design. I love how the winged stirrup is kicking the ball!
This is a numbered edition of 150. Although you can't really see it in that photo above, these pins have the number and month laser-etched onto the back, just like all our other pins. It's available here.
Need to get caught up? Here are our January, February, April, May, June, July, August, and September pins (sorry, March and October are sold out!), along with the 2021 Press Pin.
• • • • •
• • • • •
Membership update: A few new designs have been added to the membership card gallery. That includes Noah Berger's, which is based on the Marlins' City Connect uniform. Looks as good on the card as it does on the field!
I plan to send the current batch of cards to the printer tomorrow morning, so you'll get your card very quickly if you sign up today. And remember, a Uni Watch membership card entitles you to a 15% discount on any of the merchandise in the Uni Watch, Uni Rock, and Naming Wrongs shops. (If you're an existing member and would like to have the discount code, email me and I'll hook you up.)
As always, you can sign up for your own custom-designed card here, you can see all the cards we've designed so far here (now more than 3,200 of them!), and you can see how we produce the cards here.
• • • • •
• • • • •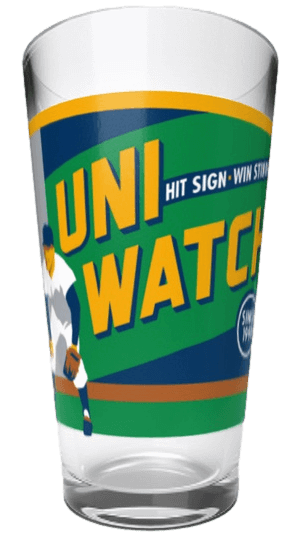 ITEM! New pint glass: In my continuing quest to showcase Todd Radom's awesome "Hit Sign, Win Stirrups!" design on as many products as possible, I'm happy to announce that we're now offering it on a pint glass.
As you probably know by now, you can also get this design on a T-shirt, a hoodie, a poster, and a canvas print.
While we're at it, we also have our first Uni Watch pint glass, with the roundel logo on one side and the winged stirrup on the other.
My thanks, as always, for your consideration of our products.
• • • • •
• • • • •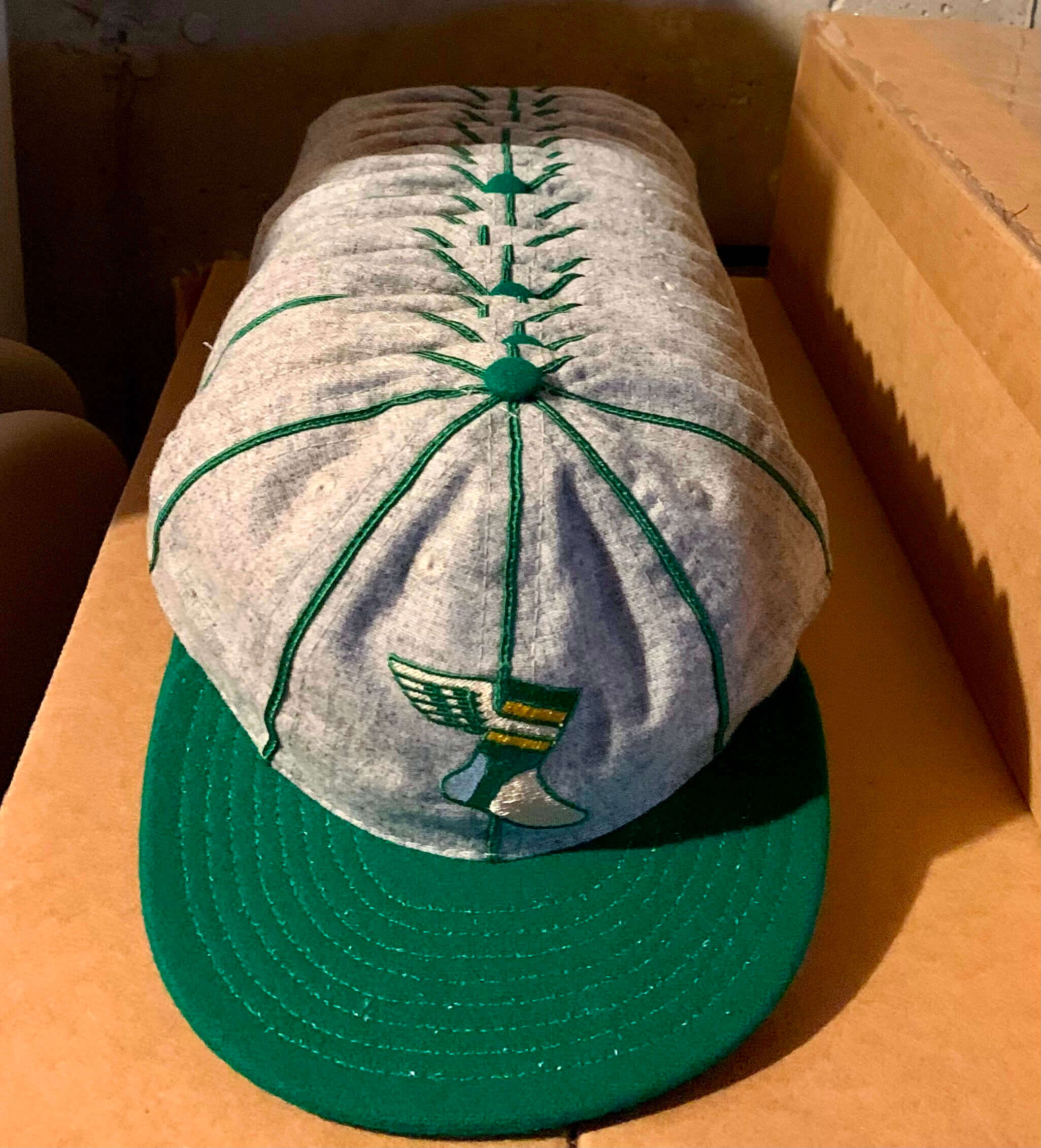 Click to enlarge
ITEM! New Uni Watch caps now in stock: The new Uni Watch eight-panel cap finally shipped from the Ebbets Field Flannels factory last week and arrived at the home of cap fulfillment manager Mark LaFountain on Friday. Mark will start shipping them out today to everyone who pre-ordered back in July, so those of you who paid in advance should finally be seeing your caps arrive shortly. Thanks for your patience!
If you missed out on the pre-sale, don't fret — I ordered about 40 extra caps in various sizes. Once we get the pre-orders out the door, we'll start taking orders for the remaining inventory. Sit tight until then, okay? Okay!
• • • • •
• • • • •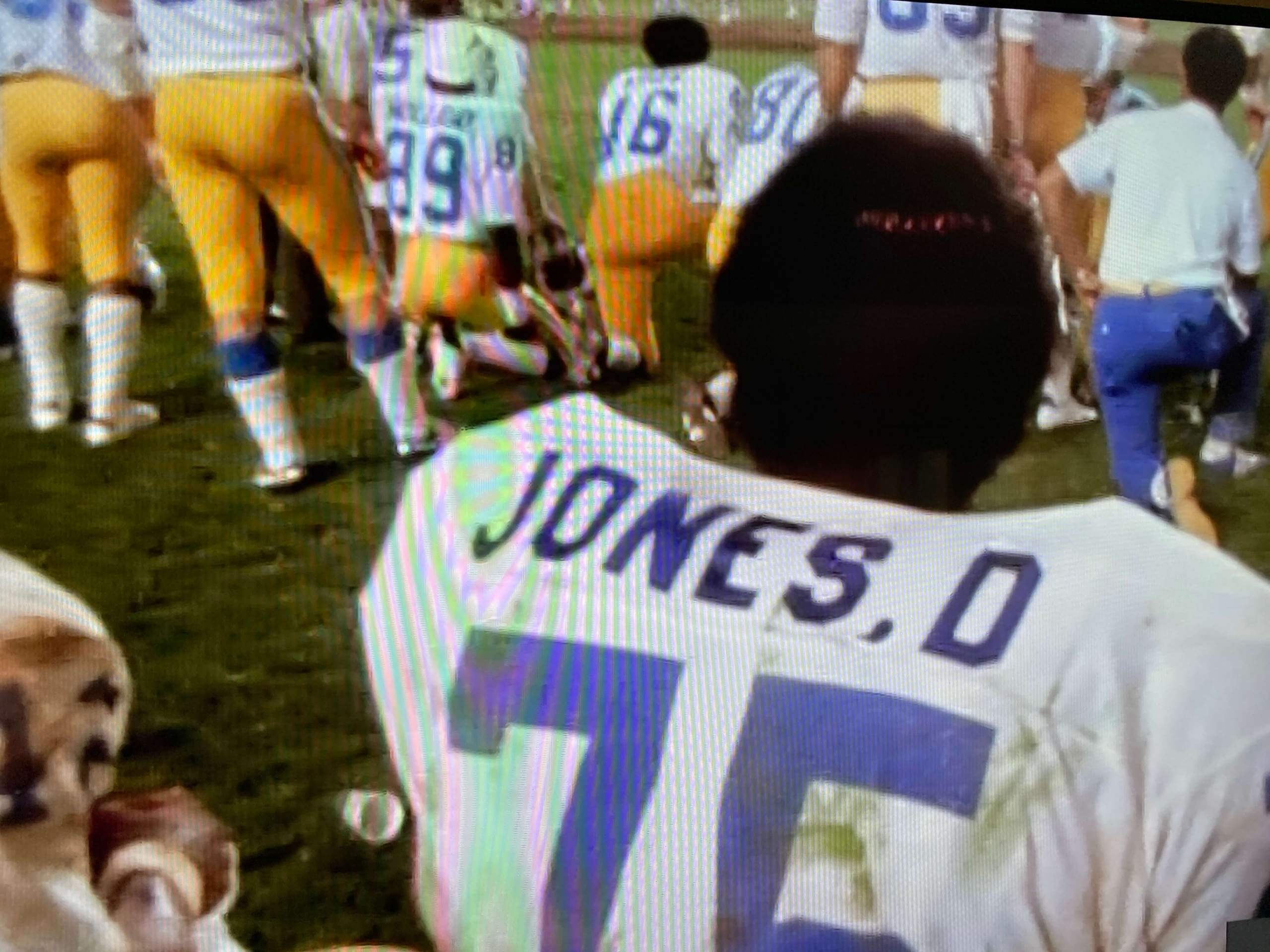 Click to enlarge
Too good for the Ticker: I've written many times about how the Chargers and Browns briefly had the odd FIOB format of putting the initial after the surname, but I'd never seen such a good view of it until reader Russell Goutierez sent me the Deacon Jones screen shot shown above, which he snagged from NFL Films' Lost Sounds of the '70s. Thanks, Russell!
• • • • •
• • • • •
The Ticker
By Jamie Rathjen

Baseball News: The MLB Jersey Numbers Twitter account posted its annual roundup of players who wore at least three different numbers this season, teams that assigned a number at least three times, and players who were the first on their team to wear a number. … Virginia baseball wore yellow shoelaces during one of their fall exhibitions yesterday to support a childhood cancer charity. … Derek Linn points out that Atlanta has won each World Series game in which it wore a uniform for the first time, and has lost each game in which it wore a uni for the second time. … Here's an interview with Jack Amuny, the designer who created the Astros' tequila sunrise jersey. You may recall that Paul had a more extensive article about that back in 2017. … In the early days of the Minneapolis punk band the Replacements, young bassist Tommy Stinson would wear his pinstriped Little League pants onstage.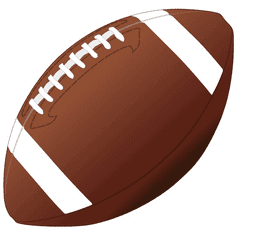 Football News: Cowboys WR CeeDee Lamb has racked up lots of fines this season, including for having his jersey untucked and for wearing low socks (from multiple readers). … Here is BYU's combo for next weekend (thanks, Phil). … Saskatchewan Roughriders LB Gary Johnson Jr.'s NOB was misspelled on Saturday (from Moe Khan). … The Montreal Alouettes honored retired DE John Bowman's No. 7 during halftime on Saturday. Injured Alouettes QB Vernon Adams Jr. wore Bowman's jersey in warm-ups (from Wade Heidt). … Wade also has Canadian college uni tracking in yesterday's comments.

Hockey News: Reprinted from yesterday's comments: The Bruins and Panthers both wore Jimmy Hayes tribute jerseys in warm-ups on Saturday (from Jerry Wolper). … The first chapter of this book on the Whalers includes the origin of the team's logo and brand (from Dave Vocale). … The WHL's Brandon Wheat Kings wore Halloween-themed jerseys on Saturday (from Wade Heidt). … Also from Wade: The Junior A Saskatchewan Junior Hockey League's Melfort Mustangs revealed new third jerseys.

Basketball News: The Trail Blazers and Kings have unveiled their City alternates. Meanwhile, the Hornets' City alternate has leaked and the Wizards plan to formally unveil theirs today (from multiple readers). … SIU-Edwardsville is going to give season ticket holders for its teams cards instead of individual tickets for each game (from Shawn Hairston).

Soccer News: English men's teams in the Premier League, and some in the Championship, started wearing poppy patches this weekend, but apparently no other men's or women's teams did with Remembrance Sunday two weeks away. … The NWSL's now-Kansas City Current changed their shirts at halftime of Saturday's game, as that's when they revealed their new name and crest. They wore the old crest in the first half and the new one in the second, but also didn't change their shorts, so both crests were still present. … Scottish women's teams participated in the annual promotion for the charity Show Racism the Red Card. … France's Division 1 Féminine's ASJ Soyaux-Charente have been wearing pink for what looks like at least most of their games in October. … USL League One's Forward Madison looks like it uses a 52-star U.S. flag on its video board for the national anthem (from R. Scott Rogers).

Grab Bag: In Australian cricket's Women's Big Bash League, the Perth Scorchers and Sydney Sixers both wore Indigenous designs when playing each other yesterday. … Two goalies on the NLL's Vancouver Warriors, Eric Penney and Alex Buque, have new helmets (from Wade Heidt). … The Japanese women's volleyball V.League's JT Marvelous wore orange for Halloween. "It is part of the mascot's, Marvelin, color scheme, which is a sun," says Jeremy Brahm. … There were seven Halloween-themed cars in yesterday's NASCAR Cup race (from Trevor Williams).
• • • • •
• • • • •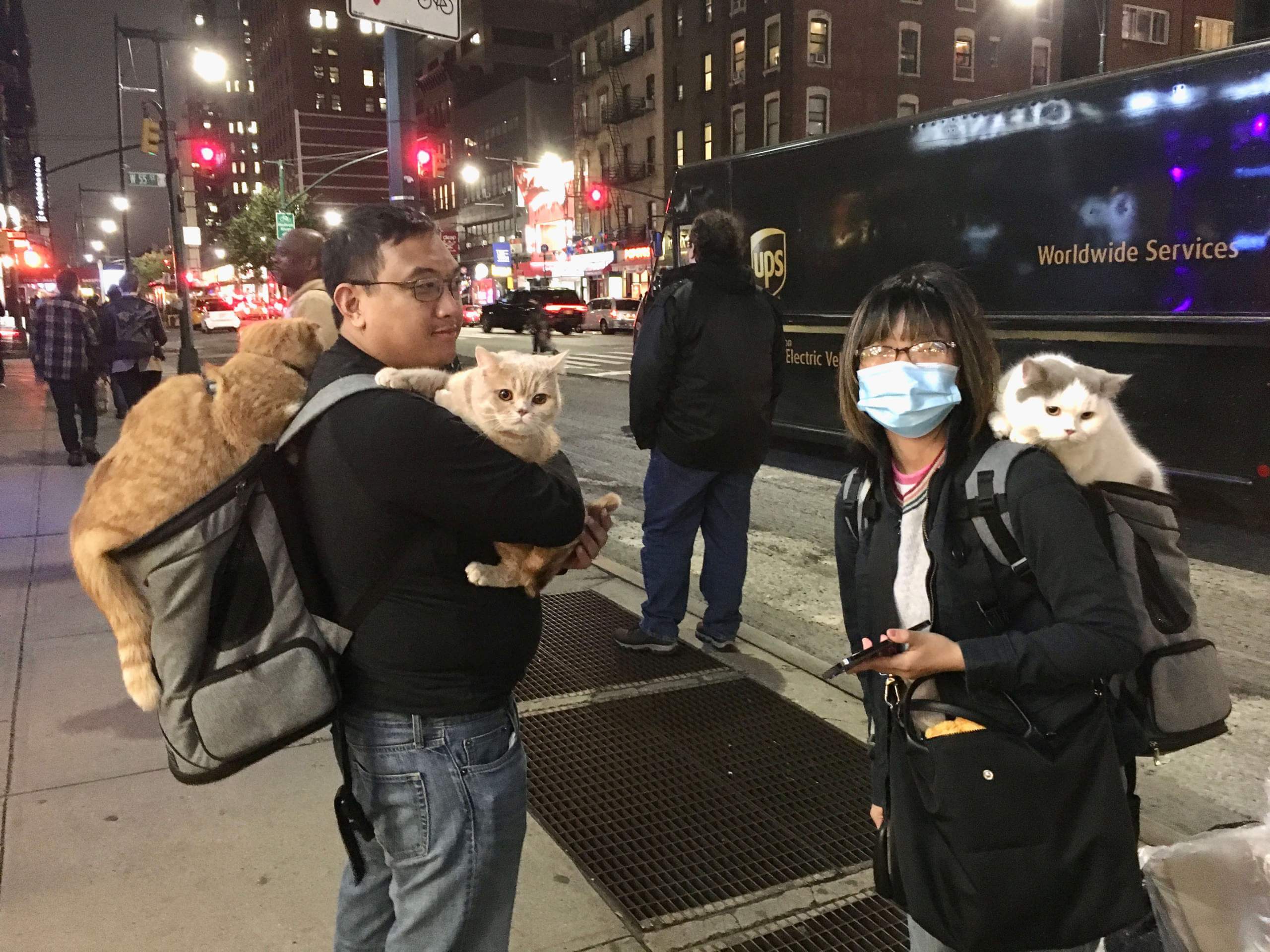 Click to enlarge

What Paul did last night Friday night: They say you never know what you'll see in New York fucking City, and that was definitely the case on Friday night, as we were walking up Eighth Ave. between 54th and 55th Sts. in Manhattan and passed this couple that was taking their three cats out for a walk! Great names, too (from left): Spongecake, Mocha, and Donuts!
It may look like Spongecake and Donuts were in those knapsacks, but they were actually perched on the knapsacks! I asked the people how often they do this with the kitties, and they said a couple of times a week. Bonkers!