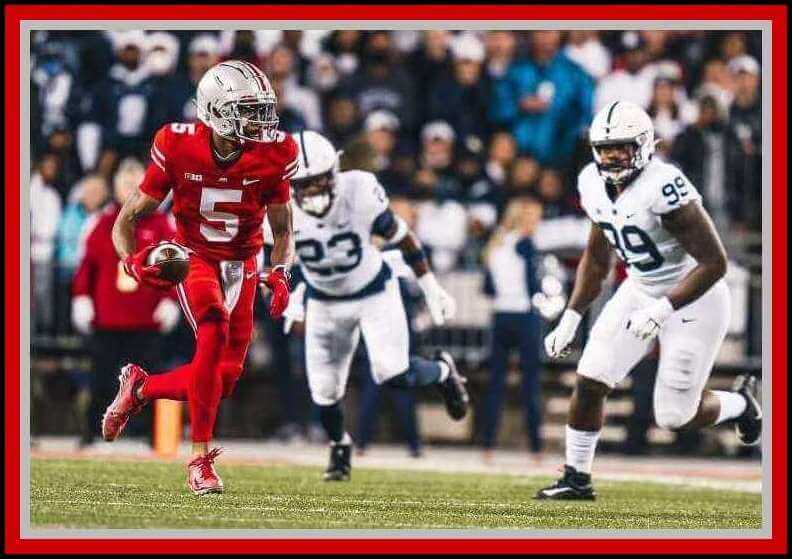 By Phil Hecken & the SMUW Crew
Follow @PhilHecken

Good Morning Ghouls and Goblins, and a very Happy Hallowe'en to all. I hope everyone has a spooktacular day.
Now then. Yesterday evening, The Ohio State University, for the first time ever, went mono-scarlet. Well, not quite — they did keep their normal silver-gray helmet, and they chose to break out the new scarlet pants against one of the schools who basically wear mono-white every road game, Penn State. So we knew from the outset this was going to produce quite the visuals. It didn't disappoint.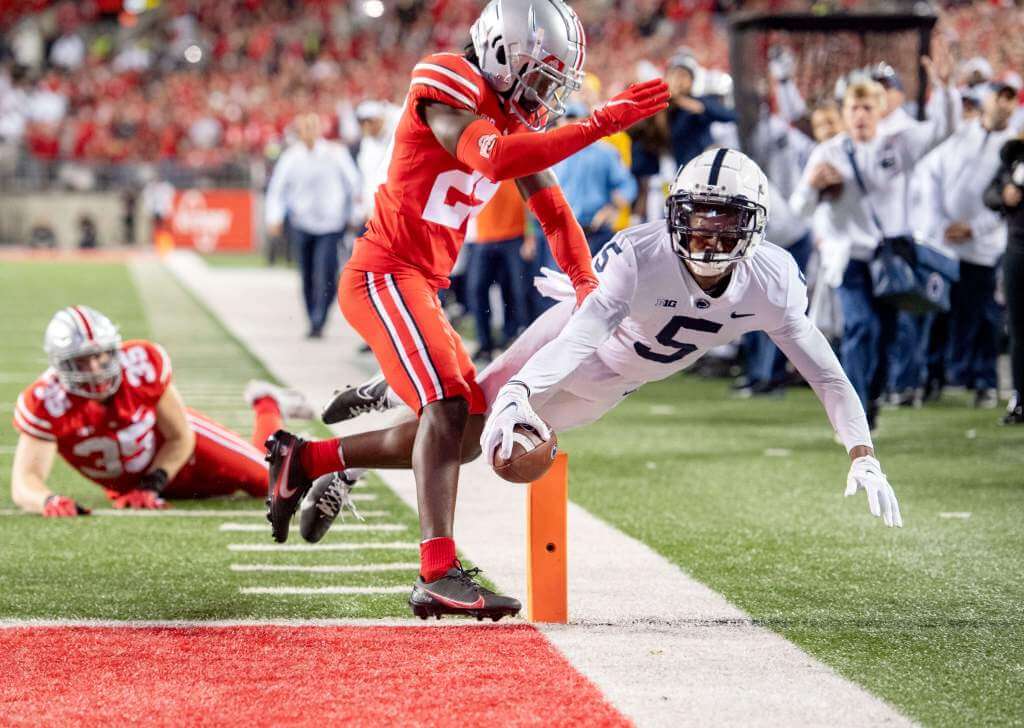 I was flipping back and forth between this game and the Atlanta/Astros game, so I didn't get to watch as much as I might have liked, but — as someone who is not a fan of mono when the helmet is a different color (and teams wear matching socks, creating the ballet pants effect) — I kinda liked the matchup. While I'm not especially enamored of the color red, I've always thought TOSU's shade is perfect, especially for them, so I really didn't mind this effect.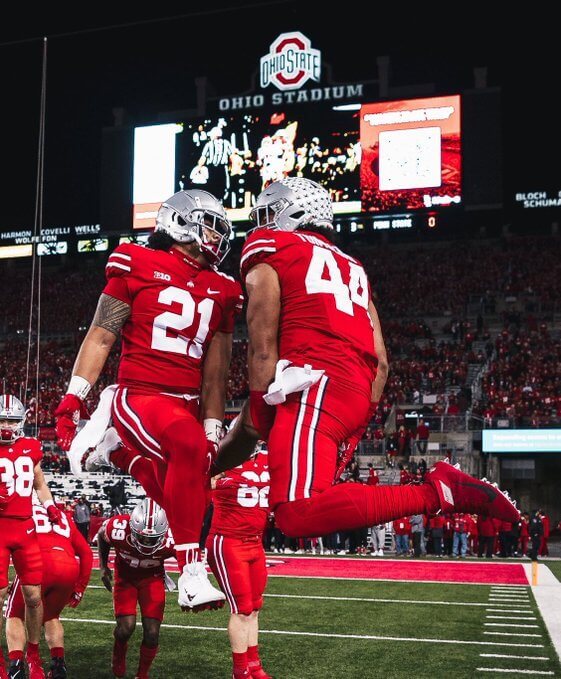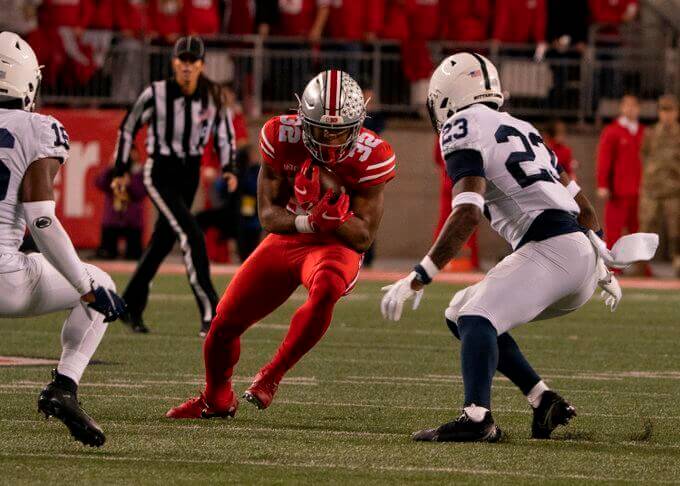 The crowd were told to play along with a "scarlet out" (or "scarlet the Shoe" or something like that), and pretty much everyone obliged.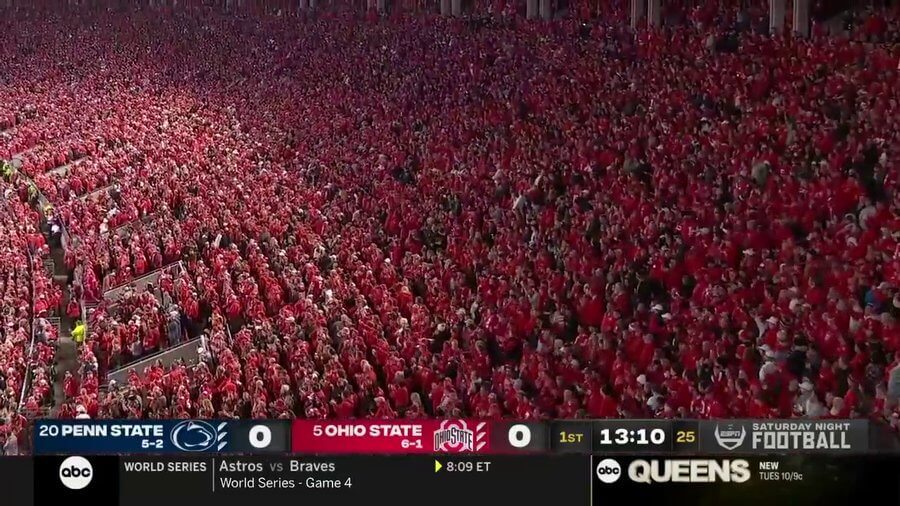 And here's a view of the field from the stands.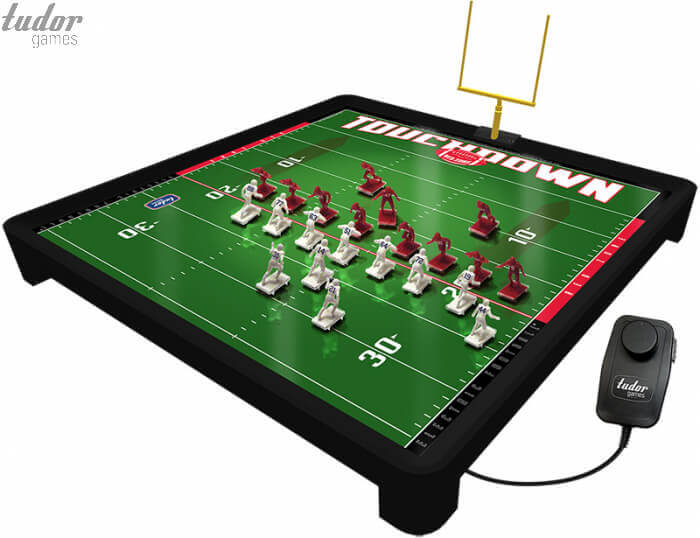 (Apologies for stealing Jimmer Vilk's joke there.)
TOSU is one of those teams who are good for one or two "special" uniform games a season, and last evening was their scarlet-out. Interestingly, they've done the special unis against PSU a bunch, perhaps most notably a gray-out a few years back. That was the inverse of last evening's uniform, as that had a scarlet hat with gray jerseys, britches and socks.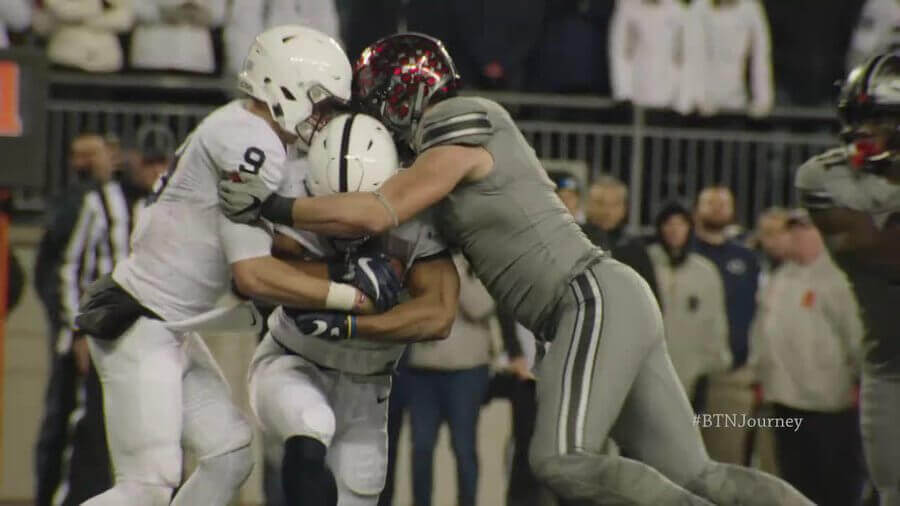 And now onto TJ who'll bring your the remainder of your …
• • • • •
Sunday Morning Uni Watch
by Terry Duroncelet, Jr.
I've mentioned this in the recent past, but my day job is working in menswear, and later on in the column, you're read an article that talks about "America's Greatest Homecoming in recent years", and needless to say, my nonexistent stock can vouch for this. Homecoming festivities continue across the college landscape, and not only that, but it was Halloween Eve (a.k.a. the 30th day of Halloween), and some of the teams definitely didn't fail to deliver. For those curious, All Hallows' Eve (or as close to it as we can get on a Saturday) is the one week during the regular season where all of the things that I would normally shun, I 100% embrace. Grab your favorite childhood Spoopy movie and a Dark LoFi playlist, because it's time for the Halloween Edition of Week 9 of the college football season.
From Thursday:
• This game was fun, had season-appropriate attire (East Carolina made a mistake when they ditched the bone pants for these lame things this season), odd shit (I don't have any footage, but there was a safety that should've happened but didn't, the ECU QB ran into the injury tent on the sideline)… I can dig it. A perfect start to the week.
From Saturday:
• As much as I like Arizona State's helmets, I feel that they'd be better if the maroon elements were an actual deep… MAROON, y'know? In some shots, these lids look almost pink-ish. Still a good slopfest of a uniform for Halloween Eve. Wazzu looked absolutely FANTASTIC.
• THE wasn't the only jumpsuit-looking team in the B1G, and honestly? Michigan State wears it better (the matching lids help, obviously).
• Contrast Matters: T E G S H A S Edition.
• Temple in mono-black, and look at how T H I C C C C the stroke of those numbers are, holy cow! Truly a remarkable costume.
• The best part about all of these BFBS costumes? Sometimes, it really helps to offset the other team's unis even more than usual, like Buffalo and Bowling Green.
• North Texas in rare form combining their retro-themed road unis with their black alt helmets.
• This game really had to go there at the end, huh? I really liked Houston's mono-black tomfoolery, not only for their complementary helmets, but they even went the extra mile and did 'Ween Eve black graphics on the field (that script 'Cougars' is genuinely really nice). Also from that same game: FiveStool on Twitter noticed how Cougars Junior Safety Gervarrius Owens has a signature thing going on: a spare mouthpiece in his helmet. It seems to be a repeat thing for him (scroll up a bit for the contextual bits of that thread).
• In addition to all of the on-field aesthetic shenanigans, there were SO MANY genuinely fantastic-looking games, including (but not limited to): Arizona/USC, Duke/Wake Forest, Miami/Pitt, Iowa State/Country Roads, Rutgers/Illinois, Boston College/Syracuse… good stuff.
• Neat helmets for Oklahoma State (closer look, plus some lore).
• Digging the MS decal for Mississippi State (closer look, thanks to Blaise again). They also had it on the field.
• Boise State wore all-white, as well as new 'City of Boise' decals on the back of their helmets in honor and memory of those lost and affected by the recent shooting at Boise Towne Square.
• Auburn wore these rad metallic orange facemasks against Ole Miss (closer look, via Blaise).
• …There's some oddly-cursed energy emanating from this Tweet, and I don't know why.
And THAT will do it for Week 9. As always, a HUGE thanks and shoutout to Blaise D'Sylva for all of the helmet findings! Next week begins the fleet of November games, where the temps get lower, and the stakes get higher (oh, and the whole GI Joe thing, that'll be fun). Hope you all have a fun and safe Halloween, and I'll see you next week.
• • • • •
Thanks, TJ! And now onto the 5 & 1…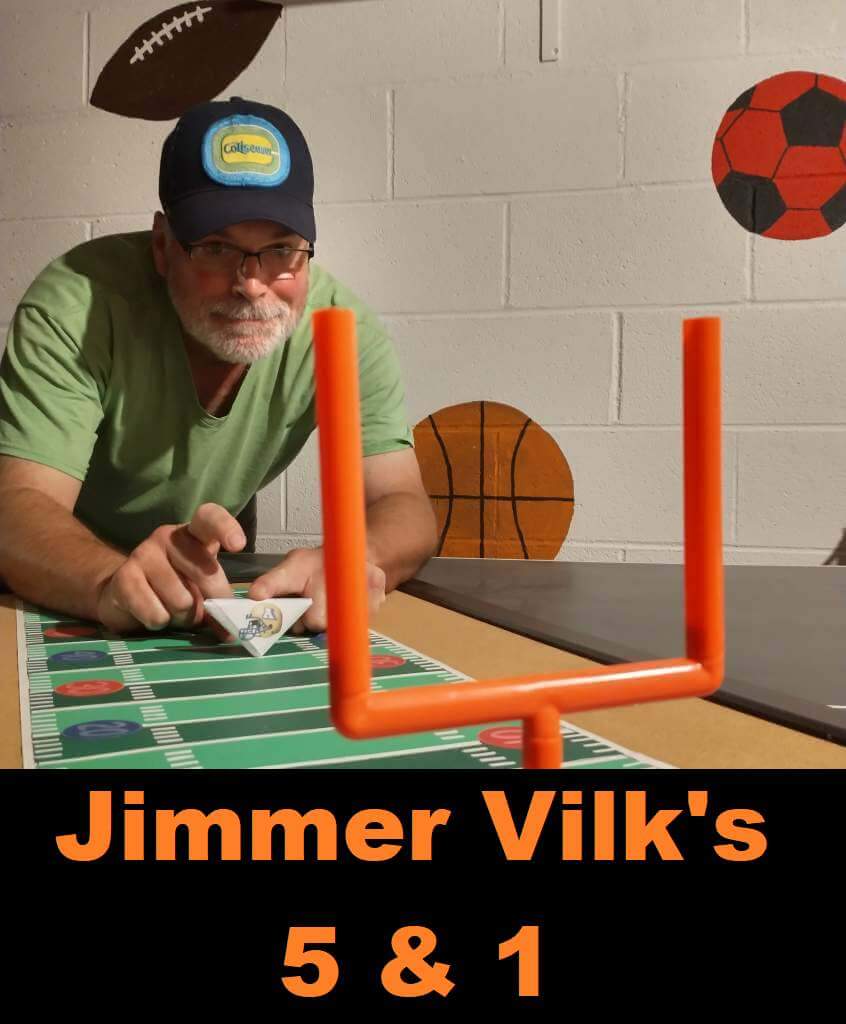 Jimmer Vilk's 5 & 1
After more than a decade in hiatus, the original "5 & 1" decider, Jim Vilk, has returned! Jim began doing the 5 & 1 many years ago, followed Catherine Ryan, Joe Ringham, Michael "Memal" Malinowski, and several guest pickers. Once again, Jim will pick HIS 5 best looking/1 awful matchup, and occasionally have some honorable mentions (both good and bad). You may agree and you may disagree — these are, after all, just opinions and everyone has one. Feel free to let him know what you think in the comments section.
If you have a game you feel is "worthy" of consideration for the 5 & 1, please either post it in the comments below or tweet Mr. Vilk @JVfromOhio.
Here's today's 5 & 1:
• • • • •
Several years ago I was in a thrift store where I saw a black shirsey with stealth numbers. And yes, I almost bought it. I put it back, though, because even at a bargain, I don't want people getting the impression that I'd like to see that stuff on the field. So, a reminder to all uniform designers: the purpose of jersey numbers is for them to be *clearly* seen by officials, fans in the stands, and those watching at home. If they're hard to read, they're a fail…no matter how "cool" or "clean" they look.
Anyway, Honorable Mentions to
William & Mary/Vilkanova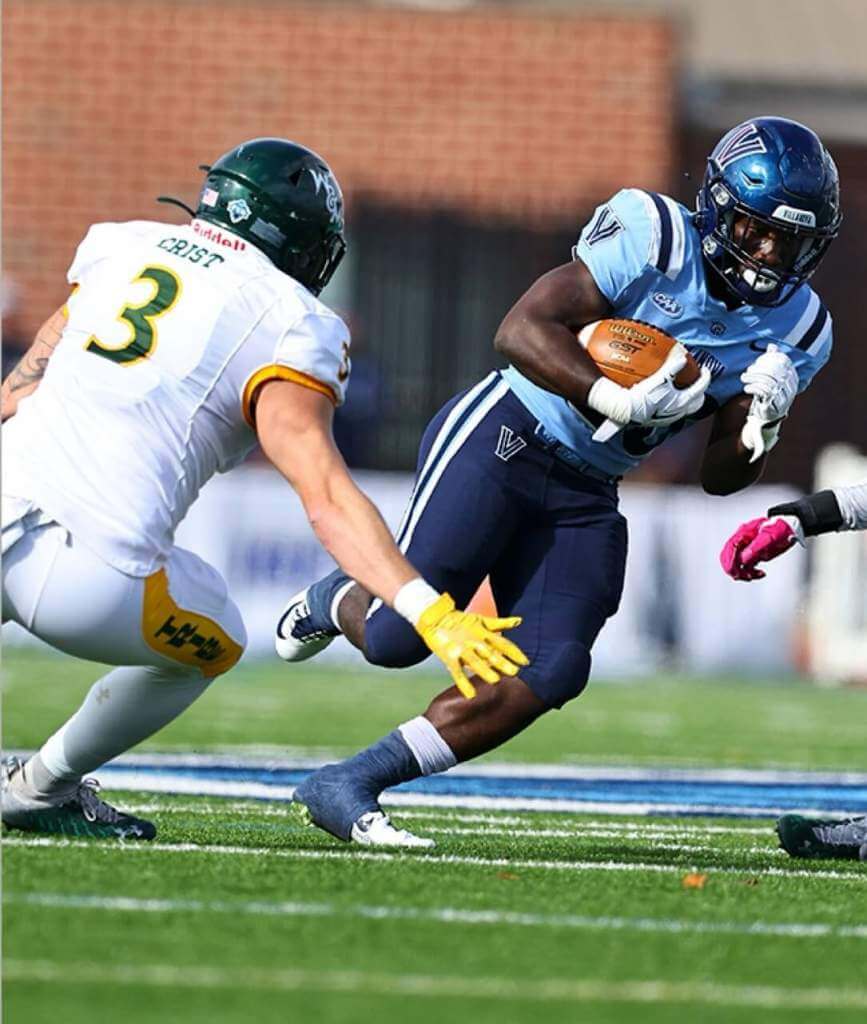 Two wrongs don't make a right, but two blues are dy-no-mite!
__________
Virginia/BYU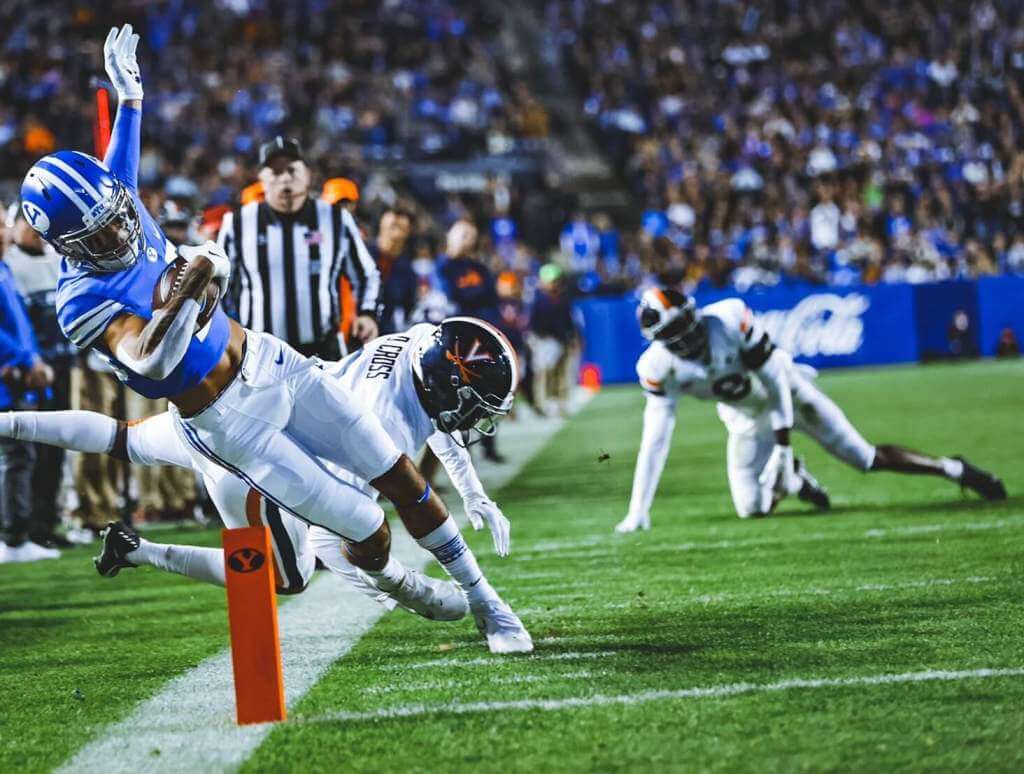 If the Cavs have orange pants, this would have been a fantastic time to wear them.
__________
5. Missouri/Vanderbilt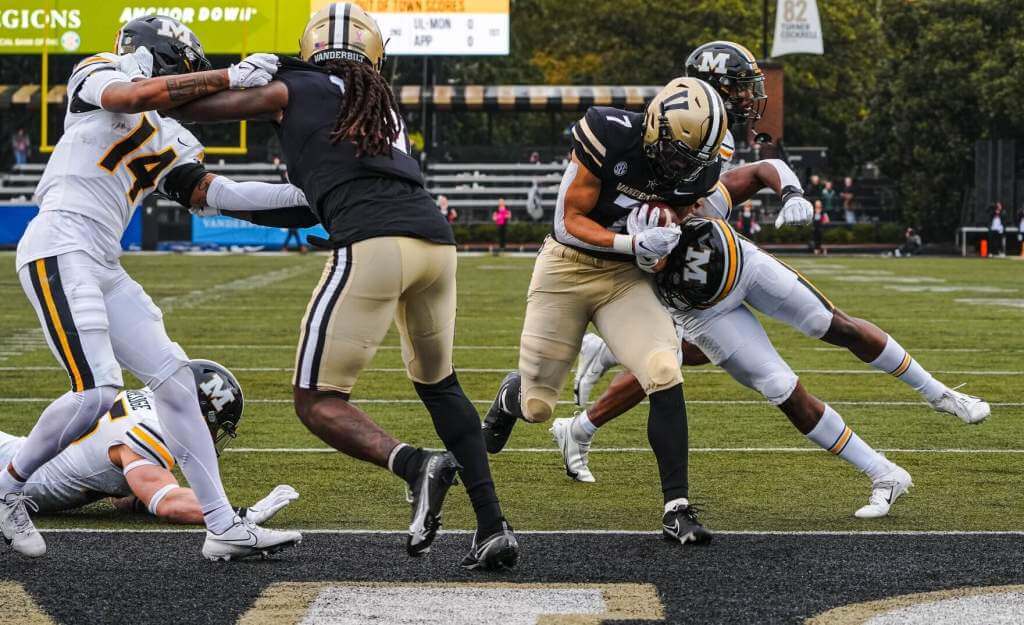 Stripealicious!
__________
4. Iowa State/West Virginia
I'm all 'eers for this colorful game.
__________
3. Arizona/USC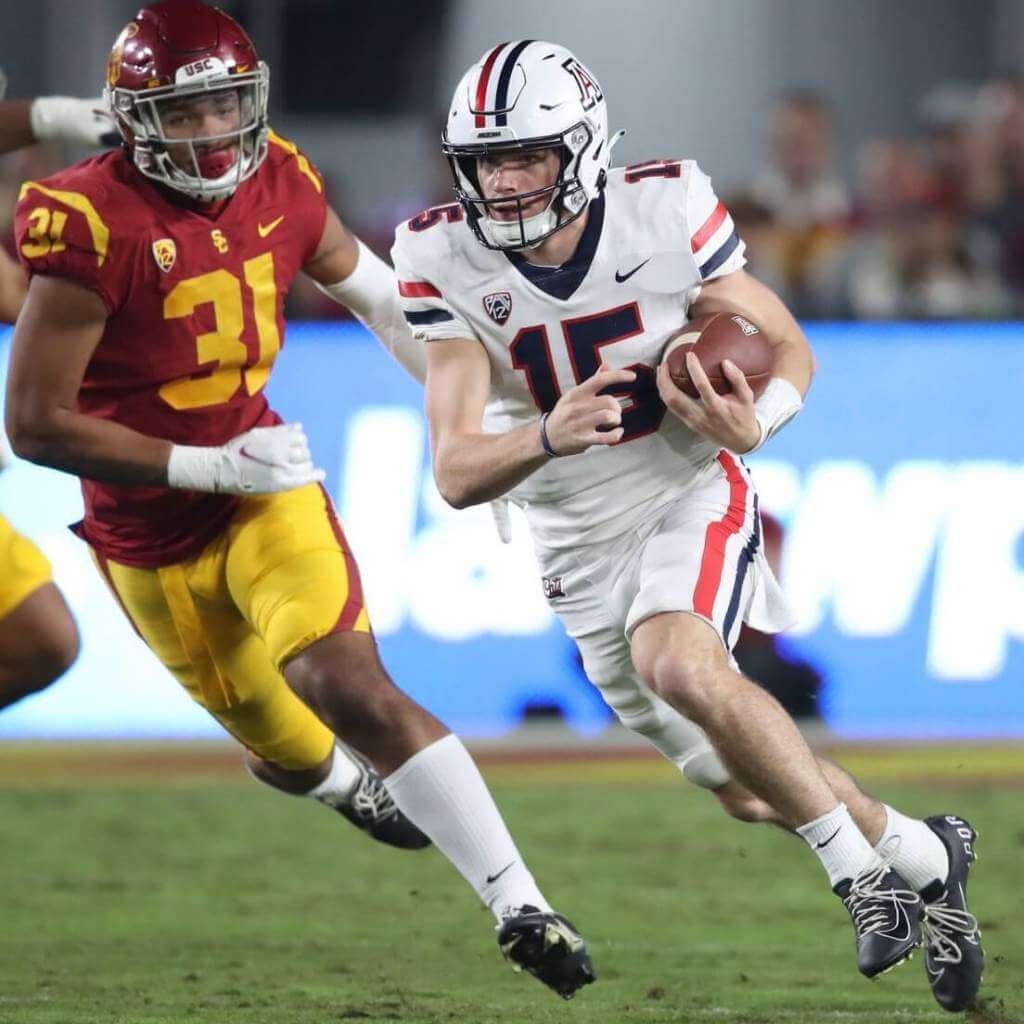 Even without blue pants this matchup was too good to ignore.
__________
2. Wyoming/San Jose State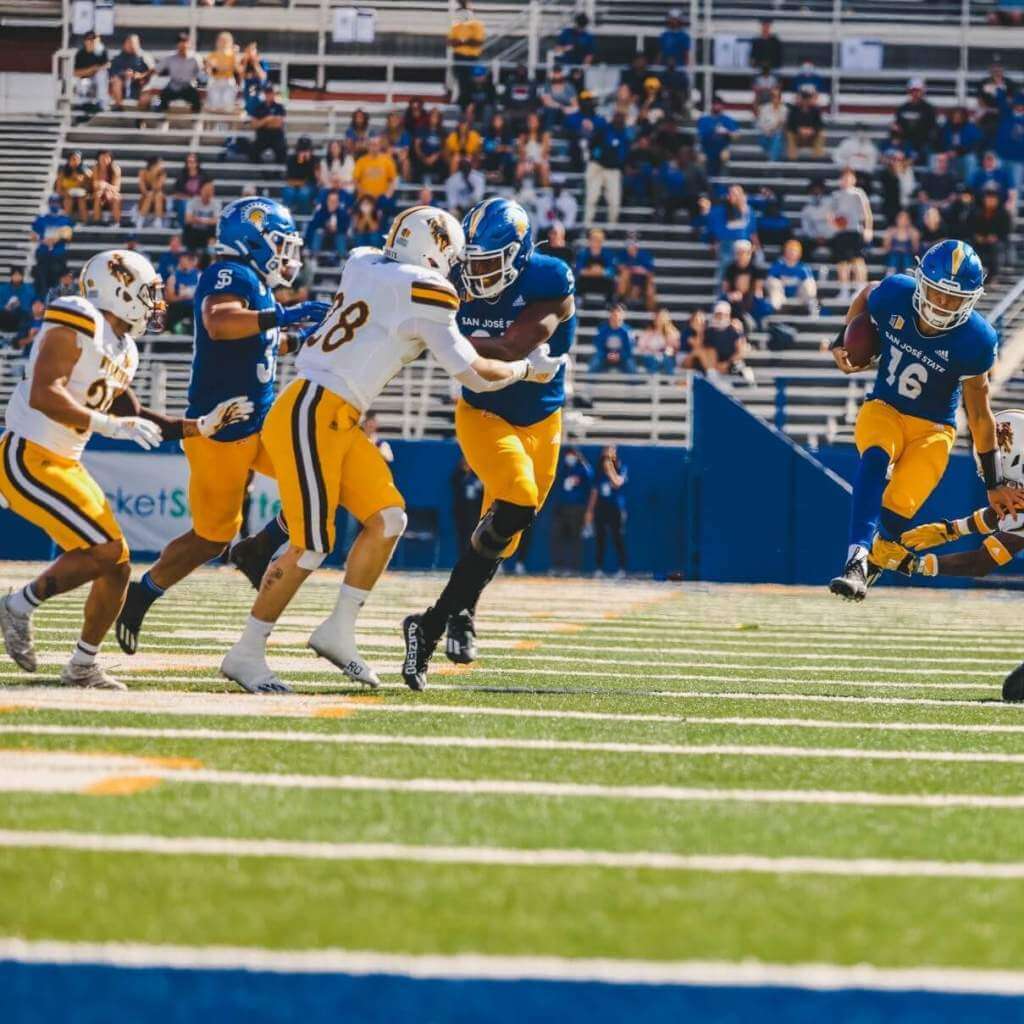 Best looking Spartans of the weekend, by far.
__________
1. Kentucky/Mississippi State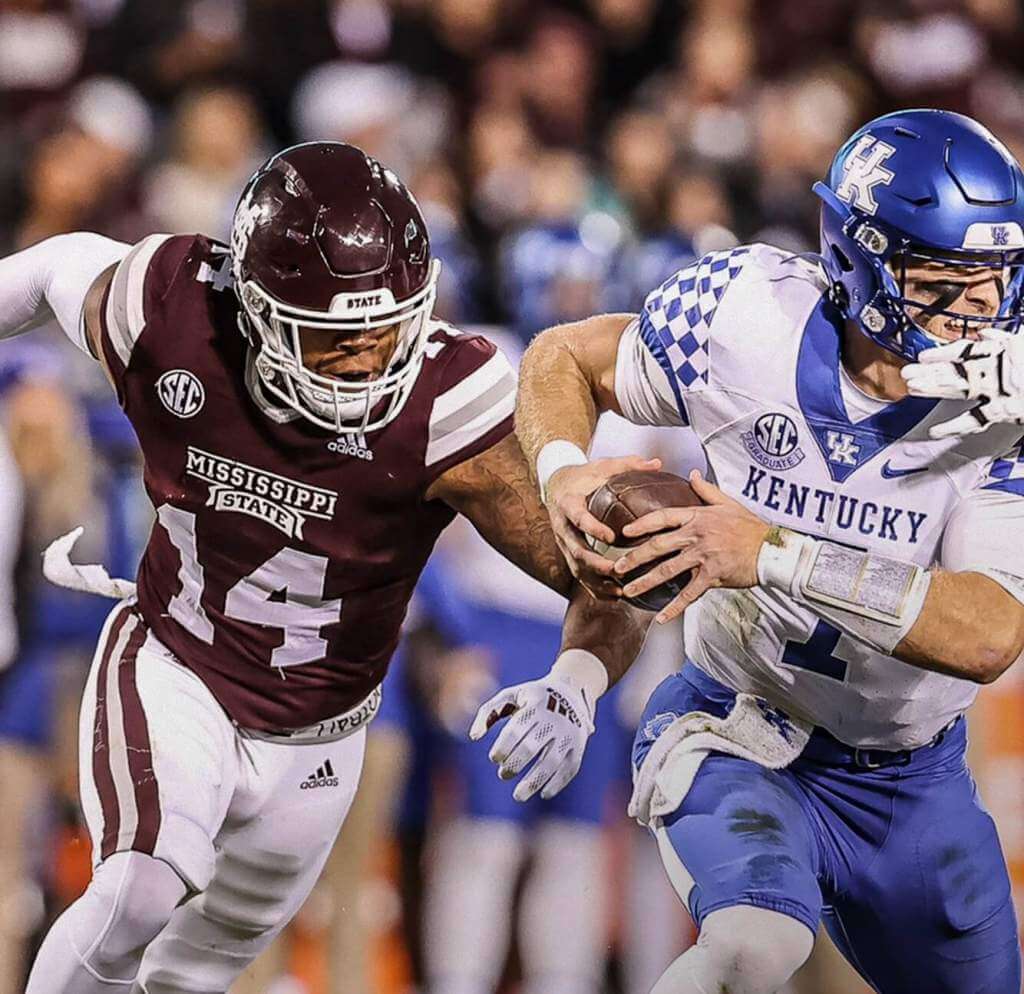 I had a slightly different list prepared until 11:45, when out of the blue I stumbled across this gem.
__________
Dishonorable Mention to
SMU/Houston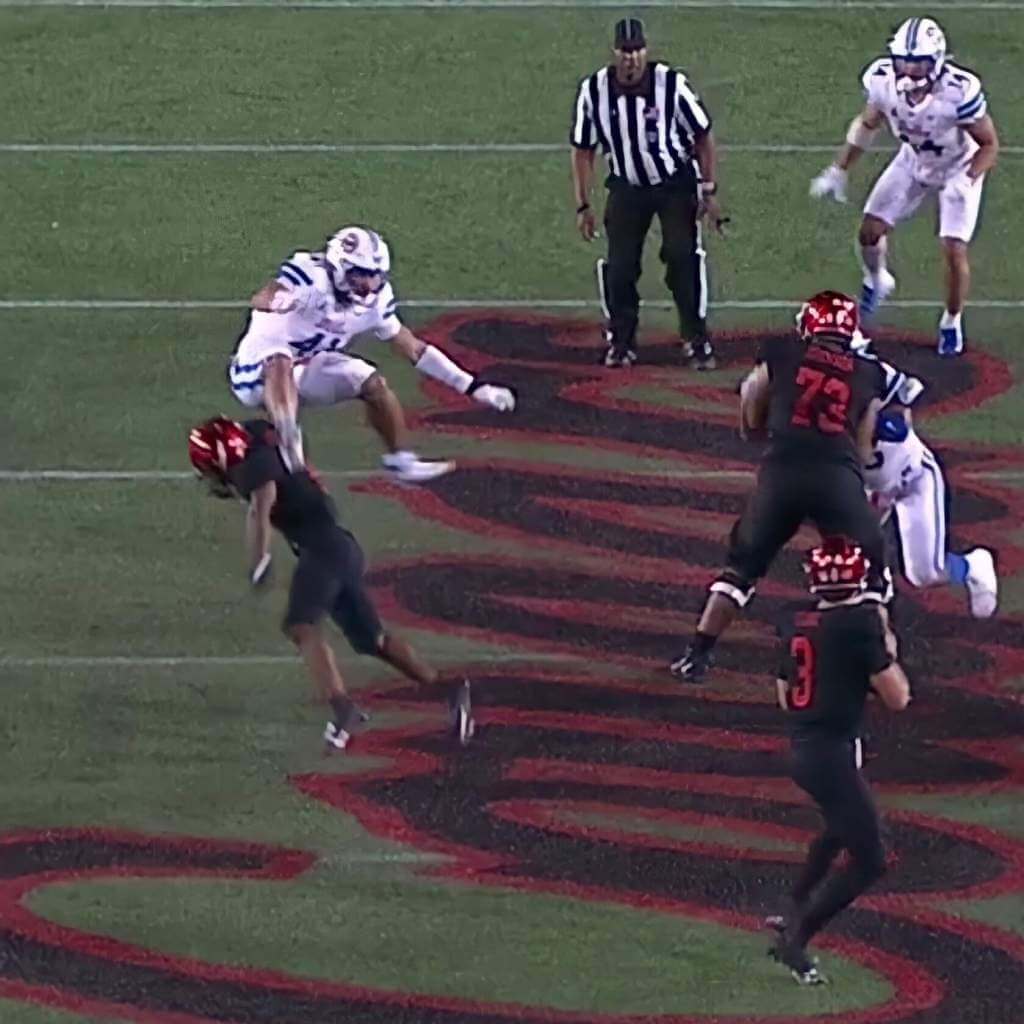 I couldn't stand when the Cougars did red numbers on black during March Madness and I still can't stand it.
__________
&1. UCF/Temple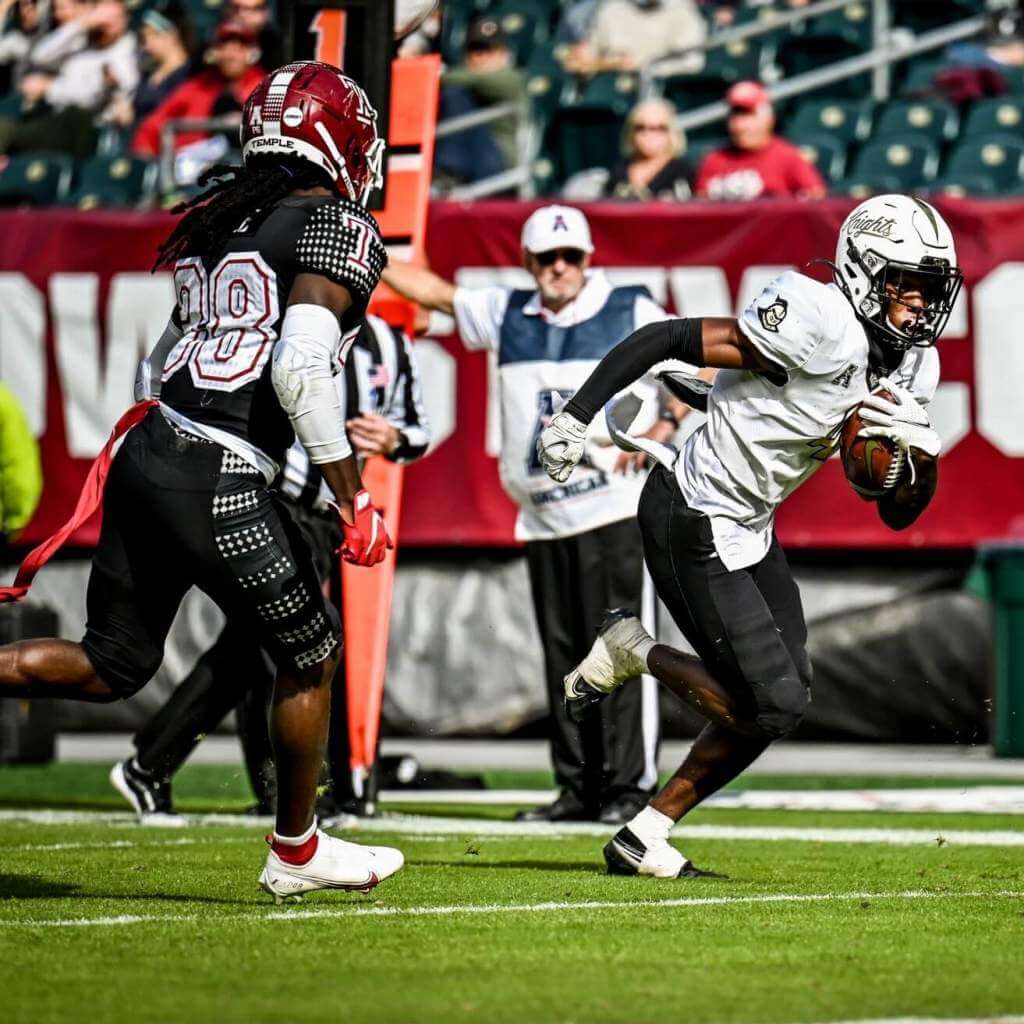 Gold numbers on white vs birthday candle numbers on black shows once again that the Swooshketeers care more about fashion than function.
• • • • •
Thanks, Jim! OK readers? What say you? Agree or disagree with Jimmer's selections? Let him know in the comments below.


NCAA Uni Tracking
Uni Watch will again track the uniform combinations worn by the "Power 5" conferences. All of the 2020 trackers are back!
We've got Rex Henry (tracking the ACC), Dennis Bolt (tracking the PAC-12), Kyle Acker (tracking the B1G), and Ethan Dimitroff (tracking the Big XII AND the SEC). Rex, Dennis, and Kyle and are all returning from 2015, and Ethan is back after joining the NCAA Uni Tracking a couple seasons ago. Ethan will continue to track the SEC, and has swapped the B1G for Big XII (with Kyle).
Here are the Uni Trackers for the Power 5 Conferences (along with each tracker's info):
+ + + + + + + + + +
Rex is up first today (ACC):
• • •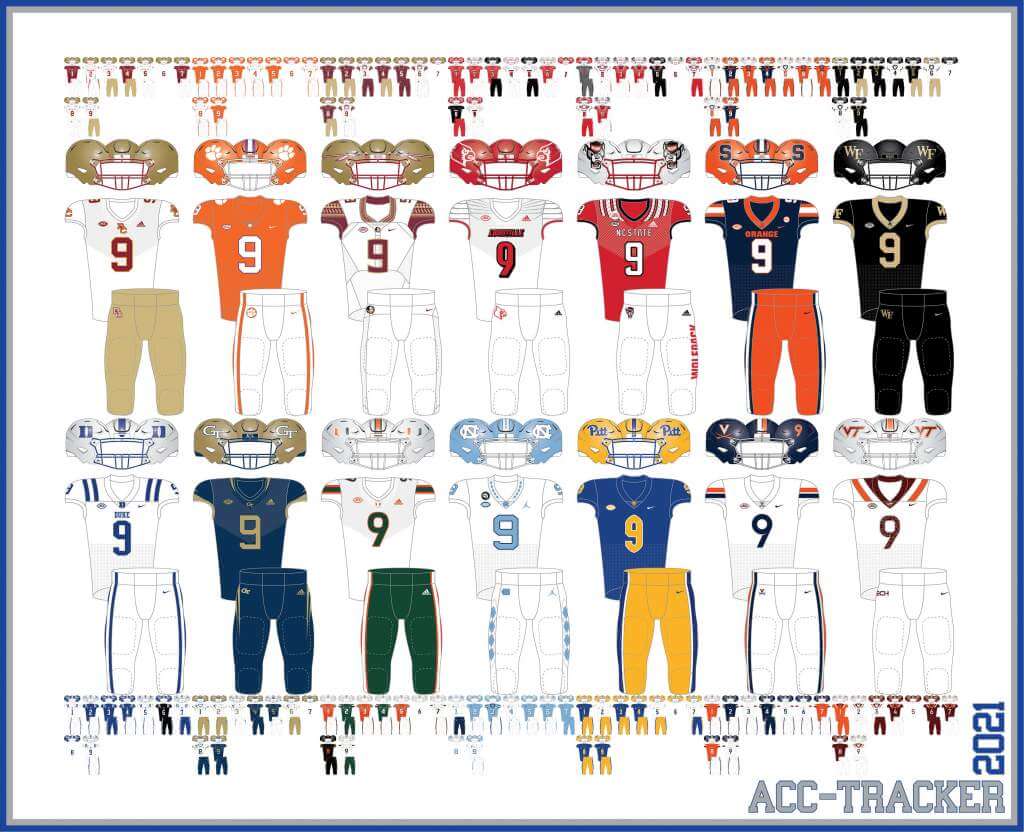 ACC

More Here.
Follow Rex on Twitter here.
• • •
And now, here's Dennis with the PAC-12:
PAC-12

More here.
Follow Dennis on Twitter here.
• • •
And here is Ethan, with the SEC:
SEC

And be sure to check out Ethan's WVU Mountaineer Tracker.
Follow Ethan on Twitter here.
• • •
And here is Kyle with the B1G: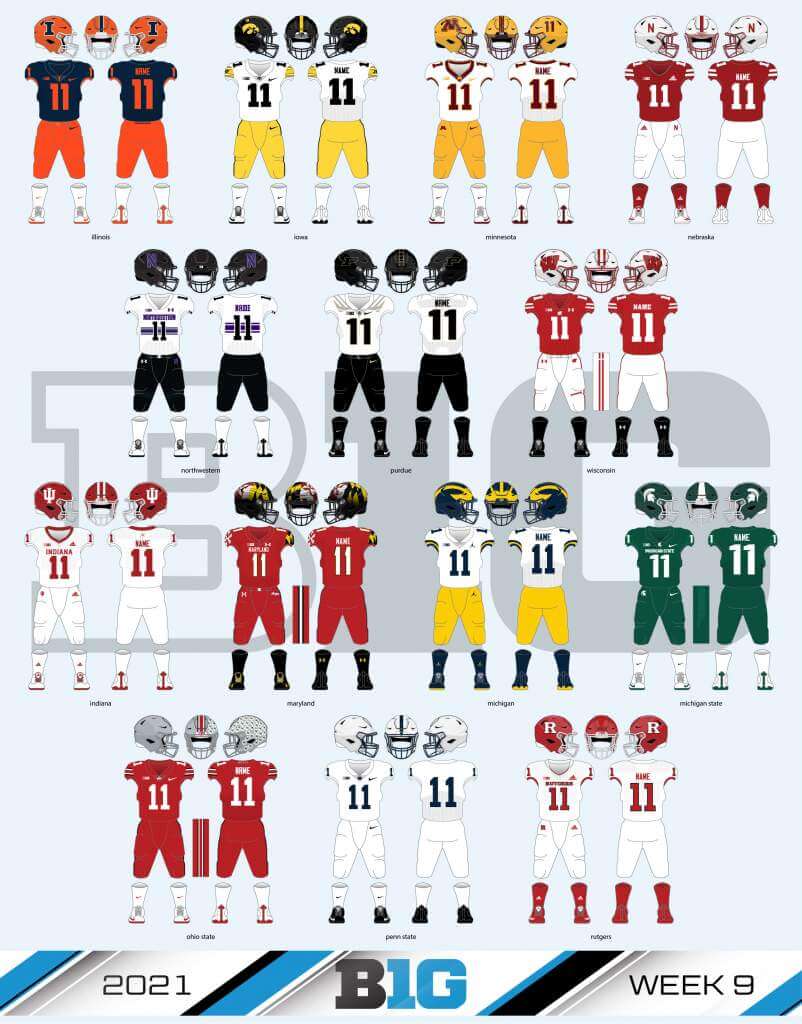 B1G

Follow Kyle on Twitter here.
• • •
And here's Ethan with the Big XII: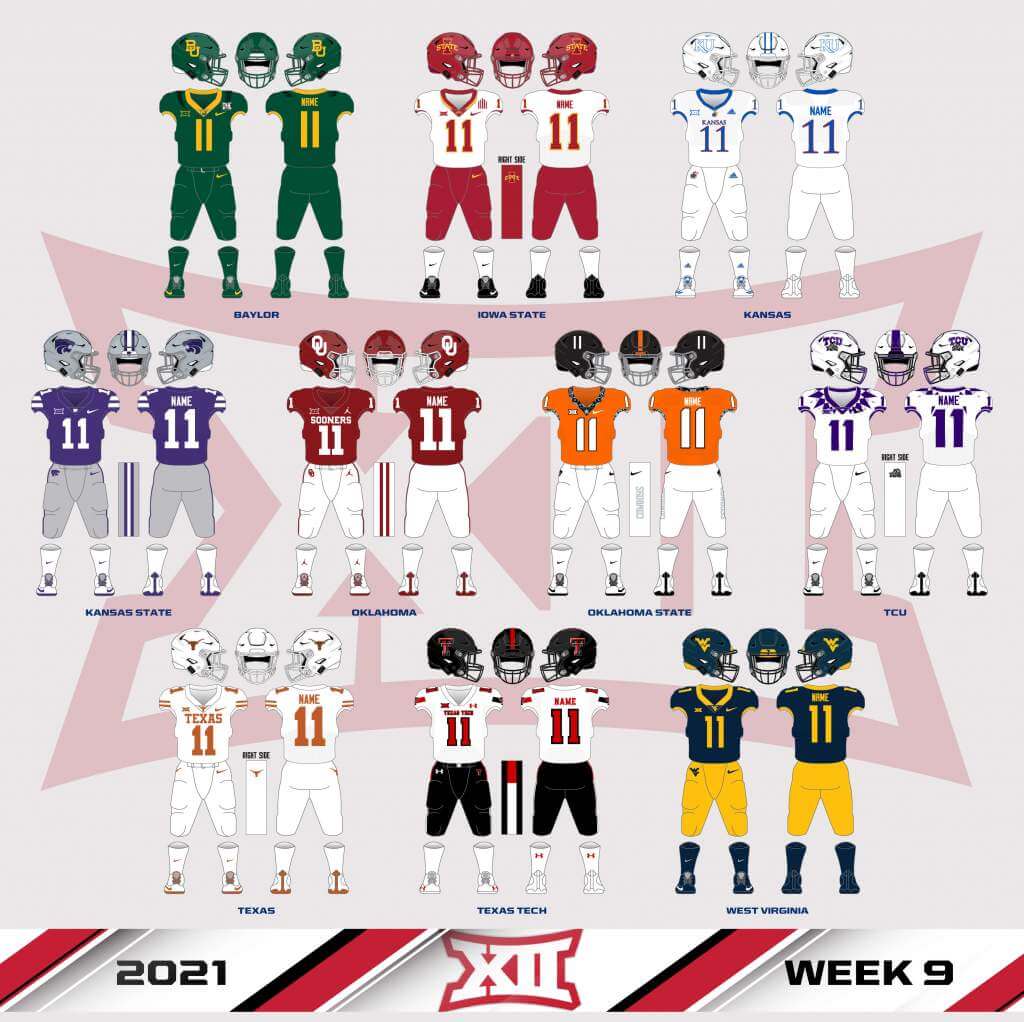 Big XII




Welcome to the 2021 Oregon Ducks Uni Tracker. This little project was originally begun way back in 2008-09 by Michael Princip, who retired after several seasons, whereupon the project was continued by Tim E. O'Brien. He, too, retired from the tracking, but the project has been ably kept up by the man who also tracks the Pac12, Dennis Bolt.
Here's this week's Uniform Combo for the Ducks (you can click to enlarge):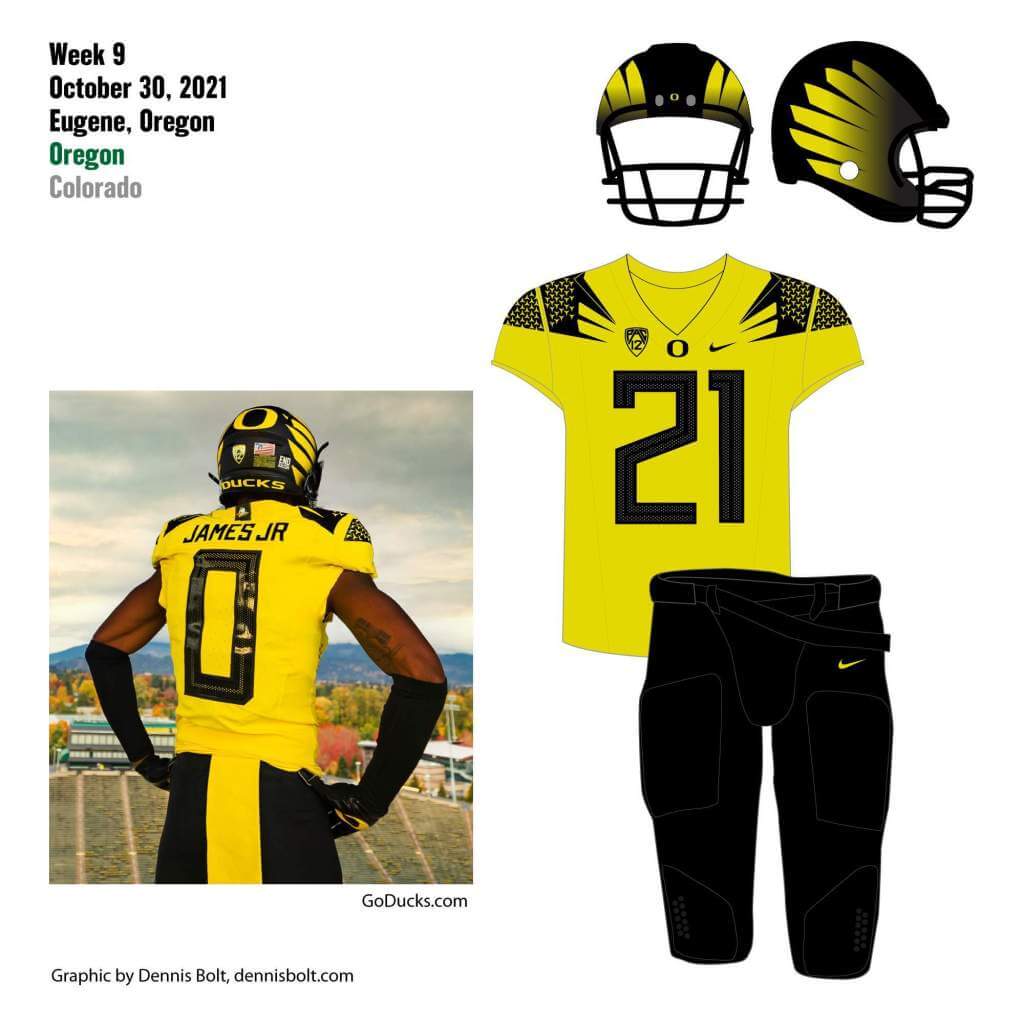 You can read about this uniform, and MUCH MORE, by checking out the Duck Tracker here and the color combo spreadsheet here!
Thanks Dennis!


MLB Playoff Uni Tracking
It's BAAAAACK.Alex Rocklein has been tracking the jerseys of all the teams involved in the MLB Post Season for the past several seasons. We're through four games of the World Series, and Atlanta won another game last night, this time with a 3-2 come-from-behind victory over the Astros.
Here are the jersey matchups for the first four games of the World Series (sent before last night's game in Atlanta ended, but the jerseys are correct):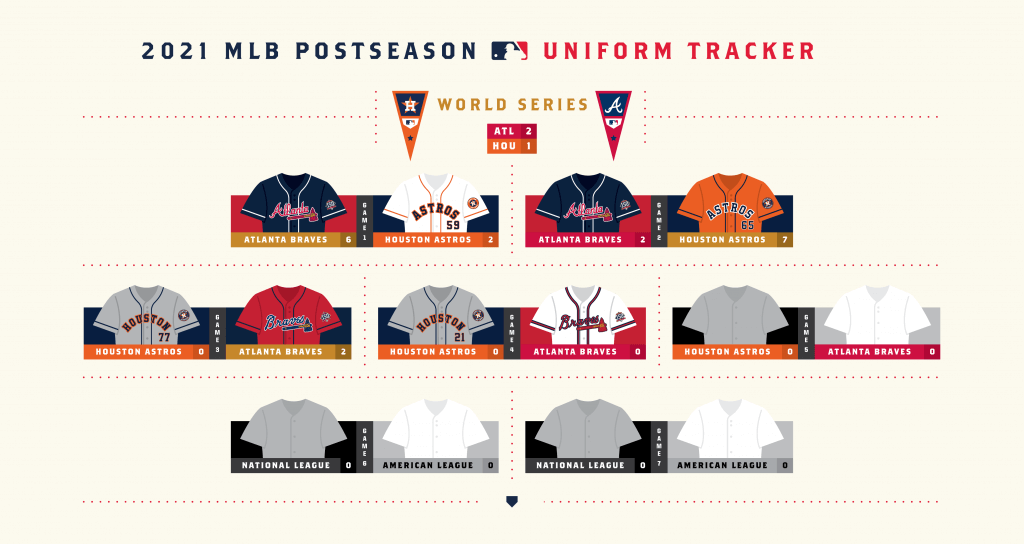 And finally, the full tracker so far: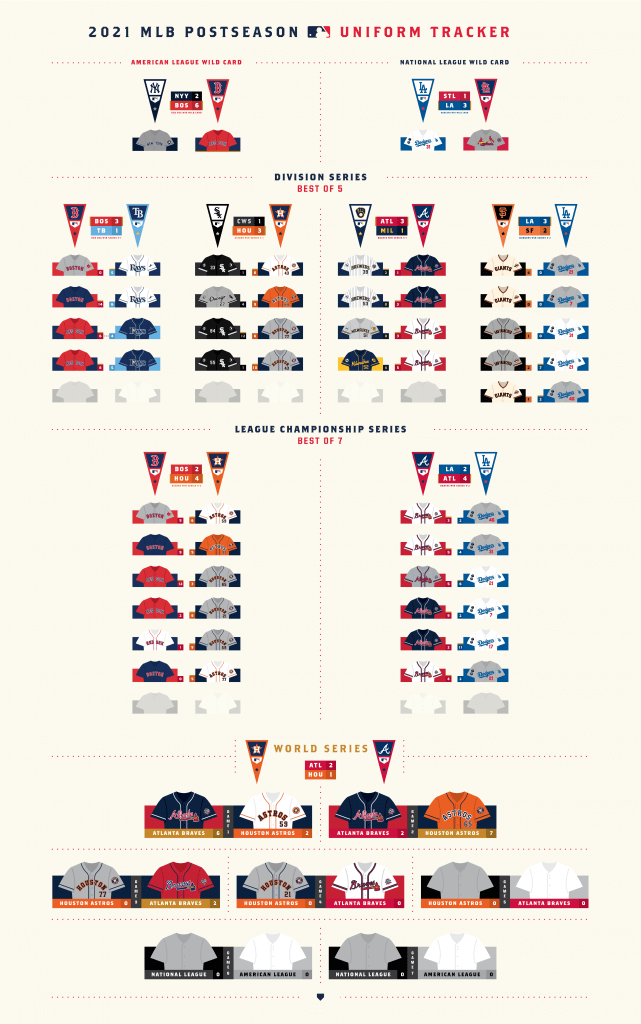 The World Series will conclude soon (whether it be tonight, or Tuesday or Wednesday in Houston), so next weekend Alex will be back with his final tracking (and perhaps a surprise).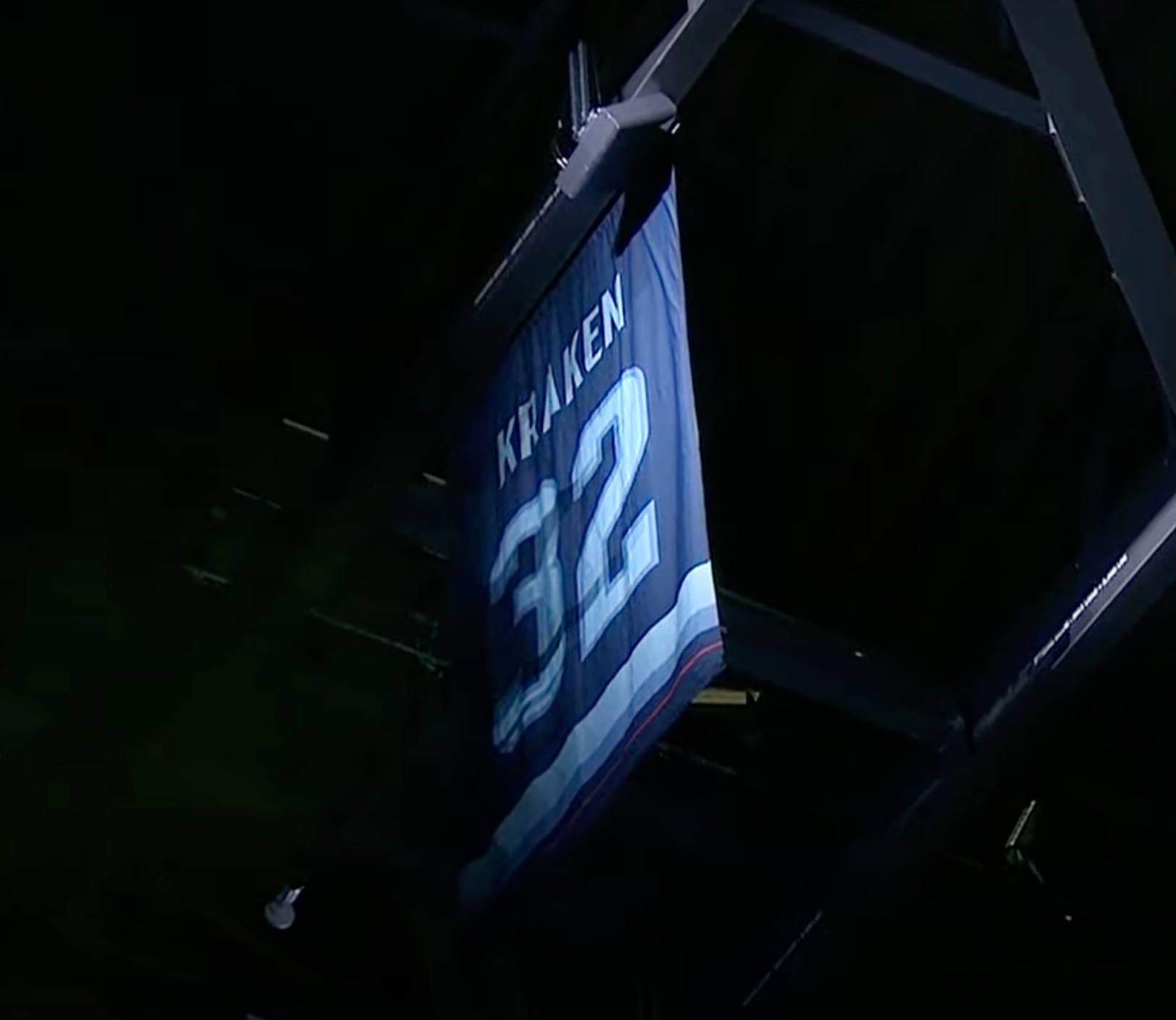 Bulletin reminders: Paul here. My latest article for Bulletin is a think piece about "conceptual" number retirements (like the Kraken's recent retirement of No. 32 because they're the 32nd NHL franchise, shown above), including a league-by-league rundown of them and what I think about them. You can check it out here.
Also: Remember last week's Bulletin piece, in which I interviewed an ad industry veteran about the language of uni ads? A sports advertising exec sent me lots of really interesting feedback and insights in response to that piece, so I've created a bonus column in which the exec annotates the original interview. You can check that out here.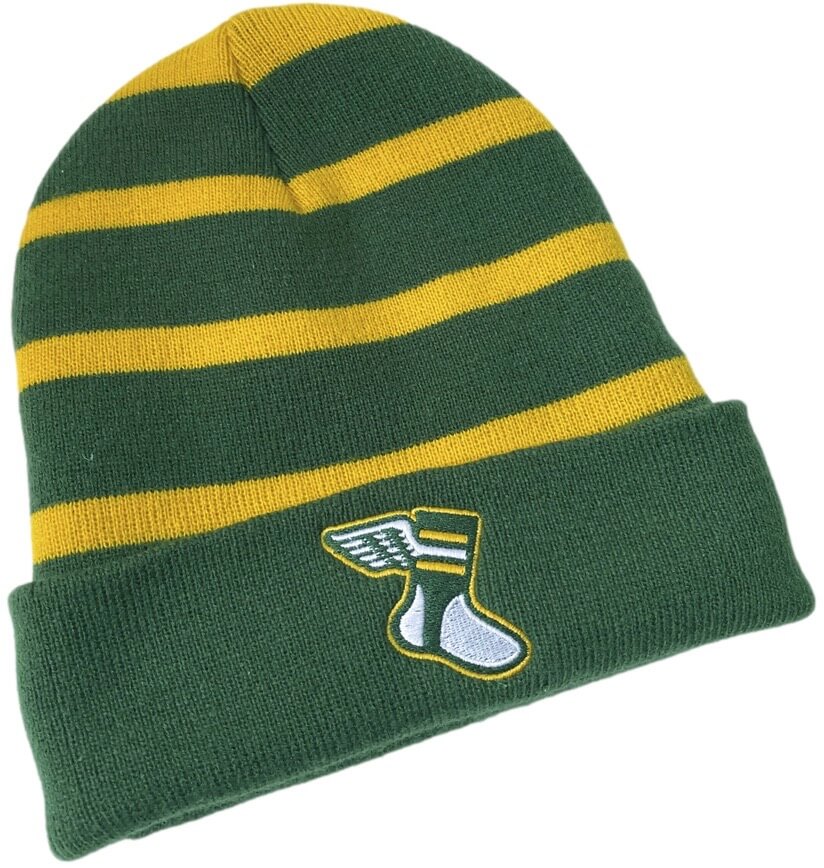 Meanwhile, if you only read Uni Watch on the weekends (I know there are some of you who do that!), here are two items of merch news that you might have missed:
• Our Uni Watch toque (or beanie, or skip cap, or whatever you want to call it), which we originally offered last winter, is now available again.
• Last weekend I mentioned that our great "Hit Sign, Win Stirrups" graphic, designed by Todd Radom, had been revived as a T-shirt and hoodie. I'm happy to report that we're now also offering it as a poster and canvas print.
Okay, that's it for me — now back to Phil!


Uni Watch News Ticker
By Phil

Baseball News: There are dugout jackets, and then there are dugout jackets: check out Cleveland's Johnny Allen (from Jerry Wolper). … We've seen these before, but check out the Chicago White Sox' 1981 fan vote brochure for new Sox uniforms (from Heavy J). … Apologies if we've covered this before, but Travis d'Arnaud was using Joc Pedersen's bat in last night's World Series action (from Tyler Strong). He also used it Friday night, hitting a home run with it. Anyone know how long he's been using it?

NFL/CFL News: When former Saint Mark Ingram was first with the team, he wore #22. He was traded back to the team but says he now must wear #14, even though current #22 CJ Gardner-Johnson offered it back to him. He explains why he took #14. … Aaron Rodgers may have played one of his best games in helping to defeat the Cardinals on TNF, but a meme showing him after a big hit is probably going to outlast memories of that game. … Joseph Bailey observes, "Browns' social media now has the helmets switched (from earlier in the week) to show the logo side of Steelers' helmet. I wonder if someone felt the earlier one (correct one) felt it was too plain." … Our pal Chris Creamer attended his first Toronto Argos game in 20 years, and asked tweeter to "ask me anything." It didn't take long to get a reply. … In a new ad, former NFL QB Drew Brees is posed in what could be best described as a Lowes HOME TEAM jersey (from notadennys).

College Football News: Whoa! Check out this gorgeous color footage of a game between Ohio State and SMU, which also just happens to be Woody Hayes' first game (from Larry Bodnovich). … At yesterday's Washington State-Arizona State game, there was a fan in the stands dressed as Clemson-era Trevor Lawrence "in what looks to be a homemade uniform that's not that bad" (from Mike McLaughlin). And here's some video. … Sean writes "Michigan equipment staff (I'm guessing) gave Corso a safety helmet with extra protection added to the frontal lobe area." It's actually a VICIS Trench without the facemask.

Hockey News: Here's a good view of how those Air Force "Linebacker II" uniforms looked on ice. And here are some more looks (from Wade Heidt). … Every team in the BCHL has a special throwback-inspired uniform this season to celebrate the league's 60th anniversary and three teams debuted their 60th anniversary uniforms on Friday night. Both the Nanaimo Clippers and Trail Smoke Eaters wore them in their game against each other. Submitter Wade Heidt notes it "Made for a colour vs. colour matchup. A close look at the uniform for the Nanaimo Clippers." Here is the look for the Trail Smoke Eaters. And another look. … Also from Wade, the Lethbridge Hurricanes looked a little bit like the city's baseball team on Friday night. The Hurricanes wore special uniforms to celebrate the 2021 Western Canadian Baseball League Champion Lethbridge Bulls. Here is a look at the Lethbridge Bulls if curious. … The Vegas Golden Knights wore special warm-up jerseys on Friday night for Nevada Day. Vegas wore white at home (Wade again). … The Chicoutimi Sagueneens wore pink socks for Breast Cancer awareness on Friday night (from Wade, once more). … This is really clever: the 22 overlaid on top of the 33 is a genius level tribute to Henrik & Daniel Sedin (from Dime Store Greaser). … The San Jose Sharks wore Los Tiburones warmup jerseys last night (from Wade). … Nathan MacKinnon wore mismatched gloves for the Avs in last night's game (from Lance Salyers). … The Bruins added a jersey patch for Jimmy Hayes last night. Matches the helmet sticker (apparently just for warmups). From Tommy McLaughlin)

NBA News: Here's the story of when Michael Jordan asked NBA uniform manufacturer Champion to increase the length of his shorts, he ended up starting a new fashion trend in the NBA. … Looks like the Milwaukee Bucks mixtape edition has leaked (from Ryan).

Soccer News: Yesterday's corner flags were imprinted with the names of former Spurs players who made the ultimate sacrifice in the First and Second World Wars for Tottenham (from James Beattie). … In Saturdays game vs Holstein Kiel, 2 of Hamburger SV's players (Moritz Heyer and Jonas Meffert) had their last names purposely misspelled on their jerseys (Heya and Meffort respectively) in order to bring attention to the 6.2 million people in Germany who are unable to properly read or read at all (from A.J. Zydzyk). … The permanent name of Kansas City NWSL is "Kansas City Current." The new crest is in this video (from our own Jamie Rathjen).

Grab Bag: Here's your first look at the turf for the new Albany FireWolves of the NLL (from Wade Heidt).


And finally… that's going to do it for today — big thanks as always to the entire SMUW crew. Great work fellas.
Everyone have a great (and safe!) Hallowe'en, and I'll catch you fine folks back here next Saturday.
Peace,
PH