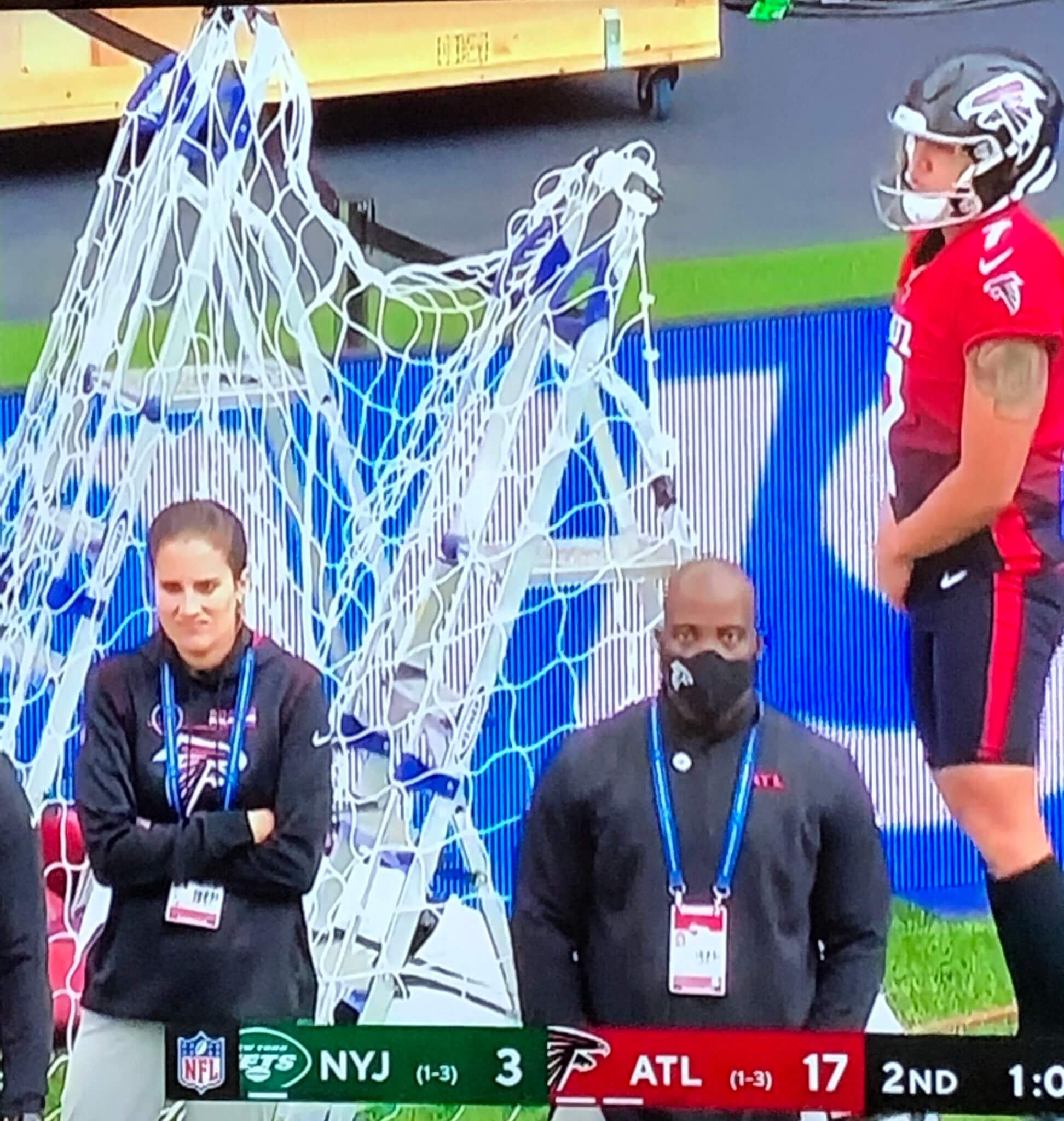 Click to enlarge
Good morning, and happy Indigenous Peoples' Day! Hope everyone had a good weekend.
Now then: My favorite visual moment from yesterday's slate of NFL games took place in London, where the Falcons apparently forgot to bring their kicker's net, so they created a makeshift version out of some netting and a pair of stepladders. Here's another view: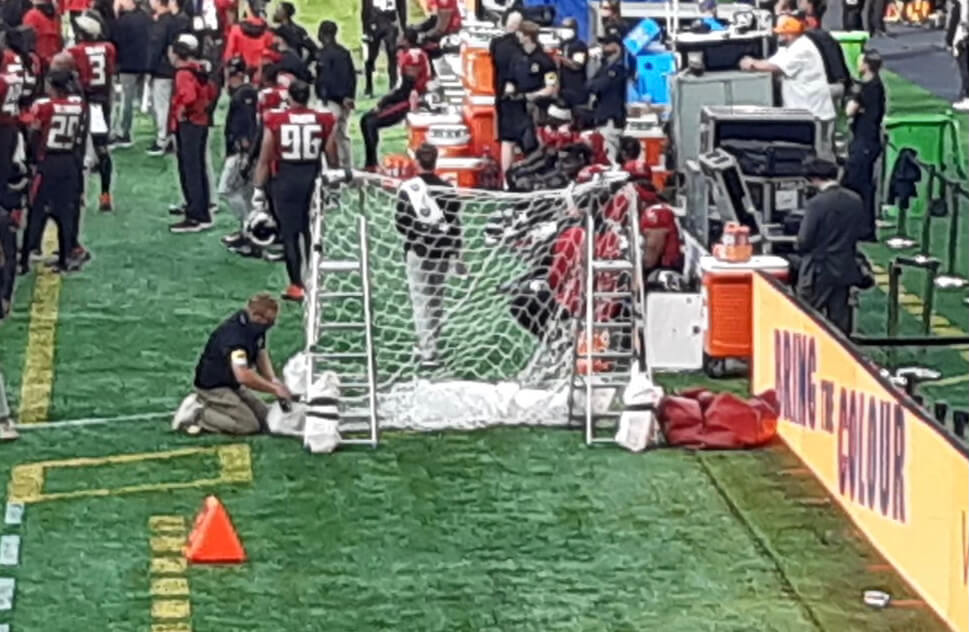 Way to show those Brits about old-fashioned American ingenuity! Unfortunately, the Brits were also subjected to the Falcons' gradient alternates: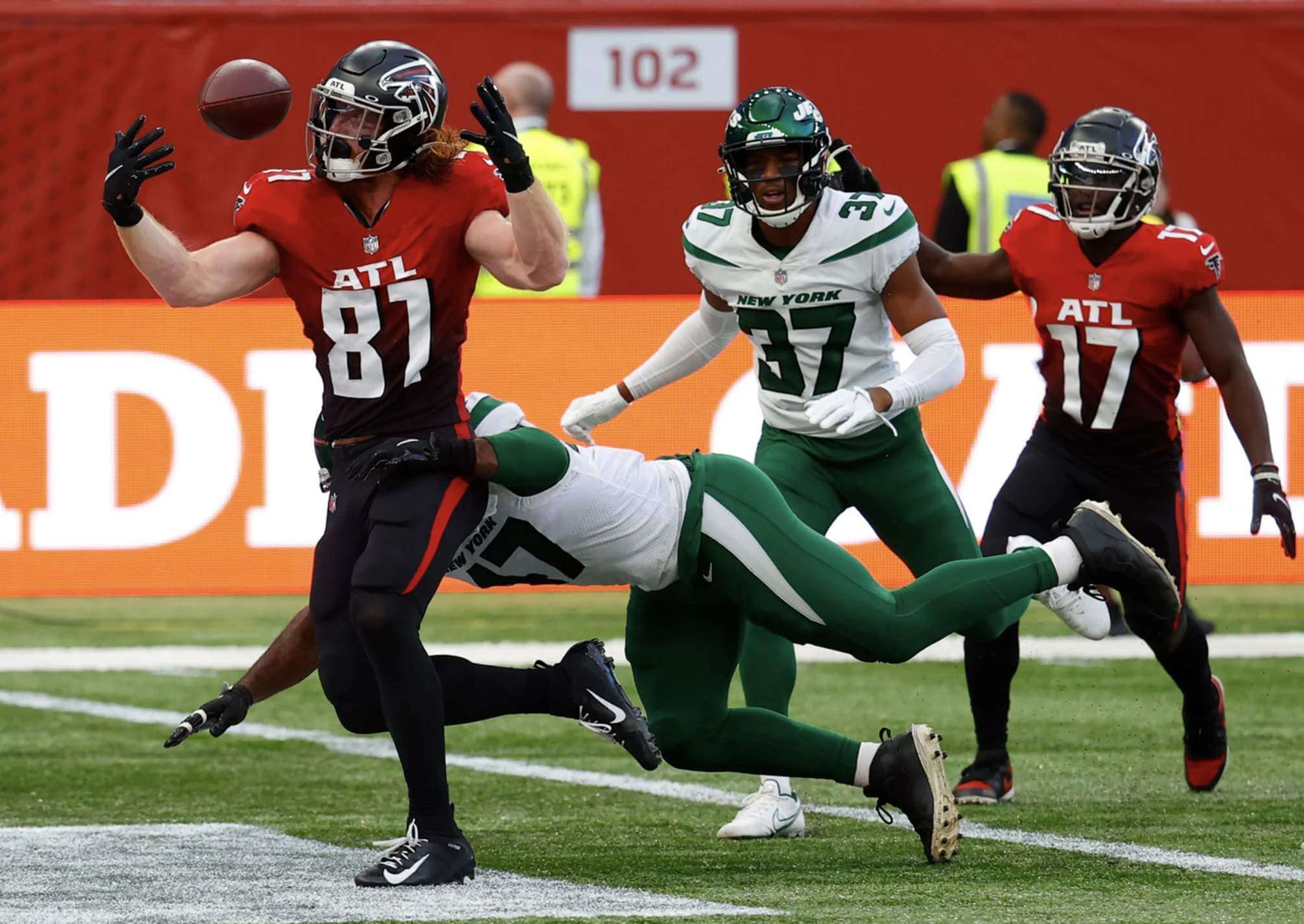 In other news from around the league yesterday:
• The Texans and Pats wore uniforms that were basically inverted versions of each other — navy/white vs. white/navy: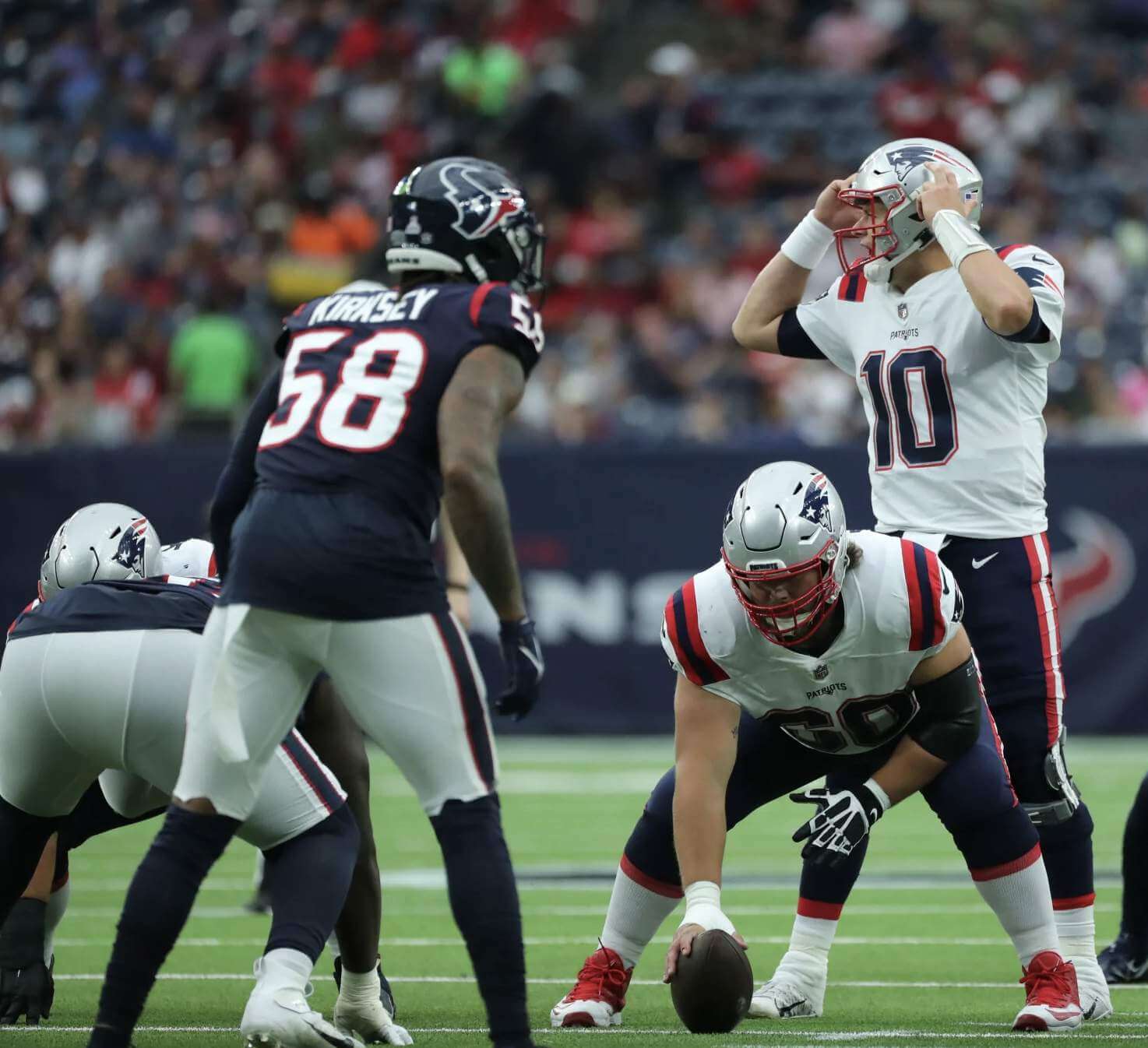 ⚠️ 18-play drive ends with a TD ⚠️

📺 » @NFLonCBS pic.twitter.com/jbYDGqfTEp

— Houston Texans (@HoustonTexans) October 10, 2021
• In that same game, Pats linebacker Jamie Collins was signed last week for his third stint with the team. This time — unlike the previous two times — he's wearing SrOB:
New look for Jamie Collins, who added a "Sr." to his jersey for his third stint with the Patriots.

He wore the "Sr." in Cleveland and Detroit but didn't with the Pats in 2019.

(photo via @Patriots) pic.twitter.com/TqC4UrcXYX

— Zack Cox (@ZackCoxNESN) October 10, 2021
• The Cardinals wore their accursed black alternates: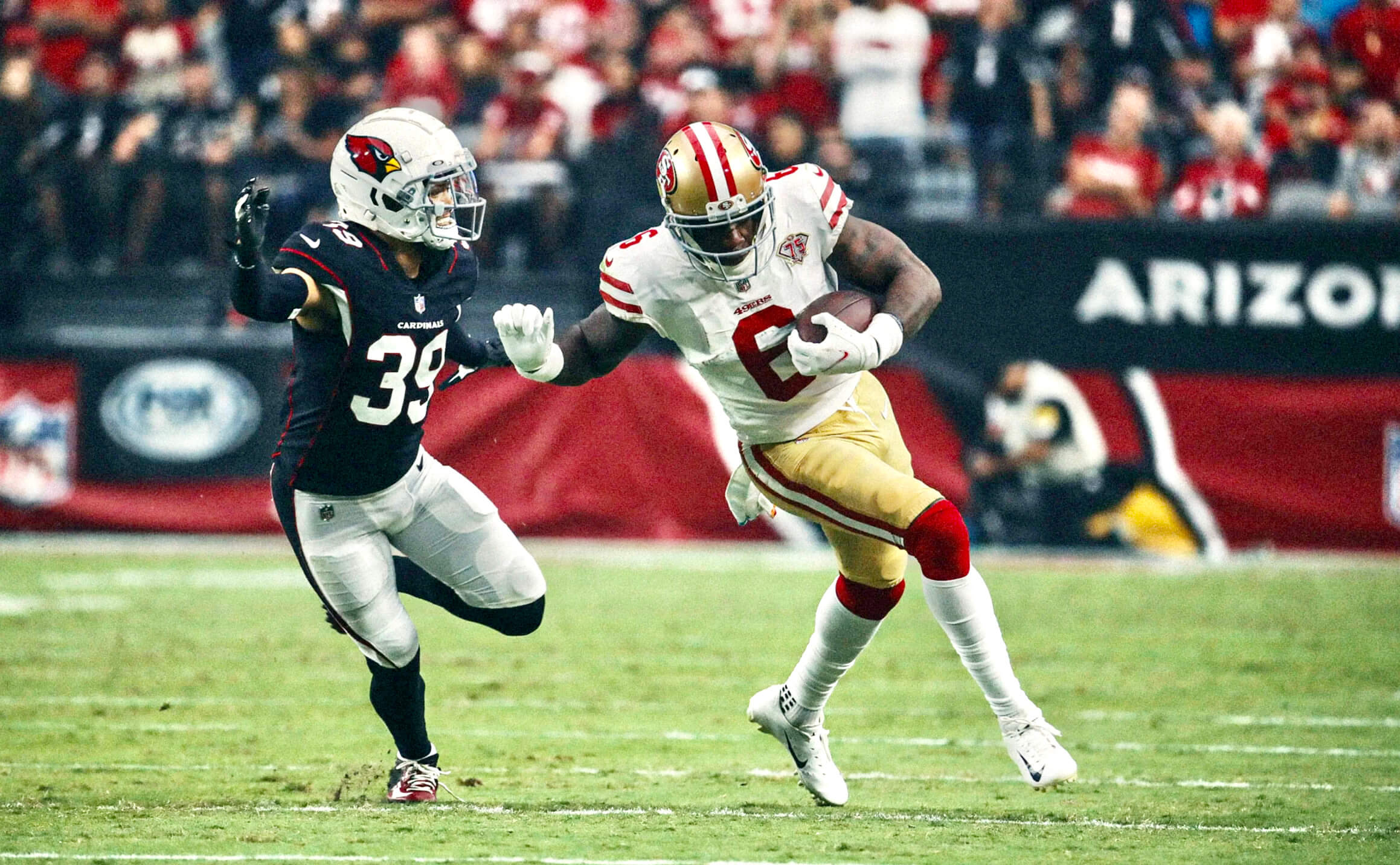 • In that same game, Cards quarterback Kyler Murray wore a Bruce Lee-themed thigh pad. Some quick photo research reveals that he's been wearing it for most of this season, but this was the first time I've been aware of it: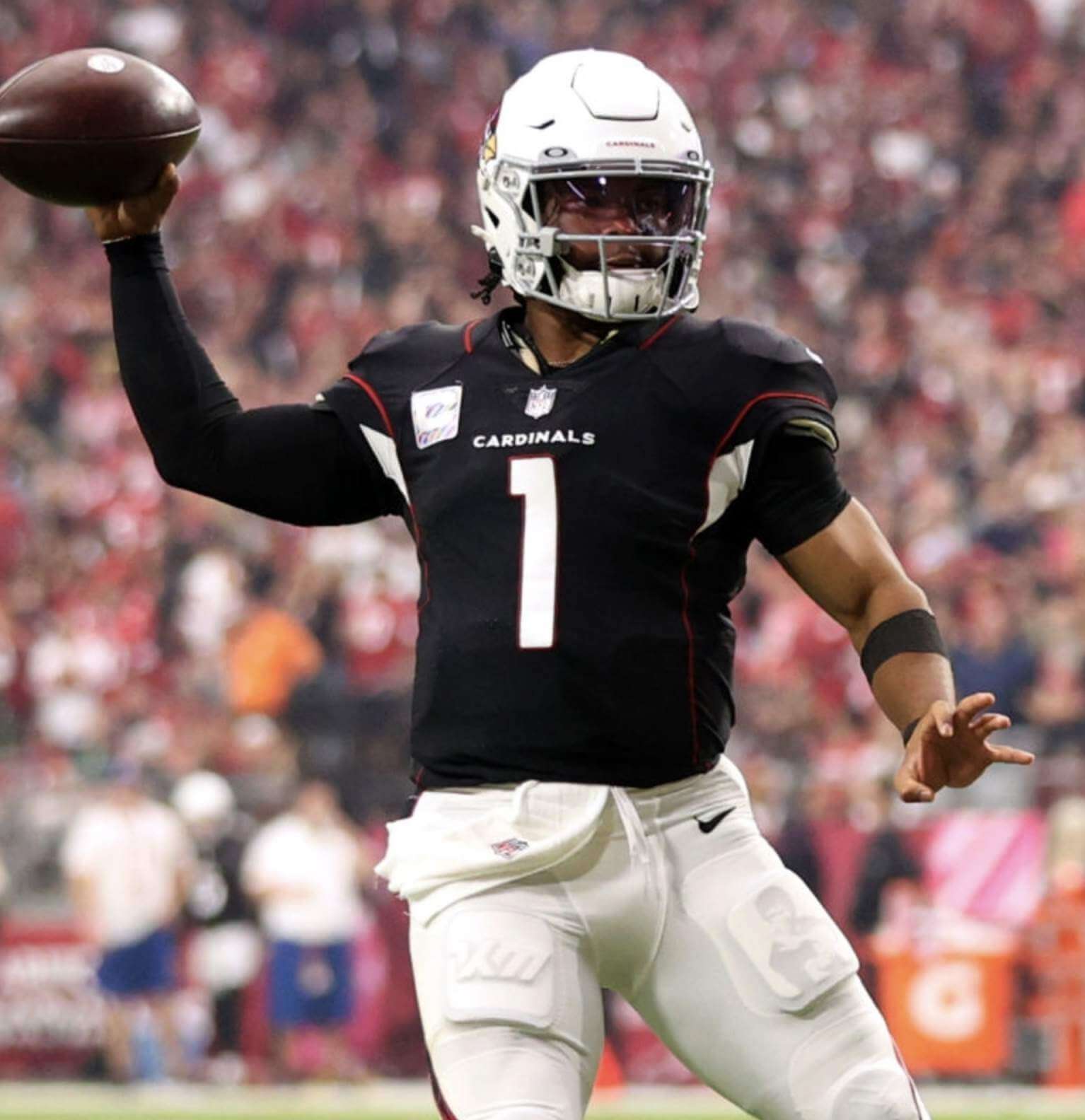 • In an unfortunate development, the Jags went mono-teal: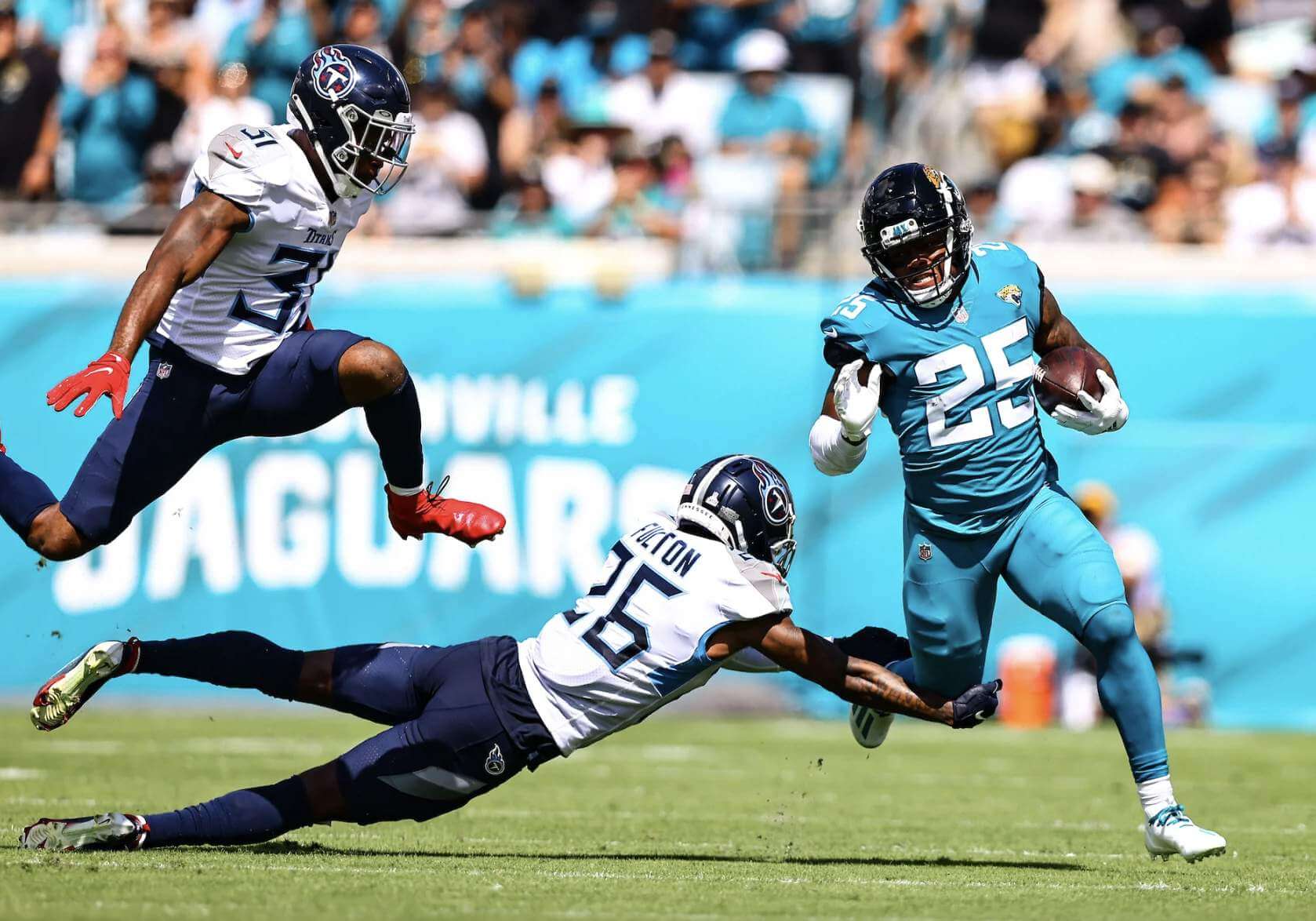 J-Rob gettin' loose!#DUUUVAL pic.twitter.com/JRt0YAy3jl

— Jacksonville Jaguars (@Jaguars) October 10, 2021
• In an even more unfortunate development, Kansas City did the blood-clot thing: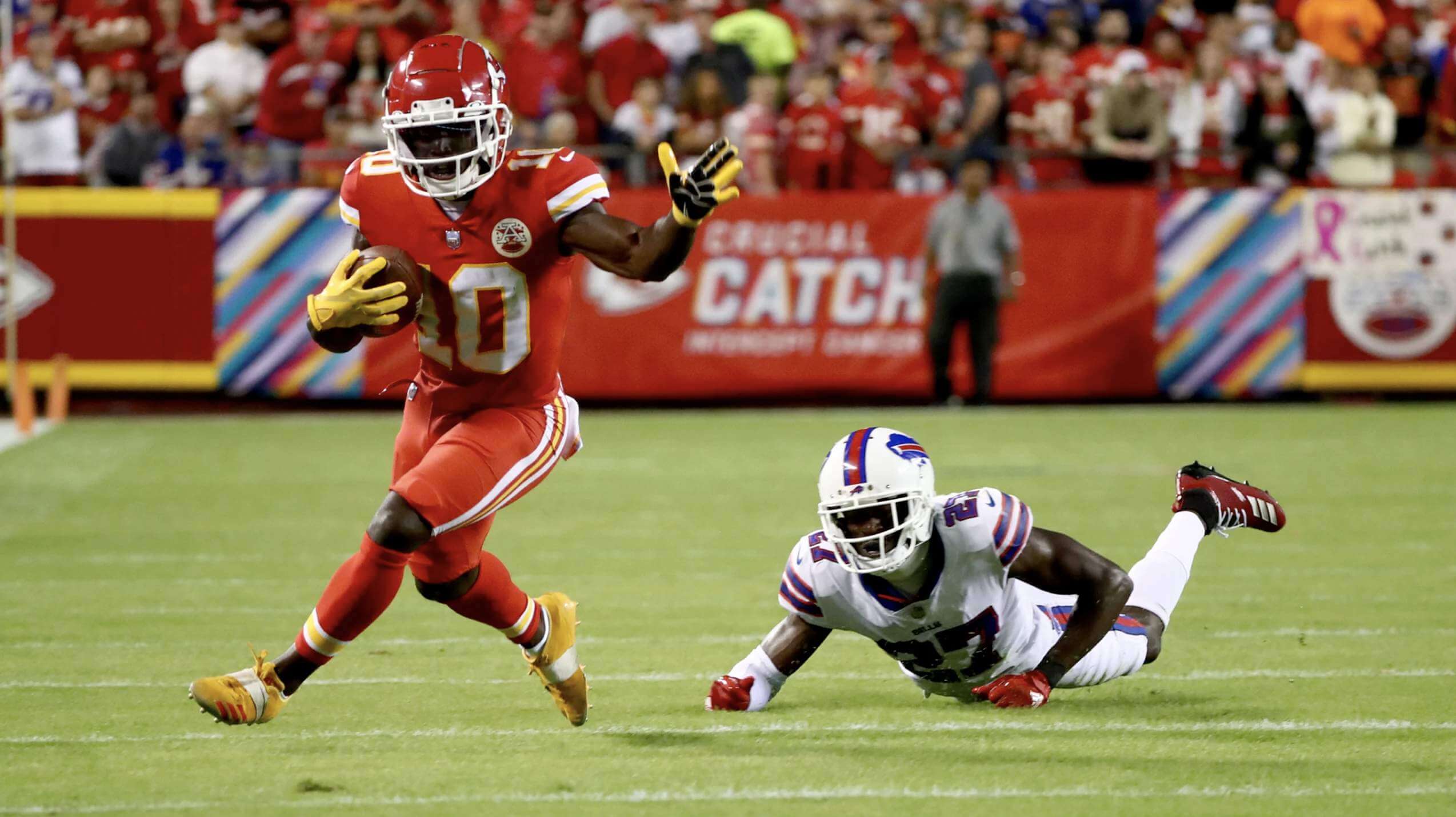 Talk about BEAUTIFUL.

📺: @SNFonNBC pic.twitter.com/4Q8GpskOlZ

— Buffalo Bills (@BuffaloBills) October 11, 2021
• Chargers defensive lineman Linval Joseph wore an elbow brace that appeared to be held in place by several strips of white tape, creating an interesting stripe effect on his undersleeve: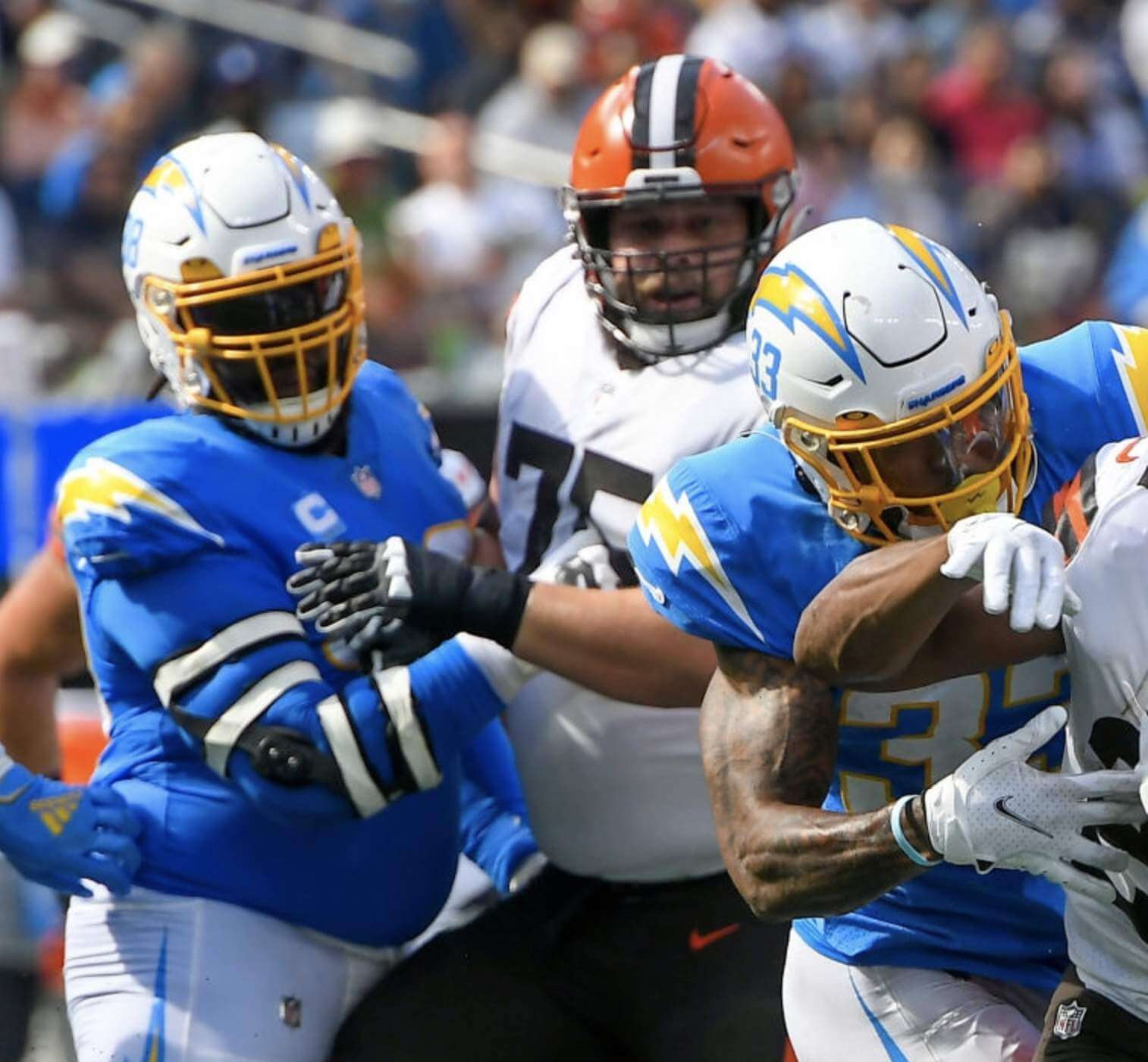 • In that same game, Browns linebacker Sione Takitaki had, well, a lot of stuff going on:
• The Bears and Raiders don't play each other very often (yesterday's game was only the 16th time ever), but they provided us with a very good-looking game: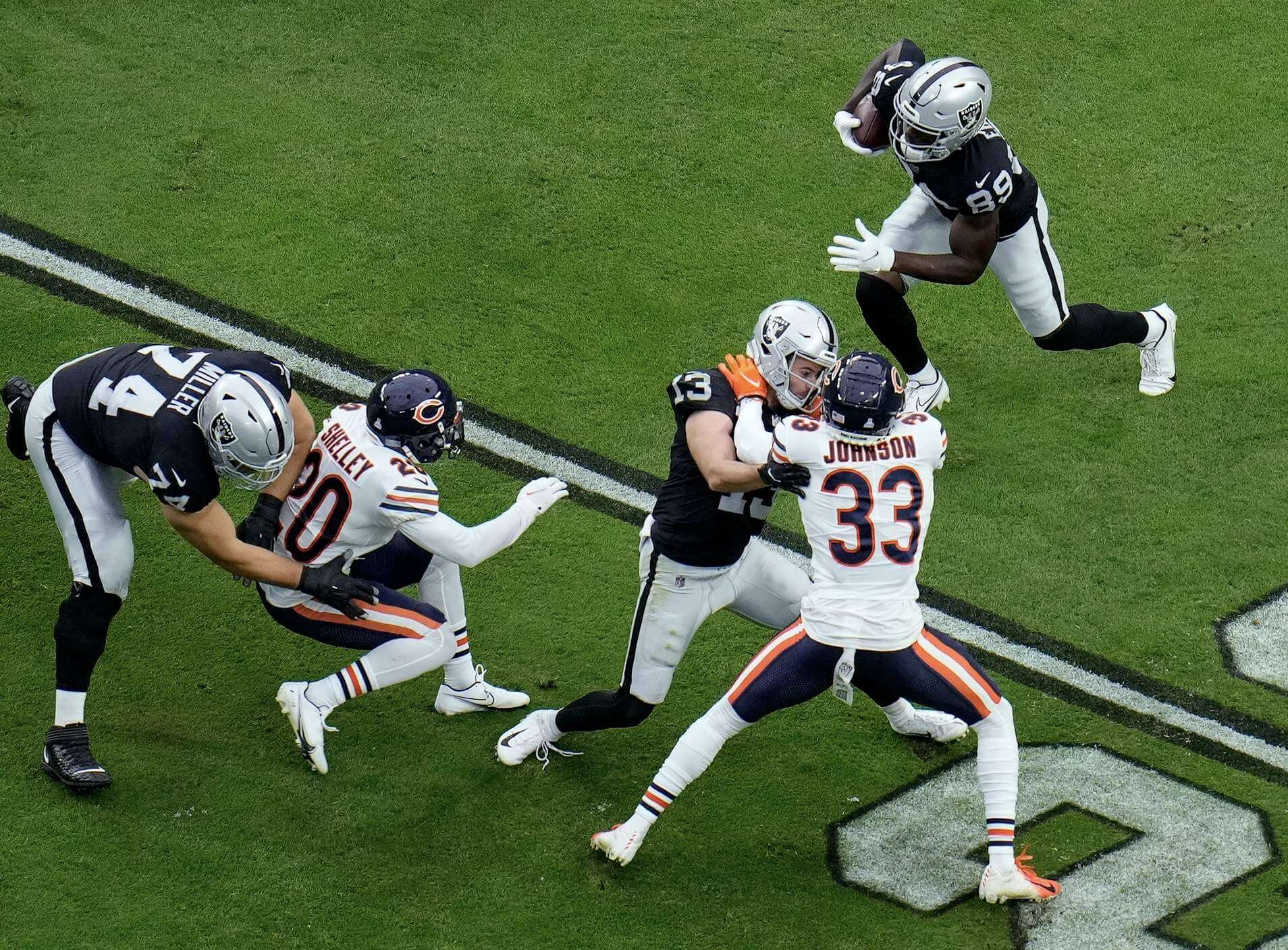 Great pass. Great catch.@justnfields 🤝 @Darnell_M1 #CHIvsLV | #DaBears pic.twitter.com/CZkwiyXnmL

— Chicago Bears (@ChicagoBears) October 10, 2021
• Washington's Pinktober graphics included helmet ribbon decals and pink end zone lettering:
Repping the pink for our Think Pink game 🎀 pic.twitter.com/gq1wjnFhBn

— Washington Football Team (@WashingtonNFL) October 10, 2021
• In that same game, CBS's graphics department mistakenly took the concept of "third and long" to its extreme: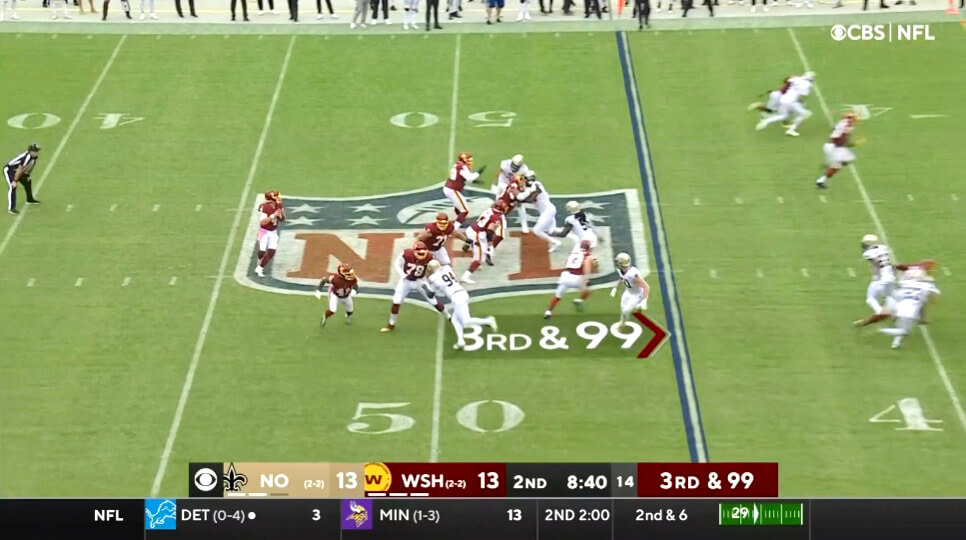 • Only two teams wore white at home: the Bucs and, of course, the Cowboys.
(My thanks to all contributors, including Moe Khan, Casey Mizzone, Chad Ryan, @NFL_Journal, and our own Jamie Rathjen.)
• • • • •
• • • • •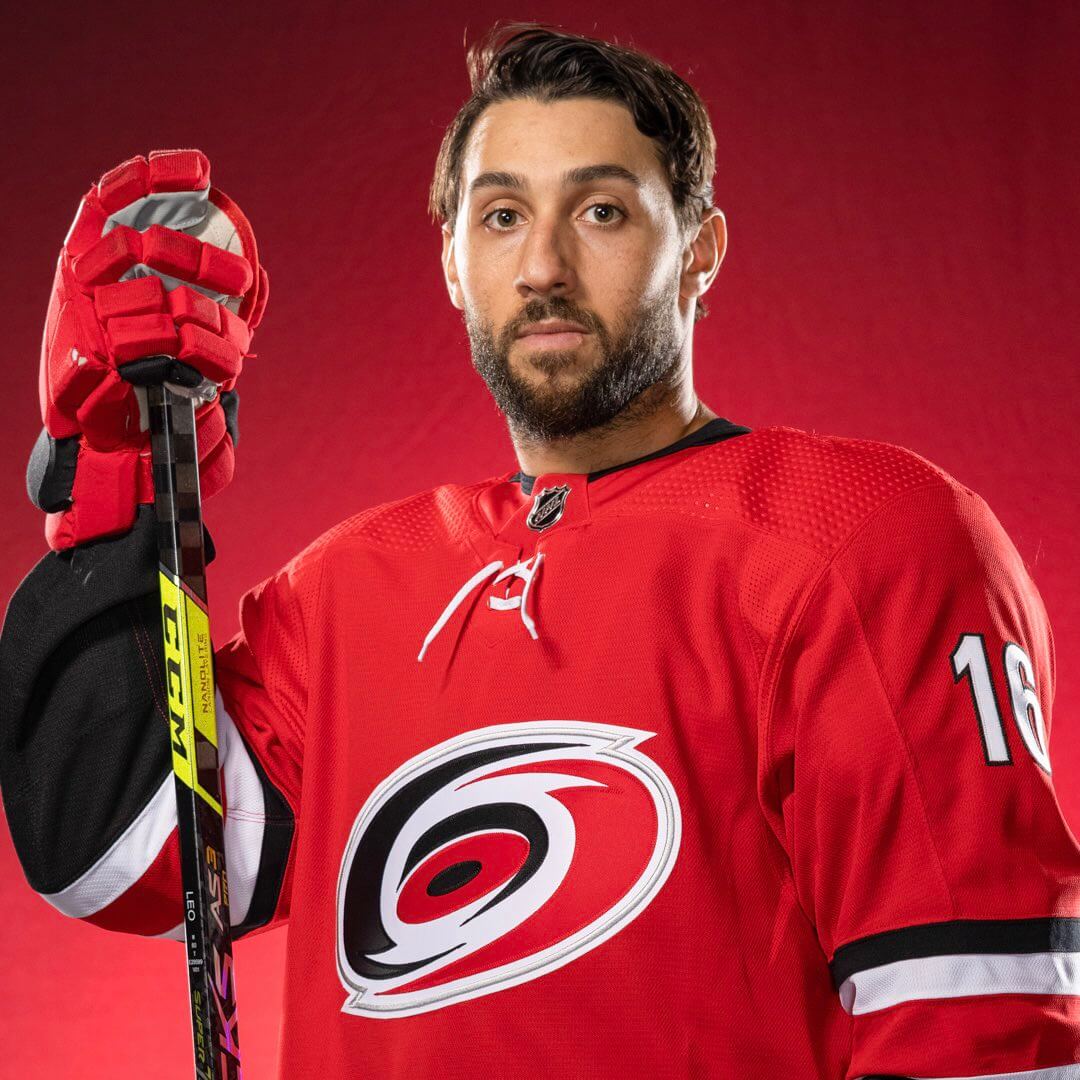 Click to enlarge
ITEM! NHL Season Preview now available: Don't look now, but the NHL regular season begins tomorrow, which means it's time for the annual Uni Watch NHL Season Preview, with all the uni and logo news for the new season.
The biggest uni-related storyline this time around is that most teams have added raised-embroidery highlights to their jersey crests (as you can see in the raised ridge that runs just inside the border of the Hurricanes' crest, shown above). I have the full scoop on that, and everything else you'll see on the ice this season, over on InsideHook. Enjoy!
• • • • •
• • • • •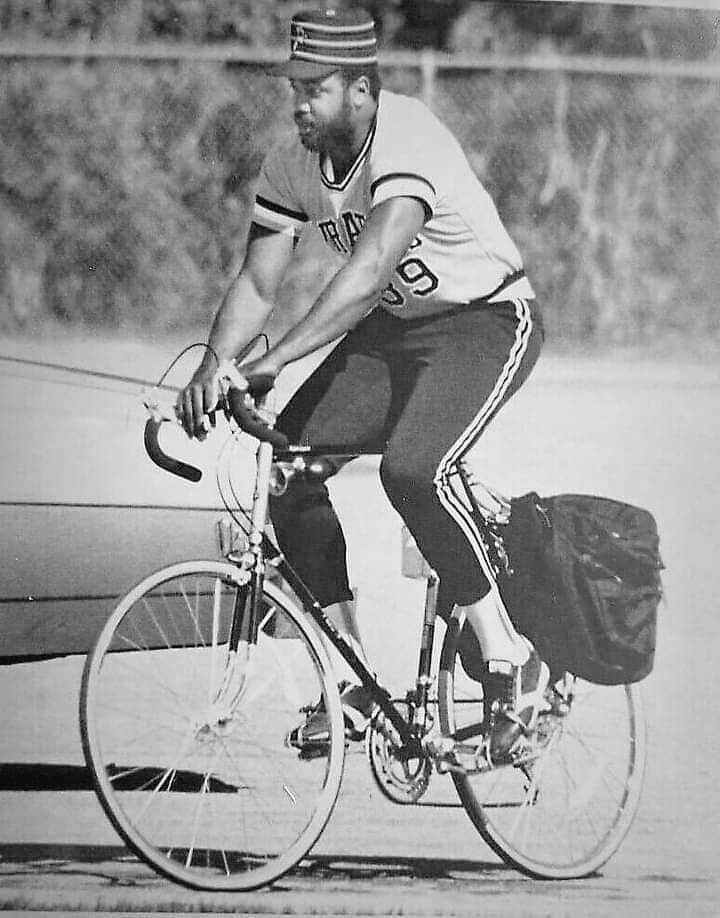 Click to enlarge
Just me and the boys bikin': Oh man, how awesome is this spring training shot of Pirates outfielder Dave Parker riding a bike in full uniform? And how had I never seen it until Scott Chamberlain shared it with me yesterday? So good!
• • • • •
• • • • •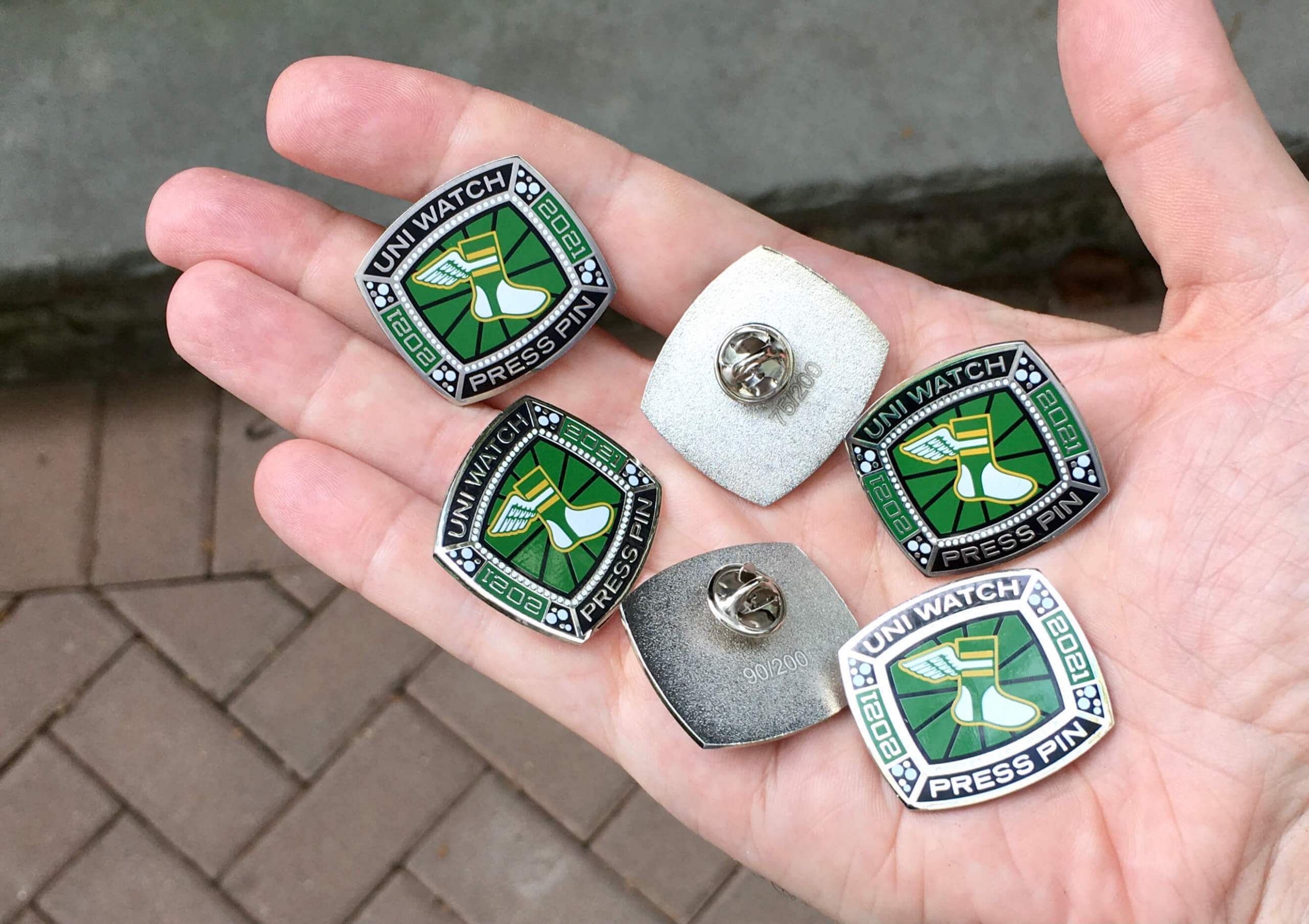 Click to enlarge
Press Pin reminder (and bobble sale): In case you missed it on Friday, the annual Uni Watch Press Pin is now available. This pin is not part of the monthly Pin Club series (and you do not have to purchase it in order to qualify for the Pin Club's "Collect 'Em All" bonus prize) — rather, it's an annual pin that Todd Radom and I do each October to coincide with the MLB postseason, inspired by the rich history of World Series press pins. The idea is that everyone in the Uni Watch comm-uni-ty can legitimately wear our Press Pin, because you all contribute information, feedback, and knowledge that helps me do my job of covering the uni-verse.
As you can see above, this year's Press Pin is based on a championship ring. Since many sports rings these days are either white gold or platinum, we went with a silver-tone finish instead of gold. Here's a closer look (click to enlarge):
This pin was produced in a numbered edition of 200. As of this morning, there were just 74 remaining. It's available here while supplies last.
In addition, it turns out that I manufactured too many of our September bobble-pins. But my misjudgment is your gain, because I've now reduced the price on that pin from $13.99 to $9.99. It's available here. My thanks, as always, for considering our products!
• • • • •
• • • • •
Membership update: A new batch of designs has been added to the membership card gallery. That includes Andrew McPherson's card, which is based on Sporting KC's home shirt.
Ordering a membership card is a good way to support Uni Watch, and fun to boot. And remember, a Uni Watch membership card entitles you to a 15% discount on any of the merchandise in the Uni Watch, Uni Rock, and Naming Wrongs shops. (If you're an existing member and would like to have the discount code, email me and I'll hook you up.)
As always, you can sign up for your own custom-designed card here, you can see all the cards we've designed so far here (now more than 3,200 of them!), and you can see how we produce the cards here.
• • • • •
• • • • •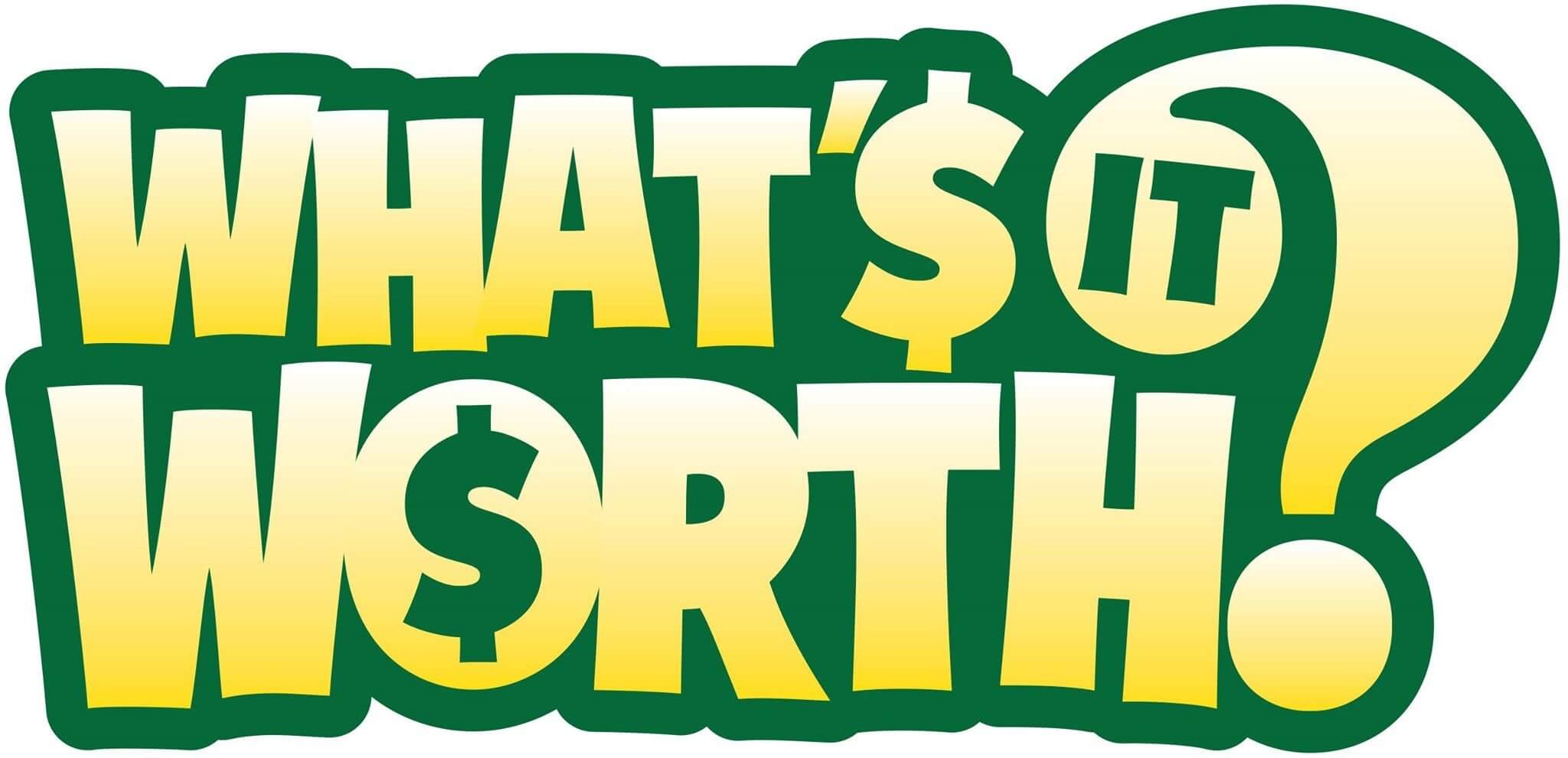 "What's It Worth?" reminder: In case you missed it last month, our friends at Grey Flannel Auctions are once again inviting Uni Watch readers to submit items of memorabilia for appraisal, with no charge and with no obligation (sort of like an online version of Antiques Roadshow). Full details here.
• • • • •
• • • • •
The Ticker
By Jamie Rathjen

Baseball News: Longtime Uni Watch reader/pal Jimmy Lonetti, proprietor of D&J Glove Repair, has designed an excellent D&J baseball jersey for himself, modeled after the late-'60s White Sox's road uniforms. You can see the full progression in this Twitter thread. … Here are some Indigenous Mexican women playing baseball while wearing huipiles, or traditional blouses (from Elena Elms). … With the Boston Marathon taking place today, the Red Sox are expected to wear their Marathon-inspired City Connect alternates for tonight's playoff game against the Rays.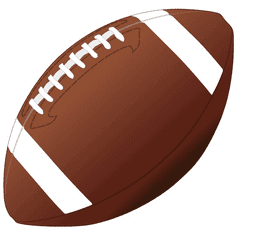 Football News: Here is a ranking of NFL helmets that you'll inevitably disagree with (thanks, Phil). … Left over from Saturday: Alabama LB Henry To'oTo'o had the wrong collar logo (from multiple readers). … If you're not familiar with Iowa's new tradition of fans waving at the children's hospital overlooking Kinnick Stadium at the end of the first quarter, here is an explainer (from Kary Klismet). … Reader Wade Heidt has some Canadian college uni tracking in yesterday's comments. … Color-vs.-color high school games this weekend included Bennington/Elkhorn in Nebraska (from Brett Baker) and East London/Guildford in Connecticut (from Bryan Brennan).

Hockey News: Sports Illustrated has an article on the abortive mid-'90s Nordiques logo/uniform changes (thanks, Phil). … The Junior A British Columbia Hockey League started on Friday. Three teams have new white jerseys: Chilliwack, the Trail Smoke Eaters, and the Wenatchee Wild, who didn't play last season and are the league's only U.S. team. A fourth team, the Salmon Arm Silverbacks, wore black helmets with purple jerseys. "Would have assumed the helmets would be purple," says Wade Heidt. … Also from Wade: An AHL Syracuse Crunch/Utica Comets matchup was color-vs.-color.

Basketball News: Rookie PF Romeo Weems will wear No. 00 for the Grizzlies. Since Memphis already has PG De'Anthony Melton wearing No. 0, that means they become the latest NBA team to have a zero and a double-zero on the roster simultaneously, a feat that's unusual but not unheard of.

Soccer News: NWSL teams in some of the games this weekend continued to stop matches for one minute in the sixth minute and gather in a circle on the center circle, and OL Reign left-back Lauren Barnes said it wouldn't be a one-time thing. Players in at least six matches in England's top two tiers, including four in the Women's Super League and the second tier's Lewes/Blackburn Rovers and Sheffield United/Liverpool, also formed circles or lines, but before kickoff. … Wake Forest's women's team wore warm-up shirts supporting NWSL players and the NWSL's Orlando Pride and OL Reign wore "No More Silence" warm-up shirts. … Polish goalie Łukasz Fabiański played his last match with the men's national team on Saturday, so he received a framed No. 57 shirt representing his 57 appearances (from Ed Żelaski). … USL League One's North Carolina FC held a throwback night on Saturday and dressed as their former identity, the Carolina RailHawks (from Kary Klismet). … Tottenham Hotspur goalie Pierluigi Gollini has mostly been appearing in the Europa Conference League and last played a few weeks ago. He wears gloves with a maker's mark that is allegedly too big for UEFA's liking, but he also wore them in last season's Champions League with Atalanta apparently without problem (from Rich Fuller).

Grab Bag: College field hockey teams that wore pink shirts or socks included California and Penn State. … The Formula One YouTube channel has a video on Red Bull's one-off liveries. … Premier Rugby Sevens, a new competition that held its first men's and women's tournaments in Memphis this weekend, apparently had huge problems with its players' numbers staying on (from multiple readers). … Japanese women's volleyball's V.League's Toyota Auto Body Queenseis showed off new warmup jackets and pants, which aren't usually part of reveals in sports where those are a thing (from Jeremy Brahm). … France's Olympic and Paralympic teams have new logos (from Kary Klismet). … The Army is starting to distribute body armor in three new sizes (from multiple readers). … "I was surprised to see that the blue collar movement has infiltrated the craft beer industry just like pro, college, and high school sports!" reports Craig Maki after visiting a brewery in Maryland. … Edinburgh Castle was lit in green yesterday for World Mental Health Day.