For all photos, click to enlarge
Yesterday was Roberto Clemente Day across Major League Baseball. As you can see above, all Pirates players wore No. 21 — nothing new about that, as they did the same thing last year. But there were some new wrinkles this year, as follows:
• Last year the Pirates all wore No. 21 and went NNOB, but non-Pirates players who wore No. 21 (some by virtue of being Puerto Rican, others because they were 2020 Clemente Award nominees) wore their regular NOBs. This year, however, all 21-clad players on all teams went NNOB, as seen here on Mets infielders Javier Báez and Francisco Lindor: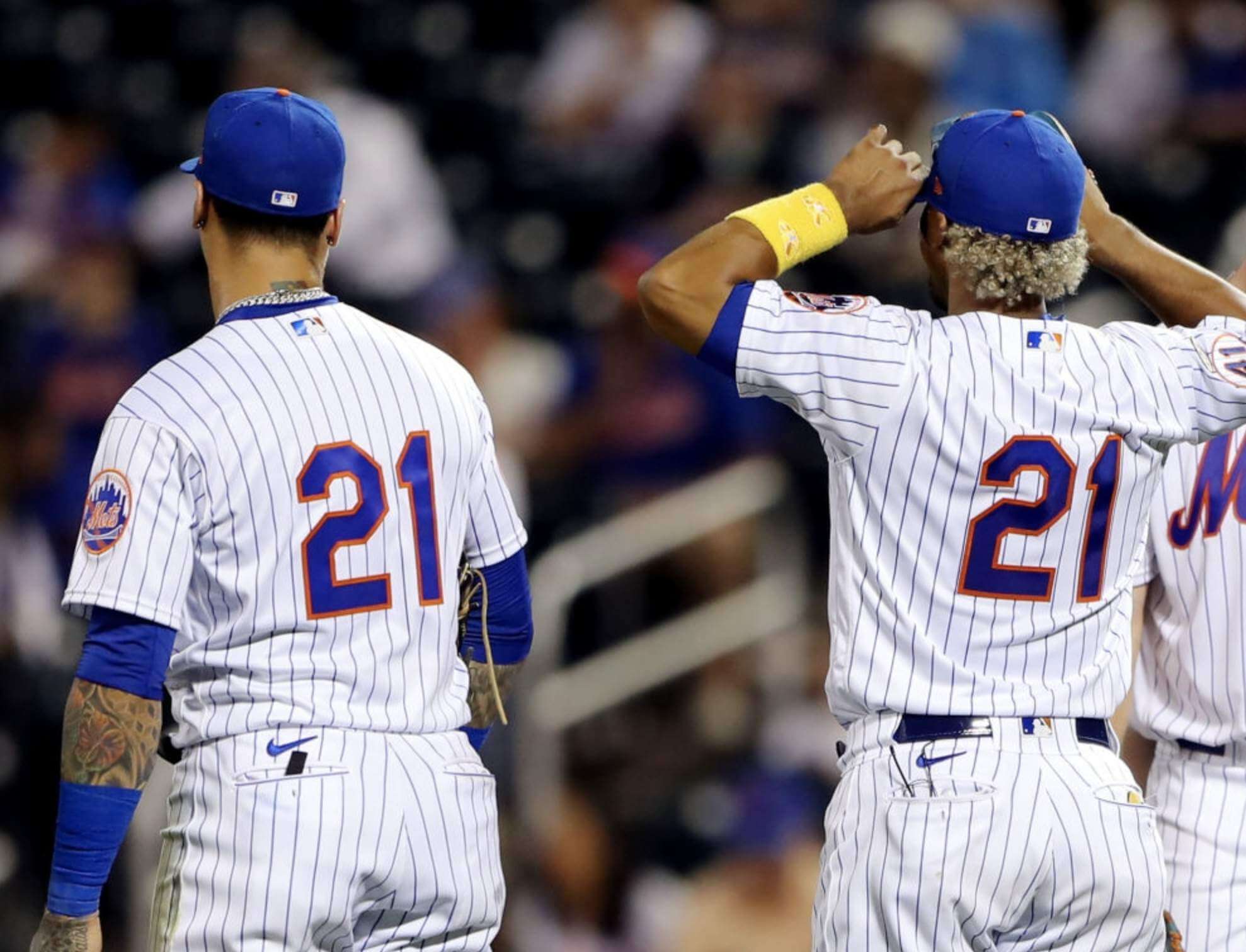 • Just like last year, everyone wore a "21" patch (well, almost everyone — I'll get to the one major exception in a minute). But this year's Clemente Award nominees — one per team — got to wear a special nominee's patch. Some nominees wore it on their sleeve, just like the regular "21" patches, while others wore it on the chest: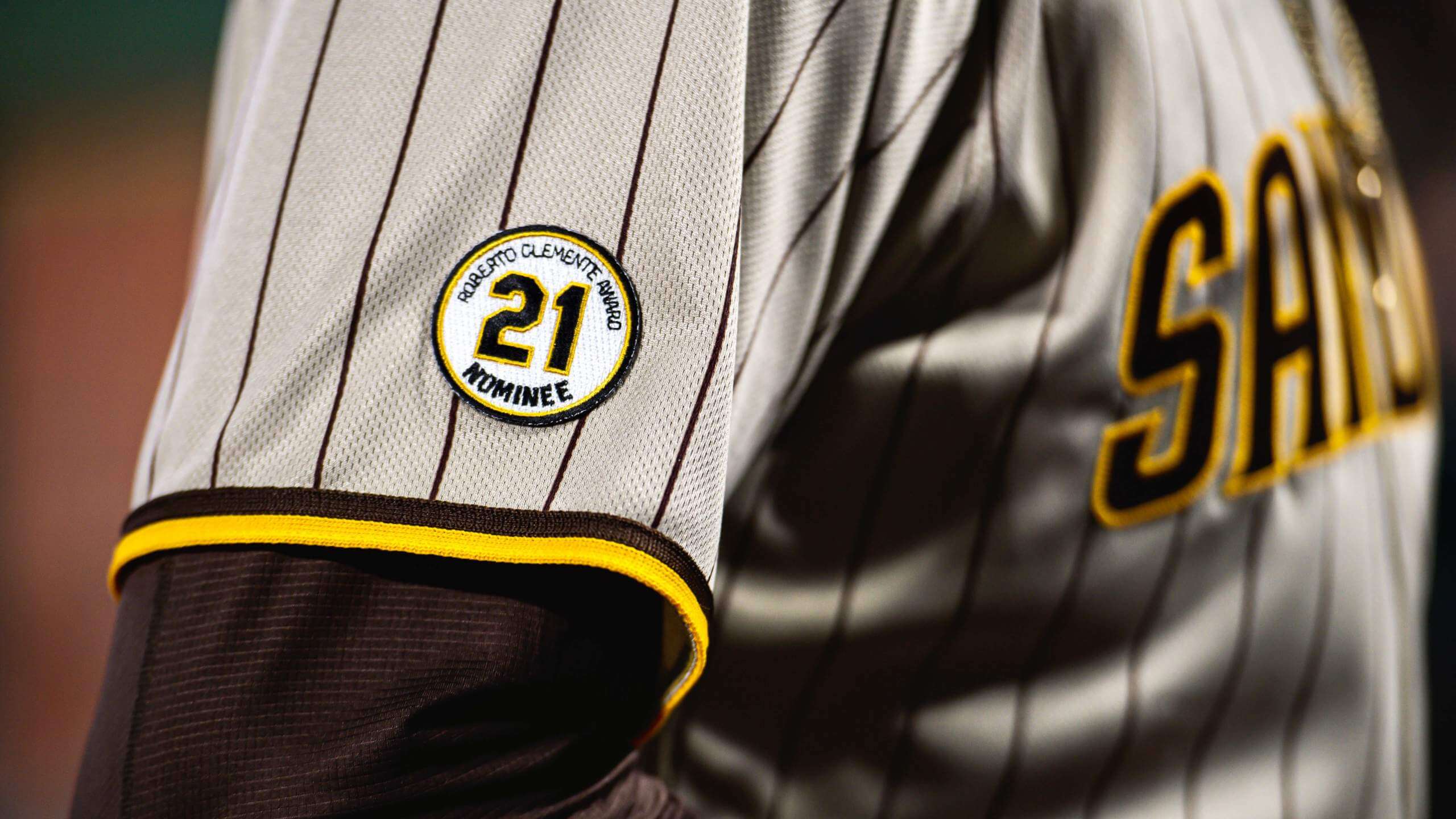 • The "21" patches shared sleeve space with teams' existing memorial patches: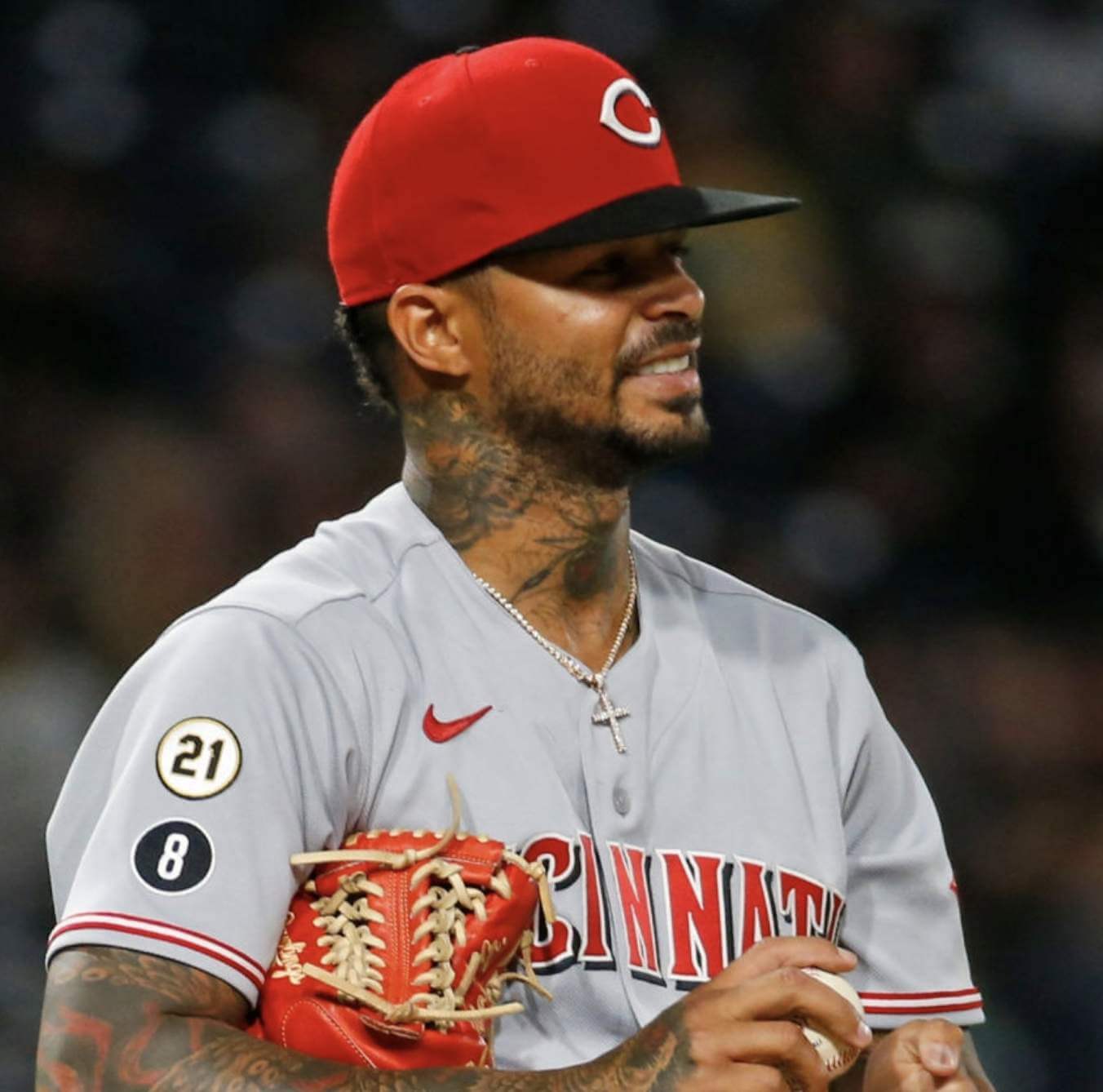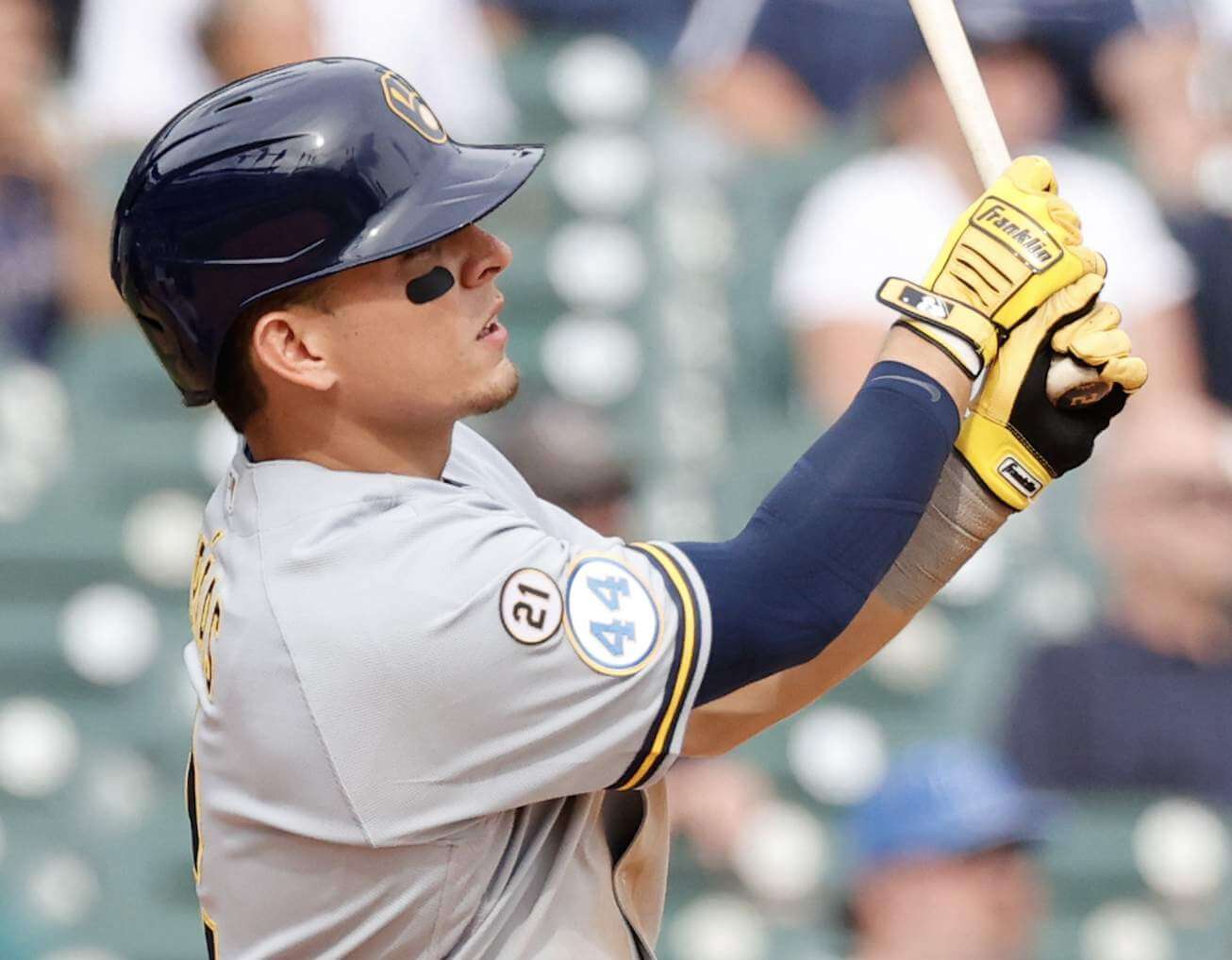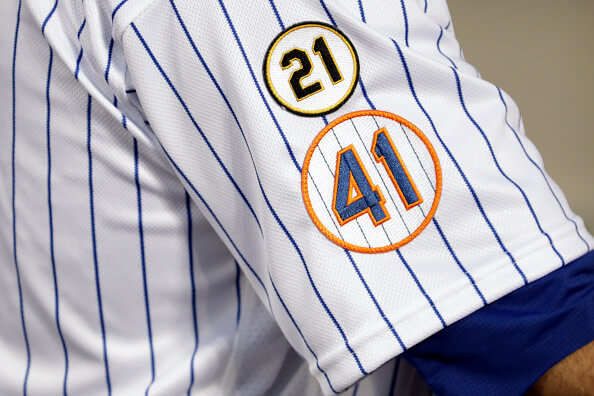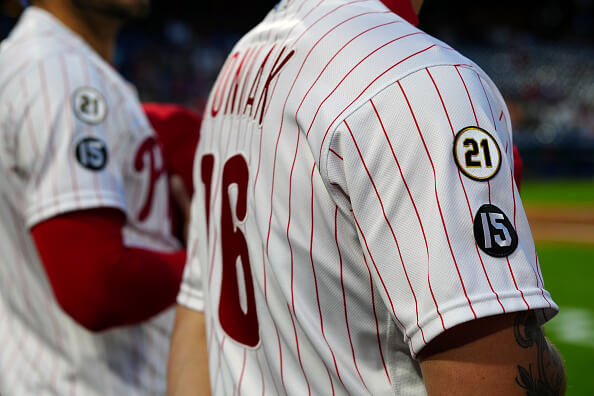 • Here's that one major exception I was referring to: The Dodgers took a completely different approach. As far as I can tell, they did not wear the standard "21" patch (maybe because their sleeves were already maxed out on patches due to the Tommy Lasorda and Don Sutton memorials). But their current Clemente Award nominee, Justin Turner, wore the nominee patch in a rather awkward spot on the left sleeve: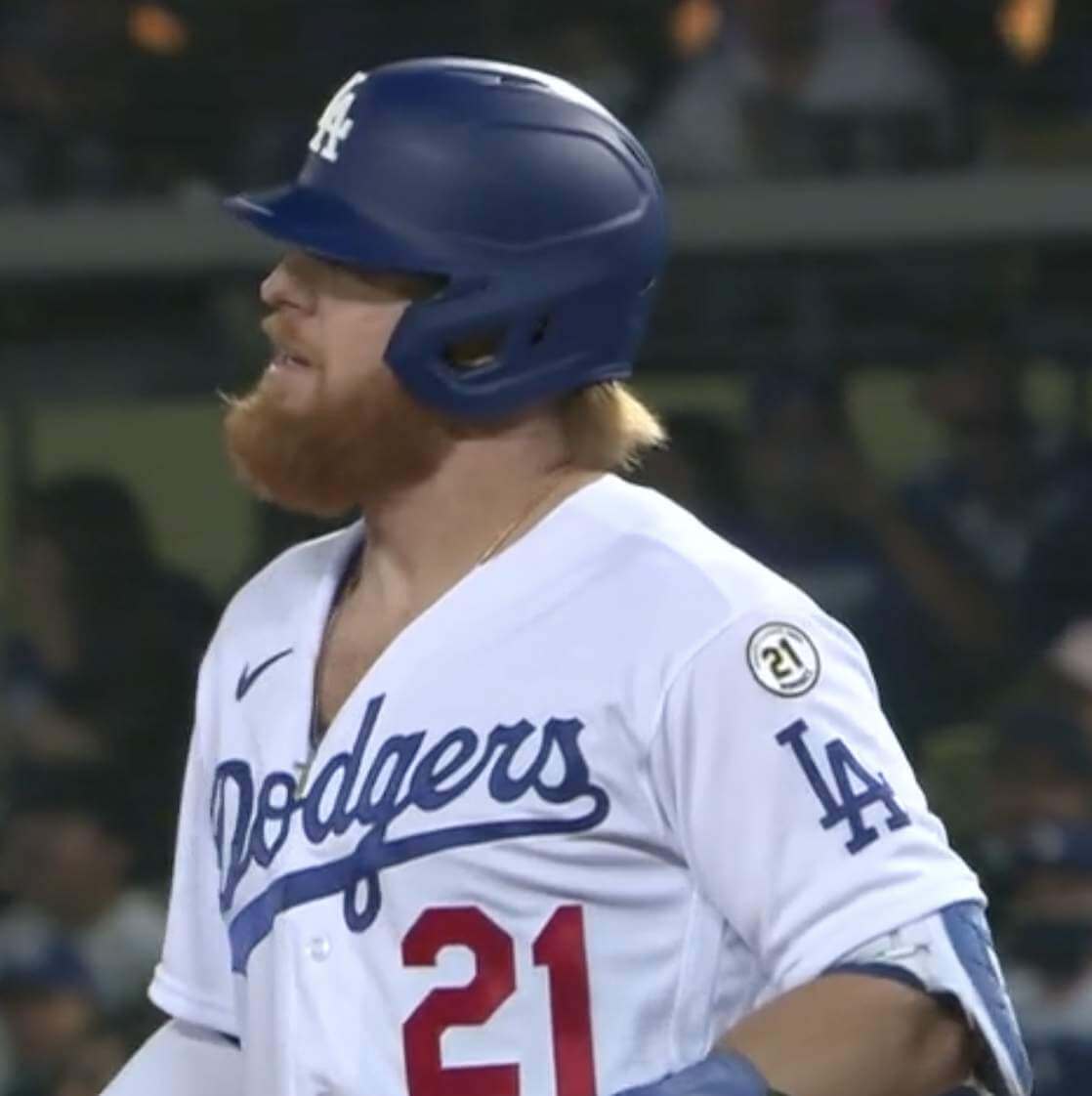 • Speaking of awkward, the umps also wore the "21" sleeve patch — right above their cryptocurrency ad patch. Ugh: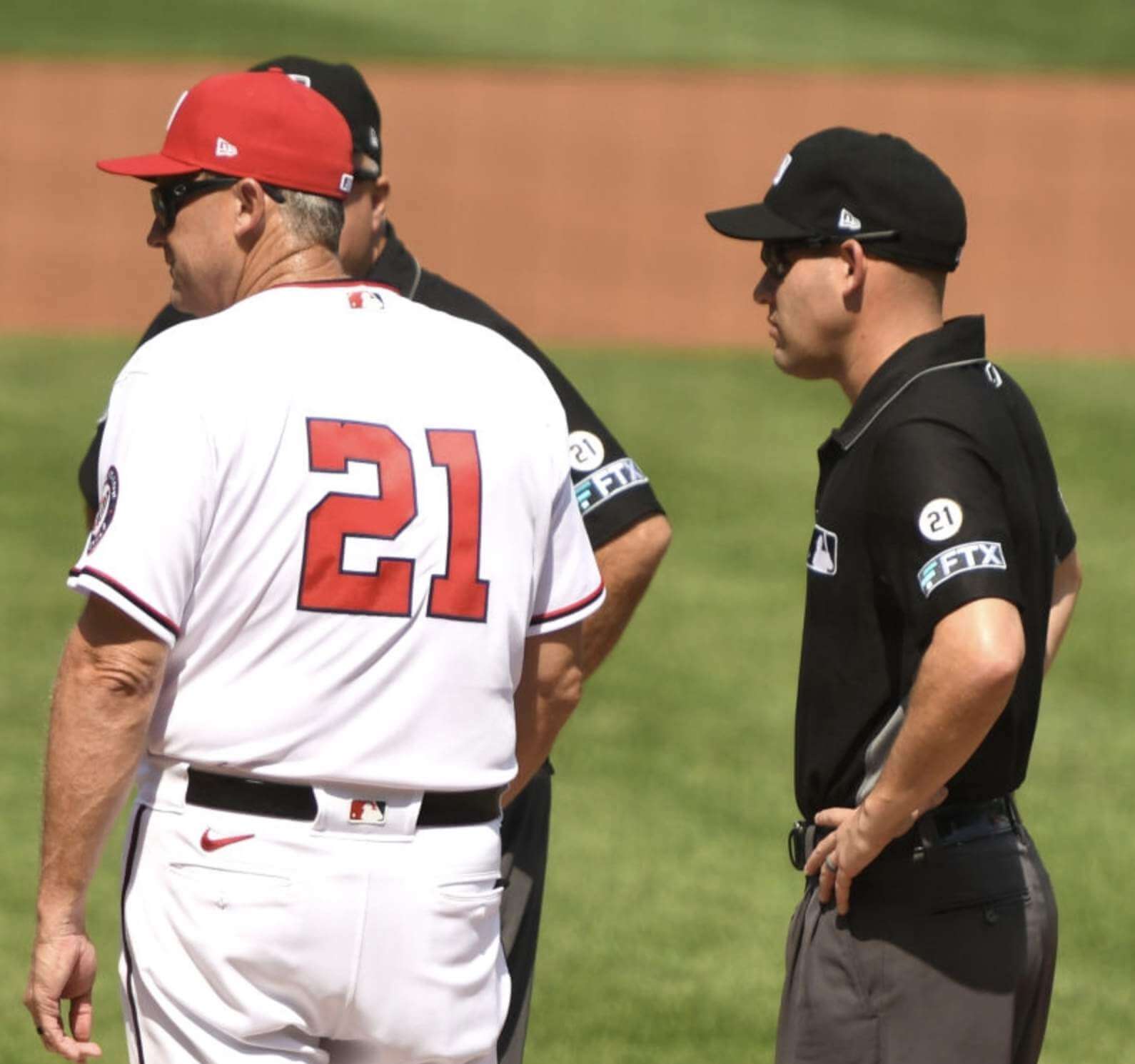 • Pirates third base coach Joey Cora wore the "21" patch on his helmet: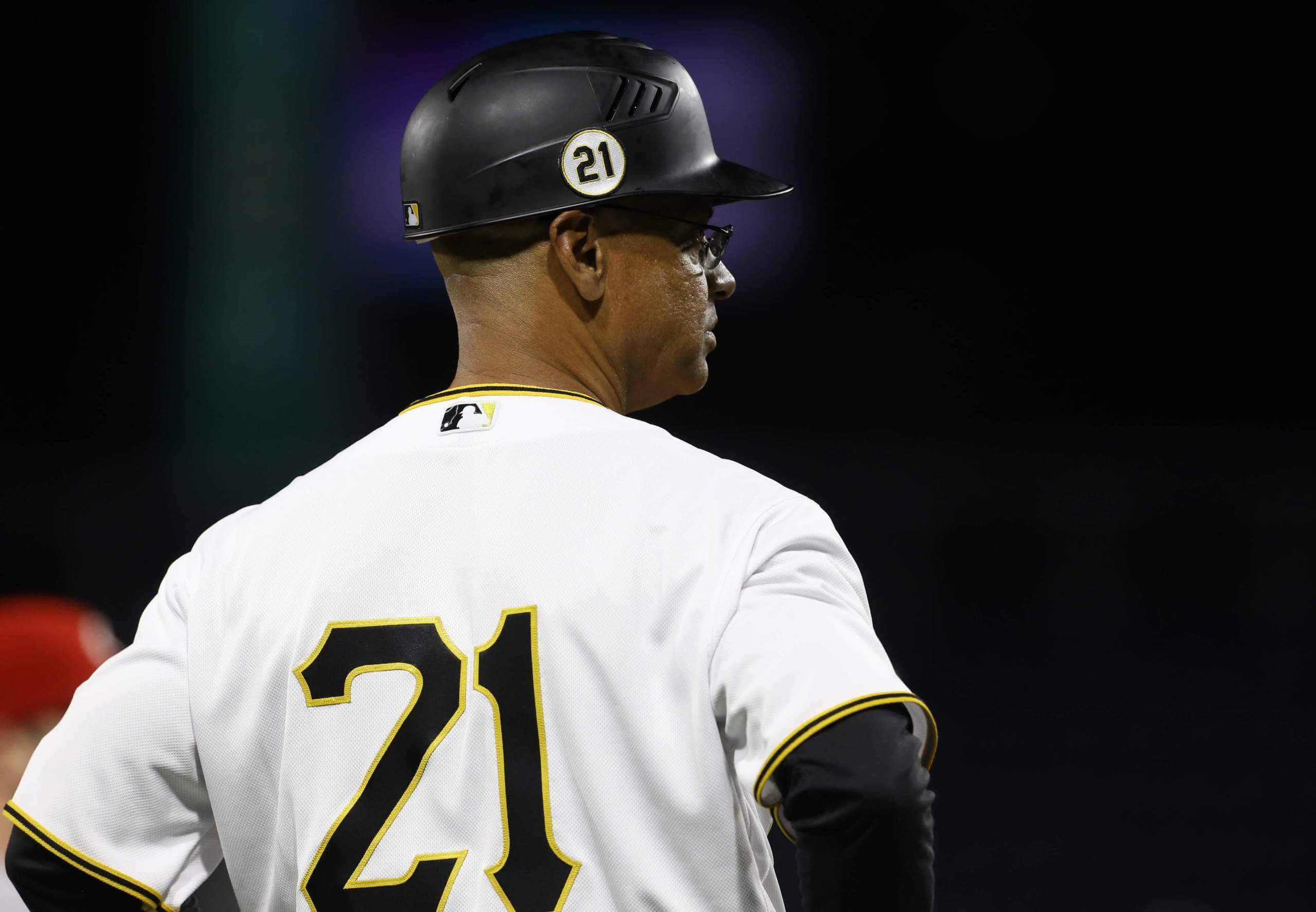 • Many players wore yellow/black batting gloves as a shout-out to Clemente:
Nice. Turner flashing the Pirates black and gold gloves for #RobertoClementeDay #Dodgers pic.twitter.com/z0K1EfpObm

— Mr. Diaz® (@IEdoyer) September 16, 2021
That's what I was able to figure out from looking at game photos and video. Were there any other details that I missed?
Up until now, Clemente Day has not had a fixed date. Going forward, however, it will always be observed on Sept. 15.
• • • • •
• • • • •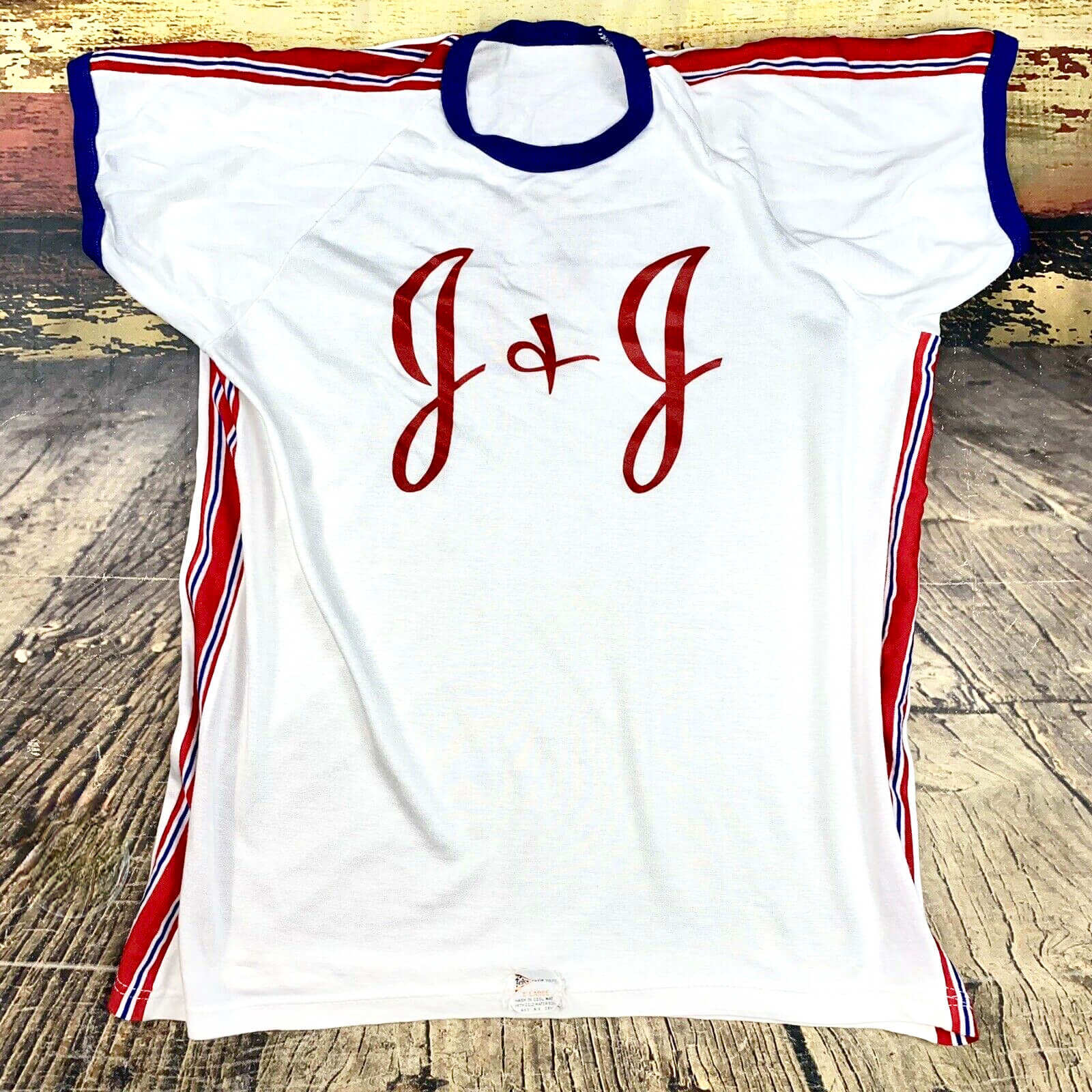 Click to enlarge
Interesting vintage find: I routinely search for vintage durene jerseys on eBay. This one turned up yesterday — not sure if it was for a Johnson & Johnson company softball team or what, but it might be good if you got the J&J vaccine, right? And man, that striping! Full eBay listing here.
• • • • •
• • • • •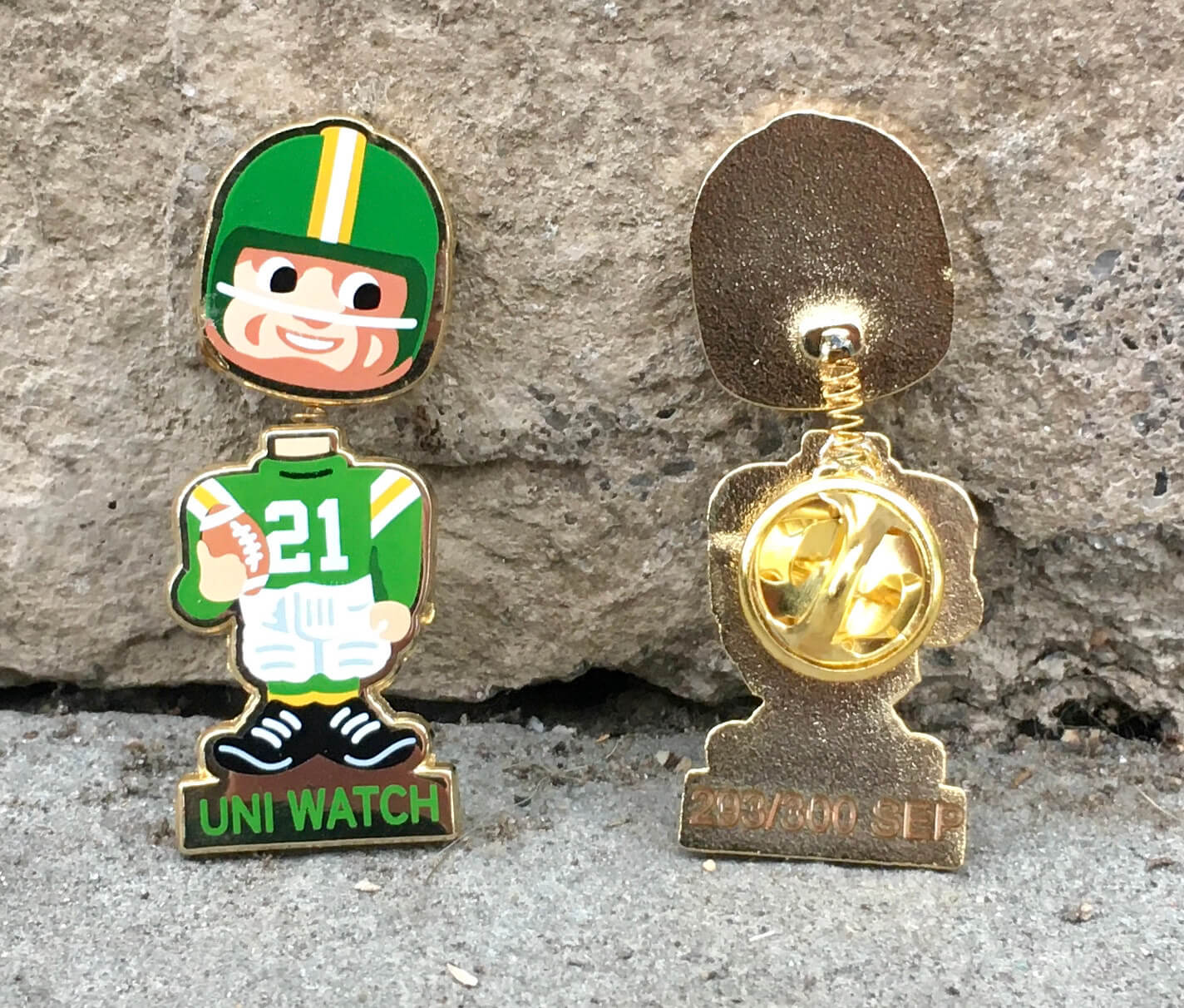 Flash sale reminder: In case you missed it on Wednesday, you can now save 20% on our September bobble-pin (and on everything else I sell on Teespring) by using the checkout code BOBBLE20. You know what to do.
• • • • •
• • • • •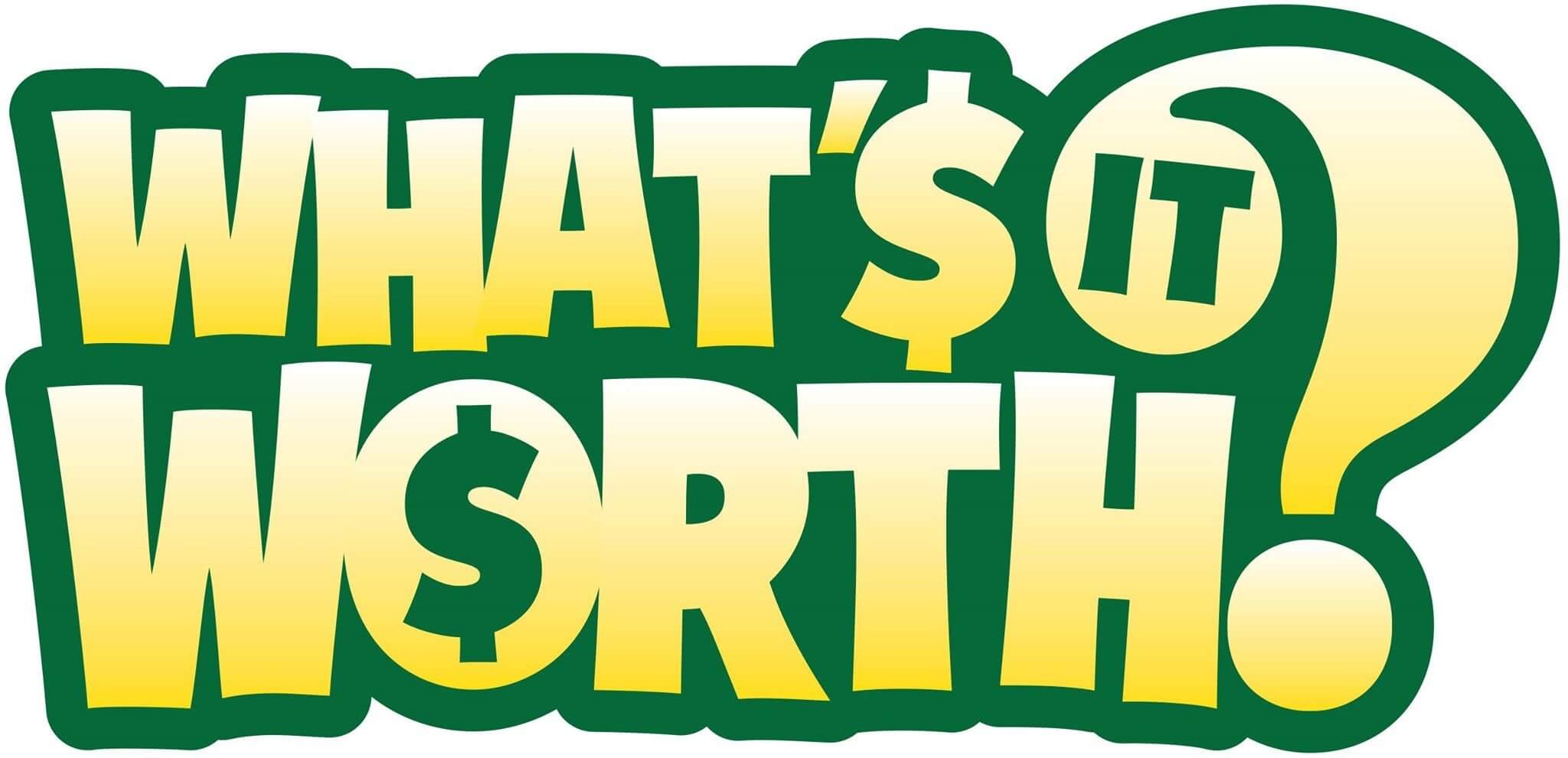 "What's It Worth?" reminder: In case you missed it earlier this week, I'm once again partnering with Grey Flannel Auctions to offer free, no-obligation appraisals of your vintage sports memorabilia items. Full details here.
• • • • •
• • • • •
The Ticker
By Paul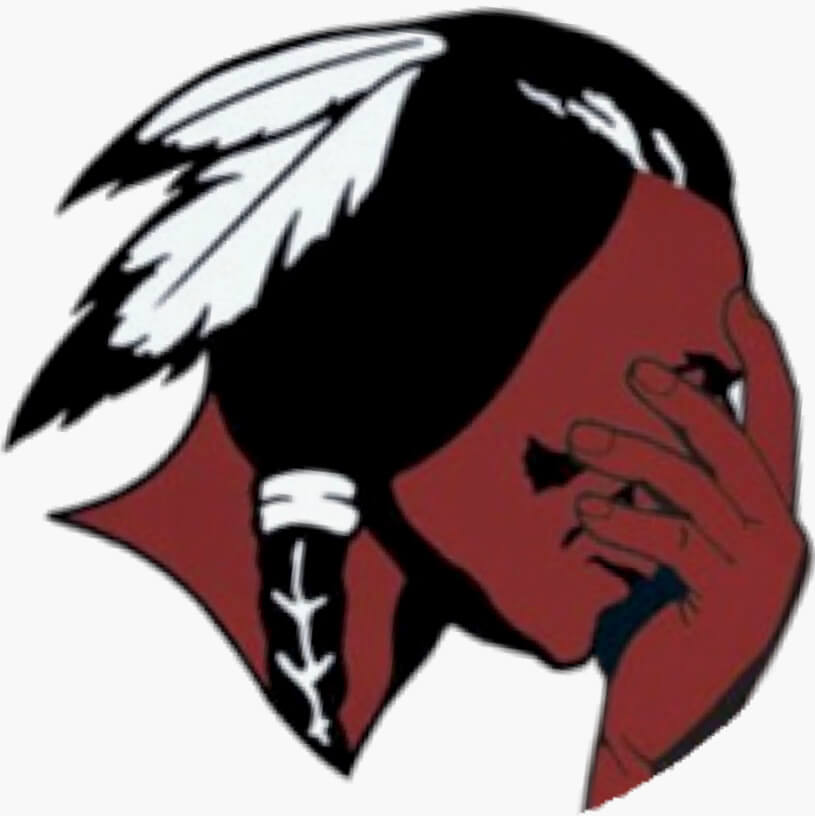 Indigenous Appropriation News: The Squaw Valley ski resort is now known as Palisades Tahoe (from Blake Jackson). … National Geographic has a big article on how Native-based team names and imagery are still used by lots of schools (from Dave Sikula).

Baseball News: Here's a weird one: an old shot of A's OF Rickey Henderson wearing Red Sox batting gloves (from K. Richardson). … Speaking of Baltimore, there's a beautiful new Negro Leagues mural at Camden Yards (from Andrew Cosentino). … Also from Andrew: O's pitcher John Means now has his own brand of coffee. … The Yankees may be the Evil Empire, but a recent Star Wars fan event featured Red Sox-branded storm troopers (from Michael Hochman and Nate Swick). … The Mets-centric ESPN documentary Once Upon a Time in Queens includes a shot of someone wearing very unusual striped baseball pants (from Mike, who didn't give his surname). … Speaking of the Mets, if you've ever wondered what their 1986 stars would have looked like in the team's BFBS uniforms, today's your lucky day (blame @KCNep95). … One more Mets item: All MLB teams wore yellow ribbons and wristbands for pediatric cancer awareness on Sept. 1, but the Mets were rained out on that day, so they wore the gold accessories on Tuesday night. … New 15th-season logo for the High-A Great Lakes Loons.

NFL News: In case you didn't know: You can always see which uni combos NFL teams will be wearing — at least based on info that's been publicly announced so far — on the Gridiron Uniform Database. Here, for example, is what we know so far for this week's games. You can also click on any week in the season to see what's in store. … Speaking of, Jason Von Stein used the GUD guide, plus a few educated guesses, to create his latest uni-driven illustration for this week's games.

College Football News: New uniforms for Northwestern State (from Mike McCorkle). … Here are this week's uni combos for Iowa State, UCF, and Louisville (thanks to all who shared). … If you like Tulane's "Angry Wave" retro mascot, wait until you see the 1940s-60s throwback helmet they're wearing this weekend (thanks, Phil). … Also from Phil: New field design this week for Florida.

Hockey News: I've been writing for years about how teams will do anything to avoid referring to uniform advertising as, you know, advertising, but the Red Wings' new helmet ad announcement is really a master class in linguistic bullshit (from Jeff Nichols). … The SPHL's Peoria Rivermen will have a whopping 14 specialty jerseys this season (thanks, Phil). … New mask design for Flames G Jacob Markström (from Jeremy Robinson). … Looks like the Kings have a new alternate in the works (from Moe Khan). … Officials in the Central Collegiate Hockey Association will wear NHL-style zebra stripes this season (from @pkpouttu). … "With the Reverse Retro program, the 2020-21 NHL season likely showcased more jersey colors than any previous season," says Daniel Estabrooks, "so I decided to make up a graphic representing that. I'm especially intrigued by how non-standardized the blues and greys were across the league." … When the Kraken revealed their jersey designs last year, we only saw how the numerals 2 and 3 looked in their number font. But if you go to the last image in this Instagram gallery, you can see all of the other numerals (from Mike Engle).

Basketball News: New BFBS-themed practice facility for the Jazz (from @HitTheGlass). … New home whites for Appalachian State (from Thad McKinnon).

Soccer News: New Hispanic Heritage Month kit for the Houston Dynamo (from Ignackoi Salazar). … New third shirt for Tottenham Hotspur (thanks, Jamie).

Grab Bag: USA Curling will now be outfitted by Columbia Sportswear (from R. Scott Rogers). … I think this has been circulating for a week or so, but if you haven't seen it yet, Disneyland Paris's 30th-anniversary logo is a really clever and effective piece of design (from Adam Vitcavage). … New lacrosse uniforms for Iroquois Nationals (thanks, Phil).