For all photos, click to enlarge
Some friends and I spent our Saturday at a New Jersey flea market, where I saw some cool uni-related items, a few of which I purchased. Let's start with this December 1946 issue of Sport magazine, which I snapped up simply because I love that cover photo of Rams halfback Tom Harmon and also love how the blue drop shadow on the yellow magazine title mimics Harmon's uniform. Very, very nice.
You'd never know it from the photo, but Harmon was only 27 when that issue of Sport came out. But as we've discussed before, this was during the period when athletes looked like your next-door neighbor's dad.
The cover article provides another image from the same photo shoot. Turns out that NFL halfbacks were allowed to wear numbers in the 90s in those days: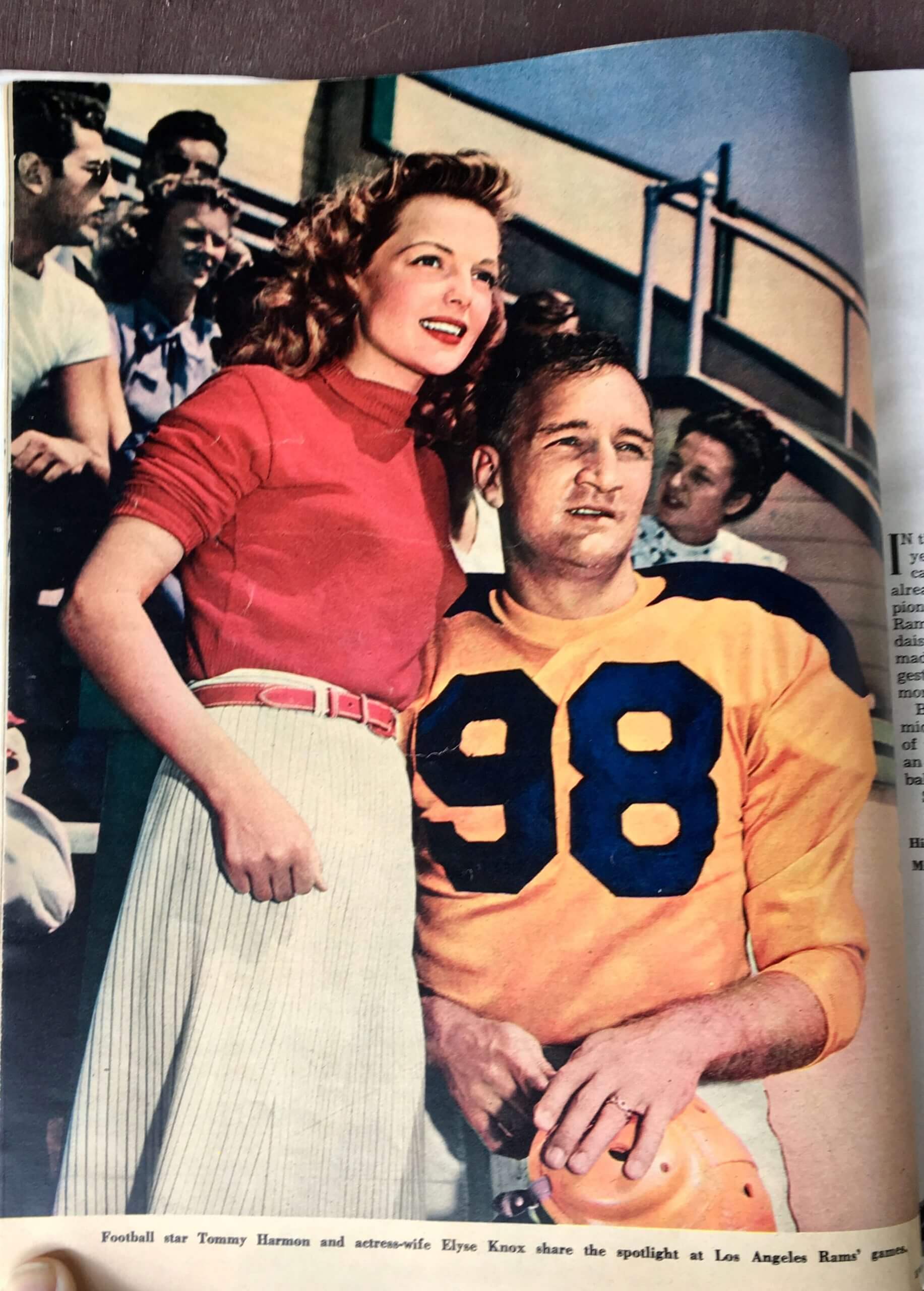 I love that yellow jersey with the blue yoke. Interestingly, the Gridiron Uniform Database says the Rams wore that jersey in 1944 and '45, but not in '46 — but Harmon didn't join the Rams until '46, so something doesn't add up here. Obviously, this isn't a game photo and thus isn't dispositive, but I alerted GUD research Bill Schaefer, just in case. He responded, "Pretty typical to keep old jerseys/pants around for practice and whatnot. This is likely a case of 'whatnot.'"
Meanwhile, wondering why Harmon's helmet didn't have any horns? The Rams wouldn't start wearing those until 1948.
That issue of Sport had tons of other cool pics. For example:
• I love this shot of Oregon State's two-tone hoops uni: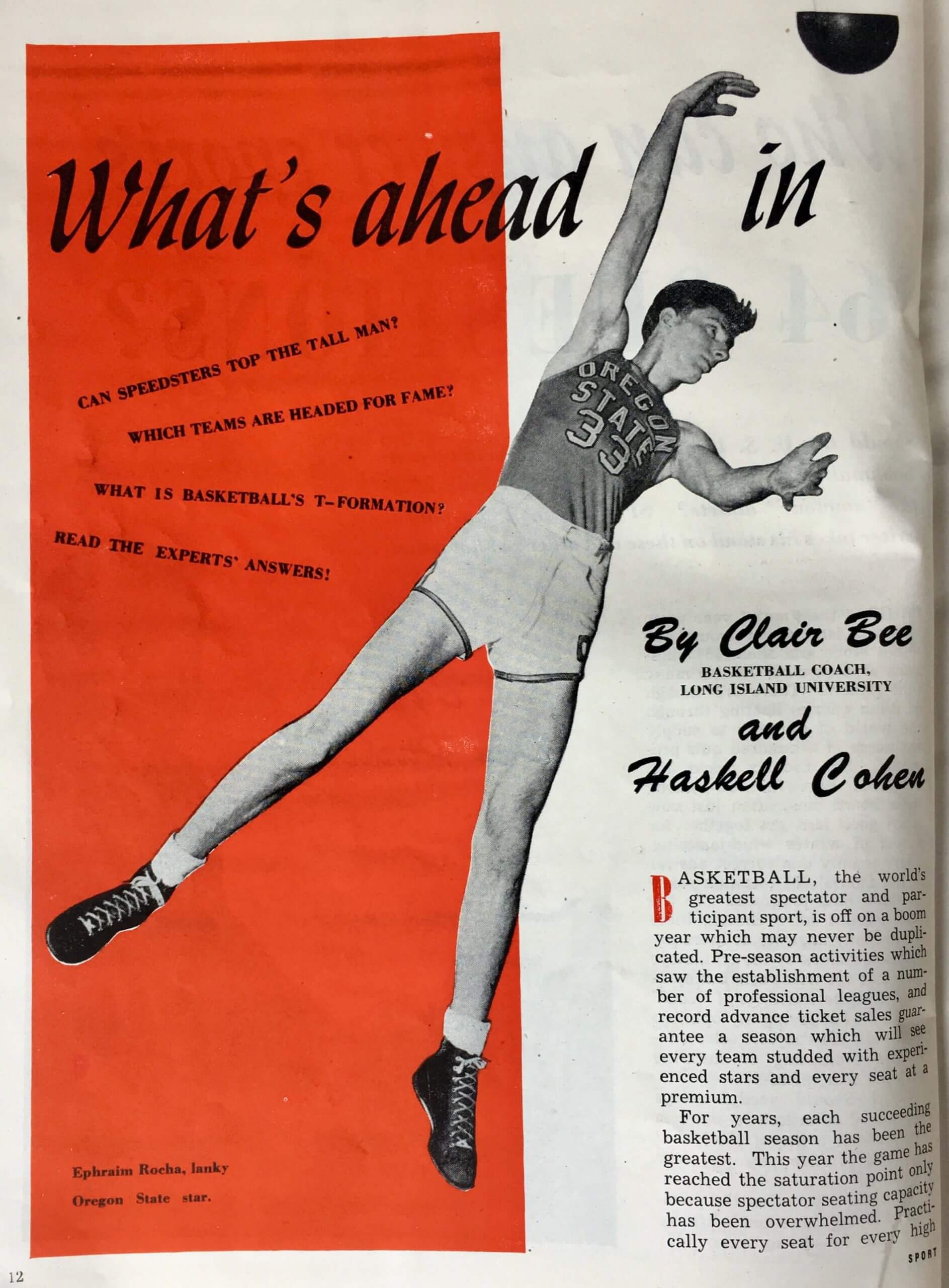 • That same article had some shots of a sleeved UNC jersey (attention James Gilbert!) and two-tone uniforms for NYU and Kentucky (although I think the latter is probably just a practice uni):

• Love this montage featuring Eagles running back Steve Van Buren, especially the texture in the collar and the numerals. Also, note that the main photo is described as a "SPORTrait":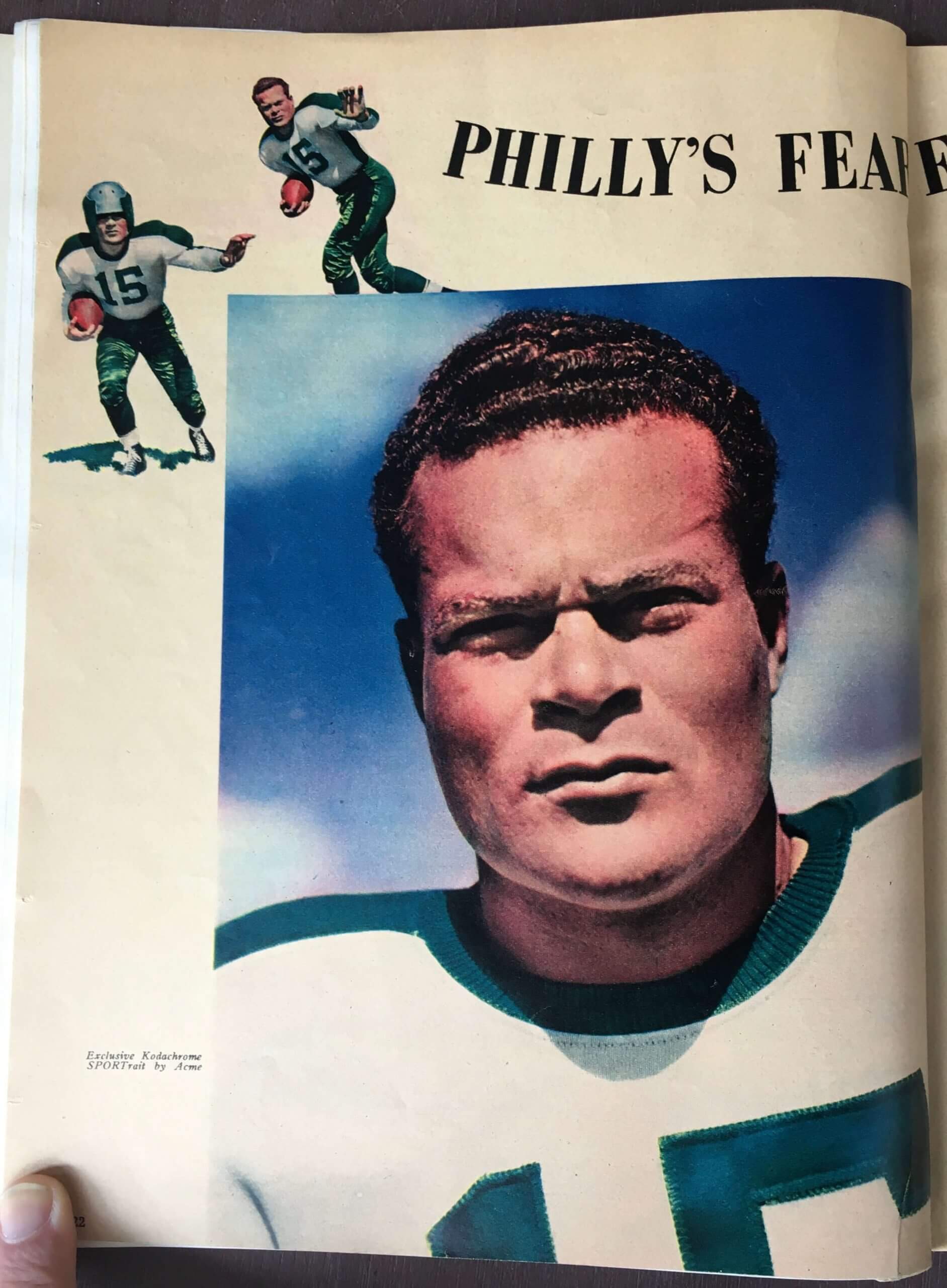 • Sport routinely ran at least one article per issue about women's sports during this era. It was mainly just cringe-inducing eye candy, but this shot of a women's hockey game shows some outstanding sweaters, despite the caption's unfortunate reference to "ice-lovelies":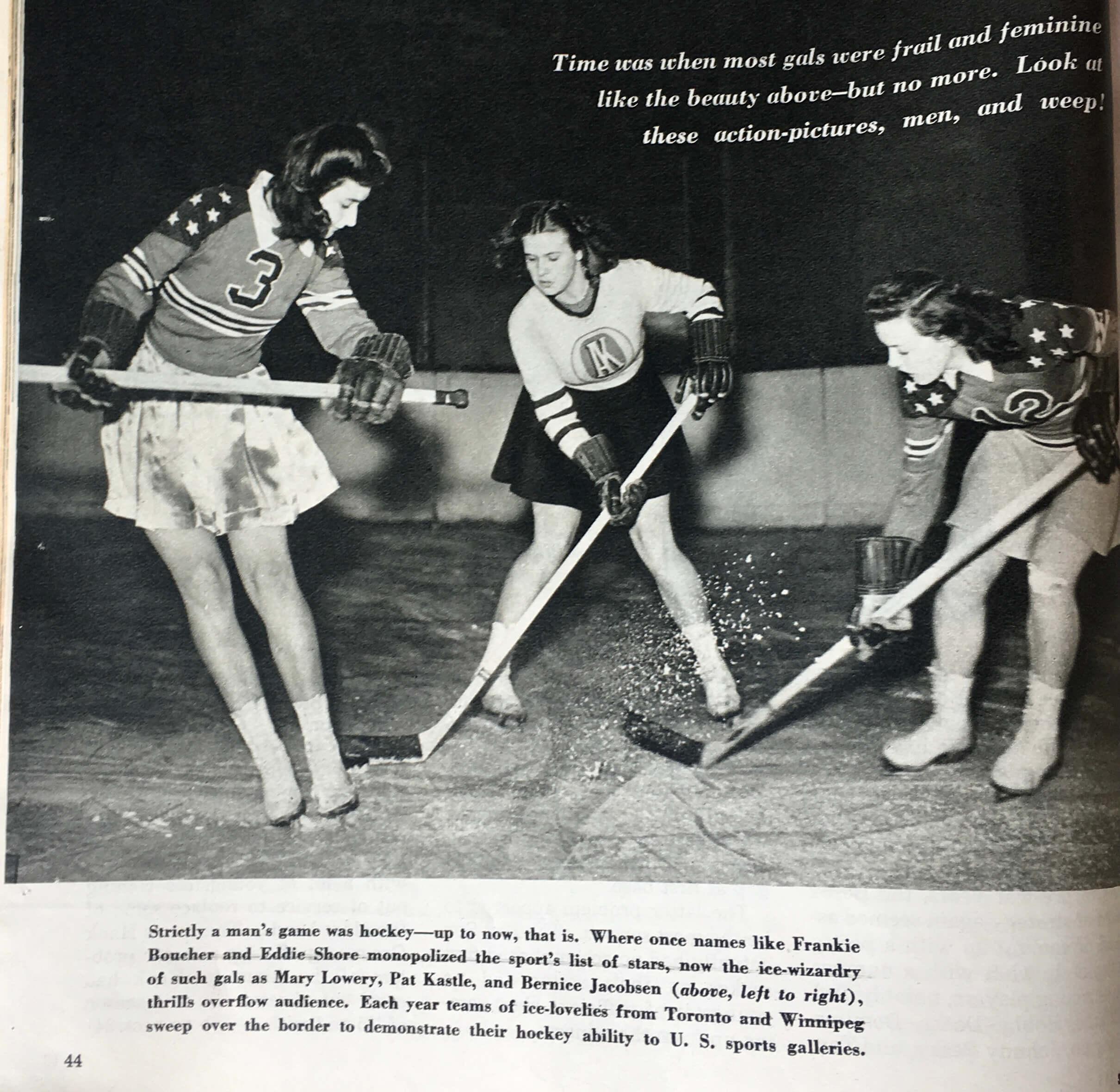 • Speaking of hockey, this shot of a color-vs.-color Canadiens/Rangers game (part of an article about goons, although they're more politely described as "policemen" and "bouncers") shows how little those two teams' uniforms have changed over the past 75 years: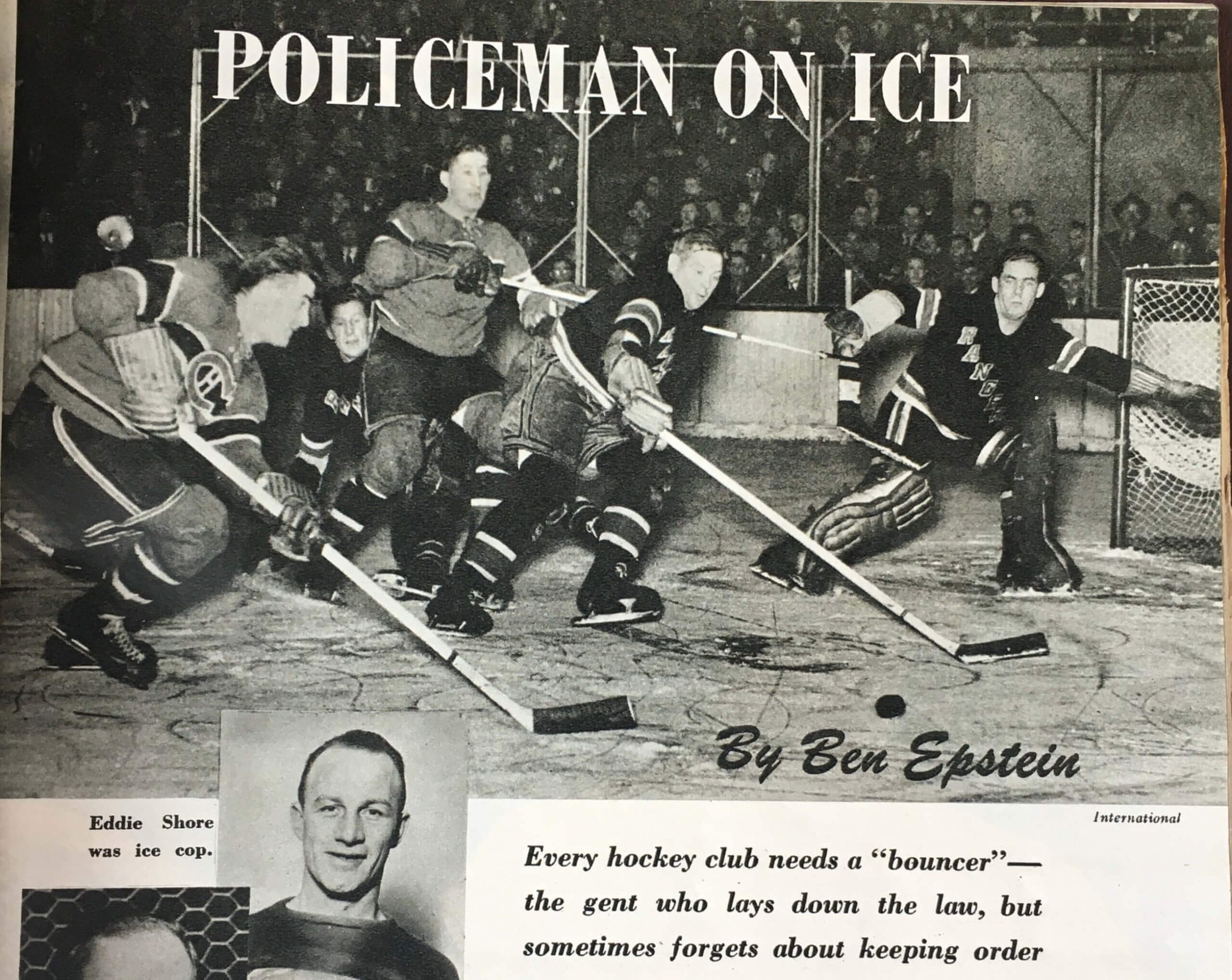 • I've seen this photo of Packers wideout Don Hutson and coach Curly Lambeau before (among other things, it's the header image for Chance Michaels's wonderful The Wearing of the Green (and Gold) site), but it's fun to see it in a magazine: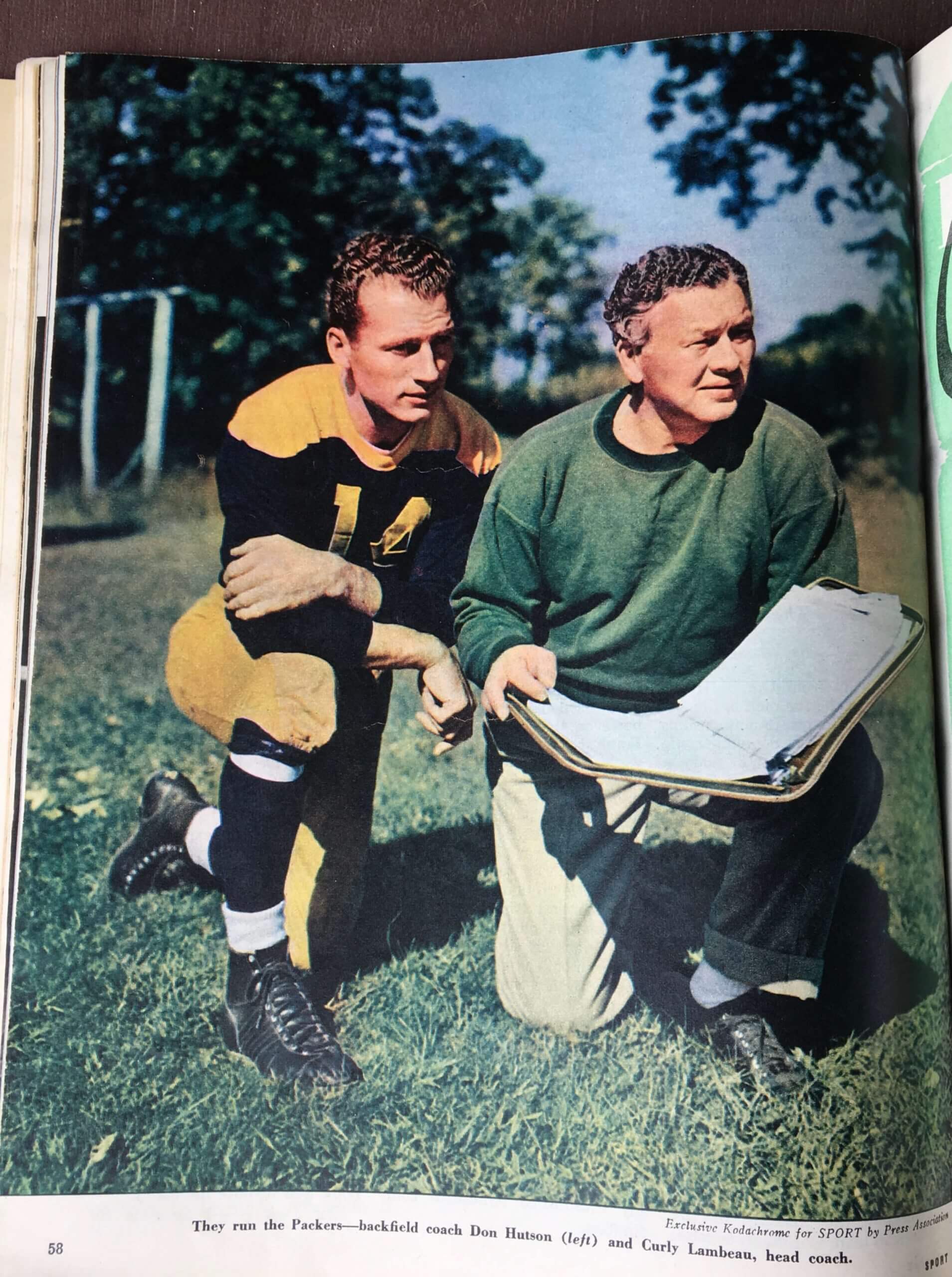 • Here's a nice little showcase on the Bears. I love how the top two pics are clearly identifiable as the inspiration for the team's "Monsters of the Midway" throwbacks, and how the multi-colored sleeve stripes on the lower photo feel so Bears-like because they still wear that striping on their white jerseys today: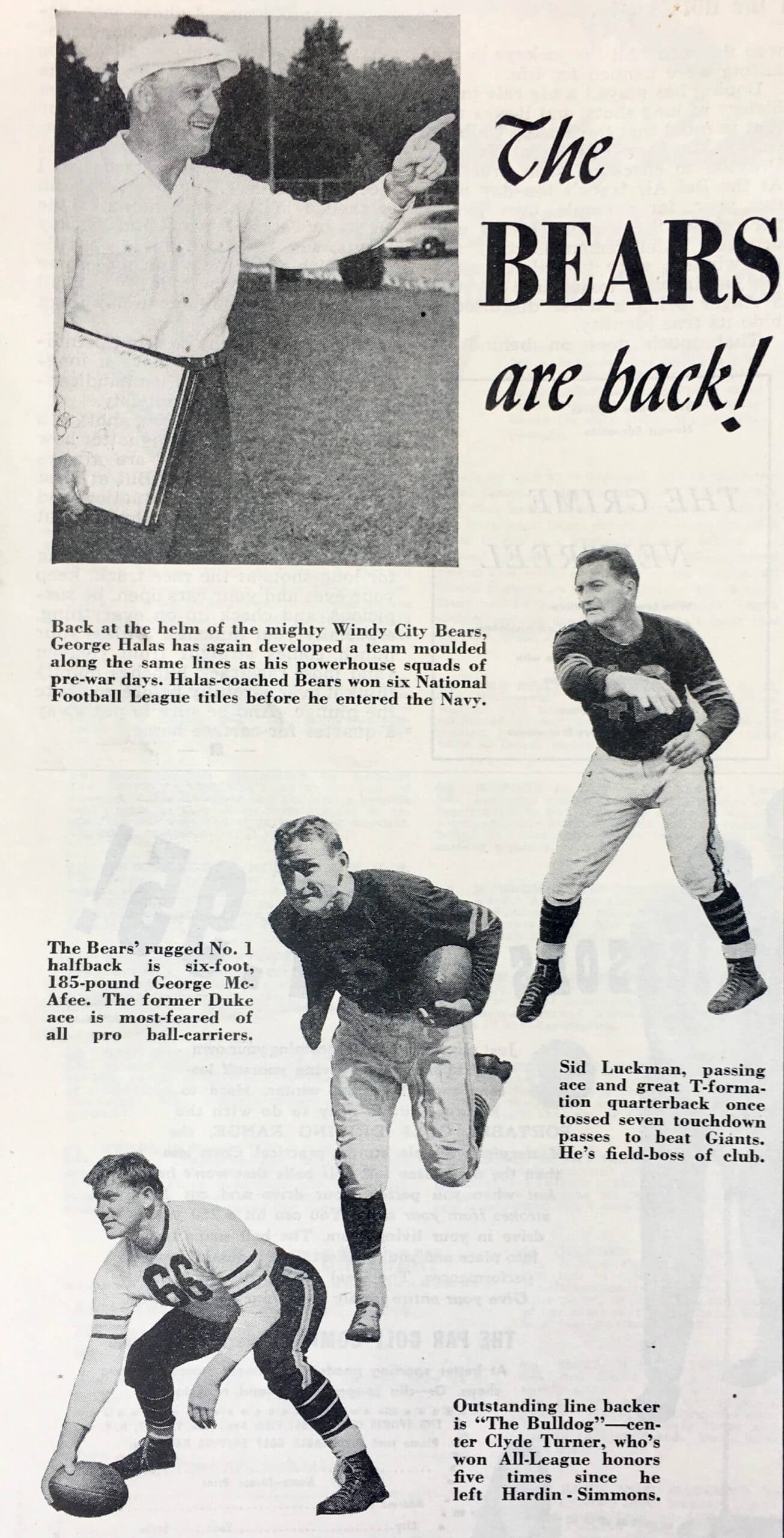 • Interestingly, this issue came out shortly before Jackie Robinson's first spring training. The editors had some things to say about that at the end of the issue: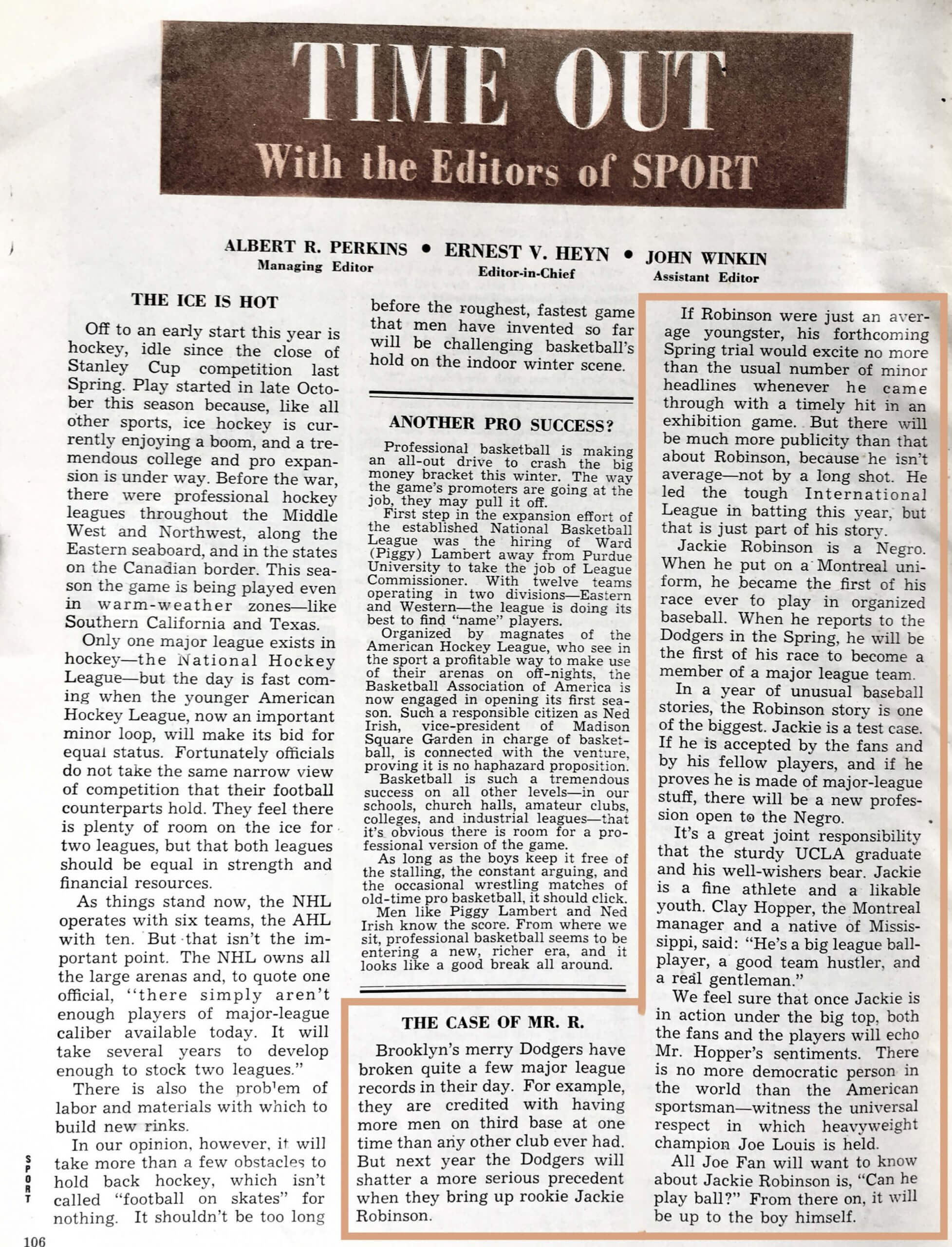 • I also purchased a copy of the March 1947 issue. The cover wasn't as spectacular, but I figured there'd be some fun stuff inside: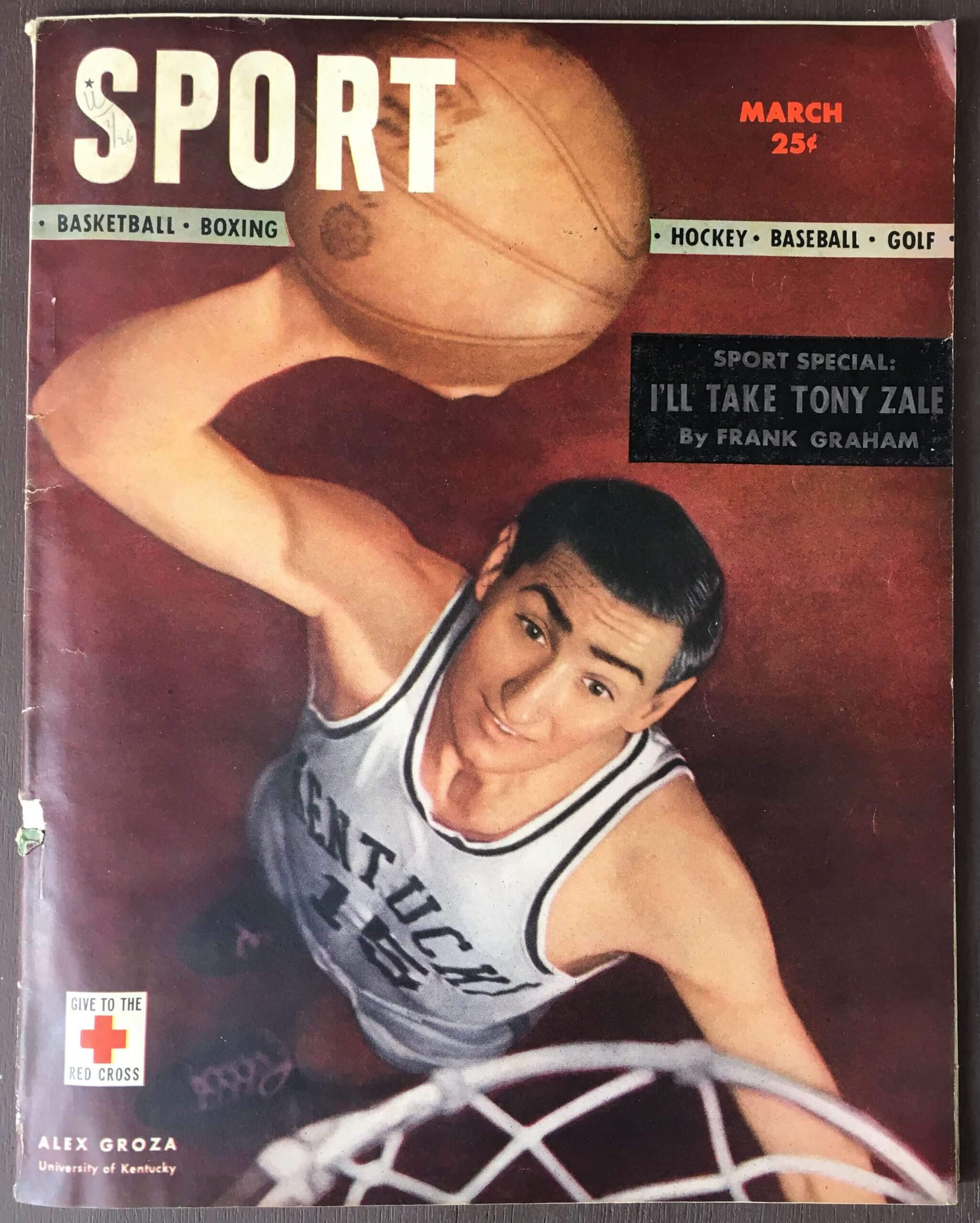 • Here's a photo from the cover article about Kentucky basketball. I like the uni numbers on the shorts: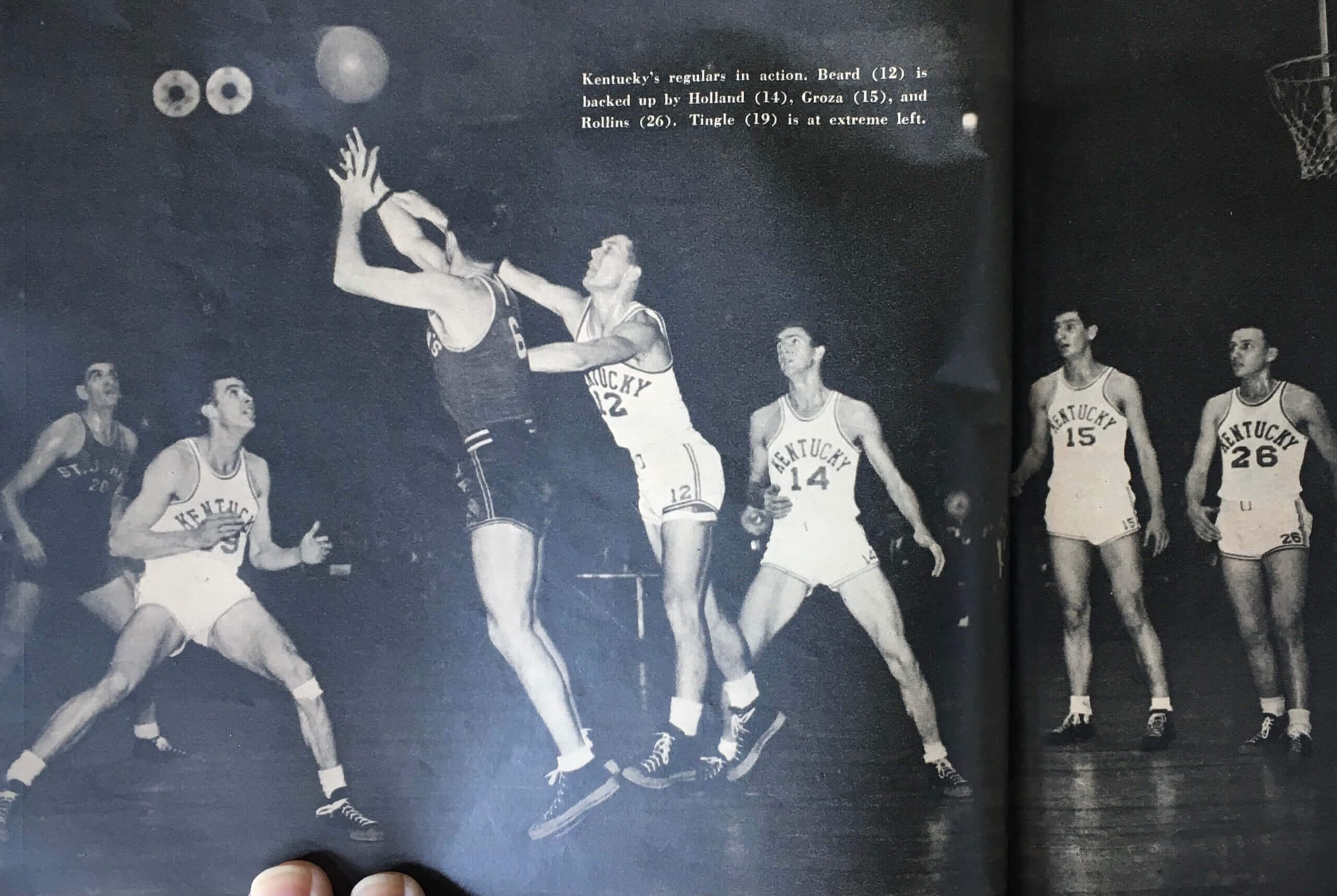 • Speaking of numbers in unusual places, check out the sleeves of these Arkansas warm-up jackets: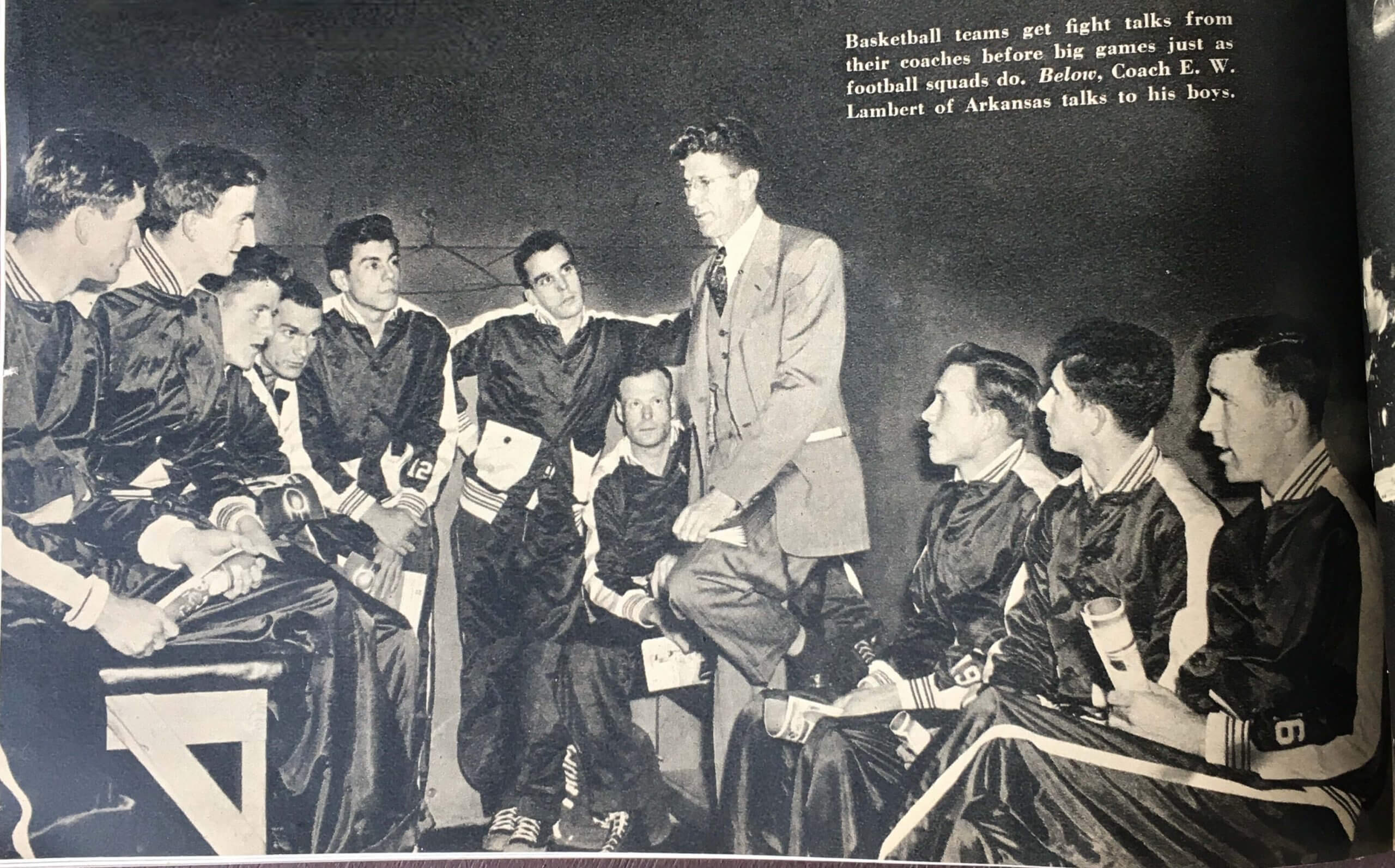 • Oh man, I love this old Montreal Canadiens shot. Check out the texture in those socks! This is from the brief period — 1944-47 — when their white jerseys had the blue stripe, just like the red jersey: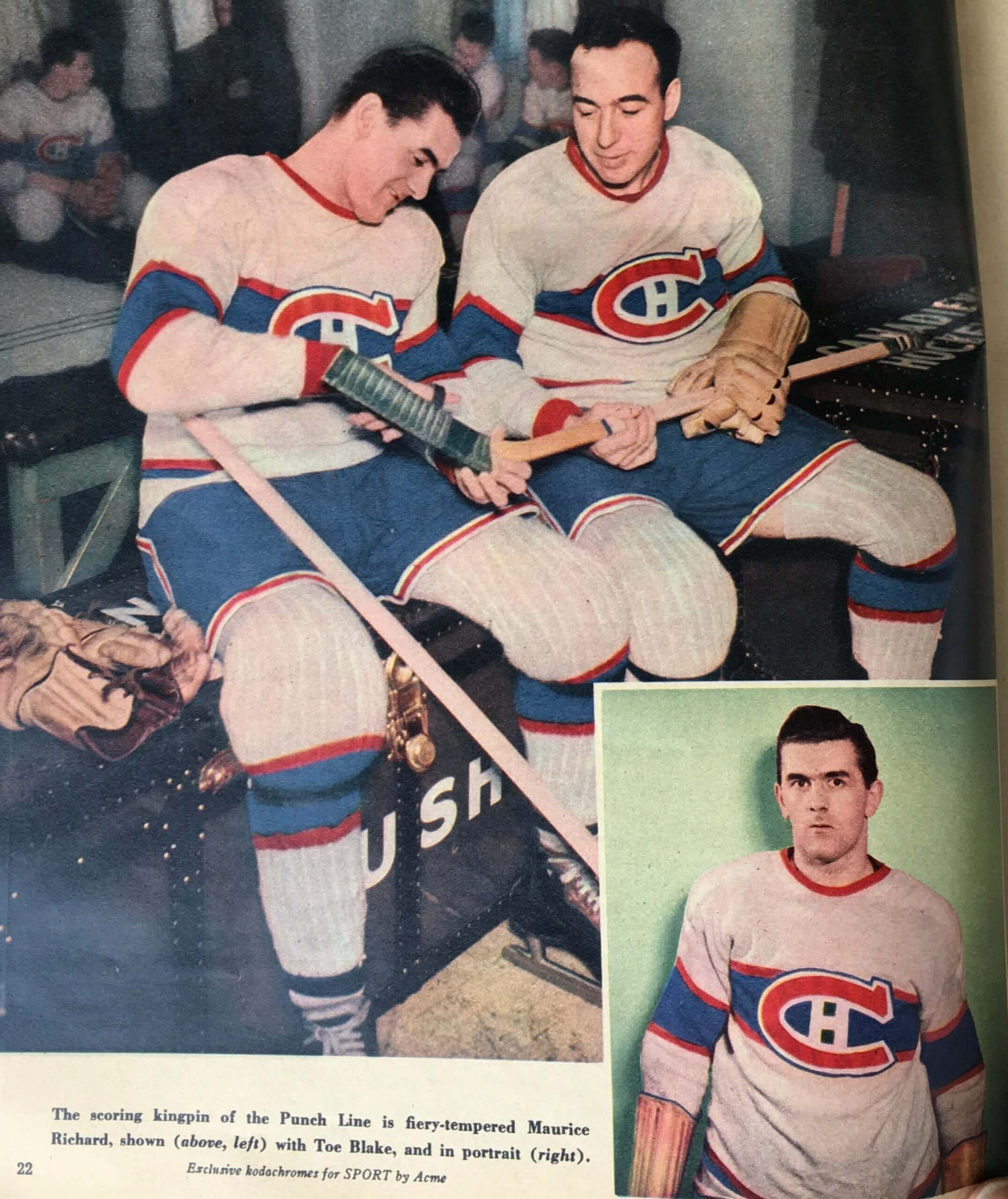 • Here's another hockey shot, this time of two AHL teams. I don't think I've ever seen a tape job quite like the one worn by the guy in the white uni: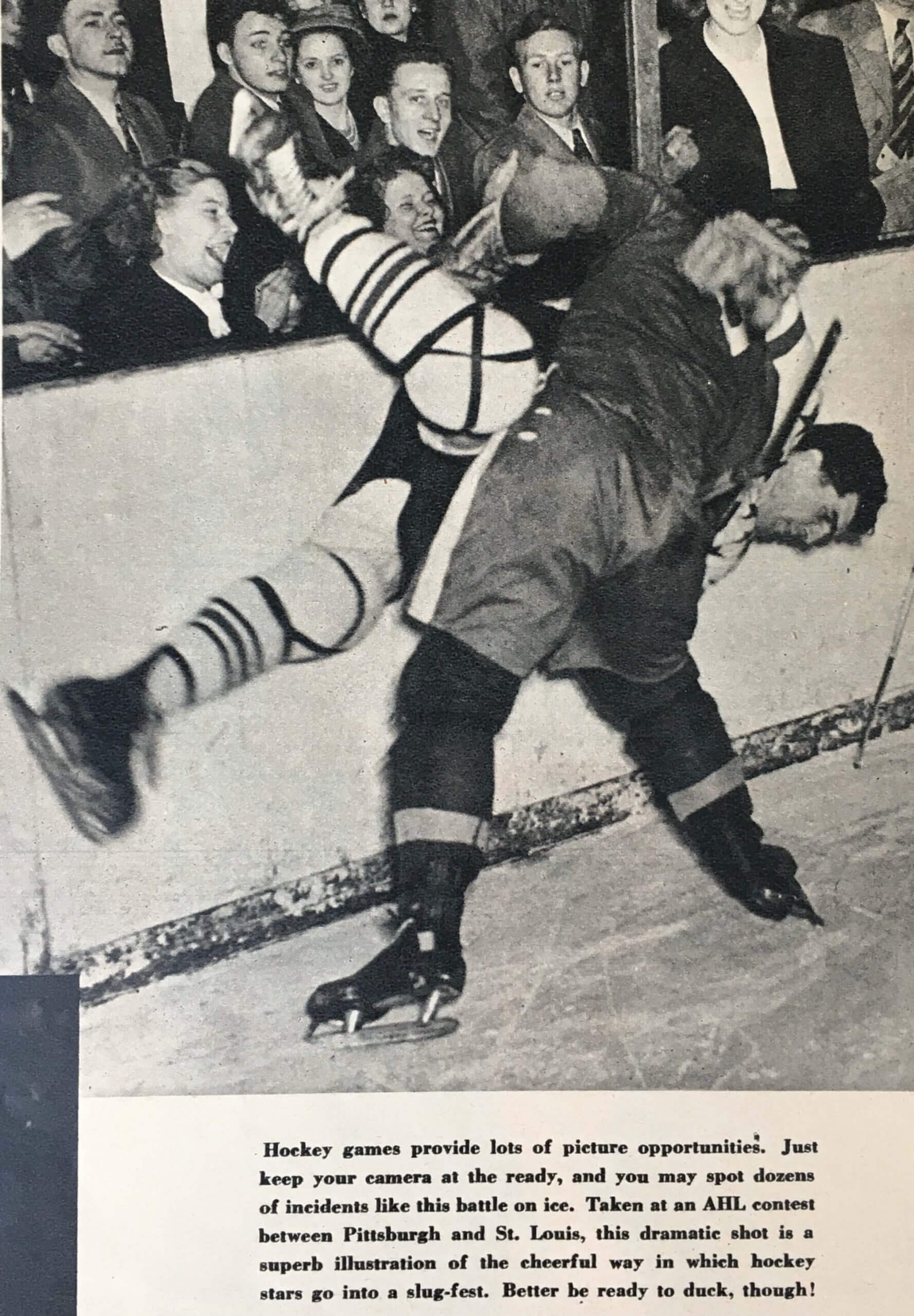 • Here's the requisite eye candy shot, this time for a table tennis player. I'm including it because her belt appears to have two buckles! Dig: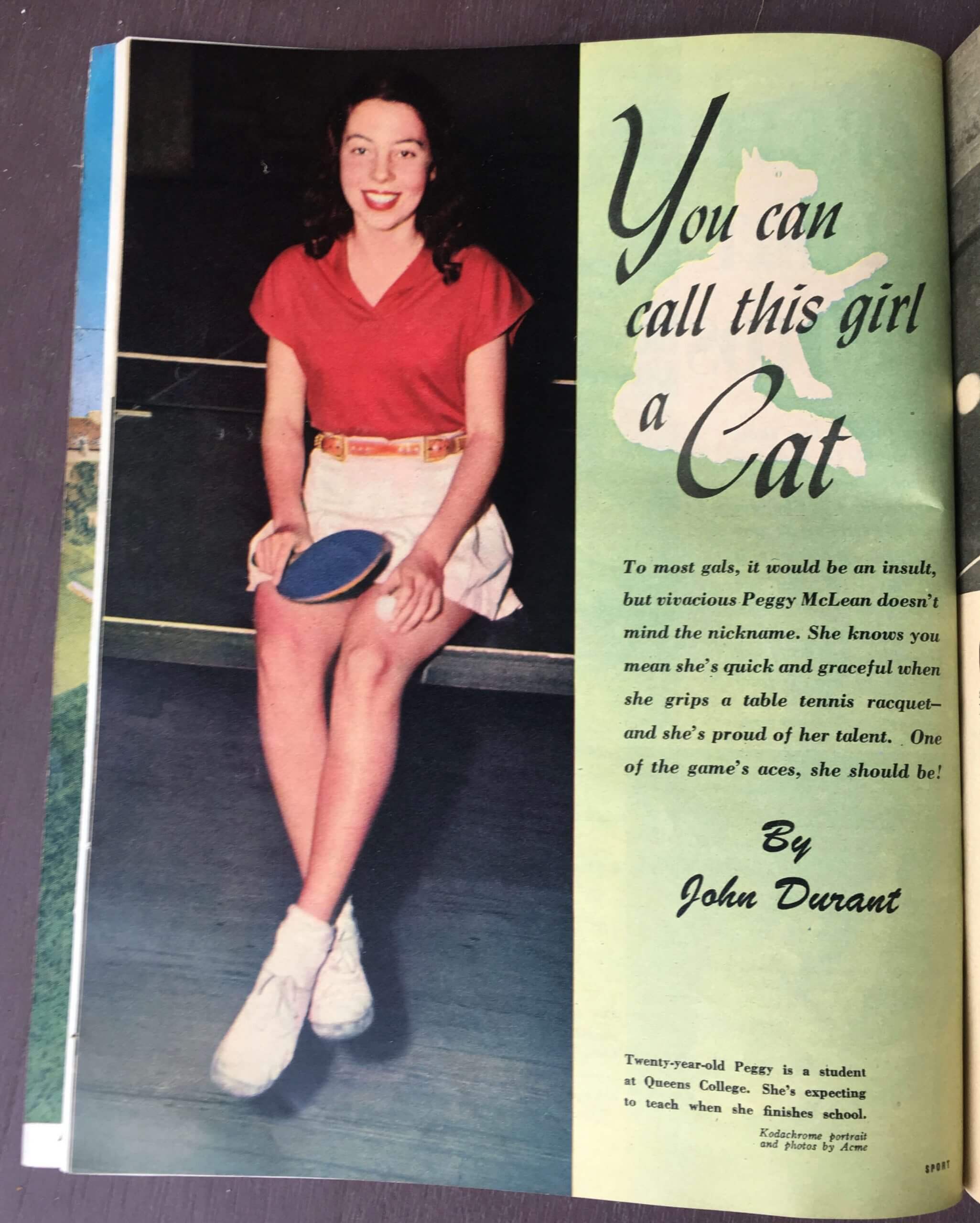 • Sport also published fiction from time to time. I'm including a shot of this golf story mainly because I like the title so much — "Gooseflesh 'Round the Heart" (note the proper apostrophe!). Cool illustration, too: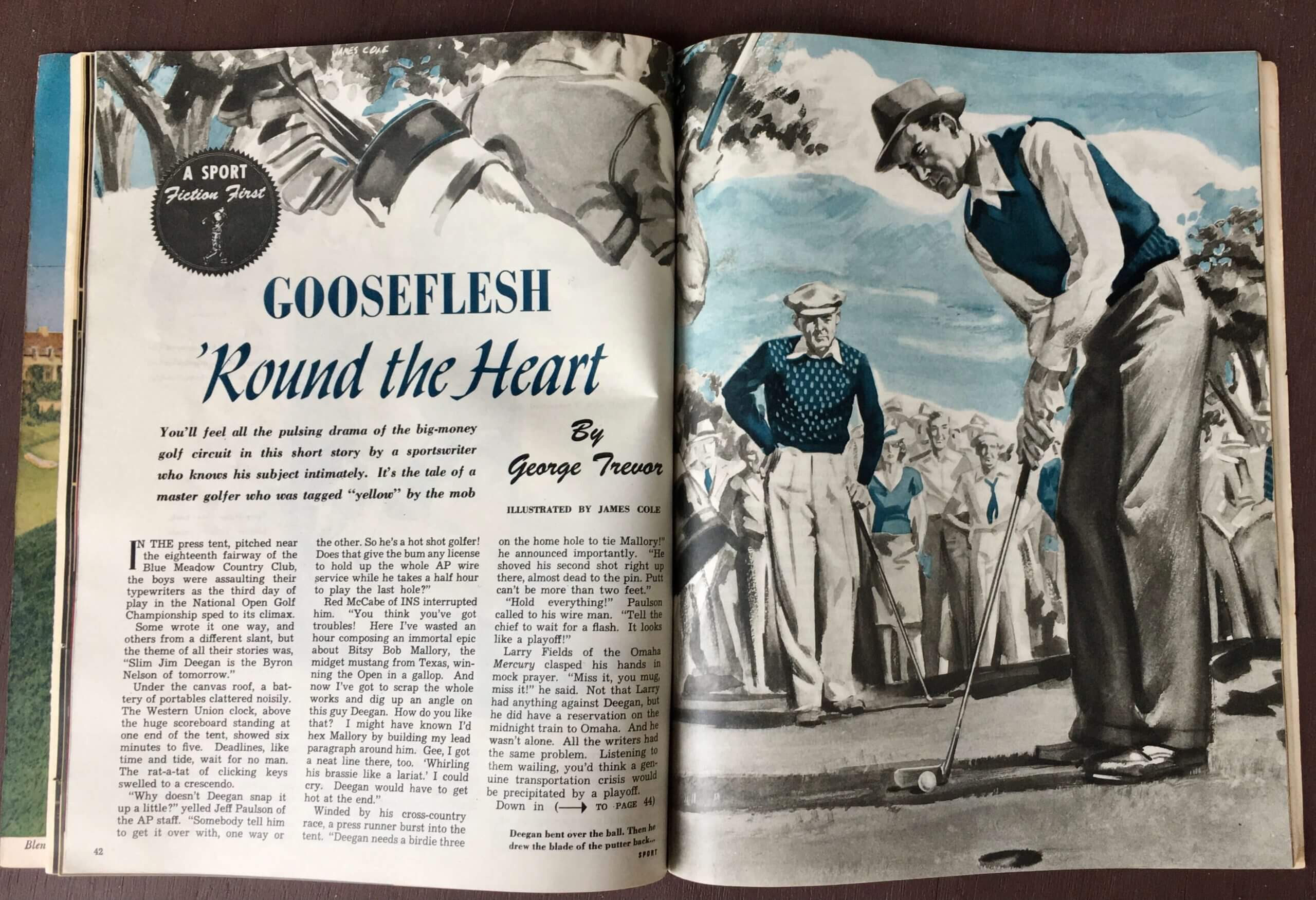 • We've all seen NOBs, but these Long Island University cheerleaders have NOFs: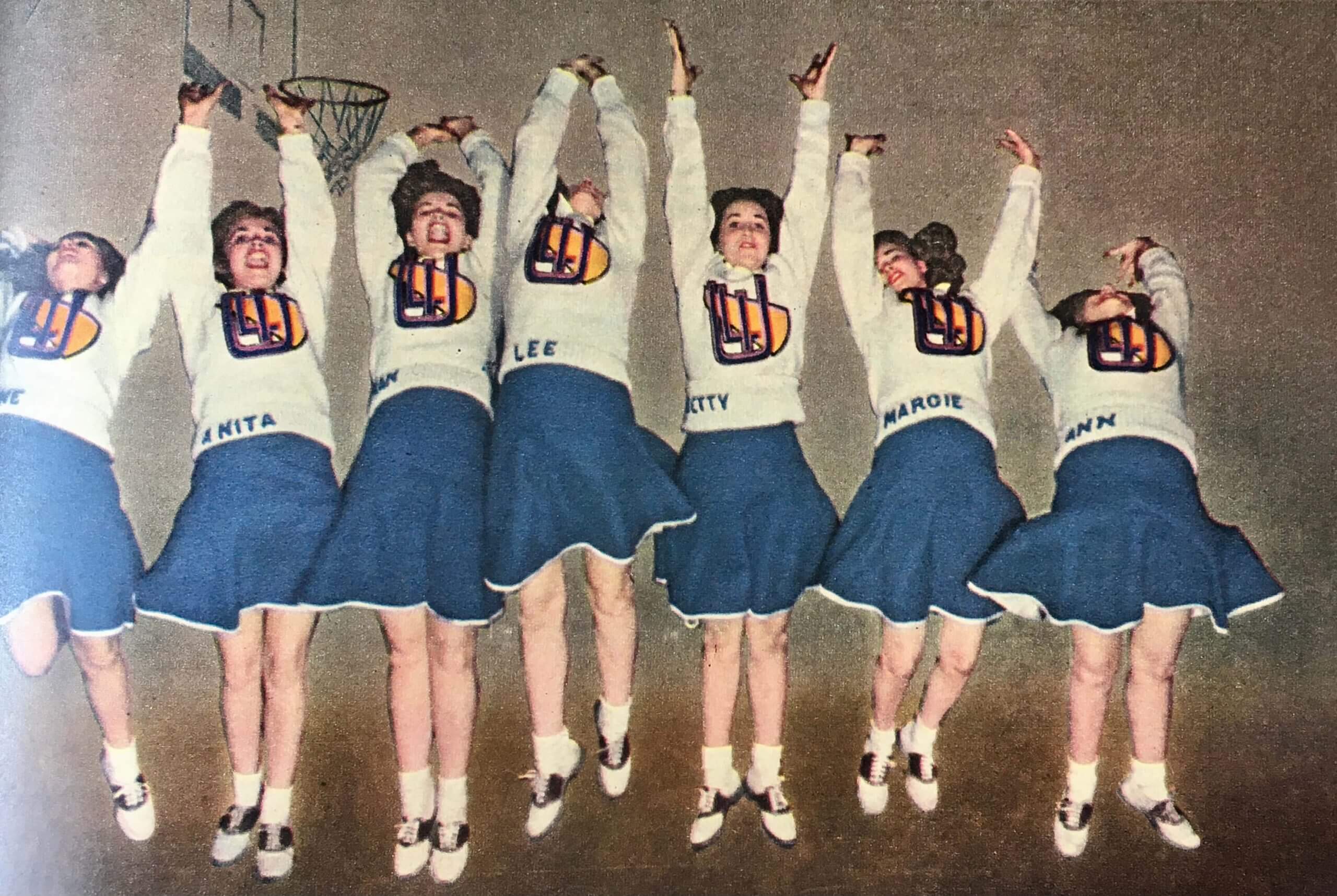 ———
That's a lot of content from two old magazines, right? Not bad!
Here are a few other uni-related items I saw but didn't purchase:
• Love the jerseys, striped socks, and "C" inconsistencies in this basketball team portrait from 1913: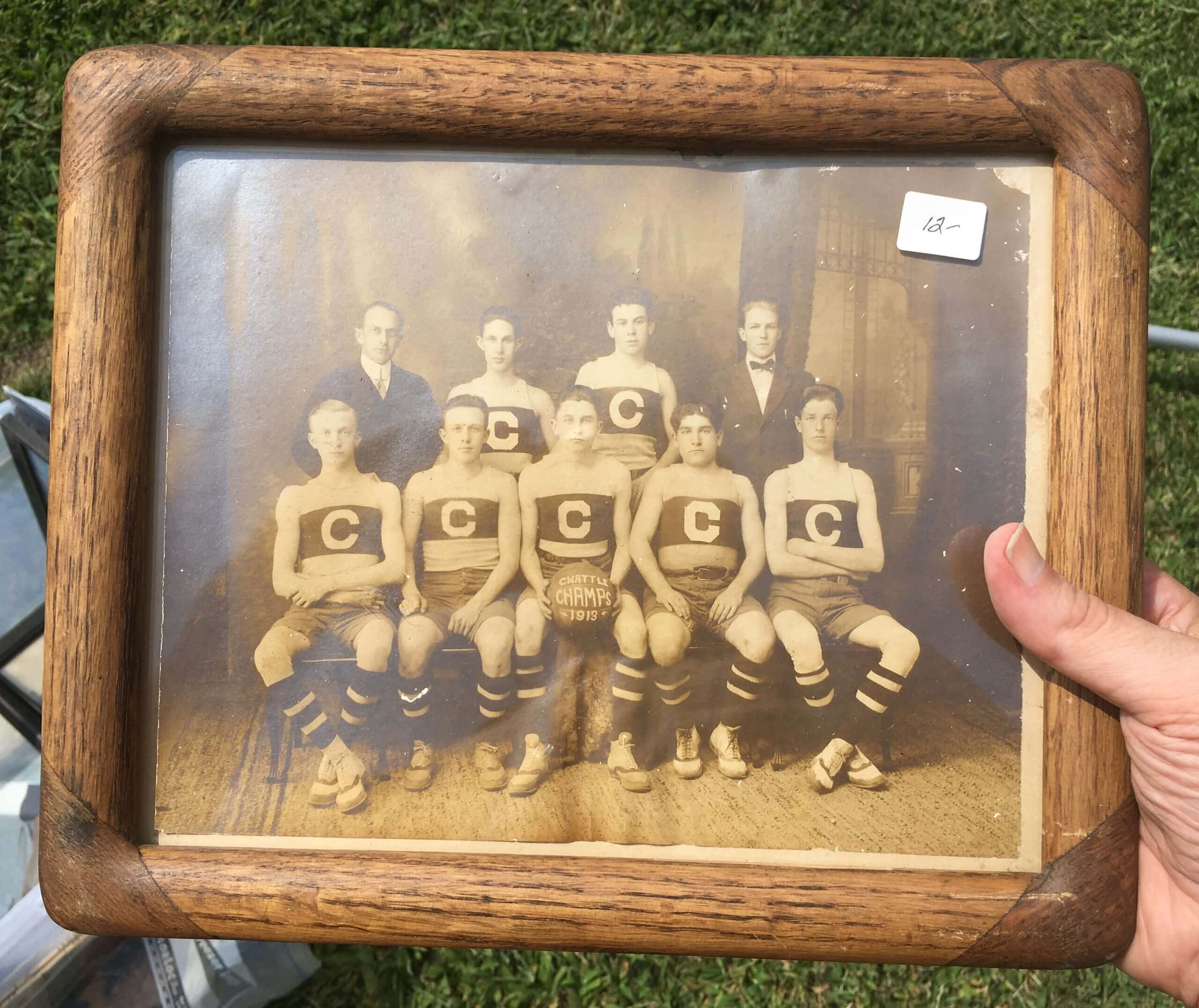 • Here's one of the more puzzling magazine cover-photo choices you'll ever see, but it does offer the rare sight of Henry Aaron with FIOB: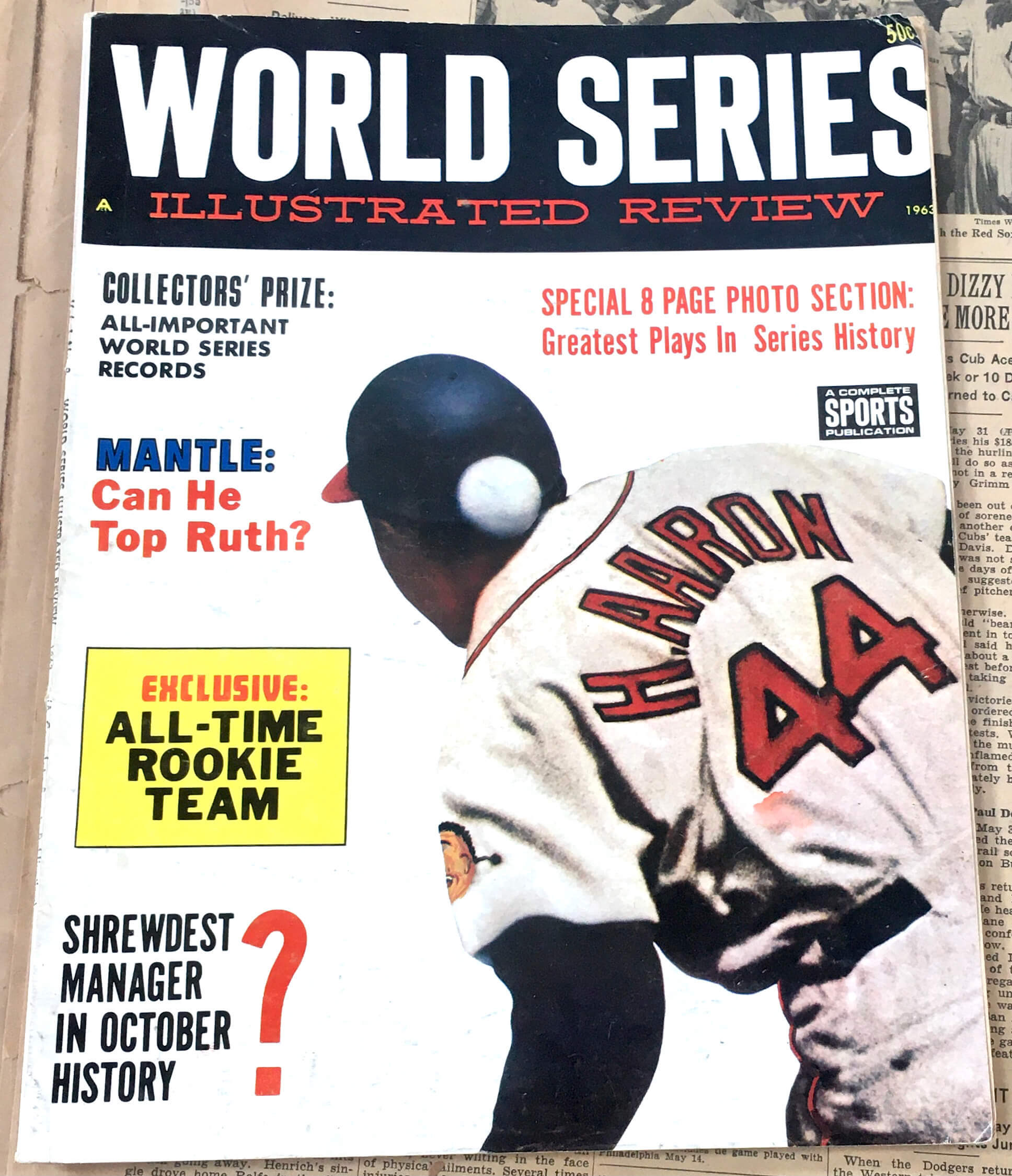 • Love this 1968 offer in which fans could send proofs of purchase from frozen vegetables in order to get personal checks, in very small amounts, from NFL players Roman Gabriel, Gale Sayers, and Jim Grabowski. Did people actually cash these checks? Does anyone still have them after all these years? Also of note: "Birds Eye Vegetables are the official Training Table Vegetables of the National Football League":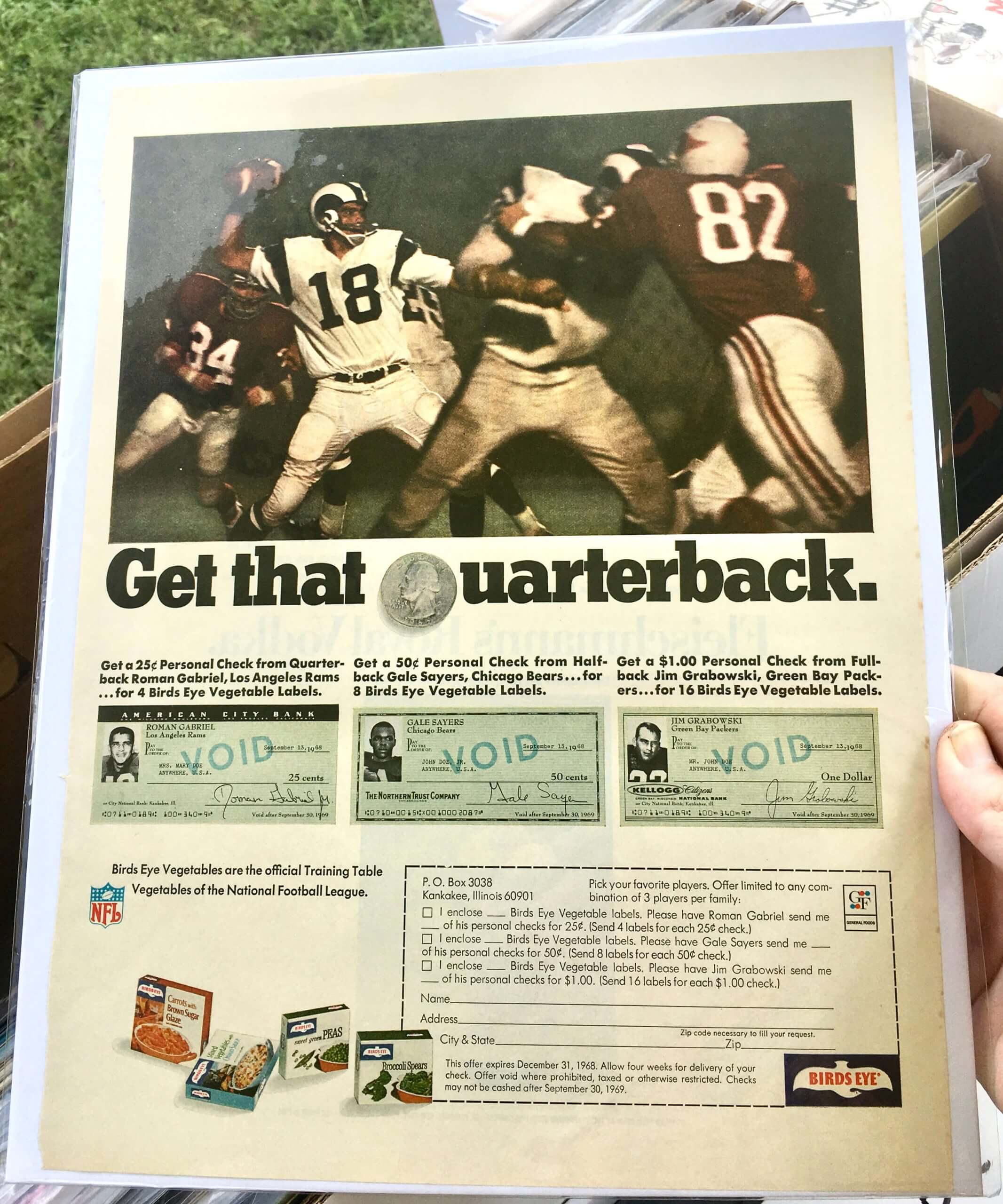 ——
Finally, I also purchased one non-uni-related item: an unopened, fairly pristine can of Wizard Dri-Cube — essentially a can of water (although I think there may be some other chemical mixed in):
This was an early version of a freezer pack — you'd keep it in your deep freeze and then take it out and put it in your cooler (or picnic basket, or whatever) when going on an outing. Then you'd put it back in the freezer.
What a gorgeous package design! And I particularly love the first thing listed under "Directions":
This fine item is already on display among the other attractive consumer curiosities here at Uni Watch HQ. Some quick research reveals that there was also a smaller, lower-priced size, as well as at least two competing products: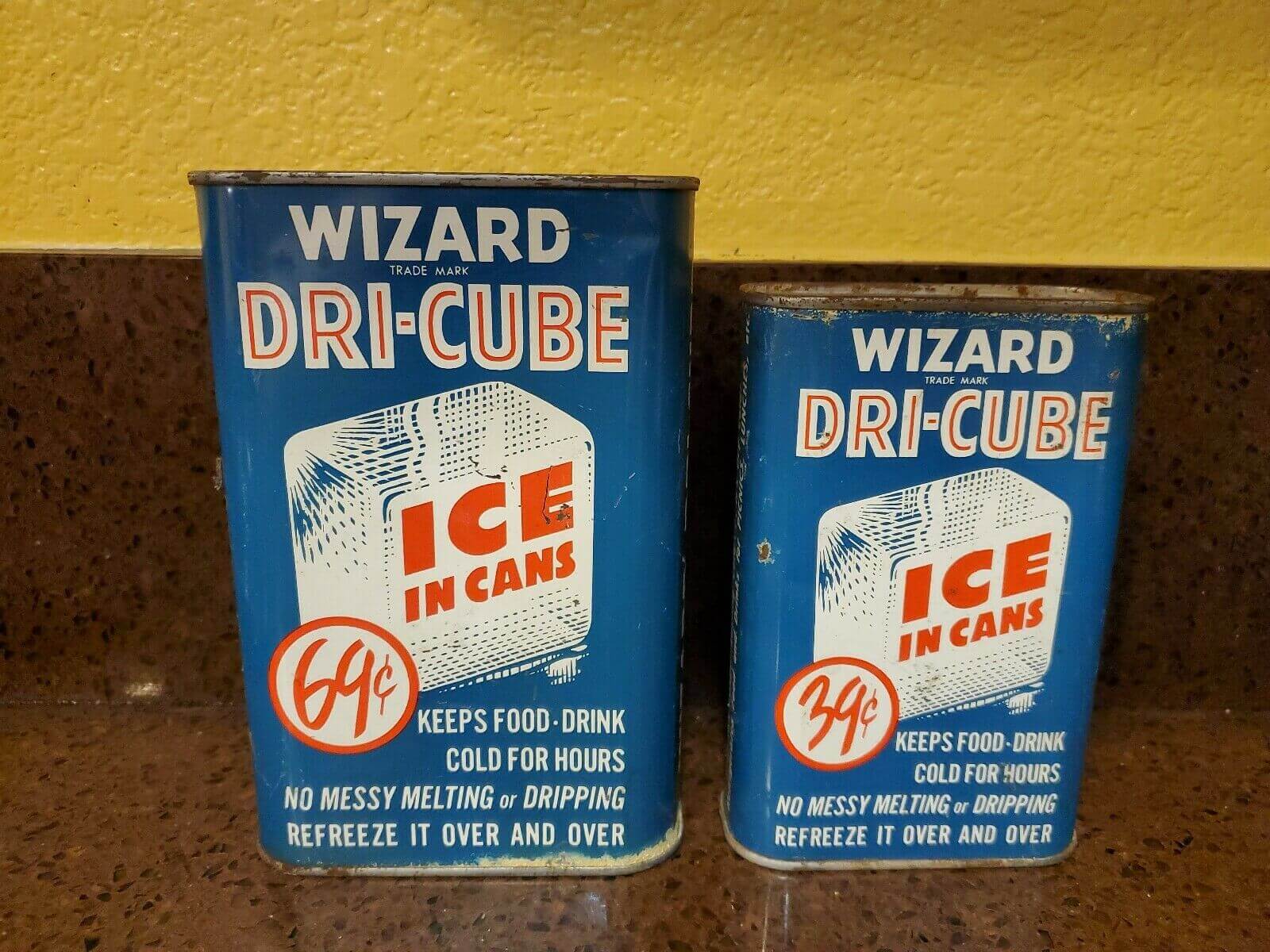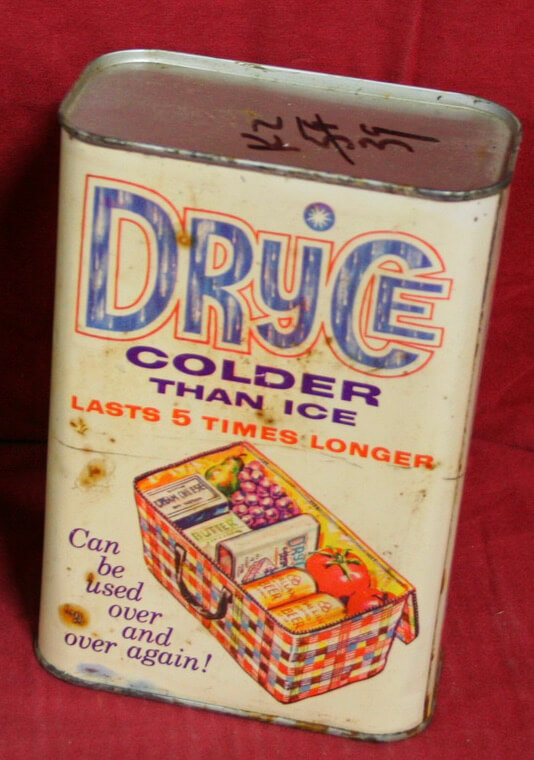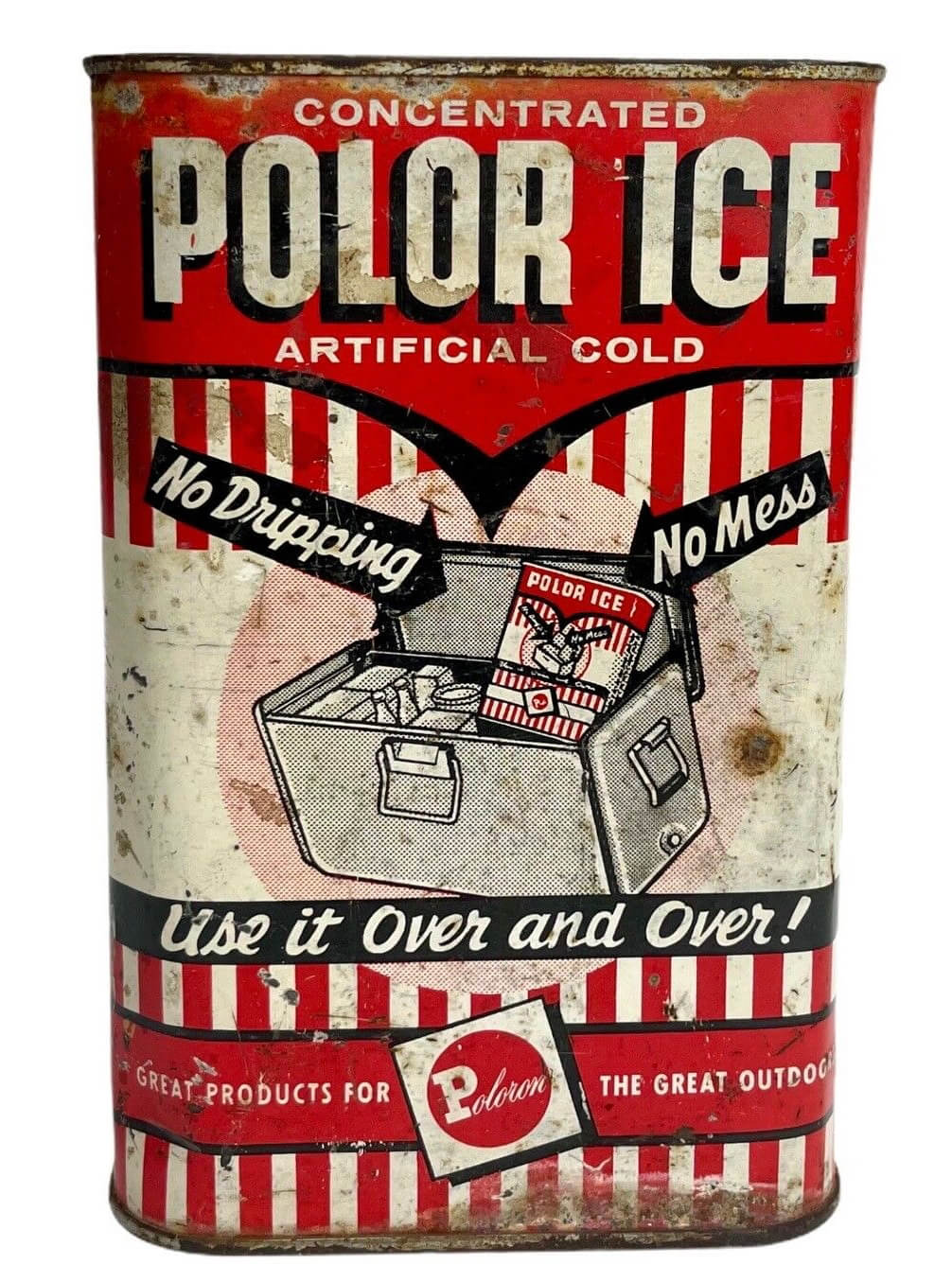 Hmmmm — this may necessitate the start of a new collection.
• • • • •
• • • • •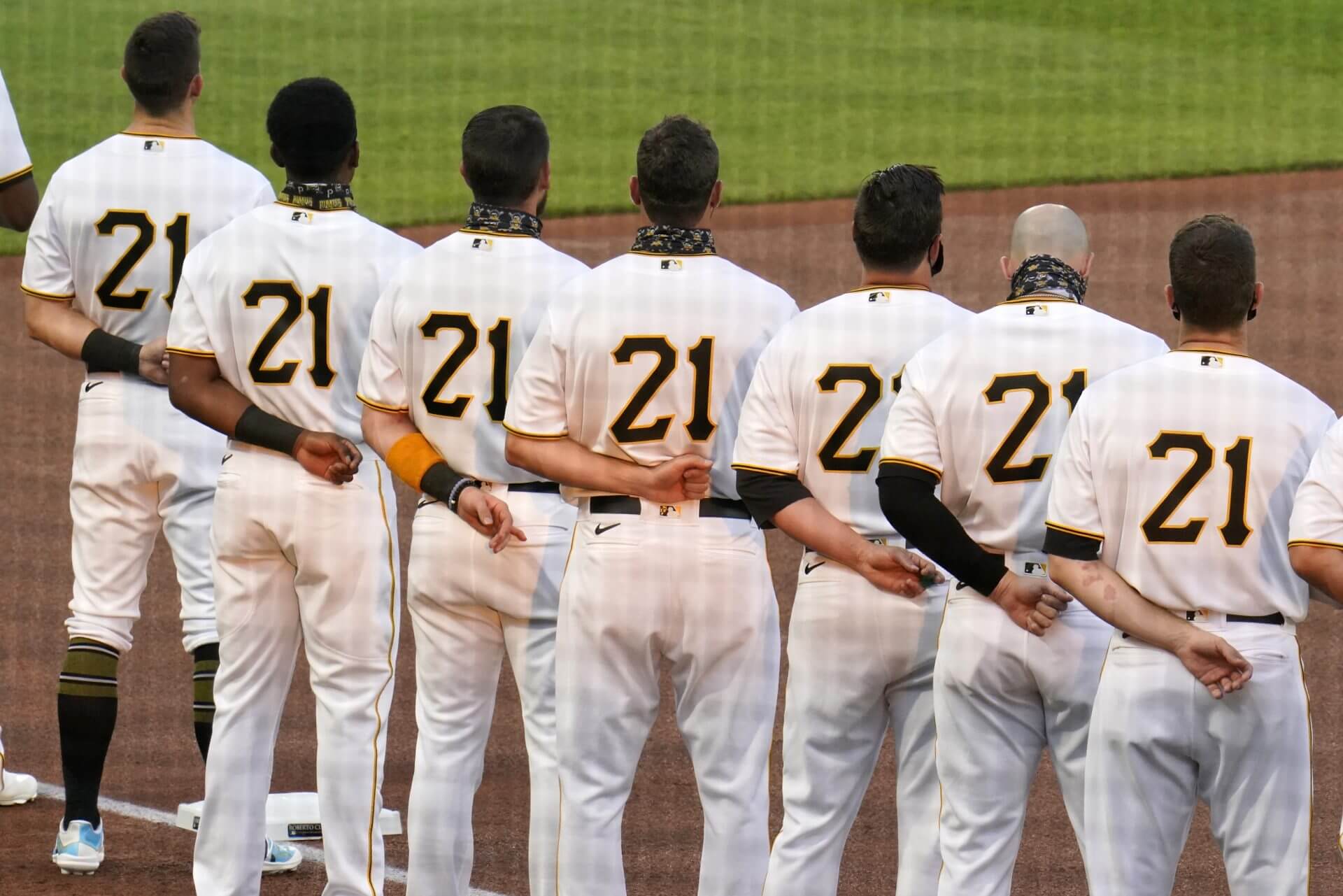 MLB expands Clemente Day plans: Today is the 2021 edition of Roberto Clemente Day. Last year, for the first time, MLB allowed Clemente's No. 21 to be worn by players of Puerto Rican descent, by some of that year's Clemente Award nominees, and by the entire Pirates team (plus there were memorial patches, Clemente-themed footwear, and more — full details here). All of that will be repeated this year, plus they've expanded the celebration a bit, as follows:
• All 30 of the 2021 Clemente Award nominees — not just some of them, like last year — will wear No. 21. You can see the 30 nominees listed here. (In some cases, this will lead to some uni-numerical oddities. For example, no Red Sox player has worn No. 21 since Roger Clemens in 1996.)
• In addition, the seven past Clemente Award winners who are still active — Cardinals pitcher Adam Wainwright, Mets pitcher Carlos Carrasco, Cardinals catcher Yadier Molina, Yankees first baseman Anthony Rizzo, Phillies outfielder Andrew McCutchen, Dodgers first baseman Albert Pujols, and Dodgers pitcher Clayton Kershaw — will also wear No. 21. (Molina would have been wearing No. 21 anyway, as he is from Puerto Rico.)
• In addition, any player can request to wear No. 21 this year, as long as the request was submitted early enough for the team to create a jersey for him. (It's not clear, at least to me, when players were informed of this option.)
• In the past, Clemente Day has been an annual September celebration but has not had a fixed date. (Last year, for example, it was Sept. 9.) Going forward, however, it will always be on Sept. 15 — which, whether by coincidence or design, is exactly five months after Jackie Robinson Day, which takes place annual on April 15. (Uni Watch proofreader Jerry Wolper points out that it's also the first day of Hispanic Heritage Month.)
• • • • •
• • • • •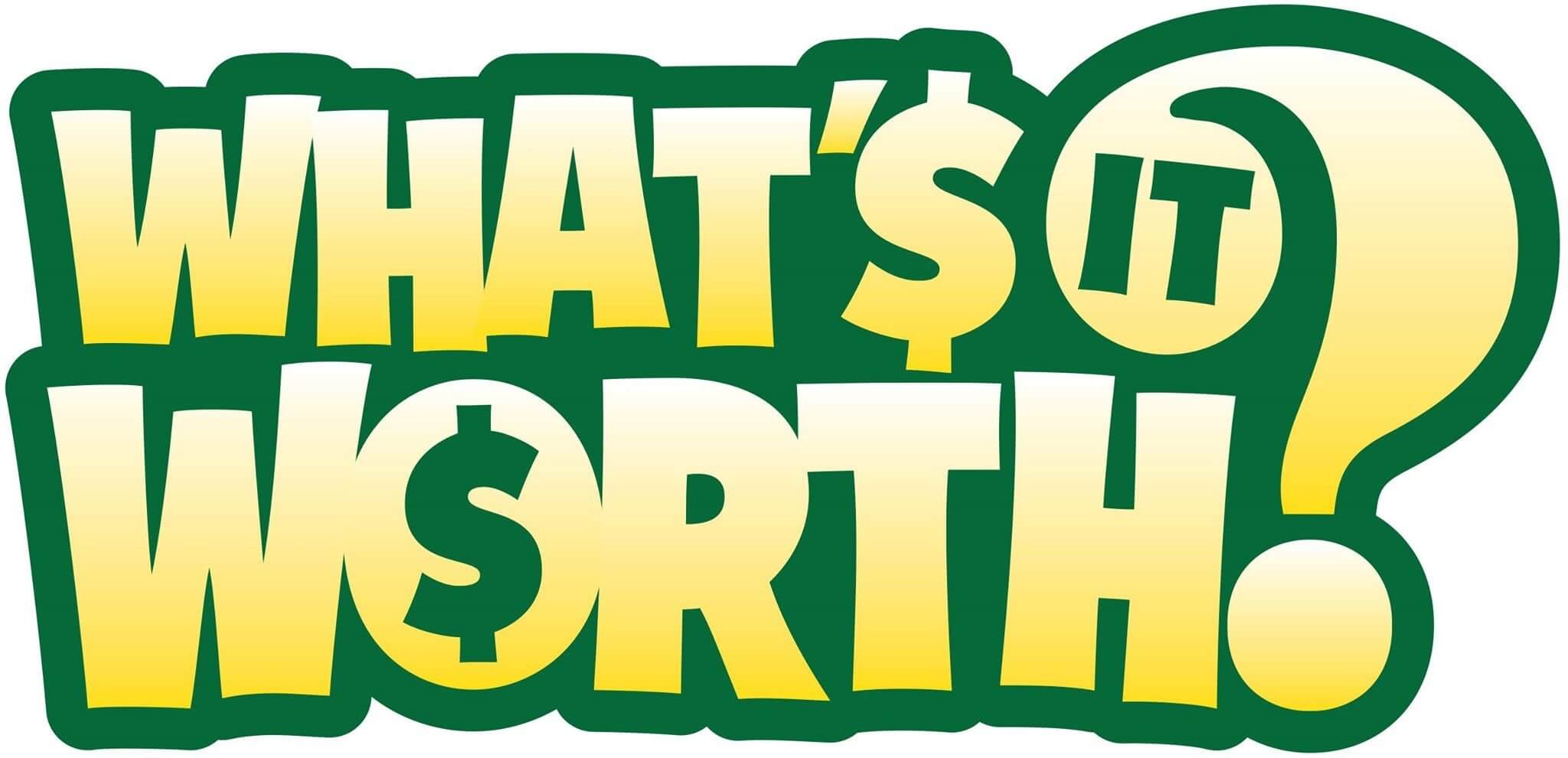 "What's It Worth?" reminder: In case you missed it on Tuesday: Over the past few years I've run a few promotions in which Uni Watch readers were invited to submit items of memorabilia for appraisal by Grey Flannel Auctions at no charge and with no obligation, sort of like an online version of Antiques Roadshow. Lots of readers submitted photos and descriptions of their items, and some took the extra step of consigning their items with GFA and selling them for a pretty penny. Items from Uni Watch readers included this Aaron Rodgers jersey (which sold for over $25,000!), this Tom Glavine jersey ($3,723), this Rick Honeycutt jersey ($1,504), and this Jose Cruz jersey ($722).
So now we're going to do it again. Here's some quick background: Over the years I've developed a good relationship with GFA's director of operations, Michael Russek (that's him at right), who periodically advertises here on Uni Watch. In an industry that can sometimes be a bit sketchy, Michael has always impressed me as a stand-up guy. Back in 2017, when my friends Sonya and Tony acquired an amazing 1905 Princeton football jersey at a flea market and asked me if I had any suggestions on how they could sell it, I sent them to Michael because I knew he'd treat them right, plus I knew GFA would reach the right audience to bring the best price for the jersey. (It ended up selling for over $50,000.)
Do you have some sports or pop culture memorabilia that you think might be valuable? Have you ever wondered how much it might actually be worth? Now's your chance to find out. Here are the details:
1. Items that can be reviewed for appraisal include game-used and game-worn jerseys, bats, and equipment; vintage sports and historical autographs; championship jewelry, trophies, and awards; pre-1960 trading cards (for any sports); and entertainment, rock 'n' roll, political, Americana, and historical memorabilia.
2. For each item, please provide several photos (front, back, tagging, maker's mark) and a detailed description regarding the item's condition and provenance.
3. Also include your name, phone number, and email address.
4. GFA only handles items with a perceived value of at least $250. If your item doesn't meet that threshold, you may get a response indicating that the item doesn't fit the parameters for a GFA appraisal.
5. Full disclosure: If you end up consigning an item to GFA and the item sells, Uni Watch will get a cut of GFA's fee. (And in case you're wondering, I did not receive anything for the 1905 Princeton jersey. That referral was just a favor I did for my friends.)
Okay, ready to see what your treasures are worth? Email your photos and descriptions to GFA. You'll get a response within a week.
Have fun with it, people. We're excited to see the treasures you share with us.
• • • • •
• • • • •
ITEM! Bobble-pin flash sale: By now you probably know that our September pin is a football bobblehead design — and it really bobbles!
I don't mind saying that this is one of my three favorite pins we've ever done (the other two being last year's baseball bobblehead design and this year's table hockey pin), and I'd like to see the sales pick up a bit more. So for the rest of this week, you can save 20% on this pin — and on everything else I sell on Teespring — by using the checkout code BOBBLE20.
This pin was produced in a numbered edition of 300; as of this morning, there were fewer than 140 remaining. It's available here.
My thanks, as always, for considering our products.
• • • • •
• • • • •
Uni Watch Screening Room: If you enjoyed my recent account of how I briefly was led to believe that the one valuable piece of art that I own might actually be a fake, then you'll definitely enjoy The Lost Leonardo, a documentary that explores how a painting purchased from a New Orleans warehouse for $1,175 ended up taking the art world by storm and ultimately selling for $445 million — by far the highest price ever paid for a painting — because it may (or may not) have been painted by Leonardo da Vinci. I saw it last night and it's really, really good — funny, engrossing, absurdist, full of twists and turns, and ultimately a sad commentary on the state of, well, everything. (I'm apparently not the only one who likes it.)
The good news is that it's currently playing here in NYC at Film Forum; the bad news is that it's only showing at 6:10pm, and only for two more days, and I've read that it won't hit streaming services until next April. See it if you can — highly recommended.
• • • • •
• • • • •
The Ticker
By Lloyd Alaban

Baseball News: New logo for the Quad City River Bandits, affiliate of the Royals (from Brett Ommen). … Blue Jays P Robbie Ray doesn't like the club's powder blues (from our own Phil Hecken). … Speaking of the Blue Jays, they're the latest MLB team to keep game balls in a humidor. … Padres P Ross Detwiler will wear No. 45 with his new club (from Josh Claywell). … Philadelphia's ABC affiliate confused the Phillies with the NFL's Philadelphia Eagles (from @PhillyPartTwo). … Cleveland exec Chris Antonetti provided a detailed account of how "Guardians" was chosen as the team's new name.

NFL News: Cross-listed from the baseball section: Philadelphia's ABC affiliate confused the Eagles with MLB's Philadelphia Phillies (from @PhillyPartTwo). … A sportswriter thinks single-digit numbers should be reserved for the most prestigious players. … Remember this UConn helmet? A California high school is using that design template but with the Ravens' alternate logo (from Ethan Kassel).

College/High School Football News: The following three items are from our own Phil Hecken: The Coast Guard revealed uniforms honoring the Pea Island Life-Saving Station. … With Mississippi State and Memphis facing off this weekend, here's a look at the uni matchup history between them. … BFBS, including a neon chrome helmet, for USF this week. … Tulane teased a rear helmet decal commemorating the school's three SEC championships. … Michigan's mono-blue look last weekend had lots of critics (from Jojo Girard). … Cross-listed from the NFL section: Remember this UConn helmet? A California high school is using that design template but with the Baltimore Ravens' alternate logo (from Ethan Kassel).

Hockey News: The Golden Knights will wear their gold alternates for about a third of their home games this seaosn (from our own Phil Hecken). … That same article also confirms that the Reverse Retro uniforms will not be worn this season. … The Avalanche's road sweaters now have blue numbers (thanks to all who shared). … New masks for Kraken G Joey Daccord and Maple Leafs G Petr Mrazek (both from Wade Heidt). … Kraken F Calle Jarnkrok is still practicing in his Predators gloves (from Taylor Crabtree).

Basketball News: Celtics PG Dennis Schroder is letting fans pick his jersey number (from our own Phil Hecken). … Reader Etienne Catalan has the latest NBA uni number developments. … Californians who voted in Tuesday's gubernatorial recall at the Warriors' home arena received an "I Voted" sticker inspired by the Warriors' original Golden State logo (from Chelsea Poe).

Soccer News: Inter Miami will unveil their shirt ad today (from our own Phil Hecken). … Ajax was forced to remove the "three little birds" on their Bob Marley-inspired kit as it breaks UEFA regulations, which stipulate that there can be no other symbols on a shirt except ads and official club logos (from Mark Coale). … New crest for Motherwell FC of the Scottish Premiership. … Virginia's men's team wore their new grey shirts with white shorts and socks last night (from our own Jamie Rathjen). … With the FIFA Futsal World Cup kicking off last Sunday, Germán Cabrejo notes that Joma outfits Spain's national futsal team, despite Adidas outfitting the country's national soccer teams.

Grab Bag: Boston College field hockey wore red bandana sock-bands last weekend (from our own Jamie Rathjen). … Adidas has released a James Bond collection (from our own Brinke Guthrie). … In honor of an Apple-related event yesterday, Twitter turned its "Like" icon into an Apple logo. … NASCAR is planning a 2022 event at the LA Coliseum (from Trevor Williams). … A NYC firefighter who was a first responder on 9/11 is distraught because a dry cleaner has lost his uniform. … Paint it black: The Rolling Stones will memorialize drummer Charlie Watts during their upcoming tour by changing their familiar lips/tongue logo from red to black.
• • • • •
Signal Flare: Mackenzie Woodard, if you're reading this, please drop me a line. Thanks.
Happy Birthday to Baseball Hall of Fame curator and longtime Uni Watch pal Tom Shieber. Enjoy your special day, buddy!
Tzom kal to all who are observing Yom Kippur tonight. — Paul